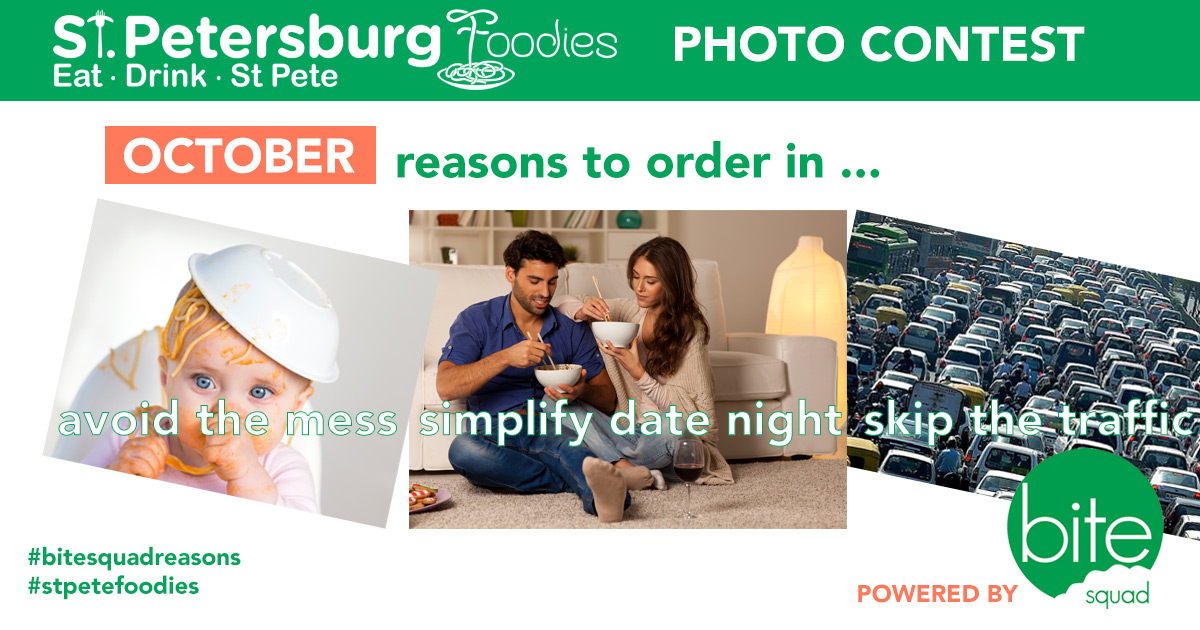 Why do you order Bite Squad?!
Tell us why for your chance at a $100 credit!
Entering the contest is simple:
1. Take your themed photo - be creative! Stage photos, edit the photos.. Have fun with it!
2. Upload your photo here before 10/6
3. Share your photo to generate likes from 10/7-10/20! Use the hashtags:
#BiteSquadreasons #stpetefoodies
4. On 10/20 date, voting ends.
5. The 1st place winner will be announced on 10/21 and will be awarded $100 to their Bite
Squad Account.
For complete contest dates and times for September through January, please see the full rules here.
Now - a bit of the nitty gritty:
● You must have a Bite Squad account to claim your prize.
Get a Bite Squad account here. (You can skip this if you already have a Bite Squad account.)
● Contest Guidelines: Any photo that is on-theme for the contest (see below) is
eligible—obscenity, nudity, profanity excluded—as long as it is your original work. Photo
editing is allowed. We encourage you to be creative. Winners will be chosen by votes,
so use the social share buttons after you submit your photo to get as many of your
friends to vote for you as possible.
● Prizes: 1st Place - $100 credit to your Bite Squad account, 2nd Place - $75 credit to
your Bite Squad account, 3rd Place - $50 credit to your Bite Squad account. Three
winners will be selected based on the number of votes received on their entry.
(Note: When you use the Facebook Share button below your photo, it will look like your photo isn't going to post as it shows the contest graphic, however, when that graphic is clicked from your timeline, the person will actually land right on your specific photo to vote on.)