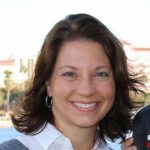 Michelle Ferrer · Nov 29, 2016 · 4 min read
The date was October 3, 1999. The time was 11:00pm. How could I remember my first taste of masala so clearly? It was my second date--the day after our first date--with my now husband, Ed. After hitting three restaurants in Tampa in a 24-hour span, we decided to explore downtown St. Petersburg to grab a late bite to eat. Back then, at 10:30pm on a Sunday, hardly anything was open in a very different, very sleepy St. Pete.
Cruising down Beach Drive felt less than promising at that time of night. We drove all the way south to where Cassis stands now; if memory serves, it was a strip mall in those days. After turning back north on the seemingly desolate road, we parked in front of a quaint little restaurant--one of the few with lights even on: The Moon Under Water. We admired the homey front porch and brown shutters all around. This British Colonial pub served British food, Indian food, and a little bit of everything in between.
Ed wanted to try the chana masala to start us off; I had never tasted anything like it. This spicy chickpea and tomato dish served with naan bread was all new territory for me. It was spicier than the mild salsa I was accustomed to--most things are--and despite needing extra bread to combat the kick, I enjoyed how flavorful and exotic it tasted. Even though I considered myself to be very experimental when it came to food, I don't think I had ever seen chickpeas anywhere but at a salad bar--I've obviously come a long way in 17 years. No laughing, please...
So much about St. Pete has changed since that night, but Moon--as the locals call it--has pretty much stayed the same, and I love that. Their building is now dwarfed on all sides by our city's growth, but sitting on their porch, enjoying some tabbouleh or chana while sipping a pint, feels exactly as it did all those years ago--save for the pint part: I would have never ordered a beer back then. I've made a lot of progress!
After having Moon's version dozens of times over the years, I needed to try making chana myself. The key ingredient--garam masala--is the spice blend that gives the dish its complexity: a complexity that makes it seem much more complicated to recreate than it actually is. This traditional Indian blend I have from Penzey's Spices includes not four or five, but nine ingredients including coriander, pepper, cardamom, cinnamon, cloves, ginger, nutmeg, and caraway; there is a lot going on in the flavor department. Finding the spice is the hardest part; making the dish itself couldn't be easier. Other than the time it takes to sweat the onions, it is a dump and go recipe. The longer you allow it to cook, the more the flavors develop; it is always better the next day. Garam masala can be found at Indian markets, spice stores, or online--each brand has its own unique version.
That night in 1999 was merely the first of many, many visits to Indian restaurants; my spice meter has even graduated to a medium! Little did I know then how much I would come to love Indian food over the years, and how four years after that first taste of masala--and St. Pete--that we would call that awakening 'Burg our new home. We've lived here nearly 14 years now, and while I love how our town has drastically grown and changed, there's still something to be said about how it used to be before all of the high-rises, before the Rowdies, before Baywalk, when The Birchwood was merely Grayl's Hotel and when The Moon was the only place you could get a bite to eat at 10:30 on a Sunday night.