Lori Brown · Sep 14, 2016 · 1 min read
When I was growing up my grandma used to cook and bake all of the time.  I was the baker in the family along with Grandma.  Before she passed away, she hand wrote her recipes for me and I am going to share them with you.  Some of them are left up for interpretation so I will do my best.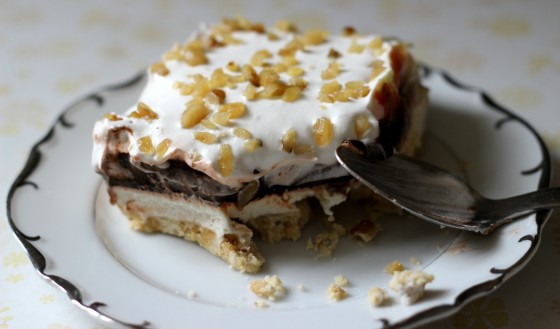 Grandma Brown's "A Delicious Dessert"
Here's what Grandma Brown said about this dessert, "It can be lemon, chocolate or butterscotch pudding. I've had all three and made all three and all are good. It's rich!"
Ingredients
1

stick

butter

1

cup

all purpose flour

1/2

cup

nuts of your choice

1

cup

powdered sugar

1

stick

Philadelphia Cream Cheese

1

cup

Cool Whip

2

pkgs

instant pudding

Grandma recommends lemon, chocolate or butterscotch.

3

cups

milk

3

tbsp

extra nuts

as a topping
Instructions
Preheat the oven to 400 degrees.

Bake for 10 minutes.

Mix powdered sugar, cream cheese and Cool Whip together and spread over cooled crust.

Add the extra nuts as a topping.

Refrigerate and serve with whipped cream. ***Please note that the featured image is not of the actual dessert. The nuts go on before the extra whipped cream topping.