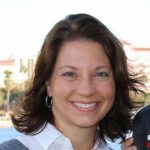 Michelle Ferrer · Mar 15, 2017 · 3 min read
My first St. Patrick's Day as a vegetarian had me longing for corned beef and cabbage something awful. I missed simmering that aromatic cured meat and pickling spices all day long. I missed the distinct funk of cabbage that wafted through the air. I missed having sandwiches for days. For nostalgia's sake, I cooked up the cabbage, got the house smelling just right and served it up with carrots and a mound of kale colcannon. The next year, I was bound and determined to find a new St. Paddy's Day staple that didn't make me pine. I got to thinking about hearty vegetables and, of course, something that would pair well with my St. Patrick's Day beer. Put them both together, and my first--possibly clichéd thought--was beer cheese soup.
My favorite cheesy soup recipe comes from an old Disney cookbook that highlights beloved recipes from Disney parks and resorts. For the last twenty-five years, I have made the Onion Cheese Soup from Yacht Club Galley restaurant so many times, the pages are stained and splattered. I've tweaked the recipe since then and this go-round, I added some hoppy goodness. So, let's focus on onions. And leeks. And cheese. And BEER! This soup reminds me of Outback restaurant's now defunct Walkabout Soup, but made more sophisticated with the addition of leeks and more delicious with beer thrown in for good measure.
I've only cooked with beer a handful of times, so I wasn't sure which type would be a good complement for this soup. Although I prefer the darker side of the spectrum, I didn't want to overpower the delicate onions and leeks with a stout or a porter. One thing I do know is that you should only cook with alcohol that you yourself would drink--if you don't like to drink it, you won't like it in your dish, either. It turns out that the bottle of New Belgium's Fat Tire I had on hand was the perfect choice to add the right amount of complexity without dominating the other flavors. The cheese choice is an important one: using a four-cheddar cheese blend adds depth to this creamy soup--Sargento makes a good pre-shredded one. Each variety of Cheddar lends its own flavor profile and makes for a smooth, creamy soup with a bit of bite.
Although my husband is anti-anything with caraway seeds, this soup is fantastic served in a pumpernickel or rye bread bowl. For him, I serve it up in a regular bowl with baked soft pretzels for dipping. No matter which way you serve it, it tastes like Irish pub fare--perfect alongside, say, another beer? So, for this year's St. Patrick's Day, there may not be corned beef, but there will be beer--in my glass and in my bowl. Cheers!