Abby Allen · Jan 22, 2019 · 4 min read
This year for Valentine's Day, instead of fighting for a reservation and investing hundreds of dollars into an elaborate dinner and drinks, a showy outfit and overpriced Uber trips, whip up a romantic (and easy!) dinner for two at home.
I know what you're thinking, cooking for someone can be nerve-racking, especially in the early stages of a new relationship. However, I'm here to prove to you that you're more than capable of preparing a divine, health-forward and aesthetically pleasing dinner for two. Better yet, instead of cooking for your date, why not cook with your date? One of my all-time favorite things to do is to cook with my boyfriend, Mike. I'd take a night of learning, experimenting and trying new recipes together in our kitchen over a night out, any time!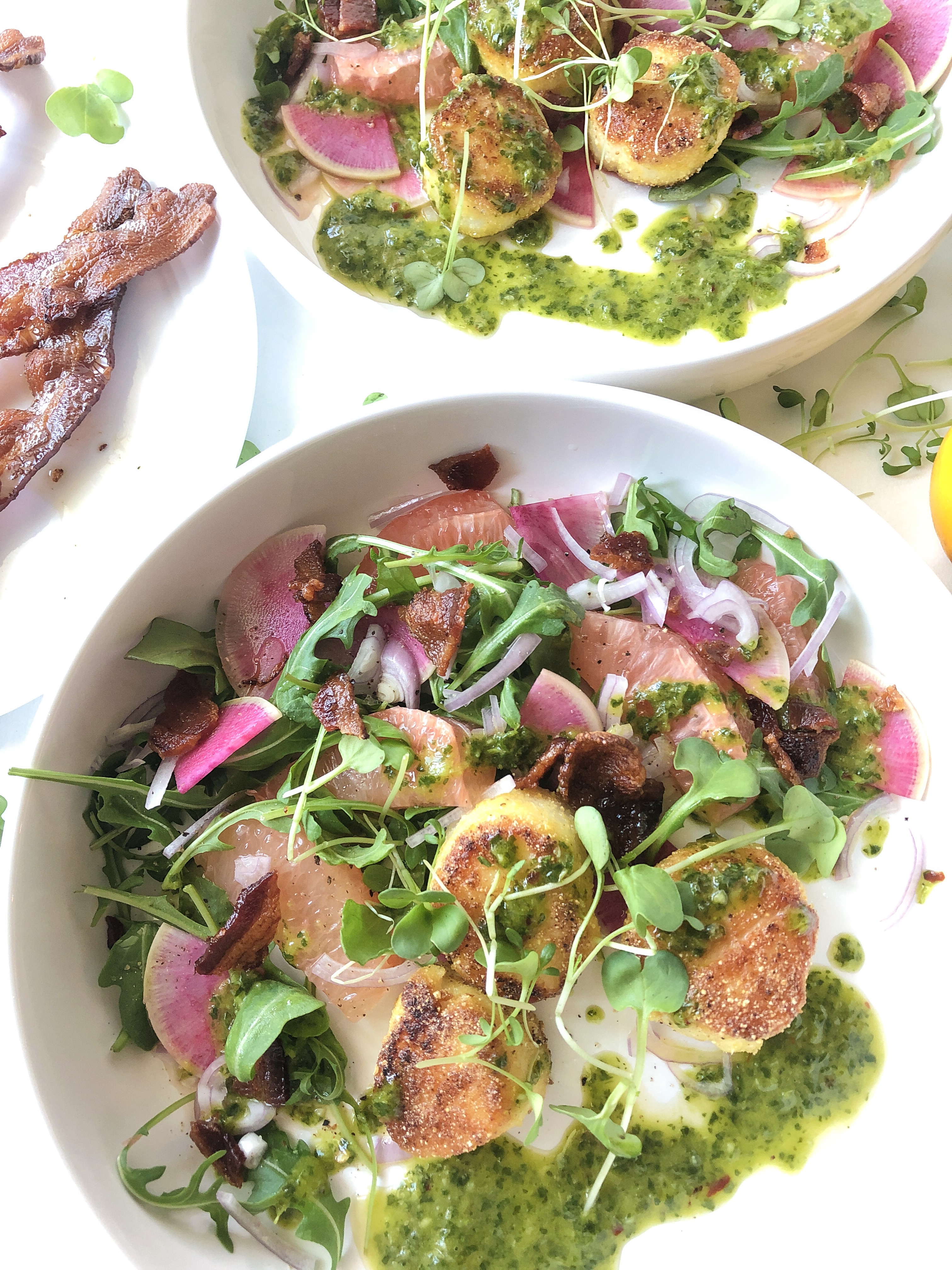 This Scallop recipe with Bacon, Grapefruit and Chimichurri is a guaranteed crowd-pleaser. Scallops can be intimidating to cook, but they shouldn't be! A quick sear on each side in a hot skillet is all it takes. Or, if you want to really knock it out of the park, Sous Vide your Scallops, and then give them a quick sear- they will unquestionably melt in your mouth.
If we're being honest, the most difficult part of this whole recipe is segmenting the grapefruit (when I walk you through that, you'll see that it, too, is a cakewalk). This meal is comprised of just about everything: salt, a touch of sweetness, fat, texture, heat and acid. Open up a beautiful bottle of wine, or craft a few cocktails, and you're destined for an ideal evening in.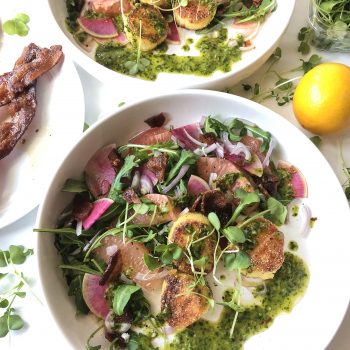 Scallops with Grapefruit, Bacon and Chimichurri
Not only is the recipe the perfect date night go-to, but because it takes under 30 minutes to prepare, it's ideal for weeknights, too!
Ingredients
For the Scallops and Salad
4

slices

Bacon

Any kind will do.

1

Grapefruit

We will be segmenting it later on.

2

cups

Arugula

1

Watermelon Radish

If you can't find Watermelon radishes, any kind of radish will suffice! If you're using Red Radishes, you'll want to use at least 2-3.

1

Small Shallot

Minced

1/2 tsp

lemon juice

6

U-10

Scallops

Side muscle removed.

1/2

cup

Yellow cornmeal

1/2

tsp

Salt

Plus more to taste.

1/2

tsp

pepper

Plus more to taste.

1

tbsp

Extra Virgin Olive Oil

Micro-Greens

Optional. I find my Micro-Greens at the Farmers Market and Whole Foods
Chimichurri
1/4

cup

Red Wine Vinegar

1/2

cup

Extra Virgin Olive Oil

3

garlic cloves

1/4

cup

Parsley

1/4

cup

cilantro

1

Fresno Pepper

Stemmed and Seeded. If you can't find Fresno Chiles, 1/2 tsp of Red Pepper Flakes will suffice.

1

tbsp

Agave

1

tsp

lemon juice

1/2

tsp

Salt

Add more, as needed.
Instructions
Make the Chimichurri
Before Making the Chimichurri, preheat the oven to 425F and place your Bacon on a Parchment-lined baking sheet. Bake for 20-25 minutes until crisp, cool and then crumble and set aside in a small bowl.
Searing the Scallops
In a medium bowl, combine Cornmeal, Salt and Pepper. One at a time, coat Scallops in Cornmeal mixture and put onto a clean plate.

Heat medium cast iron skillet over medium-high heat and add Olive Oil. When hot enough (skillet will put off a touch of smoke), add Scallops to pan and sear for 1 1/2 minutes per side. Remove from skillet and plate beside the salad. Drizzle with Chimichurri, top with Bacon bits, finish with Micro-greens (optional) and serve!

*If you're going to Sous Vide your Scallops, set your Precision Cooker (I use Anova Culinary's model- with bluetooth and Wifi) to 123.8F. Salt and pepper Scallops and place into a vacuum seal or ziplock bag and seal with vacuum sealer or by using the immersion method. Set the timer for 30 minutes. Remove bag from water, Remove Scallops from bag and pat dry. Then, add to cornmeal mixture and sear.