Scallops with Grapefruit, Bacon and Chimichurri
Not only is the recipe the perfect date night go-to, but because it takes under 30 minutes to prepare, it's ideal for weeknights, too!
Servings

Prep Time

2

people

20

minutes
Servings

Prep Time

2

people

20

minutes
For the Scallops and Salad
Before Making the Chimichurri, preheat the oven to 425F and place your Bacon on a Parchment-lined baking sheet. Bake for 20-25 minutes until crisp, cool and then crumble and set aside in a small bowl.

Add all of the ingredients to a food processor and blend for one minute. Season with salt to taste and set aside. Alternatively, finely mince Fresno Chile, Garlic and herbs and add to a medium size bowl with remaining ingredients. Whisk until combined well.
Begin by segmenting the grapefruit. Trim the top 1/4 inch and bottom 1/4 inch of the Grapefruit to create a flat surface.

With one of the flat sides down on a cutting board, start at the top of the grapefruit with your knife. Cut the peel/pith off from top to bottom, following the natural curve of the grapefruit.

When the peel/pitch has been removed, stand the grapefruit up on a flat surface again. Following the natural line segments of the Grapefruit, cut it in half. Now, you can cut the grapefruit into segments by following the natural lines. Remove any seeds and set segmented Grapefruit pieces aside in a small bowl.

Using a Microplane (or a sharp knife), slice the Radish into thin rounds. Cut your radish pieces, leaving some in halves and some in quarters pieces. Set aside in a small bowl.

Divide Arugula evenly between plates and top with Radish, Grapefruit and Shallots. Top with remaining 1/2 tsp Lemon juice and a piece of Salt and Pepper.
In a medium bowl, combine Cornmeal, Salt and Pepper. One at a time, coat Scallops in Cornmeal mixture and put onto a clean plate.

Heat medium cast iron skillet over medium-high heat and add Olive Oil. When hot enough (skillet will put off a touch of smoke), add Scallops to pan and sear for 1 1/2 minutes per side. Remove from skillet and plate beside the salad. Drizzle with Chimichurri, top with Bacon bits, finish with Micro-greens (optional) and serve!

*If you're going to Sous Vide your Scallops, set your Precision Cooker (I use Anova Culinary's model- with bluetooth and Wifi) to 123.8F. Salt and pepper Scallops and place into a vacuum seal or ziplock bag and seal with vacuum sealer or by using the immersion method. Set the timer for 30 minutes. Remove bag from water, Remove Scallops from bag and pat dry. Then, add to cornmeal mixture and sear.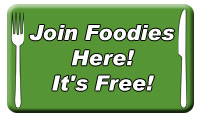 DISCLAIMER: Kevin, Lori, Abby, & Haley do not dine anonymously (this would be impossible) and we sometimes get free food (though never expected). However, we dine with the locals and we support our own. You will always get honesty in a respectful manner.