In essence, Shakshuka is a dish comprised of Eggs cooked in a Tomato Sauce with Peppers. Often times, it's made with other tasty accompaniments, like fresh Herbs, Cheese and toasted Bread, which acts as the perfect vehicle for scooping up the sauce.
Servings

Prep Time

4

people

10

minutes
Servings

Prep Time

4

people

10

minutes
Preheat the oven to 400F and heat a skillet, preferably Cast Iron, over medium-high heat and add 3 Tbsp Olive Oil to skillet. Brush remaining Olive Oil onto sliced bread and arrange on a sheet pan- set aside.

When the pan and oil are hot (the oil will glisten in the pan after just a few minutes), add in your sliced Onion and Peppers. Do not disturb them in the pan for a few minutes, as to allow them to begin to brown- this will add a nice depth to the flavor (but don't let them burn!). Then, stir the mixture occasionally until the Onion and Peppers have softened a bit (8-10 minutes).

While the Onions and Peppers are cooking, add the can of Whole Peeled Tomatoes with their sauce and the Chipotle Peppers with their sauce (if using) to a Blender or Food Processor. Blend/Process for about 30 seconds- you want the sauce to be semi-smooth, but thick.

Add Garlic and stir for another 1-2 minutes until fragrant, then stir in Paprika, Cumin, Coriander and Cayenne and season with Salt and Pepper.

Then, pour in Tomato/Chipotle Pepper mixture, sugar, more salt and pepper and reduce the heat to medium-low. Simmer for 10-12 minutes.

Reduce heat to low and with a large spoon, make 5 wells in the sauce for your Eggs.

One at a time, crack each Egg into a well and season with Salt and Pepper. Scatter crumbled Feta throughout sauce and cover the pan. Let cook for 6-8 minutes, or until whites are set and yolks are still runny (if you prefer your yolks to be on the medium-hard side, just allow to cook a bit longer).

While the Eggs are cooking, toast the bread in the Oven until crisp- 5-7 minutes.

When the Eggs are set, turn off the heat, top with sliced Avocado and scatter Parsley and Cilantro. Serve straight from the skillet.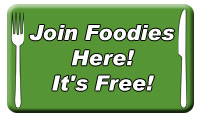 DISCLAIMER: Kevin, Lori, Abby, & Haley do not dine anonymously (this would be impossible) and we sometimes get free food (though never expected). However, we dine with the locals and we support our own. You will always get honesty in a respectful manner.