Preheat the oven to 425F. Scrub the potatoes good, dry, and then cut a thin lengthwise strip on each potato so they can sit flat.

One at a time, with the flat side on the cutting board, cut slices into each potato that are about 1/8 inch apart, but without cutting completely through (leave about 1/4 inch at the bottom unsliced - you want the potato to remain intact). Pro tip, place chopsticks on each side of the potato as they act as a guide without allowing you to cut completely through the potato.

In a medium microwave safe bowl, melt the butter, and then add in the chopped herbs, salt, and garlic powder. Mix well, and with a basting brush, brush coat a cast iron skillet, and then each potato with a generous amount of the butter mixture. Don't neglect the crevices! Make sure buttery goodness gets into each one!

Top with pine nuts (make sure to get some of those in the crevices, too). Put into the oven for one hour. Every 20 minutes, remove the skillet and spoon the melted butter mixture on the bottom of the skillet over the potatoes.

Mix sour cream with lemon juice and put into the fridge until ready to sere.

After the hour is up, turn the oven to broil and broil the potatoes for 4-6 minutes (or more, for optimal crispiness). Salt as needed and serve each potato with a dollop of lemony sour cream.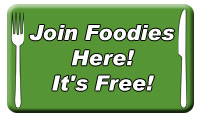 DISCLAIMER: Kevin, Lori, Abby, Haley, Lindsey, & Alexia do not dine anonymously (this would be impossible) and we sometimes get free food (though never expected). However, we dine with the locals and we support our own. You will always get honesty in a respectful manner.

PLEASE NOTE: Reviews reflect a certain moment in time. Some restaurants stay extremely consistent over many years, and some change for the better or worse. Some things that may change are: chefs, recipes, food suppliers, ingredients, philosophies. We always hope that you have the same good, or great experience we had.