Warm Sausage and Apple Quinoa Salad with Roasted Delicata and Walnut Salsa
If you're looking for a a more non traditional side to bring to your Thanksgiving table, this is your dish. Additionally, it's hearty enough to stand alone as a weeknight main course.
Servings

Prep Time

6

people

20

minutes
Servings

Prep Time

6

people

20

minutes
Start by making the White Bean Garlic Sauce. To a food processor or blender, add in Beans, Garlic, Nutritional Yeast, Sage Leaves Lemon and a couple of tablespoons of water to start. Blend and add water, one tablespoon at a time, until Bean sauce is creamy. If you need to use more than 1/2 cup of water to reach the desired consistency, that's just fine. When finished, set aside.

Preheat the oven to 400F. In a medium bowl, toss Squash slices with Olive Oil and Season with Salt and Pepper. Line a baking sheet with Parchment Paper and lay the squash on it in an even layer. Bake for 30-35 minutes, or until the Squash starts to brown.

Make the Quinoa. Add 2 cups of Bone Broth to a medium size pot and bring to a boil. Add Quinoa, turn off heat, and cover until Quinoa is cooked and fluffy- 15- 20 minutes.

While the Quinoa cooks, heat a large cast iron skillet over medium heat. Add olive oil and ground sausage. Stir occasionally until evenly browned and cooked through- 12-15 minutes.

Stir in Apple pieces and cook until the Apple begins to slightly soften and brown- 5 minutes. Turn off the heat and add in the cooked Quinoa.

In a small bowl, mix together all ingredients for the Walnut Salsa and season with salt and pepper.

When the Squash is finished in the oven, we're ready to assemble. On a large platter or serving bowl, drizzle 1/2 cup of Bean Sauce, add the warm Quinoa Salad on top, then another 1/2 cup (or more, use your discretion) of Bean Sauce, layer the Squash on top and then finish it off with the Walnut Salsa.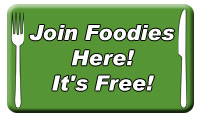 DISCLAIMER: Kevin, Lori, Abby, & Haley do not dine anonymously (this would be impossible) and we sometimes get free food (though never expected). However, we dine with the locals and we support our own. You will always get honesty in a respectful manner.