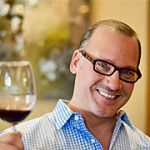 Kevin Godbee · Apr 20, 2018 · 3 min read
St. Pete is definitely a brunch kind of town, and there's lots of brunch competition. To compete, a restaurant can either go the bigger, better route—biggest buffet that you'll never be able to eat all of the items you're charged for, and the biggest, cheapest bottomless mimosas that have way too much orange juice, and not enough cheap champagne.
A different, and more interesting, and tasty route to go is to develop unique items that no other place has, especially when the eatery focuses on a specific region—like New Mexico and the Southwest.
NuMex Chile in the Grand Central District isn't the first to do this, but they are the latest, starting just two weeks ago. If you love Southwestern, Mexican, or Tex-Mex, this is a must-try. Go hungry. The portions are grande.
We ordered some extra items so we could try more things, and then took home leftovers that lasted two days.
Lori special requested a mimosa sans orange juice, or champagne. A Bloody Mary is mandatory on a Sunday, and I couldn't resist trying the BeerMosa.
Lori started with the New Mexican Scramble - Three Eggs, Chorizo Beef, Calabacitas and Home Fries Topped w/Monterey Jack Cheddar Smothered in Red or Green Chile. (Calabacitas is a Southwestern summer squash mixture of squash, corn, and peppers.)
I love this type of cuisine more than Lori, but what's interesting is that she really loved this dish because of the Calabacitas part. ¿Who woulda thunk?
For the items with a choice of red or green chile sauce, we chose "Christmas". (For the non-Christian folks out there, that's both red and green.) Every bite was an adventure because you never knew which Chile you might get.
I started with the New Mexican Benedict - Arepas on Red Chile Smothered w/Shrimp, Crawfish Creole, Poached Eggs and Hollandaise Served with Home Fries and Fruit. I loved it and ate the whole thing! This one had a touch of Cajun and New Mexico. Nowhere else will you find a scrumptious, medium spicy Benedict like this.
Next, I moved on to the Breakfast Burrito - Stuffed w/Chorizo Beef, Scrambled Eggs and Home Fries Topped w/Monterey Jack Cheddar and smothered in Red or Green Chile.
This thing is HUGE! (I think it typically feeds a small village in New Mexico.) It's actually the biggest burrito I've ever seen in my life. It was delicious, and will definitely carry you through until dinner time.
Neither of us are usually fans of sweet stuff, but Ray, the owner said we should try the pancakes anyway, and we were glad we did. These were no ordinary pancakes.
They were Blue Corn Agave Nectar Pancakes - Topped w/Berry and Maple Syrup and Whipped Butter Served with Home Fries and Fruit. They were quite tasty with a little bit of a cornbread-like flavor—solid crusty texture on the outside, and fluffy, warm and soft on the inside. The syrups and whipped butter made it sweet, savory, and addicting.
Making the morning even more enjoyable was upbeat music from Tommy Simms. He played everything from Cold Play to the Steve Miller Band, but all in his own Indie-Rock style.
We also ran into fellow foodie Eugenia Lung @geniabemefood on Instagram, and her boyfriend, Matt.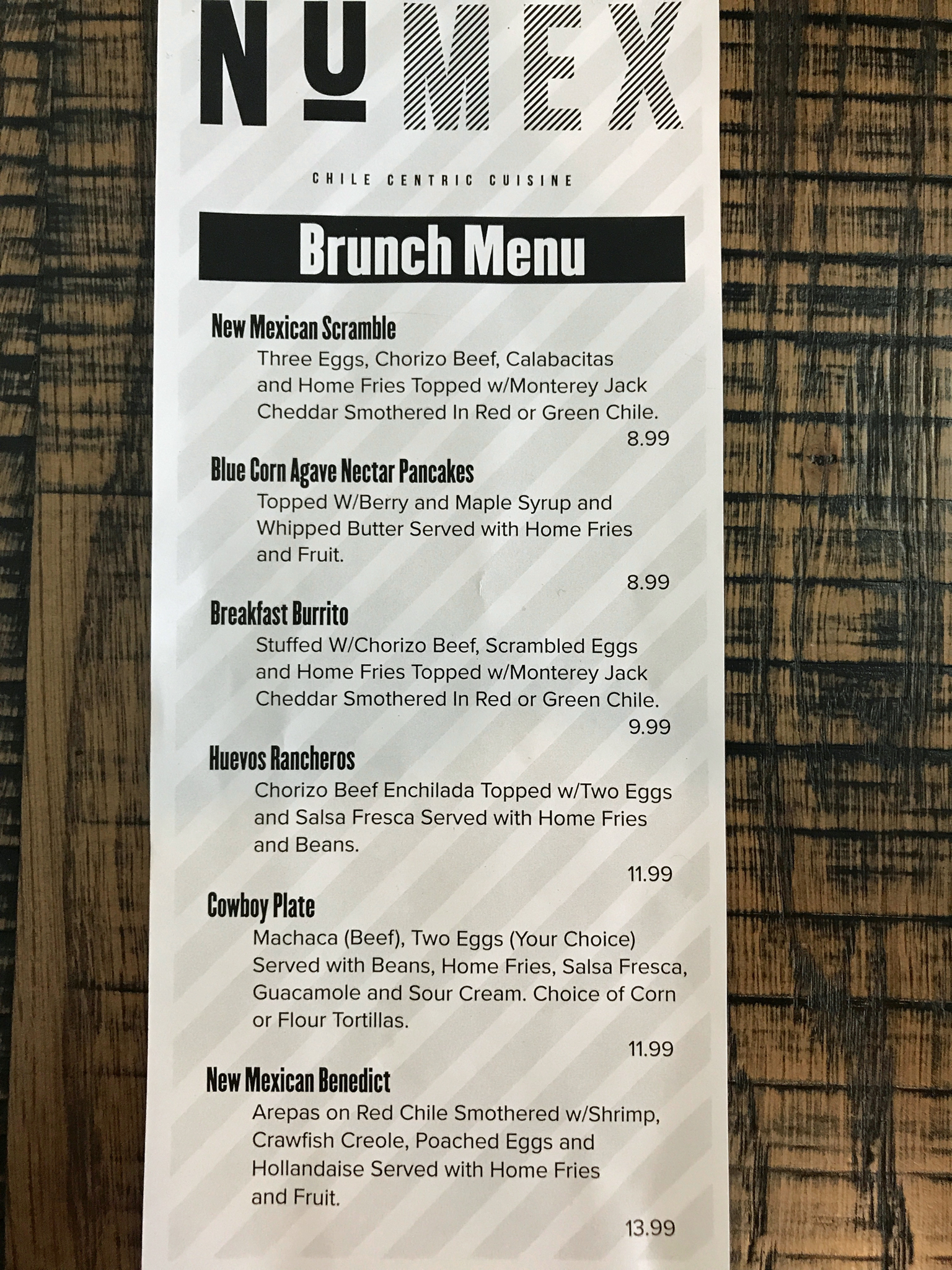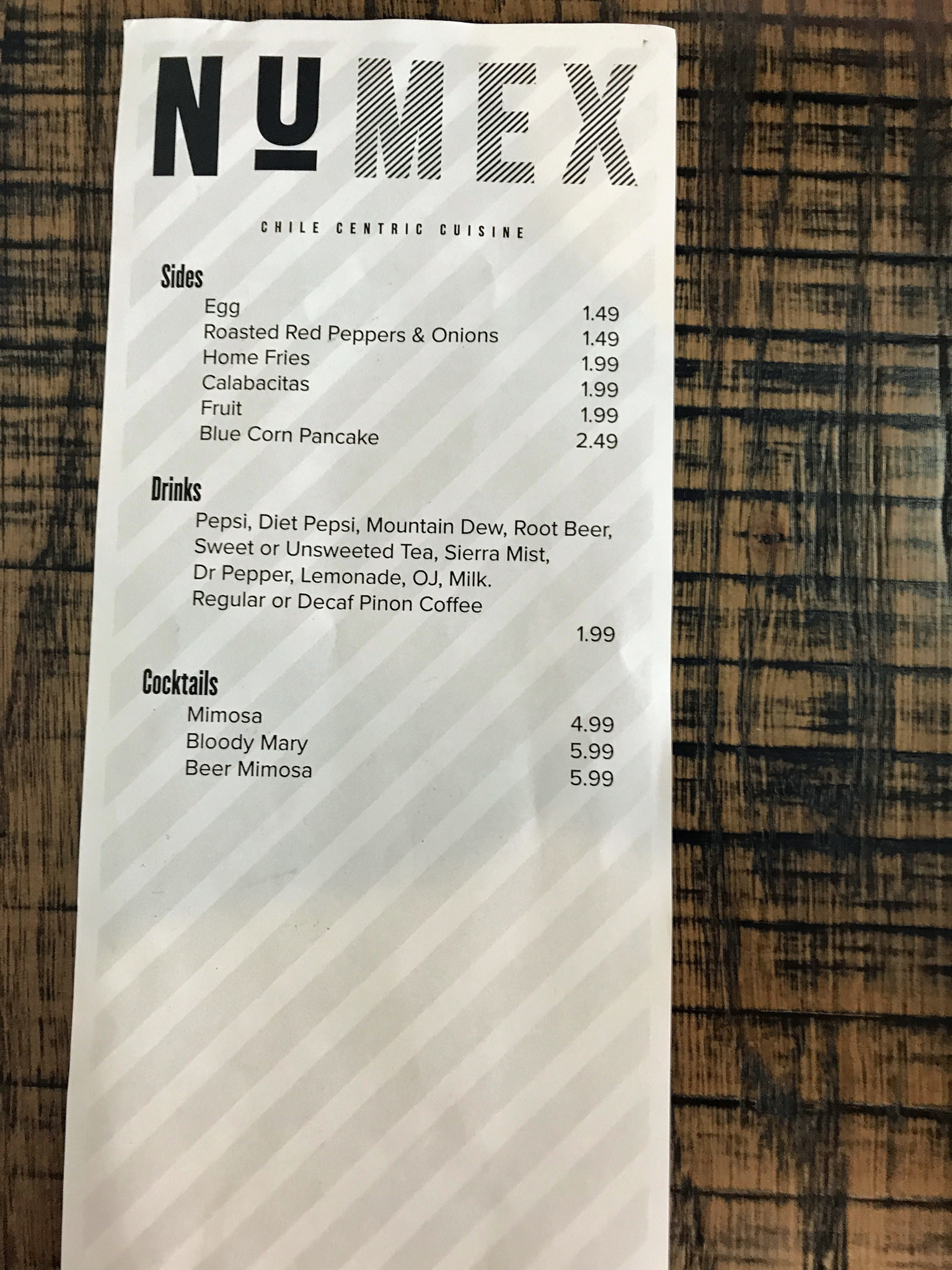 Now you know where to go for Sunday Brunch! Tell them St. Pete Foodies sent you!
Note: NuMex does brunch only on Sunday as of this writing. They have their regular lunch and dinner service on Saturday.
New Mexican and Southwestern cuisine centered around Hatch Chiles