To me, spring break means curling up with a great book on the beach with a boat drink in hand, virgin style, from the local juice bar.
Here are some of my delicious recommendations, a savory selection of food writing from authors new and old. Some of my favorite authors include everything by M.F.K. Fisher, Calvin Trillin, James Beard, Julia Child, Euell Gibbons (Stalking the Wild Asparagus), Judith Jones (The Tenth Muse: My Life in Food), Jim Harrison (The Raw and the Cooked) and the Larousse Gastronomique as well as Diane Mott Davidson's Goldie culinary mysteries.
Find these gourmet tomes at the bookstore, library, the new gently used books emporium 321 Books (Tyrone area) or our beloved DTSP Haslam's.
Antaeus: Not For Bread Alone (Spring 1992): Writers on food, wine and the art of eating features classic culinary tales such as M.F.K. Fisher's One Way To Give Thanks, Alice Waters' The Farm-Restaurant Connection and Judith B. Jones' A Religious Art.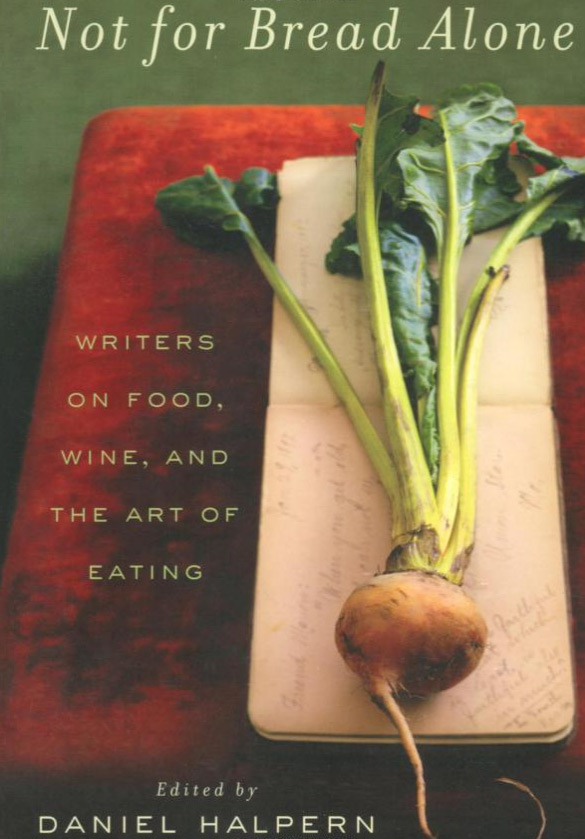 A Literary Feast Anthology (edited by Lillly Golden): Oh, glorious literary feasts, I'd like to re-stage you at local restaurants, as Ed Moore did at San Diego's Thee Bungalow for the Titanic Supper. Discover Virginia Woolf's wonderful dinner in To The Lighthouse and James Joyce's meals in The Dead, and, of course, Isak Dineson's transformative Babette's Feast.
Choice Cuts (Mark Kurlansky): Food writing from around the world and throughout history, Kurlansky's previous historical musings on Cod and Salt and other essays won him a James Beard Award for Excellence in Food Writing. In this book, he collects two hundred pieces from Cato to Cab Callaway on the art of cooking including Pablo Neruda on French Fries and Alice B. Toklas on killing a carp.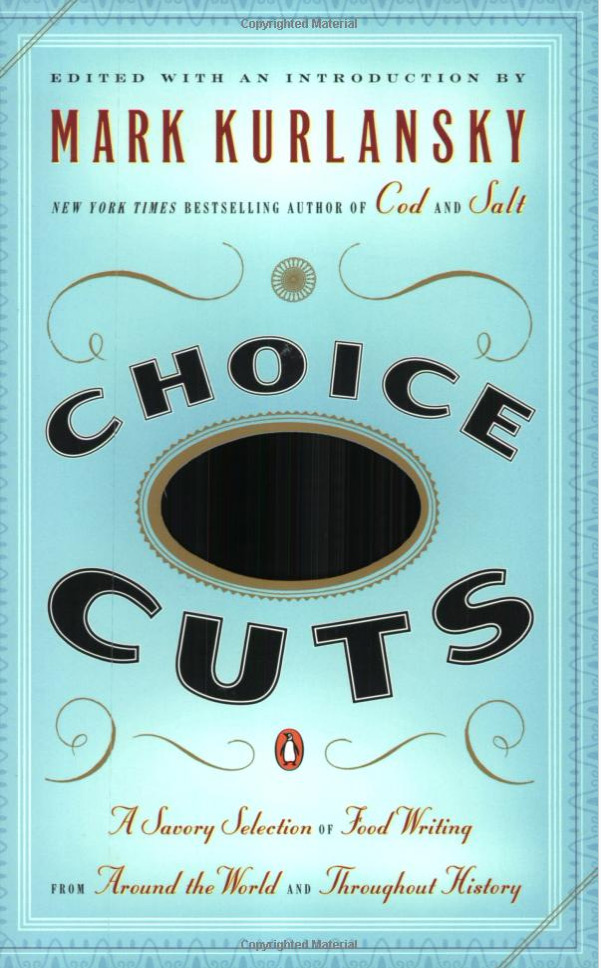 (Click to Buy on Amazon)
The Dining Car (Eric Peterson): In this entertaining novel, a young man searches for himself during his voyage as a bartender on a private railroad car owned by Horace Button, a legendary food writer and social critic touring the U.S. in grand style. If you love intrigue, redemption, perfectly mixed cocktails and eccentric characters, this culinary literary tale of second chances and serendipity is for you. (NEW)
From My Mother's Kitchen (Mimi Sheraton): Who doesn't love the former NY Times food writer's recipes and here, she shares both edible delights and reminiscences from a family where food was the center of celebrations and homey rituals of everyday life. The Joys of Being Sick in Bed even had a special menu in her home, where "meals appeared on pretty trays, set with colorful mats, the best china and silver and when possible, a flower." Bring on the teas with lemon and sugar or amber rock candy, the vaporizer and chicken soup, please. (See recipe below for Cold Borscht)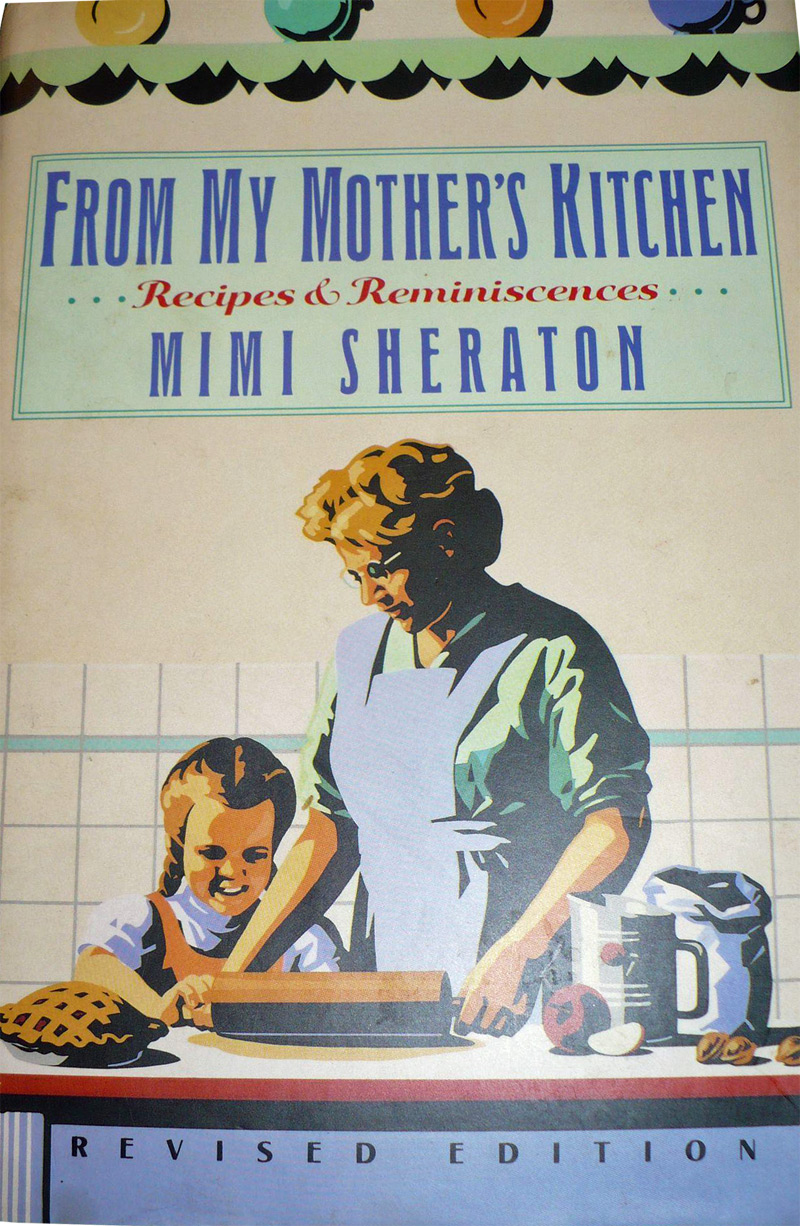 (Click to Buy on Amazon)
The United States of Arugula (David Kamp): If you are a St. Pete Foodie, you know that being a gourmet is a growing trend. In this entertaining book, Kamp looks at the behind-the-scenes stories of how celebrity chefs, baby greens, fancy fridges and destination restaurants became so vogue and part of our everyday lives.
BONUS RECIPE
Cold Beet Borscht From My Mother's Kitchen book by Mimi Sheraton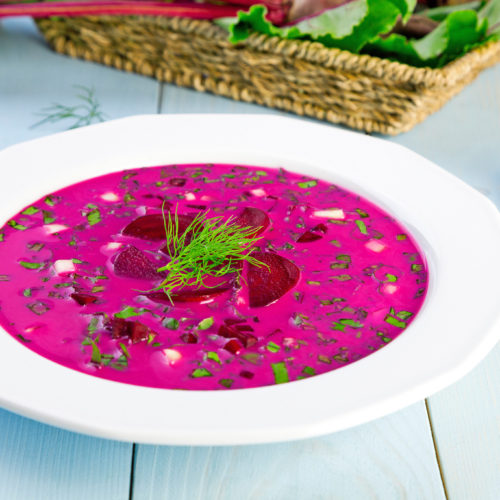 Cold Beet Borscht Recipe
Ingredients
3

Large

Fresh Beets

4 medium beets will do as well

1 ½

Juice of lemons

approximately

1

Pinch

Salt

1

Pinch

Sour Salt

(optional)

5

Cups

Water

2

Extra Large

Whole Eggs

or 4 yolks

1

Pinch

sugar

if needed

1

To taste

White Pepper

Sour Cream

For Garnish

Boiled Potatoes

Optional
Instructions
Wash and peel the beets and cut into fine dice or grate on the coarse side of a grater. Place in a saucepan with the juice of ½ lemon, a pinch each of salt and sour salt, and the 5 cups of water.

Bring to a boil, reduce the heat, cover, and simmer until the beets are tender, about 40 minutes. Add the juice of another ½ lemon. Remove from heat.

Using whole eggs results in a creamier, thicker borscht, but it is much trickier to add the hot beet soup to the whole eggs without having them coagulate. If you feel inexperienced with this process, use just the yolks. In either case, beat the eggs with a fork until they are thin and watery.

Slowly ladle some of the hot borscht into the eggs, beating constantly. When all the egg mixture is beaten into the soup, pour the soup back and forth between the pot and a bowl or pitcher about 10 or 15 times until the mixture is smooth, airy, and creamy.

Halfway through, add more lemon juice to produce a winey effect; add a tiny pinch of sugar, if necessary, and salt and white pepper as needed. Continue pouring to blend. Chill thoroughly.
Notes
It is best to add sour cream shortly before serving so that the borscht will keep longer. The sour cream can simply be served on the side, to be spooned in at the table. Or you can add sour cream (about 1 heaping tablespoon per cupful of borscht) to the soup in a jar. Close tightly and shake vigorously to blend. Fluffy, dry, hot boiled potato is wonderful in the middle of this ice-cold soup.
Nutrition Facts
Cold Beet Borscht Recipe
Amount Per Serving
Calories 565
Calories from Fat 117
% Daily Value*
Fat 13g20%
Cholesterol 417mg139%
Sodium 935mg41%
Potassium 3030mg87%
Carbohydrates 96g32%
Protein 29g58%
Vitamin A 874IU17%
Vitamin C 126mg153%
Calcium 271mg27%
Iron 9mg50%
* Percent Daily Values are based on a 2000 calorie diet.
Nutrition
Calories:
565
kcal
Carbohydrates:
96
g
Protein:
29
g
Fat:
13
g
Saturated Fat:
4
g
Cholesterol:
417
mg
Sodium:
935
mg
Potassium:
3030
mg
Fiber:
28
g
Sugar:
61
g
Vitamin A:
874
IU
Vitamin C:
126
mg
Calcium:
271
mg
Iron:
9
mg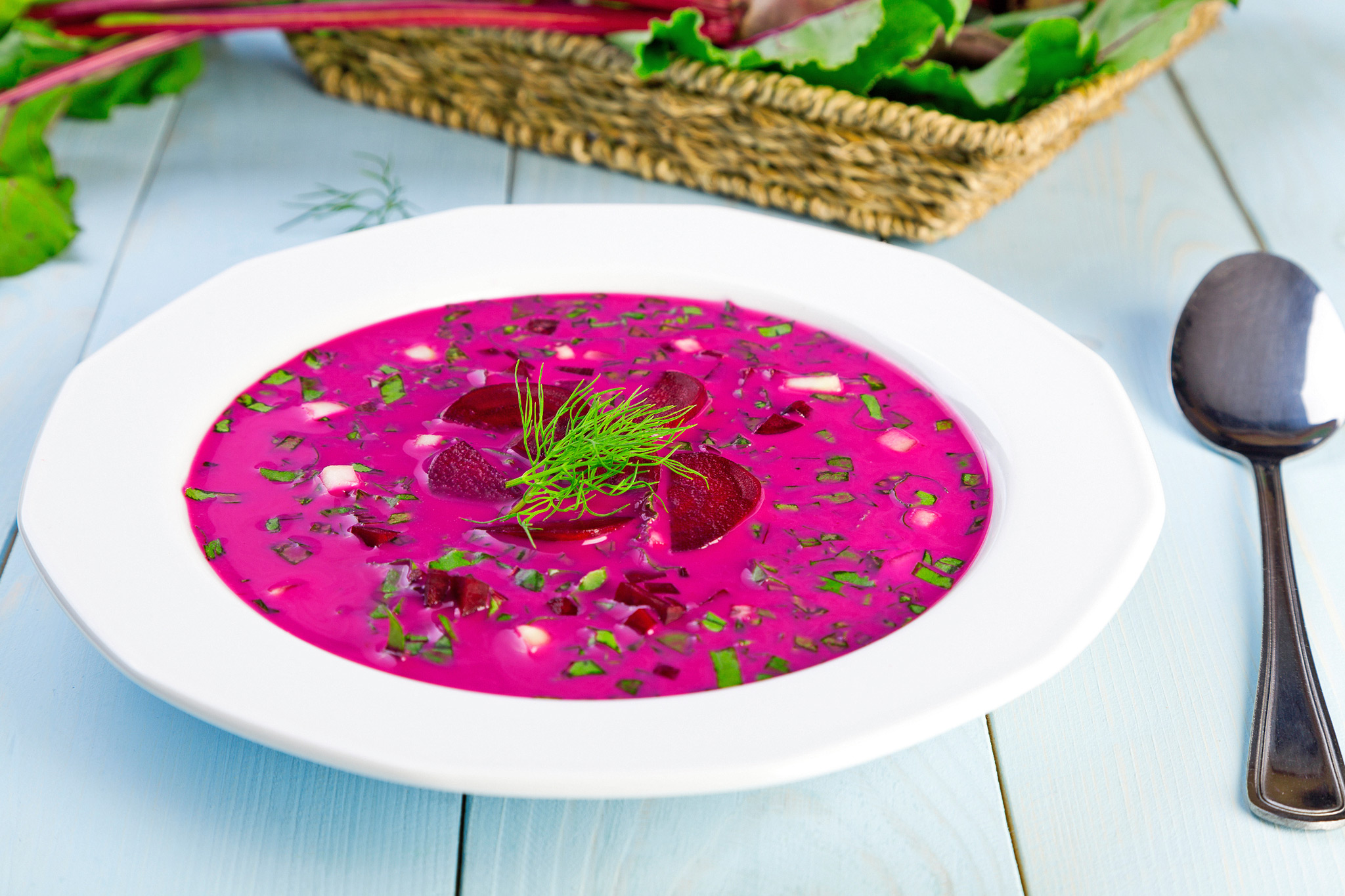 Readers Rating

Rated 5 stars




5

/ 5 (

Reviewers

)

Spectacular
---
Different books about eating, drinking, and recipes.
A Literary Feast Anthology, Antaeus: Not For Bread Alone Choice Cuts, From My Mother's Kitchen, The Dining Car, The United States of Arugula.