June 2018 Caption Contest Sponsored by Hunger + Thirst Group
June 2018 Caption Contest Sponsored by Hunger + Thirst Group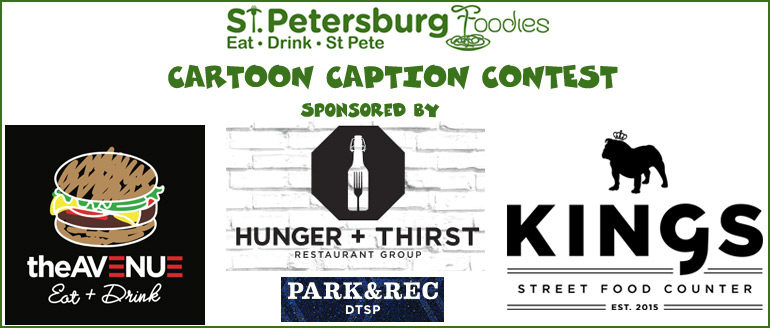 StPetersburgFoodies.com Cartoon Caption Contest Sponsored by Hunger + Thirst Group
Welcome to the June 2018 Cartoon Caption Contest. Cartoonist Jerry King creates foodies cartoons exclusively for StPetersburgFoodies.com every month. Each month, one of the cartoons will be published without a caption so contest entrants can submit their own entries.
Hunger + Thirst Group co-sponsors the monthly contest. They currently own and operate these three restaurants in St. Petersburg, FL:
The Avenue Eat + Drink
330 1st Ave South
St. Petersburg, FL 33701
(727) 851-9531
Kings Street Food Counter
937 Central Ave
St. Petersburg, FL 33705
(727) 914-2111
Park & Rec
100 4th St South
St. Petersburg, FL 33701
(727) 245-9100
http://www.parkrecdtsp.com/
StPetersburgFoodies.com Editorial Staff will judge the entries and Hunger + Thirst Group will award the prizes. The 1st, 2nd, and 3rd place winners will each receive prizes as follows.
1st place: $75 Gift Card that can be used at The Avenue, King's, or Park & Rec.
2nd place: $50 Gift Card that can be used at The Avenue, King's, or Park & Rec.
3rd place: $25 Gift Card that can be used at The Avenue, King's, or Park & Rec.
For legal and logistical reasons, the contest is only open to residents of the state of Florida.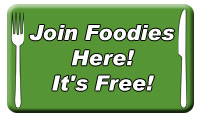 Written by Kevin Godbee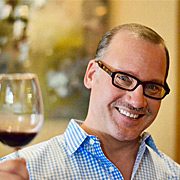 Publisher & Co-Founder of St. Petersburg Foodies
World Food Championships Certified Food Judge #1541
Certified Chili Judge by the International Chili Society
Certified Steak Judge by the Steak Cookoff Association
Rouxbe Culinary School Enrollee
Culinary Institute of America "DISH" Member
I've always loved cooking. When I was 6-years old I wanted to cook. When my mom said that she was just running to the neighbor's and would be right back, I climbed onto the kitchen counter and found Lipton Instant French Onion Soup Mix. By the time my mom returned, I was stirring the pot on the stove, and proclaimed; "Look Mom! I'm cooking!"
In High School, I took three different cooking classes and got an A in each. After getting my first apartment, I used to cook 5-nights a week, and go out two nights. An old girlfriend from decades ago had a brother-in-law that was a CEO of a trucking company, and he used to entertain in Manhattan quite a bit ... and he started taking us along.
This was when I learned about gourmet food and fine wine. For a couple of years, Lori and I went out about 4-5 nights a week, but now we have a better balance of 50/50 between cooking at home, and going out to the amazing restaurants we are so lucky to have in our beloved Downtown St. Petersburg.
View all posts by: Kevin Godbee
More Foodies News, Reviews & Recipes
Comments are closed
#stpetersburgfoodies #stpetefoodies
Recent Posts
October 22, 2021

10 Best Coffee Shops in St. Petersburg FL 2021

Find the jolt you need at the best coffee shops in St. Pete. I can confidently state that this city runs on coffee. Whether you're an early riser catching the sunrise down by the bay, looking for a mid-day work pick me up or downing a shot of espresso before a night out, there's a coffee shop that's perfect for what you're looking for. This list is created based on my personal favorite coffee shops. I have been to these all more than once and will continue to go back. I find them all to be outstanding. There is a lot, and I mean a lot, that goes into being a great coffee shop in St. Pete. For one, the coffee. And two, the overall experience. All of the places on this list have mastered not only amazing coffee but also provide a wonderful space. Some coffee shops roast their own coffee and others research the best beans to source from. Often times it's more than just grabbing a cup of coffee but instead, it's sipping the culture and hard work that made the cup taste so great. Let's all give a round of applause to the barista masters in St. Pete for keeping our town on a caffeinated high. These are in alphabetical order. 1. Bandit Coffee Co. 2662 Central Ave St. Petersburg, FL 33712 Bandit Coffee Website Bandit Coffee Co. is a trendy coffee shop with delicious brews in an airy and open atmosphere. Bandit is a prominent spot for insanely great coffee and their newly launched food menu. They have a great coffee menu with everything from lattes, espresso, pour overs and more, that are brewed from single-origin roasts; delicious and fresh. They also have seasonal items which are pictured above from their Autumn menu. If you love their coffee so much, you can take a bag (or 2) home with you for purchase. Their inside is currently closed as they've been working on perfecting a food menu and building out a full kitchen, but you can still enjoy their coffee and food from their to-go counter. 2. Beans & Barlour 407 Central Ave St. Petersburg, FL 33701 (727) 440-4540 Beans & Barlour Website When most of the coffee shops around town lock their doors for the day, Beans & Barlour stays open. Beans & Barlour has a very entertaining atmosphere with boozy dessert drinks, outstanding New York bagels, and an impressive coffee menu. They serve organic coffee with various milk options. They offer all sorts of sips but their specialty lattes and house specialties are where it's at. The Creme Brulee Cappuccino is amazing and you can even crack the creme brulee into your coffee which is sweet and delicious. Another great pick me up is their Iced Latte with White Chocolate Mocha. For all of your late nights whether it's grinding to get work done or needing a boost of energy for a night out, Beans & Barlour is your answer for a fresh cup of coffee after hours. You gotta try their New York bagels too while you're at it. And I will say it again they offer full liquor for boozy drinks and dessert options anytime. 3. Black Crow Coffee Shop 722 2nd St N St. Petersburg, FL 33701 (727) 580-7200 2161 1st Ave S St Petersburg, FL 33712 (727) 200-1860 Black Crow Coffee Website Black Crow Coffee Shop is a true hidden gem, located in historic Old Northeast surrounded by charming houses and brick roads. From the local art hanging on the walls to the delicious coffee and pastry options, the entire atmosphere exudes St. Pete. They also have a location in the Grand Central District that displays a similar quirky and creative vibe. They offer a variety of craft coffee options like pour-overs, cold brews, chai lattes, as well as an entire cafe dolce menu (flavored coffee). Snag a pastry and soak up this St. Pete gem with a vanilla cold brew. 4. The Blend 1211 4th St N St. Petersburg, FL 33701 (727) 289-9312 The Blend – Old NE Facebook Page 490 1st Ave S St Petersburg, FL 33701 (727) 827-7744 The Blend – Downtown Facebook Page Whether you're craving a decked-out oat milk latte or a simple glass of bubbles, The Blend is a perfect one-stop-shop. The Blend specializes in coffee and wine in a trendy shop with a chic aesthetic. With three locations, one in downtown St. Pete in the Tampa Bay Times building, one in Old Northeast on 4th Street and their newest location on US 19, you shouldn't pass on the opportunity to stop in for a quick coffee, pastry, glass of wine and much more. 5. Craft Kafe Downtown 200 Central Ave St. Petersburg, FL 33701 (727) 256-8587 6653 Central Ave St Petersburg, FL 33710 (727) 914-7443 Craft Kafe Website With the hustle and bustle lifestyle of downtown St. Pete, it's always nice to take a breather at the corner coffee shop. At Craft Kafe, you can find delicious coffee options from cold brew to espressos in addition to their specialty coffee menu. Their specialty menu flavors up your typical coffee options. I always get the Hot Mom which is an iced caramel latte with almond milk. Simple. Yet delicious. They make their own almond milk and it's creamy and divine. I suggest pairing your drink with a slice of their generously sized lemon poppyseed cake or a savory quiche. Everything here is gluten-free and the team is incredibly friendly. They also offer a second location near Pasadena on 66th St. 6. Driftwood Kava and Roastery  740 Central Ave St. Petersburg, FL 33701 (727) 440-6026 Driftwood Website Looking for a chill place to meet up with a friend or get some work done? Driftwood Kava and Roastery on Central Ave is a welcoming place to go. The interior of Driftwood has been transformed into a modern, rustic, warm space that you will surely want to spend time in while sipping and noshing on […]

Alésia Restaurant is a quaint hidden gem on Central Avenue serving strikingly good French-Vietnamese fare, wondrous wines and let's not forget about the dessert. From the moment you arrive, your eyes will be drawn to the twinkling and shining lights in the outdoor patio. If you're anything like me, you love a quaint atmosphere, especially when sipping on wine and meeting up with your friends for a bite to eat. I'm surprised by myself, that this was the first time I've been here. It's definitely my vibe with scrumptious food and great ambiance. Now that I've been a few times, I can't wait to go back and have more girls nights and date nights here. The food menu is impressive with an array of yummy options. Think fresh and unique flavors that are unmatched from the founders' Vietnamese and French upbringing. The result? Meals that'll leave your tastebuds astounded. Begin with the starters. While you peruse this section of the menu, you'll recognize a few traditional Vietnamese and French options like potstickers, egg rolls, soup du jour, lobster bisque and more. We went with the summer rolls to keep it healthy and light before diving into our main meal. The summer rolls are fresh rolls in rice paper with rice vermicelli, mint and lettuce served with hoisin peanut sauce. You also select your protein or can go veggie style with just mushrooms. Each bite exudes freshness. The best part about these summer rolls was that they didn't break and create a mess. They were wrapped perfectly and each bite included every ingredient. The peanut sauce was on the thicker side but very tasty and brought the flavors to the next level. Alésia has a handful of sandwiches to choose from which makes for the perfect lunch spot. Pair it with soup or a salad and you're good to go. Some sandwich options include Croque Sandwiches, Bahn Mi, Roast Beef Croissant Sandwich and even a Parisian Hot Dog which I've heard good things about. The Traditional style Bahn Mi sandwich was a recommendation from a friend and our server, so I went for it. This Vietnamese sandwich has pickled carrots, cucumber, cilantro and jalapeño all packed on artisan bread. The styles you can order this delicious sandwich are grilled pork, char sui BBQ pork, grilled chicken or traditional. The spicy sauce is really, really spicy. Even if you can typically handle a little heat like myself, I'd still order it on the side. The sandwich was simple, yet delicious and well seasoned. I will likely order this again! Anytime there's coconut curry on a menu, I know my Aunty Karen will order it. Luckily we have similar taste and I'm glad she got it because I was also eyeing it. The coconut curry at Alésia is a magical bowl of curry with baby bok choy, red bell peppers, onions, potatoes and mushrooms. You can get it with jasmine rice or a French baguette. If you're looking for spoonfuls of comfort food, this should be your next order. The curry itself was the perfect ratio of creamy to light. The flavors that danced around my mouth were out of this world with a slight sweetness but mostly savory. The chicken and veggies in the mix were all very delicious and made this dish one to remember. The moment most of you have probably been waiting pho. I'd say the pho is an iconic dish at Alésia based on the reaction I received when I told people I was going there for dinner. "Oh, you have to get the pho!" "The pho is amazing!" and so on. I'm so glad I ordered it because it really was outstanding. The pho at Alésia is Vietnamese rice noodle soup served with fresh herbs and choice of lean beef or chicken. And guess what, I'm still dreaming about this steamy and savory bowl of deliciousness. The light broth was perfectly balanced with spiced flavors and the rice noodles were so good and soft. Sometimes when you order pho, the meat is dried out but that was not the case here. The chicken was juicy and nearly melted in my mouth. The annoying slurp is well worth it and you should do yourself a favor and order the pho on your next visit. The salads are next level. This burrata Caprese salad with chicken is vibrant both in taste and sight with fresh arugula, basil, assorted olives, oven-roasted tomatoes, red onion, a rich, cream filled mozzarella, burrata cheese, grilled olive oil drizzled baguette slices and balsamic vinaigrette dressing. These ingredients combined make for a startling good salad with sweetness from the fresh tomatoes, creaminess from the burrata and mozzarella and savory kicks from the olives and arugula. Overall, this is a wonderful meal if you're hungry for freshness. Get your greens in with the Vietnamese Salad with Grilled Pork which is tossed with romaine lettuce, cucumber, mint, red onion, and served with an Asian dijon vinaigrette and shrimp chips. This salad screams crunchy and refreshing. The grilled pork was perfectly glazed and seasoned. This salad is a great option if you're looking for a simplified meal with classic bites. You all know that I have a hard time saying no to dessert. I convinced my friends to split something and we were blown away. Seriously, we couldn't stop oohing and aahing. The House Banana Chocolate Chip Bread Pudding is the best I've ever had. Nothing will come close to it. The warm chocolate melting all around the comforting banana bread pudding was a dream and paired perfectly with the creamy French vanilla bean ice cream. This checked off all the boxes for me. What's your post dinner drink? If you answered with coffee, tea or wine, Alésia has you covered. Their coffee and tea menu has something for everyone whether you like lattes, hot tea or anything in between. My friends ordered a Vietnamese Drip Coffee and Latte. The Vietnamese Drip Coffee stood out to me the most. It's a […]

Cooler Fall evenings in Florida are right around the corner (or at least I hope) and it's during this time of year that I really ramp up soup production in the kitchen. I know that everyone is still losing their minds over all things pumpkin spice right now, but it's really never been my thing. I, on the other hand, look forward to cooking up as much squash as possible. For this recipe, while I prefer a butternut squash from the produce section, frozen will also work just fine if your grocery story doesn't have any fresh available. Rollin' Oats has a handful of organic options available in ten ounce bags. If using frozen, just use two of the ten ounce bags. I know you've listened to us rave about Dave's Killer Bread before and you better believe that it is my preferred bread for this sandwich – specifically, the Good Seed. I love the texture that it takes on after spending some time turning crisp and golden brown in the skillet. You don't have to use Good Seed though, of course. A personal favorite of my husband's for a solid grilled cheese is Dave's White Bread Done Right. Both of which can also be found at Rollin' Oats, along with other killer options from Dave's. As far as the cheese for this sandwich is concerned, don't limit yourself to only cheddar. I encourage you to utilize any kind of good melty cheese that you prefer. The first time that I made this we actually used a mix of aged white and yellow cheddar and it was divine! If cheddar isn't your jam though, a luscious Brie would be a fine alternative, in my opinion. Grilled Cheddar Cheese, Apple & Onion Sandwich with Butternut Squash Soup An elevated spin on a classic duo – your new favorite soup and sandwich combination is here. If you can't find Butternut Squash in the produce section, check the freezer aisle. Two ten ounce bags will totally suffice. Blender Butternut Squash Soup1 Butternut Squash (Peeled and cubed. Or, 2 10oz bags of frozen Butternut Squash.)3/4 White Onion (Roughly Chopped.)1/2 Apple (Sliced.)1 cup Vegetable Stock1 tbsp Olive Oil2 tbsp Sage (Fresh – minced.)1 tsp Salt (Plus more, as needed.)1/2 tsp Pepper (Plus more, as needed.)Optional garnishes (chili crunch, sage, etc.)Grilled Cheddar Cheese, Apple & Onion Sandwich4 slices Bread (Like Dave's Killer Bread)1 cup Cheddar Cheese (Like Kerrygold, grated.)1/2 Apple (Thinly sliced.)1/4 White Onion (Thinly sliced.)2 tbsp Butter (Like Vital Farms.)1 tbsp Sage (Fresh – minced.)2 tsp Red Pepper Jelly (Like Bonnie's) Butternut Squash SoupPreheat the oven to 375. If using a whole Butternut Squash, peel and cube and add to a parchment-lined baking sheet with sliced onion and apple. Toss with olive oil, salt and pepper.Roast in the oven for 45 minutes to one hour (until everything has softened). If using frozen squash, heat according to package instructions and set aside until apple and onion have roasted.Add roasted vegetables (and prepared squash, if using frozen) to a high powered blender with one cup of vegetable broth. Blend until smooth and season with salt and pepper to taste.Pour soup into a medium dutch oven or pot and heat on low until ready to serve. Whilst serving, top with optional garnishments.Grilled Cheddar Cheese, Apple & Onion SandwichPreheat oven to 350. Evenly butter both sides of each slice of bread. Heat medium nonstick skillet over medium heat (we are going to make one sandwich at a time) and add one buttered slice of bread.Top with 1/4 cup grated cheese, half of the onion and apple slices, half of the minced Sage and another 1/4 cup of cheese. Add 1 tsp jelly to another piece of bread and place that on top of that in the skillet, jam side in the middle.Gently press together and cook until under side takes on a nice golden color – a few minutes. Carefully flip the sandwich onto the other side.Cook for another couple of minutes until sandwich is golden and crisp on both sides. Keep sandwich warm in preheated oven until you make your second sandwich. Assemble the other sandwich by repeating the same method. Cut sandwiches in half and serve along side a bowl of Butternut Squash Soup. Main Dish, Sandwich, SoupAmericanAbby Allen Recipes, Butternut Squash Soup Recipes, Grilled Cheese Recipes

October 11, 2021

10 Best Cuban Sandwiches in St. Petersburg FL 2021

Best Authentic Cuban Sandwiches in St. Pete The last time I did this list was in 2019, and I could only come up with a top five. It was also actually my first ever best Cuban sandwich list. I ate A LOT of Cuban sandwiches this year, and for 2021, we do have a top 10. Salami or No Salami? The Cuban Sandwich was invented in Ybor City in the late 1800s by Cuban immigrants with some influence from Italian immigrants. The original included a Spanish dried sausage that was later replaced with salami. Later, when Miami picked up on the Cuban Sandwich, they left the salami off. Oddly, ironically, and likely because of the larger population, the Miami version is the more popular one. Because of this, many people think that the Miami version without salami is the true one, but it is not. I think that if you are in the Tampa Bay area making Cubans, that the salami (or something similar) should be there. There's a great article with more details on Today.com There were several highly touted Cuban sandwiches that did not have the third meat, and they were excluded because of this. If you don't see your favorite Cuban here, please go check to see if they only have pork and ham for the meats, and then you'll know why. I make no apologies for this. Most Likely, The Only Real Best Cubans List Before we get into the list, an important thing you should be aware of is that there are other publishers of "best of lists" that do not actually go to the establishments, or actually eat the food. We absolutely DO. (How can anyone recommend something they never experienced?) Unfortunately, we've seen it a lot—from national and local publishers. We are also aware of a local publisher that offers paid placement in best-of-lists. There is no paid placement here. I PERSONALLY ATE ALL OF THESE SANDWICHES, AND WENT TO ALL OF THESE PLACES, AND THESE ARE ALL OUR PHOTOS. To bring you this list, I personally consumed: 170,000 calories 1,095 grams of fat 2,782 mg of cholesterol 35,000 mg of sodium 858 grams of protein That's why all the other publishers just stay home and download photos off the internet, or use computer-generated lists from Yelp or similar. These are listed in alphabetical order. <—— Look 1. Barracuda Deli Cafe 6640 Gulf Blvd, St Pete Beach, FL 33706 (727) 826-0998 Barracuda Deli Website This is a hole in the wall hidden gem. "The Best Cuban" – roasted pork, ham, salami, Swiss, pickles, mustard & mayo. They also put butter on the inside, and outside of the bread. That was one of the tricks I could figure out. If you don't go to St. Pete Beach for the Cuban Sandwich at Barracuda Deli Cafe, it may be the biggest mistake of your life. (Go through Pasadena as Gulf Blvd is a disaster of road construction.) It's easy to miss, as it's small, and the sign is faded away. They are on Gulf Boulevard in between 67th & 66th, next to St. Pete Guitars. (Check the days and hours. They are not open for dinner, usually closing between 3:30-5:00.) 2. Brooklyn South 1437 Central Ave St. Petersburg, FL 33705 (727) 914-4967 Brooklyn South Facebook Another hole in the wall, but this one not so well hidden, Brooklyn South is a downtown St. Pete institution best known for their meats and cheeses. This isn't just your average Cuban. Ham, pork loin, hot capicola, provolone, pickles and garlic-cilantro mayo are the components which make up this incredible creation. The thought of it alone is enough to make my mouth water. 3. The Burg Bar & Grill 1752 Central Ave St. Petersburg, FL 33712 (727) 894-2874 The Burg Website Another small place that's big on flavor with lots of good stuff on a diverse menu. A couple of my other favorites are their Gyro Burger and Chicago Dog. The Burg Cuban Sandwich – ham, pork, salami, Swiss, pickles, mustard, mayo. It's super delicious! (This is one of two that remain from the original list of five from 2019.) 4. Caribbean Cafe 4801 Central Ave St. Petersburg, FL 33713 (727) 327-7202 Caribbean Cafe Facebook I'm starting to see a trend that many, but not all, of the best Cuban sandwiches are found in unlikely places, hidden gems, and hole-in-the-walls. Caribbean Cafe just feels like it's in the middle of nowhere, like it's stranded on a deserted island waving and screaming "hey!" to the passing ship for attention. It's actually not. It's only five miles out of downtown on Central Avenue near the intersection of 49th St. Coincidentally, their Cuban sandwich is so scrumptious that the first bite will have you closing your eyes in pleasure and dreaming of being on an island where you can hear the waves and seagulls. It has ham, salami, "Cuban" pork, Swiss cheese, dill pickle, mustard and mayo on fresh Cuban bread. (Check the hours. They currently close at 6pm. Sat 3pm.) 5. Datz 180 Central Ave St. Petersburg, FL 33701 (727) 202-1182 Datz St. Pete Website Datz took 1st Place in the 10th Annual Ford Intl. Cuban Sandwich Festival which took place September 5, 2021, appropriately in Ybor City where the sandwich was born. The Datz Cuban comes from one of their Cuban chef's family recipes, which they "Datzified just a little bit". If you've had their Havana Hottie, this is not it. This is a new traditional Cuban sandwich. This award winning sandwich includes mojo pork, imported Italian salami, premium Duroc pork shaved ham, Swiss cheese, yellow mustard, and pickles. The mustard has piquillo peppers added to it, which adds some sweetness without heat, and the house-made pickles are sweet and spicy. It gets brushed in a honey / garlic butter before being pressed. You can really taste why they took first place this year. 6. The Floridian 230 107th Ave Treasure Island, FL 33706 (727) 367-6662 The Floridian […]

October 7, 2021

The Floribbean Offers Craveable Caribbean Food In St. Pete

Located in the bustling Grand Central District on Central Ave, The Floribbean is a remarkable lunch and dinner spot if you're on the hunt for something quick, casual, and straight up amazing. Lately, the buzz about the bowls at The Floribbean have been getting louder in our St. Petersburg Foodies Restaurant Reviews Facebook Group, so we checked it out for ourselves and we're completely impressed. If you're looking for the best smoked paprika chicken and divine flavorful combinations in bowl form, The Floribbean in St. Pete is the place to be. With fresh ingredients and made from scratch Caribbean fare, they offer unique specialty bowls, build your own bowls, and refreshing juices to satisfy your tastebuds. For the days when you're looking for a tasty meal, let The Floribbean do the work. On our first visit, we ordered the Sweet Heat Havana (pictured on the left) and the Island Umami (pictured on the right). In just a few bites we knew that we'd be regulars here. Do not, I repeat do not, sleep on the drinks. The Coconut Lime Ginger and Tropical Acai were so refreshing and can really transport you to the islands. The Island Umami is my favorite bowl of them all with smoked paprika chicken, coconut rice, chipotle sweet potatoes, sweet plantains and curry miso. The chicken was outstanding both in flavor and preparation. The chipotle sweet potatoes were so delicious. They were coated with a nice kick of chipotle sauce and the texture was perfectly soft. I wasn't sure how I was going to like the plantains but turns out they were the perfect sweetness to this bowl. This meal was easily one of the best lunches I've had in St. Pete and I will call this my go-to order from now on. The Sweet Heat Havana bowl was quickly consumed by my friend Hannah. With a combination so mouthwatering, I don't blame her. The Sweet Heat Havana bowl is a yummy concoction of Cuban-style pork, ginger-lime black beans, mango quinoa, sweet plantains and jerk aioli. The Cuban-style pork is melt in your mouth good which paired perfectly with all of the unique flavors and textures that make up this bowl. The ginger lime black beans are a game changer. I saw that Kevin had the Floribbean Chili Bowl and wanted to try it out for myself. It was incredibly tasty! This bowl is as scrumptious as it sounds with garlic lime braised beef, sofrito, black beans, brown rice and lime crema. The garlic lime braised beef was so good, it just falls apart in the most perfect way. I especially loved the fresh sofrito too. The flavors were marinated together and made this soft and delicious taste. I just love this combination, it hits the spot and is very craveable. Next time, I'll swap out the lime crema for the Hawt Hot Sauce for an extra kick like Kevin's bowl. Next up, the Fresh Mex Bowl with cuban-style pork, ginger lime black beans, curtido slaw, sofrito and lime crema. All I really have to say here is, move over Chipotle, there's a better mex bowl in town! The quality is unmatched and will leave you wanting more. The pork, as we already know, is a stand out ingredient here. It's seriously so good. The curtido slaw really elevates this dish. It's a vinegar based Caribbean slaw with cilantro and sweet peppers which adds a crisp and fresh crunch. The lime crema is a light sour cream based sauce with cilantro and lime for a smooth and delightful topping. The combinations of their signature bowls are a safe place to start. Each one seems to be thought out in a way where your tastebuds are able to explore different flavors and seasonings in a great way. The build your own bowl is obviously always a good idea too but sometimes I like to leave it up to the chef to create one for me. The Floribbean should most definitely be on your list of places to try. The food was phenomenal in every single bite I consumed. I'm really looking forward to spreading the word about this gem of a spot in St. Pete.
Recipes
Cooler Fall evenings in Florida are right around the corner (or at least I hope) and it's during this time of year that I really ramp up soup production in the kitchen. I know that everyone is still losing their minds over all things pumpkin spice right now, but it's really never been my thing. I, on the other hand, look forward to cooking up as much squash as possible. For this recipe, while I prefer a butternut squash from the produce section, frozen will also work just fine if your grocery story doesn't have any fresh available. Rollin' Oats has a handful of organic options available in ten ounce bags. If using frozen, just use two of the ten ounce bags. I know you've listened to us rave about Dave's Killer Bread before and you better believe that it is my preferred bread for this sandwich – specifically, the Good Seed. I love the texture that it takes on after spending some time turning crisp and golden brown in the skillet. You don't have to use Good Seed though, of course. A personal favorite of my husband's for a solid grilled cheese is Dave's White Bread Done Right. Both of which can also be found at Rollin' Oats, along with other killer options from Dave's. As far as the cheese for this sandwich is concerned, don't limit yourself to only cheddar. I encourage you to utilize any kind of good melty cheese that you prefer. The first time that I made this we actually used a mix of aged white and yellow cheddar and it was divine! If cheddar isn't your jam though, a luscious Brie would be a fine alternative, in my opinion. Grilled Cheddar Cheese, Apple & Onion Sandwich with Butternut Squash Soup An elevated spin on a classic duo – your new favorite soup and sandwich combination is here. If you can't find Butternut Squash in the produce section, check the freezer aisle. Two ten ounce bags will totally suffice. Blender Butternut Squash Soup1 Butternut Squash (Peeled and cubed. Or, 2 10oz bags of frozen Butternut Squash.)3/4 White Onion (Roughly Chopped.)1/2 Apple (Sliced.)1 cup Vegetable Stock1 tbsp Olive Oil2 tbsp Sage (Fresh – minced.)1 tsp Salt (Plus more, as needed.)1/2 tsp Pepper (Plus more, as needed.)Optional garnishes (chili crunch, sage, etc.)Grilled Cheddar Cheese, Apple & Onion Sandwich4 slices Bread (Like Dave's Killer Bread)1 cup Cheddar Cheese (Like Kerrygold, grated.)1/2 Apple (Thinly sliced.)1/4 White Onion (Thinly sliced.)2 tbsp Butter (Like Vital Farms.)1 tbsp Sage (Fresh – minced.)2 tsp Red Pepper Jelly (Like Bonnie's) Butternut Squash SoupPreheat the oven to 375. If using a whole Butternut Squash, peel and cube and add to a parchment-lined baking sheet with sliced onion and apple. Toss with olive oil, salt and pepper.Roast in the oven for 45 minutes to one hour (until everything has softened). If using frozen squash, heat according to package instructions and set aside until apple and onion have roasted.Add roasted vegetables (and prepared squash, if using frozen) to a high powered blender with one cup of vegetable broth. Blend until smooth and season with salt and pepper to taste.Pour soup into a medium dutch oven or pot and heat on low until ready to serve. Whilst serving, top with optional garnishments.Grilled Cheddar Cheese, Apple & Onion SandwichPreheat oven to 350. Evenly butter both sides of each slice of bread. Heat medium nonstick skillet over medium heat (we are going to make one sandwich at a time) and add one buttered slice of bread.Top with 1/4 cup grated cheese, half of the onion and apple slices, half of the minced Sage and another 1/4 cup of cheese. Add 1 tsp jelly to another piece of bread and place that on top of that in the skillet, jam side in the middle.Gently press together and cook until under side takes on a nice golden color – a few minutes. Carefully flip the sandwich onto the other side.Cook for another couple of minutes until sandwich is golden and crisp on both sides. Keep sandwich warm in preheated oven until you make your second sandwich. Assemble the other sandwich by repeating the same method. Cut sandwiches in half and serve along side a bowl of Butternut Squash Soup. Main Dish, Sandwich, SoupAmericanAbby Allen Recipes, Butternut Squash Soup Recipes, Grilled Cheese Recipes

September 9, 2021

Cast Iron Skillet Buffalo Chicken Pizza Recipe

Football season is back and let's face it, we're all excited. Chalk up a win during game day with a Cast Iron Skillet Buffalo Chicken Pizza that'll keep you wanting more. Why use a cast iron skillet, you ask? Well, why not. We all know that a well-seasoned cast iron skillet makes most everything that much better, so why not pizza? Break out your most seasoned skillet that is approximately 9-10″. If you don't have a cast iron skillet, no big deal – use a pizza stone or baking sheet as you normally would. Okay, let's talk ingredients. Everything needed to make this pizza can be picked up at Rollin' Oats. I especially love that their store is loaded with healthier options, even when it comes to pizza. For instance, Simple Mills Pizza Dough Mix and Primal Kitchen's Buffalo Sauce and Vegan Ranch. Regarding spice level, this ranks right around a four or five, so it really isn't a ton of heat. You can easily adjust the heat level of this 'za by adding more Buffalo Sauce to the base of the Pizza and or finishing the pizza with Buffalo Sauce as it comes out of the oven. Also, you don't have to use Mozzarella cheese. Feel free to use Cheddar instead, or perhaps a combination of both. Cast Iron Skillet Buffalo Chicken Pizza Cast iron skillet pizzas further support the argument that everyone should own a cast iron skillet. Make this pizza in your most seasoned skillet in order to yield ultimate flavor. Cast Iron Skillet 2 cups Chicken (Cooked and shredded)1/2 cup Buffalo Sauce (I use Primal Kitchen from Rollin' Oats. This is to be mixed with the shredded chicken.)1/4 cup Buffalo Sauce (To be used as the sauce)12 oz Pizza Dough (Homemade or store bought)1/4 cup Semolina Flour1/2 cup Shredded Mozzarella (Low moisture is recommended)1/3 cup Blue Cheese (Crumbled)1/4 cup Red Onion (Diced)1/4 cup Green Onion (Minced)1/4 cup Celery (Diced)1/4 cup Ranch (Like Primal Kitchen Vegan Ranch)1 tsp Olive Oil Place a 9-10" cast iron skillet into the oven on the middle rack and preheat oven to 500F. Combine cooked, shredded chicken with 1/2 cup of Buffalo Sauce.Rub Olive Oil all over dough. Add Semolina Flour to a clean work surface and carefully stretch dough out until you have roughly a 9-10" circle. Remove hot skillet from oven and carefully lay stretched dough inside the pan.Add remaining 1/4 cup of Buffalo sauce and carefully spread evenly over the surface of the dough with the back of a spoon. Sprinkle with a couple pinches of salt. Disperse half of the Mozzarella cheese over the sauce, followed by the shredded chicken in Buffalo sauce, onion, then the rest of the Mozzarella. Top with blue cheese crumbles.Place pizza into the preheated oven for 20-25 minutes or until crust is golden and prepared to your liking. Remove pizza from oven.Finish pizza by drizzling the Ranch evenly over the top, followed by the diced celery and minced green onions. Slice and serve with more Buffalo sauce and Ranch as desired. Main DishAmericanBuffalo Chicken Pizza, Cast Iron Skillet Pizza, Pizza

August 2, 2021

Peach, Tomato and Cucumber Salad with Seared Halloumi Recipe

After eating Halloumi for the first time, I thought to myself, "how have I ever lived without this?' For those who haven't heard of Halloumi, it's a semi-hard unripe cheese with a high melting point, which makes it idyllic for searing, grilling, etc. In my opinion, seared/grilled Halloumi is best when enjoyed soon after it leaves the skillet when it's still warm. You won't find Halloumi everywhere, but Rollin' Oats has it of course – in addition to all of the other components in this salad. The crispy bread adds that bit of crunch that this dish was screaming for. I encourage you to use any kind of bread that you may have on hand. We always have a loaf of Dave's Killer Bread in our freezer (which you know that I use with a lot of frequency), so that's usually my go to. Toss in olive oil, toast for 15 minutes or so and then finish it with a pinch of salt if your heart desires – it makes all of the difference. This recipe is definitely one that wants to be made in the summertime. Best enjoyed with a cool bottle of Sauv Blanc or Rosé on a sweet little patio with irreplaceable company. Peach, Cucumber and Tomato Salad with Seared Halloumi An above average salad that is sure to give the people what they want. Also, if this is your first rodeo with seared Halloumi, you're welome! You're going to want it constantly. 2 Peaches (Cut in half, pit removed and sliced into thin half moons)2 Tomatoes (Make sure they are ripe. Slice them just like the peaches.)1/2 Cucumber (Sliced into thin rounds. Use any kind!)1/2 cup Red Onion (Sliced thin)7 ounces Halloumi Cheese (Sliced into 1/4" thick rectangles. Pat dry with papertowels.)1/2 cup Olive Oil (Plus 3 Tbsp, separated.)1 1/2 cup Bread (Like Dave's Killer Bread, torn into 1" pieces)2 tbsp Balsamic Vinegar2 tbsp Lemon Juice1 1/2 tsp Salt (Plus more, to taste)1/2 tsp Black Pepper1 tsp Honey1/4 cup Mint (Fresh, torn into pieces) Preheat oven to 375F and toss torn bread with 1 tbsp olive oil. Bake for 15 minutes, or until crisp and golden and set aside to cool. In a large bowl, whisk Balsamic, lemon juice, salt, pepper, honey and 1/2 cup olive oil until well combined. Taste and season with more salt as needed.Add peaches, cucumber, tomatoes and onion to bowl with vinaigrette and gently mix and set aside.Heat remaining 1 tbsp of olive oil in a nonstick skillet set over medium heat. Carefully add slices of Halloumi (you may have to do this in batches), one at a time, to hot oil. Sear until cheese begins to take on a golden color, 2-4 minutes. Flip cheese and cook other side another 2-4 minutes. Remove from oil and allow to cool on a paper towel-lined plate. Add croutons, seared halloumi and torn mint to bowl with peaches, cucumbers, tomatoes and onions. Combine and serve. Appetizer, SaladAmericanPeach Salad, Seared Halloumi, Seared Halloumi Salad, Summer Salad

July 5, 2021

Curry Chicken Salad and Avocado Hummus Recipe

Hey party people, it's picnic season! And unlike in 2020, get togethers with friends and family are a thing again. This summer wow guests at any celebration with not one, but two sides that will keep them coming back for more. Chicken Salad is often a summer party staple. Now, take it to the next level with the addition of a curry kick, cashews and lots of green onion. Five little minutes is all you need to make this salad yours. Simply buy a Rotisserie chicken, shred the already cooked meat and combine with the rest of the ingredients. Seriously, that's it. Unless you plan on making this into a sandwich (which you totally should) with some toasted Dave's Killer Bread and lettuce. I love hummus a whole lot. You know what I also love? Avocados. When you combine the two, they become a super couple – Avocado Hummus. Also in this irresistible dip are a ton of fresh herbs: Basil, Dill and Cilantro. Use any combination of as many or as little as you like based on your own preferences. My personal favorite vessel for dipping into this hummus comes in the form of Simple Mills organic Seed Flour Everything Crackers, which you can find at Rollin' Oats. They have a delicious selection of flavors, as well as a large array of other health-forward crackers. And of course, you can find all of the ingredients for both of these recipes at Rollin' Oats, too. Curry Chicken Salad and Avocado Hummus It's picnic season, folks! Blow the crowd away at your next party with these simple and summer-friendly recipes. Food Processor Curry Chicken Salad1 lb Chicken Breast (Poached and shredded. Pick up a Rotisserie Chicken if you're looking for a shortcut!)½ cup Mayonnaise (Plus more, as needed.)½ cup Dried Cranberries½ cup Cashews (Roughly chopped.)5 Green Onions (Dark and light green parts only and sliced into thin rounds)2 Celery Stalks (Ends trimmed, cut lengthwise and then chopped into small pieces.)4 tsp Curry Powder1 tbsp Lime Juice (From approximately 1/2 of a lime.)½ tsp Pepper½ tsp Salt (Plus more, as needed)Dave's Killer Bread (optional) (100% recommend this chicken salad on a sandwich!)Lettuce (optional) (If you're making the sandwich, of course)Avocado Hummus½ Avocado (Make sure it's nice and ripe.)1 15 1/2 oz can Chickpeas (Drained and rinsed well.)1 cup Fresh Herbs (Such as Dill, Cilantro and/or Basil. Plus more for garnish.)¼ cup Tahini¼ cup Lime Juice (Plus more, as needed.)2 Garlic Cloves1 tsp Salt (Plus more, as needed)½ tsp Black Pepper2 tbsp Olive Oil1 tbsp Everything Bagel Seasoning Curry Chicken SaladCombine all salad ingredients in a medium bowl and mix until everything is well incorporated.Taste and season with more salt, as needed.To make a Curry Chicken Salad Sandwich, toast your slices of Dave's Killer Bread and assemble by adding a few spoonfuls of salad and some lettuce.Avocado HummusTo a food processor or high-powered blender like a Vitamix, add avocado, chickpeas, tahini, lime juice, garlic cloves, salt, pepper and 1 cup of fresh herbs of choice. Process ingredients for one minute or so until the mixture starts to become smooth (it'll still be a bit chunky, though).Taste and season with more salt, as needed. With the motor running, slowly stream in olive oil.Spoon hummus into a bowl and drizzle with more olive oil, top with fresh herbs and evenly distribute the everything seasoning. Serve with crackers, like Simple Mills. Appetizer, Salad, Side DishAmericanAbby Allen Recipes, Avocado Hummus Recipe, Curry Chicken Salad Recipe, Rollin Oats Cafe St Petersburg FL, Rollin Oats Recipes, Rollin' Oats Natural Food Market

Okay folks, it's June…and that means summer, picnics and the start of grilling season. I don't know about you, but when I think about grilling, a juicy rack of ribs often comes to mind. However, being that we live in a small downtown St. Petersburg apartment with very minimal outdoor space, grilling is not something that we are able to do. Therefore, over the years, I have had to learn how to recreate favorites from the grill in our kitchen. Oven-baked ribs, when cooked properly, are just as satisfying as a slab from the grill if you ask me. Low and slow at 325 degrees and then finished with some high heat will yield a similar product. I typically gravitate towards Babyback Ribs. However, Rollin' Oats offers some incredible St. Louis style spareribs that have changed the game. St. Louis Style Ribs often have more fat (much like a Ribeye steak), but fat means flavor. In addition to quality ribs, Rollin' Oats also has a selection of premium organic barbecue sauces. St. Louis-Style Ribs with Hasselback Cantaloupe St. Louis style spareribs may contain more fat, but that means more flavor. Hasselback Cantaloupe1 Cantaloupe (Sliced into quarters, seeded and then sliced into half moons)1 bunch Fresh Basil 8 oz Fresh Mozzarella (Cut into approximately 1 1/2 inch slices)Olive OilSaltPepperSt. Louis-Style Spareribs1 rack Spareribs (Approximately 2-2.5lbs)1.5 tbsp Garlic Powder1.5 tbsp Paprika1 tbsp Salt1 tsp Brown Sugar1 tsp Cayenne Pepper1 cup Barbeque Sauce (Any will work – we love Annie's Organic!) St. Louis-Style Ribs Preheat oven to 325 F. In a small bowl, combine garlic powder, paprika, salt, brown sugar and cayenne. Rub spice mix evenly all over the ribs.Wrap seasoned ribs in foil completely, place on a baking sheet and bake for 2-2 1/2 hours. Remove ribs from the oven, unwrap. Coat ribs all over in barbeque sauce of choice. Increase heat to 425 F. Place ribs in the oven, uncovered, for 15 minutes (sauce will begin to caramelize). Remove ribs from the oven and serve.Hasselback CantaloupeTake the melon half moons and cut slits every 1" without cutting through the skin. Stuff 1 leaf of basil and a thin slice of Mozzarella into each slit in the melon. Drizzle with olive oil and season with salt and pepper. Appetizer, Main Dish, Side DishAmericanCantaloupe, Spareribs, St. Louis Style Spareribs