Mangia! Mangia! I remember my Sicilian grandmother always saying this to me as a kid – Eat! Eat!
I ate so much pasta as a kid, that by the time I was a young adult, I swore off the stuff for several years.
Now I am back in love with pasta, and I eat it about once a week.
The list order is zip code, then alphabetical. I refuse to say that this pasta is better than that one, and so on. In my opinion, that is wrong. There is no "apples-to-apples" comparison here. These are all excellent pasta dishes, and you should try them all, which brings me to another point.
There are other publishers of "best of lists" that do not actually go to the establishment and actually eat the food. They just surf the web collecting information, and downloading photos, or emailing the restaurant for them. We think those types of lists are crap.
Unfortunately, we've seen it a lot—from national and local publishers. We are also aware of a local publisher that offers paid placement in best-of-lists. There is no paid placement here.
It's ridiculous that I need to say this, but yes … I ATE ALL OF THESE PASTA DISHES, AND WENT TO ALL OF THESE PLACES, AND THESE ARE ALL MY PHOTOS.
Here are the 5 Best Pasta Dishes in St. Pete for 2019
Again, the order is zip code, then alphabetical by restaurant name.
Pasta Brava – Wood-Grilled Chicken, Fresh Pappardelle, Cotto Ham, Peas, Roasted Mushrooms, Pecorino, Asiago Cream.
SUPER DELICIOUS and a HUGE portion! It's nice and cheesy, creamy, and chewy with great textures and flavors. I love the peas and mushrooms in there too.
BellaBrava
204 Beach Dr NE
St. Petersburg, FL 33701
(727) 895-5515
https://bellabrava.com
2. Gratzzi Italian Grille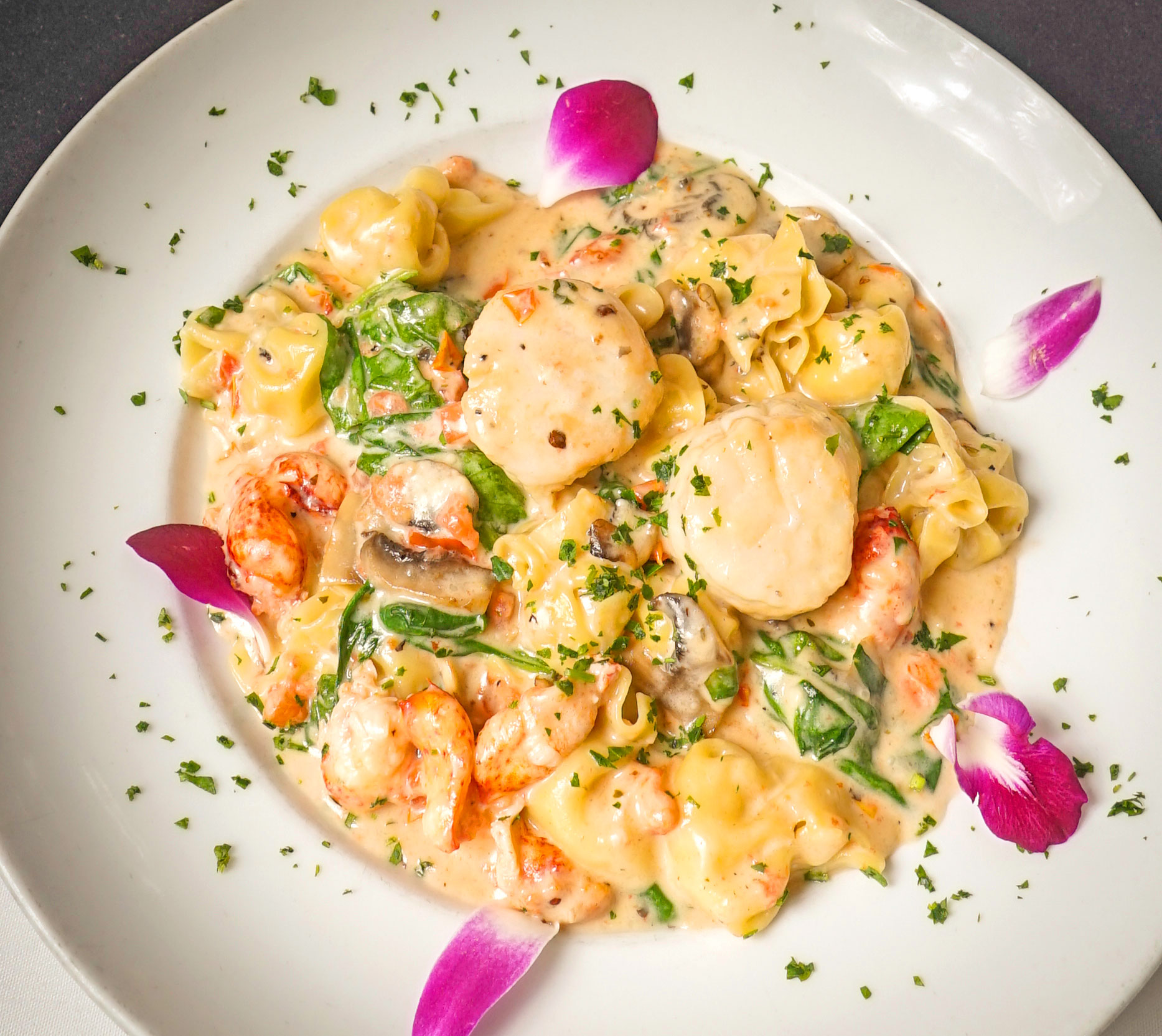 White Truffle Sacchettini – Purse shaped pasta filled with white truffles and provolone cheese, lobster, scallops, fresh tomatoes, mushrooms, and spinach in a basil Asiago cream sauce.
This is another succulent dish with tons of delicious combined flavors, wonderful mouthfeel and textures, and quite satisfying. This is a large portion, and truly decadent!
Gratzzi Italian Grille
211 2nd St South
St. Petersburg, FL 33701
(727) 623-9037
http://gratzzigrille.com
3. IL Ritorno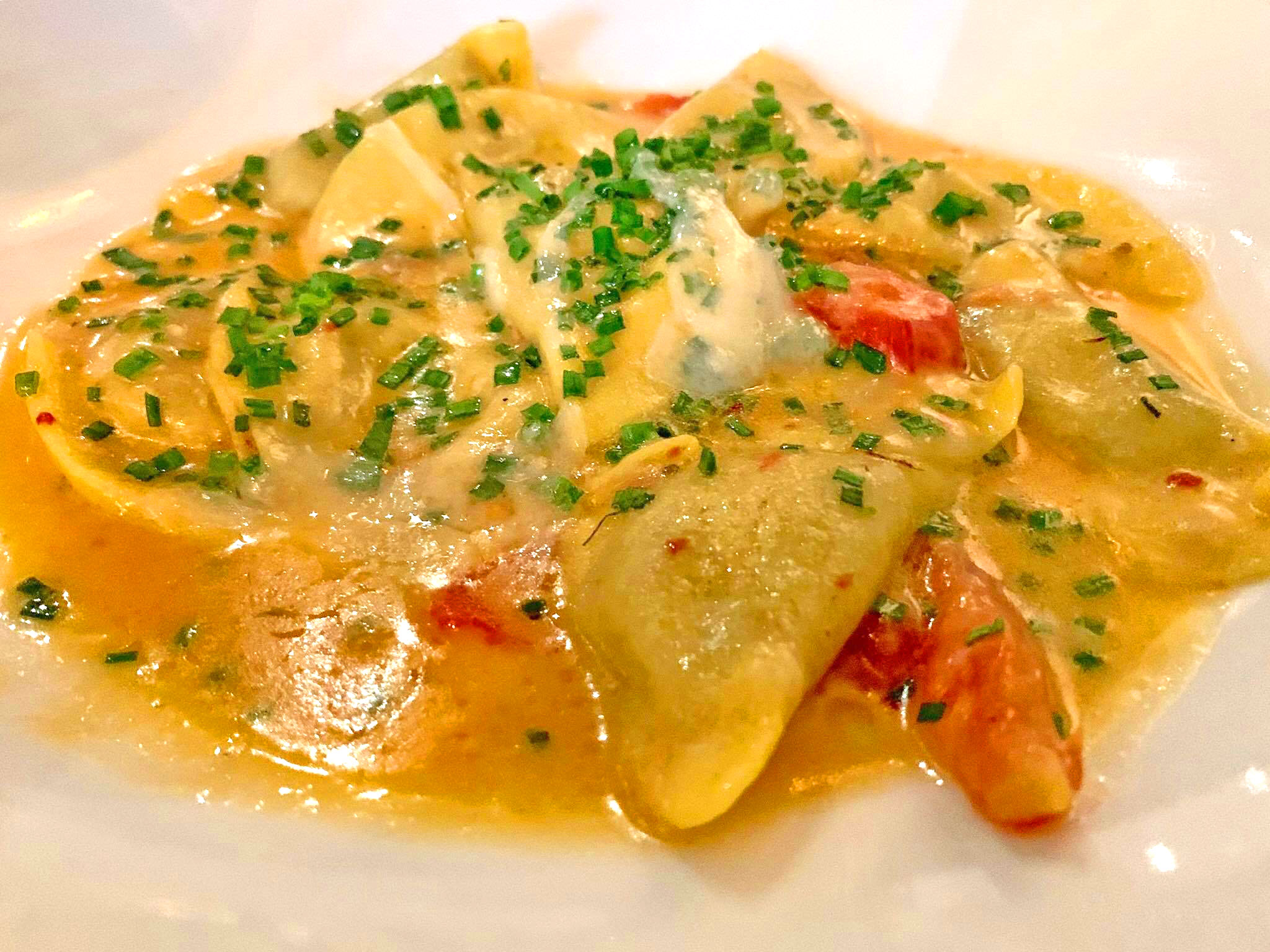 Short Rib Mezzaluna – Truffle Fonduta, Concentrated Tomatoes, Piave, Garlic Chives.
I could eat this dish all day every day! It is totally addicting, eyes roll back in your head, scrumptious. A really neat thing about this one is that it has elements of light and hearty at the same time. It's quite satisfying, and gets an A+ in the salt, fat, acid, heat department.
IL Ritorno
449 Central Avenue North #101,
St. Petersburg, FL 33701
(727) 897-5900
https://www.ilritornodowntown.com
4. The Library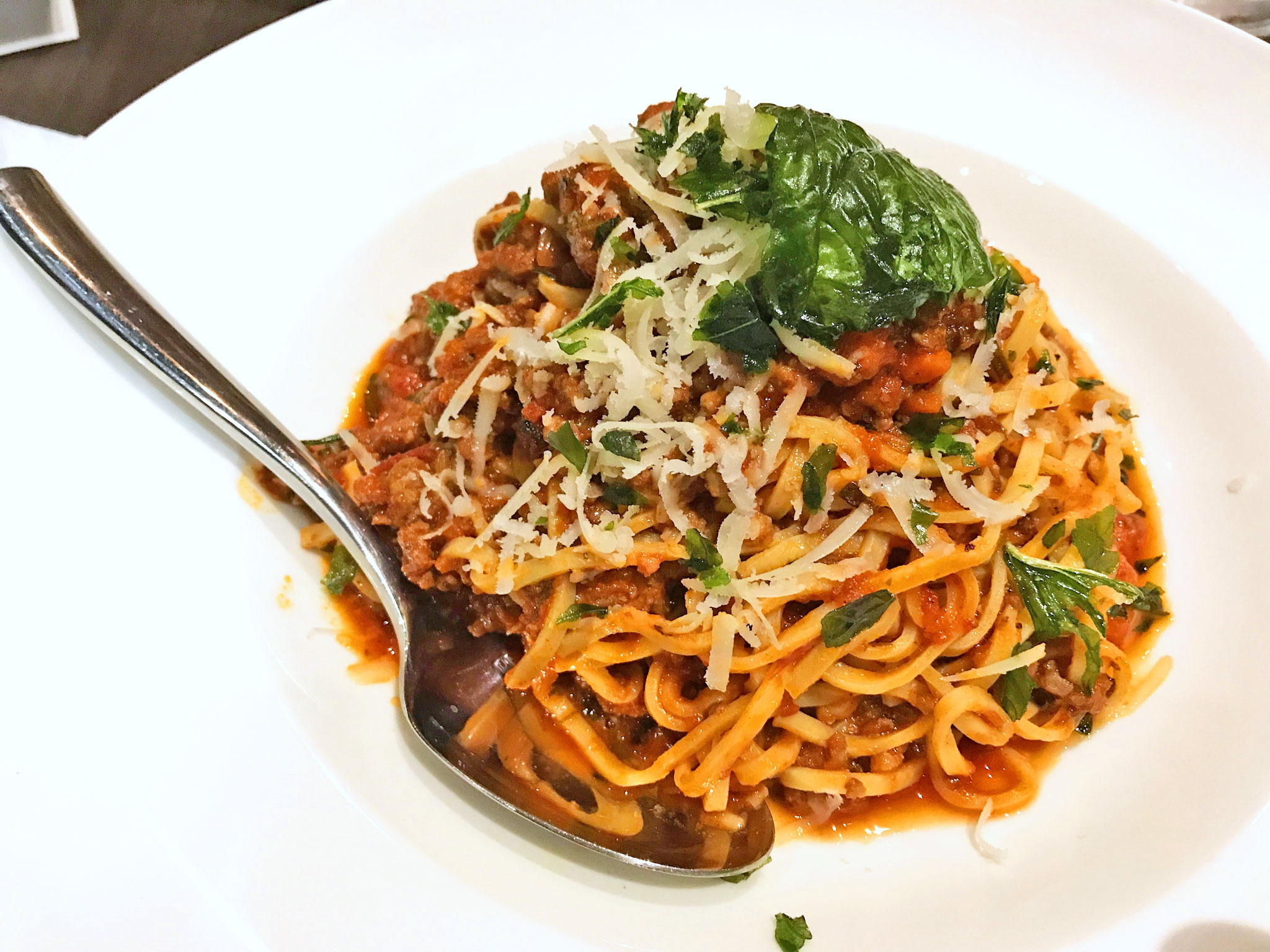 Spaghetti Bolognese – Sausage, Veal, Fresh Herbs, Grana Padano.
This was quite delicious! The texture on the spaghetti was to die for. It's fresh made from a supplier in Tampa, and technically isn't regular spaghetti. It isn't round, but has a flat cross-section. I think it is Spaghetti alla chitarra.
The Library
600 5th St S
St. Petersburg, FL 33701
(727) 369-9969
https://thelibrarystpete.com
5. Bavaro's Pizza Napoletana & Pastaria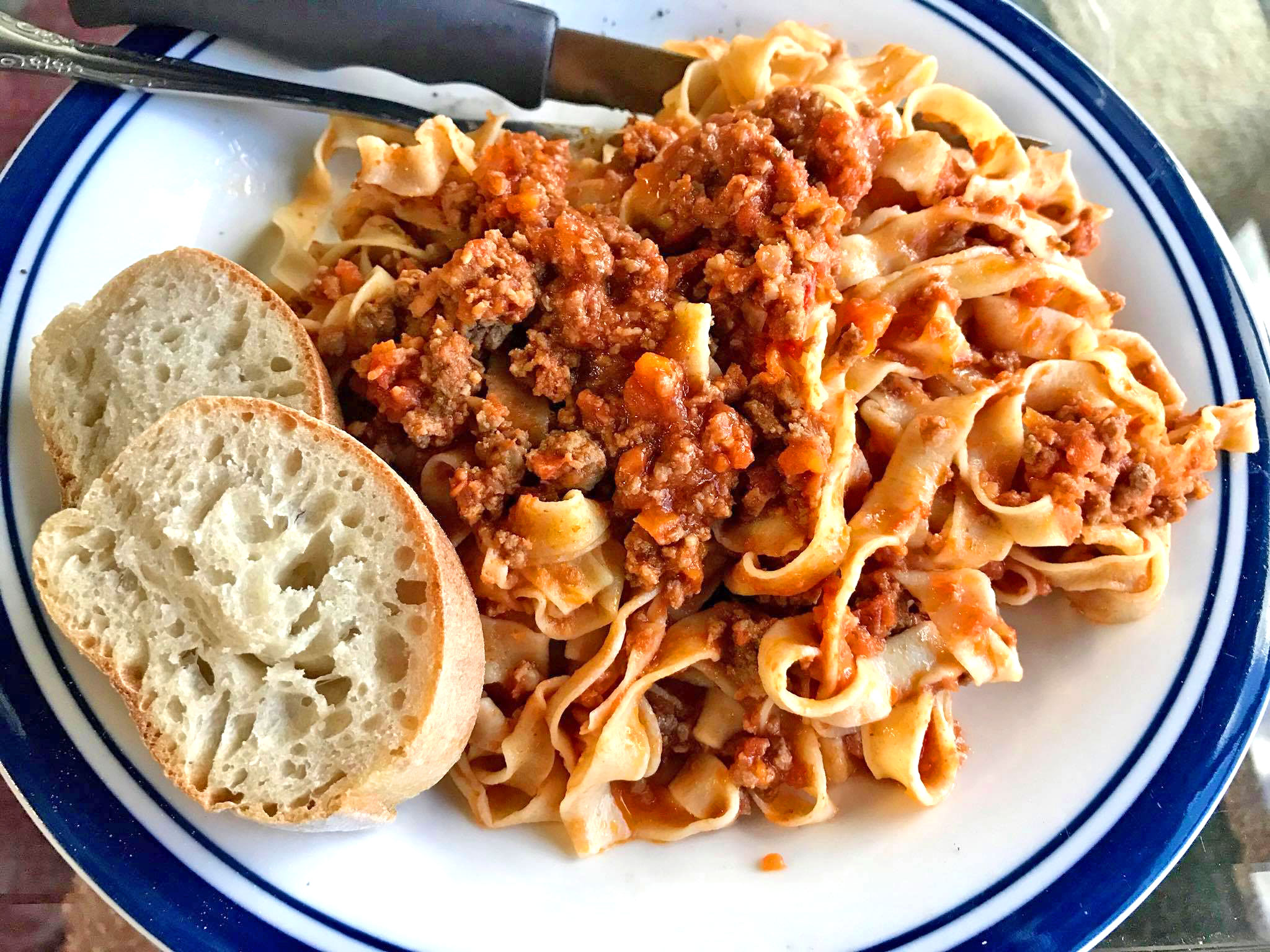 Tagliatelle with 50/50 sauce (bolognese/arrabbiata)
The tagliatelle with the bolognese has such a nice mouthfeel, and chewiness that makes for the perfect example of comfort food. With the 50/50 combination of bolognese and arrabbiata, you have the best of both worlds—meatiness and spiciness. (Note: we ordered this one in, so that is our plating at home.)
Bavaro's Pizza Napoletana & Pastaria
945 Central Ave
St. Petersburg, FL 33705
(727) 258-7517
https://bavarospizza.com/index.php/st-petersburg-restaurant
Tell us what your favorites are in the comments below!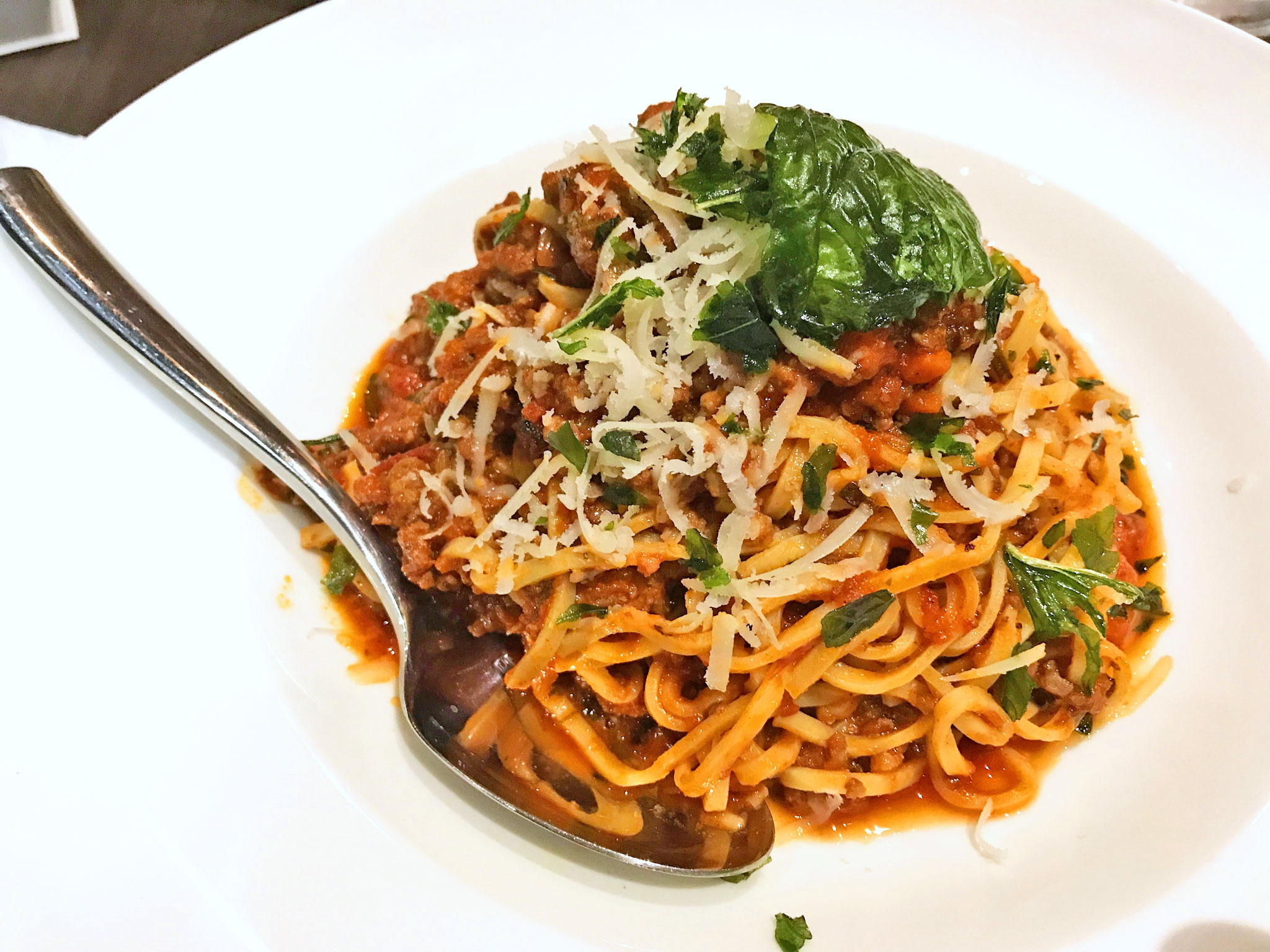 Readers Rating

Rated 5 stars




5

/ 5 (

Reviewers

)

Spectacular
---
A list of the five best pasta dishes in downtown St. Petersburg FL. Includes descriptions and photos from real people that went to all of the paces and ate all of the food, and even took their own photos.