The Helm has Taken The Helm of the St Pete Beach Restaurant Scene
The Helm has Taken The Helm of the St Pete Beach Restaurant Scene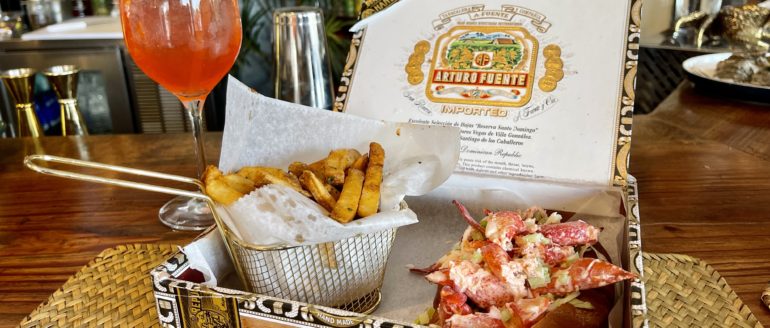 I'm sure by now you have heard about The Helm: Provisions & Coastal Fare in St Pete Beach. It's one of the newest restaurants in town that everyone can't stop talking about. Even with their limited open hours, they still manage to draw a crowd. After finally making it over there, I understood the draw. The Helm is thoughtful and intentional in everything they do, from the décor to their food to serving the community.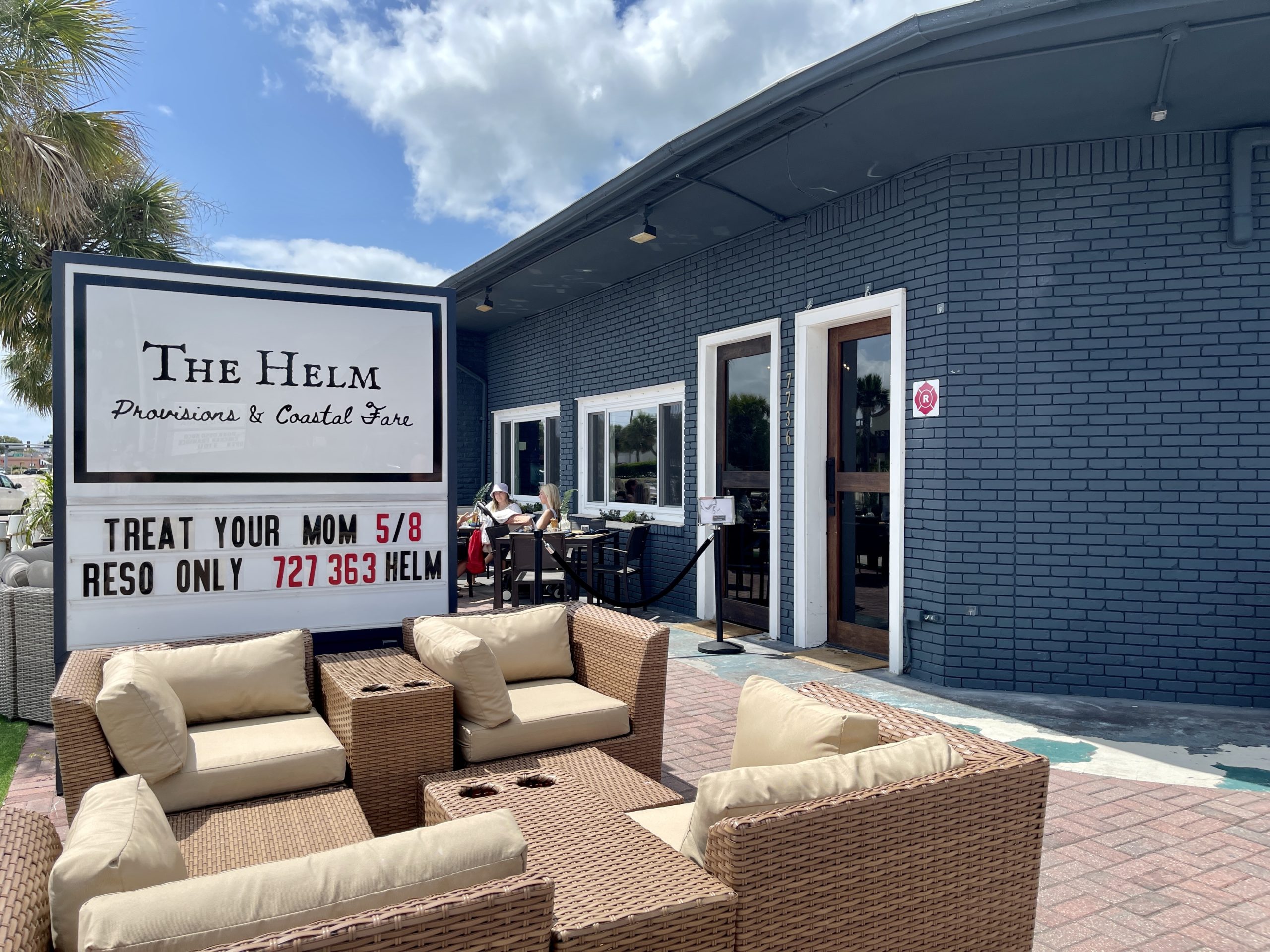 When you walk into The Helm you are greeted by the Provisions side of the restaurant where they carry fresh fish, shellfish, sandwiches, pastries, a variety of deli sides and more to take home, if you so wish. You are also greeted by the beautiful décor. The owner, Heidi, is an interior designer and you can tell this was a true passion project for her.
The décor is what I would describe as nautical chic. The provisions side of the restaurant is painted a deep navy-blue color with gold fixtures, rope details and to-theme artwork. As you make your way into the restaurant side, it brightens up with the large drawn windows, white walls and ceilings complemented by beautiful blue white and gold tile behind the bar and a grey brick accent wall. The gold accents also continue from the provisions side and the bar tile into the bar fixtures, silverware and accents throughout.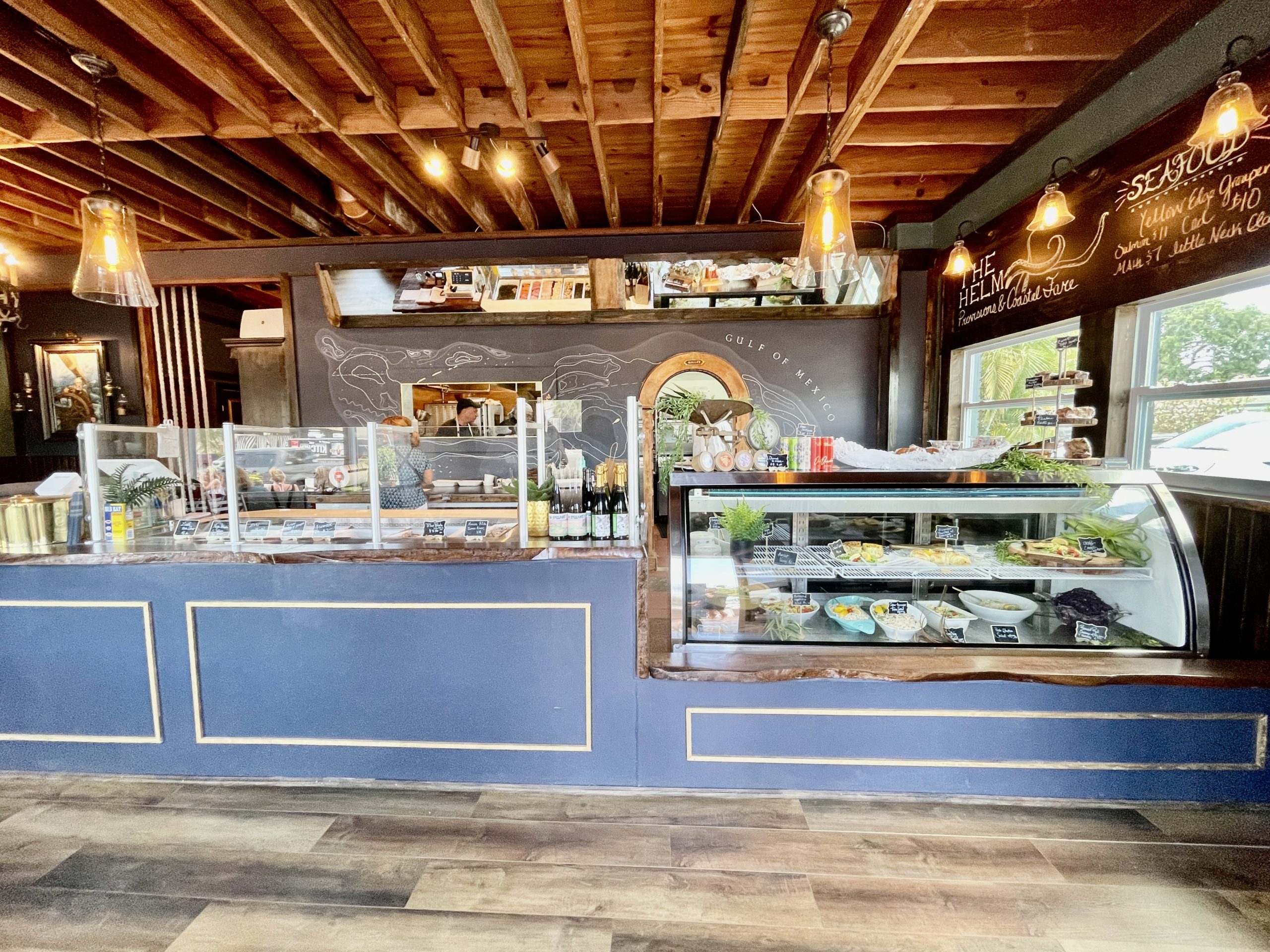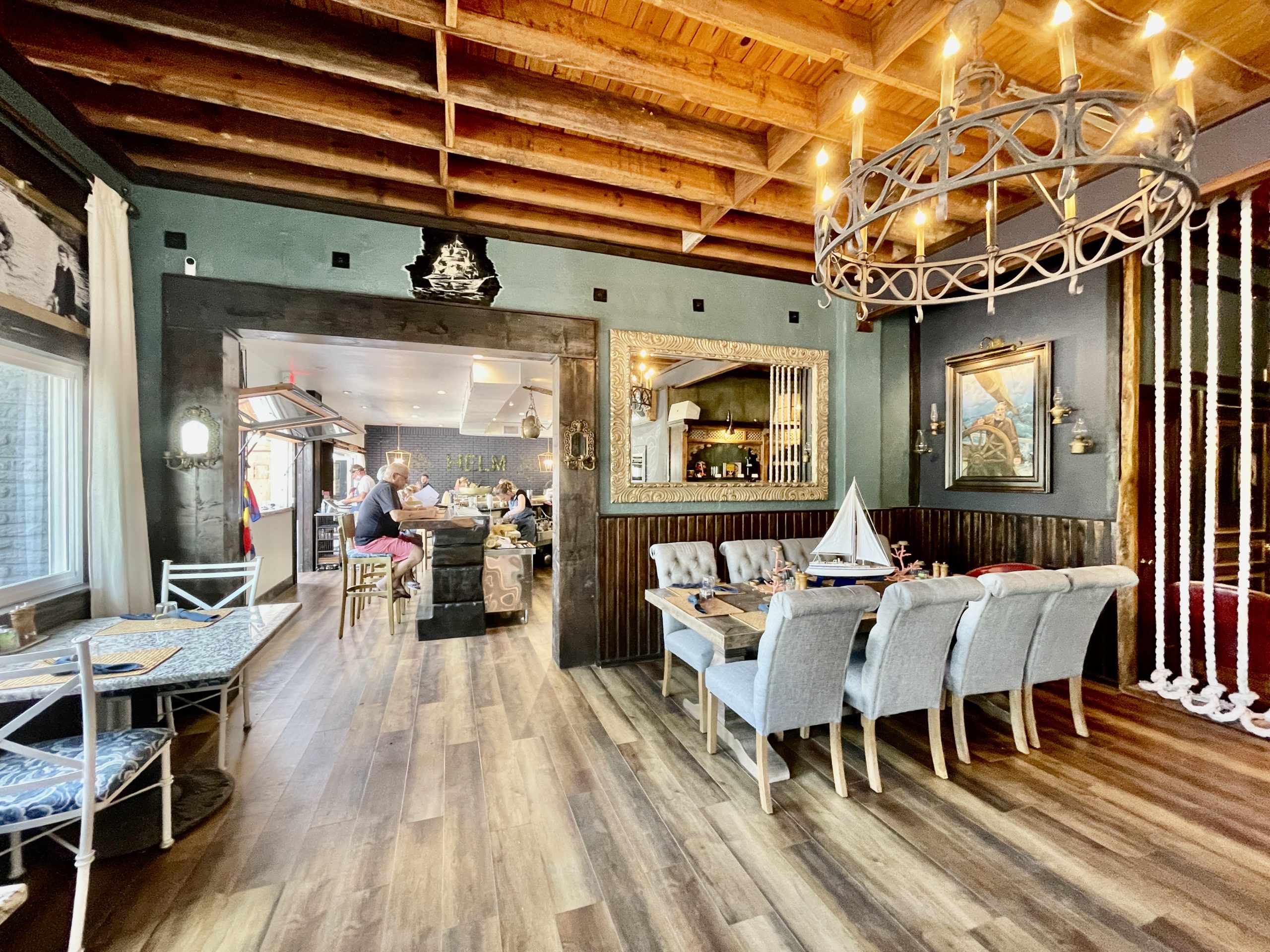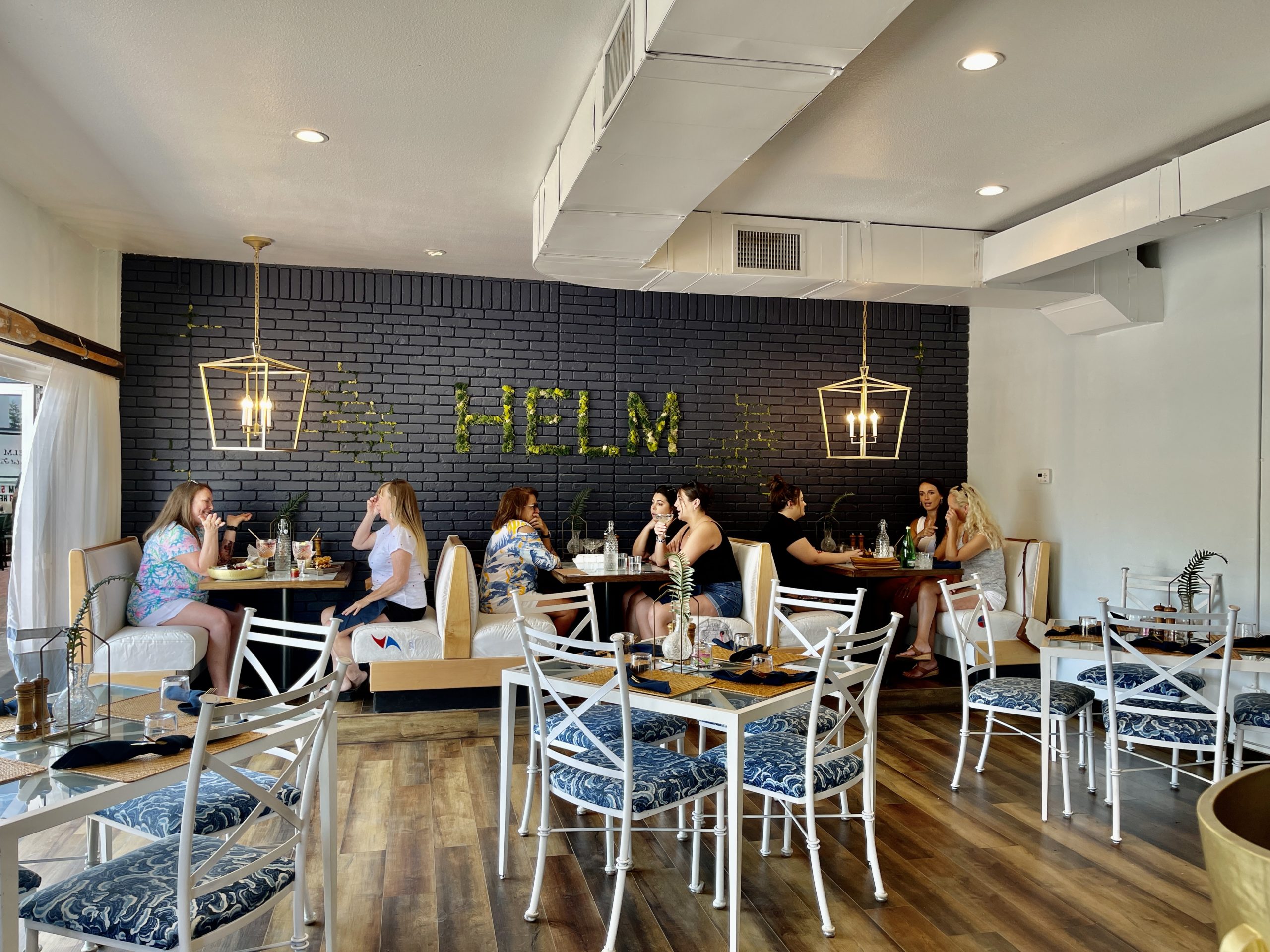 As I mentioned above, there was much thought and intention put into the décor, but they are also putting that into their community. The Helm has a program for locals called "Stock the Fridge" where they will come to your house stock your fridge with your necessities for the week and clear out what wasn't used from the week before. Instead of tossing the "waste" from the week before, they take what is still salvageable and create meals for the homeless and needy in the area.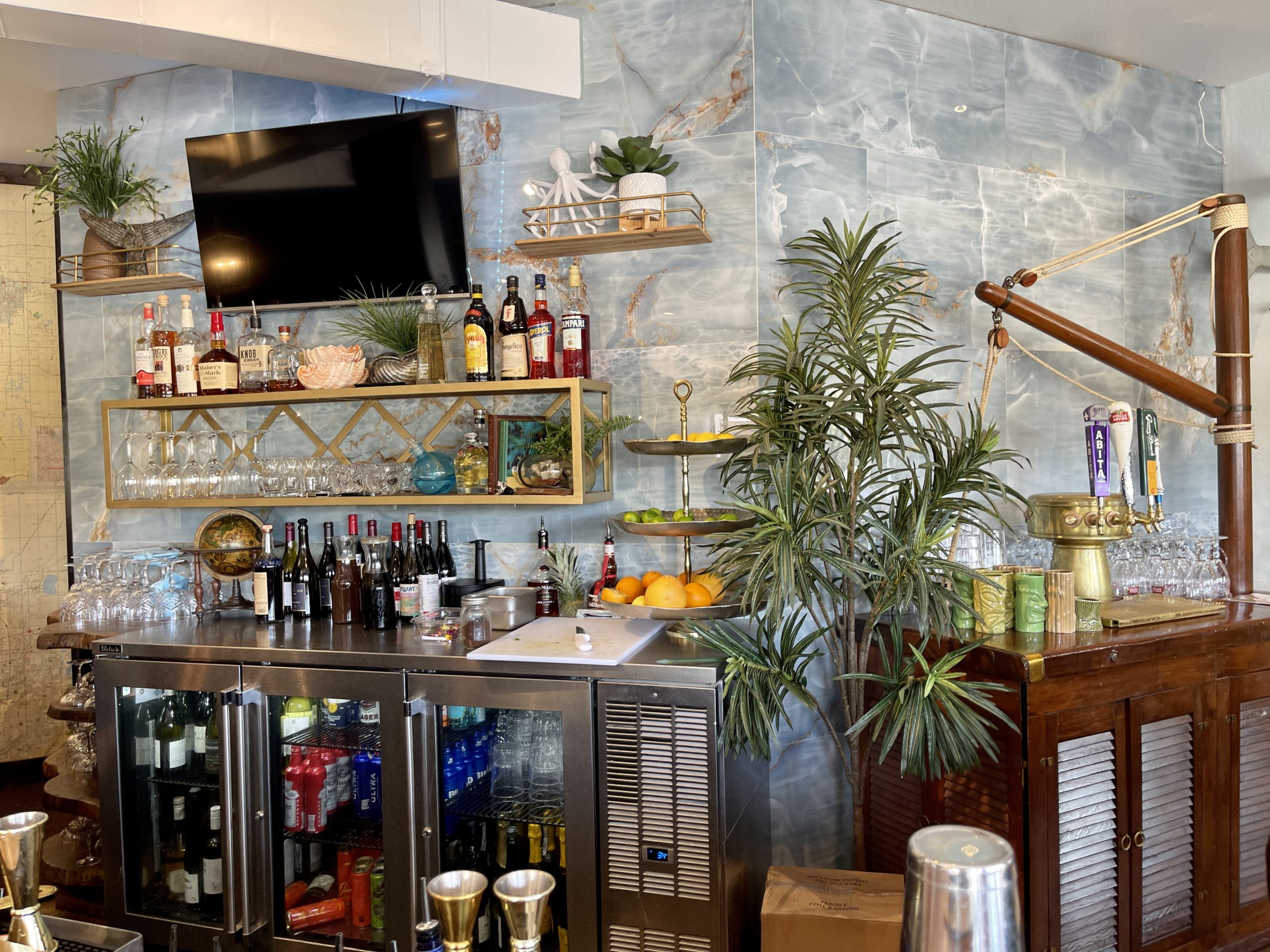 I was prepared and set up my friend and I with a reservation, but once we saw there was room at the bar we decided to take a seat there. We were gleefully welcomed by the bartender, Joanna. The bar is situated close to the large open windows, which were letting in the perfect St. Pete Beach breeze on a warm day. A great alternative to sitting at the bar on a beautiful day like that would be to enjoy their large outdoor patio.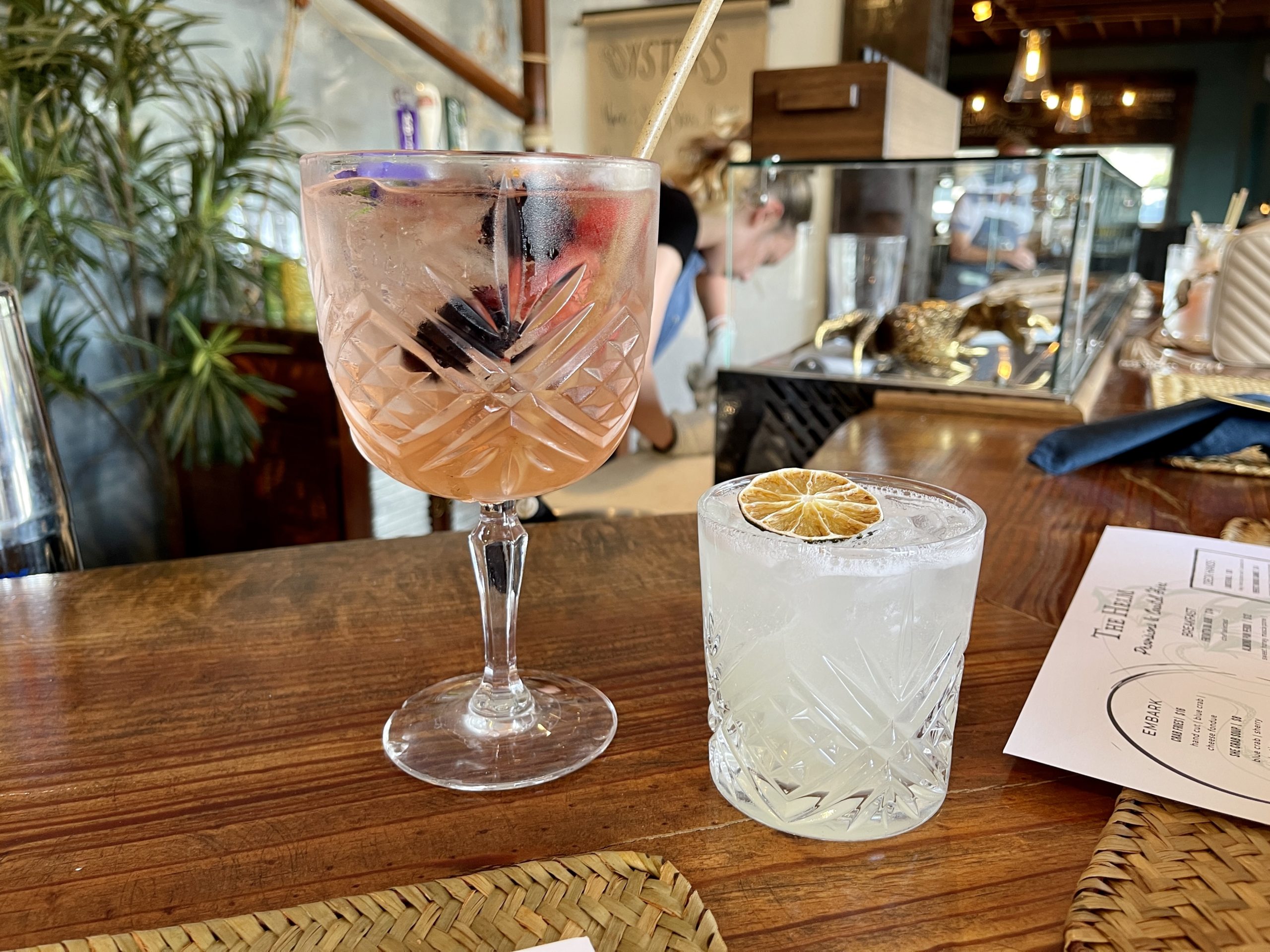 Joanna quickly got to work on our drinks after we made our decisions from the cocktail list. I chose the Barrel of Sangria, while my friend chose the Loose Cannon. The Barrel of Sangria was mixed with sauvignon blanc, brandy, Grand Marnier and lavender. It was crisp, floral and slightly sweet making it the perfect Saturday afternoon drink. The Loose Cannon is tequila, St Germain and lime, a simple but delicious mix that tasted like a slightly floral margarita.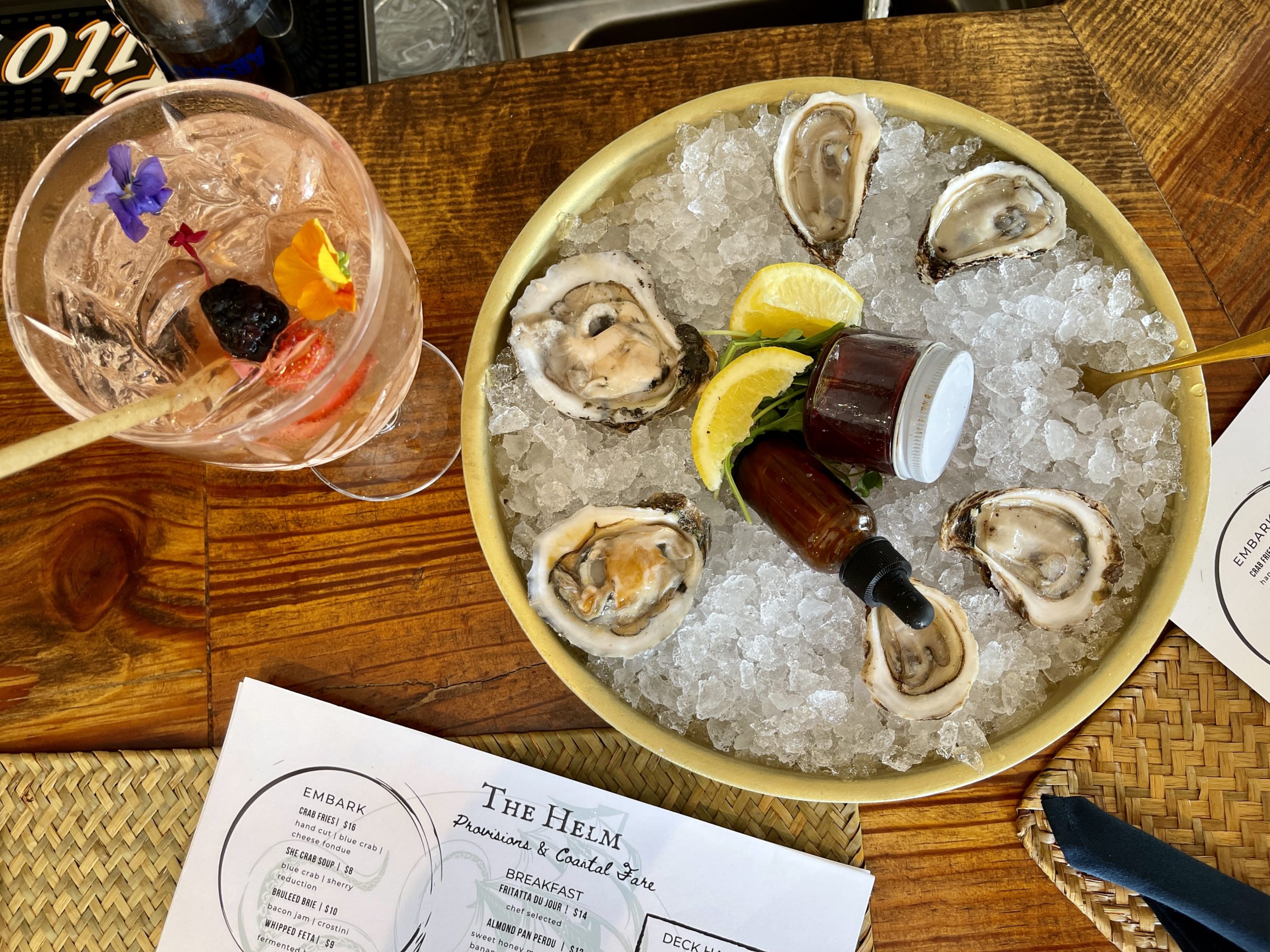 We decided to start our meal off the only way I know how while at a restaurant with a raw bar, OYSTERS! The Helm was featuring three varieties of oysters that day. A house oyster, Salty Sea out of Louisiana, and two boutique oysters, Sweet Petites out of Martha's Vineyard and Beausoleils out of New Brunswick.  The oysters were served with a house made cocktail sauce, a classic mignonette, hot sauce and lemon. AND, no crackers. I am a firm believer in NOT eating my oysters off a cracker, so this made me quite happy.
Abby, our "Mother Shucker" (yes, her nametag even says Mother Shucker on it) described the oysters to us and kept us entertained along with Joanna, our bartender, through our entire visit.
The Salty Seas were plump, buttery and slightly briny. The Sweet Petites, to me, were more briny than sweet but that did not make for a bad oyster, at all. The Beausoleils were described to us as the "filet of oysters". They were slightly sweet and slightly briny to create the perfectly balanced oyster. The selection of oysters we tried were some of the best I've ever had.  I surprised myself though, out of all the oysters we tried, the Salty Seas were my favorite. There was something about the buttery taste and feel that does something to you.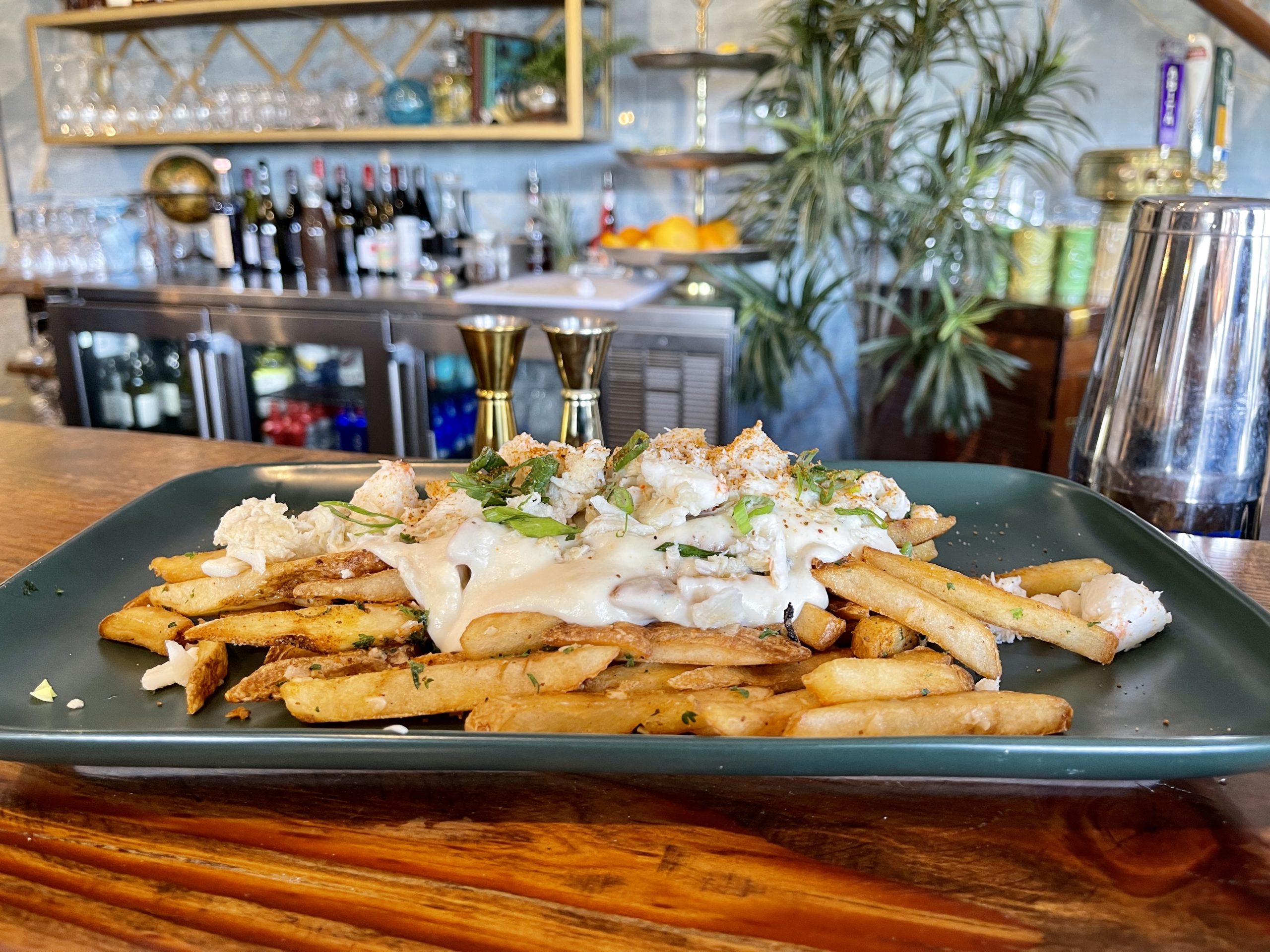 Next up were the Crab Fries. This was a menu item I had been eyeing since the first time I looked at The Helm's menu. I mean you take three of the most delicious items on earth and put them together, you're bound to have something delicious, right? Well, these did not disappoint. The house cut fries are fried and seasoned to perfection then drenched with a creamy, rich cheese fondue and finished with ample amounts of fresh blue crab. We nearly cleaned the plate, but maybe five fries, and each bite was full of cheese and crab. Enough to go around for every potato stick.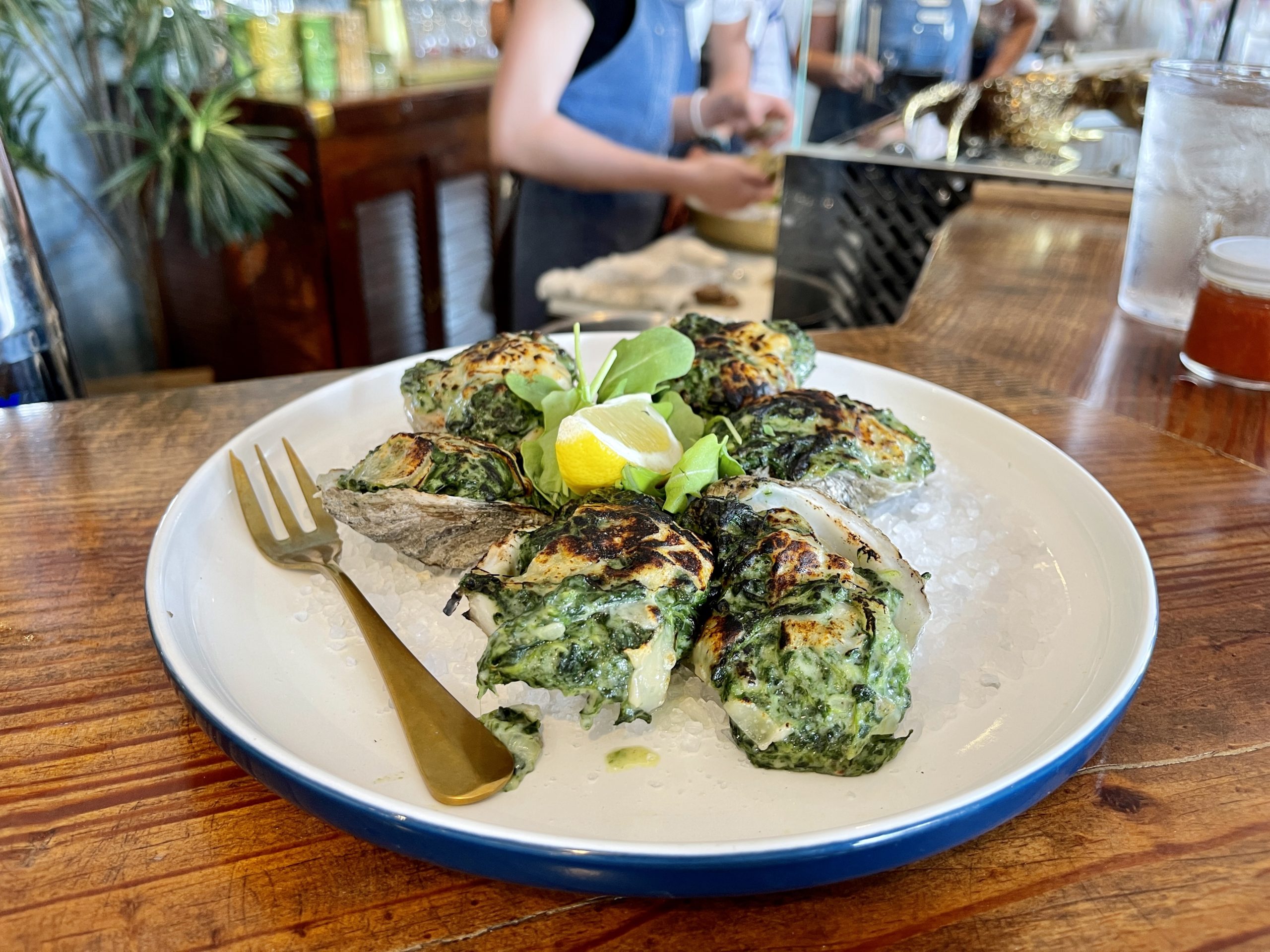 Something you should know about me is that I love oysters. If there's an oyster in any fashion on a menu I'm ordering it. If there are oysters in more than one fashion, I am ordering multiples. With that being said, after ordering the raw oysters I still could not pass up ordering some dressed oysters. On the menu they have two types of dressed oysters, a classic Oysters Rockefeller and a garlic parmesan. While I love garlic parmesan baked oysters, I can't pass up Oysters Rockefeller.
The oysters were smothered in cheese and spinach and cooked flawlessly to make for a gooey, salty, messy bite in the best way possible. The oyster used was the Salty Sea oyster mentioned before. Abby Mother Shucker told us it's sometimes hard to shuck the Salty Seas for the dressed oysters because they're such beautiful oysters and she hates to send them to the kitchen to be covered, but I truly believe that using a quality oyster made the Rockefeller 10x better than it would have been otherwise.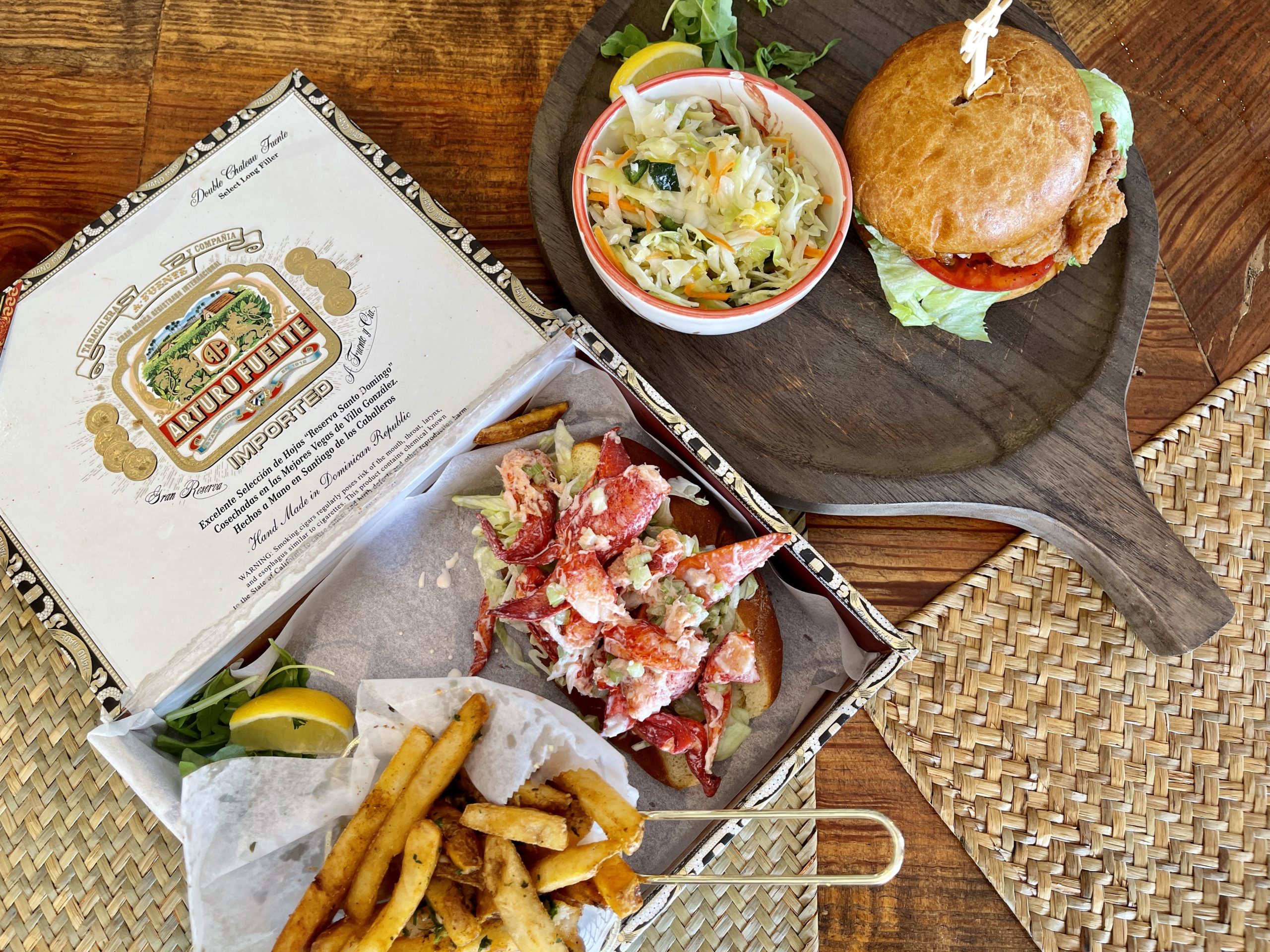 For our entrees we decide to split a Lobster Roll and a Fried Grouper sandwich. The Lobster Roll presentation had to be one of the most unique I've seen in a St Pete restaurant. It is served in a cigar box, an ode to Tampa Bay, as the plate. Each Lobster Roll sent out was served in a different cigar box, so each presentation is uniquely its own. A key lime butter aioli is spread on the roll and lightly tossed into the lobster along with crunchy shredded lettuce. The lobster itself was cold, fresh and sweet which was complemented by the aioli. Along with the lobster roll we chose the scampi fries, yes more French fries, which were tossed in a slightly acidic, garlicy seasoning.
The Grouper Sandwich is served either fried or grilled. We decided to go with the fried since we were already being gluttons that day. The perfectly crispy grouper is served on a soft bun with lettuce, tomato and a lemon-caper aioli. All I have to say is, YUM! For our side we chose the pineapple slaw, which effortlessly paired with the grouper sandwich. The vinegar based classic slaw was kicked up a notch with the pineapple and made for a refreshing bite.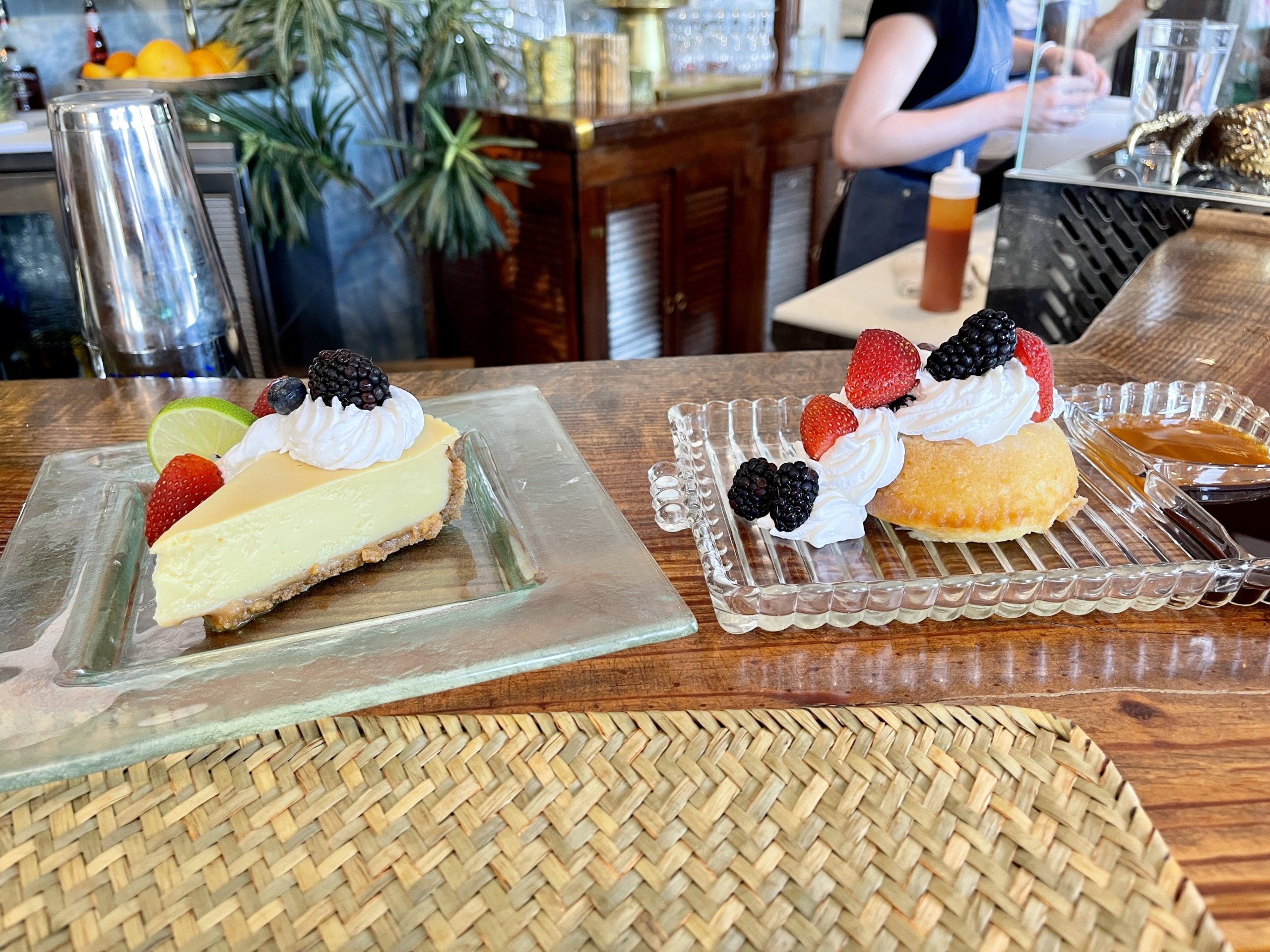 We finished off our meal with house made Key Lime Pie and Pineapple Upsidedown Rum Cake. How we even managed to fit any more food in our stomachs after everything else is beyond me, but it was worth it. The Key Lime Pie was served with fresh fruit and whipped cream and sat in a crunchy crust (my favorite part of any pie). The Pineapple Upsidedown Rum Cake was also served with fresh fruit and whipped cream on top and then caramel and chocolate sauce on the side. The cake was fluffy and so flavorful that the dips on the side weren't even necessary, although not an unwanted bonus.
The Helm is nearly perfect, I think I used that word more than enough times above. The only thing that could make it better would be expanding their hours. I can't even imagine what they would do with a dinner menu. But I am not here to complain. If you haven't made it to The Helm, or even if you have, get over there ASAP!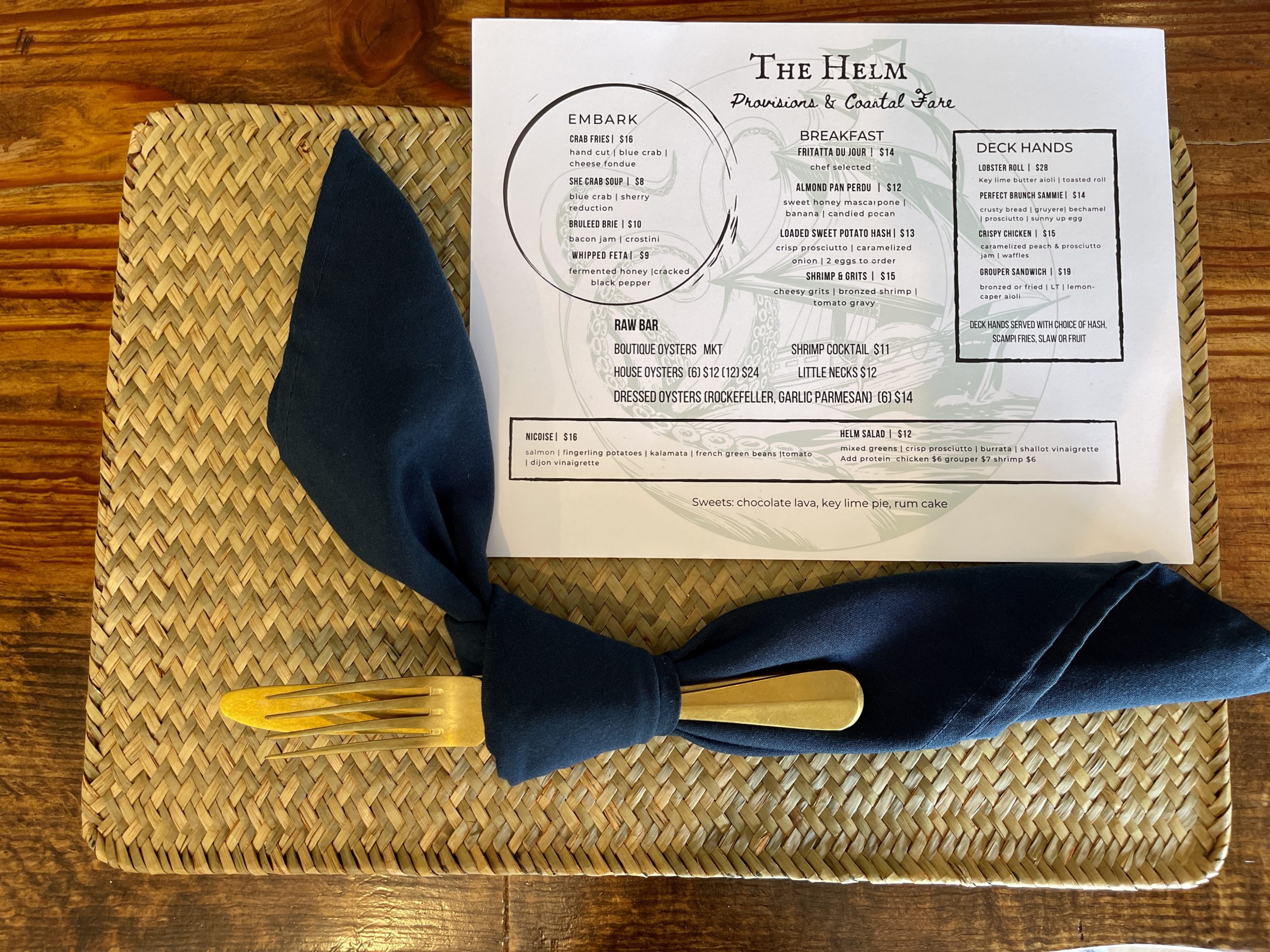 Fresh Seafood and Raw Bar Restaurant in St Pete Beach.
DISCLAIMER: Kevin, Lori, Abby, Haley, & Lindsey do not dine anonymously (this would be impossible) and we sometimes get free food (though never expected). However, we dine with the locals and we support our own. You will always get honesty in a respectful manner. We do not include any large national or regional chains in our ratings and reviews. We focus on independent locally owned eateries exclusively.

PLEASE NOTE: Reviews reflect a certain moment in time. Some restaurants stay extremely consistent over many years, and some change for the better or worse. Some things that may change are: chefs, recipes, food suppliers, ingredients, philosophies, ownership, etc. We always hope that you have the same good, or great experience we had.
More Foodies News, Reviews & Recipes
1 Response