The Sirata Beach Resort Hits High Marks with Harry's, Rum Runners and Compass Grille
The Sirata Beach Resort Hits High Marks with Harry's, Rum Runners and Compass Grille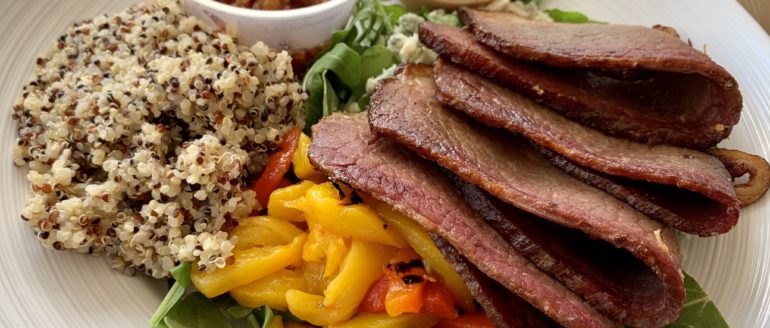 Since the pandemic, we have been very cautious about going out to eat and really only go for reasons of writing articles. When we were contacted by one of our staff writers, Alexia, about visiting the Sirata to spend an afternoon, tasting food at each of their three onsite restaurants, to say I was less than enthused would be an understatement. Kevin said yes anyway, but made sure that Alexia let them know that, even though we were going to be eating and drinking as their guests, if we were not impressed we would not write about it, which is how we operate. We are not critics out to do damage to any establishment.
Well as you can see, I am writing about it. I must say that once we arrived, we were immediately greeted by the GM and by the sales manager, Deborah, who walked with us to where we would begin our afternoon at Harry's Beach Bar.  I was immediately put at ease when we were seated.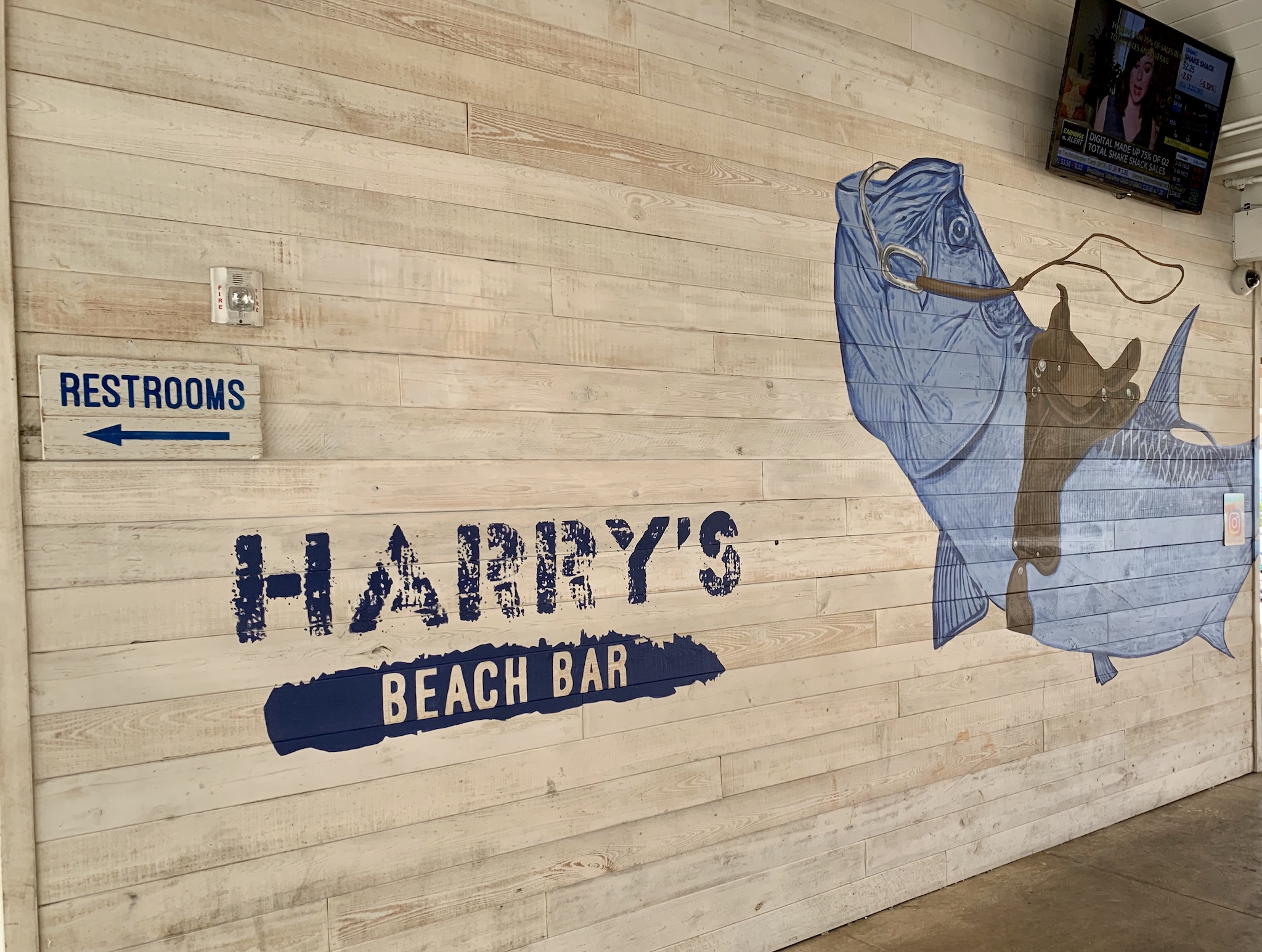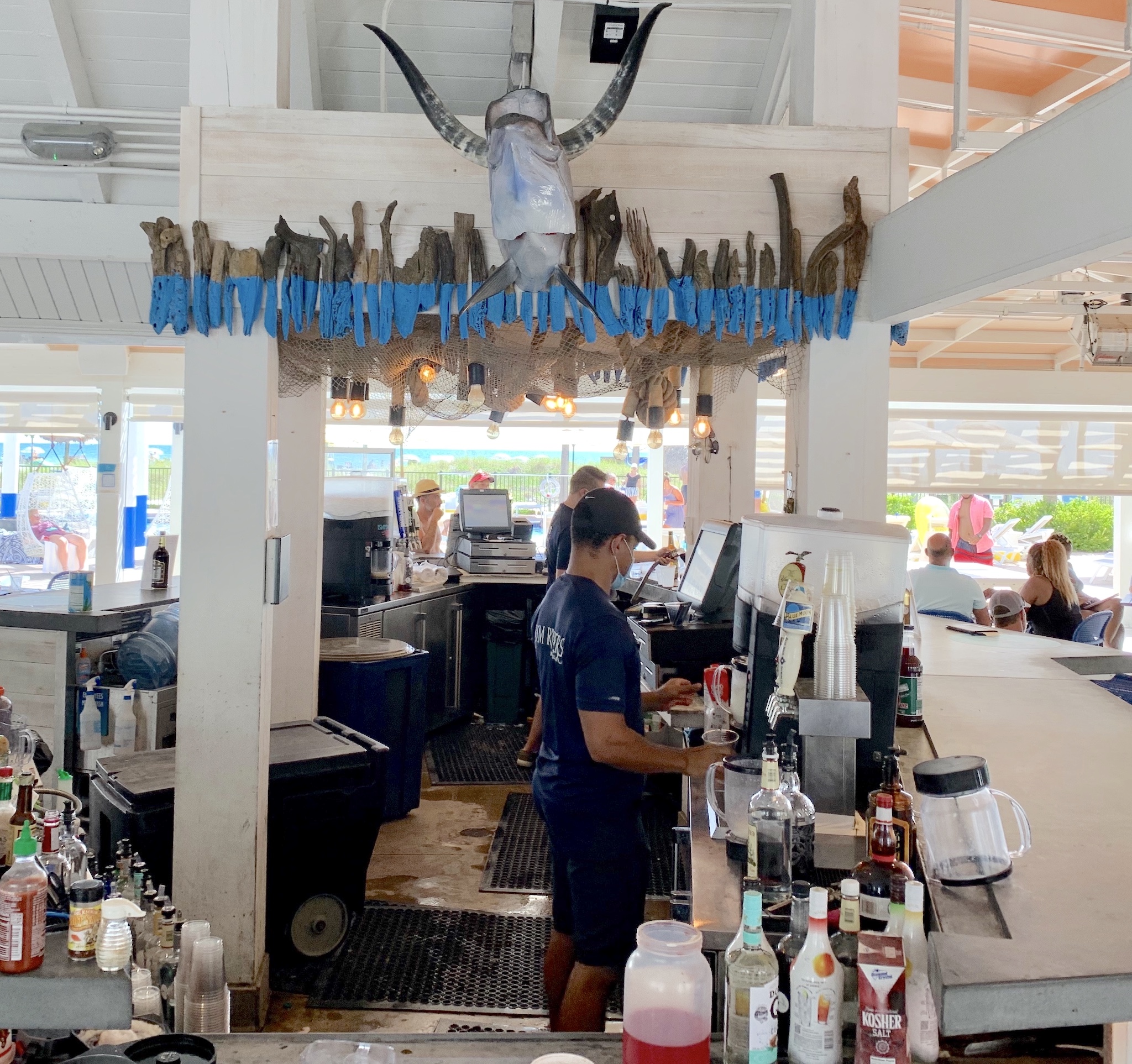 As you can see they are practicing CDC guidelines. All servers had masks as did most of the guests when they walked around. Tables were properly distanced and I watched most guests, who didn't know each other, practice social distancing as well. It was quite impressive.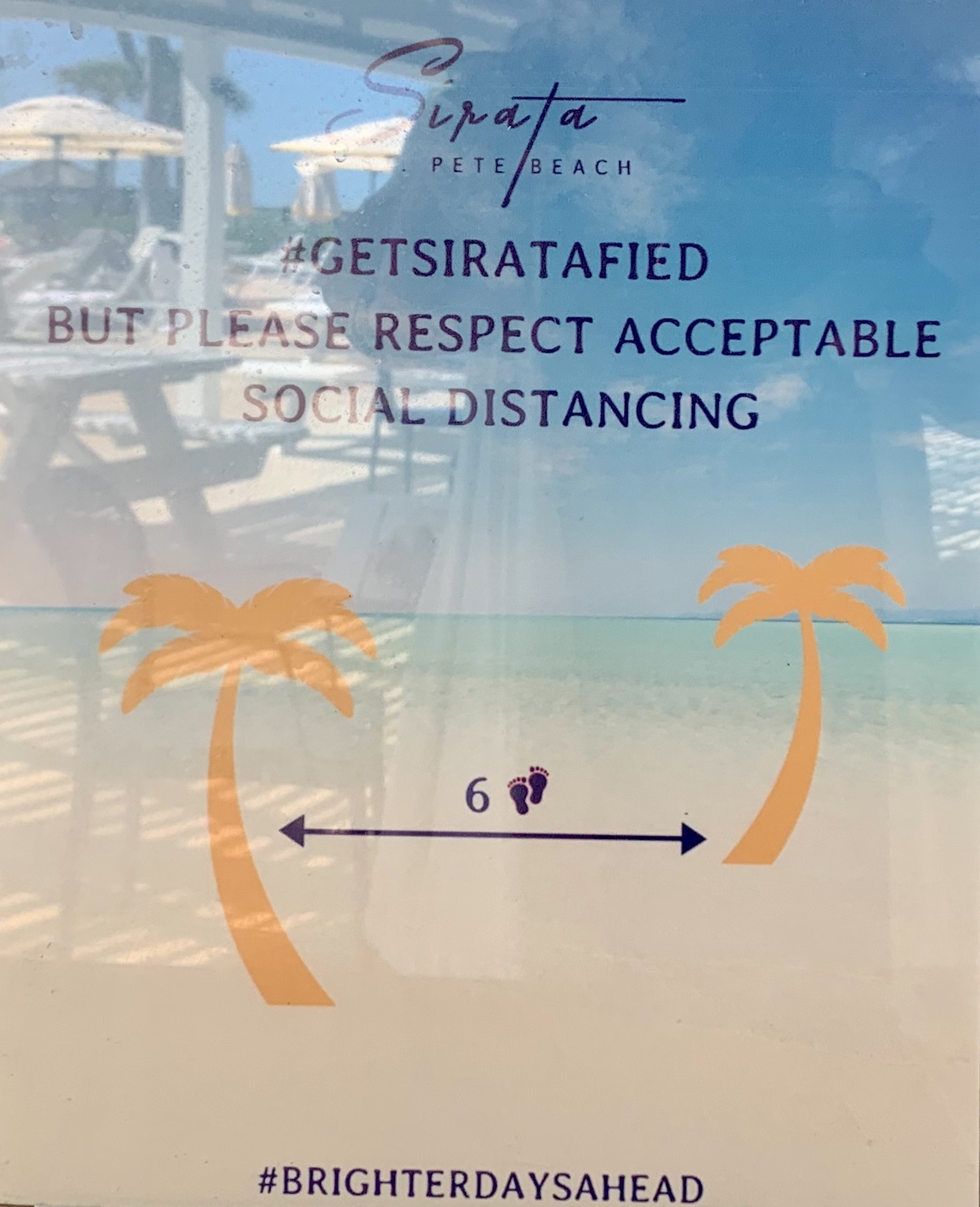 Our table had a gorgeous view and I could actually feel my tensions lift and for the first time in a long time, I felt whatever type of normalcy we can feel right now. I told Kevin, "This is really a nice respite. I am glad we accepted now. It feels a bit like vacation."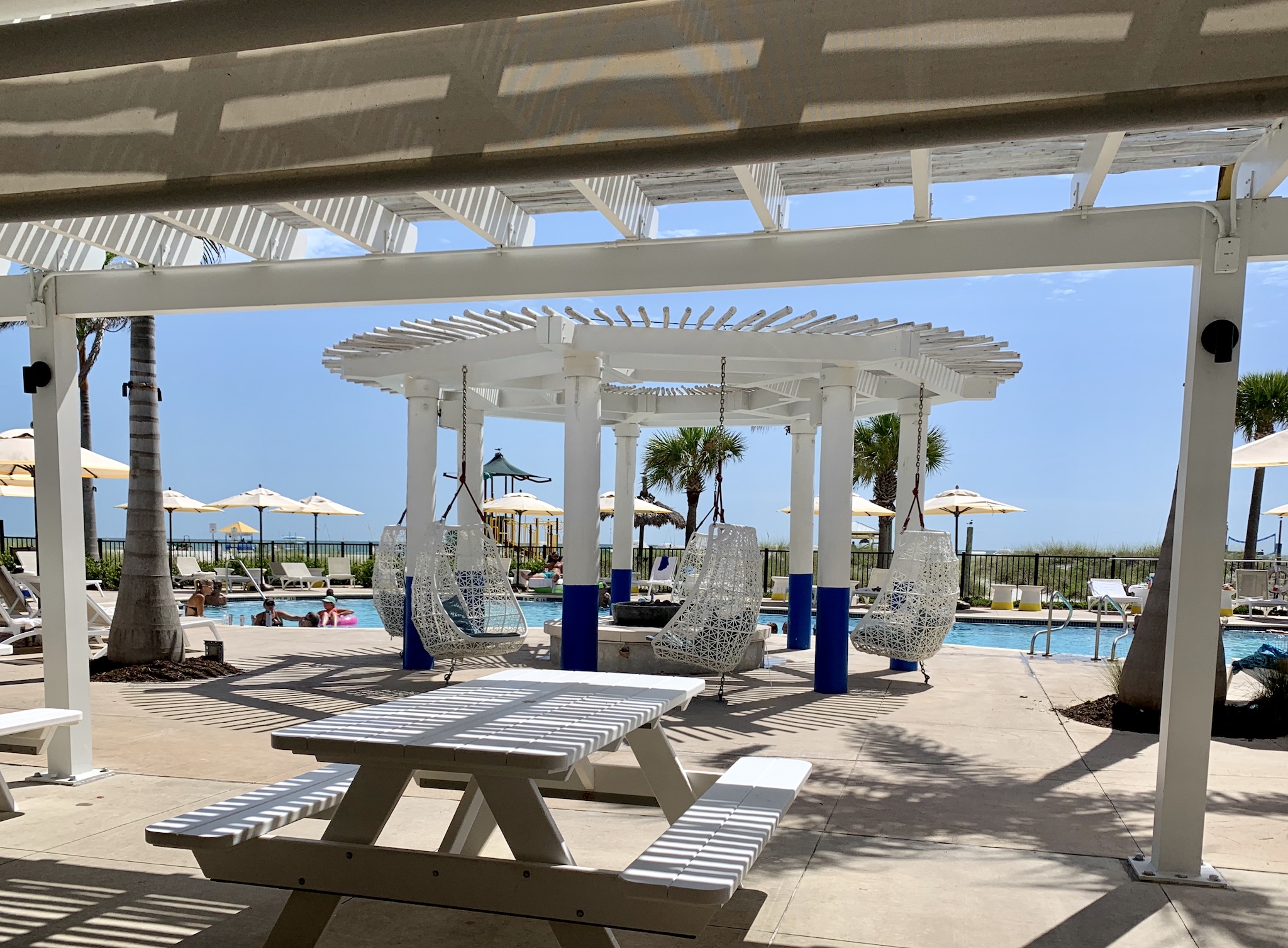 Harry's offers daily live music. It was enjoyable to just relax and enjoy it.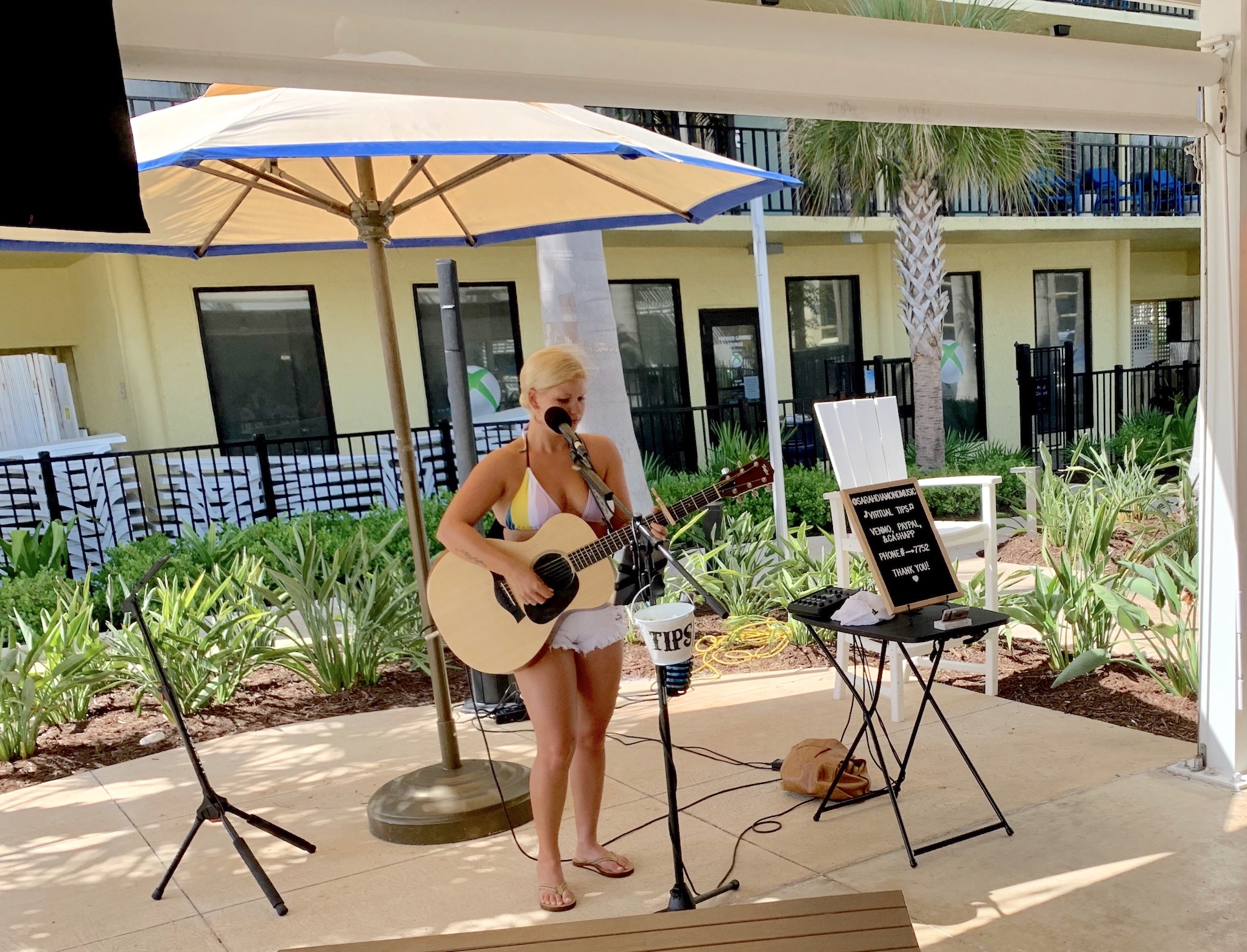 We, of course, started with a couple of Harry's Tropical Cocktails. I had a Sea Breeze made with Tito's, grapefruit juice, cranberry and lime and Kevin ordered the Harry's Sunset with Absolut Mandarin, grapefruit, lemonade and grenadine. Mine was tart, refreshing and not too sweet. Perfect for a hot Florida day! Kevin's was also nice and refreshing but a bit more sweet.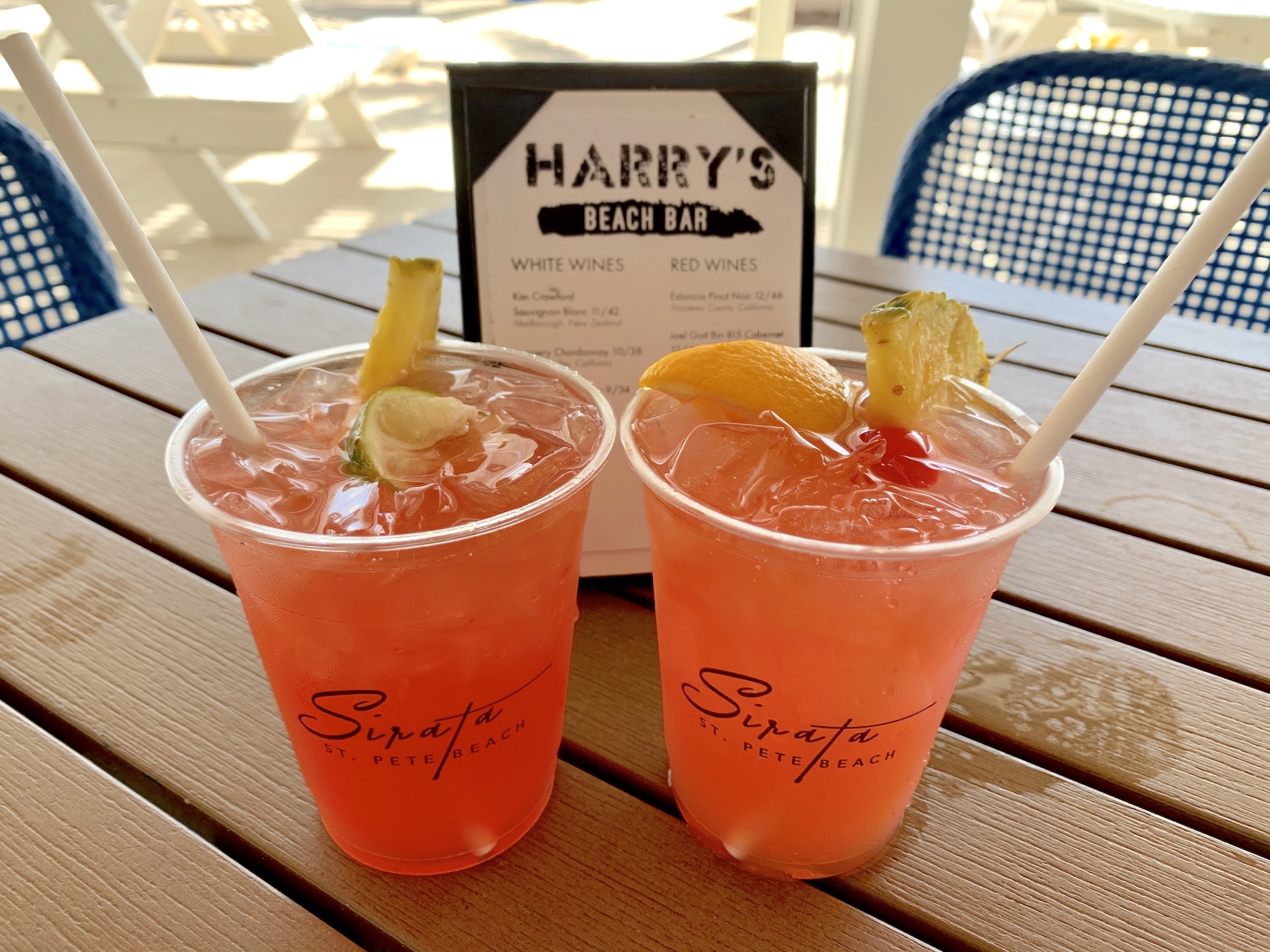 Harry's has been voted as having the best wings on St Pete Beach, so no question, we had to try them. We were going to just get them with buffalo sauce, but then our server said we had to try the Signature Sirata Sauce which is a mixture of Boom Boom and sriracha. As soon as I heard that…I was totally in. They are super saucy and absolutely delicious! I highly recommend these wings and that sauce is a must! Completely craveable.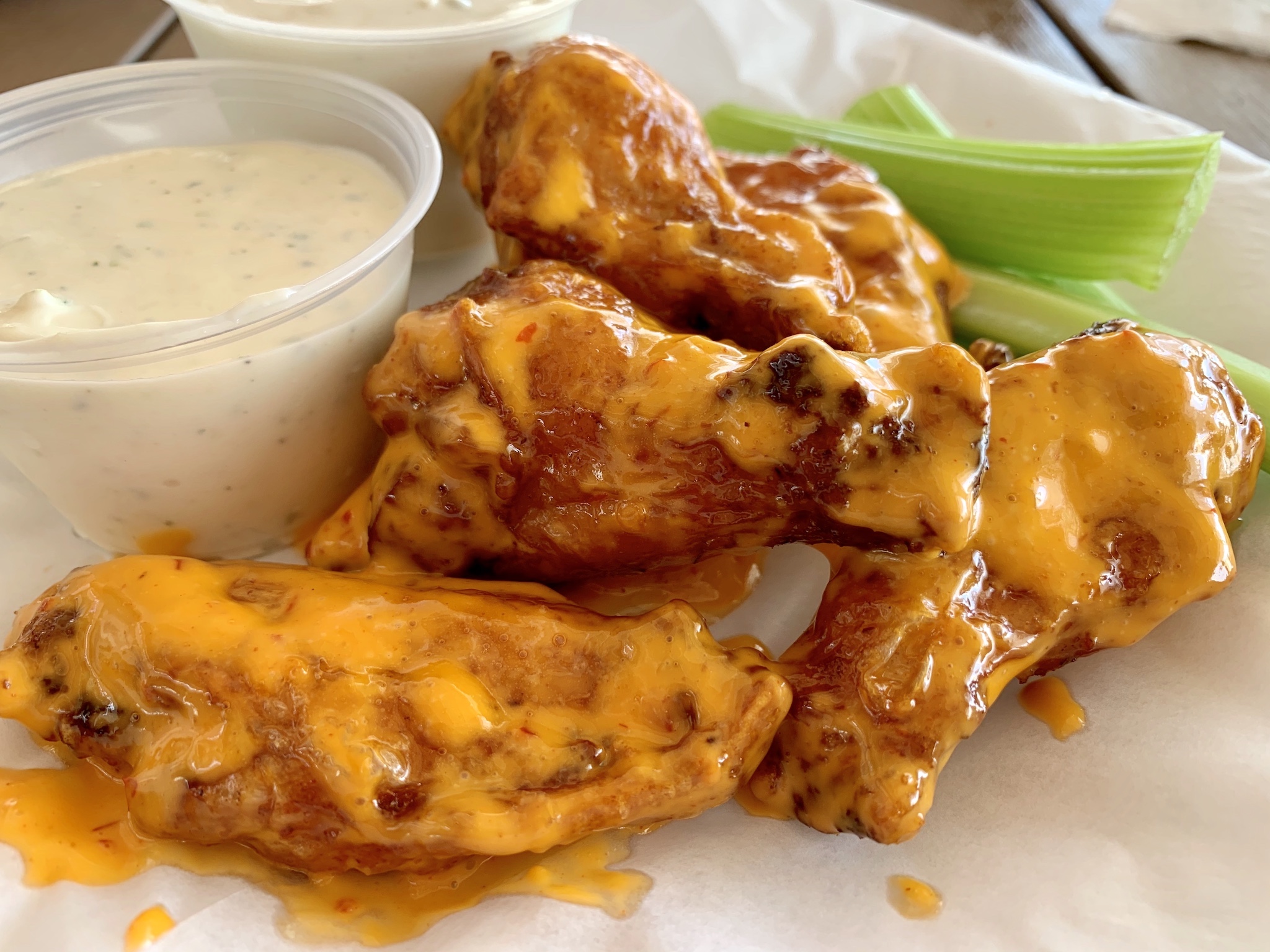 Kevin loves Italian subs and has a hard time finding a good one. I am no expert on them at all. But he had to order the Harry's Hot Italian which they make with pepperoni, capicola, mortadella, salami, provolone, buffalo mozzarella and zesty tomato sauce on rosemary focaccia. This was so good! We both loved the tomato sauce on it. Kevin said, "This one passes the Jersey Boy's muster".
Harry's is open Sun – Thurs 10am – 6pm, Fri – Sat 10am – 10pm.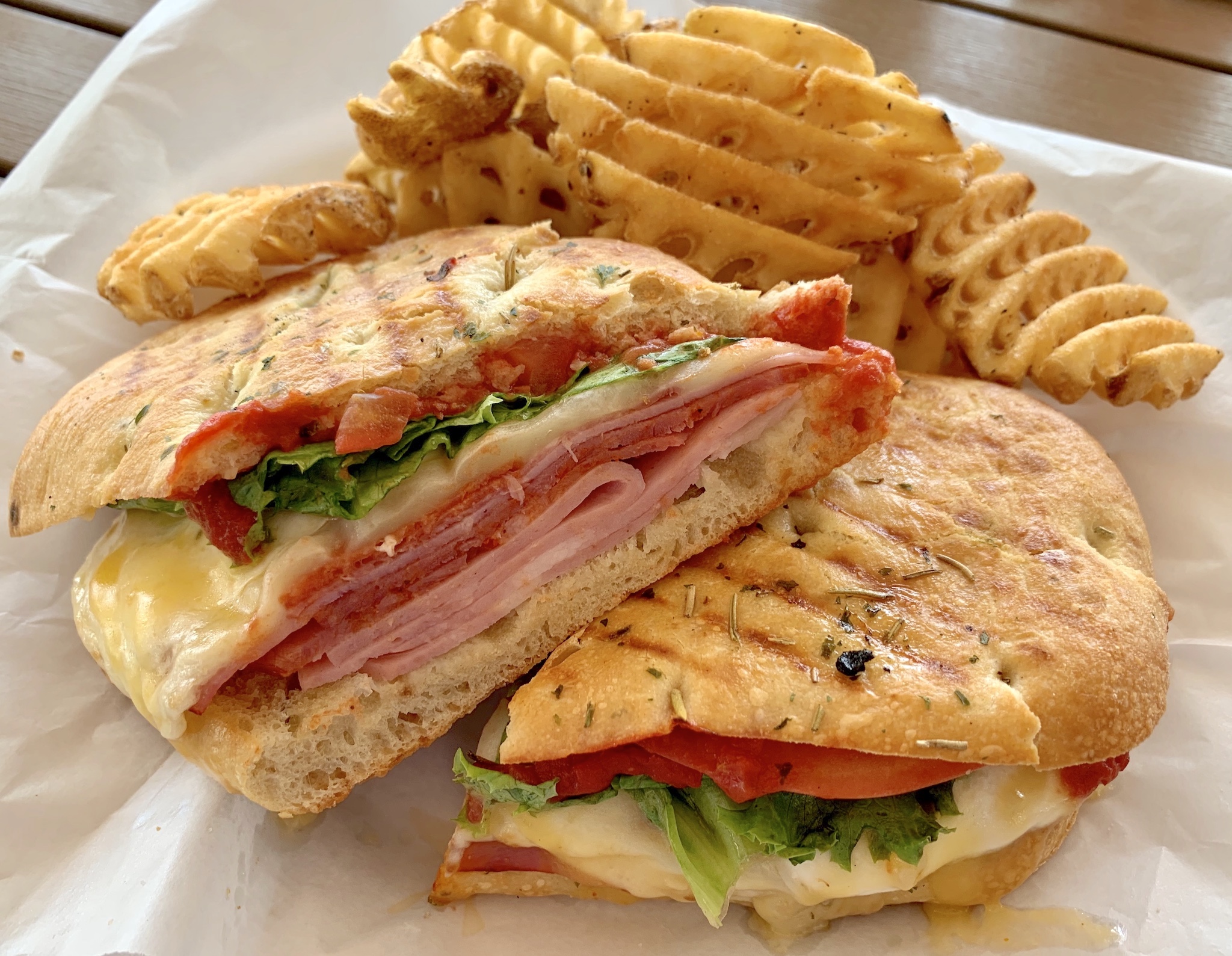 We next took a beautiful, short walk by the beach to reach our second destination, Rum Runners Bar and Grille.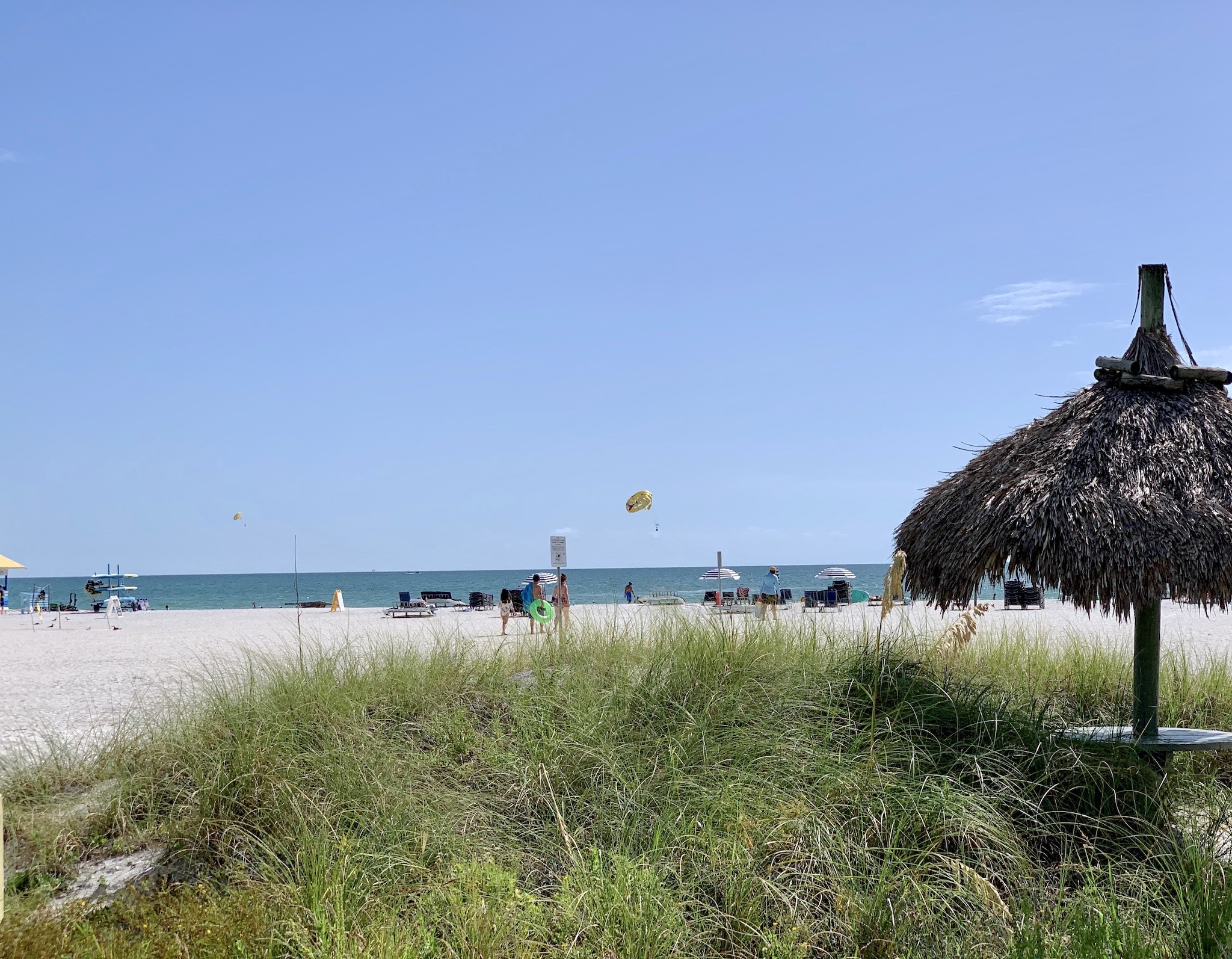 Rum Runners, like Harry's, is completely outdoors but offers covered seating with a gulf breeze.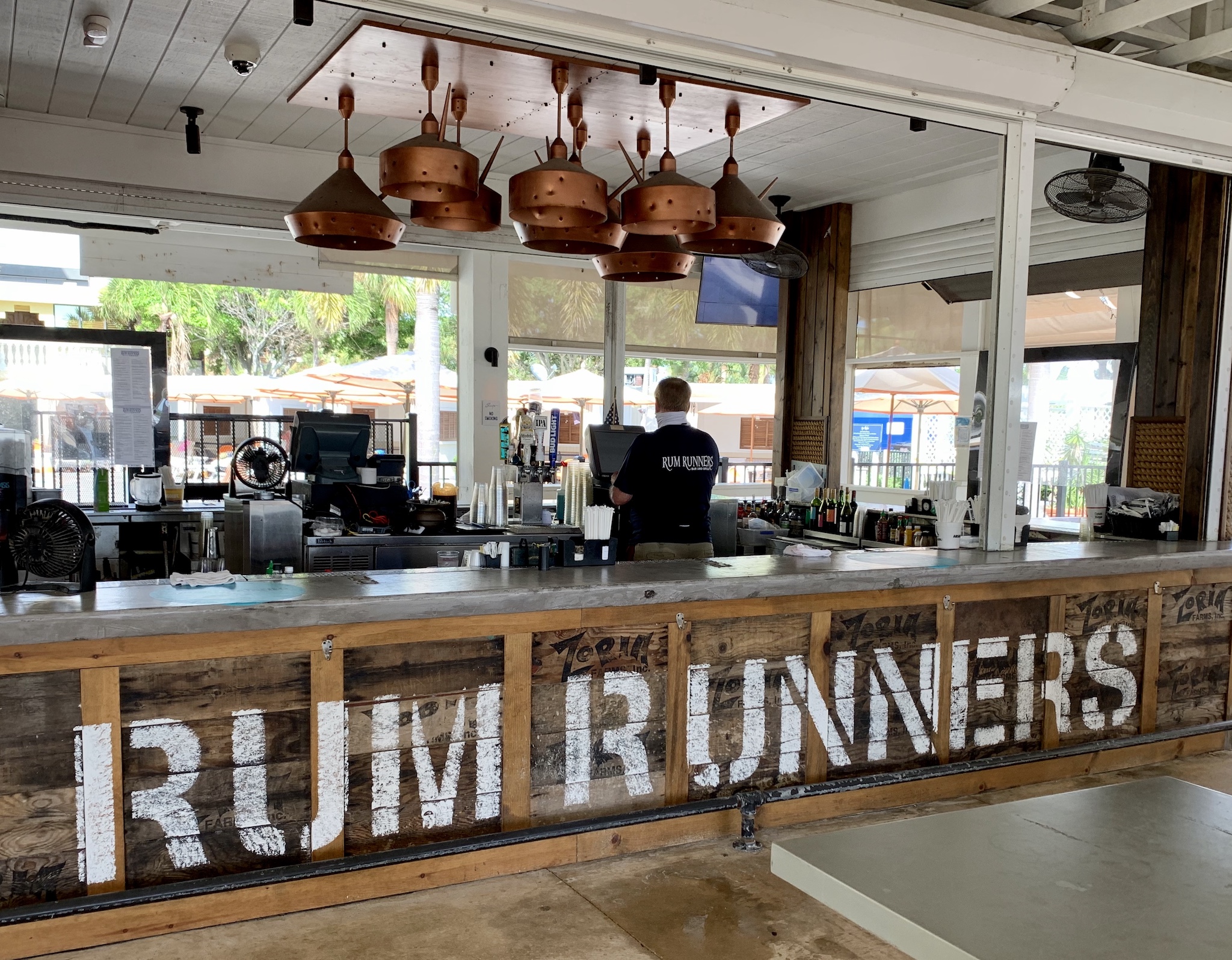 They also have truly outdoor seating, beachside, if you so choose to bask in the sun while enjoying your food and drink.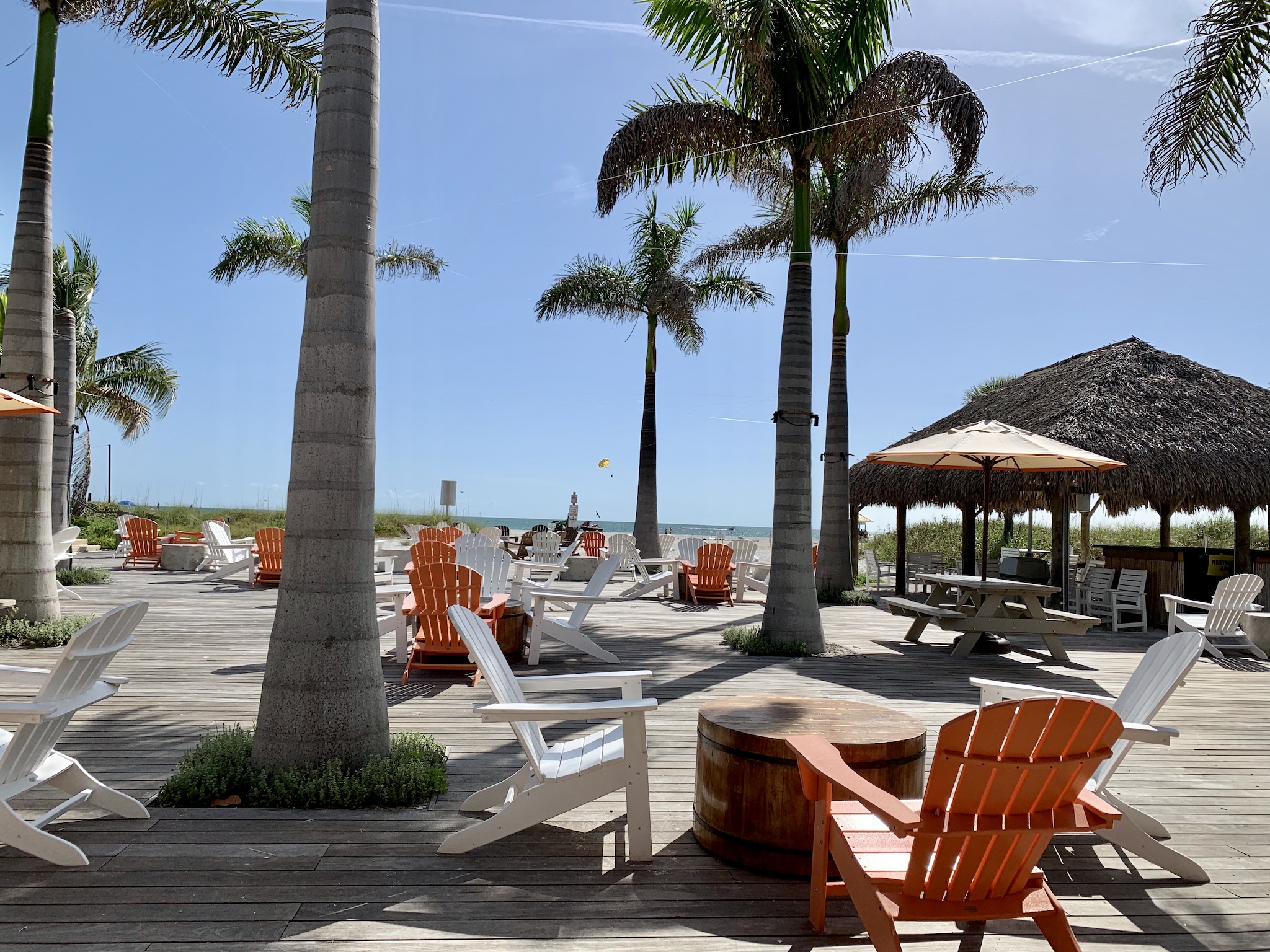 Again we started with cocktails from their Tropical Cocktails section of the menu. I chose the Iguana Cooler made from coconut rum, melon liqueur and pineapple juice. It was good but a bit too heavy and sweet for my taste. Don't worry, it didn't go to waste. Kevin chose the namesake, The Rum Runner mixed with light and dark rums, banana liqueur, blackberry brandy and a float of 151 rum. Definitely beachside vacation drinks. This one was also a bit too sweet as well. But hey, many, many people like their drinks sweet. That is just a preference.
On a side note, I messaged Kevin as I was writing this, because I remembered him telling me that Bacardi no longer makes 151. He said that is true and that Bacardi discontinued it because they were getting sued too much from people lighting themselves on fire. However Don Q, Largo Bay and Lemon Hart still make a 151 rum.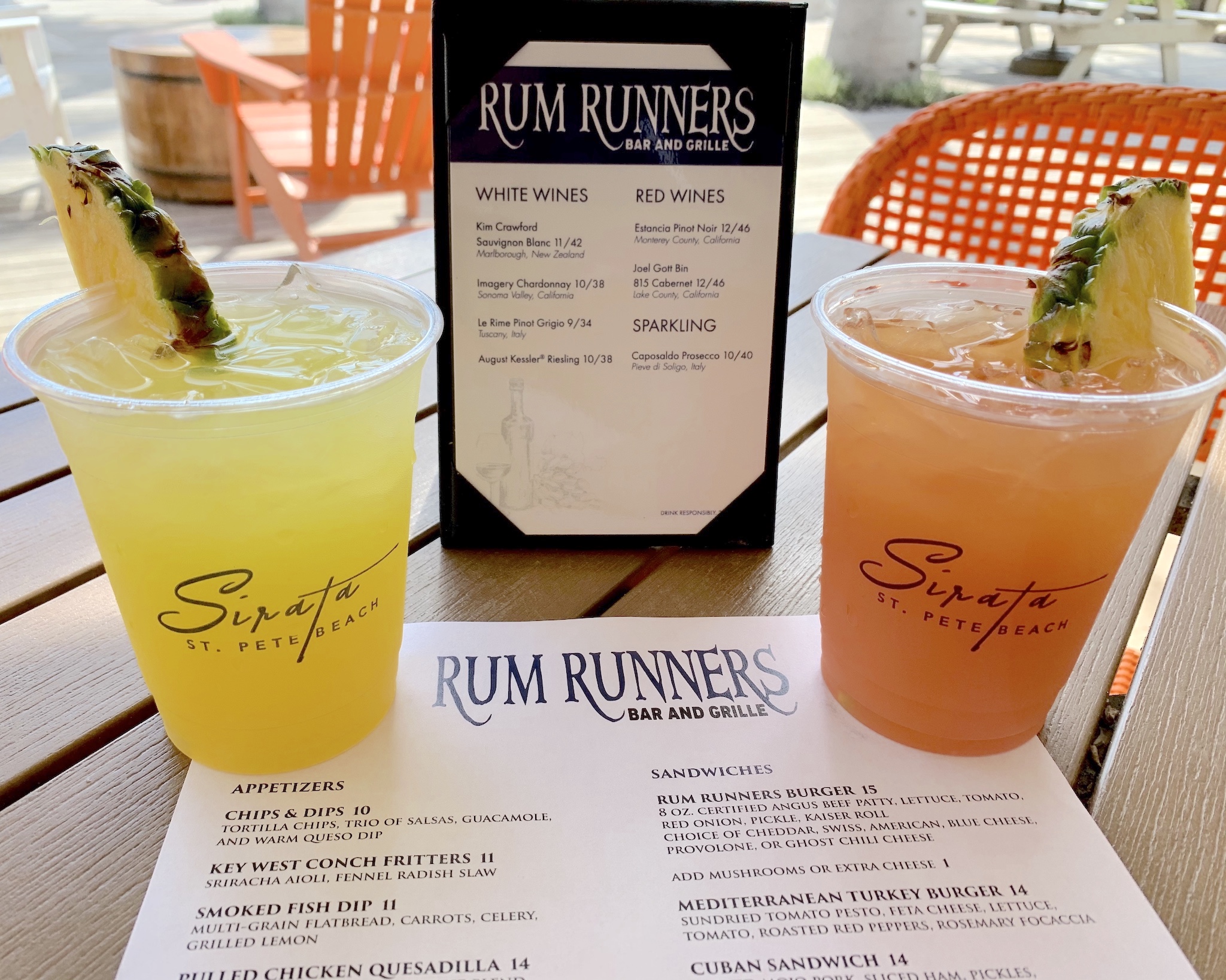 We were trying to pace ourselves with food as we still had one more restaurant to go, so we chose the Pulled Chicken Quesadilla appetizer made with a Monterey Jack and Oaxaca cheese blend, fire-roasted salsa and sour cream. Very tasty and solid appetizer.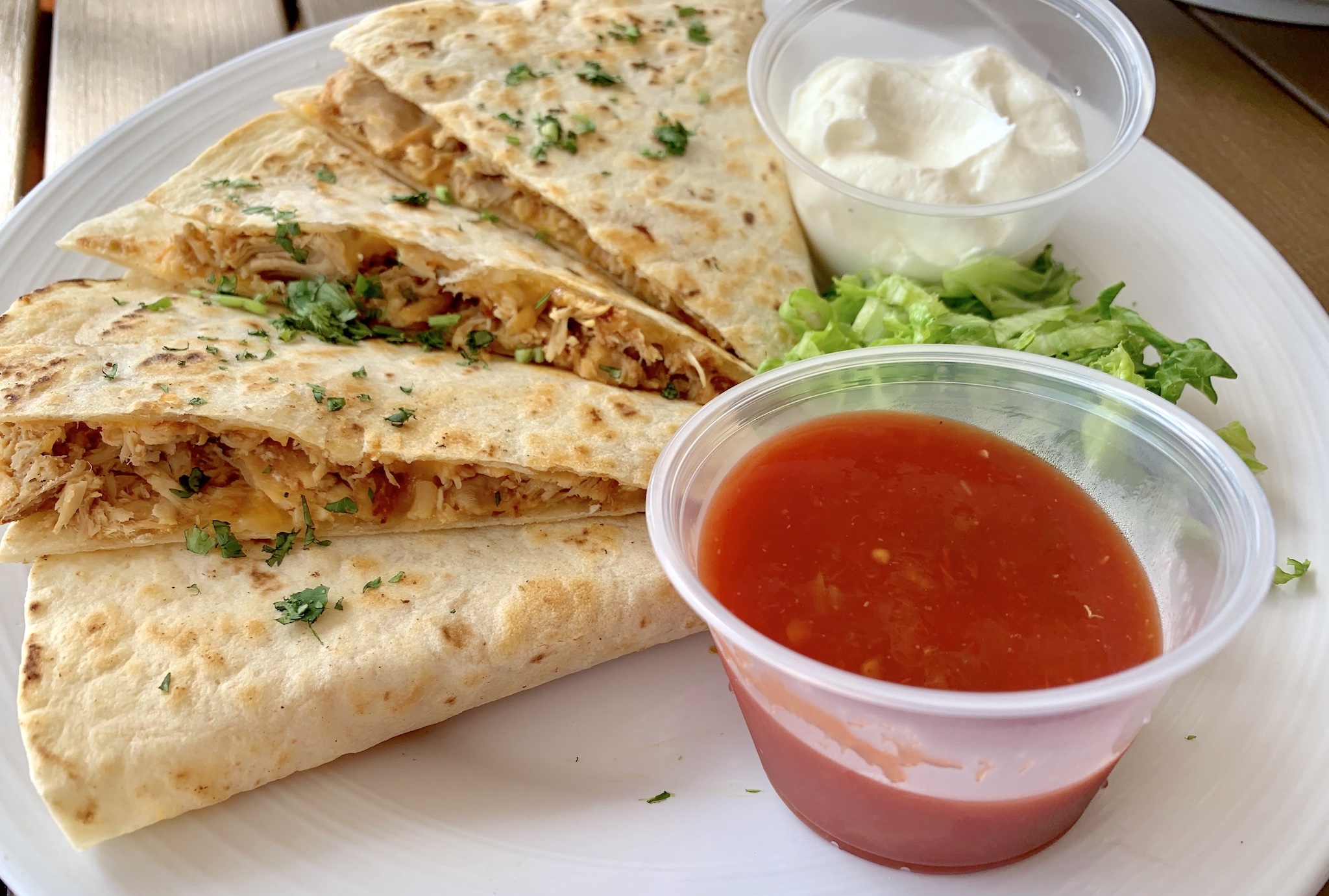 Kevin wanted to pick something different than our usual selections so we chose the Smoked Brisket Bowl with red peppers, blue cheese, bbq mayo, red onion, jalapeño bacon jam and arugula with quinoa. This can also be made as a wrap. What a refreshing meal to eat outside as most of the ingredients are cool and light. The brisket was smoky, with great flavor.
Rum Runners is open Sun – Thurs 8am – 10pm, Fri – Sat 8am – 11pm.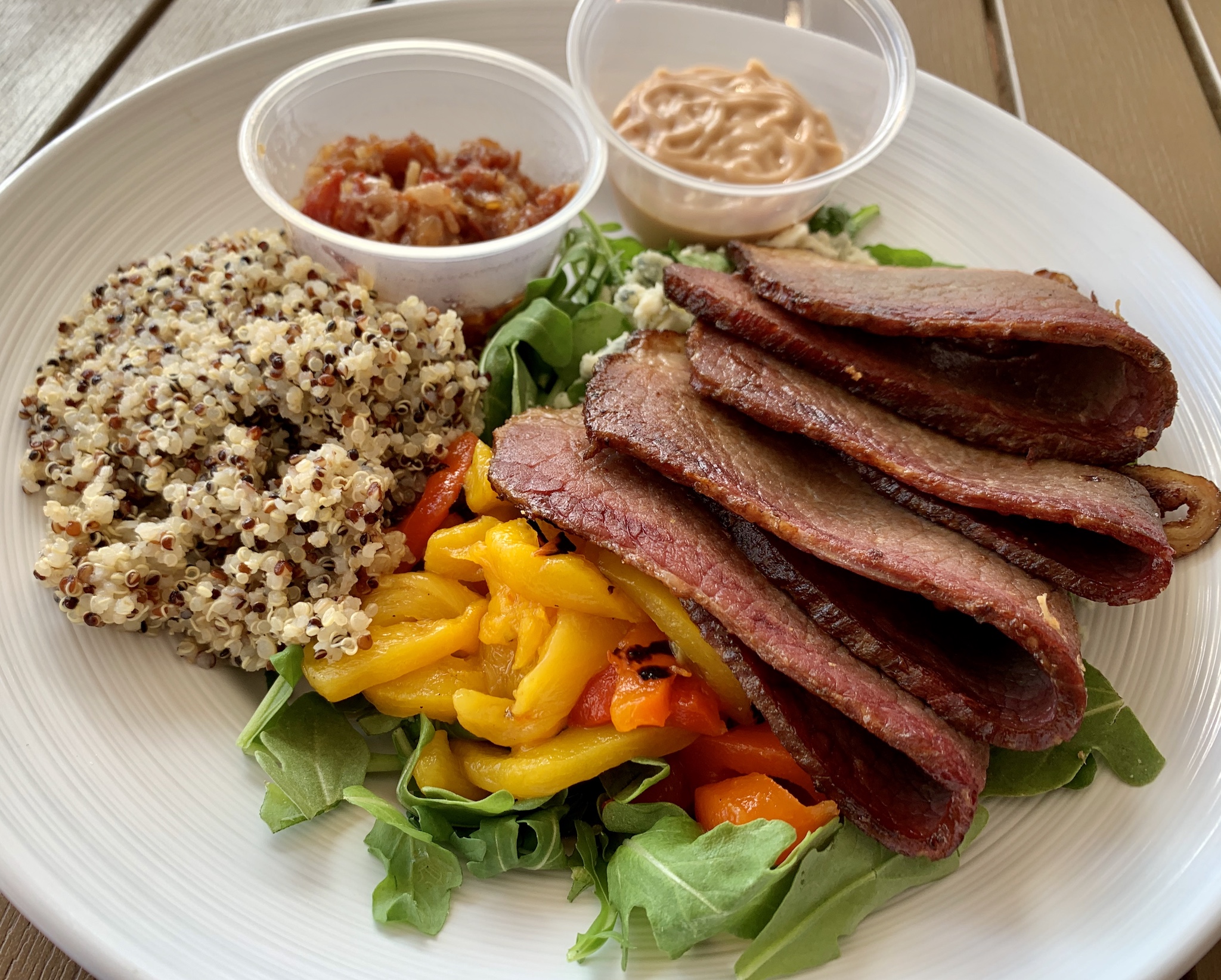 A short little walk indoors to the air conditioning led us to our final destination, Compass Grille where we decided to quit the sweet drinks and go for our usual Kevin's martini and my vodka, soda and cucumber.
Compass Grille has a quaint and homey interior with a nice, relaxed feel.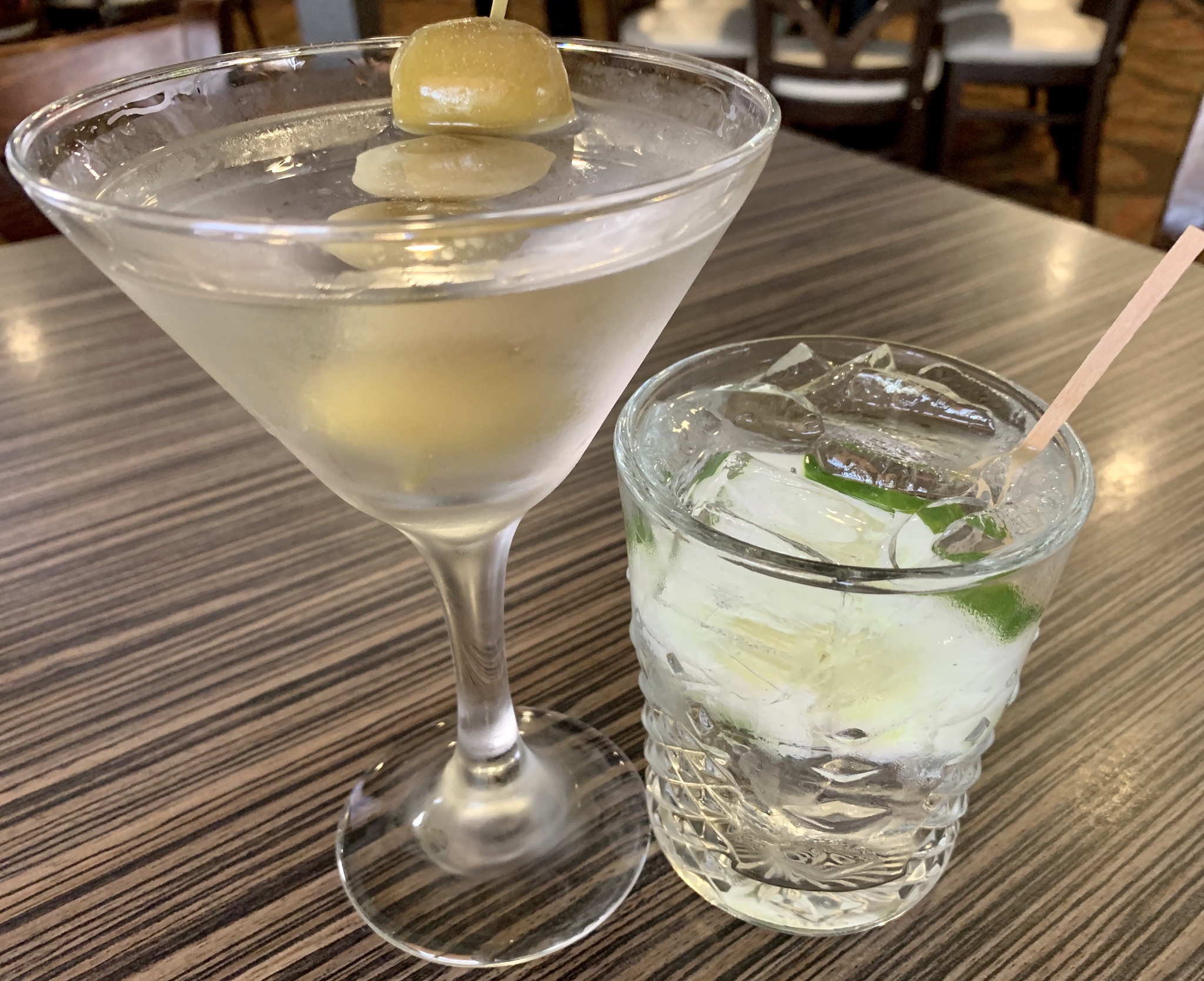 We were first served two types of bread. Our favorite was the one with the sesame seeds but both were quite good.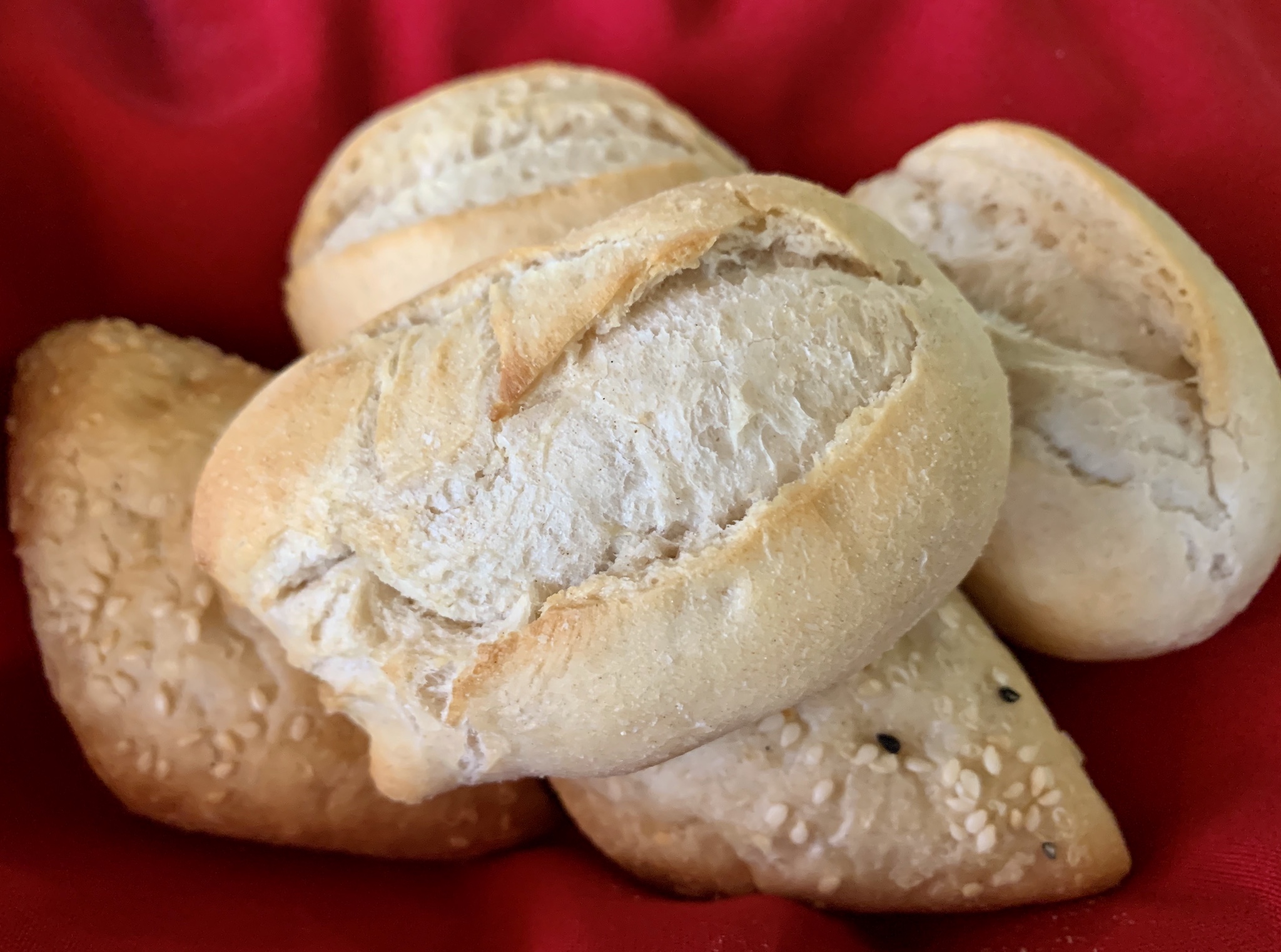 Something about the Seafood Gumbo jumped out at me on the menu. It is made with an assortment of seafood, okra and rich broth. Ironically, as I am writing this and looking at the photo, I don't remember any okra in the dish. But it really doesn't matter because this gumbo was hands down my favorite dish of the day! Lots of fresh seafood with mussels, crab meat, shrimp and more, but that broth was the star. It had a depth and complexity of flavor that was so good, I wanted to lick the bowl when we were done.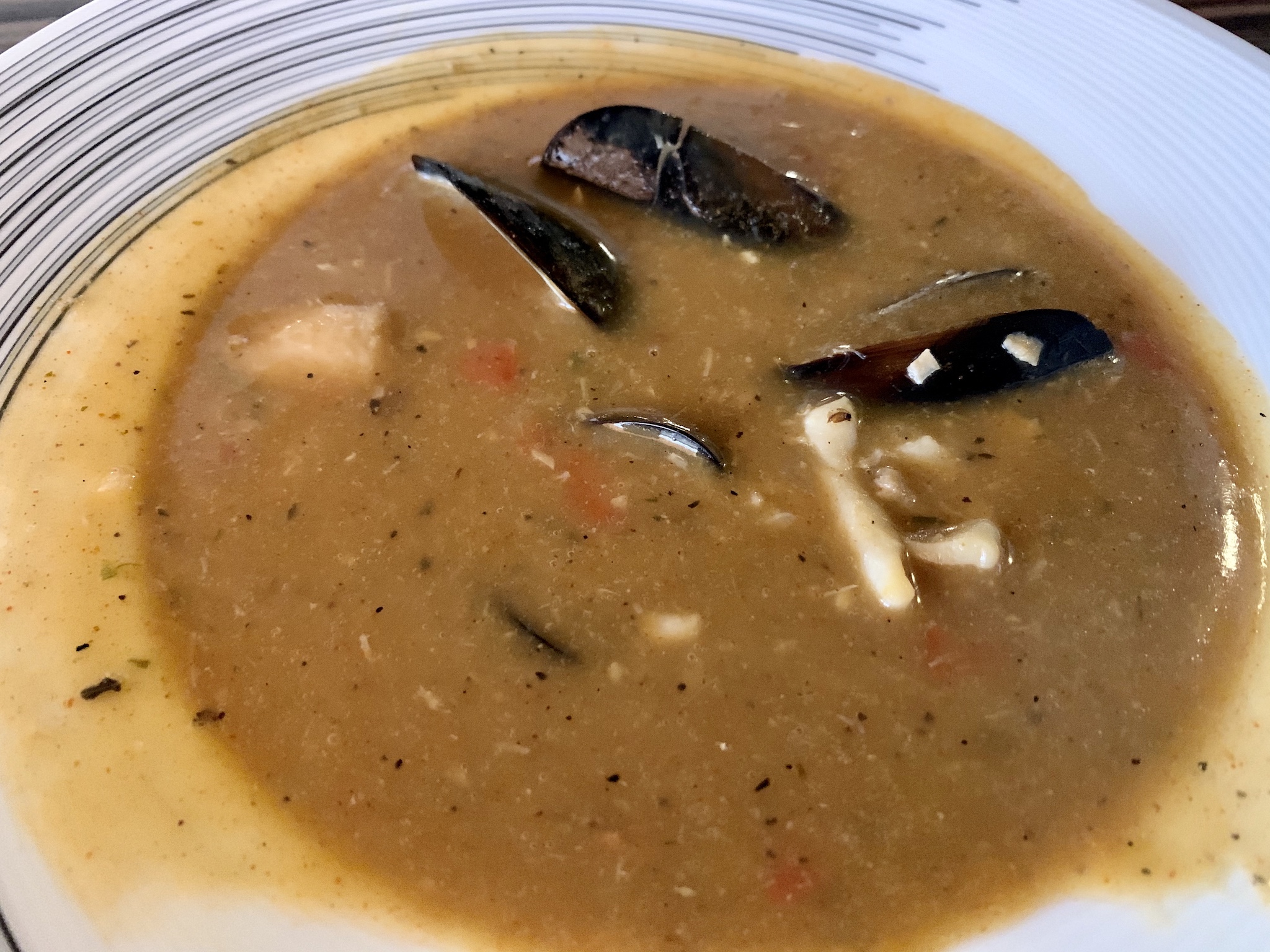 For my entrée, I chose the Cornmeal-Dusted Fresh Florida Grouper with white bean ragout, braised fennel and chef's choice of vegetables. I typically am not a fan of fennel but was told that it is part of the ragout, so I went with it anyway and I am thrilled that I did. I really loved that ragout and really didn't notice the fennel at all. The veggies were cooked perfectly al dente and the grouper was fresh and unique with the cornmeal dusting. Overall a very satisfying meal.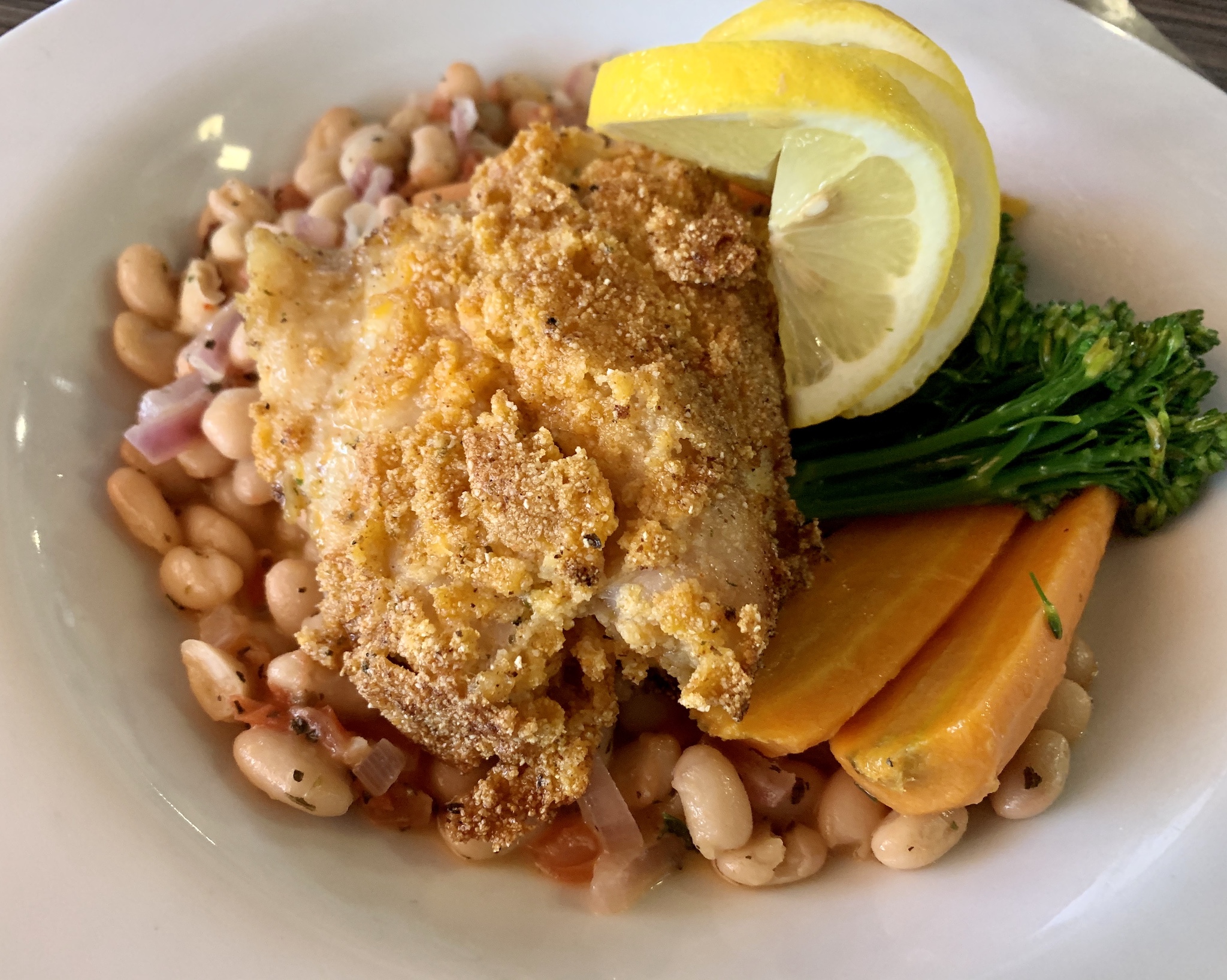 Kevin was in a steak mood and went with the 10 oz. Grilled New York Strip with roasted garlic mashed potatoes, chef's choice of vegetables and topped with a demi glaze. The steak was quite good, cooked nicely and had good flavor. The only issue on this plate were the mashed potatoes that had a gritty, grainy texture for some reason.
I found an answer to this online that says that the "starchy structure of potatoes absorb molecules in a specific way. If you add the milk first and then the butter, the potato molecules get filled up with milk molecules and the butter just floats around on the outside – giving you grainy mashed potatoes." (from offthemeathook.com) You learn something new every day.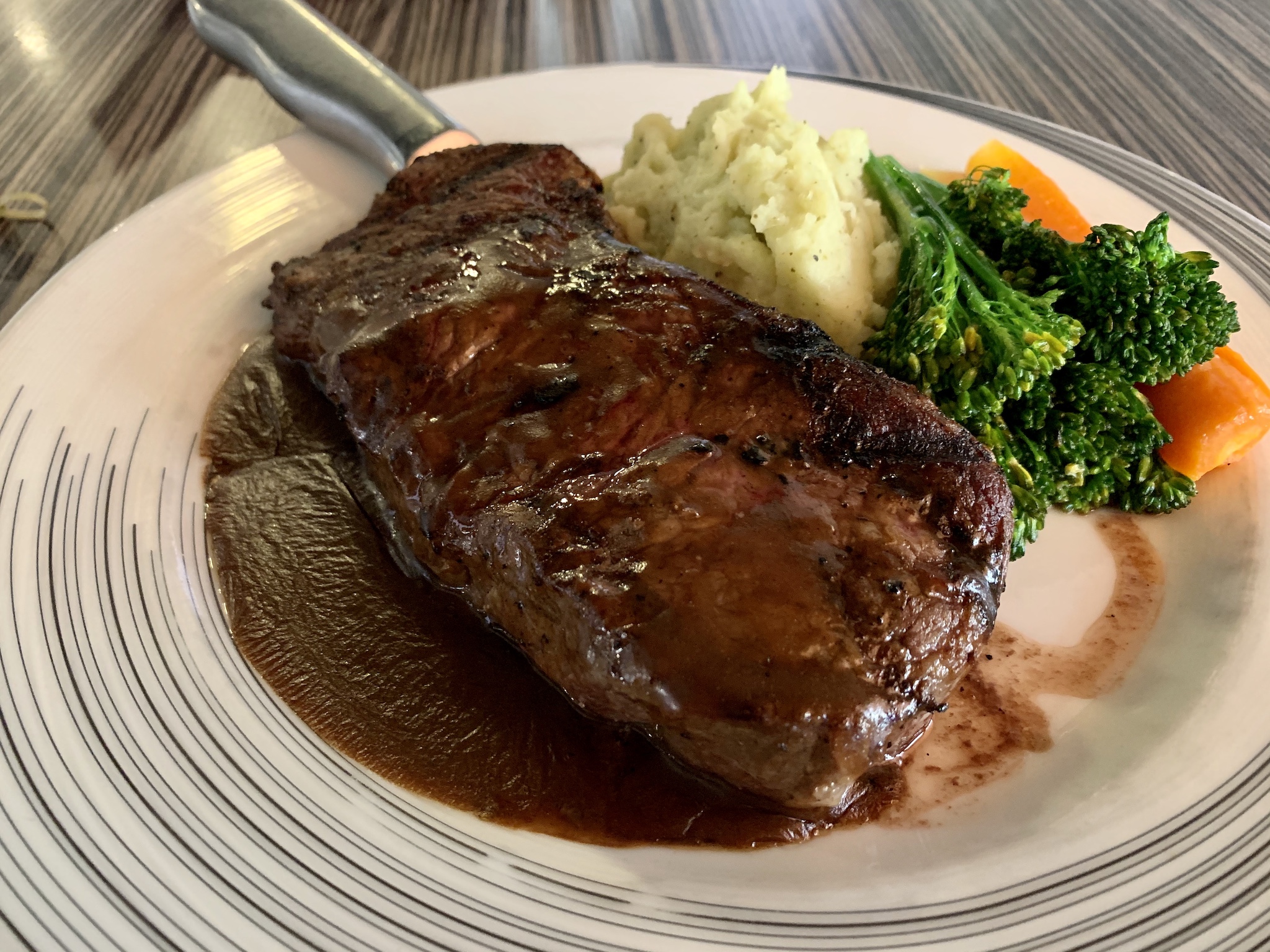 We don't typically order dessert but our server was raving about the Chocolate Peanut Butter Pie. So we gave in and decided we would just have one bite. Well, that did not happen, this pie is so delicious that there was not a crumb left on that plate. It wasn't too rich or too sweet, which is hard to do with a pie of this nature. Absolutely yummy in every way.
Compass Grille is open daily for breakfast from 7am – 11am and then reopens for dinner at 5:30pm – 10pm.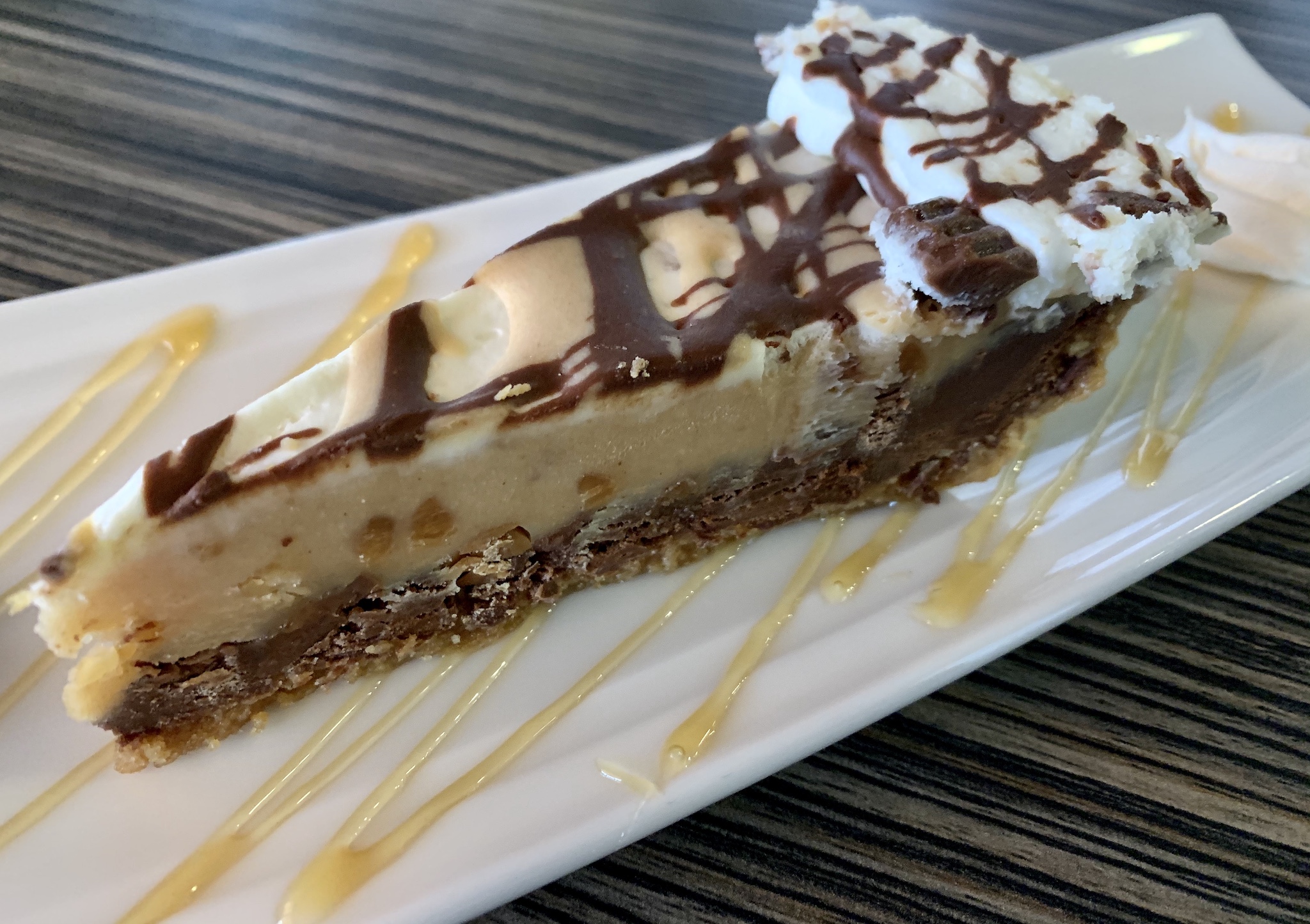 If you're looking to get away for a night or two, we would highly recommend the Sirata Beach Resort. You don't need to even leave the resort as all three restaurants offer diverse selections and something for everyone.
The Sirata Beach Resort on St Pete Beach offers an array of delicious foods with three restaurants - Harry's Beach Bar, Rum Runners Bar and Grille and Compass Grille.
DISCLAIMER: Kevin, Lori, Abby, Haley, & Lindsey do not dine anonymously (this would be impossible) and we sometimes get free food (though never expected). However, we dine with the locals and we support our own. You will always get honesty in a respectful manner. We do not include any large national or regional chains in our ratings and reviews. We focus on independent locally owned eateries exclusively.

PLEASE NOTE: Reviews reflect a certain moment in time. Some restaurants stay extremely consistent over many years, and some change for the better or worse. Some things that may change are: chefs, recipes, food suppliers, ingredients, philosophies, ownership, etc. We always hope that you have the same good, or great experience we had.
More Foodies News, Reviews & Recipes