Beans & Barlour Serves Boozy Ice Cream in Downtown St. Pete
Beans & Barlour Serves Boozy Ice Cream in Downtown St. Pete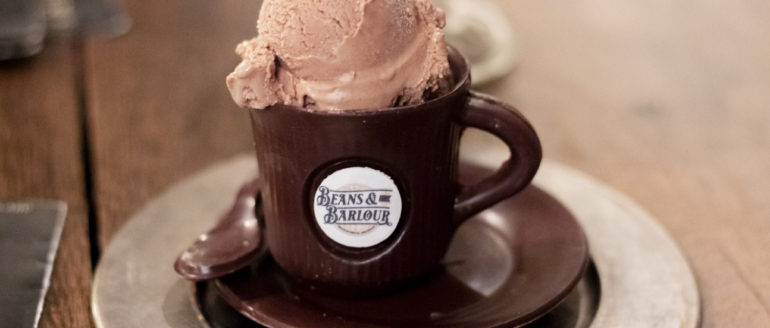 Get ready to indulge in one heck of a treat at Beans & Barlour with one of their boozy desserts. Alcohol infused ice cream? One can say it's the best thing to ever happen to the dessert scene in St. Pete.
Beans & Barlour is located in downtown St. Pete next to St. Pete Brewing Company. They have outdoor seating, but if you want to add to the experience, head to the back for a unique and rustic ambiance.
Their menu includes coffee, cocktails, small plates and dessert. They make all of their ice cream from scratch daily, and they range from 7-12% ABV or you can choose to get a non-alcoholic version. They have 9 delicious boozy ice cream flavors to choose from. There are some common options like Chocolate Liqueur, Strawberries N Cream, and Almond Joy, and then some unique flavors like Avocado Margarita and Sangria Sorbet. Needless to say, you'll get a buzz no matter what scoop you pick!
By the time you're done reading this, I bet you'll be planning your next date night here!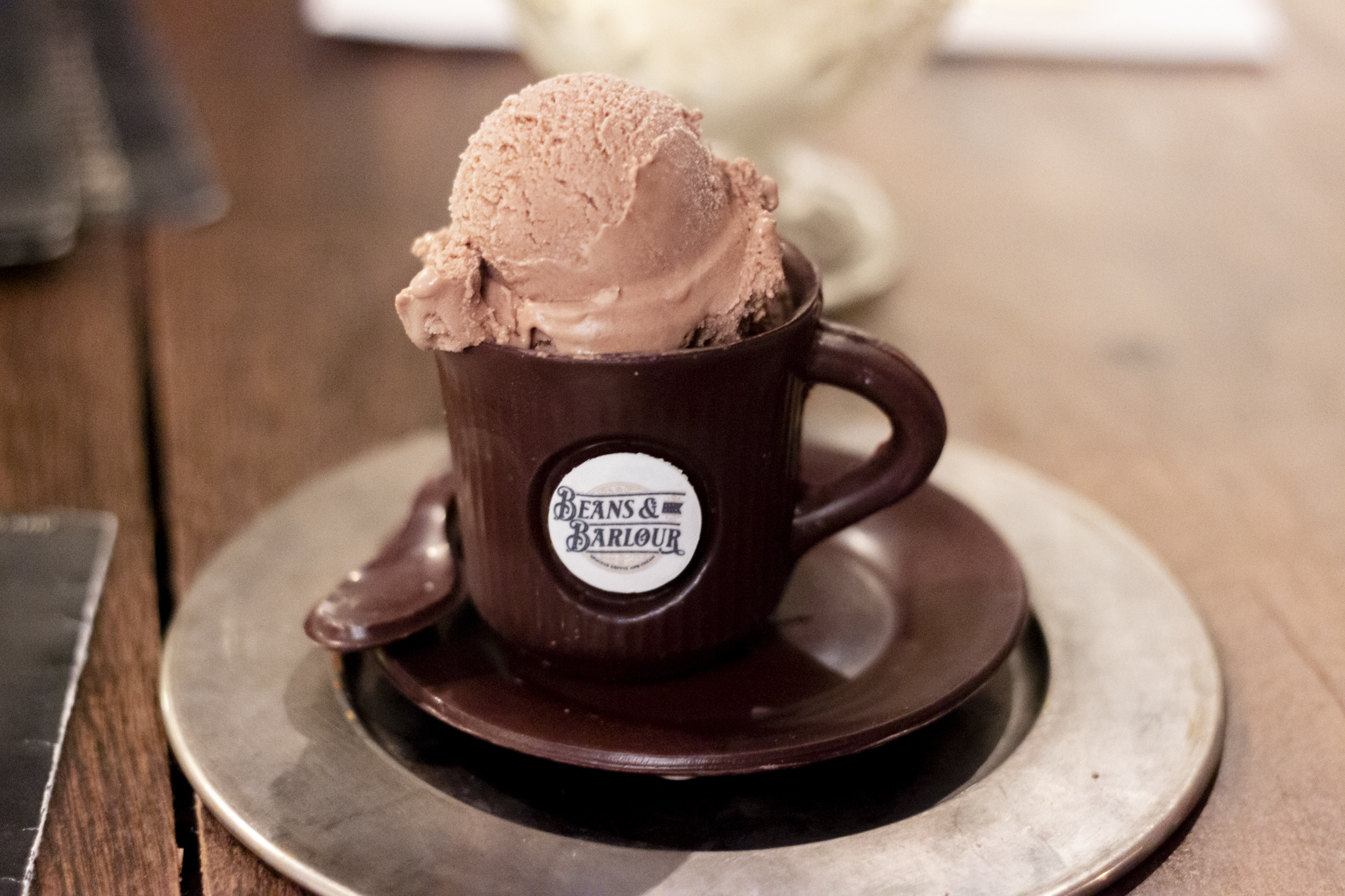 I couldn't pass up the opportunity to order this. The entire thing is edible! This is a scoop of their Chocolate Liqueur ice cream served in an edible chocolate teacup with a chocolate spoon on a chocolate saucer. Although it was a little smaller than I expected, it was still fun to order and enjoyable to eat. The ice cream was my favorite, it was creamy and you can taste the alcohol but it wasn't too over-powering. (You definitely have to love chocolate to order this.)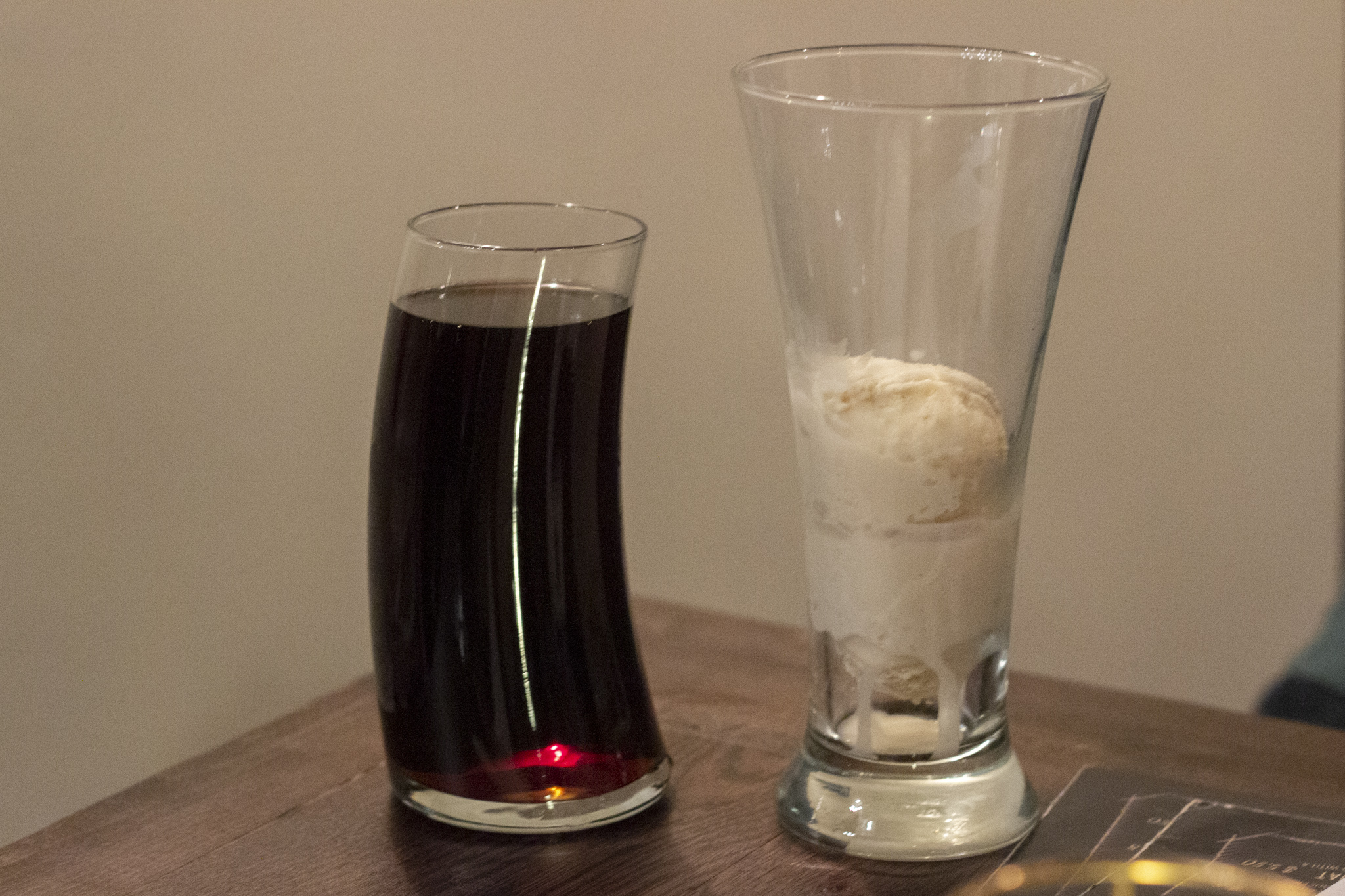 Calling all beer lovers- this one is for you! Reimagining a rootbeer float with Whiskey & Irish Cream ice cream and a pint of St. Pete Brewing Company's locally brewed stout. This is a pretty big serving, but it sure was yummy and satisfied the beer and sweet tooth cravings.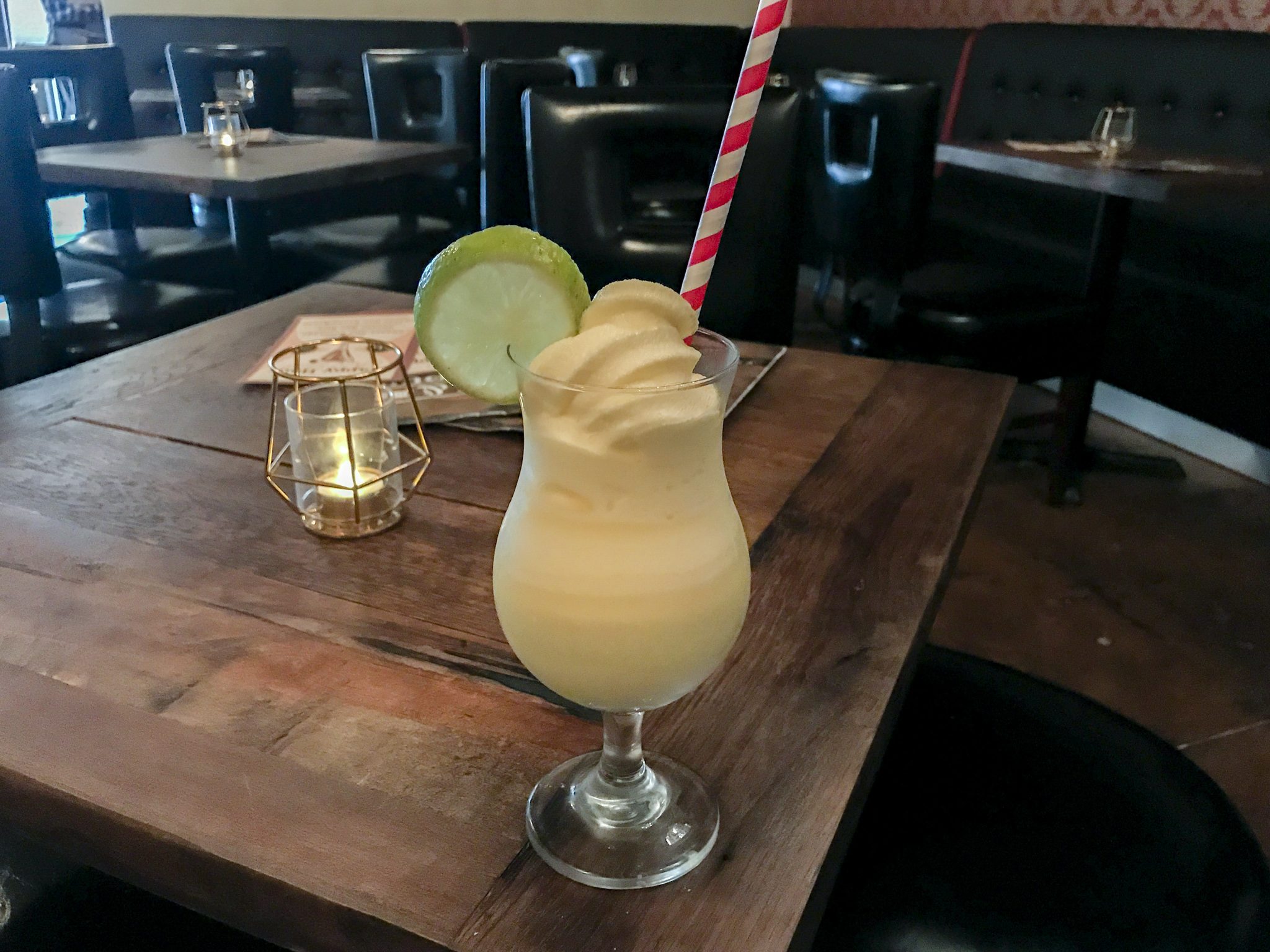 This is my favorite boozy drink on the menu. The Piña Colada Dole Whip Float is the perfect beverage for a refreshing pick-me-up that'll give you a great, fun and flirty buzz. This is a blend of silver & coconut rum, cream of coconut, pineapple juice, and pineapple Dole Whip soft serve. It was sweet and smooth and the kind of drink that makes you feel like you're on vacation. I highly recommend this if you're looking for a refreshing, fruity drink.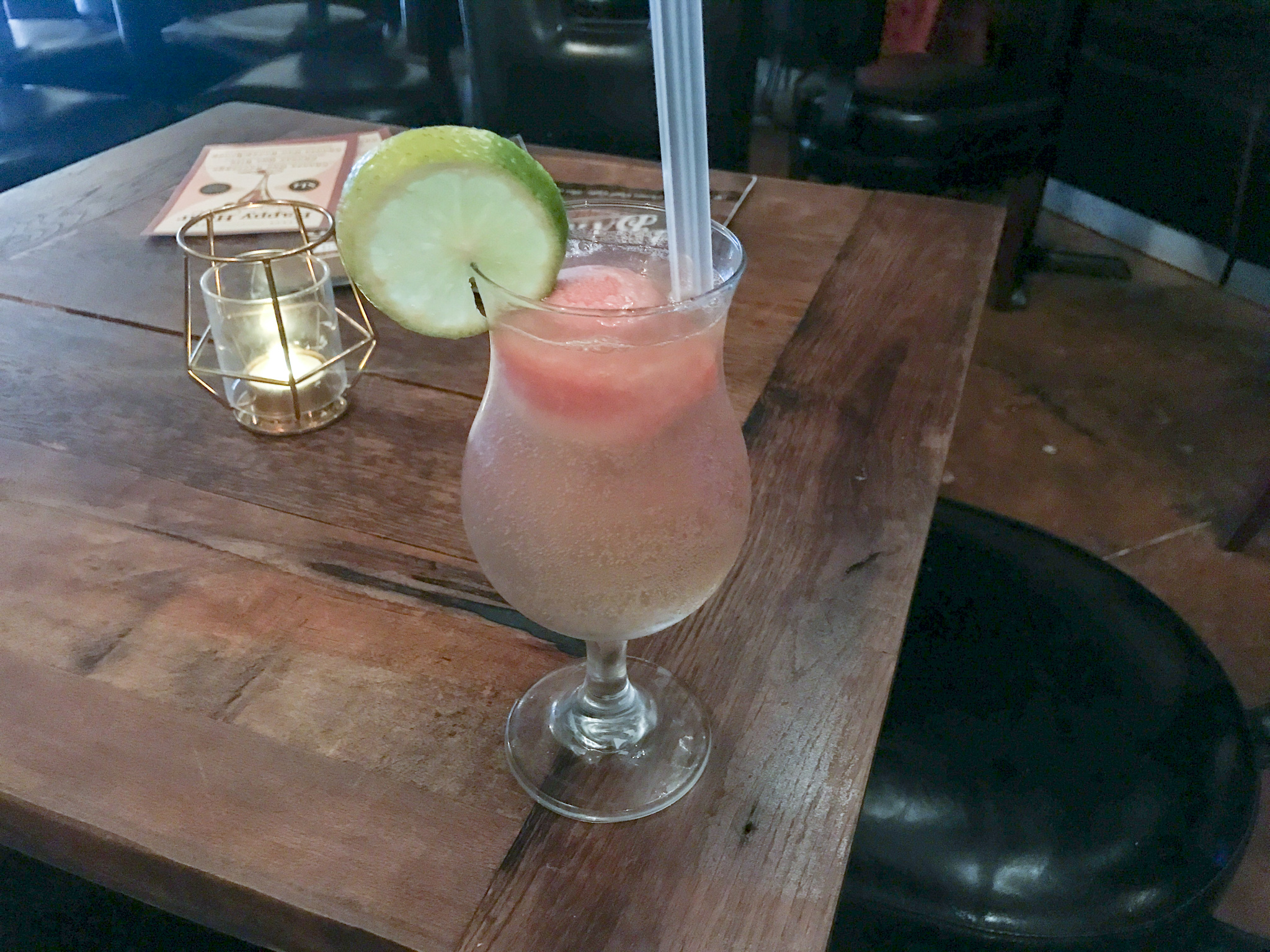 Another option for a fruity and boozy drink is the Raspberry Mule Float. This was also refreshing and sweet, but it's not as creamy as the Piña Colada Dole Whip Float. The Raspberry Mule Float is lighter and more bubbly, made with Vodka infused Raspberry Sorbet floated in Ginger Beer. Once you mix it up, it's similar to an adult version of a slushie.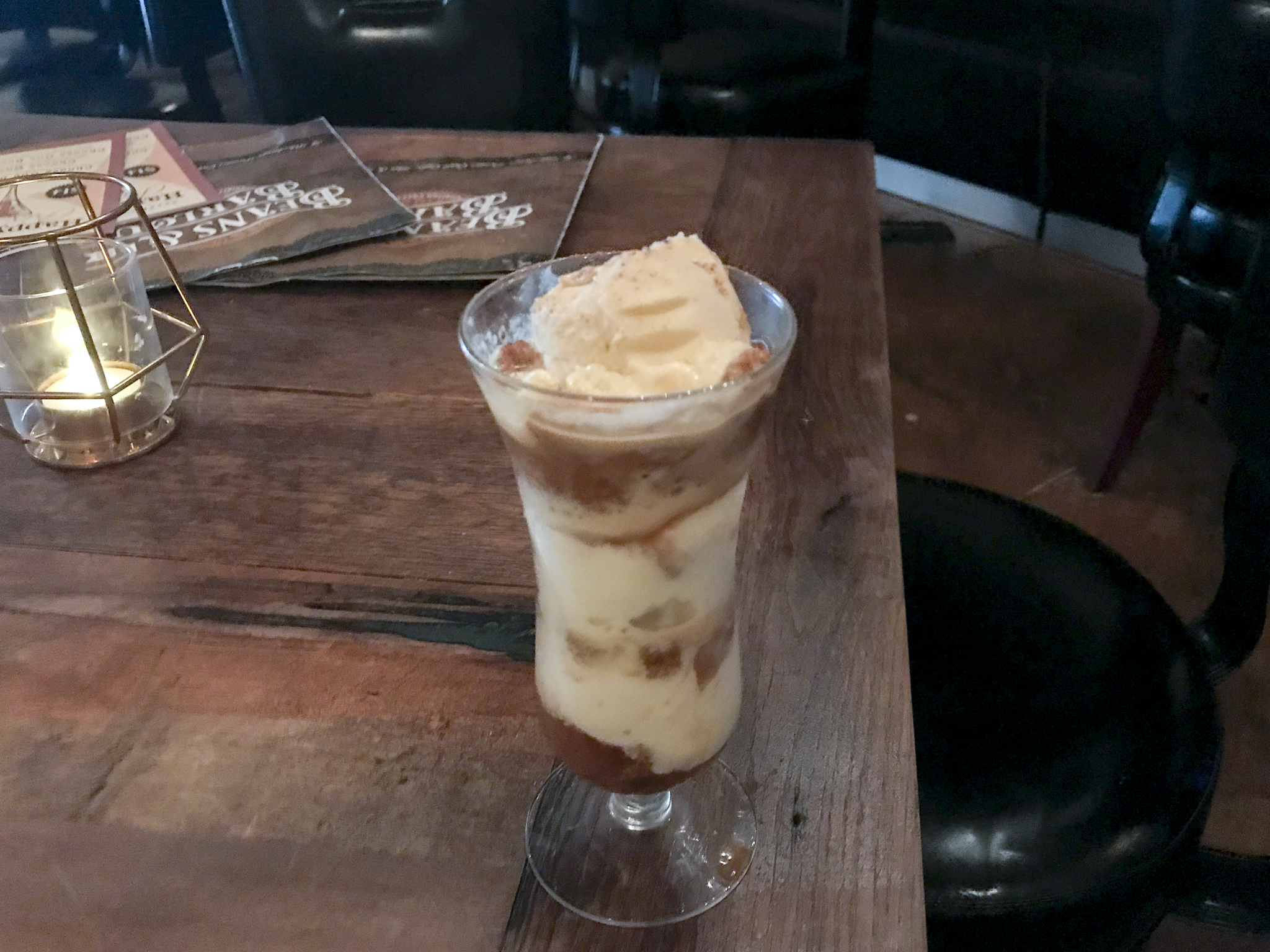 Tiramisu, as many know, is a classic Italian dessert. Beans & Barlour takes this already delicious sweet and gives it a kick by adding Amaretto & Mascarpone ice cream layers with warm, espresso-soaked lady fingers. Yum! This serving was the smallest of the group, but there wasn't a drop left by the end of it.
If these specialty drinks aren't what you're looking for, I would definitely recommend trying a boozy scoop of ice cream alone. The texture is smooth and creamy, and the taste is true to name with that hint of booze! It's a great treat!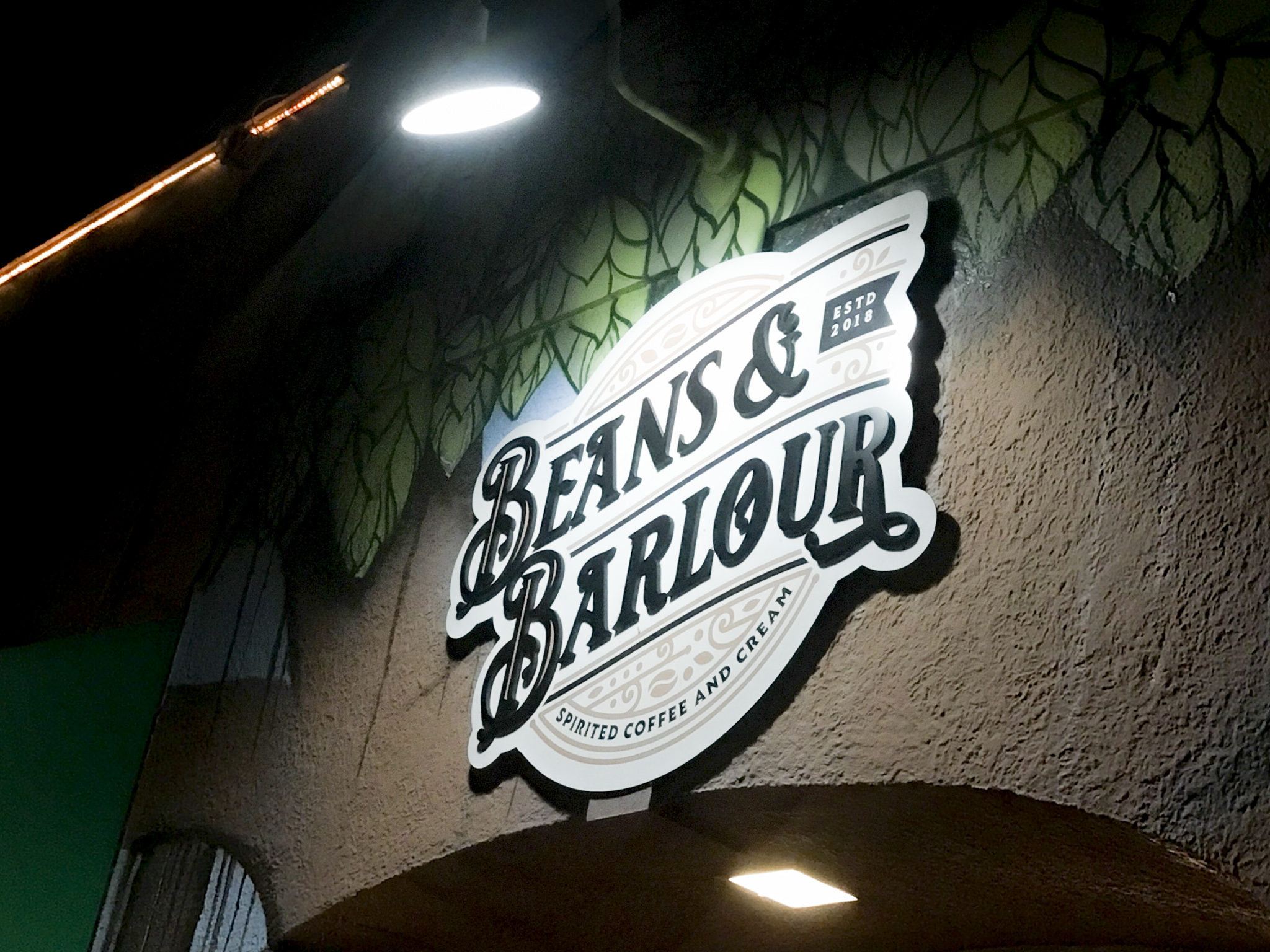 So there you have it, why drink alcohol when you can eat it in the delicious form of ice cream or sip it in a float? Beans & Barlour produces a gift that we've all been wishing for!
Oh! And don't forget to take a super cute photo with your hunny in the back!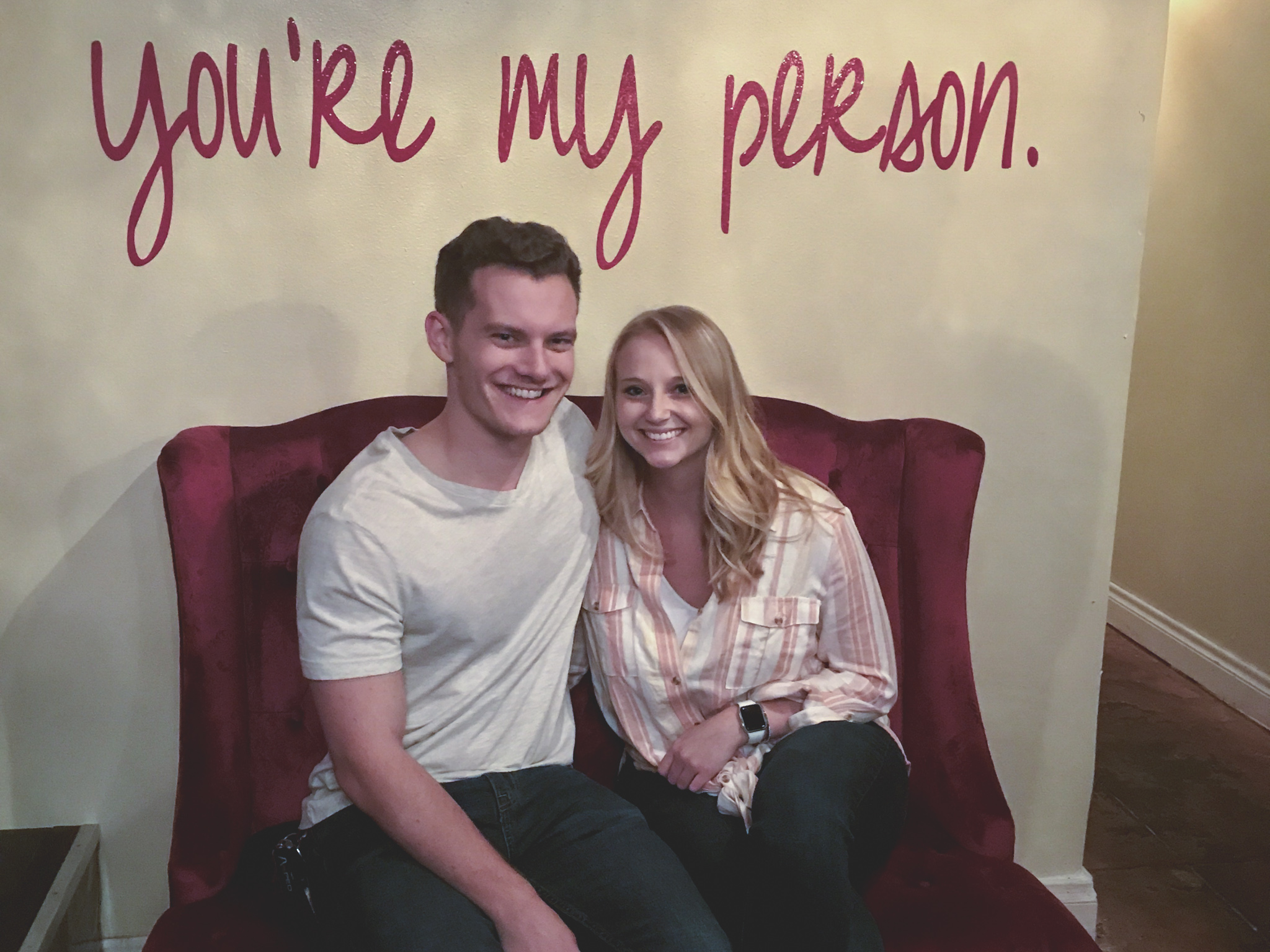 A craft coffee bar and dessert lounge featuring alcohol-infused ice cream and coffee. Serving beer, wine, house-infused cocktails, shareables & small plates, as well as brunch.
DISCLAIMER: Kevin, Lori, Abby, Haley, & Lindsey do not dine anonymously (this would be impossible) and we sometimes get free food (though never expected). However, we dine with the locals and we support our own. You will always get honesty in a respectful manner.

PLEASE NOTE: Reviews reflect a certain moment in time. Some restaurants stay extremely consistent over many years, and some change for the better or worse. Some things that may change are: chefs, recipes, food suppliers, ingredients, philosophies, ownership, etc. We always hope that you have the same good, or great experience we had.
Written by Haley Haman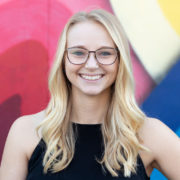 Over 5 years ago, I left my hometown in Illinois and made my way down to sunny Florida. I'm always bouncing around to the latest hot new restaurants and hidden gems in St. Pete. After years of experiencing the food scene and over 100 food reviews, I have become a go-to gal for restaurant and bar recommendations for friends and tourists alike.
I recently started my own business as a social media marketing manager and photographer at Sunny Social where my passions collide. I'm building an evolving company, a thriving portfolio of food photography and reviews with St. Petersburg Foodies, and a beautiful life!
Likes: Bottomless mimosas and trying new food (okay, that ones obvious!).
View all posts by: Haley Haman
More Foodies News, Reviews & Recipes
Comments are closed
#stpetersburgfoodies #stpetefoodies
Sponsors
Recent Posts
Kahuna's is a local's gem located on Gandy Blvd. across from the infamous Greyhound Dog Track. From the average passerby's eye, it may seem like a divey bar not worth popping in to, even despite the daily full parking lot. I live just around the corner from Kahuna's and have been a few times. The crowd is always interesting and entertaining, service is quick and friendly, the drinks are cold, and the food is tasty. I decided to grab lunch at Kahuna's with a friend recently on a Saturday afternoon. We sat outside, despite the 90-degree weather. The patio is well covered with fans that keep it manageable to endure the heat. With that being said, I am not sure I could sit out there in the middle of August. The good news is, they have a large inside area with a bar, tables, and bar games to enjoy the A/C. We decided to have a couple of Bud Lights and share a few dishes. Starting off with the Cajun Crab Spread. I don't regret ordering the crab dip, but after it was too late, I realized there was a dip trio on the menu (including the Cajun Crab Spread) that I wish I had ordered instead. The crab spread was made with what appeared to be Krab (imitation crab), mayonnaise/cream cheese, and Cajun seasonings. It was served with sliced tomatoes, pickled jalapenos, and tortilla chips. It reminded me of the filling in a crab Rangoon, but with Cajun seasoning. The key to amping up the flavor was adding a pickled jalapeno on top! Next up, we had fried pickles. The fried pickles are fried in a light yet crispy batter, then well-seasoned and served with ranch for dipping. There's not much to say, except if you like fried pickles… order them! The wings at Kahuna's may be some of the best I've ever had. I don't know what their secret is in the frying process, but they are fried to perfection. We got them tossed in the medium sauce, which is not your typical medium buffalo sauce. They add seasonings to the sauce which really sets it apart from other basic buffalo wing sauces. We finished off our meal splitting a blackened grouper sandwich with zucchini fries on the side. The fish tasted fresh and was seasoned and cooked perfectly. The bun left something to be desired, but I just ate the fish without the bun (I didn't need the carbs anyway). The zucchini fries were delicious! Maybe one of my favorite foods I had that meal. They were very crispy and flavorful. I would go back to just order those as a snack with an ice cold beer. Kahuna's is the perfect place if you are looking for a laid back but fun atmosphere with affordable drinks and food that is delicious at the same time. I live just around the corner from there and will definitely start going more after the few good experiences I've already had there.

Hookin' Ain't Easy definitely deserves your attention while they're making spectacular waves in the seafood scene in St. Pete. The cafe is the perfect spot for a laid back and delightful seafood meal while soaking up the sun and live music. Or, visit their market for an array of fresh seafood from grouper, shrimp, octopus, and so much more, seriously so much. No matter how you like your seafood, Hookin' Ain't Easy is one of the best seafood restaurants in St. Pete that will soon reel you in. The ambiance is relaxed and friendly neighborhood-like as you order from a food truck and listen to live music either on a picnic table or at the tiki bar. Matthew, the owner is passionate, friendly and welcoming. Also he's hilarious as he was showing me around and telling me that he catches the majority of the seafood on the menu and knows where everything comes from, he called himself a "busy hooker". His words, not mine, but nonetheless, hilarious. Let's dive right into the food and what you absolutely must order: Stone Crab Claws (while in season – October 15 through May 1 in 2023). Get cracking and dunk these meaty claws into butter for the best you've ever had. We ordered the Claws Only. The other option is the Claw Dinner which comes with fries and coleslaw. The Stone Crab Claws are fresh and caught by the owner, Matthew. In fact, he catches mostly everything on the menu and if it's not him, he knows the fisherman who did by name. I can't wait to go back for more. Though Hookin' Ain't Easy has only been open for 10 months, locals already know it's the place to visit for one of the best grouper sandwiches in St. Pete. Served blackened or fried and with a side of fries, you can't go wrong either way. I ordered it blackened and really loved it but I must say the seasoning was heavy and salty which, if I had ordered a beer or something more refreshing than water, it would have been a solid pairing. You must order the house-made remoulade sauce. It's tangy, creamy and delicious. The fries were perfection, crispy and salted just right. Anything on the menu, including this freshly prepared Smoked Wahoo Fish Dip, is soon to become a favorite. I would recommend ordering it spicy for a nice kick and more flavor. This fish dip is prepared to perfection. It's probably the freshest fish dip I've had in St. Pete for its high quality and obvious hand craftedness. Add some hot sauce for the ultimate bite. Hookin' Aint Easy is obviously a seafood eatery and this may shock you, but they also have some BBQ on the menu with a smoker on site, house-made BBQ sauce from a family recipe, and more. We tried the Pulled Pork Sandwich and it was massive. I have to admit, we were busy cracking open the Stone Crabs and enjoying the Smoked Wahoo Dip that by the time we were ready to eat the Pulled Pork Sandwich, it had become a little dried out. I bet if we would have started with the Pulled Pork Sandwich, it would have been amazing, but we messed up. It was still great to nibble on and the BBQ sauce really was one to remember. I have also heard great things about the wings which I can't wait to try. Before you leave, pop into the market to pick up some seafood to make at home. They have everything you can hope for, and more. Like I said before, this is a great local spot for great seafood in a casual setting. They have live music every day they're open to go with the beachy vibe. Pop in for a meal or to chef it up at home! Either way, you will be surprised at the freshness that Hookin' Ain't Easy has to offer. Be sure to follow Hookin' Ain't Easy on Facebook for day-of specials and catches.

May 9, 2023

The Pearl Restaurant: Gulfport's Destination for Distinctive & Sophisticated Mediterranean

For many years, The Pearl Restaurant's fine dining establishment operated out of Treasure Island. The restaurant earned a wonderful reputation and became a favorite to many local diners. In the fall of 2022, The Pearl moved into a cozy new home close to the heart, in quaint, but growing Gulfport, FL. The Pearl, which specializes in Mediterranean cuisine with an upscale but casual vibe, has been busy settling into their new spot over the course of the past few months. This new location of theirs possesses a cozy and intimate dining room (similar to that of their original location) as well as a covered outdoor seating area which is idyllic for calm and balmy evenings. The beloved menu, created by chef and owner Karim, fortunately remained the same with a focus on elevated seafood, Mediterranean mains, Moroccan specialties and many other intriguing options like their wide-array of appetizers and enticing entrees like camel. One of the best aspects of the Pearl's arrival in Gulfport is that the food is unlike any other establishment in the small town. The Pearl has added a whole new dimension to the dining scene in Gulfport and they've definitely been welcomed with open arms. For those familiar with the layout of Gulfport, The Pearl is located off of 28th Ave S near 58th St S. – just a few blocks from the town's popular strip that is Beach Blvd. S. Parking is plentiful as the restaurant sits in a small plaza that has a large parking lot. Reservations at The Pearl are not required; however, they are strongly recommended, especially during weekend dinner service. Tables can be reserved both in the dining room and on their patio. Additional seating includes a row of bar seats with an up-close view of the happenings in the kitchen. We secured our reservation recently on a Friday evening at 6:30PM. We requested indoor seating and upon arrival, our table was ready and waiting for us. We were greeted immediately by our wonderful server who promptly introduced the menu specials for the evening which included both appetizers and entrees. We started off with a bottle of wine – Troublemaker Red Blend – and a few appetizers. We selected the lobster bites, stuffed dates, and the mediterranean sampler which was one of the featured appetizers for the evening. Complimentary bread service landed on the table first, followed by the lobster bites. The lobster bites are comprised of sautéed lobster chunks in garlic herb butter. They were dainty, yet delicious – they made for the perfect appetizer as they weren't ultra filling but were enough to satisfy. This is a great appetizer to share between two people. We enjoyed the stuffed dates from The Pearl a couple of years ago and couldn't not order them this time around as they're simply delicious. The dates are stuffed with goat cheese, jalapeños and bacon and make for the perfect combination of sweet and savory. The five dates are served on a skewer over a small bed of greens. It's a good thing that there are not more than five to an order, because I could easily fill up on them. Dates in most any form (but especially with the addition of goat cheese, bacon and jalapeños) are like candy to me. When the mediterranean special of grape leaves, various dips, olives and pita arrived we soon realized that we probably should not have ordered it because it was quite sizable. However, everything served with the special was incredibly appetizing. Because this was a featured special, this means that it is not always available. Though, they have added it as an appetizer special on many different occasions and if it happens to be available during your visit, I do highly recommend it – it's great to share with a group. As previously mentioned, The Pearl has Moroccan specialties available. These specialties include vegetable, fish and lamb tagine with the occasional appearance of a chicken tagine. While the chicken tagine was not available during this particular visit, I have had it before and can say with full confidence that it's one of the best entrees that I have ever enjoyed from The Pearl. We happily settled for the vegetable tagine while another friend in our party ordered the fish tagine which was served with delicate and flakey sea bass. The fish is slowly baked in tomatoes, onions and bell peppers with Moroccan spices and fresh herbs. The vegetable rendition of course includes the above without any fish or protein. Each tagine is served with a side of couscous and is presented at the table in an actual tagine. It is quite the presentation and the portions are very generous – it would have been plenty of food for my husband and I to share for a meal, but with their extensive menu, we couldn't limit ourselves to just one entree. The fish tagine wasn't the only seafood offering that was ordered. We also enjoyed the Salmon Oriental which is pan seared salmon served alongside vegetables and rice with a savory oriental sauce. The fish was seared to perfection and not a single bite was left on the plate. One of the most unique sections on the Pearl's menu is their lineup of wild game. All of the options are not always available so make sure to check with your server to see what they're offering on that specific evening. The wild game options include: camel, antelope, elk, venison, buffalo and ostrich. Camel has been on the radar for some time now as I've read plenty of glowing reviews about The Pearl's preparation of it. In fact, the day of our reservation, I called The Pearl to ensure that it was on the menu for the evening. When ordering the camel, our server recommended a rare to medium rare temperature for the meat so I requested it somewhere in the middle. The filet arrived sliced with a lovely peppercorn sauce that complemented that tender piece of […]

May 1, 2023

Fish Tacos with Spicy Mango-Cabbage Slaw Recipe

Grilling hasn't always been my forte or preference when it comes to cooking, but I've learned to love it as of recent. In fact, this Spring, my husband and I have probably grilled more dinners than not. It has inspired my cooking and sparked my imagination. An added bonus has been spending even more time outdoors before the summer heat sets in. Tacos are a favorite of mine when it comes to grilling. I love getting nice smokey and charred notes on my protein of choice and intermingling that with bright toppings to balance things out. For an added bonus, I also enjoy letting the tortillas get some time in on the grill too in order to achieve some grill marks and warmth. It all just totally works. When it comes to tacos, I typically opt for the "less is more" philosophy. I've learned that too many toppings usually just leads to a mess of overstuffed tacos with too much going on. Because of this, I try to keep things simple with just a few different components. I like to have a distinctive filling/protein with either a salsa or slaw for vibrancy and some kind of crema or drizzle to bring it all together. Additionally, you can always find me serving tacos with lime wedges and fresh cilantro – that's it. These particular tacos stay consistent with that formula. Marinated, flakey, wild-caught cod, a spicy mango-cabbage slaw and an avocado crema to round things out. They're lively, zesty and full of flavor. You don't have to use cod – any white fish will work. Mahi Mahi or Halibut would also be quite nice here. Rollin' Oats has frozen wild caught filets with superb quality. When cooked, they're supremely flakey and mild in taste. They also absorb marinade ingredients well which complement the fish without overtaking its natural flavor. The spicy slaw adds a great bit of texture, level of freshness and also a subtle touch of fire from the jalapeno and tajin. If you don't have tajin (which is essentially a seasoning blend of peppers, lime and salt), chili powder will work just fine in its place. As far as tortillas are concerned, everyone always has their desired choice. Mine happens to be the smaller street style taco flour tortillas. To me, they're much less overwhelming and easier to consume. However, there are plenty of other great options out there. At Rollin' Oats, they have a plethora of options, including, but not limited to: hard shell, flour, corn, grain-free, etc. Stacey's organic white flour tortillas and Siete Foods almond flour tortillas are my favorite offerings of theirs, but again, choose your own journey. Fish Tacos with Spicy Mango-Cabbage Slaw Recipe These tacos are light and vibrant with a touch of zing. Grilling is the preferred method for preparation; however, air frying or searing in a skillet will work just as well. Spicy Mango-Cabbage Slaw1 cup red cabbage (chopped/shredded)1 cup green cabbage (chopped/shredded)1/2 red onion (sliced thin)1 jalapeno (seeds and stem discarded and minced)1 mango (peeled and cut into small cubes)1 lime (juice and zest)1/4 cup cilantro (chopped)2 tsp tajin (chili powder can be used as a substitute )2 tbsp olive oil1 tsp salt (plus more to taste)Avocado Crema1/2 avocado1/4 cup sour cream1 lime (juice only)1/4 cup water (as needed)1 tsp saltFish Taco Assembly8 flour tortillas (use whatever kind you like – we love smaller street taco tortillas, but any will do)1 lb cod (or other flakey white fish)2 limes (one for the fish marinade and one cut into wedges for serving)2 1/2 tbsp olive oil1/2 tsp cumin1/2 tsp paprika1/2 tsp salt1/4 tsp black peppercilantrohot sauce Spicy Mango-Cabbage SalwCombine all ingredients in a medium bowl. Season with salt as needed and refrigerate until ready to assemble tacos.Avocado CremaAdd all ingredients to a food processor and blend until mixture is smooth but semi-easy to drizzle. Add water 1 tbsp at a time and blend and repeat as needed. Season with salt to taste.Fish and Taco AssemblyIn a medium bowl, combine 2 tbsp olive oil, juice of 1 lime, paprika, cumin, salt and pepper. Add cod, coat in mixture and allow to sit and absorb marinade for at least 20 minutes. Heat grill to medium high and brush grates with remaining 1/2 tbsp of olive oil. Grill fish 3-4 minutes per side until cooked through. Remove from grill.Optional step: while fish cooks, add tortillas to grill and heat for 30 seconds or so.Break fish into smaller segments. For taco assembly, spoon in some slaw, add fish segments, top with a touch more slaw, drizzle with crema and top with cilantro. Serve with lime wedges and sides of choice, like grilled corn or rice and beans. Dinner, Main CourseAmerican, MexicanFish Taco Recipe, Mango-Cabbage Slaw

Happy Hour List for Tierra Verde, St Pete & Pass-a-Grille Beach  **Please note that while we try to keep this alphabetical list up to date, some items may have changed. You can help us keep this list correct by letting us know of any changes to by contacting us here. Thank you so much in advance!** Click here to see Happy Hours for Gulfport, Pasadena and Tyrone Click here to see Happy Hours for Downtown St Petersburg Tierra Verde, Pass-a-Grille & St Pete Beach 360° Rooftop Lounge (727) 456-8660 3701 Gulf Blvd St Pete Beach, FL 33706 360° Rooftop Website Nightly from Sunset – 10pm $3.00 domestic beers $5.00 well drinks $5.00 wines by the glass $5.00 sangria Mon – Fri  6pm – 10pm "Beat The Clock" Happy Hour 6pm – 7pm $6.00/glass 7pm – 8pm $7.00/glass 8pm – 9pm $8.00/glass 9pm – 10pm $9.00/glass 1200 Chophouse (727) 367-1300 5007 Gulf Blvd St Pete Beach, FL 33706 1200 Chophouse Website No Happy Hour Specials Agave Mexican  (727) 367-3448 6400 Gulf Blvd St Pete Beach, FL 33706 Agave Facebook Page No Happy Hour Specials Basil Leaf Thai (727) 360-4000 6395 Gulf Blvd St Pete Beach, FL 33706 Basil Leaf Website No Happy Hour Specials Beef O'Brady's (727) 363-2347 5600 Gulf Blvd St Pete Beach, FL 33706 Beef O'Brady's Website Mon – Thurs 3pm – 5pm $3.50 domestic drafts, $3.50 house wines, $4.50 well drinks Blue Fugu Japanese Steakhouse (727) 367-6762 4615 Gulf Blvd St Pete Beach, FL 33706 Blue Fugu Website Daily 3:30pm – 6pm except for holidays and holiday eve 1/2 off sake, $2 domestic beer Photo courtesy of The Blue Parrott The Blue Parrot (727) 368-9619 85 Corey Cir St Pete Beach, FL 33707 Blue Parrot Website Daily 12pm – 6pm $2.50 domestic drafts & well drinks, $2.75 house wines, $3 margaritas Boathouse Kitchen & Bar (727) 369-4950 6300 Gulf Blvd St Pete Beach, FL 33706 Boathouse Website Mon – Fri 4pm – 7pm 1/2 price draft beers, $5 well drinks, 1/2 price appetizers Bongo's Beach Bar and Grill (727) 360-1811 5250 Gulf Blvd St Pete Beach, FL 33706 Bongo's Website No Happy Hour Specials Boulevard Burgers (727) 201-4906 5905 Gulf Blvd St Pete Beach, FL 33706 Boulevard Burgers Website All Day Everyday $3 Wells & $5 Jose Cuervo Margaritas Mon – Fri 4pm – 7pm $1 off drafts & wine Yappy Hour Saturday 2pm – 6pm $1 off drafts when you bring Fido. Monday 1/2 Price Apps (All Day) All appetizers are half price. *Excludes Ahi Tuna Brass Monkey (727) 367-7620 709 Gulf Way #200 Pass-a-Grille Bch, FL 33706 Brass Monkey Website $2 16oz PBR's No Happy Hour Specials Carino's Northern Italian Cuisine (727) 360-8502 9524 Blind Pass Rd #5 St Pete Beach, FL 33706 Carino's Website Daily 3pm – 5pm Early Bird Food & Drink Specials Castile Restaurant (727) 456-8660 3701 Gulf Blvd St Pete Beach, FL 33706 Castile Website Nightly from Sunset – 10pm $3.00 domestic beers $5.00 well drinks $5.00 wines by the glass $5.00 sangria Mon – Fri  6pm – 10pm "Beat The Clock" Happy Hour 6pm – 7pm $6.00/glass 7pm – 8pm $7.00/glass 8pm – 9pm $8.00/glass 9pm – 10pm $9.00/glass Category 36 Taphouse & Kitchen (727) 575-7317 7430 Gulf Blvd St Pete Beach, FL 33706 Category 36 Taphouse Website Chill Restaurant & Bar (727) 360-2445 357 Corey Ave St Pete Beach, FL 33706 Chill Restaurant & Bar Website Mon – Fri 3:30 – 5:30 $3 domestic drafts, $4 house wines, sangria & well drinks Appetizer specials $5 Hummus, $6 Totchhos,$7 Goat Cheese Tapenade Terrine,$7 Roasted Stuffed Dates $12.95 early bird entrees  Cedar Plank Salmon, Beer Battered Fish n Chips, Spinach Lasagna, Mediterranean Villager Shrimp, Chicken Picatta, 8 ounce Choice Angus Sirloin Chris' Beachside Bar (727) 873-9152 4506 Gulf Blvd St Pete Beach, FL 33706 Chris' Beachside Facebook Page No Happy Hour Specials Crabby Bill's (727) 360-8858 5100 Gulf Blvd St Pete Beach, FL 33706 Crabby Bill's Website Everyday 3pm – 7pm 1/2 off house wines, house liquors, and bud light & landshark on draft The Drunken Clam Bar & Grille (727) 360-1800 46 46th Ave St Pete Beach, FL 33706 Drunken Clam Website Daily 10am – 7pm $3 domestic drafts, bottles or wells Gennaro's (727) 360-0563 2004 Pass a Grille Way Pass-a-Grille Beach, FL 33706 Gennaro's Facebook Page Occasional wine specials Gigi's Italian Restaurant (727) 363-3344 4399 Gulf Blvd St Pete Beach, FL 33706 Gigi's Website No Happy Hour Specials Grace (727) 317-4770 120 8th Ave Pass-a-Grille Beach, FL 33706 Grace Website Wed – Mon 4 pm to 6 $5.50 wines & $2.50 beerand $7 small plates including: bruschetta trio, grouper fritters, lobster escargot, lamb sliders and curried cashews Corkage fee: $15.00 unless the wine is on the menu, then it is the price of the actual bottle on the menu. Guy's Gulfside Grill (800) 360-4016 6000 Gulf Blvd St Pete Beach, FL 33706 Guy's Website No Happy Hour Specials Harry's Beach Bar (727) 363-5125 5300 Gulf Blvd St Pete Beach, FL 33706 Harry's Website No Happy Hour Specials The Helm: Provisions & Coastal Fare (727) 363-4356 7736 Blind Pass Rd St Pete Beach, FL 33706 The Helm Website The Hurricane Seafood Restaurant (727) 360-9558 809 Gulf Way Pass-a-Grille Beach, FL 33706 Hurricane Website Mon – Fri 12pm – 6pm on the Rooftop Bar $2.75 Bud Light & Yuengling, $3.50 well drinks, $4 house wines Jimmy B's Beach Bar (727) 367-1902 6200 Gulf Blvd St Pete Beach, FL 33706 Jimmy B's Website No Happy Hour Specials A LOCALS ONLY discount card can be applied for with a 7 day waiting period to pick it up. Jolly Roger's Grub & Pub (727) 498-6736 32 Madonna Blvd Tierra Verde, FL 33715 Jolly Roger's Website Level 11 Rooftop Lounge (727) 360-1811 5250 Gulf Blvd St Pete Beach, FL 33706 Level 11 Website No Happy Hour Specials MadFish  (727) 360-9200 5200 Gulf Blvd St Pete Beach, FL 33706 MadFish Website Daily 4pm – 5pm Early Bird Specials Maritana Grill at the Don Cesar (727) 360-1882 3400 Gulf Blvd St Pete Beach, FL 33706 Maritana Grille Website No […]
Recipes
May 1, 2023

Fish Tacos with Spicy Mango-Cabbage Slaw Recipe

Grilling hasn't always been my forte or preference when it comes to cooking, but I've learned to love it as of recent. In fact, this Spring, my husband and I have probably grilled more dinners than not. It has inspired my cooking and sparked my imagination. An added bonus has been spending even more time outdoors before the summer heat sets in. Tacos are a favorite of mine when it comes to grilling. I love getting nice smokey and charred notes on my protein of choice and intermingling that with bright toppings to balance things out. For an added bonus, I also enjoy letting the tortillas get some time in on the grill too in order to achieve some grill marks and warmth. It all just totally works. When it comes to tacos, I typically opt for the "less is more" philosophy. I've learned that too many toppings usually just leads to a mess of overstuffed tacos with too much going on. Because of this, I try to keep things simple with just a few different components. I like to have a distinctive filling/protein with either a salsa or slaw for vibrancy and some kind of crema or drizzle to bring it all together. Additionally, you can always find me serving tacos with lime wedges and fresh cilantro – that's it. These particular tacos stay consistent with that formula. Marinated, flakey, wild-caught cod, a spicy mango-cabbage slaw and an avocado crema to round things out. They're lively, zesty and full of flavor. You don't have to use cod – any white fish will work. Mahi Mahi or Halibut would also be quite nice here. Rollin' Oats has frozen wild caught filets with superb quality. When cooked, they're supremely flakey and mild in taste. They also absorb marinade ingredients well which complement the fish without overtaking its natural flavor. The spicy slaw adds a great bit of texture, level of freshness and also a subtle touch of fire from the jalapeno and tajin. If you don't have tajin (which is essentially a seasoning blend of peppers, lime and salt), chili powder will work just fine in its place. As far as tortillas are concerned, everyone always has their desired choice. Mine happens to be the smaller street style taco flour tortillas. To me, they're much less overwhelming and easier to consume. However, there are plenty of other great options out there. At Rollin' Oats, they have a plethora of options, including, but not limited to: hard shell, flour, corn, grain-free, etc. Stacey's organic white flour tortillas and Siete Foods almond flour tortillas are my favorite offerings of theirs, but again, choose your own journey. Fish Tacos with Spicy Mango-Cabbage Slaw Recipe These tacos are light and vibrant with a touch of zing. Grilling is the preferred method for preparation; however, air frying or searing in a skillet will work just as well. Spicy Mango-Cabbage Slaw1 cup red cabbage (chopped/shredded)1 cup green cabbage (chopped/shredded)1/2 red onion (sliced thin)1 jalapeno (seeds and stem discarded and minced)1 mango (peeled and cut into small cubes)1 lime (juice and zest)1/4 cup cilantro (chopped)2 tsp tajin (chili powder can be used as a substitute )2 tbsp olive oil1 tsp salt (plus more to taste)Avocado Crema1/2 avocado1/4 cup sour cream1 lime (juice only)1/4 cup water (as needed)1 tsp saltFish Taco Assembly8 flour tortillas (use whatever kind you like – we love smaller street taco tortillas, but any will do)1 lb cod (or other flakey white fish)2 limes (one for the fish marinade and one cut into wedges for serving)2 1/2 tbsp olive oil1/2 tsp cumin1/2 tsp paprika1/2 tsp salt1/4 tsp black peppercilantrohot sauce Spicy Mango-Cabbage SalwCombine all ingredients in a medium bowl. Season with salt as needed and refrigerate until ready to assemble tacos.Avocado CremaAdd all ingredients to a food processor and blend until mixture is smooth but semi-easy to drizzle. Add water 1 tbsp at a time and blend and repeat as needed. Season with salt to taste.Fish and Taco AssemblyIn a medium bowl, combine 2 tbsp olive oil, juice of 1 lime, paprika, cumin, salt and pepper. Add cod, coat in mixture and allow to sit and absorb marinade for at least 20 minutes. Heat grill to medium high and brush grates with remaining 1/2 tbsp of olive oil. Grill fish 3-4 minutes per side until cooked through. Remove from grill.Optional step: while fish cooks, add tortillas to grill and heat for 30 seconds or so.Break fish into smaller segments. For taco assembly, spoon in some slaw, add fish segments, top with a touch more slaw, drizzle with crema and top with cilantro. Serve with lime wedges and sides of choice, like grilled corn or rice and beans. Dinner, Main CourseAmerican, MexicanFish Taco Recipe, Mango-Cabbage Slaw