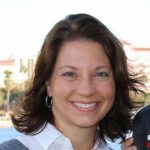 Michelle Ferrer · Jan 19, 2017 · 3 min read
It is a cold January night and my fireplace is just heating up. There is just one more thing that could make this cozy night more perfect: soup. Cold weather is never a prerequisite for soup in my house--I could eat it just about anytime--but an evening like this just begs for it. The question now becomes which kind of soup to make... Chili? No, too heavy. Tortilla soup? Nope, too light. With my soup pot at the ready, I went in search for my "just right". Surveying the inventory in the kitchen, the recently purchased tomatillos on my counter spoke to me; they whispered, "posole".
Posole, the soupy Mexican stew, with its cilantro-infused tomatillo broth and chewy kernels of hominy, takes me back to our 2013 trip to New Mexico. Snow covered every surface of the ground in Santa Fe that winter and red and green sauces covered every surface of our plates. An important universal question there seemed to be focused on those sauces: were we Team Red or Team Green? The red sauce was chile-based and the green, crafted from tomatillos and cilantro. We found the two slathered over enchiladas, sopas, tamales, you name it--over eggs was my favorite. After many samples of them both, I was Team Green all the way. There was just something about that tart and tangy green sauce that I couldn't get enough of; it tasted garden fresh despite being there in the dead of winter. My version of posole is the epitome of those flavors and the reason I can't wait to get cooking.
Tomatillos, the key ingredient in this stew are not--despite their appearance--related to tomatoes. If you are unfamiliar with them, here's a crash course:
• Tomatillos are a member of the gooseberry family.
• They grow encased in a sticky, papery husk that must be removed prior to eating.
• Running water will make quick work of removing the husk.
• A quick scrub afterwards with baking soda will take away the sticky residue.
• They can be used raw in salsas or cooked down to make a green sauce.
The colors of this soup may be a bit monotone, but the herby, acidic and slightly smoky flavors are anything but one note; this hearty soup is just what you want on a chilly winter night. Top with avocados, pickled jalapeños, and/or crushed tortilla chips for more flavor and texture; add cotija cheese for a creamy, salty pop.
Soup's on and I've got an oversized mug filled with this satisfying soup; a bowl is just too fancy. Each bite is a different combination of tastes--those pickled jalapeños pack quite the puckery punch! After my husband and son have had their fill, I've got one serving of posole left for lunch another day. I can't guarantee that this weather will stick around long enough for my second helping; even if it doesn't, I can always crank the air down low, heat the fireplace up and pretend I'm back in snowy Santa Fe--hoping that our next cold snap here at home won't be a year away.