Best Authentic Cuban Sandwiches in St. Pete
Salami or No Salami?
The Cuban Sandwich was invented in Ybor City in the late 1800s by Cuban immigrants with some influence from Italian immigrants. The original included a Spanish dried sausage that was later replaced with salami.
Later, when Miami picked up on the Cuban Sandwich, they left the salami off. Oddly, ironically, and likely because of the larger population, the Miami version is the more popular one. Because of this, many people think that the Miami version without salami is the true one, but it is not.
I think that if you are in the Tampa Bay area making Cubans, that the salami (or something similar) should be there. There's a great article with more details on Today.com
There were several highly touted Cuban sandwiches that did not have the third meat, and they were excluded because of this. If you don't see your favorite Cuban here, please go check to see if they only have roast pork and ham for the meats, and then you'll know why. I make no apologies for this.
Missing Salami or a similar-to-salami third meat in addition to the roast pork and ham.
Bodega on Central
Habana Cafe
M & G Cuban Cafe
Simply Delicious
Smileys Cafe
There are more places here making this Tampa sandwich Miami-style, but the above were mentioned the most.
Others & Other Reasons to Not be on the List
On Bodega's Cuban, the bread is great! It comes from Casino Bakery in Ybor City. Everything else is made from scratch at Bodega, and they do use high quality ingredients. The pork seemed like very good quality—thick, meaty pieces—but it was unfortunately dry. There was no mustard. Bodega uses mayo – one that turned thin and watery when the sandwich was pressed. George (the owner) says they don't use mustard or salami because he thinks it overpowers the pork. Mustard is the traditional condiment, and mayo is an option, but it is frowned upon by traditionalists. (All of the sandwiches on this list use a combination of both, or similar.)
La Segunda is famous for their Cuban bread, and many places tout that their Cuban sandwiches use La Segunda's bread. On the sandwich I had at La Segunda the bread was too dry. It was like a slap in the face when I bit into it as I was expecting greatness. They just put a little bit of butter on the bottom of the press, and the top is left dry. They don't flip and re-butter. I did love the special sauce though. It's a mayonnaise and mustard blend with garlic powder and pepper. If you go, ask them if they can butter both sides of the bread when pressed.
Pipo's is another one that people go crazy for, that I thought was just good. Same with Munch's – good, not great. You have to be great to get on the list.
Coming off of last year's list because they closed are Barracuda Deli Cafe, and Orange Belt Cafe.
Most Likely, The Only Real Best Cubans List
Another important thing you should be aware of is that there are other publishers of "best of lists" that do not actually go to the establishments, or actually eat the food. Most don't. Recently, one even pretended to. (Sounds ridiculous, right?) They just download photos from the internet, or embed Instagram posts from someone else. Instant best of list produced without having to leave the house.
That's NOT how we do it.
We absolutely DO eat at all of the restaurants on all of our lists. (How can anyone recommend something they never experienced?)
Unfortunately, we've seen these junk lists a lot—from national and local publishers. We are also aware of a local publisher that offers paid placement in best-of-lists. There is no paid placement here.
I PERSONALLY ATE ALL OF THESE SANDWICHES, AND WENT TO ALL OF THESE PLACES, AND THESE ARE ALL OUR PHOTOS.
To bring you this list, I personally consumed:
170,000 calories
1,095 grams of fat
2,782 mg of cholesterol
35,000 mg of sodium
858 grams of protein
That's why all the other publishers just stay home and download photos off the internet, or use computer-generated lists from Yelp or similar.
The list is in order of oldest to newest establishment.
The Floridian
230 107th Ave
Treasure Island, FL 33706
(727) 367-6662
The Floridian Website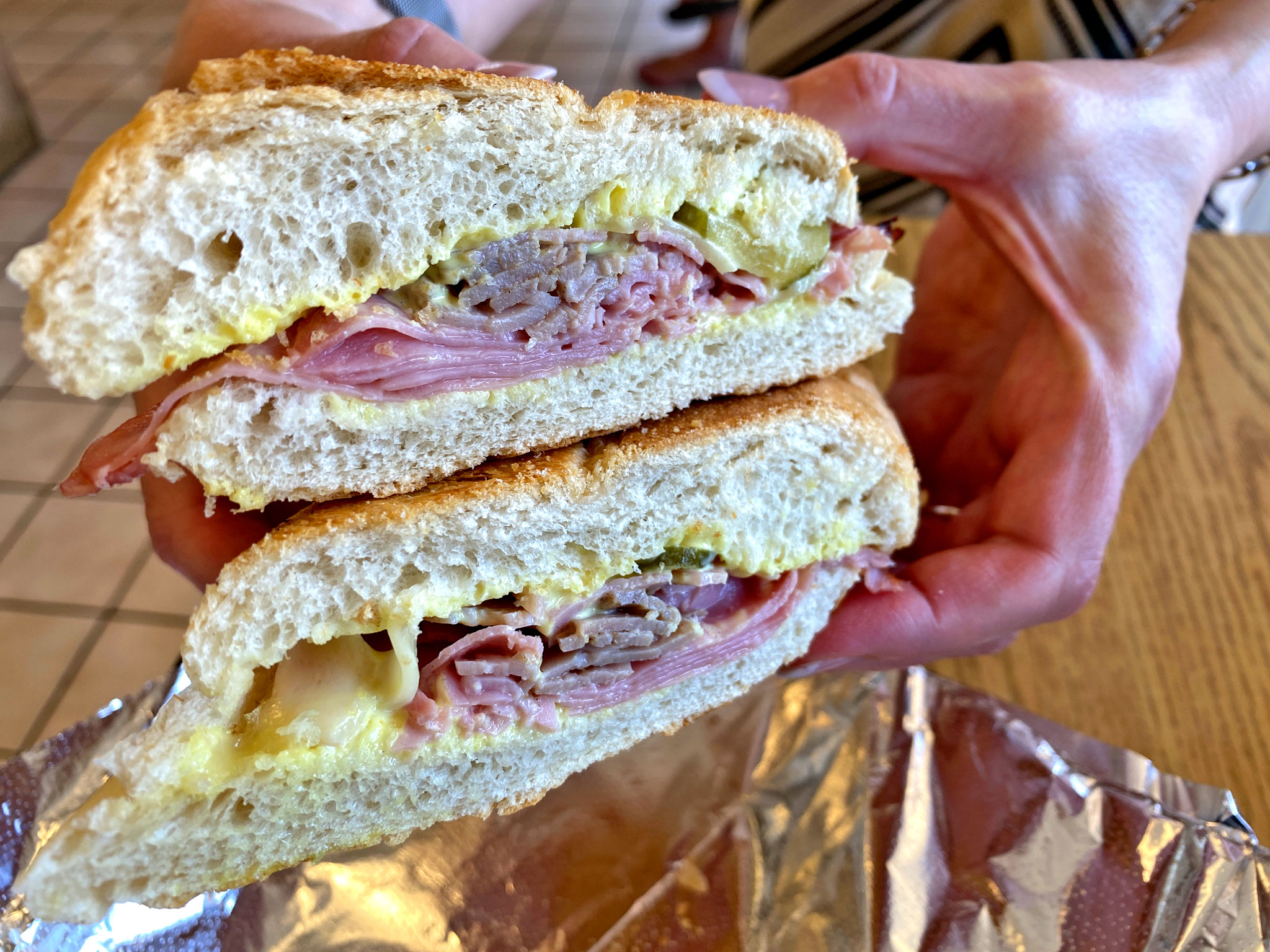 If The Floridian's Cuban Sandwich was a movie, it would be a cult classic. Lori and I went when they opened at 11 am on a Saturday morning to find a line out the door and around the building. We spent about an hour total from waiting to place the order, waiting for the sandwich to come out, and then each eating half of it. In those 60-minutes, we roughly counted about 90 sandwiches between takeout and dine-in. It's truly an excellent sandwich. They had nine award plaques on their wall where their sandwich won from years past.
The sandwich is loaded with ham, spiced pork, Genoa salami, imported Swiss cheese, dill pickles, mustard & mayo on nice crunchy fresh Cuban bread.
Caribbean Cafe
4801 Central Ave
St. Petersburg, FL 33713
(727) 327-7202
Caribbean Cafe Facebook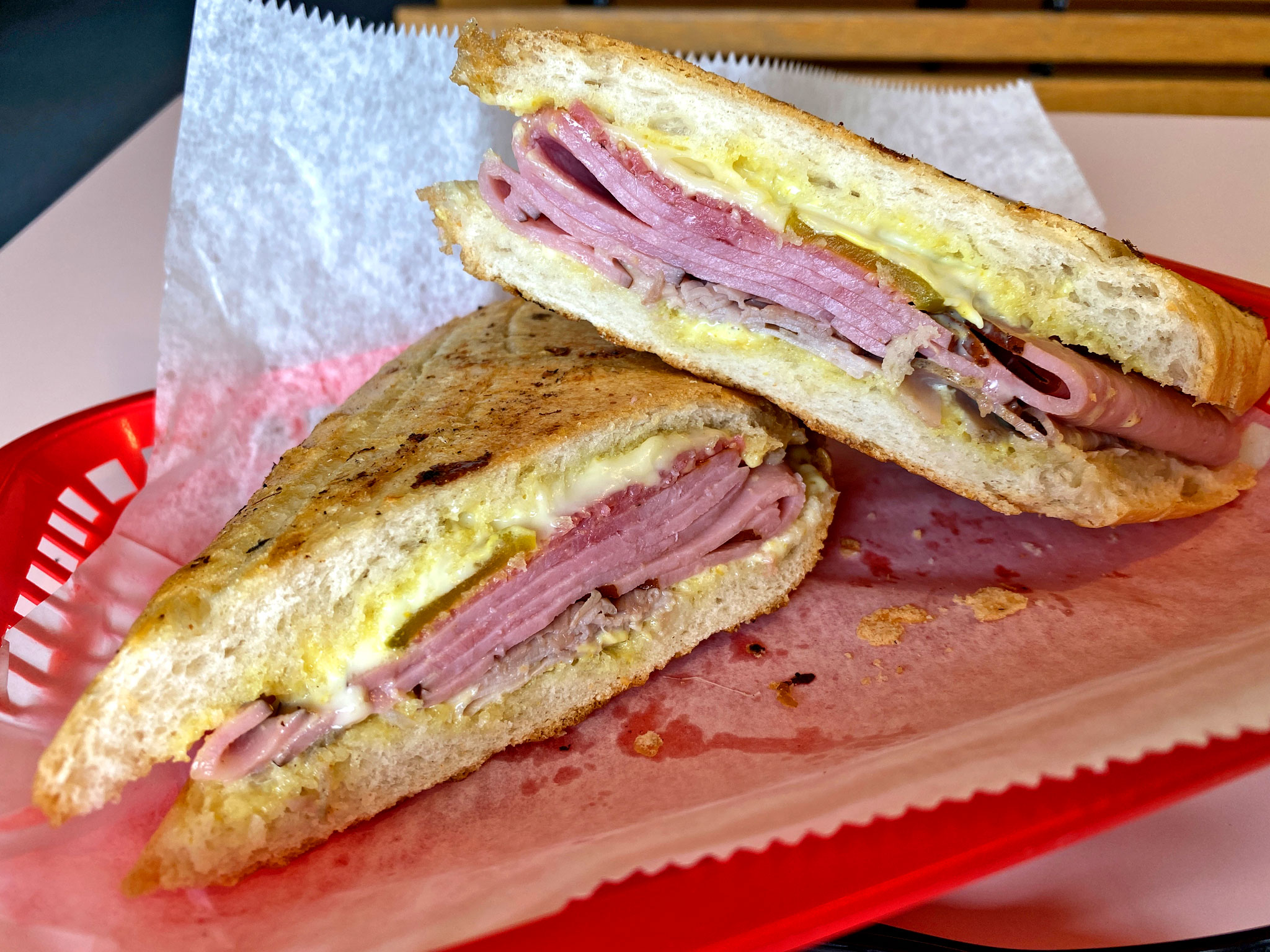 I'm starting to see a trend that many, but not all, of the best Cuban sandwiches are found in unlikely places, hidden gems, and hole-in-the-walls. Caribbean Cafe just feels like it's in the middle of nowhere, like it's stranded on a deserted island waving and screaming "hey!" to the passing ship for attention. It's actually not. It's only five miles out of downtown on Central Avenue near the intersection of 49th St.
Coincidentally, their Cuban sandwich is so scrumptious that the first bite will have you closing your eyes in pleasure and dreaming of being on an island where you can hear the waves and seagulls. It has ham, salami, "Cuban" pork, Swiss cheese, dill pickle, mustard and mayo on fresh Cuban bread. Note: They close at 6pm.
The Burg Bar & Grill
1752 Central Ave
St. Petersburg, FL 33712
(727) 894-2874
The Burg Website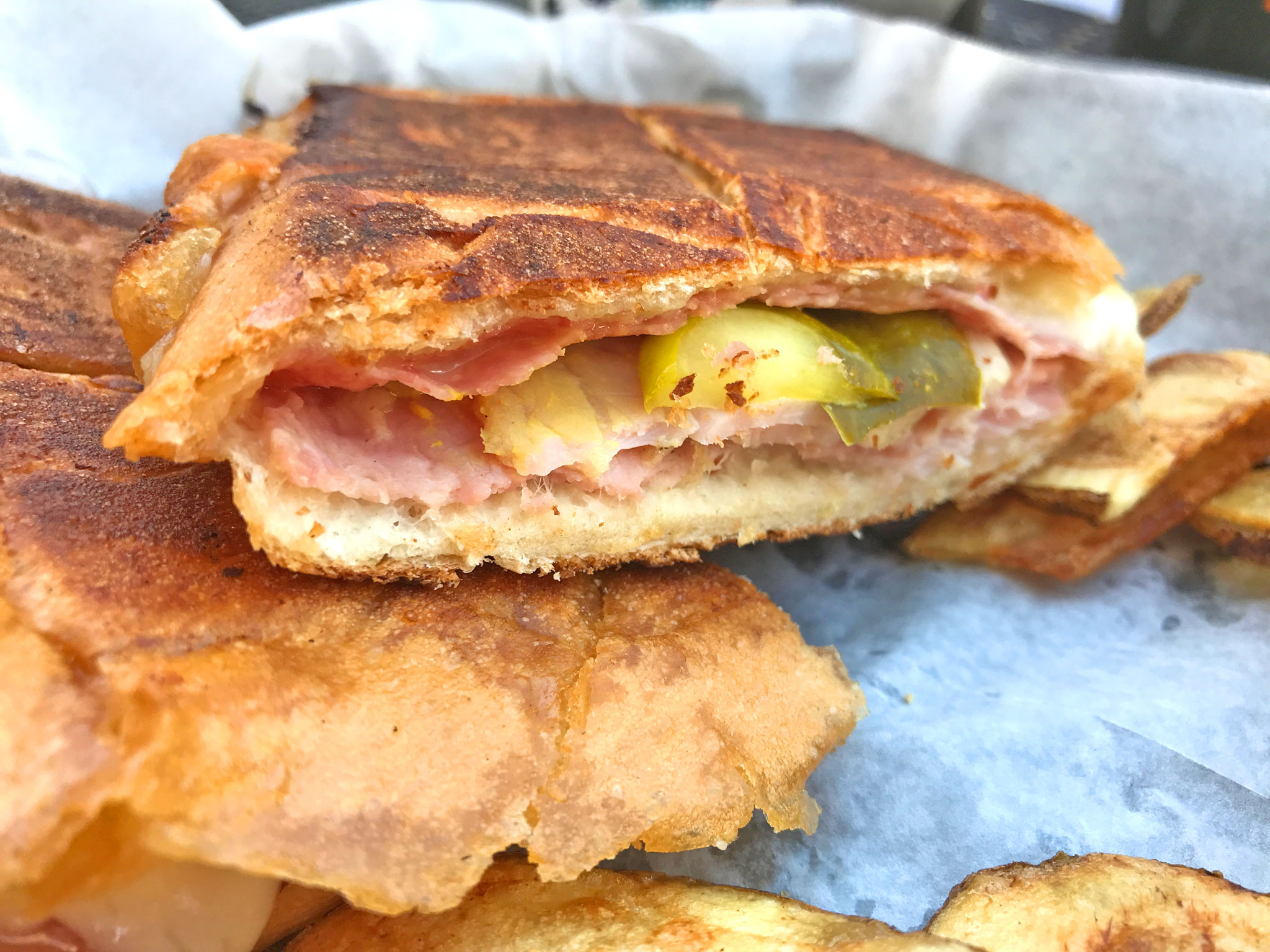 The Burg Bar & Grill is a small space that's big on flavor with lots of good stuff on a diverse menu. A couple of my other favorites are their Gyro Burger and Chicago Dog. The Burg Cuban Sandwich – ham, pork, salami, Swiss cheese, pickles, mustard, mayo. It's super delicious!
Brooklyn South
1437 Central Ave
St. Petersburg, FL 33705
(727) 914-4967
Brooklyn South Facebook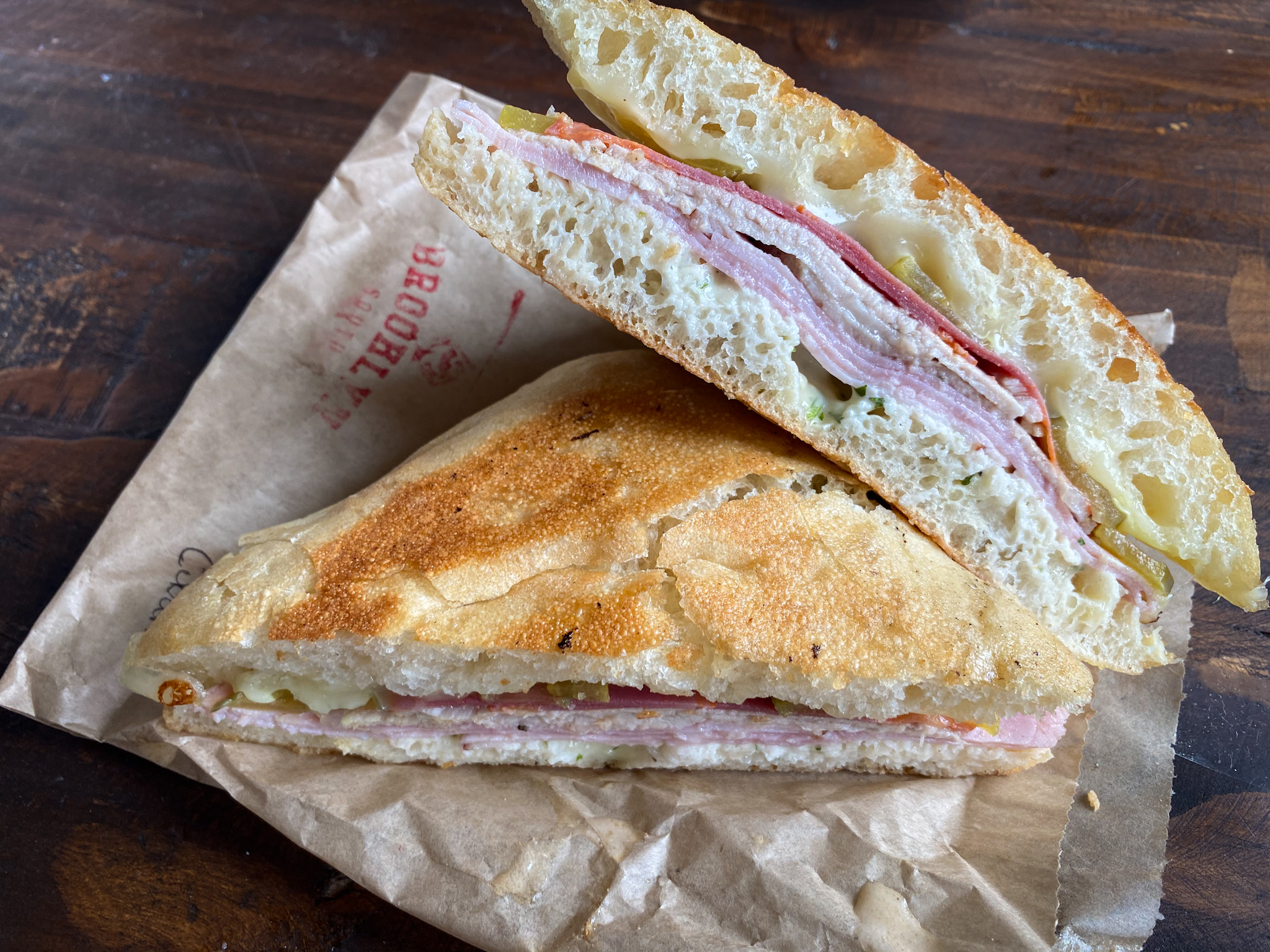 A hole in the wall for many years, Brooklyn South just expanded into the space next door. They are a downtown St. Pete institution best known for their meats and cheeses. This isn't just your average Cuban. Ham, pork loin, hot capicola, provolone, pickles and garlic-cilantro mayo are the components which make up this incredible creation. The thought of it alone is enough to make my mouth water.
Old Southeast Market
1700 3rd St S
St. Petersburg, FL 33701
(727) 823-1992
Old Southeast Market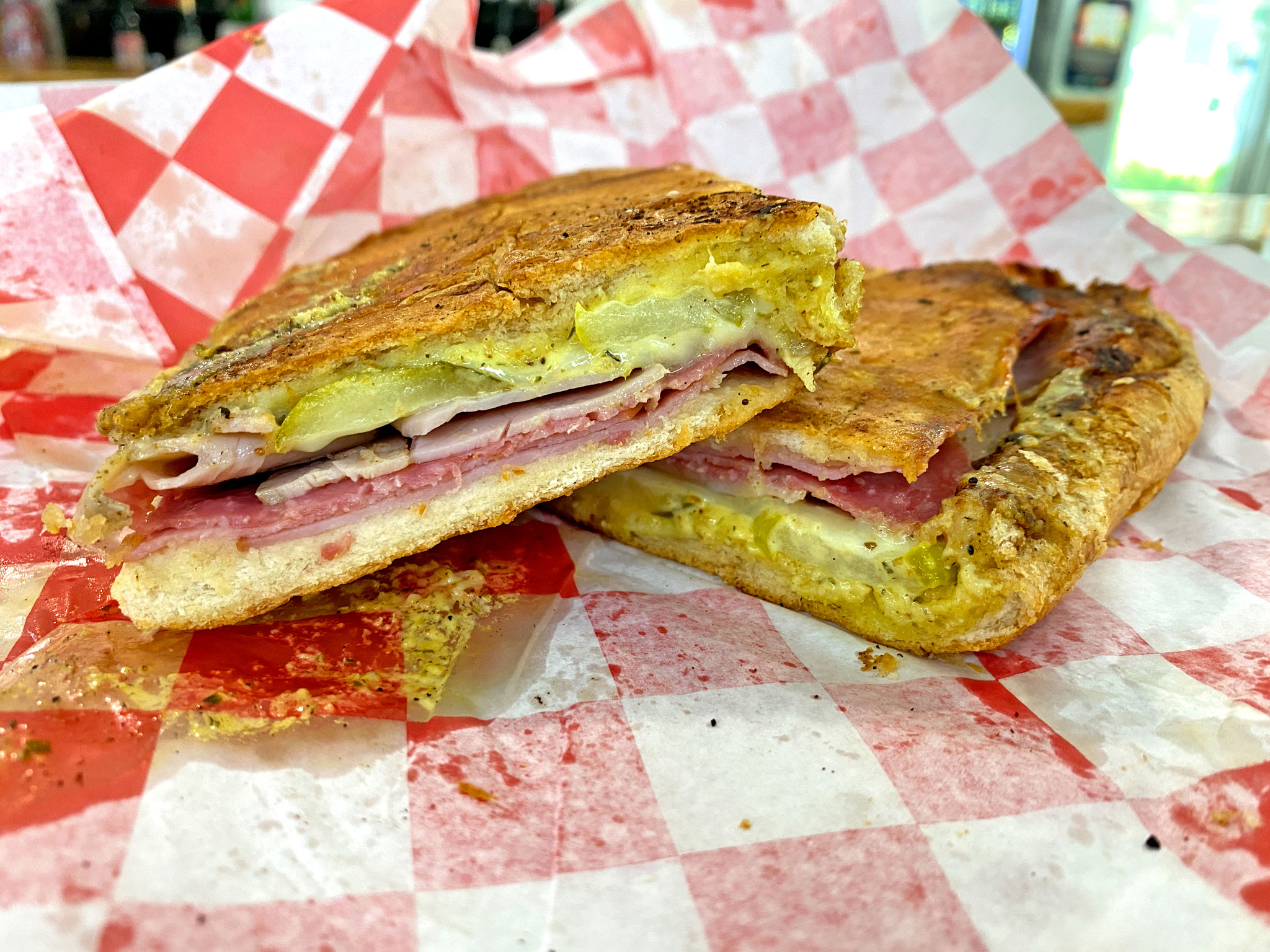 The Old Southeast Market is a funky little place tucked away off the beaten path in the Salt Creek Marina District. It's a little convenience store with a food counter and an odd eclectic selection of things like gallon-size jugs of hot sauce, normal size bottles of hot sauce, several varieties of tortilla chips, jarred queso dips, candy, sodas, water. More than half of their inventory is wine and beer, and there is a small cigar humidor. For some reason there were several signs saying no sales of alcohol and tobacco. I didn't ask why as it seemed like a question I didn't want to know the answer to.
The question you do want to know the answer to is: "How's the Cuban sandwich?" Answer: It is everything a Cuban sandwich should be. It's crunchy on the outside without being dry, then you get that wonderful slam to the tastebuds of sourness from the pickles and vinegar sting from the mustard which is smoothed out by the mayonnaise, and finally the salty, chewy unctuousness of the meats. Mmm! The menu describes the sandwich as having "Cuban Sauce", which I was told is a mixture of mustard and mayonnaise with spices.
The trick to this one is that the cook slathered the top of the bread with butter and then pressed it for five minutes with a large brick on top of the press. Then he flipped it, buttered again, and pressed for another five minutes with the heavy brick on top.
The Pesky Pelican Brew Pub
923 72nd St N
St. Petersburg, FL 33710
(727) 302-9600
Pesky Pelican Website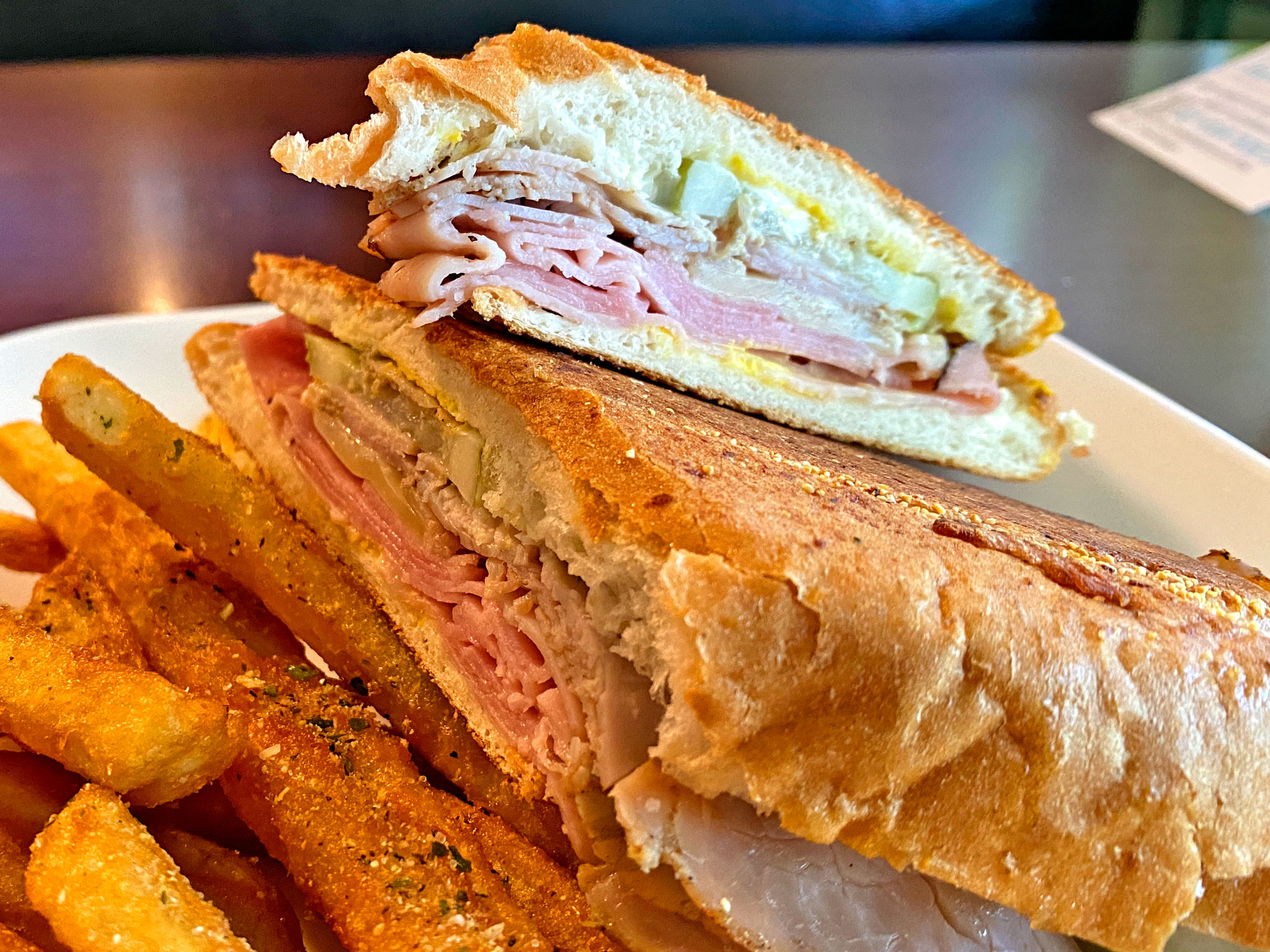 The Pesky Pelican is a little bit off the beaten path, but definitely a destination spot with lots of loyal local fans. It's a casual unassuming space with great food, including a St. Louis regional menu with St. Louis-style pizza, ravioli, and more.
Their Cuban sandwich is worth seeking out on the west side of St. Pete. It's moist, juicy, delicious and bursting with flavor. It's got pork, ham, hard salami, Swiss cheese, pickles, mayo and mustard.
The Galley
27 4th St North
St. Petersburg, FL 33701
(727) 575-7071
http://thegalleystpete.com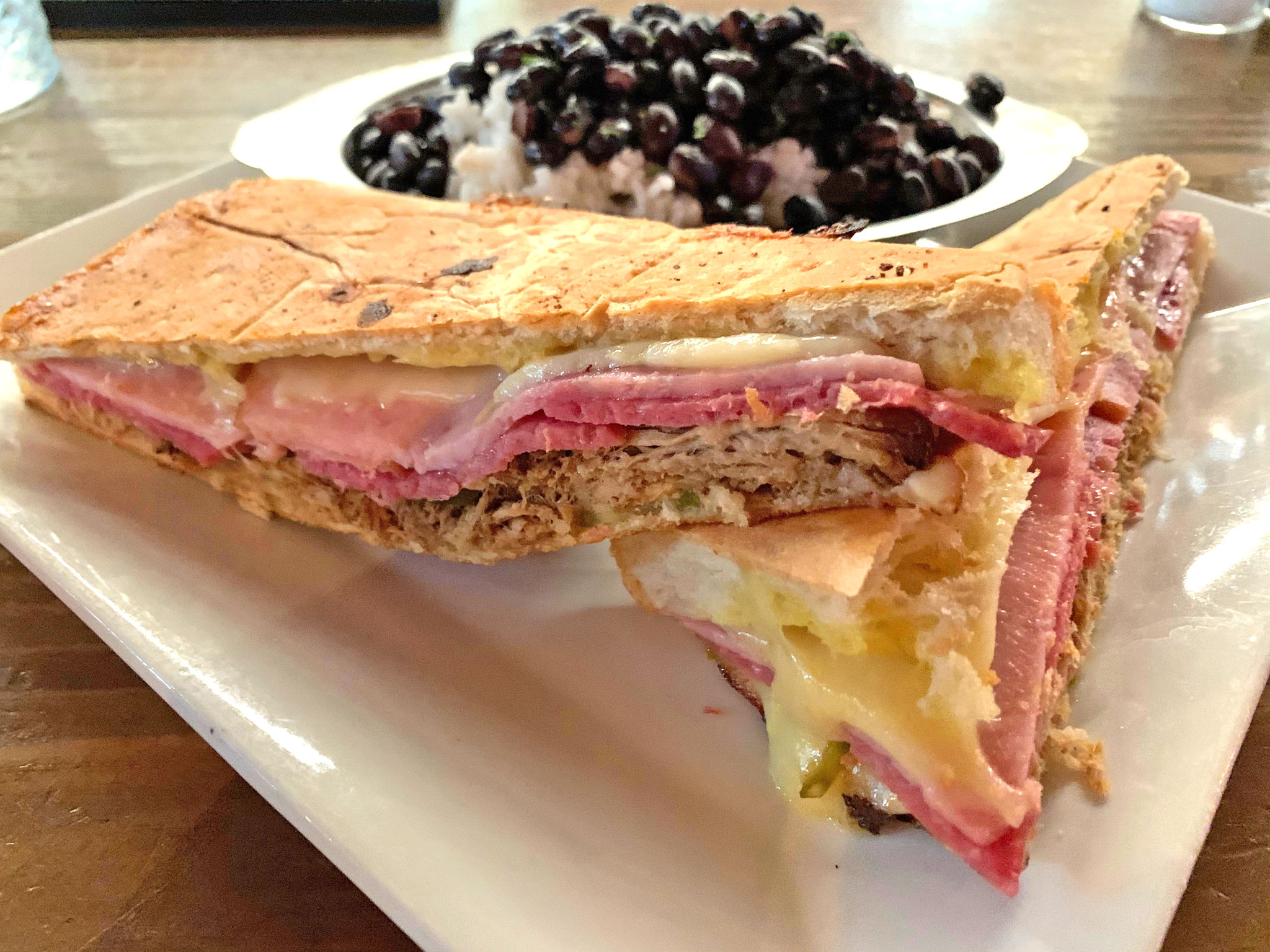 The Galley's Cuban Sandwich is excellent – mustard aioli, tender mojo pork, ham, salami, house pickles and Havarti cheese on "real" Cuban bread. The accompanying black beans and rice are also superb.
No Vacancy
937 Central Ave
St. Petersburg, FL 33705
(727) 308-7878
No Vacancy Website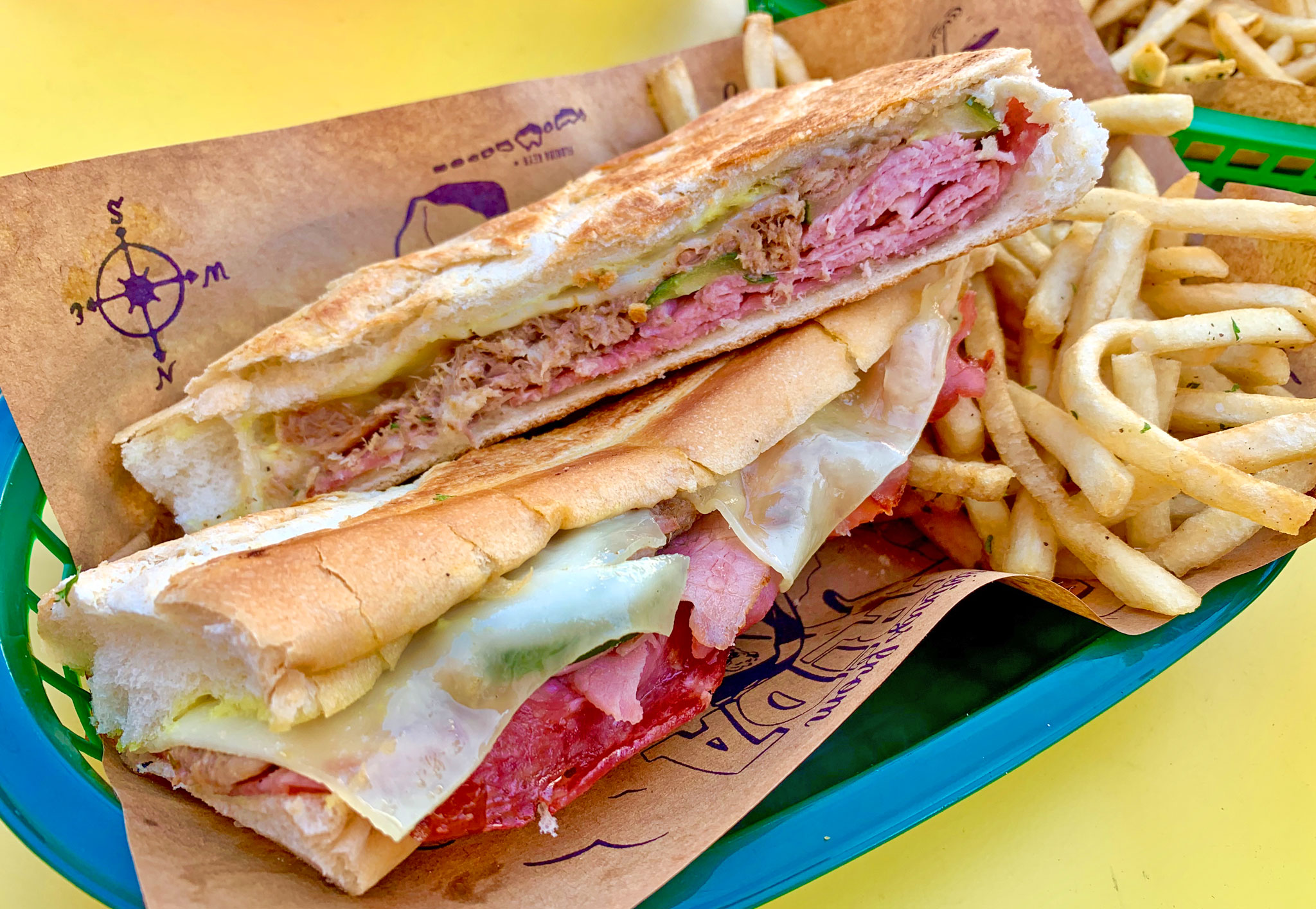 No Vacancy's sandwich is packed with savory deliciousness. It's a crunchy, chewy, flavor explosion in your mouth. Their "Cubano" has ham, mojo pork, salami, Swiss cheese, pickles, and mustard aioli.
Kuba Cocina En La Playa (Permanently closed as of Dec 28, 2022.)
7525 Blind Pass Rd
St Pete Beach, FL 33706
(727) 409-3009
Kuba Cocina Website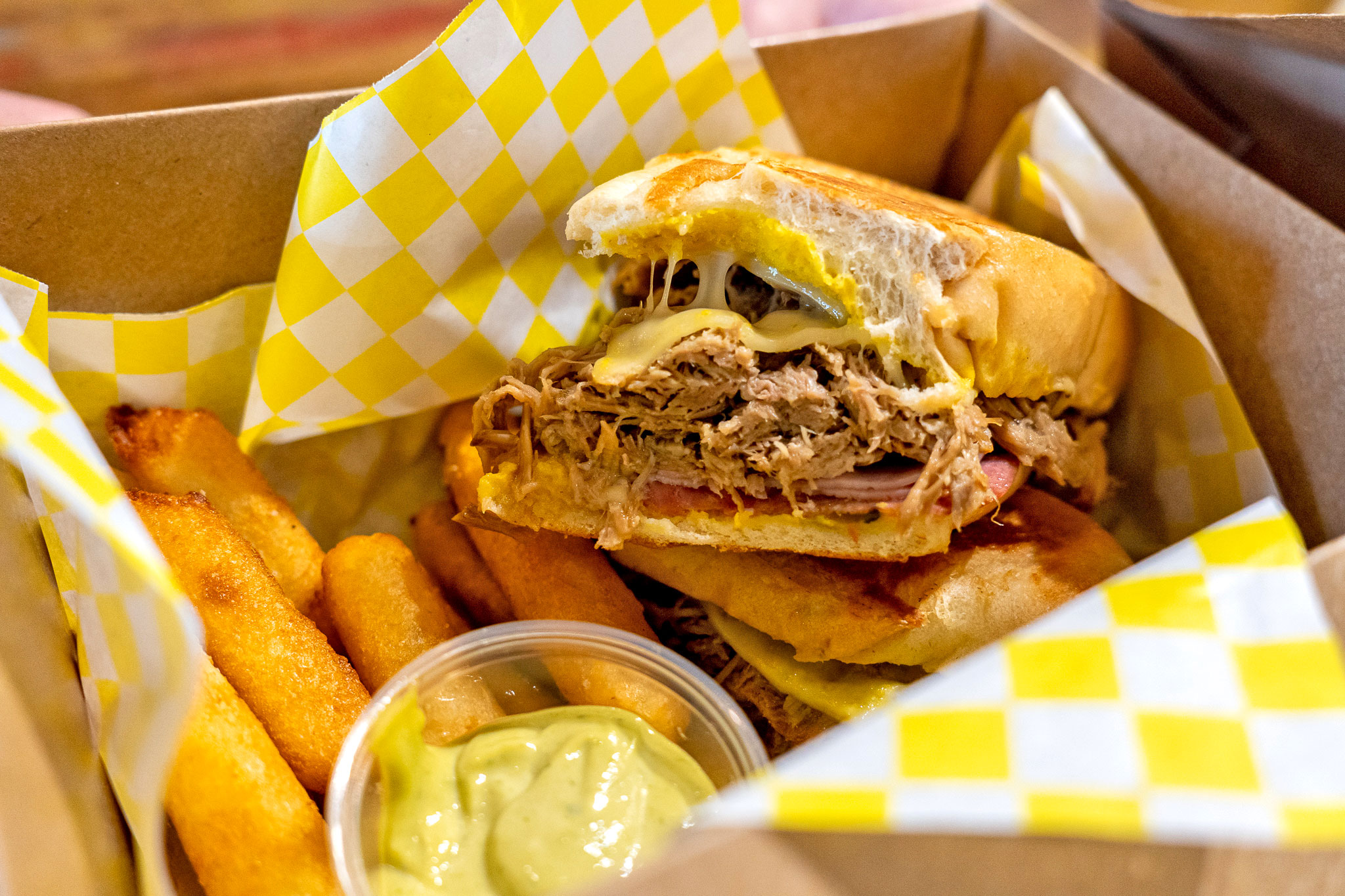 Chef/Owner Felicia Lacalle worked at several notable Tampa eateries before opening Kuba Cocina in Tampa in August 2018. One month later she took 1st Place in the 7th Annual Ford Intl. Cuban Sandwich Festival. As of May 2021 they have a St. Pete Beach location. It's a small spot where you order at the window for takeout, or you can grab one of a few seats in the shared space with The Centre SPB, a Wellness, CBD & Delta-8 venue.
The El Rey Kubano from Kuba Cocina is a showstopper with mustard sauce, pickles, salami, ham, shredded pork, swiss cheese, all pressed on Cuban bread. The hearty and flavorful sandwich is packed with fresh ingredients and held together by crunchy, yet soft Cuban bread.
Tudays 2 Day Deli
7108 9th Ave N
St. Petersburg, FL 33710
(727) 273-7151
Tudays Website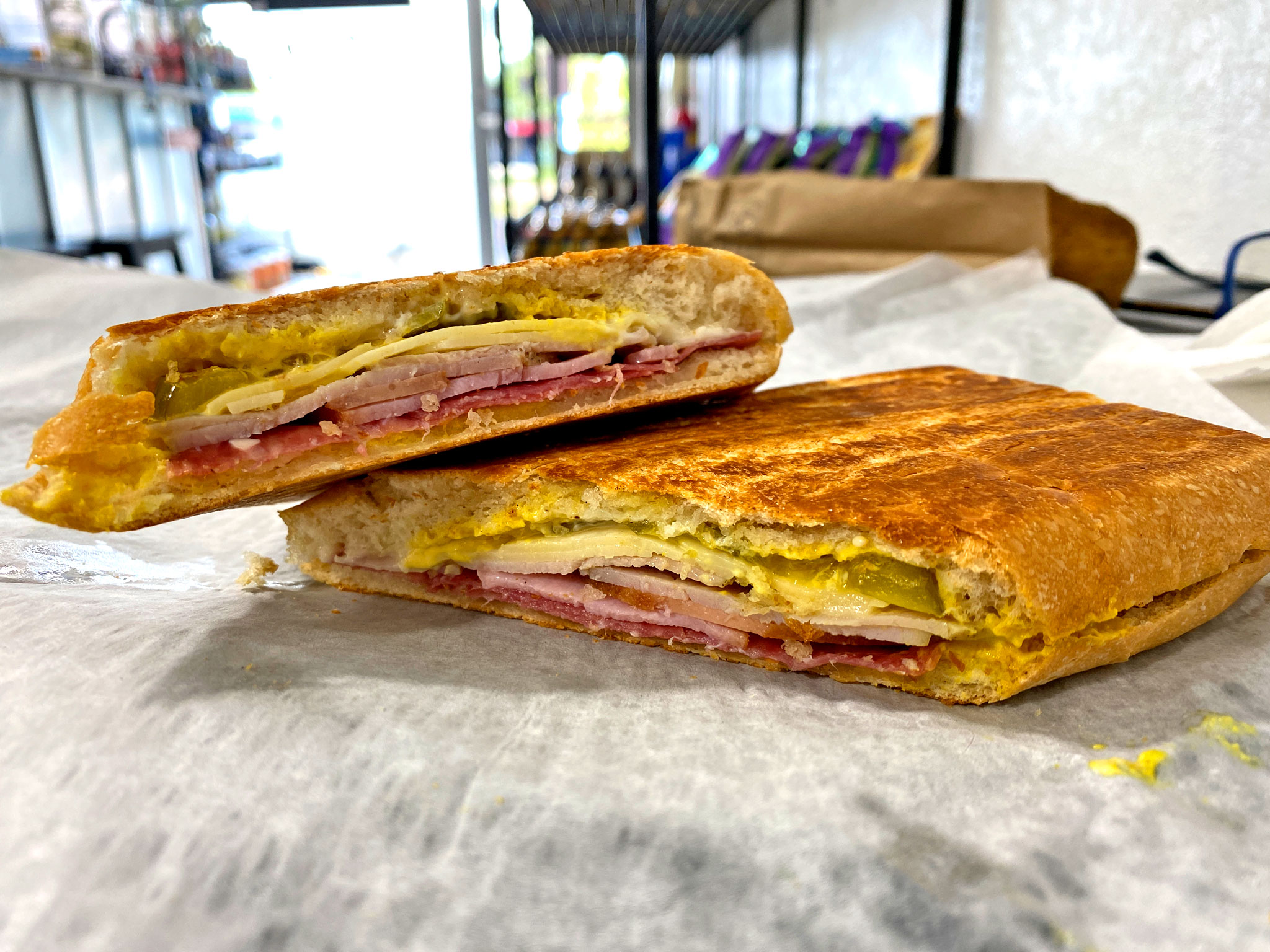 Tudays another great example of an unassuming, off-the-beaten-path place putting out great Cuban sandwiches. Everything sings in perfect harmony on this one – the meats, the cheese, pickles, mustard, mayo and perfectly pressed bread from La Segunda. This one is similar to the sandwich at Old Southeast Market, but not quite as messy and slathered in as much butter, but it is still impeccably moist and flavorful. Tudays is in a strip mall that's easy to miss, and they are about a block or two from The Pesky Pelican. They will be one year old in October, and they are definitely worth the trip out to the west side of St. Pete.
Please tell us your favorite Cuban Sandwiches in the comments below.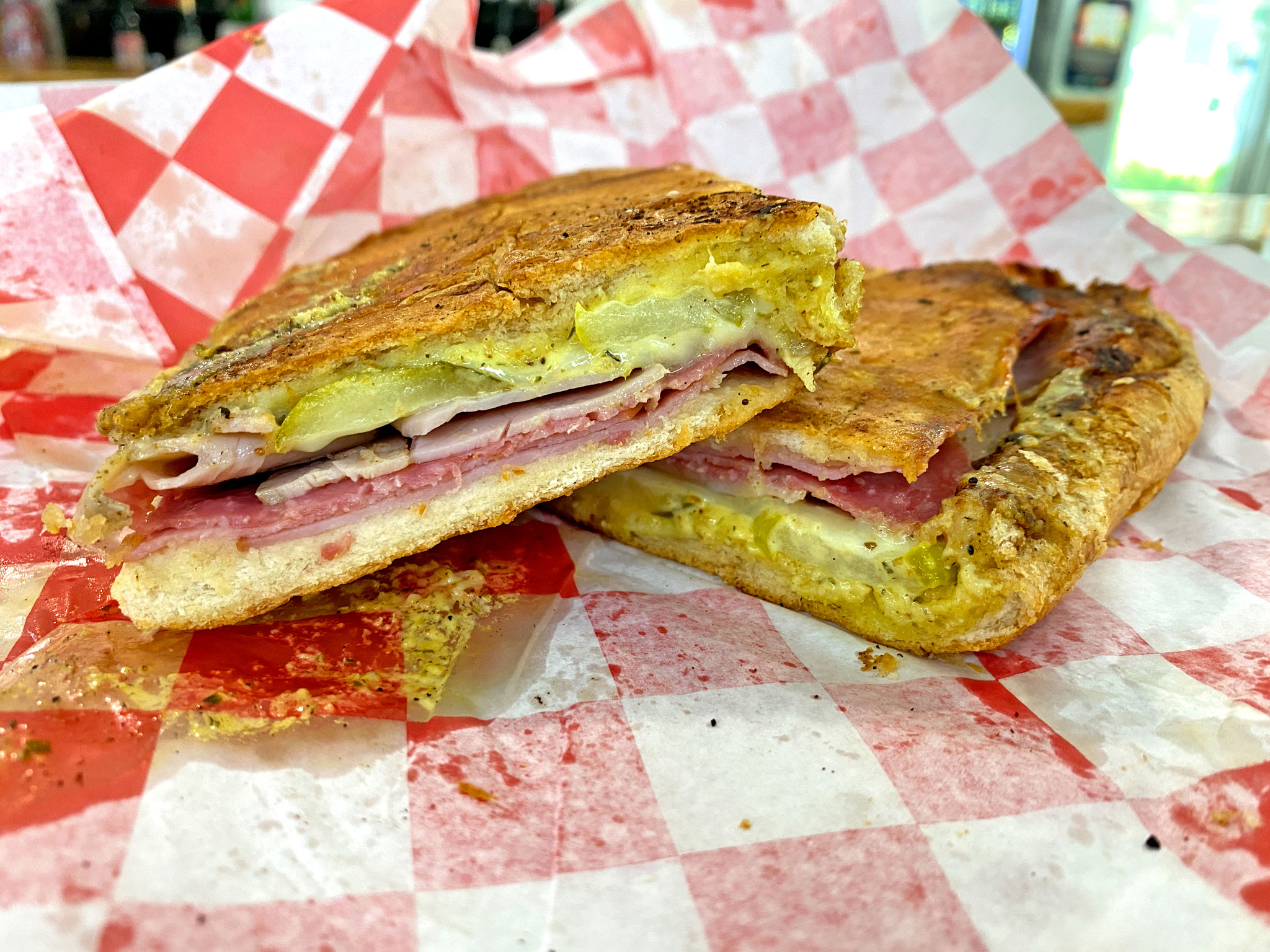 Readers Rating

Rated 4.6 stars




4.6

/ 5 (

Reviewers

)

Outstanding
---
The best authentic Cuban Sandwiches all personally picked by our local team - all of them tasted and photographed by us.