Best Mac & Cheese in St. Pete
The origins of mac & cheese go back to 1769, supposedly from a recipe that Thomas Jefferson brought back from Italy. Kraft first packaged Mac n Cheese it in 1937.  It became a big hit during WWII. If you were a kid growing up in America (or Canada or Australia), you've probably had Kraft Macaroni and Cheese many times. They are still the #1 selling packaged, instant mac & cheese.  The original homemade from scratch dish was baked, and it's so good that way, but rarely seen in restaurants. (We have two baked ones on the list.)
This ultimate comfort food isn't just for kids, especially when it's kicked up with other more adult ingredients. For this list, we decided to try a broad variety of mac & cheese since there are so many different takes on it in St. Pete.
Some of these are more elaborate than others, and some are plain and simple, closer to the mac & cheese you had as a kid. There are different portion sizes too—some full entrées, and others, sides, or lunch size. All will be noted. Most used the traditional macaroni shape with a couple of exceptions.
Before we get into the list, an important thing you should be aware of is that there are other publishers of "best of lists" that do not actually go to the establishments, or actually eat the food. (Sounds ridiculous, right?) They just download photos from the internet, or embed Instagram posts from someone else. Instant top 10 list produced without having to leave the house.
That's NOT how we do it.
We absolutely DO eat all of the food on all of our lists. (How can anyone recommend something they never experienced?)
Unfortunately, we've seen these junk lists a lot—from national and local publishers. We are also aware of a local publisher that offers paid placement in best-of-lists. There is no paid placement here.
I PERSONALLY ATE ALL OF THESE MAC AND CHEESE DISHES, AND WENT TO ALL OF THESE PLACES, AND THESE ARE ALL ST. PETE FOODIES PHOTOS. (All photos by Kevin Godbee unless otherwise noted.)
Here are the 10 Best Mac and Cheese in St. Pete for 2019
The order is zip code, then alphabetical by restaurant name.
1. The Avenue
330 1st Ave S
St. Petersburg, FL 33701
(727) 851-9531
The Avenue Website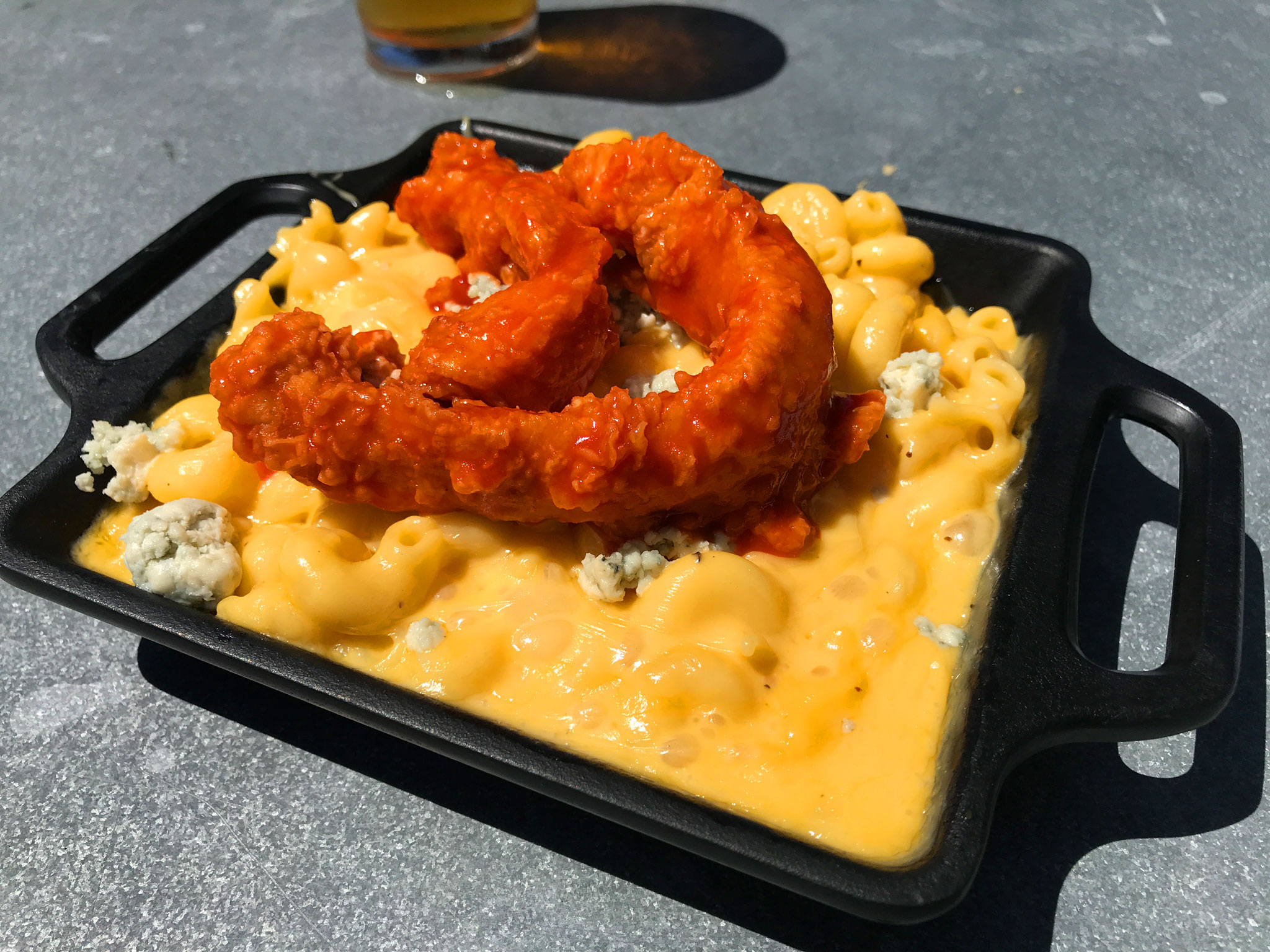 Buffalo Mac & Cheese – 3 Cheese Mac, Hand Breaded Buffalo Chicken, Bleu Cheese Crumbles.
Portion size: Large Lunch, or reasonable Dinner. I had it for lunch and was pretty stuffed.
Rich, creamy, cheesy, and Buffalo spicy – all great things. Keep in mind that this one also has bleu cheese crumbles, and in a decent amount. I love bleu cheese, but for an already rich dish, it makes it really rich, and salty. If you want a slightly mellower version, leave off the bleu cheese. The Buffalo chicken is perfectly spiced for most, just a tad above medium. This goes great with a nice cold pilsner.
2. Gratzzi Italian Grille
211 2nd St. South
Saint Petersburg, FL 33701
727-623-9037
Gratzzi Italian Grille Website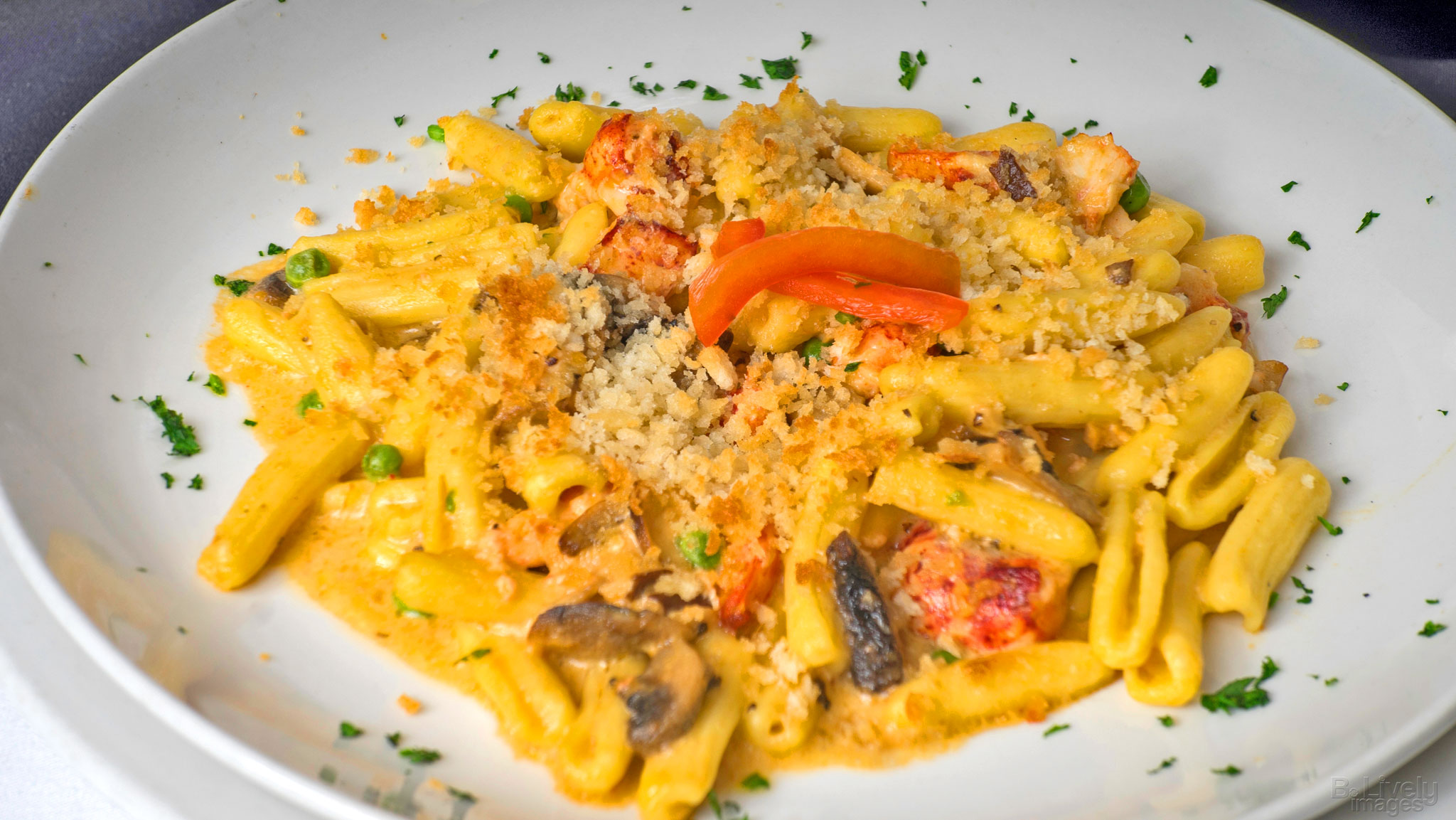 Lobster and Truffle Mac & Cheese – Homemade cavatelli, Maine lobster chunks, white truffle, shiitake mushrooms, and peas, in house made asiago cheddar cheese sauce, toasted with Italian bread crumbs.
Portion size: Dinner
Divinely savory and chewy with nice chunks of lobster meat. This one is so decadent, that it feels like you should be celebrating something. Note that housemade cavatelli is used in lieu of macaroni.
3. The Lure
661 Central Avenue North
St. Petersburg, FL 33701
(727) 914-8000
The Lure Website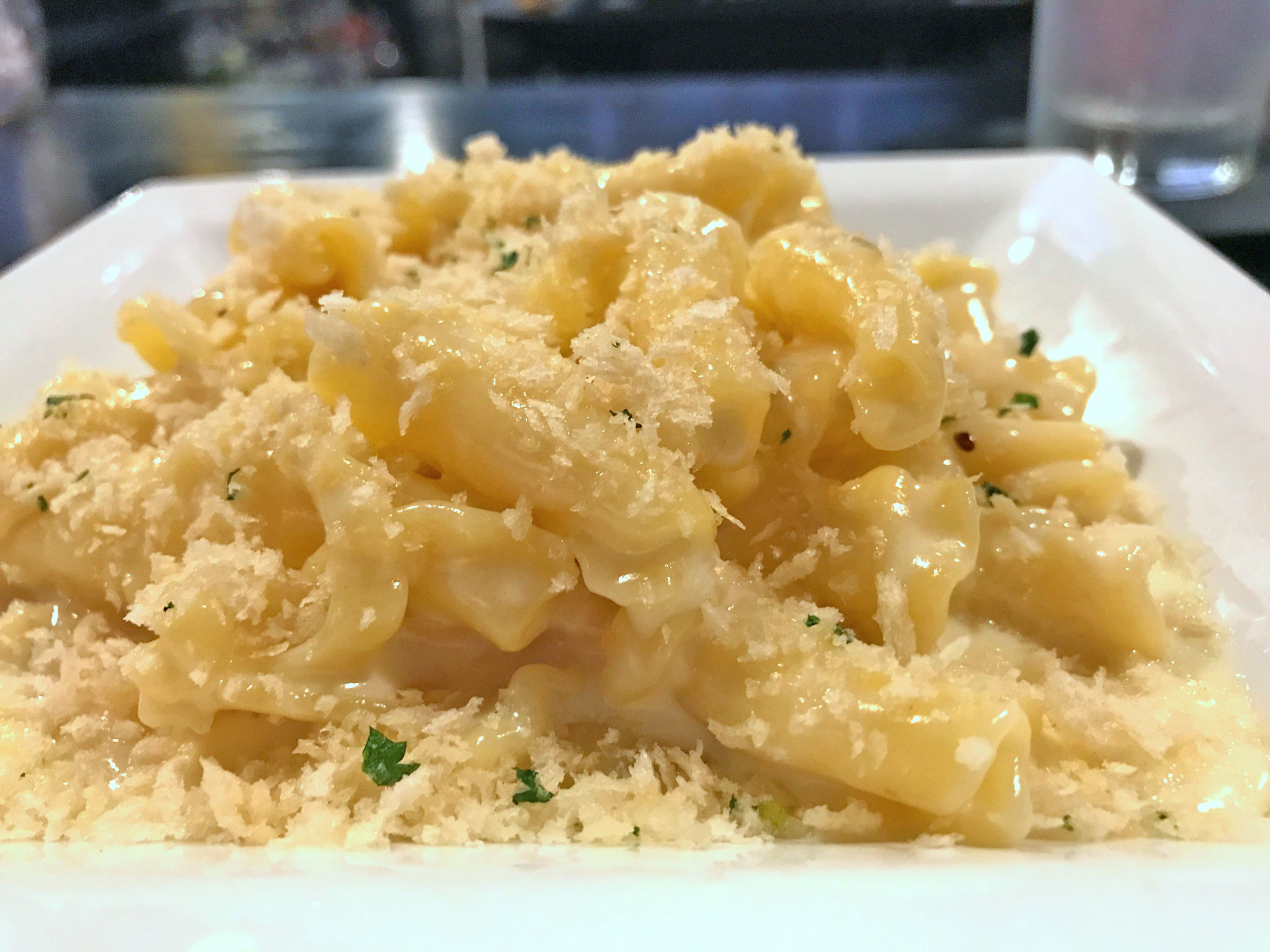 4-Cheese Mac & Cheese
Portion size: Side
It's small and simple, but oh so good. The pasta is perfectly cooked, and the cheese gooey, buttery, and perfectly salted. I think I'll order two next time.
4. Red Mesa Cantina
128 3rd St South
St. Petersburg, FL 33701
(727) 896-8226
Red Mesa Cantina Website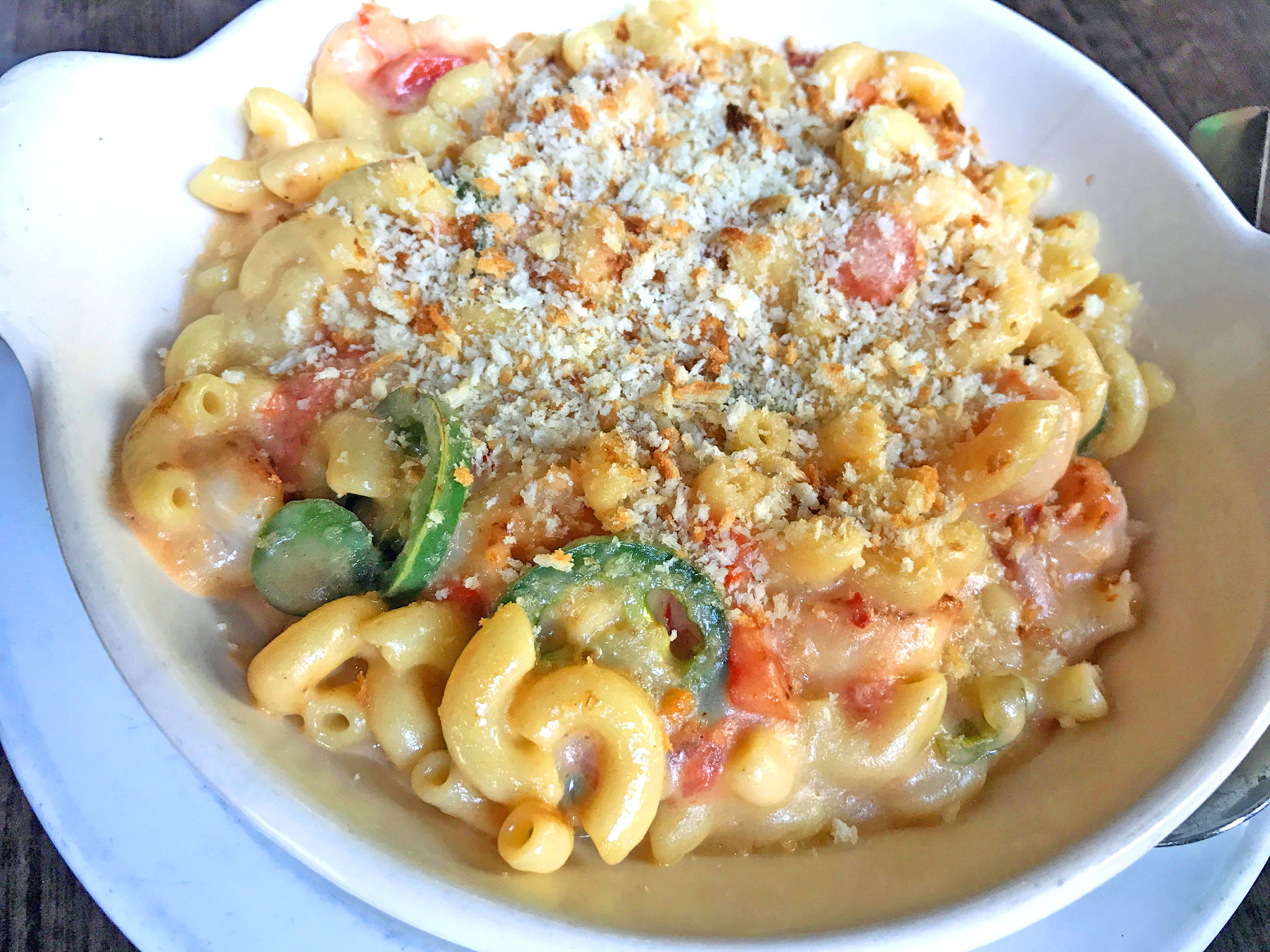 Cantina Mac & Cheese – Sautéed Shrimp, White Queso, Macaroni, Jalapeño, Tomato and Garlic Bread Crumbs.
Portion size: Dinner
This one is the Mexican take on mac & cheese, and it's a meal for sure. The shrimp, tomatoes, and jalapeños just call my name and seduce my taste buds. I'd like to rename this one, "The Kevin".
5. Rococo Steak
655 2nd Ave S
St Petersburg, Florida 33701
(727) 822-0999
Rococo Steak Website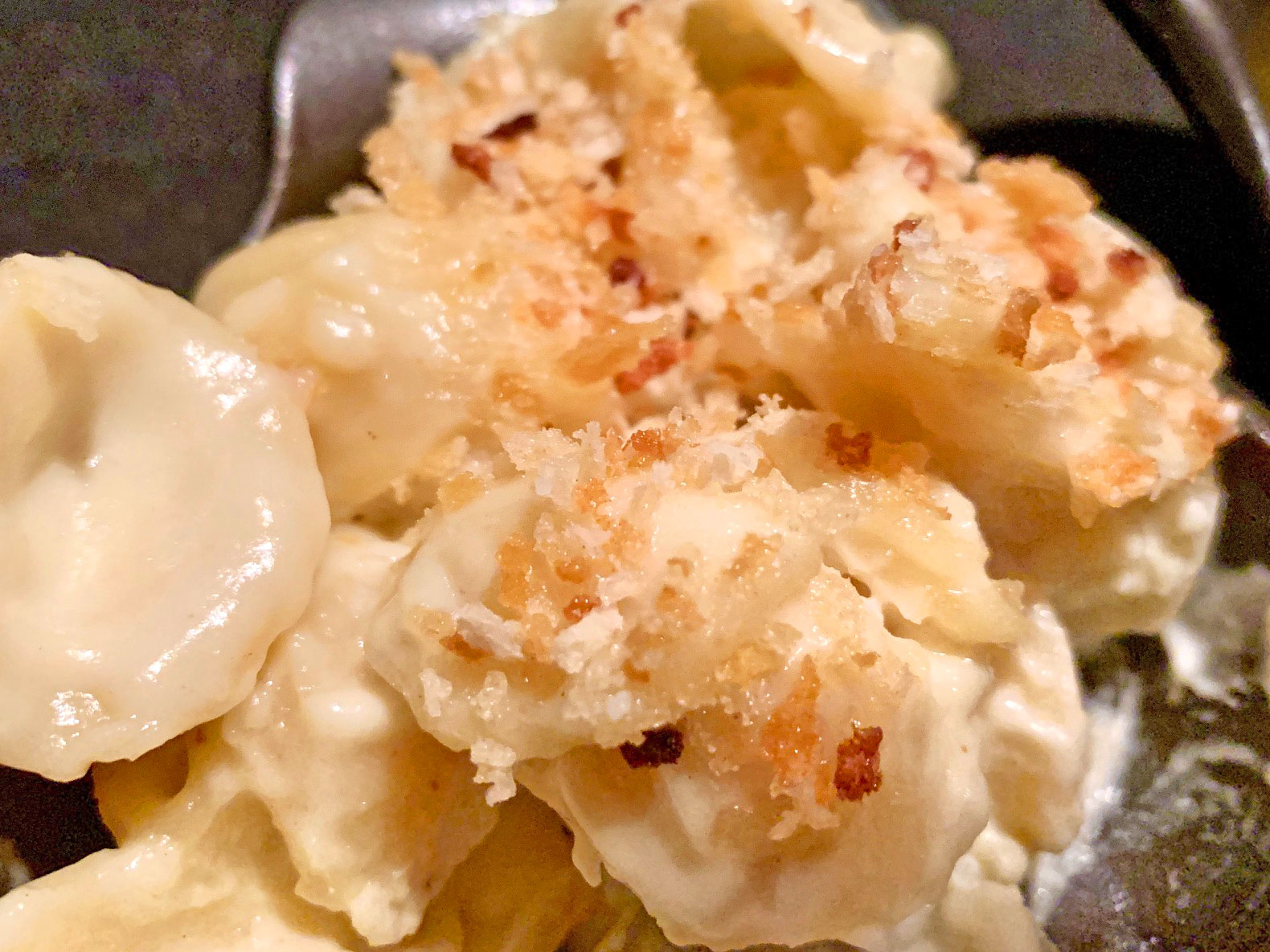 Mac & Cheese
Portion size: Side
Rococo also has a lobster mac & cheese that we can't wait to try, but this night, we weren't even thinking of mac & cheese, as we never order it here. Another couple that was with us ordered it to share, and it was so surprisingly good that we decided it definitely needs to be on the list. The shot is a closeup as most of it was devoured so fast that there was just a little left by the time we captured it. The orecchiette shaped pasta is divine and pillowy in your mouth.
6. Stillwaters Tavern
224 Beach Dr NE
St. Petersburg, FL 33701
(727) 350-1019
Stillwaters Tavern Website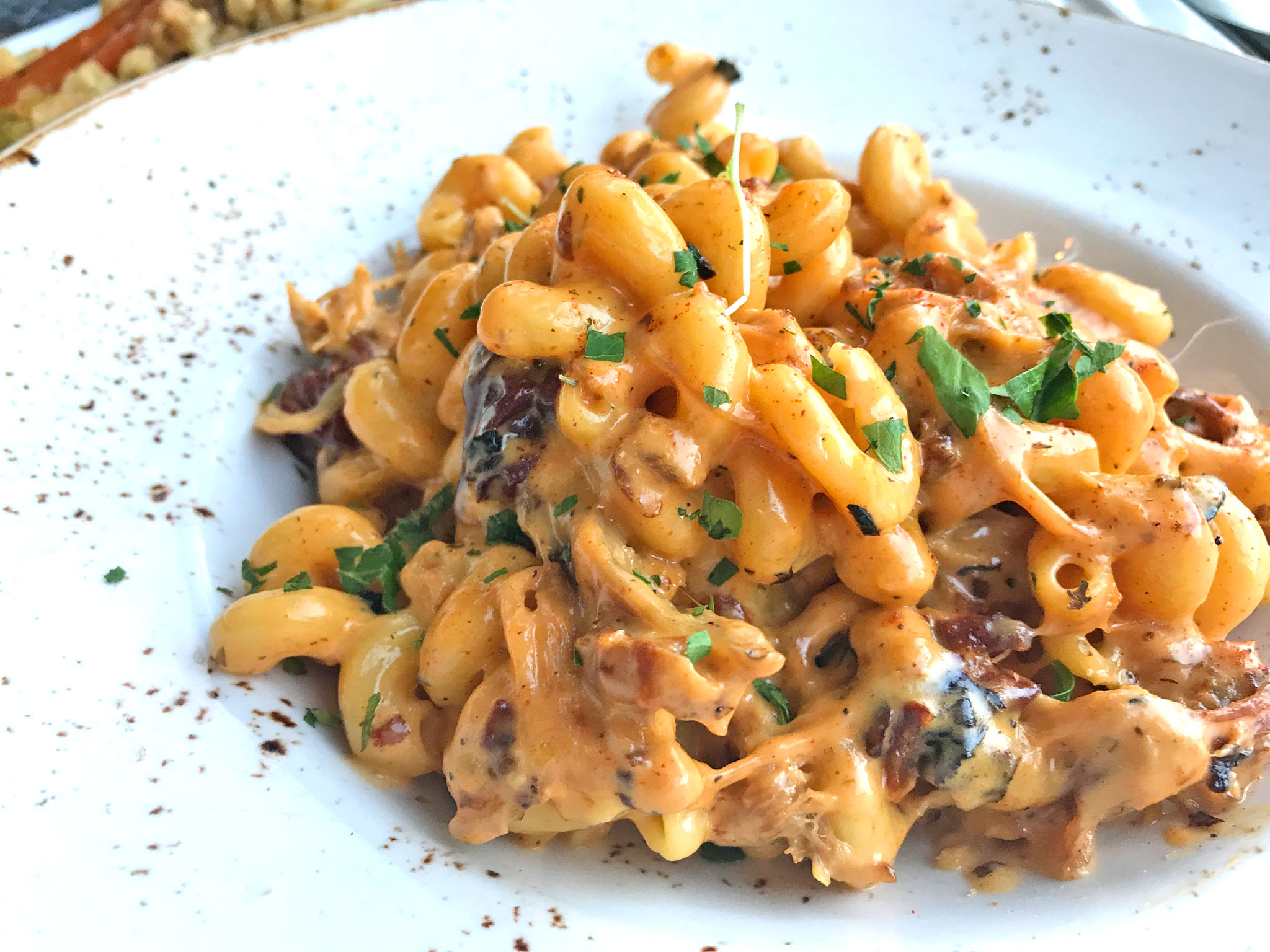 Creole Mac And Cheese – House Made Cheese Sauce with Cavatappi Pasta.
Portion size: Dinner
I added Smoked Pork to this one. You can also add blue crab as an option. This is without a doubt, one of the best mac & cheeses in St. Pete. It is just gooey, chewy, rich and savory, eyes roll back in your head, holy heck, I died and went to heaven.
7. Brooklyn South
1437 Central Ave
St. Petersburg, FL 33705
(727) 914-4967
Brooklyn South Facebook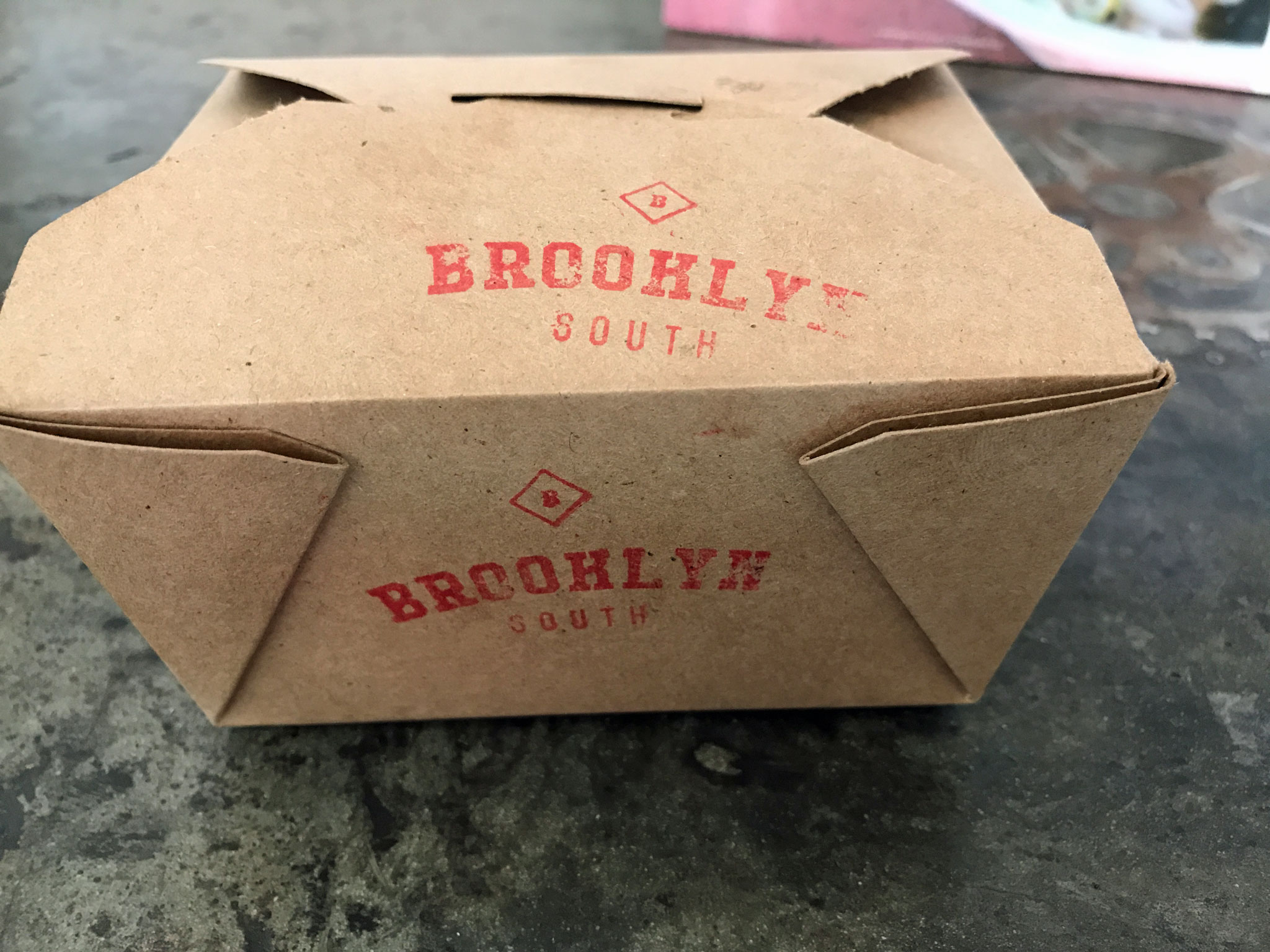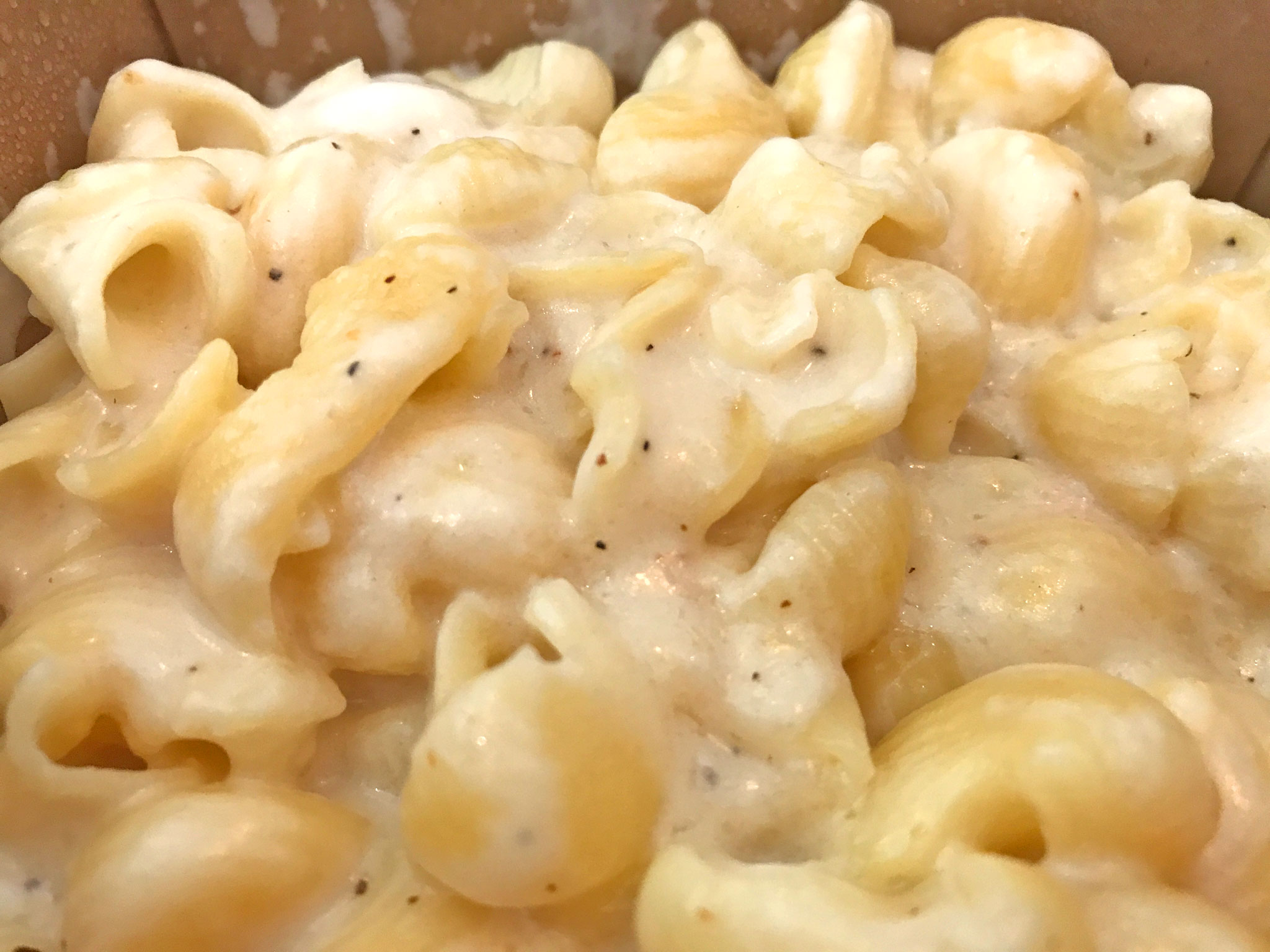 Brooklyn South House Mac & Cheese
Portion size: Lunch (There's a small and a large. I got the large, which is a lunch size portion, so I'm assuming the small would be a side.)
Brooklyn South gets rave reviews, so I figured it was about time I tried it, and I wasn't disappointed. They do offer their mac & cheese with several added options, but since this was my first time, I wanted to try it sans additions. It has a great creamy richness to it.
The base cheeses are Swiss Emmental, Swiss Gruyere, Monterrey Jack, and Manchego. Then there are 3 – 5 added from whatever scraps are in the case from that day's cuttings, so it changes slightly each day.
8. 3 Daughters Brewing
222 22nd St. South
St. Petersburg, FL 33712
(727) 495-6002
3 Daughters Brewing Website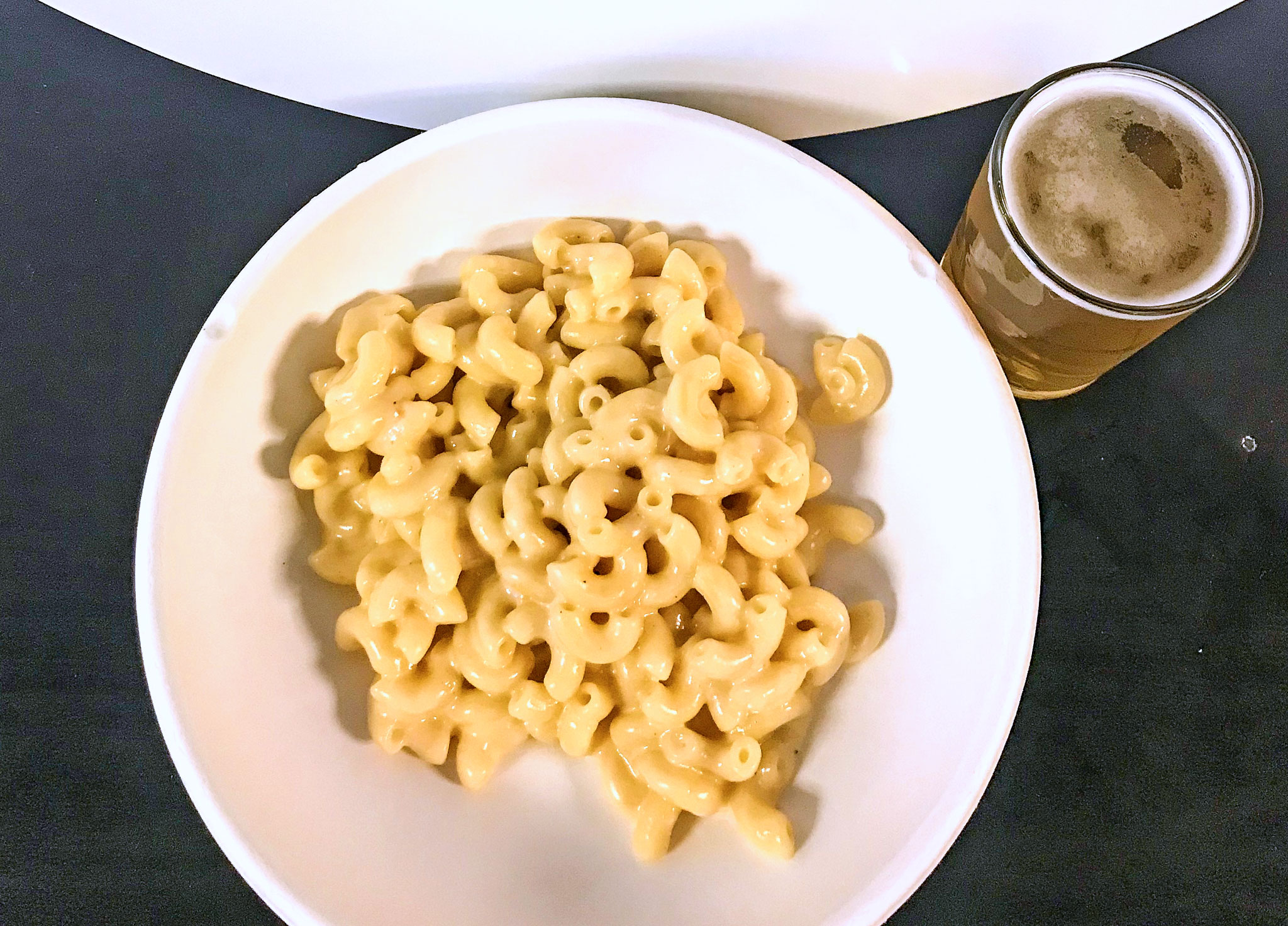 3 Daughters Mac N Cheese – Traditional or White Cheddar & Gouda
Portion size: Lunch
We went with White Cheddar and Gouda. From Abby's 3 Daughters Review – (Lori and I ate it too.) "One fairly large helping of a velvety smooth macaroni noodles with a bounty of gooey cheese- what's not to love?  One of the best things about the Mac and Cheese is that it can be customized. You have the choice of Traditional, or White Cheddar Mac and Cheese and additional toppings include: Green Onion, Oven Dried Tomatoes, Sauteed Mushrooms, Pickled Onions, Avocado, Bacon, Shrimp and Smoked Chicken, just to name a few. Because of the ability to customize, this is an optimal dish for the adventurous, the picky eaters and children."
9. Callaloo
642 22nd St S
St. Petersburg, FL 33712
(727) 256-1806
Callaloo Website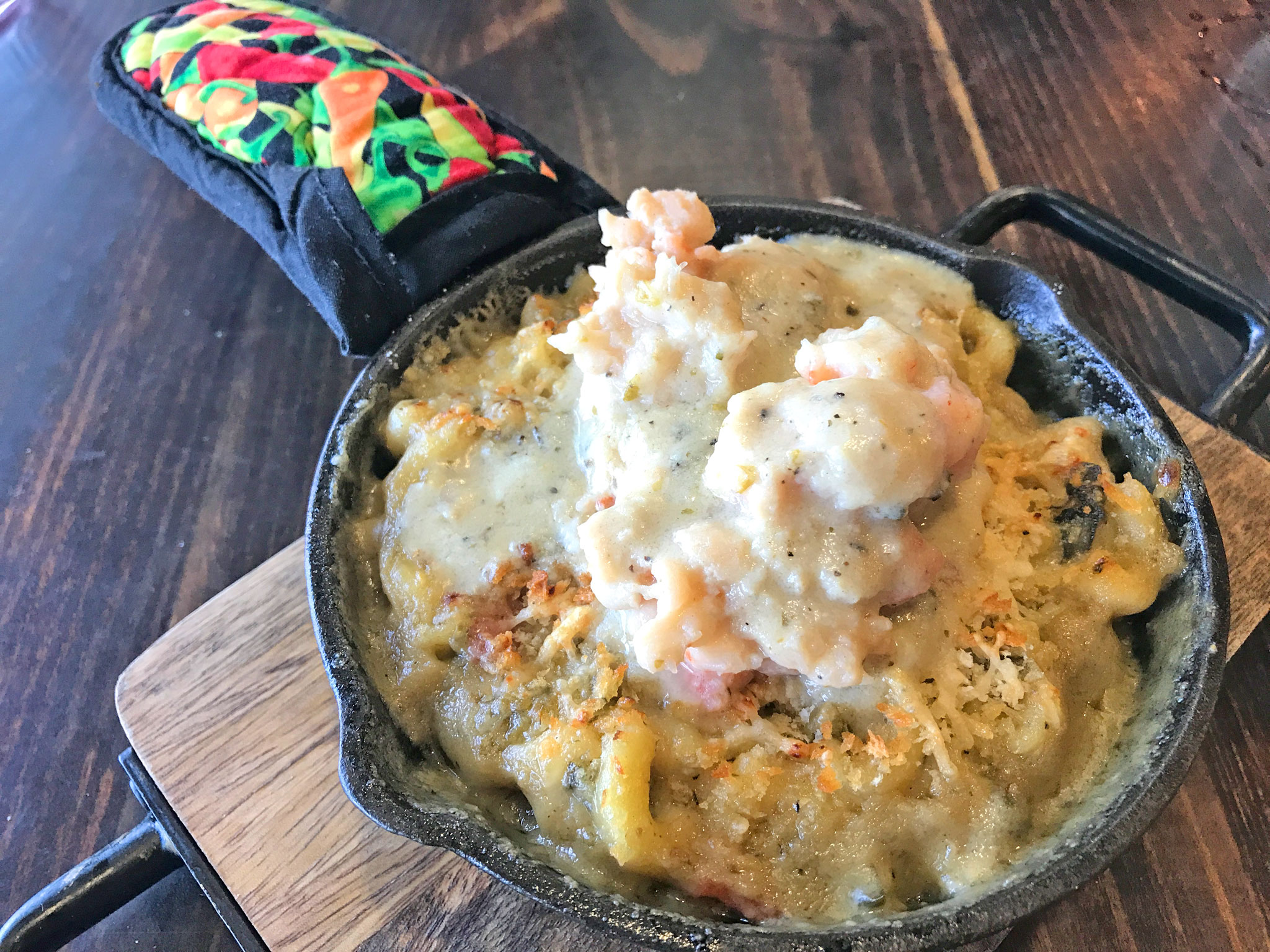 Lobster Mac 'N Cheese Skillet – Slow Smoked Tomatoes, Wilted Callaloo Greens.
Portion size: Lunch, or large side to be shared.
Callaloo's is baked and served in a skillet, just like Urban's below. Baking it gives you the extra texture of crunchiness to go along with the gooeyness, and there are some nice big chunks of fresh lobster to add to the decadence of it all. It's quite delicious.
10. Urban Brew & BBQ
2601 Central Ave
St. Petersburg, FL 33713
(727) 623-9823
Urban Brew & BBQ Website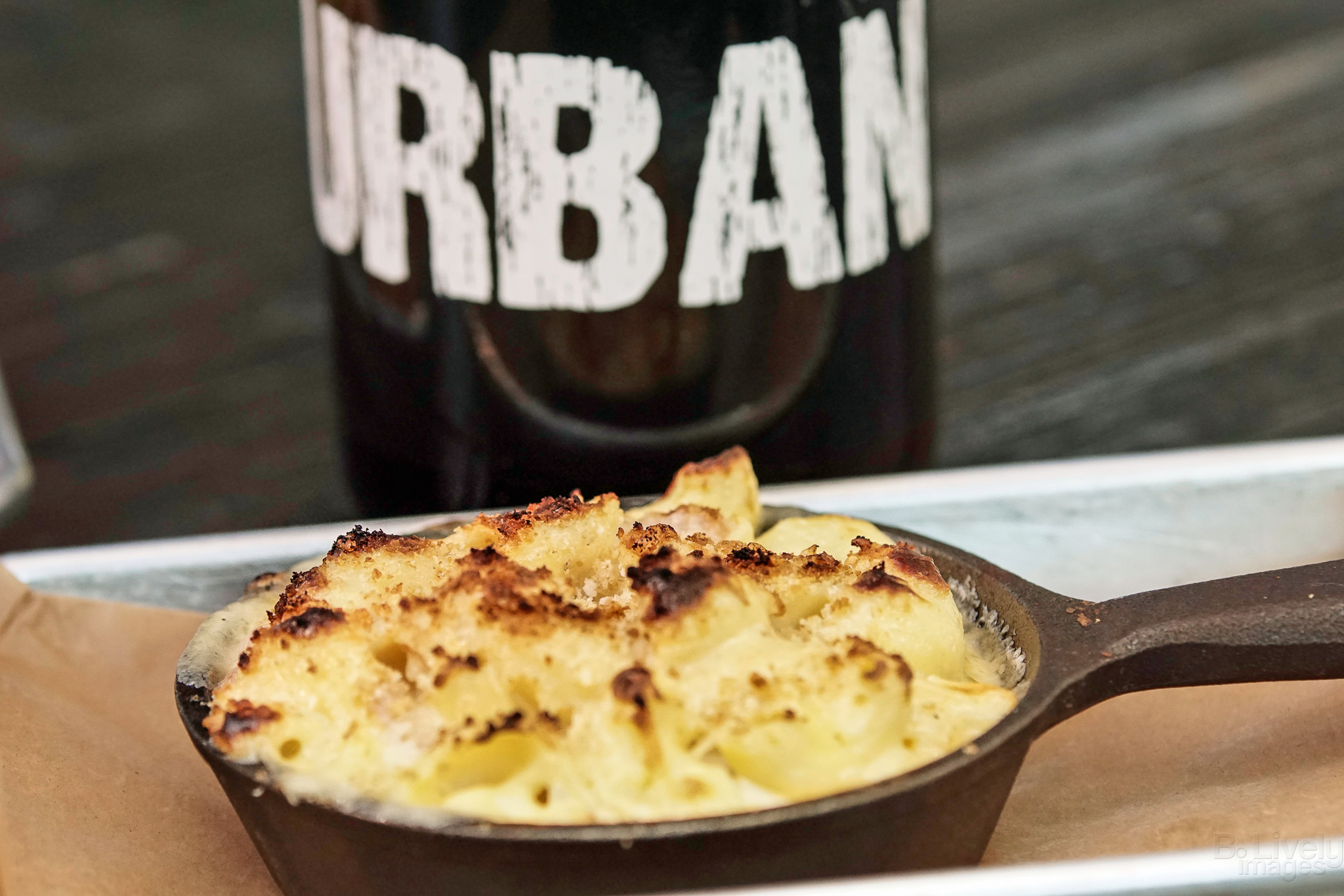 Three Cheese Mac & Cheese with Smoked Gouda, Parmesan, Cheddar and Prosciutto topped with a crispy bread crumb topping.
Portion size: Side
Urban's has won Best of the Bay many times. Absolutely delicious and served in the cast iron skillet it is baked in. Each one is made to order. Scrumptious!
Please tell us your favorite Mac and Cheese in the comments below.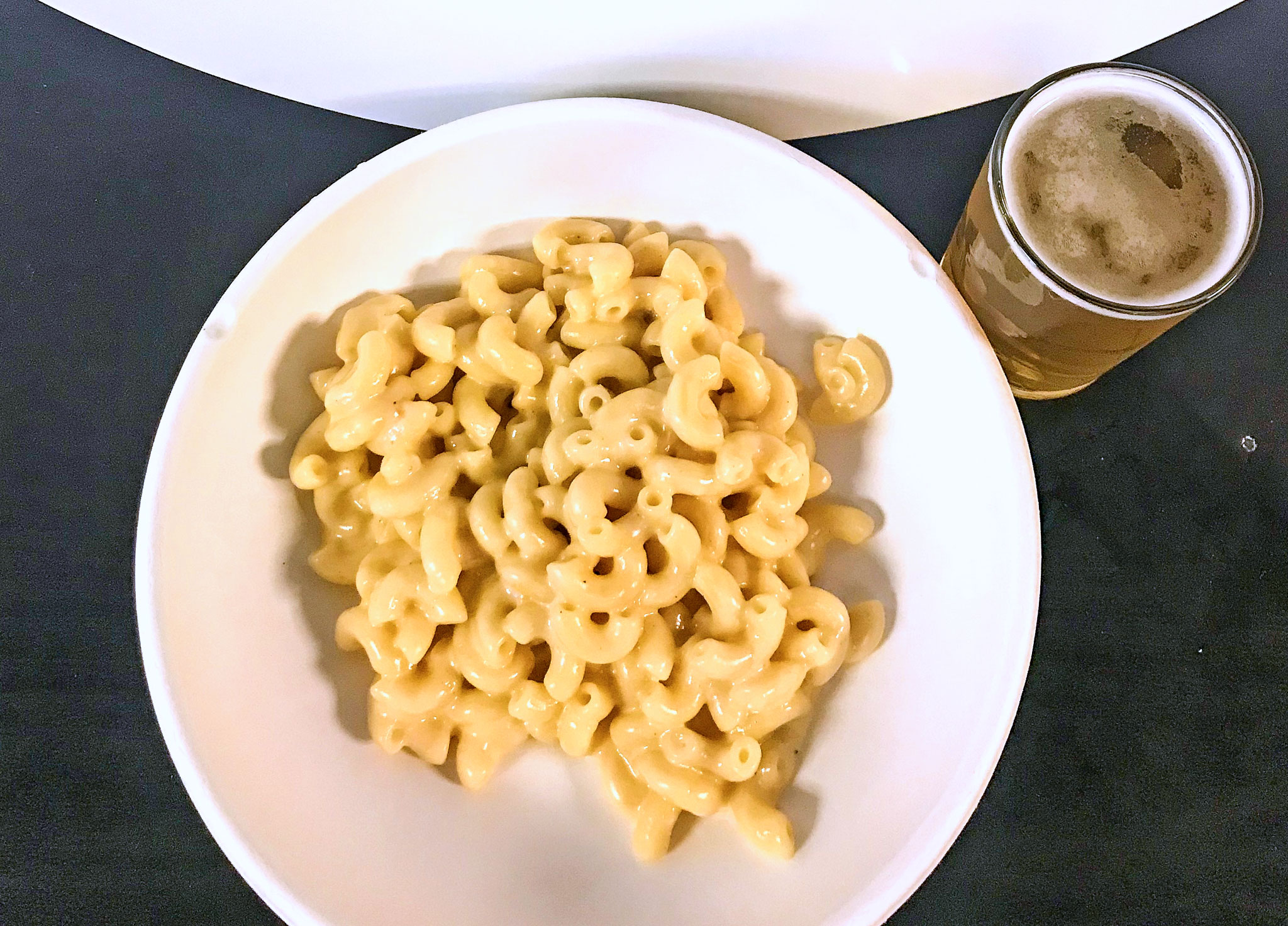 Readers Rating

Rated 5 stars




5

/ 5 (

Reviewers

)

Spectacular
---
Here are the 10 best mac & cheese dishes at independent restaurants chosen by locals in St. Petersburg FL after they taste-tested them all.