Calida's Recipe for Success has more than one Secret Ingredient
Calida's Recipe for Success has more than one Secret Ingredient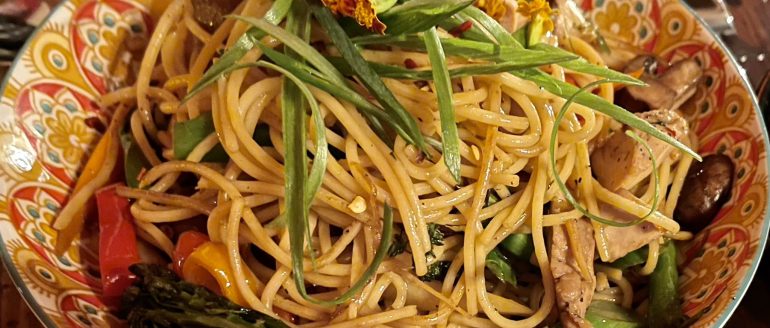 Secret Ingredients:
The couple that runs it is not only adorable, but also extremely skilled

Hole in the Wall Eccentricity

Lustfully Eclectic Menu
A few weeks ago we had a spectacular dinner at the new Calida Kitchen & Wine. I can't say enough about it. I thought about the meal for several days after. So much so that we returned within weeks to sample some more of the kitchen's globally inspired offerings. This piece will showcase all of the wonderful offerings that we shared on those two visits. The decor transports one to a small European hidden gem. The restaurant, owned by Dayna Bennett with her partner Chef Ian Florence at the helm of the kitchen, is absolutely the next big thing. The only thing that isn't big is the restaurant itself. The cozy dining room has about three tables of four. The bar seats six and there are a few two tops in the bar area as well. A reservation is highly recommended. While we were dining the second time, we watched Dayna have to reluctantly turn people away, even from the bar.  They are currently open Thursday – Saturday 5:30 – 9:30pm.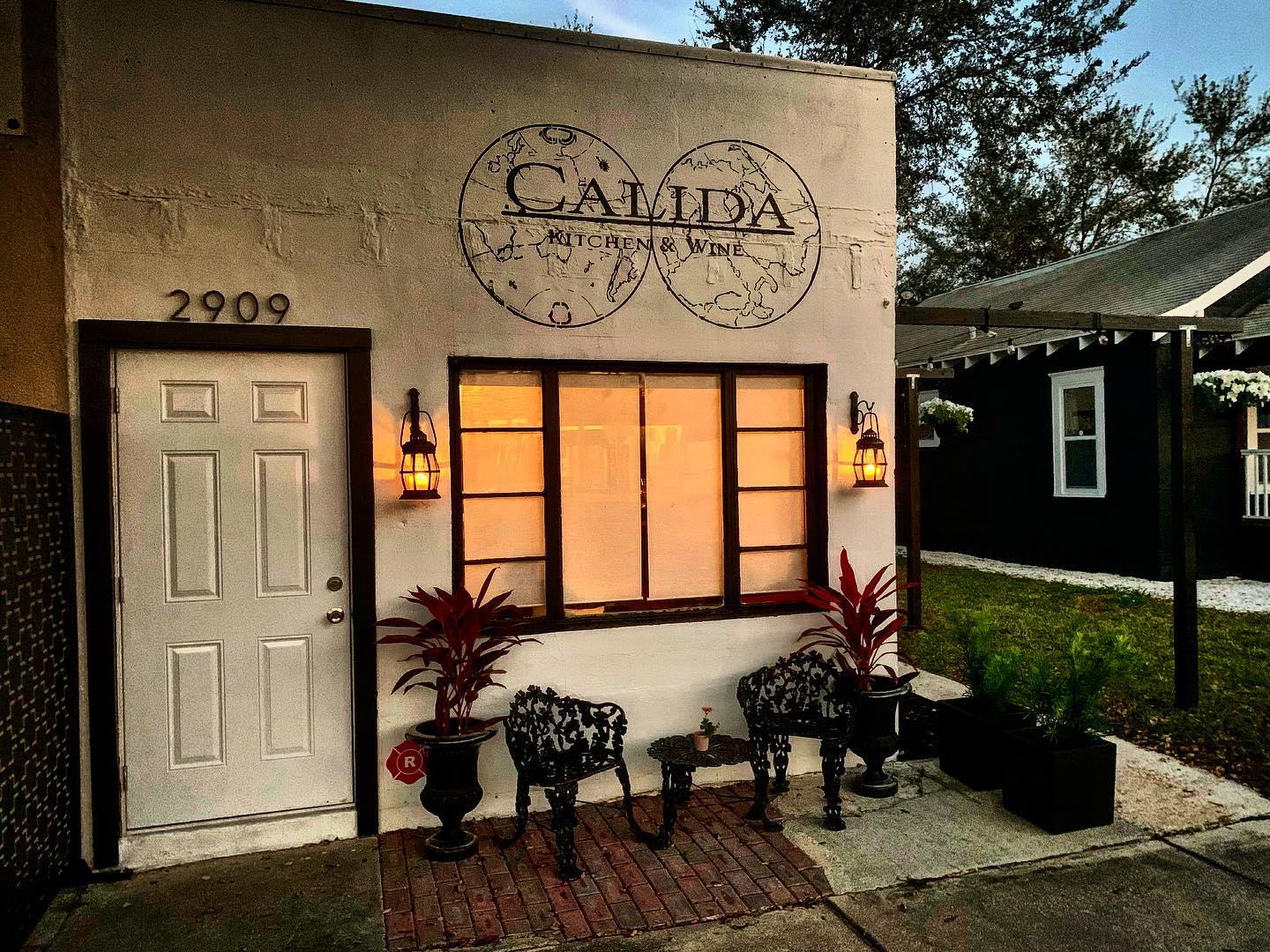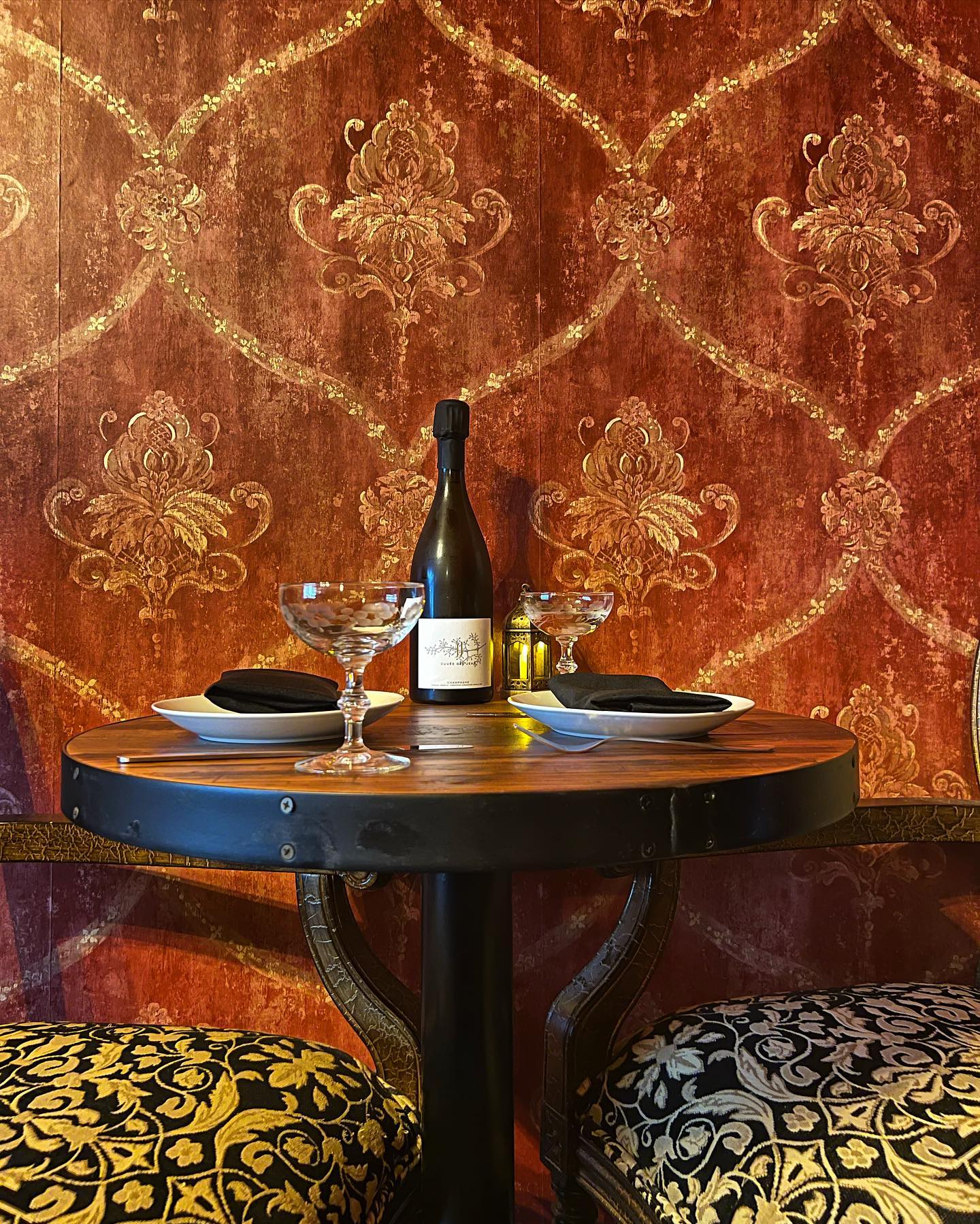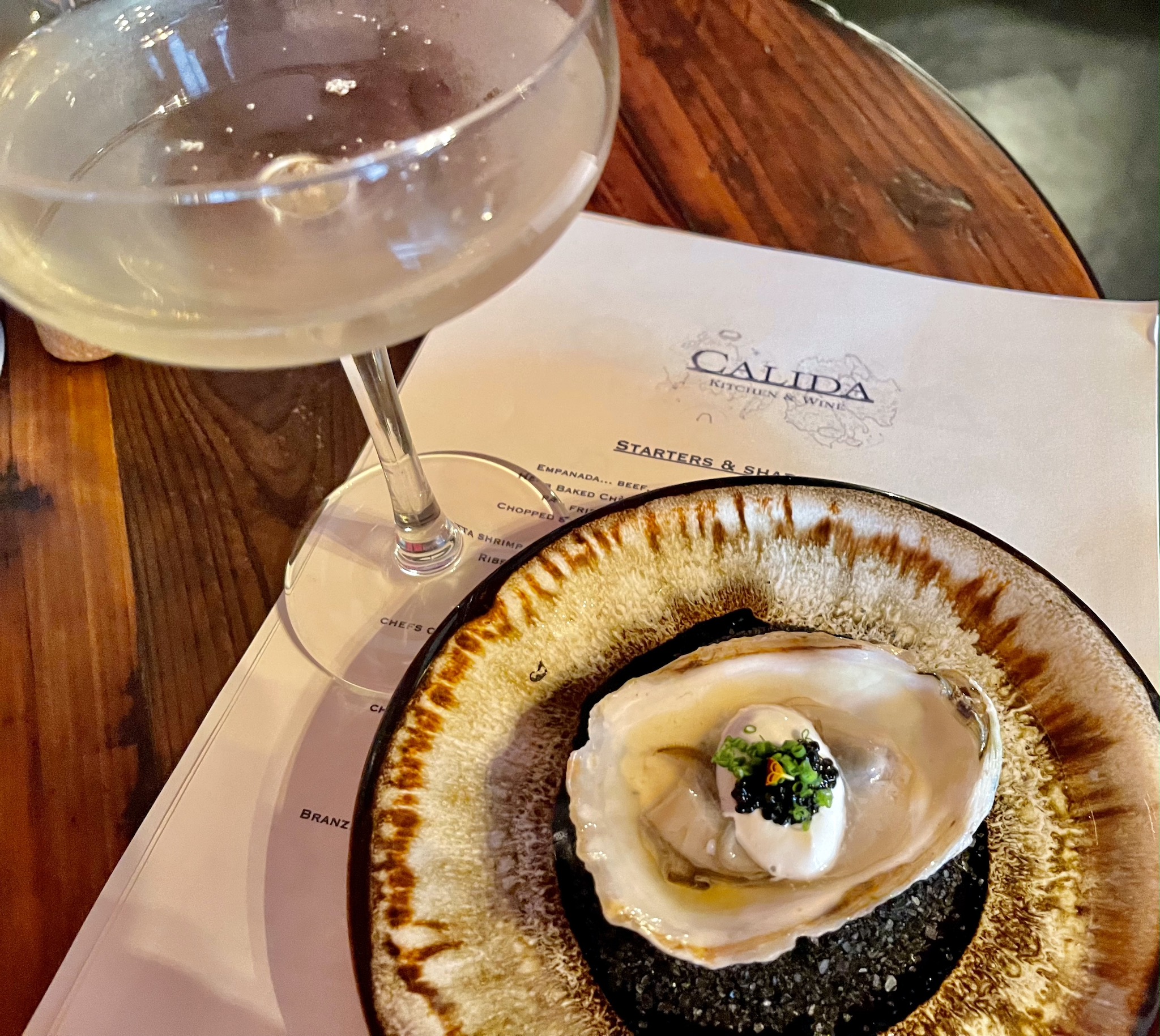 On our first visit, we started with some cava and were surprised with this beautiful amuse bouche. I have actually never seen or had an oyster served quite like this. Not only is it absolutely stunning visually, the texture of the oyster against the soft cool creaminess of the crème fraîche, boosted by the salty pops of the caviar was just like heaven. This is not on the menu, but we told Dayna it should be. It is a jaw dropper.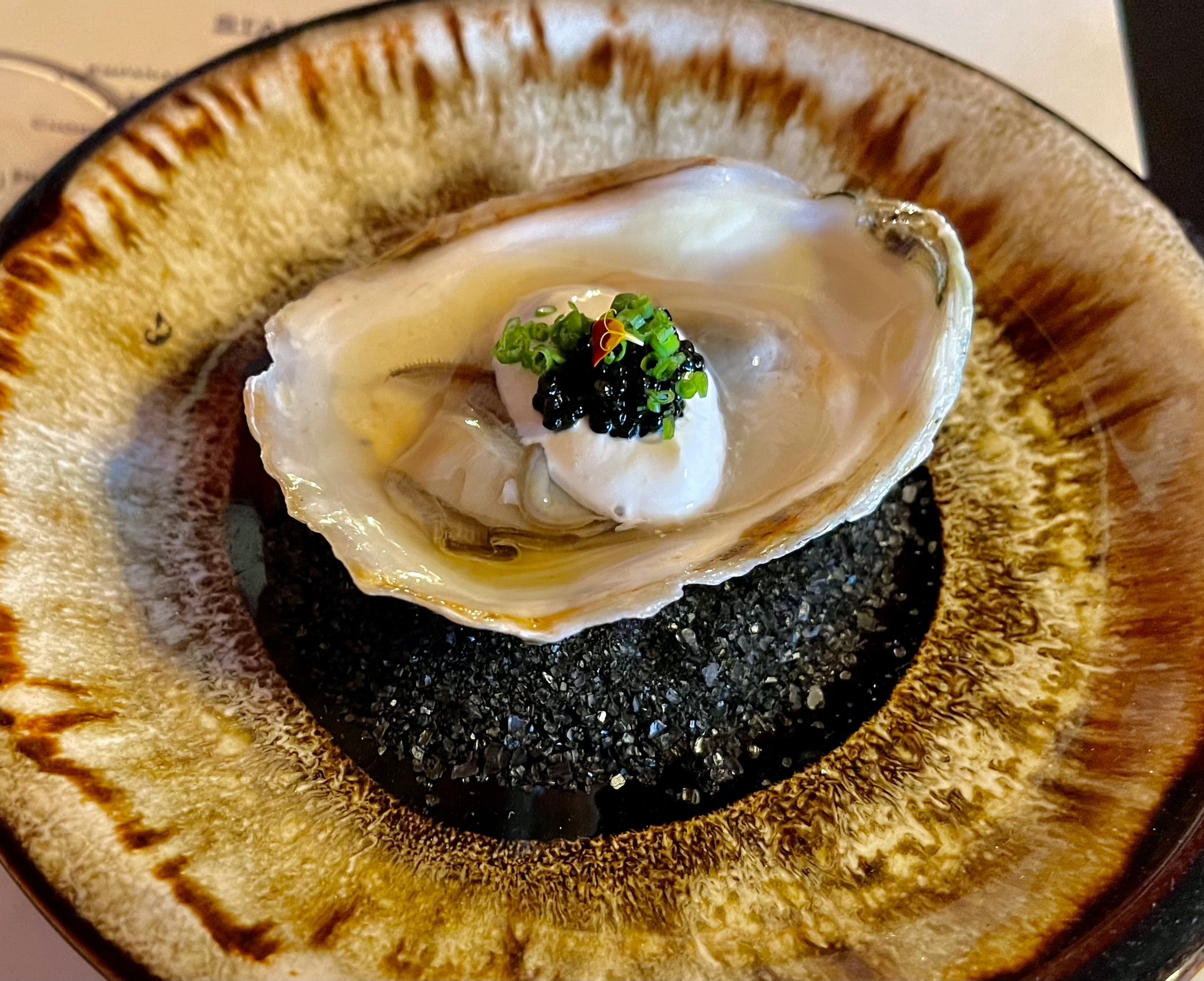 First, we ordered the Shatta Shrimp from the Starters & Shared Plates section of the menu. This dish, served with Argentine reds, baby bells, greens, spring onion and grilled lime, was my favorite of the night. It had the perfect amount of spice, tang and umami all wrapped up with the delicious natural sweetness of the shrimp. We actually convinced several different diners to order it while we were there.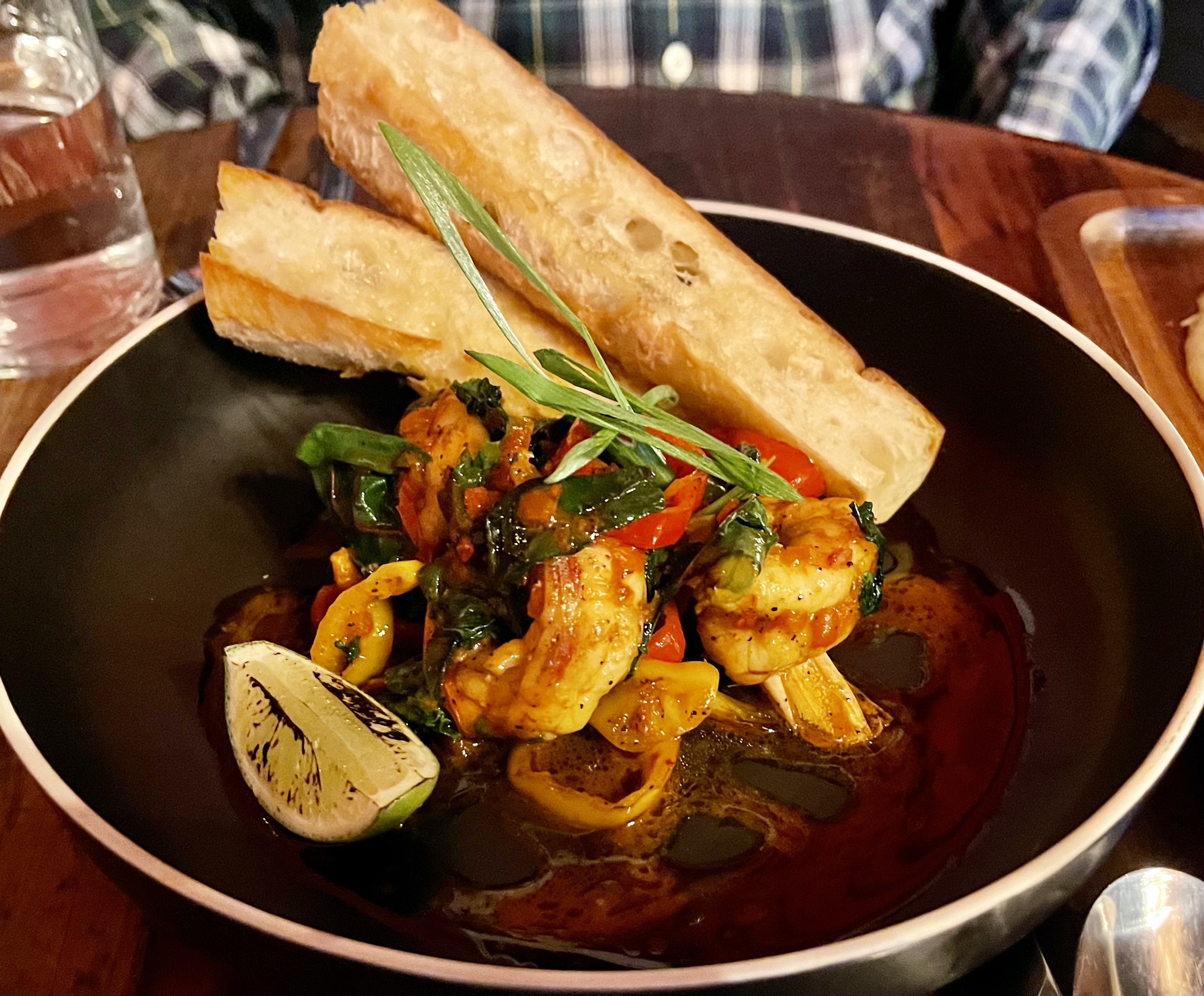 Next we had the Pan Fried Potato with herbs, garlic and lemon chili aioli from the starters as well. This is a great dish. Delicious in all ways a potato should be, but I felt it would make a better side dish than a starter. It felt like it needed a partner to really sing.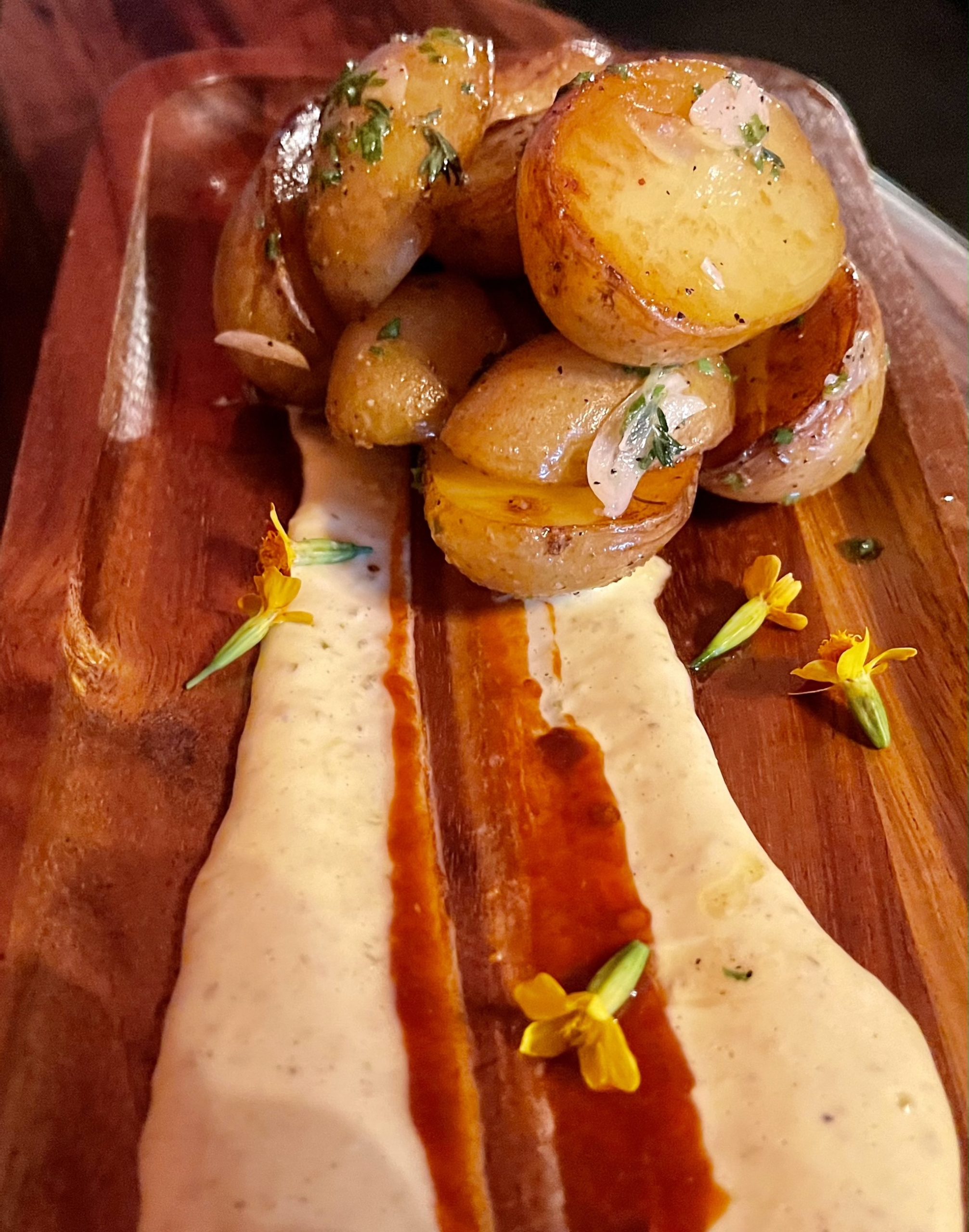 We shared the Chow Noodles as our main course. They are made with long noodles, market vegetables, fresh ginger & garlic, tamari, sesame oil and chili flakes. This dish was down home and comforting, perfectly seasoned and just delicious. We scarfed this down.
The noodles also have a fun back story. Quoted from Dayna, "Ian was the Chef de Cuisine at a restaurant in San Luis Obispo that I use to go to all the time. He created that noodle dish there and I ate it for years and loved it before I ever even knew Ian. So it's got sentimental value for me." It's somewhat of a love story…
Kevin actually begged Dayna to keep this one on the menu always.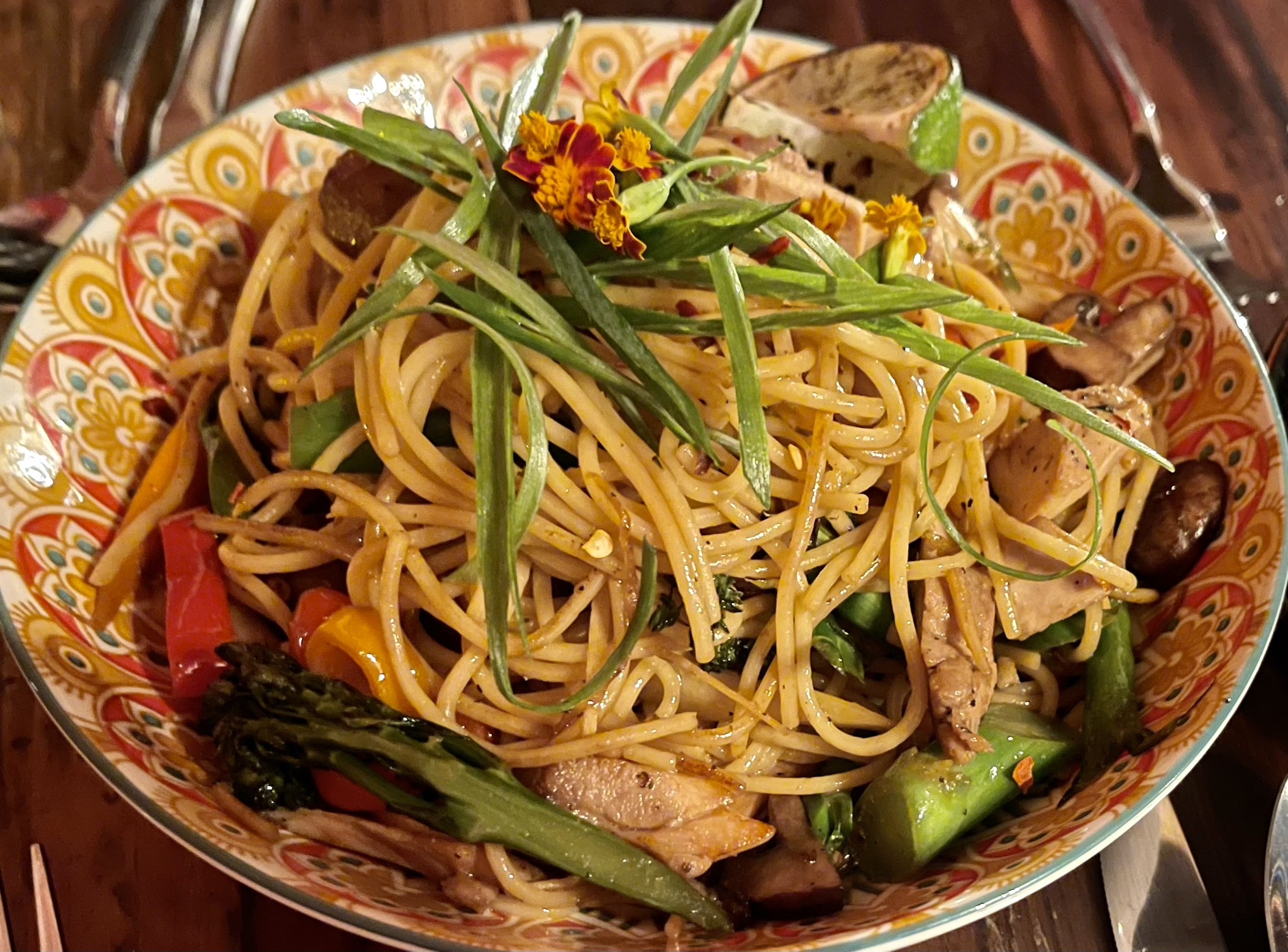 Satiated and stuffed, we were ready to go when I just had to ask about dessert. We were told that they had Dayna's mom's cheesecake recipe available that night. Ian has worked to master this recipe. When I asked Dayna if it has a proper menu name she said, "we've been doing verbal desserts but I think if we put it on the menu we would say The Cheesecake – an old family recipe served with a house made berry gastrique."
We couldn't not try the cheesecake after that dinner and let me say this was hands down the best cheesecake I have ever had. Light, creamy and fluffy served with a very light berry gastrique which did not overpower like a ladle of cherries would do, instead it enhanced in all ways great. Worth every calorie.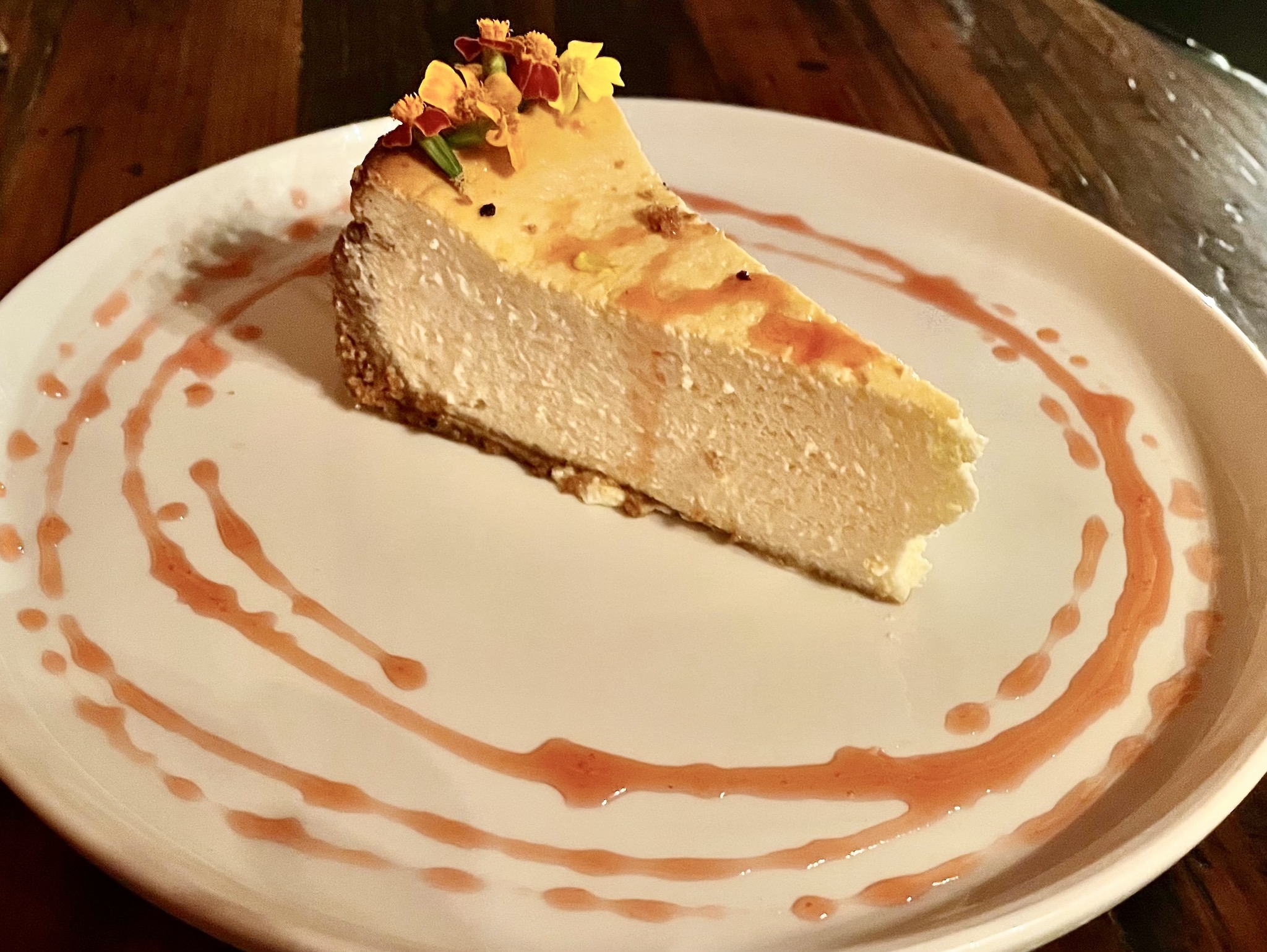 Back for our second dinner, I started with a glass of the Italian Pinot Grigio. Refreshing, light and springy.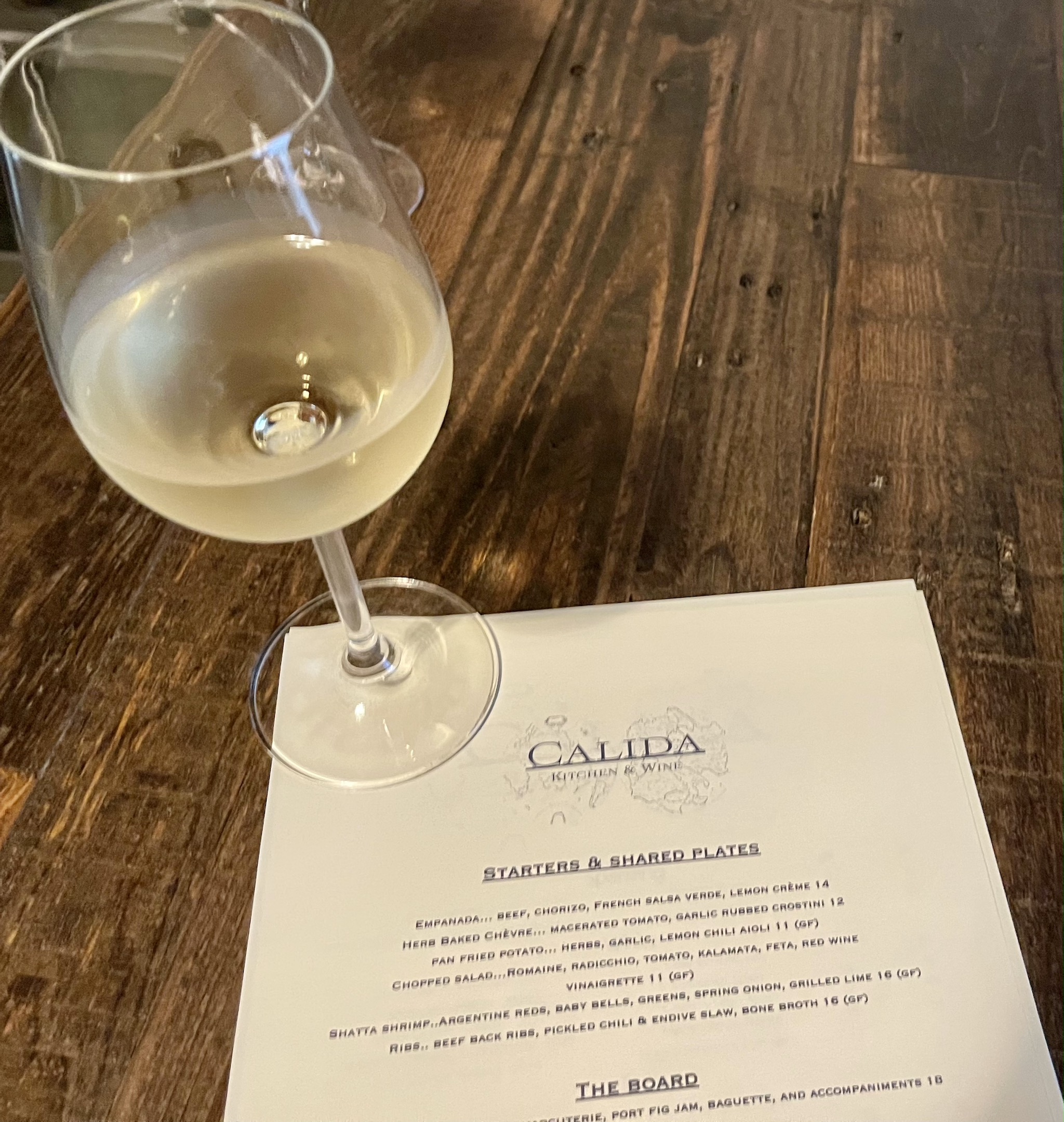 When I suggested we order a salad, Kevin wasn't all that jazzed. We were seated at the bar this time and the couple next to us exclaimed that it is the best salad. So we ordered it. For something so incredibly simple they were right. That dressing just ties it all together. It is made with romaine, radicchio, tomato, kalamata, feta and red wine vinaigrette. Sounds silly but honestly, we couldn't stop talking about the salad.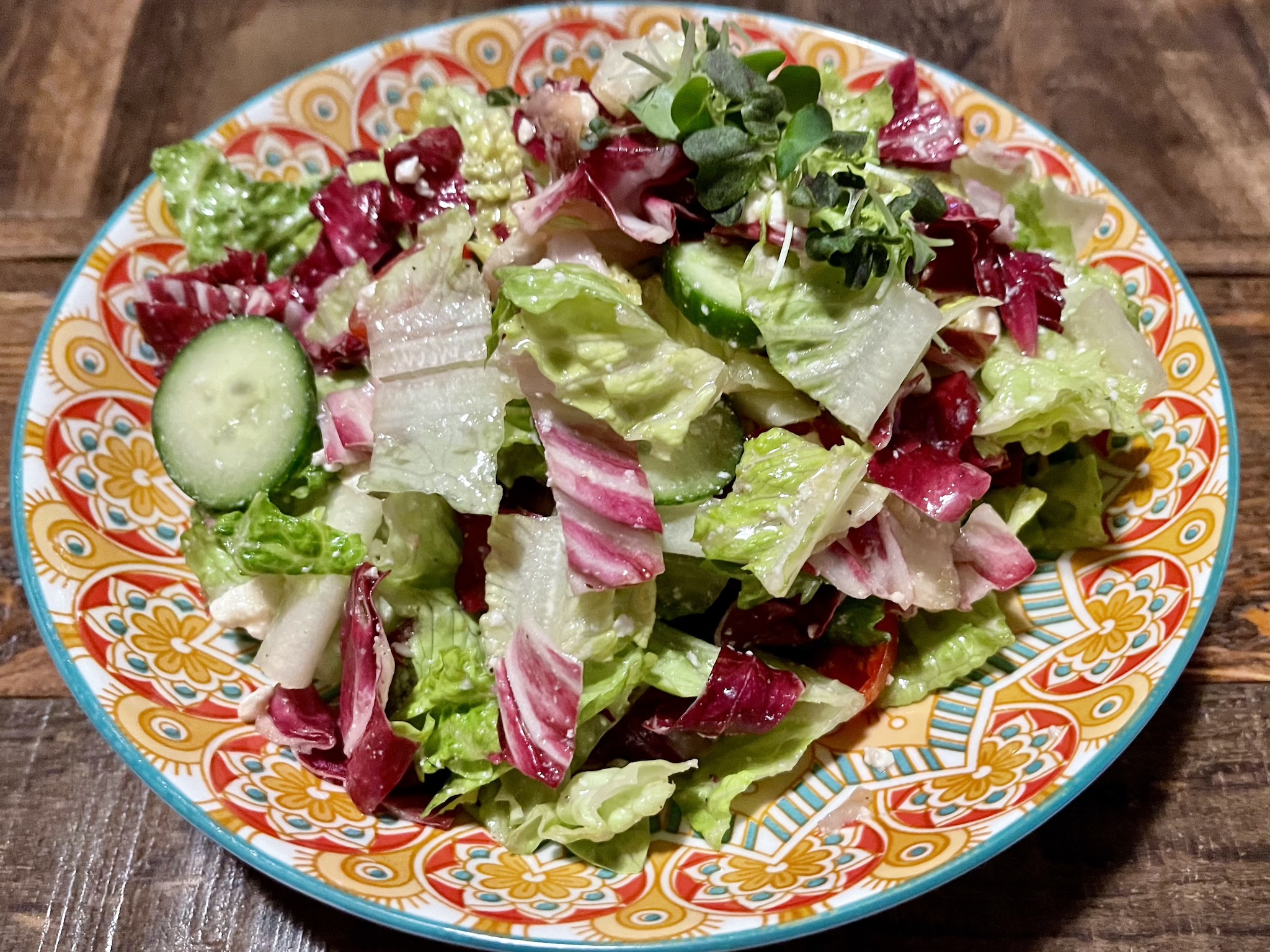 From the starters also, we ordered the Ribs. These are beef back ribs topped with pickled chili & endive slaw and served with bone broth. Absolutely as good as they sound. It's rare to find beef ribs, usually it's pork. A delicious and great change.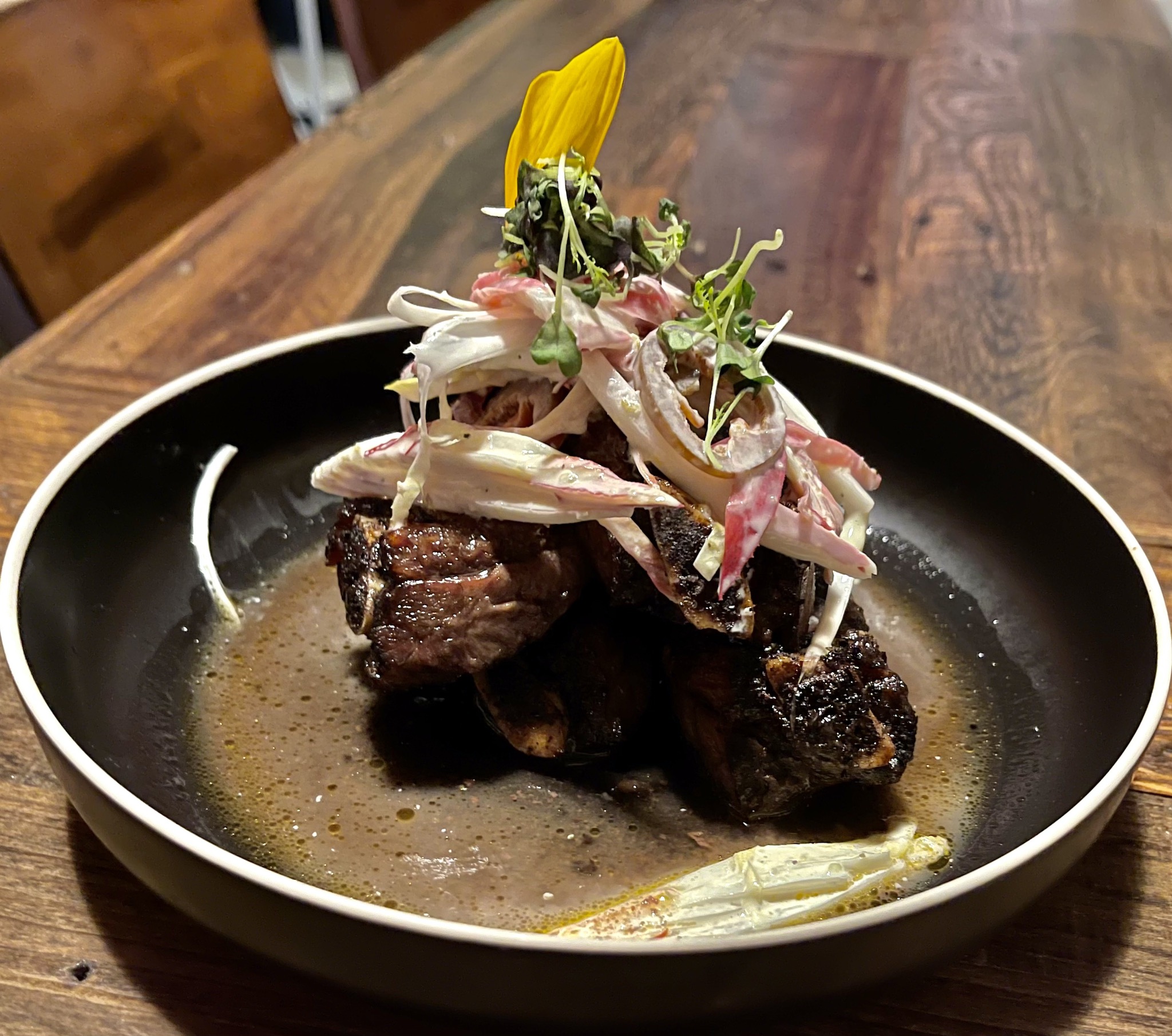 I was eyeing the Chicken Thighs on the menu the first time we were there, so I definitely had to order them this time. They are made with market mushrooms & greens served over a smashed potato and oozing with an umami rich pansauce. We devoured this scrumptious dish.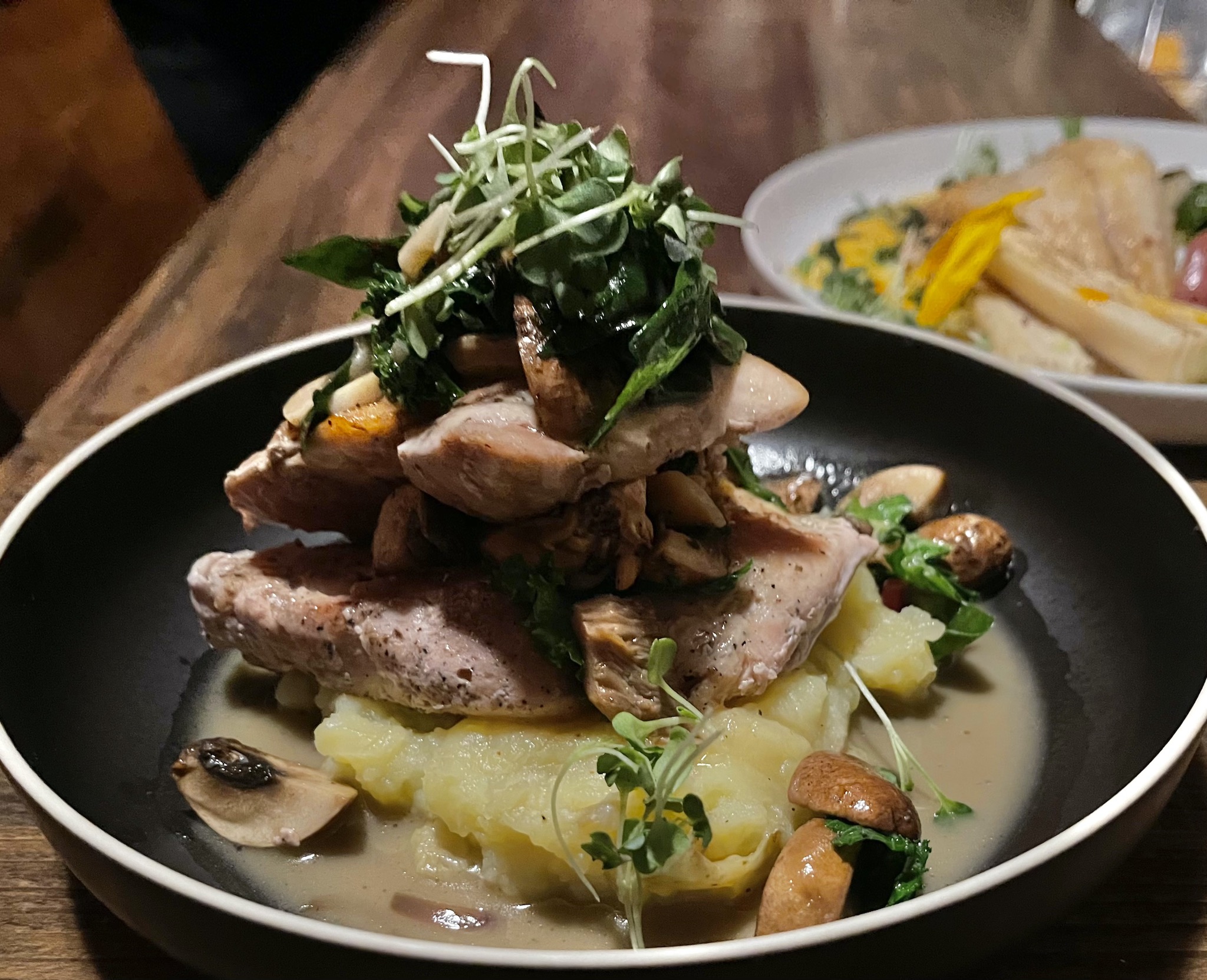 We also ordered the Branzino with carrot soubise, grilled palm hearts, market vegetables and chili oil. Tender, flaky and delicious. In the last few years, Branzino has become one of my favorite types of fish and this did not disappoint. The carrot soubise complemented it perfectly.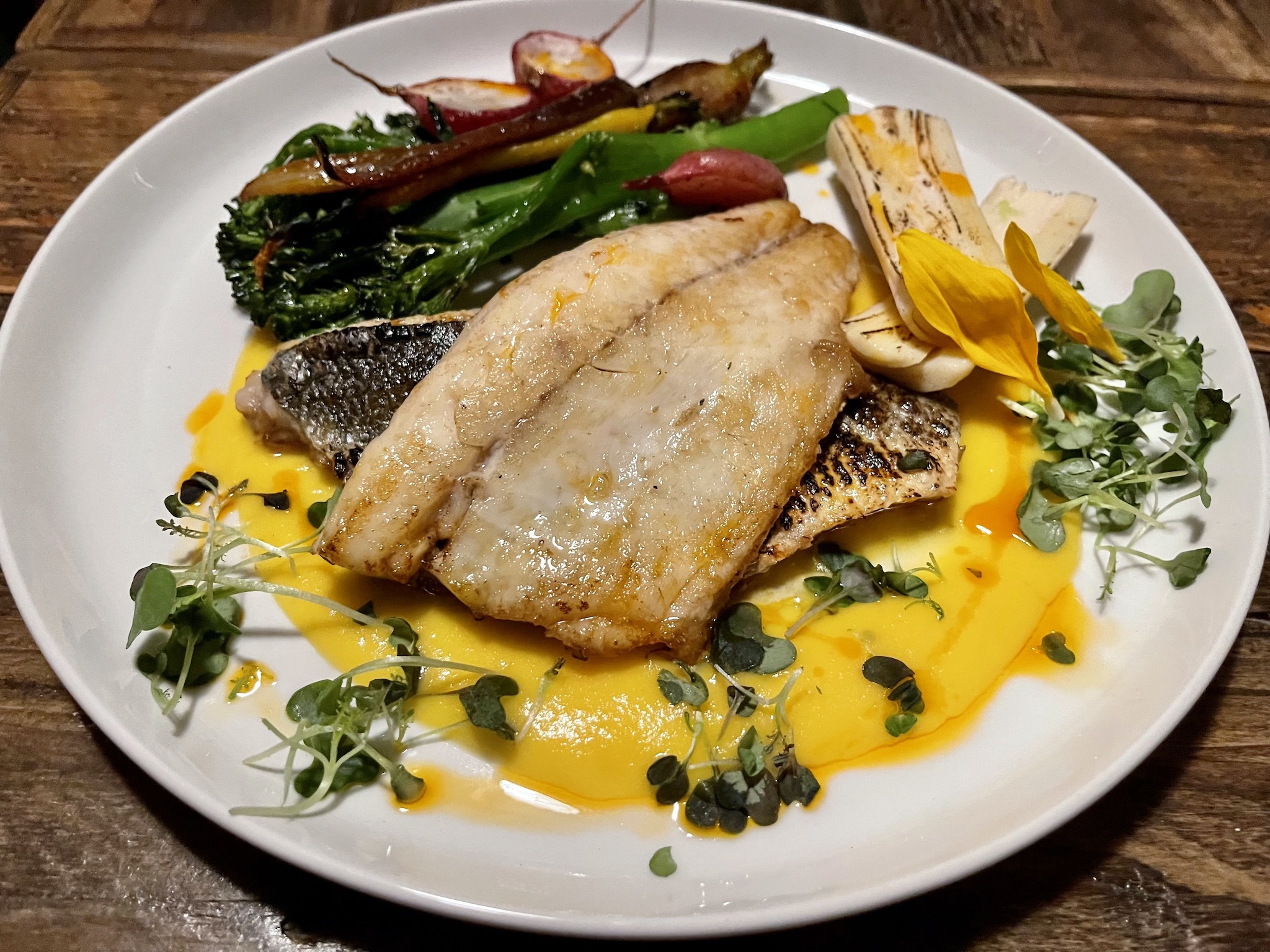 Again I asked about dessert, after our wonderful cheesecake experience and the minute strawberries and cream came out of Dayna's mouth, I was all about it. So simple yet so delectable. Not a chocolate nib was left.
I also asked Dayna if they had a formal menu name for this one and she said if they did it would probably be a…Dessert Board – House made whipped cream, served with a selection of fresh berries, chocolates, and nuts. Topped with berry gastrique and a dusting of powdered sugar.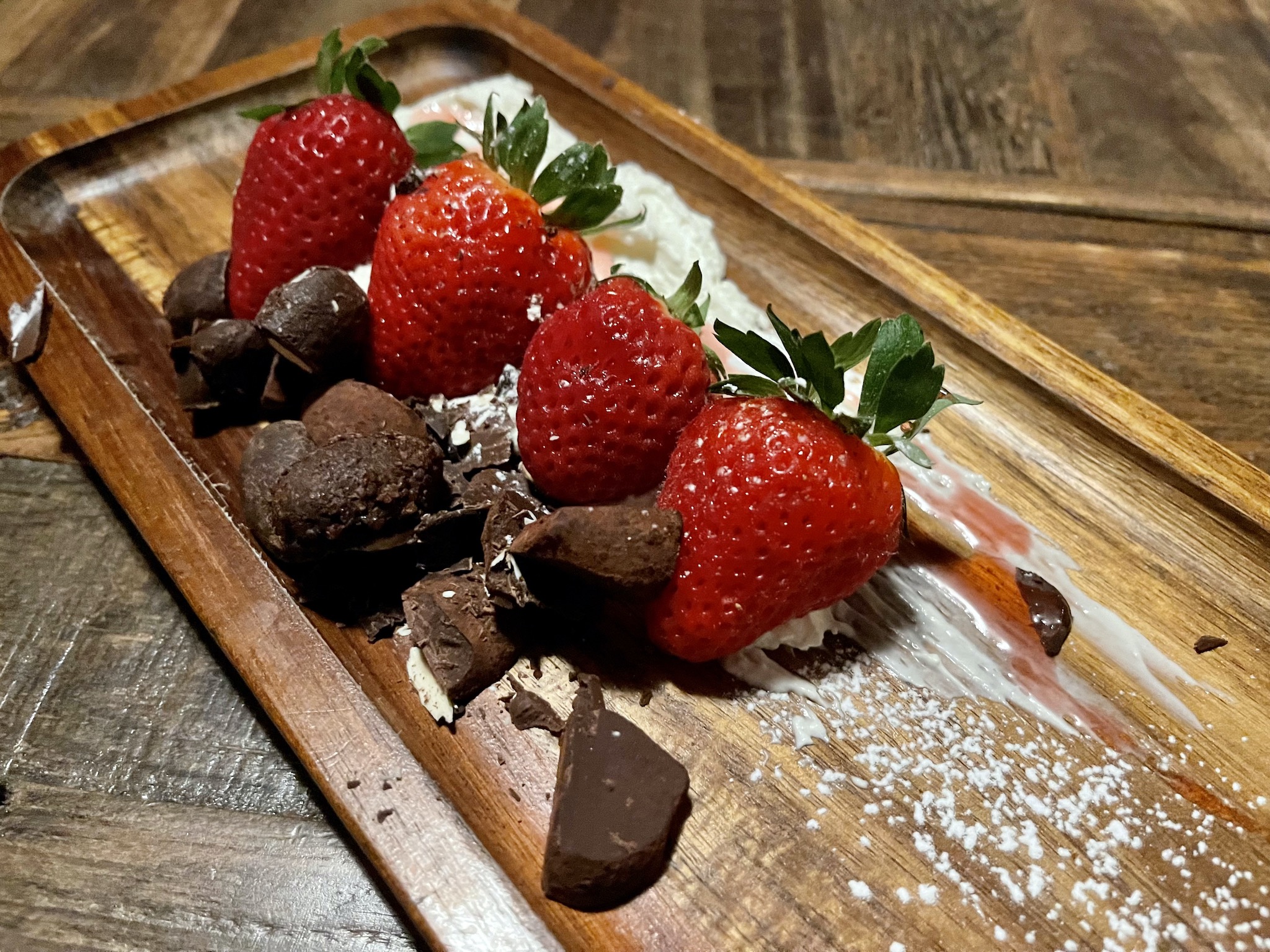 I really can't say enough about this gem of a restaurant. It will be tough to get into it very soon.
The current menus, which will always be in flux according to the season, are shown below. They are open, as of now, Thursday – Saturday 5:30 – 9:30pm. Make your reservation today by calling 727-202-0263 or emailing info@calidastpete.com.
Oh, and if you're wondering about the name – California + Florida = Calida. Ian is originally from St. Pete. Dayna is from California. They met in a restaurant in California, and then moved to St. Pete. Ian has been involved in the St. Pete restaurant scene since the 1990s. Dayna worked at Z Grille and IL Ritorno.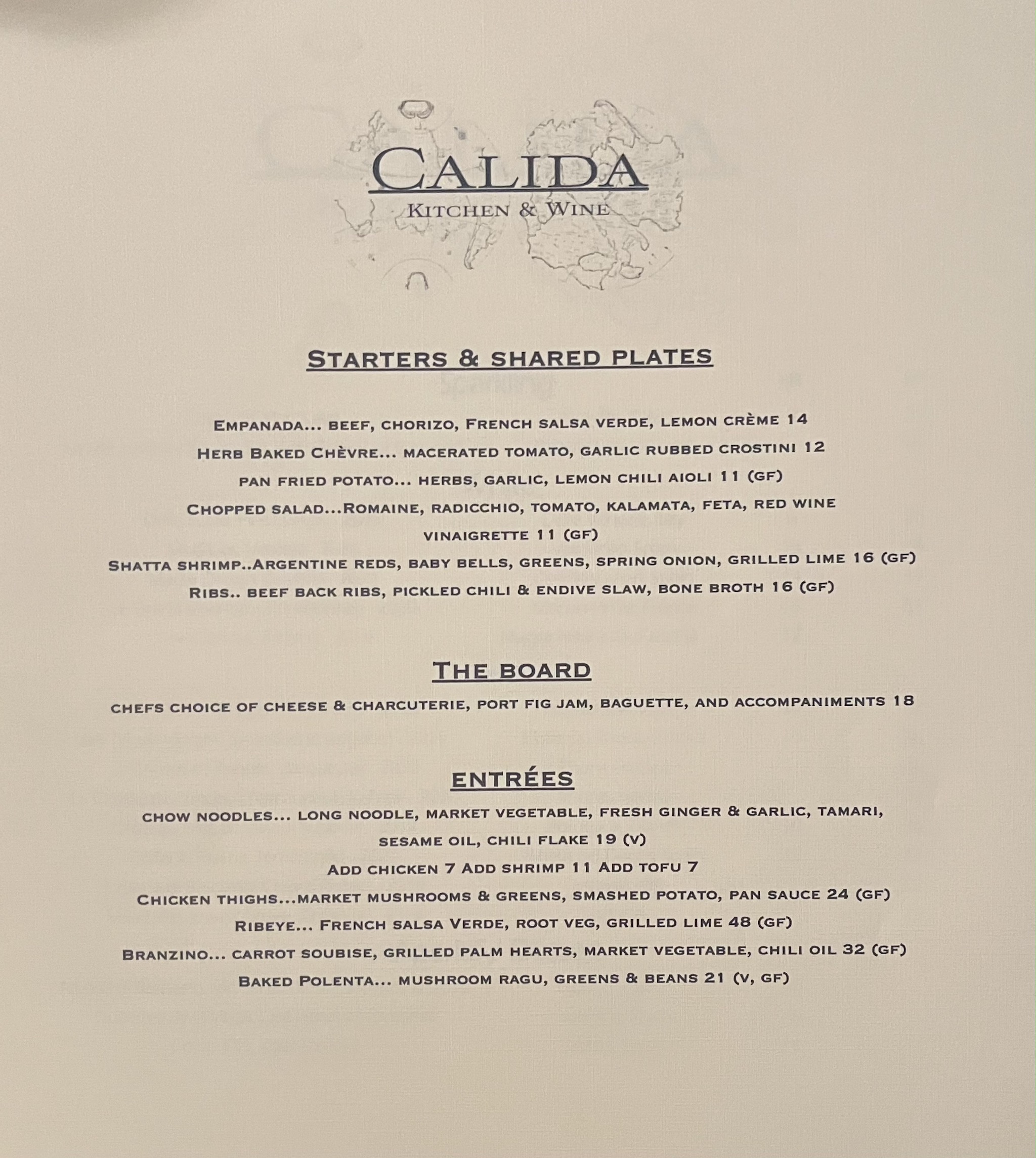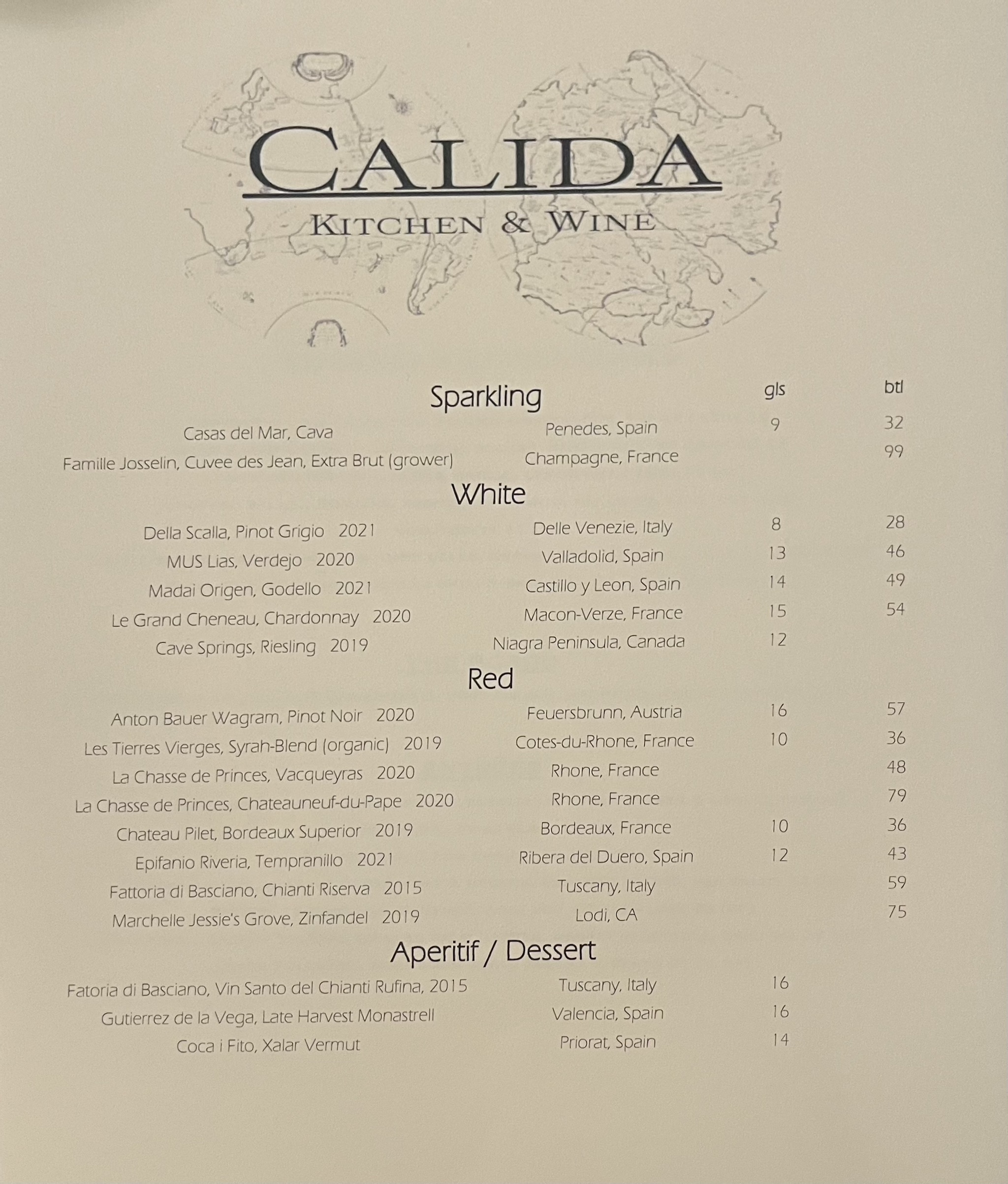 Globally inspired kitchen owned and operated by the chef.
DISCLAIMER: Kevin, Lori, Abby, Haley, & Lindsey do not dine anonymously (this would be impossible) and we sometimes get free food (though never expected). However, we dine with the locals and we support our own. You will always get honesty in a respectful manner. We do not include any large national or regional chains in our ratings and reviews. We focus on independent locally owned eateries exclusively.

PLEASE NOTE: Reviews reflect a certain moment in time. Some restaurants stay extremely consistent over many years, and some change for the better or worse. Some things that may change are: chefs, recipes, food suppliers, ingredients, philosophies, ownership, etc. We always hope that you have the same good, or great experience we had.
More Foodies News, Reviews & Recipes