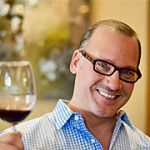 Kevin Godbee · Aug 15, 2016 · 2 min read
Cassis American Brasserie is one of mine and Lori's favorite places for two things - the late-night, end-of-night stop for drinks - frequently a Bramble ... but what we REALLY REALLY LOVE (aside from Elliot & Rachel) is Breakfast / Brunch!
First of all, they open at 8am seven days a week. Hey, we're middle-aged. It doesn't matter if we had 19 drinks each the night before, and went to bed at 2am. We are awake and hungry at 8am. So, thank God for Cassis's early hours.
One of my all-time favorites is the Andouille Sausage & Shrimp Ragout with roasted red pepper, caramelized onion, cheddar cheese grits, and scallions. This is a tasty treat for the hearty appetite. I shouldn't have to say that the grits are real cooked grits, and not instant, but unfortunately (and I won't mention any names) there are actually some places around here that advertise themselves as a "breakfast" place and they freakin' have instant grits! That should be against the law!
One of the best kept secret SIN-sations in DTSP is Cassis' Breakfast Sausage! OH ... MY ... GOD! Crispy on the outside, soft, chewy, and succulent on the inside, perfectly salty and greasy overall. They are a perfect hangover cure, but a hangover is not required to go to sausage heaven with these.
Here's another thing that should be illegal if you promote your establishment as a breakfast or brunch place - No fresh-squeezed orange juice. I mean we're in Florida for Christsakes!
The Fresh-Squeezed Orange Juice at Cassis is so good and chilled just right - it's sooo refreshing and energizing.
But if you really want to get energized have a Triple Caffè Latte along with it just like I do. It's excellent coffee.
When I am not hungry enough for the Andouille Sausage & Shrimp Ragout with Cheese grits, I just get the Cheddar Cheese Grits side item and share the amazing sausage with Lori.
And when I want something different, I get the Jumbo Lump Crab Cake Benedict. Mmm Mmm!
So break the fast at Cassis! You'll be glad you did.
What are your favorite dishes there?
Tell us what you think in the comments below, or follow the link to the listing in the restaurant guide to make your own review.
Here's the Cassis Yelp Listing and Reviews
Cassis American Brasserie
170 Beach Dr NE
St. Petersburg, FL 33701
(727) 827-2927
http://www.cassisab.com/
OpenTable Reservation
Make a reservation right now, and tell them that St. Petersburg Foodies sent you!