Fill Your "Copa" at St. Pete's Newest Wine Bar!
Fill Your "Copa" at St. Pete's Newest Wine Bar!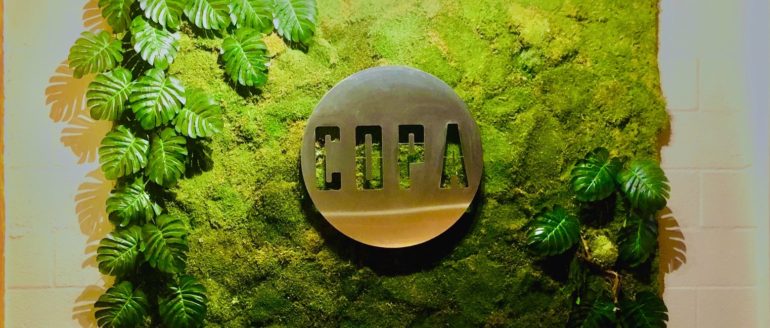 Set in downtown St. Petersburg's vibrant Edge District, Copa – translating to "cup" in Spanish – is the neighborhood's latest wine, beer and cocktail bar, offering up an International list of libations and an eclectic array of globally-inspired tapas and light bites.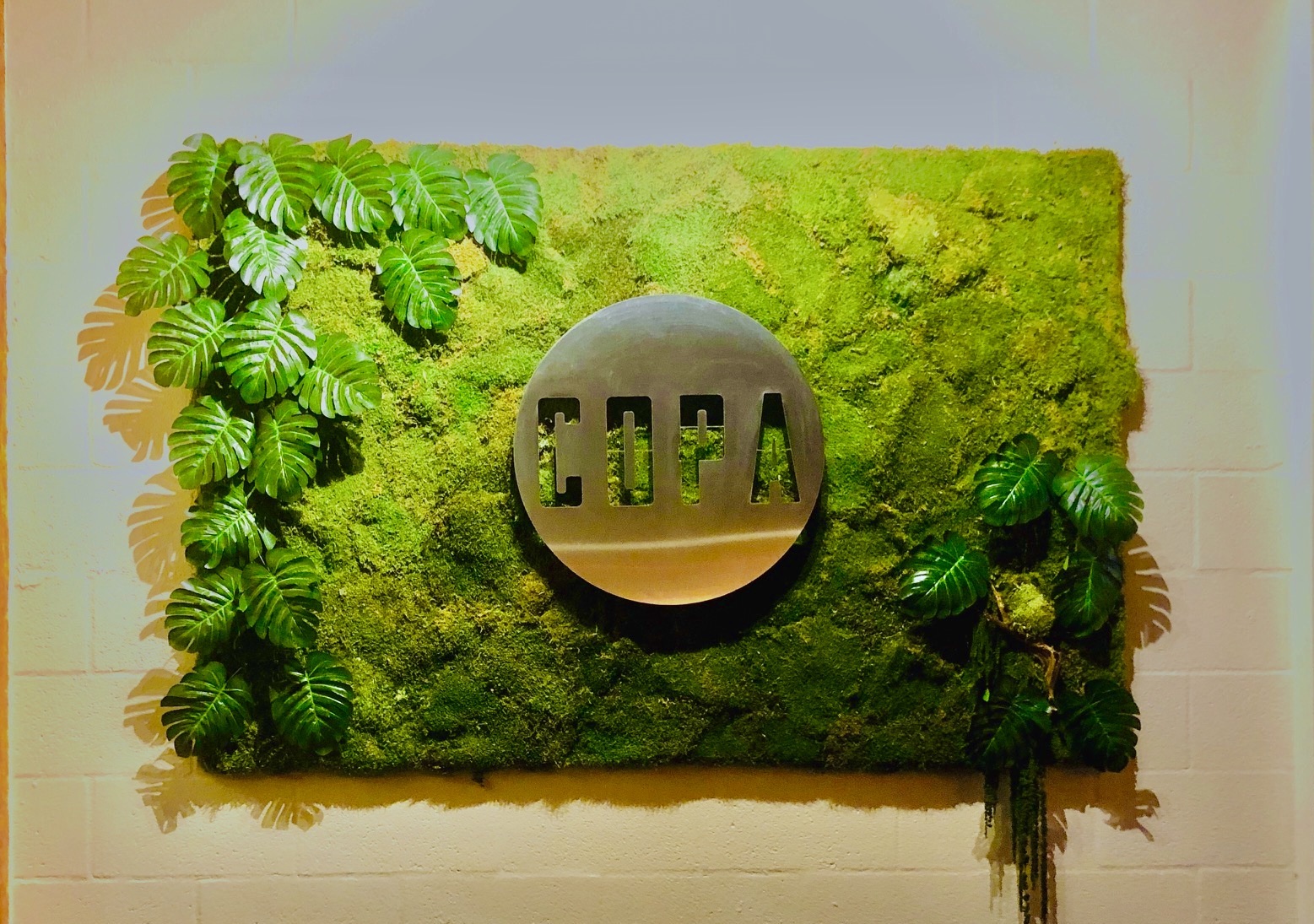 Copa boasts a tropical ambiance, inspired by the hip Coastal-European cafés and lounges typically frequented by trendy patrons across the pond. Chilled electronic beats, lush indoor plants and dim lighting create the perfectly curated vibe, with a contemporary yet minimalist lounge feel. Seating options include sleek and breezy outdoor sofas, intimate interior tables, as well as full-bar service, perfect for couples or groups.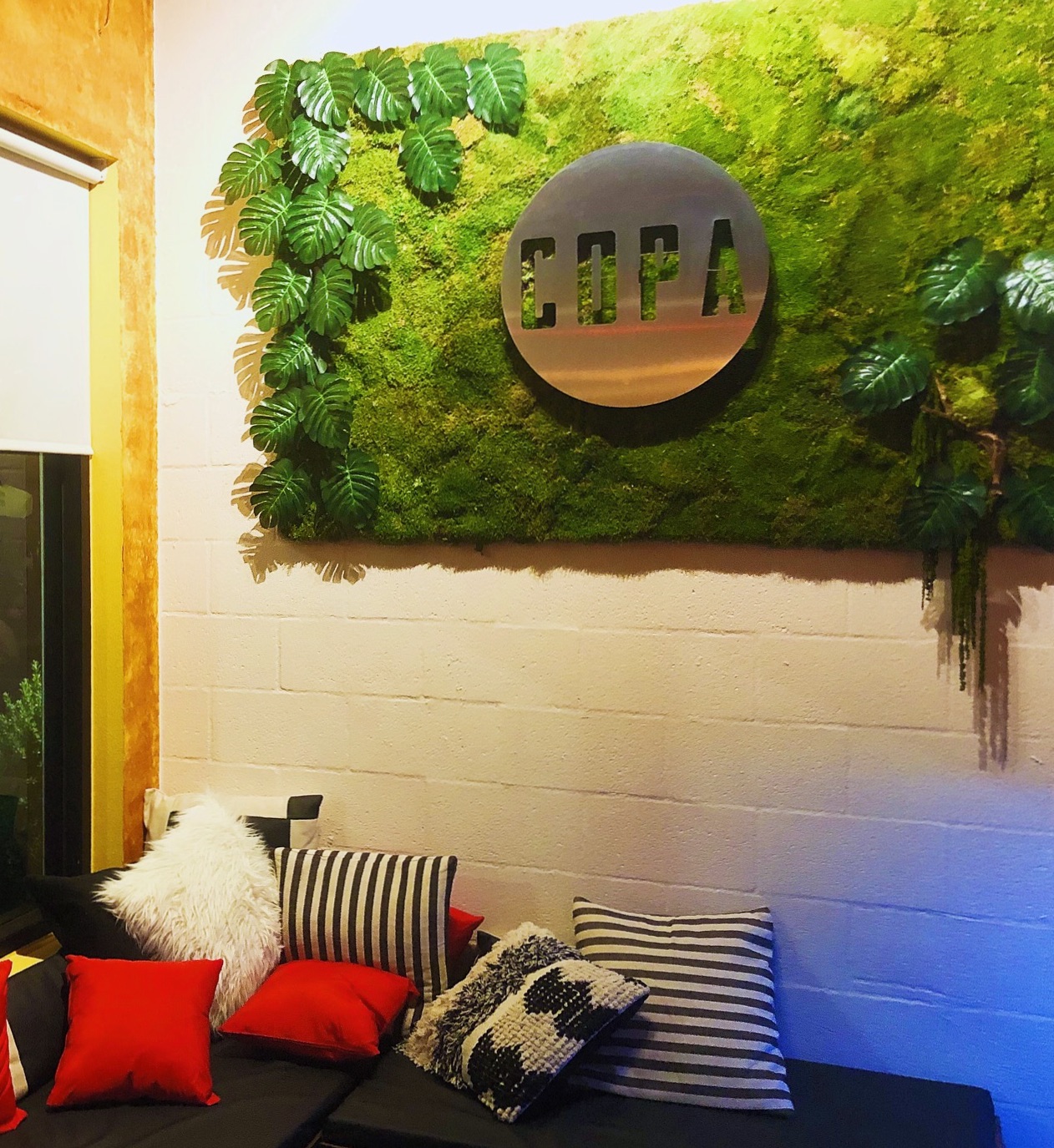 The energy feels fresh to the area and is the brainchild of local born brothers Maxim and Sébastien Thurière, who have both returned to live in St. Pete after experiencing travel and life abroad. The handsome co-founders' passion for all things culinary and culture is palpable, as perceived by the chic and eclectic globally-inspired décor and their dedication to curating the perfect atmosphere for guests.
"We wanted to bring a unique take on the typical wine-bar experience," shared Sébastien, as he thoughtfully poured our wine and placed our meal. Sébastien previously held the title of professional soccer player in Asia, prior to returning back home to Florida to create Copa. Brother and co-founder Maxim is also a world traveler, artist and Creative Director, with experience working with international brands around the globe. "Not only do we offer a wide variety of curated wine and beers from around the world, in addition to spirit-forward wine cocktails, Maxim and I wanted to fuse our world-travels into the menu to provide a culturally focused and delicious dining experience."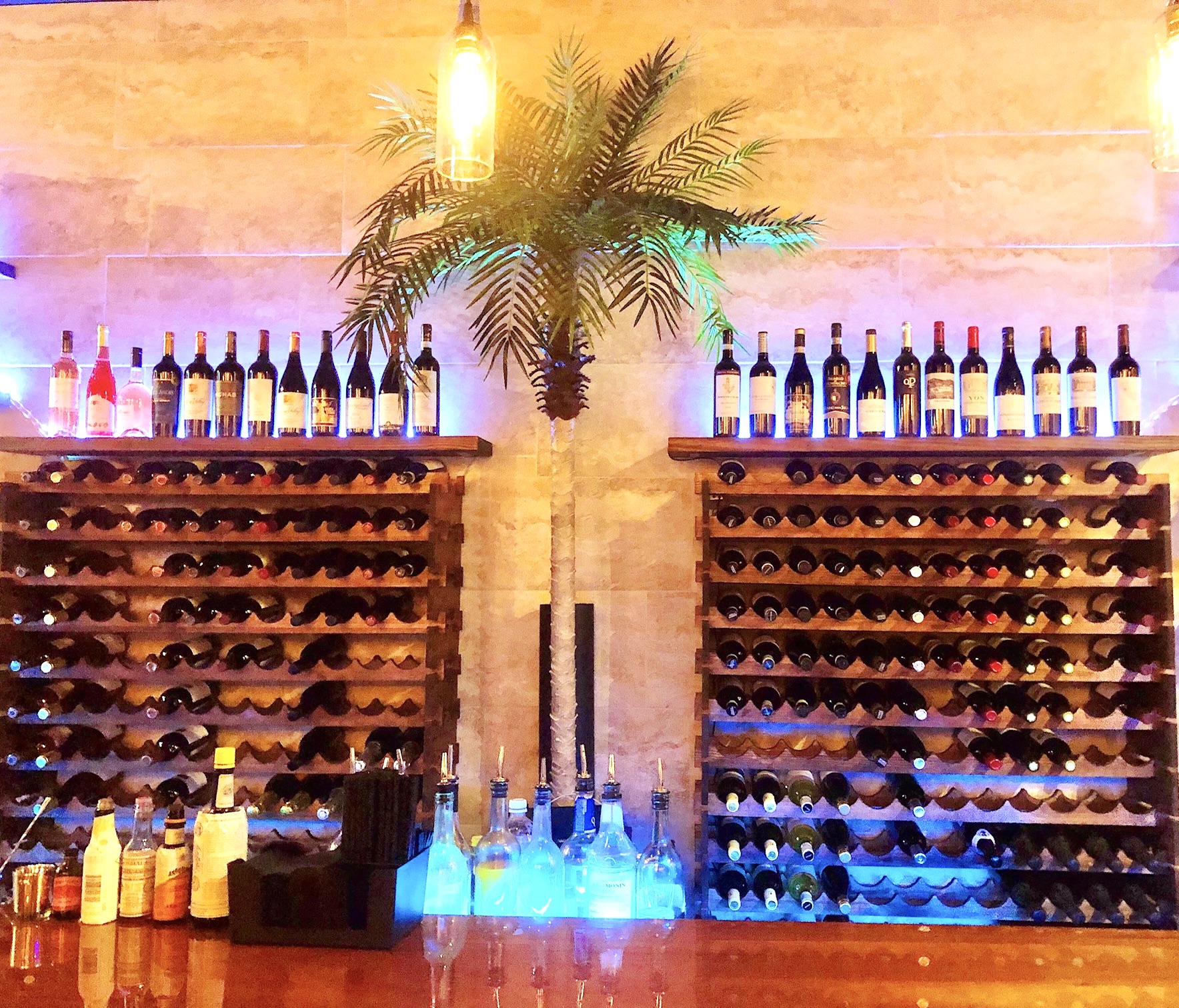 The wine-o, beer connoisseur and cocktail lover will all certainly be appeased and will carry a full cup at the namesake Copa. From white wines originating from New Zealand, Italy, Germany and France and an upscale array of reds from around South America, Europe and the US, to flavorful cocktails, such as the La V en Rosie, featuring rosé, Cocchi, club soda and rosemary or the Blue Talula, with sauvignon blanc, WB Gin, Lillet, lemon, soda and Blue Curacao there is surely something for everyone. For a pick me up, check out the Black Irish, mixed with Guinness, WB Rum, Autumn Spices, Bitters and Colombian Café. Not only does the array of wine and beer pair perfectly with the tapas menu, the wine-infused cocktails provide a tasteful twist on tapas pairings.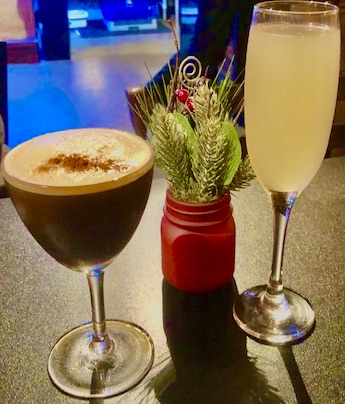 The small bites menu is absolutely perfect for diners looking to share and pair. The brothers chose to focus on quality libations and a Mediterranean menu, with tapas and small dishes made for sharing, in place of large entrees. A bit of background on Mediterranean cuisine, the origin is the product of shared cultures and culinary traditions throughout Southern Europe, North Africa and the Eastern Mediterranean region. This collaborative cuisine is influenced by diverse groups and cannot be traced back to one individual culture or country and showcases a huge variety of cooking. This family-style approach makes these dishes perfect for foodies who love to share!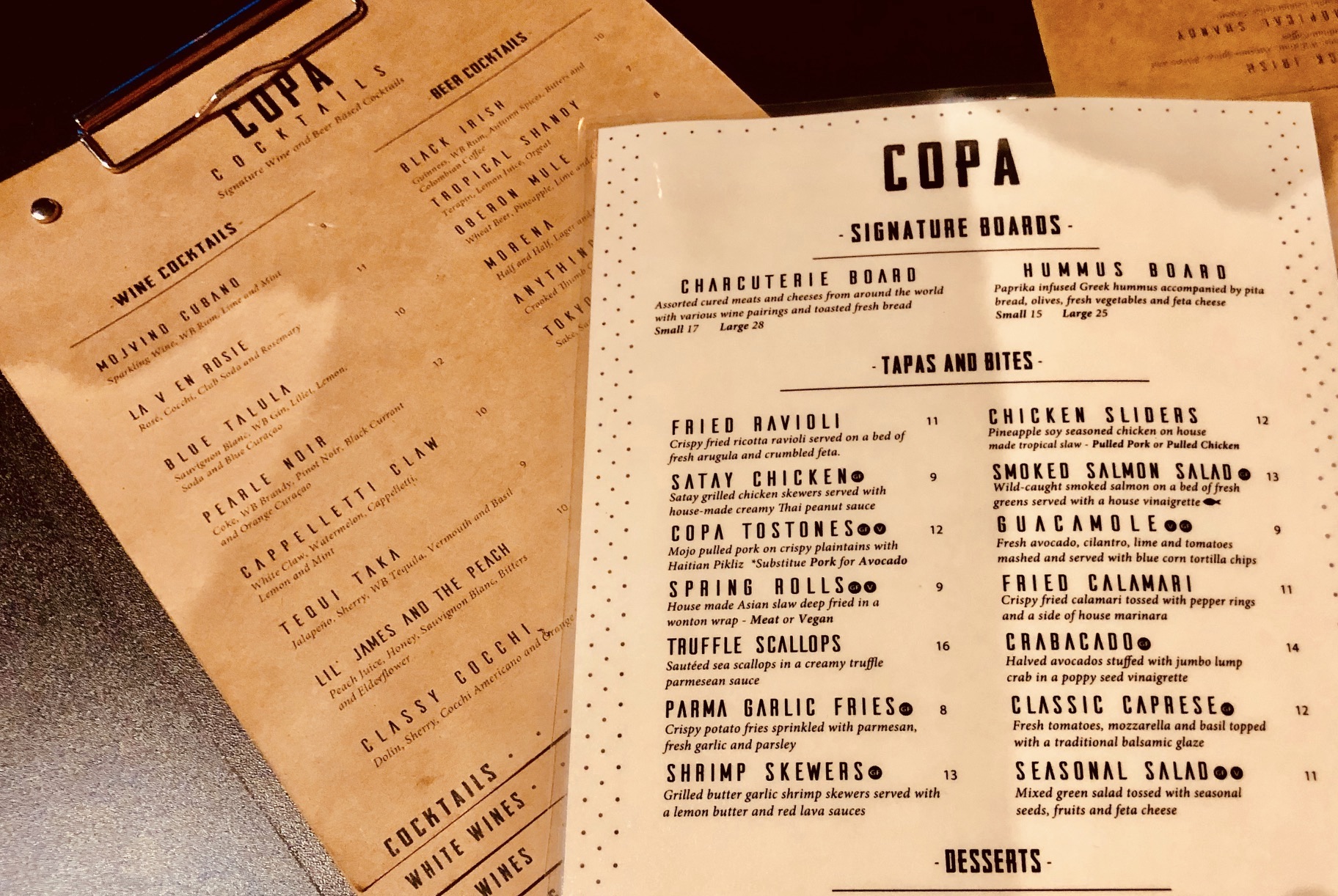 Copa's dishes take diners around the world, with seasonal and local ingredients at the forefront. The "Crabacado" features fresh halved avocados, stuffed with jumbo lump crab and drizzled with a savory poppy-seed vinaigrette. Try a bite of pescatarian candy with the Truffle Scallops, featuring generous portions of tender scallops in a creamy truffle parmesan sauce, laid on thick cuts of French bread and field greens. Although the fish was absolutely delectable, the bread felt a bit soggy due to the richness of the poured sauce. However, the scallops really stole the show.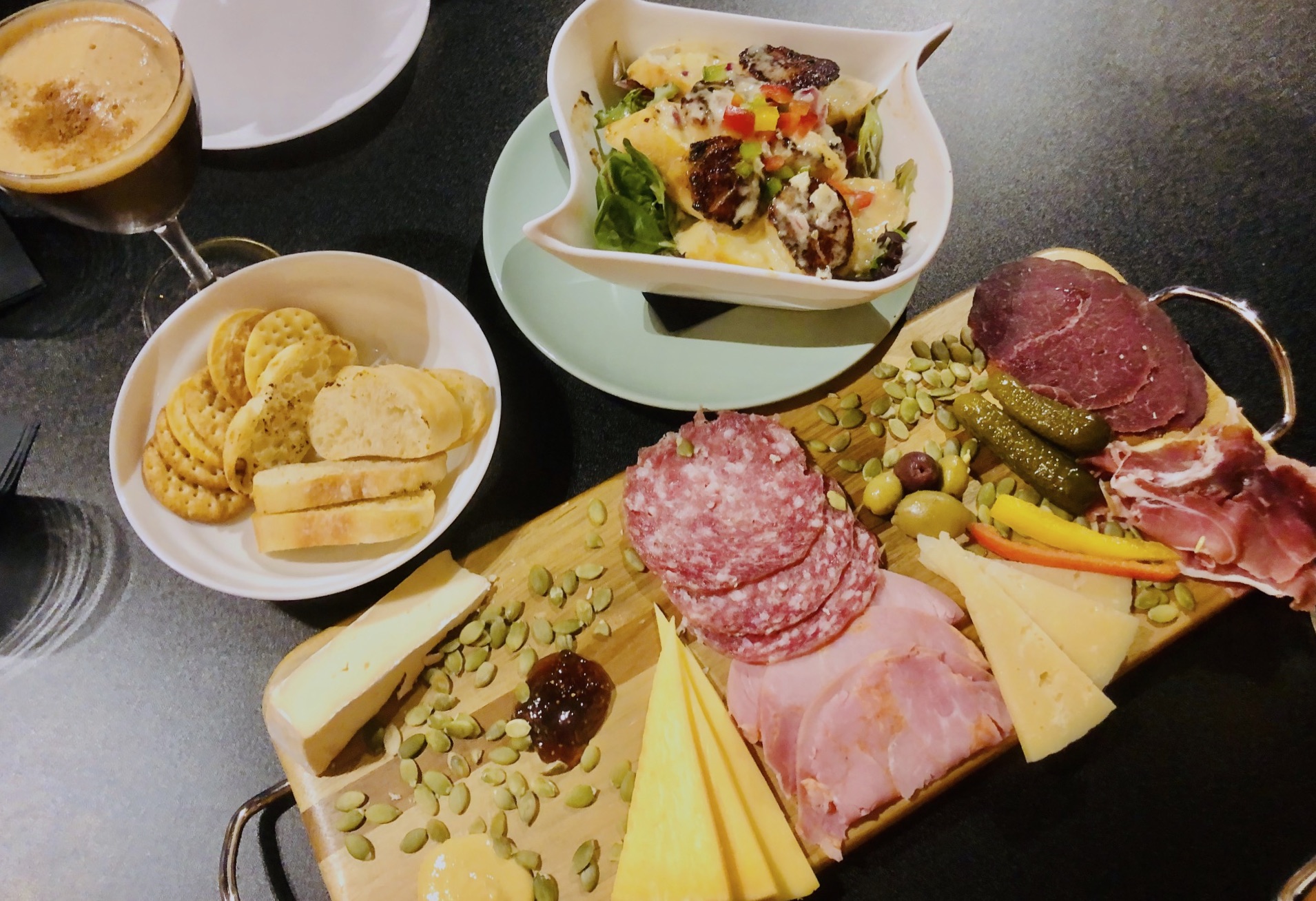 Extra group-friendly options include the massive Charcuterie or Hummus Boards. We ordered the small Charcuterie Board for two (in addition to the scallops + crabavacado + bottle of wine) and could barely finish the board off, as it was such a generous portion of meats and cheeses!
Although too stuffed to try, our neighbors raved about the Copa Tostones, featuring crispy "tostones," or smashed and fried-golden plantains, topped with citrusy mojo marinade and pulled pork, as well as the smoked salmon salad and shrimp skewers with a spicy garlic lemon butter sauce. Satisfy your sweet tooth with a Latin-American twist on Affogato, topped with a shot of Colombian espresso over a scoop of vanilla ice cream, the house Crème Brûlée or the flourless Chocolate Torte. Hungry eaters (or bar crawlers) can also visit for the late-night menu offering from 11pm to closing, which changes depending on availability.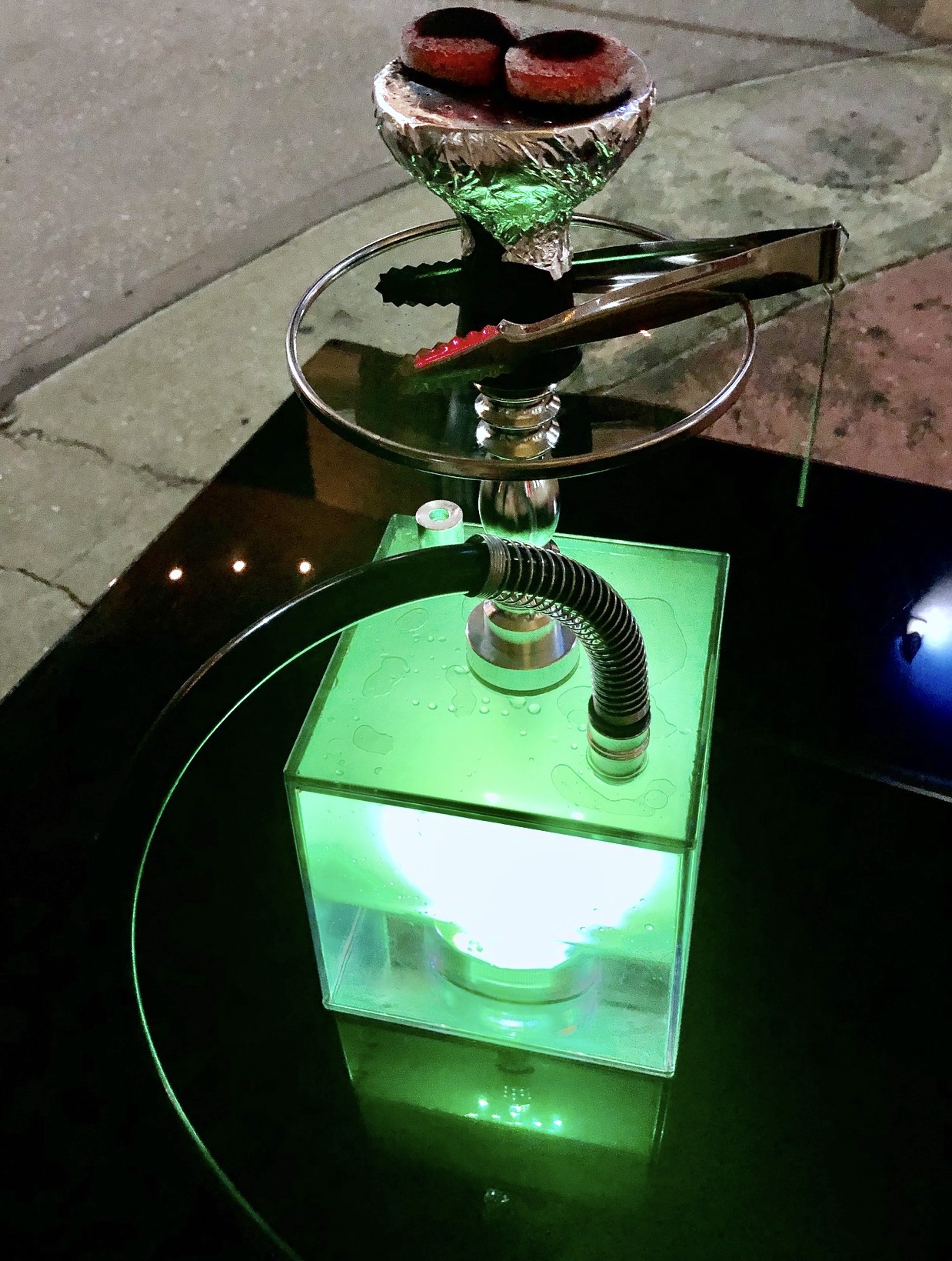 Opting to wet our whistle for dessert, we made our way to one of the outdoor sofas for a bit of after-dinner people watching, champagne and hookah.
For a bit of background, Hookah smoking is a unique way of enjoying flavored tobacco that is rooted in vibrant cultural traditions going back to at least the 14th century throughout Western Europe and the Middle-East. The hookah is a water pipe filled with shisha, or tobacco, that is typically mixed with honey, molasses, sugar and dried fruit for a sweet herbal smoke, that is traditionally enjoyed as an after-meal digestif. At Copa, guests are offered a wide variety of hookah flavors, from strawberry, mint, blueberry or mango to name a few, to enjoy with food and drink or on its own. The smoke is thick, sweet and fun to play with, while culturally believed to aid in digestion.
Having just opened in late October, Copa has already made waves on the St. Pete nightlife scene, consistently bringing in a hip crowd of trend-setters and intrigued foodies. We're hoping to see Copa's diverse, yet condensed tapas menu expand as the location grows and gains notoriety as the latest local hotspot to check-out!
Copa is a brand-new globally-inspired wine-bar located in the heart of Downtown St. Petersburg's Edge District, serving as the perfect spot for wine and beer lovers and small plate enthusiasts, with a trendy and upbeat environment.
DISCLAIMER: Kevin, Lori, Abby, Haley, & Lindsey do not dine anonymously (this would be impossible) and we sometimes get free food (though never expected). However, we dine with the locals and we support our own. You will always get honesty in a respectful manner.

PLEASE NOTE: Reviews reflect a certain moment in time. Some restaurants stay extremely consistent over many years, and some change for the better or worse. Some things that may change are: chefs, recipes, food suppliers, ingredients, philosophies, ownership, etc. We always hope that you have the same good, or great experience we had.
More Foodies News, Reviews & Recipes