Get Twisted at Twisted Tiki in St. Pete Beach
Get Twisted at Twisted Tiki in St. Pete Beach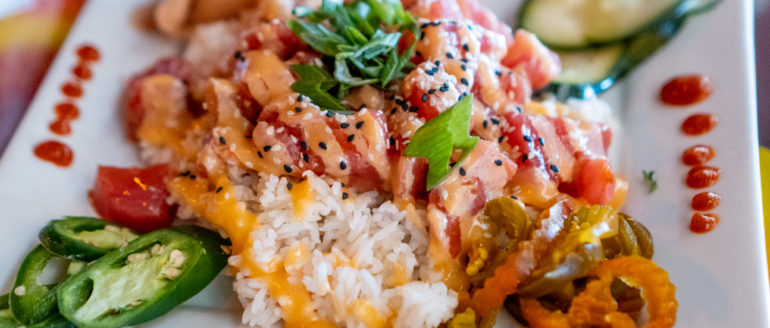 Sometimes you just want to escape to an island paradise away from the crowded beach bars and lucky for us, Twisted Tiki on Corey Avenue has phenomenal tiki drinks and Hawaiian inspired foods that'll transport you to that private island you've been dreaming about.
There's not a bad vibe in sight, just very boozy tiki drinks like their Aloha Punch, in a setting with live music, different events daily and tons of locals. The tiki bar is huge and very fitting for the beachy aesthetic. This casual spot is great for before or after a beach day to fuel up on their delicious food and catch a buzz from the cocktails.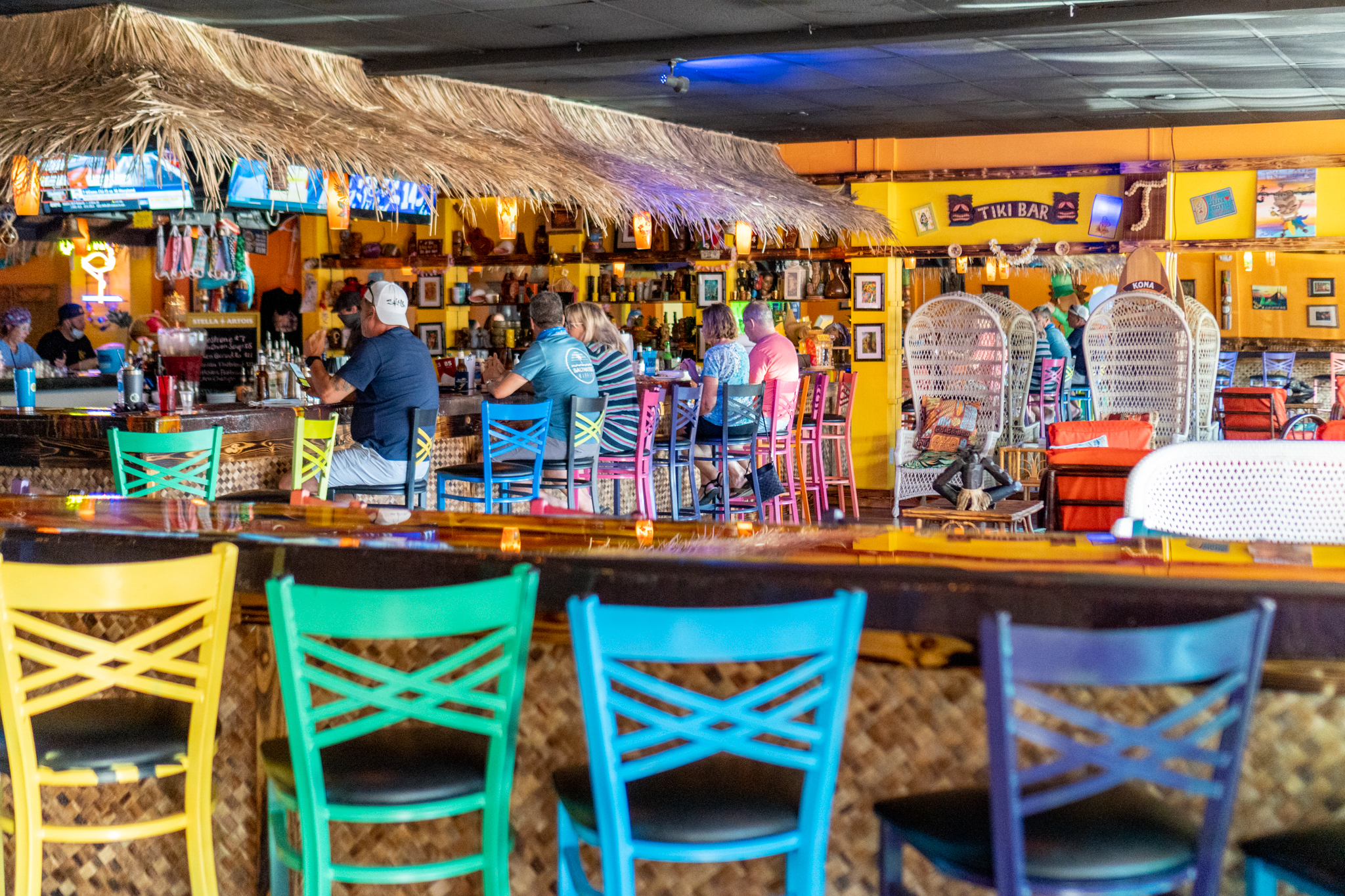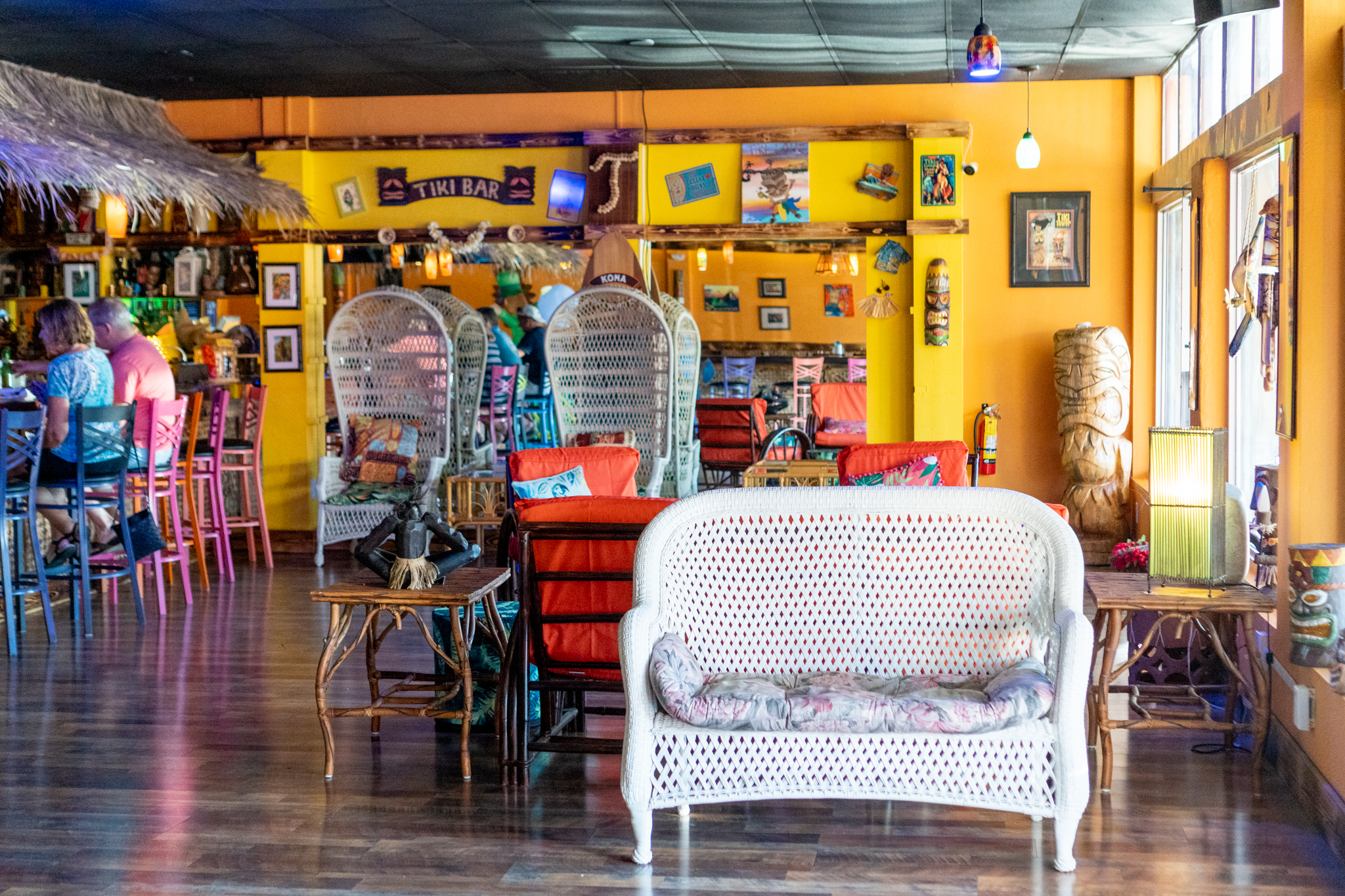 Order a $5 Captain Morgan or $5 Smirnoff for something familiar or grab my favorite, the Aloha Punch, for a fruity dance party in your mouth.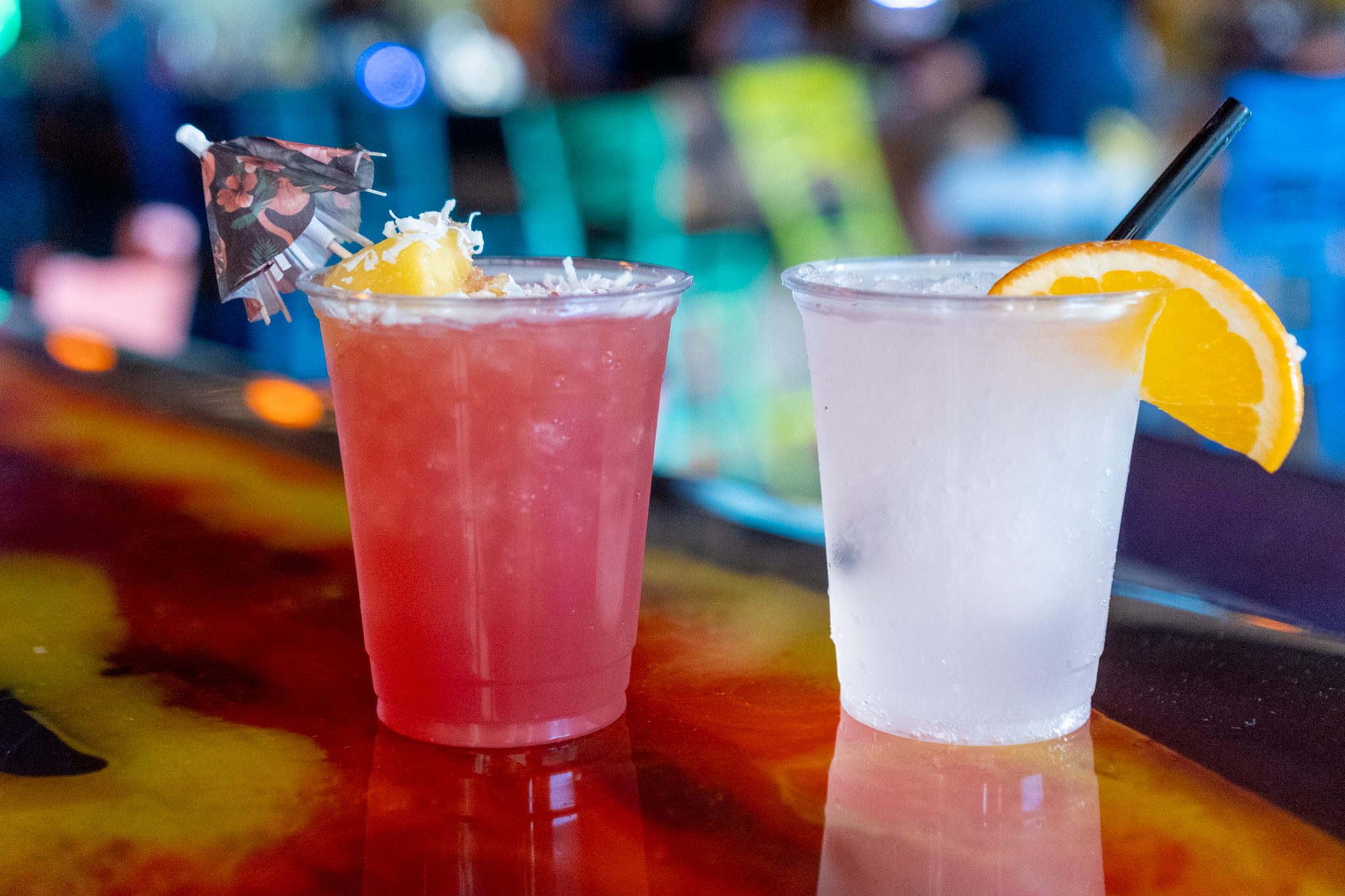 The Aloha Punch is a mix of light rum, pineapple rum and coconut rum with pineapple and cranberry juice topped with fresh coconut flakes and a fresh rum soaked pineapple. If you love a nice sweet drink, this one's for you. If you tend to stay away from fruity drinks, they have a full bar, and wine and beer available too.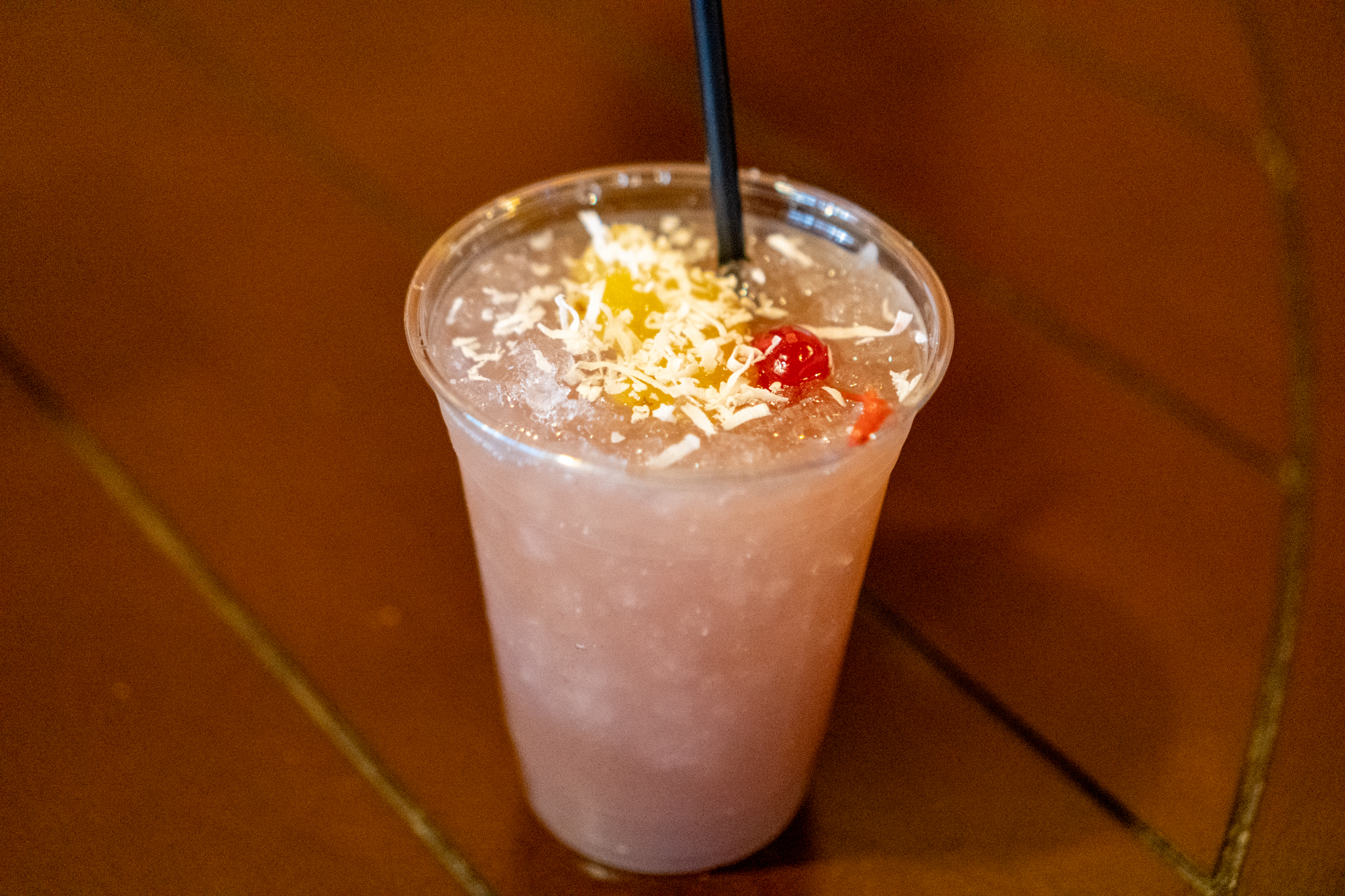 The Hula Punch is my second favorite with Captain Morgan spiced and pineapple rums, peach schnapps, cranberry and pineapple juices garnished with fresh boozy pineapple chunks and cherry. It's very tasty, but not as sweet as the Aloha Punch.
The menu at Twisted Tiki is simple yet the flavors in each dish are outstanding.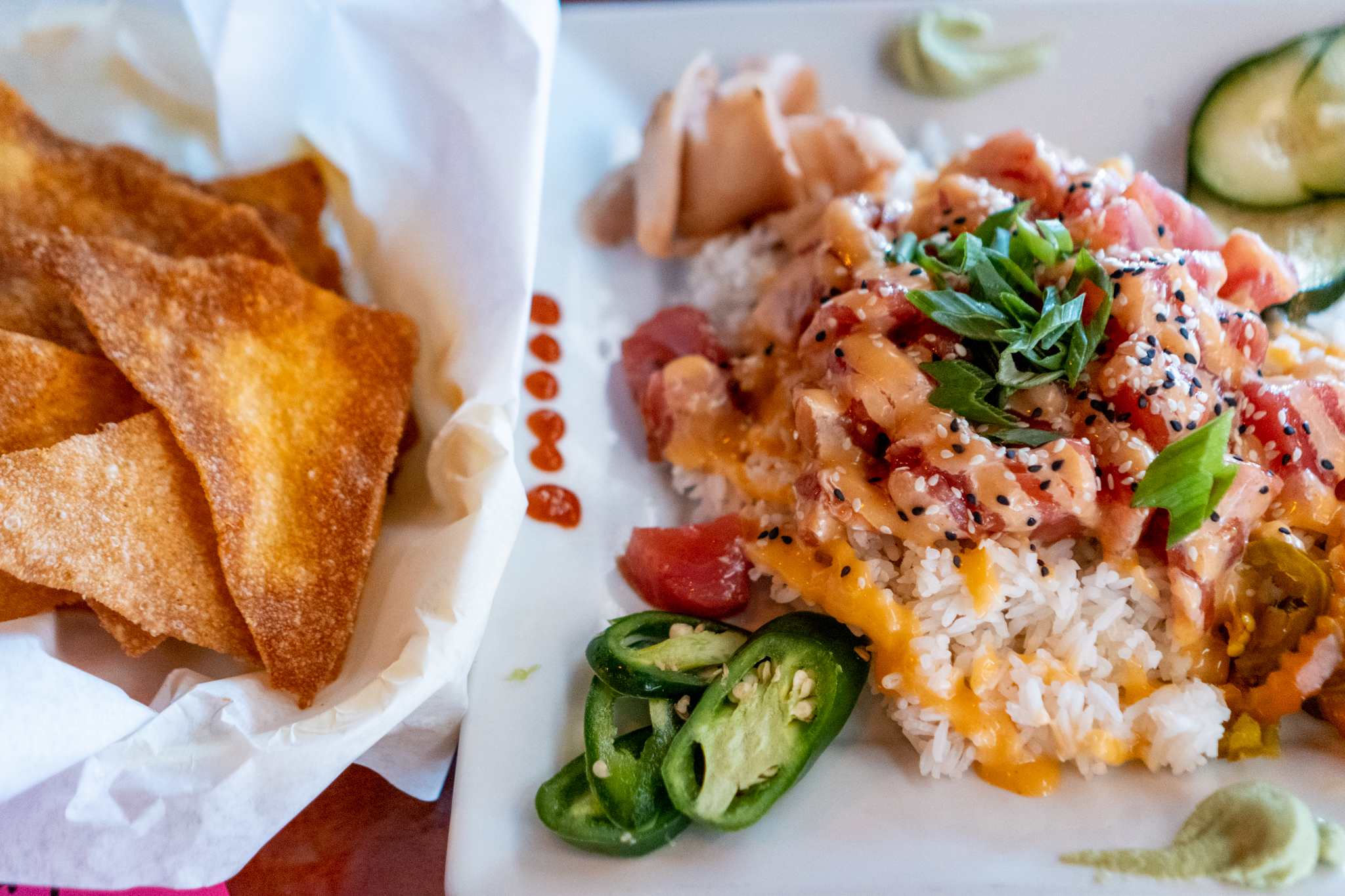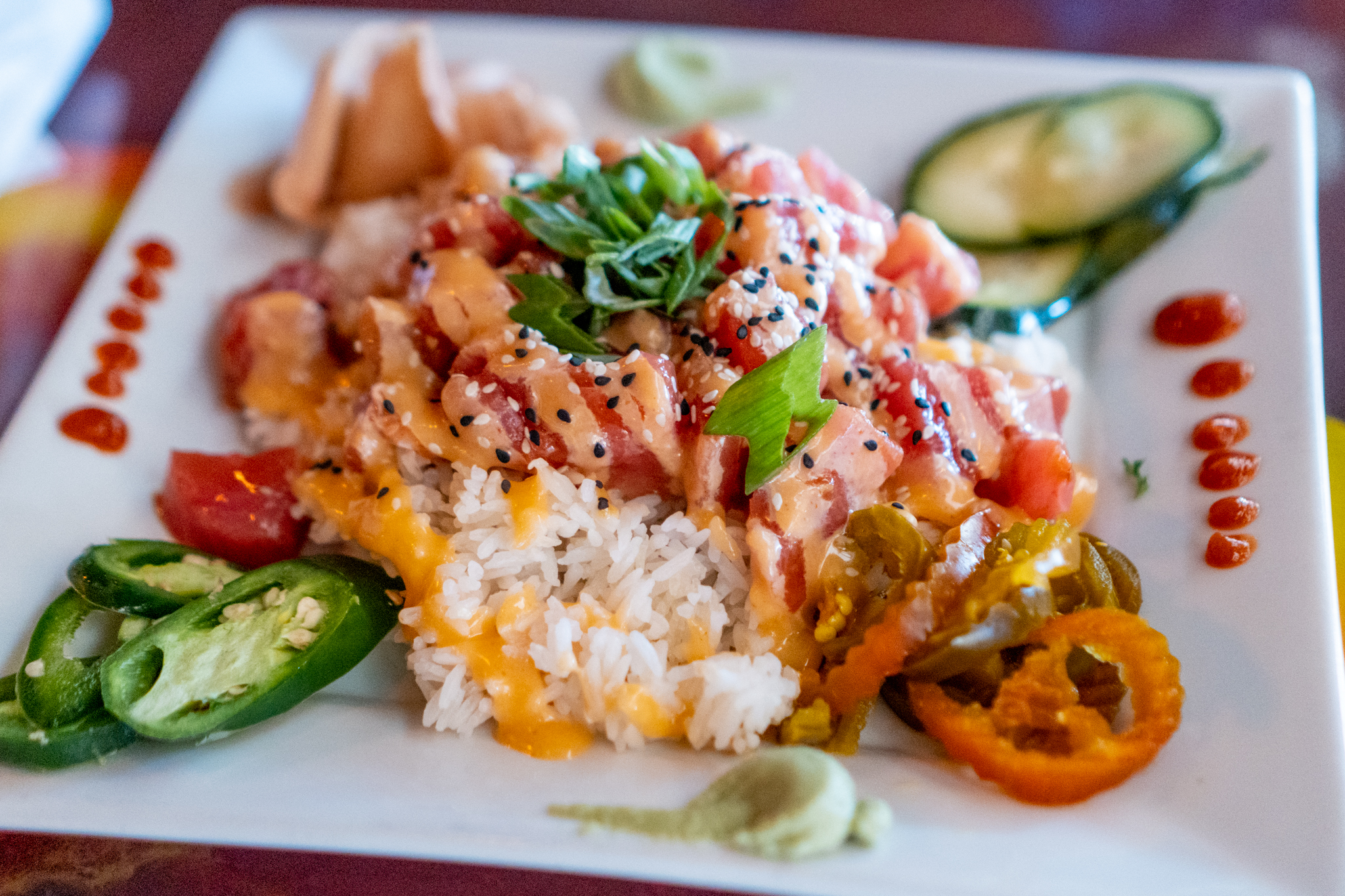 To start, the Twisted Tuna Nachos are by far, my absolute favorite thing on the menu with diced sushi grade tuna over jasmine rice with kimchi, jalapeños, guacamole, pickled cucumbers and homemade wonton chips. The deliciousness of the tuna in each bite was unparalleled. Picture this: the perfect textured tuna, warm jasmine rice, heat from the hot pepper, and a major crunch from the salty wonton chips. Order this and thank me later.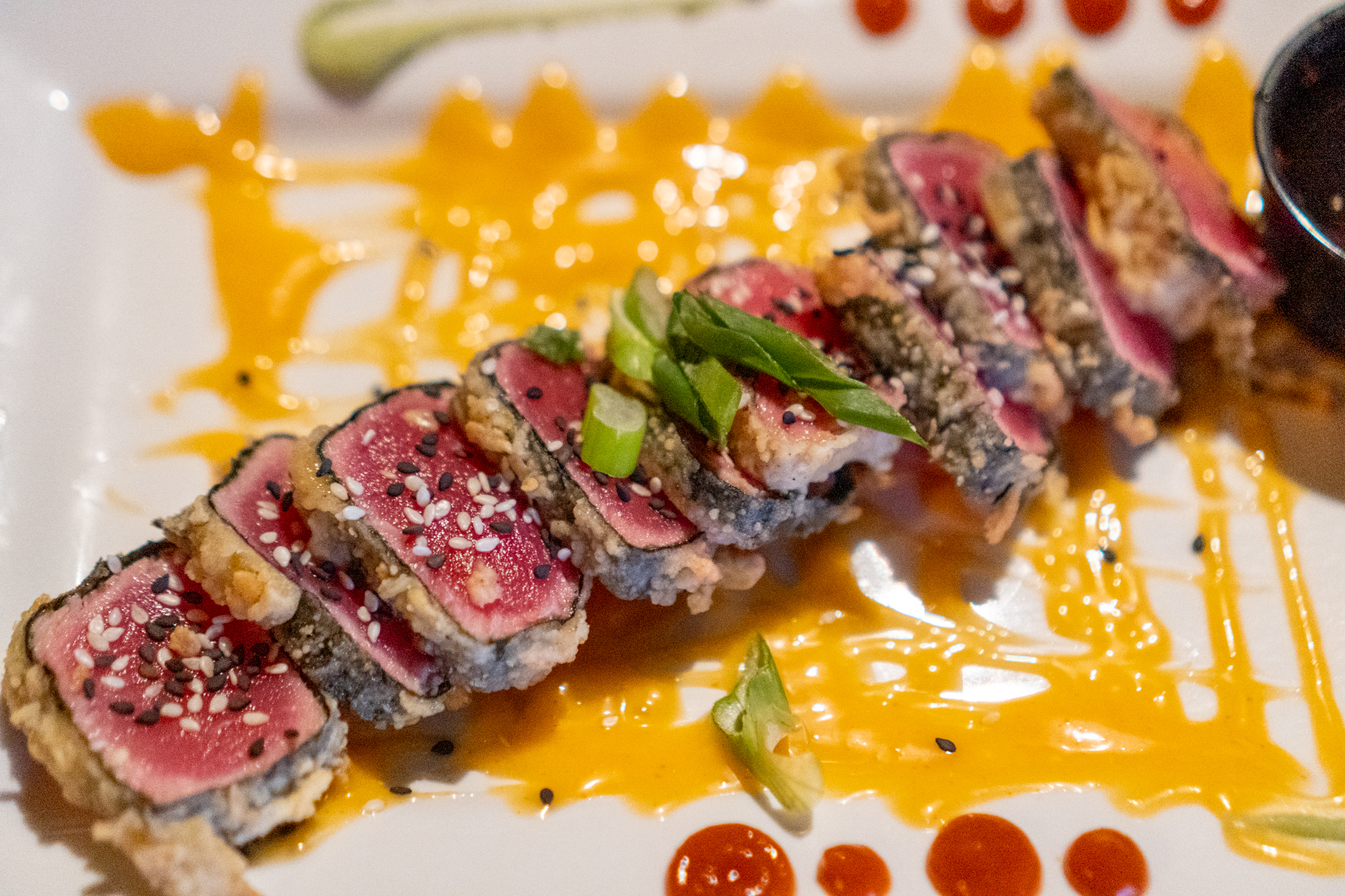 More tuna? Yes, please! The Makai Ahi Tuna is tempura breaded, nori wrapped, ahi tuna with wasabi mayo, soy sauce and sriracha. Again, the freshness here is terrific. I don't know what I loved more, the crispiness from the tempura or the melt in your mouth ahi tuna. Luckily, each bite had both characteristics.
The Tiki Wings blew my mind. You get 10 jumbo wings with homemade ranch or blue cheese and celery, then you pick a fun flavor between mild, med, hot, sriracha lemongrass, sticky, blackened or mango habanero.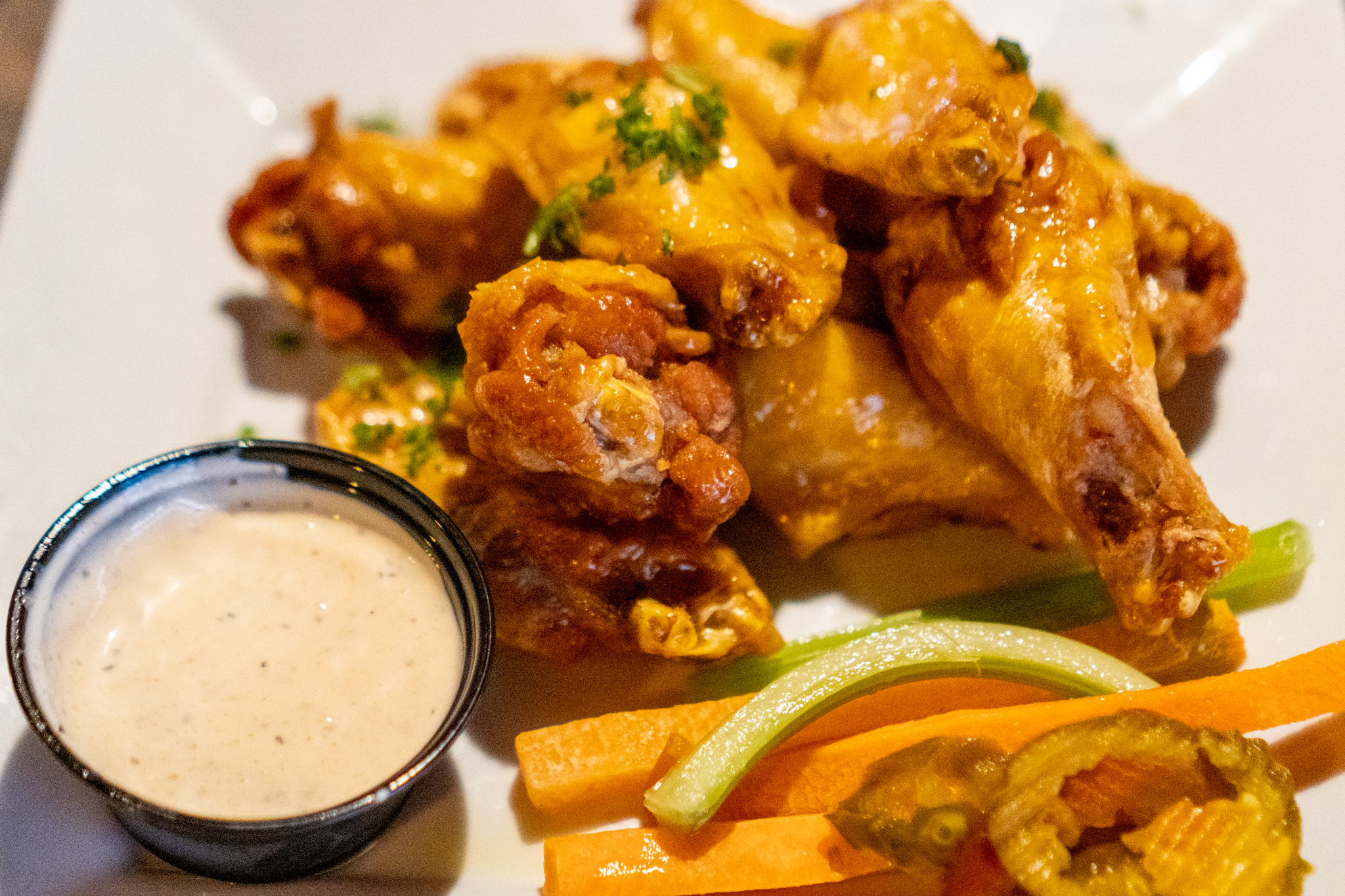 First up, the Mango Habanero Tiki Wings with homemade ranch. The jumbo wings came out steaming hot. I would highly recommend the mango habanero glaze, it was phenomenal with a slightly sweet and light kick mix. The chicken fell off the bone so nicely, I was very impressed. Homemade ranch always tastes better in my opinion, and this tangy one was so good I could have drank it.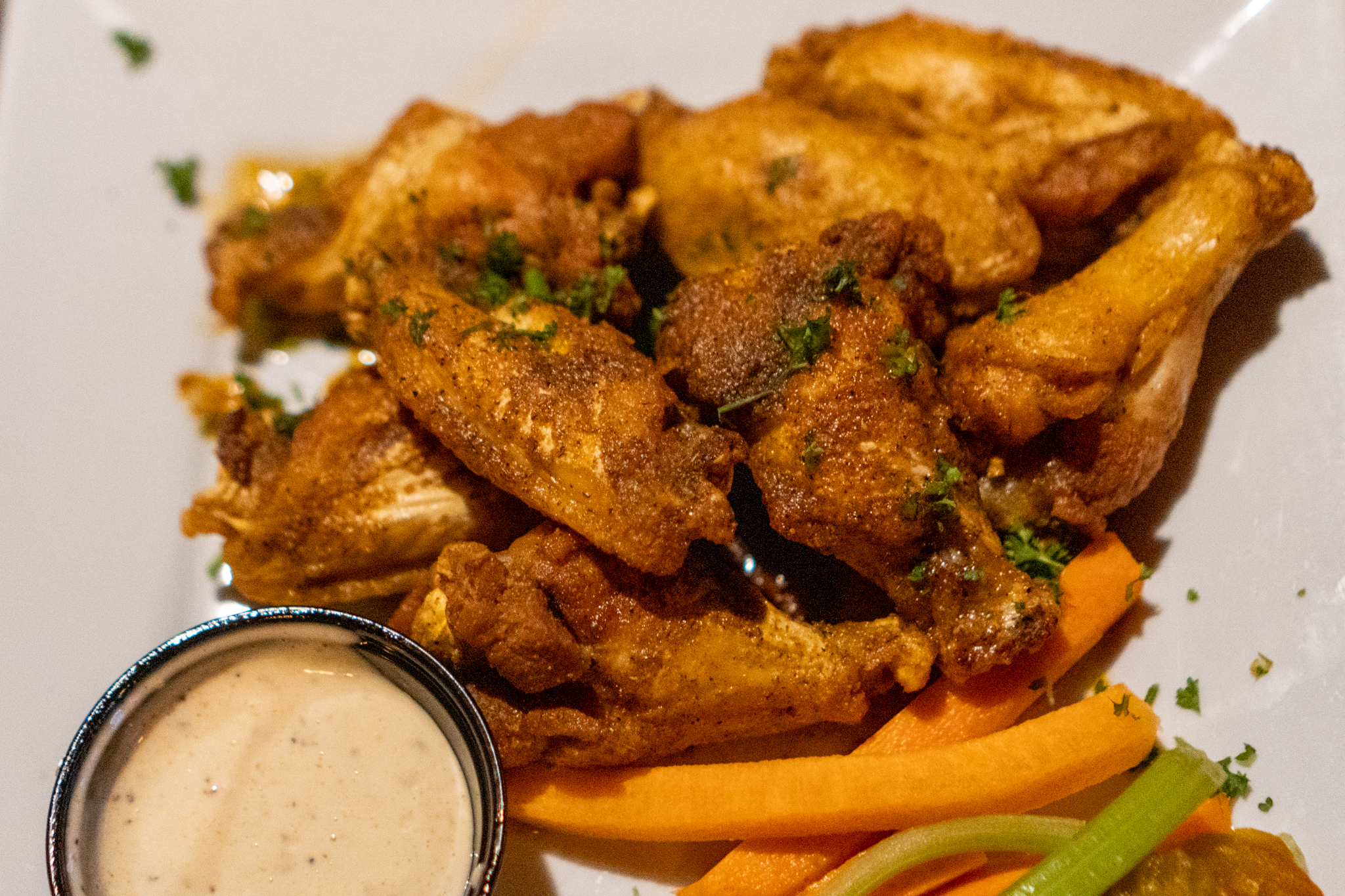 We loved the Mango Habanero wings so much that we put in another order of wings, but this time we tried the Nashville Hot seasoning. We all ultimately loved the mango habanero batch better, but these were still good. When you see Nashville Hot, you expect a heat overload, but that wasn't the case. The seasoning was very delicious, it just wasn't burning our mouths, as we hoped for.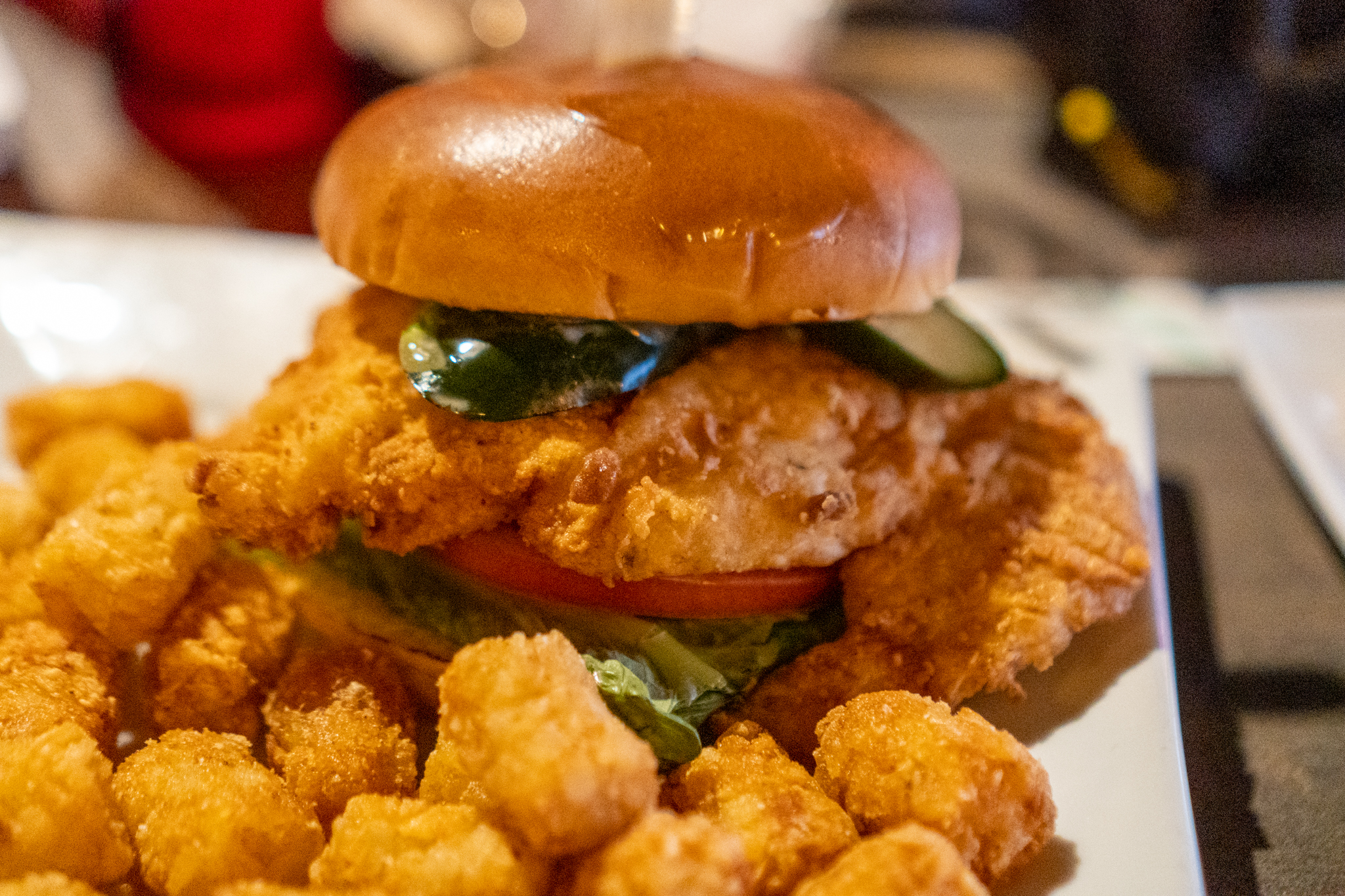 The Mahola Chicken sandwich, as described on the menu as "Better than that place that's closed on Sundays!" is cutting it close with all of our favorite chicken sandwiches. The Mahola Chicken is a half pound of fresh chicken breast, soaked in pickle juice and battered to melt in your mouth, topped with lettuce, tomato and cucumber. Served with tots or fries. The crispiness was just right and the portion size was massive. This is a good order for simple eaters as there wasn't anything beyond amazing here. It tasted great and hit the spot for a yummy, crispy chicken sandwich.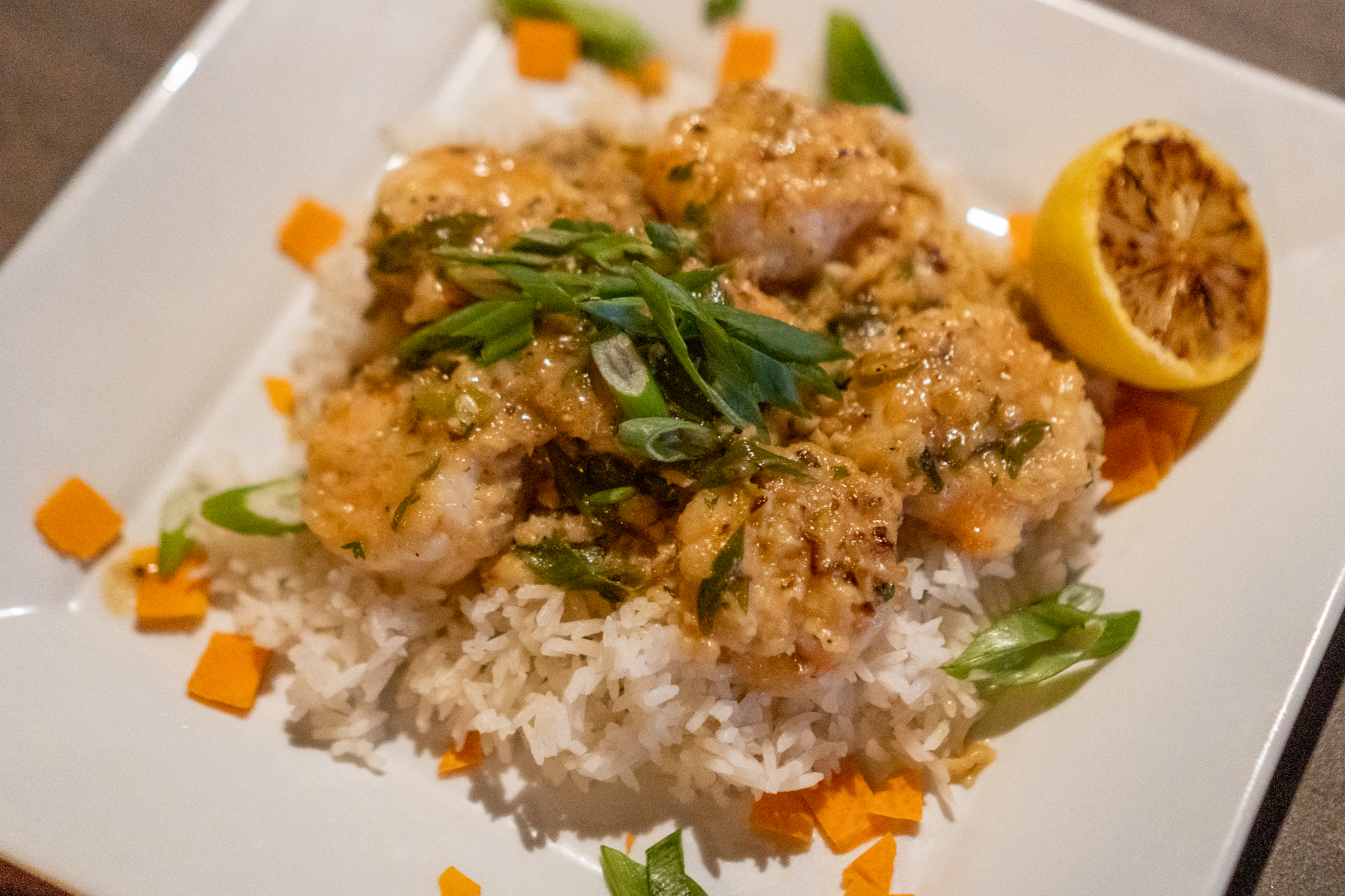 The Hawaiin Garlic Shrimp is something I will definitely order again. It comes with six Black tiger shrimp grilled and served over rice with a lemon garlic sauce. The coated lemon garlic sauce on the shrimp was thick and clung onto each shrimp perfectly. The seasoning was delicious and added so much flavor to the already amazing pieces of shrimp. 
Twisted Tiki has daily specials and soups of the day. Be sure to ask your server for this menu. Lately, these cold Florida days have been making me crave warm and comforting soup. The day I went they had two of my favorites: Minestrone and French Onion.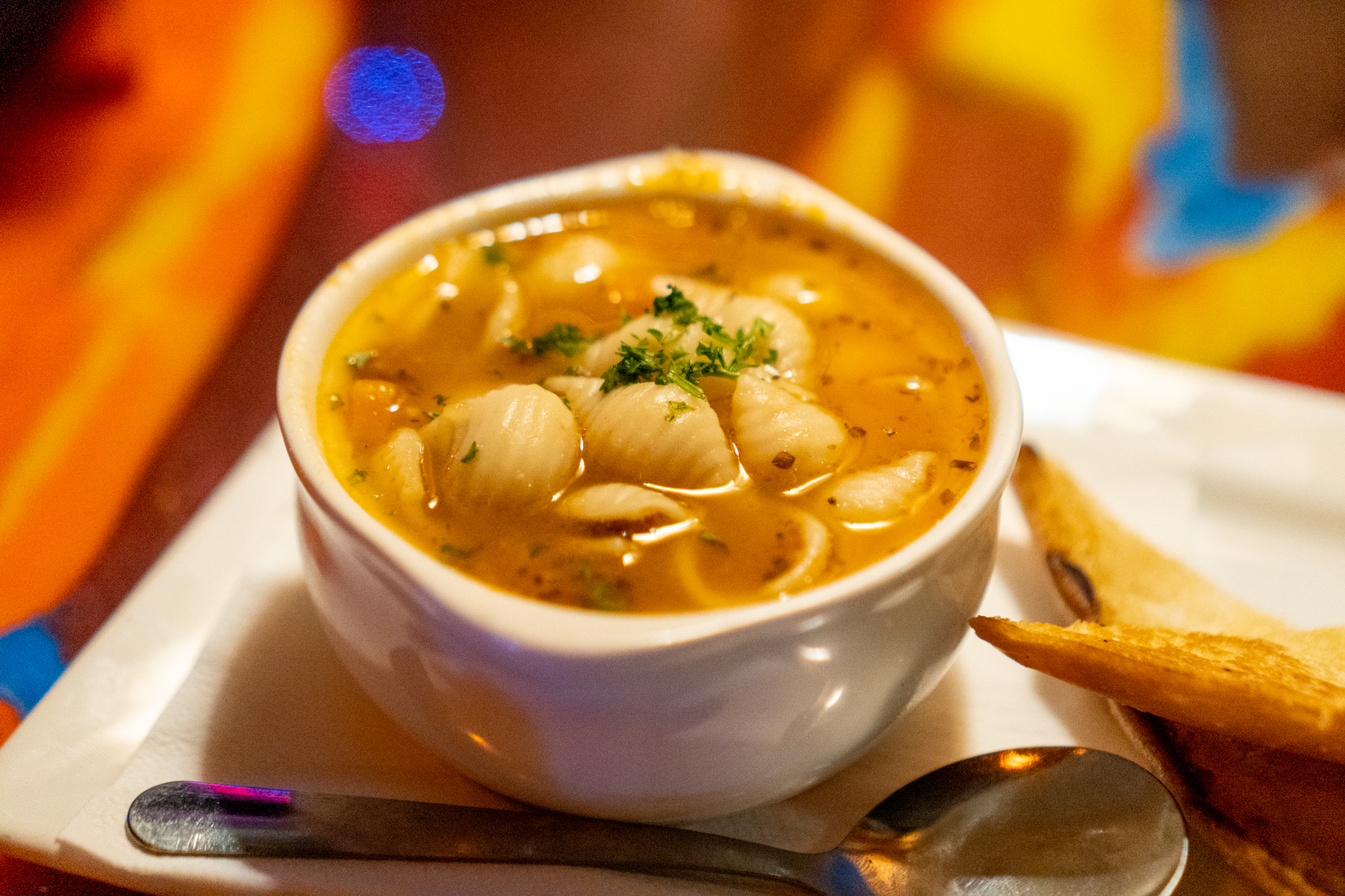 This yummy bowl of minestrone is so comforting with the soft pasta shells and veggies. It came with two pieces of bread to dip as well. I loved it.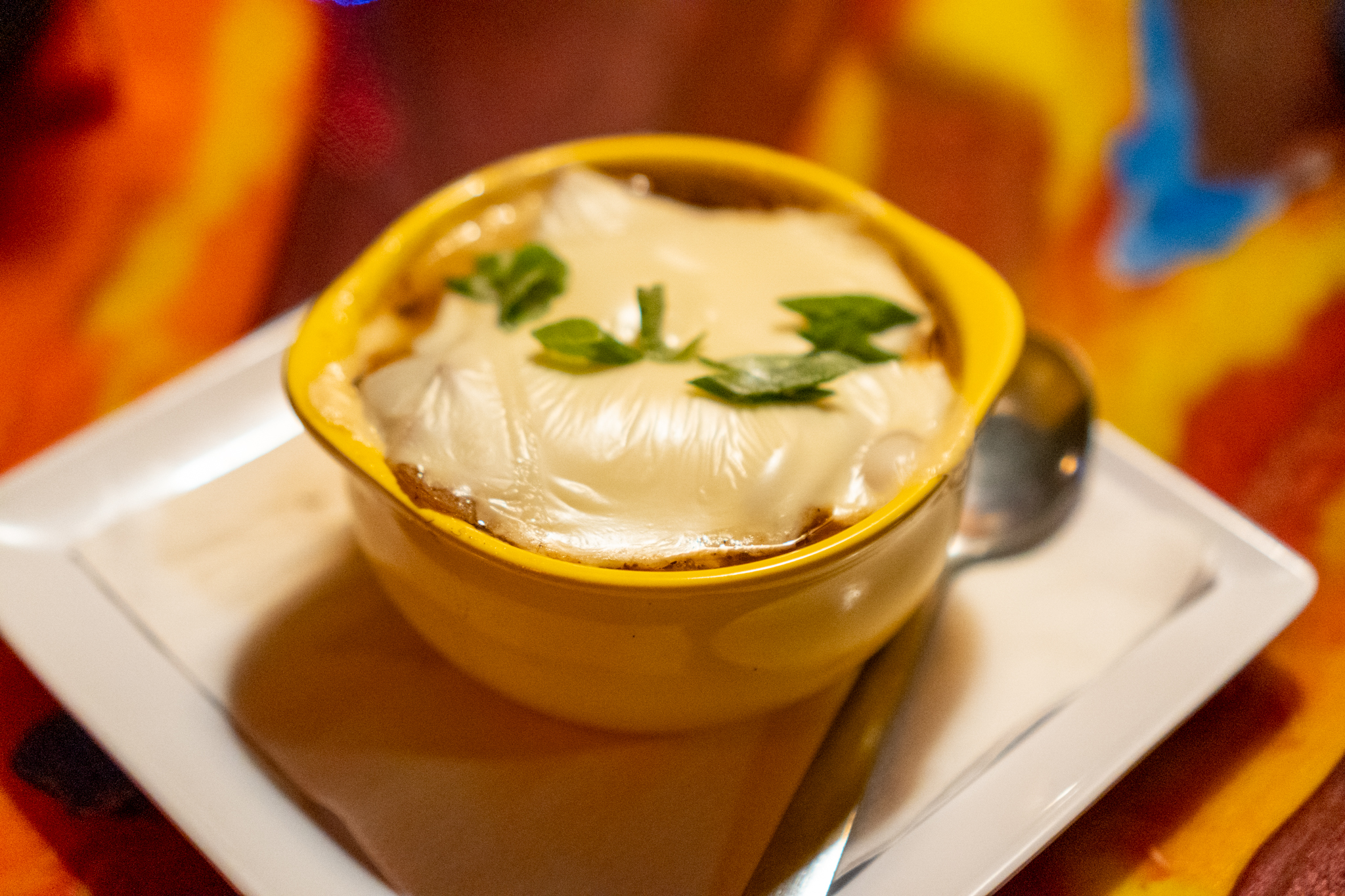 The French Onion soup of the day was also a hit. I mean, look at that floating cheese on top. You don't need much convincing from me to order a bowl of soup, but when I see a cheesy topping, I'm sold on it even faster. Each slurp was incredible.
Twisted Tiki is a local hangout for the beachgoers who like to dodge touristy beach bars. They have a fantastic menu of fresh offerings, boozy drinks, and all around a welcoming and chill environment.
A Polynesian-inspired Bar & Grille.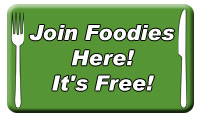 More Foodies News, Reviews & Recipes
2 Responses