Get Your Korean Food Fix at ANJU Korean Restaurant
Get Your Korean Food Fix at ANJU Korean Restaurant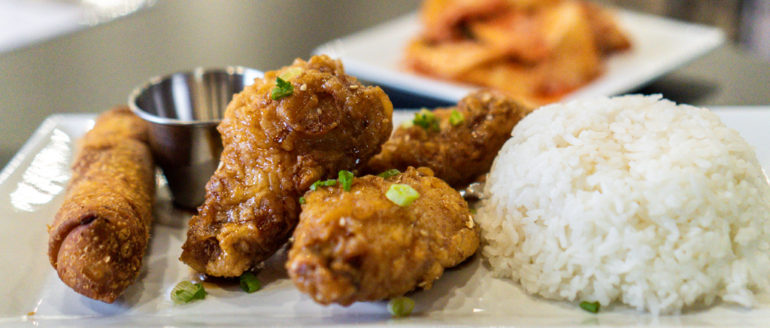 EDITOR'S NOTE: September 2022 – Anju has closed their brick & mortar location in the summer of 2022. They still have their food truck.
I've officially found the place to satisfy all of your Korean food cravings in St. Petersburg. ANJU is a Korean restaurant offering delicious dishes with a twist on authentic Korean styles.
Maybe you've seen the ANJU Korean Gastrotruck around town or at your favorite market, but guess what? They recently opened their doors at their first location right here in St. Petersburg so now you can enjoy their famous, crispy Korean fried wings whenever you want. Now that's something to jump up and down about.
ANJU is the Korean word for salty, crunchy or spicy food that pairs well with beer or soju. I didn't know this until I sat down to write, but it makes perfect sense. Lightbulb! All of their dishes are savory with a crisp and slight spice.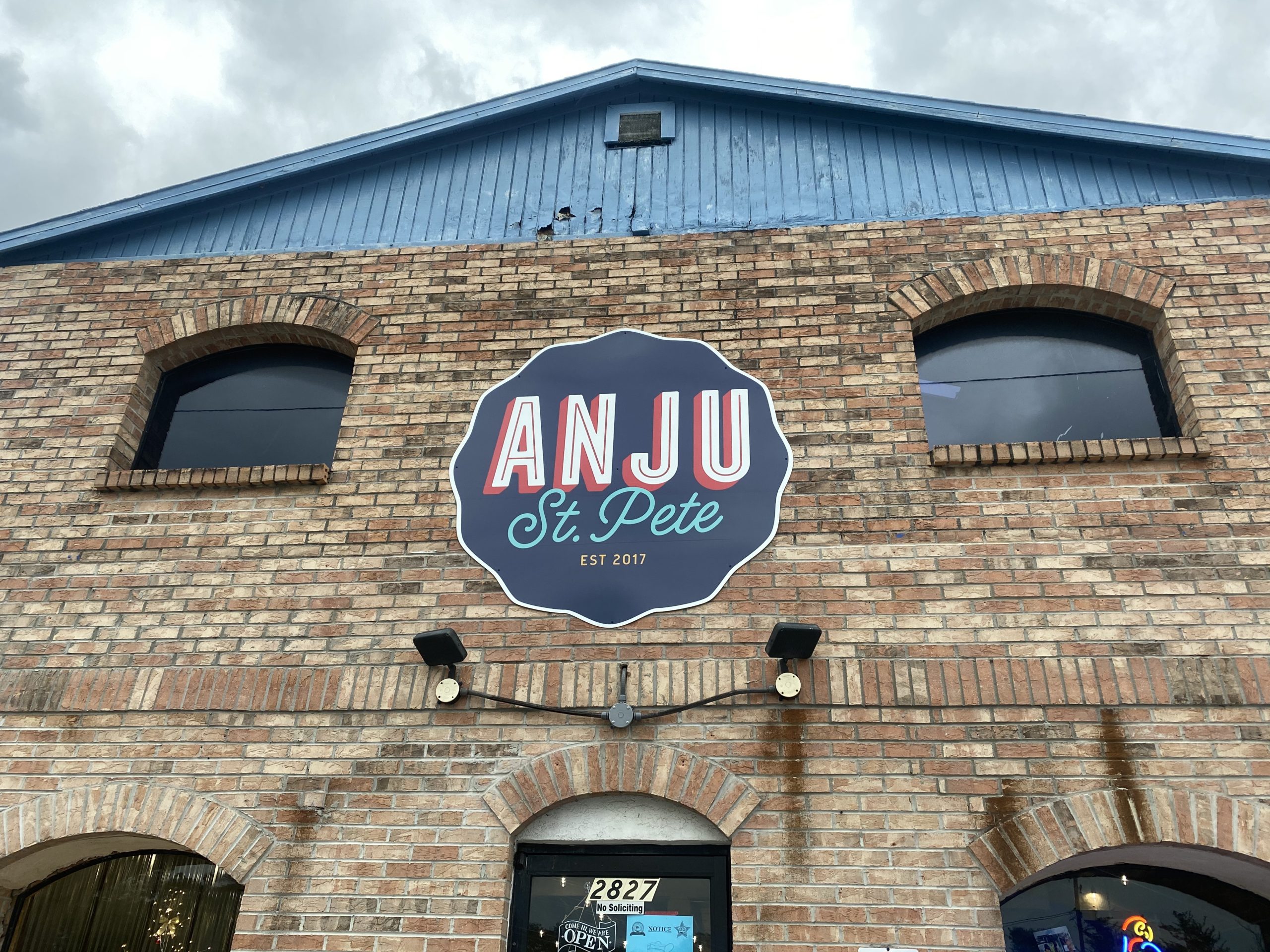 The inside of ANJU is very cozy and comforting. The bar is huge and there are plenty of seats all throughout the restaurant. If you're playing it safe, don't worry, you can order a delicious meal online through UberEats.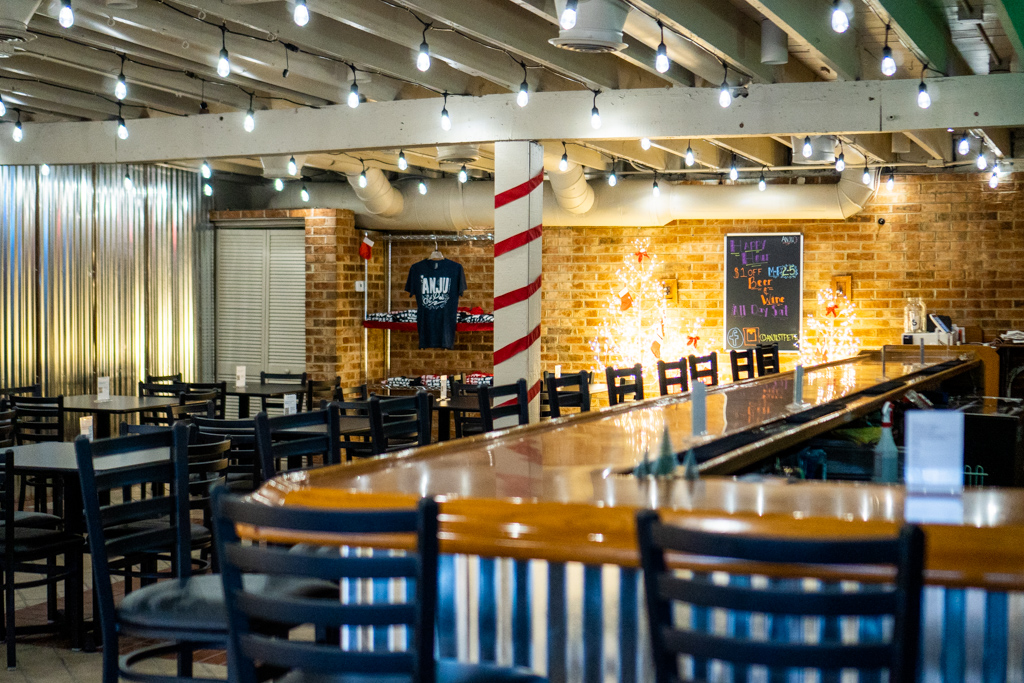 If you aren't familiar with Korean food, a good place to start is with a traditional Bibimbap bowl. When you break down the word bibimbap, "bibim" means mixing various ingredients and "bap" refers to rice. The BOP Bowl (Bibimbap) at ANJU is a go-to spicy dish. The BOP Bowl is exactly that with grilled marinated ribeye and assorted Asian veggies like zucchini, bean sprouts, carrots, and spicy kimchi served over warm sticky rice.
I also added an over easy egg and that was a game-changer. The ribeye was so good, I consumed it way too fast but have no regrets about it. I wish it was never ending.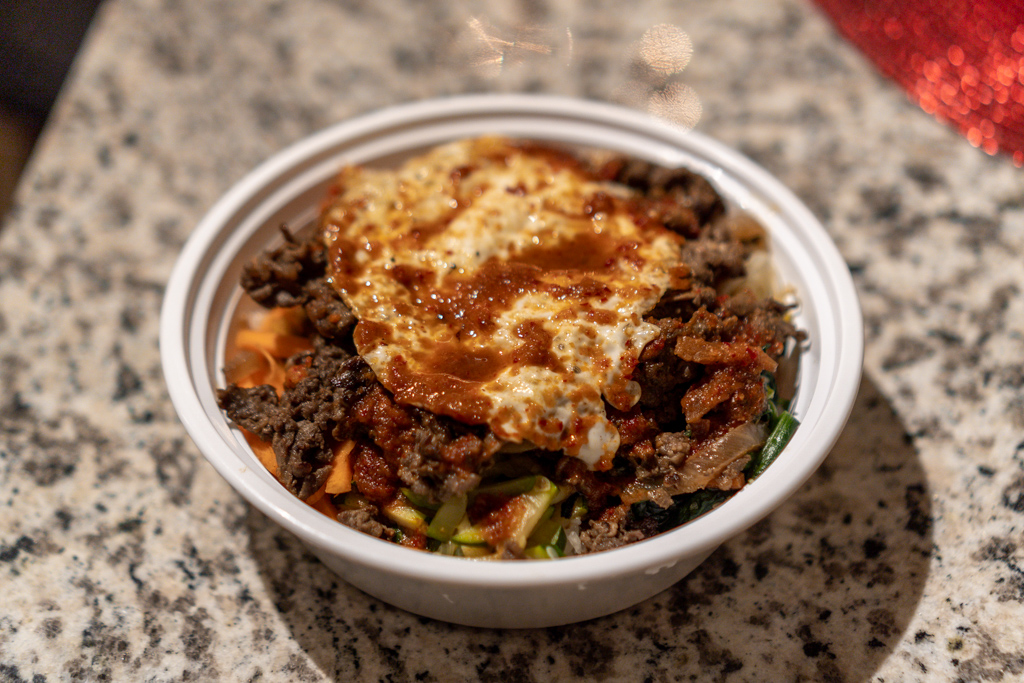 You'll want to shake up the bowl to really get the flavors mixed around. If you like spice and a little heat, then I'd highly recommend ordering this for the ultimate Korean dish.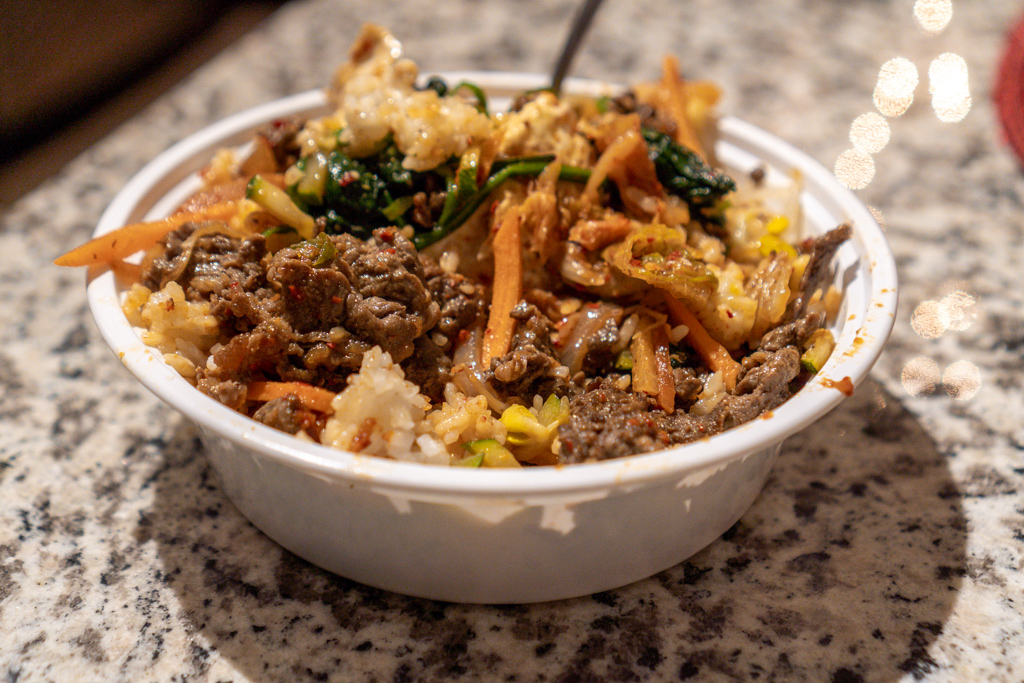 Wow, okay, wait a second, these wings are everything you could ever want. Enjoy mouthfuls of the jumbo wings on Wednesday with their impressive lunch special. For $10 you'll get 3 jumbo wings, either sweet soy garlic or spicy St. Pete heat style, plus a pork egg roll and a mountain of sticky rice. I ordered the sweet soy garlic wings and can honestly say that they are the crispiest and largest wings that I've personally had in St. Pete. The coating was crunchy and sweet with a glaze-like texture too. The meat itself was melt in your mouth good. The best part? Licking each of my fingers to make sure none of the sweet soy garlic sauce was wasted.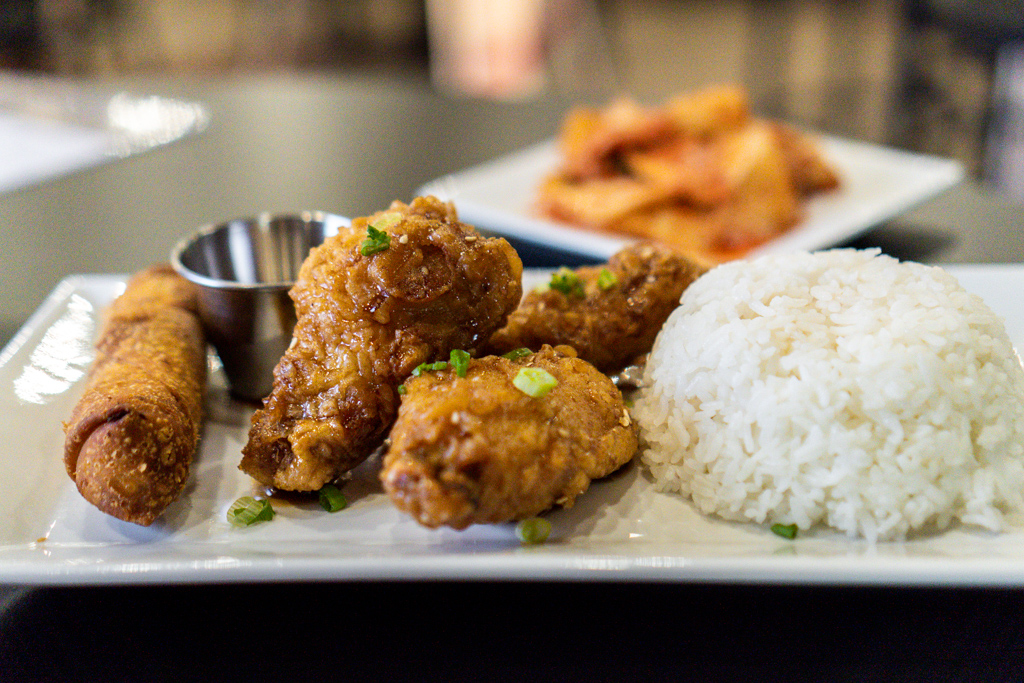 The pork egg rolls are so dang good. The outside is perfectly crispy and the pork and vegetable filling is a soft, warm and savory blend. The sweet chili sauce is a tangy and a sweet addition if you like sweet and savory things like myself.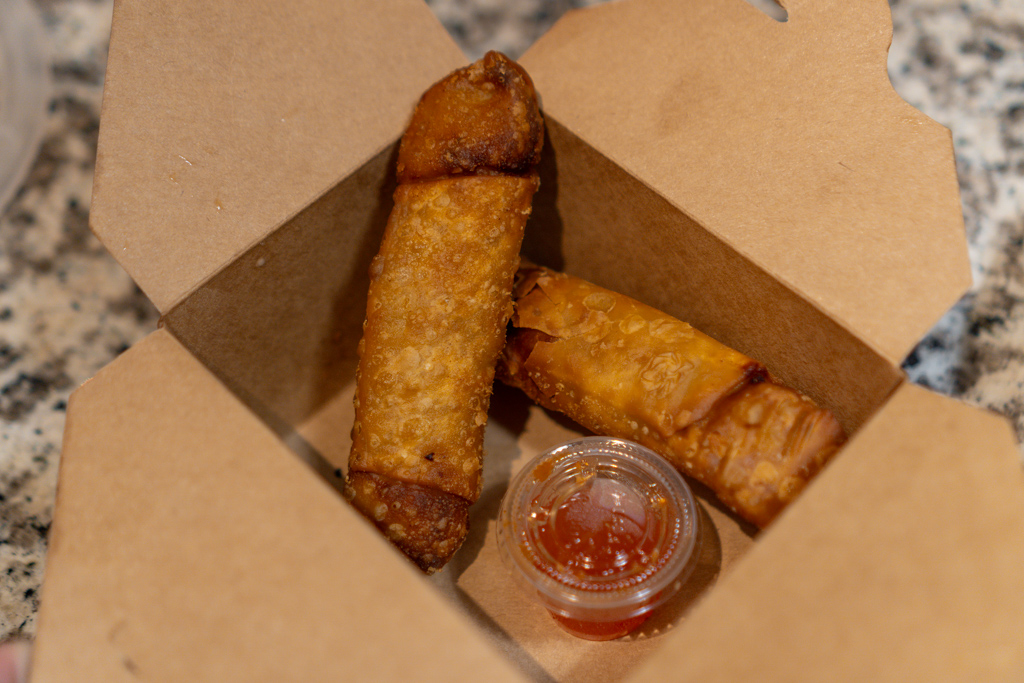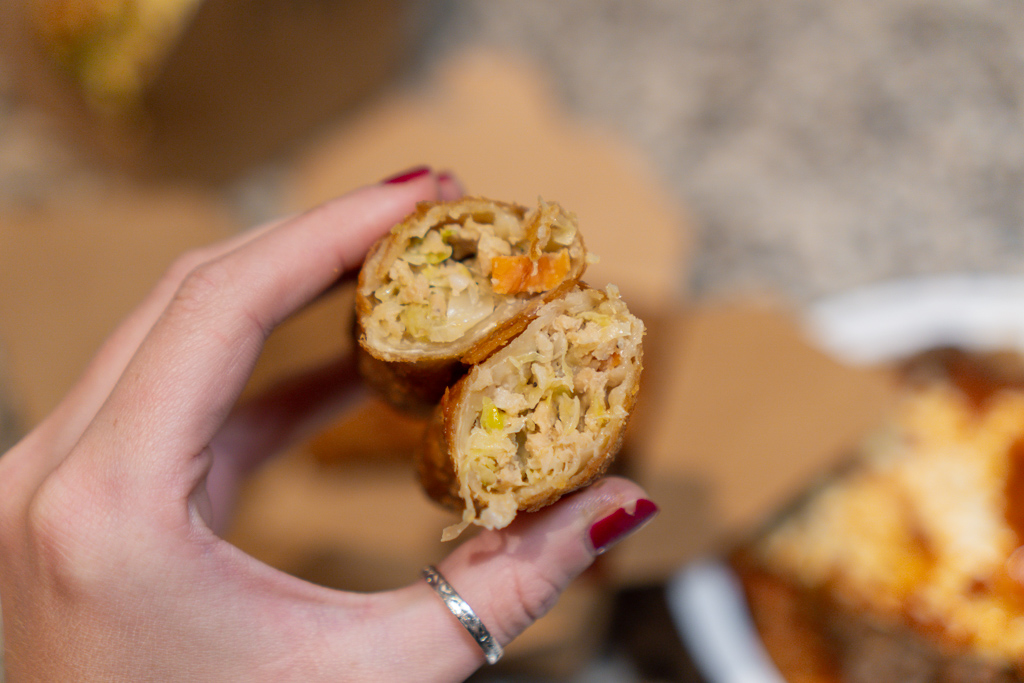 The K-Town is a little bit of everything. These loaded Korean Tots are topped with grilled beef bulgogi, creamy white cheddar queso, melted mozzarella, griddled kimchi, sweet and spicy pepper sauce, crushed peanuts and scallions. You won't be hungry for a long time after consuming this. Everything from the tender beef to the melted cheese and crispy tots will surely hit the spot.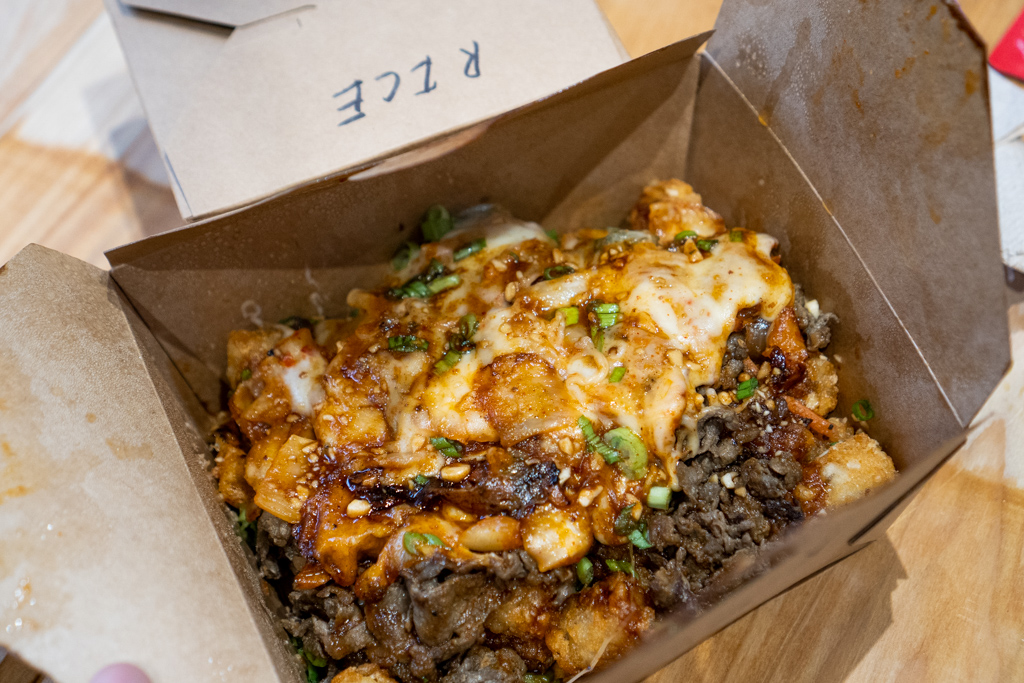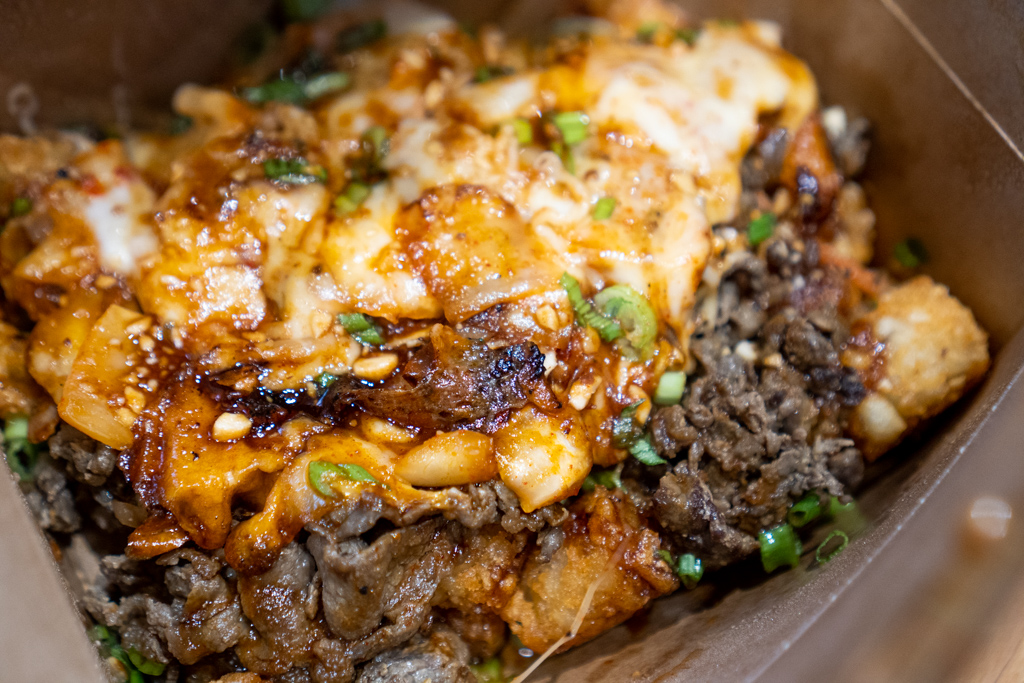 I've never had kimchi before, so I gave it a go. Kimchi is a popular Korean dish that is traditionally made of fermented vegetables. ANJU makes the most popular version, which is with Napa cabbage. I also learned that it's incredibly healthy with a wealth of vitamins, antioxidants and probiotics. It was pretty spicy but also very refreshing. I didn't feel as guilty about eating the fried wings once I had a few bites of the kimchi.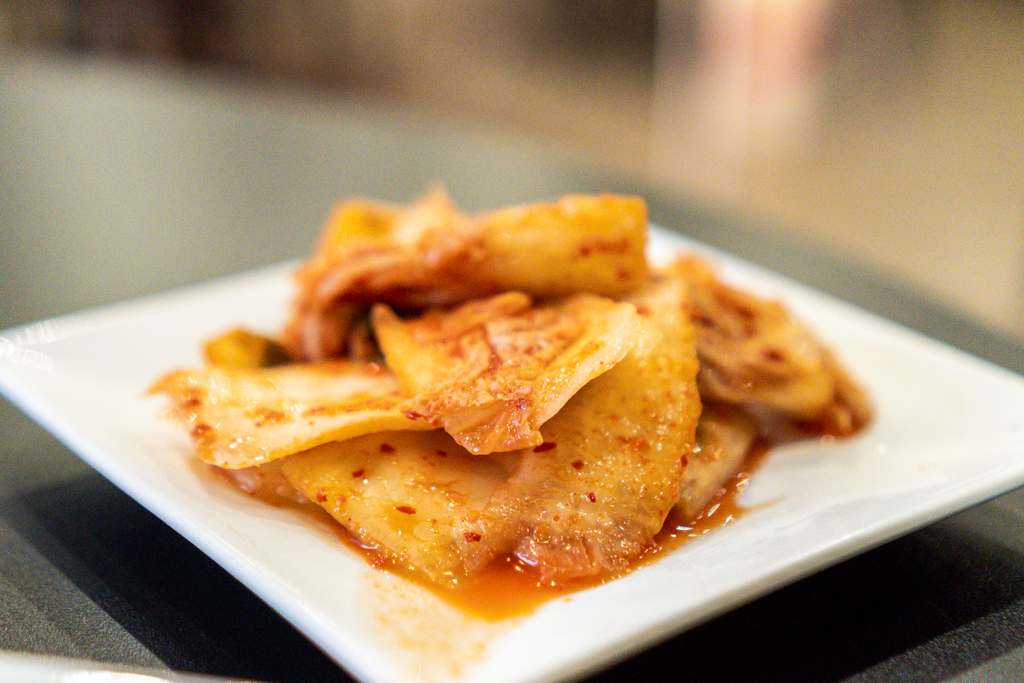 ​The Osaka Mini side is amazing especially if you already love loaded tots and aren't afraid of a saucy dish. Osaka Mini is a mix of crispy tater tots topped with Japanese mayo, tangy Okonomi sauce and fresh scallions. This is one of those splurge items because you know it's not healthy but it sure is tasty and crave worthy.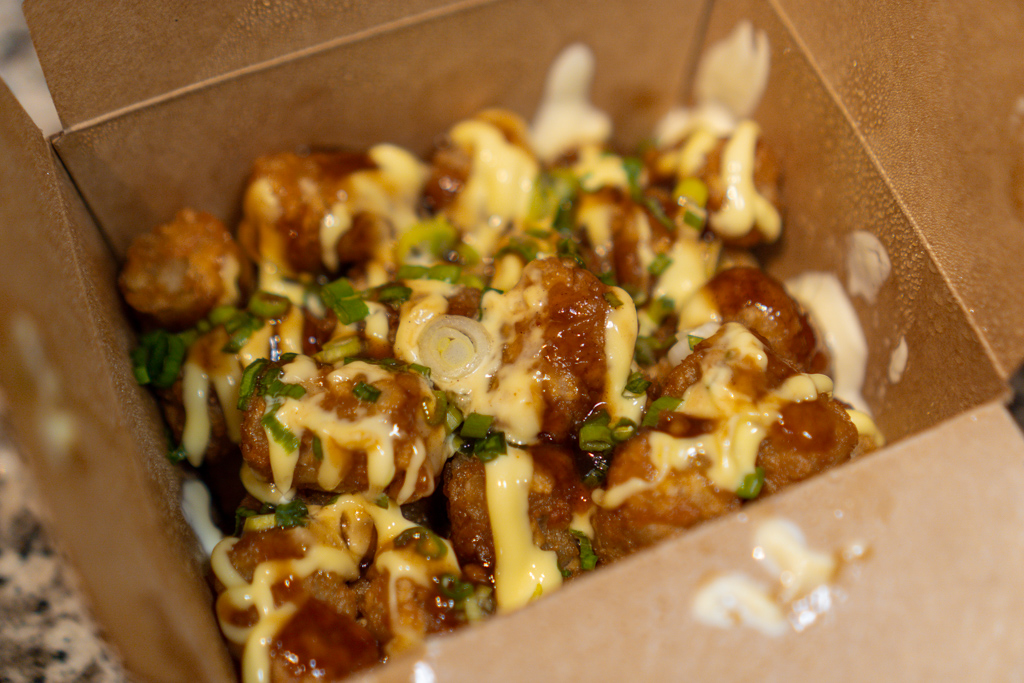 ANJU is a one stop shop for Korean food right here in St. Petersburg. I'm still dreaming about the jumbo wings and will continue to tell everyone I know that they are seriously to die for.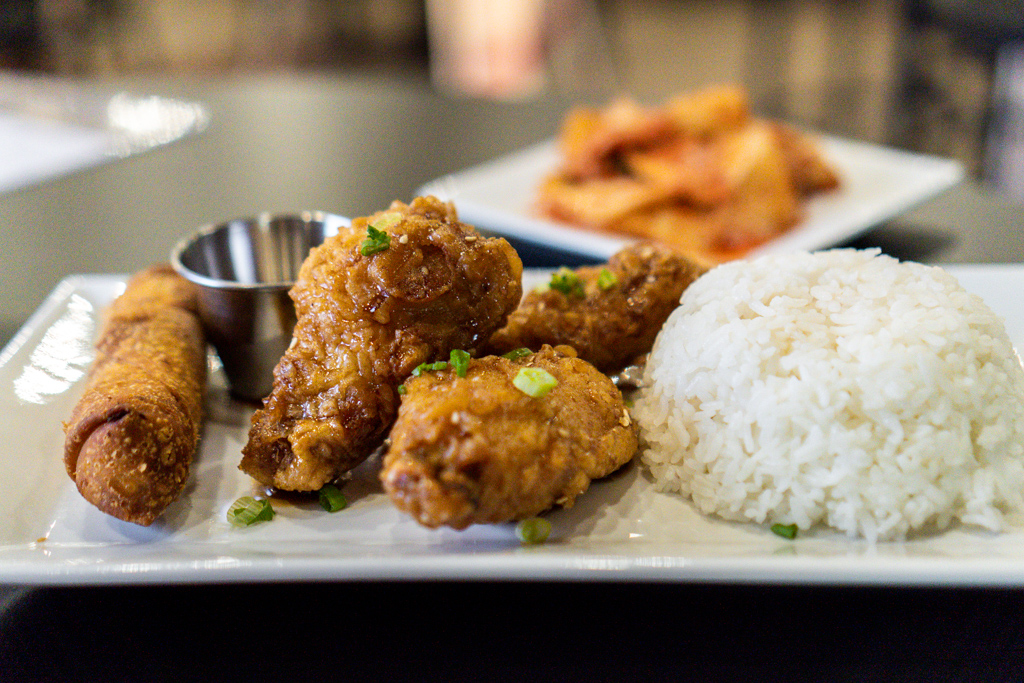 Readers Rating

Rated 5 stars




5

/ 5 (

15

Reviewers

)

Spectacular
---
ANJU Korean Restaurant

(727) 289-8568

Korean

,

Kimchi

,

Korean Fried Wings

Tue - Thu

11:00am - 8:00pm

Fri - Sat

11:00am - 9:00pm
2827 16th St N

,

St. Petersburg

,

FL

33704

,

US
---
ANJU is the Korean word for salty, crunchy or spicy food that pairs well with beer or soju.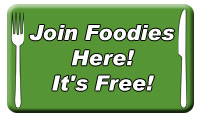 Written by Haley Haman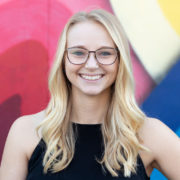 Over 5 years ago, I left my hometown in Illinois and made my way down to sunny Florida. I'm always bouncing around to the latest hot new restaurants and hidden gems in St. Pete. After years of experiencing the food scene and over 100 food reviews, I have become a go-to gal for restaurant and bar recommendations for friends and tourists alike.
I recently started my own business as a social media marketing manager and photographer at Sunny Social where my passions collide. I'm building an evolving company, a thriving portfolio of food photography and reviews with St. Petersburg Foodies, and a beautiful life!
Likes: Bottomless mimosas and trying new food (okay, that ones obvious!).
View all posts by: Haley Haman
1 Response
#stpetersburgfoodies #stpetefoodies
Sponsors
Recent Posts
February 1, 2023

15 Hour Potatoes & Steak Recipe

Steak is great, but when it comes to this meat and potatoes duo, it's all about the potatoes baby. I've been itching to recreate this recipe with my own spin for a long time now. I actually had plans to make it for our Christmas dinner this year, but realized I was already fighting a losing battle when it was already Christmas morning and I hadn't started the 15 hour process – oops. Yes, you read that right – a 15 hour process. Is it worth it? Yep. Was I skeptical initially? Sure was. All you need to properly execute this recipe is some potatoes, a mandolin slicer (crucial), a good amount of fat (duck fat, butter or olive oil), some flakey salt and a bit of patience. This two-day method does not disappoint and is actually quite simple. The process begins by slicing peeled potatoes ultra thin with a mandolin slicer. Then, toss them in fat and salt, stack them in a loaf pan and pop them into the oven at a super low temperature for a few hours. I used Olive Oil this time around because I had a lot on hand but I also highly recommend duck fat oil. At Rollin' Oats, you can find EPIC brand cage-free duck fat oil and that would work quite well. Remove the potatoes, cover and weigh them down and then refrigerate for 12 hours (I prep the potatoes in the evening and let them hang in the fridge overnight). After the waiting period, slice, fry and eat with dipping sauce of choice. You *can* fry the potatoes in the air fryer as an alternative; however, it does not yield quite the same product. The potatoes do not get as crisp, but if you'd like to make them this way, heat your air fryer to 400F and cook the potatoes for about 8-10 minutes. If you're going to fry them the way that I suggest – in oil – definitely use an oil with a high smoke point. A lot of recipes recommend peanut oil but I prefer to use avocado oil. Rollin' Oats sells Primal Kitchen's avocado oil and that's what I utilized for this recipe. I turned my potatoes into a steak frites type of moment by pairing them with a lovely filet from Rollin' Oats. They offer lots of quality grass-fed steak cuts from Thousand Hills that are sure to satisfy. You don't have to have these potatoes with a steak though. They make for a great side dish for most any main and would be idyllic as a snack for the upcoming super bowl with a dipping sauce of choice. 15 Hour Potatoes and Steak Don't let the 15 hours scare you – the majority of that is either cook or rest time. These are going to become your new favorite potatoes. MandolinCandy ThermometerDutch OvenLoaf Pan 2-3 Yukon Gold Potatoes (Medium to large in size)1/4 cup Olive Oil (Or other fat like duck fat or butter)2 cups Avocado Oil (Other oil with a high smoke point will work as well)1 1/2 tsp Salt (Plus more as needed)Steak (This is optional, but it makes for a great dinner. I recommend a filet or a strip.)Dipping Sauce (Also optional, but an aioli or other dip makes for a great accessory to the potatoes)Flakey Salt (Like Maldon, to hit the potatoes with post-fry. This is optional – you can use whatever salt you have to finish.) Preheat oven to 250F. Peel potatoes and slice very thin with a mandolin slicer. Toss in a bowl with 1/2 cup olive oil (or fat of choice) and 1 1/2 tsp salt (plus more, as needed).Layer potatoes in a tight stack in a parchment-lined loaf pan. Cover with another sheet of parchment and bake for 3 hours.Remove from oven, weigh down the top of the parchment-topped potatoes evenly with cans or other heavy kitchen objects. Refrigerate for 12 hours (I allow this part to take place overnight). Remove weights and parchment and carefully invert potatoes onto a cutting board. Cut the potatoes into even 1" stacks and then cut all of those evenly in half.Heat oil in a dutch oven or pot with high walls over medium high heat. When the heat reaches about 375F, carefully drop in potatoes one at a time until a few are in the pot. Fry, turning occasionally, until potatoes are golden all over but not burnt – 3-5 minutes (keep an eye on them!). Remove from oil, hit them with a good sprinkle of salt and allow them to cool on a rack set over a baking sheet. Repeat process with remaining potatoes.While your potatoes are frying, prepare your steak of choice. I chose a filet and salted it all over and allowed it to sit at room temperature for 40 minutes before cooking it. I season with pepper and then sear it off for about 6-7 minutes, flipping occasionally, until I've reached a nice medium rare. Slice up and serve the steak along side the potato stacks with dipping sauce of choice and perhaps a drizzle of chili crisp, herbed butter or chimichurri on your steak. Appetizer, Side DishAmerican15 Hour Potato Recipe, Appetizer Recipe, Potato Recipe
Recipes
February 1, 2023

15 Hour Potatoes & Steak Recipe

Steak is great, but when it comes to this meat and potatoes duo, it's all about the potatoes baby. I've been itching to recreate this recipe with my own spin for a long time now. I actually had plans to make it for our Christmas dinner this year, but realized I was already fighting a losing battle when it was already Christmas morning and I hadn't started the 15 hour process – oops. Yes, you read that right – a 15 hour process. Is it worth it? Yep. Was I skeptical initially? Sure was. All you need to properly execute this recipe is some potatoes, a mandolin slicer (crucial), a good amount of fat (duck fat, butter or olive oil), some flakey salt and a bit of patience. This two-day method does not disappoint and is actually quite simple. The process begins by slicing peeled potatoes ultra thin with a mandolin slicer. Then, toss them in fat and salt, stack them in a loaf pan and pop them into the oven at a super low temperature for a few hours. I used Olive Oil this time around because I had a lot on hand but I also highly recommend duck fat oil. At Rollin' Oats, you can find EPIC brand cage-free duck fat oil and that would work quite well. Remove the potatoes, cover and weigh them down and then refrigerate for 12 hours (I prep the potatoes in the evening and let them hang in the fridge overnight). After the waiting period, slice, fry and eat with dipping sauce of choice. You *can* fry the potatoes in the air fryer as an alternative; however, it does not yield quite the same product. The potatoes do not get as crisp, but if you'd like to make them this way, heat your air fryer to 400F and cook the potatoes for about 8-10 minutes. If you're going to fry them the way that I suggest – in oil – definitely use an oil with a high smoke point. A lot of recipes recommend peanut oil but I prefer to use avocado oil. Rollin' Oats sells Primal Kitchen's avocado oil and that's what I utilized for this recipe. I turned my potatoes into a steak frites type of moment by pairing them with a lovely filet from Rollin' Oats. They offer lots of quality grass-fed steak cuts from Thousand Hills that are sure to satisfy. You don't have to have these potatoes with a steak though. They make for a great side dish for most any main and would be idyllic as a snack for the upcoming super bowl with a dipping sauce of choice. 15 Hour Potatoes and Steak Don't let the 15 hours scare you – the majority of that is either cook or rest time. These are going to become your new favorite potatoes. MandolinCandy ThermometerDutch OvenLoaf Pan 2-3 Yukon Gold Potatoes (Medium to large in size)1/4 cup Olive Oil (Or other fat like duck fat or butter)2 cups Avocado Oil (Other oil with a high smoke point will work as well)1 1/2 tsp Salt (Plus more as needed)Steak (This is optional, but it makes for a great dinner. I recommend a filet or a strip.)Dipping Sauce (Also optional, but an aioli or other dip makes for a great accessory to the potatoes)Flakey Salt (Like Maldon, to hit the potatoes with post-fry. This is optional – you can use whatever salt you have to finish.) Preheat oven to 250F. Peel potatoes and slice very thin with a mandolin slicer. Toss in a bowl with 1/2 cup olive oil (or fat of choice) and 1 1/2 tsp salt (plus more, as needed).Layer potatoes in a tight stack in a parchment-lined loaf pan. Cover with another sheet of parchment and bake for 3 hours.Remove from oven, weigh down the top of the parchment-topped potatoes evenly with cans or other heavy kitchen objects. Refrigerate for 12 hours (I allow this part to take place overnight). Remove weights and parchment and carefully invert potatoes onto a cutting board. Cut the potatoes into even 1" stacks and then cut all of those evenly in half.Heat oil in a dutch oven or pot with high walls over medium high heat. When the heat reaches about 375F, carefully drop in potatoes one at a time until a few are in the pot. Fry, turning occasionally, until potatoes are golden all over but not burnt – 3-5 minutes (keep an eye on them!). Remove from oil, hit them with a good sprinkle of salt and allow them to cool on a rack set over a baking sheet. Repeat process with remaining potatoes.While your potatoes are frying, prepare your steak of choice. I chose a filet and salted it all over and allowed it to sit at room temperature for 40 minutes before cooking it. I season with pepper and then sear it off for about 6-7 minutes, flipping occasionally, until I've reached a nice medium rare. Slice up and serve the steak along side the potato stacks with dipping sauce of choice and perhaps a drizzle of chili crisp, herbed butter or chimichurri on your steak. Appetizer, Side DishAmerican15 Hour Potato Recipe, Appetizer Recipe, Potato Recipe