Happy Hour Wishes and Sushi Dreams at Eastern Kitchen & Sushi
Happy Hour Wishes and Sushi Dreams at Eastern Kitchen & Sushi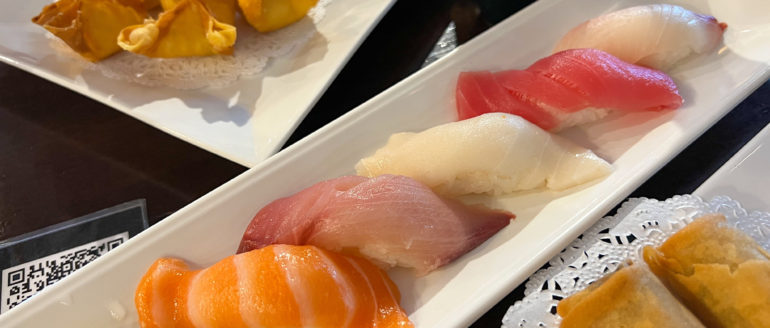 Eastern Kitchen & Sushi, located in the northern portion of of St. Petersburg at 5226 4th St. N., describes itself as an establishment with a showcase of Pan-Asian dishes and flavors inspired from Japanese, Korean, Chinese and Thai cuisines with a heavy focus on sushi, rice and noodle dishes.
The space is much larger inside than I originally assumed. The elongated interior has a span of tables in the dining area that stretches from the front of the building to the back. When you first make your way into the restaurant you can tell by the desk and seating area at the entrance that they probably have a good bit of take-out traffic. In fact, a number of hungry folks came through the doors to retrieve their orders during the course of our meal. The vibe is simplistic and clean with just a few notable art displays on the walls. Each visit, from start to finish was smooth and laid back and the service was fantastic.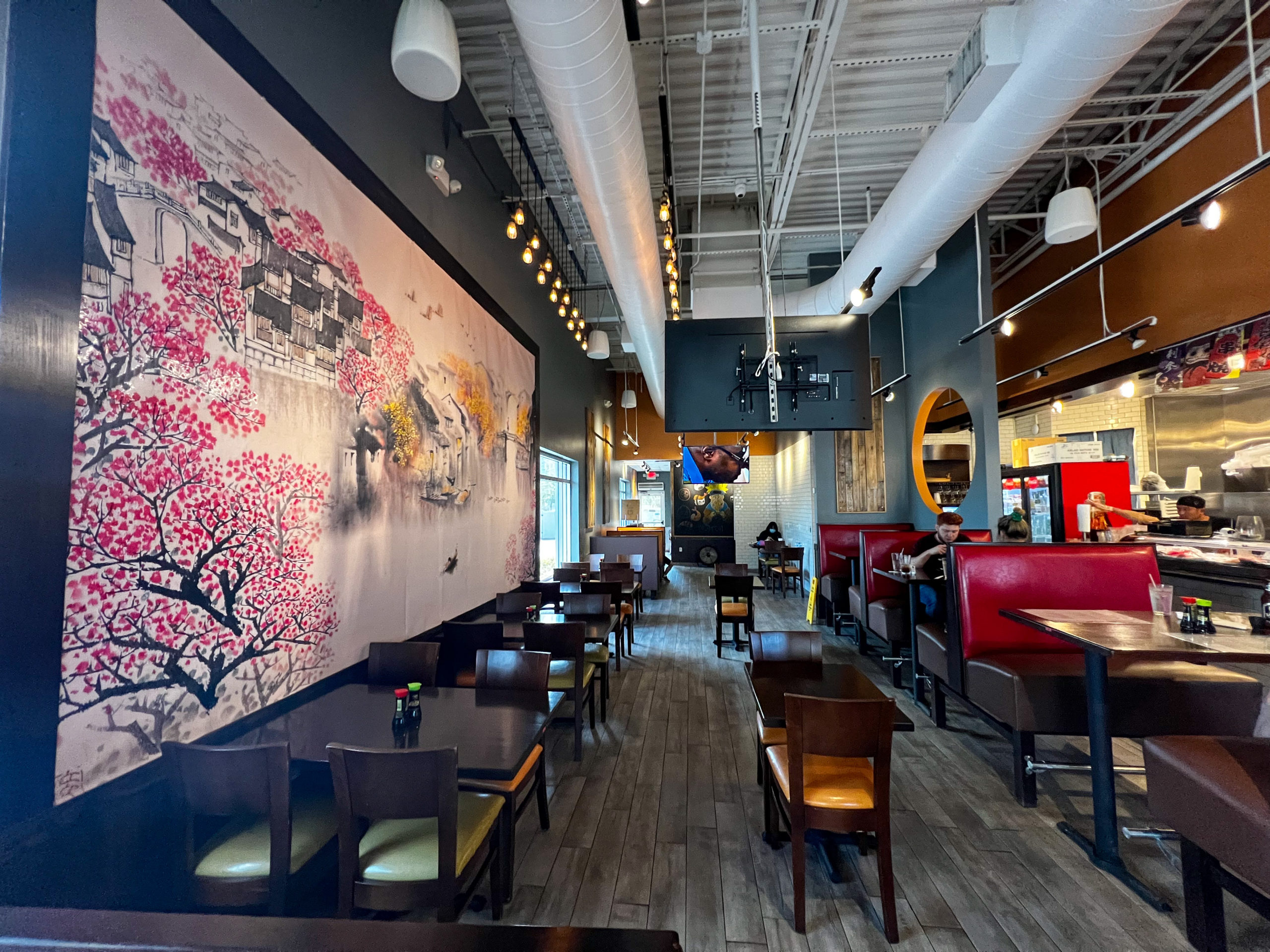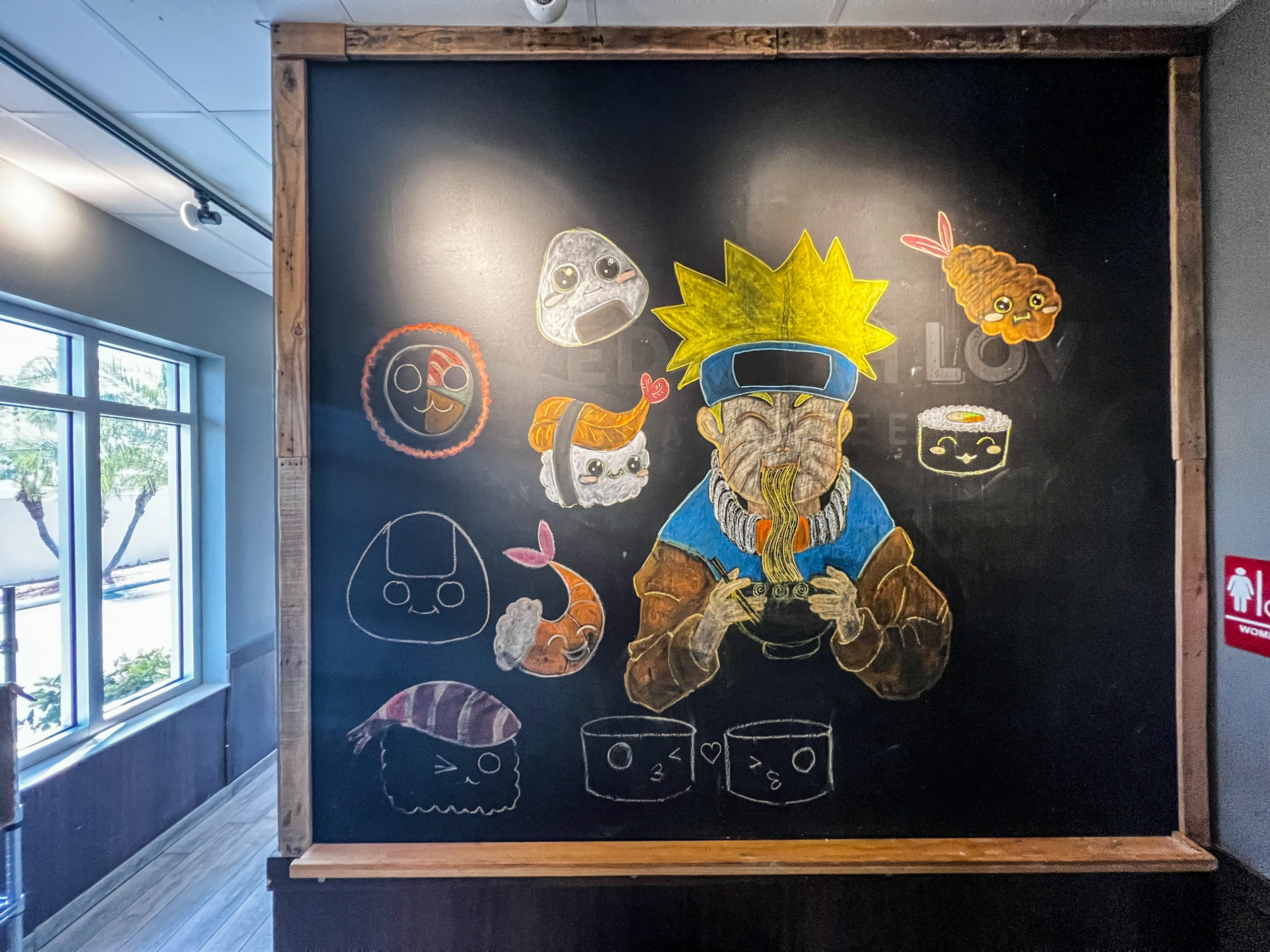 Japanese, Korean, Chinese & Thai are four of the Pan-Asian food genres that you can expect to find at Eastern Kitchen & Sushi. The menu is loaded with fresh and healthy-leaning options like rice and noodle bowls, sashimi and a plethora of various sushi rolls including vegan and vegetarian options too. There are a number of popular items from each category of the extensive menu. But perhaps some of the most favored items are the Hibachi & General Tso's bowls, the Pineapple Fried Rice and the Mango Tango sushi roll.
Happy hour happens every day at Eastern Kitchen beginning at 3:00PM. It runs until 6:00PM and within those three hours you'll find a menu with three different tiers of food and drink specials at $3, $5 and $8. Items on the menu range from beer, saké and wine to Ban Ban Shrimp and specialty sushi rolls. During our initial visit we landed at Eastern Kitchen around 4:00PM and took full advantage of the happy hour offerings. What we ordered: saké ($5), Sapporo ($3), spring rolls ($3), crab rangoon ($3), sushi appetizer ($5) and the lava drop sushi roll ($8). If we would've ordered another item or two from the happy hour menu we could've turned it into our whole dinner. The portions were perfect and everything that we had was idyllic for sharing between two people (and sharing, in general).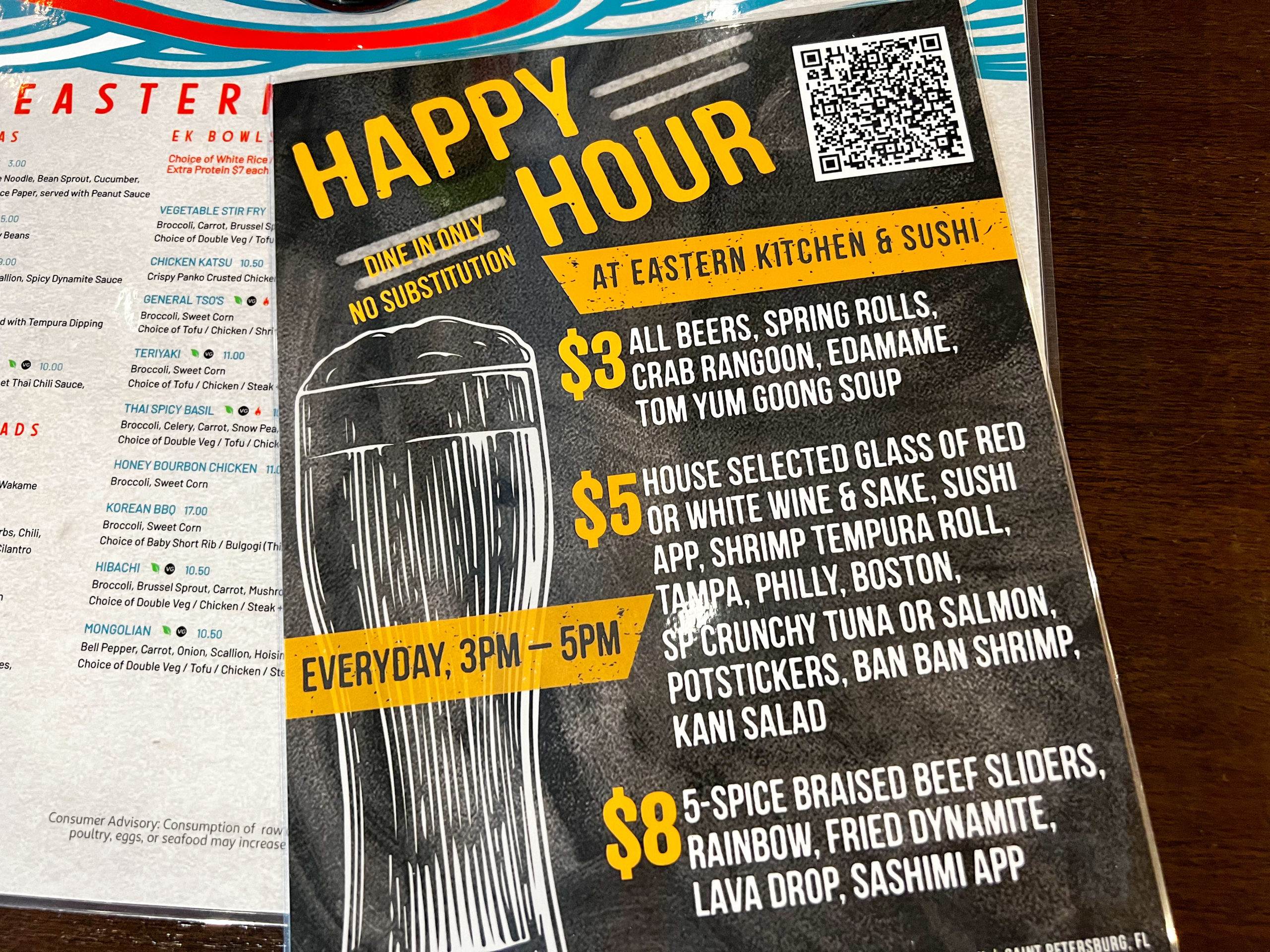 The restaurant had a handful of tables with folks dining during our late lunch and our food began flowing from the kitchen to our table in practically no time. First to arrive was the duet of warm spring rolls. They were just as a spring roll should be (in my opinion) – crisp, delicate and flakey on the outside with a bright and vibrant interior. You really just can't go wrong with these.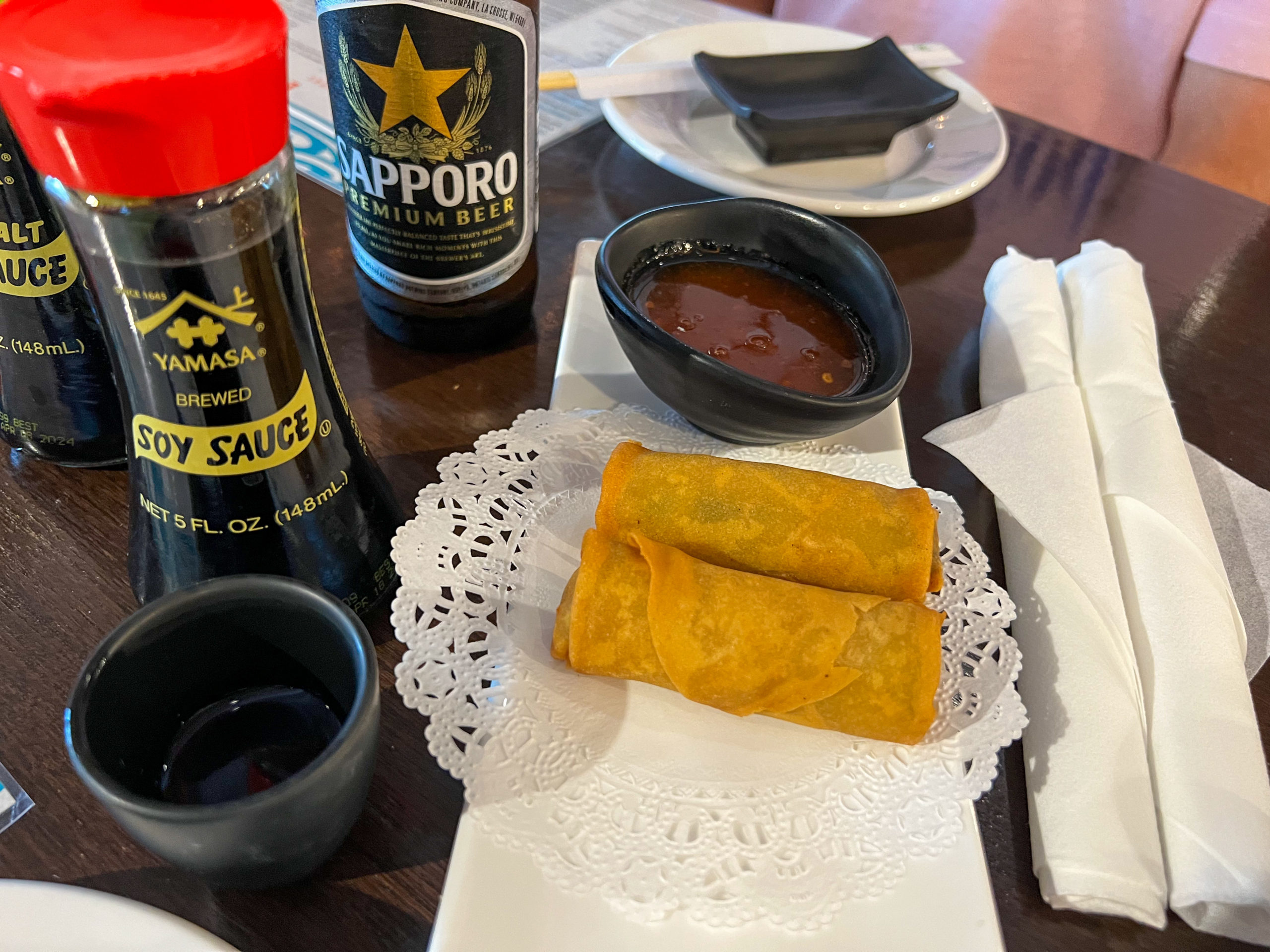 Sushi is much like a universal language – most everyone speaks it and enjoys it. If you break down a sushi roll, they're all essentially composed of a handful of components: rice, vegetables, nori, often fresh fish or meat and usually a sauce like eel, etc. Of all of the rolls, we ultimately landed on the Lava Drop roll because it was included in Eastern Kitchen's incredible happy hour menu as a $5 option. This roll is filled with krab salad, cream cheese and cucumber and then deep fried and topped with eel sauce, scallion and bonito flakes. The roll was large at about ten pieces which is a remarkable deal considering the roll is only $5 during happy hour. The texture that the deep fried roll provided was great as it made it feel a bit more hardy and substantial. The only change we would've made is to request to leave out the bonito flakes as they are quite pungent on the roll.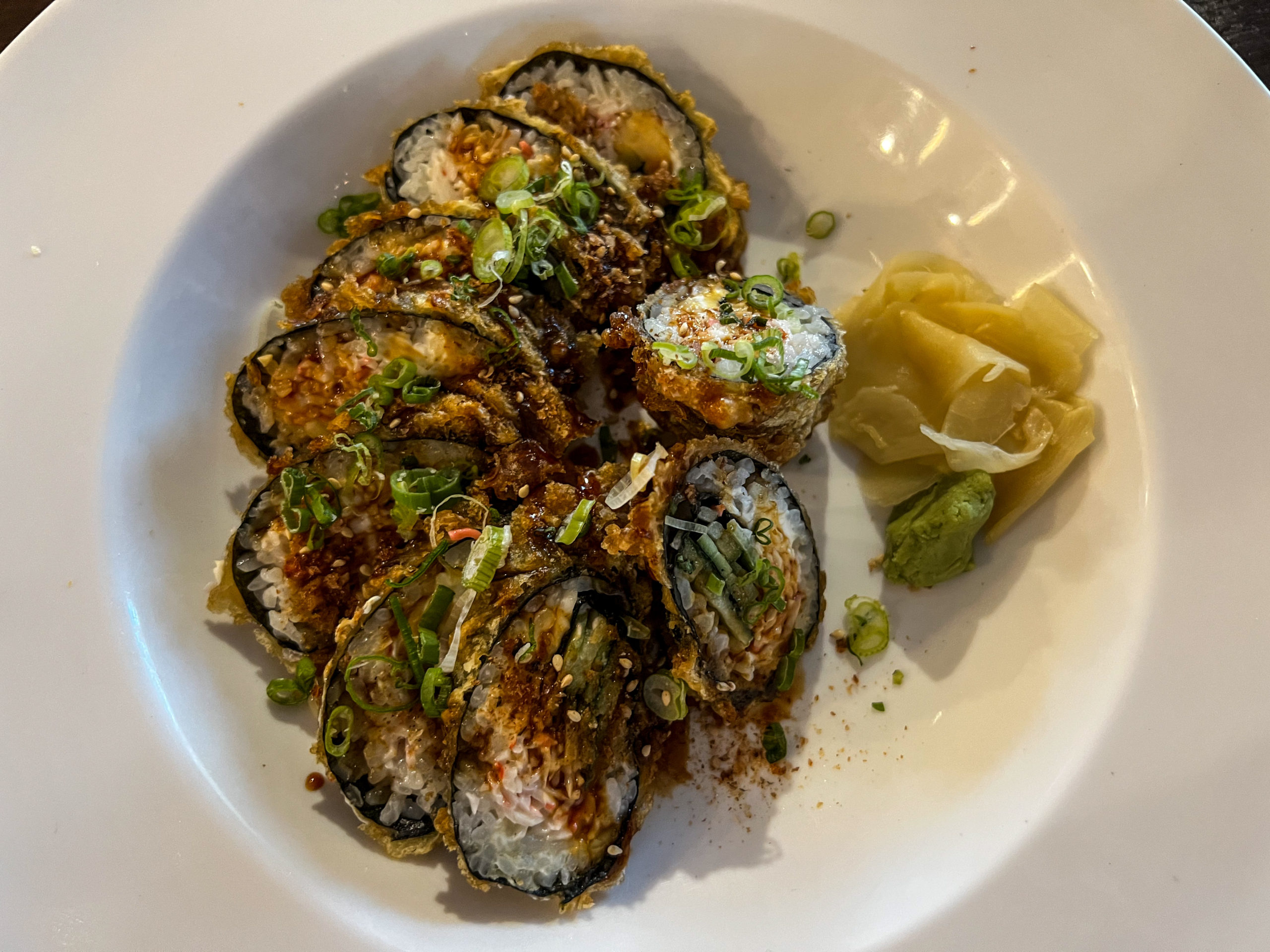 I was equally as impressed with the sushi appetizer value as I was with the Lava Drop sushi roll. Again, for only $5, you're served five beautiful bites of incredibly fresh nigiri. It was quite divine yet simple and completely exceeded my expectations.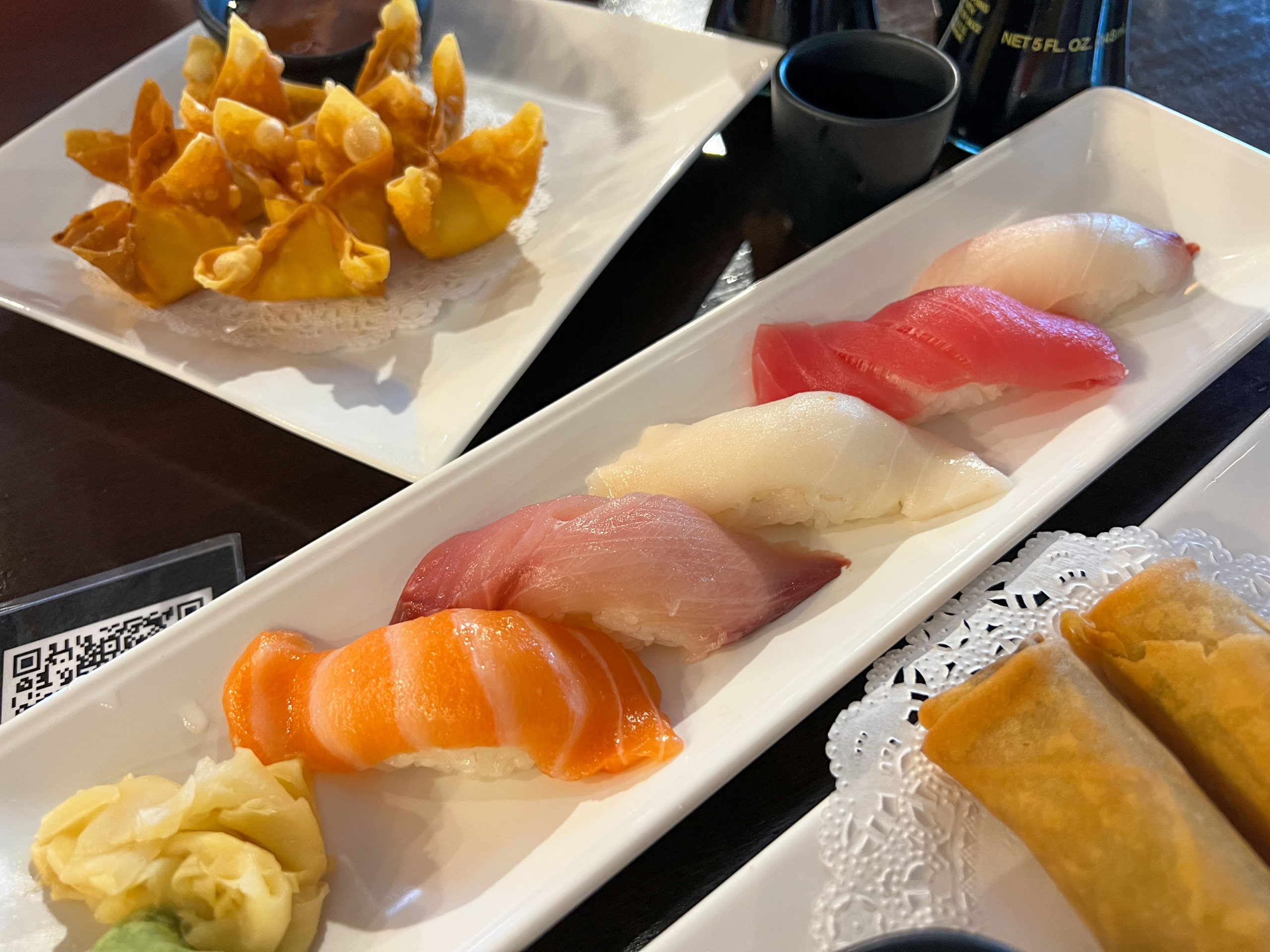 The Crab Rangoon was a perfect following act to the sushi appetizer. A texturally crisp sound exterior with a rich, creamy and a warm interior filling – it's a must every time for us. $3 is an absolute steal for this plate of four rangoon from 3-6:00PM. A sweet chili sauce is served along side these bites for dipping purposes, which is 100% necessary.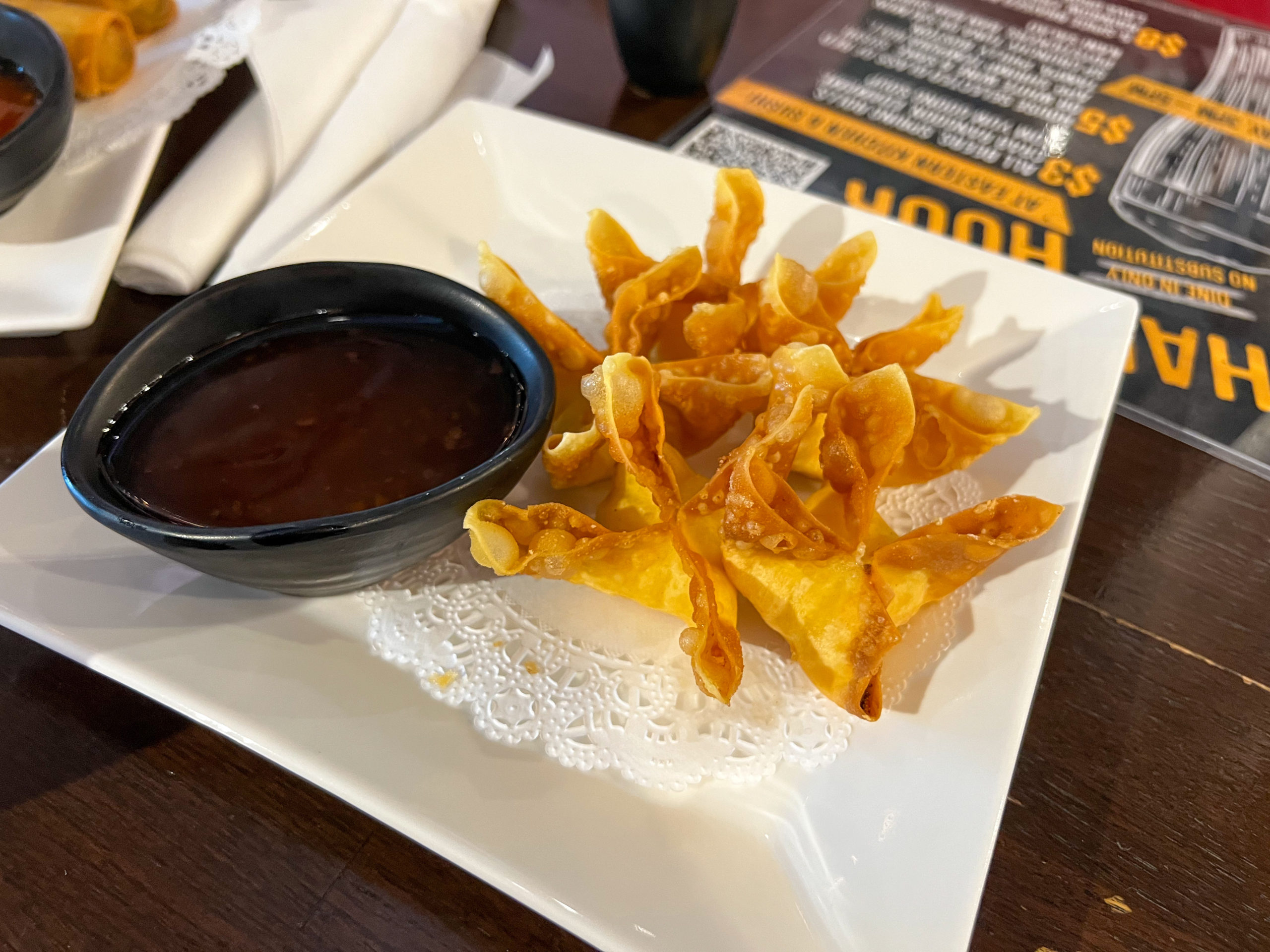 Anytime that we are at a restaurant with Pan-Asian fare, a house ginger salad is always a must for me. To be frank, it's probably one of my favorite salad combinations. There's something so refreshing and satisfying. At only $6.00 it's a much larger version compared to the usual ginger salads that I'm used to. That dressing is just divine.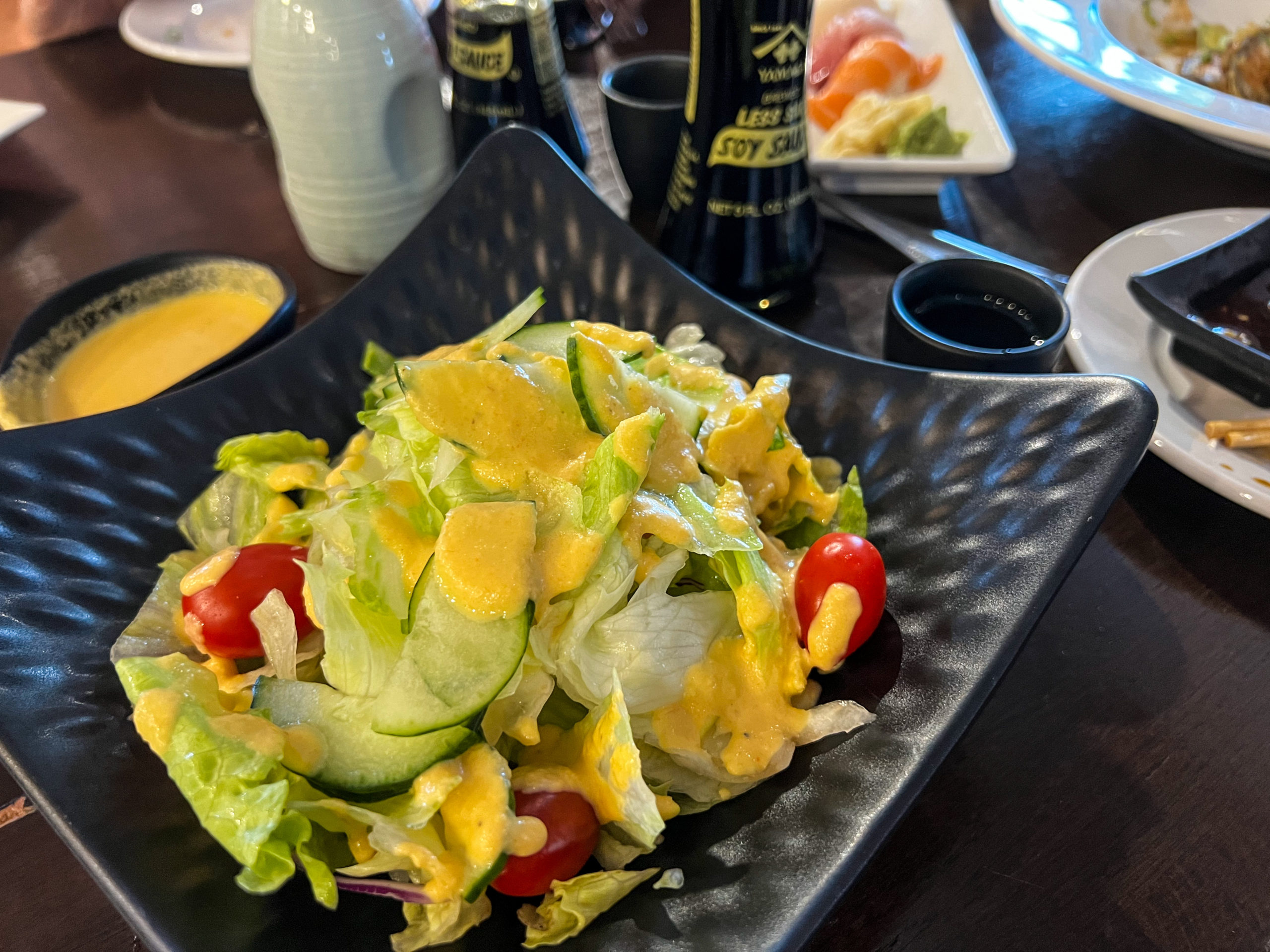 We are big fans of General Tso's anything. As soon as our waitress mentioned that that was one of their most popular items we immediately jumped at ordering it. For protein, you have the choice of tofu, chicken and shrimp. You're also encouraged to make a rice selection as well (white, brown, fried). We opted for chicken and fried rice and it definitely did not disappoint in the least. I would've perhaps liked smaller bites of chicken but that's just my preference. Chicken flavor was explosive with a touch of sticky sweet heat and was well balanced with the superbly cooked broccoli and corn. When overcooked, both are just subpar in my opinion. We shared it between the two of us and still had plenty of leftovers to enjoy for lunch the next day. It was a great note to end on.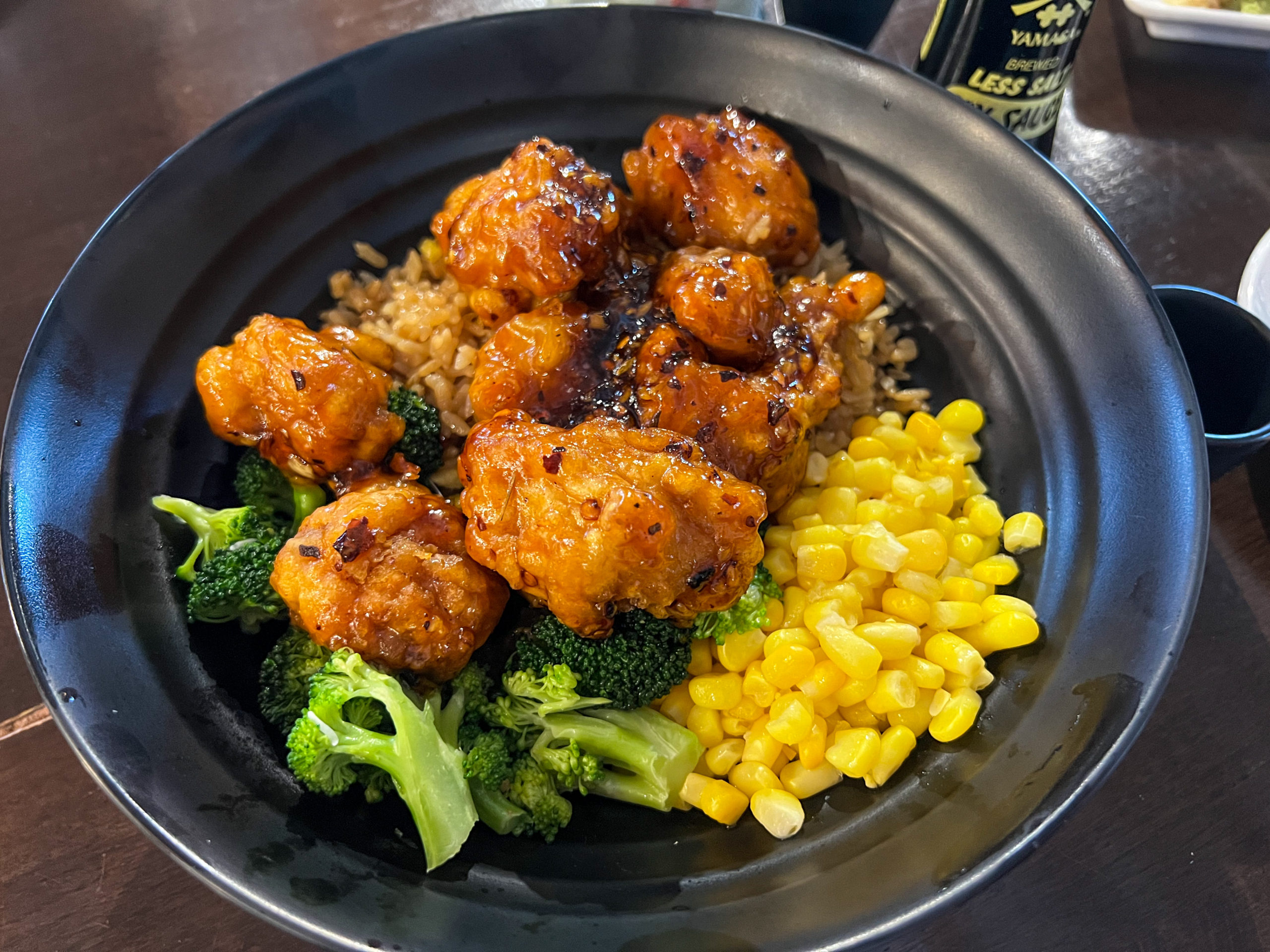 If you have not yet visited Eastern Kitchen & Sushi but are looking to give it a try, happy hour is a great place to start. Quality food, swift and exceptional service and a large array of specials – it's tough to go wrong.
Eastern Kitchen & Sushi's dining experience showcases a variety of Pan-Asian flavors including Japanese, Korean, Chinese and Thai. Join us for some Asian inspired tapas, healthy bowls, fresh sushi and more!
DISCLAIMER: Kevin, Lori, Abby, Haley, & Lindsey do not dine anonymously (this would be impossible) and we sometimes get free food (though never expected). However, we dine with the locals and we support our own. You will always get honesty in a respectful manner.

PLEASE NOTE: Reviews reflect a certain moment in time. Some restaurants stay extremely consistent over many years, and some change for the better or worse. Some things that may change are: chefs, recipes, food suppliers, ingredients, philosophies, ownership, etc. We always hope that you have the same good, or great experience we had.
More Foodies News, Reviews & Recipes