Baba on Central Brings Mediterranean Flair to the Grand Central District
Baba on Central Brings Mediterranean Flair to the Grand Central District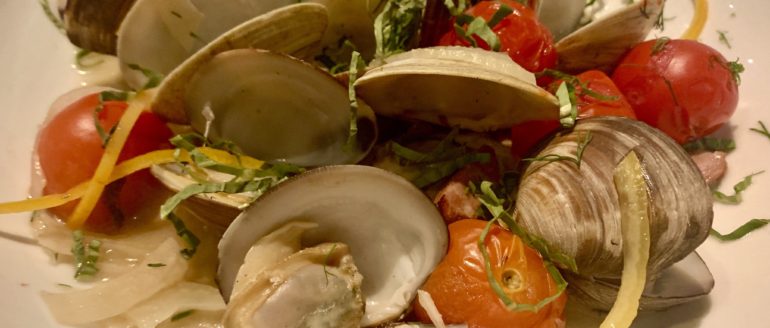 Baba is a Greek-Lebanese inspired restaurant and bakery in the Grand Central District brought to us by the owners of local favorite, Bodega on Central, Debbie and George Sayegh. They set out to honor their family through the food and recipes of their childhood. Debbie grew up in Greece and George in Lebanon. Baba which literally translates to father is often used as a term of honor and endearment in many mediterranean cultures.
(All photos by Haley Haman unless otherwise noted)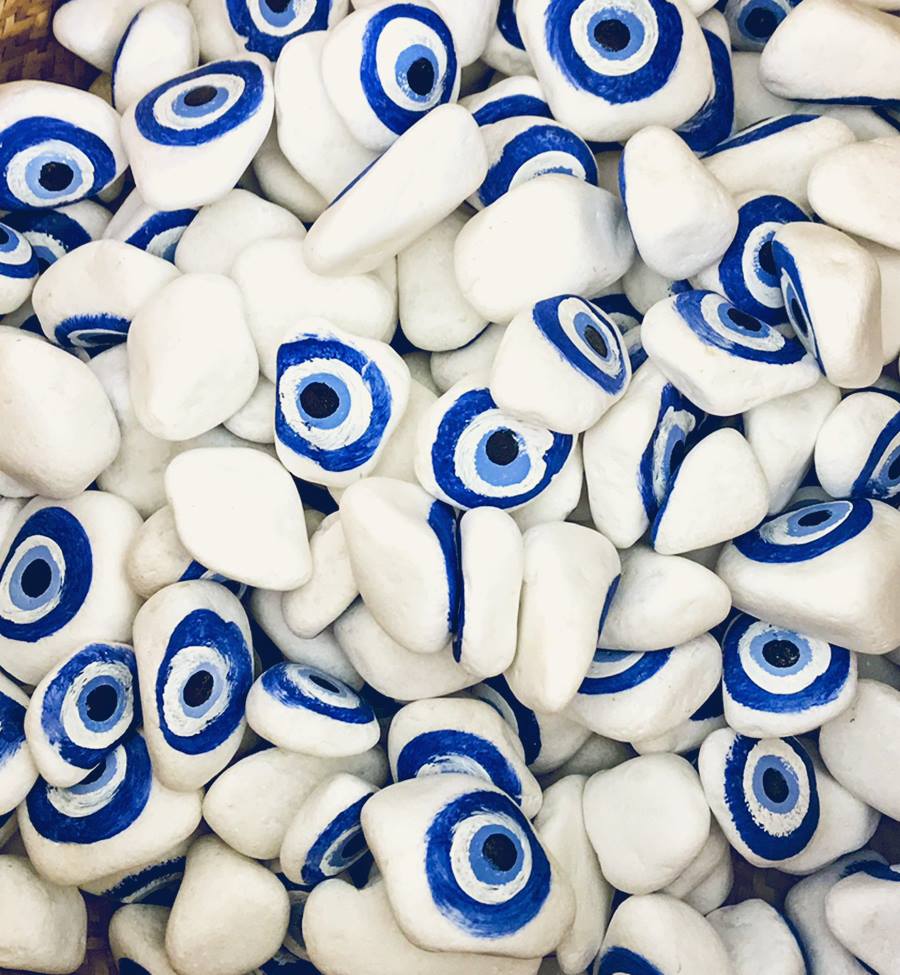 The atmosphere at Baba is trendy with beautiful indoor and outdoor seating. You'll find the evil eye symbol – called a Matiasma – and clean, cool colors painted around the restaurant too, which puts the mediterranean aesthetic right in place with the menu. Beyond the pleasant vibes of the interior design, the food is delightfully tasteful. Baba has brought a great menu of fresh mediterranean-inspired dishes to St. Pete.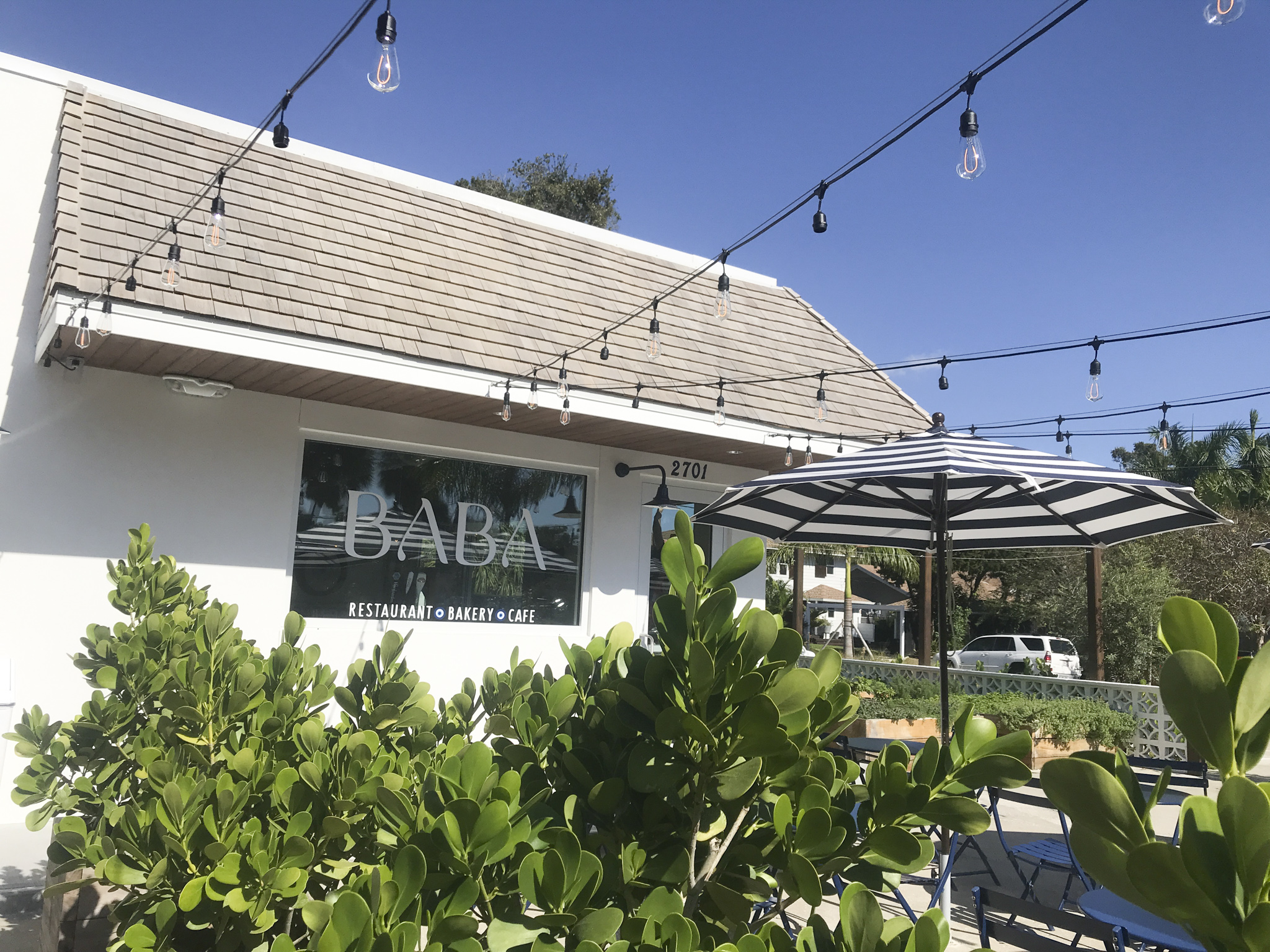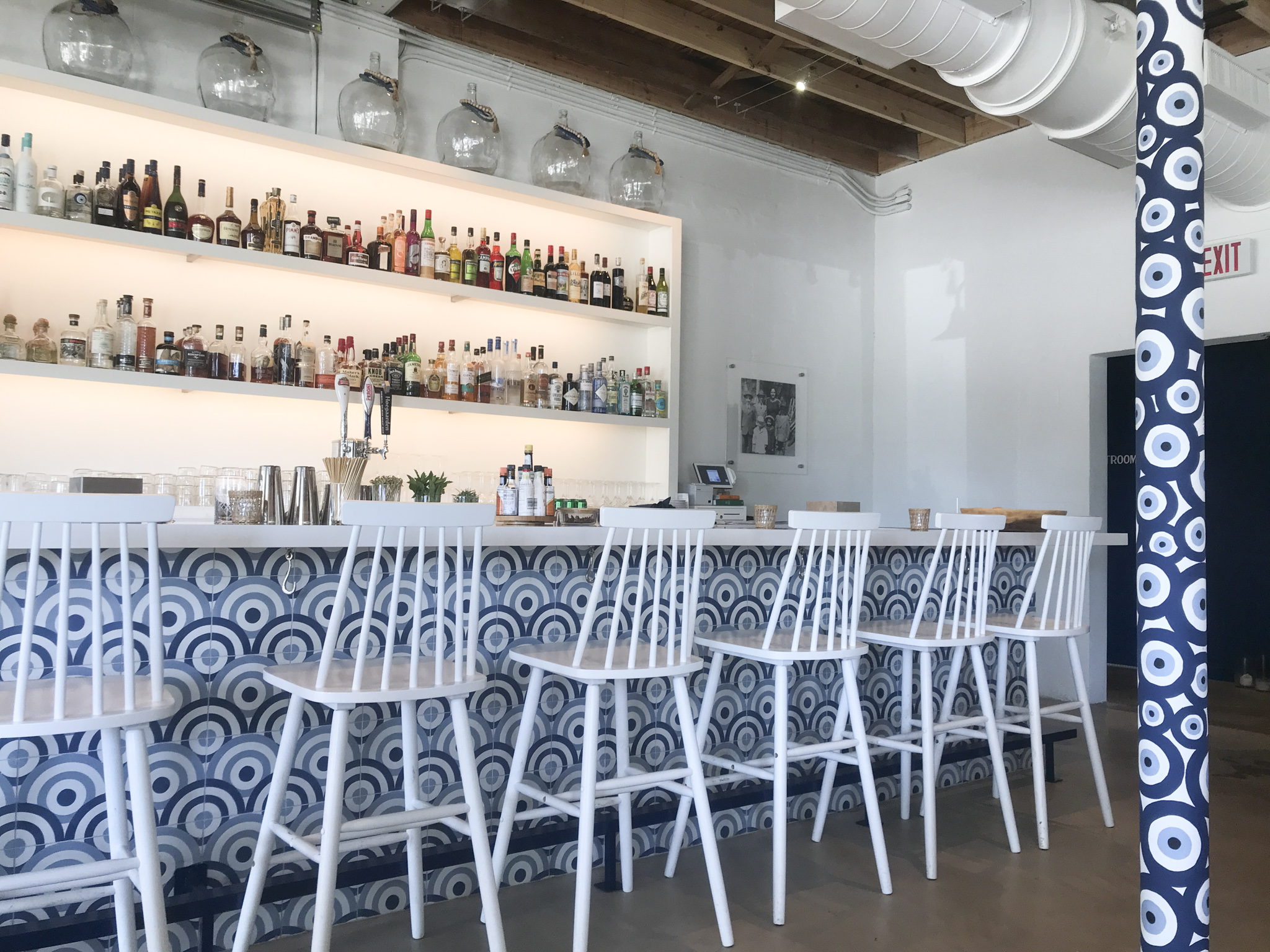 We went for lunch and luckily the weather was beautiful so we were able to sit comfortably with the doors open and a Florida breeze flowing in.
To start off, we ordered three spreads for the table which came with freshly baked pita and za'atar bread. The choices were Muhammara, Tzatziki, Tabouli, Baba Ganoush, Lahneh and Hummus.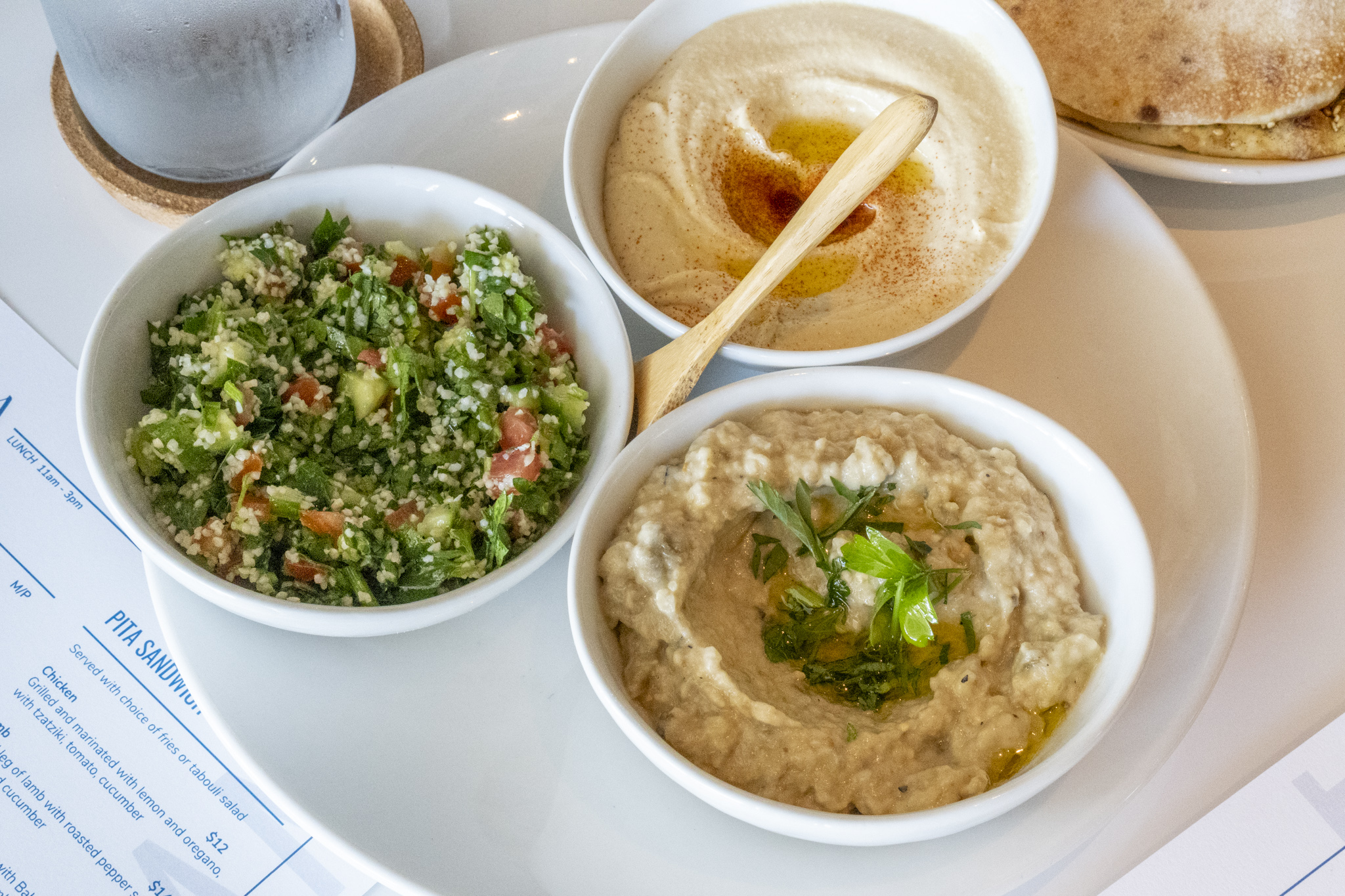 We got the Tabouli, Baba Ganoush, and Hummus. The tabouli salad was light and a great starter before the main meal. The Baba Ganoush was delicious, I kept catching myself going back for more. The Hummus is a no-brainer. It's simple yet tastes so good with the warm pita bread. All of the ingredients were obviously fresh and set the tone for our lunch.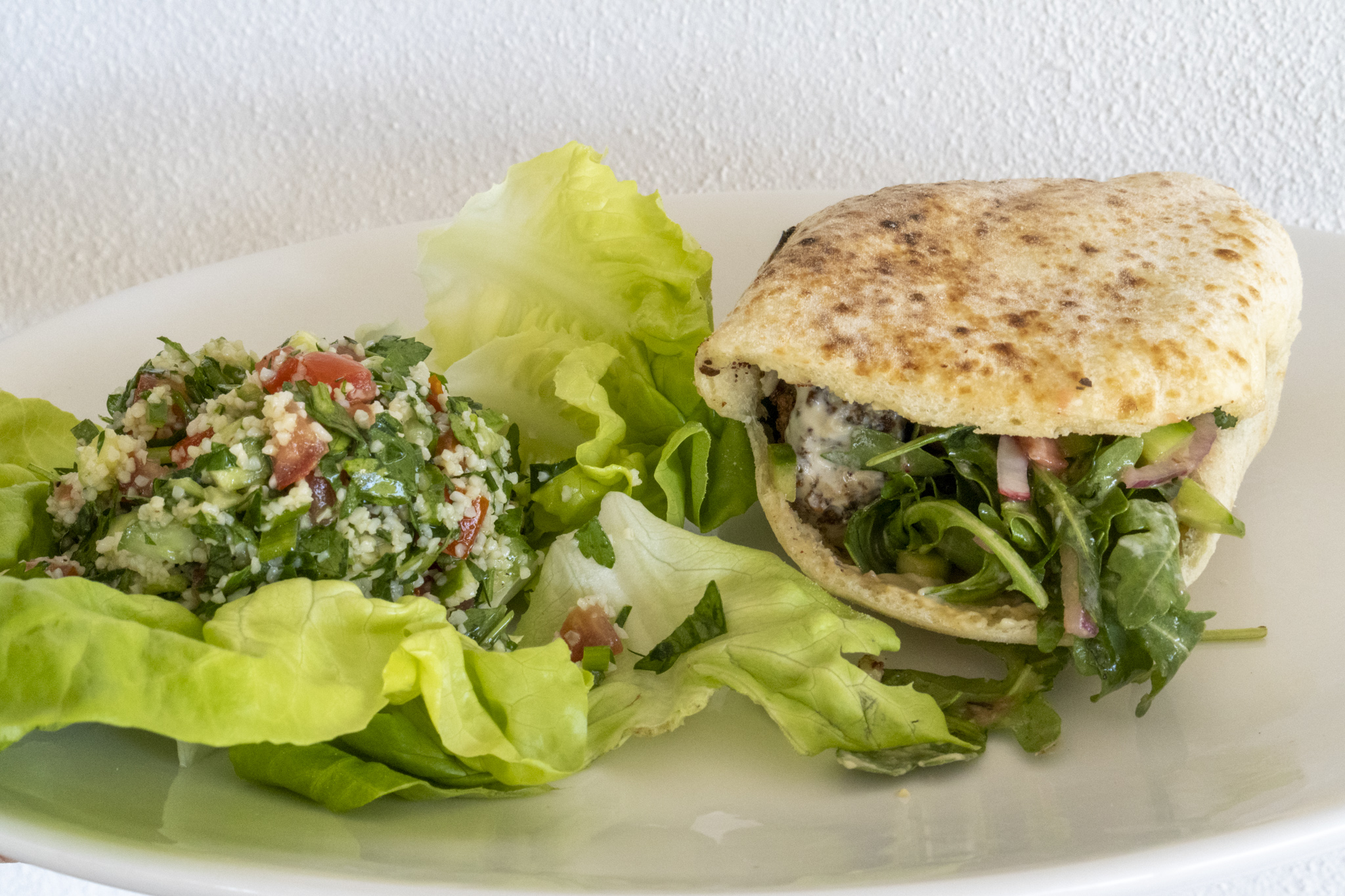 I got the Falafel Pita Sandwich with a side of Tabouli Salad. Inside the pita was a delicious mix of falafel, hummus, tahini sauce, baba ganoush, tomato, cucumber, and greens. This was soooo filling and full of flavor. I have to admit I think this is the best falafel in town and would definitely recommend it.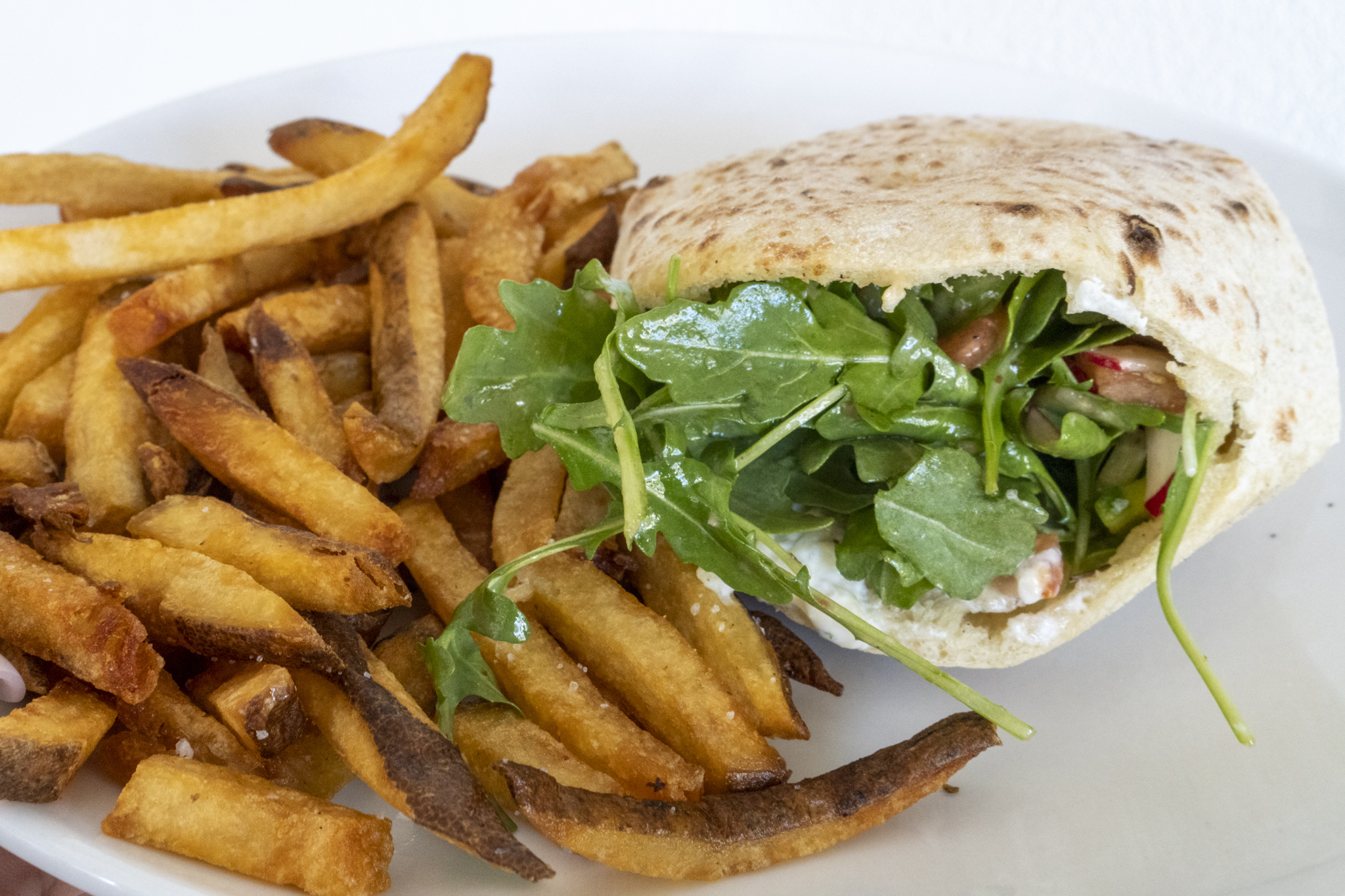 Two friends at lunch both ordered the Chicken Pita with fries. The chicken is grilled and marinated with lemon and oregano, and inside the pita is also tzatziki, tomato, cucumber and greens. Based off of their clean plates at the end of lunch, its safe to say they enjoyed their meal. I usually would have ordered something like this but I was intrigued to try their falafel. I'd probably try this myself next time!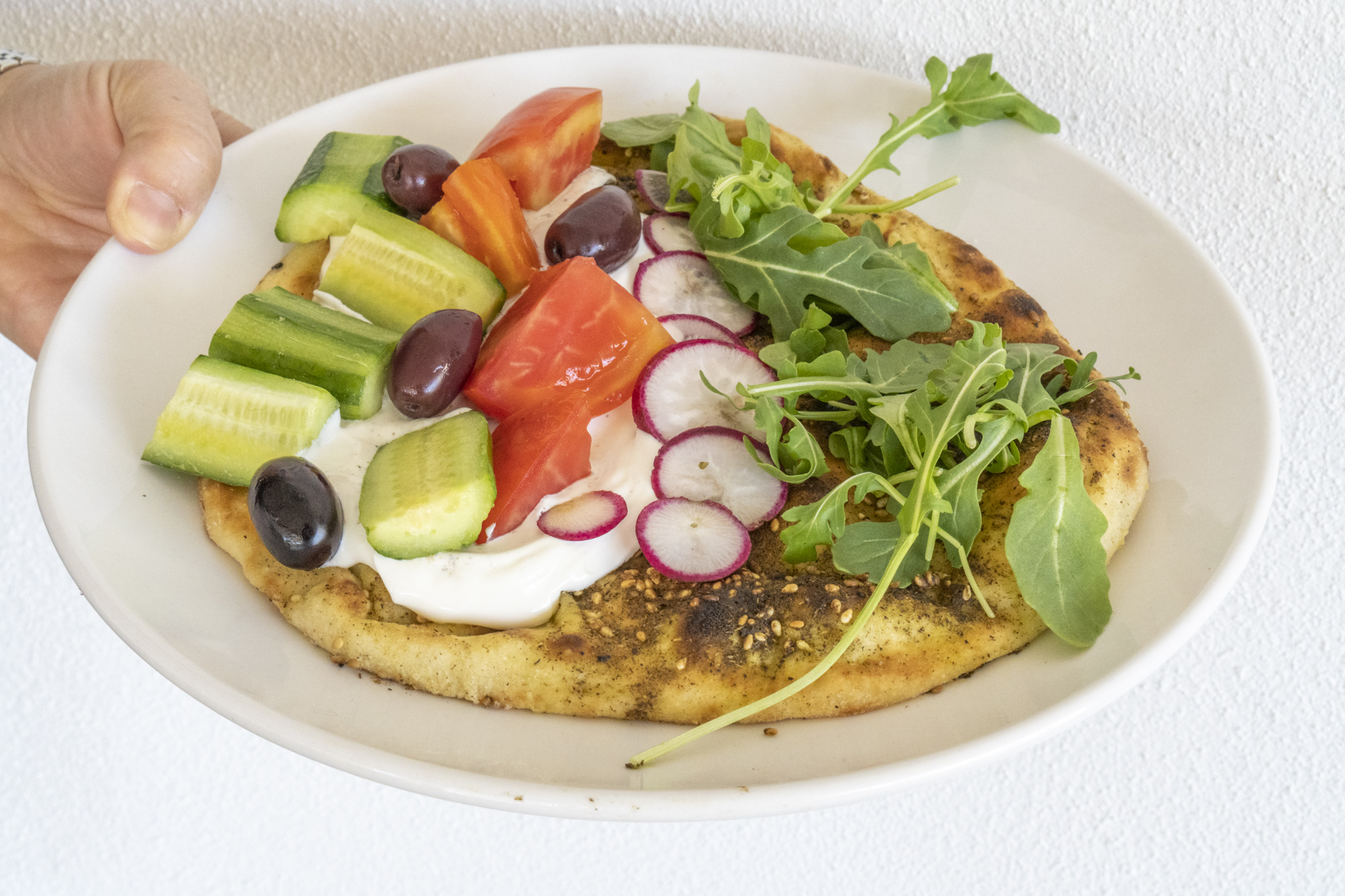 For a lighter lunch, you can go for the Za'atar starter with Tomato, Cucumber, Olives, Arugula, Radish, and Labneh. This is a pretty traditional Middle Eastern snack with fresh vegetables to dip in the Labneh, which has a similar taste to greek yogurt.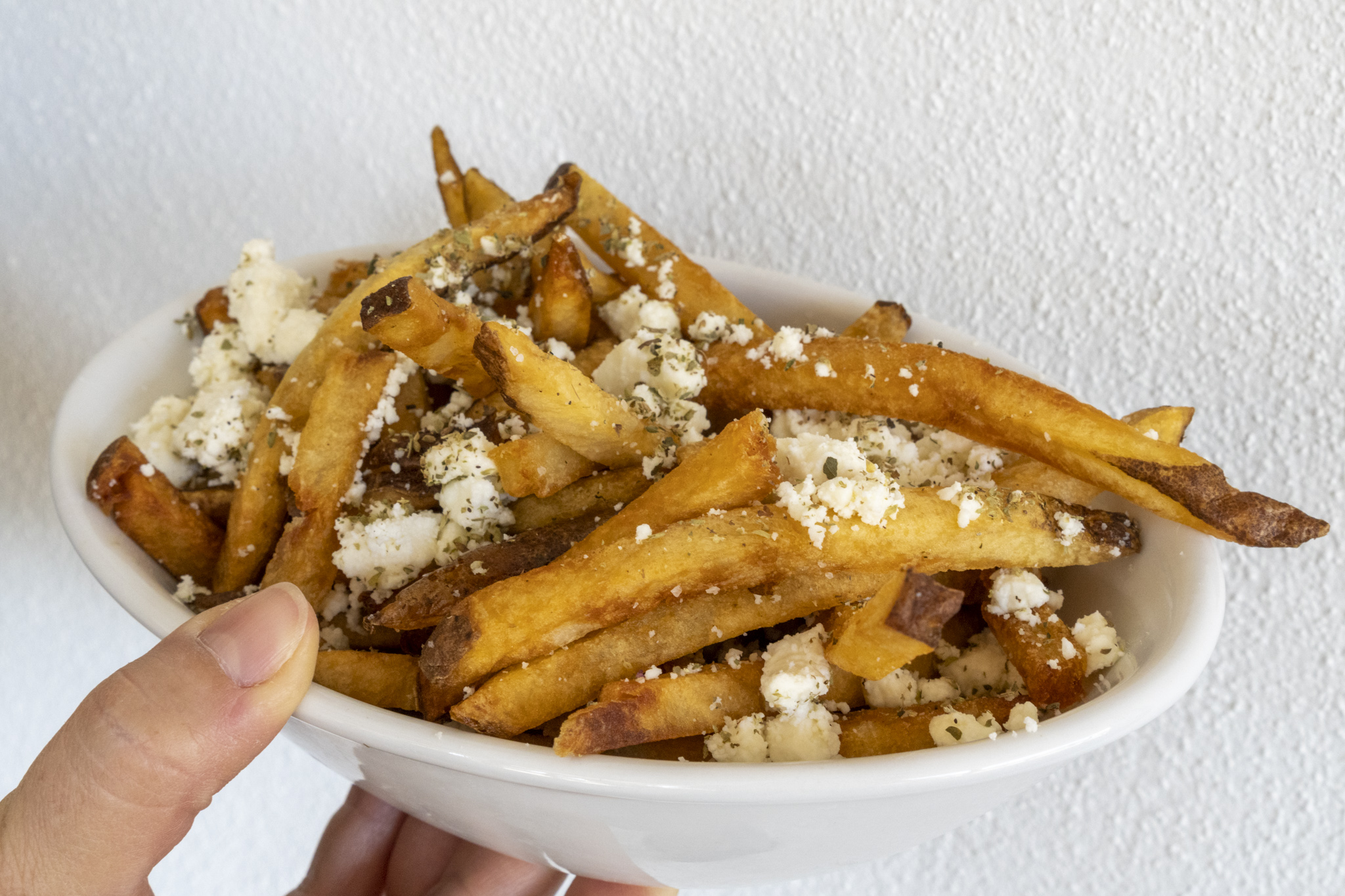 If you have a savory tooth at lunch like me, do yourself a favor and get a side of fries with feta. Delicious, crisp, salty and great to hit the spot.
Also on their lunch menu: Souvlaki Skewers, salads, and a variety of starters including Grilled Octopus, Citrus-Marinated Olives, Kouloudia, Fried Calamari and more.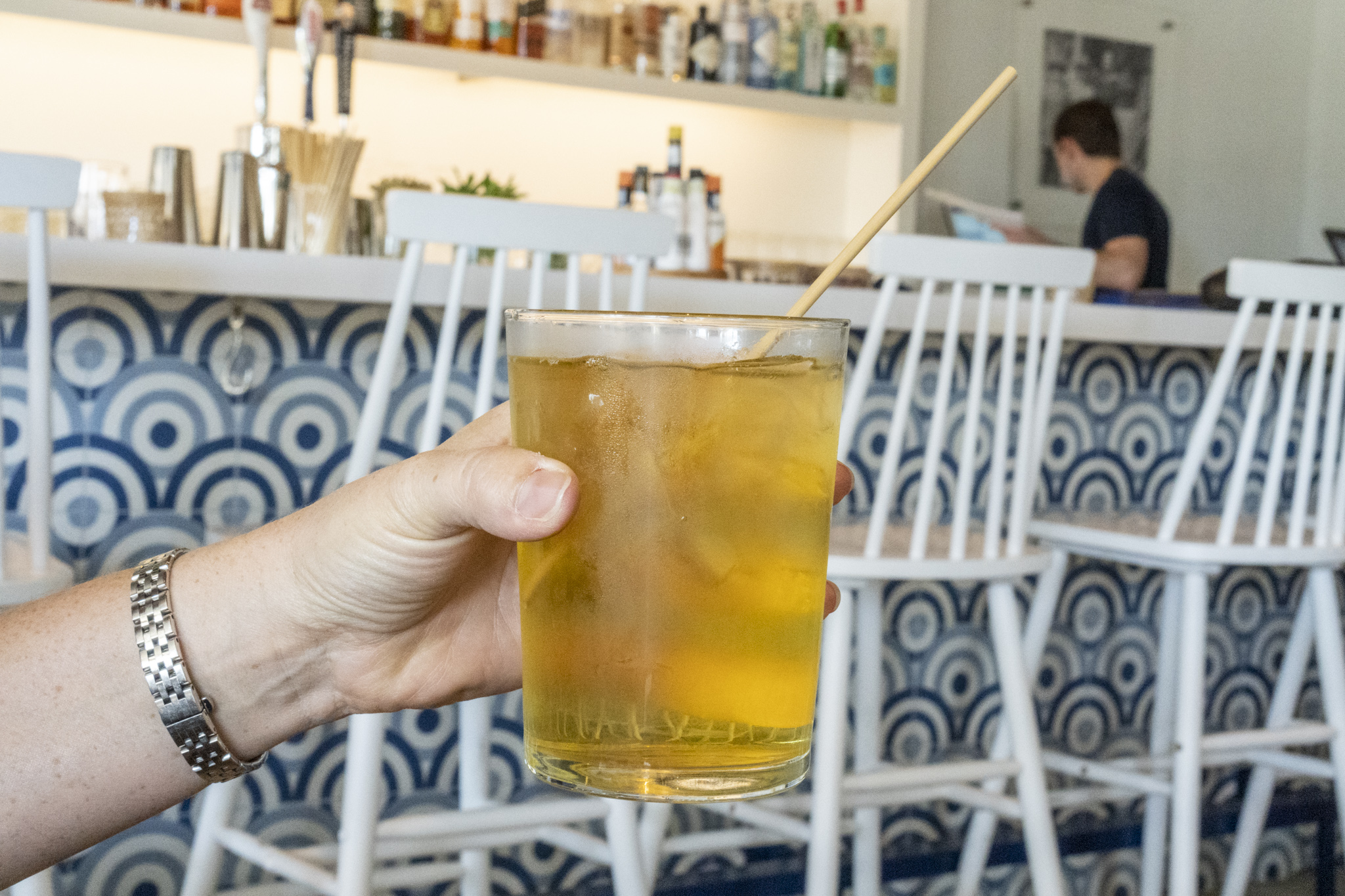 Here's a refreshing herbal tea from the bakery that my friend Erin enjoyed during lunch.
If you save room for dessert, head over to their bakery right next door. They have sweet and savory Middle Eastern and local baked goods, greek yogurt with different toppings, coffee and tea drinks, and so on.
For lunch, I thought Baba was a great spot offering fresh, Greek food. The Baba Ganoush and Falafel Pita were delicious and really hit the spot. I can't wait to go back to try more of their menu and of course, I'll save room for dessert next time.
(Some portions of the intro contributed by Lori Brown)
Baba – Dinner Scrumptiousness by Lori Brown
(All photos by Lori Brown unless otherwise noted)
Since Kevin and I have been to Baba on Central for dinner and I did a very nice post about it on Facebook. We decided not to waste the gorgeous food porn and include it in Haley's piece to express just how much we did enjoy dinner and can't wait to go back and try more. Please continue reading to see some Baba dinner scrumptiousness.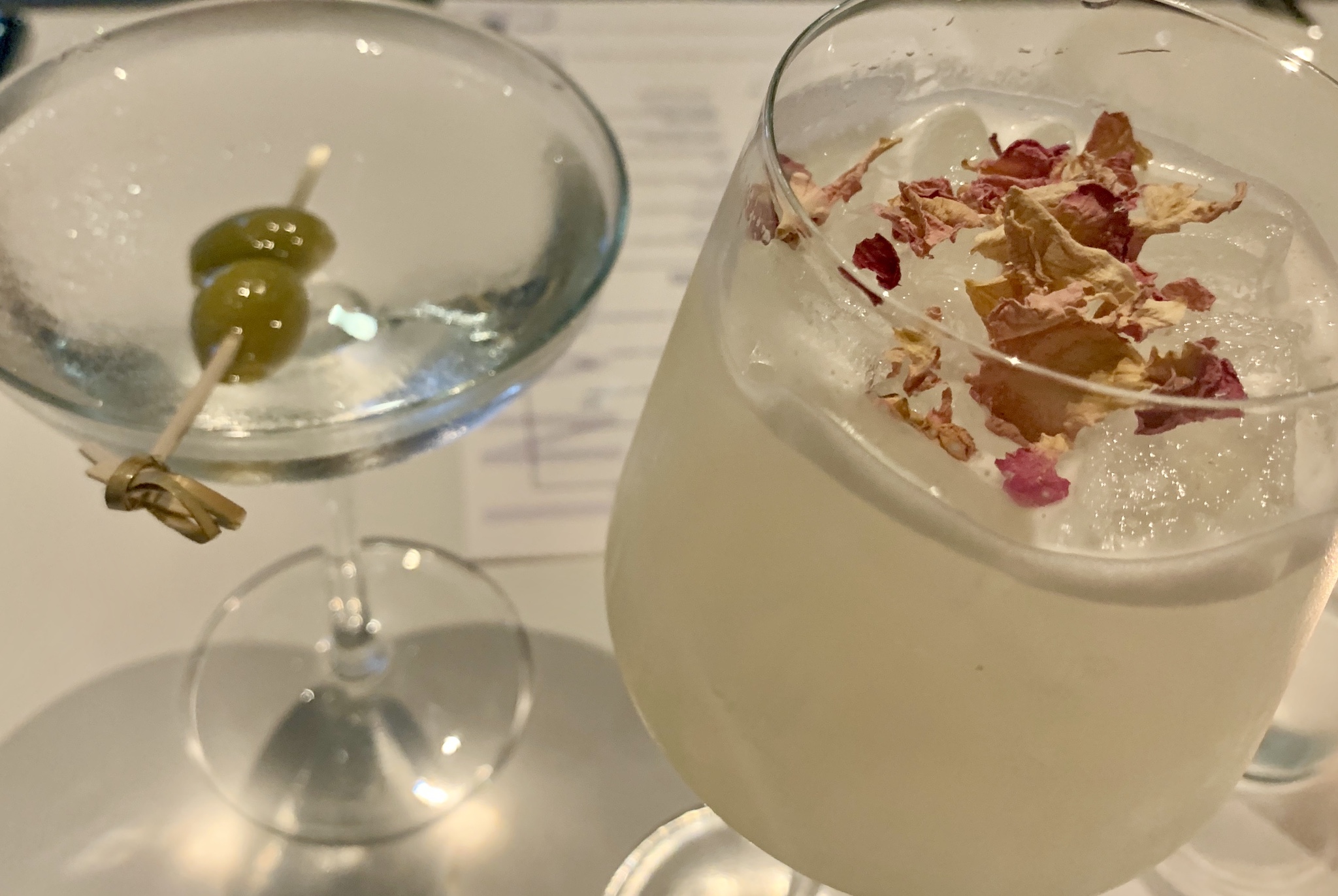 We had dinner at Baba for the first time last night (October 31st, 2019) with our good friends, Mario and Susan Farias. We had a nice spread of food and great service. The space is nice and airy, but I can see how it could be very loud inside, if full. During our nice cool months, they have a stunning outdoor space to be enjoyed by all.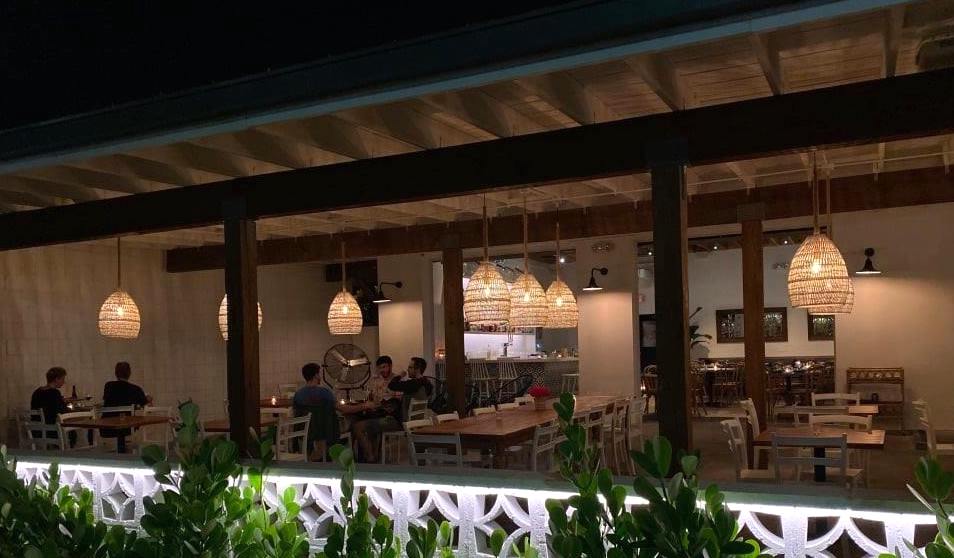 Kevin and I started with the Octopus appetizer, which to be honest I just agreed to and wasn't all that excited about. It exceeded my expectations! With grilled potatoes, tomatoes, lemons and capers, it was absolutely bright, scrumptious and perfectly cooked. Loved it!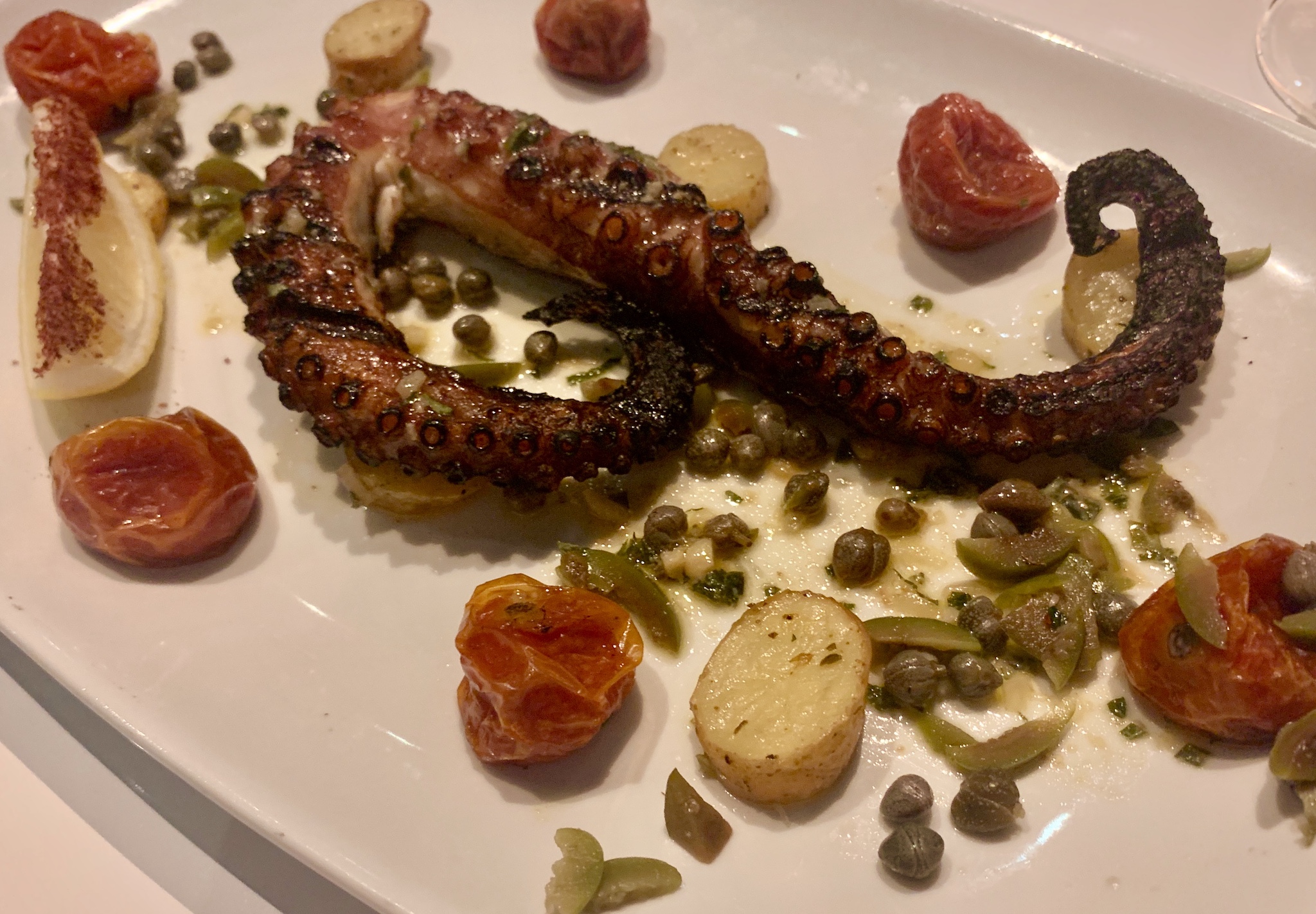 Next Kevin humored me because I wanted the Village Salad with just tomato, kalamatas, capers, feta and cucumber. He couldn't stop raving at how good it was. It's my favorite type of salad…simple, light and great flavor!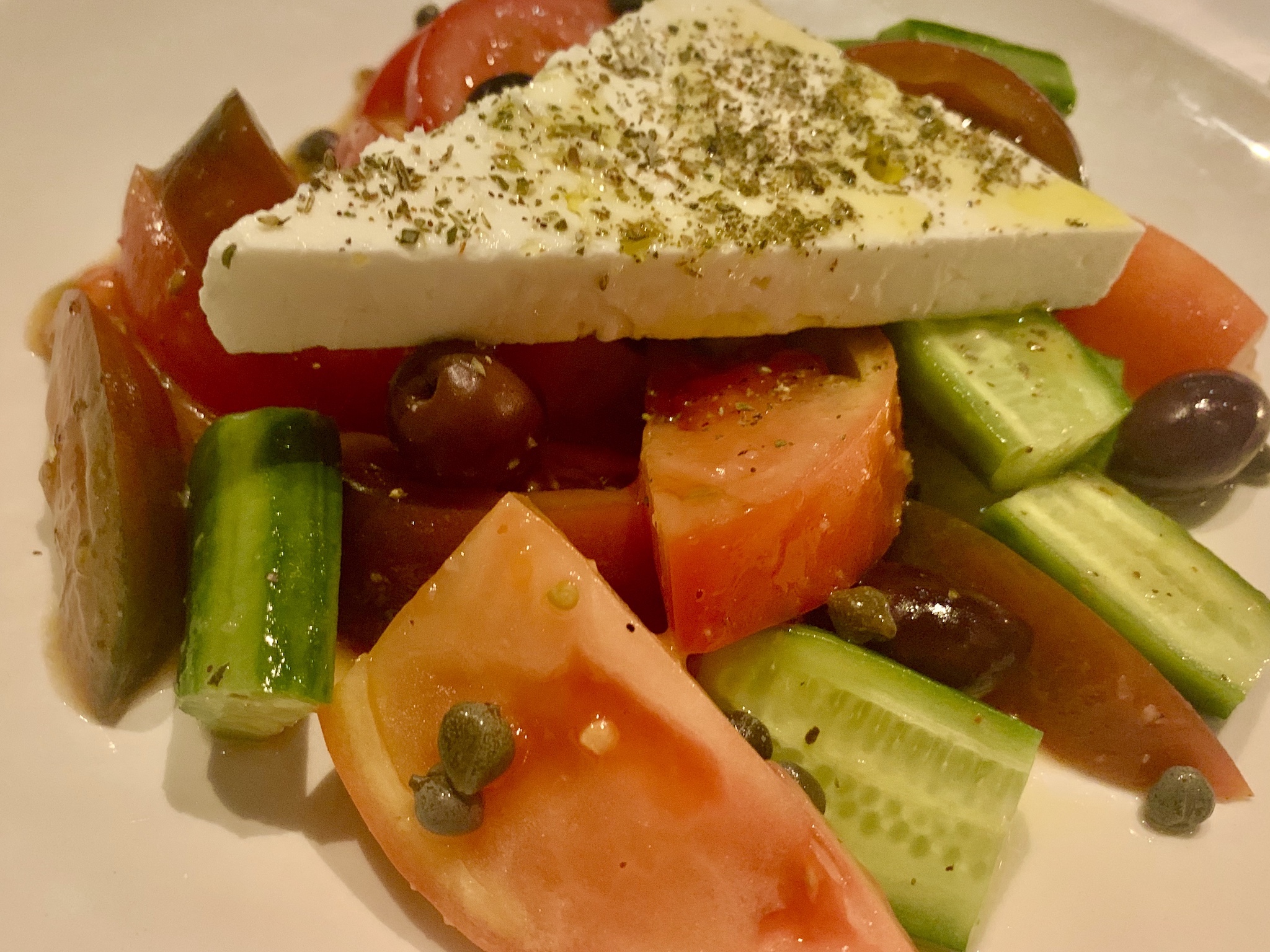 Mario and Susan shared the local clams with lemon dill, white wine, chickpeas, bottarga and pita bread crumbs. We didn't taste it but they seemed to really enjoy it!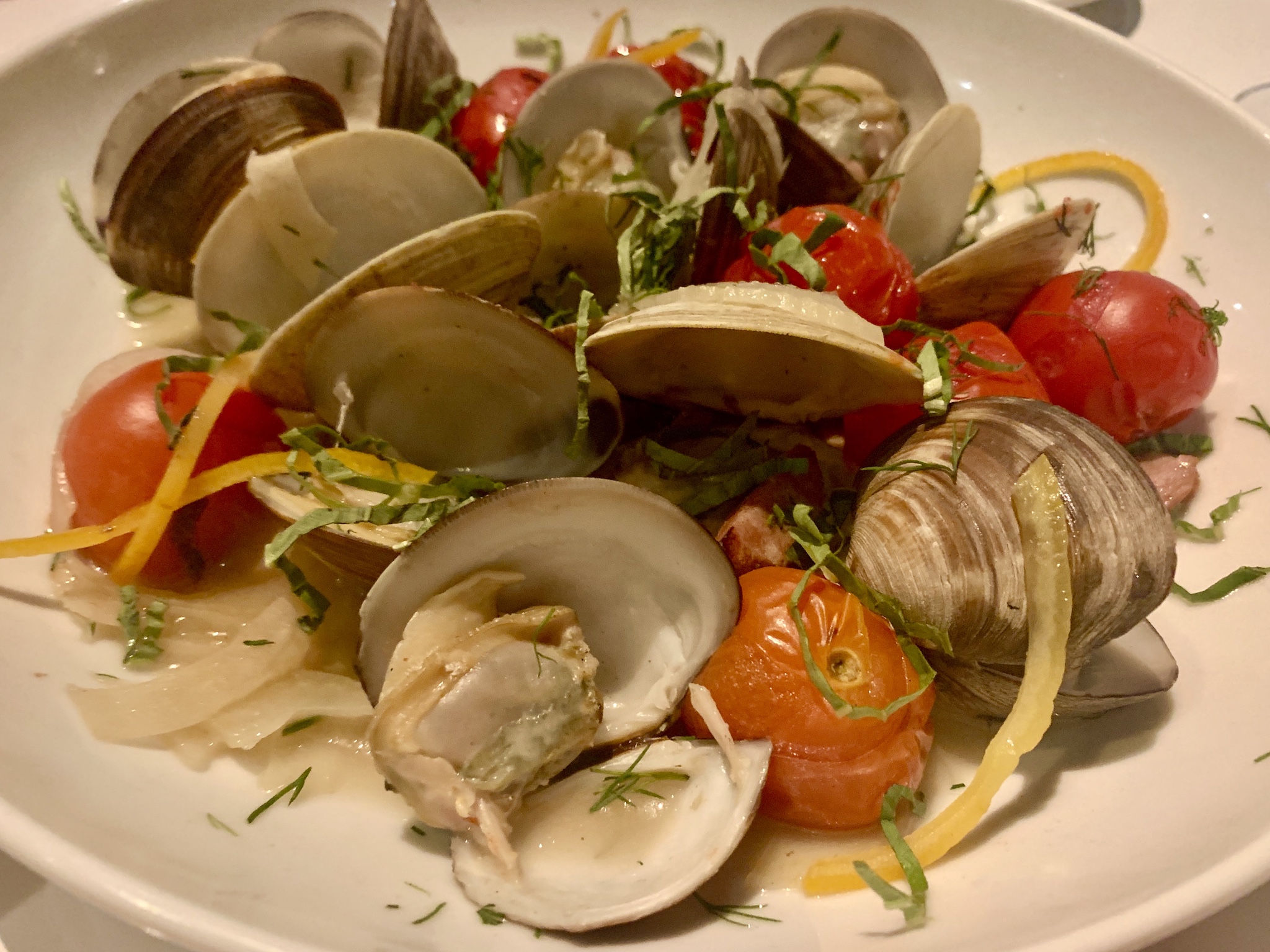 For our entrees Kevin and I both ordered specials. He had the Silk Snapper served with anchovy navy beans prepared with Greek olive oil, roasted garlic, preserved lemon and mirepoix. It was delicious! He had to stop himself from eating it all, as we are attempting to lose some weight.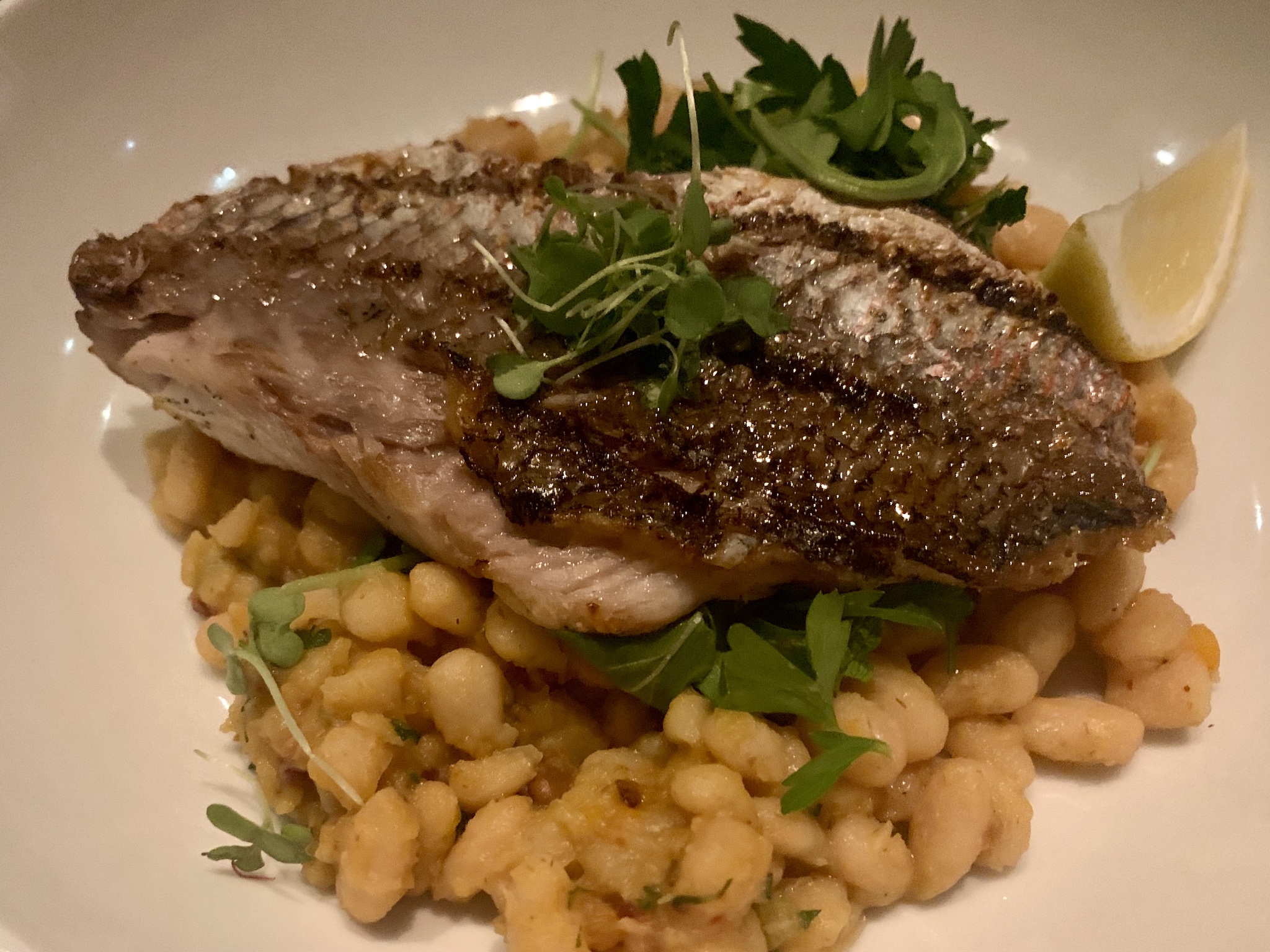 I had the Rouget, French for little red fish, served with dehydrated tomato tapenade, herb salad and house made mild chili oil. The flavors were fantastic but I was not warned that this was a whole fish and had lots of little bones. What I could eat of it I enjoyed, but wouldn't order again.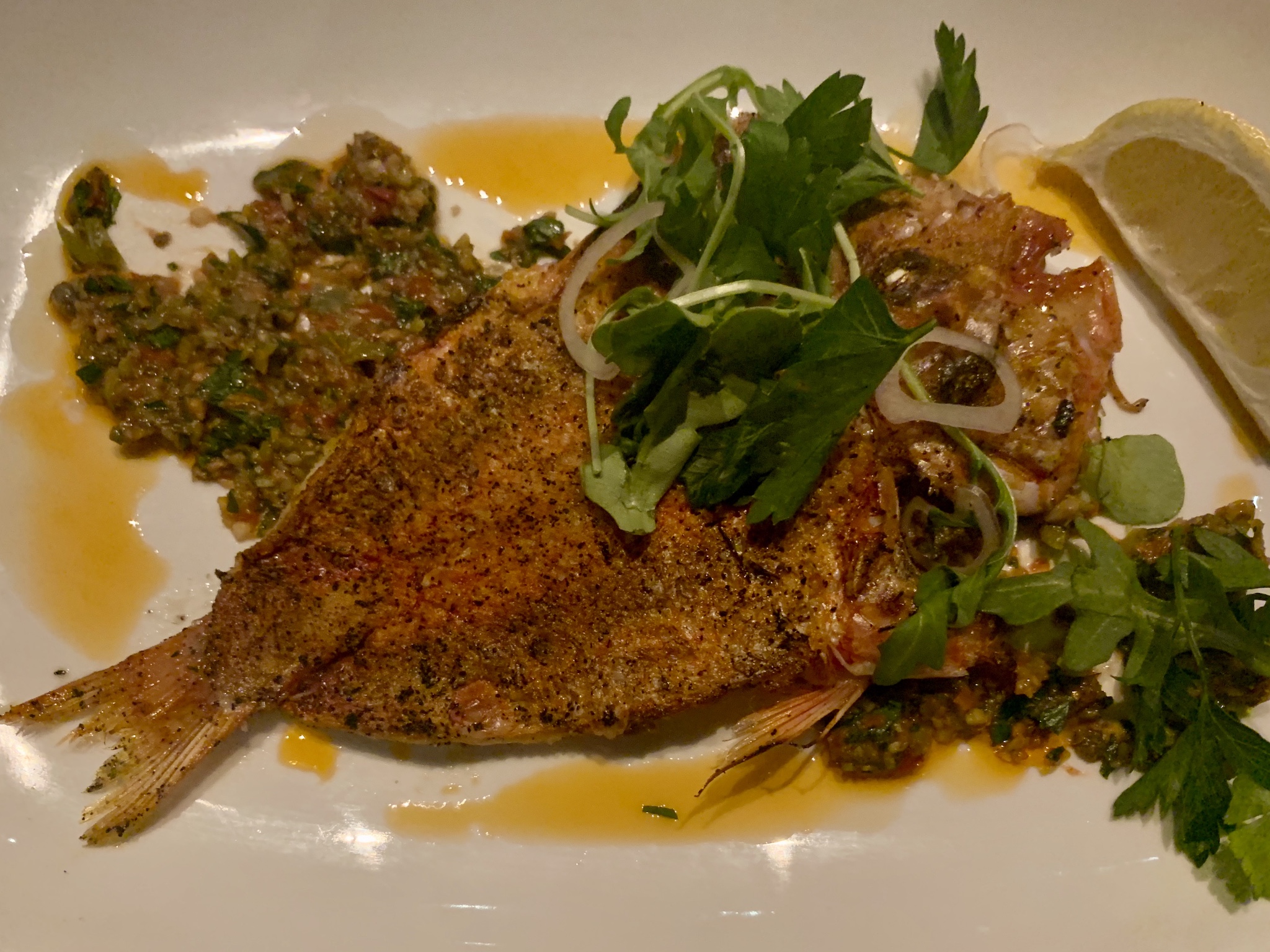 Susan had the Papoutsakia, pronounced pop-ooo-sock-e, which is eggplant stuffed with lentil, walnuts, tomato and roasted peppers. She loved it and ended taking half of it home and finished every bite for lunch the next day. I had a delicious bite too.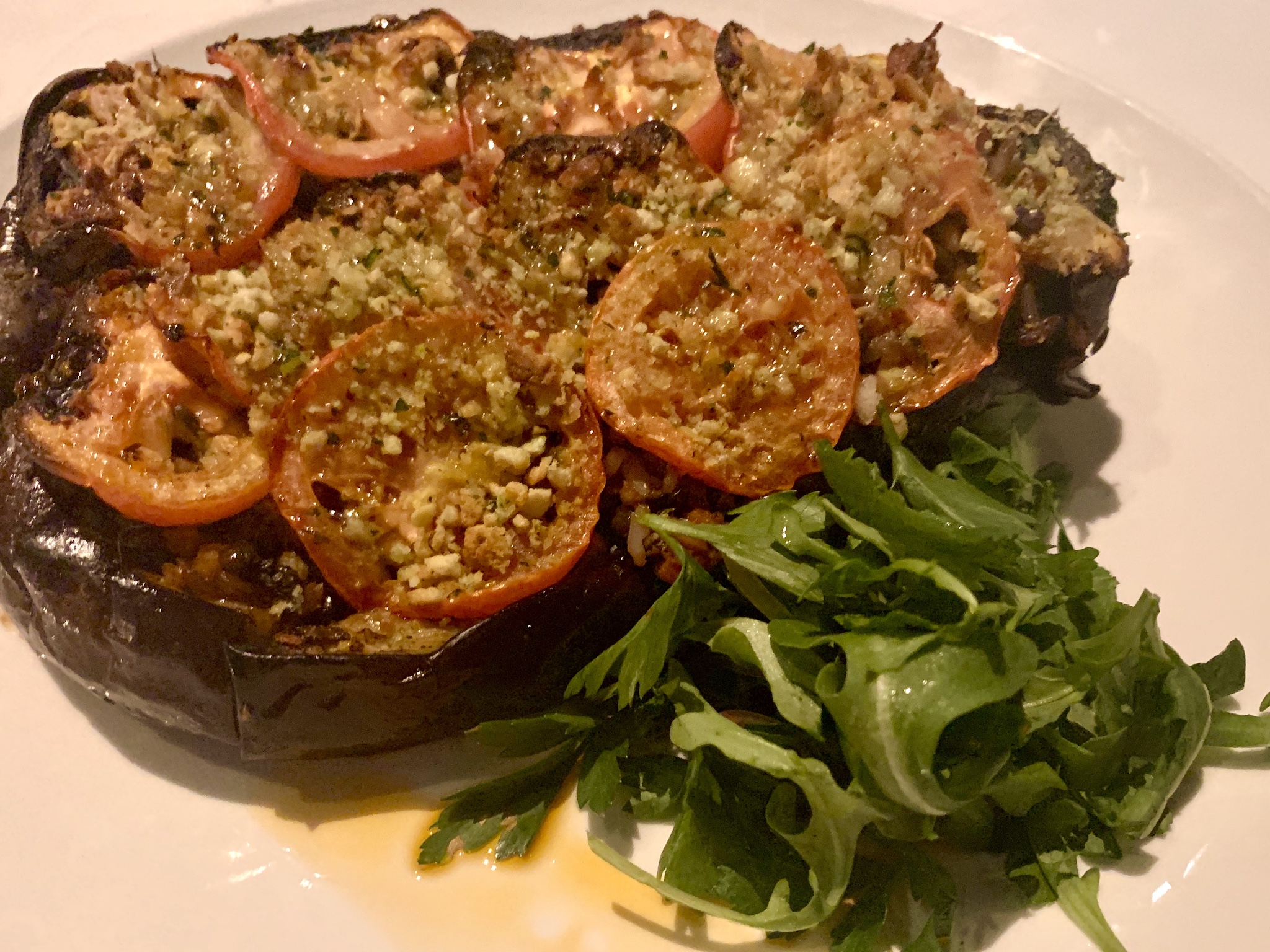 Mario and Susan shared the Blueberry Panna Cotta dessert and forced us to try it. There was some real arm twisting involved. So glad that we tried it. It was absolutely divine! Creamy and fantastic flavors.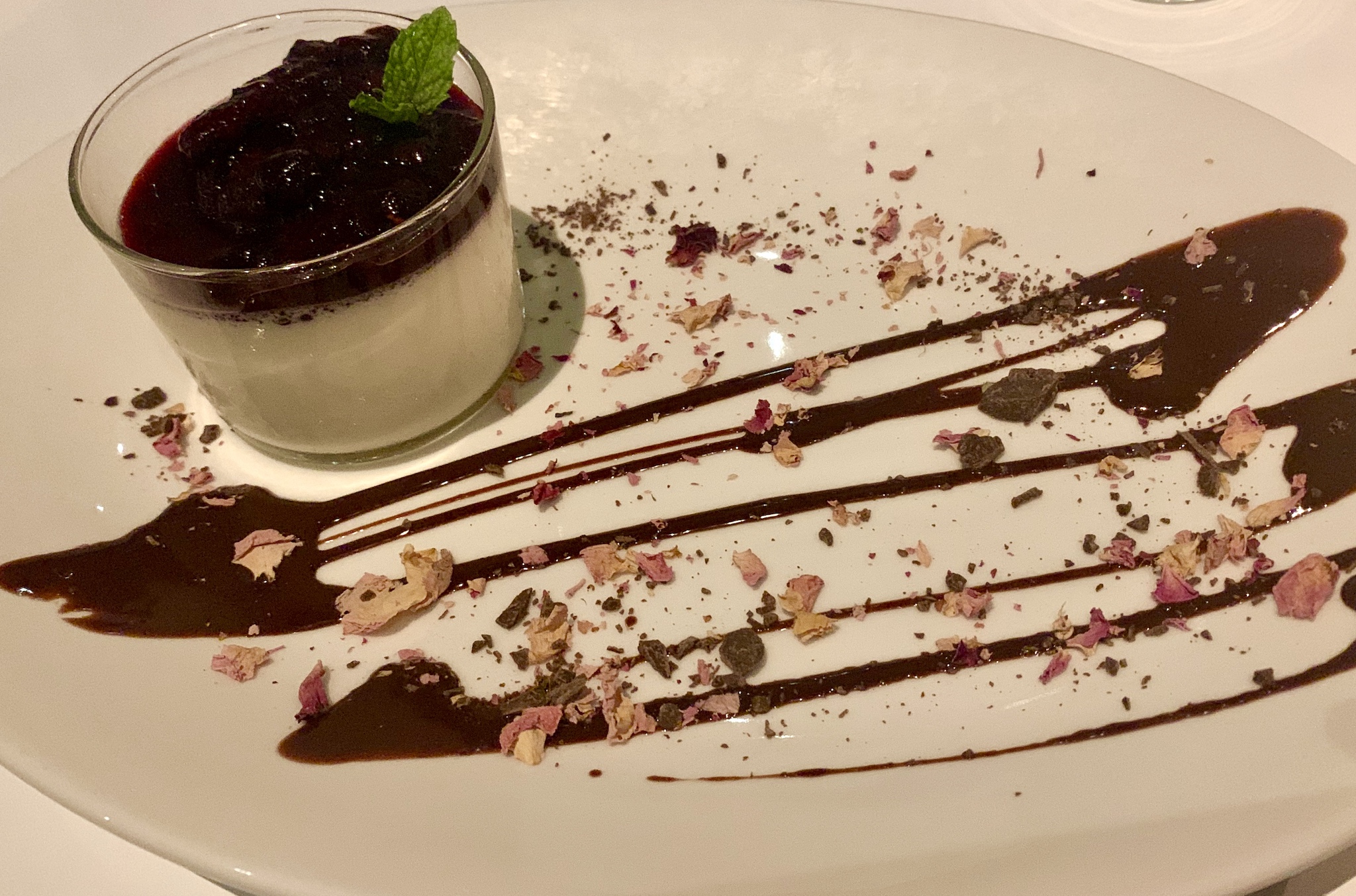 Overall a great experience and we will return very soon as there are several other menu items that we are super excited to try. Just sad that we didn't get to see Allison Harris last night. But very soon! Special thanks to Allison for getting me the descriptions of the specials and my drink.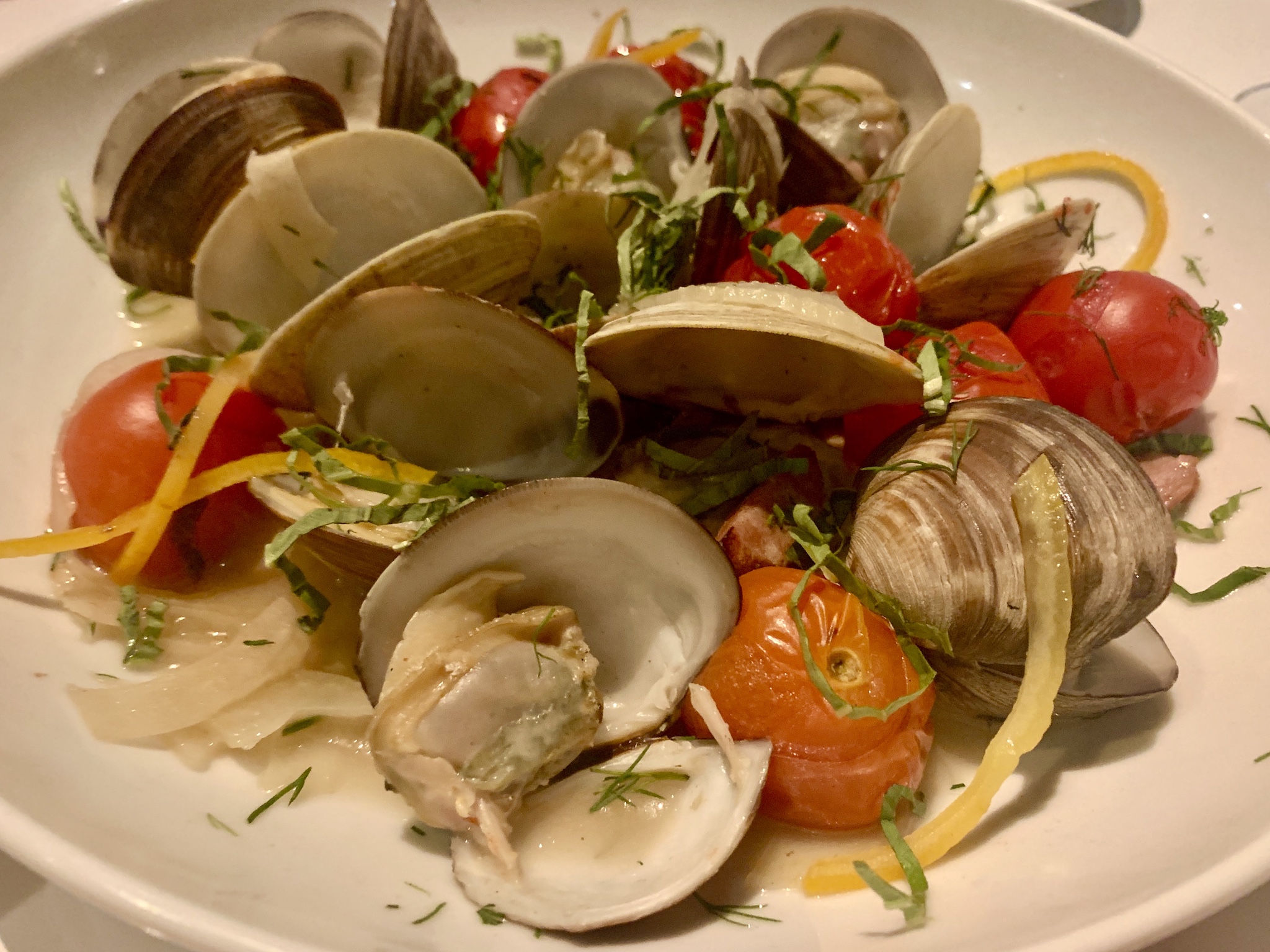 Readers Rating

Rated 4.9 stars




4.9

/ 5 (

Reviewers

)

Spectacular
---
Baba on Central

(727) 954-3406

Greek

,

Mediterranean

,

Bakery

Wed - Sun

11:00am - 3:00pm

Wed - Thu

5:00pm - 9:00pm

Fri - Sat

5:00pm - 10:00pm
2701 Central Ave

,

St. Petersburg

,

FL

33713

,

US
---
Mediterranean Restaurant, Bakery, & Cafe
DISCLAIMER: Kevin, Lori, Abby, Haley, & Lindsey do not dine anonymously (this would be impossible) and we sometimes get free food (though never expected). However, we dine with the locals and we support our own. You will always get honesty in a respectful manner. We do not include any large national or regional chains in our ratings and reviews. We focus on independent locally owned eateries exclusively.

PLEASE NOTE: Reviews reflect a certain moment in time. Some restaurants stay extremely consistent over many years, and some change for the better or worse. Some things that may change are: chefs, recipes, food suppliers, ingredients, philosophies, ownership, etc. We always hope that you have the same good, or great experience we had.
More Foodies News, Reviews & Recipes