Iberian Rooster Restaurant Review
Iberian Rooster Restaurant Review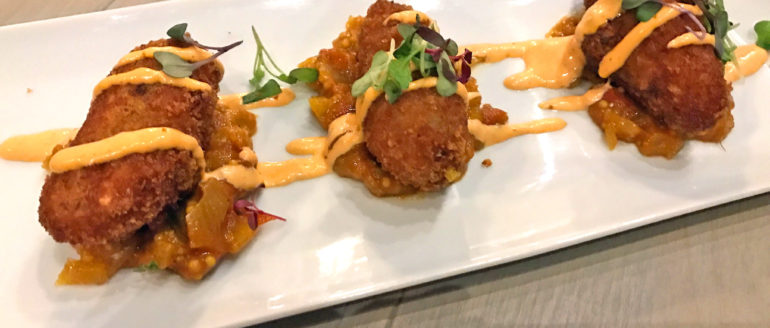 The Iberian Rooster Serves
Colonial Portuguese Fusion
What the heck is "Colonial Portuguese Fusion"? Three words:
Damn Damn Tasty!
When the buildout was happening for The Iberian Rooster, so many people told me; "Yeah, there's a Brazilian Restaurant going in there."
I think that's because even though they were told it was going to be Portuguese, they just couldn't fathom a Portuguese restaurant. Who ever heard of a Portuguese restaurant outside of Portugal anyway? They speak Portuguese in Brazil, so it must really be a Brazilian restaurant going in there.
Nope. It's Colonial Portuguese Fusion.
I always knew that Great Britain was a huge colonizer, but didn't know that Portugal was a great colonizer way before it was cool and everybody in school was doing it. So that means that the slightly longer than three words, but still vague answer to; "What is Colonial Portuguese Fusion?", is–lots of stuff from lots of places combined together. As a foodie, I'm loving it already.
Seriously though, as Laura Reiley said here: "… colonial Portuguese food could be African or southeast Asian or sub-Sahara(n) African or South American."
The space is where Moscato's Bella Cucina used to be near the corner of 5th Street and Central Avenue right in the heart of Downtown St. Petersburg. If you had been to Moscato's, then you're already familiar with the large basement (now named Subcentral) that is being well utilized by Iberian Rooster for live bands and speakeasy-themed events. (We had a blast enjoying Gloria West & The Gents later in the evening.)
They were originally going to have food downstairs as well, but it was later deemed too much of a liability for lots of food to be traveling up and down the steep flight of stairs. The loophole is that you can order "to-go" and carry it down yourself.
The food was to-die-for.
We did have a service issue, which is common with new places, and the manager did more than make up for it, so let's get that out of the way before we get into entrée specifics.
Lori and I were there along with her sister and brother-in-law (so we got to try more plates), and Lori and her sister, Robin, both ordered Lori's signature drink—Tito's, Soda, Sliced Cucumber (not muddled), and a dash of simple syrup. Sounds simple, right? (No pun intended.)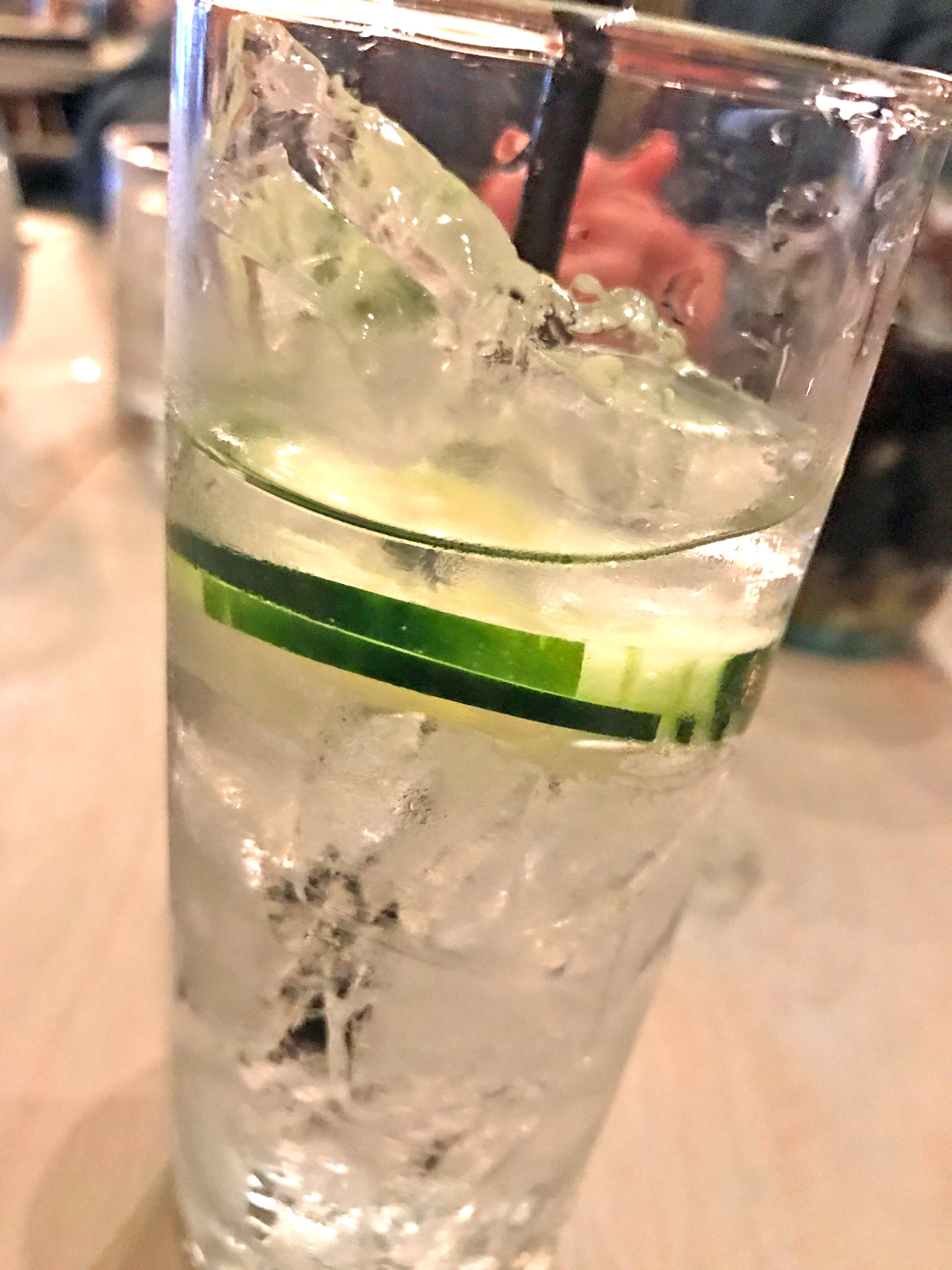 The photo above shows how Robin and Lori's drinks arrived. With wine, we know you're not supposed to fill the glass to the top, but with a mixed drink on the rocks, it should definitely not have such a poor pour. (Pun intended this time.)
A runner brought the drinks, and it was taking a long time to find our server. By the time we did, Joe (Lori's brother-in-law) and I were half way through our perfectly fine drinks.
While this is going on, the music, which is controlled by the bar, is blasting louder than a nightclub after 11:00 pm. (We were there at 7:00 pm.) The waiter takes the drinks back as the clock ticks away. No drinks for Lori and Robin, while the guys are now almost finished with theirs. It seems the drinks that needed to be fixed went back to the end of the line as if they were just ordered.
Now, quite perturbed, Lori heads to the bar to instruct how to make the drinks and ask for the blaring music to be turned down. So as to not drag this story out any longer, even though the saga continued beyond this, the drinks were wrong the second time, the server told us that we were wrong, that this was a proper pour (there was still too much simple, there were no cucumbers), the music volume changed up and down three more times, we finally complained to the manager and he comped all of our drinks. Phew! That wasn't easy!
On to the good stuff.
From the Small Plates & Bowls side of the menu, we had –
Fish Croquettes – Panko fried cod croquettes with potato, green peas, smoked tomato chutney, harissa aioli, saffron oil.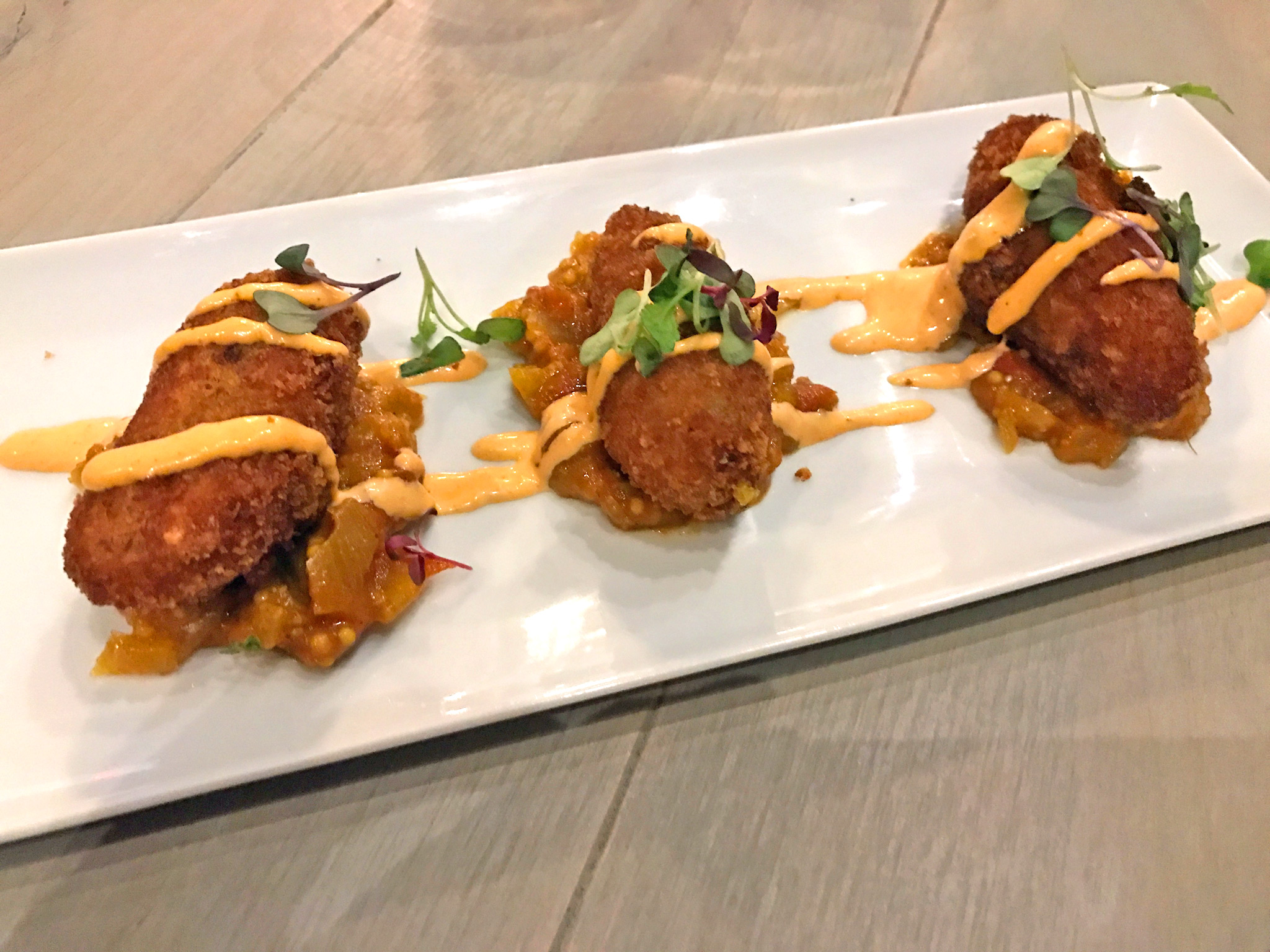 The Fish Croquettes were delectable. Nice and crunchy on the outside with varying textures and flavors on the inside.
"The three croquettes were crunchy on the outside and delicately light on the inside. They didn't seem that large at first, but once I cut into them, each croquette was about six bites. I dragged each bite through the chutney, aioli, and saffron oil to bring together sensational flavors with the varying textures." – Meg Sitterson
Next, we had …
Feijoa (Black Bean Soup) – Black bean stew with chorizo, green chilies, spices, diced peppers and onions.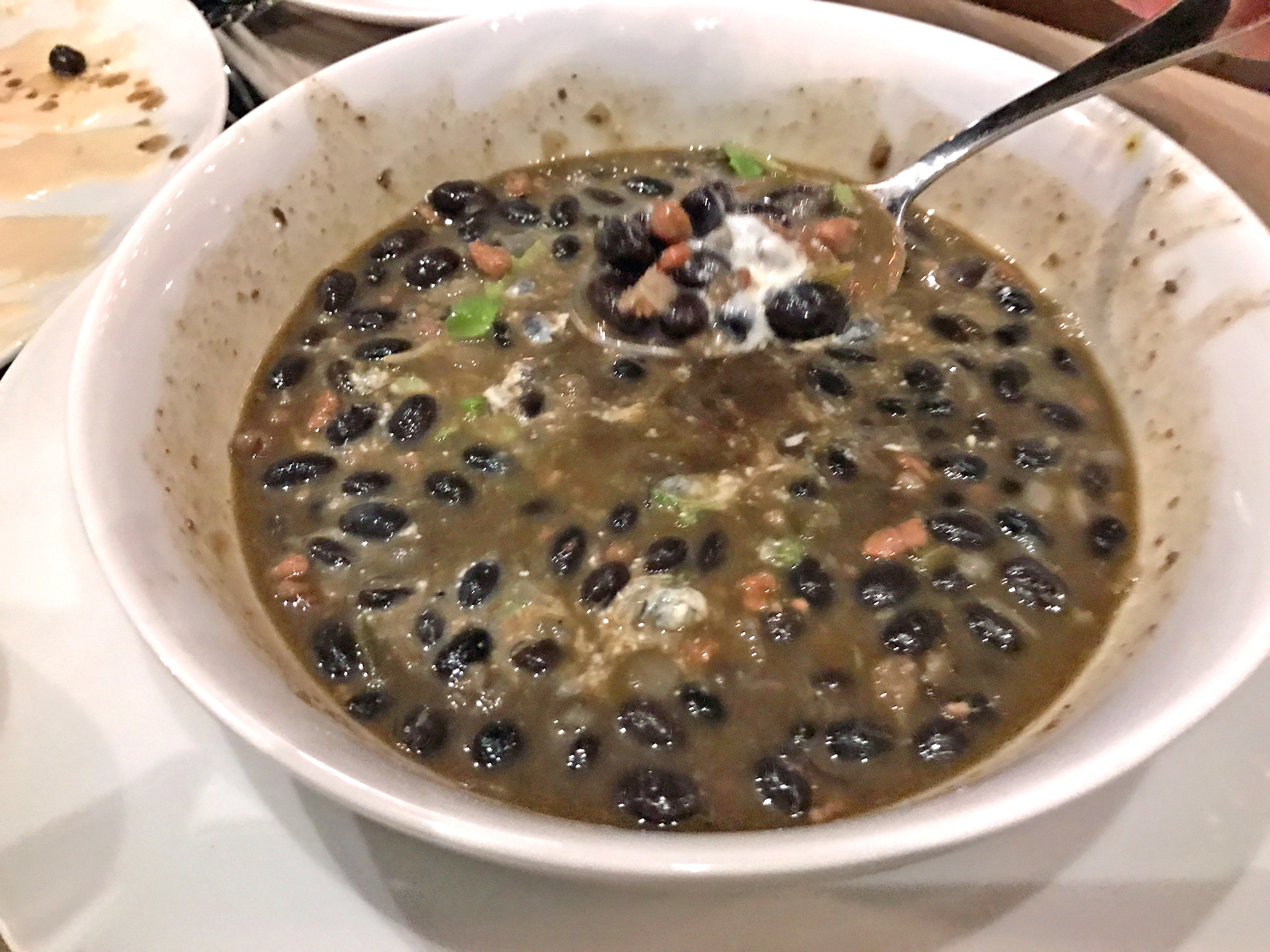 This one has a South American heritage and is delightfully hearty, tangy, mouthwatering with mild spice and a tiny bit of sweetness in the background.
Shrimp & Corn Chowder – Shrimp, charred sweet corn, onions, red peppers, green chilies, lime juice, fresh ginger, fish stock, coconut milk, potatoes.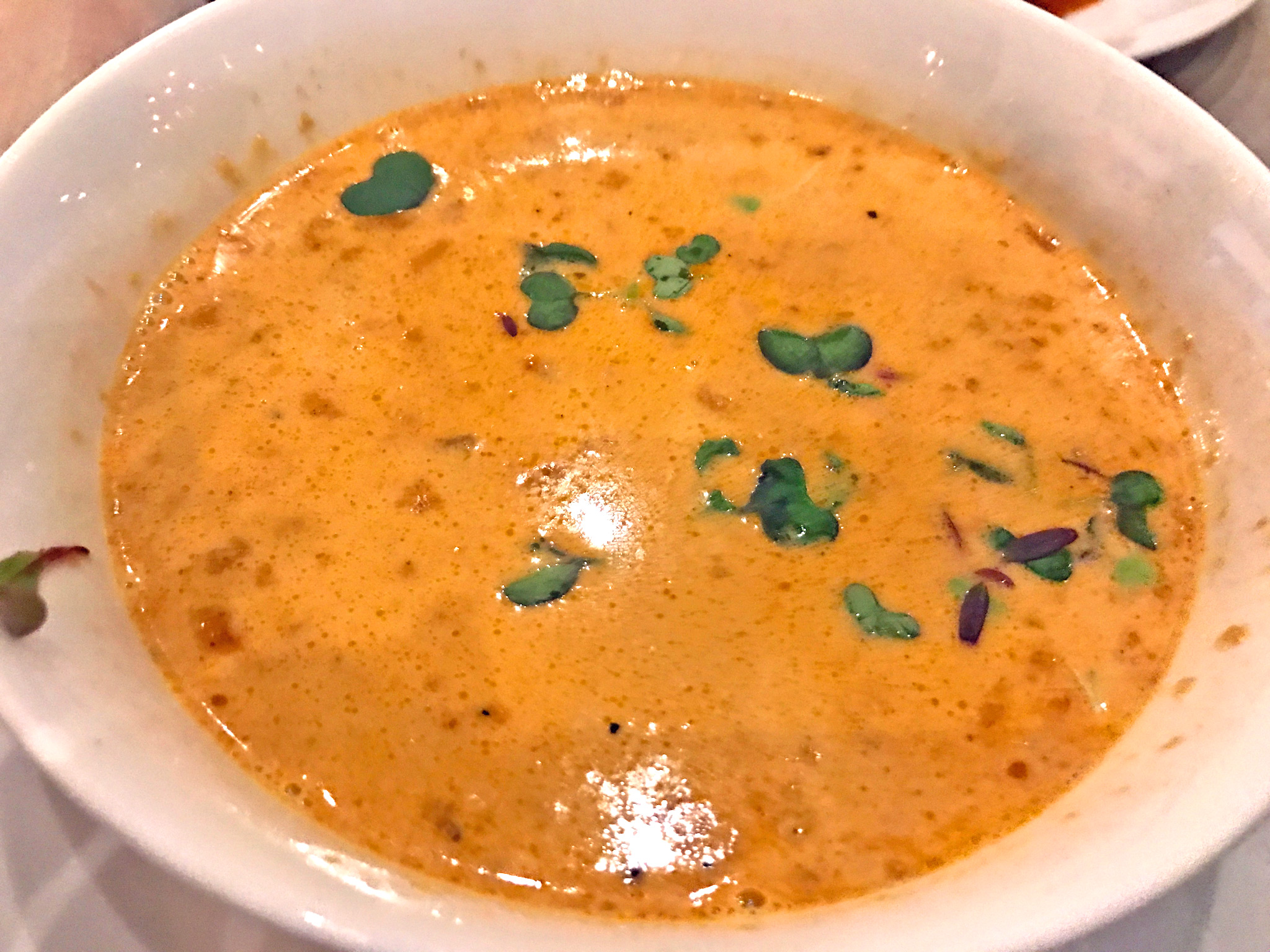 The broth was light and just slightly creamy, punctuated by plump, juicy shrimp—it was tangy, tart, sweet and salty all at the same time.
From the Large Plates & Street Fare side of the menu, we had –
X- Tudo (The Brazilian Burger) Grilled 8 oz ground chuck patty with havarti cheese, braised pork belly, sunny side up egg, mixed field greens, sliced tomato, pickled red onions, shoestring potatoes, harissa aioli, house brioche roll.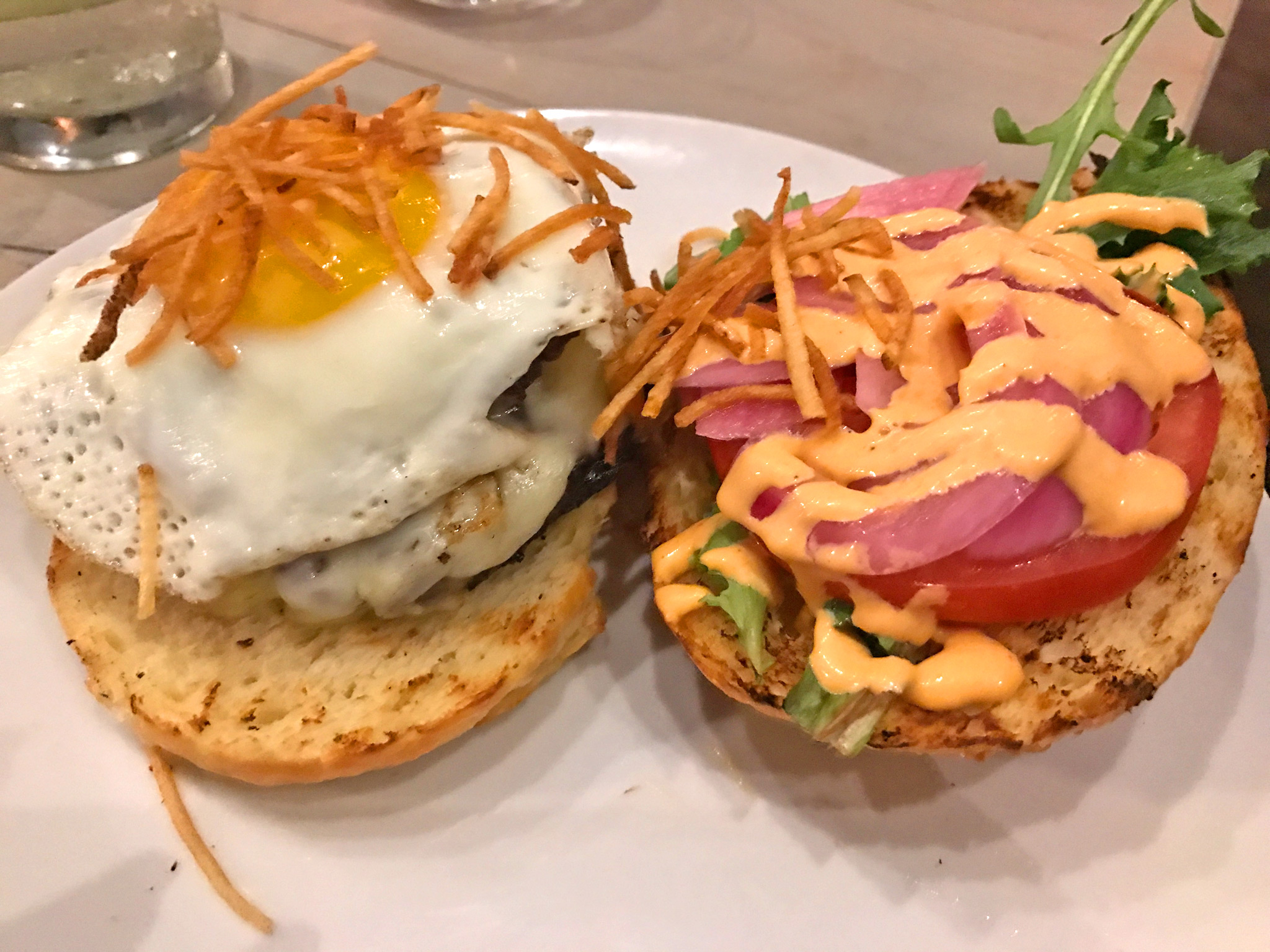 This is the only one I didn't get to try, but was told by Joe and Robin that they loved it.
Shrimp & Sausage Pulao – Pan seared house chorizo, shrimp, tomatoes, onions, spices, basmati rice.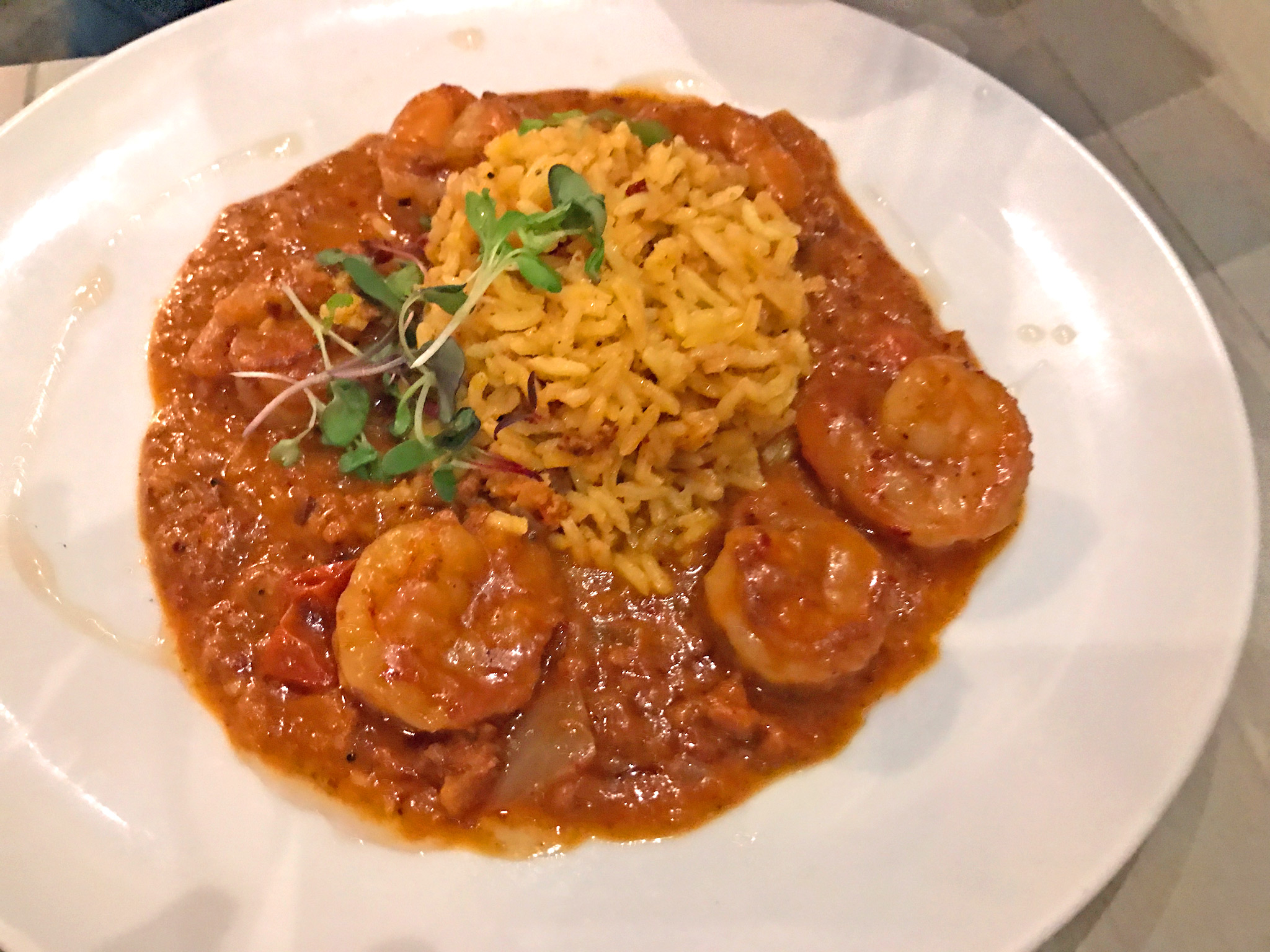 This one reminded me somewhat of an Indian dish, and boy do I love Indian food! Chorizo and Shrimp are such a great marriage in so many dishes, and then add exotic spices with tomato sauce and BAM! It's a foodgasm!
Black Eyed Pea Cakes Panko fried black eyed pea cakes, smoked tomato chutney, sweet balsamic tahini emulsion, vegetable couscous.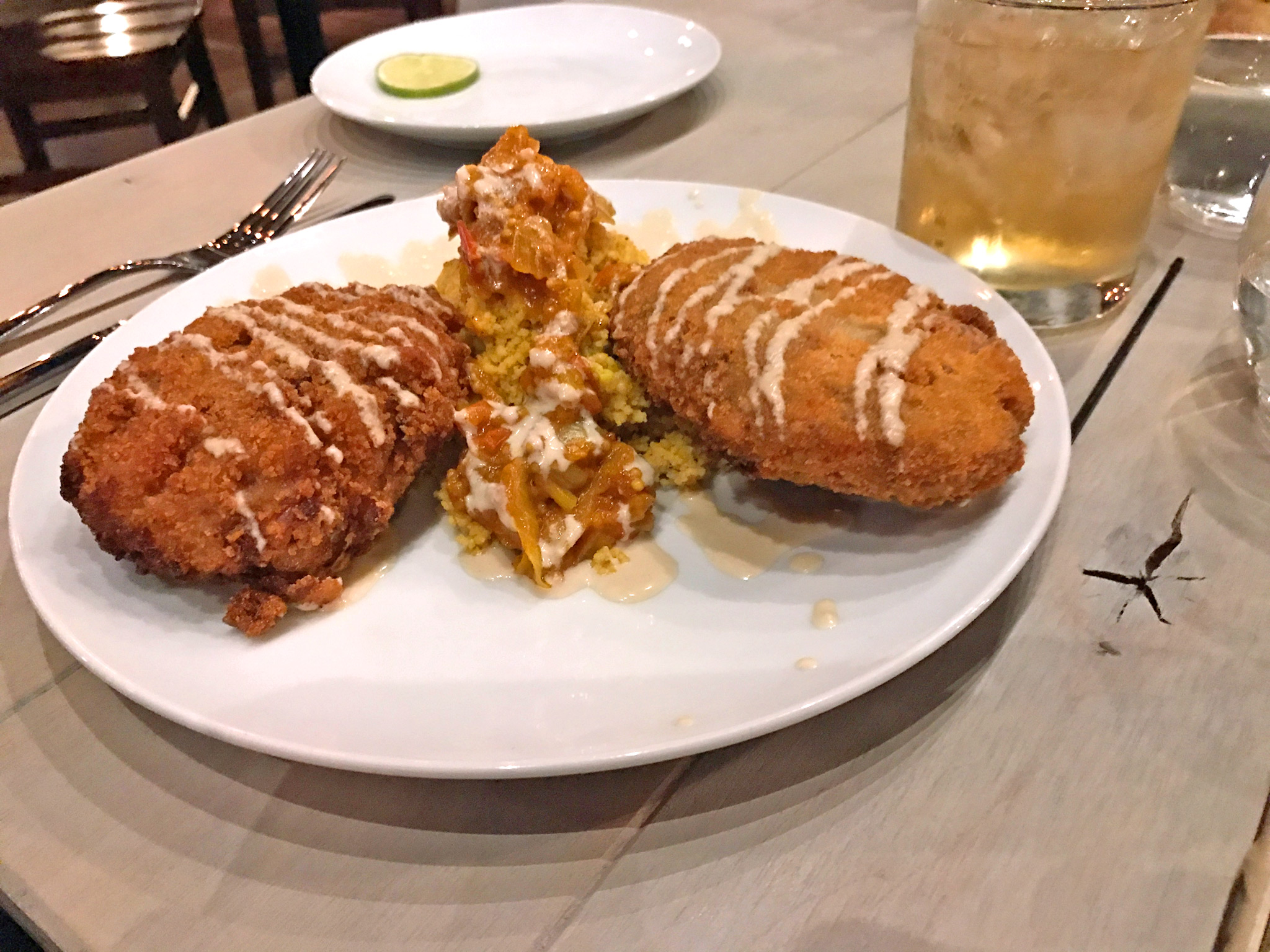 Another home run, the Black Eyed Pea Cakes were crunchy, cakey, multi-textured and quite flavorsome.
I can't wait to go back (and I will be back soon) to try The Hotchee Dog – All beef frank with shredded cheddar, mashed potatoes, sweet corn, beef chili sauce, chopped onions, shoestring potatoes, sunny side up egg on a house hoagie roll.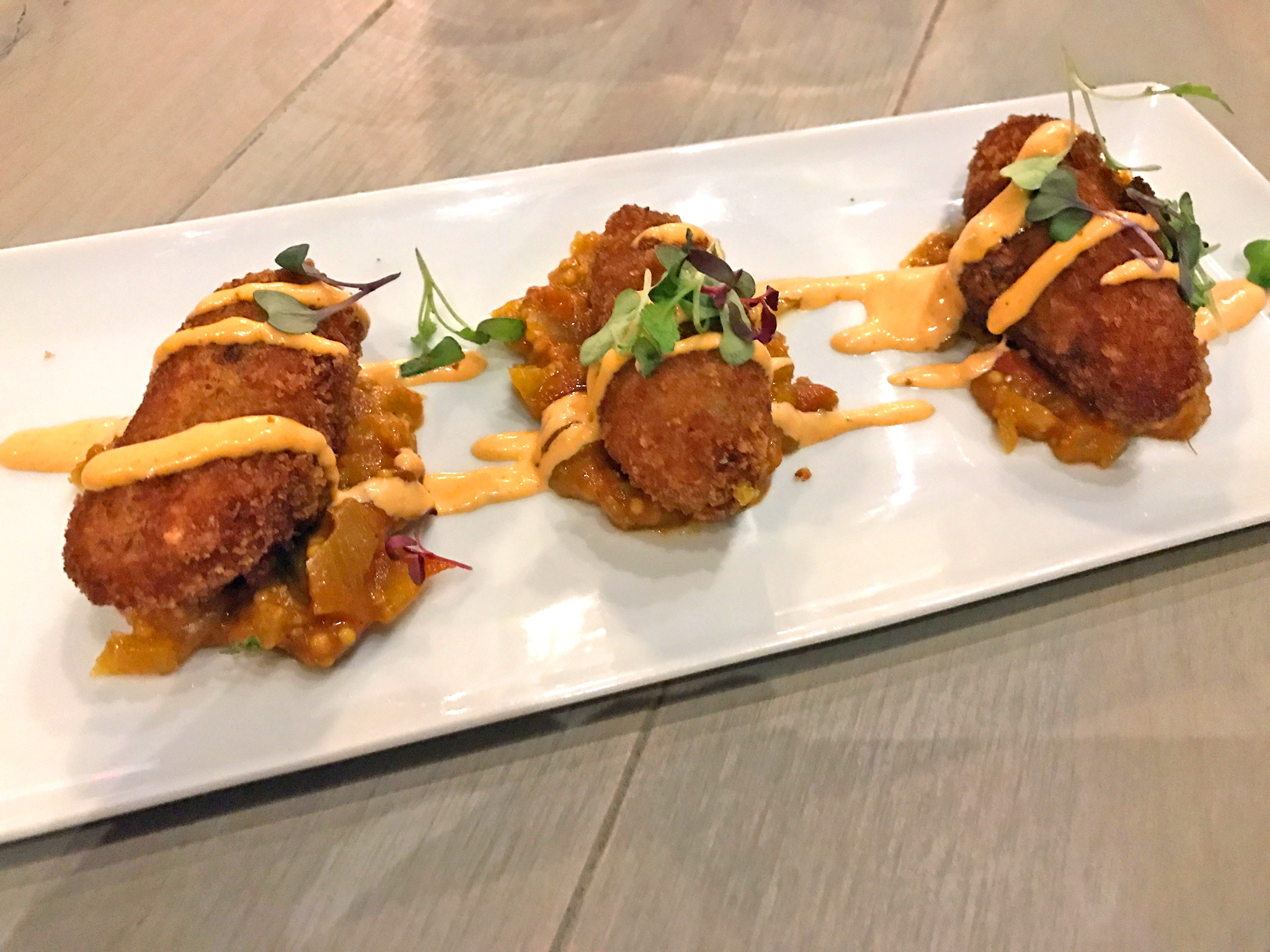 Readers Rating

Rated 4.1 stars




4.1

/ 5 (

Reviewers

)

Excellent
---
The Iberian Rooster

727-537-6782

Portuguese

,

Portuguese-Fusion

,

Portuguese Street Food

Mon - Wed

11:00am - 11:00pm

Thu - Sat

11:00am - 3:00am

Sun - Sun

10:00am - 9:00pm
475 Central Avenue North Suite 100

,

St. Ptersburg

,

FL

33701

,

USA
---
Portuguese fusion and street fare with small plates and large plates with a large basement with live entertainment and speakeasy-themed events.
DISCLAIMER: Kevin, Lori, Abby, Haley, & Lindsey do not dine anonymously (this would be impossible) and we sometimes get free food (though never expected). However, we dine with the locals and we support our own. You will always get honesty in a respectful manner. We do not include any large national or regional chains in our ratings and reviews. We focus on independent locally owned eateries exclusively.

PLEASE NOTE: Reviews reflect a certain moment in time. Some restaurants stay extremely consistent over many years, and some change for the better or worse. Some things that may change are: chefs, recipes, food suppliers, ingredients, philosophies, ownership, etc. We always hope that you have the same good, or great experience we had.
More Foodies News, Reviews & Recipes