Three Birds Tavern Soars: Don't Worry 'Bout a Thing…
Three Birds Tavern Soars: Don't Worry 'Bout a Thing…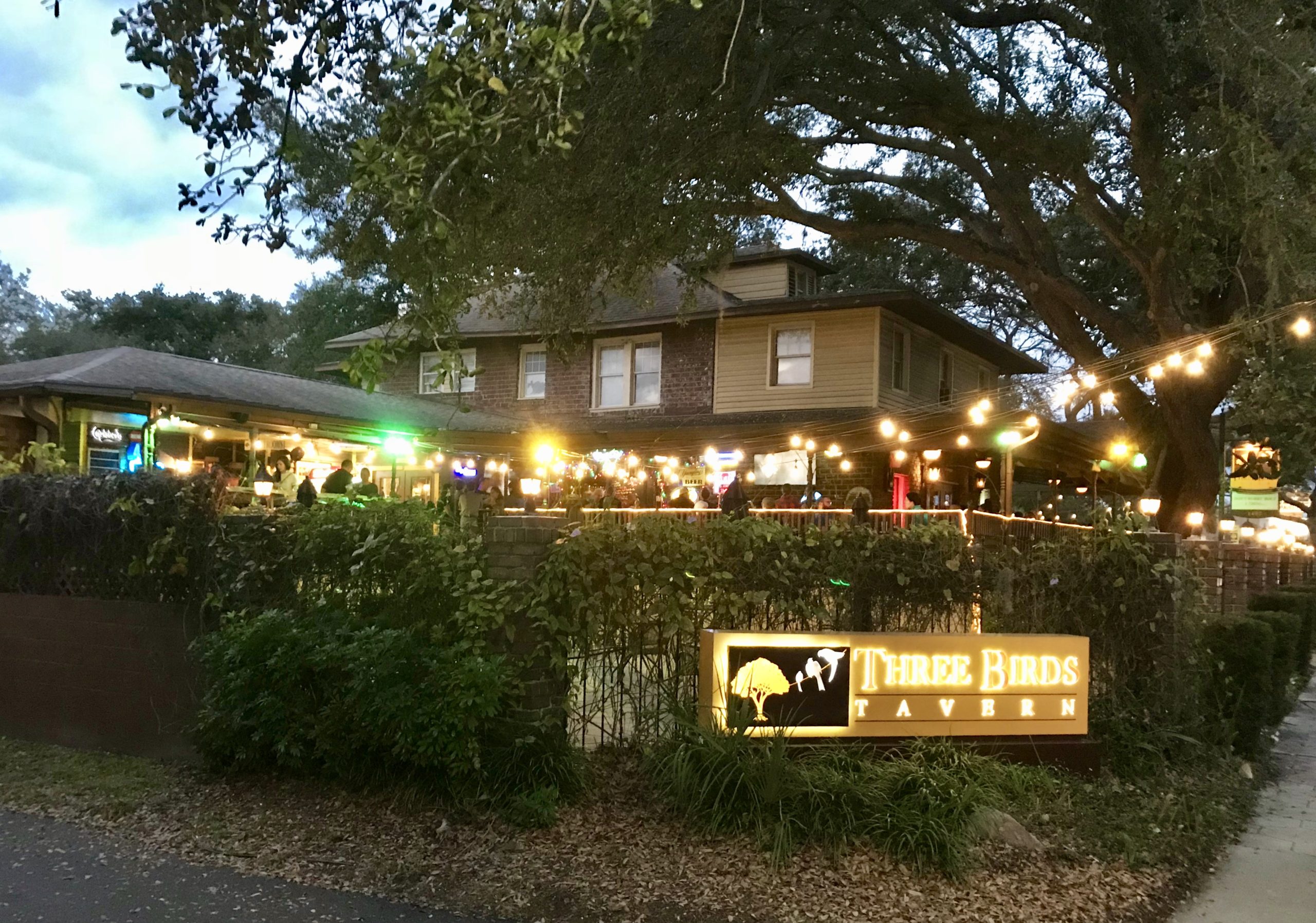 Recently Kevin and I went to Three Birds Tavern on 4th St at lunchtime and met with owner, Robin King. Besides the food, it is always intriguing to get the story of how restaurateurs end up in this business.
The Kings moved to St Petersburg from Ohio after raising their family and Jack's decision to retire from their law firm after nearly 30 years as a litigation attorney. So they de we decided to head to the sand and sunshine. They spent three years researching potential destinations, ranging from California to Belize, and finally chose St. Petersburg.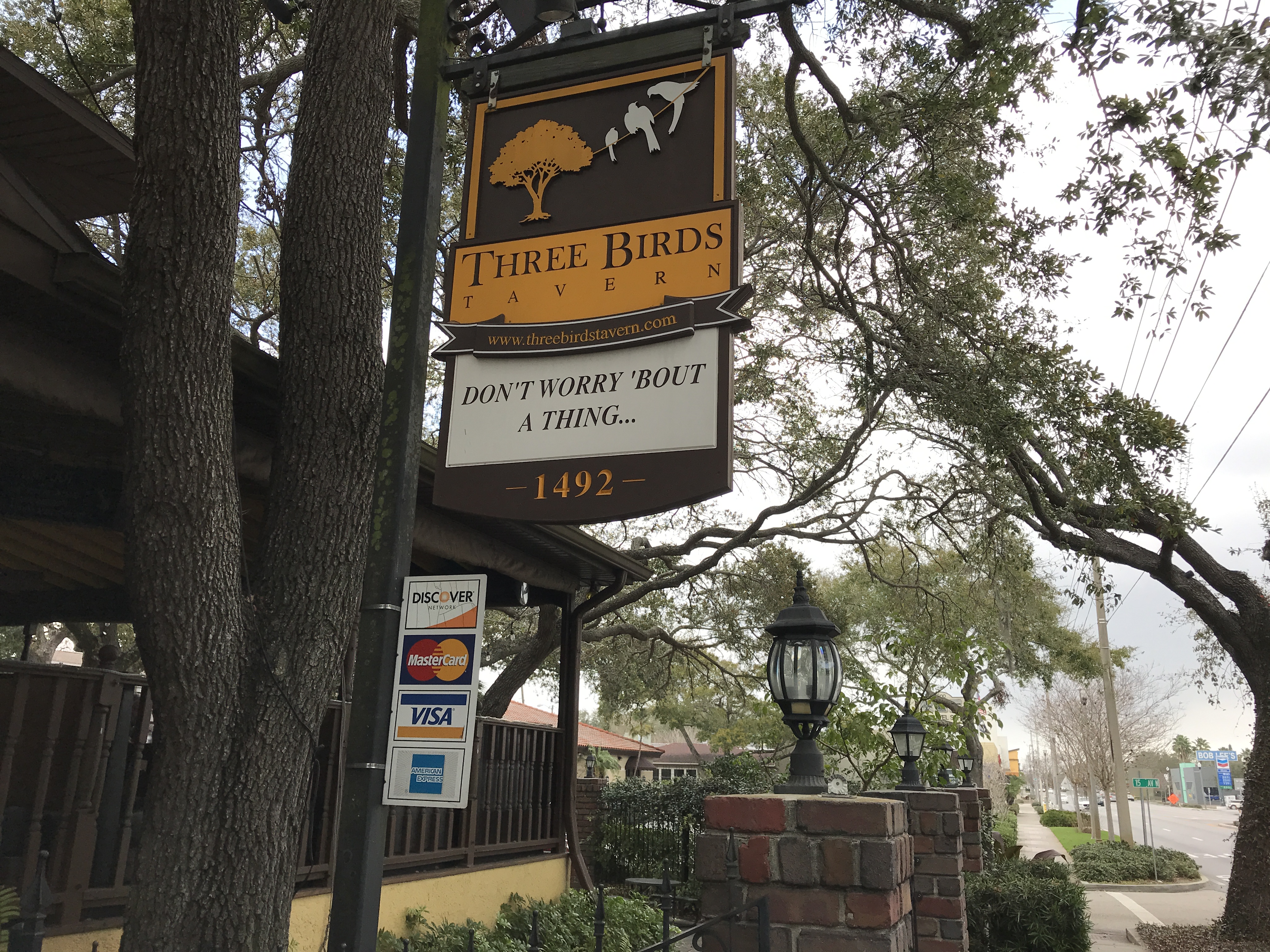 Robin's passion for food and cooking was sparked in 1982 while studying abroad in Jakarta, Indonesia. That spark ignited into a flame while living in New Orleans in the late 80's, and was then later refined by Loretta Paganini at her cooking school in Chesterland, Ohio. Robin decided with the move to Florida, to make her passion her new career.
After looking at many different locations they finally purchased what was then Limey's at 1492 4th Street North in June of 2009. They renamed it Three Birds Tavern. The property has been a restaurant for nearly 30 years now but was one of the original home sites in Southern Pinellas County. Having owned it for close to 9 years now, Three Birds Tavern is the longest tenured restaurant to operate in that space.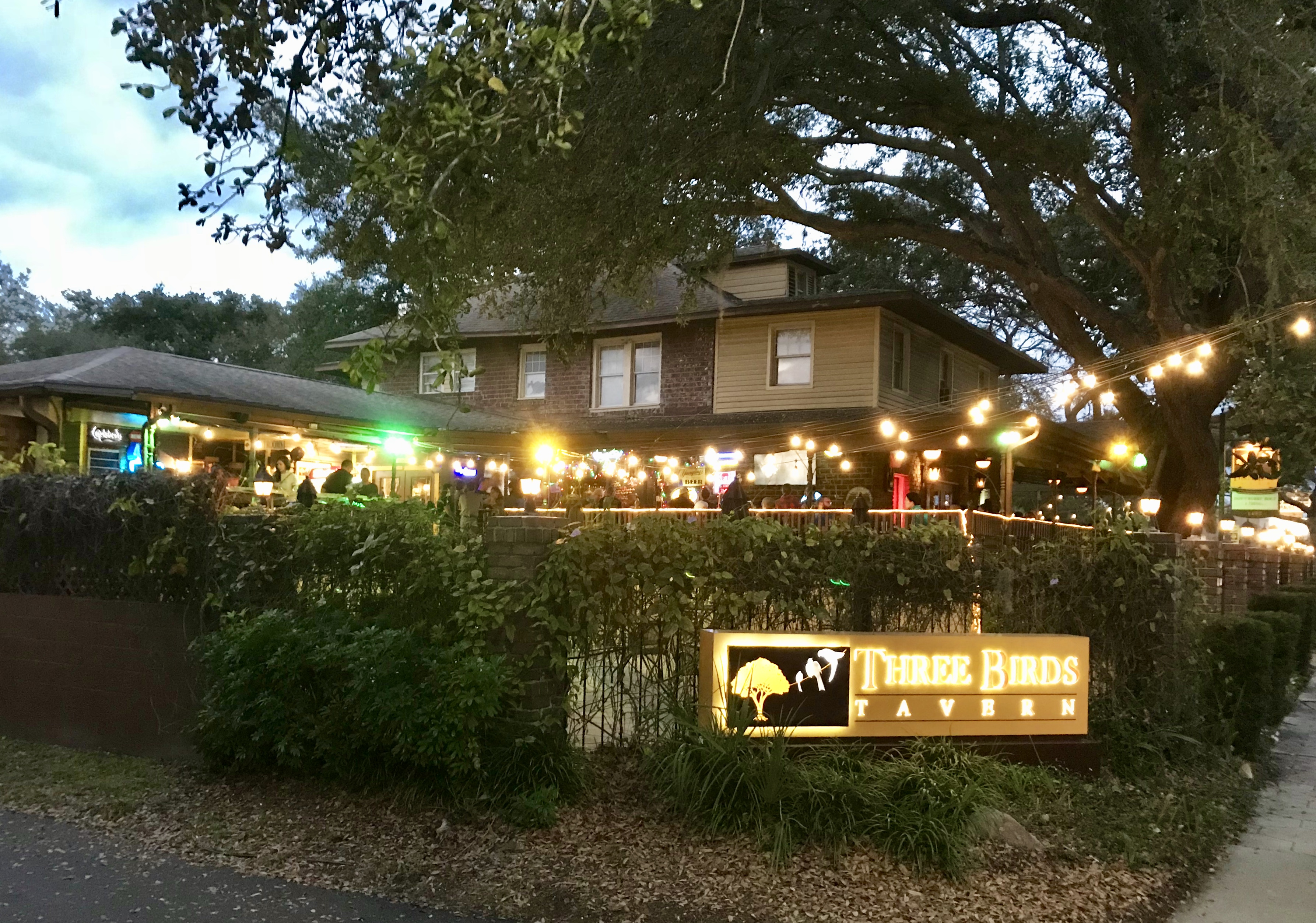 When I asked Robin what the inspiration was for the name, she replied, "from the Bob Marley song, Three Little Birds. A sentimental song for me, with regard to my mother, who I lost in 2004, and the vibe we want to create here . . . Don't worry about a thing, 'Cause every little thing gonna be alright. Our goal is to enhance your best days, and comfort your worst.
Three Birds operates as a scratch kitchen, preparing classic overall comfort food, sometimes with a modern twist. They offer grilled-to-order burgers, hand-cut fries, beer-battered cod, Airline chicken breasts, 10-ounce bone-in pork chops, bread pudding, shepherd's pie and Scotch eggs. As of late, they have focused on adding some healthy as well (comfort food can be healthy too). Some of those include hummus, entree-sized salads with fresh ingredients, sushi grade and kosher salmon, protein burgers, shishito peppers. In fact their Kenz Salad, created by the King's daughter (Mackenzie), won TBBJ Best Dish in the Biz in 2015.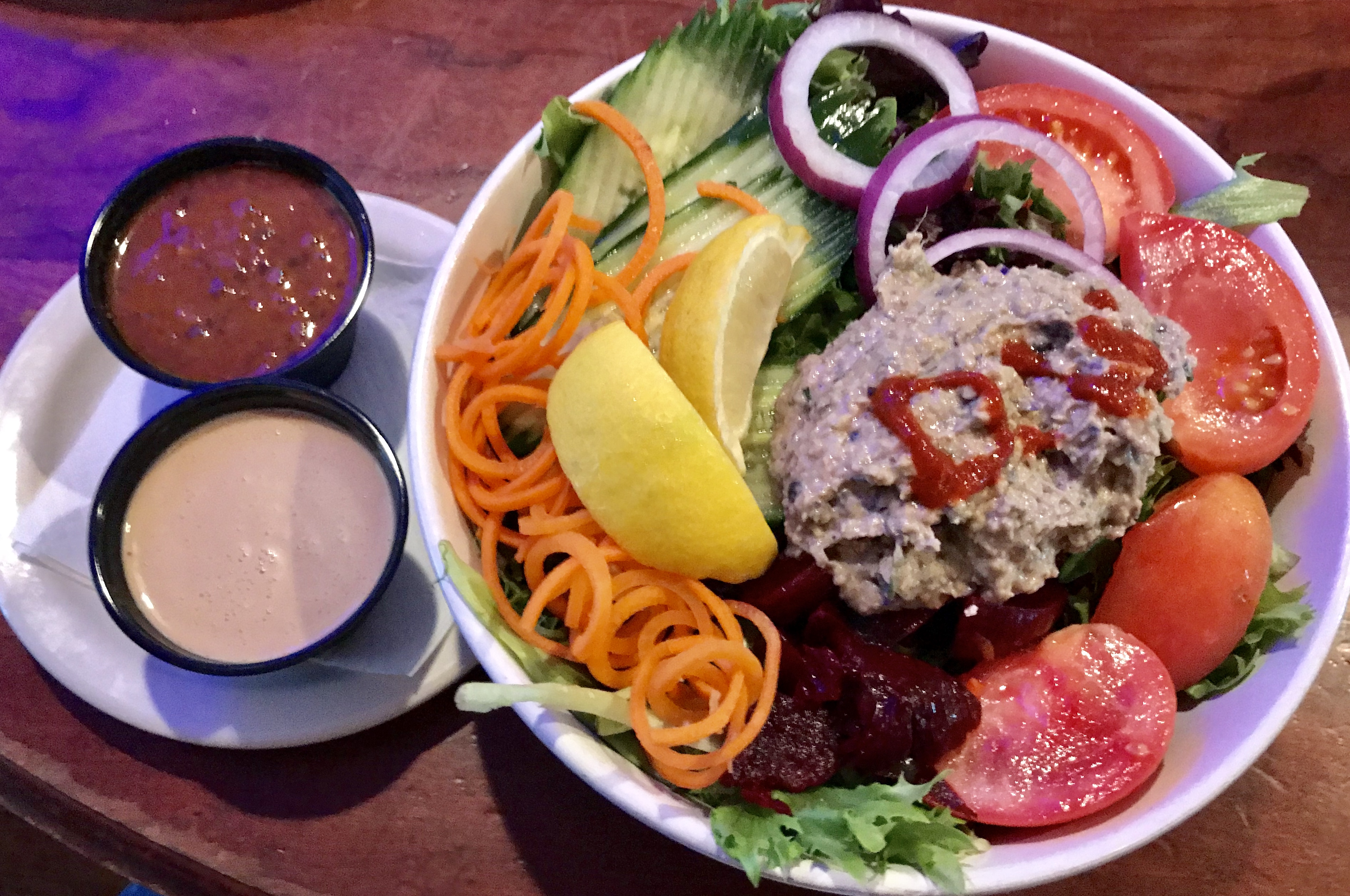 Some of the original dishes on the menu were created or influenced by Chef Jason Cline of Poké Rose and former Executive Chef of the Birch & Vine. While we were there, Kevin ordered one of Chef Cline's originals – the Bird Dog which is a grilled Wagyu all-beef hot dog topped with crispy pork belly, roasted shishito peppers, house-made pickles & tobacco onions.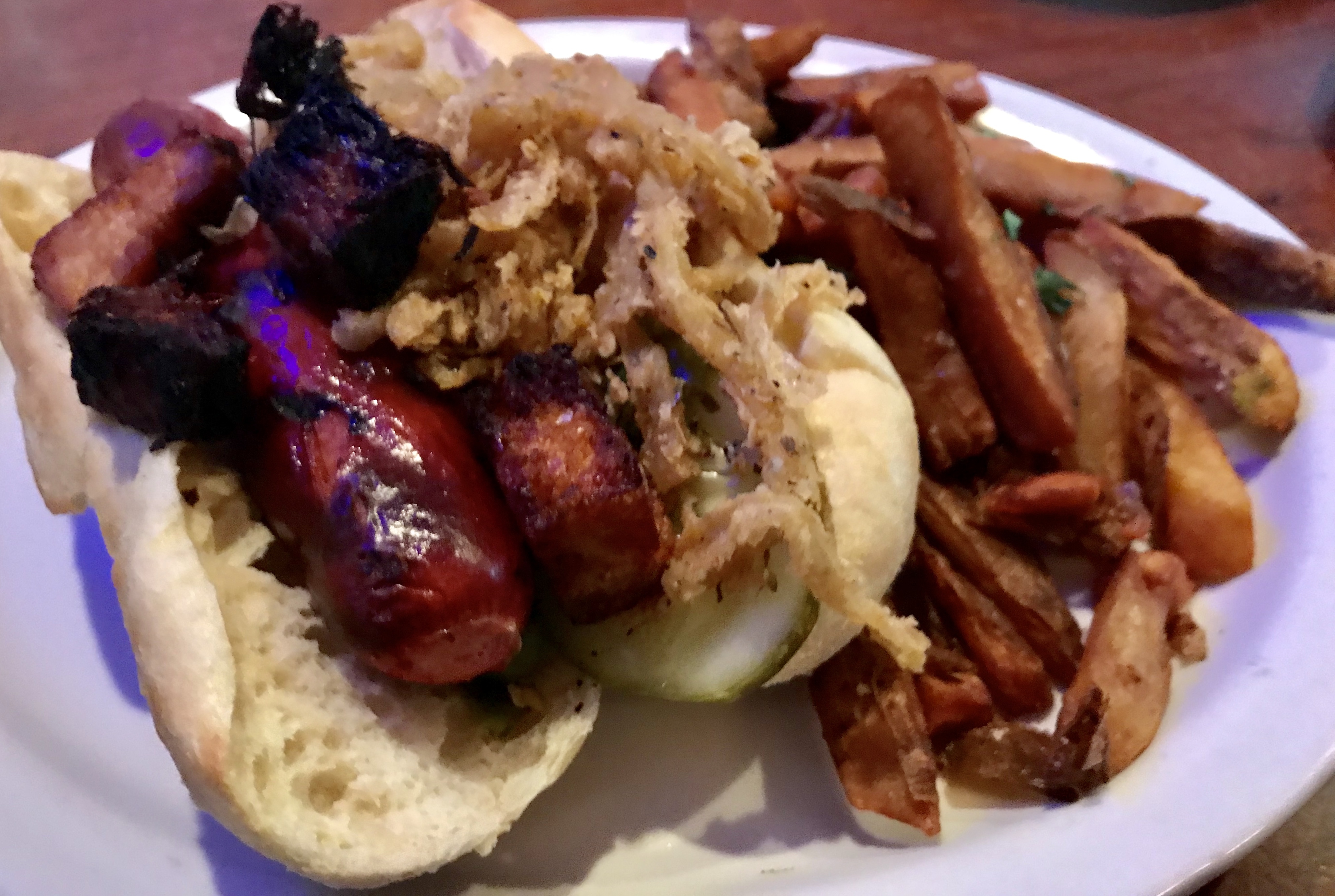 Robin brought out a sampling of some of their appetizers for us to try. Kevin was taken by the Scotch Egg. He loves eggs…anything egg. We should rename him Kevin Dumpty. The Scotch egg was invented by a London department store and is a British Isle pub favorite of sausage-wrapped hard-boiled egg served with H.P. sauce & celery cream. Traditional Scotch eggs are coated with a bland sausage, and deep-fried. Three Birds has their own unique take on them. They bake them rather than deep fry, and use Italian seasoning in the sausage coating to add flavor. Kevin described it as "quite savory, as it should be." Next we had the roasted Shishito peppers. These peppers are roasted & tossed with sea salt, and served with a citrus pesto. We eat Shishito peppers quite a lot and these were larger than your average, charred just enough, emitting a slight amount of heat making them magically delicious.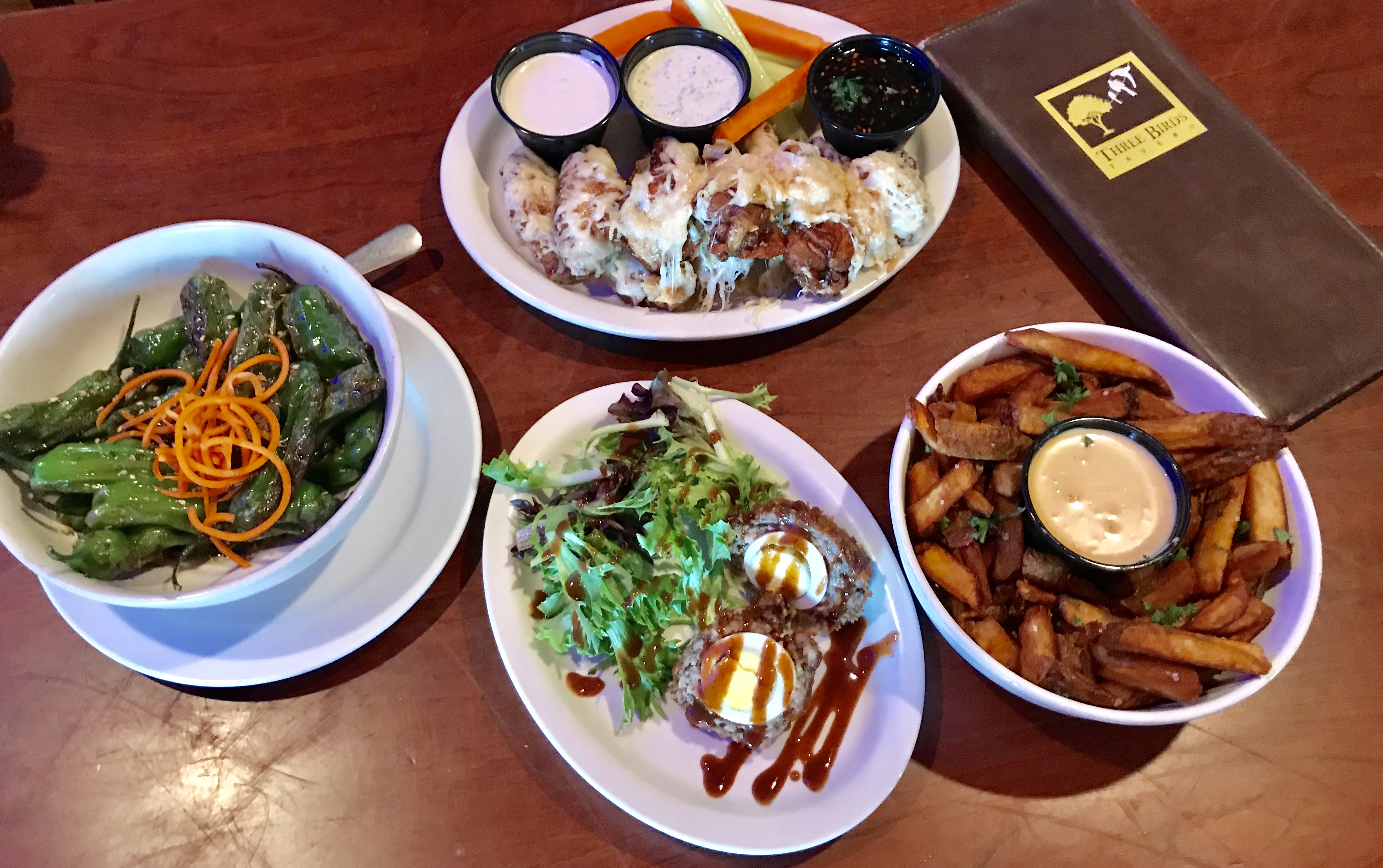 Normally we would order wings hot and not go with all of the fancy stuff, but our server insisted that we try the Garlic & Parmesan Wings…they certainly do not make for a pretty picture. The wings themselves were some of the best wings in town and you can even order them extra crispy, double fried. We did end up taking off the cheese. It was a bit much for us. You can order them dressed with Asian BBQ, Carrot Ginger, Garlic & Parmesan Cheese, Mild, Medium or Hot HOT sauce, and they can be done naked or the Ultimate Extra-Crispy Double Fried. We also had the house cut french fries. There is nothing better than scratch made french fries cooked to a nice crisp and these did not disappoint.
After learning how fresh and scratch made all of the food is at Three Birds, we gained a whole new appreciation. Kevin was surprised, because he just assumed it was all frozen, fried food. We enjoyed everything so much at lunch that we decided to go back the very next night for dinner with some friends. There is so much on the menu that I want to try. Robin was talking about the dinner Pork Chop and the way she described it, my mind was already made up. They use a very high quality cut of pork. I think I drove Kevin crazy talking about that pork chop all day. And it did not disappoint…it was so thick and juicy. It is a 10 ounce bone-in herb marinated pork chop served with fresh seasonal vegetables and your choice of baked or creamy mashed potatoes.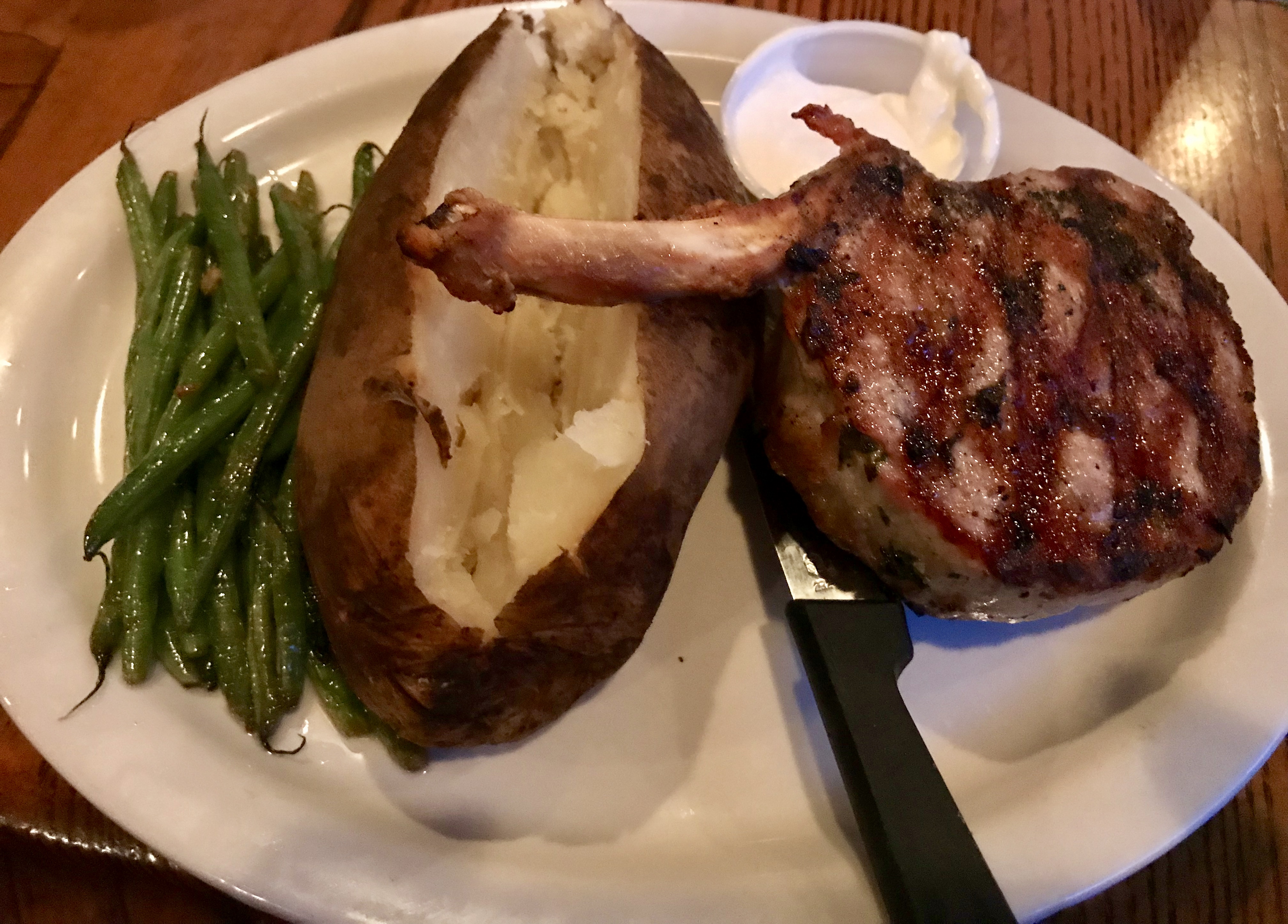 Yes, I skipped ahead to my main course there…I have pork chop on the brain again. We did order an appetizer of the Panko Crusted Pickle Chip served with horseradish cream & mixed greens. I love fried pickles and it is very difficult to satisfy me with pickle chips after falling in love with Engine No. 9's fried pickle spears, but these were definitely the best pickle chips I have had in St Petersburg. Panko crusting makes all of the difference.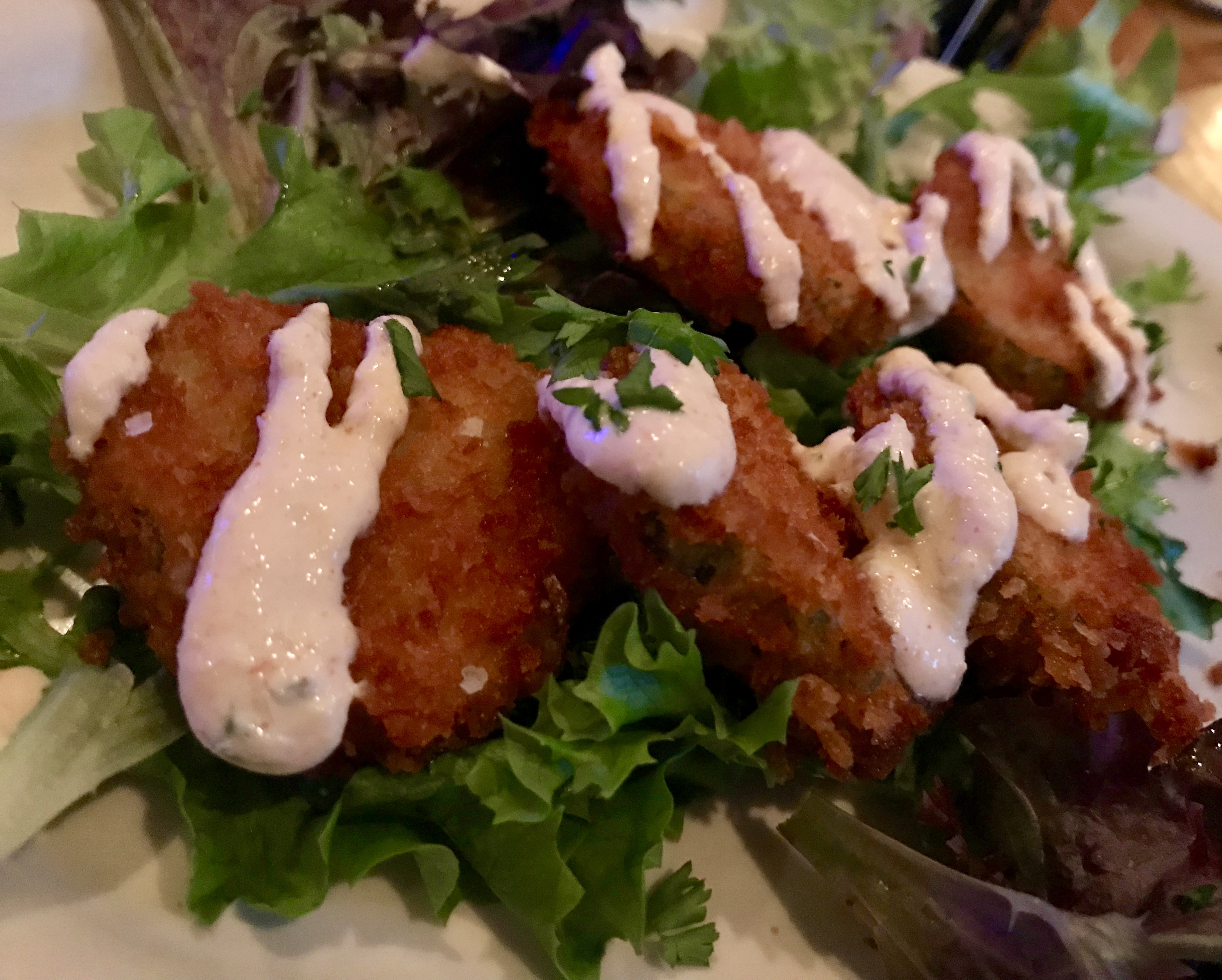 For Kevin's main course, he and our friend Bobbi, ordered the Fish & Fries. It is wild caught North Atlantic cod dredged in a beer batter, deep-fried to a golden-brown and served with malted tartar sauce, creamy mustard slaw & fresh cut fries. The fish was crispy on the outside and moist & flaky on the inside. If you love fish & chips these do not disappoint. And the creamy mustard slaw was so fresh and not dredged in sauce. It was absolutely crunchy, tangy goodness!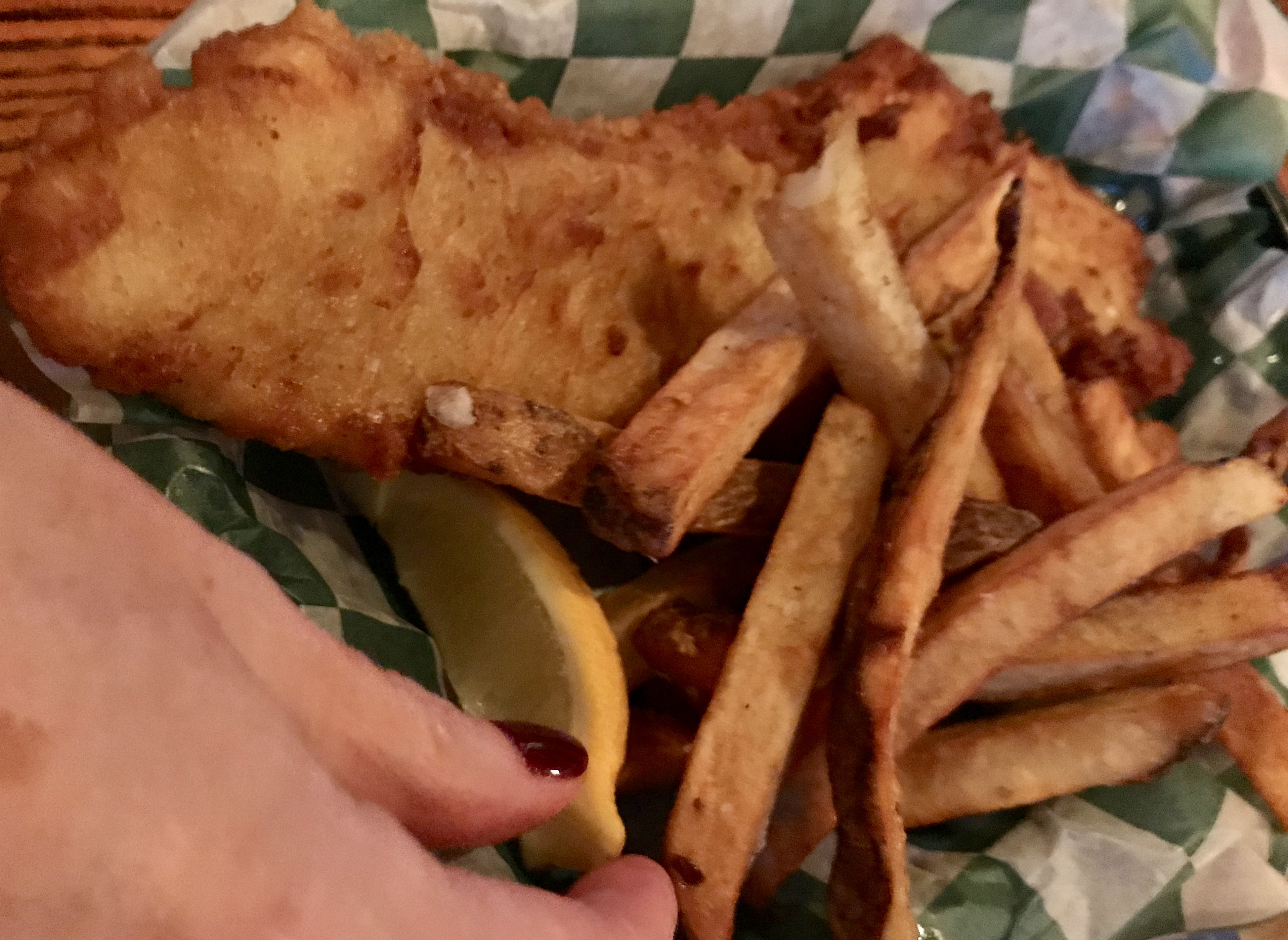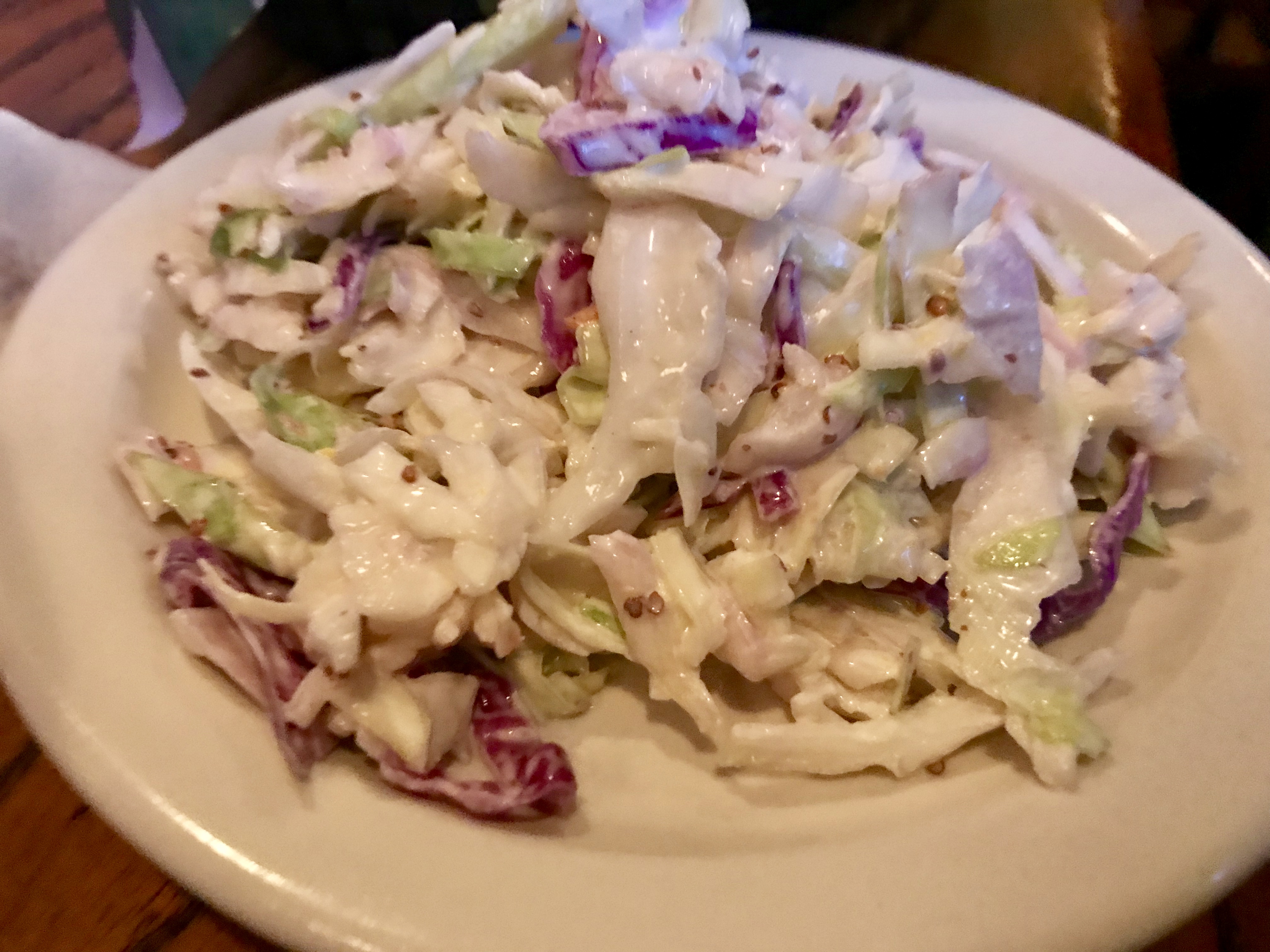 Bobbi's niece, Liza, ordered the North Atlantic Salmon for her entree. Three Birds does not use just any salmon…they use the best. It is a pan seared kosher, Sushi Grade, Norwegian Atlantic Salmon fillet served with creamy mashed potatoes, sauteed spinach & a lemon, butter & white wine beuree blanc sauce. I don't normally like cooked salmon but the bite I tasted was really good. It didn't taste fishy, but rather more mild than salmon I have had in other restaurants. The sauce complemented the fish very well.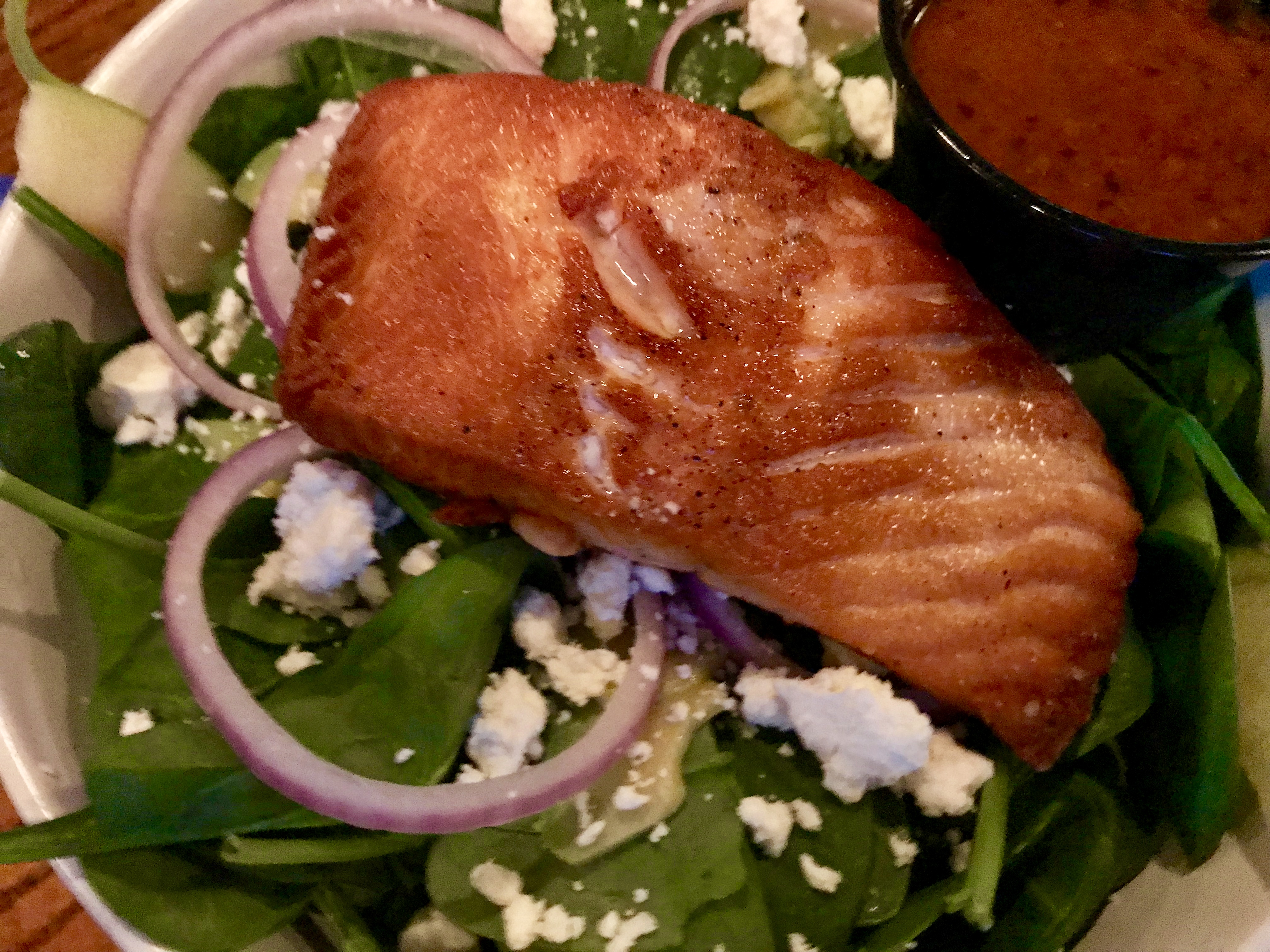 All of Three Birds sauces and dressings are their own unique recipes, made from scratch. In 2014 they found themselves outgrowing the tiny kitchen, so Robin went on the hunt for a commercial kitchen where they could prepare some off site. This led to the manufacturing of three of their salad dressings at a commercial co-packing facility: Carrot Ginger, which Robin learned to make in Indonesia in 1982, Roasted Beet and Roasted Tomato. These three products are now offered in seven states across the southeastern United States in over 1,700 grocery stores. Robin also has seven more products with FDA approval that will be rolled out for retail distribution this year under the label Out of The Weeds.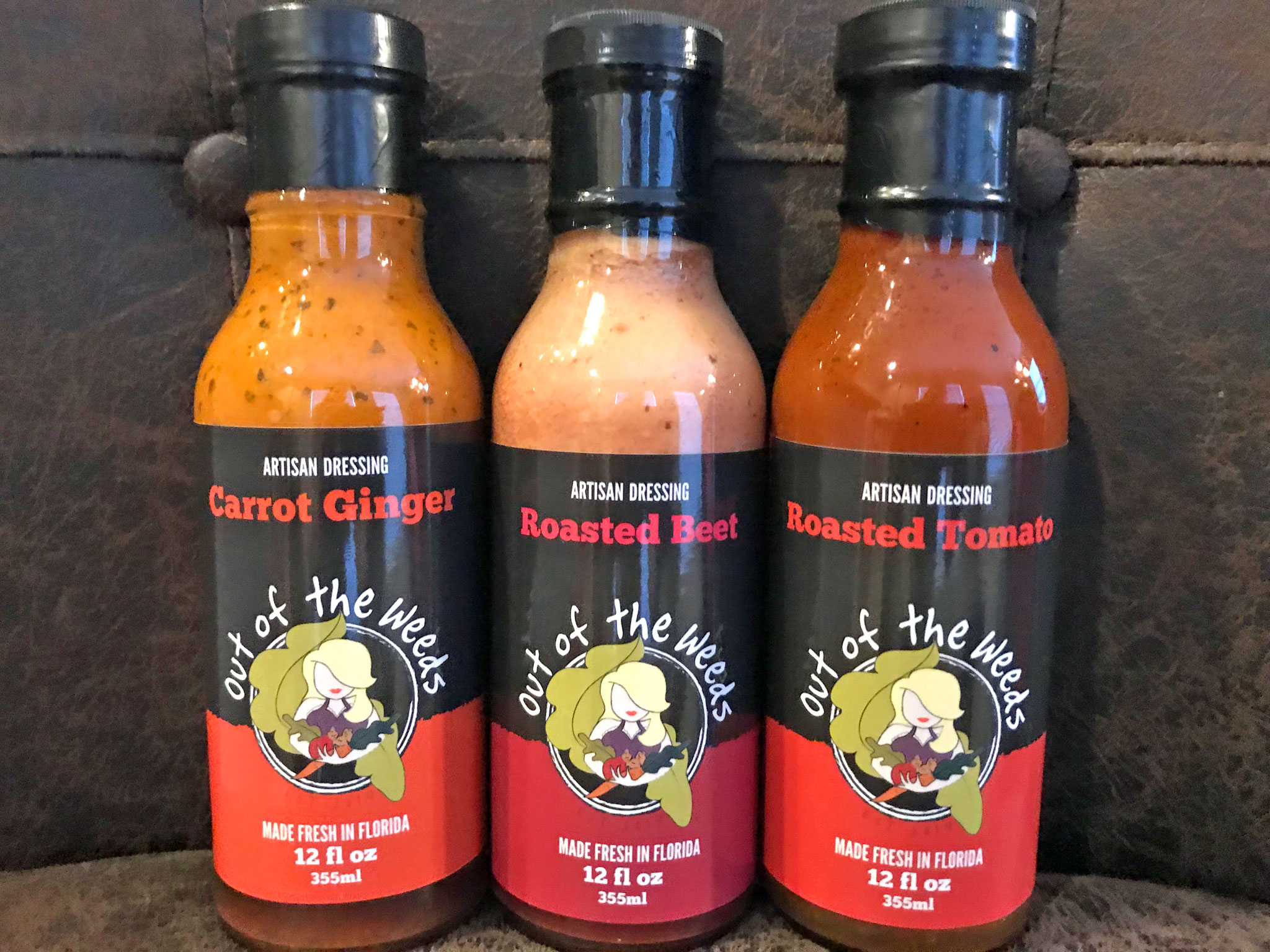 If you haven't been to Three Birds Tavern or you haven't been lately, you are missing out on a laid back, scrumptious culinary dining experience. I highly recommend giving them a try.
Click here to see the full menu
Gastropub fare in a quaint converted farmhouse with a wide array local craft beers.
DISCLAIMER: Kevin, Lori, Abby, Haley, & Lindsey do not dine anonymously (this would be impossible) and we sometimes get free food (though never expected). However, we dine with the locals and we support our own. You will always get honesty in a respectful manner. We do not include any large national or regional chains in our ratings and reviews. We focus on independent locally owned eateries exclusively.

PLEASE NOTE: Reviews reflect a certain moment in time. Some restaurants stay extremely consistent over many years, and some change for the better or worse. Some things that may change are: chefs, recipes, food suppliers, ingredients, philosophies, ownership, etc. We always hope that you have the same good, or great experience we had.
More Foodies News, Reviews & Recipes