Love Food Central: Where Irresistible Eats are Vegan & Gluten Free
Love Food Central: Where Irresistible Eats are Vegan & Gluten Free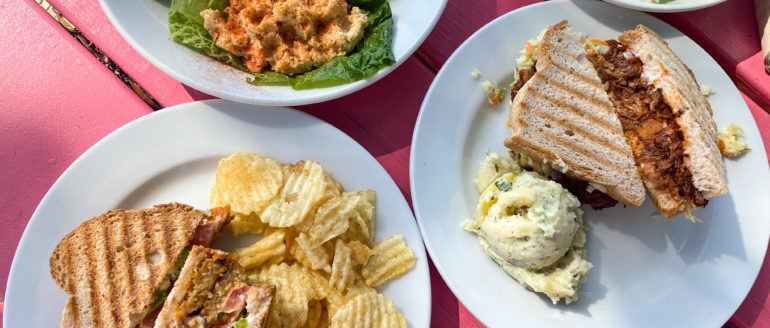 Vegan dining establishments are popping up in higher volumes all across the United States due to an uptick in those who are interested in or live a vegan lifestyle. For some, the mention of a vegan restaurant may make them roll them their eyes as most perceive a vegan diet to be comprised of lots of kale, tofu and lackluster dishes; however, vegan cuisine has come a long way. Plant-based meat options have been crafted to mimic the look, taste and texture of burgers, bacon, etc., melty cheese alternatives have been developed and we have learned how to make a spicy buffalo tempeh sandwich mimic a spicy buffalo chicken sandwich.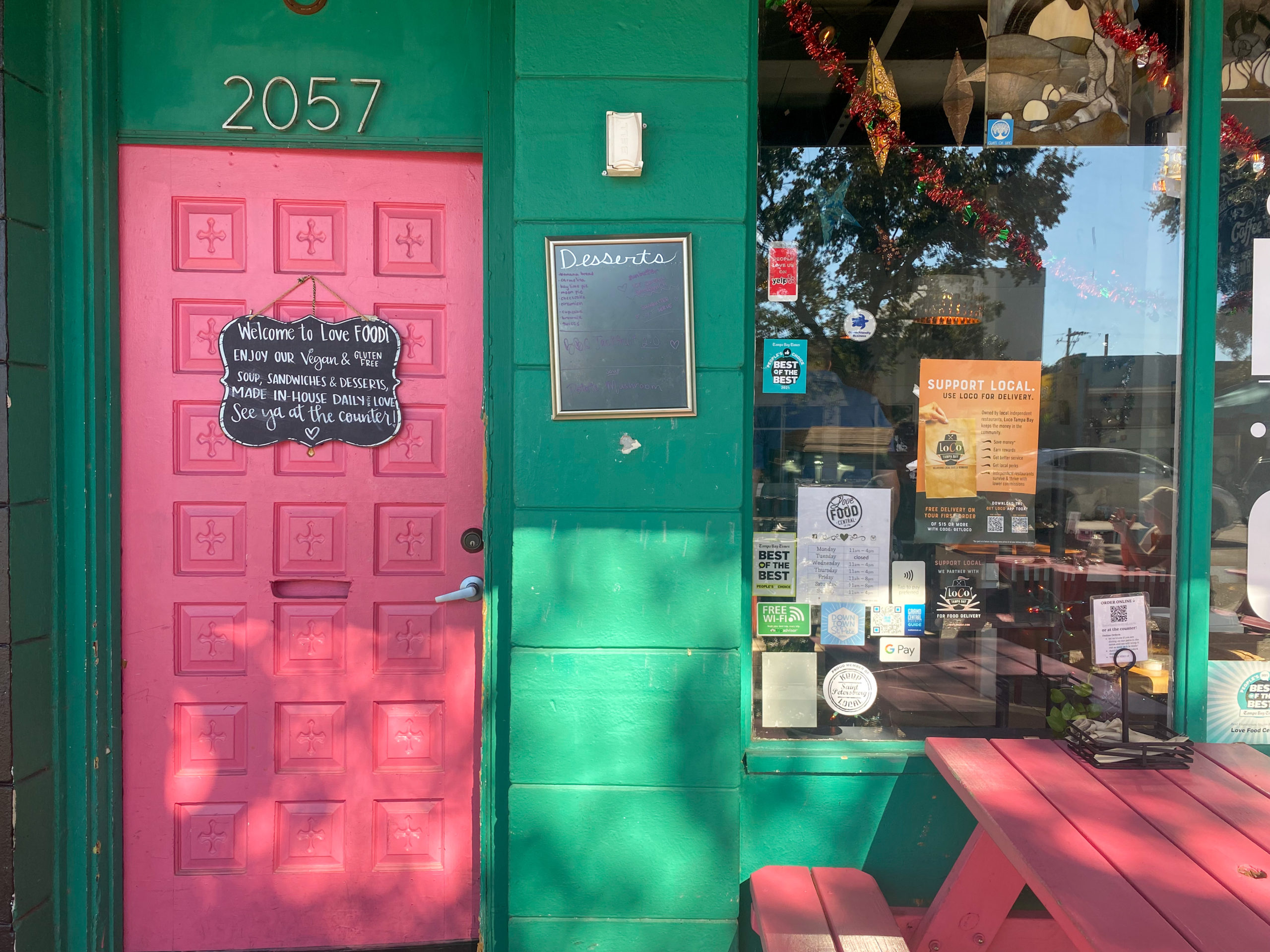 Here in St. Pete we are also seeing a rise in vegan restaurants and food options. In fact, there are even a few vegan tasting menu offerings around town now. Of course, there are a few restaurants who have been in the vegan food game for a while now. Enter, Love Food Central located at 2057 Central Avenue. Love Food Central has been on the scene now for approximately five years. Not only is this spot plant-based, but they're also totally gluten free. You may assume that that would make their menu offerings somewhat limited but that couldn't be further from the truth. The incredible team at Love Food Central has successfully put a vegan spin on American classics, like cheeseburgers, buffalo chicken sandwiches and even key lime pie…but it doesn't stop there.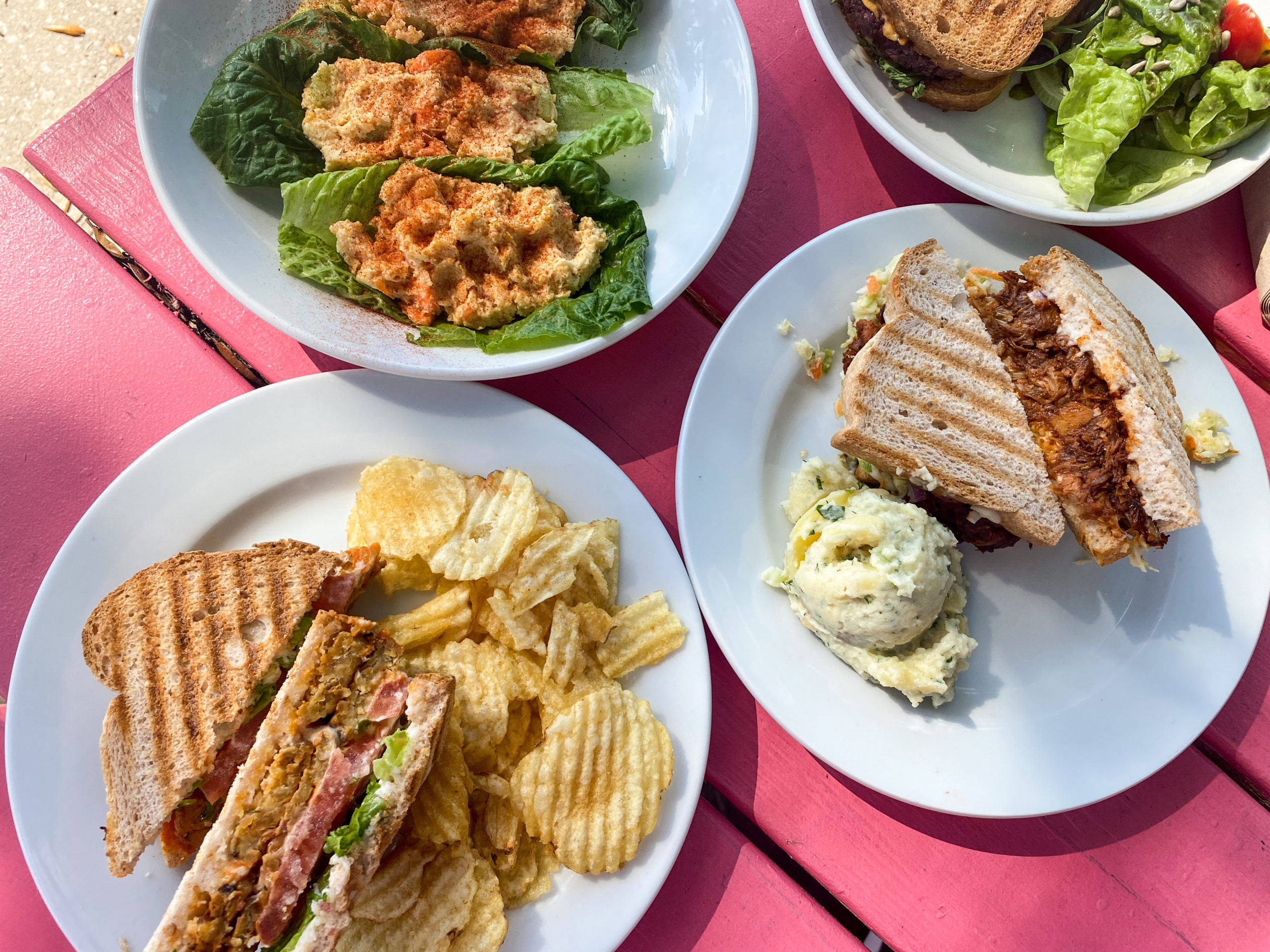 The menu lineup is comprised of various snacks (think cheeseboard, lettuce wraps, toast, etc.), salads, soups (including a soup of the day), an array of sandwiches (from burgers to specials like pulled barbecue jackfruit), desserts and more. In fact, during this holiday season you can order various dishes for Christmas from the cafe like a Kale Caesar Salad, Quiche and various pies.
Love Food was born out of the desire to establish a place where patrons could enjoy good food that also makes you feel good. A place where you can actually taste all of the love that is put into each individual menu item. Most everything offered at Love Food Central is made from scratch. That's right – from the burger patties and salad dressings to the limeades and desserts. The entire operation truly is a labor of love – one that Keisha (General Manager) and Gio (Kitchen Manager) have poured their whole selves into. That love translates beautifully through every plate that comes from the kitchen and every happy repeat visitor who walks through the door.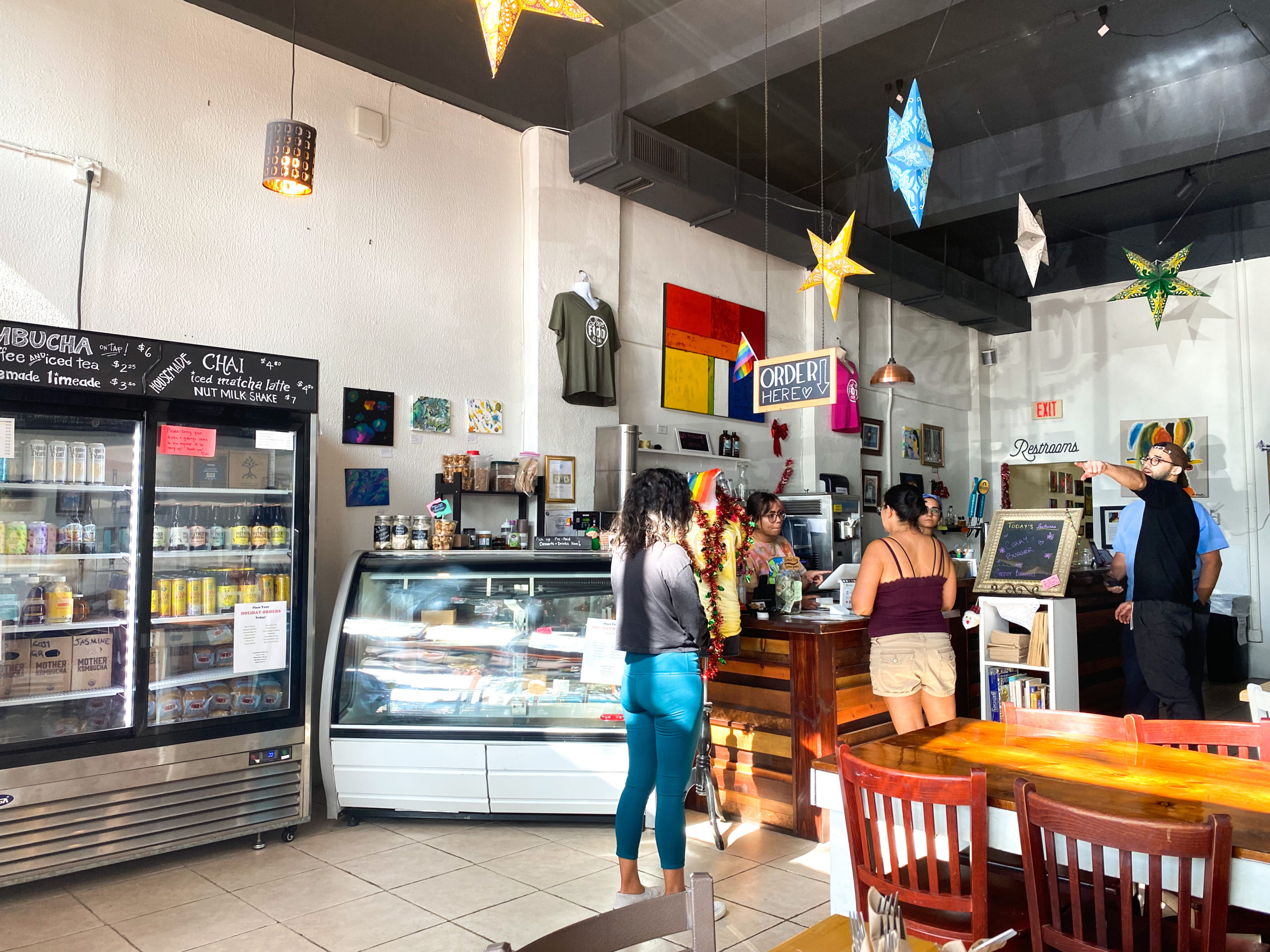 One meal at the Love Food cafe and it will quickly become quite apparent why their family of familiar faces continues to grow. Not only is most of the food made from scratch but they also try to source local ingredients as much as possible. The most popular items from the menu include: The Awesome Burger (which has always been the biggest hit), Kale Caesar Salad, Cheez Burger (made with their insane house made cashew cheez sauce) and their Carmelita Bars (which happen to be the perfect sweet ending to any meal).
In the midst of writing this review, Love Food became one of our new favorite go-to spots for a health-focused meal in a laid back environment. Every single thing that we have enjoyed from their cafe has been outstanding. My husband is still trying to wrap his brain around the fact that everything is vegan and gluten free. The starters section ranges from the cheeze plate to apples and caramel with plenty of finger foods for snacking. The G-Mash Lettuce Wraps are our personal favorite with smashed Garbanzo beans serve on Romaine lettuce leaves with lemon juice, sea salt and paprika. They're a great option for pre-meal sharing or perhaps for one as a main dish with a side of soup.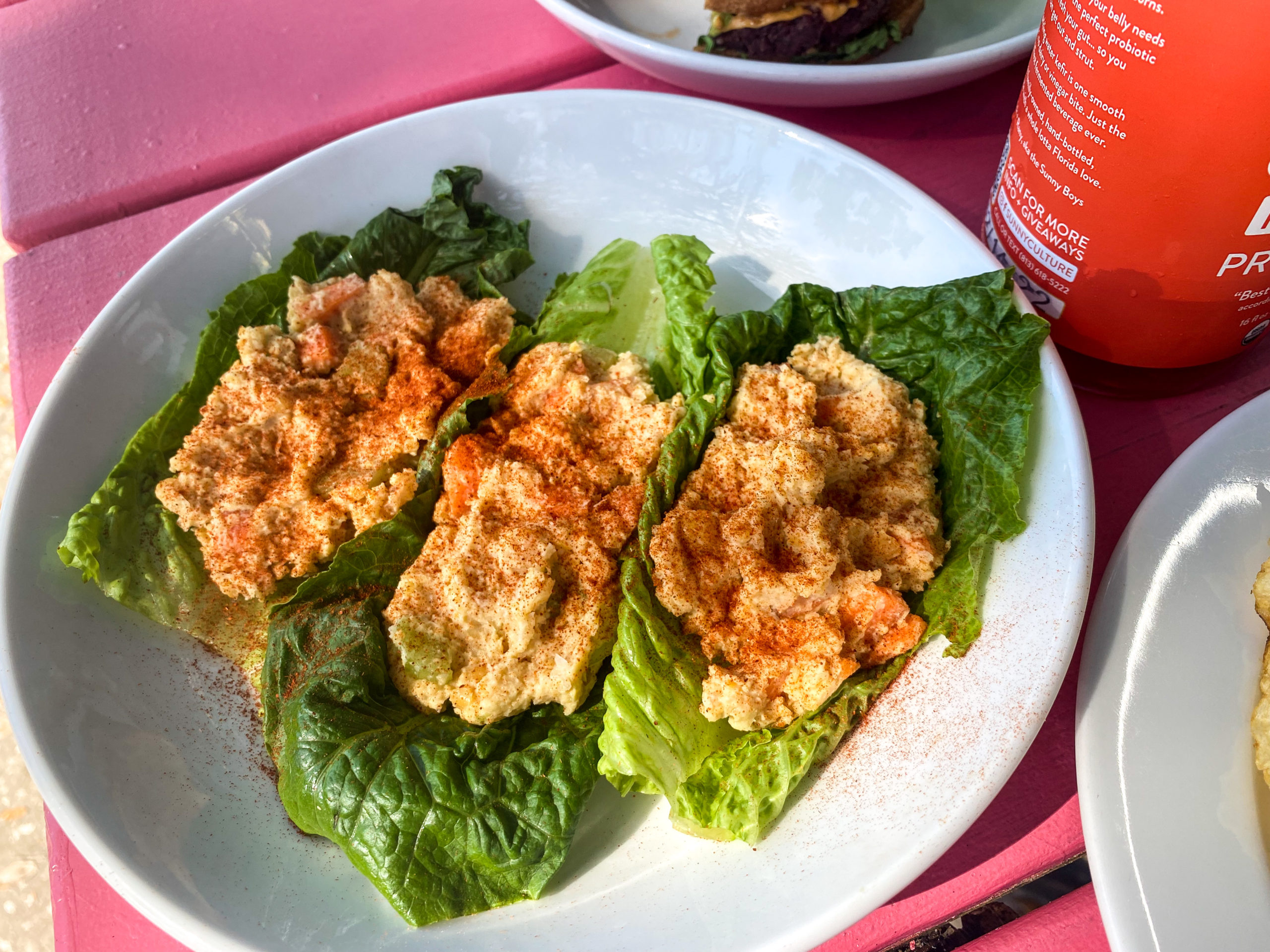 The Kale Caesar may be the fan-favorite salad, but I am absolutely obsessed with the Chickpea Bakon Ranch Salad. I would eat that salad every single day for lunch if I could. Brick Street Farms lettuce is tossed with avocado slices, Garbanzos, grape tomatoes and coconut bacon topped with their new and improved ranch dressing. It is all of the things that you want a salad to be – fresh, flavorful, vibrant and filling.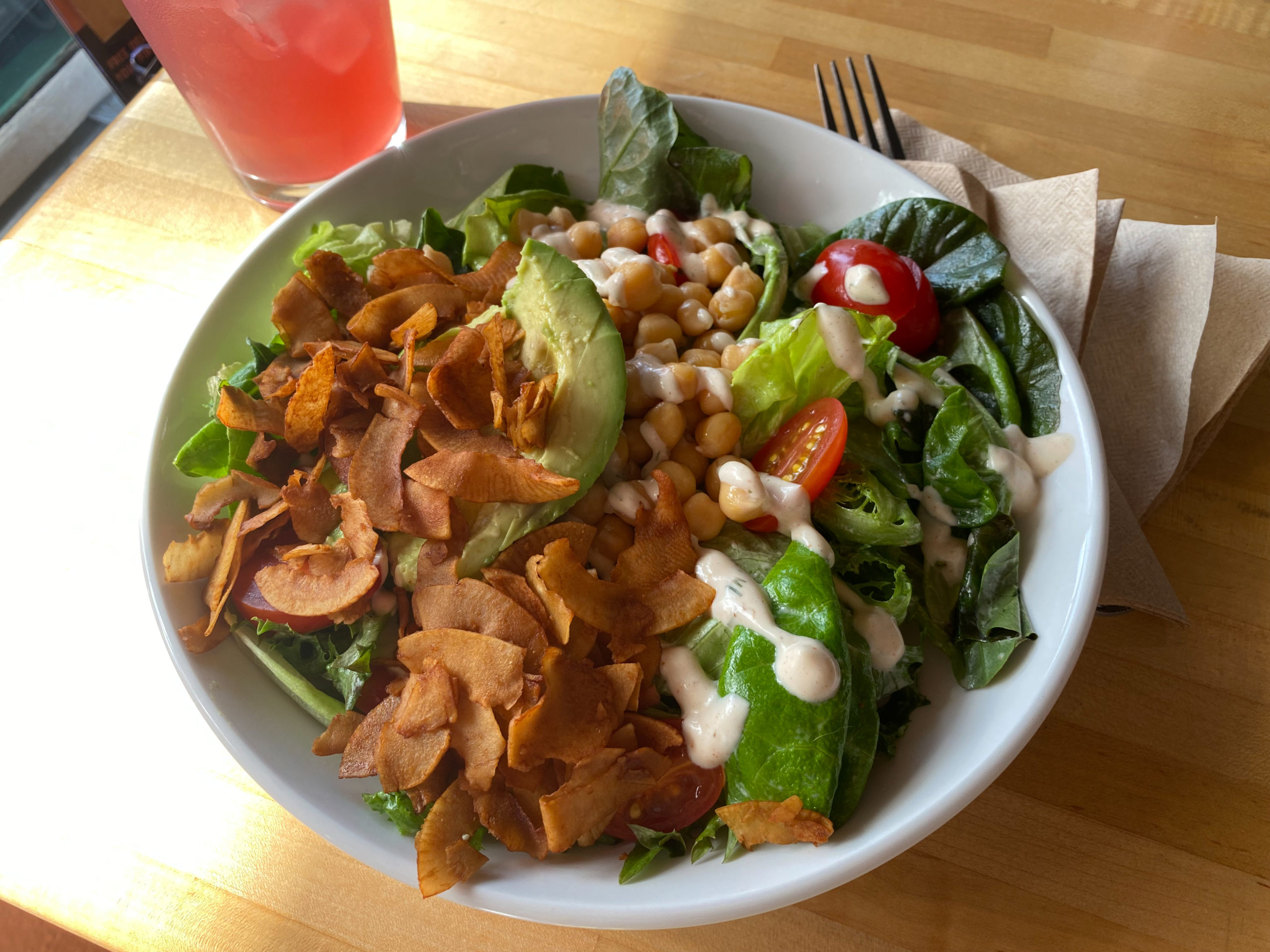 The Buffalo Tempeh Sandwich is hands down our favorite item on the menu. Roasted tempeh is tossed in buffalo sauce and then stacked on gluten free sourdough bread with Brick Street Farms lettuce, a slice of tomato, a drizzle of ranch and soy-free vegenaise. The thought of it alone is enough to make your mouth water. Enjoy this baby with a side salad for a refreshing bite to cool off a bit of the fire.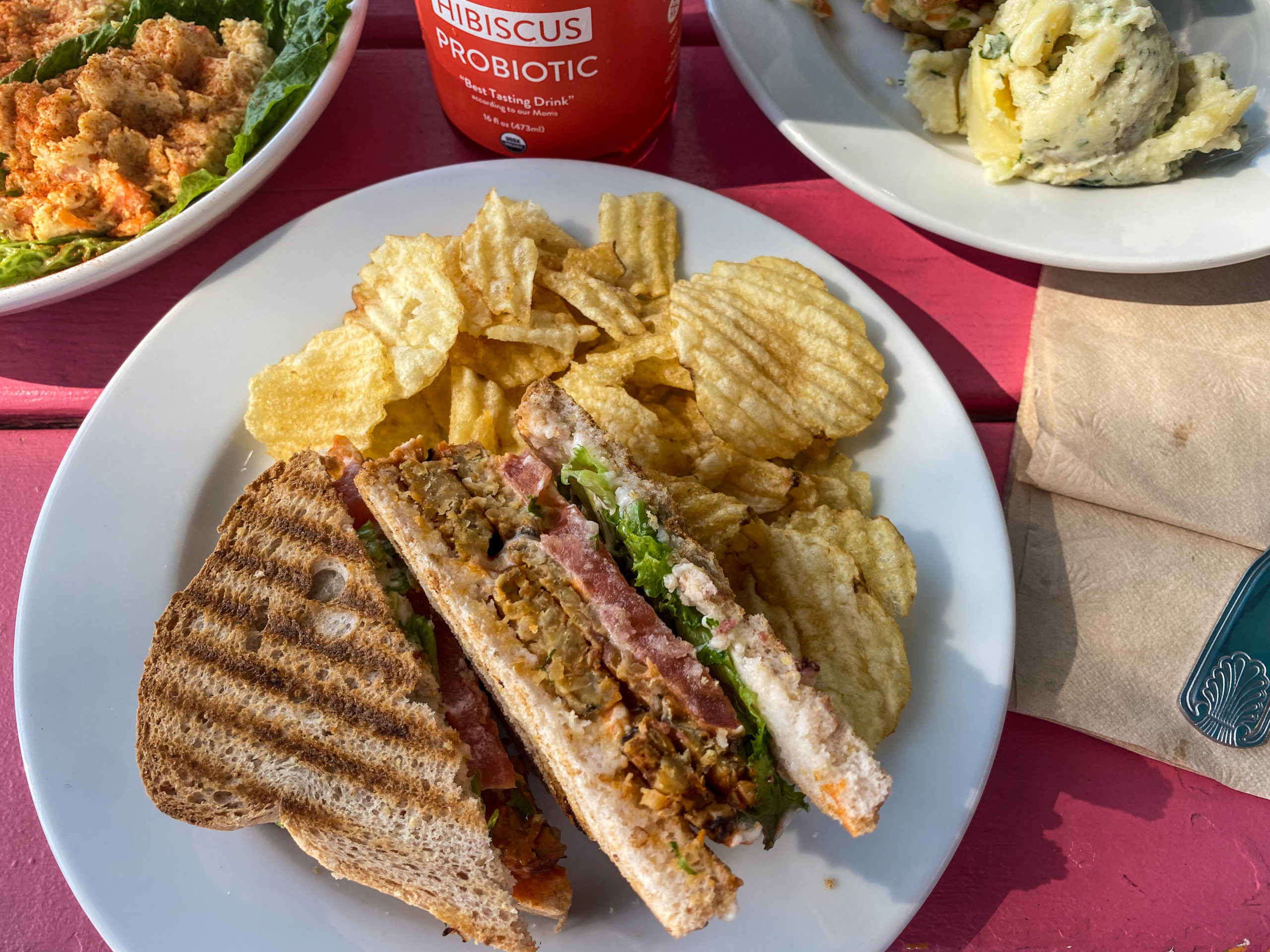 On one particular Saturday a couple of weeks ago Love Food had a Pulled Jackfruit Sandwich as a special and we couldn't not order it. It may not be a regular menu item but I was made aware that it makes an appearance as a special from time-to-time. It's a total homerun with shreds of savory and delicious sauced up jackfruit. We enjoyed this with potato salad as a side and it was the vegan barbecue experience that we never knew we needed.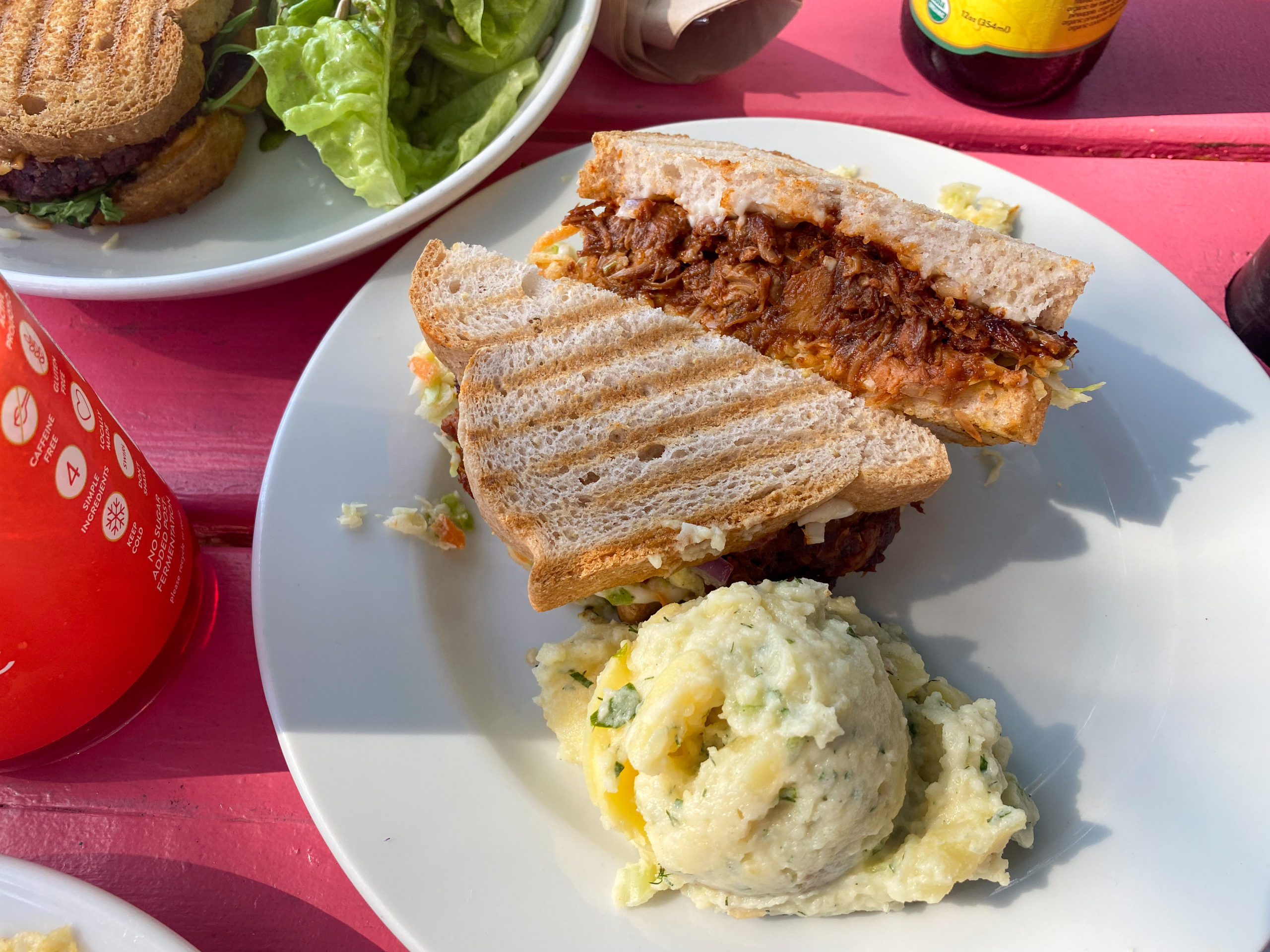 There is nothing quite like a damn good burger. Love Food's beet and black bean patties for their burgers are made in house and you can actually buy a large order of these patties at the cafe to take home and make yourself. Love Food's Awesome Burger – the most popular item on the menu – starts with the beet and black bean patty and then arugula, roasted cremini mushrooms, avocado slices and a spicy "awesome sauce" join the party. All of this is piled onto two slices of toasted sourdough. Satisfaction guaranteed, in my opinion.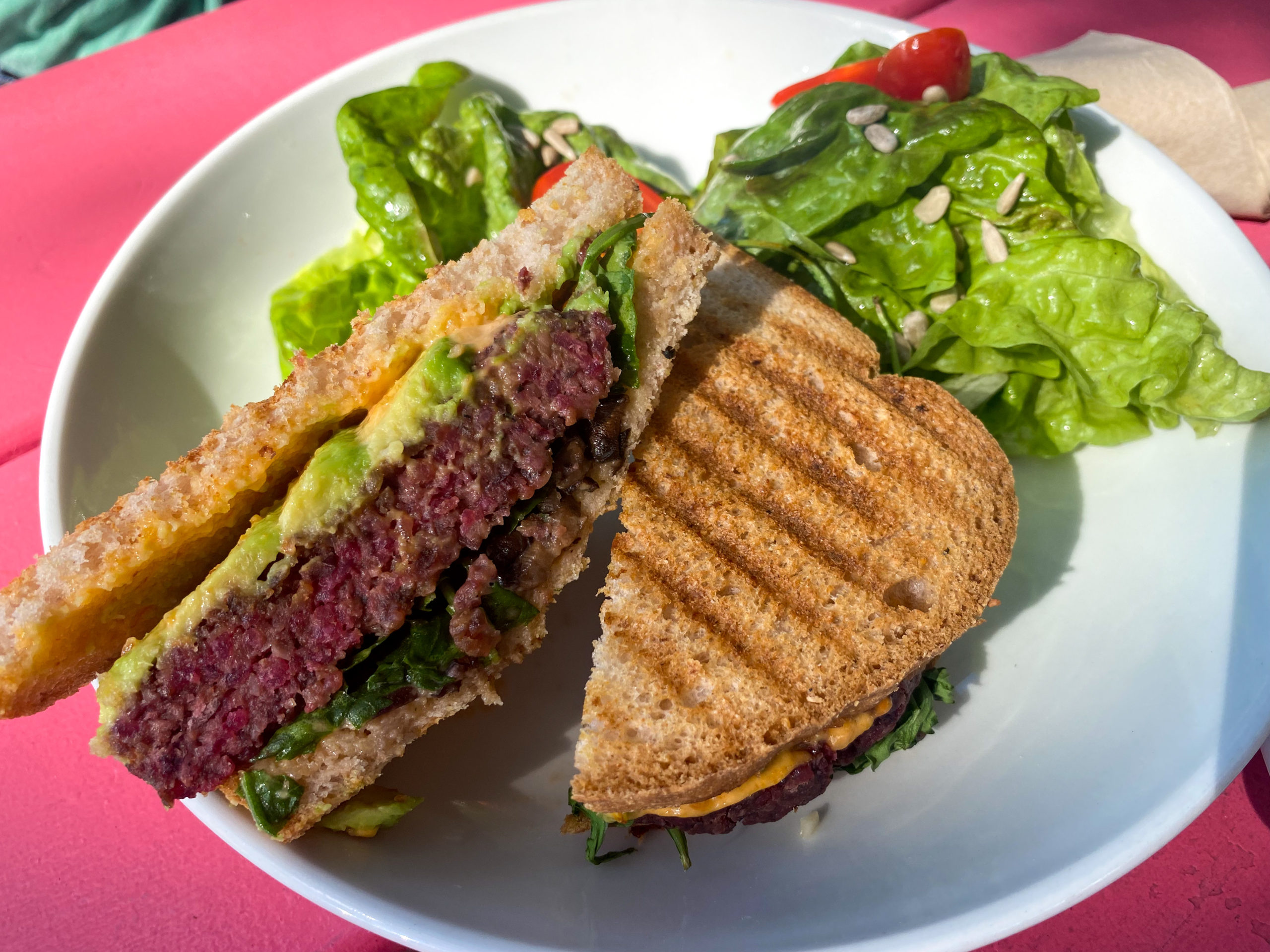 One of the first things that you'll notice on a visit to Love Food's cafe is the case of goodies which almost greets you at the door. In there you'll find an array of sweets and desserts which often includes a mind blowing Key Lime Pie. I mean, wow! And this is coming from someone who does not typically attract to sweets. It's creamy and luscious and you'll have a tough time believing that it's made from coconut, avocado and limes. The odds of me ordering a whole Key Lime Pie from Love Food for the holidays? Extremely high.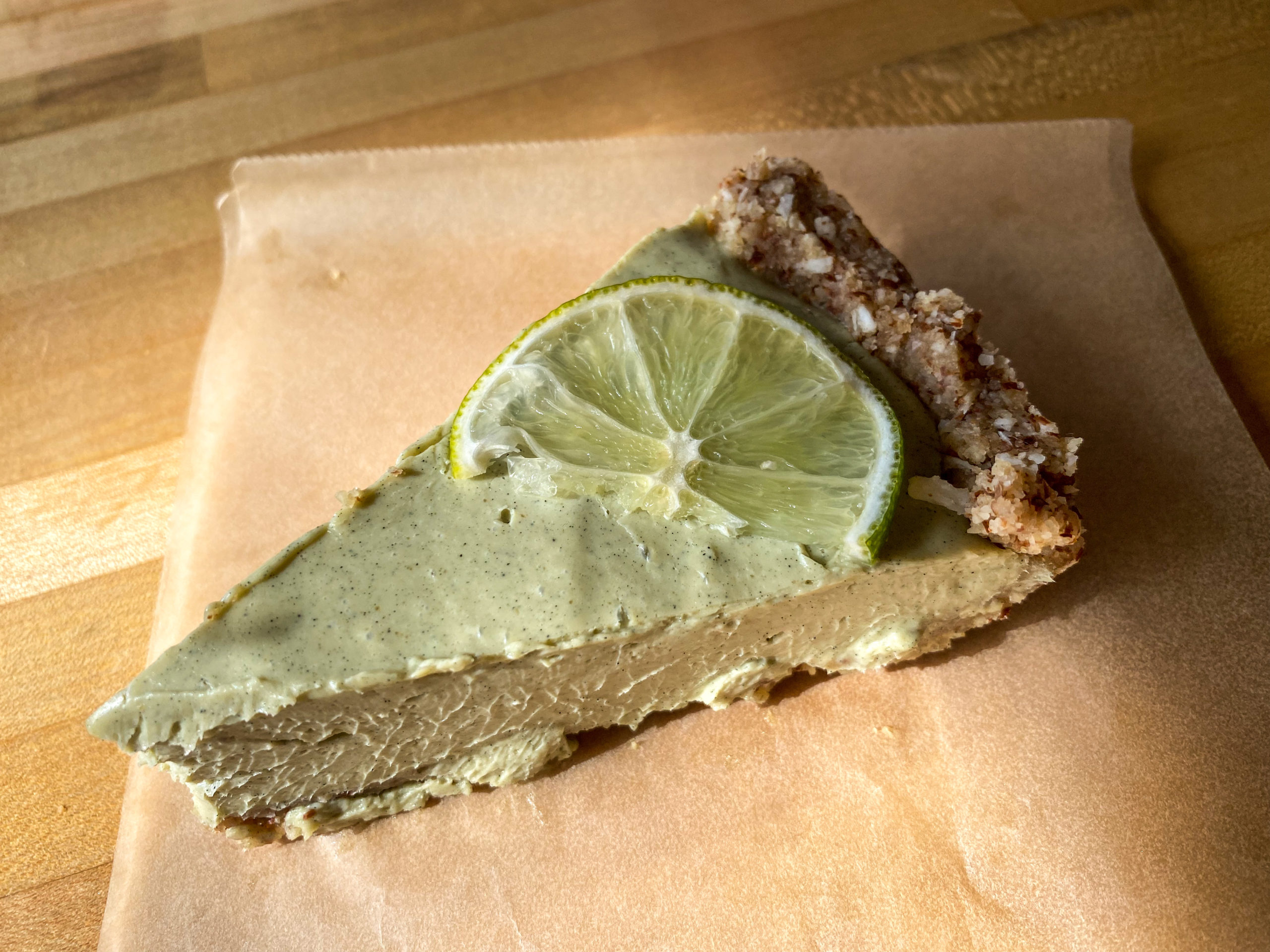 In addition to food, Love Food Central also crafts their own limeades. The flavors vary by the day but I was lucky enough to be eating lunch at the cafe on a day where they had a refreshing cherry limeade. It was the perfect addition to my salad.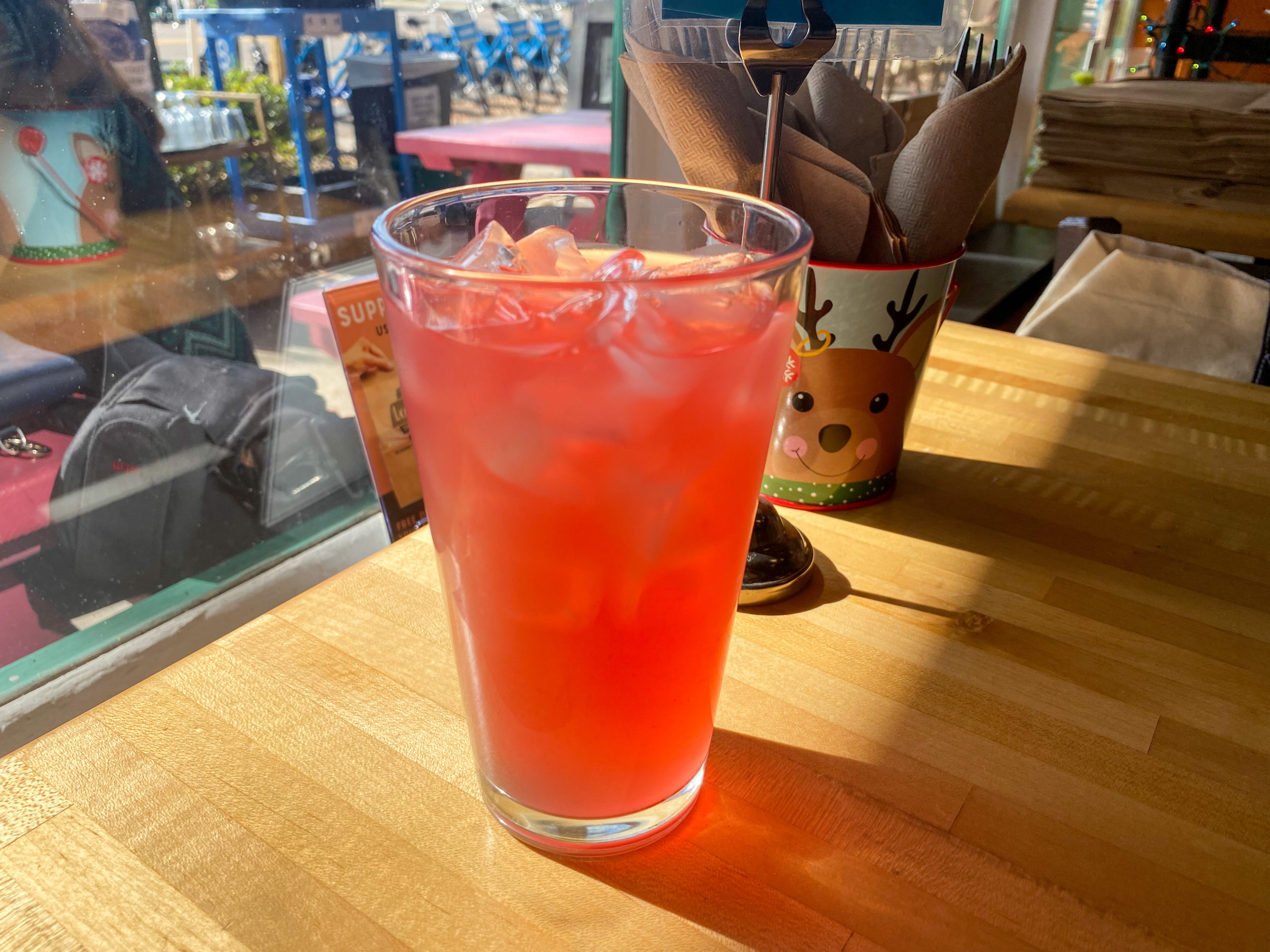 The future looks the utmost bright for Love Food. They are bringing back monthly Love Markets on their block on Central Avenue and have been attending other various markets in Florida to share the good Love Food word. Look for their patties, carmelitas and more in local vegan shops. Additionally, look out for your chance to book them for events. Thanks to folks like the team at Love Food, the vegan way of live is becoming increasingly popular. Even bigger and brighter things are on the horizon for Love Food Central.
Health-focused cafe serving vegan and gluten-free dishes & desserts in laid-back surrounds.
DISCLAIMER: Kevin, Lori, Abby, Haley, & Lindsey do not dine anonymously (this would be impossible) and we sometimes get free food (though never expected). However, we dine with the locals and we support our own. You will always get honesty in a respectful manner.

PLEASE NOTE: Reviews reflect a certain moment in time. Some restaurants stay extremely consistent over many years, and some change for the better or worse. Some things that may change are: chefs, recipes, food suppliers, ingredients, philosophies, ownership, etc. We always hope that you have the same good, or great experience we had.
More Foodies News, Reviews & Recipes