Mio's Grill & Cafe – A Taste of the Mediterranean in Downtown St Pete
Mio's Grill & Cafe – A Taste of the Mediterranean in Downtown St Pete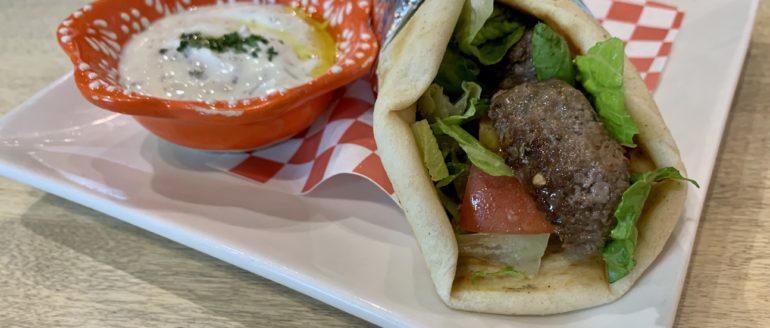 This summer Mio's Grill & Cafe quietly opened on 2nd St N and 1st Ave N, where Meze 119 was previously. Mio's is a Turkish/Greek mediterranean inspired restaurant named after the owner's dog aptly named, Mio. To be quite honest, I really wasn't all that excited about it when we first heard about it. And then Kevin pushed me to go one day for lunch.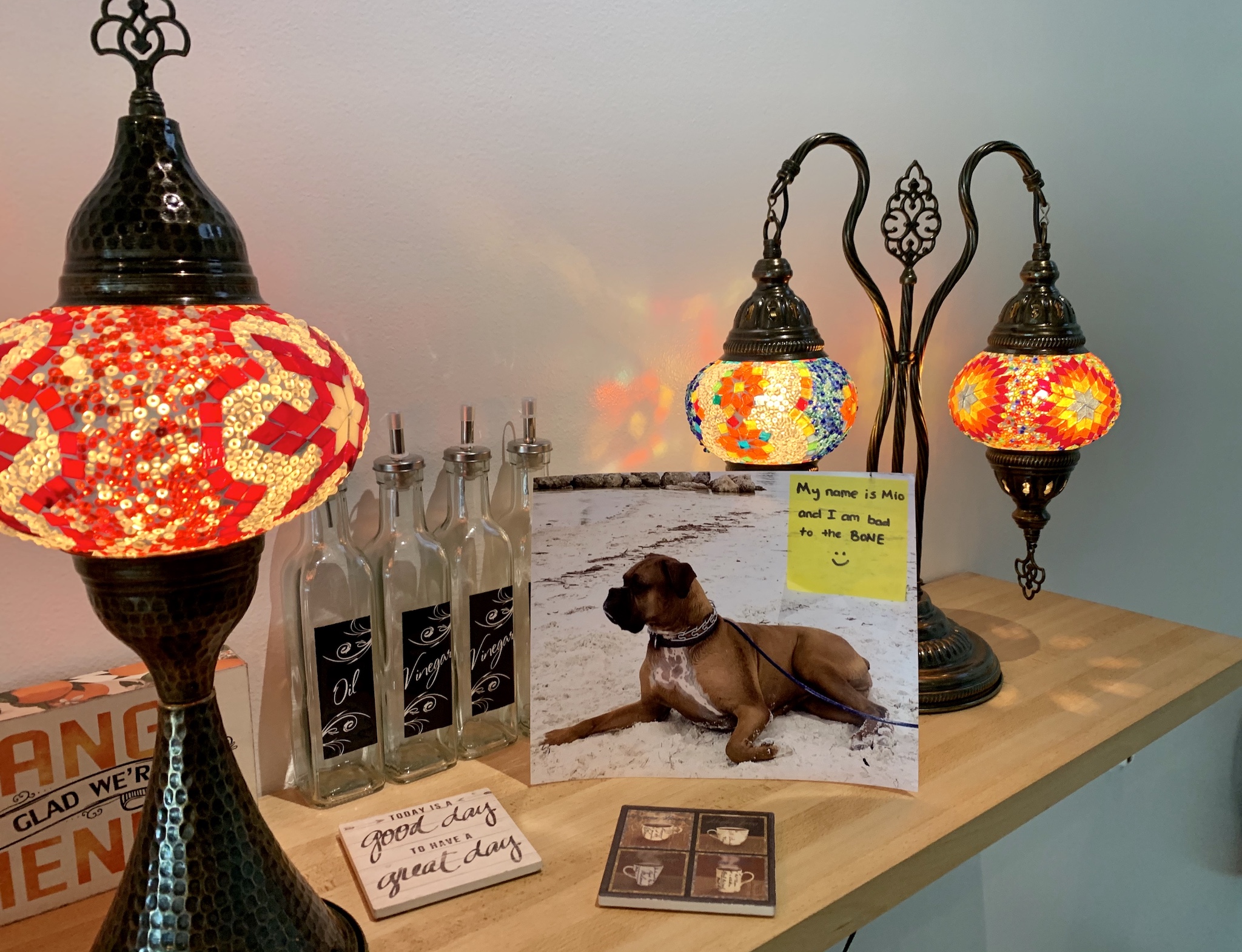 The space feels open and inviting with its bold color accent pillows and exotic lamps contrasting with the white walls. While we were there, we met the chef and owner, Borahan Çalışkan (he goes by Bora). He was born and raised in Istanbul, Turkey. At 16 years of age, Bora started working in the hotel industry in Turkey and Cypress Island, before taking a position in Atlanta with Sheraton Hotels in 2011. He lived for a while in the midwest, opening his own convenience store and deli in Indianapolis. After seven years of cold weather, he had had enough.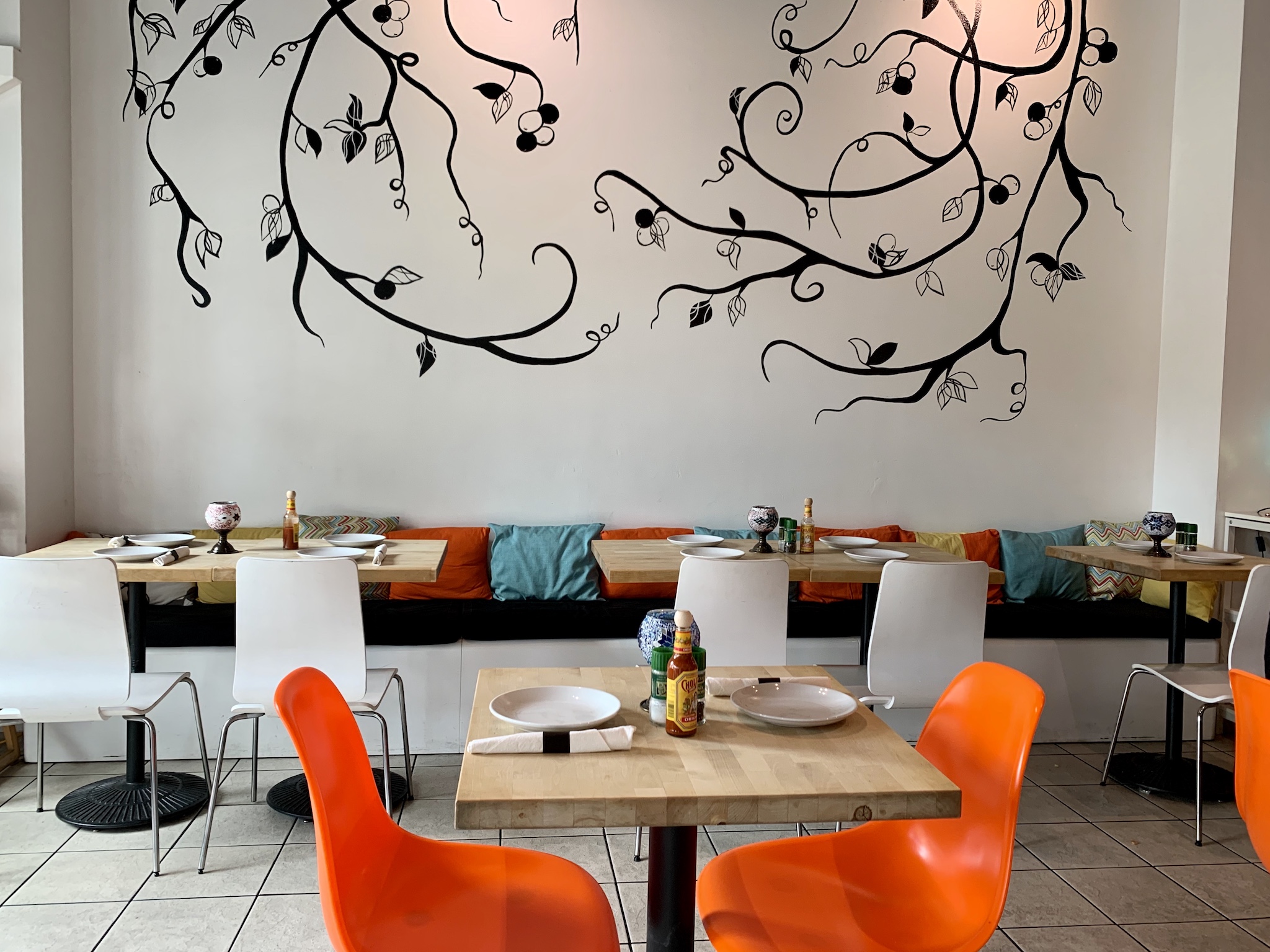 At the time, Bora's sister lived here in St Petersburg. Bora said this about his first visit, "The first time I came to St Pete downtown I was like, I have to be here. I have to do something here." He fell in love with St Pete, moved here and went about opening a restaurant that celebrates the recipes he grew up with, inspired by Turkish and Greek mediterranean food.
When asked what inspiration gave him the idea to do this he replied, "Well, I will be honest about this. Before we opened I was preparing the menu and I didn't know what would work. I had so many different foods from different cuisines. I had burgers, Philly cheesesteaks, Turkish and Greek gyros and I knew I had to find the identity of the place too. So I said let's give it a try and just see what our guests want from us. Then I found that there were a lot of people that are very interested about Turkish and Greek food and trying something different and healthy. They are into more healthy dishes."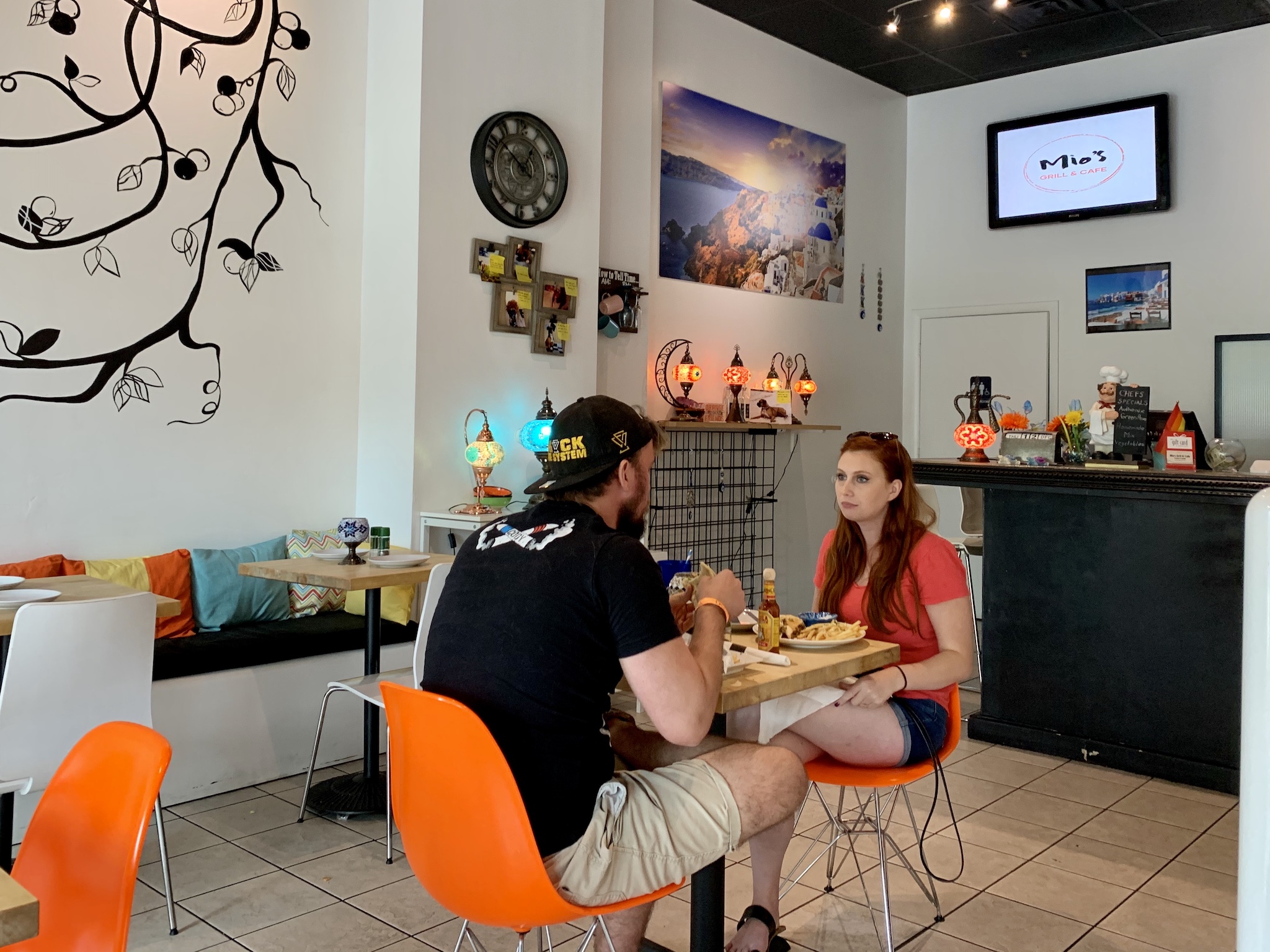 So he called his mom (his parents still reside in Istanbul) and asked for her help by asking for her recipes. There are many vegan and vegetarian options on the menu, but he said, "In Turkey they don't call it vegan or vegetarian, it's just regular daily food that they have." One of the items he introduced was his very popular Red Lentil Soup. When they first opened he was just making a tomato soup. He said people seemed to enjoy it, but you can get that anywhere. The red lentil soup was something different and now a soup Mio's is known for.
Now onto the food. November 21st was the first time we went for lunch. We shared four appetizers starting with the Haydari – Turkish Labne made with pressed yogurt (labne) mixed with crushed feta, garlic, olive oil and fresh dill. Served with cucumbers and pita. Bora describes this dish as a Turkish style of tzatziki. It's much more dense and spreadable than tzatziki. I was absolutely floored by the tart umami flavor in this dish! I love it. It's craveable!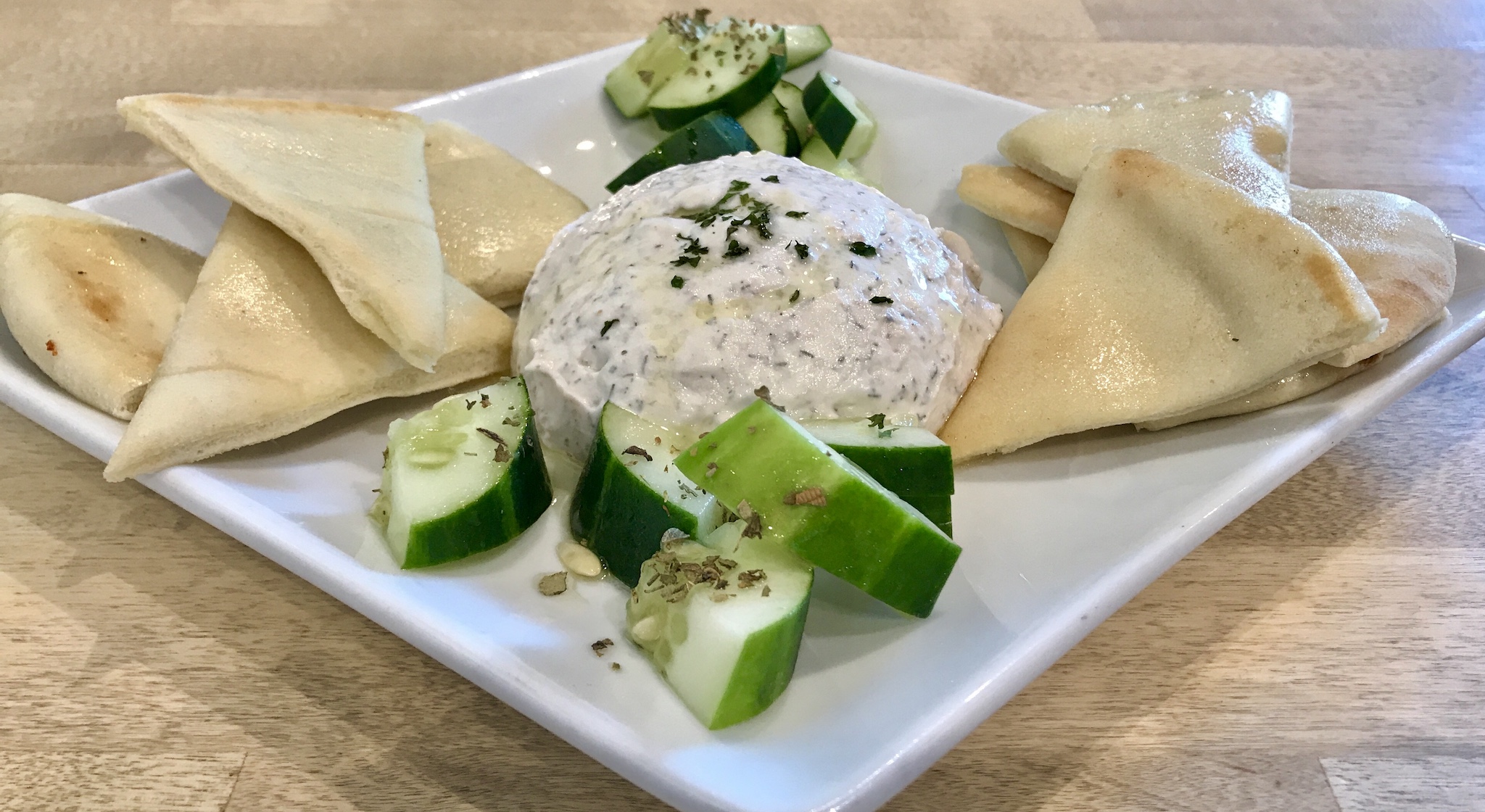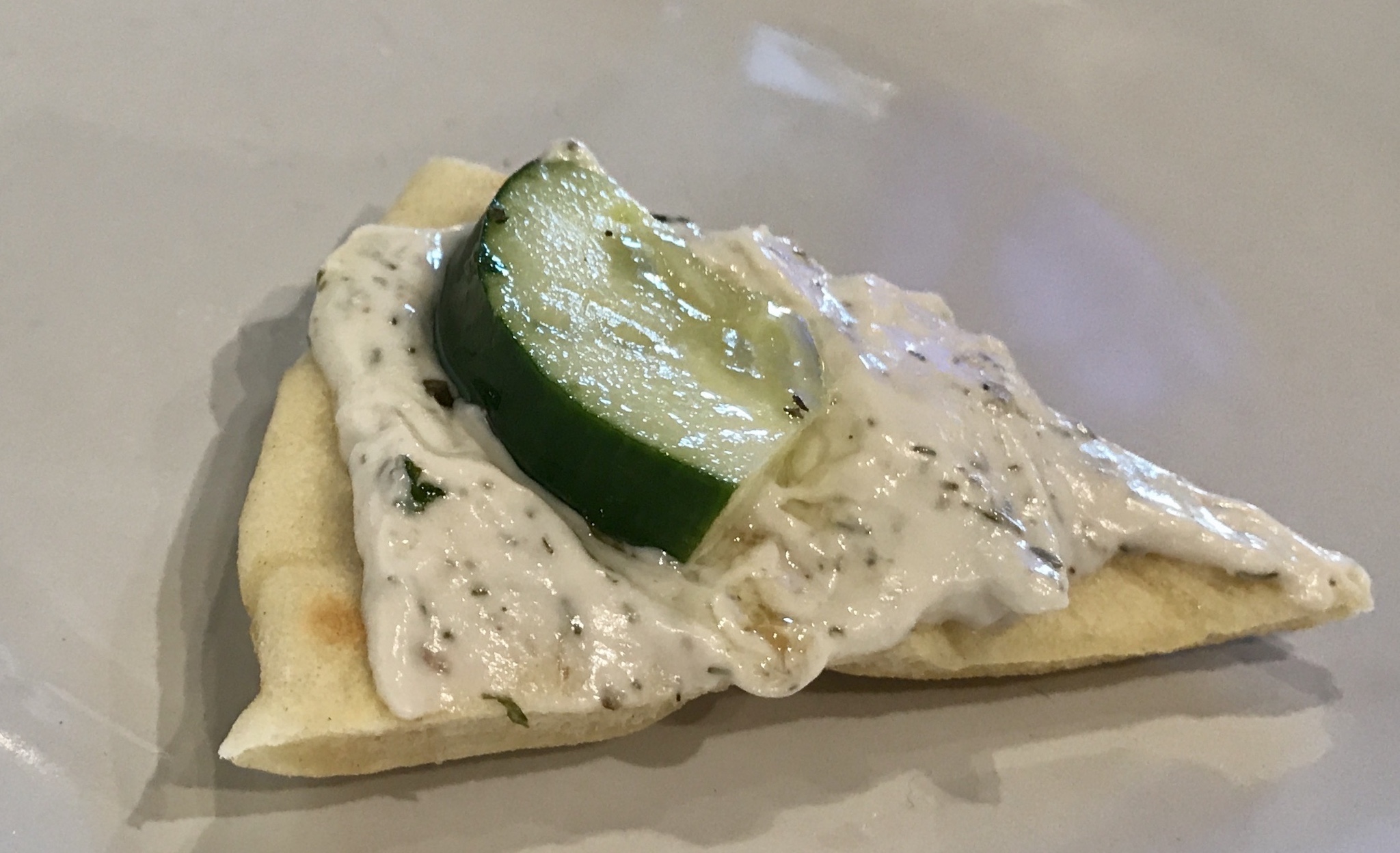 We also had the red lentil soup. The menu describes the soup as "fresh, homemade and authentic red lentil soup which is totally vegan and one of our best sellers." This puréed soup is made with many great Mediterranean spices, is quite hearty and tasty, but I felt it was lacking in something – mainly salt. But as Kevin says…of course I would say that.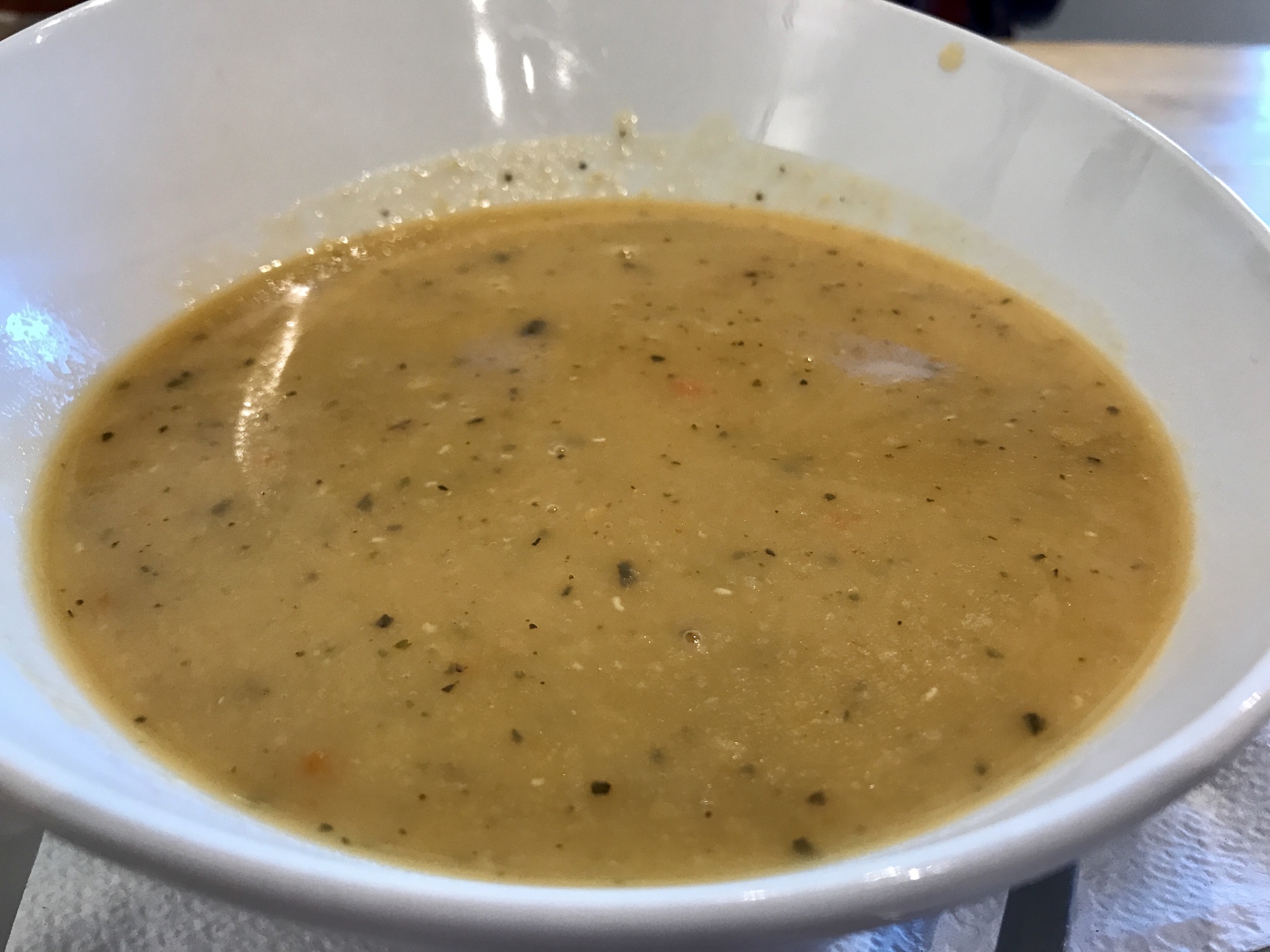 Kevin loves to try different versions of Caesar salads and this one was one of his favorites. The menu description says "green salad of romaine lettuce and croutons. Dressed with lemon juice, olive oil, garlic, Dijon mustard, Parmesan cheese and black pepper." It is so different that the dressing is made with dijon. It gives it an oomph that kicks it up a notch. I highly recommend this version.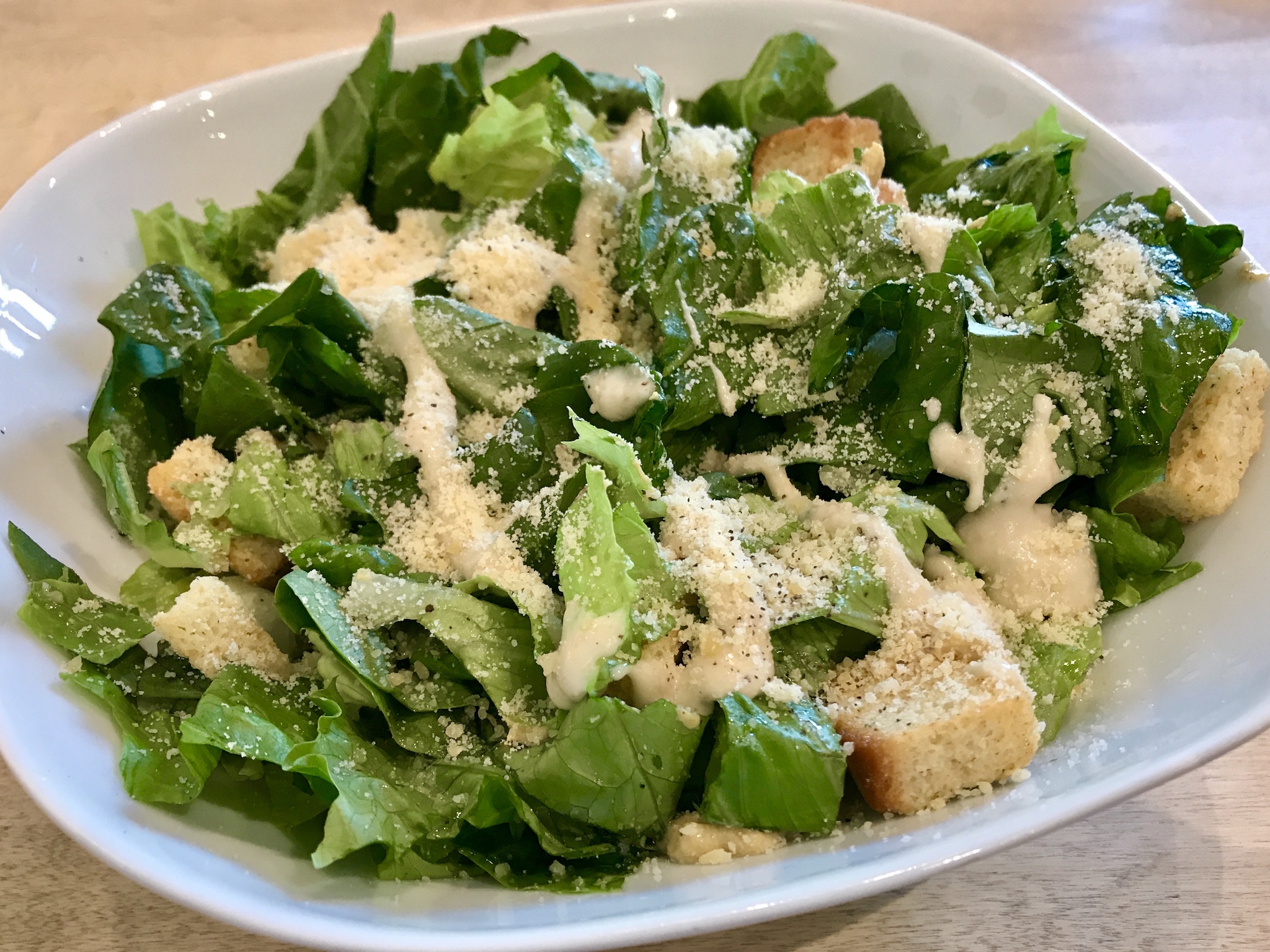 Next was the fresh calamari (the menu, at the restaurant, says that they only serve it if they have it fresh) so I had to have it. You could tell how fresh this calamari was. No rubbery or chewy pieces to be found at all! The marinara was also definitely house-made. It's a small but mighty appetizer.
Now for the second visit…Kevin and I have been eating healthier, when possible, since October. On this particular day, we were tossing around where to go and he said how about Mio's? I immediately said, yes, that's it! You can't go wrong with the mediterranean diet!
Kevin suggested that we try the hummus. I agreed but was not very excited by the idea. Most hummus you get in most restaurants is just okay. Well, I am here to tell you that Mio's is not most restaurants. Wow! The menu describes what you would typically expect, "puréed chickpeas, tahini, garlic, olive oil and freshly squeezed lemon juice. Served with pita bread." There is some special sort of secret ingredient, must be extra love, put into this hummus. It is singing with brightness and flavor and all of the ingredients marry together in perfect harmony. We ate every bite. It will be difficult to choose between the hummus and the haydari. Very difficult!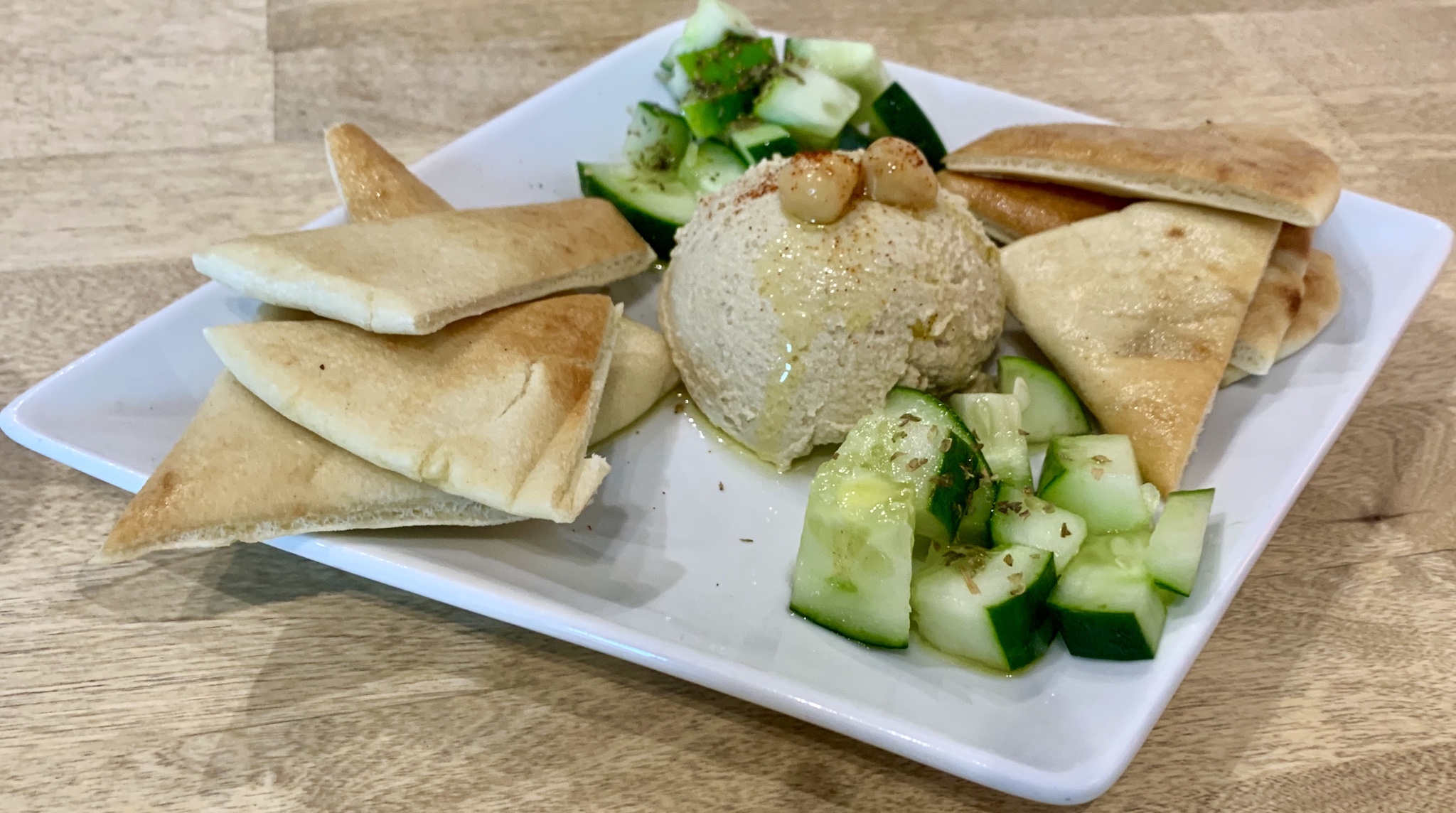 For my meal, I ordered the Beef Gyro Sandwich. I will say that I prefer a lamb gyro but this was delicious and the tzatziki was light and refreshing. I forgot to mention the pita when talking about the hummus but the pita here is also so amazing. It's light and airy with just the right amount of thickness and it's served fresh off the grill.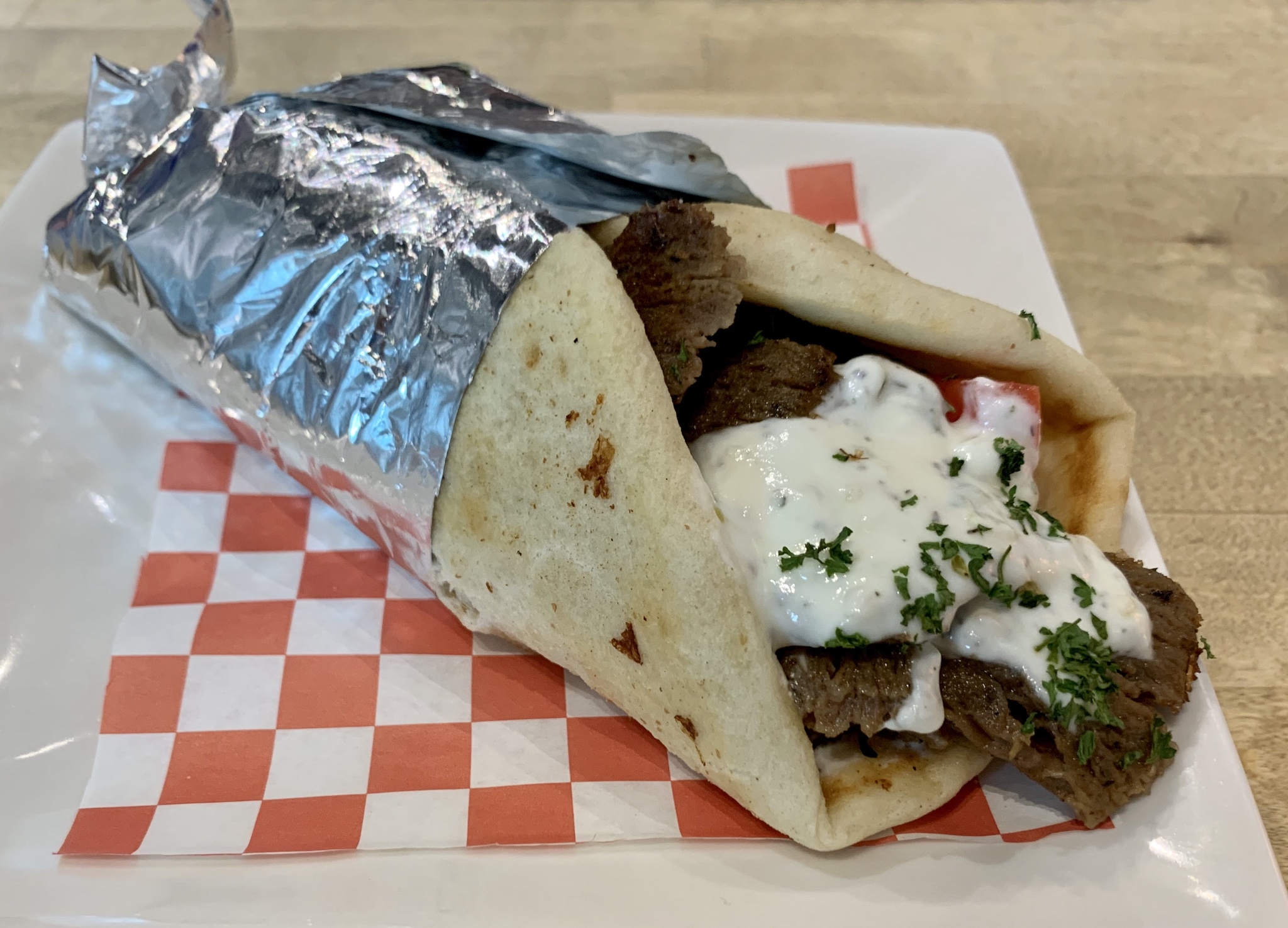 Kevin ordered the Grilled Meatball Sandwich which the menu describes as "ground lamb with garlic, parsley and Mediterranean seasonings. Grilled to tenderness." The menu doesn't really tell you this, but if it says sandwich, it typically comes in a pita, as we discovered with this one. It was dressed like my gyro but with the tzatziki on the side. These are handmade Turkish style meatballs and Kevin loved them. The flavoring and spices used in the meat was delectable. He actually liked it better without the sauce.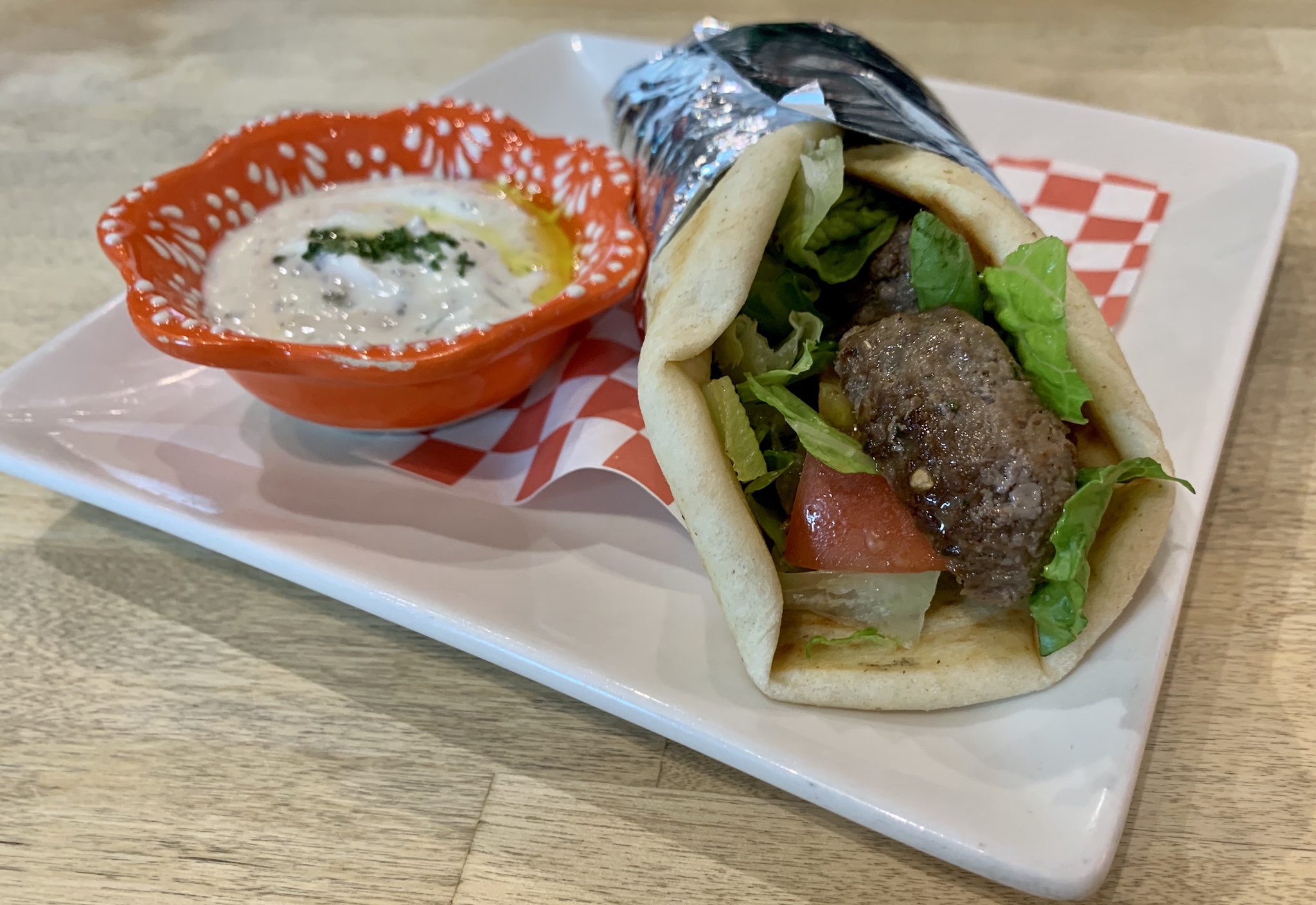 There are still so many menu items that we haven't tried, and can't wait to try, so that we can continue to support this local hidden gem. There are several different platters, burgers, oh and I enticed by the Greek Potato Balls. Bora also says that many people have told him that he makes the very best falafels. They also offer many vegan and vegetarian options. Just get yourself to Mio's! You won't be sorry!
Podcast Interview with Bora Çalışkan of Mio's Grill & Cafe
Tasty Turkish and Greek inspired Mediterranean Cuisine in downtown St Petersburg, FL.
DISCLAIMER: Kevin, Lori, Abby, Haley, & Lindsey do not dine anonymously (this would be impossible) and we sometimes get free food (though never expected). However, we dine with the locals and we support our own. You will always get honesty in a respectful manner. We do not include any large national or regional chains in our ratings and reviews. We focus on independent locally owned eateries exclusively.

PLEASE NOTE: Reviews reflect a certain moment in time. Some restaurants stay extremely consistent over many years, and some change for the better or worse. Some things that may change are: chefs, recipes, food suppliers, ingredients, philosophies, ownership, etc. We always hope that you have the same good, or great experience we had.
More Foodies News, Reviews & Recipes