On The Fly Food Hall Offers Delicious Choices For Everyone
On The Fly Food Hall Offers Delicious Choices For Everyone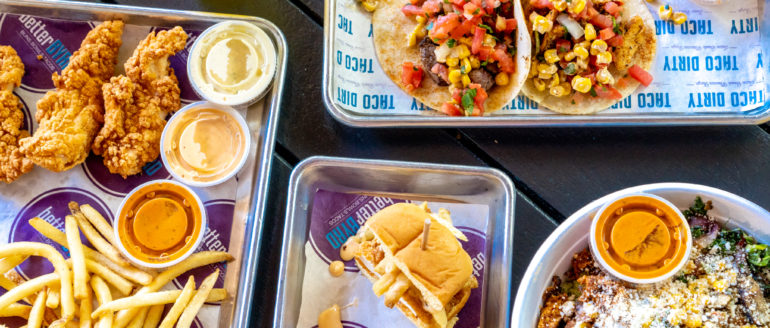 Ciccio Restaurant Group is sprawling all over Tampa Bay and I'm totally here for it, especially at On The Fly food hall. Tucked away on 4th St N, On The Fly brings together four concepts under one roof: Fresh Kitchen, Taco Dirty, Better Byrd and Sweet Soul. Though these restaurants are all very different, they're similar with their dedication to providing unmatched food and dessert with gluten free and plant based options.
On one side, you have Fresh Kitchen with health focused bowls, and on the other side is On The Fly with Taco Dirty, Better Byrd and Sweet Soul.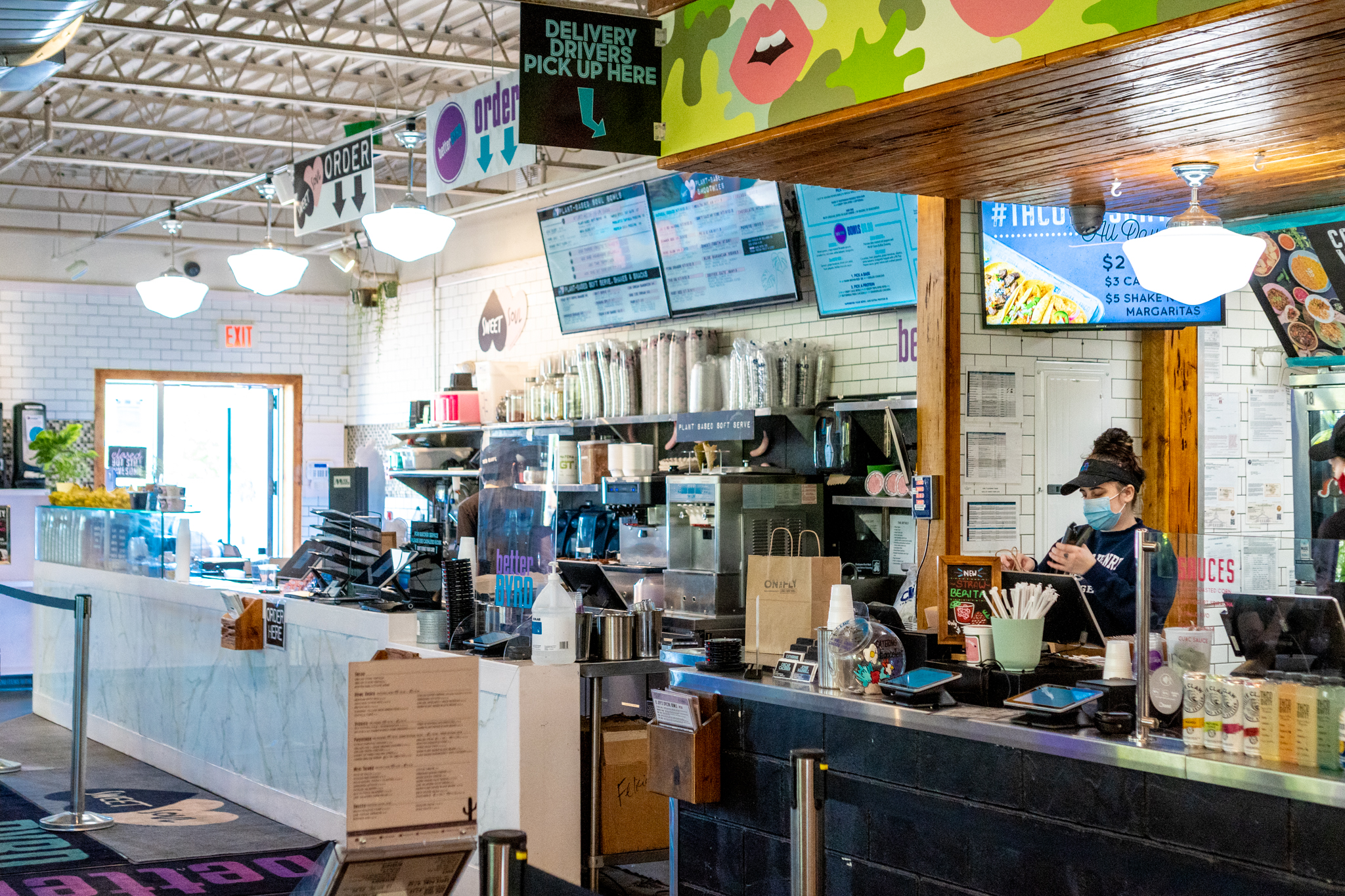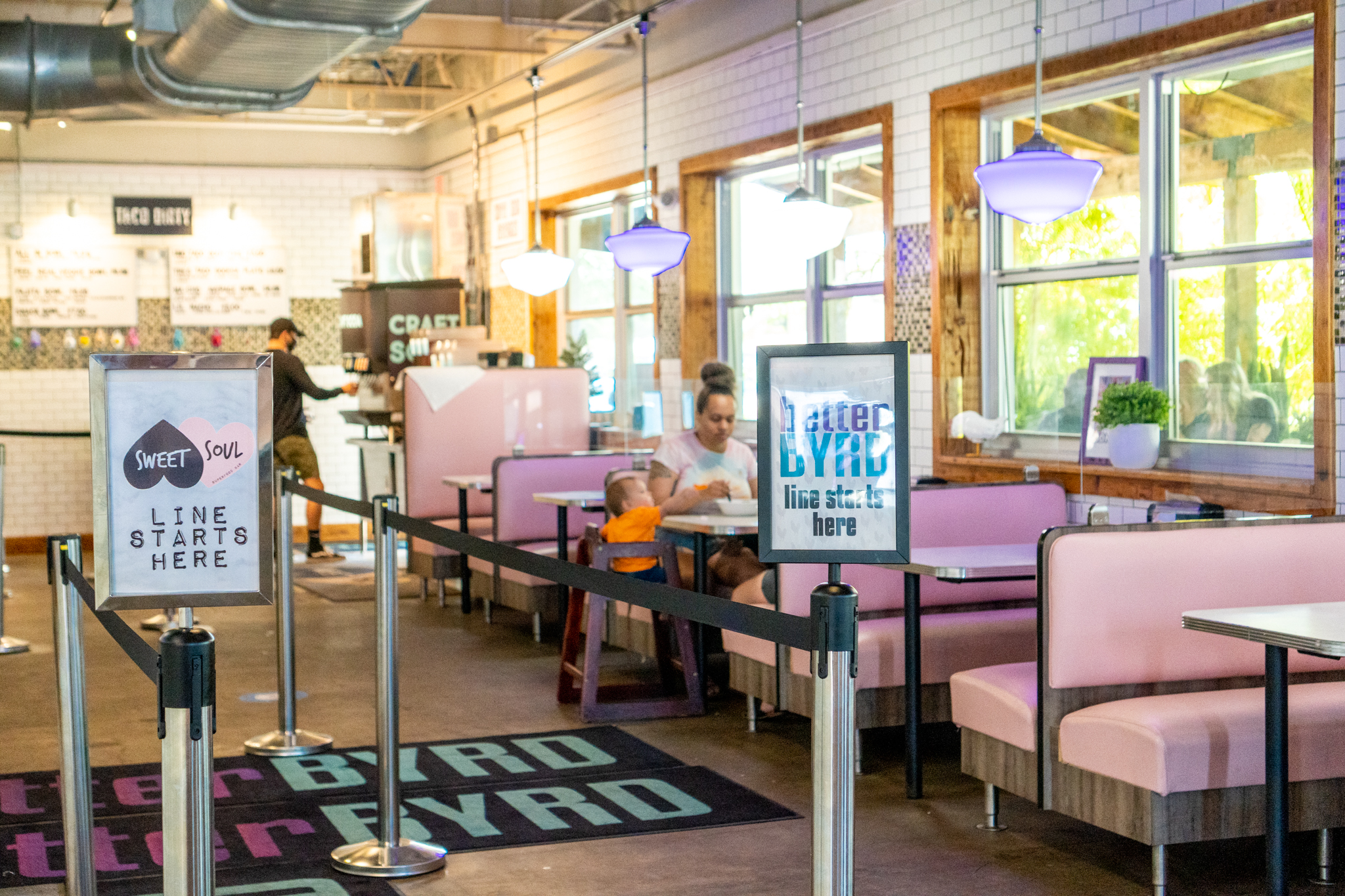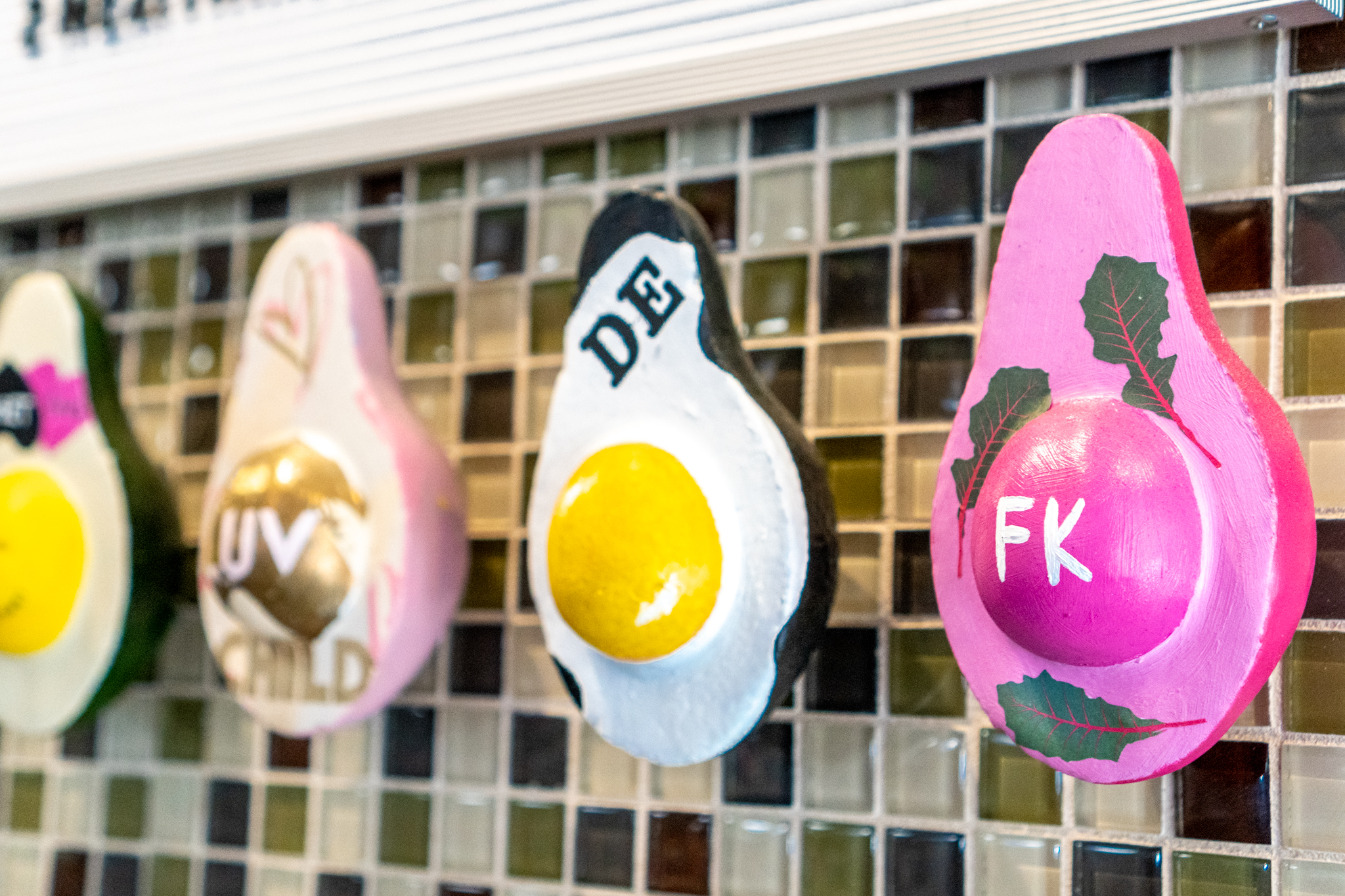 The trendy vibe drew me in immediately. Then I tried the food and decided that I was in love with everything here. I had a great first experience and wanted to give a big thank you shout out to Fallen for guiding me through the menus, suggesting personal recommendations, being so helpful and more! Thanks Fallen!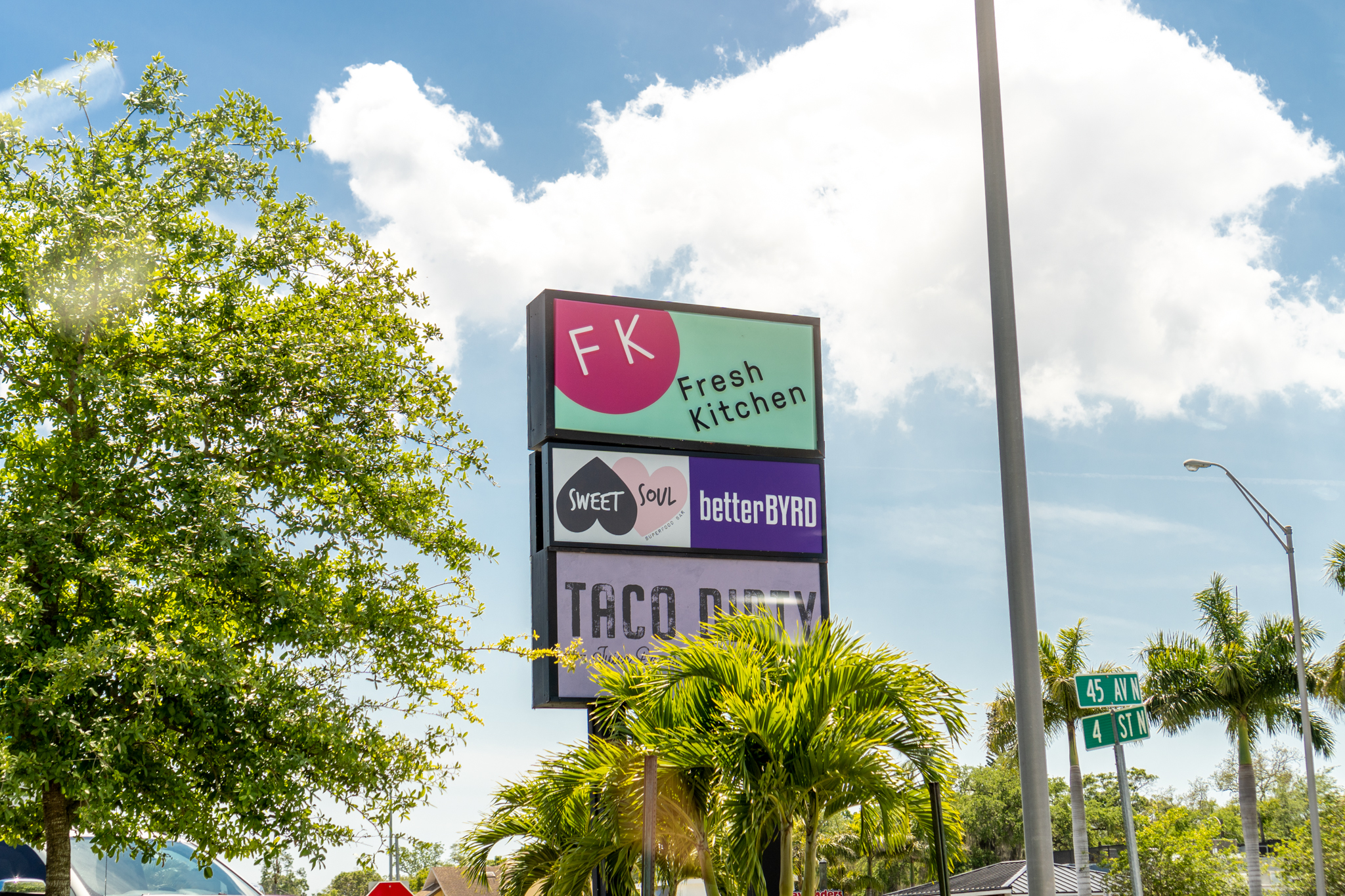 Do you like having an infinite amount of options? On The Fly will give you no shortage of choices to leave you full and happy. Here's the 411 on all of the eateries at On The Fly:
From the customized tacos, burritos and bowls to the fresh juices, Taco Dirty is the ultimate spot for all things Mexican food. Take a long look at the menu or wing it and get what looks good when it's your turn to order at the counter. Either way, I guarantee you'll enjoy all of the bursting flavors. Taco Dirty is my favorite concept at On The Fly.
Happy mention: On Tuesdays customers can enjoy delicious tacos for just $2 each. I'll say that again: $2 tacos on Taco Tuesday!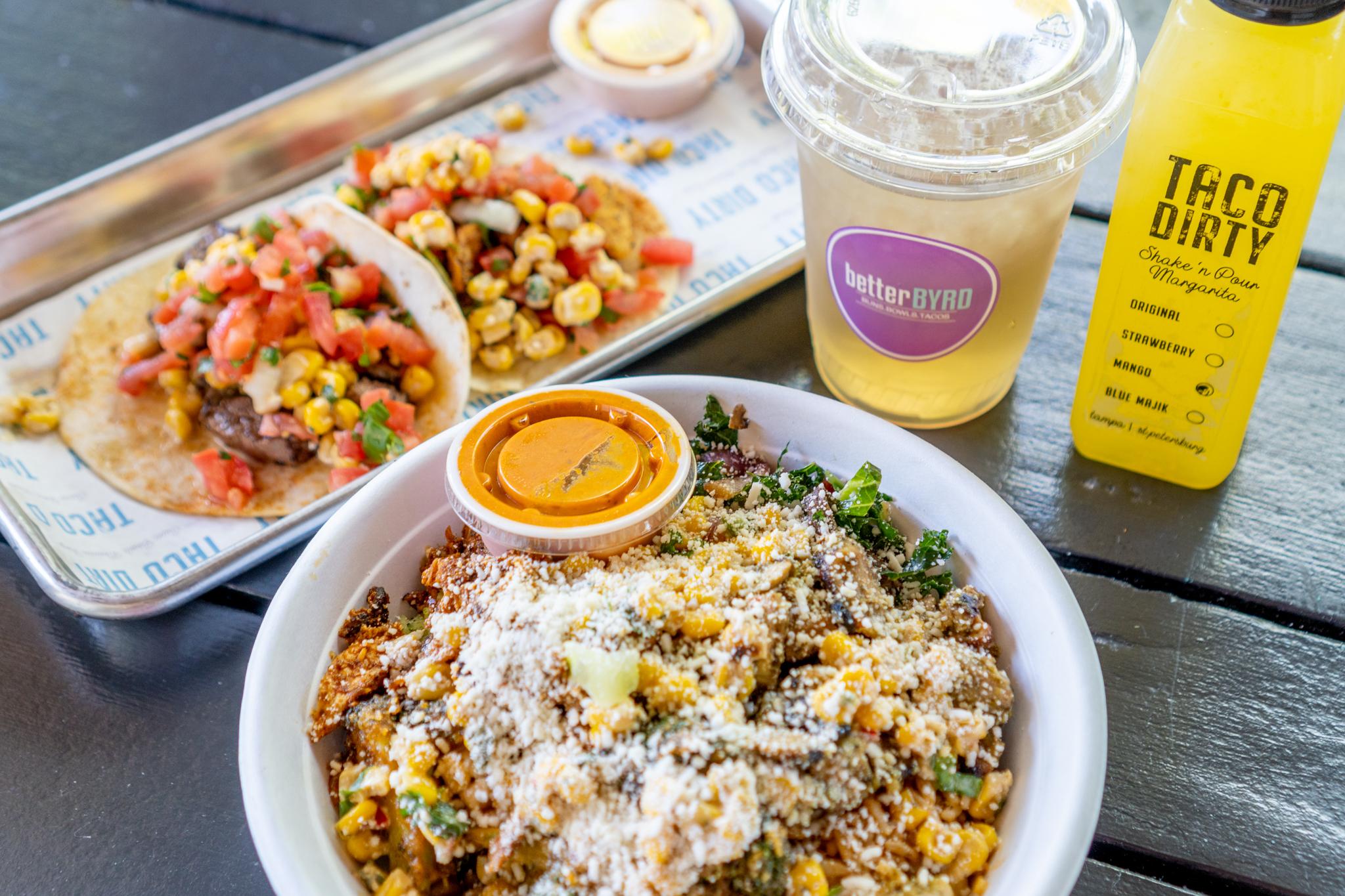 The All In Bowl includes 2 Bases, 2 Veggies, 2 Proteinos, 2 Mexi Things, 1 Sauce.
The concoction that I created had Mexican spice rice, avocado citrus rice, fried gluten free buffalo avo broccoli, red peppers/kale/mushroom mix, citrus chipotle chicken, grilled verde chicken, cotija cheese, dirty house salsa, and buffalo avocado sauce.
Every single bite was amazing. I especially loved the citrus chipotle chicken and buffalo avocado sauce for a spicier kick.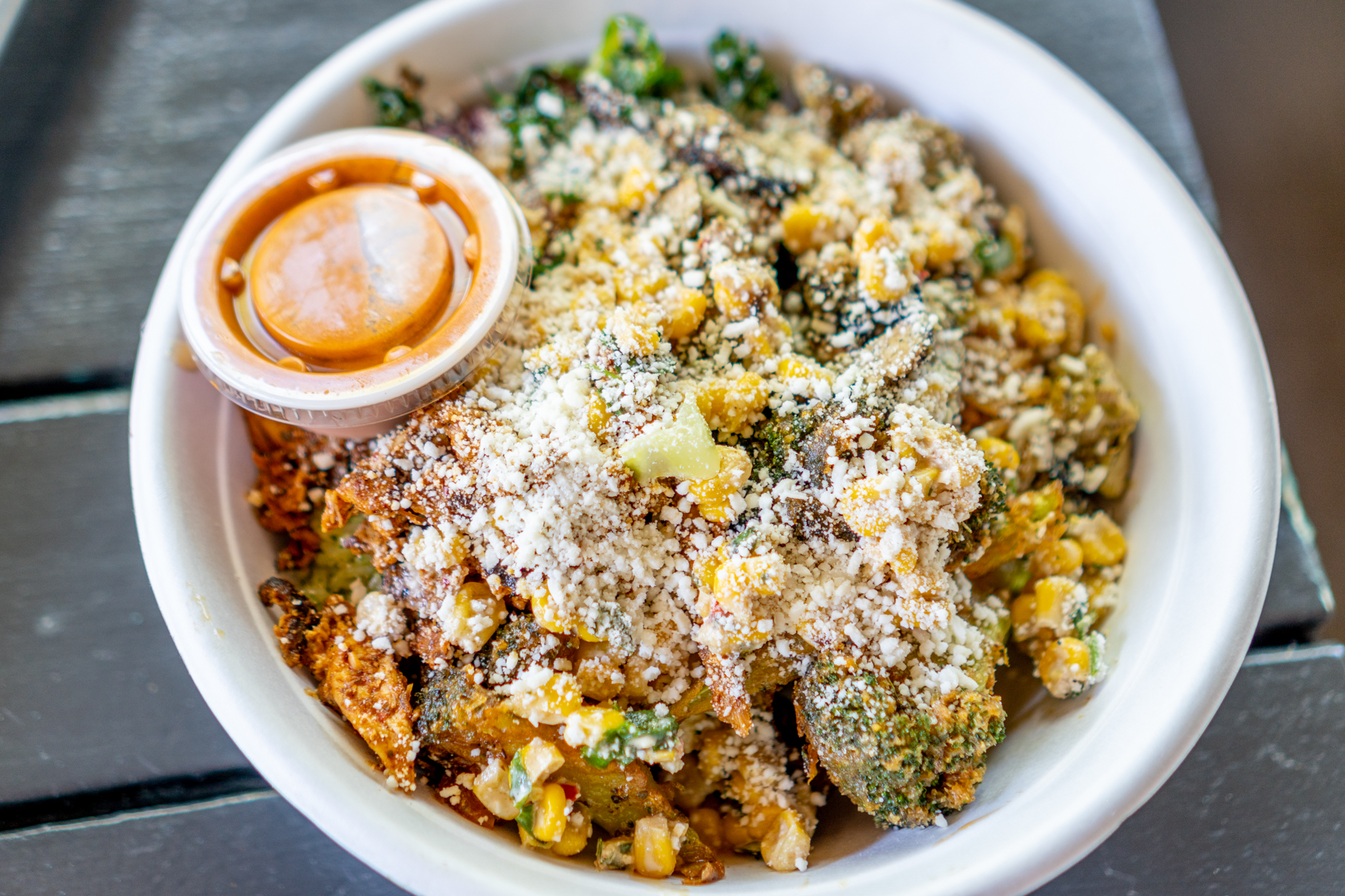 My friends and I went for Taco Tuesday and they ended up ordering bowls. I don't blame them though, just look at how vibrant and wholesome these are! They both adored their bowls and agreed that we'll have to make this a weekly visit.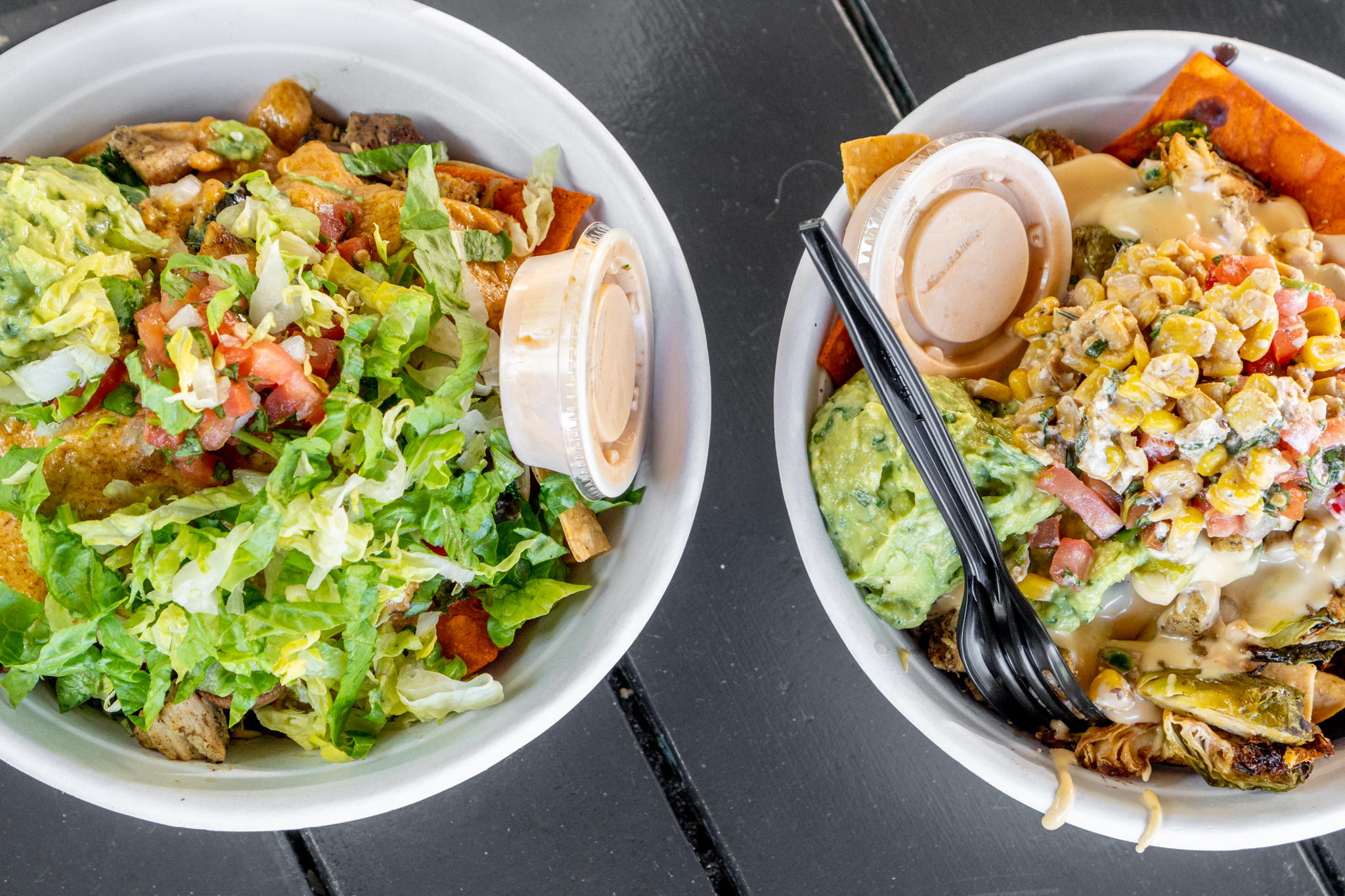 I love a good Taco Tuesday deal and opted for the $2 tacos. PSA: Some of the menu items are extra, but the employees will tell you.
I ordered two Una Taco Bout This tacos which have 1 Protein or Veggie, 2 Mexi Things, and 1 Sauce.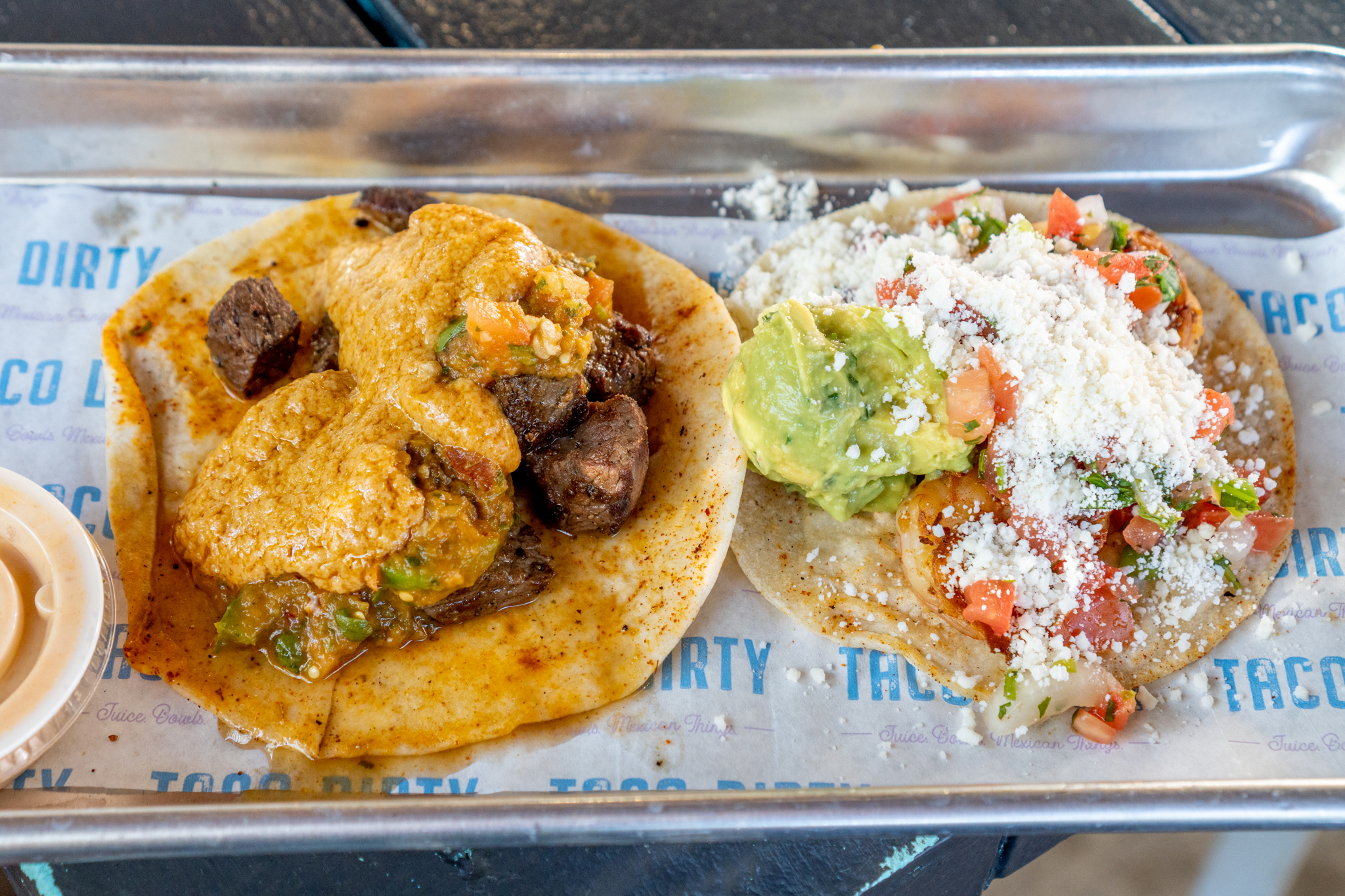 Grilled steak, warm vegan cauli queso, pico de gallo top a grilled flour tortilla. This taco was so flavorful with perfectly cooked steak smothered in a unique vegan cheese and little pops of freshness from the tomatoes in the pico de gallo.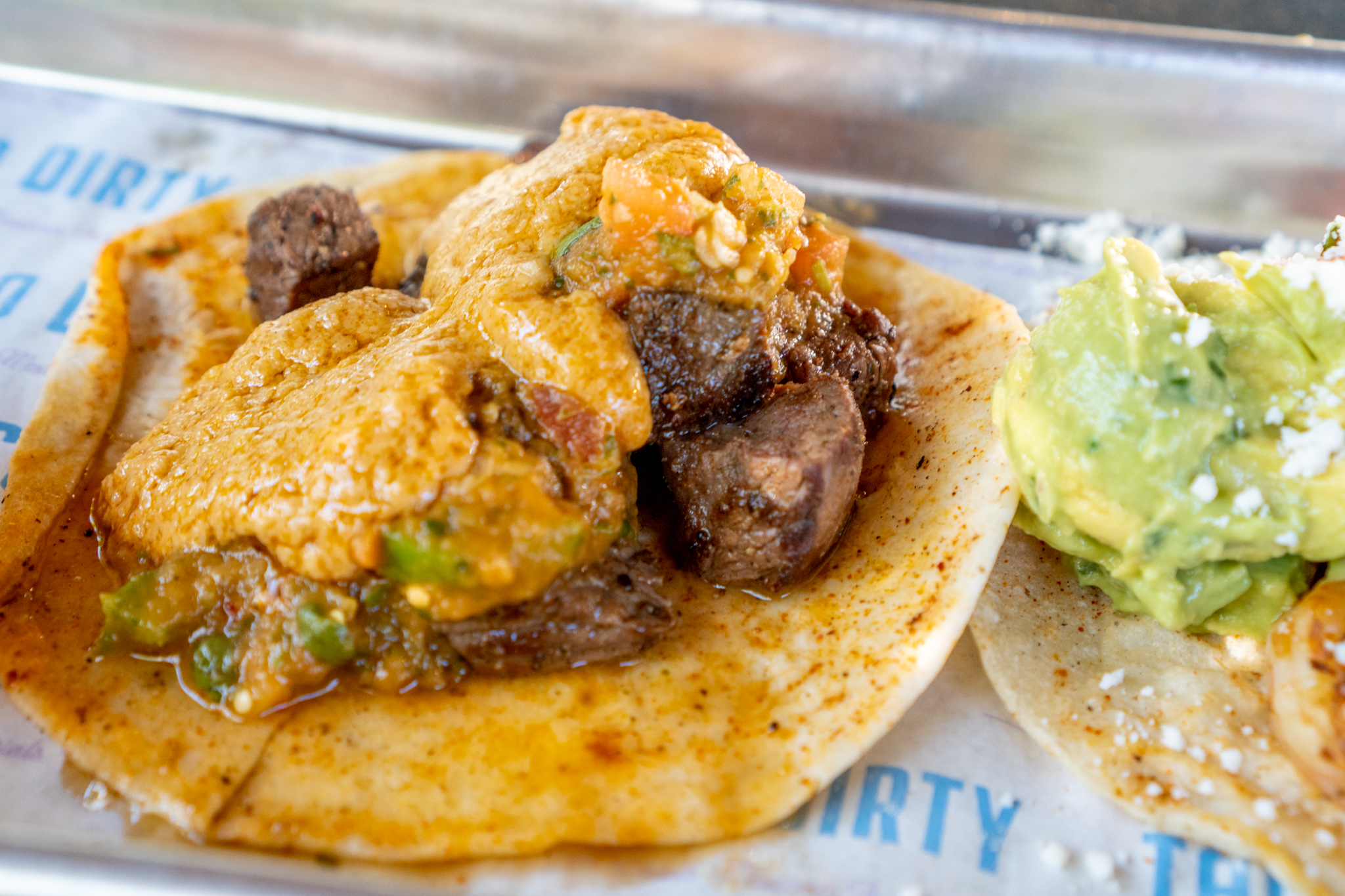 For the second taco, I did a grilled corn tortilla with lemon grilled shrimp, guacamole, pico de gallo and cotija cheese. I poured the lime yogurt sriracha all over this one too. The shrimp was surprisingly big and very delicious paired with the fresh guacamole and soft cotija cheese.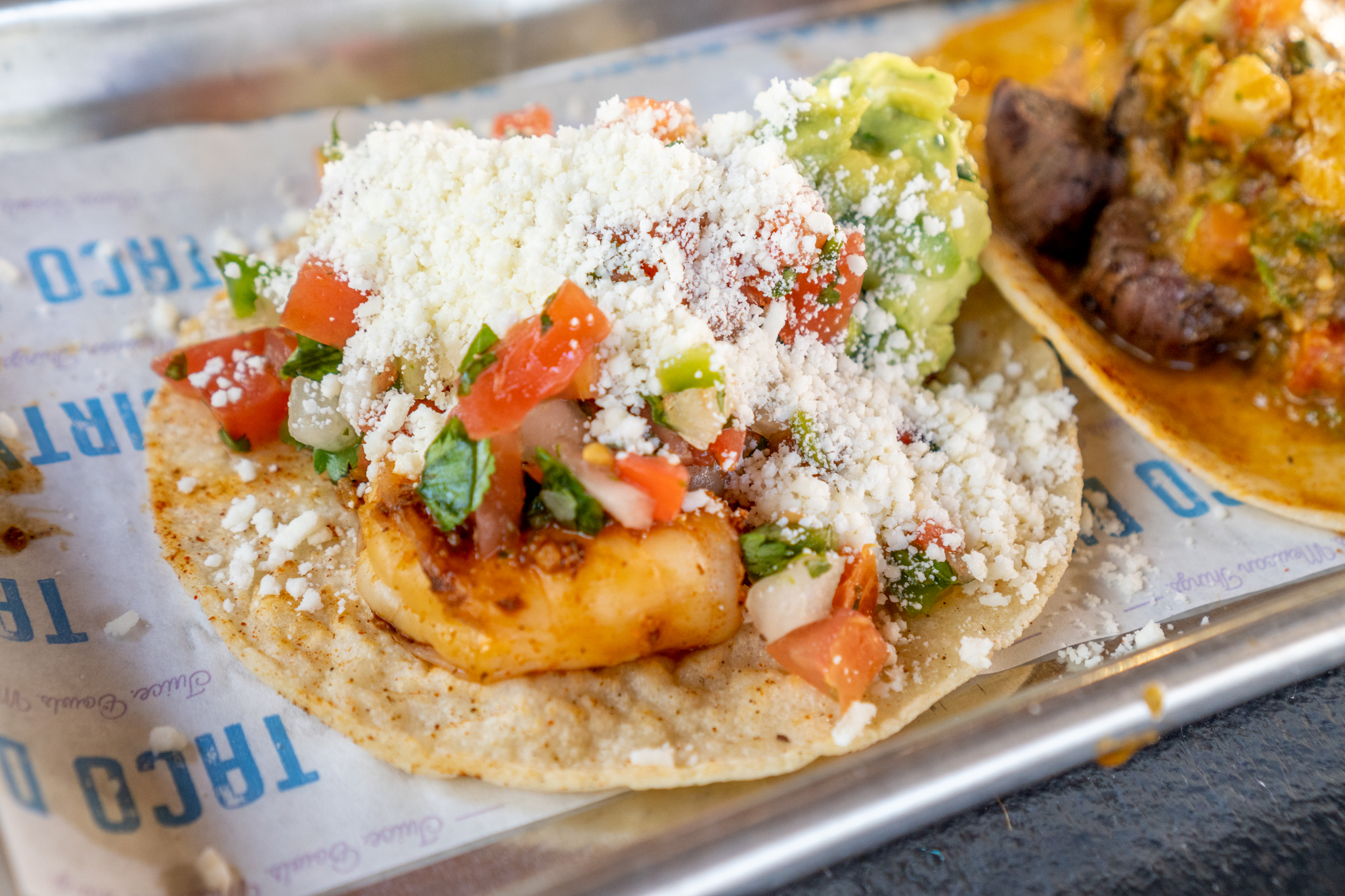 My sister and I split these tacos on our first visit. Her favorite was the steak and I liked the chicken. They were both so refreshing and filling.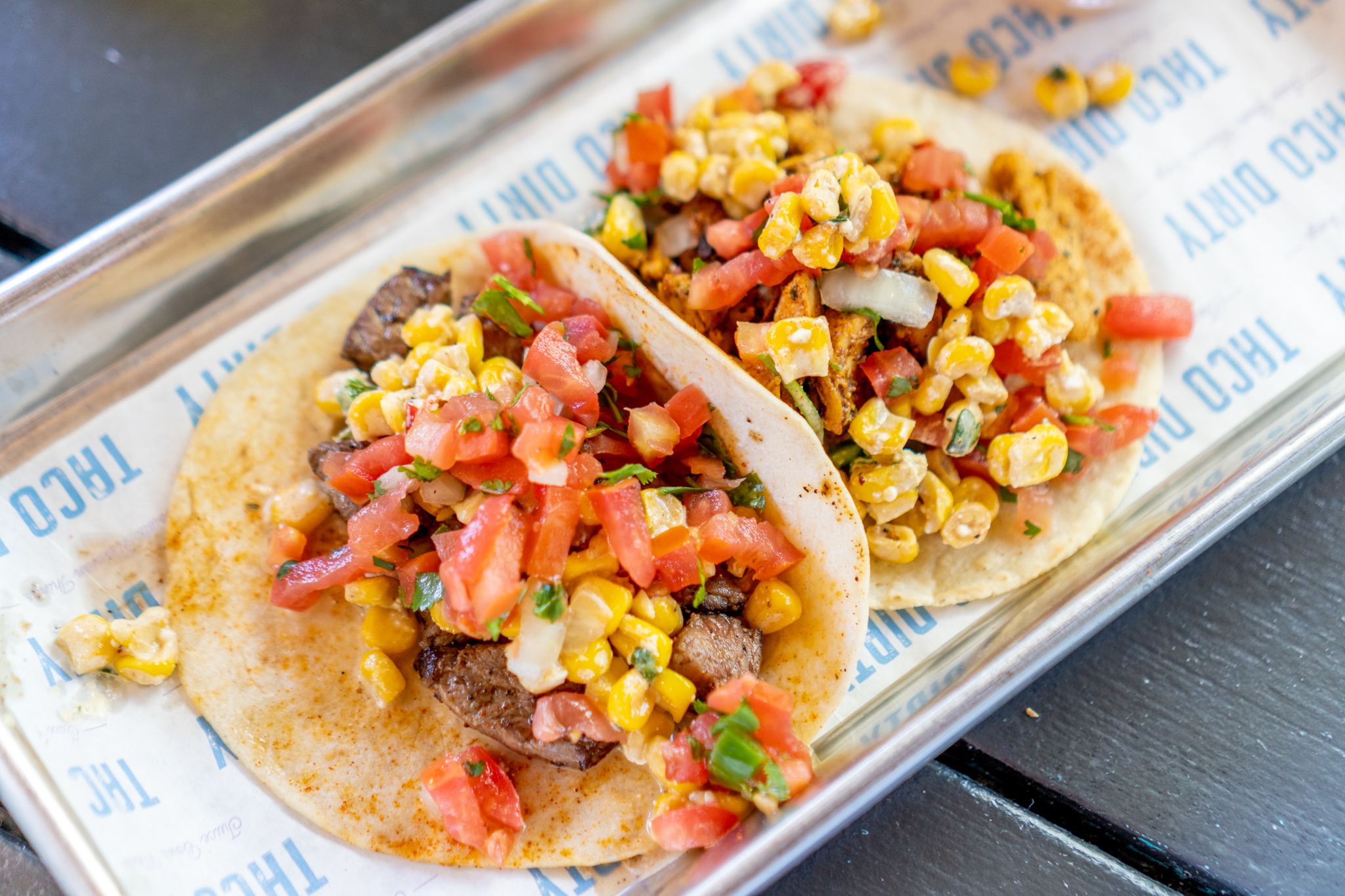 Uno Taco Bout This taco on a grilled flour tortilla with steak, lime jalapeño corn salad, pico de gallo and lime yogurt sriracha sauce. This small but mighty taco was jam packed with refreshing veggies and incredible tasting steak.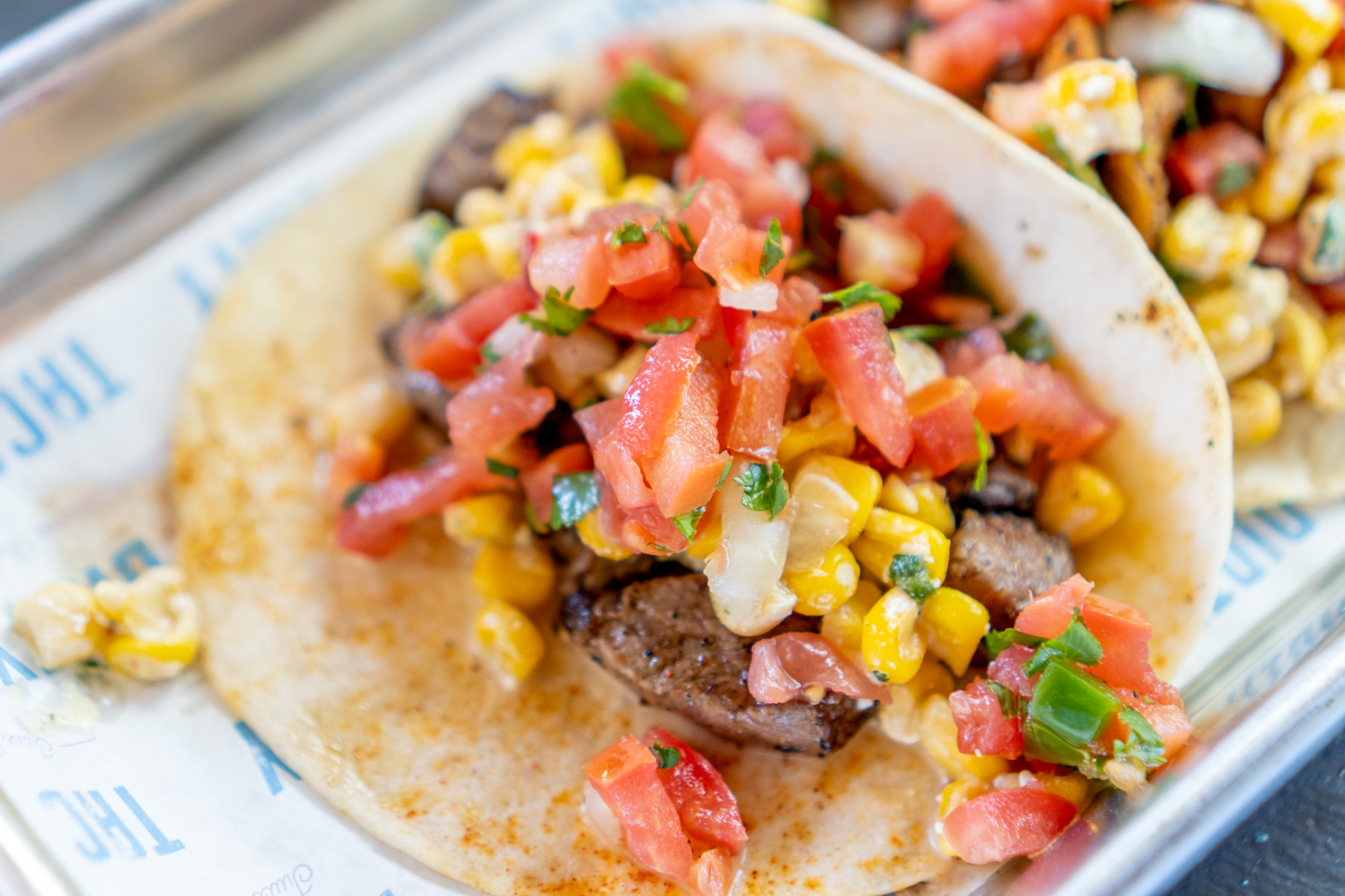 The second one, my favorite of the two, had chicken on a grilled corn tortilla with the same toppings as the above steak taco. The grilled verde chicken is melt in your mouth good and the seasoning is simple and familair.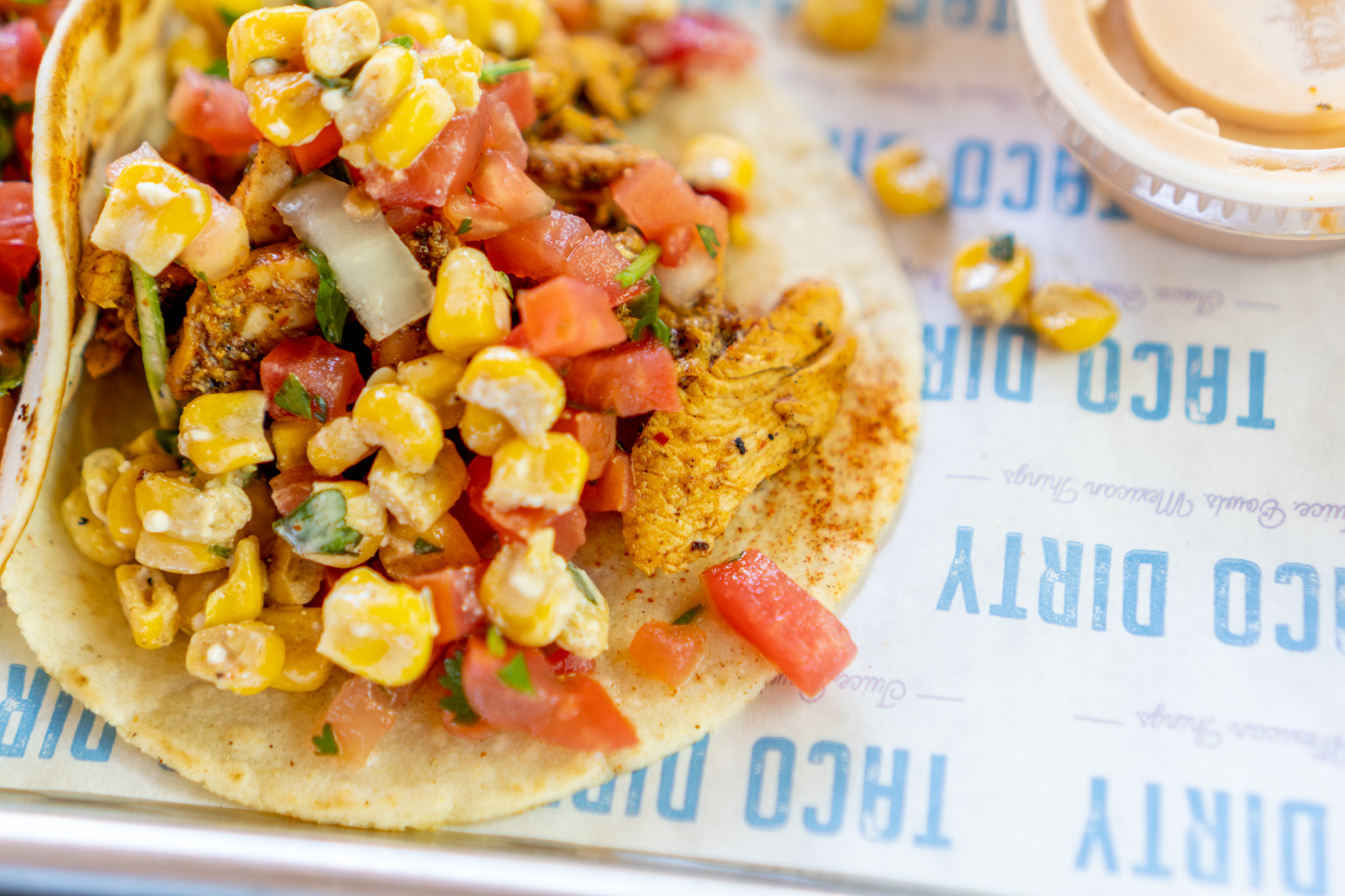 Taco Dirty has Shake 'n Pour Margaritas in a variety of flavors. I had the strawberry and mango, and both were sweet. I'd recommend the strawberry one over the mango but that might just be a personal preference.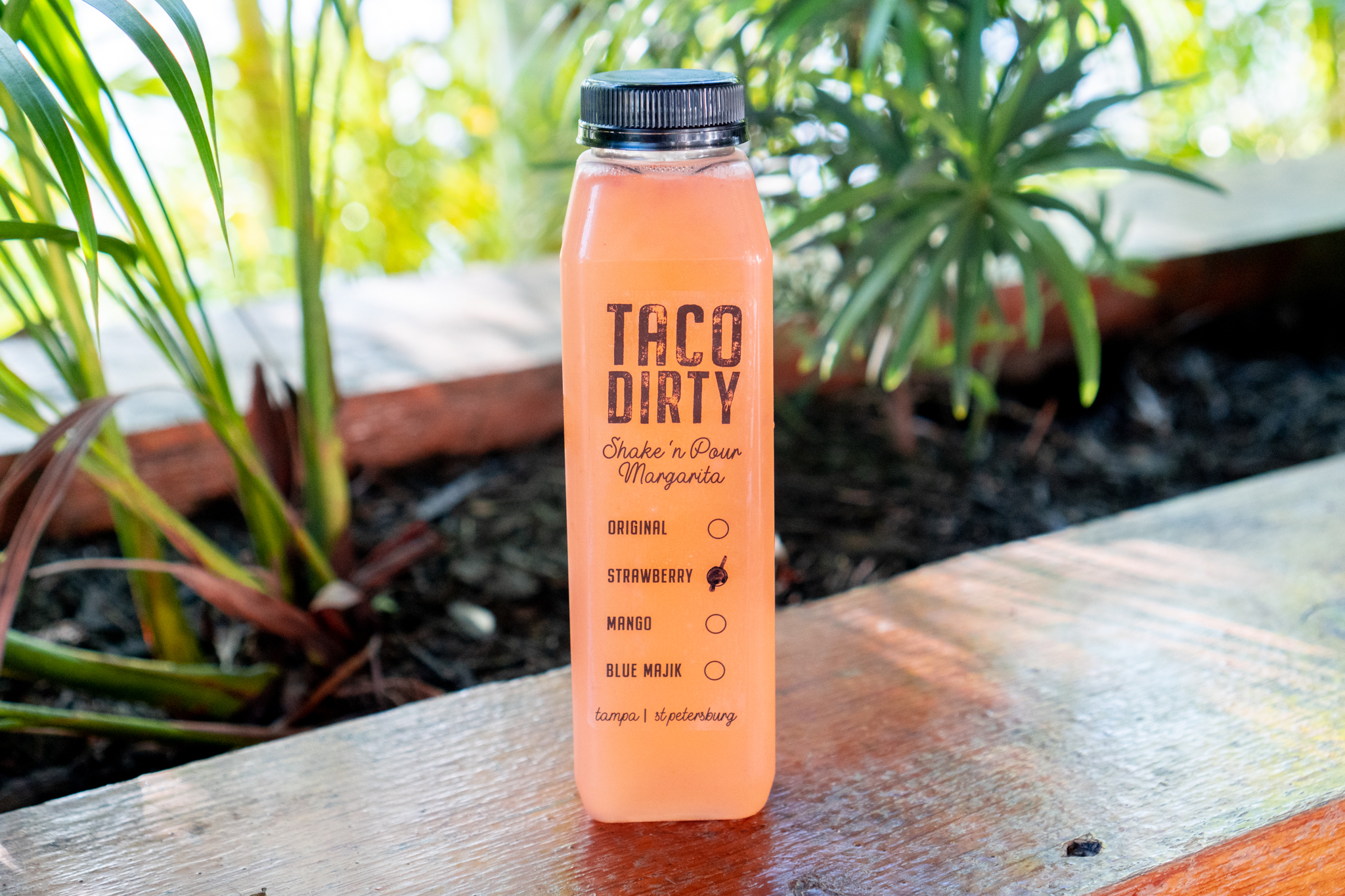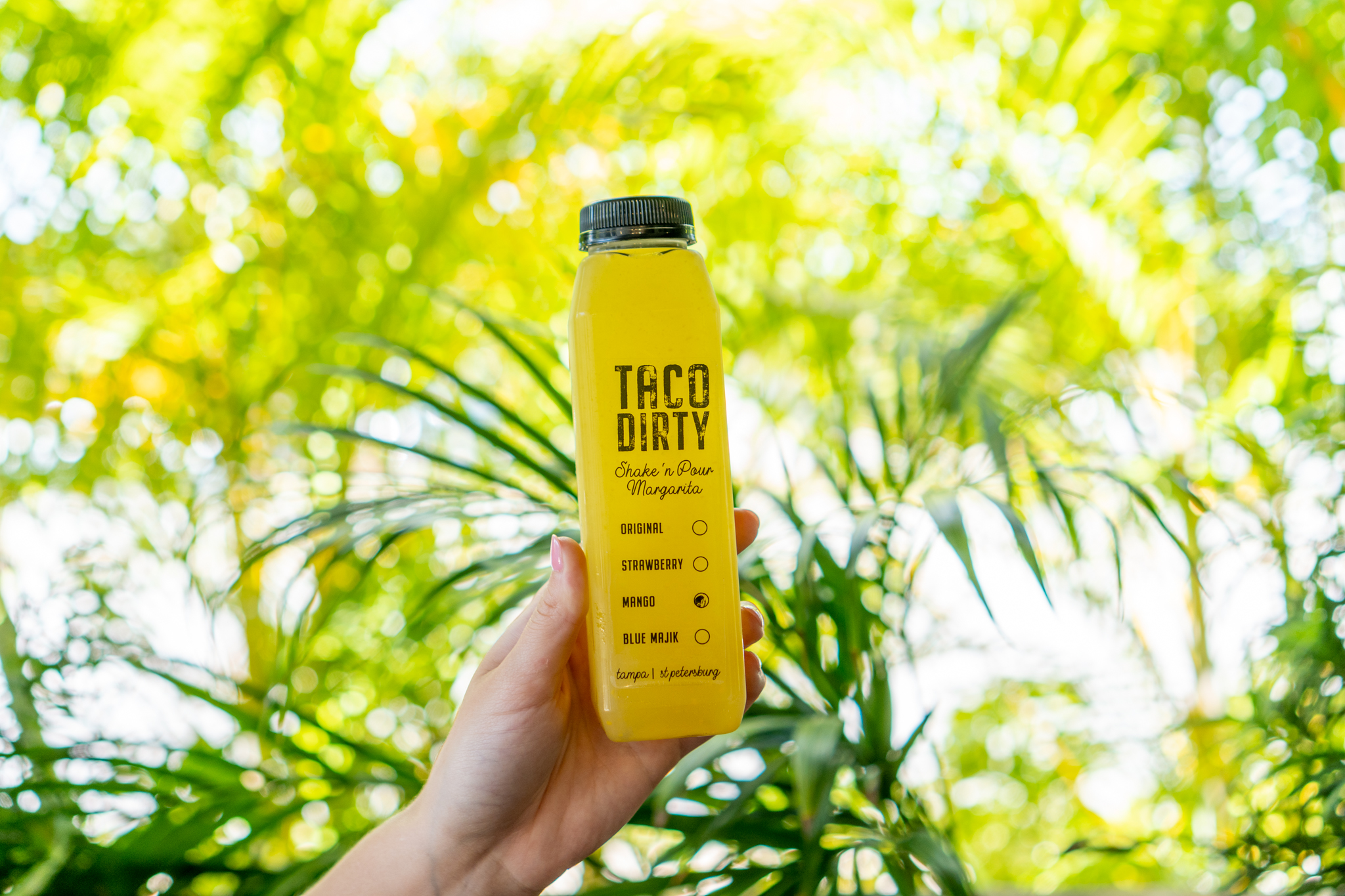 Better Byrd is sandwiched (mmm, sandwiches) between Taco Dirty and Sweet Soul. They're pretty cool because they offer gluten free fried chicken tenders, chicken sandwiches, bowls, cookies and more. Everything here is made from scratch too! Move over Chick-fil-A, there's a new bird on the block taking the crown for best fried chicken sandwiches.
The Mother Clucker Sandwich is a delectable cheat meal waiting for you with buttermilk gluten free fried chicken, crispy French fries and sriracha queso. This sandwich makes your tastebuds dance with the salty, crispy, crunchiness.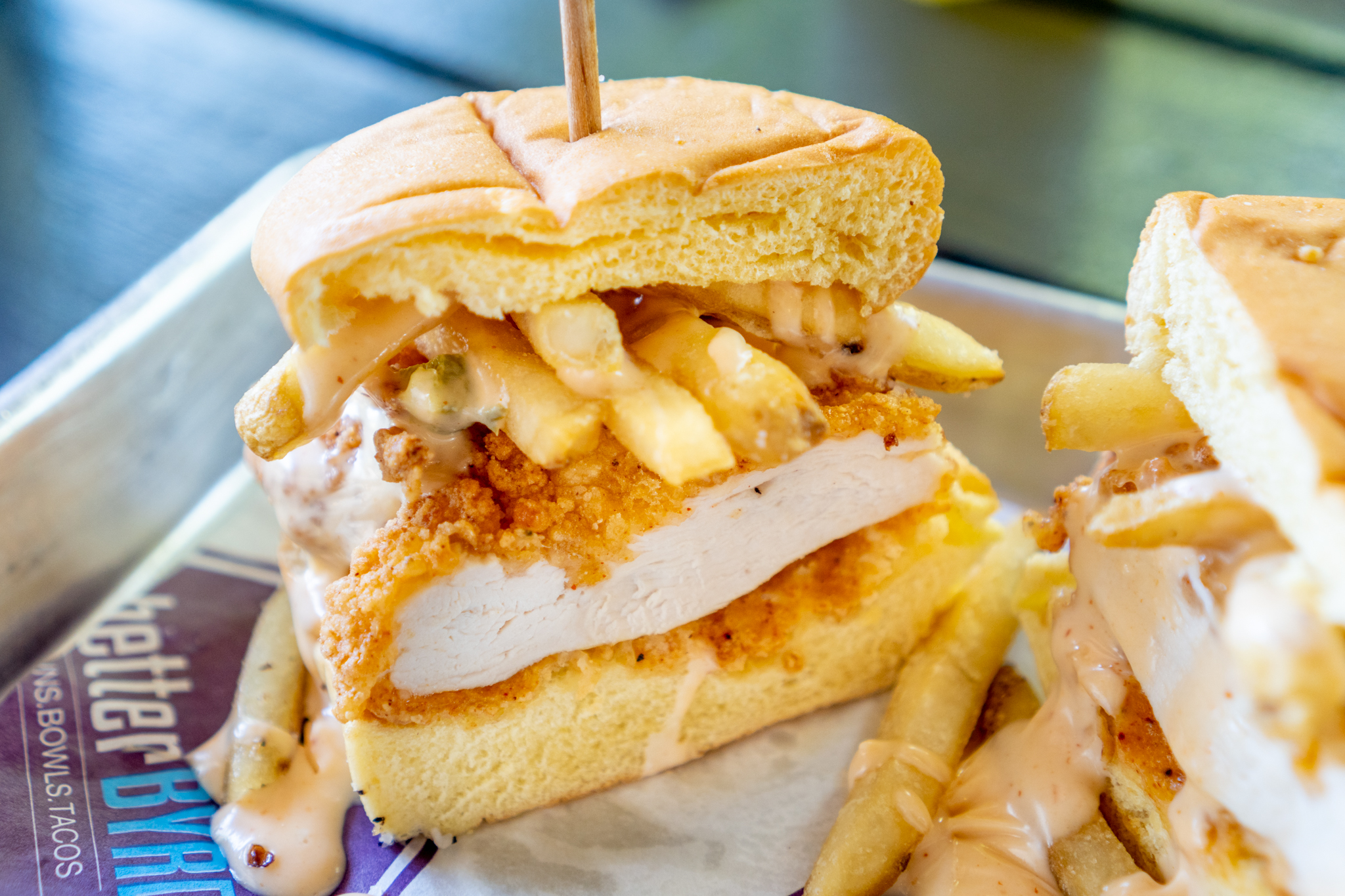 We also ordered a side of hand-breaded buttermilk fried chicken tenders and fries. Here, we were able to try a few of the different sauces like the cluck sauce, better ranch and zesty heat. Can you guess my favorite? The zesty heat.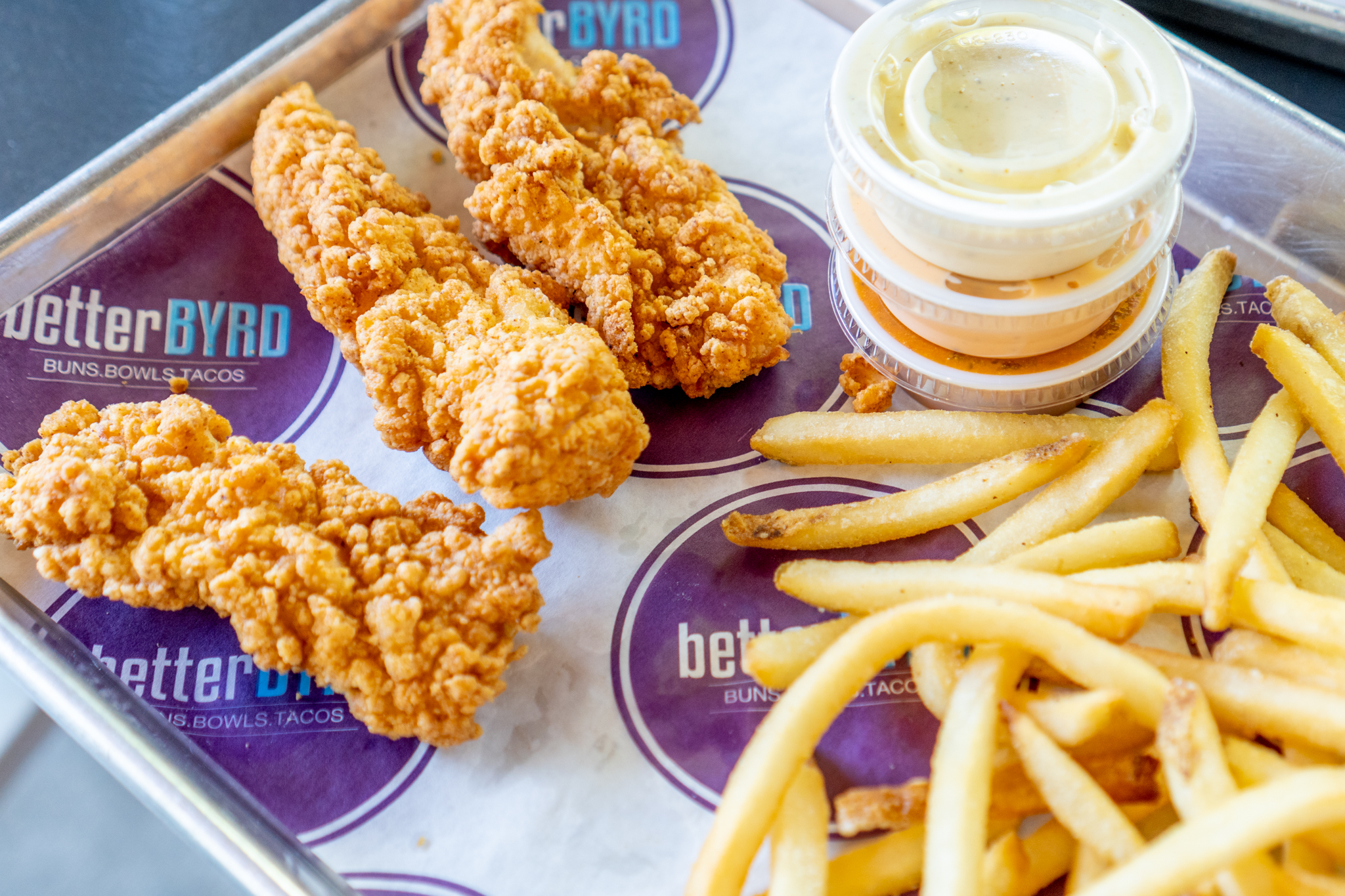 The food at On The Fly is eclectic but the dessert—the famous Sweet Soul bowl—is mandatory. Worry not, Sweet Soul is 100% plant based so you can leave your guilt at home. They have a big menu of soft serve ice cream, soft serve shakes, smoothies and bowls.
The bowl I put together was a dreamy mix of dragon fruit, tapioca pudding, strawberry, banana, chocolate sea salt granola, peanut butter, cocoa nibs, and coconut flakes. This really hit the sweet spot!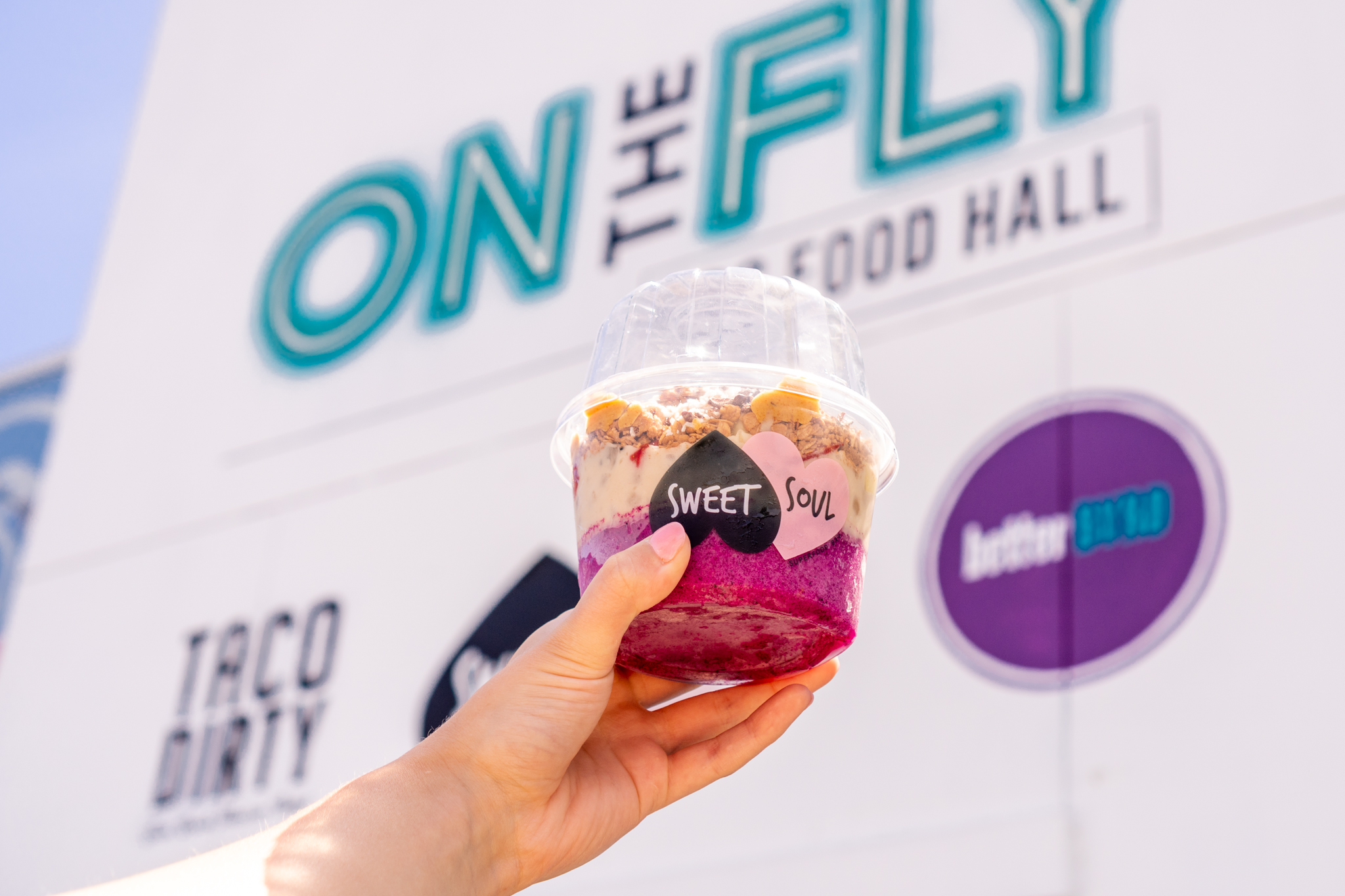 I've been to Fresh Kitchen a handful of times before it became a part of On The Fly and it even became my go-to UberEats treat during COVID. Unfortunately I don't have any photos. Everytime I go I get the Four Bowl with 2 Bases, 1 Veggie, 1 Protein, & 1 Sauce. My order typically looks like this: coconut ginger rice, parmesan broccoli, grilled citrus chicken, and coconut sriracha sauce. It's the perfect healthy meal that'll fill you up with tasty and meaningful seasoning.
On The Fly is a one stop shop for good eats that you should hurry on over to if you haven't been yet. With so many options and flavors, you'll never get a dull meal.
Quick-service food hall by Ciccio Restaurant Group
DISCLAIMER: Kevin, Lori, Abby, Haley, & Lindsey do not dine anonymously (this would be impossible) and we sometimes get free food (though never expected). However, we dine with the locals and we support our own. You will always get honesty in a respectful manner. We do not include any large national or regional chains in our ratings and reviews. We focus on independent locally owned eateries exclusively.

PLEASE NOTE: Reviews reflect a certain moment in time. Some restaurants stay extremely consistent over many years, and some change for the better or worse. Some things that may change are: chefs, recipes, food suppliers, ingredients, philosophies, ownership, etc. We always hope that you have the same good, or great experience we had.
More Foodies News, Reviews & Recipes