Sake, Oysters and Sophisticated Vibes at St. Pete's In Between Days
Sake, Oysters and Sophisticated Vibes at St. Pete's In Between Days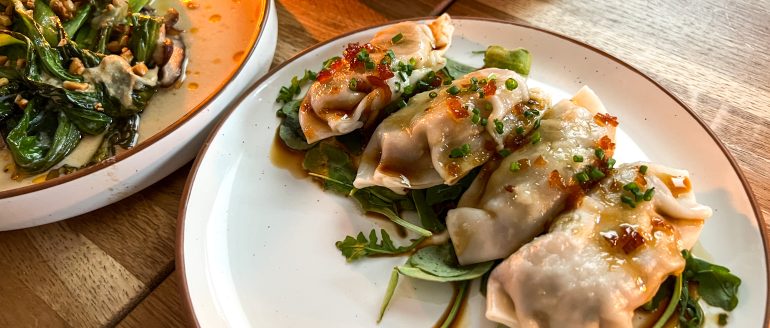 It's no secret that the food and beverage scene in St. Petersburg is getting more hip and expansive with each passing day. The Tampa Bay area as a whole has finally landed on the radar of diners, experts and critics all around the country. From natural wine bars and carefully curated tasting menus to Michelin-level restaurants – there's no denying that this is a very exciting time for the hospitality industry in our neck of the woods.
Since opening in 2021, In Between Days has undoubtedly added to St. Pete's cool factor. Tucked away in an unmarked building off of 1st Avenue south in the Grand Central District, if you didn't know it existed, you'd probably miss it. In fact, there's a chance you'd assume the the place was someone's home, as the restaurant actually occupies a quaint little bungalow. In Between Days, deemed a Tokyo-style listening bar, is ultra unique, especially to our part of the world. It's the first establishment of its kind to land not only just in St Petersburg, but in all of Florida. A Tokyo-style listening bar can be described as a small cafe-like space with high-end music equipment and an intimate feel where listening to music (especially vinyls) is the main focus. These spaces originated in Japan in the 1950's and their popularity is growing across a lot of major cities in our country.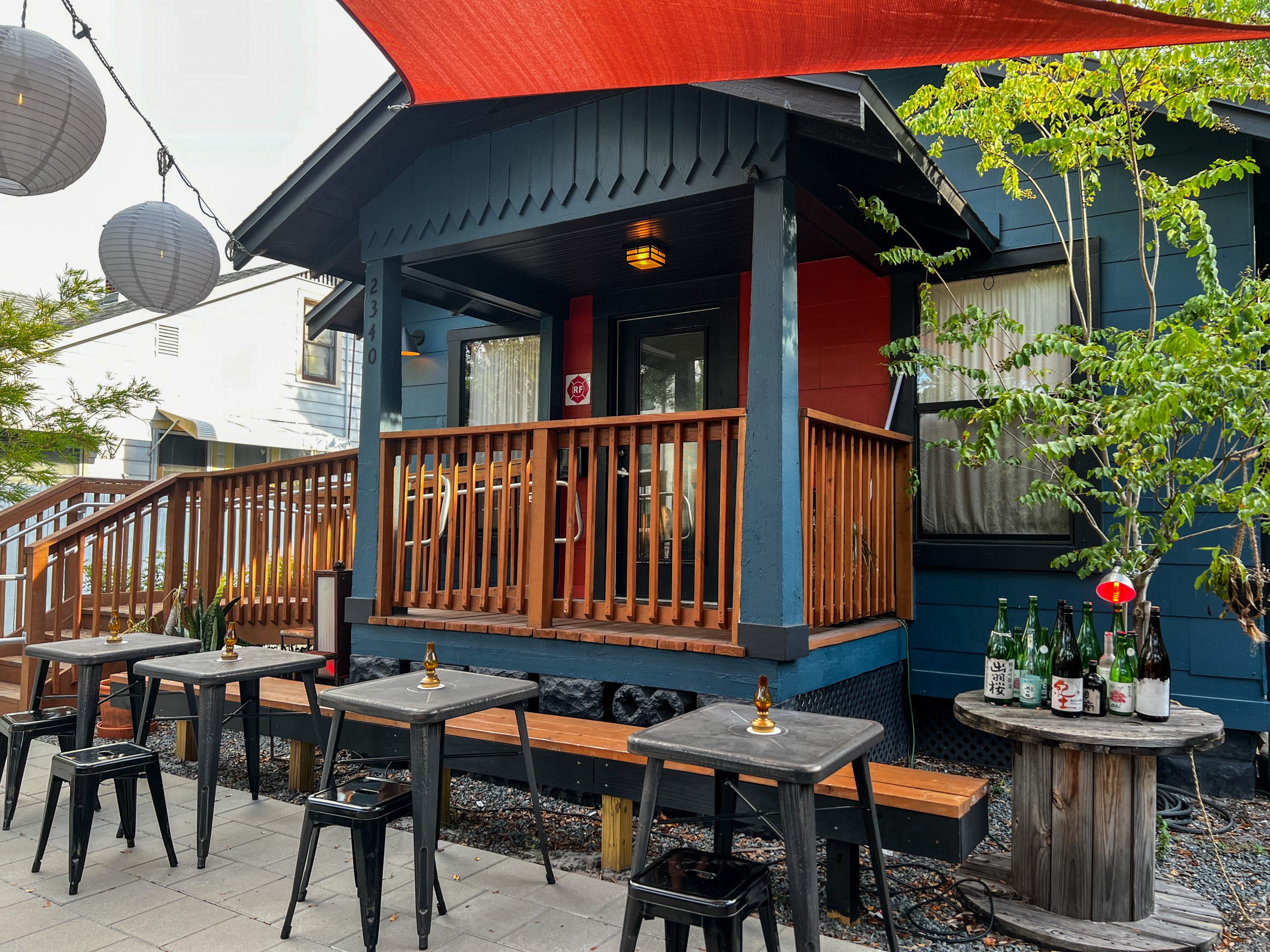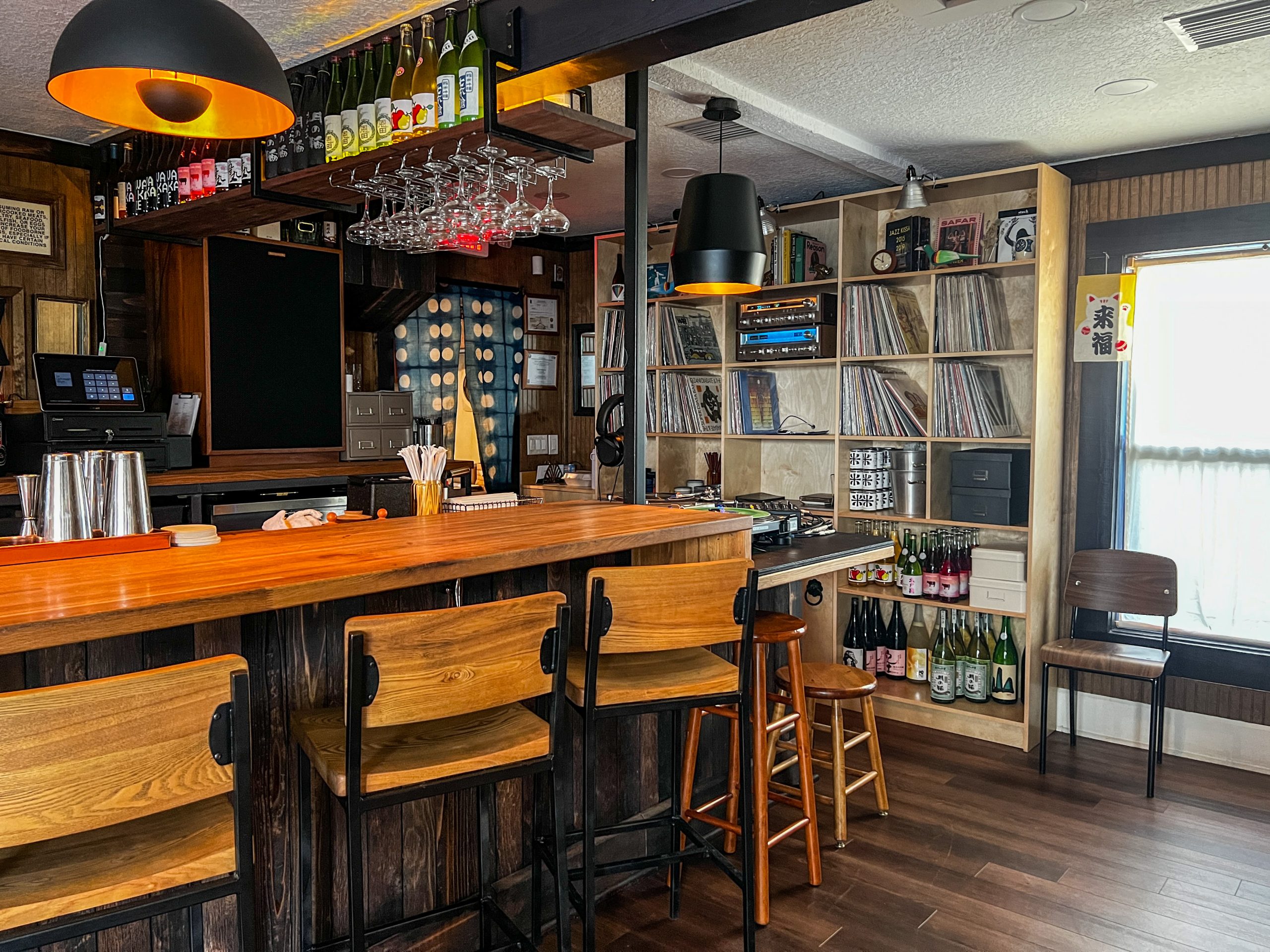 The vibe at In Between Days is sophisticated and the menu is enticing. There are only a handful of items on the menu, but this actually makes ordering quite simplistic as they recommend ordering one of everything. Their sake list is the heavy hitter though. The list was curated by their in-house sake sommelier, Noah Sain, and the list is said to be one of the most vast lists on the East Coast of our country. In addition to sake, they also have a list of sake cocktails which are not to be overlooked.
In between Days opens their doors Wednesday – Sunday at 6:00pm sharp. While it is possible to walk-in to grab a seat at the bar, lounge or on the patio, I recommend making a reservation. We arrived on-time for our 6:00 reservation and by 6:20 the entire establishment was full. You can make a reservation on the OpenTable app for parties of 2-4 people. For larger parties of six or more, the restaurant encourages you to reach out to them to make dining arrangements.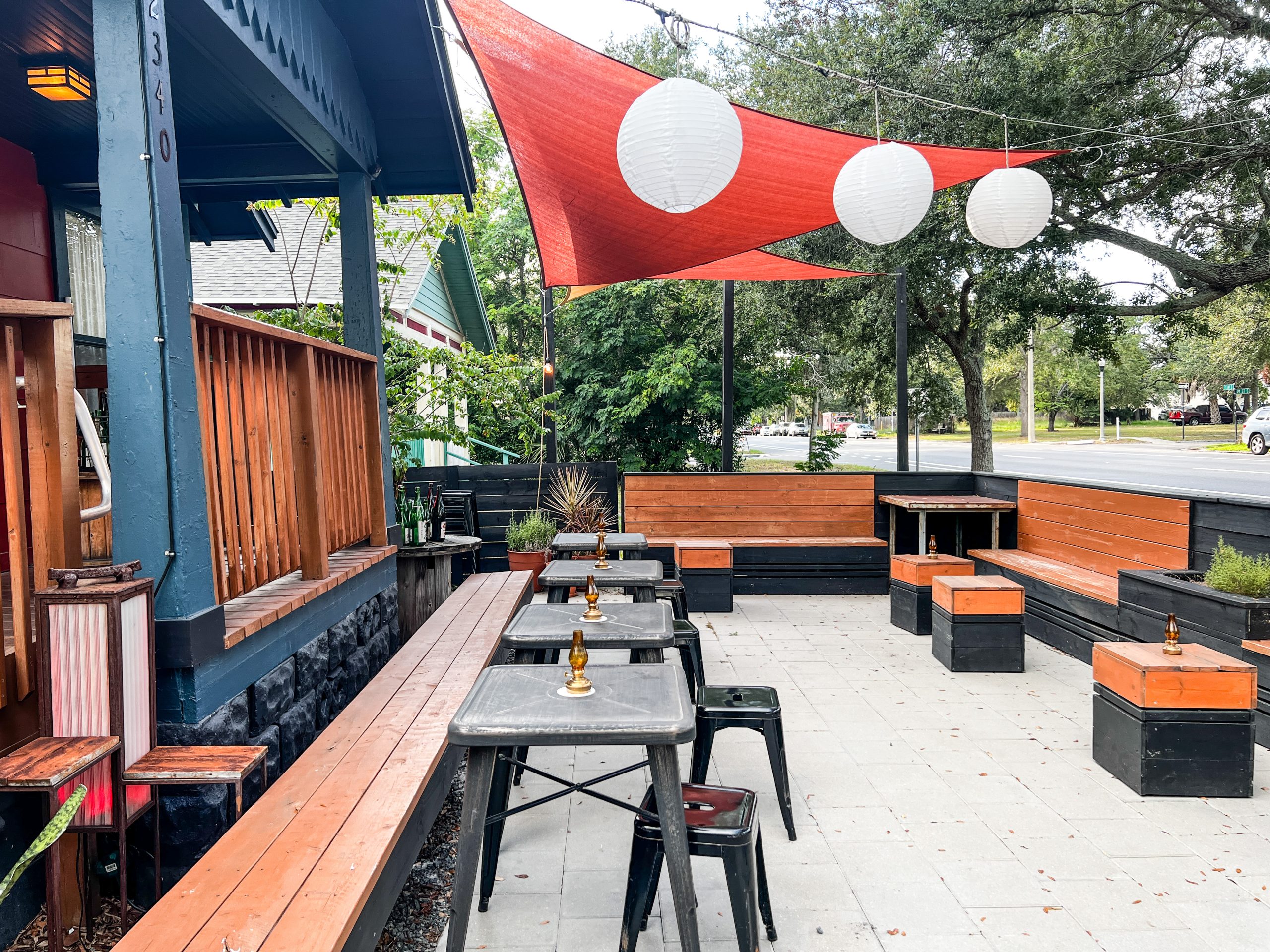 As I mentioned earlier, the restaurant is not marked and you will not find a sign outside. Just look for the assortment of empty sake bottles on a table outside to the right of the patio – you'll know it when you find it. A handful of tables are outside on the patio which guests are welcome to occupy on a first come basis. When you enter the building, you'll encounter the dining room which is decorated quite simply, but perfectly for the space. The lighting is dim with small oil lamps occupying the tabletops. Dark and cozy tones accent the neutral walls giving the whole place a very warm and welcoming feel. Continue through the dining room and you'll soon find yourself in front of the beautiful bar area which is not large and seats six. To the right of that, you'll notice shelving which houses vinyls, music equipment, sake and additional fitting decor components. The whole place was put together extremely well for a very cohesive aesthetic.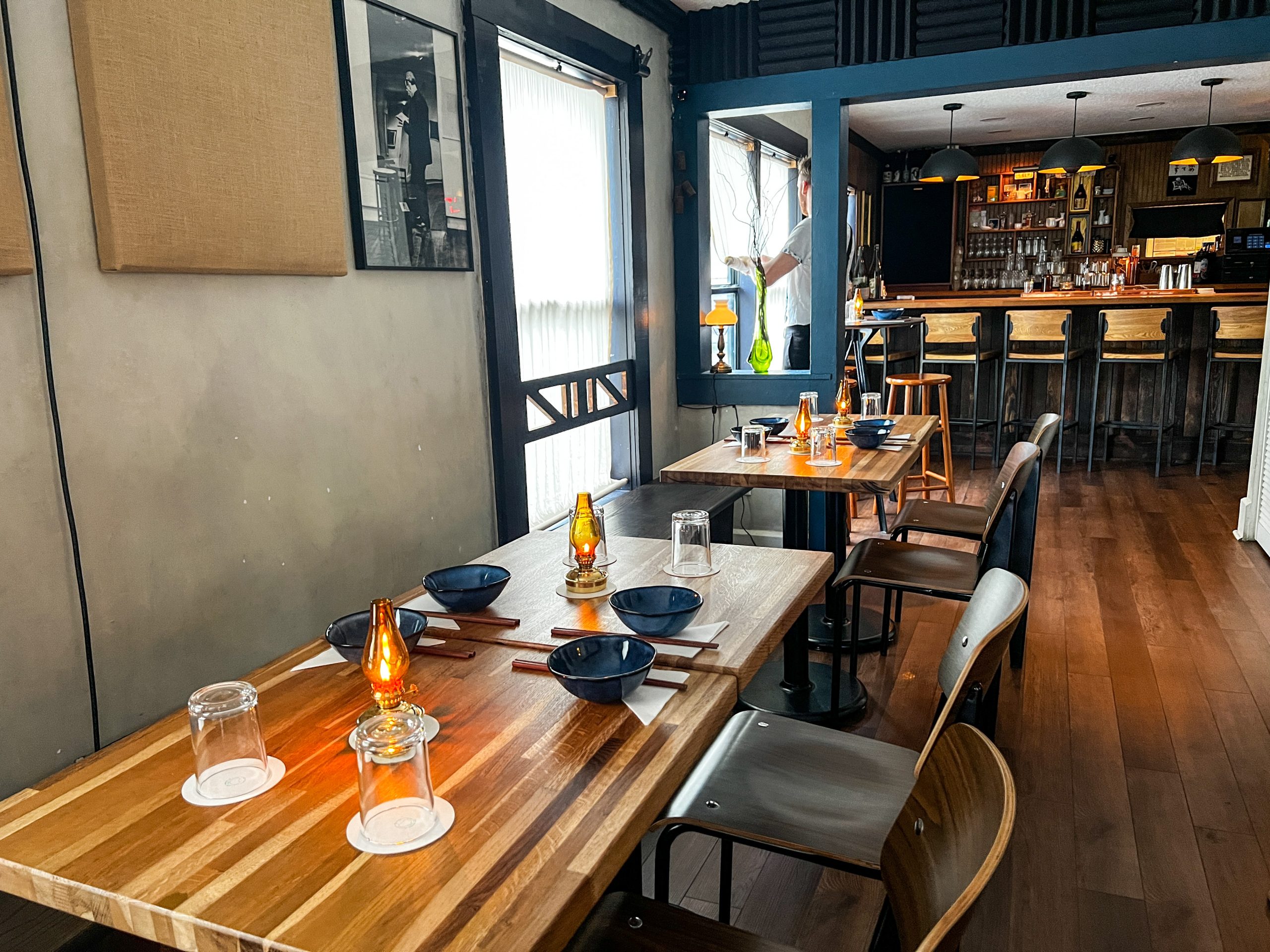 Until a couple of weeks ago, I had never dined at In Between Days, though it has been on my radar for quite some time now. So when Kevin (Godbee) suggested In Between Days as a potential spot for October's review, I immediately jumped at the opportunity. In fact, My husband and I were able to line up our schedules with Kevin and Lori so that we could all enjoy a lovely food and drink experience at In Between Days together. We arrived just before our 6:00 reservation (which again, is when they open) and folks were already beginning to gather outside, patiently waiting for an invitation inside.
We started things off with a magnum of Suigei Drunken Whale sake which was an absolute delight. Kevin and Lori mentioned that they had enjoyed some recently and suggested that we order it again. What a beautiful sake – light and a touch dry, yet refreshing. I would definitely seek it out again.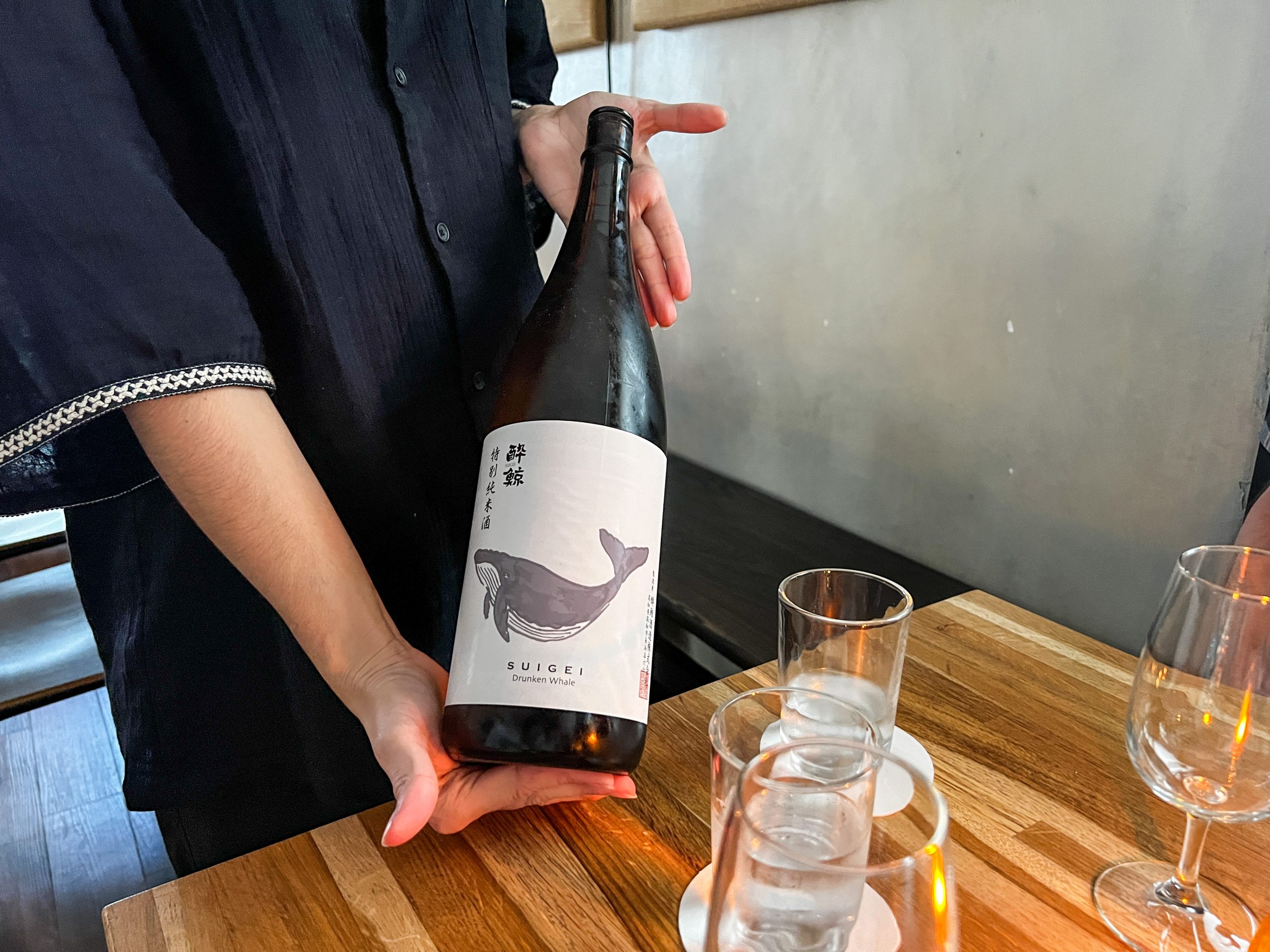 We couldn't neglect the sake cocktails of course. Lori ordered the Osaka Mule with cucumber, wasabi, ginger, lemon, sake, sparkling water and a wasabi salt rim. She really enjoyed its refreshing lineup of ingredients. I just had to have the Yamahai Old Fashioned with Tamagawa 'red label' sake, thyme bitters and Demerara sugar which is then smoked with tochigi wood chips. It was incredibly unique and completely different than any old fashioned that I had had up until that point. It possessed bright and bold notes with faint traces of smoke.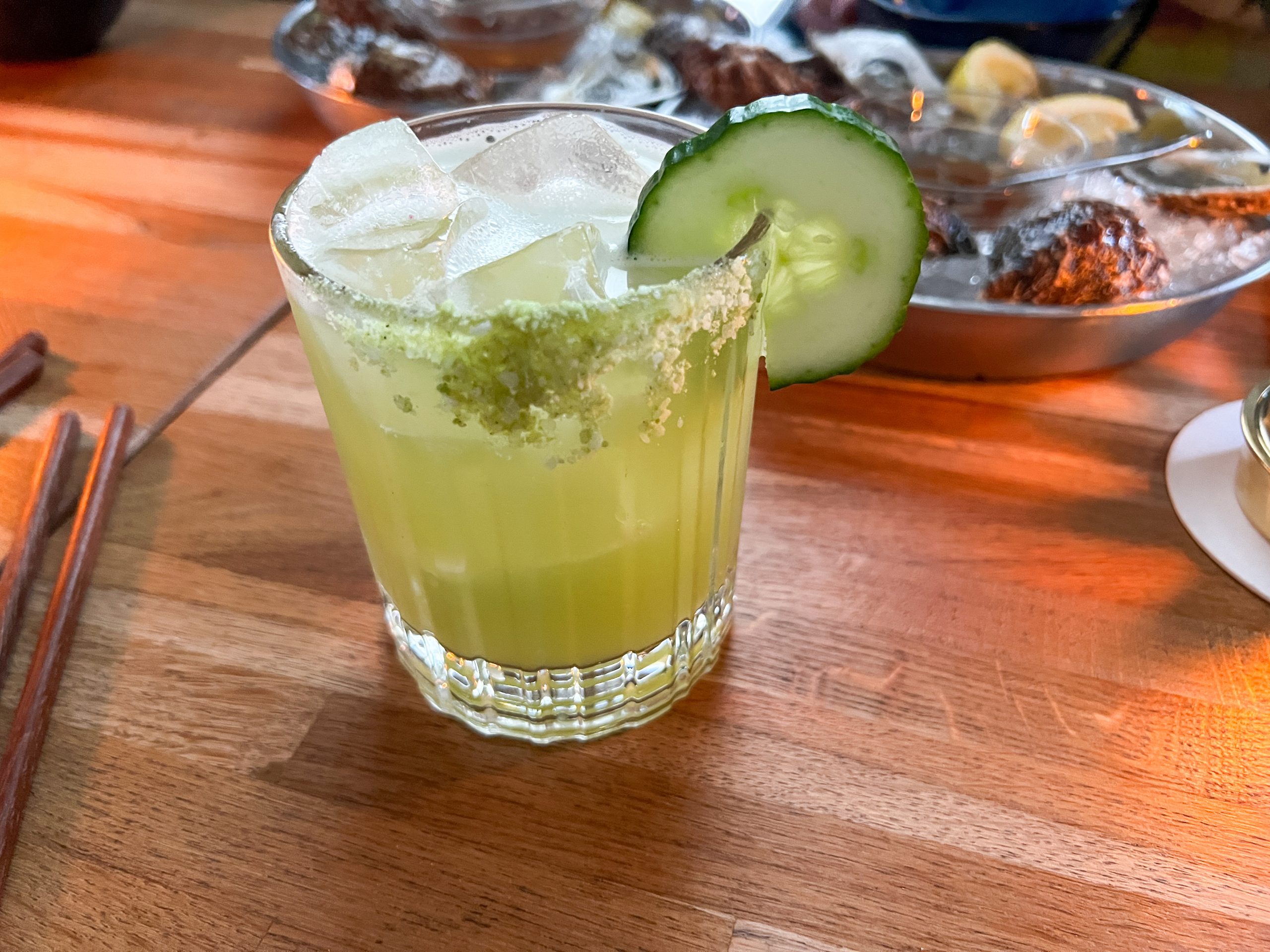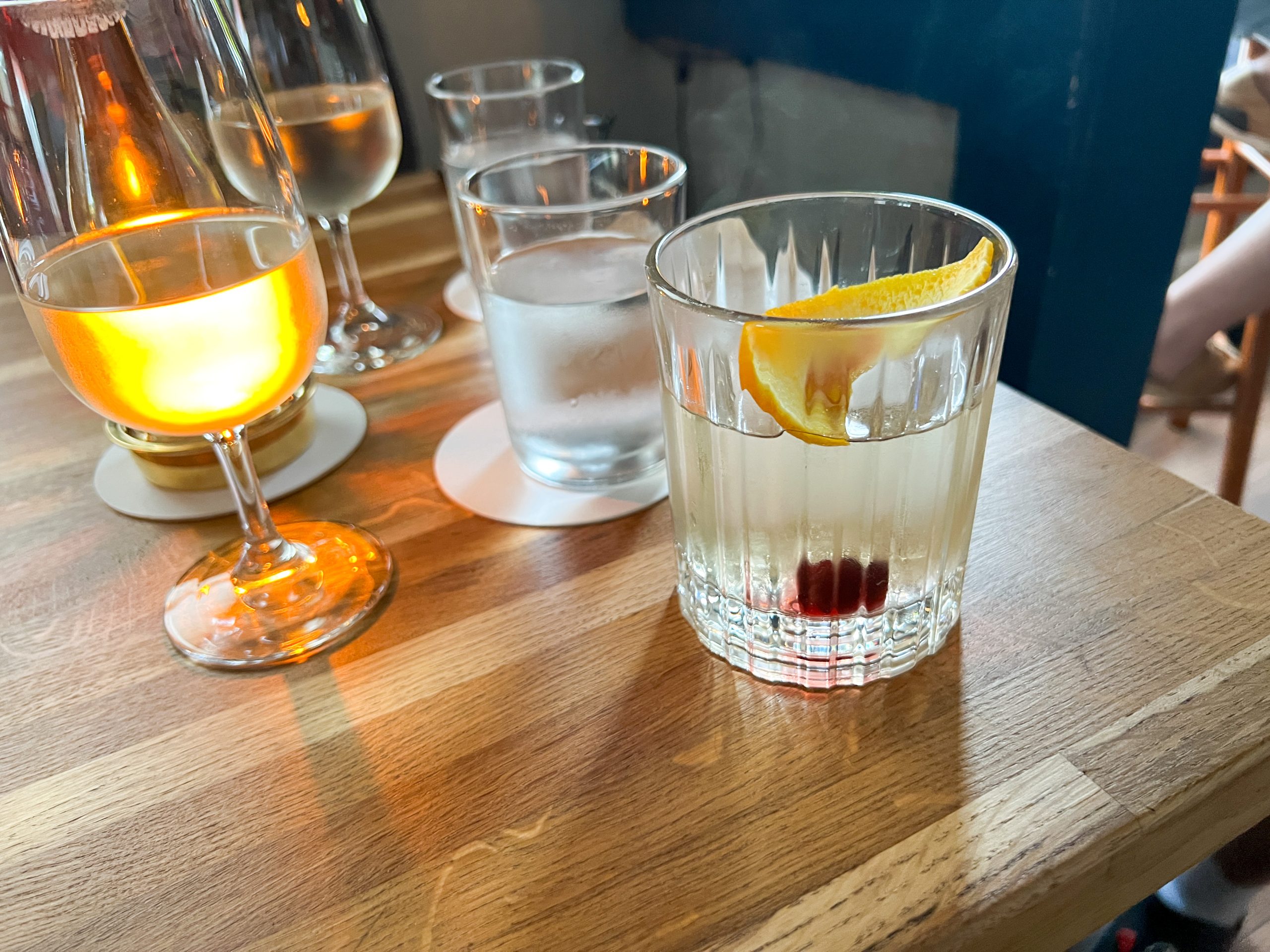 As far as the food is concerned, we did in fact order everything on the menu with the exception of the Lavender and Apricot Mostarda Pork as they were out of it. They did have a dish in its place that we did opt for. Additionally, we took advantage of their Weekend Oyster offering. They don't always have oysters, but on weekends they typically have them on deck and they're served with a classic mignonette. The oysters hit the table first and we slurped them down in no time.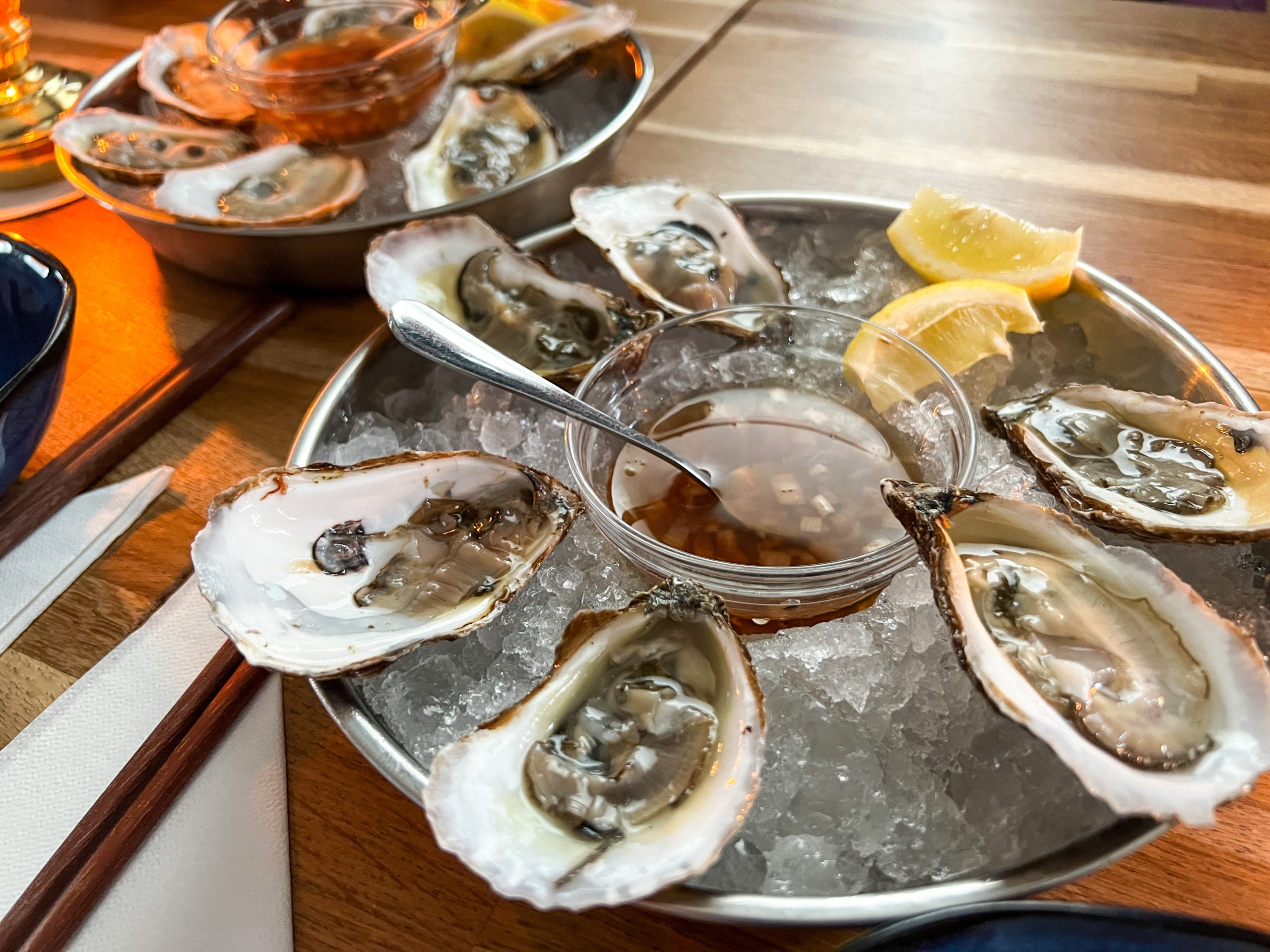 The Hamachi Crudo followed the oysters. This dish contains Japanese hamachi snapper, house chili, lemon zest, dill, blood orange and extra virgin olive oil. To describe this dish simply, in essence, it's the product of quality ingredients – gorgeous fish with mostly bright citrus that is balanced nicely with the olive oil, dill and chili.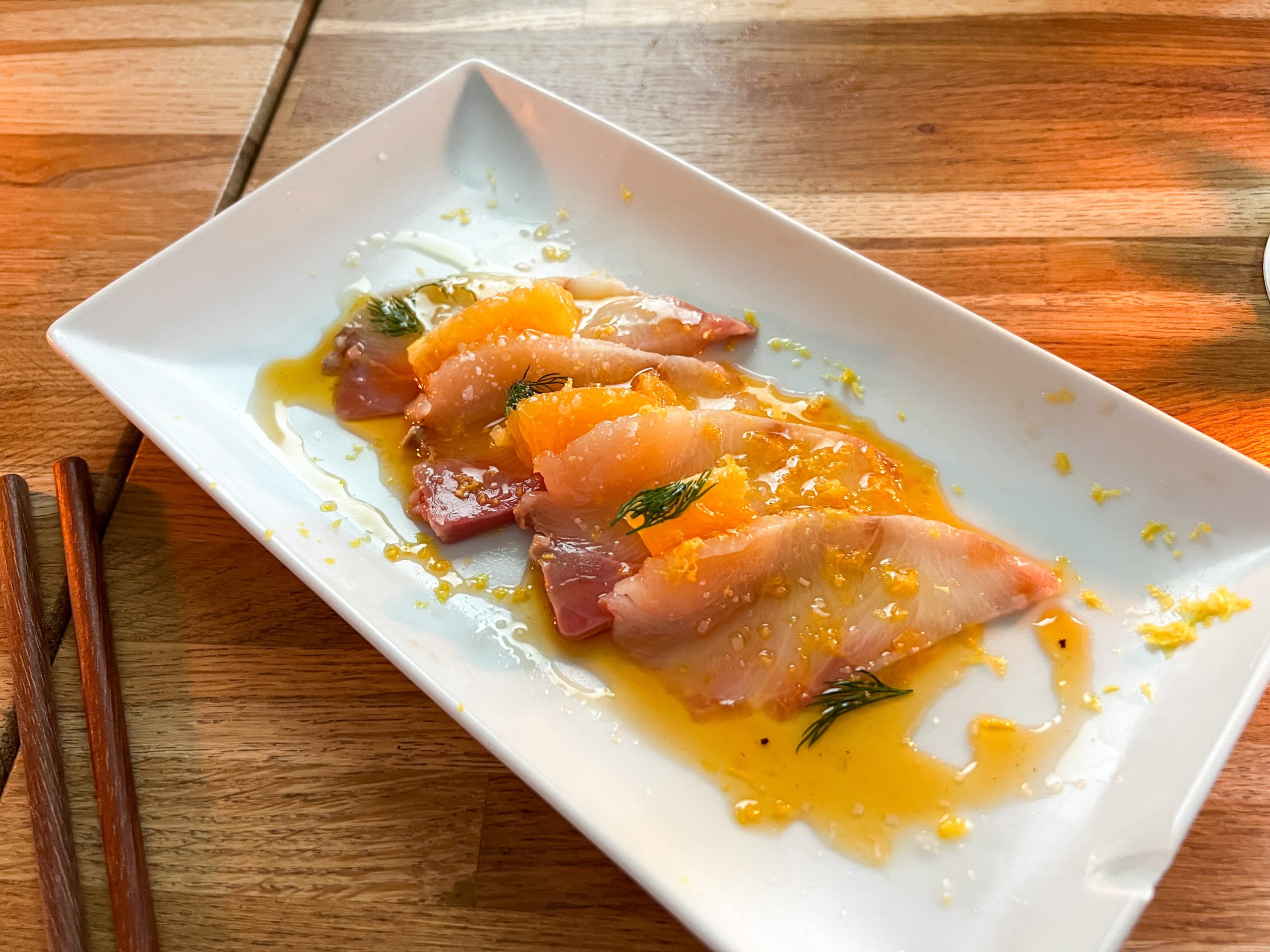 Next up was perhaps my favorite – the Caramel Salad. This little number has radicchio, salted caramel vinaigrette, roasted pepitas, aged manchego cheese and brined tomato. The flavors were simply divine. Radicchio can be quite bitter if not properly dressed, but this rendition was truly lovely. I would go back to In Between Days for some oysters, this salad and some sake in a heartbeat.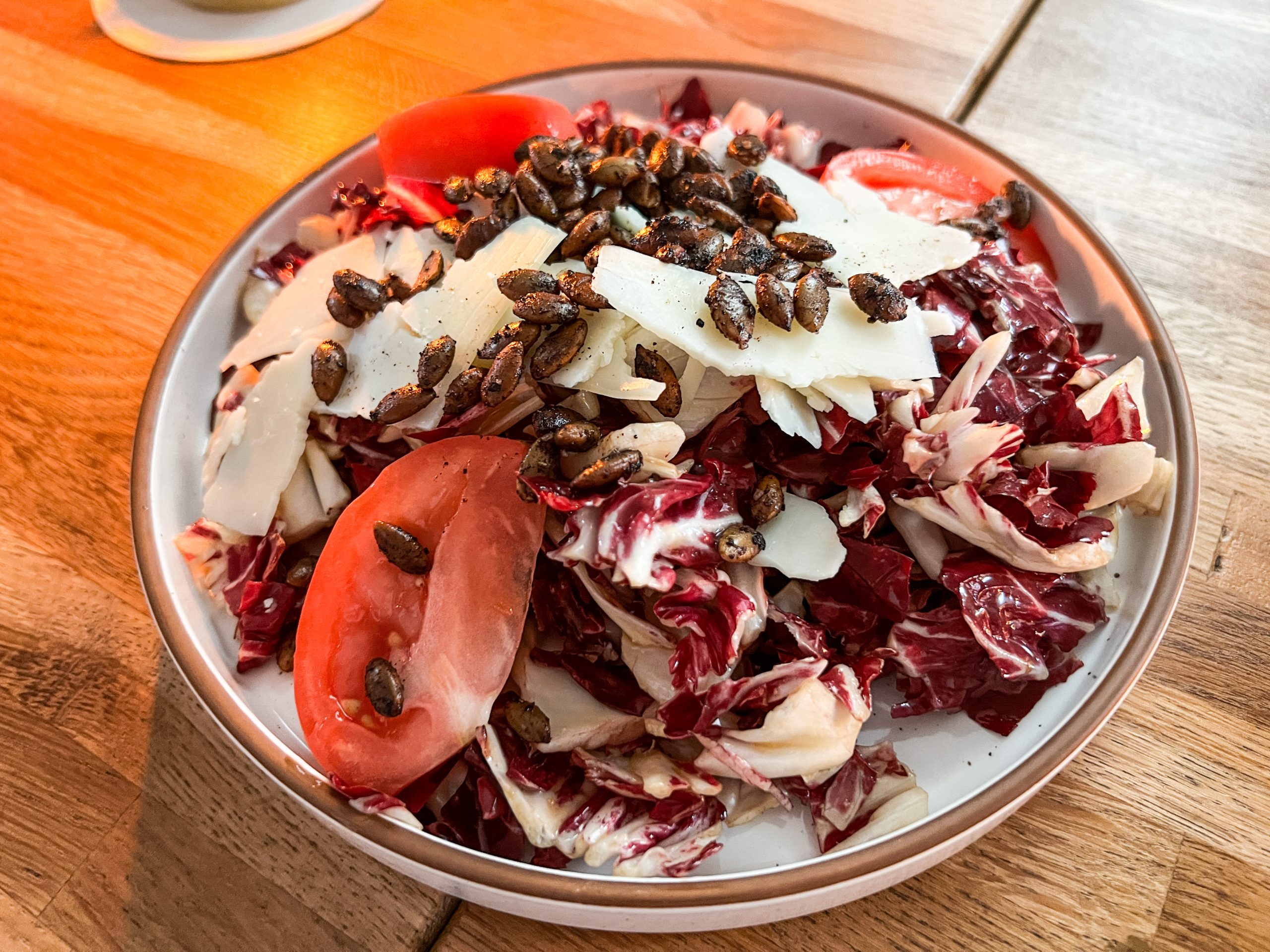 The Braised Bok Choy with seasoned soy-milk, shiitake mushrooms roasted peanuts and chili oil landed in front of us as our next treat. This was perhaps the toughest to share between four people as it is plated with two halves of bok choy that can be difficult to divvy up between a group. I recommend ordering two servings of this if you plan to dine at In Between Days with a group. Nonetheless, it was tasty, and much like everything else on their menu, the flavor profile was quite unique and I greatly appreciated the way all of the ingredients came together in harmony.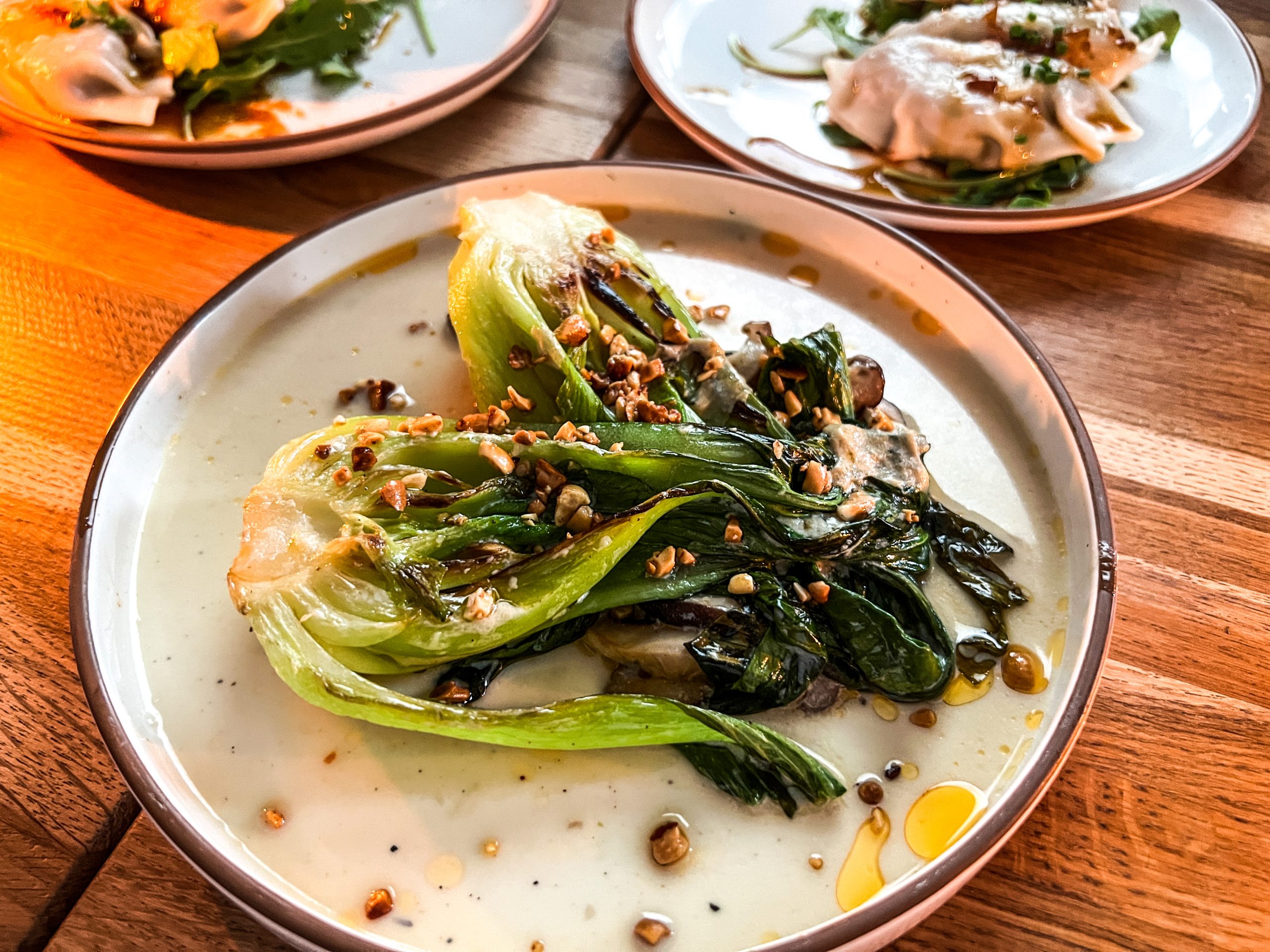 The Mushroom Gyoza arrived at the same time as the bok choy. We received two orders of these (four per order), but probably did not need that many, considering all of the other items that we had the pleasure of ingesting. These gyoza are handmade and stuffed with marinated mushrooms and carrots and also come with soy brown-butter glaze and a chive garnish. They're a savory vegetarian delight.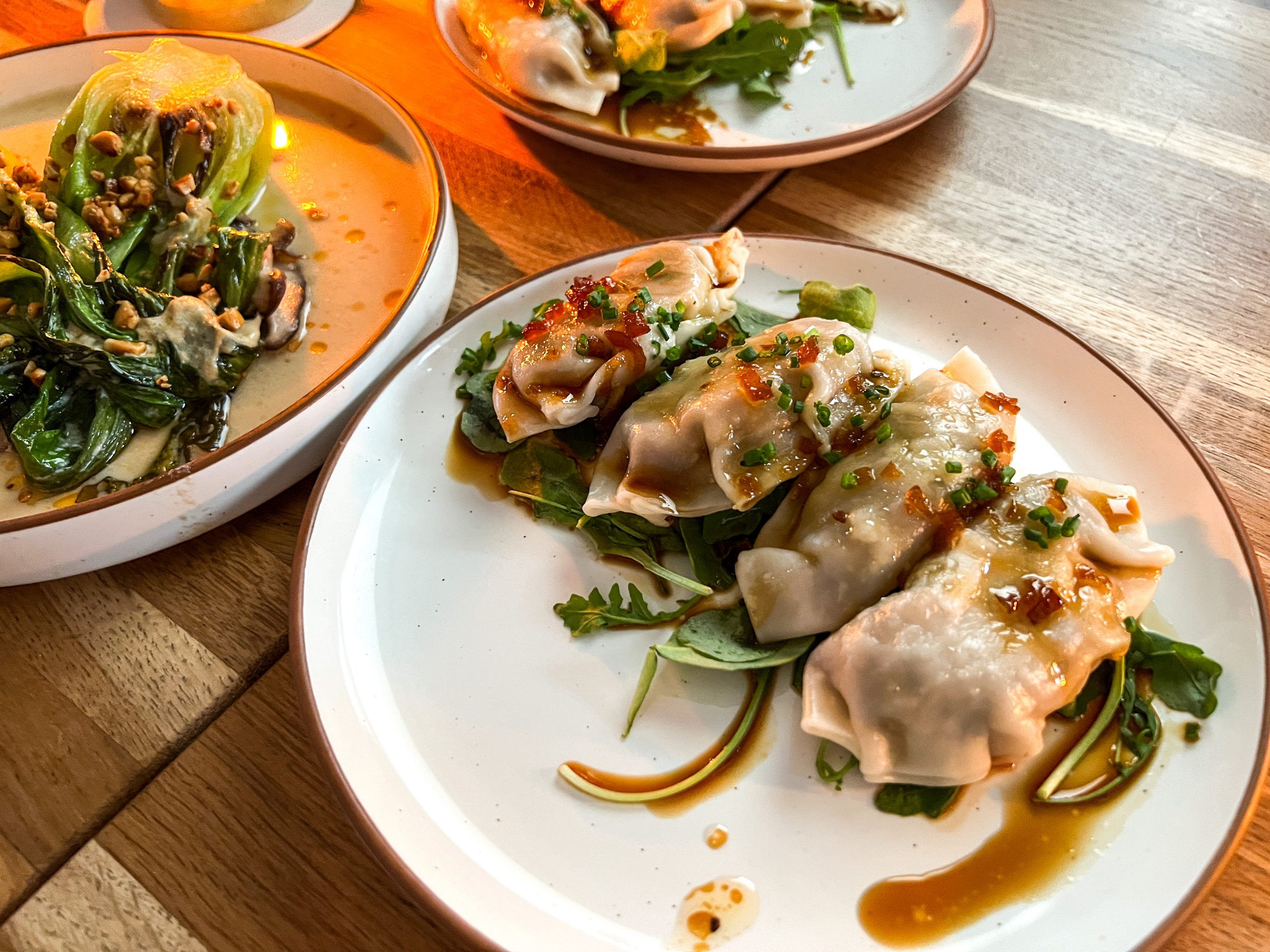 In place of the unavailable pork was a dish with a green tea dashi broth, crispy rice cake and flakey salmon that is topped with a Vietnamese caramel sauce. The salmon and the broth were the standouts and while we were so looking forward to the pork, this was a pretty good substitution. I should note though that this is not a regular menu item.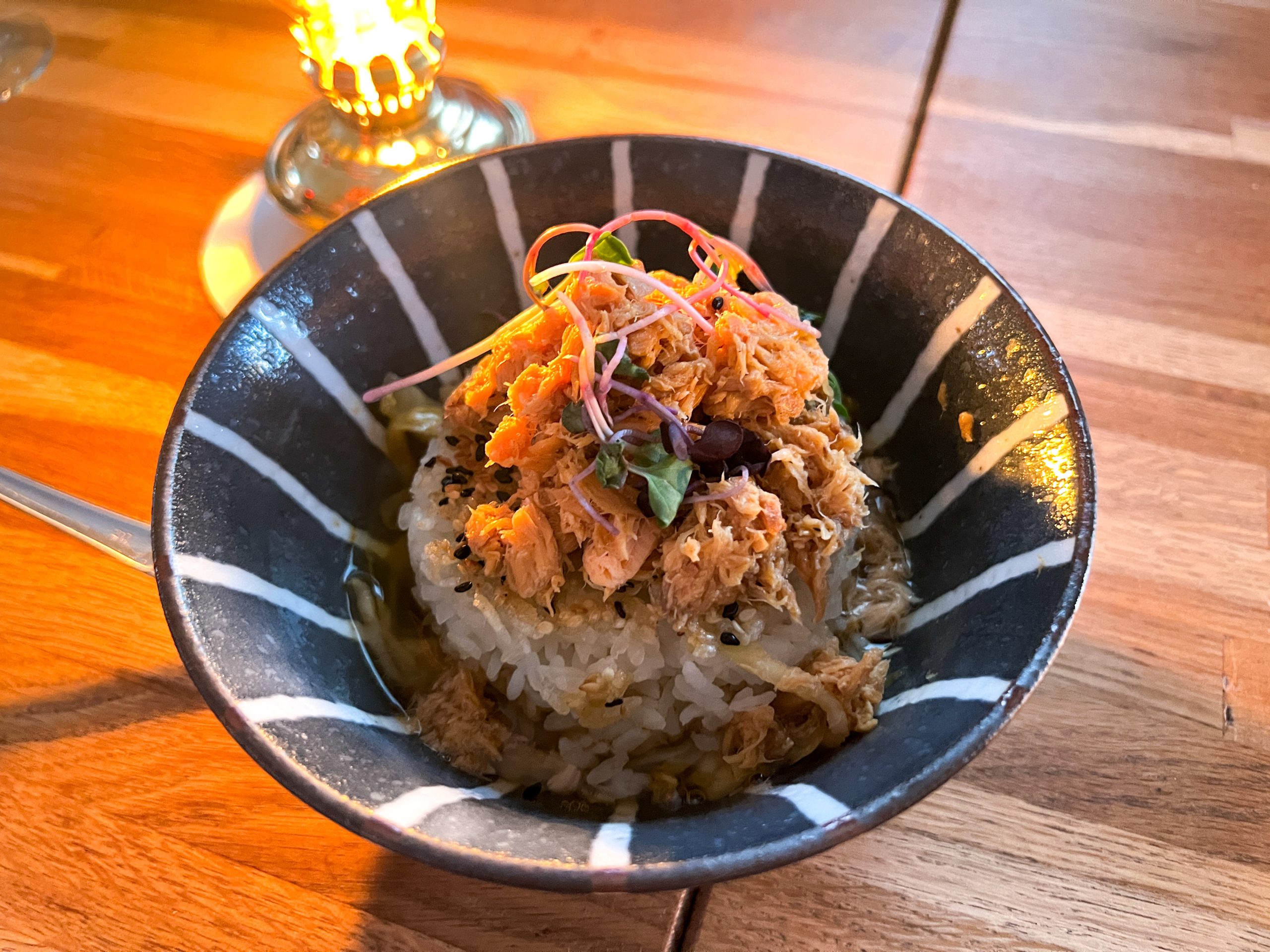 To round out our meal, we ended with the Death by Chocolate. This dessert was ultra rich and decadent and is created with double crémeux au chocolate, cocoa meringue, white chocolate and cookie crumble. It's served in a small jar with enough spoons for all of the people in your party. After all of the delectable things we had to eat prior to this, one bite is all that I had room for. However, it was very satisfying.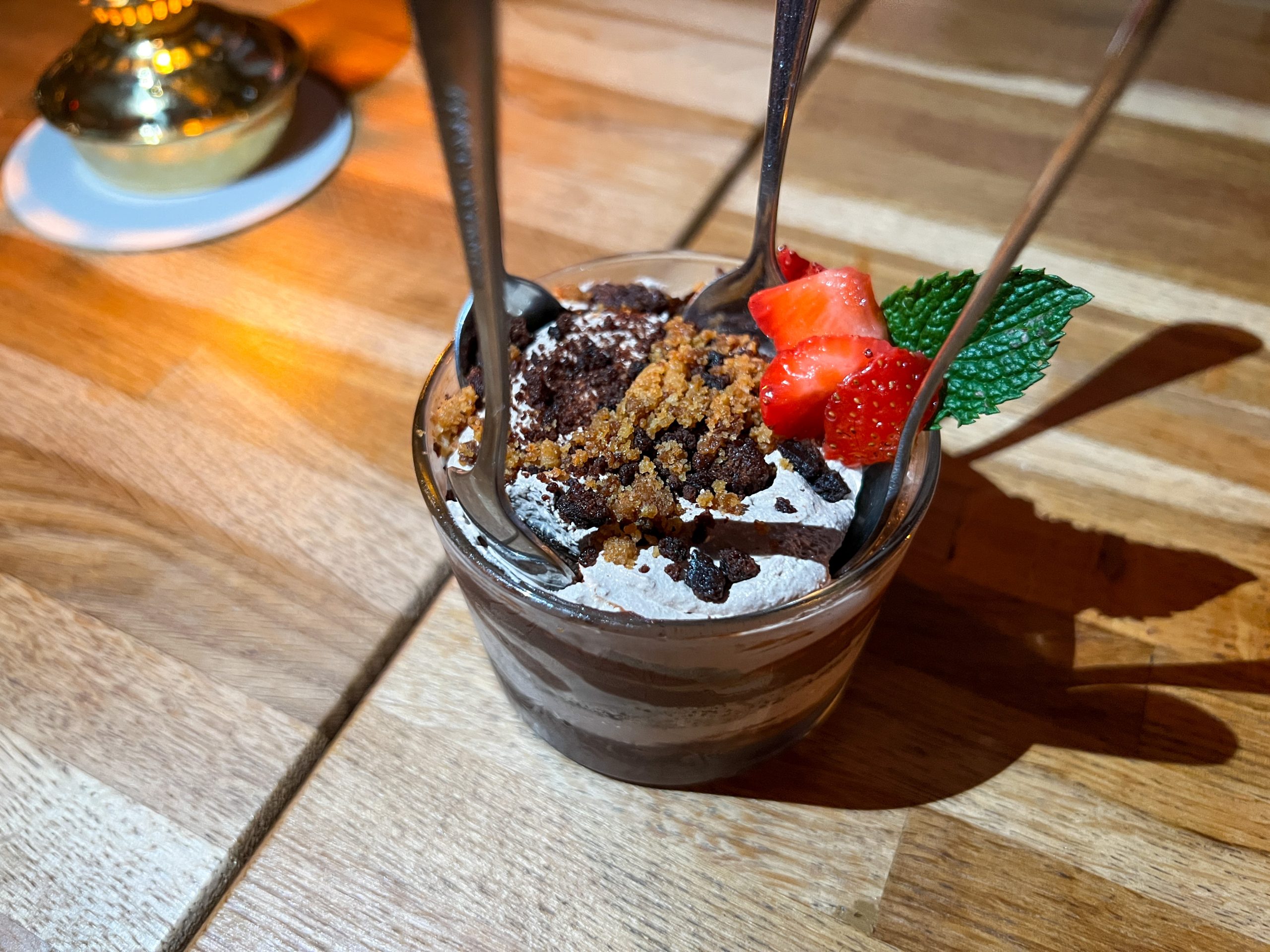 The food, drinks, ambiance, service and overall atmosphere of In Between Days are phenomenal. Our entire experience from start to finish was wonderful. The overall feel when you're submerged in the experience of their unique space is very different than any other place in St. Petersburg. It was a touch loud with the busy Saturday night crowd and I would've loved to have been able to enjoy the music a bit more. Perhaps dip your toe in to the experience that In Between Days has to offer by popping in through the week at the bar for some great listening, cold sake and a bite or two. These guys are doing some fantastic things and I can't recommend their establishment enough.
Inspired by the Underground listening bars of Tokyo, the little house is warmed by a pair of Klipsch Cornwalls that adorn the back of the bar paired with two turn-tables and a diverse vinyl collection. Oil lanterns cascade amber light while sake is poured into eager glasses. They play full sides. Their sake is chilled. Their oysters are served in the classic French style. It's not Tokyo, but it's close.
DISCLAIMER: Kevin, Lori, Abby, Haley, & Lindsey do not dine anonymously (this would be impossible) and we sometimes get free food (though never expected). However, we dine with the locals and we support our own. You will always get honesty in a respectful manner. We do not include any large national or regional chains in our ratings and reviews. We focus on independent locally owned eateries exclusively.

PLEASE NOTE: Reviews reflect a certain moment in time. Some restaurants stay extremely consistent over many years, and some change for the better or worse. Some things that may change are: chefs, recipes, food suppliers, ingredients, philosophies, ownership, etc. We always hope that you have the same good, or great experience we had.
More Foodies News, Reviews & Recipes