Shiver Me Timbers! Walk the Plank to Jolly Roger's Grub & Pub
Shiver Me Timbers! Walk the Plank to Jolly Roger's Grub & Pub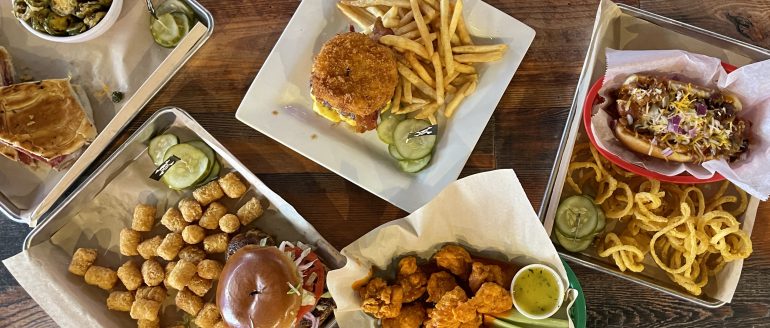 Arrrgghhh ye thirsty or hungry?! Grab your hearties and head to Jolly Roger's Grub & Pub, located in Tierra Verde, for a bounty of grub and grog'-tails.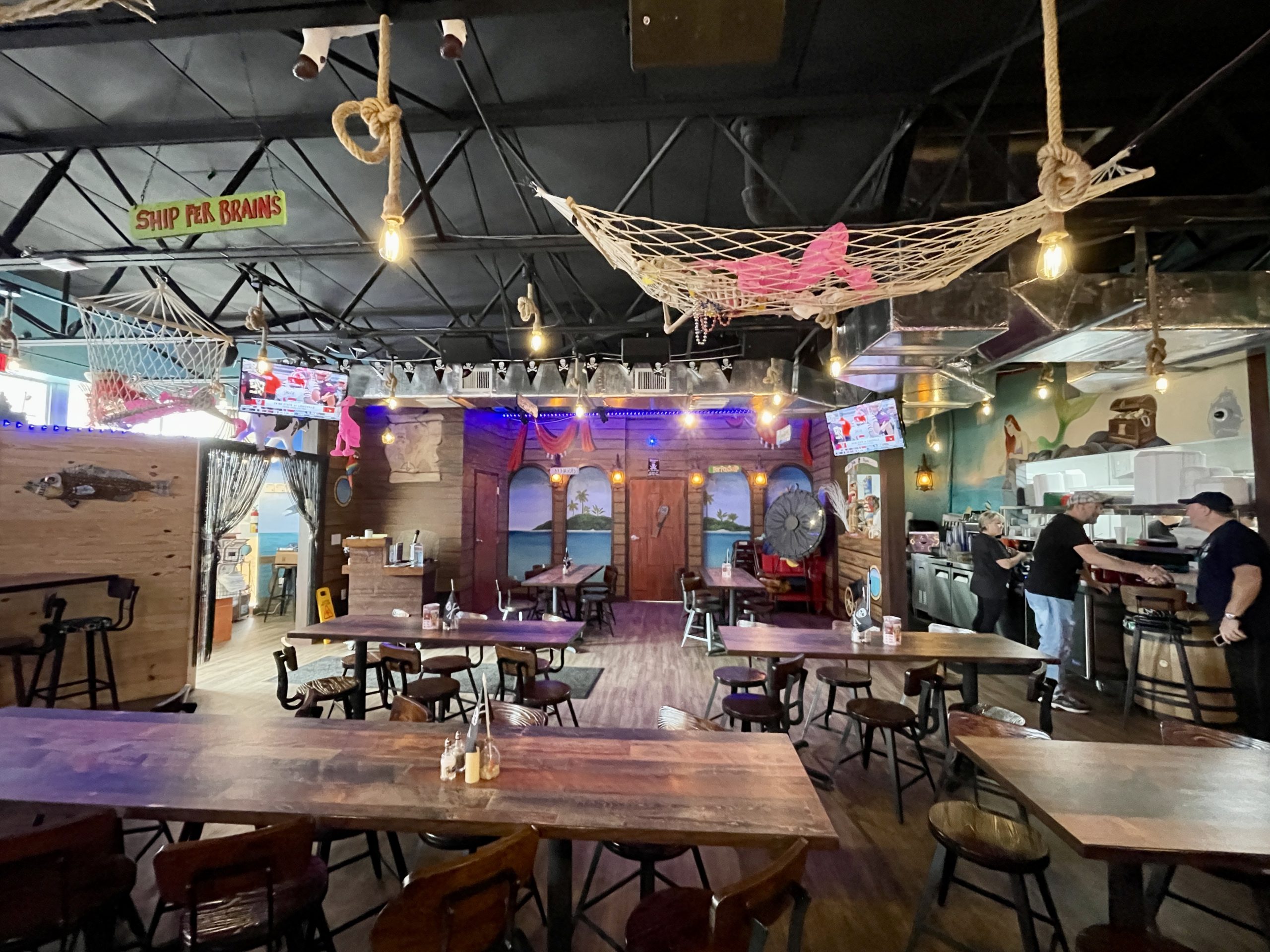 Jolly Roger's is an unexpected and welcome addition to St. Pete's food scene. This cheeky bar and restaurant brings all the pirate flare you could imagine. From the moment you pull up to Jolly Roger's you know you're going to be in for some fun. Outside of the restaurant is a giant blowup pirate waving you on in. Once you walk in, there is no shortage of fun and interesting things to look at. From beachy murals on the walls, skeletons and pun-intending table signs hanging from the ceilings, quirky knick knacks strewn about the restaurant. No corner is left untouched, every detail is thought of down to the salt & pepper shakers on the table and the skull and crossbones flags planted in your food. But, beyond the fun pirate theme is a kitchen turning out some of the most unique and delicious bar food in town.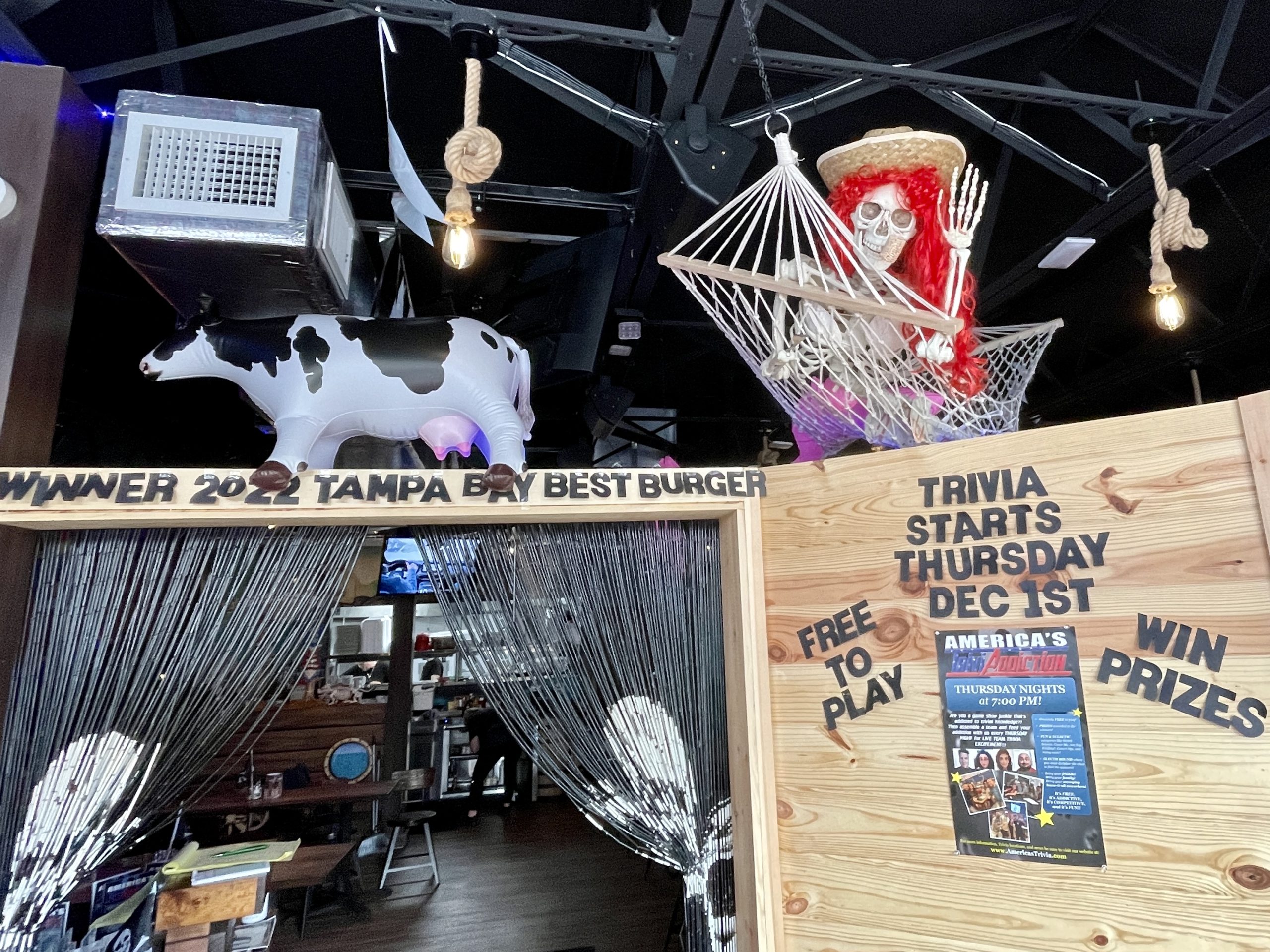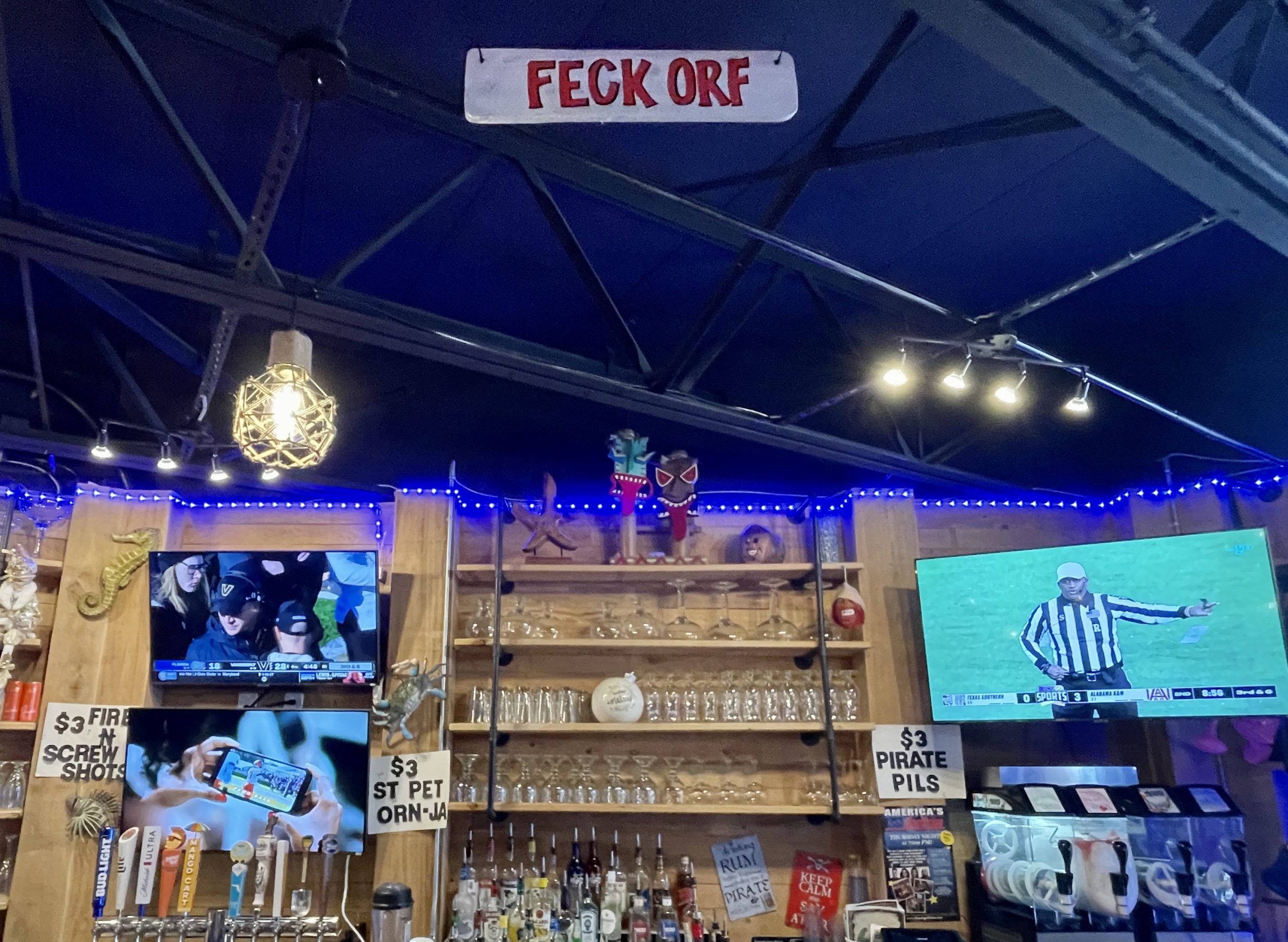 Captain Kent, Captain Roger and Chef Kelly have created a menu unlike any other around.  Jolly Roger's has a scratch kitchen that brings you everything from bacon wrapped hot dogs, tuna tartar, deep fried ribs, smash burgers (even one on a mac n cheese bun), house-made sauces, and on weekends they serve breakfast.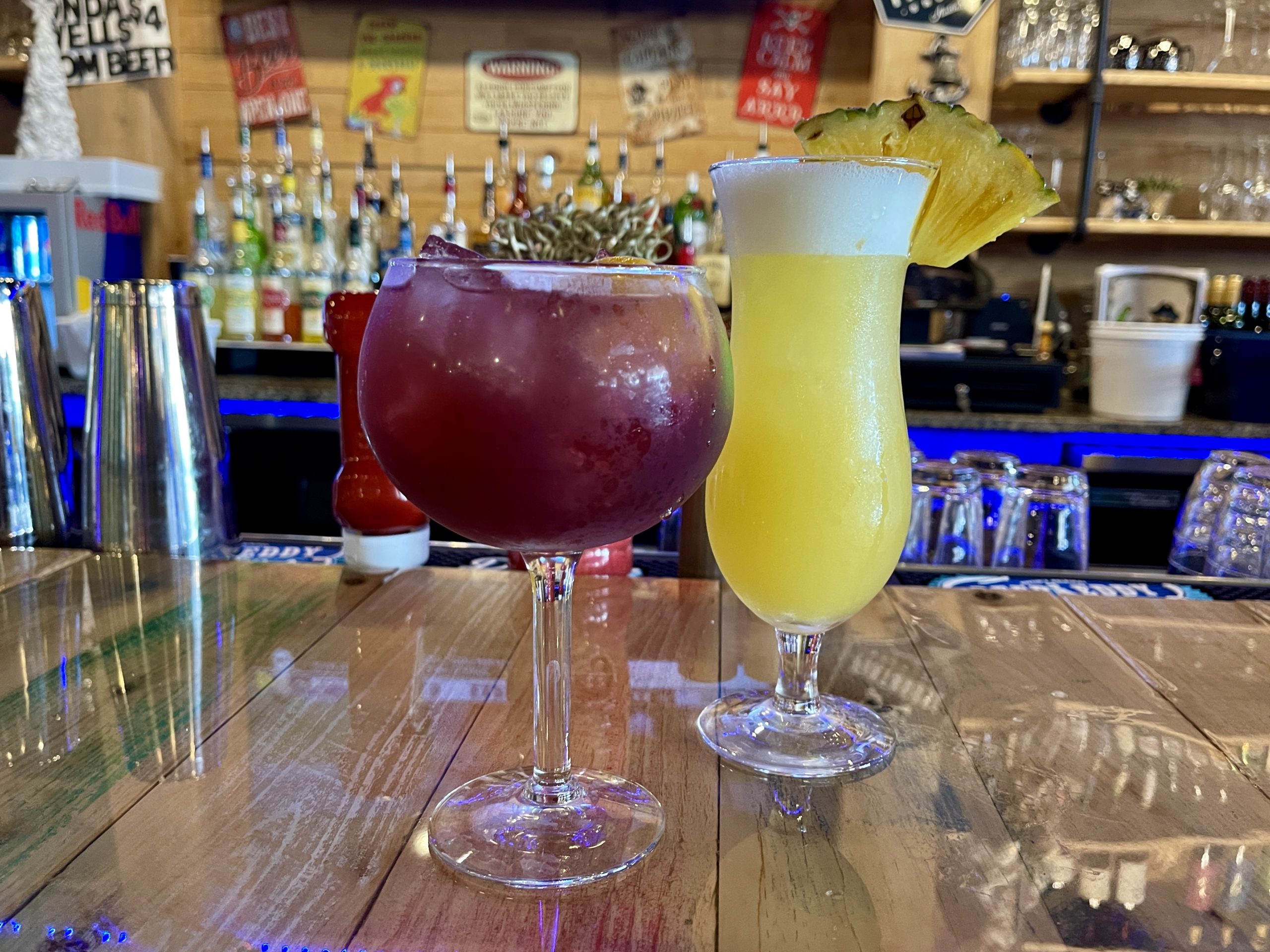 We started off with some Grog' Tails to wet our whistles while we took in the large menu. I chose the Capt'n Kent's Pineapple Scurvy Whip and my friend chose the Madam Maria's "Yo Ho" Sangria.
The Pineapple Scurvy Whip is comprised of Wicked Dolphin Pineapple Rum, coconut puree, and Triple Sec then topped off with Cutwater Bali Hai Dark Rum. I am not a huge fan of coconut, but I am a huge fan of pineapple, so I decided to give this drink a go and I was very happy I did. The coconut wasn't too strong and it was more pineapple forward.
The Sangria is a red wine sangria with bold and warm flavors. It was fruity and quite cinnamon-y and almost had the feeling of a cold mulled wine. If you are not a fan of cinnamon, I would may stray away from this, but for me it was perfect.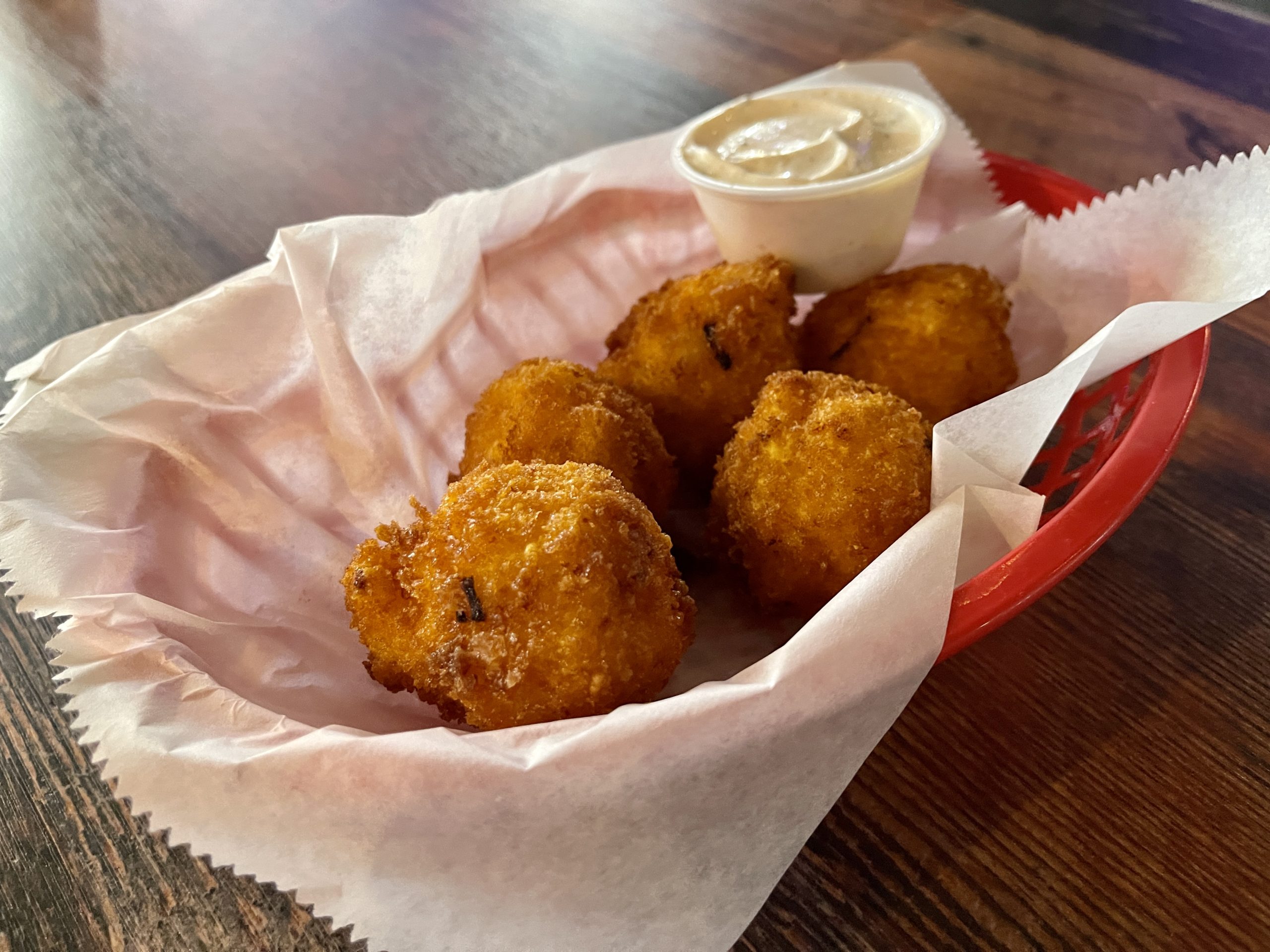 Any time there is fried mac n cheese on a menu, you better believe I am ordering it. The Capt'n Mac's Cheese Pirate Balls were possibly the best I've ever had. They are made with a house-made cheese fondu and then battered and fried to perfection. The crispy and flavorful breading wraps around the creamy macaroni and cheese and is served with a house-made spicy ranch dip. The combination is a flavor bomb in your mouth and is a must order on the menu.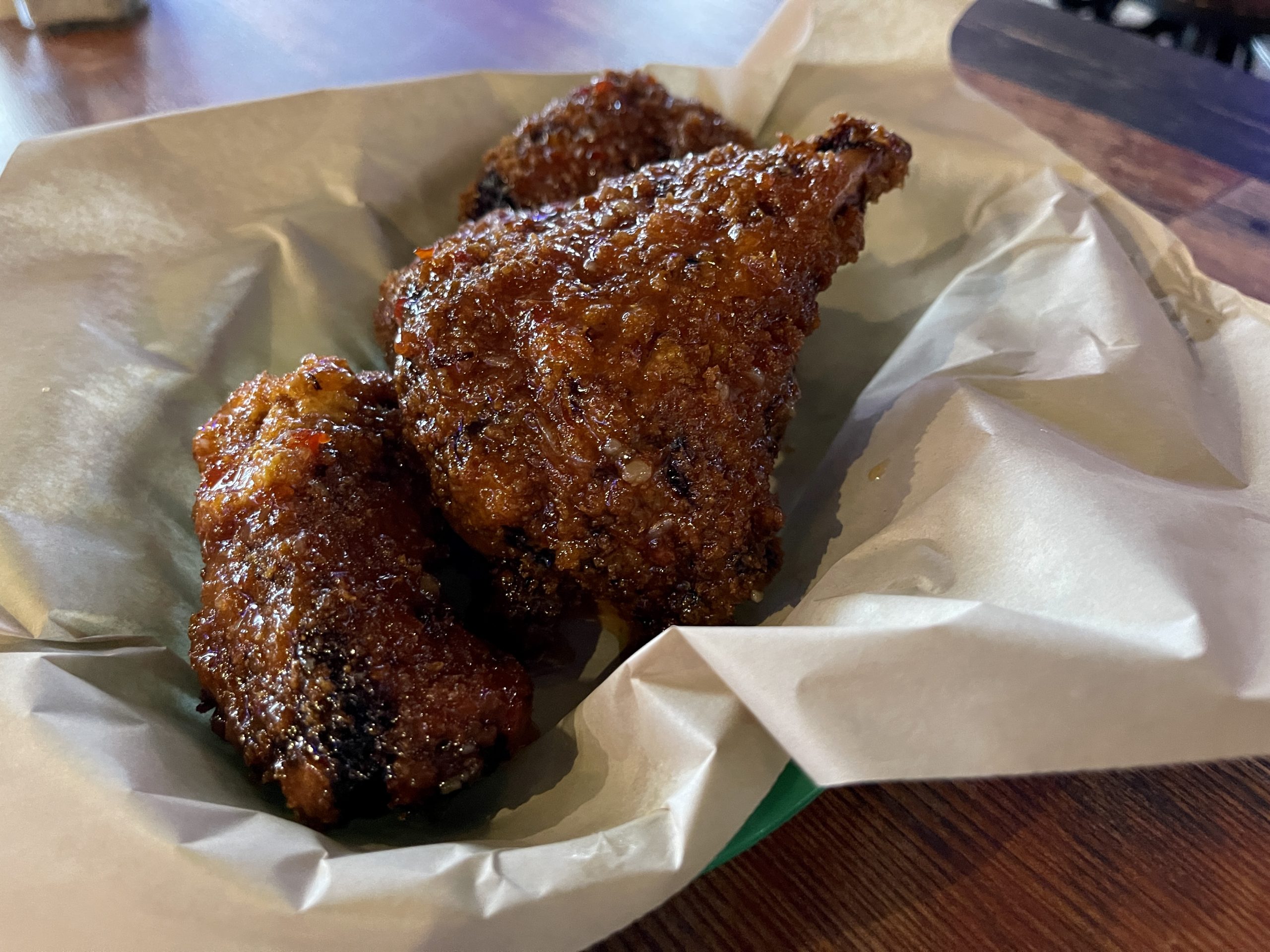 One item that we were told by many members of the staff to order was Davy Jones' Deep Fried Ribs. You have the option of having them coated in a Thai Chili Sauce or a house-made Jack Daniel's BBQ Sauce. We went with the Thai Chili. I expected the ribs to be dried out from being deep fried, but it was actually quite the opposite. The ribs were juicy and falling off the bone and the breading added a welcome crunch to every bite.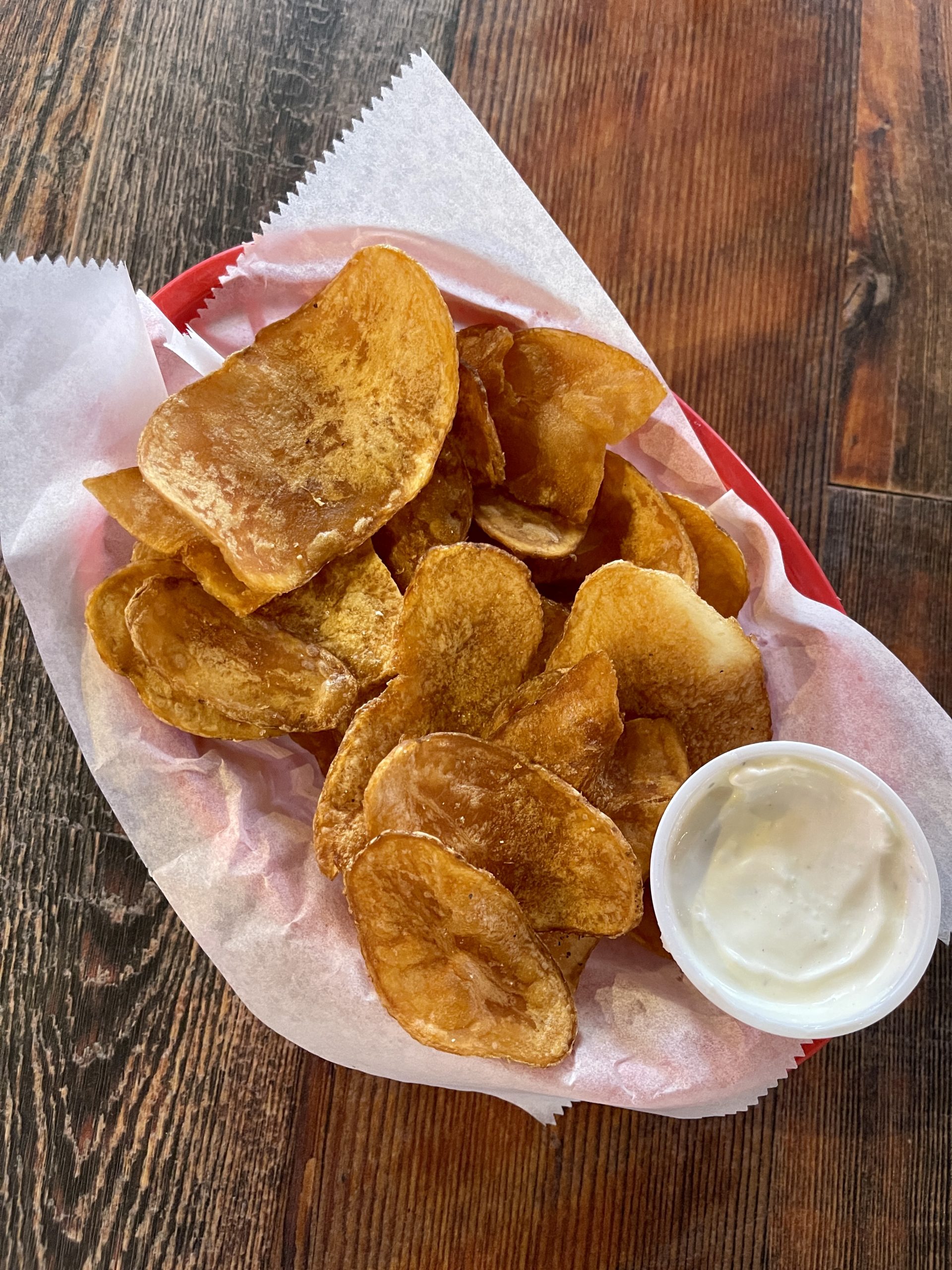 In addition to our main appetizers, we saw on the menu that they had house-made kettle chips. Which is my favorite type of chip. So, we also decided to start with a side of the house-made chips with their house-made honey mustard and blue cheese dips. They were a little thicker than your standard kettle chip, but that just made for a more sturdy vessel for me to plop some of the blue cheese dip on to.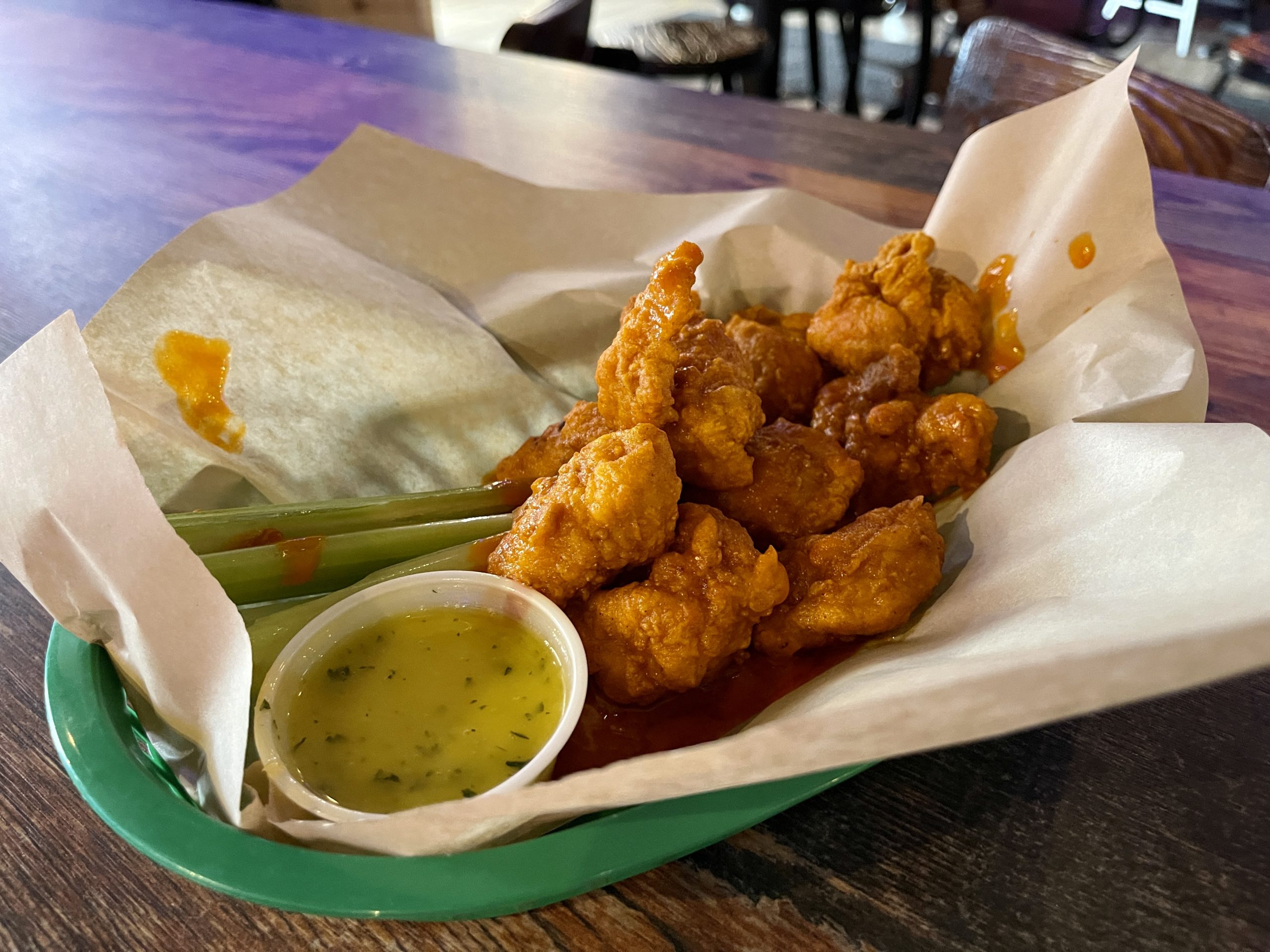 While the boneless chicken may seem like one of the more "boring" items on the menu, our server actually highly encouraged us to order them. Fresh cut chicken breasts are hand breaded in house and deep fried for a perfect juicy bite. There are a variety of sauces to choose from, but we decided to go with the house-made buffalo sauce and a side of garlic parm.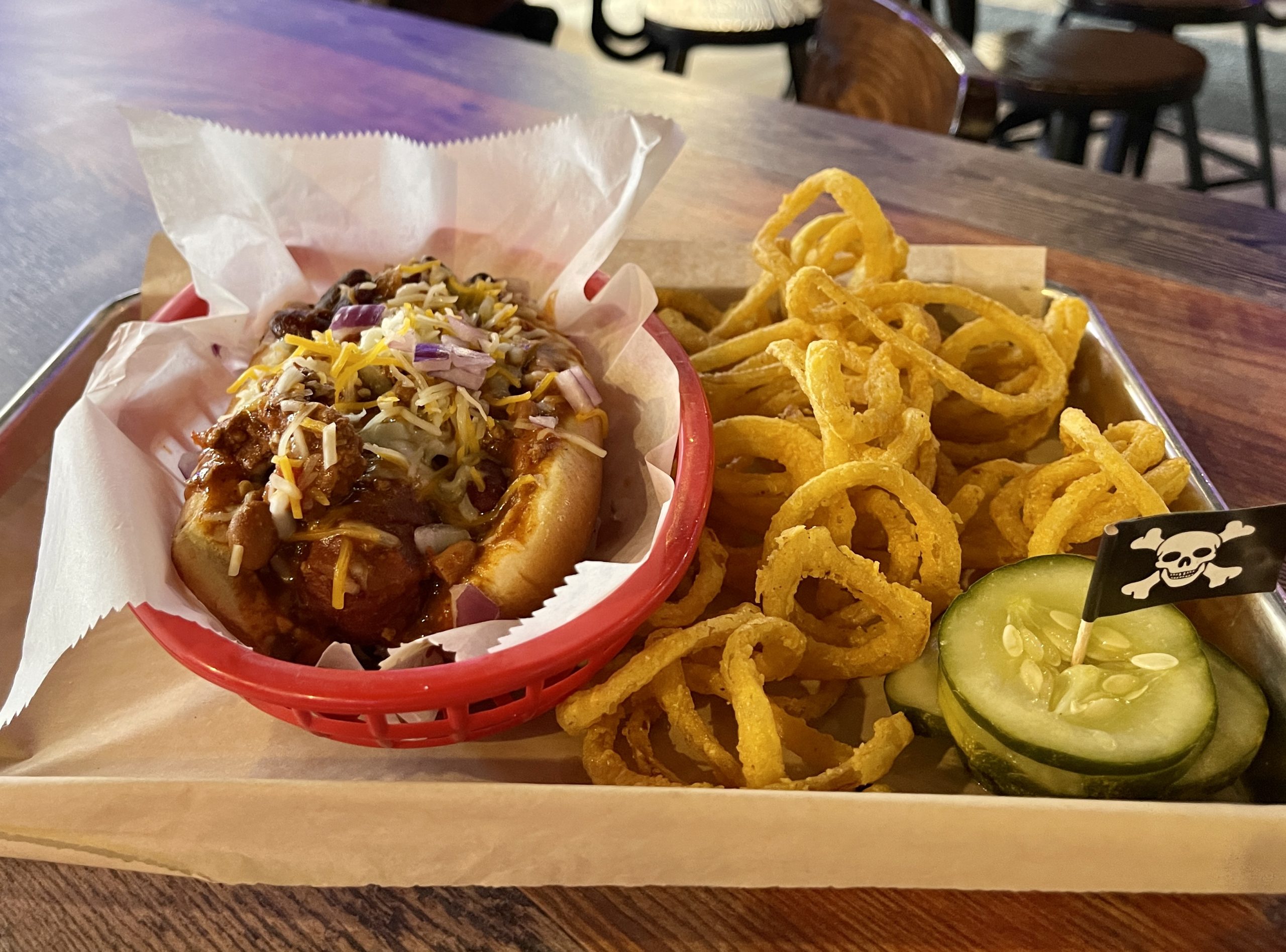 I think it's quite rare to see a hot dog on a restaurant menu these days. So when I saw that they had half a page of their menu dedicated to their hot dog, or better yet the Sea Dog, varietals I knew I had to order one. Especially when I realized they were also bacon wrapped and deep fried. I decided to go with the The Chili Cheese Dog. The house-made chili is savory and has deep flavors and combined with the hot dog and bacon this combination is a savory food lover's dream.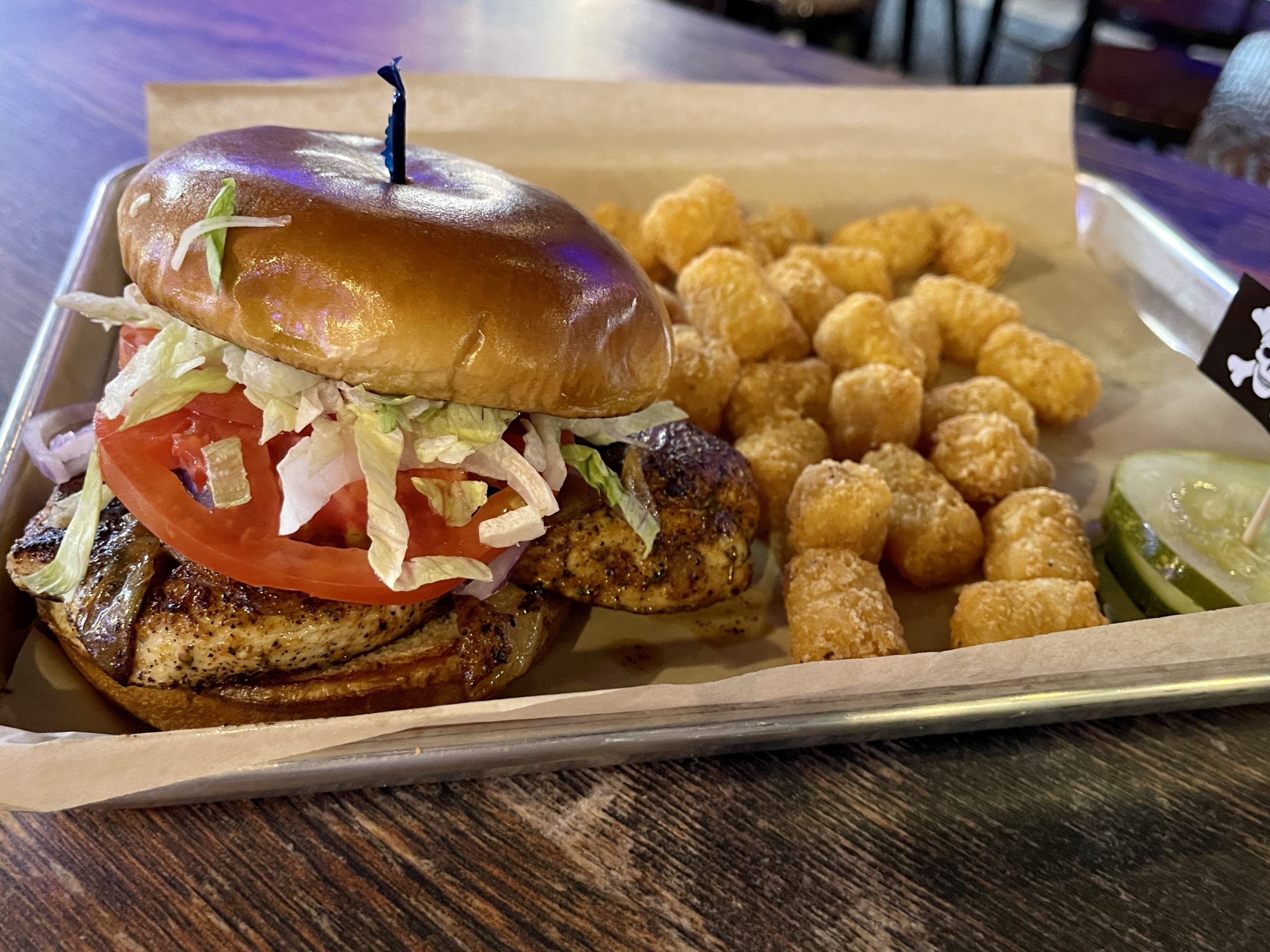 I am not someone who typically orders chicken sandwiches at a restaurant. My friend ordered the Chicky Sandwich, and I took a couple bites of it. And let me tell you, this might be one of my favorite entrees we ordered. The giant chicken breast was tender, flavorful, and so juicy. The toppings were simple, lettuce, tomato, and caramelized onion. But I think there may have been another ingredient… MAGIC. It's true what they say, sometimes simple is best (not saying that their extravagant menu items aren't great too though). This is a sandwich I would go back to Jolly Roger's for.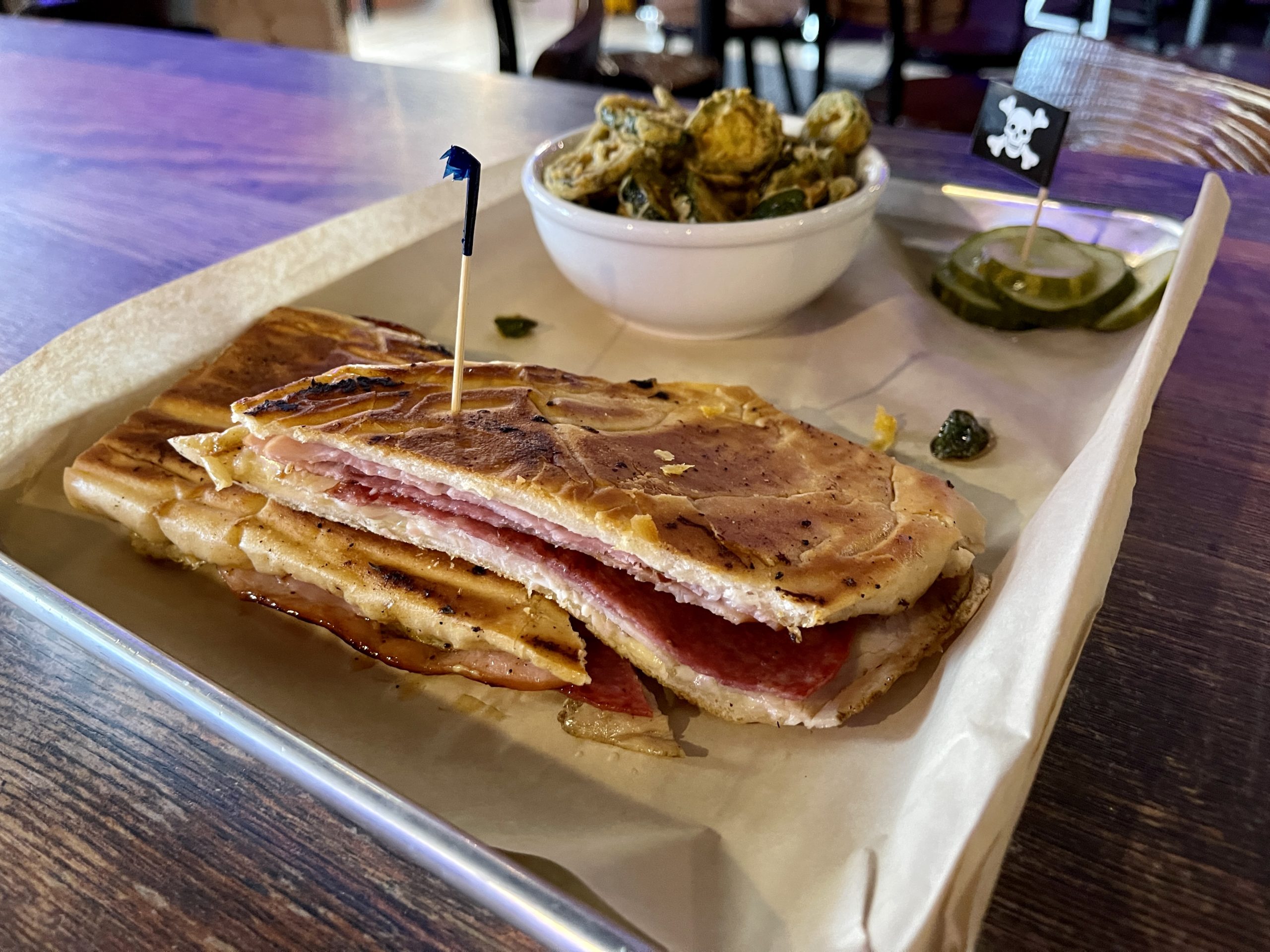 Da Chef Kelly's Cuban Sandwich is made with salami, ham, Cuban pork (roasted in house), swiss cheese, and mustard aioli on hand pressed Cuban bread. While this was delicious, it was probably the safest option we ordered and did not stand out amongst the pack.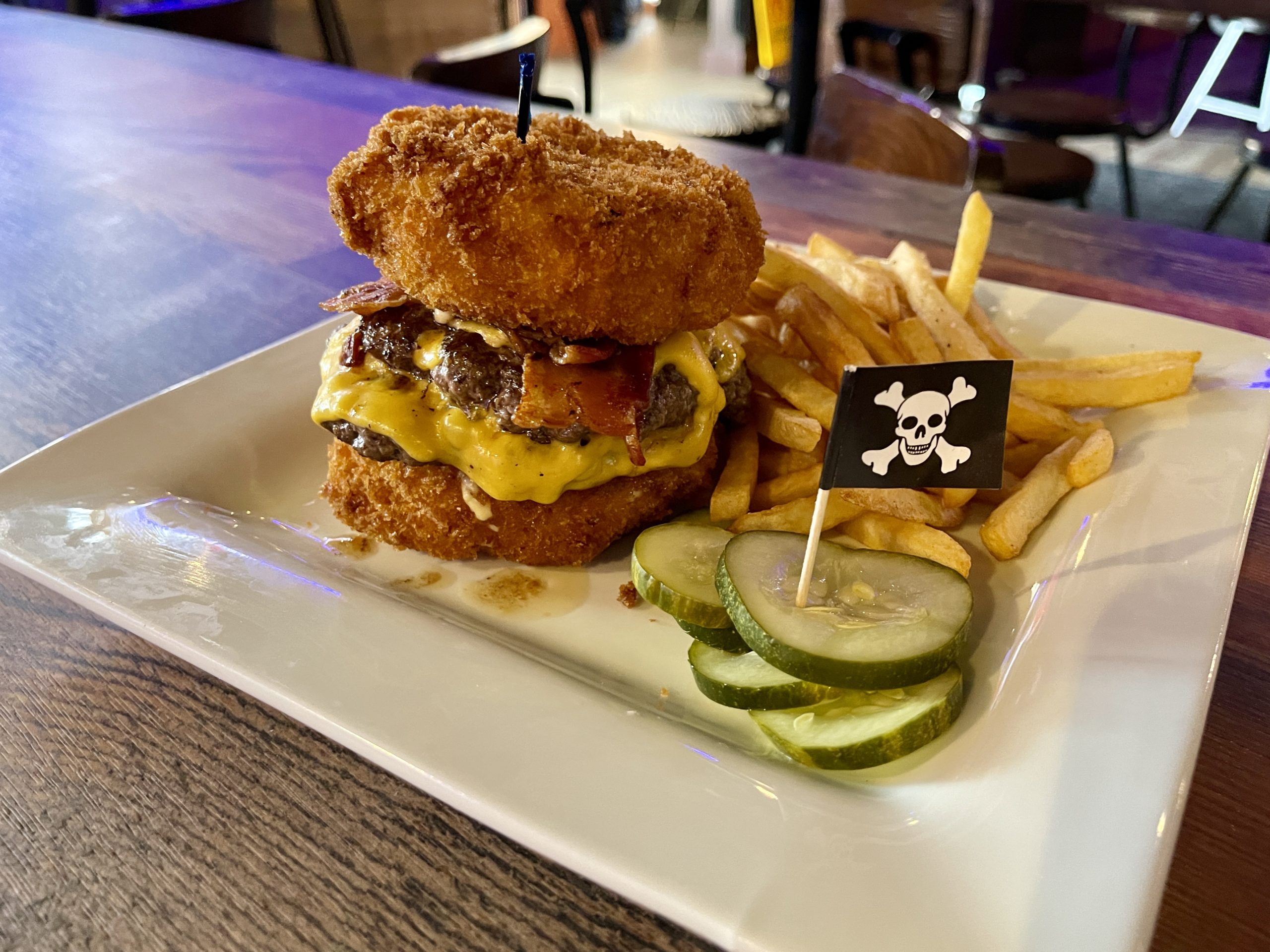 Get out your forks and knives for this "handheld" burger. Capt'n Mac's Meat & Cheese Buns is a tower of two smashed beef patties, double American cheese, bacon, and remoulade sauce in between two fried mac n' cheese buns. My friend was able to take one bite out of it before switching to a fork and knife to finish the rest. Honestly, the fact he was able to get one bite before switching was quite impressive. I got it on video, but I will spare you all.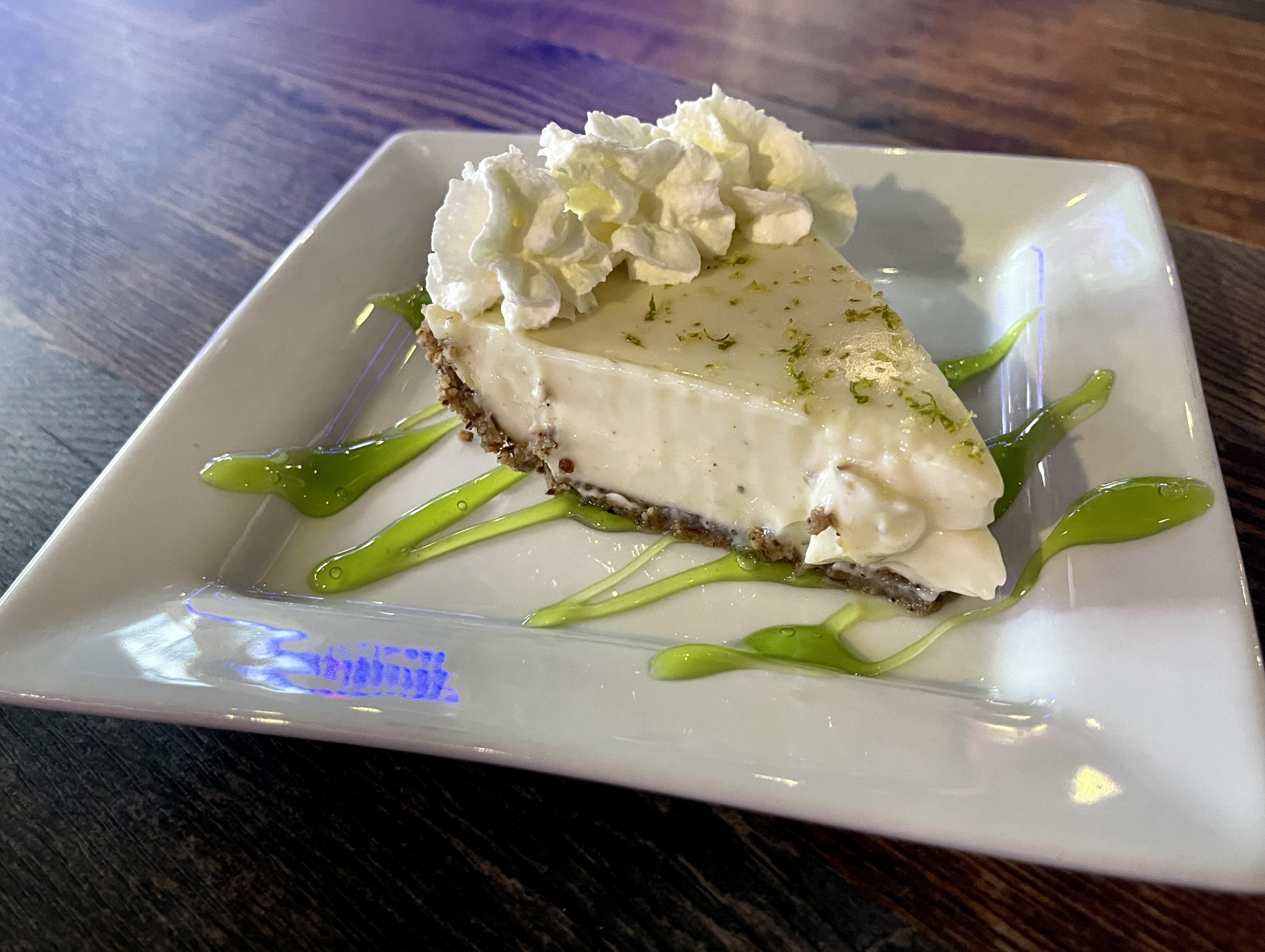 Captain Roger wouldn't let us leave without trying his very own homemade pecan crust key lime pie. And who am I to say no to Key Lime Pie? It was one of the best key lime pies I've ever had. The filling was the perfect balance of tangy and sweet and balanced out by the pecan crust.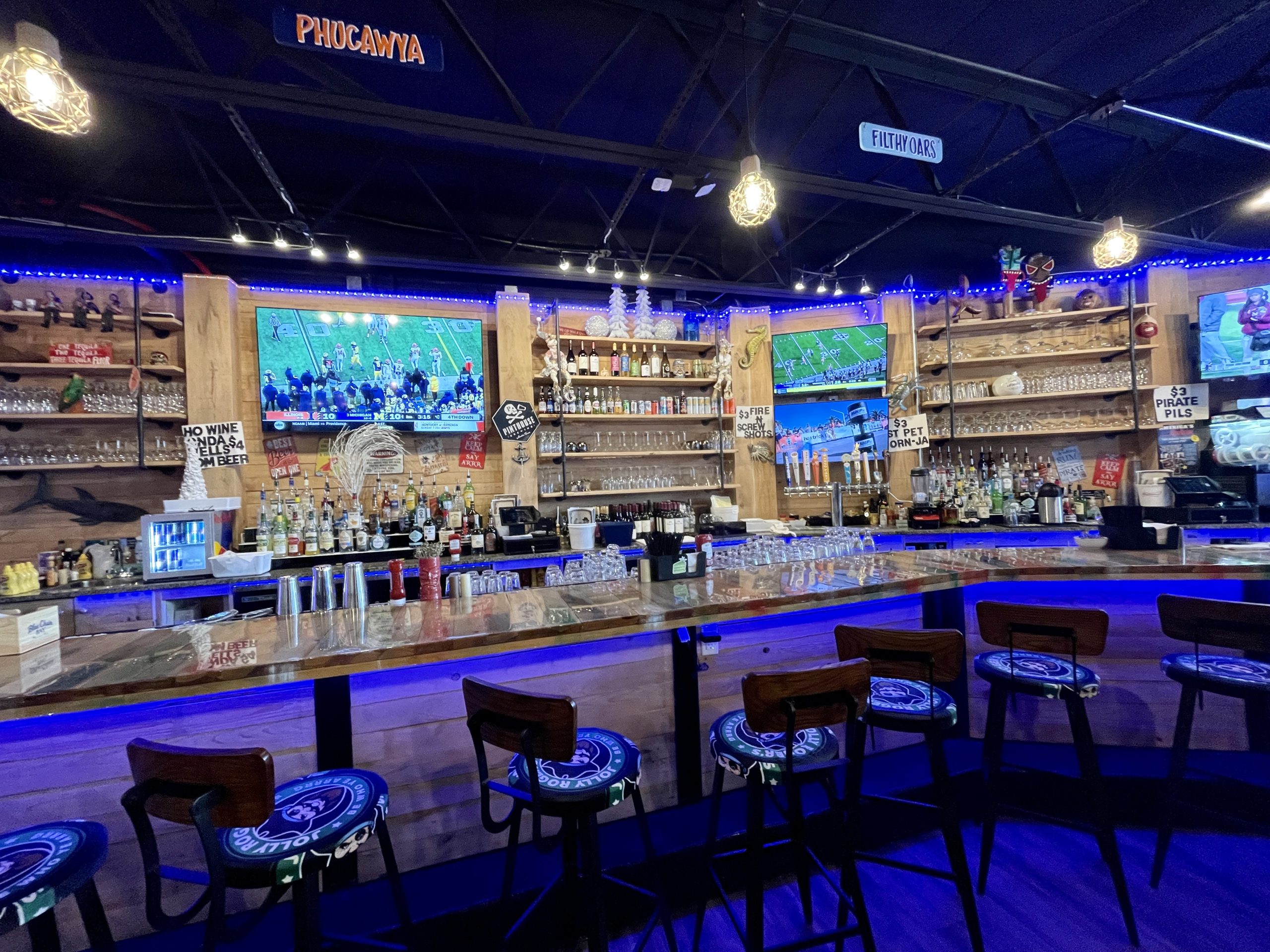 I'm not going to lie, going into this I was a little hesitant on trying this restaurant. I thought it might be cheesy and possibly focus more on the pirate theme than the food and drinks. But this experience did not disappoint. The experience, from the moment we walked in, was wonderful with friendly staff, delicious and gluttonous food and drinks, and a fun atmosphere.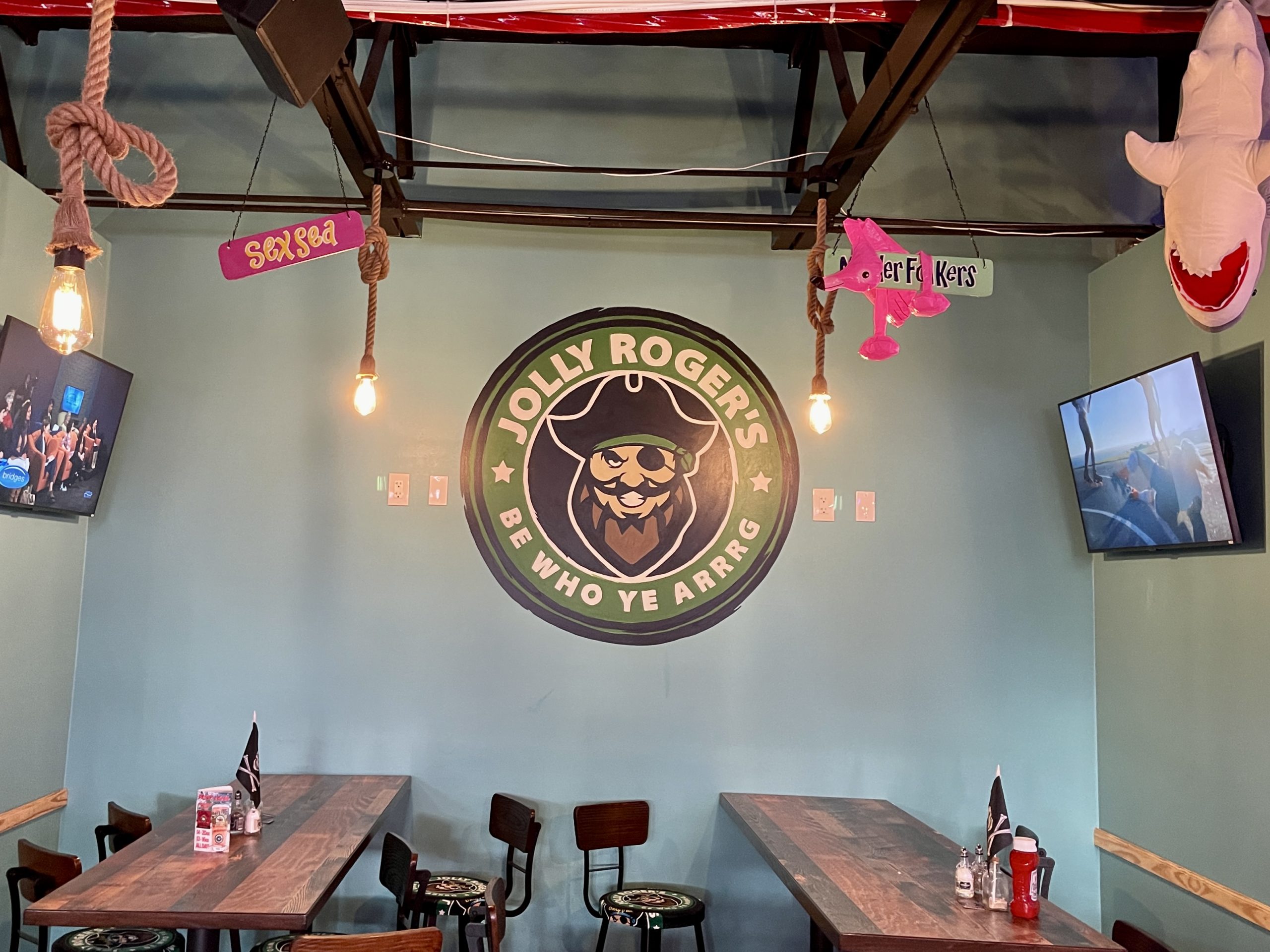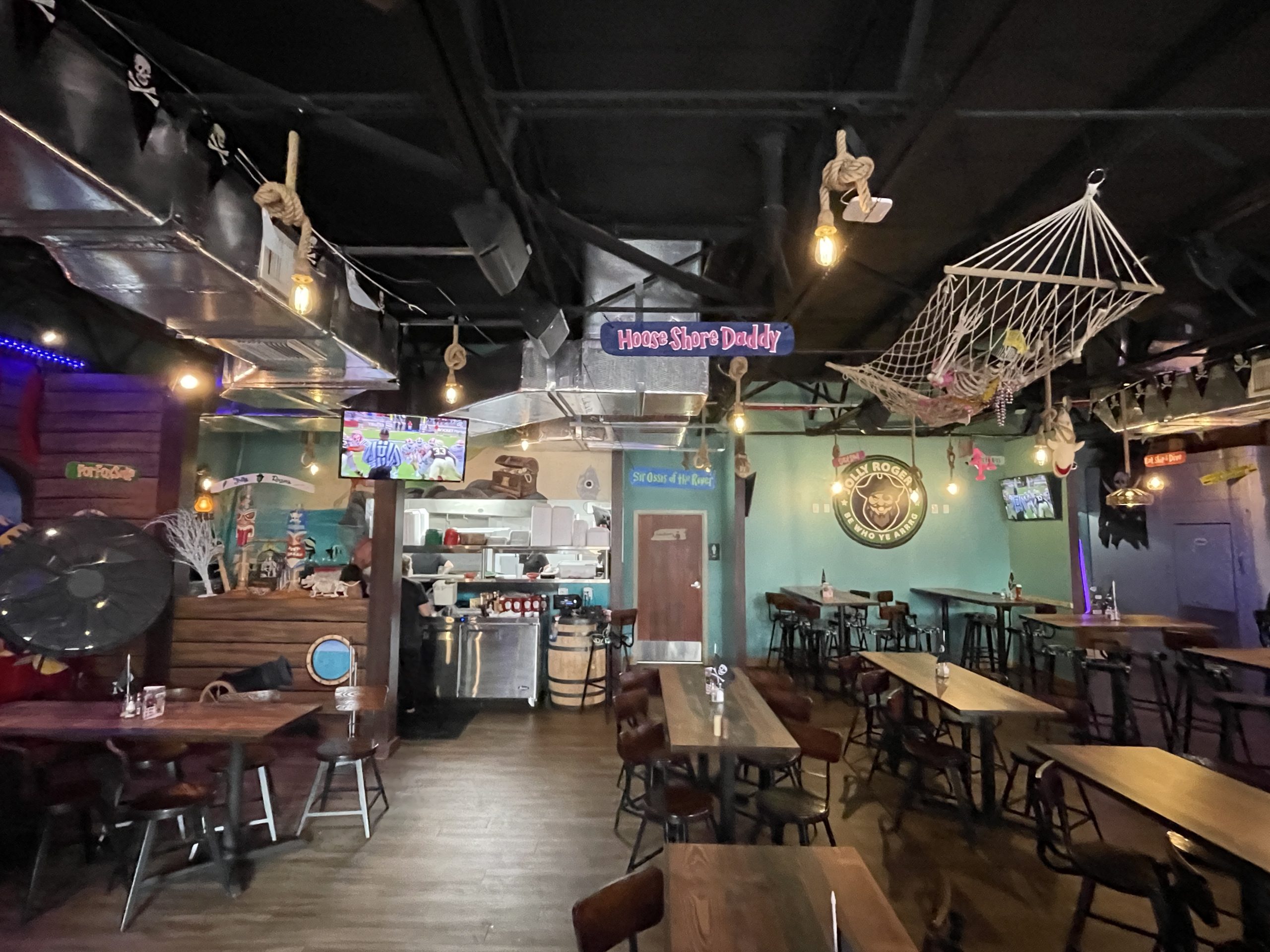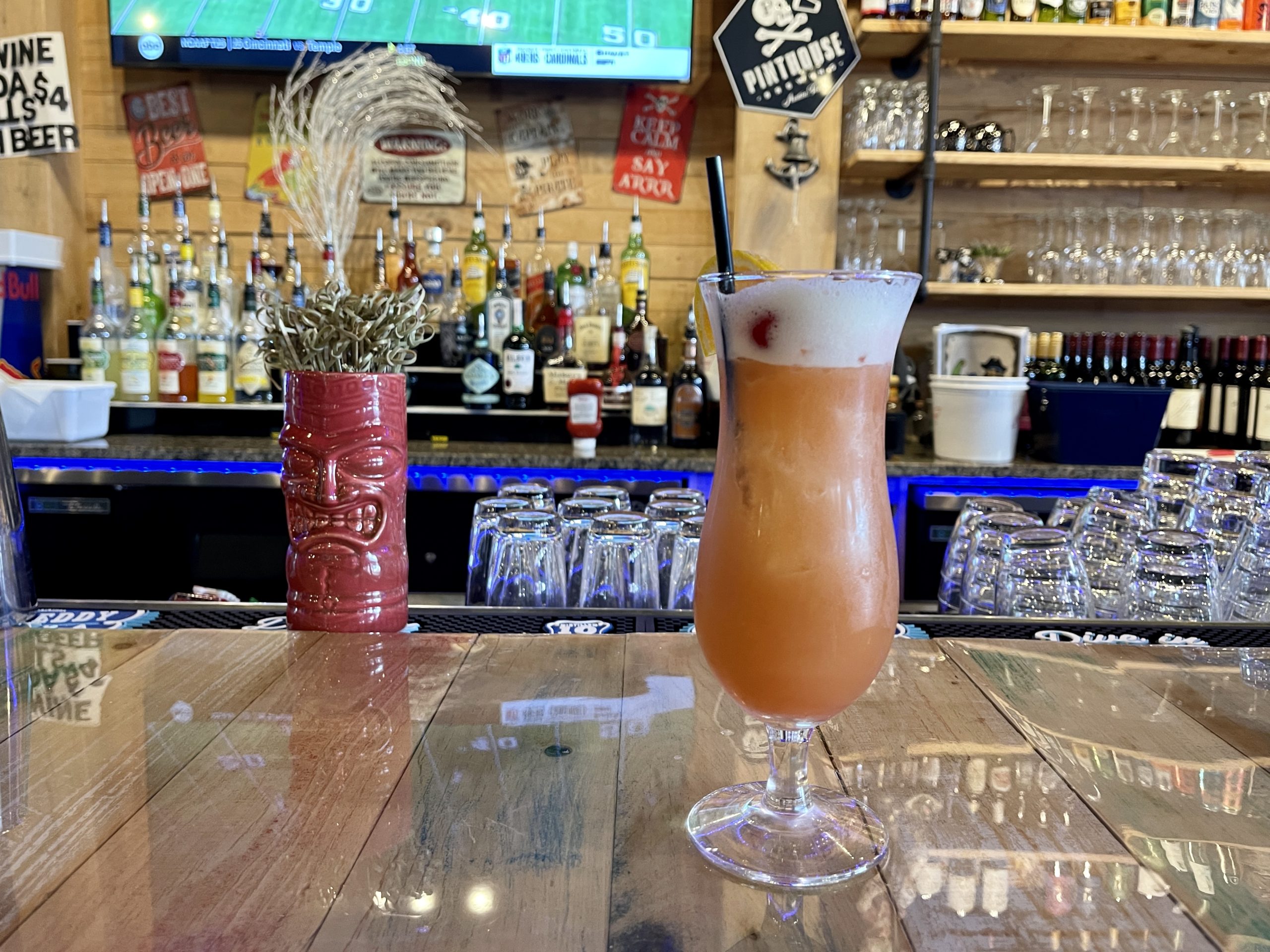 Jolly Roger's Grub & Pub, elevated bar food and cocktails in a pirate themed atmosphere.
DISCLAIMER: Kevin, Lori, Abby, Haley, & Lindsey do not dine anonymously (this would be impossible) and we sometimes get free food (though never expected). However, we dine with the locals and we support our own. You will always get honesty in a respectful manner. We do not include any large national or regional chains in our ratings and reviews. We focus on independent locally owned eateries exclusively.

PLEASE NOTE: Reviews reflect a certain moment in time. Some restaurants stay extremely consistent over many years, and some change for the better or worse. Some things that may change are: chefs, recipes, food suppliers, ingredients, philosophies, ownership, etc. We always hope that you have the same good, or great experience we had.
More Foodies News, Reviews & Recipes