Oaks on 4th Makes an Outstanding First Impression
Oaks on 4th Makes an Outstanding First Impression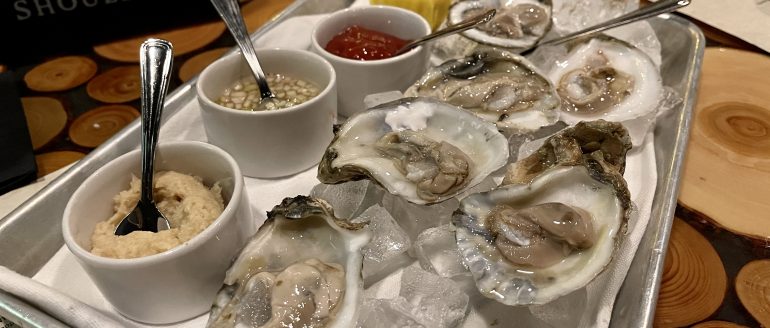 You may have blinked and missed the transition between the former Quickies BBQ and its replacement, Oaks on 4th. I feel like I remember one day hearing Oaks on 4th was coming and the next day it was open. Opening in early December by the owners of Bascom's and former sous chef of Café Ponte, they have quickly made a splash in St. Pete. I've visited three times since opening and every time I went it's been bustling with customers.
The first time I visited was on Christmas Eve Eve. My mom and I decided to check it out and sit at the bar after a long day of shopping. Three bartenders assisted us through the night, but the one who truly made an impression was Mike. He is entertaining, knowledgeable about the menu and knows how to make a great martini. My second visit was for brunch and last visit was for a sit-down dinner.
Each experience I've had so far at Oaks has been a different, but great experience. The staff and management are all welcoming and friendly. With the lack of quality higher-end restaurants, other than Noble Crust, between downtown and Gandy, Oaks has been a welcome addition to the area.
I have visited Oaks so many times, you can only imagine the number of dishes I have tried. So I am going to do this article a little bit differently and rank my dishes from favorite to least favorite, although there were no bad dishes. Then I will share the cocktails that I've had on my visits.
The steaks at Oaks are brought over from Bascom's, so you know they're high quality. The menu at Oaks varies nearly every day, including the steaks they serve. When I dined, they were serving a Ribeye which I was very happy about, as that is my favorite cut of steak. It is coffee crusted and cooked over an open grill (the grill is actually a focal point of the restaurant and can be seen from virtually every seat in the house), then topped with glazed mushrooms, and served with a side of sherry pepper cream sauce.  We ordered the steak medium-rare and it could not have been cooked more perfectly. The steak spoke for itself without dipping in the sherry cream sauce, but when dipped in the sauce it made it one of the best bites of steak I've ever had.
The Half Chicken is a sous vided chicken glazed with smoky hot honey that is fried to crisp the skin. The chicken is extremely juicy on the inside and the skin is crispy on the outside. I am a chicken skin lover and was ripping off the skin and eating it by itself. It was almost candy-like. The dish is served with a pan sauce gravy, but it is honestly unnecessary since the chicken is already so flavorful and delicious.
I've know I've said it at least once in another article somewhere, and I'll say it again and again… if there is a tartare or carpaccio on a menu, I am ordering it. At Oaks, it's no different. Oaks serves a Steak Tartare that is mixed with green apple, spicy peppers, fried capers, truffle, sriracha and topped with an egg yolk. Served on the side is pickled veggies and house-made chips. The dish is extremely savory but is rounded out by the slight sweet and tarte flavors from the green apple. I would never have thought to put green apple in a tartare, but it is the perfect addition.
4. Mushroom Bisque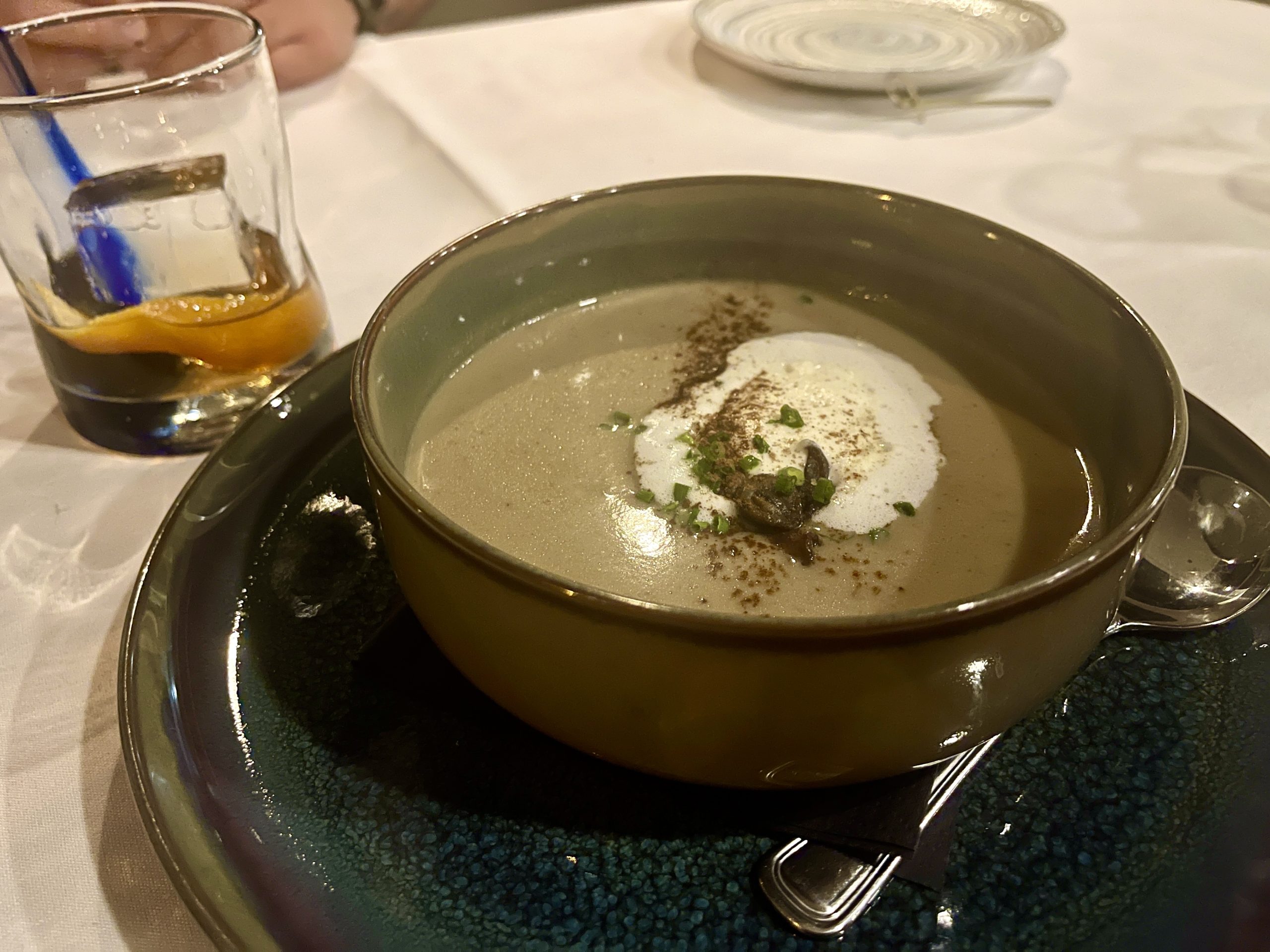 The one dish I knew I wanted to try before ever visiting Oaks and having only looked at the menu is their Mushroom Bisque. My first visit, they were sold out. My second visit, it wasn't on the menu. Finally on my third visit it was available. I actually almost forgot to order it (I think I had nearly given up hope at this point) and put in a last minute order so I could try it. The soup is a combination of button mushrooms and gold potatoes, then finished with truffle cream, chives, crispy mushrooms, and porcini dust. This was a true umami flavor bomb. If this is available on the menu, it is not to be missed. It may be the best soup I've ever had.
House-made chips are one of my favorite items to find on a menu. Oaks serves their house-made chips alongside many of their dishes, including their pimento cheese and steak tartar. But, you can also order just the Potato Chips topped with honey drizzle, balsamic glaze, crumbled blue cheese and green onion. They are the ideal bar snack alongside a tasty cocktail.
6. Spreads & Breads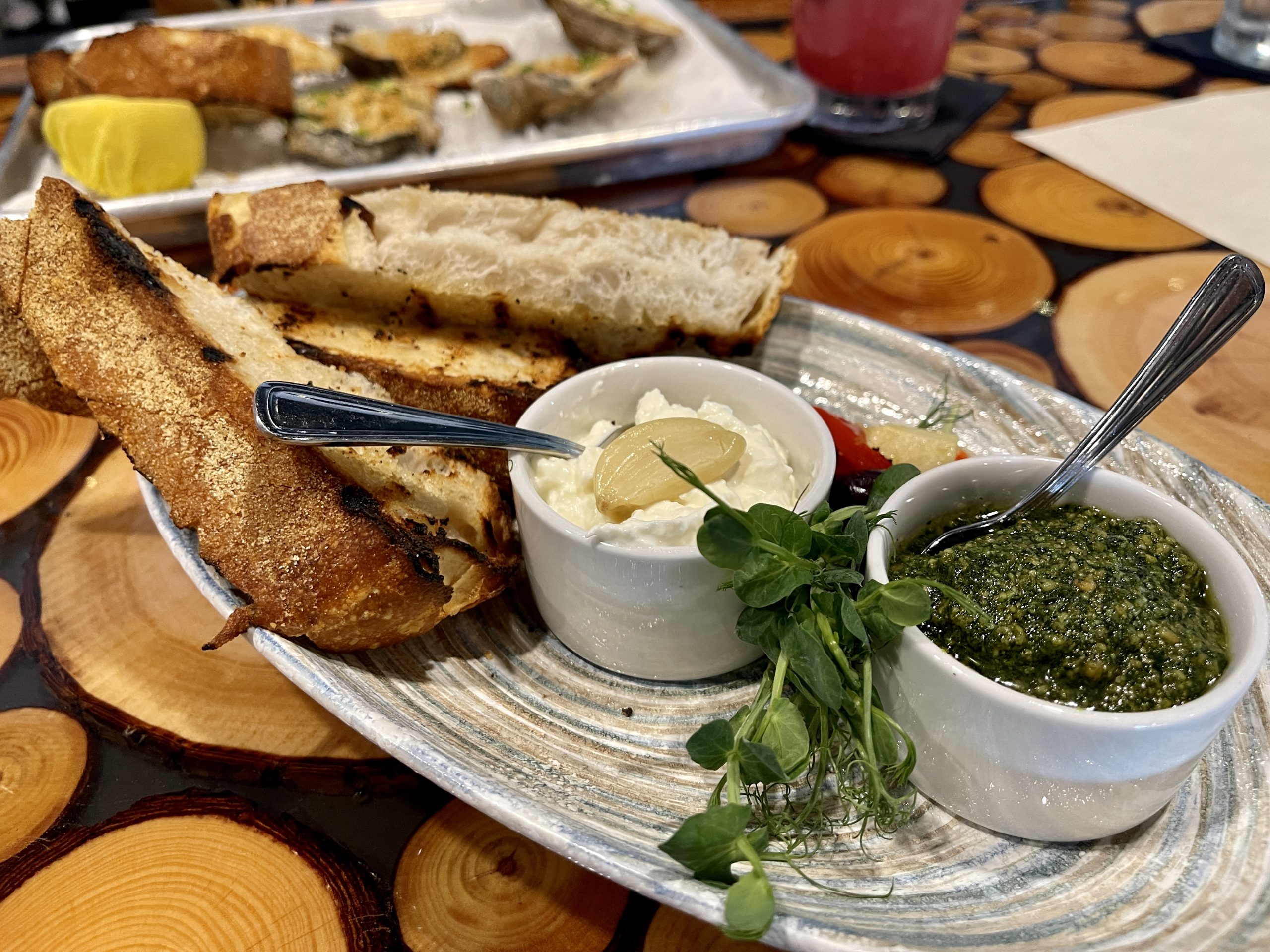 The Spreads & Breads is available on the brunch menu. A simple, yet delightful dish served with grilled bread to top with whipped ricotta and a marcona almond pesto.
The first time I visited, I wasn't enraptured by the spicy shrimp on the menu and just looked past it. Until I saw someone nearby order it and could smell it from across the bar. When I dined again we decided to order it and it did not disappoint. Six shrimp swim in a slightly spicy (could be spicier), flavorful garlic sauce topped with roasted pepper and served with grilled bread to sop up the sauce with.
When my friend and I went for brunch, we were both a little boring with our entrees. I had been craving blueberry pancakes over the previous week, and when I saw it was on the menu I knew I had to order it. As they call it at Oaks, the "Plate Cake" is a jumbo buttermilk pancake with the options of chocolate chip, blueberry or plain. It's served with maple syrup, sausage links, and hashbrowns. The pancake was crispy around the edges and fluffy in the middle… just how I like it.
9. Raw Oysters & Grilled Oysters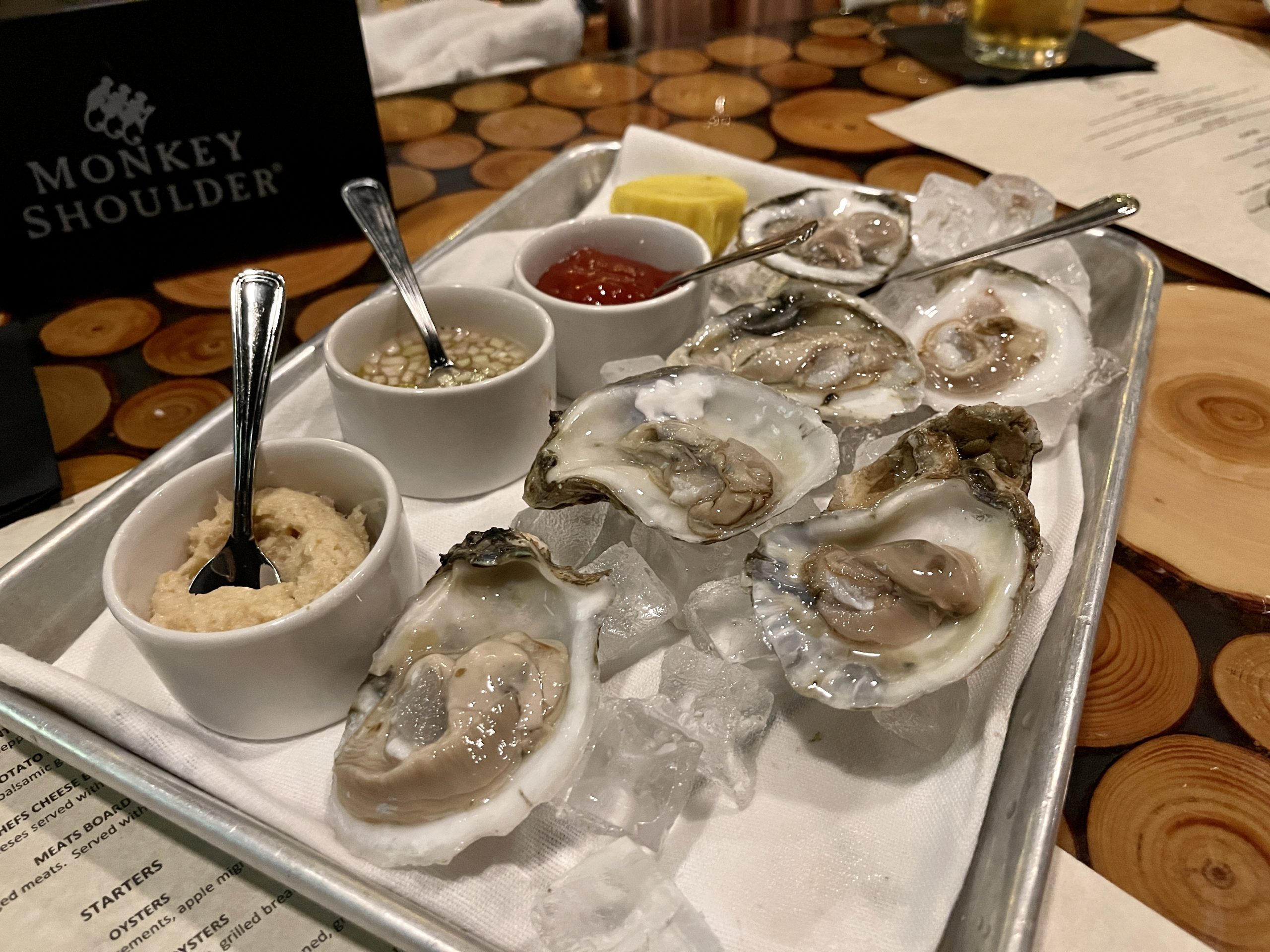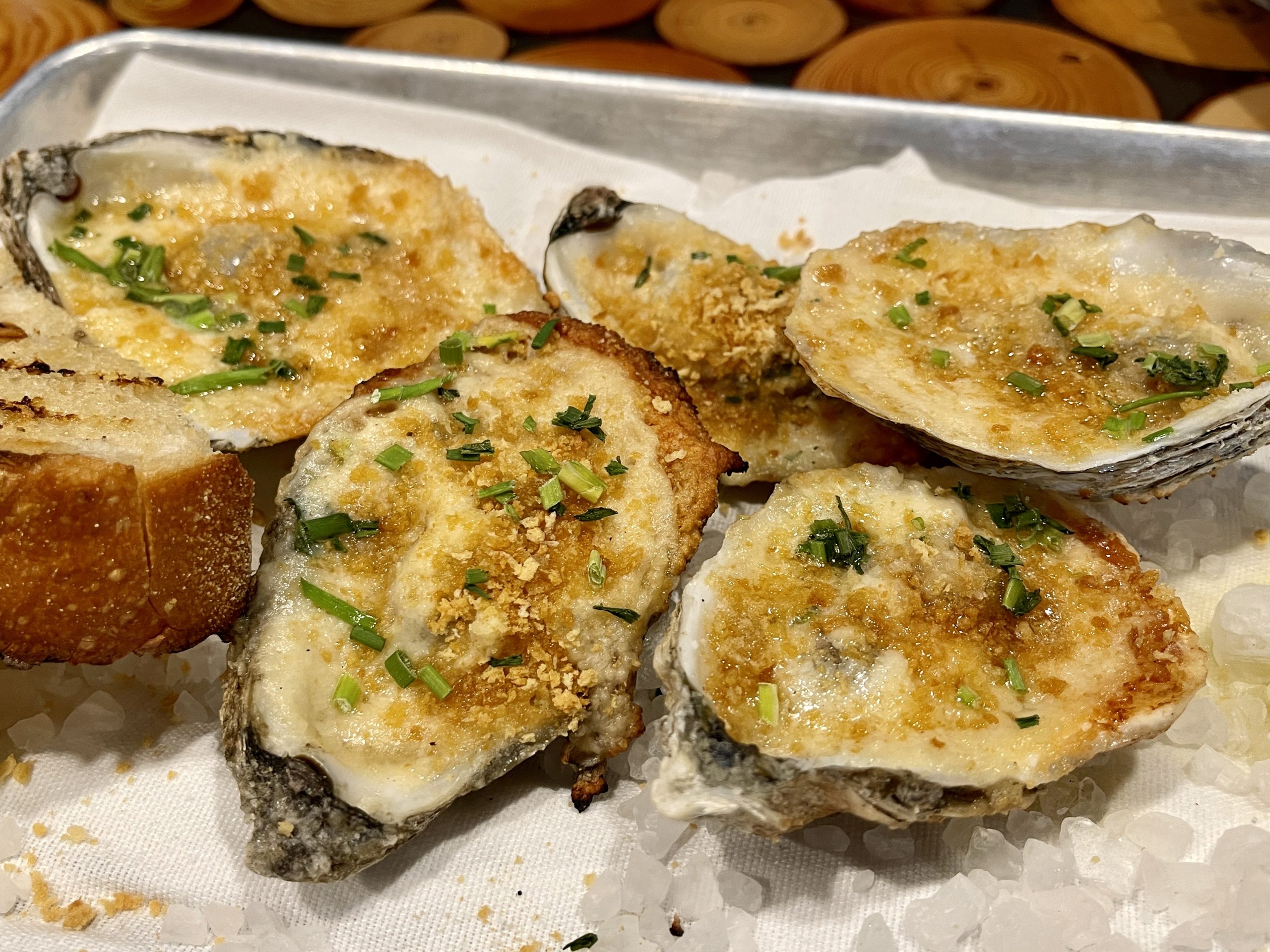 One of the initial things that made me excited about Oaks was realizing that they were going to be serving oysters. I am an oyster fiend and order them nearly any time I see them on a menu. Oaks serves them two ways and on two menus (brunch & dinner). Raw oysters are served with crackers, green apple mignonette, horseradish, and cocktail sauce. They also serve grilled oysters, topped with garlic butter, panko, parmesan with grilled bread on the side.
10. Clams Carbonara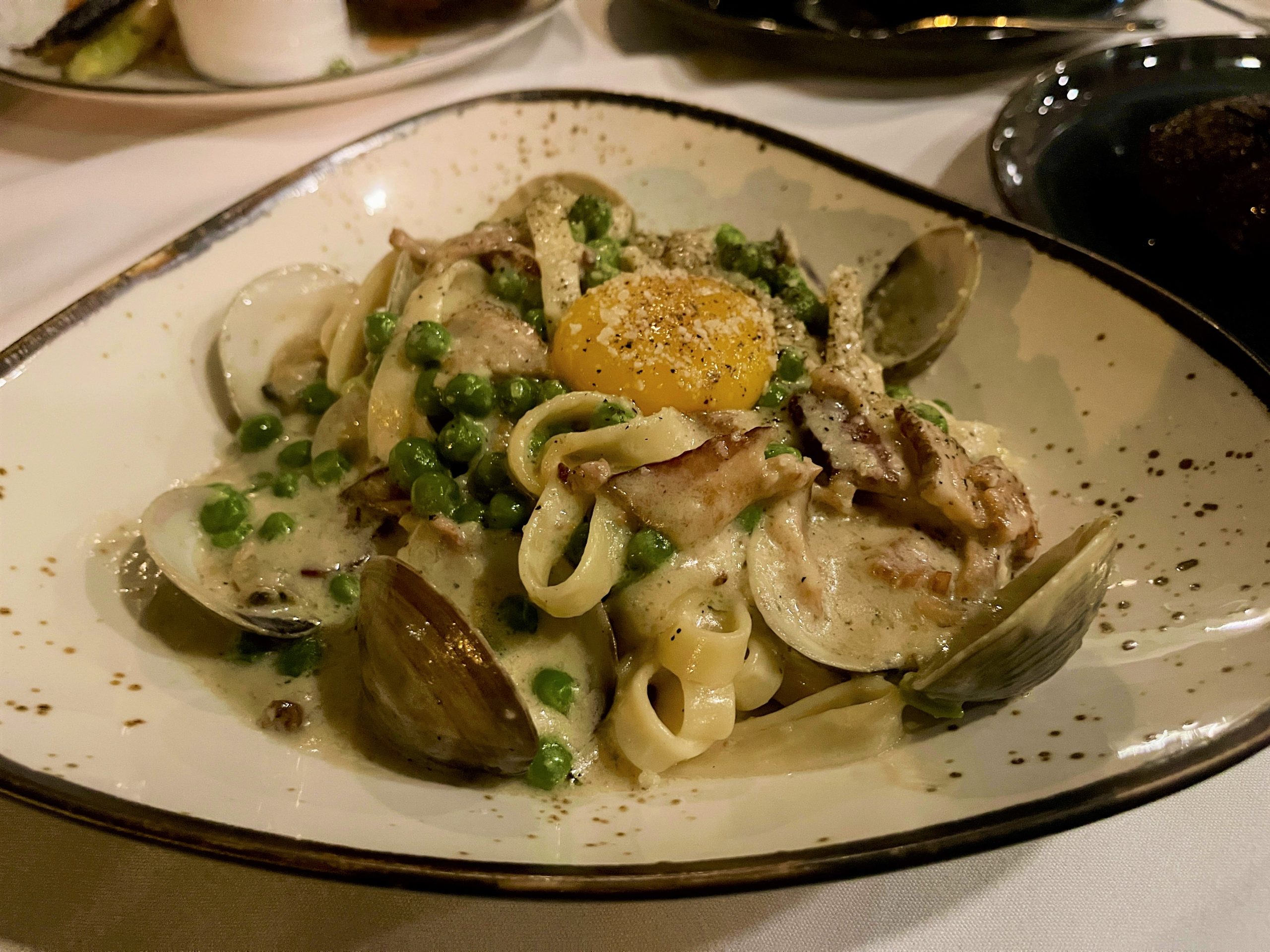 I was really looking forward to the Clams Carbonara since I first saw it on the menu. House pasta, steamed clams, white wine, garlic, English peas, smoked bacon, parm and an egg yolk make up this dish. The carbonara had a deep but light flavor, it was missing a bit of salt that could have really amped up the layers of flavors I was picking up.
11. Smashed Cheeseburger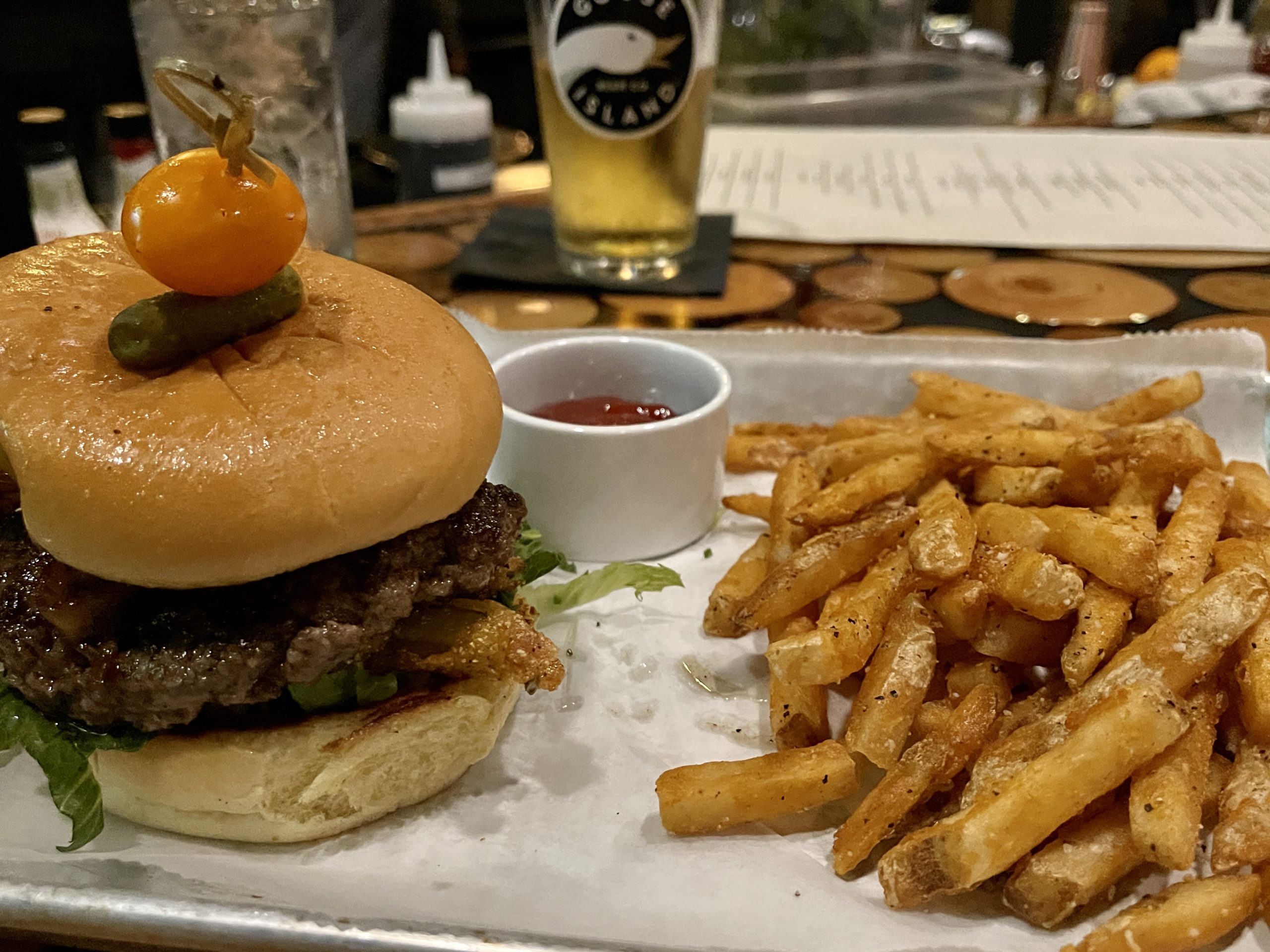 The Smashed Cheeseburger comes with a large smashed patty topped with house pimento cheese, caramelized onions, tomato jam, crispy fried pickles and lettuce with a side of house cut fries. The burger was juicy and had many layers of flavor but was very messy and hard to eat.
12. Farmer Standard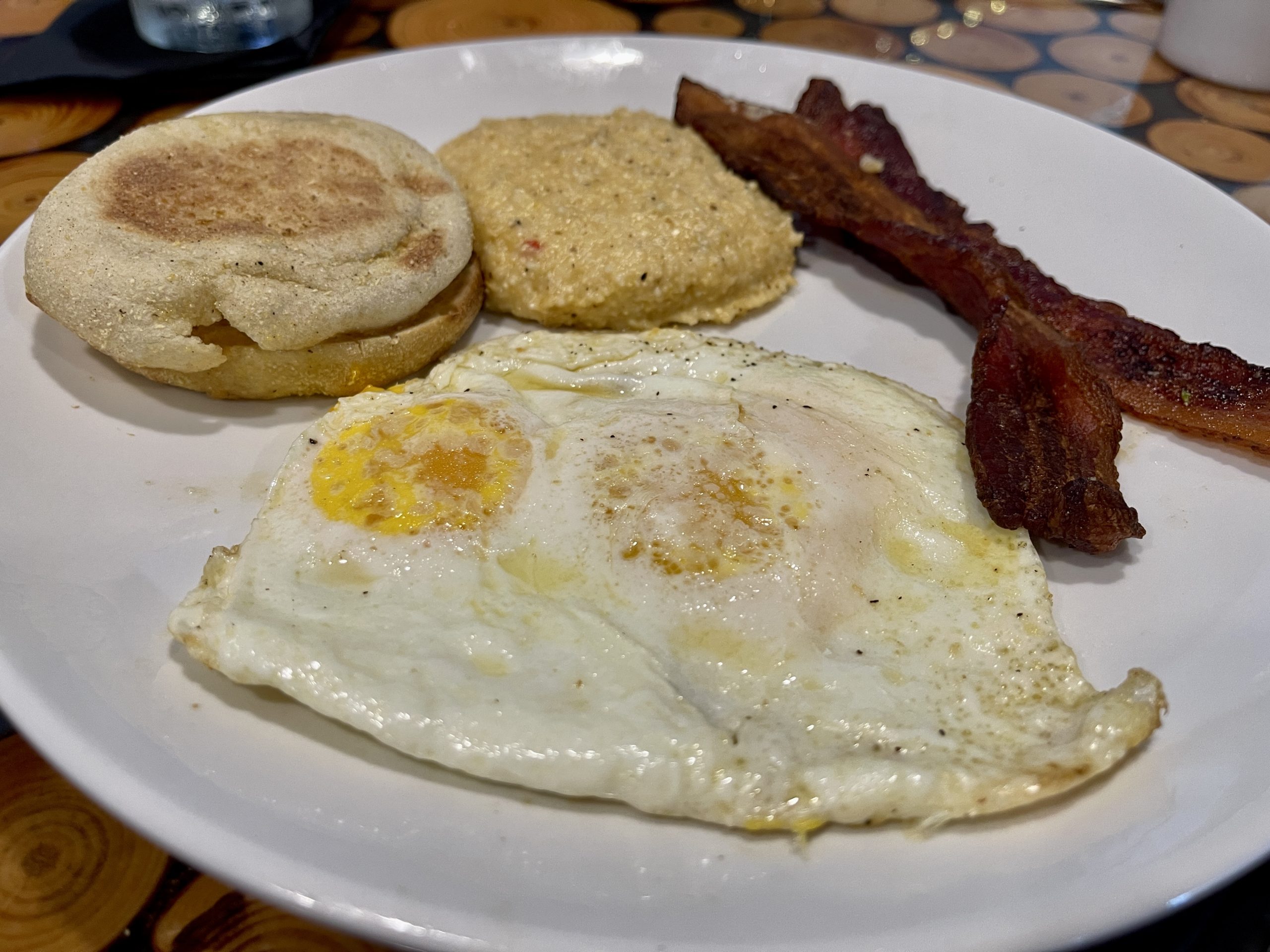 The Farmer Standard is your classic breakfast. Typically served with two eggs your way, hashbrown potatoes, house bacon, sausage and your choice of toast. We swapped out the sausage for grits, since mine already came with sausage. My friend who ordered this may be mad at me for putting it so low. Honestly, it wasn't even a bad dish. Everything was cooked perfectly and the grits were tasty. It just isn't an exciting dish. Unfortunately, it seems their hashbrowns may be from the same place McDonald's orders their hashbrowns (I don't even think I took a picture of them, but if you can picture McDonald's hashbrowns, that was what was served), I am hoping that's something they change for future brunches.
The Deviled Eggs have a southern truffle filling and topped with mustard seed and house bacon. I didn't really pick up the truffle flavor and there was a lack of flavor overall in the dish.
Cocktails (in no particular order)
Agave Old Fashioned – Vida Mezcal, orange & chocolate bitters, agave simple syrup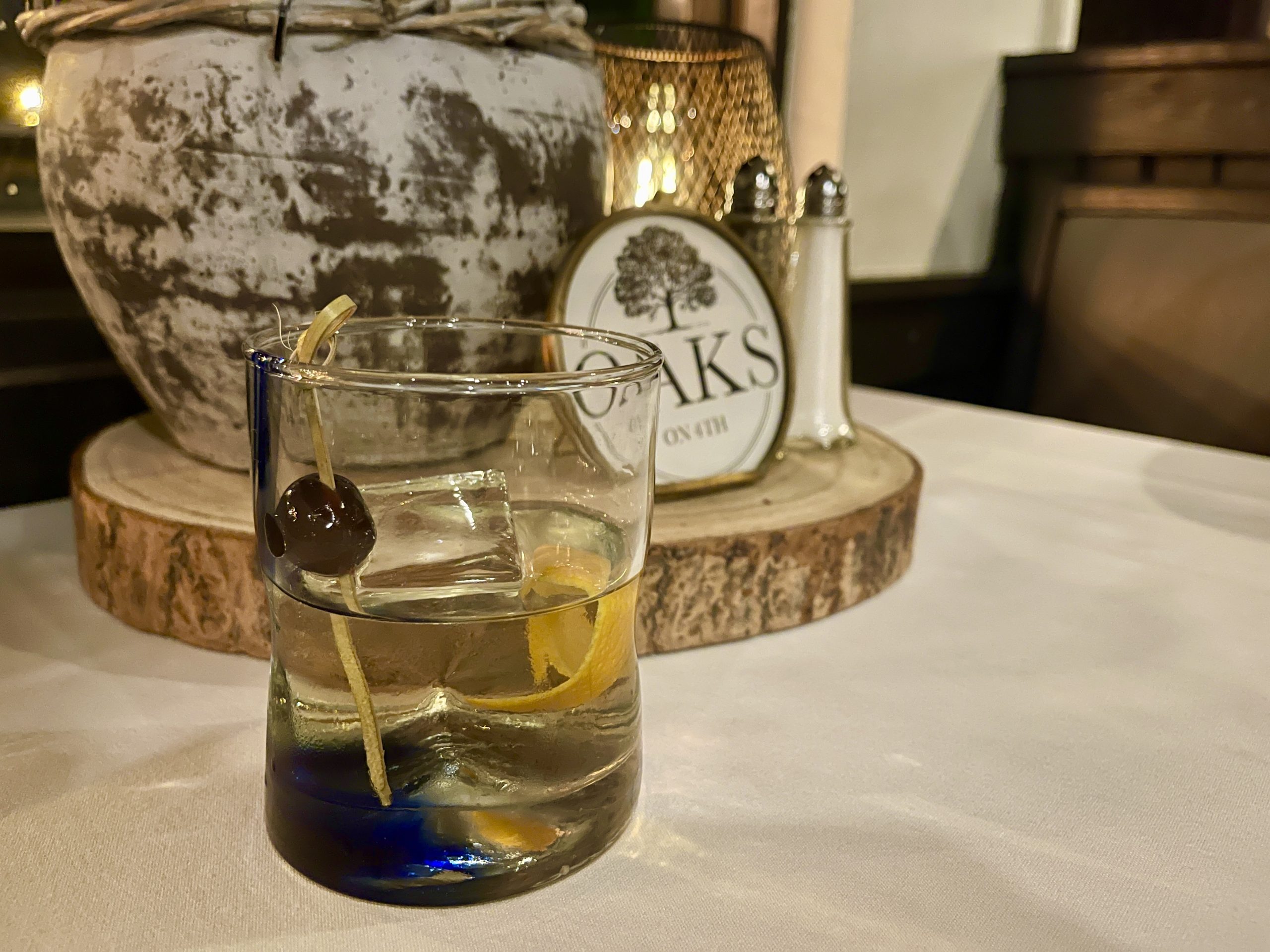 My friend ordered this drink and while I am not a fan of Mezcal or Old Fashioneds, I tasted it and could see how one could enjoy it. It was boozy and smoky and my friend quite enjoyed it.

Gin in the Grass – Infused Gin with fresh ginger, lemongrass & citrus, lime juice, simple syrup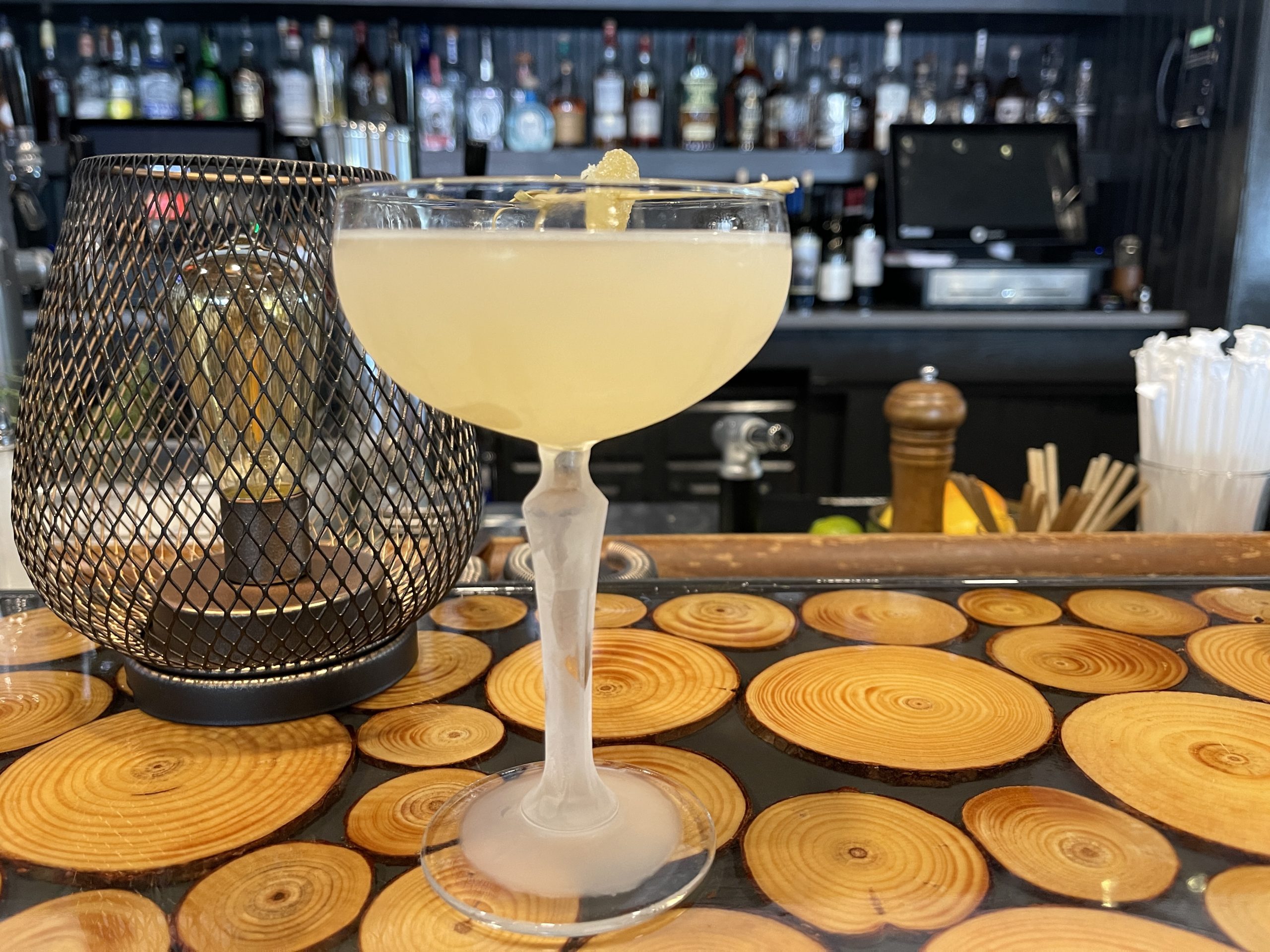 The gin is infused in house for weeks at a time before they open it up to make these cocktails. The infusion is so well done, you could probably have the gin by itself and be satisfied.
Paloma Rose – Rosemary & citrus infused tequila, agave simple syrup, lime juice, Fever Tree sparkling grapefruit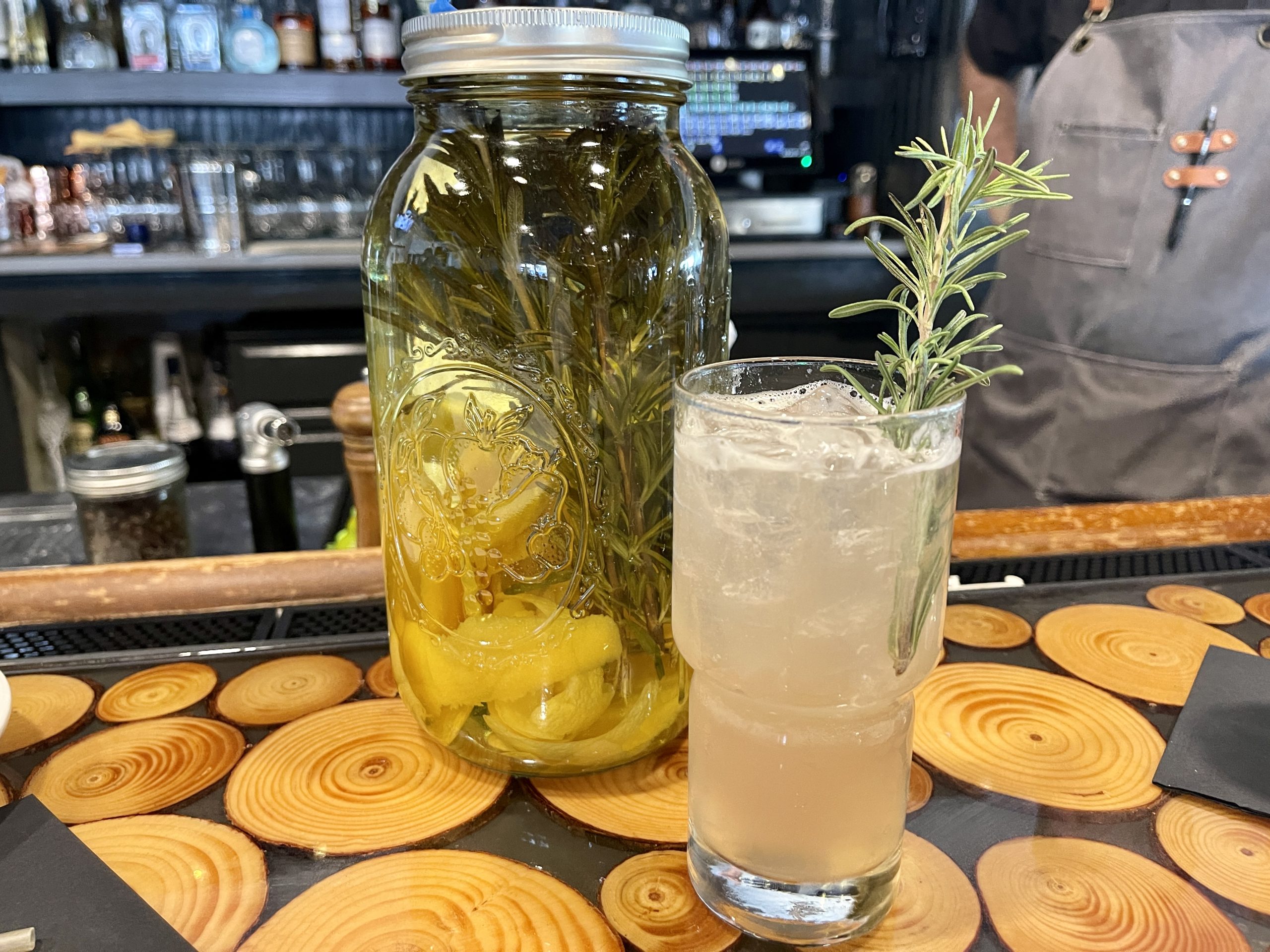 This time a tequila is infused in house for weeks at a time with rosemary & citrus to make this Paloma cocktail. It is refreshing and light and may just be one of the best Palomas I've ever had.
Basil Bramble – St. George Gin, Crème de Mure, basil & blackberry simple syrup, lemon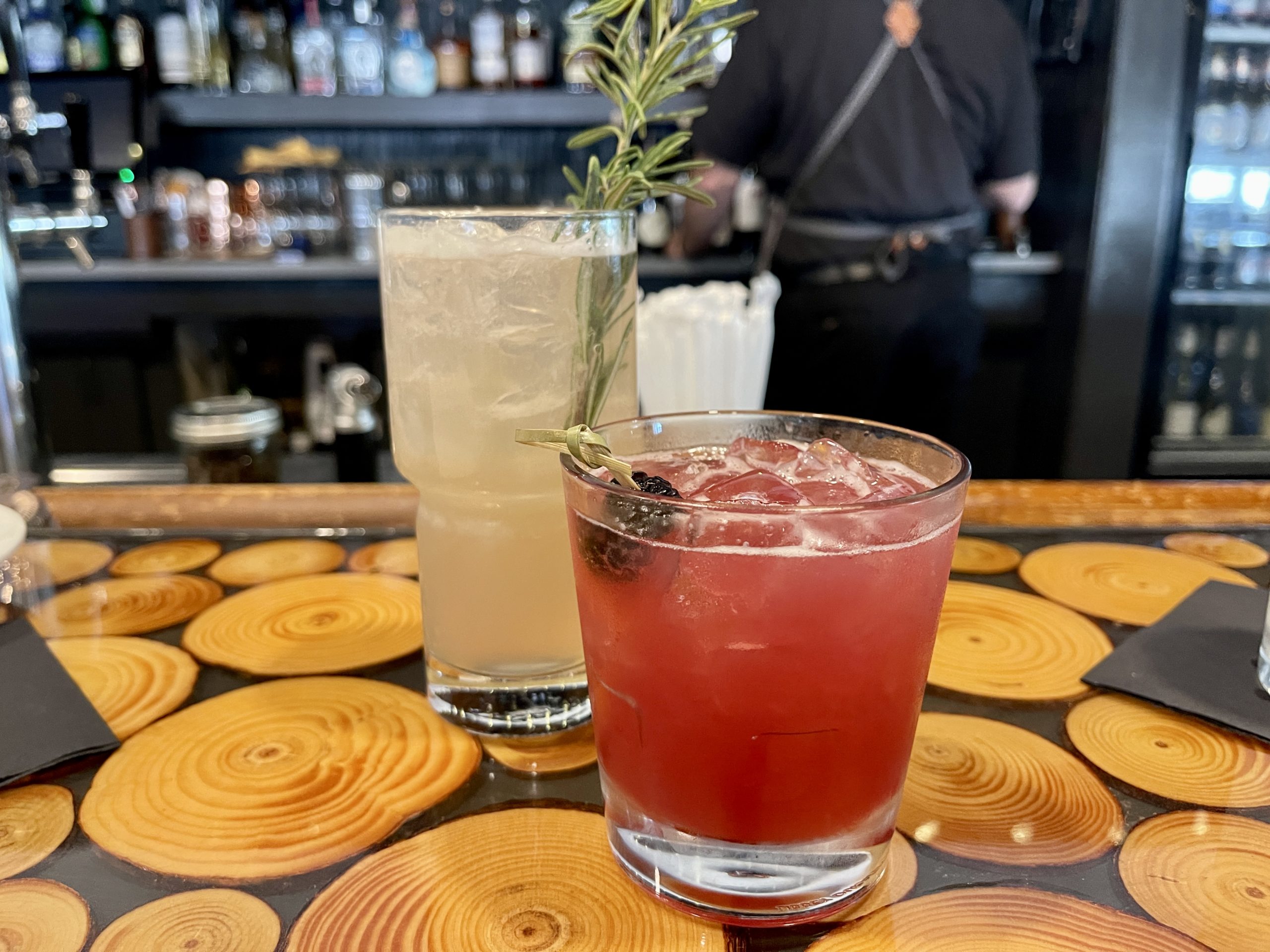 The Basil Bramble is the perfect brunch drink. It screams day time with refreshing and fruity flavors, while not being too sweet.
Classic Dirty Martini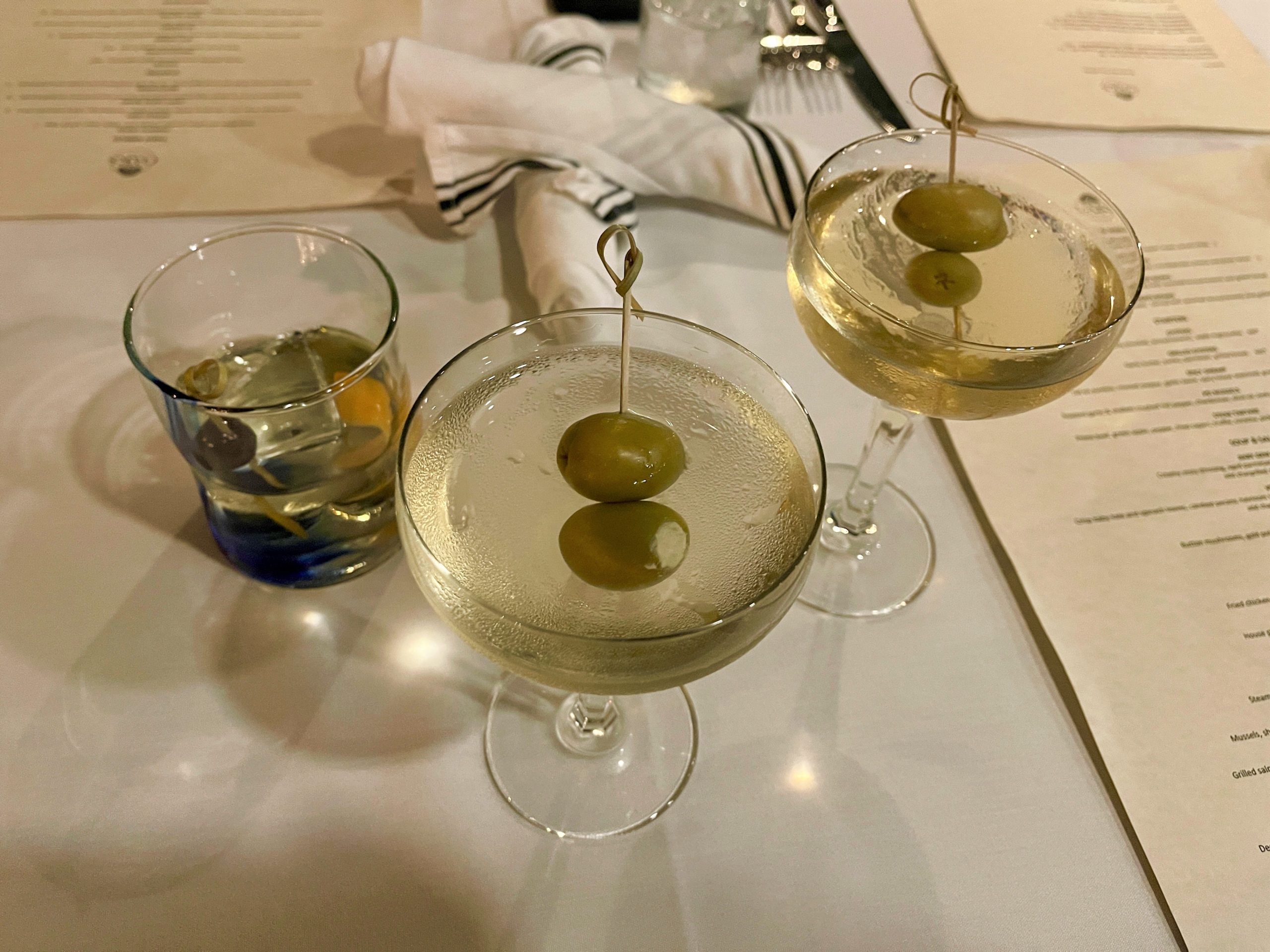 The bartenders at Oaks on 4th make a wonderful classic dirty martini served with hand stuffed blue cheese olives.
Oaks on 4th is one of the best new restaurants in St. Petersburg. I am so happy to have another restaurant on the North side that is of the caliber of downtown St. Pete restaurants. To avoid the hustle and bustle of downtown and have a meal that is just as good, if not even better than 98% of the restaurants downtown is a win in my book. As I've mentioned, I have already been there 3 times in the last month and I do not plan on slowing down my visits anytime soon.
Approachable elevated restaurant serving bruch and dinner.
DISCLAIMER: Kevin, Lori, Abby, Haley, & Lindsey do not dine anonymously (this would be impossible) and we sometimes get free food (though never expected). However, we dine with the locals and we support our own. You will always get honesty in a respectful manner. We do not include any large national or regional chains in our ratings and reviews. We focus on independent locally owned eateries exclusively.

PLEASE NOTE: Reviews reflect a certain moment in time. Some restaurants stay extremely consistent over many years, and some change for the better or worse. Some things that may change are: chefs, recipes, food suppliers, ingredients, philosophies, ownership, etc. We always hope that you have the same good, or great experience we had.
More Foodies News, Reviews & Recipes