Tap Into Some Great Apps at The Hollander's Tap Room
Tap Into Some Great Apps at The Hollander's Tap Room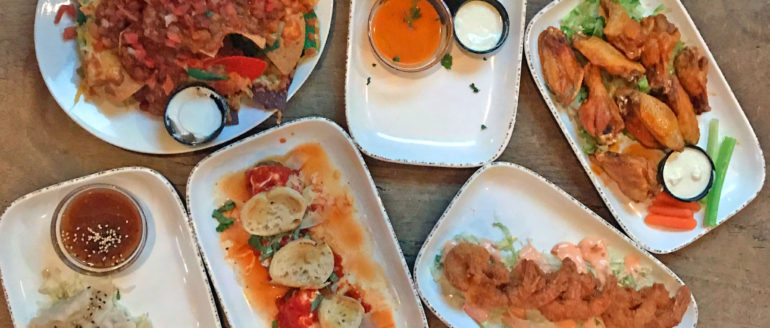 The Tap Room at The Hollander's Happy Hour is a Great Deal
The Tap Room is a really cool, fun place to hangout in the heart of downtown St. Pete.
It's in The Hollander Hotel, so you have an eclectic mix of locals and tourists, and you never know who you are going to meet, old friends and new friends alike.
The ambience is casual, but charming and grand at the same time, as it is in a building that was built in 1933.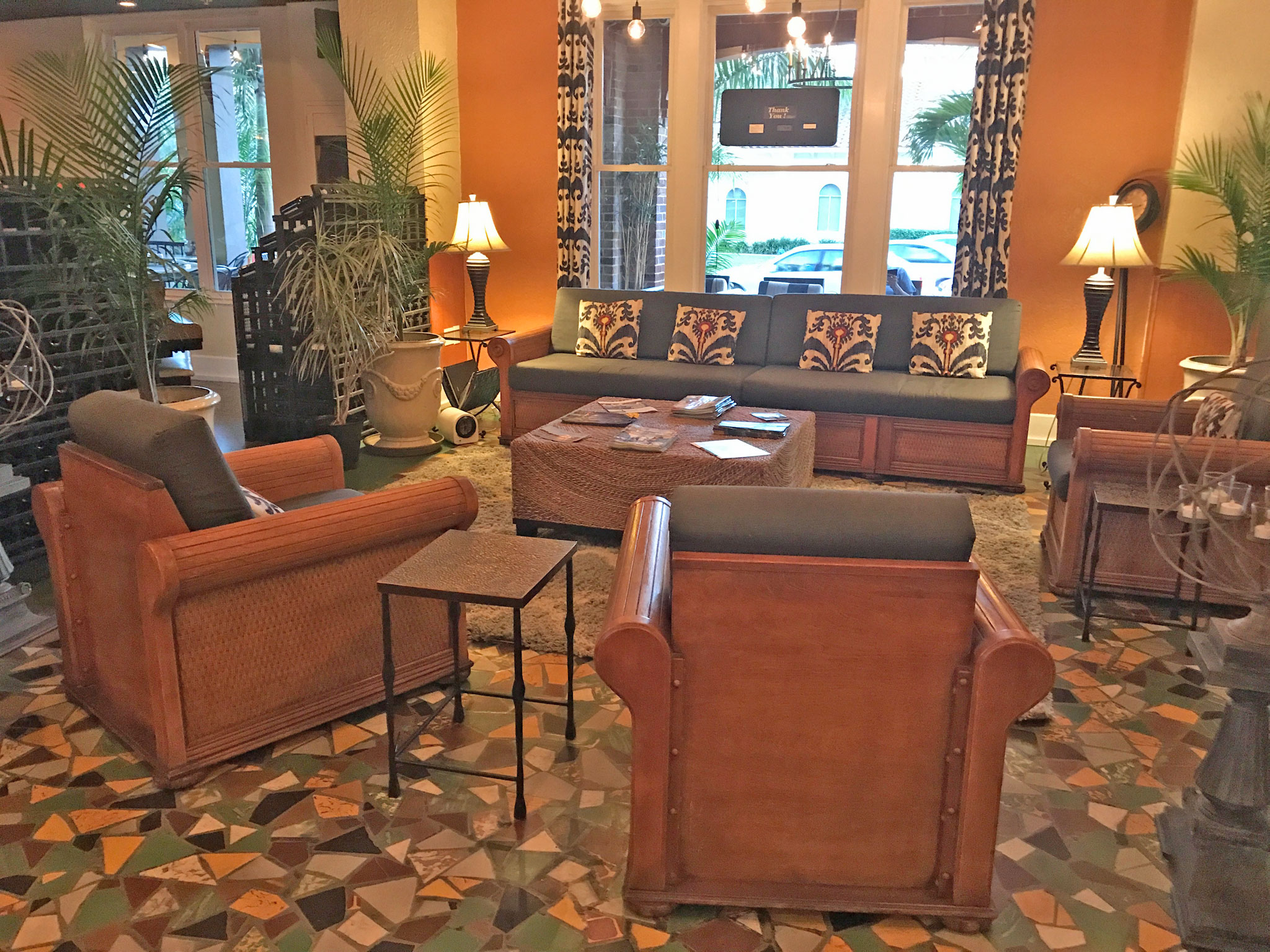 The Tap Room has a great happy hour, live music (on weekends), craft beer, and tasty eats with indoor and outdoor seating.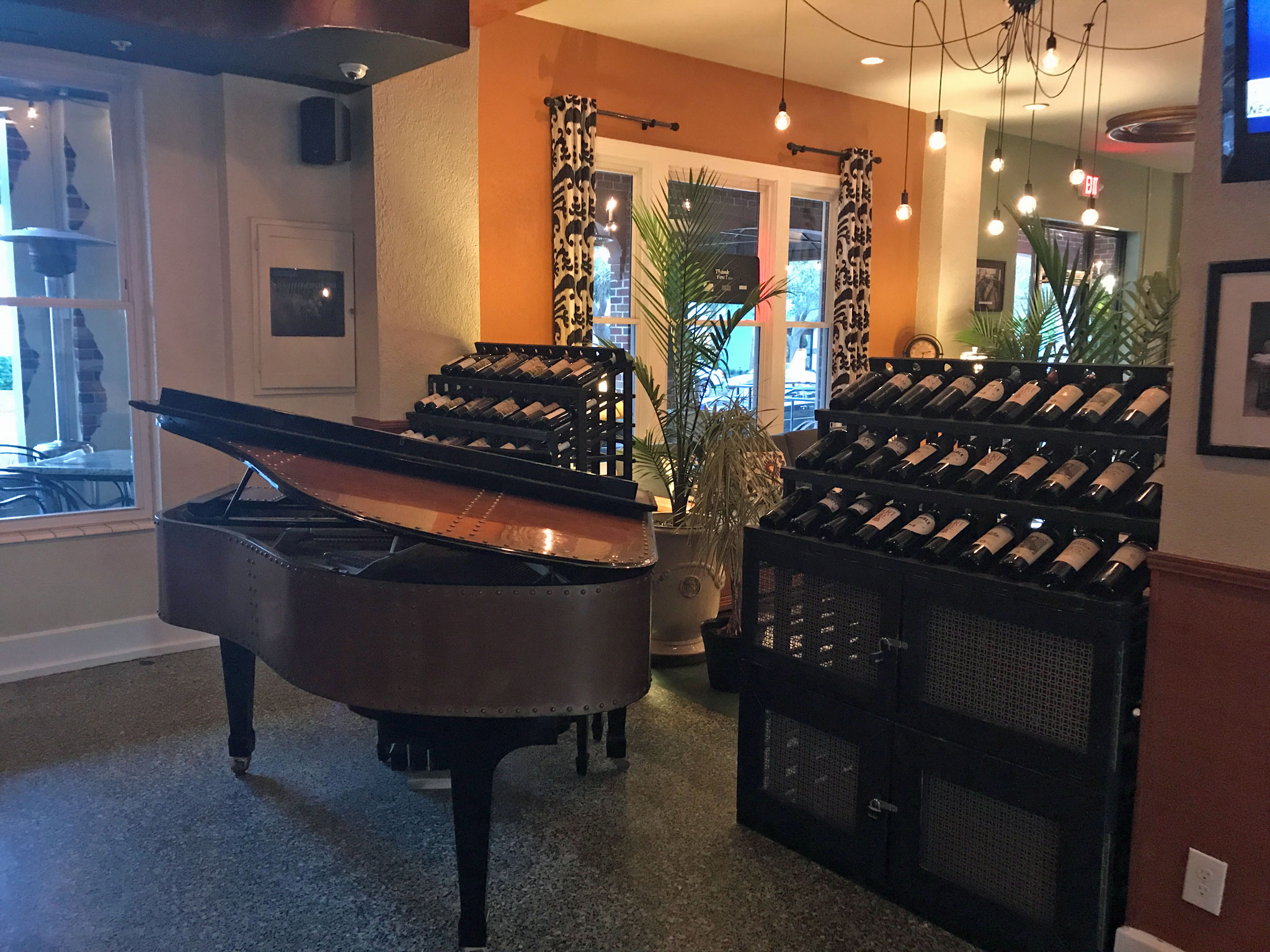 In the midst of them contacting us to update their info on our Downtown St. Pete Happy Hour list, they asked us to come in and have some bites and imbibes.
The Tap Room Happy Hour details are as follows:
Mon – Fri 3pm – 6pm
$6 Appetizers
$5 Hollander Margarita
$5 Martini
$4 Fresh Seasonal Daiquiri
$4 House Wine
$3 Fireball Shot
$3 Select Craft Beer
Daily Specials 11pm – Close
Monday- $5 Martini Monday
Tuesday- $3 Craft Beer
Wednesday- $10 Burger, Select Craft Beer and your choice of a side.
Thursday- 1/2 Off Bottles of Wine
We brought two other couples with us and shared six $6 appetizers and a few $5 Banyan Reserve martinis.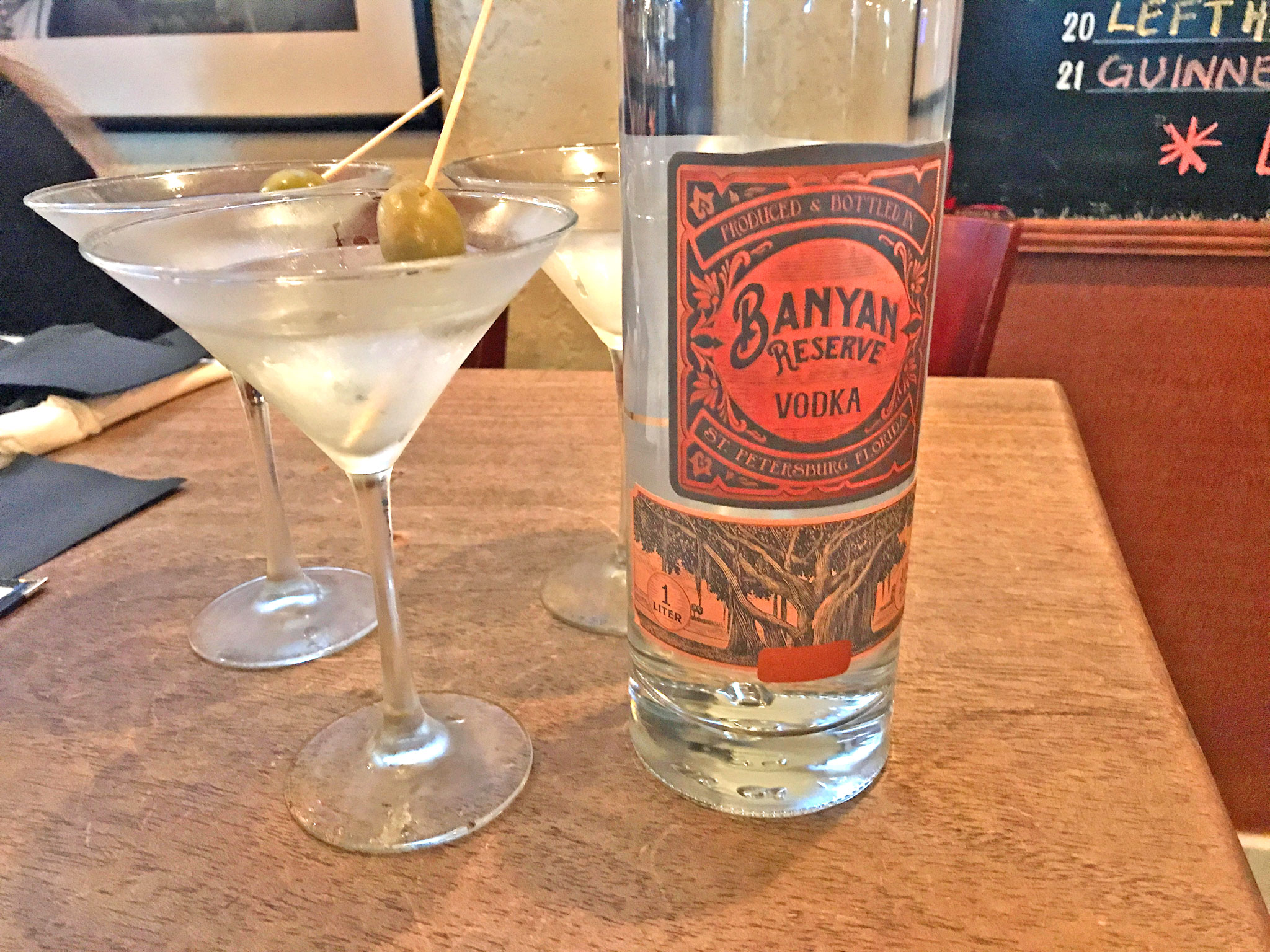 We like to see local supporting local as that's what we're all about too. Banyan Reserve Vodka is made right here in St. Petersburg by The St. Petersburg Distillery. In 2016, Banyan Reserve was awarded Best Vodka in the South by Southern Living Magazine.
It is 6-times distilled with an 8-time charcoal filtration process, including a special resting phase for a smooth crisp taste… and the martinis are only $5!
You shouldn't drink martinis on an empty stomach though, so let's have some bites.
Buffalo Cauliflower Bites – Crispy cooked cauliflower tossed in a medium heat Buffalo sauce, served with ranch or blue cheese.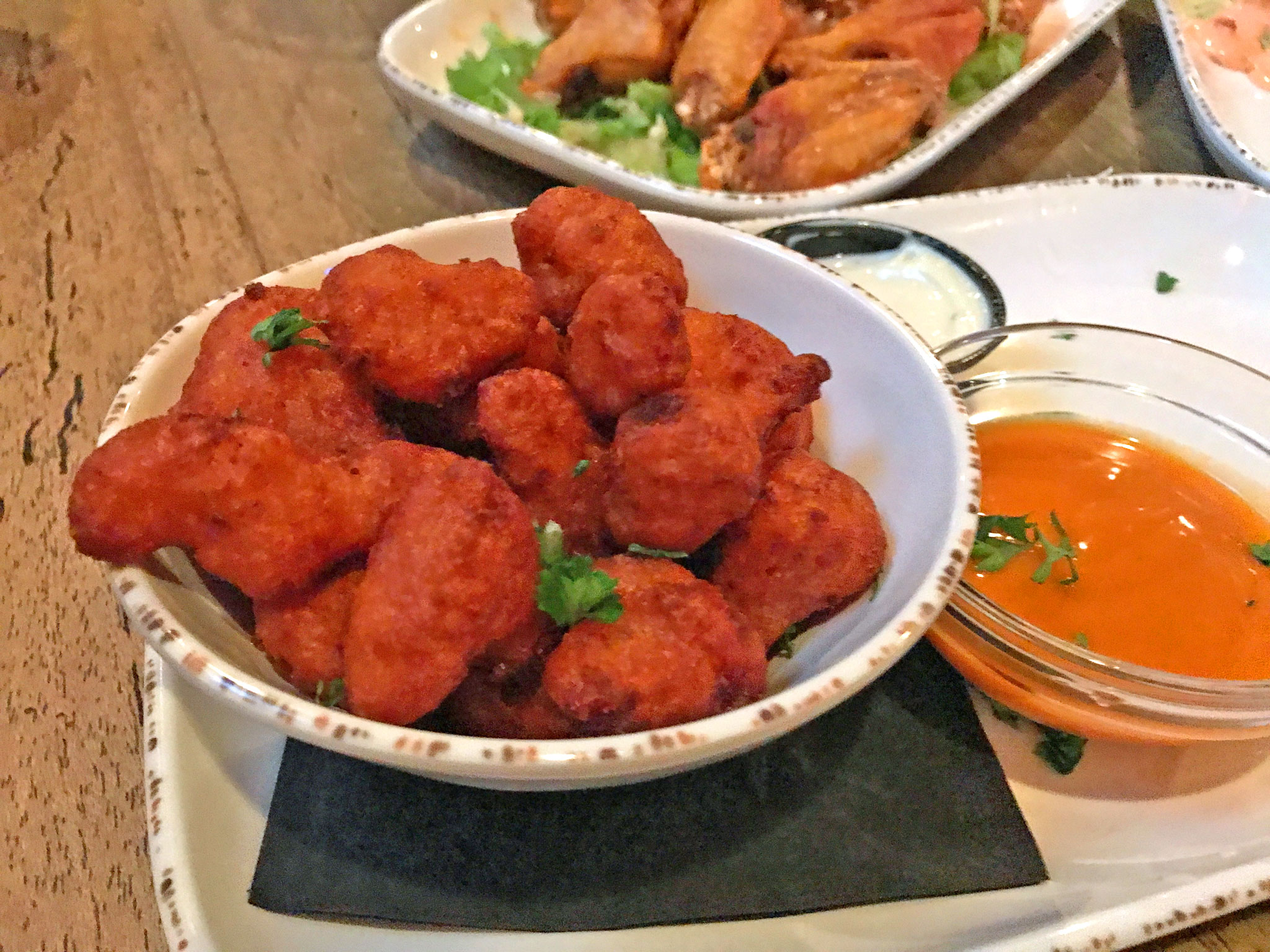 The Buffalo Cauliflower Bites were quite good. They were crispy on the outside with the perfect amount of density inside. Sometimes you can get these where they are mushy on the inside, but not at The Tap Room. They are medium heat by themselves, and I enjoyed them more so when dipped in the accompanying sauce. It gave them more spice and more buffalo sauce flavor.
Hollander Meatballs – Top Choice ground beef, with authentic Italian herbs and homemade marinara sauce, topped with mozzarella cheese.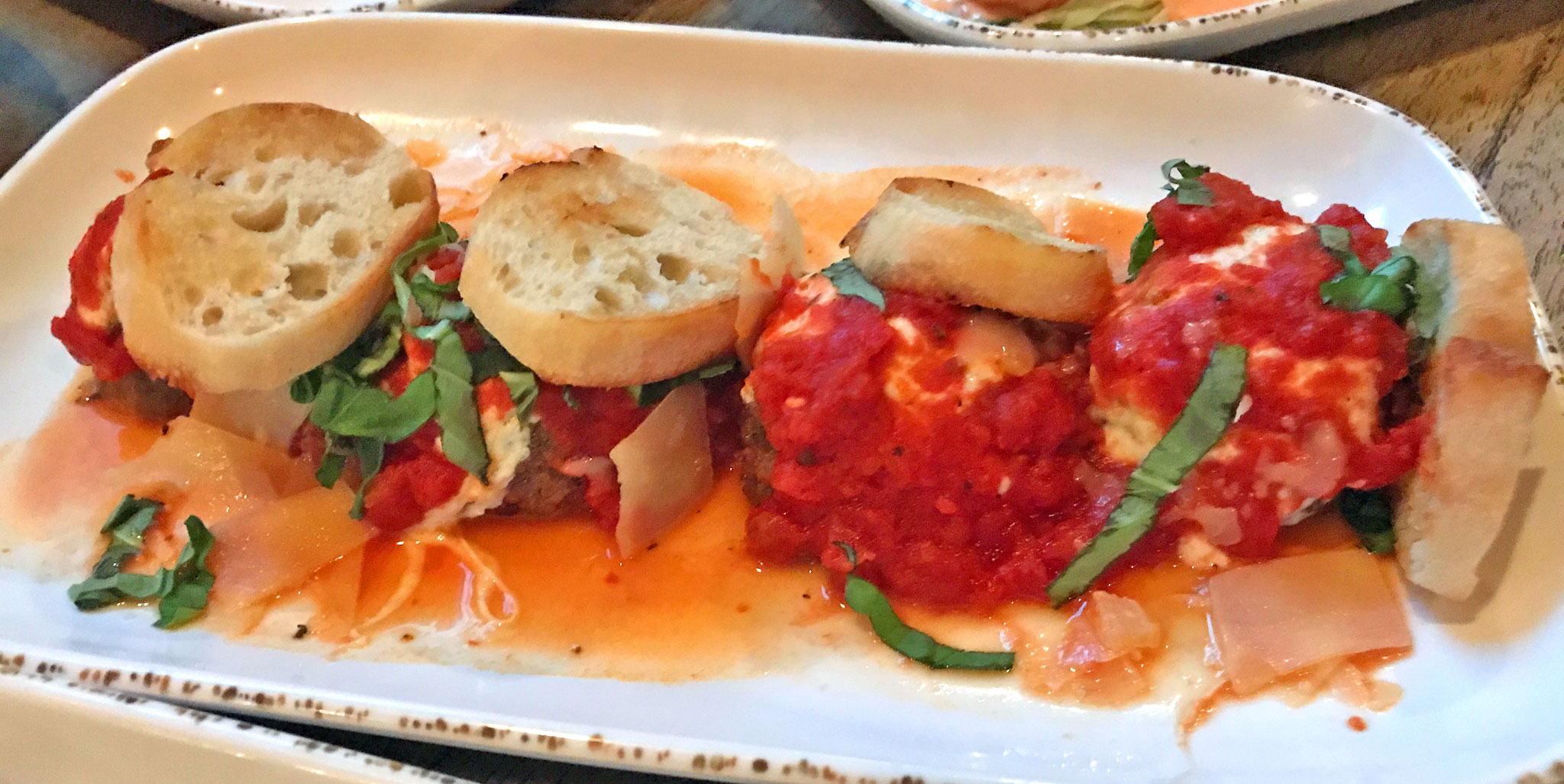 The Meatballs.
Lori and I couldn't disagree more on the meatballs.
She did not like them at all, but I thought they were quite good, even better than certain Italian restaurants in town. Lori felt they were too dense and dry.
They were a little bit too hard to cut with just your fork. You needed your knife. This bothered her, but not me as I recently had meatballs elsewhere, and they were so soft that there was a unsatisfying mouthfeel, and they seemed cheaply made.
The Tap Room's meatballs, in my opinion, were flavorful and hearty with the melted mozzarella adding an extra dimension, and the marinara sauce definitely passing for homemade. Deeee-licious! The Tap Room will be one of my go-tos for meatballs, and they will be all mine!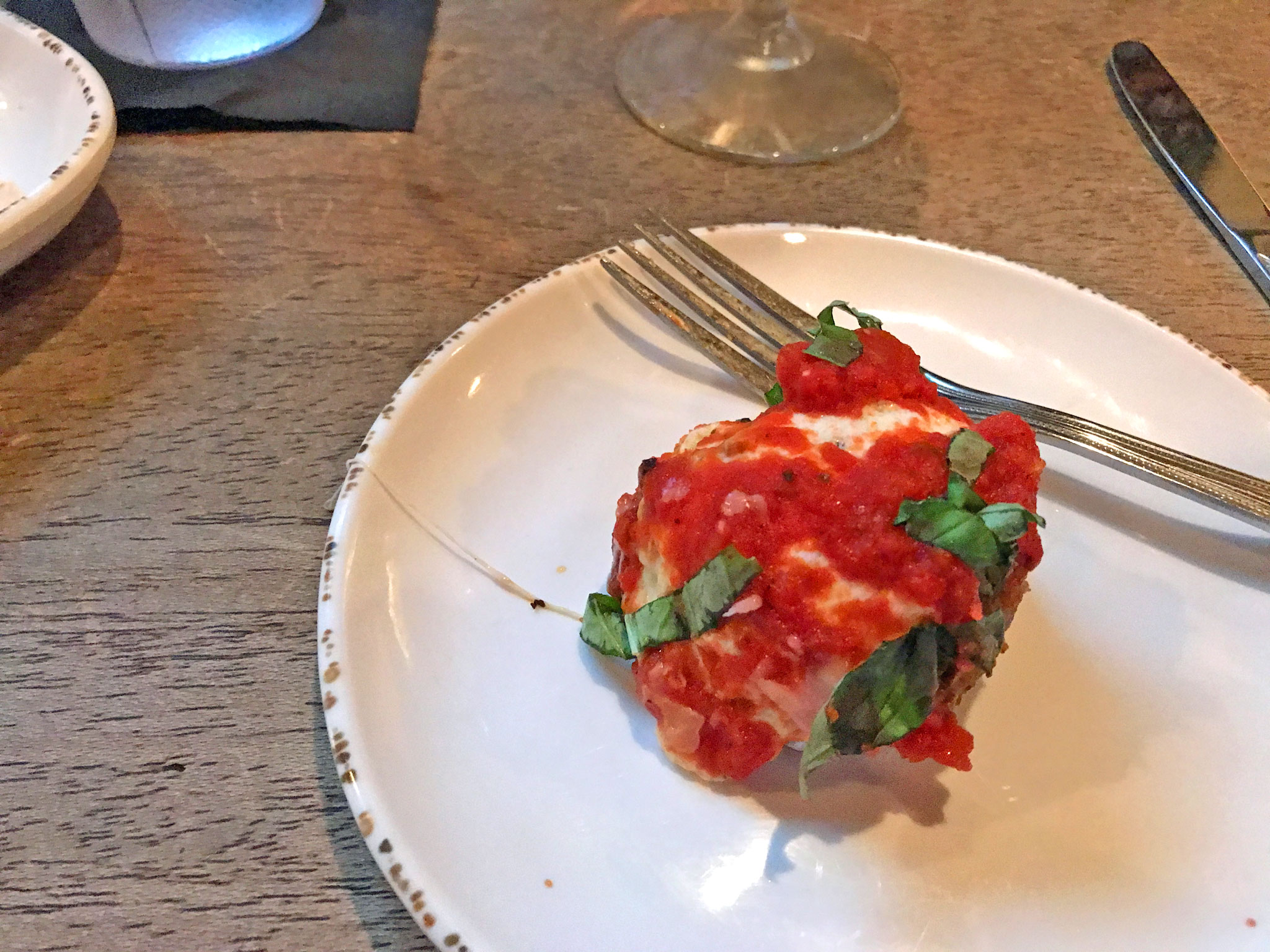 The above meatball did a fantastic trick, but remarkably, no one saw it, so you will have to take my word.
I cut it in half, stabbed it with my fork, and proceeded to put it in my mouth when it fell off the fork. I tried to catch it with my bare hand.
It bounced out of my hand, ricocheted off my shirt, (leaving behind some marinara sauce on my Brooks Brothers shirt), and then landed back in my hand.
Occupational hazard.
Bangkok Shrimp – Seven hand-breaded fried shrimp tossed in a creamy sweet Thai chili sauce.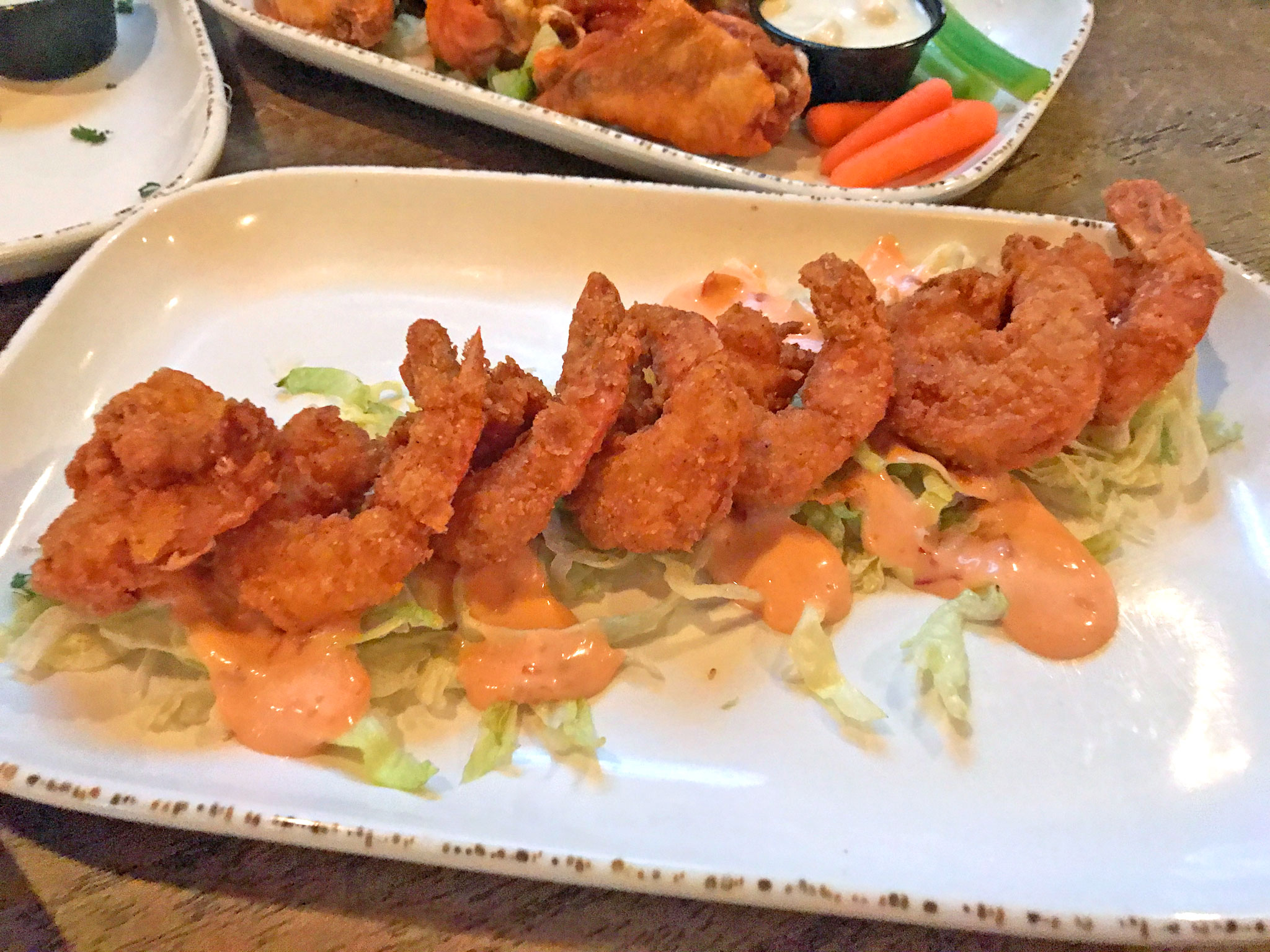 The Bangkok Shrimp was splendidly done, quite crunchy on the outside, and plump and juicy on the inside with a tangy spiciness from the sauce.
Chicken Wings – Fresh jumbo wings, tossed in your choice of sauce: mild, medium, habanero hot, mango habanero, blackened, sweet Thai chili, root beer barbecue, Carolina barbecue, or garlic and herb parmesan.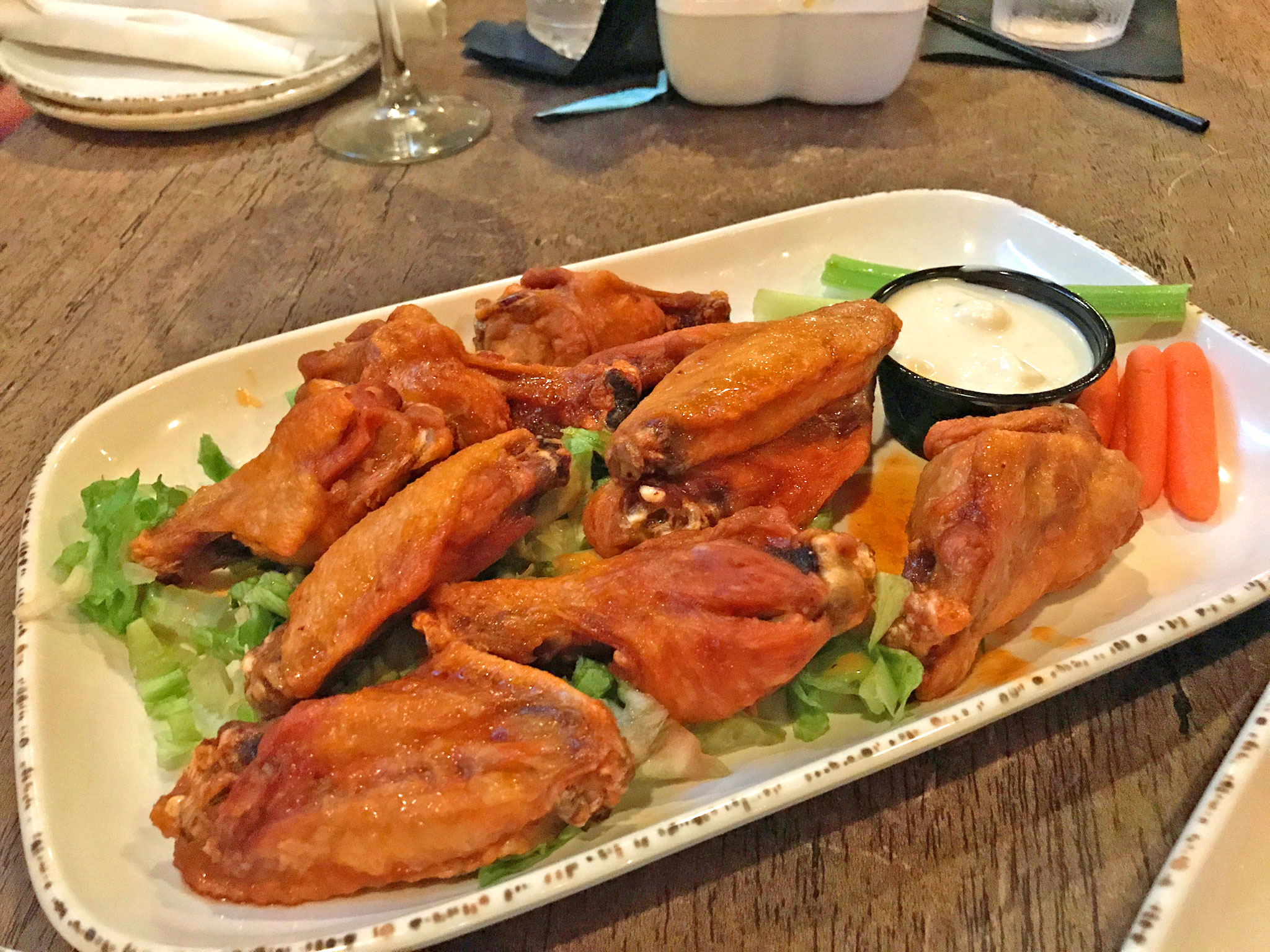 There are certainly a lot of choices on the wing sauces! Left up to me, I would go with the habanero hot, but since we were with a group, we played it safe and ordered medium.
Downtown St. Pete has several places with excellent wings, and I never knew that The Tap Room was one of them. They were exceptionally crisp and crunchy on the outside, and plump and succulent on the inside. I was also pleasantly surprised on how flavorful the medium sauce was. We also liked that they were not smothered in sauce, that it was more baked in.
Asian Dumplings – Stuffed with pork and Asian vegetables. Steamed or fried. Served with an Asian sesame dipping sauce.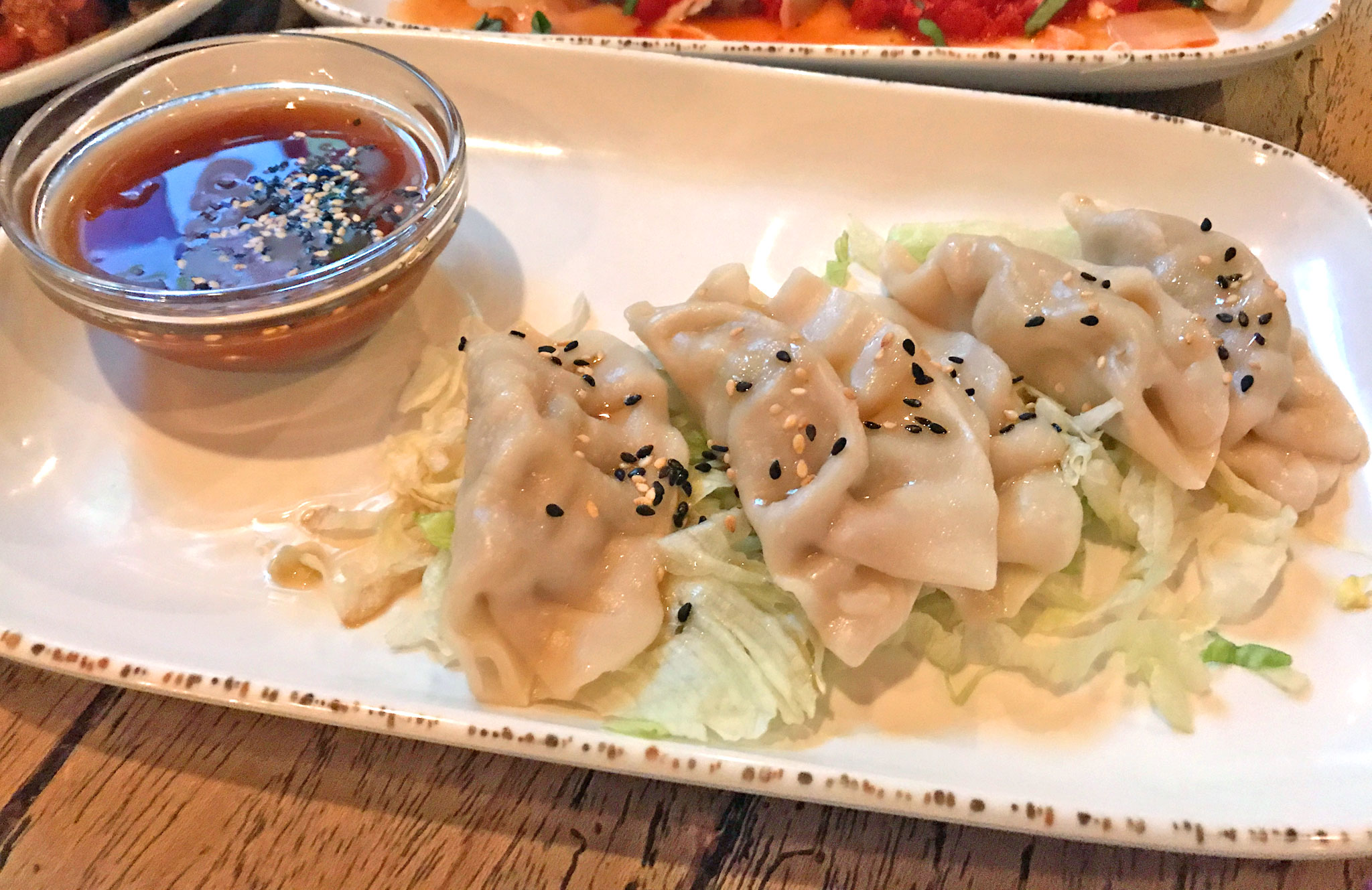 I usually prefer these pan-fried as I enjoy the added texture from the crispness of the char, but I deferred to the crowd.
The Asian dumplings were excellent. The noodle wrappers were light and buttery. The pork provided the savory, chewy satisfaction. The vegetables offered some crunch, and the dipping sauce was excellent, bringing sweet, salt, and tang at the same time.
Tap Room Nachos – House made beef chili over corn tortilla chips, smothered in melted cheddar and pepper jack cheese. Served with salsa.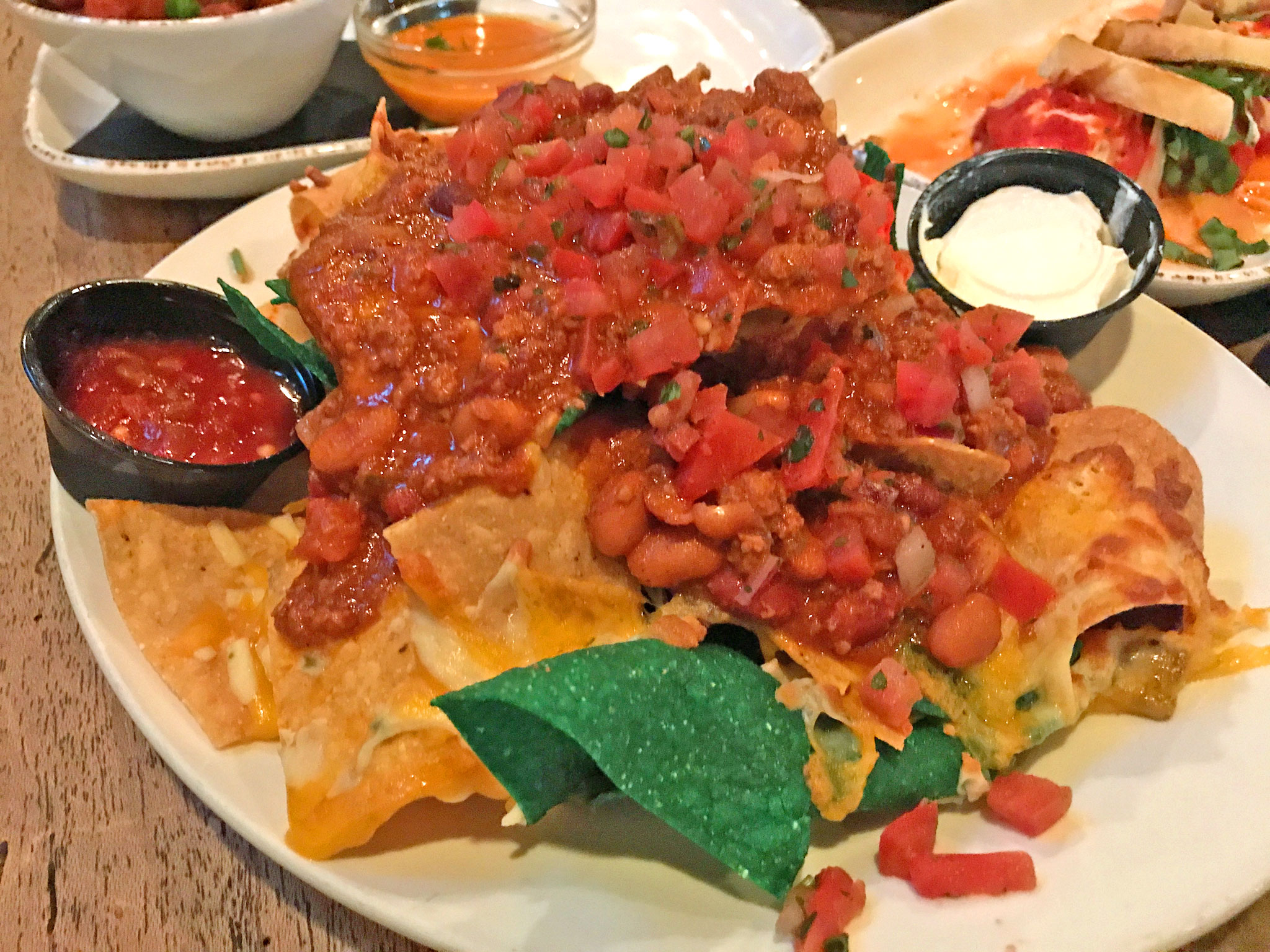 I'm not a fan of this style of nachos. I prefer them done like a canapé where you pick up one chip at a time. I'm probably in the minority on this as almost every place does their nachos where you dump a bunch of stuff on top of a pile of chips. The house-made chili was good, and others at the table enjoyed them.
The Tap Room has several local craft beers as well.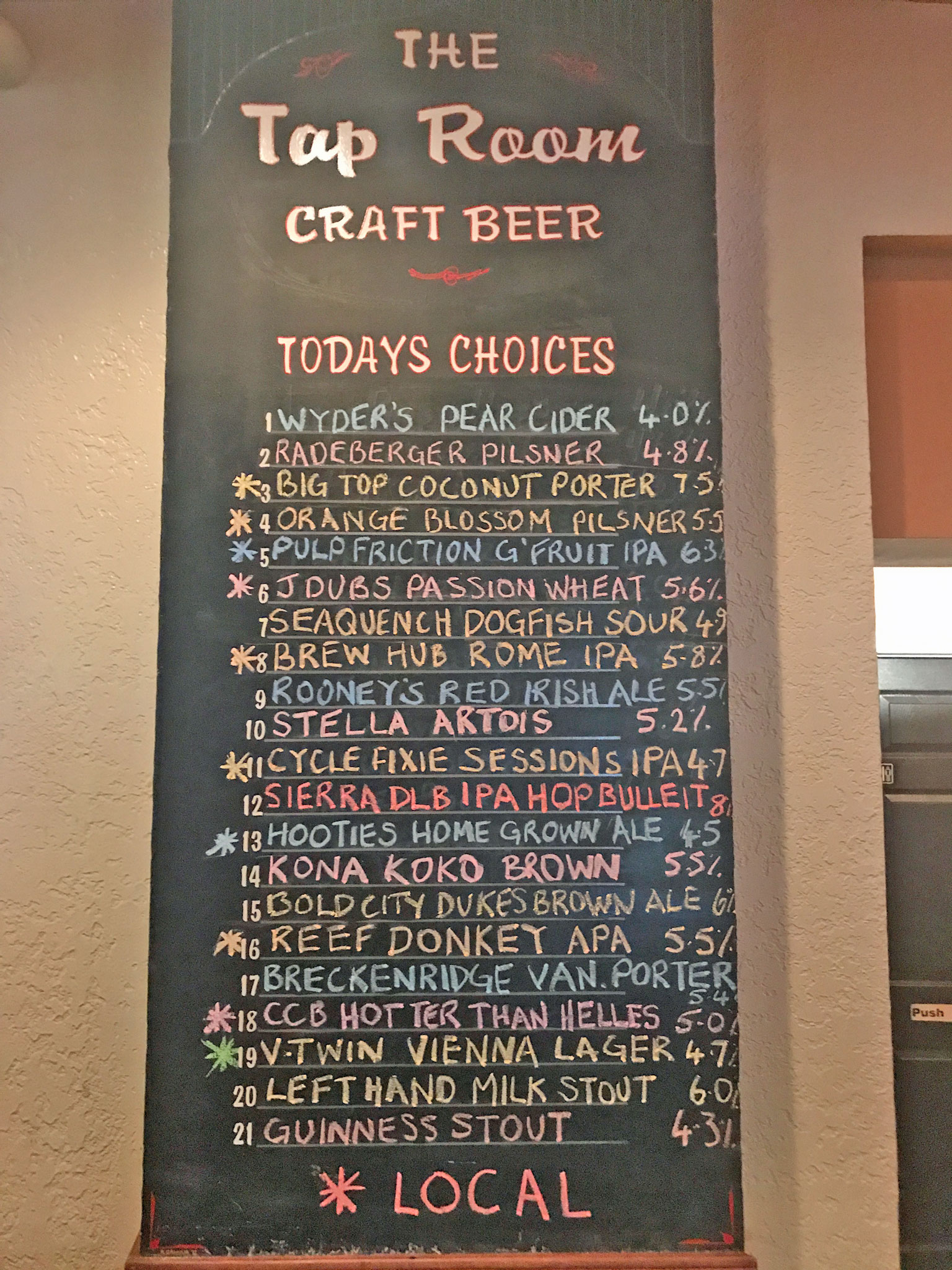 There are several other items as well. The menu link is below, just above the map.
Overall, it was a delicious experience, and a shout out to excellent service and the Tap Room Manager, Candice Hewett.
Go check out The Tap Room and tell them St. Petersburg Foodies sent you!
Bar bites, wraps & American mains are served with craft beer & cocktails at this hotel hangout.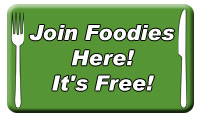 More Foodies News, Reviews & Recipes