The Dream is Real at Chef Jeffrey Jew's Lingr Restaurant
The Dream is Real at Chef Jeffrey Jew's Lingr Restaurant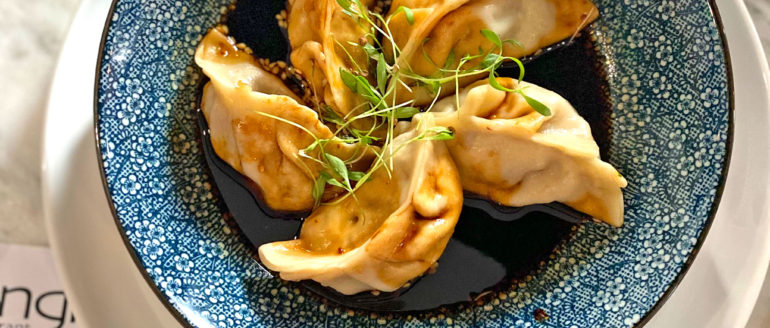 Put a chef in his own restaurant and watch him shine. Chef Jeffrey Jew was in charge of the kitchens at 2B Hospitality's Bella Brava, and Stillwaters Tavern, and we always liked his food.
Now, we love his food at his new eatery, Lingr, in the Downtown South University Park area of St. Petersburg. Not only do we love the food, we love that he is doing something different and unique, and that it includes awesome Asian food, which is hard to come by around here. I could eat the Mapo Ho Fun all day, every day.
Nothing against chefs that have a boss. We do know of some that create outstanding cuisine, but Chef Jew is finally doing what the universe meant him to do.
Lingr is not a cool way to spell "Linger", although we did linger for over two hours with Abby and Mike, and it didn't seem to be a problem. Lingr is an Old Norse word that means 'belonging to,' and 'coming or descending from'.
The chef's paternal side is of Chinese descent, and his maternal side Norwegian. The restaurant has cuisines from each region, and fusions of them as well.
Currently, there is dinner service from 5-10 Tuesday through Thursday, and 5-11 on Friday and Saturday. There are plans for breakfast, lunch and brunch in the future. Stay tuned.
Our friends, Abby and Mike joined us, and we shared everything, and compared thoughts. (Abby writes reviews and develops recipes for St. Pete Foodies, and is a monthly podcast guest.)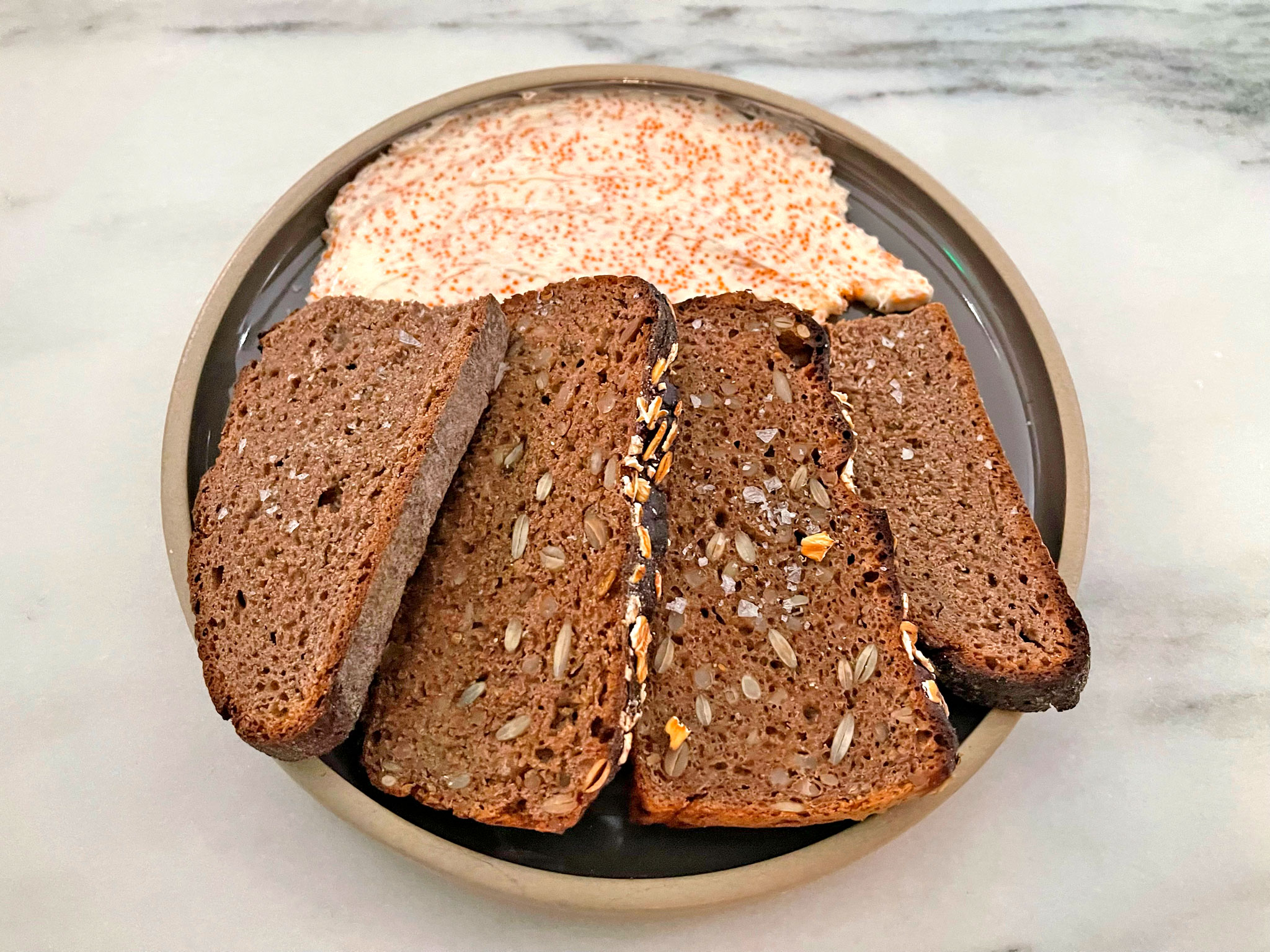 Q: Best bread in St. Pete?
A: Jamison Pan Seeded & Round Rye Bread with Whipped Roe Butter (IL Ritorno's Focaccia is pretty amazing too.)
I have to admit that I skipped over this while reading the menu, as it didn't seem interesting. How wrong I was. I'm salivating as I type this. Definitely order this, but save some for me. The flavors and textures are amazing.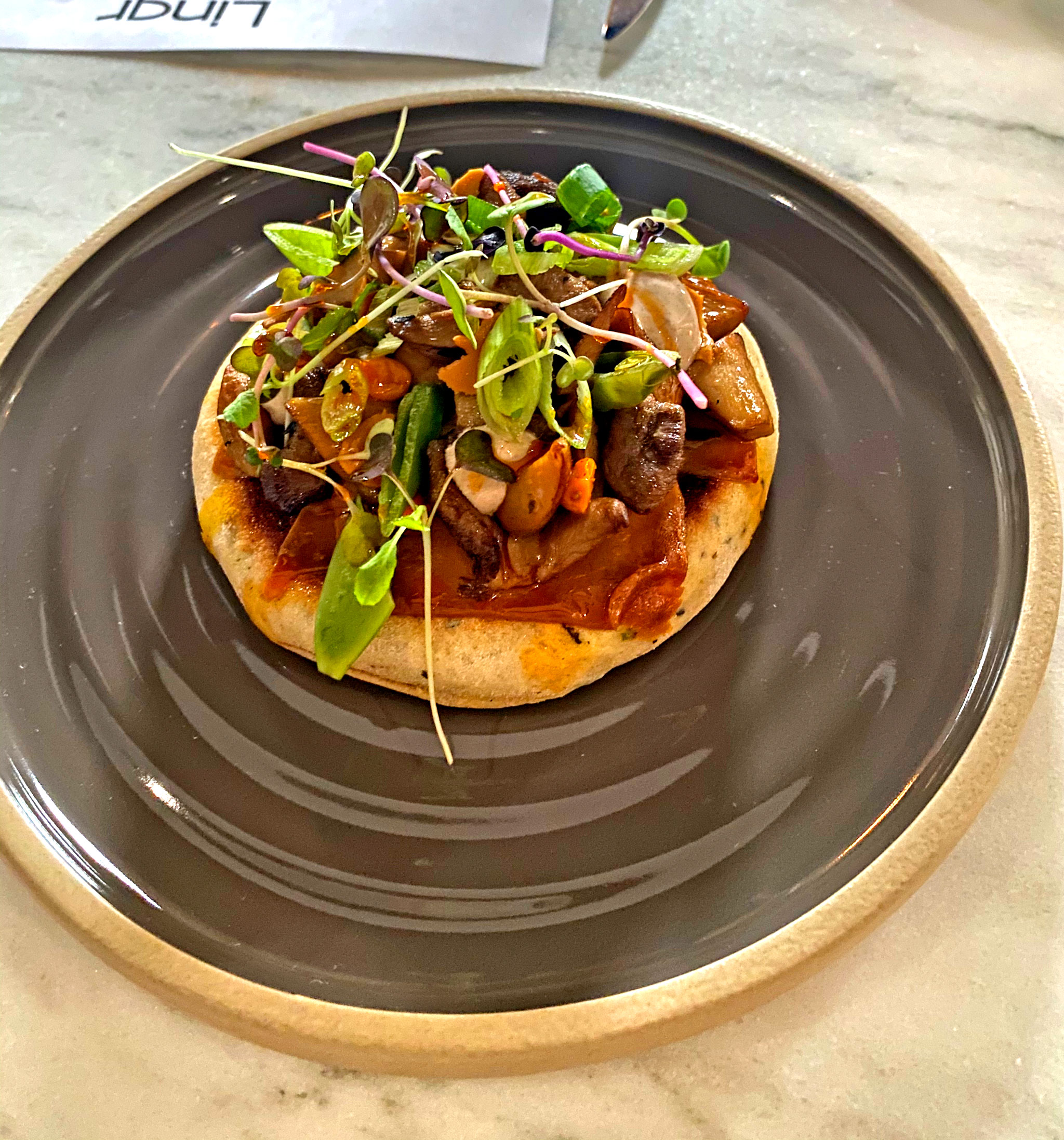 Smoked Lion's Mane with Brunost, Hawthorn Cream, Chili Oil, and Sea Buckthorn on Sami Bread.
If you don't know, Lion's Mane is a mushroom. Mike and Abby had this on a separate visit, and said it was delicious.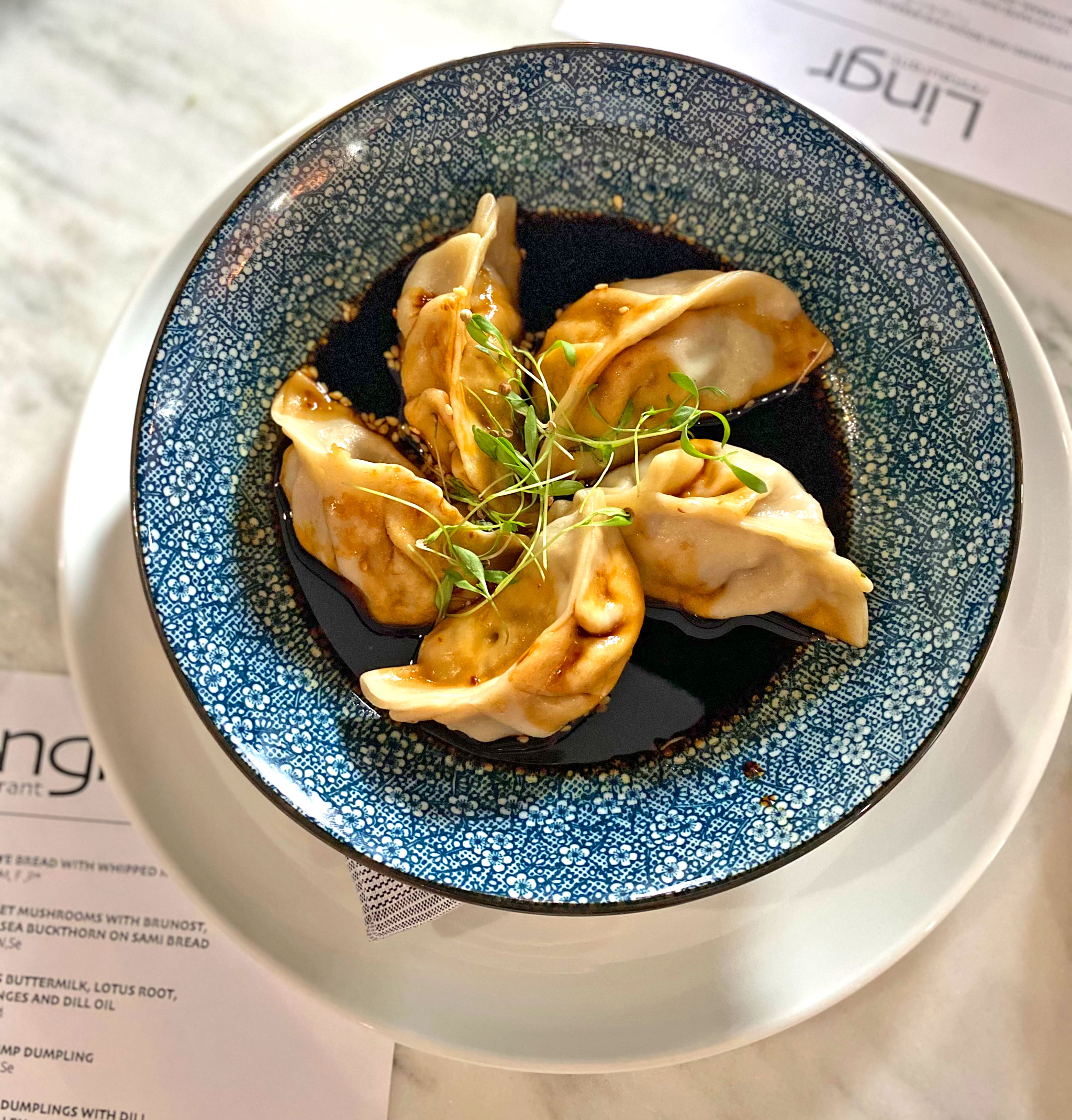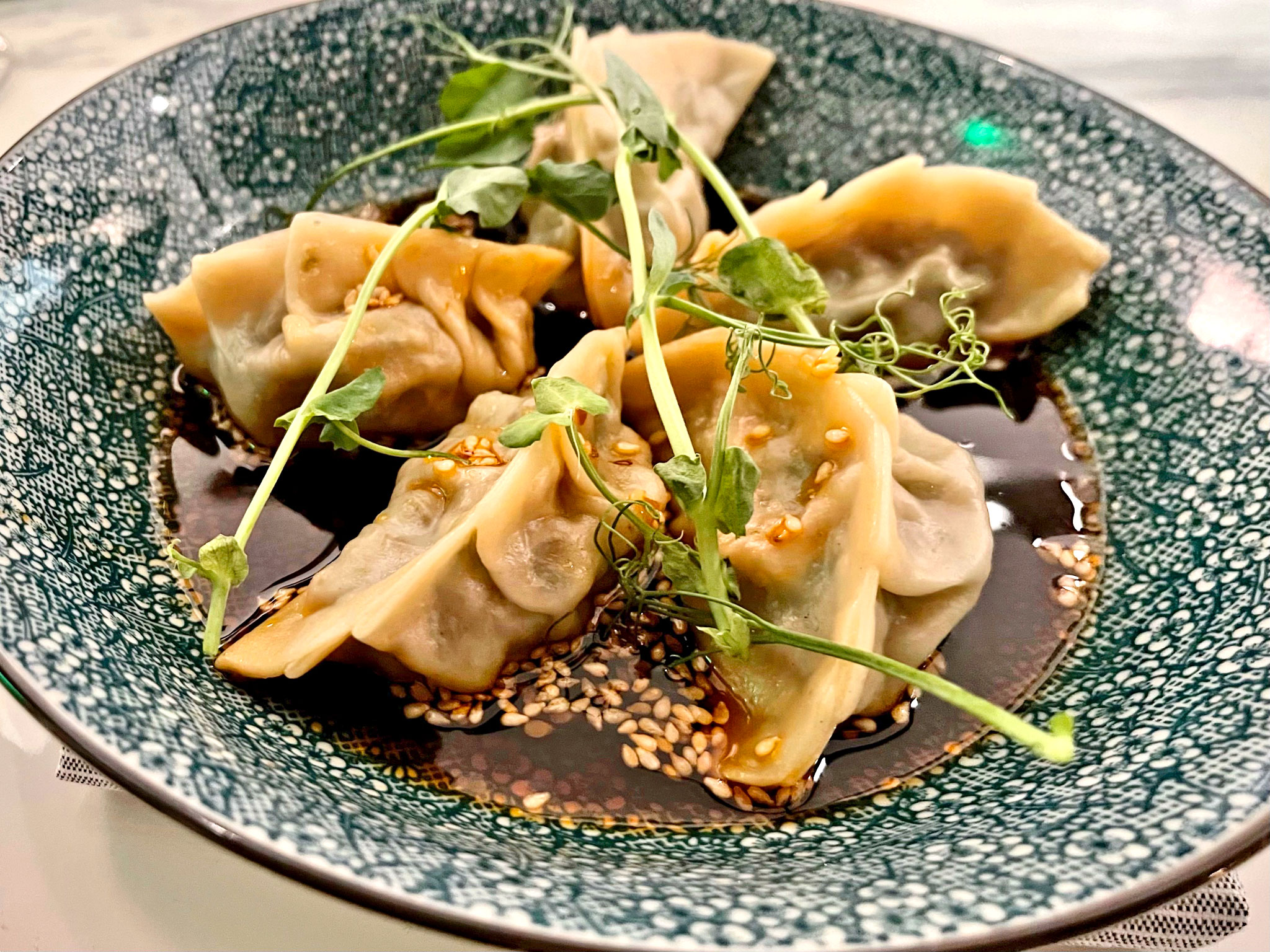 Spicy Chili Garlic Shrimp Dumpling – This was also from Abby's separate visit. She said it's a similar flavor profile as the Smoked Potato and Asparagus Dumplings with Dill and Fennel Pollen, which was absolutely fabulous.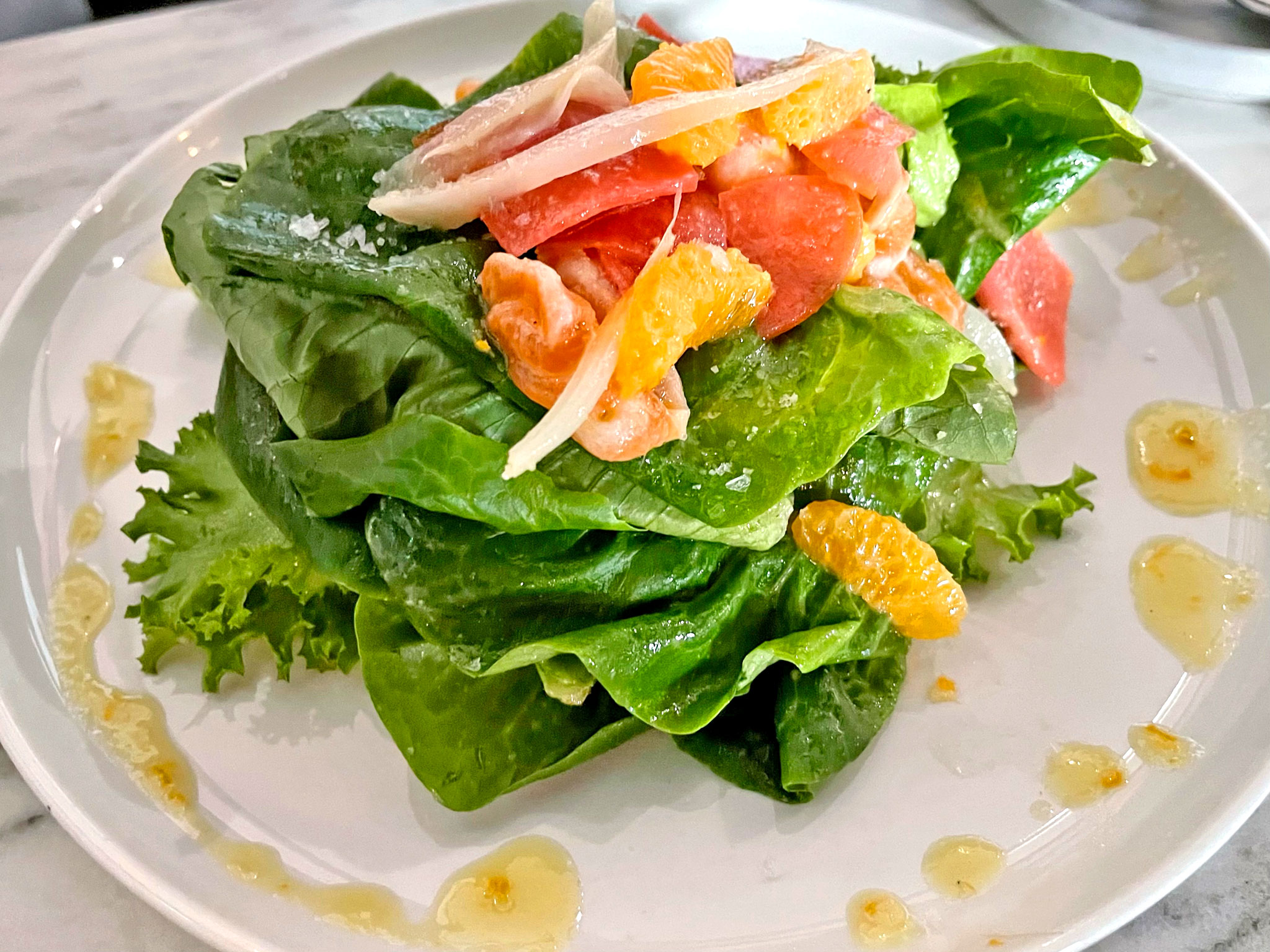 Soy Sauce Cured Salmon with Brick Street Farms Lettuce, Pickled Radish, Fennel and Mandarin Vinaigrette – every ingredient in this salad is spectacular. This is another must-order item. It's got everything your mouth wants.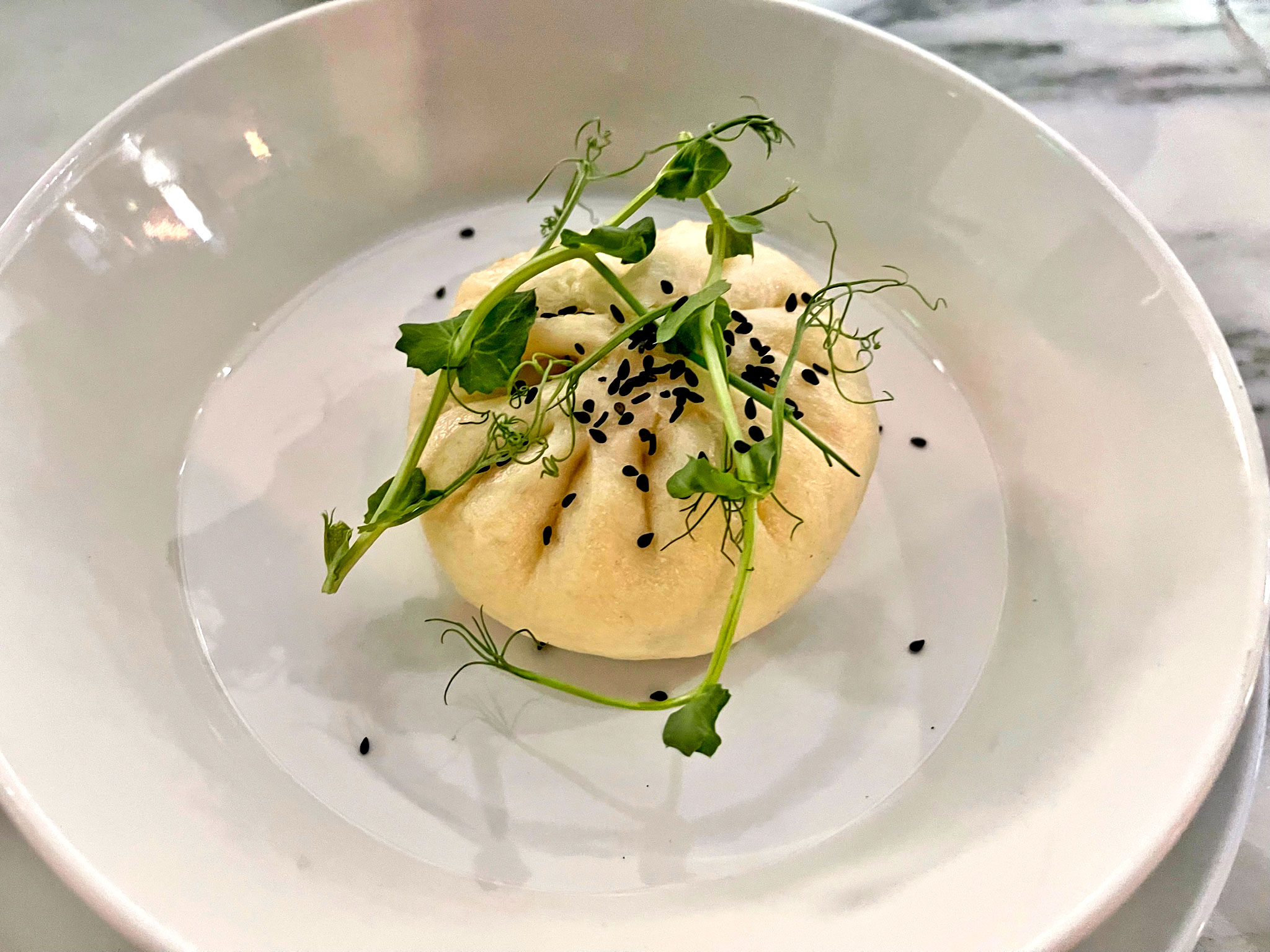 The Char Siu Style Shitake and Gai Lan Steamed Bao delivered on its promise of light and airy on the outside, and umami goodness on the inside. (Note: Bao means bun, so it is redundant to say "Bao Bun".)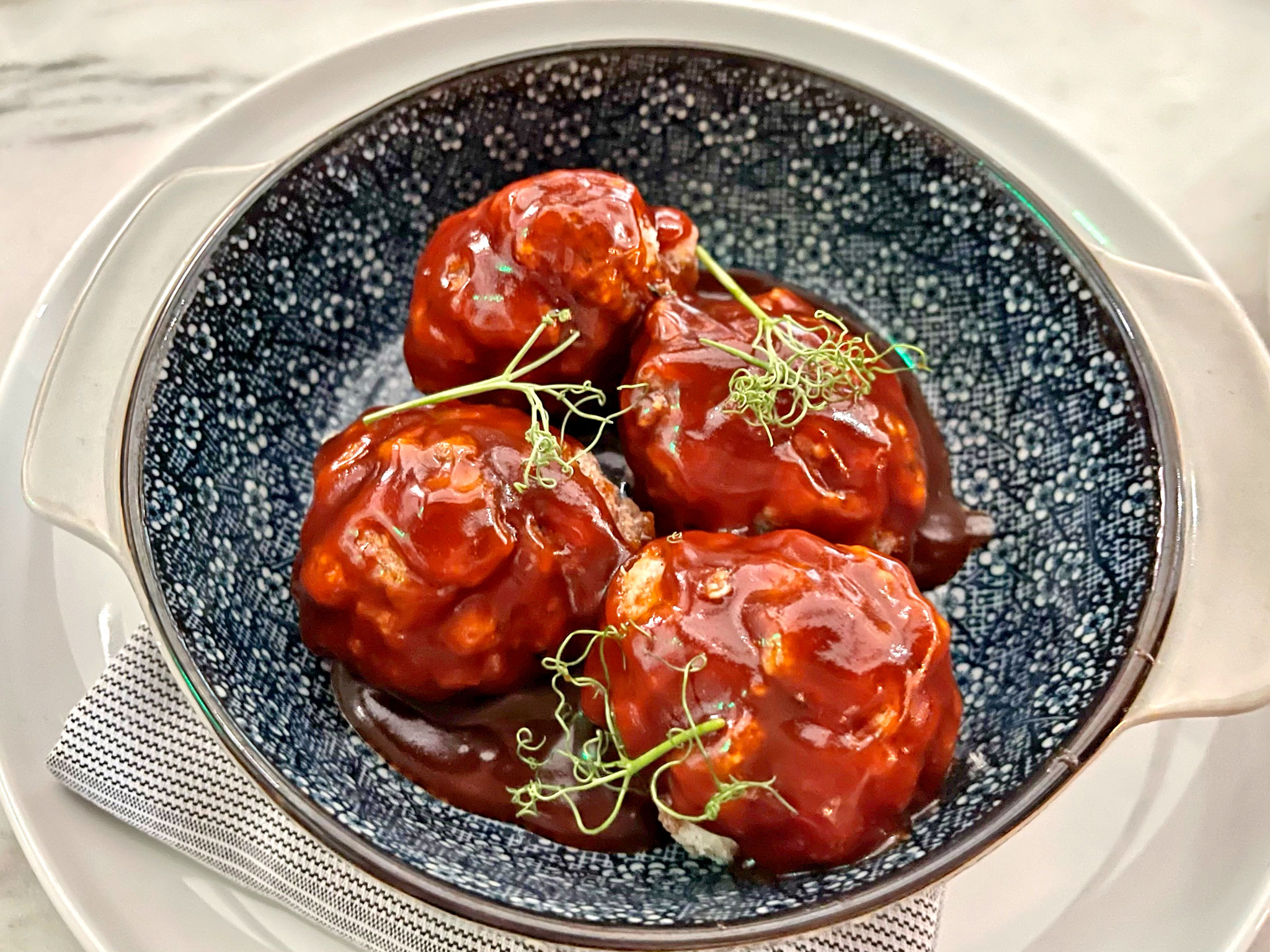 The Salt and Pepper Fish Cakes with Sweet and Sour Mustard Sauce look like meatballs, and they are just as mandatory to order. Lori said they are "percolating flavors" and they are "like a BBQ fish ball". They are definitely another one of the stars of the menu.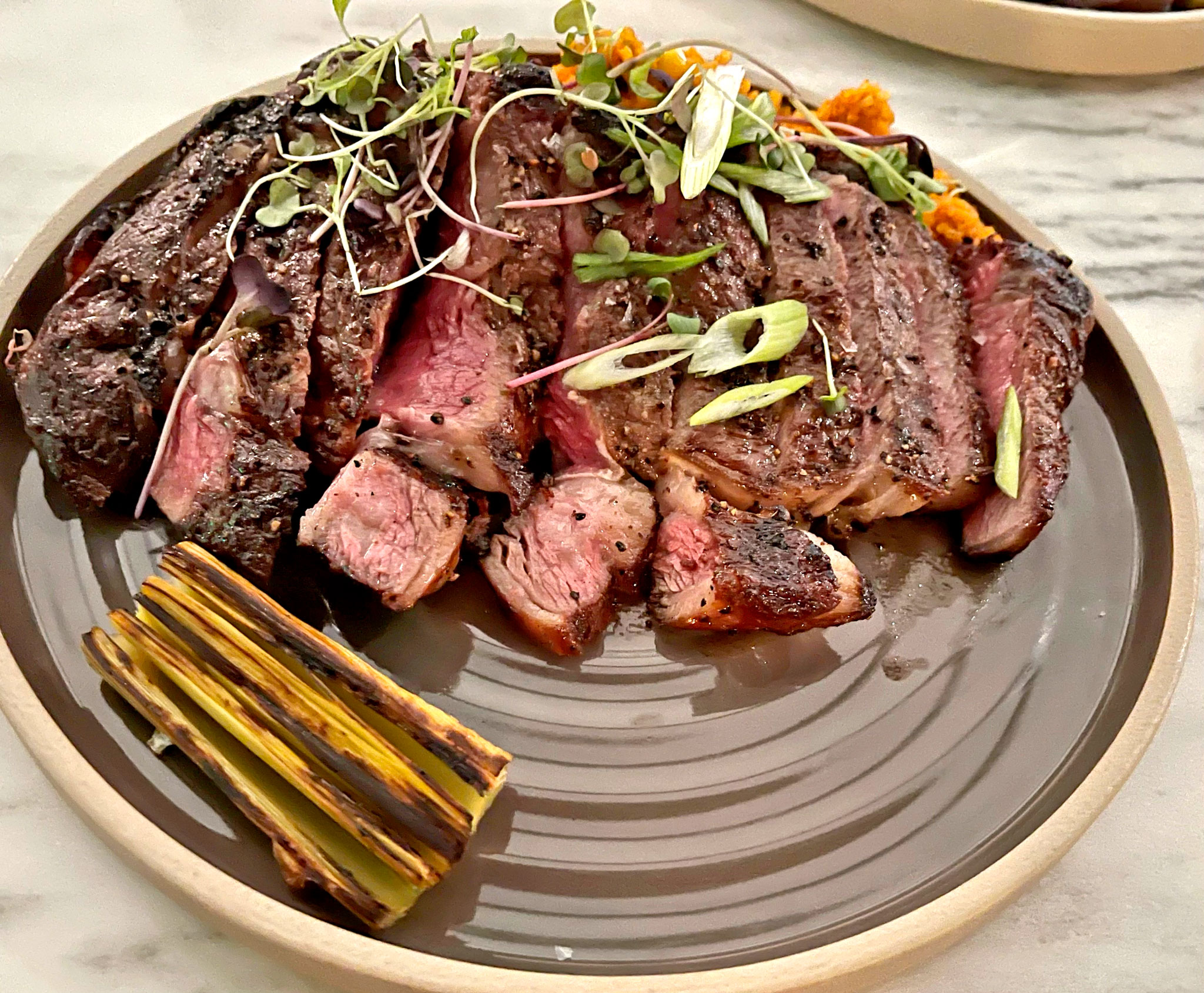 Grilled Koji Aged Ribeye with Cantonese Curry and Corn Fried Rice. With a unique, flavorful spice rub, this is one of the best steaks in town. There's a lot more fried rice underneath the steak that you can't see in the photo, and the charred leaks were a nice accompaniment as well.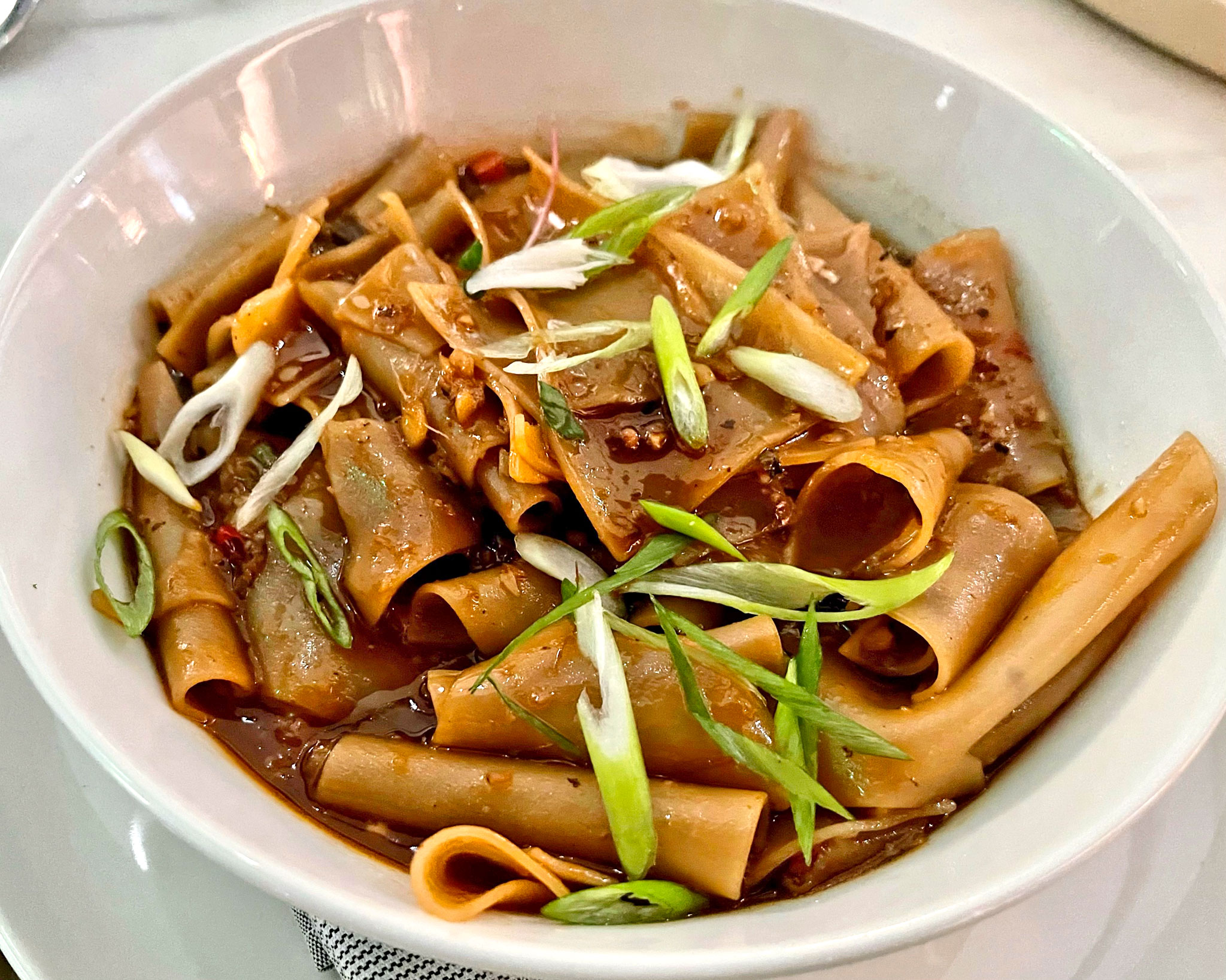 Mapo Ho Fun – rice noodles, spicy broad bean paste, Szechuan peppercorn. Finally! We have exceptional Chinese food in downtown St. Pete. This one is spicy, and I love it. It didn't make me sweat, but it certainly satisfied. Part of the trick here is using authentic Chinese ingredients, like spicy broad bean paste, or more specifically—Pixian Doubanjiang, and real Szechuan peppercorns. If you want to make great Chinese food, go get these two ingredients at MD Oriental. The noodles were fat ones at about three inches wide, and still long too. Maybe that's where the word "fun" comes in. I loved this, but it might be too spicy for some people. If that statement scares you, then I am talking about you.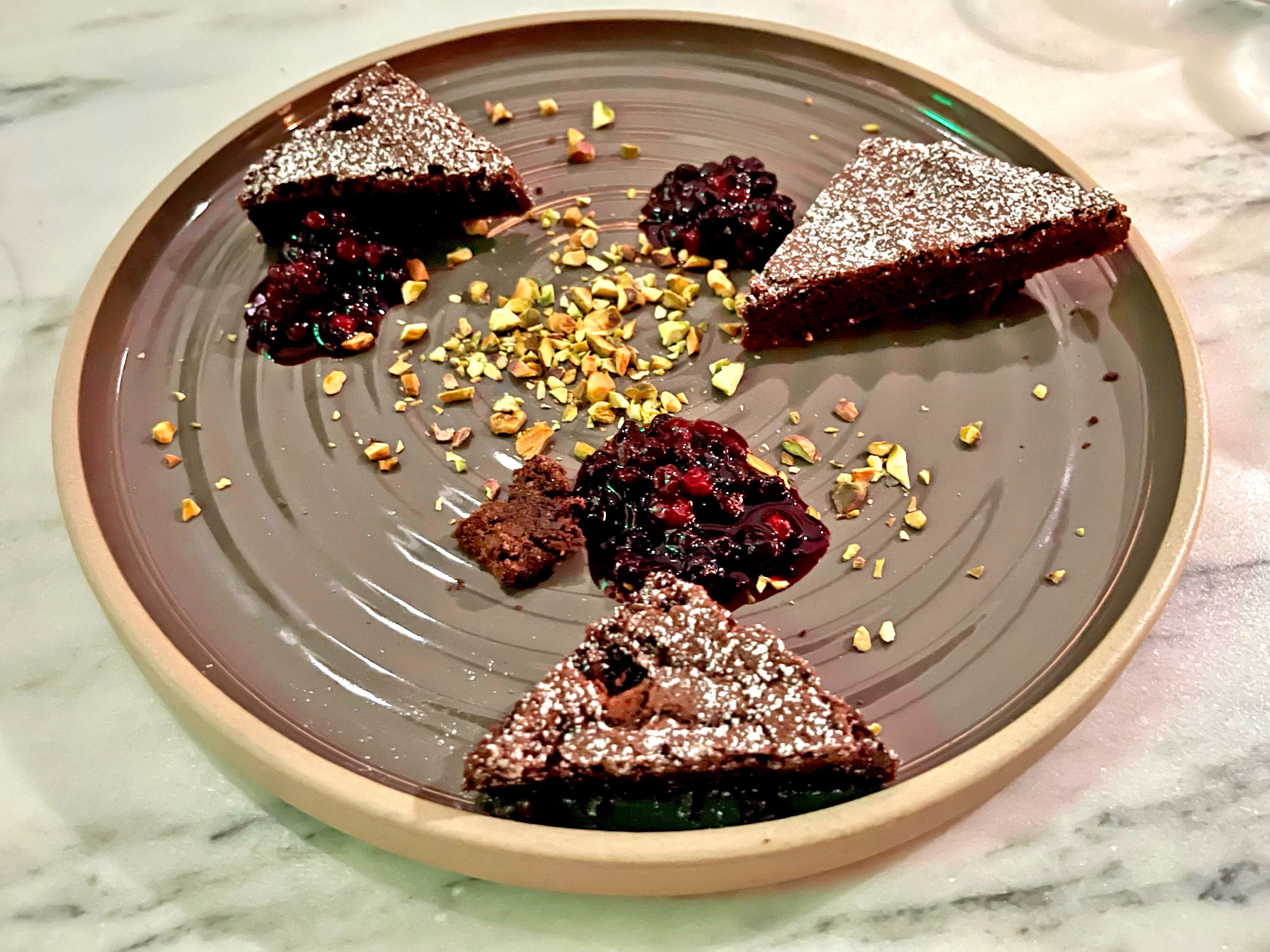 Alert the media! Kevin and Lori are now officially dessert people. The Kladdkaka Cake with Wild Berry Compote and Toasted Pistachios was the perfect dessert.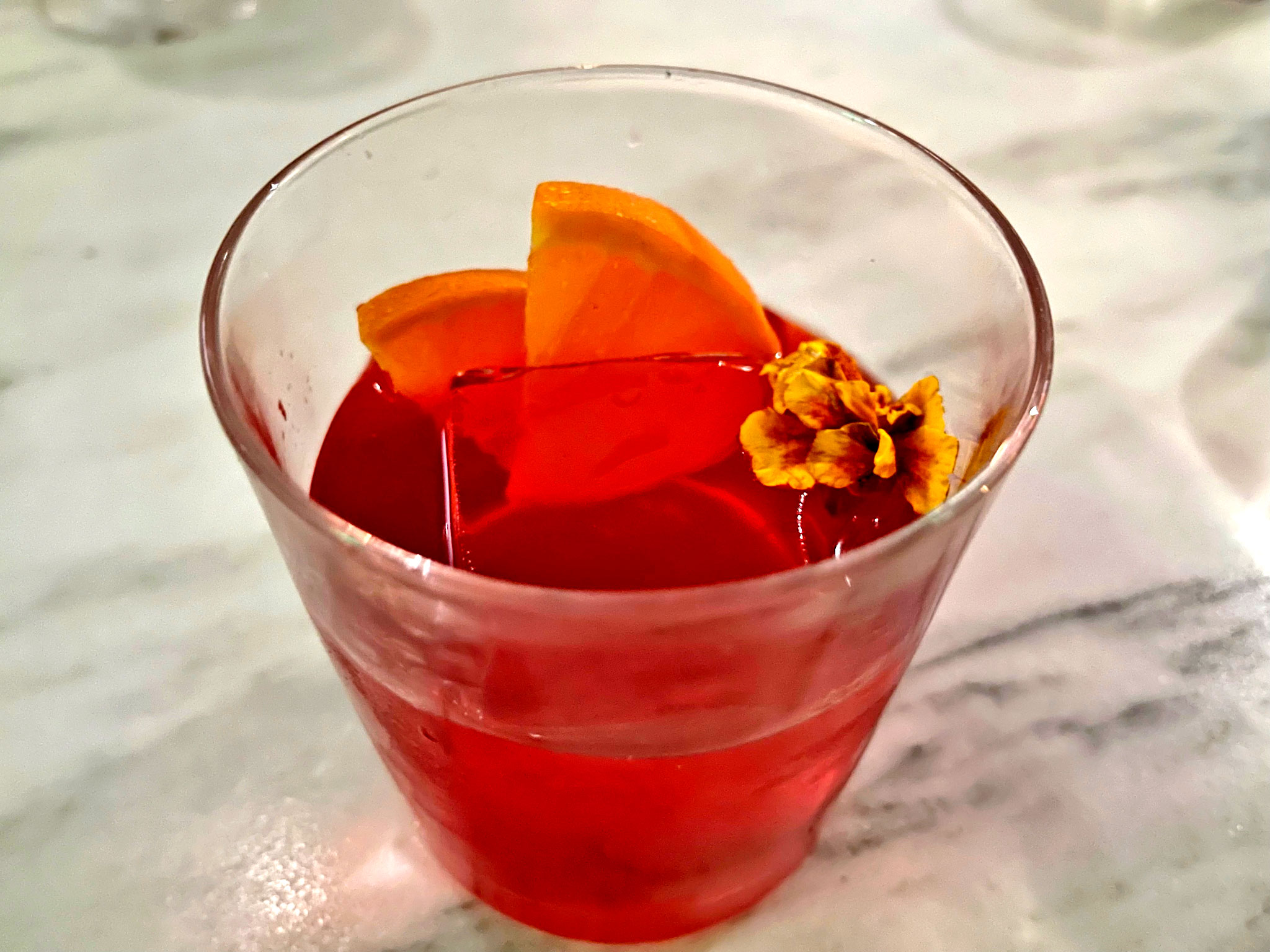 The Fire drink is one of their most popular, and we like it too. It has Aquavit, Campari, and Beets. It's earthy, bitter and herbaceous.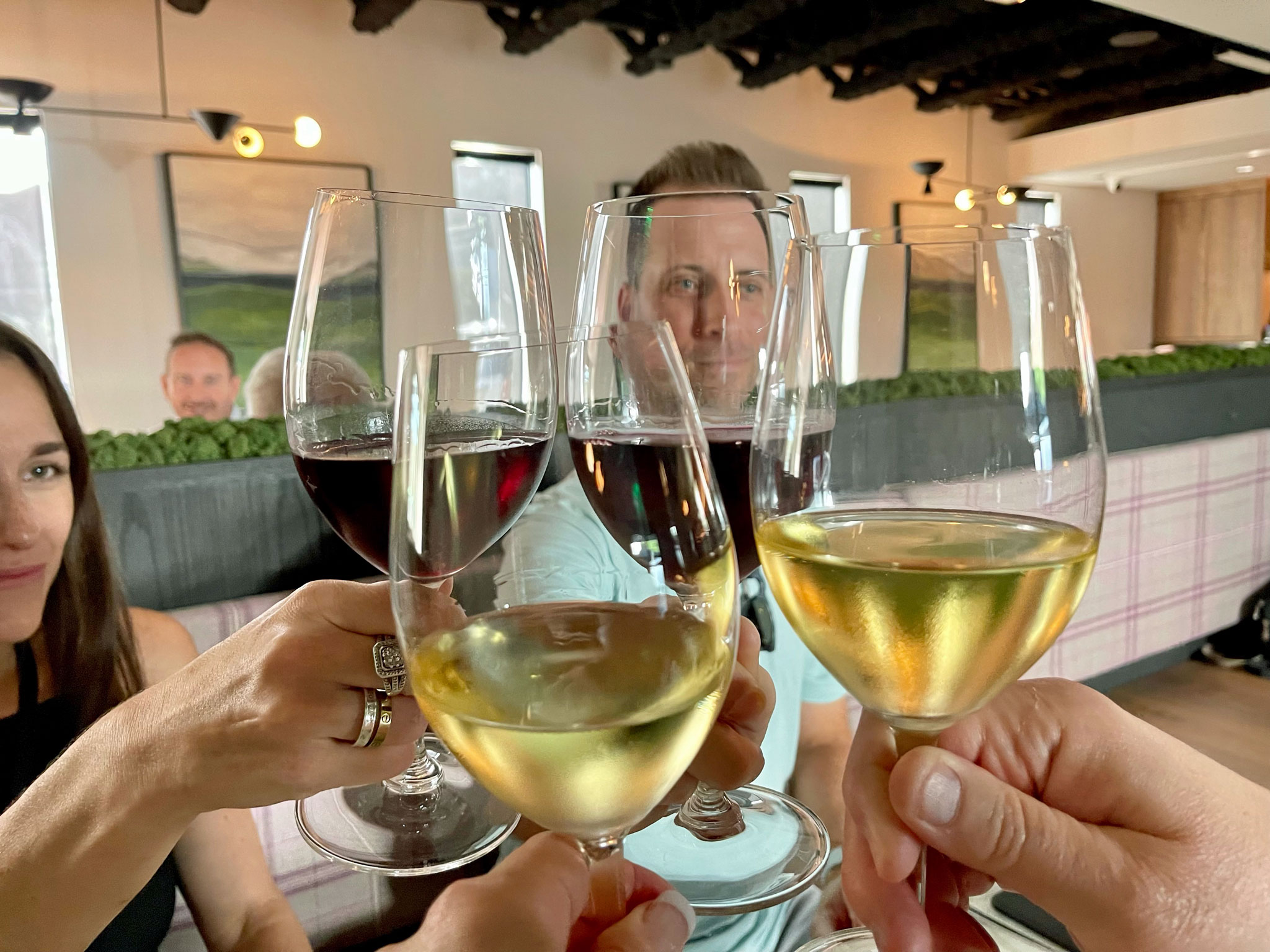 Upscale-casual eatery and bar located in the Downtown South University Park area of St. Petersburg, the Nordic and Asian-inspired restaurant will be a mixture of Chef Jew's love of the local area, his heritage and years of culinary experience.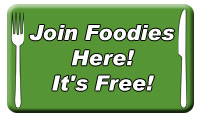 More Foodies News, Reviews & Recipes