Bask in Irish Culture Without Leaving St. Pete at Mary Margaret's Olde Irish Tavern
Bask in Irish Culture Without Leaving St. Pete at Mary Margaret's Olde Irish Tavern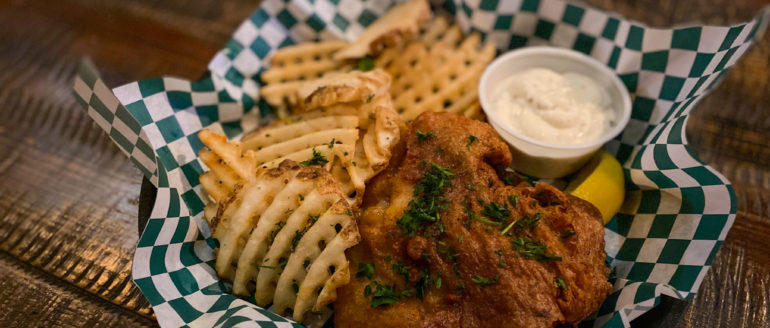 When a lively atmosphere rich in Irish culture, food and drink sounds appealing, look no further than Mary Margaret's Olde Irish Tavern. It's exactly the kind of place where you're encouraged to belly up to the bar for a game and/or as soon as the clock strikes 5:00PM. The atmosphere is quaint and welcoming. Dim overhead lights and the delicious smell of food pouring from the kitchen sets an ideal yet unfussy mood.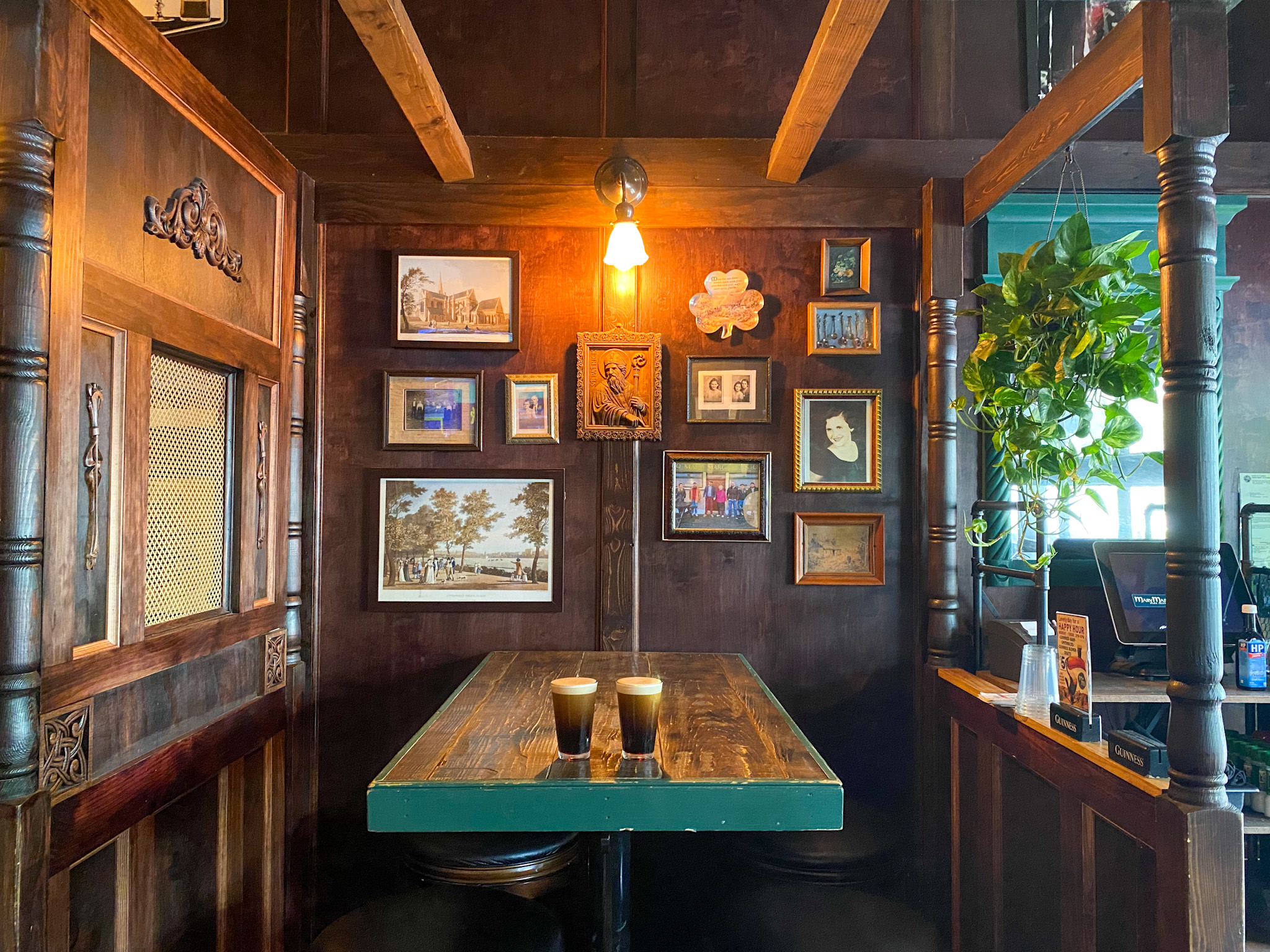 Mary Margaret's opened their doors in early 2020. The tavern is particularly special to one of the owners, Pete Boland, as the establishment is named after his grandmother – Mary Margaret, who Pete was quite inspired by. In fact his grandmother's old salon was right on the same block as the restaurant. How awesome is that? When Pete and his team decided on a name for the restaurant, they did their due diligence on other spots with the same name. They stumbled upon only one pub named Mary Margaret's, which is in Ireland. So naturally, Pete and his team took a trip to Ireland. On the day they arrived at the pub, the tiny establishment was closed; however, with one knock, 84 year old Mary Margaret came to the door. She quickly invited them in for a pint and some food and was as sweet as could be. That moment still gives Pete goosebumps.
Essentially, Mary Margaret's was brought to life here in St. Pete by Pete and his team so that the community could enjoy all that the Irish culture has to offer without having to step foot outside of our city. The tavern walls are covered with family heirlooms, Irish novelties and family photographs which all add to the relaxed and authentic ambiance. The enormous bar runs nearly the entire length of the space and parallel to that you'll find a number of tables against the wall. On a pleasant evening, opt for one of the tables situated on 3rd St. N for a prime dinner spot just steps away from bustling Central Ave.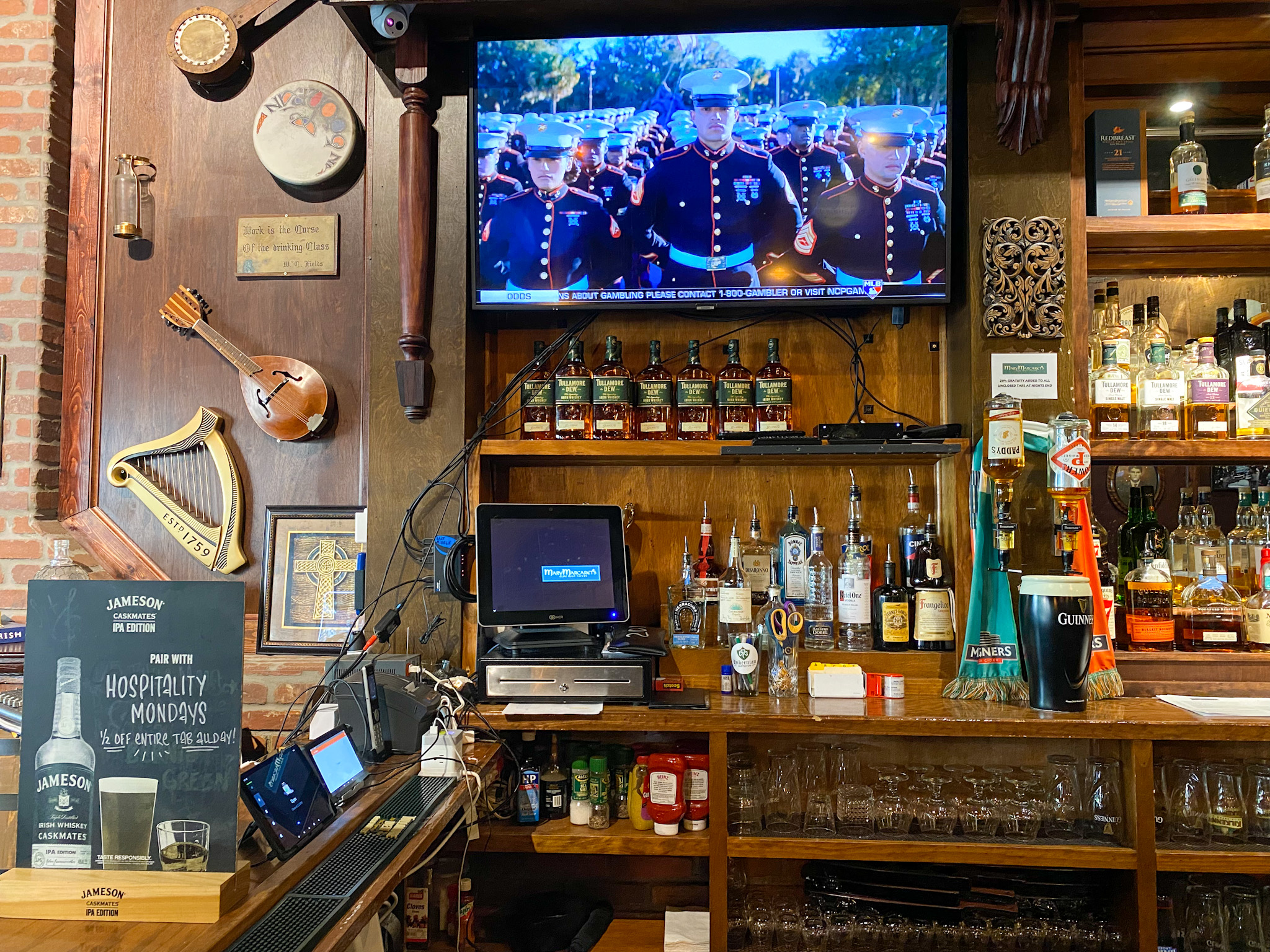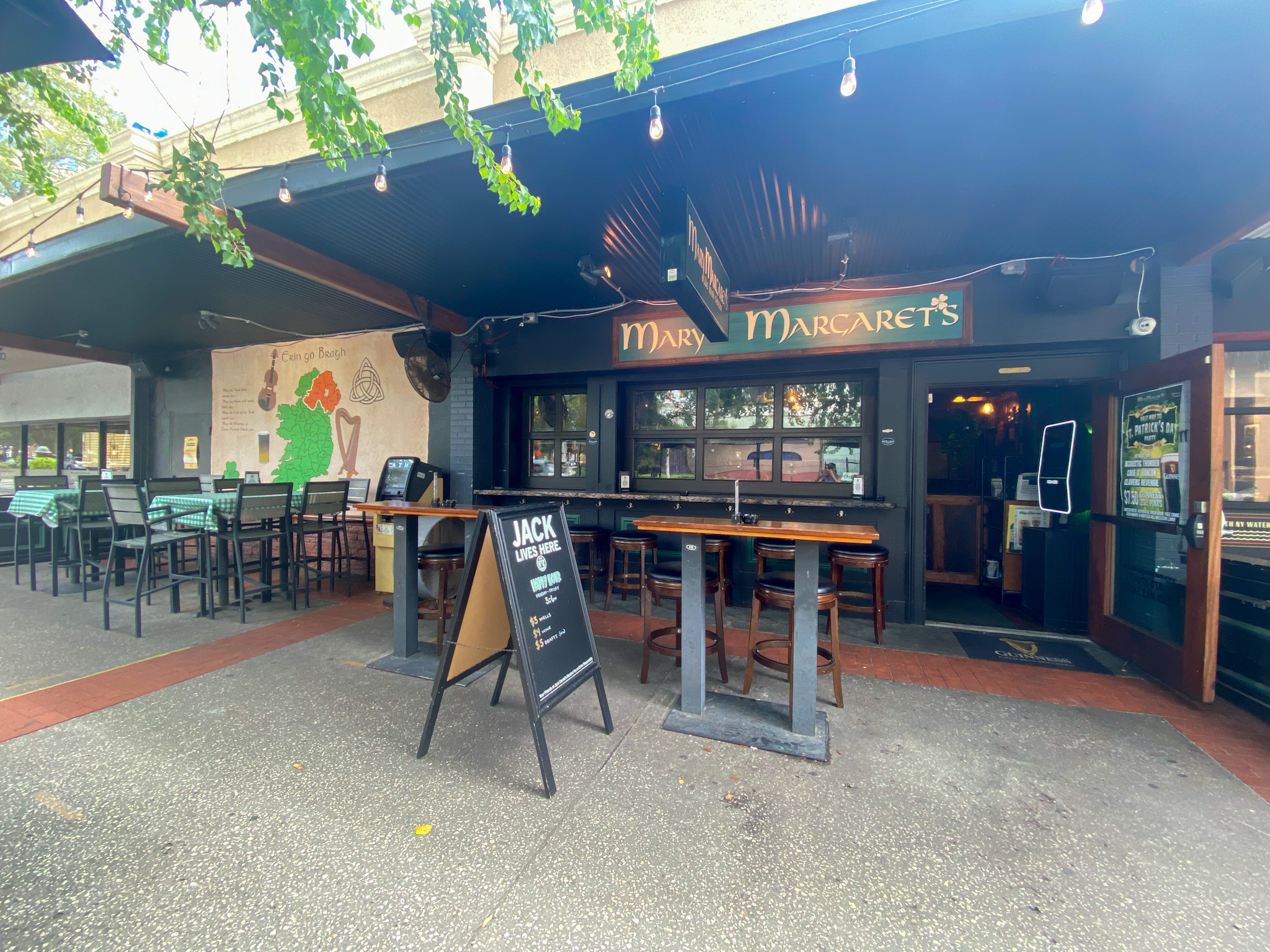 Perhaps one of the most attractive features of Mary Margaret's is that you can stumble upon some incredible live music every night of the week. Now that's a true Irish Pub for ya.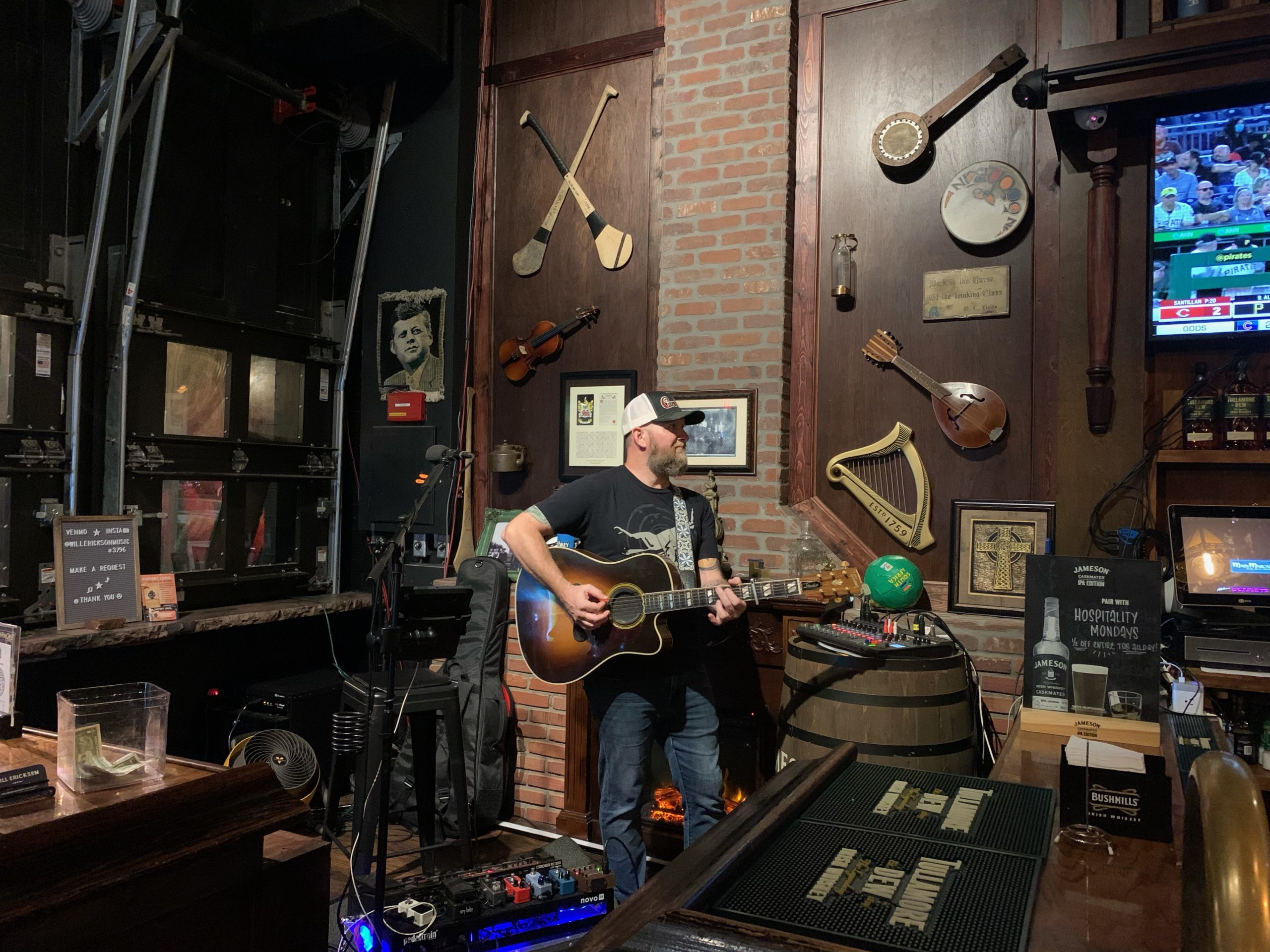 Their lineup of Irish beers and spirits is impressive and definitely enough to keep your attention. If you're leaning towards a cocktail, the Old Fashioned O'Boland is a great place to start. It's an Irish Whiskey Old Fashioned with Jameson Caskmate's simple syrup, angostura bitters, one dash of Guinness Draught and a filthy cherry and orange peel garnish.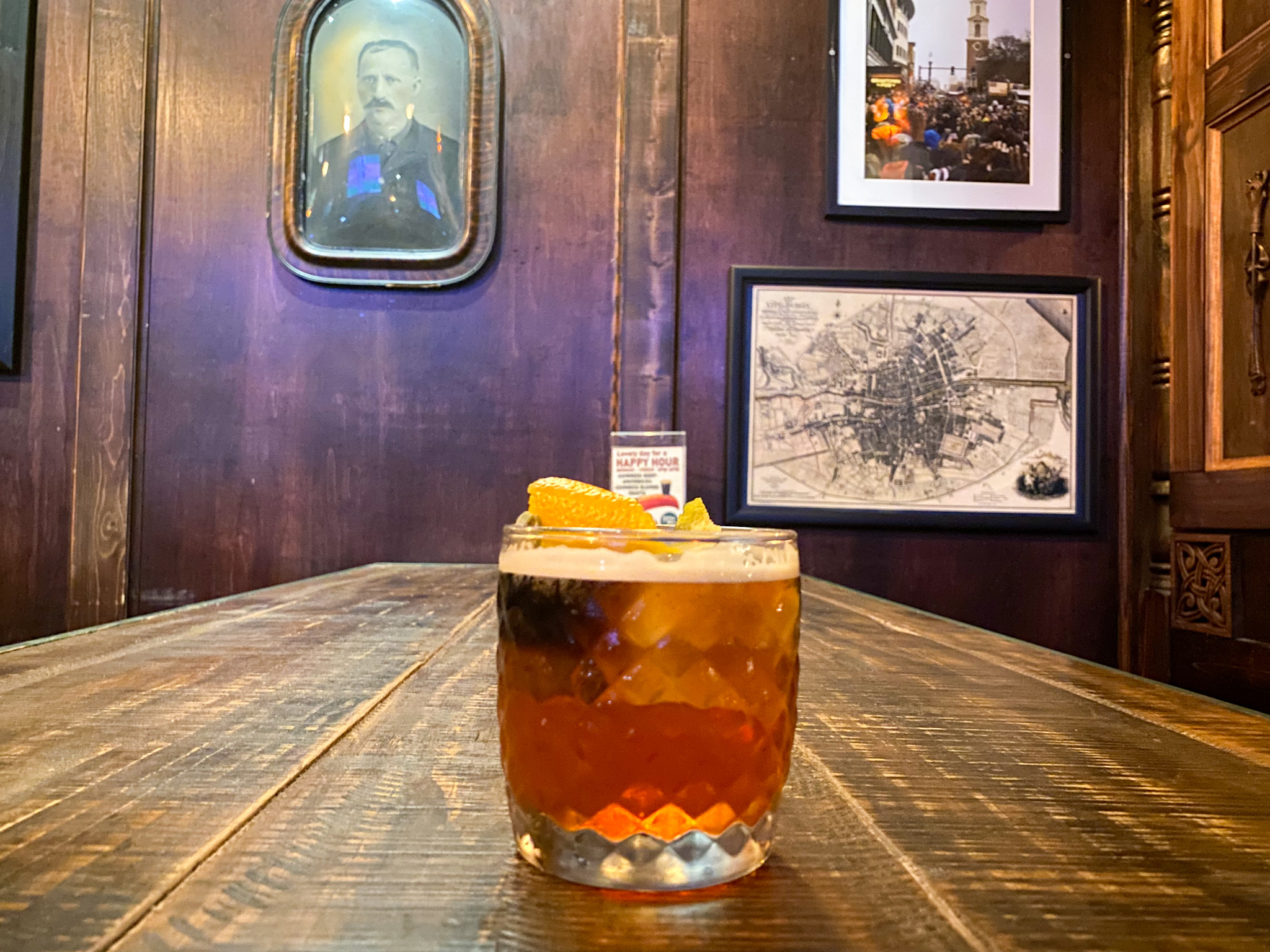 After your meal, I highly recommend ordering The Proper B.V. Irish coffee. Personally, I do not have much experience with Irish coffee so I didn't really have expectations. Boy, do I have expectations now though. If anyone tries to give me an Irish coffee that isn't exactly like the one on Mary Margaret's menu, then I don't want it. The delicate and delicious cream at the top of the glass alone was delicious enough for me…until I experienced the rest of the drink. Wow! With a combination of Tullamore DEW Irish Whiskey, Kahwa coffee, brown sugar and cream, it's hard to go wrong.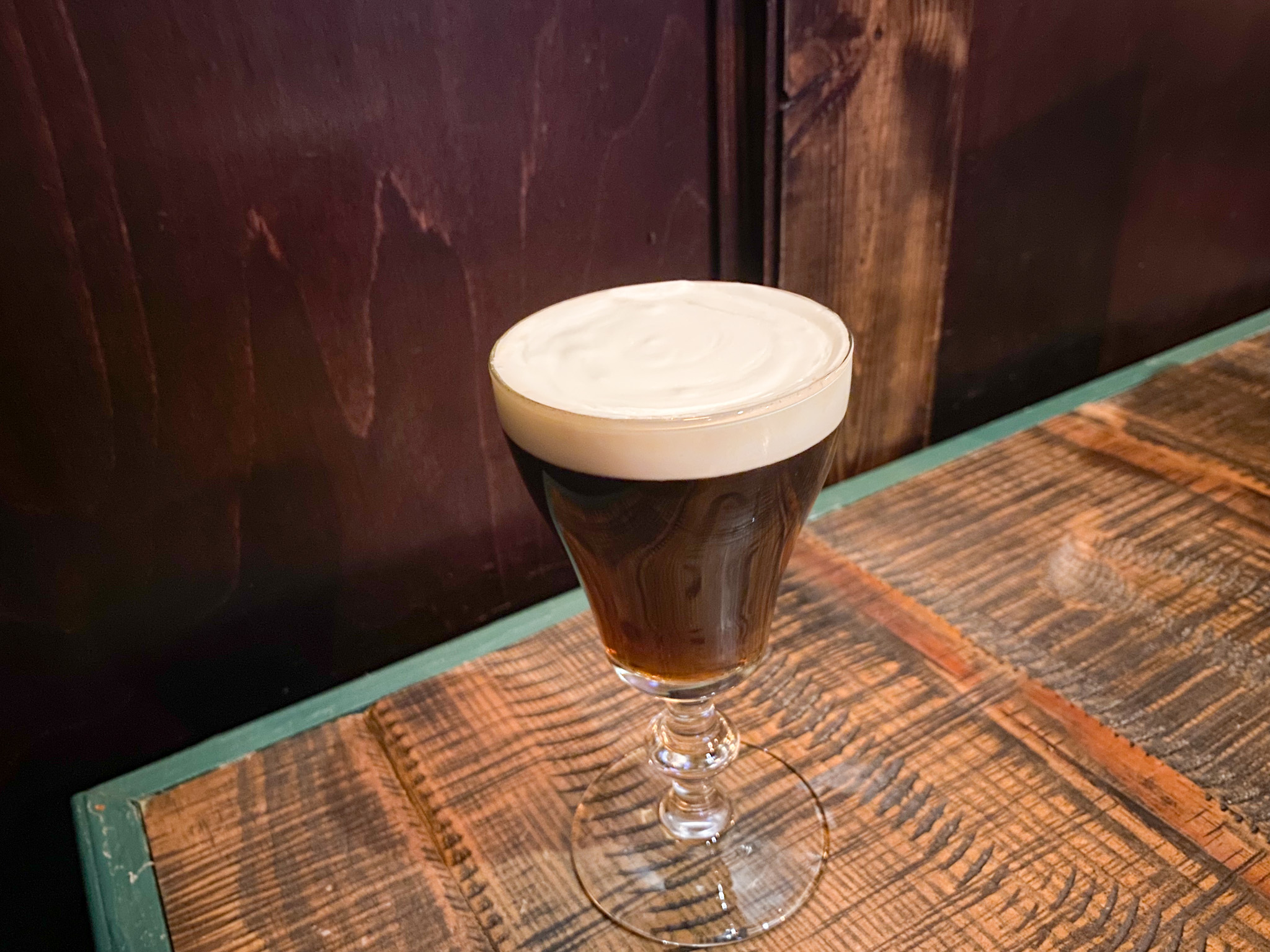 If you're in the mood for something simple and classic, a Guinness is never a bad choice at an Irish Pub. In fact, ordering one just always feels right to have alongside Fish and Chips or Bangers and Mash.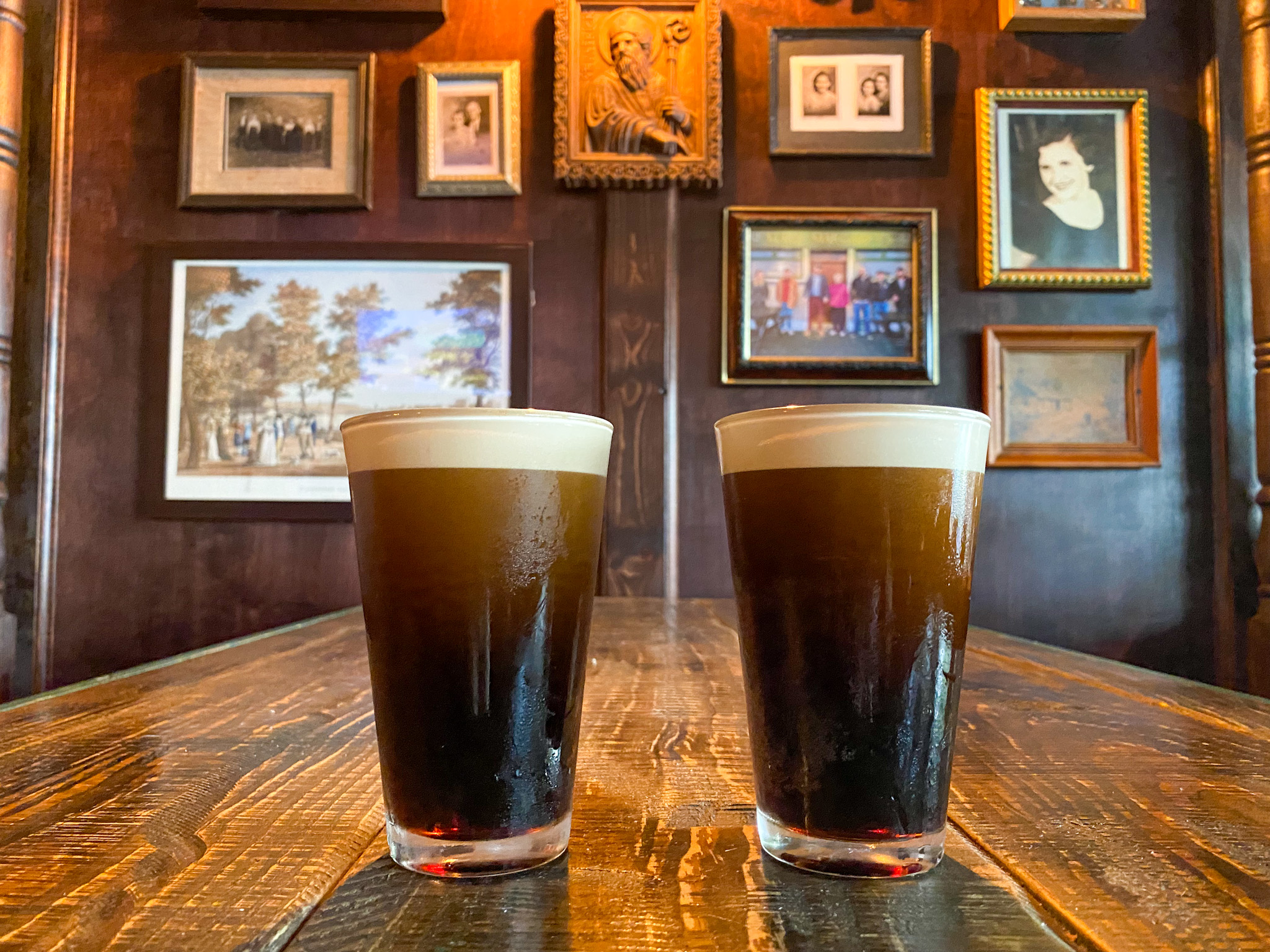 Speaking of, Mary Margaret's has both of those items on their food menu, of course, and you know that we had to try each of them. Starting with the Fish and Chips, because it's one of my all-time favorites. The odds of me ordering fish and chips at a pub or tavern are approximately 100%. I'm a mega French Fry junkie, so of course that aspect of the dish grabs my attention. Additionally, there is something to be said about a perfectly crisp piece of mild grouper that has been battered and fried to perfection. Delicate, yet bursting with texture and flavor. [Editor's note: Mary Margaret's Fish and Chips made our top 10 for 2021.]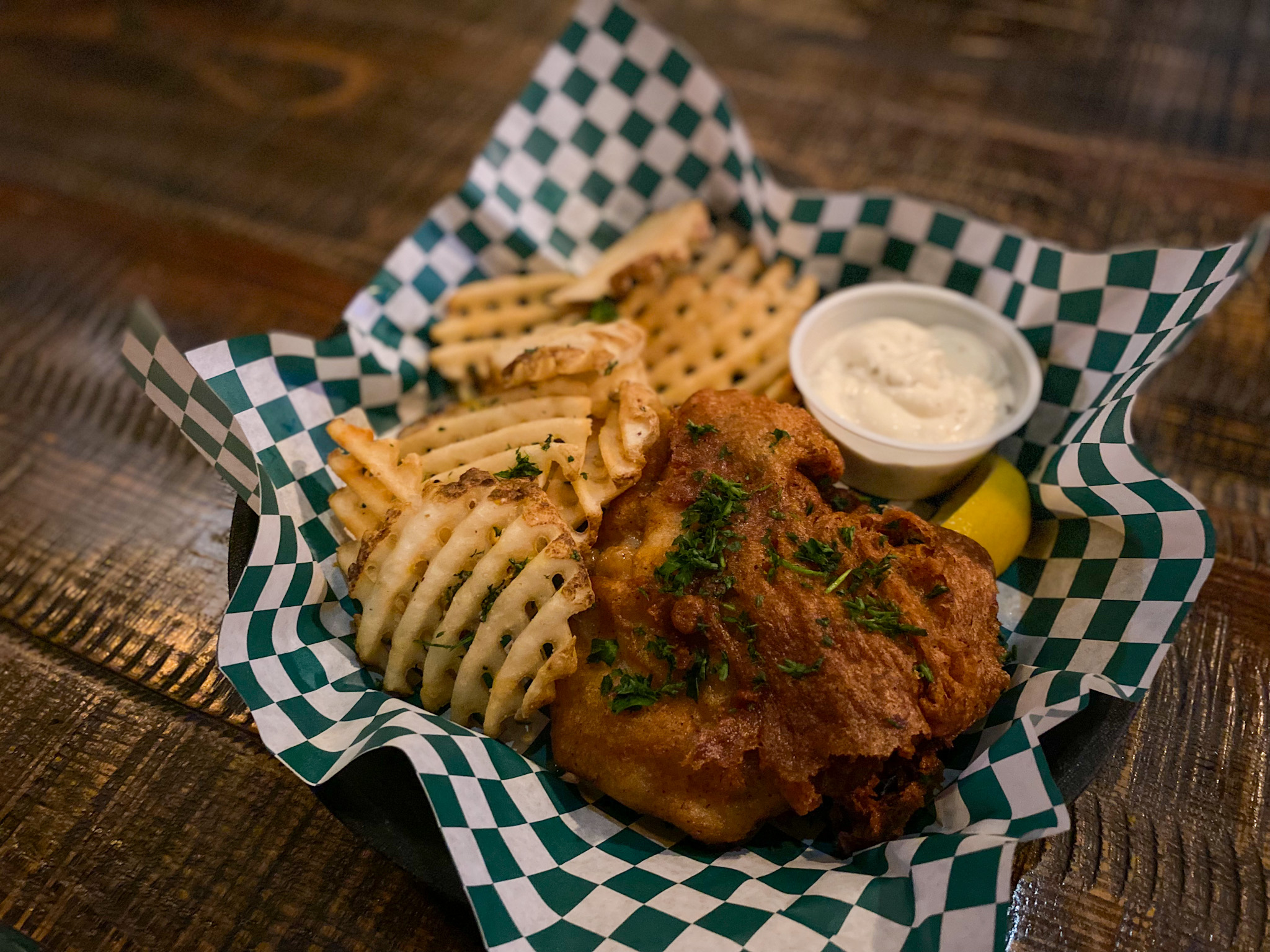 Before you order the Fish and Chips, try one of the fantastic appetizers like the Hibernian Cheeseboard. On it, you'll find some imported cheeses from the Emerald Isle, Mary's corned beef, honeycomb, pita bread, dried cranberries and candied walnuts. All of the cheeses are velvety smooth and luscious and the corned beef is a pleasant and welcomed change up from the standard charcuterie normally used on boards. We devoured it, to say the very least.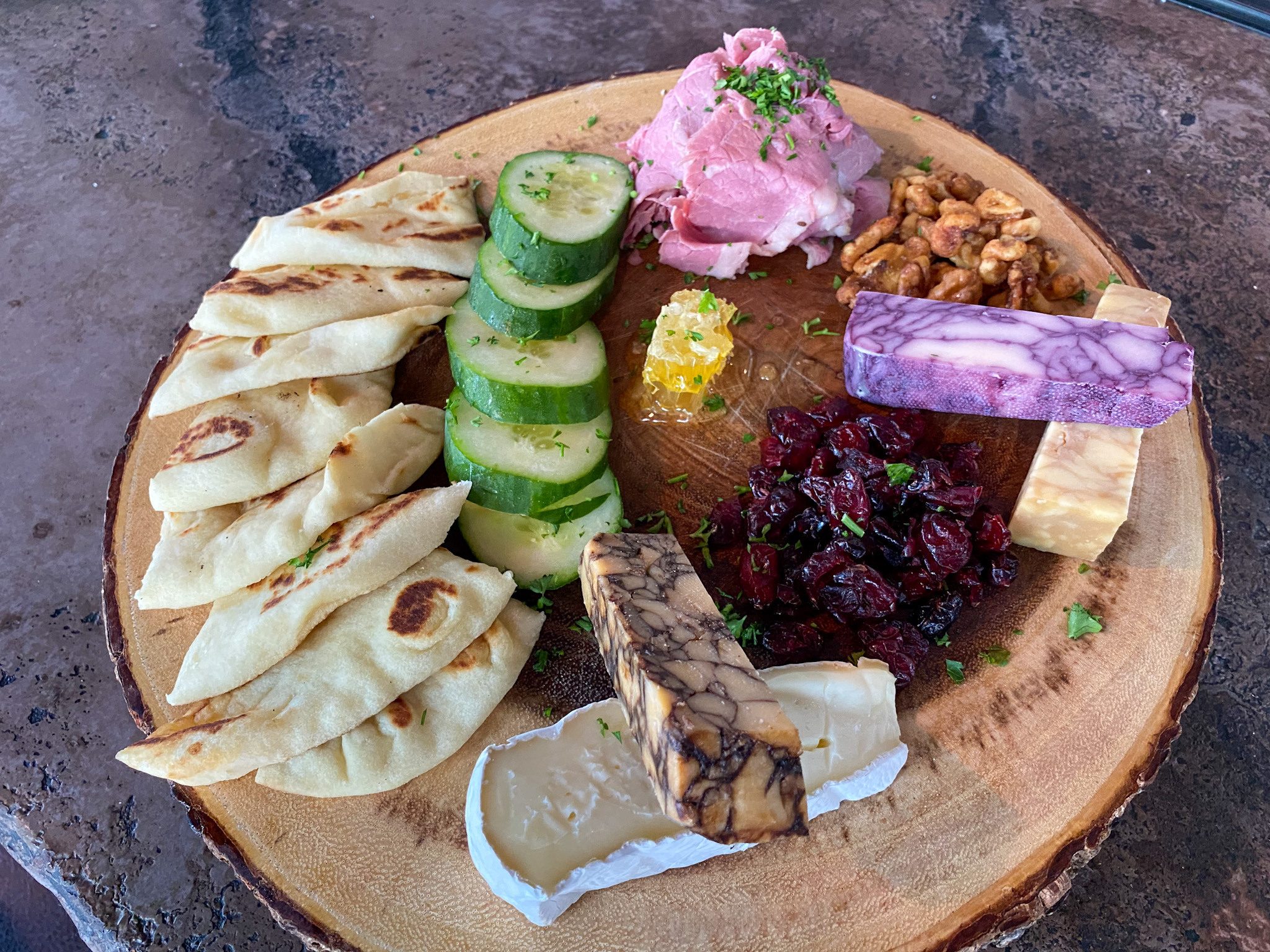 Most restaurants have an item or two that are a must-order whilst visiting. At Mary Margaret's, it's the Reuben Egg Rolls. To describe it simply, think of a Reuben sandwich but better and in crispy Egg Roll form. They're flaky fried wonton's with Mary's perfect corned beef, Swiss and sauerkraut and come with a side of thousand island dressing on the side for dipping. I could've easily made a meal out of those and those alone.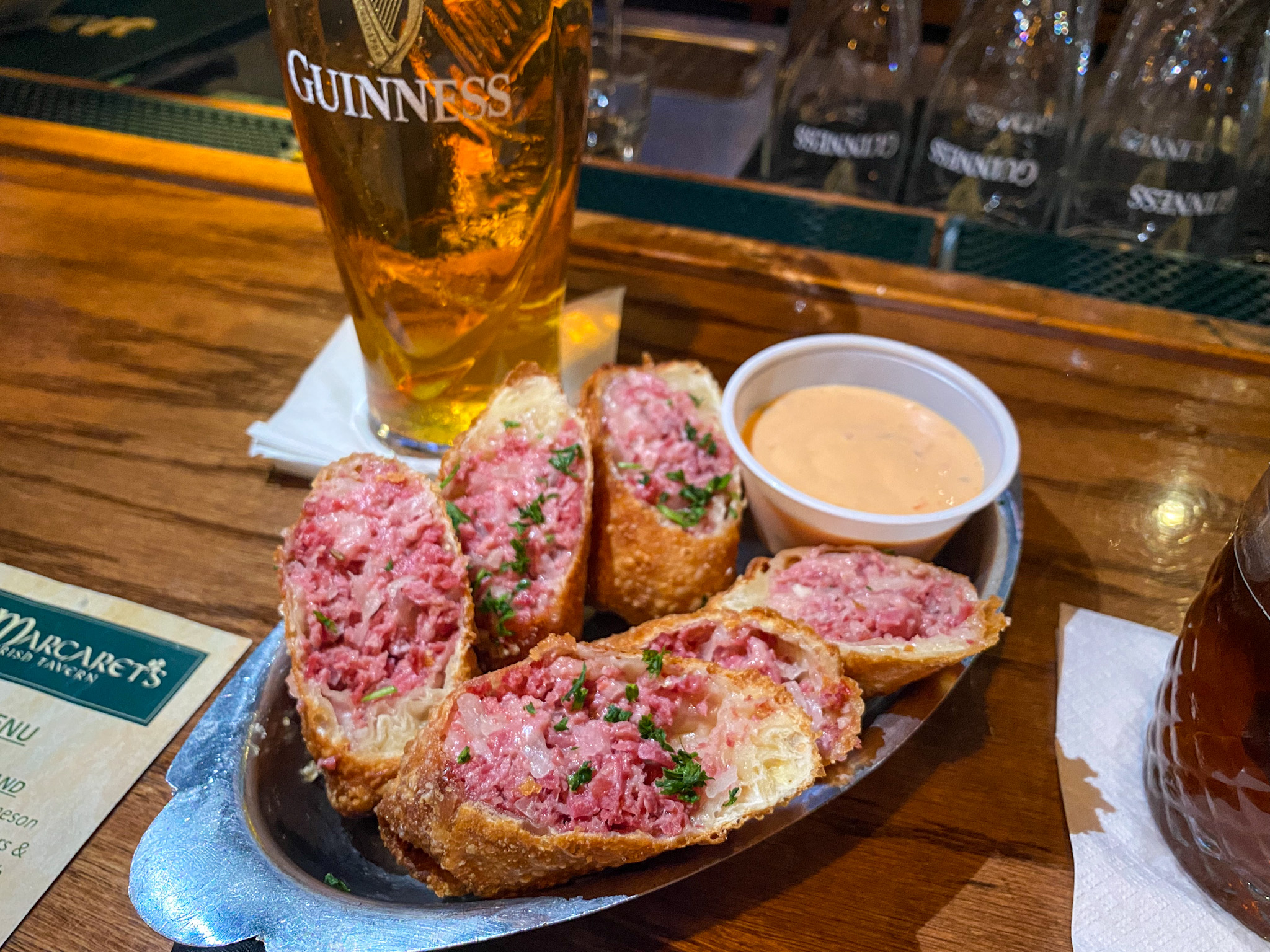 Now, back to the Bangers and Mash. Boland's Bangers n' Mash comes with two Irish bangers over Mary's golden smashed potatoes with Guinness gravy. This dish is loaded with rich comfort and is also available served vegan.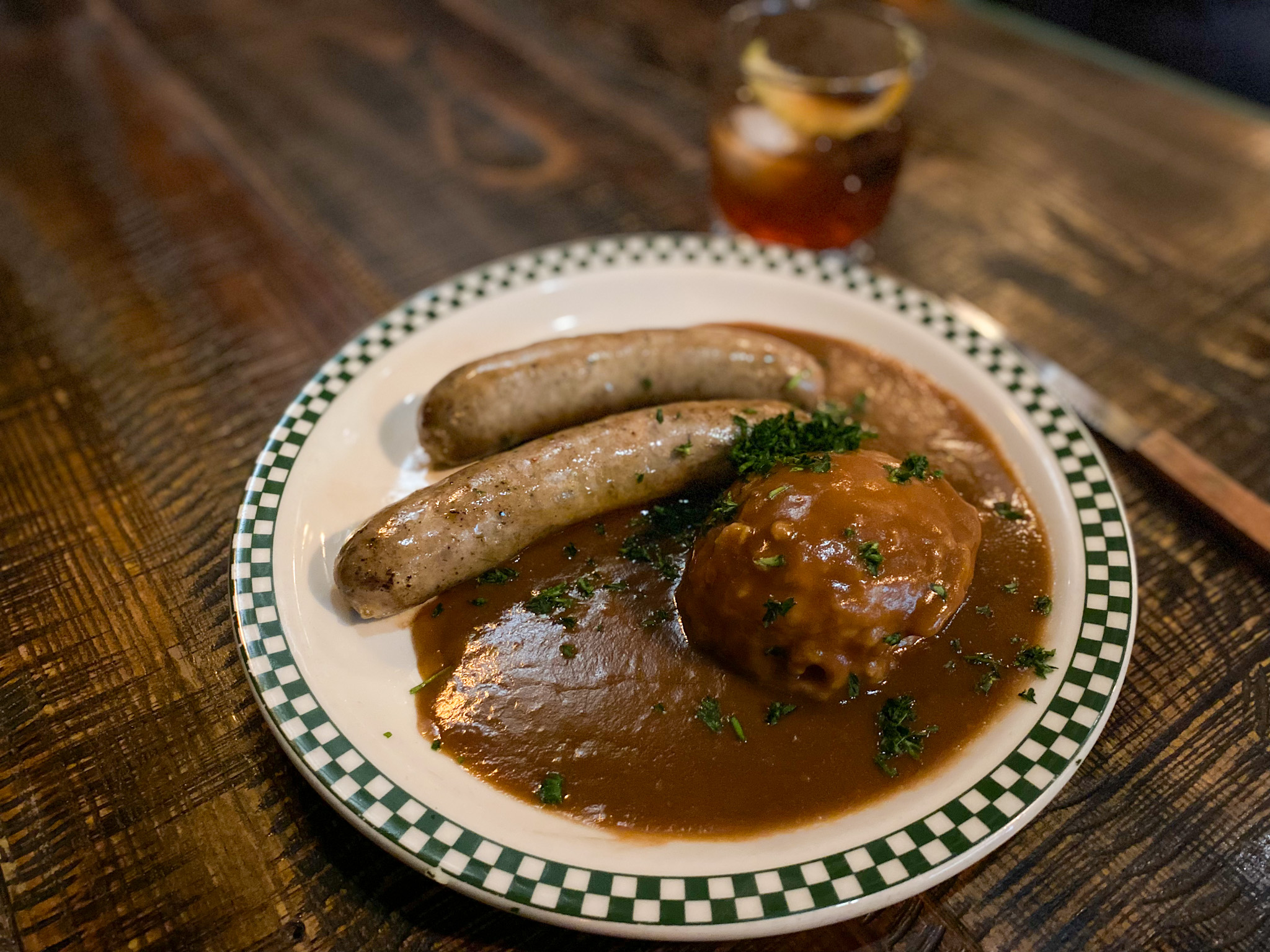 When we asked the gracious staff at Mary's about some of the favorites on the menu, the Guinness Burger was mentioned at the top of the list. Being the burger lovers that we are, we had to take everyone's advice and give it a go. The beef for this burger is infused with none other than Guinness. The patty sits on a flaky roll and is topped with grilled mushrooms, Irish cheddar, romaine and tomato slices. My suggestion is to opt for the waffle fries as your side. The burger is thick, juicy and oozing with flavor – from the patty itself and the generous topping of mushrooms and cheese. The burger is also available as a vegan option too on a pretzel roll with plant based ingredients. [Editor's note: Mary Margaret's Guinness Burger made our top 10 for 2021.]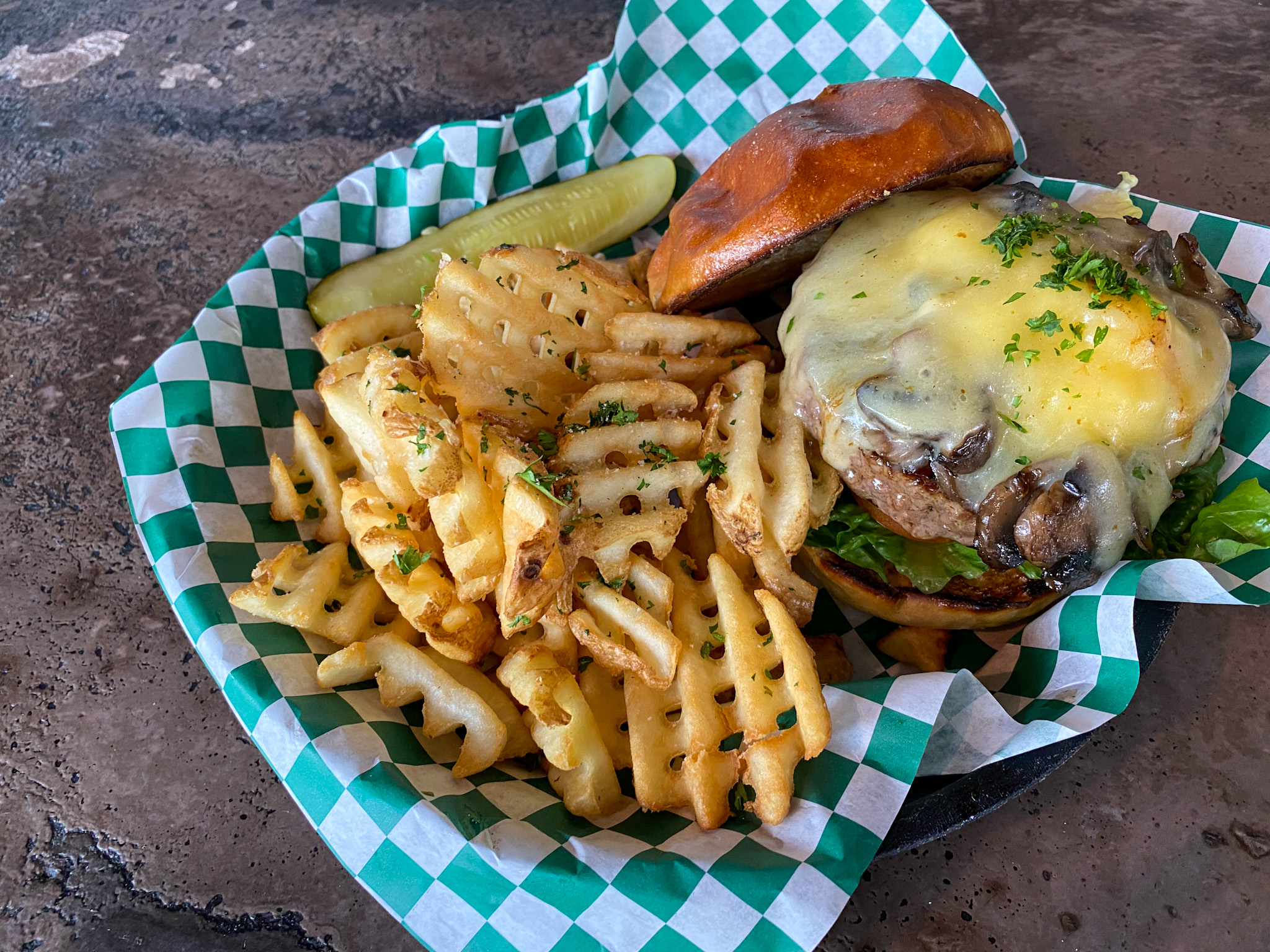 The next time that you're in search of a great spot for happy hour, pop into Mary Margaret's Monday through Friday between 3:00pm – 6:00PM. Few things better than $4.00 wells/select wines and $5.00 20oz drafts. There's much more to this tavern than happy hour and a killer dinner menu though. Stop in for a laid back lunch during the busy week or for brunch on Saturday or Sunday. Mary Margaret's Olde Irish Tavern is the type of spot that's easy to keep coming back to time and time again for any occasion. In fact, it may just be my new favorite tavern in town.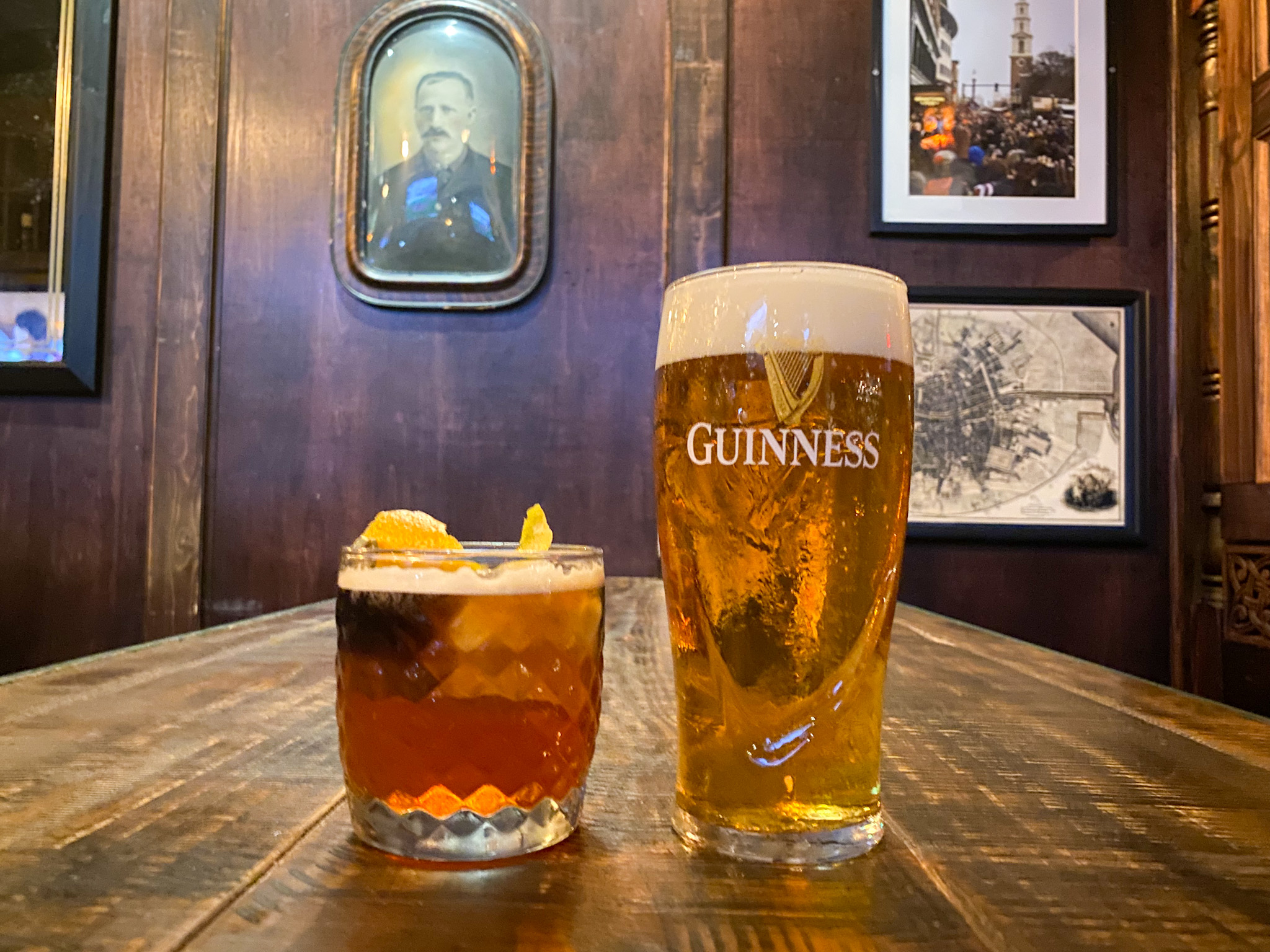 Authentic Irish Tavern with some modern twists.
DISCLAIMER: Kevin, Lori, Abby, Haley, & Lindsey do not dine anonymously (this would be impossible) and we sometimes get free food (though never expected). However, we dine with the locals and we support our own. You will always get honesty in a respectful manner. We do not include any large national or regional chains in our ratings and reviews. We focus on independent locally owned eateries exclusively.

PLEASE NOTE: Reviews reflect a certain moment in time. Some restaurants stay extremely consistent over many years, and some change for the better or worse. Some things that may change are: chefs, recipes, food suppliers, ingredients, philosophies, ownership, etc. We always hope that you have the same good, or great experience we had.
More Foodies News, Reviews & Recipes
2 Responses