The Glamorous Sweet Divas Chocolates in DTSP
The Glamorous Sweet Divas Chocolates in DTSP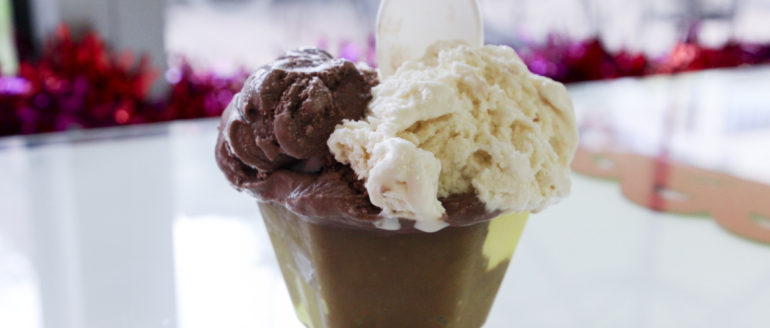 Specializing in all things chocolate, Sweet Divas Chocolates is the best spot in St. Pete to successfully cure your sweet tooth cravings. Serving up Belgian chocolates, homemade ice cream, specialty cakes and more, Sweet Divas is an essential staple downtown. Located near all the hot spots in town, come in for a delicious treat and stroll down by the Bay or the hustling Beach Drive.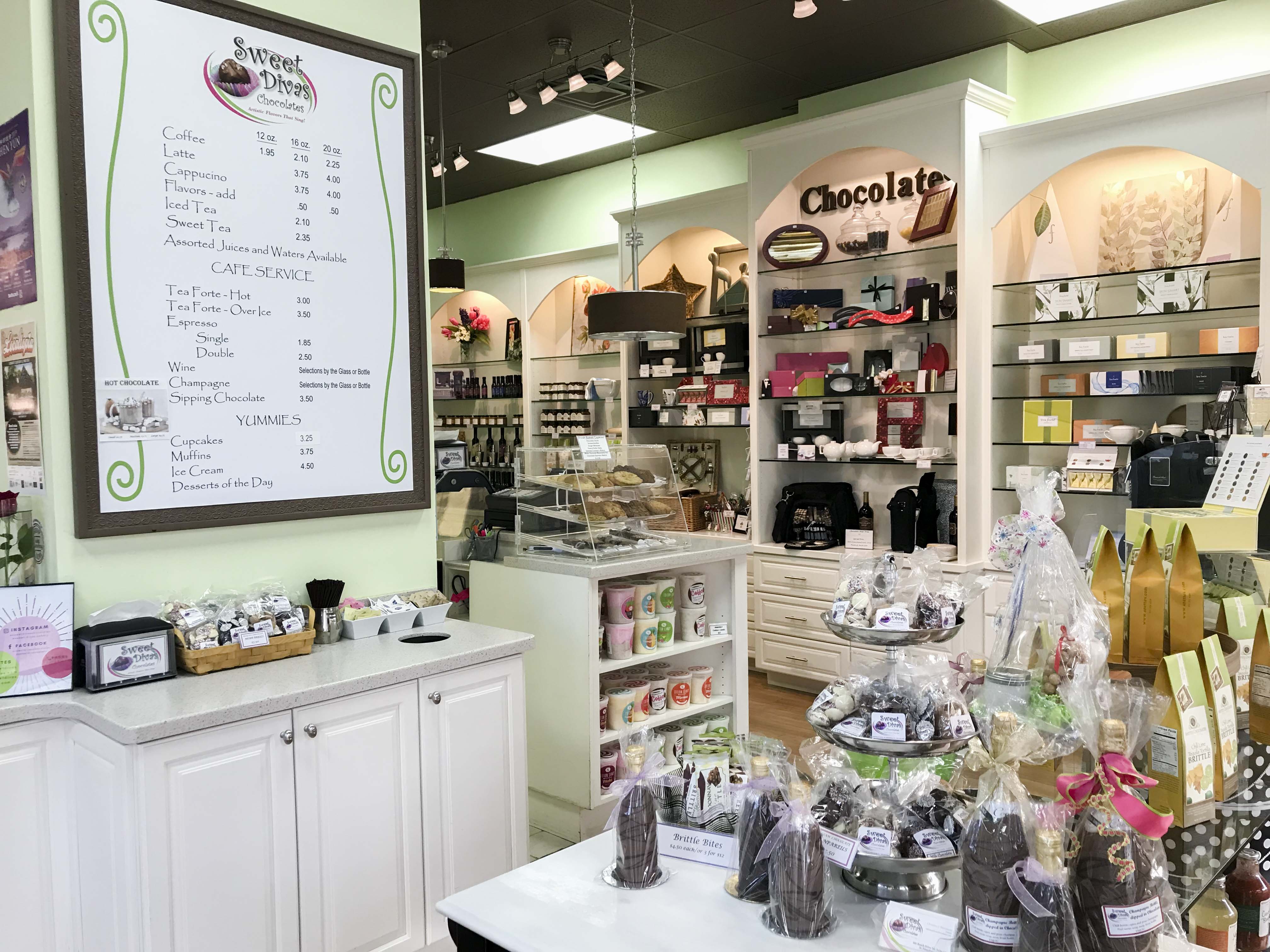 The first thing your tastebuds will gravitate towards is the chocolate display. They come in all different shapes and sizes with different fillings and flavors. Sweet Divas does an excellent job at standing out with their Florida-inspired chocolate shapes. They have everything from alligators to seashells! The best part? They taste good too! A few of my favorites are Chocolate Bling, Peanut Clusters and Seahorses.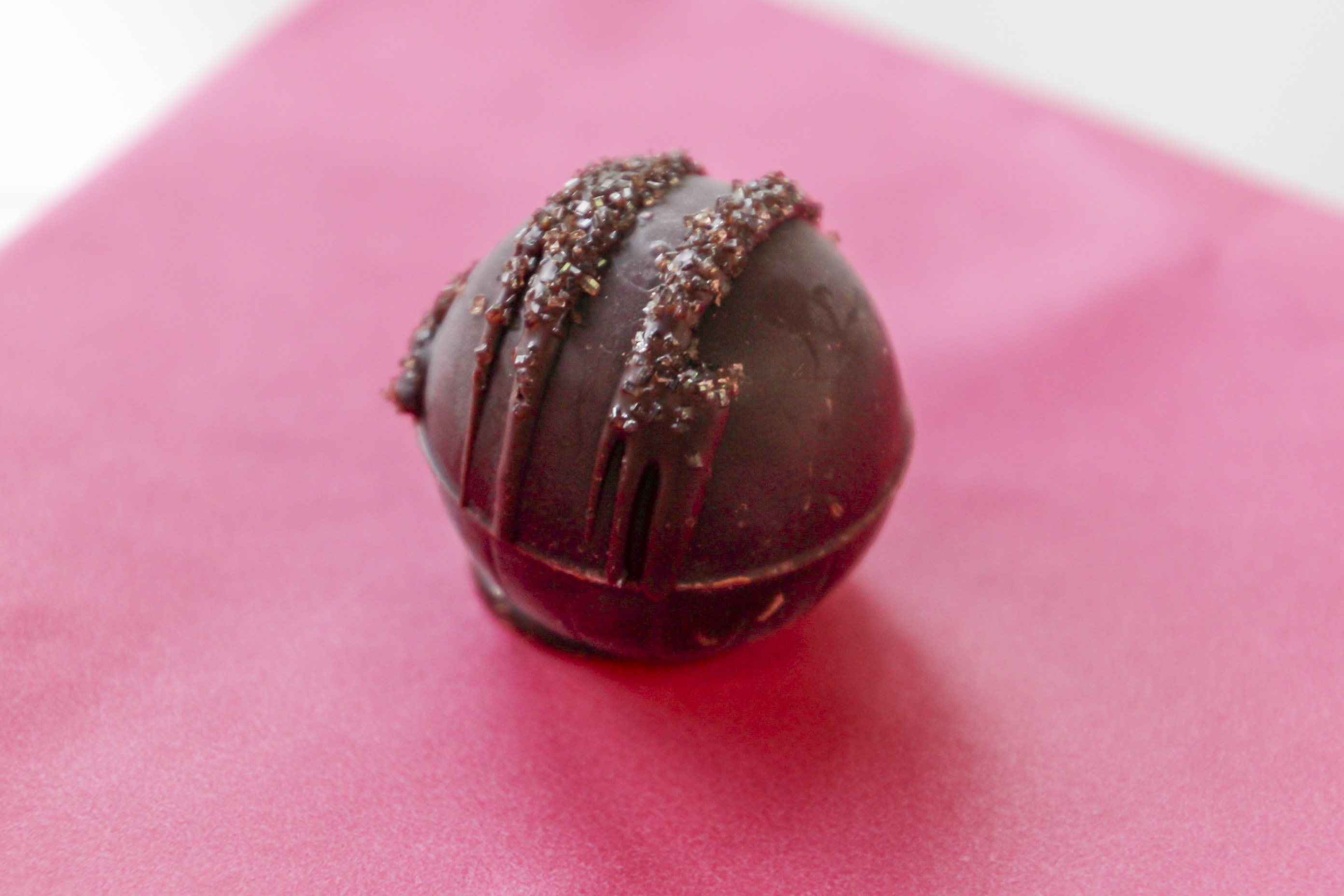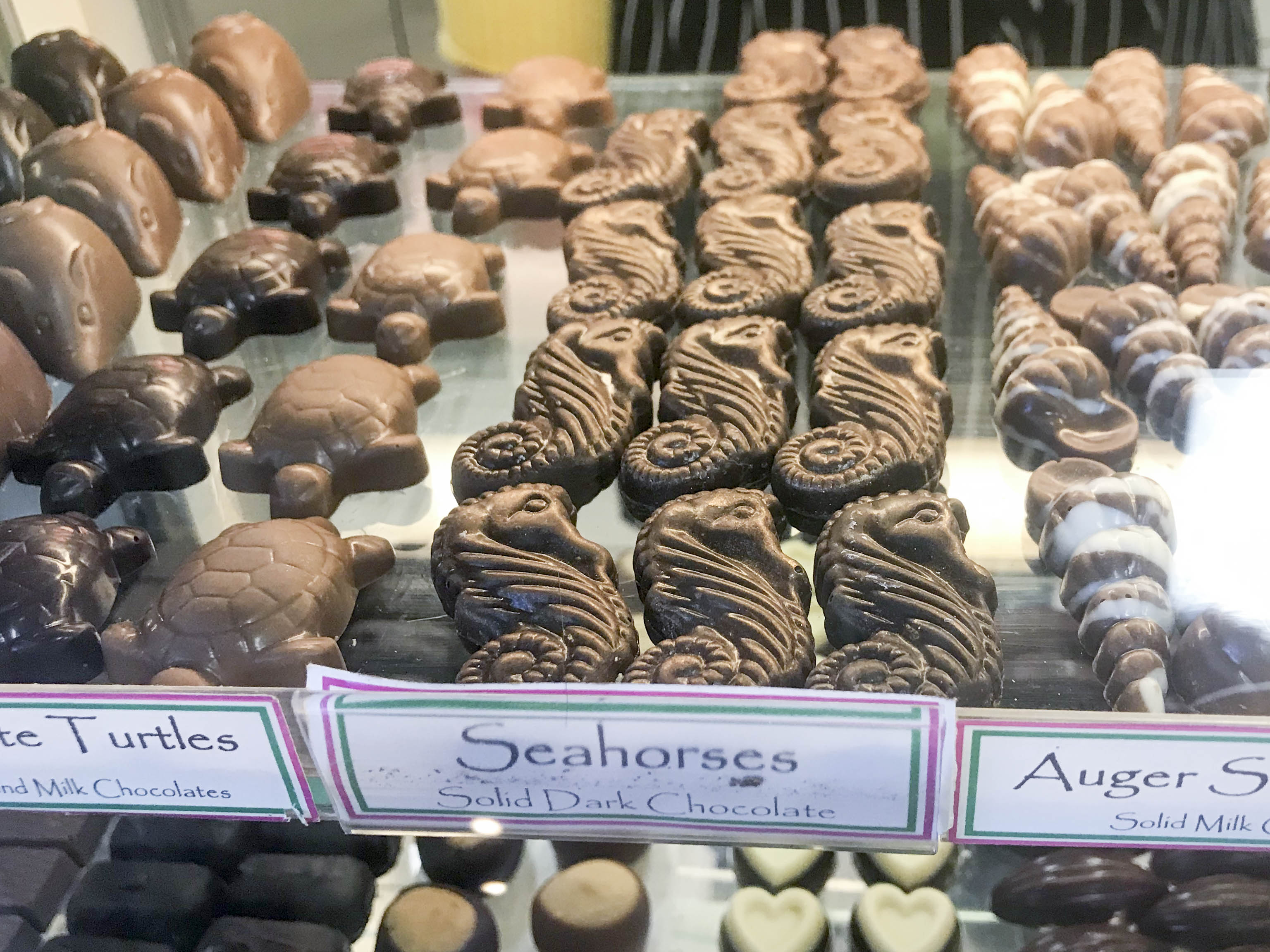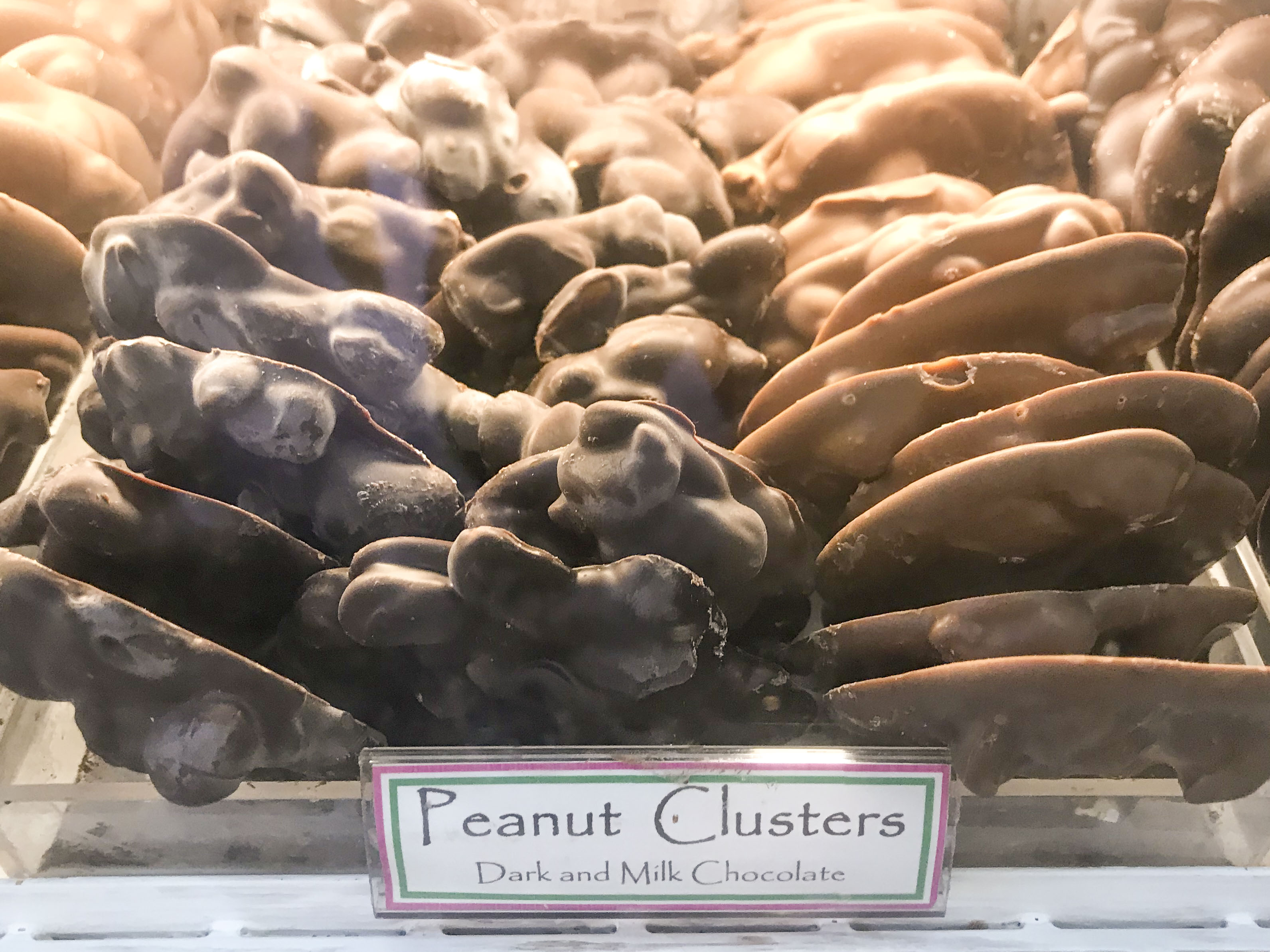 They serve some of the best gourmet cupcakes in the burg, and each one is uniquely named after 'Divas'. I tried the Carmel Electra which is caramel filled Madagascar vanilla cake, buttercream frosting, and caramel and walnut toppings. It was a delicious treat if you're looking for a smooth and thick frosting with delightful caramel hints and a little crunch from the nuts. To fulfill my chocolate sweet tooth, I also got the Chaka-lat Khan to-go for a second dessert later that day! The Chaka-lat Khan is a double chocolate cake with Belgian chocolate frosting with almonds. If you're like me and need some chocolate after dinner, this was the perfect night cap!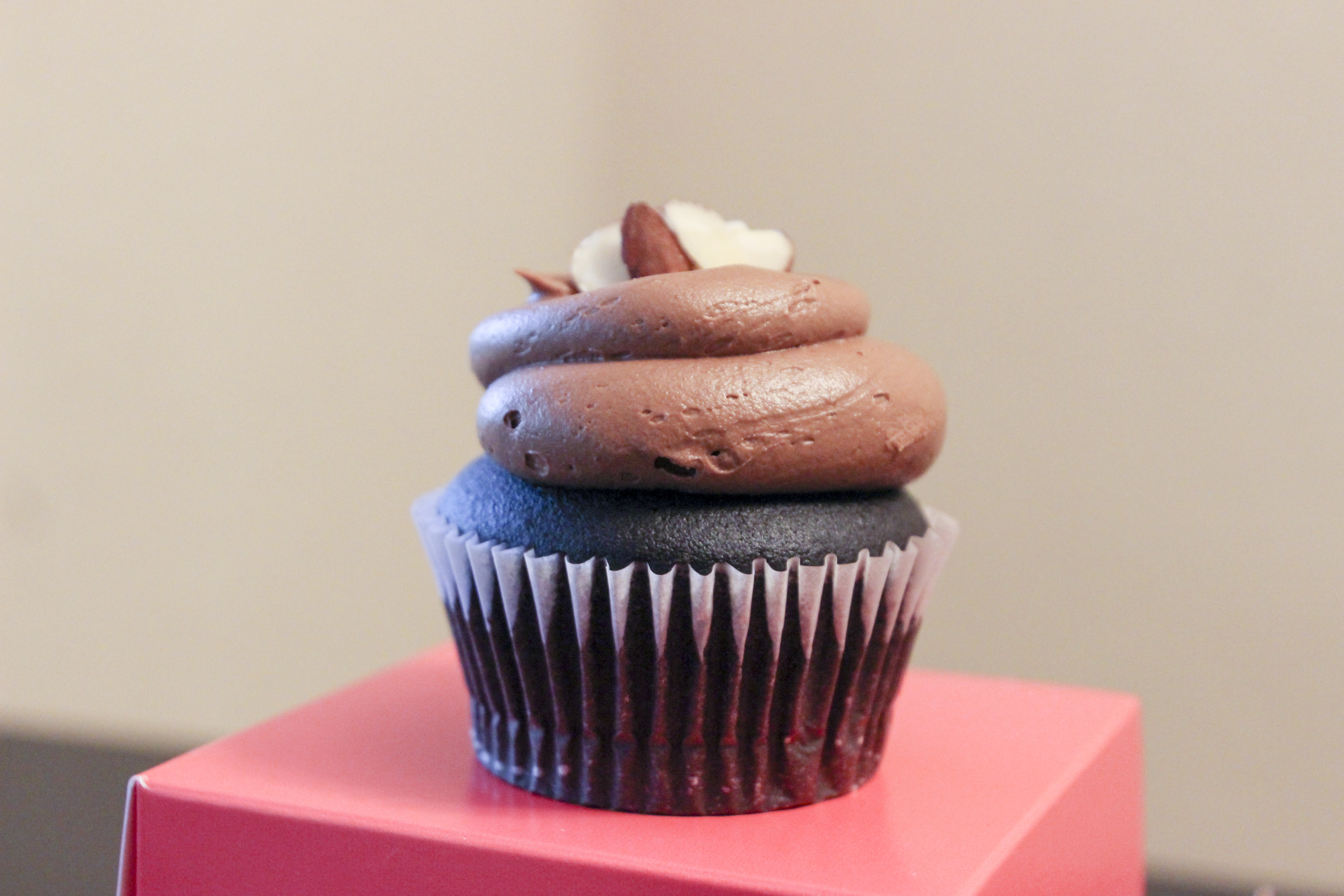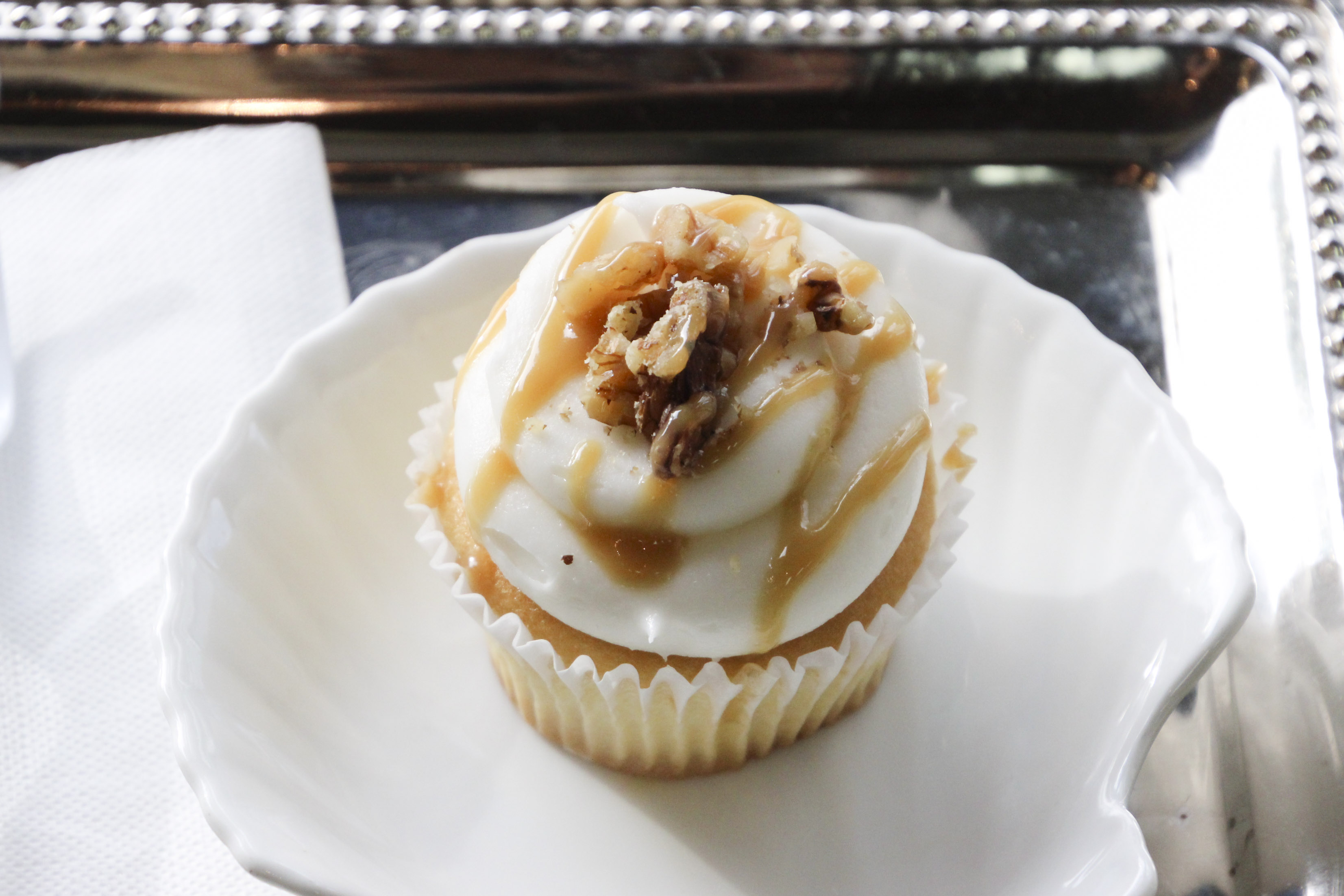 This cupcake tasted as good as it looks and paired perfectly with a Hazelnut Cappuccino. Stop in on your way to work for a coffee, latte, cappuccino and more. I tried their Hazelnut Cappuccino and an Iced Coffee and although Sweet Divas isn't a coffee shop, I was very impressed!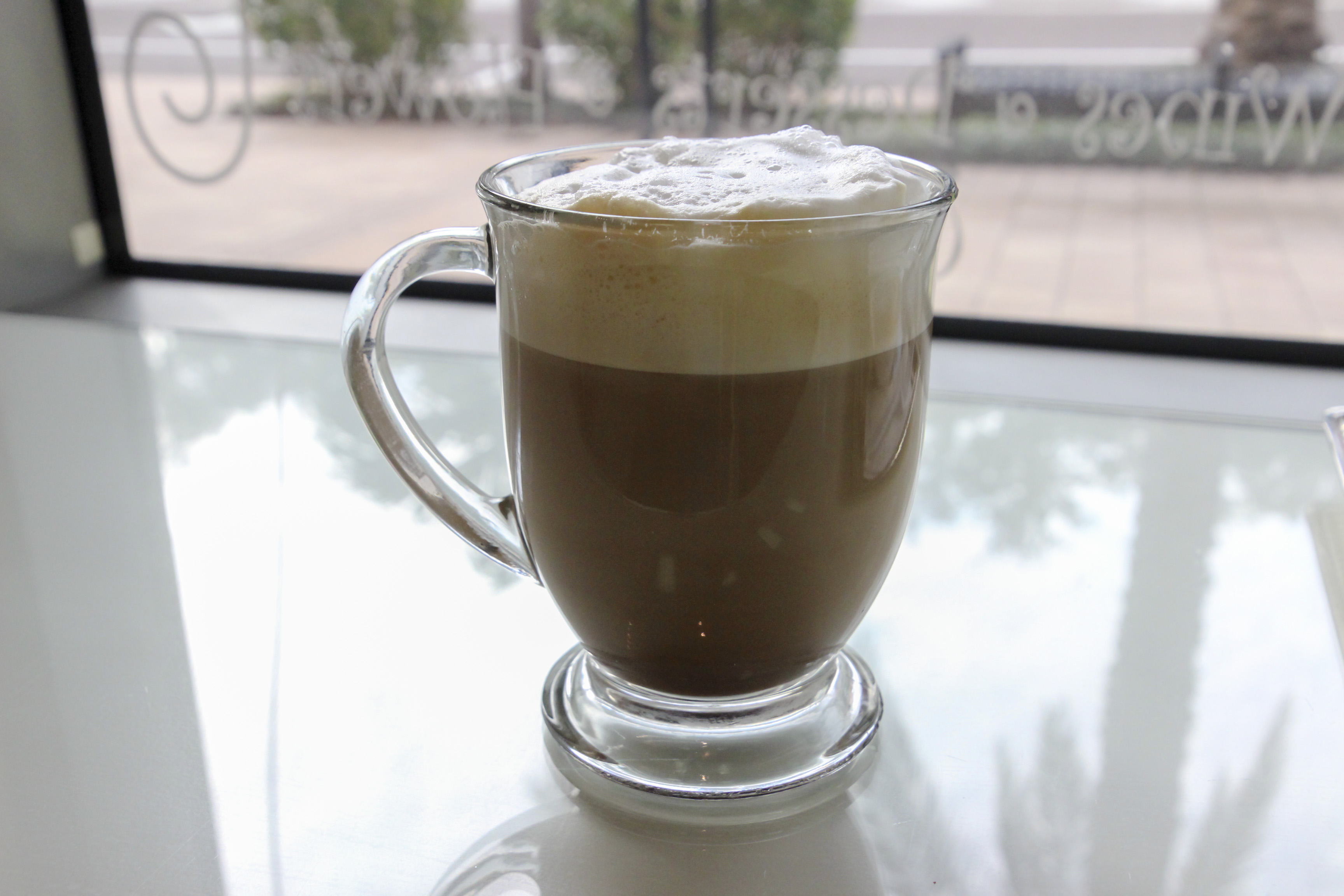 Now for those hot days approaching in Florida, Sweet Divas has some of the creamiest and richest ice cream options. They have flavors like Apple Pie, White Almond, Pumpkin Spice and more. I asked for some recommendations and settled with their Butterscotch Caramel Sea Salt and Chocolate Chocolate with Belgian Chocolate Chips. The texture was creamy and smooth, and the taste was satisfying! Try the Butterscotch Caramel Sea Salt and you can thank me later!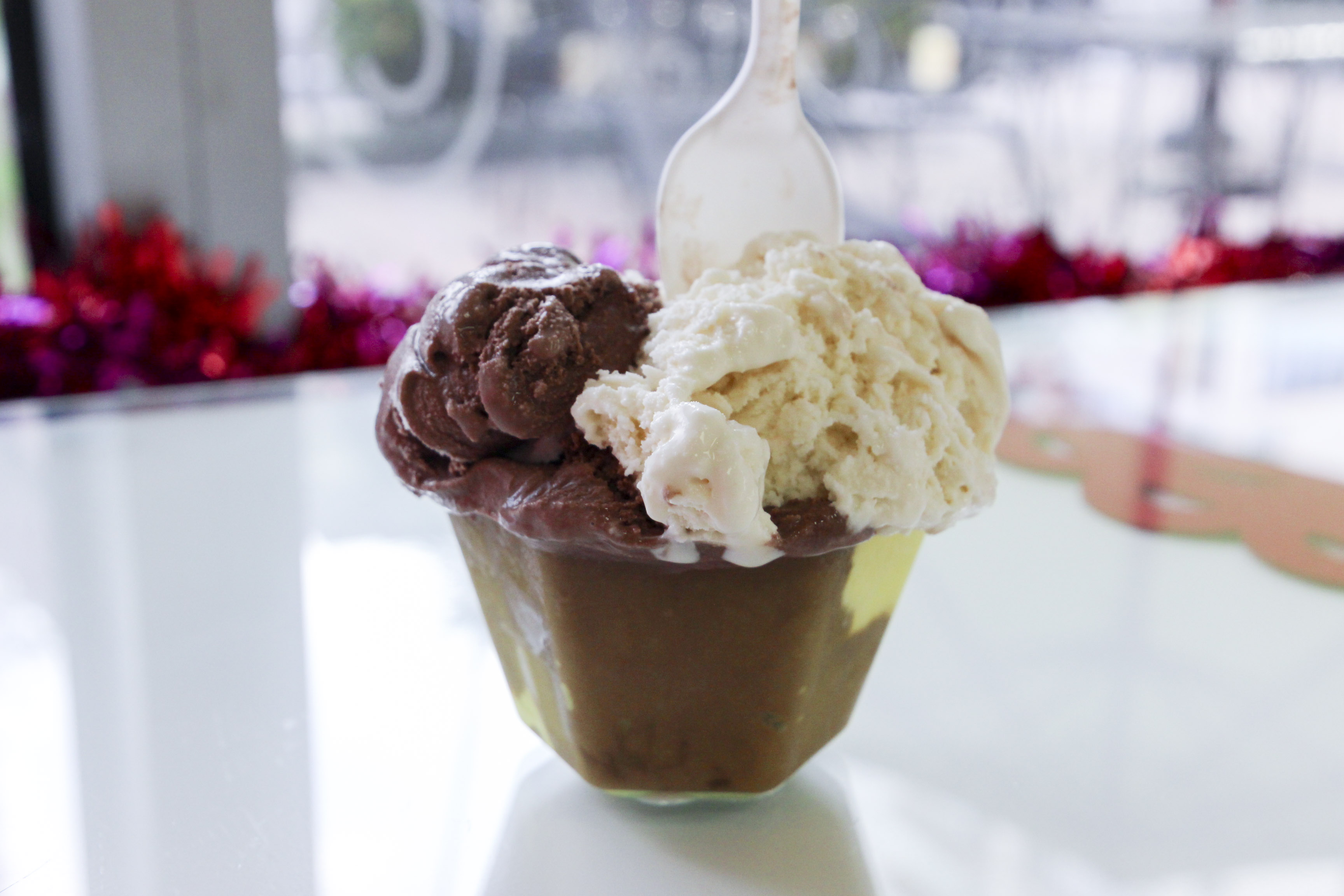 This chocolate inspired cafe has more than you think. They also have giant cookies and brownies, cake pops, muffins, milkshakes, teas, wine and more! In addition to their goodies, you can also shop for some amazing gifts here. Some items include, chocolate covered champagne  bottles, cocktail mixers, candles and lotions, brittle and so on.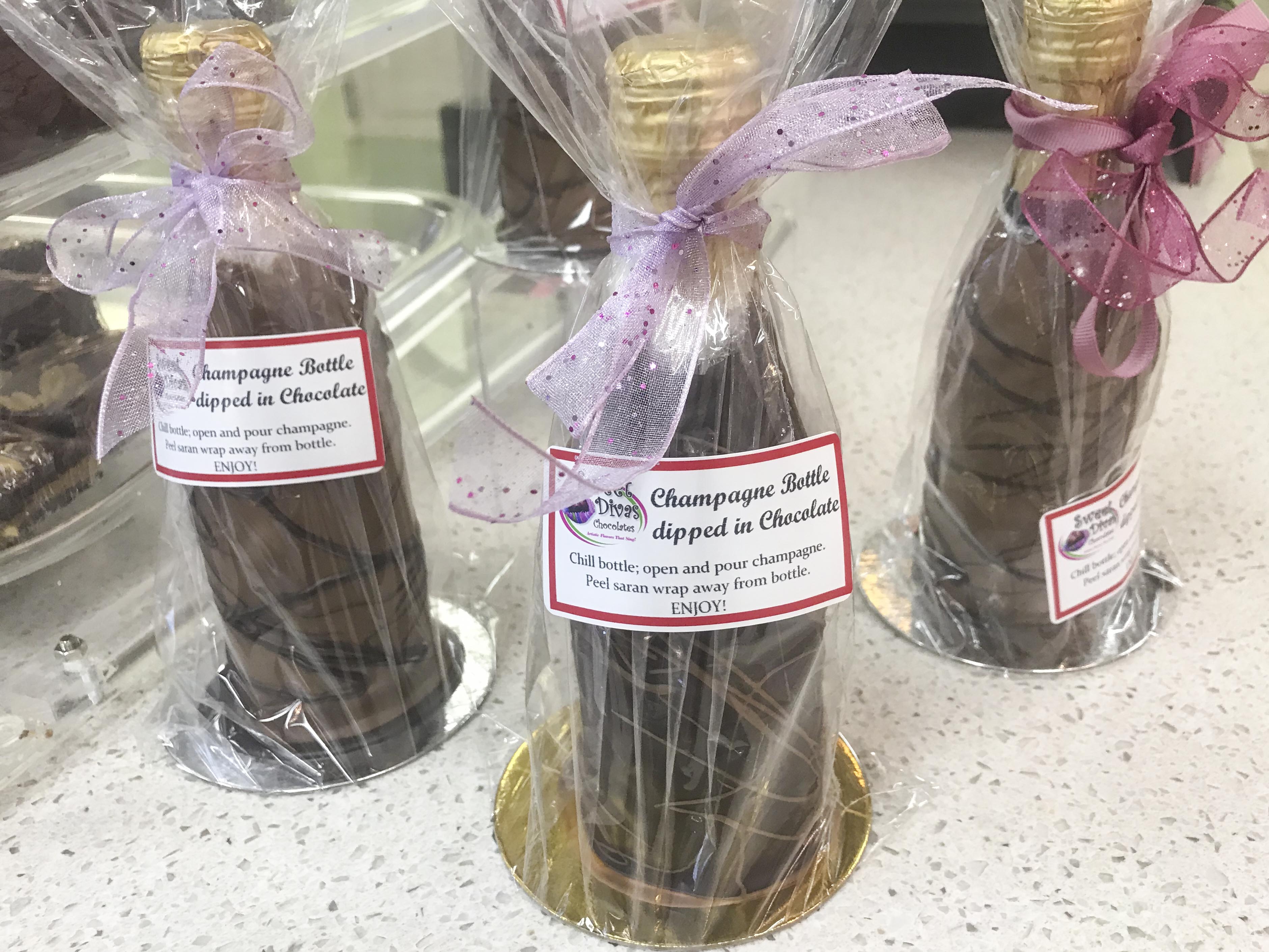 Chocolate lover or not, Sweet Divas Chocolates has an impressive menu with delightful treats and drinks. The next time you're strolling along Beach Drive be sure to stop in for some delicious desserts!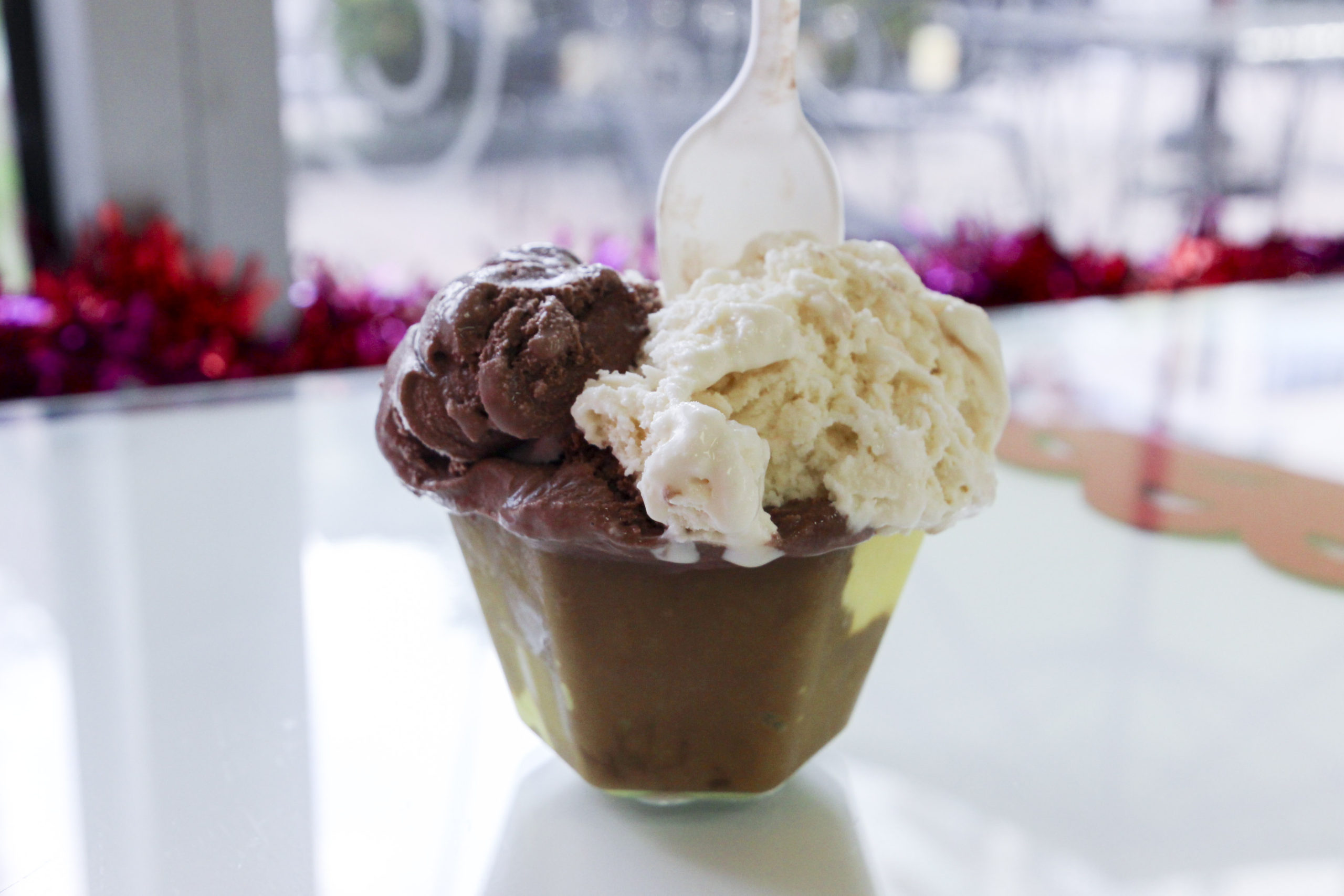 Readers Rating

Rated 5 stars




5

/ 5 (

5

Reviewers

)

Spectacular
---
Sweet Divas Chocolates

(727) 379-4567

Desserts

,

Chocolates

,

Cupcakes

Mon - Thu

9:00am - 9:00pm

Fri - Sun

9:00am - 11:00pm
400 Beach Dr NE

,

St. Petersburg

,

Fl

33701

,

USA
---
More than just a chocolate shop, Sweet Divas Chocolates features the finest Belgian Chocolate.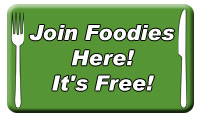 Bakery St Petersburg FL, Beach Drive St Pete, Beach Drive St Petersburg, Chocolate St Pete, Cupcake Delivery St Petersburg FL, Cupcakes St Pete, Desserts DTSP, Desserts St Petersburg FL, Ice Cream St Petersburg FL, Sweet Divas Cakery, Sweet Divas Chocolates, Sweet Divas Chocolates St pete, Sweets St Petersburg FL
Written by Haley Haman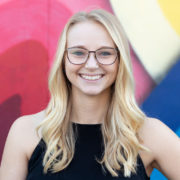 Born and raised in Chicago, I made my way to the sunshine state 3 years ago to explore a different lifestyle (without snow boots and sub zero temps!). I recently graduated from USFSP and currently work as a Marketing and Content Coordinator in this beautiful city. I like to start my day with a bike ride by the Bay and end it by visiting a local dessert, booze or coffee shop!
View all posts by: Haley Haman
More Foodies News, Reviews & Recipes
2 Responses
#stpetersburgfoodies #stpetefoodies
Recent Posts
Across the pond (literally) from The Deck Bar & Grille (which I reviewed earlier this month – article here ) you'll find Sushi Rock Grill which houses a completely different vibe and menu than the sports bar. Sushi Rock is located just off of the Pinellas Bayway in the plaza in front of the Isla Del Sol Yacht & Country Club. I'll admit that I was shocked when we walked in the front door, as the decor surpassed my expectations. The exterior of Sushi Rock is quaint and very clean. When you pull into the plaza, it's the first business you pass. I honestly don't know what I had in mind for the inside of the space but I was pleasantly surprised when we walked through the dining room. The interior is modern and very clean and modest in size but bigger than I thought with at least a dozen or so tables and a sushi bar with seating. If you continue through the dining room to the patio, you'll uncover even more seating along the water in the back of the building. It was an 80 degree + afternoon with plenty of sunshine and no signs of humidity (yet) so dining on the patio in the early evening was an attractive option. Other folks thought so too because shortly after our 5:00PM arrival every table outside was filled with the exception of a larger table that already had a "reserved" sign on it. The inside was no different either – when we left around 6:00PM, the inside was basically full and multiple take-out orders were ready and waiting to be retrieved and devoured. Upon taking our seats outside, we jumped right to the drink section – it was a very warm and sunny afternoon and a cool and crisp drink was necessary. Had we been anywhere else I probably would've opted for a rosé or perhaps sauvignon blanc, but being that sushi was in our near future, sake felt right. Our waiter pointed out a few suggestions and even showed us a few off-menu sake options. We went with his suggestion as it's a popular choice and it definitely did the trick. Cloudy but bright, semi-sweet and ultra refreshing. Food wise, we kicked things off with Edamame – perfectly steamed soybeans with a sprinkle of sea salt. I'm a sucker for a snack that I can get a lot out of with minimal effort. Optimal ROI, if you will. Edamame is just that for me. And edamame is nothing to feel guilty about eating. In fact, it's a great little warm up for the meal. Sushi Rock offers this simplistic and classic version of edamame as well as a spicy garlic rendition. I'm likely to co-sign on an order of vegetable tempura, or anything tempura really. The vegetables are fried in a light and delicate batter. Because the batter isn't that heavy and frying time is minimal, the vegetables maintain their vibrant fresh flavors. I could've easily made a meal out of the edamame and veggie tempura alone. The dish arrives with 6-8 large pieces of assorted vegetables like zucchini, onion, carrot, broccoli and asparagus. Because some of the vegetables were so large they required a fork and knife, so my only suggestion to them would be to cut the veggies (like broccoli and zucchini) into smaller more manageable bites. So, you can't just go to Sushi Rock Grill without ordering sushi/sashimi, especially considering the number of rolls offered. They have it all – raw, cooked, partially raw, vegetarian, coconut shrimp rolls, rolls with snow crab and lobster, and the list goes on. Having a tough time deciding on a roll(s)? Order Sushi Rock's Sushi Jo which is a Chef's choice roll with six different pieces of sushi/maki. I actually did not see this option until after we already ordered, otherwise this definitely would've been the move. They have similar options for their sashimi – they have a Chef's choice app with eight pieces or a larger sashimi dinner selection that is also chef's choice. Two rolls were ordered – the Lollipop roll and the Yummy roll. Two completely different rolls, yet they possessed similar characteristics: notably vibrant and fresh flavors The Lollipop roll is quite different than the typical rolls that I gravitate towards. Unlike most sushi rolls, the Lollipop is rolled in a cucumber wrap which added a fresh crunch with every bite. Wrapped in the cucumber you'll find tuna, salmon and yellowtail and the roll is also served with ponzu and tobiko. It's a very beautiful and appealing roll, bursting with natural flavor notes. The only downfall about the alternative cucumber wrap is that the pieces do not stay in tact, which can make for a more difficult bite. The Yummy roll was selected at random and is comprised of a simplistic combination of sweet potato tempura and avocado. It was much smaller and more manageable to eat and ended up being quite satisfying with only minimal ingredients. This roll is one of their vegetarian options. The house salad with ginger dressing is always a highlight whenever we go for sushi, no matter the restaurant. There is just something so satisfying about the cold and crisp lettuce topped with bright and zingy carrot-ginger dressing. At Sushi Rock Grill, all of the entrees come with the options of this salad or a soup. On a warm spring evening in Florida, the salad was an unquestionable move. There's much more to Sushi Rock Grill than just the sushi. Their menu is chock-full of non-sushi items like curries, fried rice, beef and chicken dishes like Katsu and Korean Bulgogi and noodle bowls like this one – the Saigon Noodles. All of the noodle bowls (five in total) come with your choice of chicken, beef, shrimp or tofu.  In the Saigon Bowl you'll find rice noodles with tons of fresh Thai basil, bean sprouts, jalapeños and crushed peanuts with a French/Vietnamese sauce and a lime wedge (and you should always use […]

May 16, 2022

No Need to be Salty about The Salty Nun

From the creators of Salty's and Stella's in Gulfport comes The Salty Nun located in the Grand Central District. The Salty Nun took over the short-lived Swinger's space, which I unfortunately never got a chance to try. From what I've seen through pictures, they kept the previous aesthetic and brought in a new menu. You'll notice as you arrive the bright blue and green colors that adorn the large patio. The restaurant is about 90% outdoor seating and 10% indoor. It's the perfect spot for a breezy St. Pete afternoon. Especially on the days they have live music. Unfortunately for me, I missed the live music by about five minutes. They were setting up as we were checking out. My friend and I decided to take a spot at the bar, my favorite thing to do when there's just two diners. I quickly learned that this was a very casual joint by asking what fun breakfast cocktail they could make for us, and she suggested a screwdriver. The good news is that they offer doubles. She convinced my friend a screwdriver was the way to go, and I went with a Bloody Mary. The Bloody Mary was perfect for me, made with a doctored-up Zing Zang base. We decided to share several items on the menu starting off with the Pierogis and Black Bean Cake Breakfast. In my eyes, the Pierogis were flawlessly cooked (not that I'm an expert on Pierogis by any means). The dough was slightly chewy with a bit of crisp from the pan frying. The potato filling was extra smooth and had a slight garlic flavor. The Pierogis were topped with grilled onions and served with sour cream on the side finishing off each bite perfectly. The Black Bean Cake Breakfast was the star of the show for me. It comes with two crispy on the outside (presumably deep fried) soft with good texture inside and topped with a salsa verde, adding heat and acidity, and feta cheese, then two eggs your way and toast. We decided to order our eggs over medium and chose sourdough toast. With each bite of the black bean cake, we found a new way to eat it. A bite with just the cake and minimal salsa verde, a bite with salsa verde and feta, a bite dipped in egg yolk, a bite on the toast with the salsa verde and the feta and the yolk (aka the perfect bite). This was a dish that my friend and I both said we would come back for time and time again. Next up was the Thick Cut Challah French Toast served with cinnamon butter. I would say this one slightly missed the mark for me. The French toast itself was simple, as if you made it at home yourself. Which is not a bad thing! What threw it off for me was the cinnamon butter and not having syrup given to me until I was nearly done eating. The cinnamon butter was so cold it almost had the texture like it was just pulled out of the freezer. The flavor was there, but it would have been much better if it could have easily melted on my toast. Once I had a bite with the syrup and some butter I saw where the dish could be quite good, but it seemed it was poorly served and executed. I'll chalk it up to bad luck on that one. From there we decided to move on to some lunch items. I ordered The Salty Smash Burger and my friend ordered the Salty Nun Turkey Club. The burger was served with two patties, American cheese, onion straw, lettuce and tomato. The "smash" burger was more like a double cheeseburger, sans smash. I had to remove one of the patties to even be able to take a bite, but it was worth it. The burger was juicy and flavorful and the crisp and saltiness of the onion strings rounded out the burger well. We ordered the Turkey Club with no bacon, as my friend doesn't eat pork. It came served on lightly toasted sourdough bread with an abundance of turkey, lettuce, tomato, avocado, cheddar cheese and mayo. This was your classic Turkey Club sandwich; it was refreshing and perfect for a warm afternoon eating lunch outside. Overall, The Salty Nun was a great spot to sit at the bar, have a couple of drinks and enjoy the company of a friend and some good food. I plan on going back on a Drag Brunch Sunday and ordering the Black Bean Cake Breakfast as soon as I can!

The restaurant traditionally known for its relaxed coastal cuisine, has introduced a new menu to bring Nouveau American Cuisine to Beach Drive in downtown St. Petersburg. Director of Culinary, Chef Nick Ocando says, "The new summer menu items are thoughtful and welcoming with a strong focus on high quality ingredients treated with respect." The new menu items feature a wide variety of food sourced from many local farmers. This keeps the menu seasonally driven giving patrons the highest quality food to enjoy. One of the unique selections offered is the Piedmontese Beef Filet. This is a hard to find Italian breed of beef that is higher in protein than black angus beef. 400 Beach is one of the few restaurants in the area to import this special cut of beef. Monica's cornbread, one of the most popular new starters comes from a special family recipe. Being a Maine native, Chef Nick takes the utmost pride in the quality of seafood we serve, such as, George's Bank Scallops served with fava beans, English peas, baby summer peppers and fire roasted corn. Classics from his home town like the 400 Lobster Roll, East Coast Oysters and New England clam chowder are also delicious new additions to the menu. All of the menu items at 400 Beach are complemented by any one of the bar's signature cocktails created by Ingi Sigurdsson, Director of Beverage. Ingi states, "Our new summer cocktail menu features classic summer cocktails with a fun and unique spin. For instance, our Rum Runner is made with banana, blackberry and lemon and sure to surprise the senses." Fresh and lively summer flavors like cucumber, strawberry, mint, peach and even brûlèe'd jalapeno, turn every sip into a delightful complexity that will leave you craving another. There are five new cocktails to appeal to every type of liqueur lover.

The Deck Bar and Grille at Isla – it's a spot that I've driven past hundreds of times on the way to St. Pete Beach yet never paid it any attention. That's because it's tucked away in the back of the Isla Del Sol Shoppers Village just off of the Pinellas Bayway. The restaurant sits on the water with an attractive open-air atmosphere. It's cozied right up next to the Isla Del Sol Yacht & Country Club and The Deck is somewhere that I wouldn't mind ending up at after a round of 18. The overall feel is that of a sports bar with a different game on every television, buckets of Rolling Rock and PBR and a menu of non-pretentious food items like burgers and sandwiches, wings, tacos and more. Indoor and outdoor seating is quite abundant with lots of bar seating as well. For 6:00PM on a Tuesday, the place was quite packed. With specials like all day happy hour from 11:00AM-6:00PM as well as $2.00 Tuesday deals on select beers and vodkas and trivia night, it's quite easy to see why. The all day happy hour which happens Monday – Friday from open until 6:00PM also draws in the crowds. In addition to trivia, on select nights they also have karaoke and live music. The sports bar vibe that The Deck gives off, as well as the number of televisions, also makes it an ideal spot to catch a ball game. If you're into karaoke, The Deck may just be the place for you. On Sundays, they have karaoke as well as brunch cocktail specials on mimosas and Bloody Marys. Per usual, my husband and I eyed two open seats on the outdoor portion of the bar and swiftly scooped them up. We were promptly greeted by the bartender and informed of the Tuesday specials: $2.00 PBR & Rolling Rock Cans, Fireball, 3 Olives & Deep Eddie Vodkas. We both jumped at a Deep Eddie's Lime Vodka and Tonic – and of course it was as refreshing as it sounds. We mulled over the appetizers for a while but ultimately found balance somewhere between the hot boneless chicken wings and the nachos. The nachos were exactly as we had hoped: lightly topped with the basics like lettuce, tomato, queso, homemade chili and jalapeños and served with sour cream and salsa. It was plenty without being too overwhelming but we could've probably made that a meal had we eaten every bite. My husband loves buffalo chicken wings, especially boneless buffalo chicken wings. Okay, I do too – but not boneless. I'm a traditionalist all the way when it comes to my wings but hey, we have to pick our battles, right? The wings arrived and the portion was quite fair though the presentation was underwhelming. We opted for hot and the flavor was on point with the perfect touch of heat. However, we would have liked the boneless bites to possess a bit more crunch and character. However, we did watch a number of traditional wing orders make their way out to various tables and they looked delicious. In between our appetizers and the entrees we requested a simple side salad with balsamic vinaigrette and it was a fantastic intermission between the two acts. Nothing fussy or frilly – just some simple toppings on a small bed of greens with a zingy balsamic dressing to round things out. After watching them hit the tables of numerous hungry patrons around us, we ultimately decided that we had to get the Mahi tacos. The tacos arrive as a trio and do not come with two sides like the other entrees. Trust me, you won't need the other sides. The tacos are enough heft on their own. The Mahi was wonderful and flaky with great blackened flavor. A simple slaw rests underneath the fish. Overall, the tacos were good but they could've used some kind of crema or a different salsa perhaps. We did not care for the small cup of tomato salsa provided. Out of everything from The Deck that we have had the chance to try thus far, the Tampa Cuban was my favorite. Between two pieces of a pressed Cuban roll you'll find salami, mojo pork, ham, Swiss cheese, mayo, mustard and sliced pickles. Simple with the staple ingredients only, just as it should be. Each sandwich is served with a side. My usual choice would've been French fries but we decided to switch it up for a change and let tots have the spot light. Let's face it, they did the job but French fries are just always going to be the go-to for me. Even with how busy The Deck was, in the midst of the dinner rush, the service was still impeccable. We were sitting at a full bar, which wrapped around the establishment, with multiple folks and our bartender never missed a beat. Ultimately, The Deck Bar and Grille at Isla is a quaint little gem, especially for the folks living in the surrounding communities and those who frequent the golf course. It's the type of place with a bar that anyone would feel comfortable bellying up to. With specials like all-day happy hour, $2 Tuesdays and Sunday brunch specials, what's not to like?

May 3, 2022

Great Pizza and Good Grub at Slice of the Burg

We don't often find ourselves in the farthest northern parts of St. Pete, but if you are there, Slice of the Burg is a great choice for NY style pizza and other good eats. It is owned by Mary Weis. She formerly owned the franchise of Westshore Pizza Roosevelt, which she closed on May 31, 2019 and in the same spot opened Slice of The Burg on June 1, 2019. [Note: Google incorrectly refers to them as a chain, but they are not. This is an independent locally owned eatery.] Coincidentally, even though we rarely get to this area, we were actually eating at a neighboring eatery, Que Pasa Mexican Cantina (which I love), right around the time Slice of the Burg opened, and made a note to check it out in the future, and then it never happened until last week. Full disclosure: Mary actually contacted us and offered to host us, which means we eat for free. Please be aware that for 99% of the reviews we publish, we do actually pay for the food. When we are comped, we always add up what we would have paid and make sure to tip appropriately. Also, being hosted does not in anyway buy a good review. You'll see as we proceed here that we loved some things, but not all. Lastly, it's obvious that we could not eat all of these pizzas, sandwiches and other food in one sitting. We ate portions of each, and took the rest to go, and gave the food to our homeless neighbors making sure to include napkins and utensils. On to the food! We had an extremely strong start with the Pepperoni Pizza and Meat Lovers Pizza which has pepperoni, sausage, bacon, ham, and meatballs. Lori and I are in slight disagreement here. We both loved these pizzas and felt that they nailed it for NY style. However, last week Lori wrote the review of Nicko's pizza. She feels that Nicko's really perfected the replication of NY pizza, and that Slice of the Burg came quite close. I am of the opposite opinion. I think Slice of the Burg nailed it. It even passes the New York pizza fold and orange oil drip test. Then something really odd happened. After having a tastebud orgasm on the first two slices, the Margherita pizza didn't do the same for us. I don't understand how it came out of the same kitchen. The crust seemed different, more doughy bread-like, and we prefer to have the basil put on fresh after the pizza cooks. We jumped around the menu a bit, so next up are one of the starters that we loved – Philly Steak Egg Rolls. They come with "Zesty Sauce" which is a tasty somewhat spicy sauce with horseradish. You can also request ranch dressing, and we got both. These are super tasty, but a word of caution – they stay quite hot for a good 15 minutes. Be patient so you don't burn your mouth. Next we had the Meatball Parmigiana sandwich and the Loaded Philly Steak, which has onions, green peppers, mushrooms, and cheese. These were both really good. The Philly was nice and succulent. The Meatball Parmigiana had great flavor. There was one thing we didn't love about it, which is really just a personal preference issue that may not bother others. We prefer a more rustic texture for the inside of our meatballs, whereas these had a really fine texture that we do find at many places in St. Pete, so a lot of people must enjoy it. As I said, the flavor was quite good though. For the next item I have to go back to a lesson that former Tampa Bay Times Food Critic Laura Reiley taught me. Back in March 2019, I was interviewing her on our podcast just as she was wrapping up her job here and preparing to head off to The Washington Post. I asked her how she judges a restaurant, and one of the things she told me is that you have to keep in mind what the place is trying to be, or presents itself to be. For $10.49, the lasagna is a solid dish. Does it compare to the $25 lasagna in downtown St. Pete, or the $20 version half way up 4th St N? No, but this is not a fine dining establishment. This is no fuss, good value, easily affordable food, which many people appreciate in these times of inflation. That said, I felt the noodles were overcooked and that it was a bit watery. The flavor was good. We ended our feast on location (we took a couple things home to eat) with the Supreme Calzone which has pepperoni, sausage, onions, green peppers, and mushrooms. This was another perfectly executed dish. We ordered the small, and that's what we got although we thought we got the large by mistake as it is HUGE. The calzone tasted just like what I used to get as a boy growing up in New Jersey. Later that night at home, we ate the Chocolate Covered "Cannoli" which was superb. Actually, Cannolo is the singular, but nobody uses that here in the US. (Credit to Bob and Susan Horn for educating me on that.) We also took home the Greek Salad and had that on Saturday for lunch. It was crisp, fresh, light and bright for a perfect lunch. We appreciated that the kalamata olives were pitted. Some of you may know that this is really the Greek-American version of the salad. Sometimes this version also includes potato salad, but this one does not, and that was just fine with us. The traditional un-Americanized Greek salad is actually the Horiatiki, or Village Salad in case you're curious. The American version is more commonly found here. As is implied by the name, you can order pizza by the slice. Some of the other items offered include wings, stromboli, burgers, vegan pizzas, vegan appetizers and desserts, several […]
Recipes
May 2, 2022

Spiced Melon Panzanella Salad Recipe

Panzanella is a Tuscan chopped salad typically made with stale bread, tomatoes and onion and is served mostly during the summer months. The toasted bread cubes sop up the beautiful tomato juices, olive oil and lemon which makes for one incredibly satisfying bite. Feel free to use any bread of your liking -Focaccia, Brioche and Dave's Killer Bread (as you know, this is one of my favorite brands at Rollin' Oats) are all wonderful options for your bread cubes. One of the things I love most about this salad is that it has heft, while also remaining vibrant and fresh. Because of those characteristics, it's a great salad for both a satisfying lunch/brunch entree or a bright pre-dinner appetizer. The combination of ingredients meshes extremely well together. Sweet and spicy Cantaloupe, fresh basil and mozzarella, crispy bread, savory prosciutto and a punch of citrus and olive oil – it's extremely tough to go wrong. The crispy prosciutto is optional; however, it does add lovely salty and crunchy notes. At Rollin' Oats you'll find a three ounce package of Niman Ranch All Natural Prosciutto (currently on sale for $4.99). In Florida, Cantaloupe is in season April – June, so it's usually quite easy to find during that time frame. Though if you're looking to make the recipe at a time when cantaloupe is not available just simply use any ripe and juicy tomatoes that you can get your hands on. Spiced Melon Panzanella This salad has a split personality: it can pose as either a satisfying lunch or pre-dinner bite when served in smaller portions. 1 cantaloupe (Cut into 1-2" cubes)1/2 red onion (Sliced into thin half moons)8 oz mozzarella ball (Torn into irregular 1" pieces)2 cups bread (Any will do, like Italian loaf, foccacia, Dave's Killer Bread, etc. – torn into 1" irregular cubes)1/2 cup olive oil3 oz prosciutto (Optional)1 avocado (Sliced into small wedges)1/4 cup basil (Roughly chopped, plus more for garnish)1 lemon (Juiced)2 tsp salt2 tsp black pepper1 tsp crushed red pepper Preheat oven to 400F. Toss bread cubes in a large bowl with 1 tsp salt. Arrange in an even layer on a parchment-lined baking sheet and bake for 12-15 minutes (you want bread cubes to be golden & crouton-like in texture). Remove from baking sheet and set aside.In a large bowl toss melon cubes with 2 tbsp olive oil, crushed red pepper, 1 tsp black pepper and 1/2 tsp salt. Refrigerate until ready to use. If using prosciutto, one slice at a time, place prosciutto slice between two paper towels and microwave for 45 seconds (or until crisp). Allow to cool and crumble in a small bowl. Repeat with remaining prosciutto slices.In a small bowl combine juice of one lemon and remaining oil, salt and pepper. Whisk until well combined.When you're ready to serve your Panzanella salad, add all ingredients except sliced avocado to a large bowl. Gently combine. Serve salad topped with avocado slices and more basil. Appetizer, Dinner, Main CourseItalianAbby Allen Recipes, Panzanella Salad Recipes, Spiced Melon Panzanella