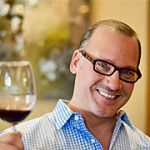 Kevin Godbee · Jan 4, 2017 · 1 min read
The Trump Tower Burger Debuts at Boulevard Burgers & Tap House in St. Pete Beach
Sources Say Putin is Pissed that St. Petersburg Russia Didn't Think of it First, Wants to Change City's Name Back to Leningrad
According to the press release:
"In the spirit of the Presidential Inauguration this month, Boulevard Burgers & Tap House created "The Trump Tower Burger'. Crafted to capture the traits of Donald Trump and his empire, this burger holds double patties for "Trump Tower" skyhigh height, onion straws that embody Trump's famous blonde locks, and good ol' American cheese. Boulevard Burgers has even tagged its own slogan inspired by President-Elect Donald Trump – "Make American Cheese Great Again". This limited edition is available for the month of January."
St. Petersburg Foodies spoke to the owner of Boulevard Burgers, Charles Marco. When asked if it is true that the Trump Burger has a very small pickle, he stated that "only Melania knows, or maybe Ivana".
When also asked if such a large burger would be difficult to fit into one's mouth, Marco quipped; "Not for The Donald."
When he heard about the announcement, Trump tweeted, "I know more about burgers than Ronald McDonald, but that Marco guy, I always knew he was smart."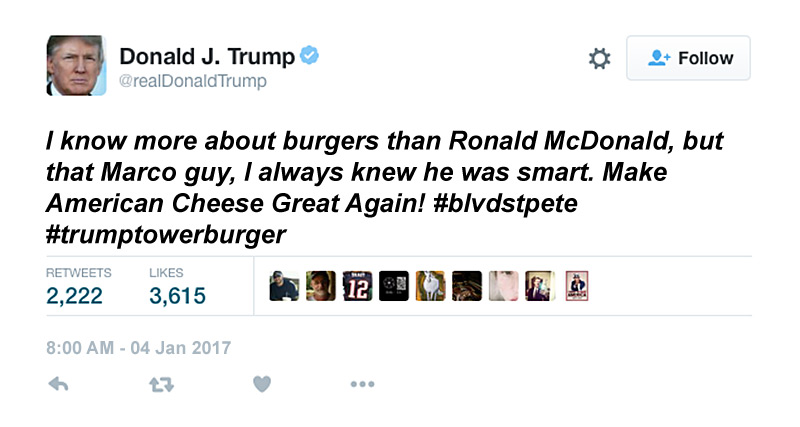 Trump went further to say that if they don't give him the recipe, he will have Russia hack them to get it.
See our Review of Boulevard Burgers Here
Note: There really is a Trump Tower Burger at Boulevard Burgers for January.
Disclaimer: The quotes about Vladimir Putin, Charles Marco, and Donald Trump are satire and not true.
Fun casual atmosphere with great burgers, the best buffalo shrimp, and a great lobster roll too!