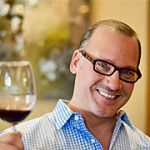 Kevin Godbee · Apr 30, 2018 · 0 min read
Here at St. Petersburg Foodies, our favorite new restaurant related TV Show is "Meet the Chef", starring CBS Tampa Bay News Anchor Candice Aviles.
Meet the Chef is an online show where the first season of eight episodes focuses solely on St. Petersburg, FL restaurants—just like us! Nice!
Episode 1 features one of our favorite restaurants, not only in St. Pete, but in the world—IL Ritorno.
Candice does a great interview with Chef David Benstock. You will also see how they make their pasta fresh, from scratch every day, by hand.
This video features the Lamb Tagliatelle, which is one of our favorites.
Watch the video and find out a great trick to do with the pasta water, and find out what Chef Dave's favorite secret ingredient is.
You might be surprised. We were.
OpenTable Reservation
Make a reservation right now, and tell them that St. Petersburg Foodies sent you!
Northern Italian food with a modern flair.