Tryst: It's Not Just a Hip Nightclub … The Food is Amazing Too
Tryst: It's Not Just a Hip Nightclub … The Food is Amazing Too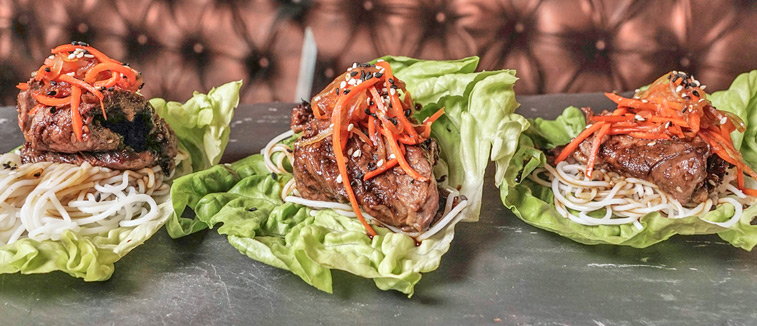 Tryst: New Chef + New Menu = Deliciousness!
Last month, our restaurant spotlight was on Del Mar Gastro Lounge. This month, we have quite a pleasant surprise for you from Tryst.
Tryst on Beach Drive in St. Petersburg is well known by many, and not just in St. Petersburg. On some weekend nights the place is packed like sardines with half the population of South Tampa. It's a very nightclubish scene at late-night on a Saturday. Everybody knows this.
What they don't know is this:
Tryst has some excellent, fresh gourmet food that covers any craving or choice: Steak, seafood, vegetarian, pasta, burgers, appetizers, pâté, pierogies … seafood sausage anyone? Yes, please!
If you're not into the nightclub scene, but you're into the foodies scene, then go to Tryst for dinner. If you're into both, you're in luck. If you want some amazing gastronomic drunk-munchies, the kitchen is open until 1:00 am on weekends, 11:00 pm on weeknights.
You also may have noticed that they have removed the Gastro Lounge part of their name as they are now a Restaurant with 5-star quality food, and a lot of fresh housemade ingredients, mains and accompaniments than we ever realized. They crank out an amazing amount of fare for a 200 square foot kitchen too!
As we said in our 10 Best Cheese & Charcuterie Boards in St. Petersburg, FL, Chef Jon Robben took over about 6-months ago, but he is just now starting to make his mark on the menu. St. Petersburg Foodies tried several of the new menu items last week and we were quite impressed. Before you read on … be prepared to drool.
Here are some of Tryst's new menu items.
Tuna Tataki –
pickled ginger slaw, sweet soy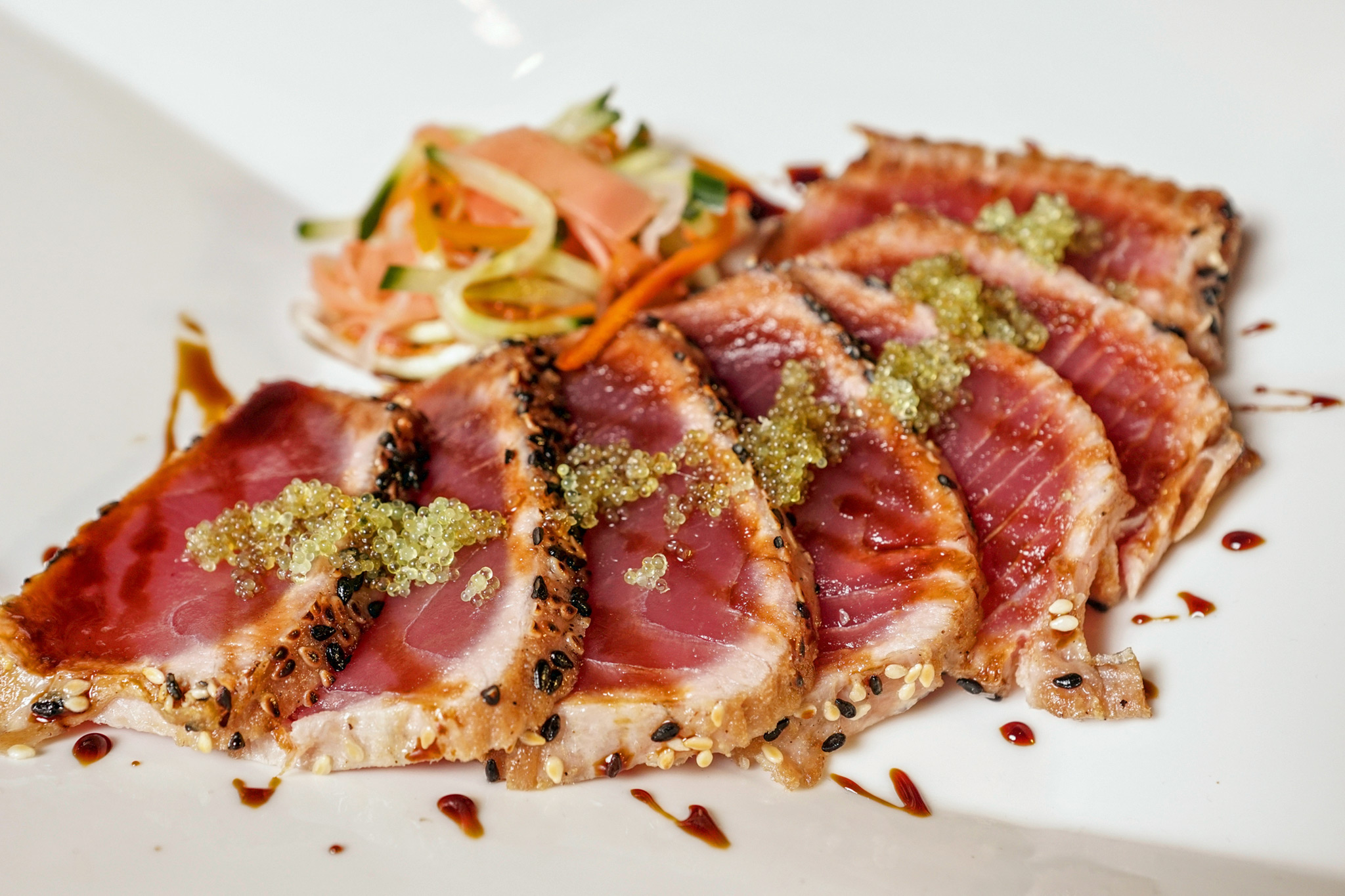 We've had tuna tataki at three different places in Downtown St. Pete, and this is the best one we've ever had. Thank you Tryst!
The next new item on the menu is: Seafood Sausage – bay scallop, cod, shrimp, crab, fresh herbs, and sweet mustard. Unfortunately, we did not get to try this one last week as it wasn't ready yet. We can't wait to go back and try it though!
Continuing in menu order, next up …
Tryst Chicken Liver Pâté –
crostini, pickled red onion, gherkin pickle, tree fruit jam.

Chef Jon tells us: "This is a very simple chicken liver pâté. We take garlic and shallots and sweat them in bacon fat. Add port wine, fresh thyme and parsley. Reduce the port wine until it's almost dry. Add the livers and cook them through. Chill and process with a bunch of butter. Then we put them in ramekins and seal with butter."
It was rich, creamy, and quite tasty!
Korean Beef Bulgogi –
marinated grilled beef, bibb lettuce, rice vermicelli, daikon & carrot slaw, k sauce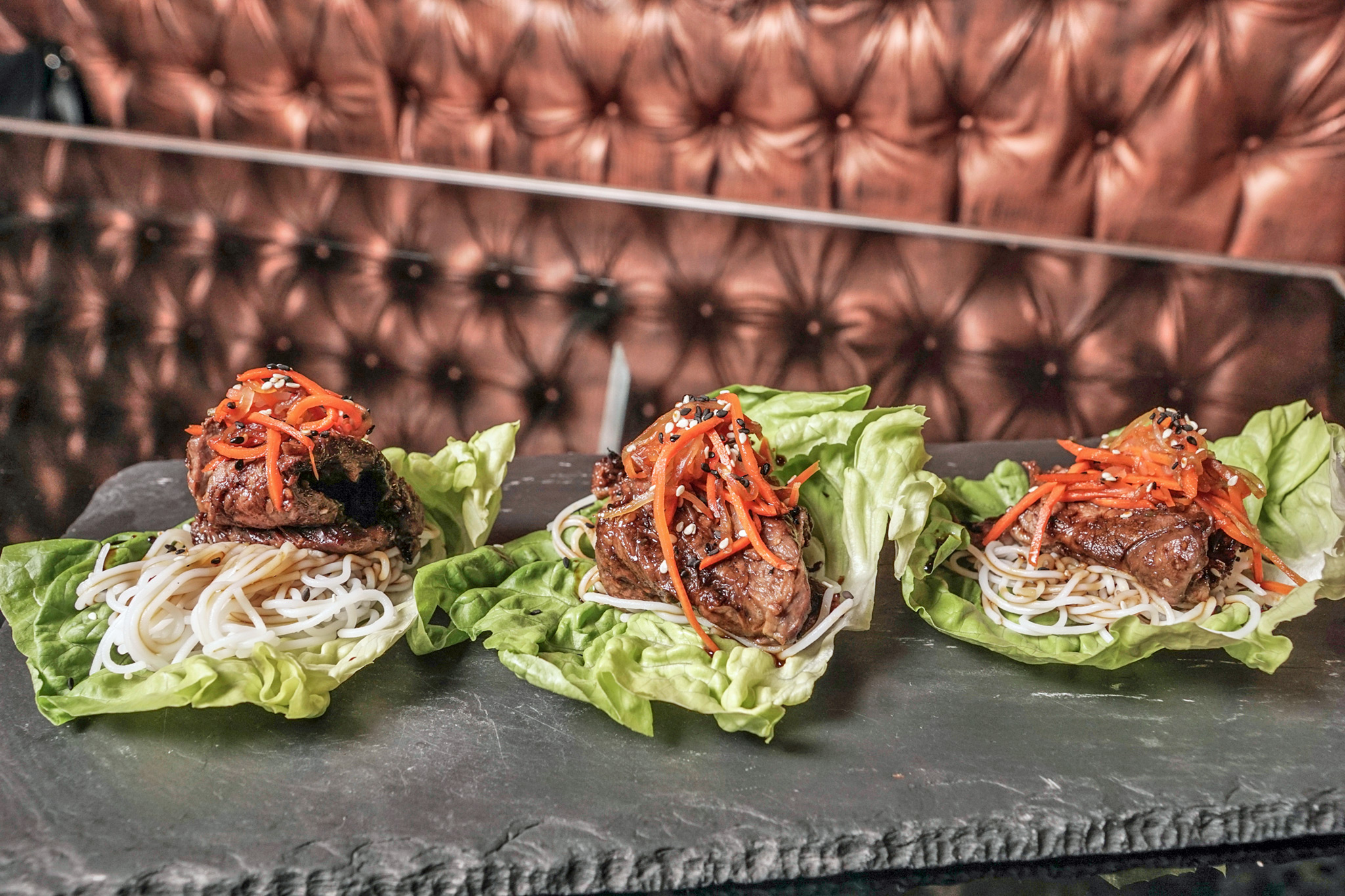 The Korean Beef Bulgogi is also one of the best we've had. If we blindfolded you and told you we were eating this at an Asian specialty restaurant, you would have no doubt that you were.
House-made Potato Pierogies –
sautéed onion, dill crema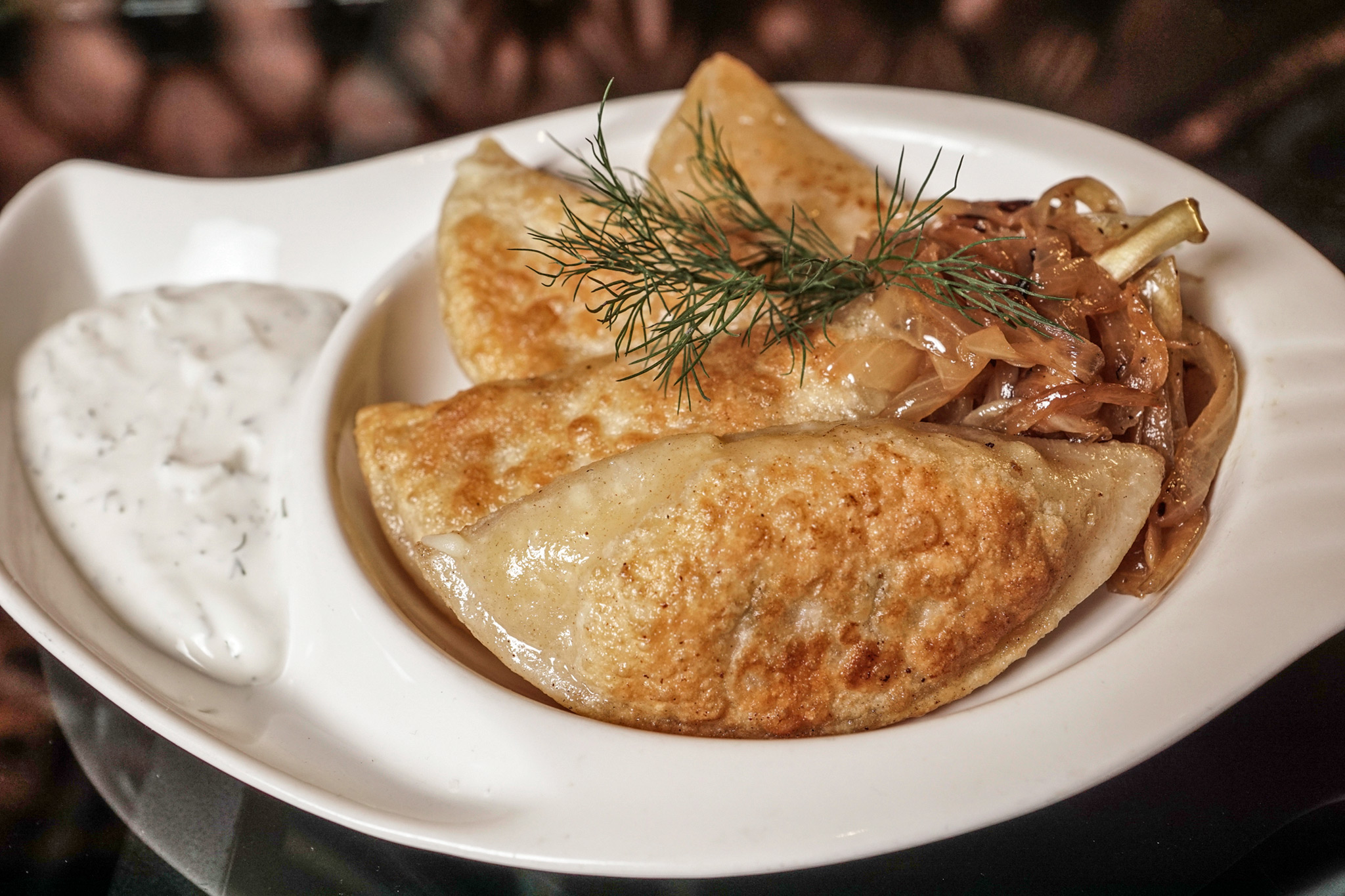 TO. DIE. FOR.
These DO NOT come out of a box, or out of the freezer. Nope. The sous chef is from Russia! She hand-rolls and hand-presses the dough, which has sour cream in it. The filling has cheddar, potato and chive. They are seared with sautéed onion and served with housemade dill crema. YUMMEE!
Chicken Panini –
herb marinated grilled chicken breast, basil pesto, arugula and sun dried tomato relish, Tryst pepper sauce, toma cheese, prosciutto, ciabatta bun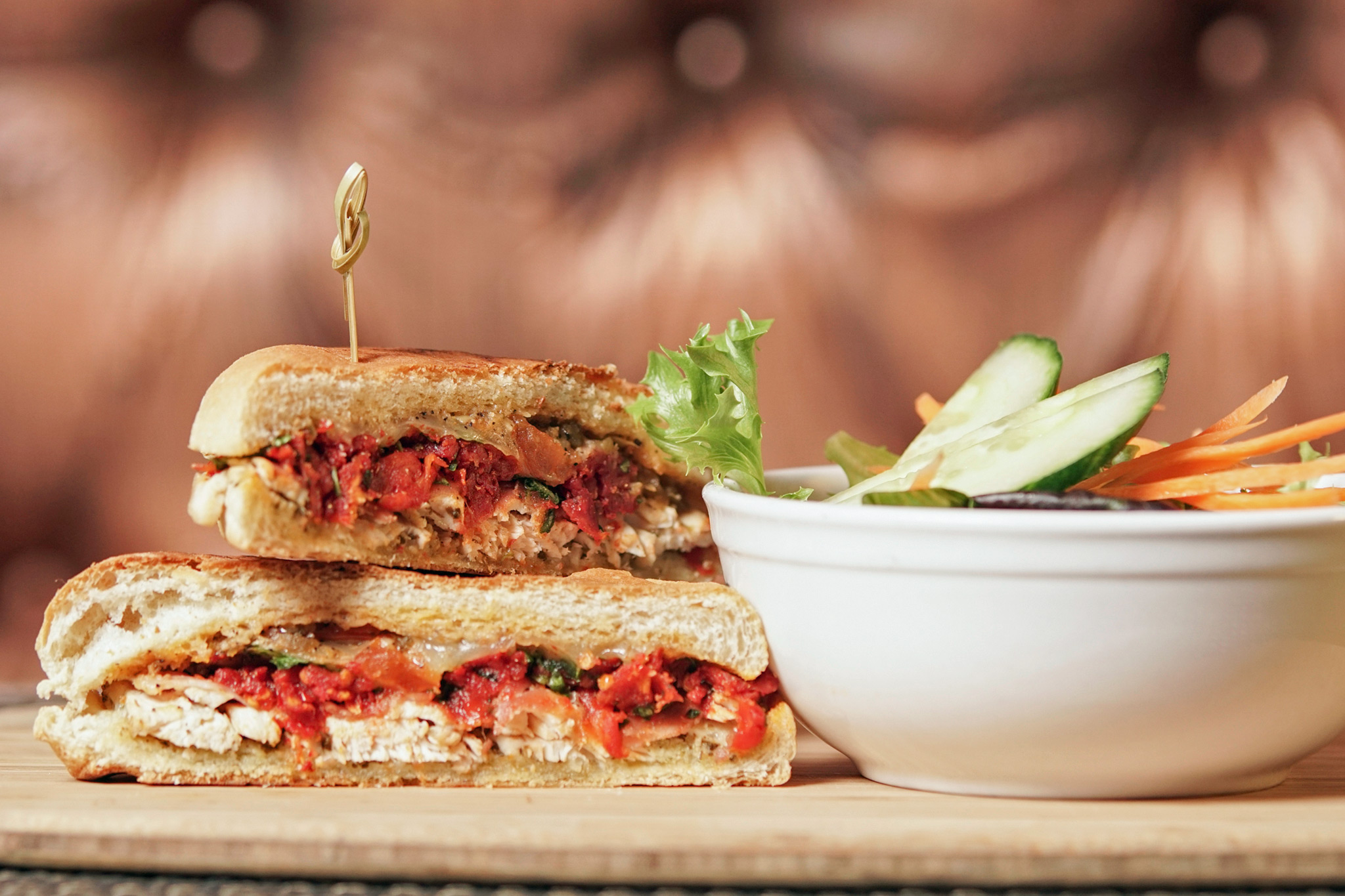 This is the only one that we didn't totally love, but it was still good. We thought there was too much going on here. It was a tad bit too tangy for our tastes, but if you like that type of flavor profile, then try it.
Grouper Sandwich –
blackened gulf grouper, bibb lettuce, plum tomato, pickled pineapple tartar sauce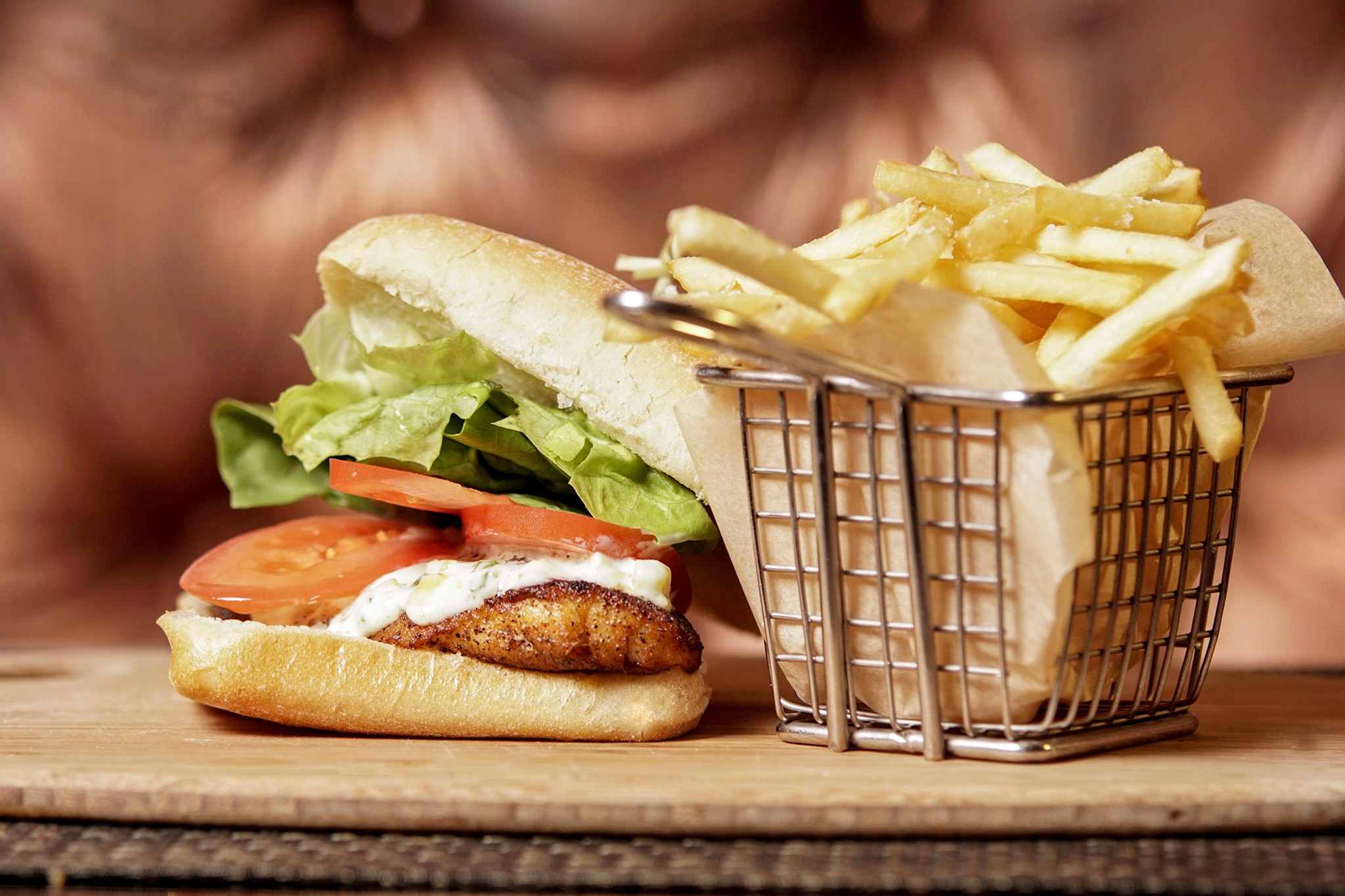 The Blackened Grouper Sandwich is another home run. It is absolutely delicious – local caught, super fresh, plump and juicy. The tartar sauce is NOT out of a jar. It is housemade with pickled fresh pineapple with mayonnaise, lemon juice, and tabasco sauce. We could eat this all day!
Kale Salad –
preserved lemon, parmesan, pine nuts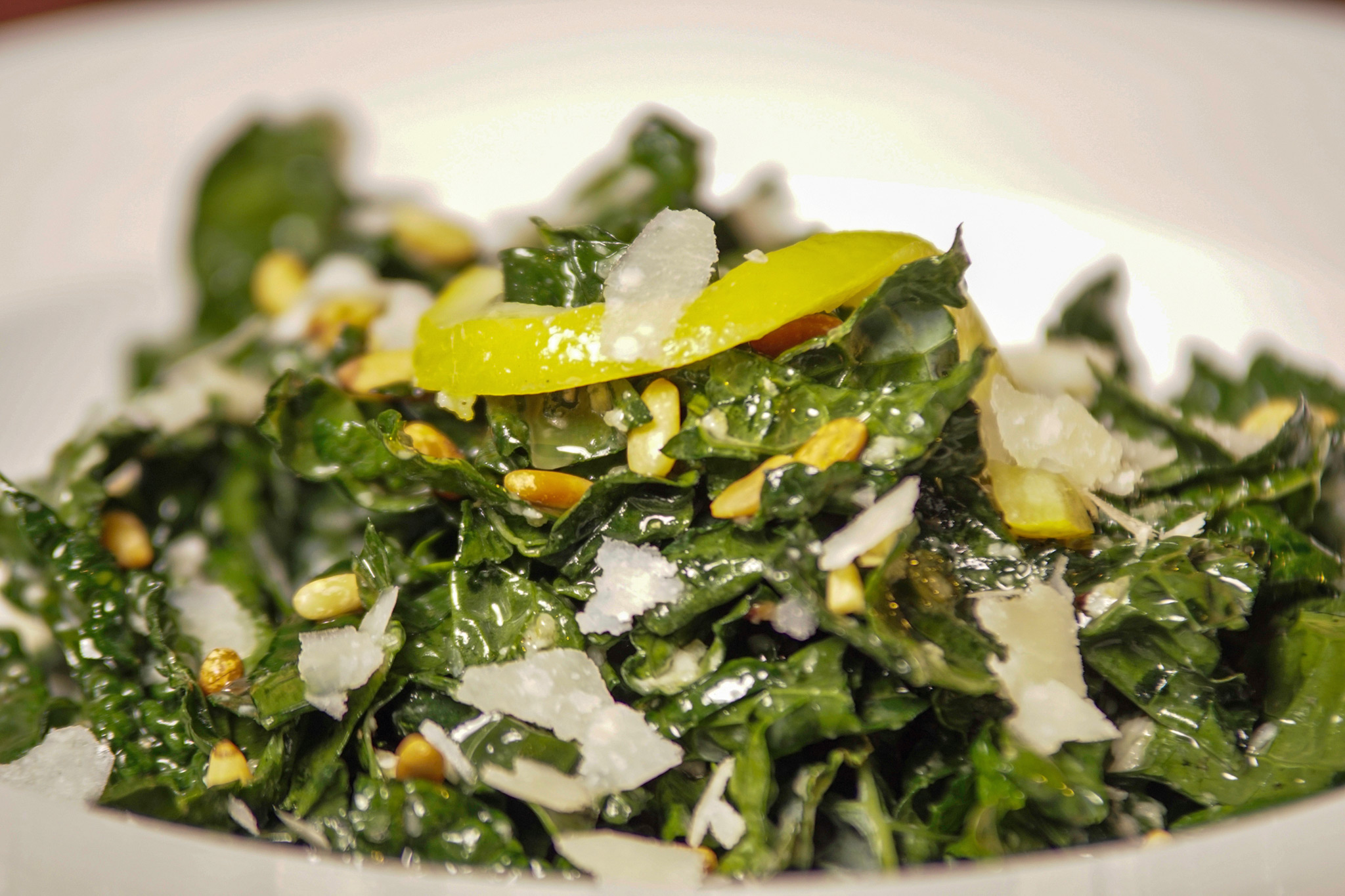 Kale never tasted so good! This one is gluten-free and vegetarian. It is Tuscan kale, which is more tender and sweeter than usual. The shaved parmesan and pine nuts add to the delectableness of this tasty salad that is light and hearty at the same time – with an olive oil vinnagrette.
The preserved lemon is done in-house. They are tossed in a blend of sugar and kosher salt and aged for several weeks. They mellow with the harsher notes of the lemon falling off – it's almost candied-like.
Beetroot Salad "Patzarosalata" –
roasted beets, greek yogurt, candied walnut, red wine vinaigrette, frisée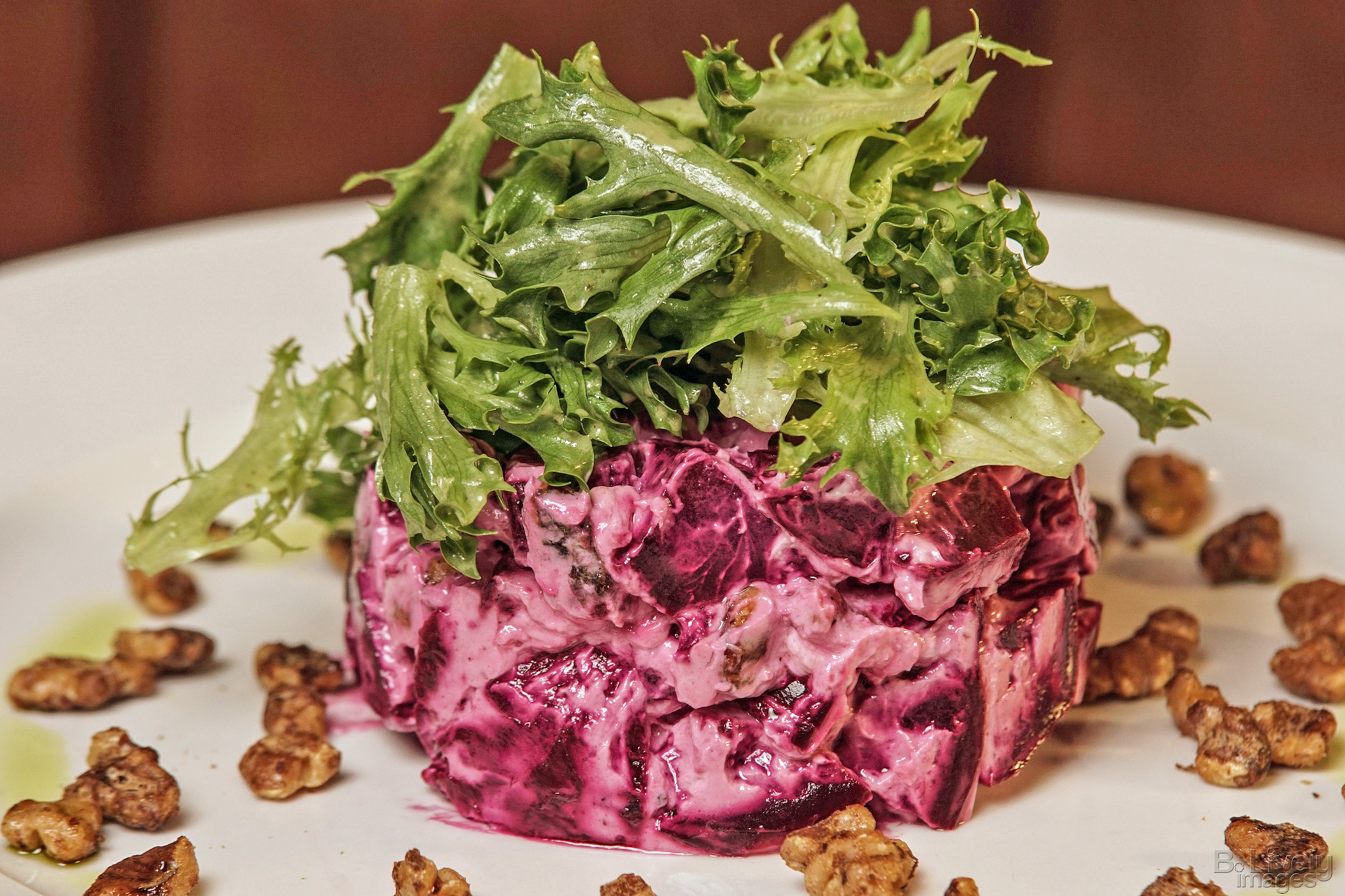 This is AMAZING! Lori hates beets and she loved this, and so did everyone else. There is no bitterness or sour taste. It's a little bit sweet and ever so slightly tangy, and could almost be a dessert. This one really blew us away.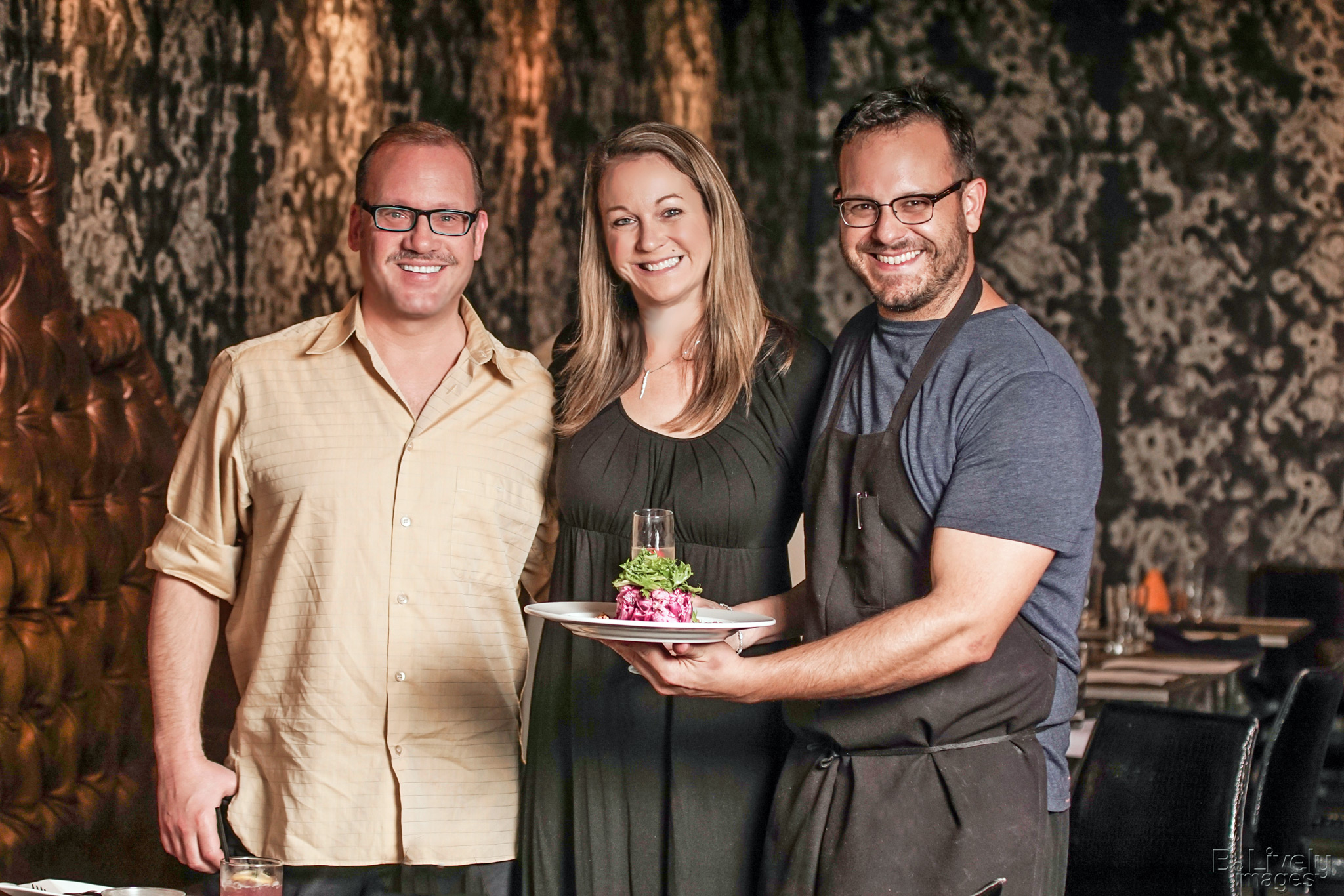 Grouper –
seared gulf grouper, farro pilaf, fried grouper cheeks, mango coconut rum sauce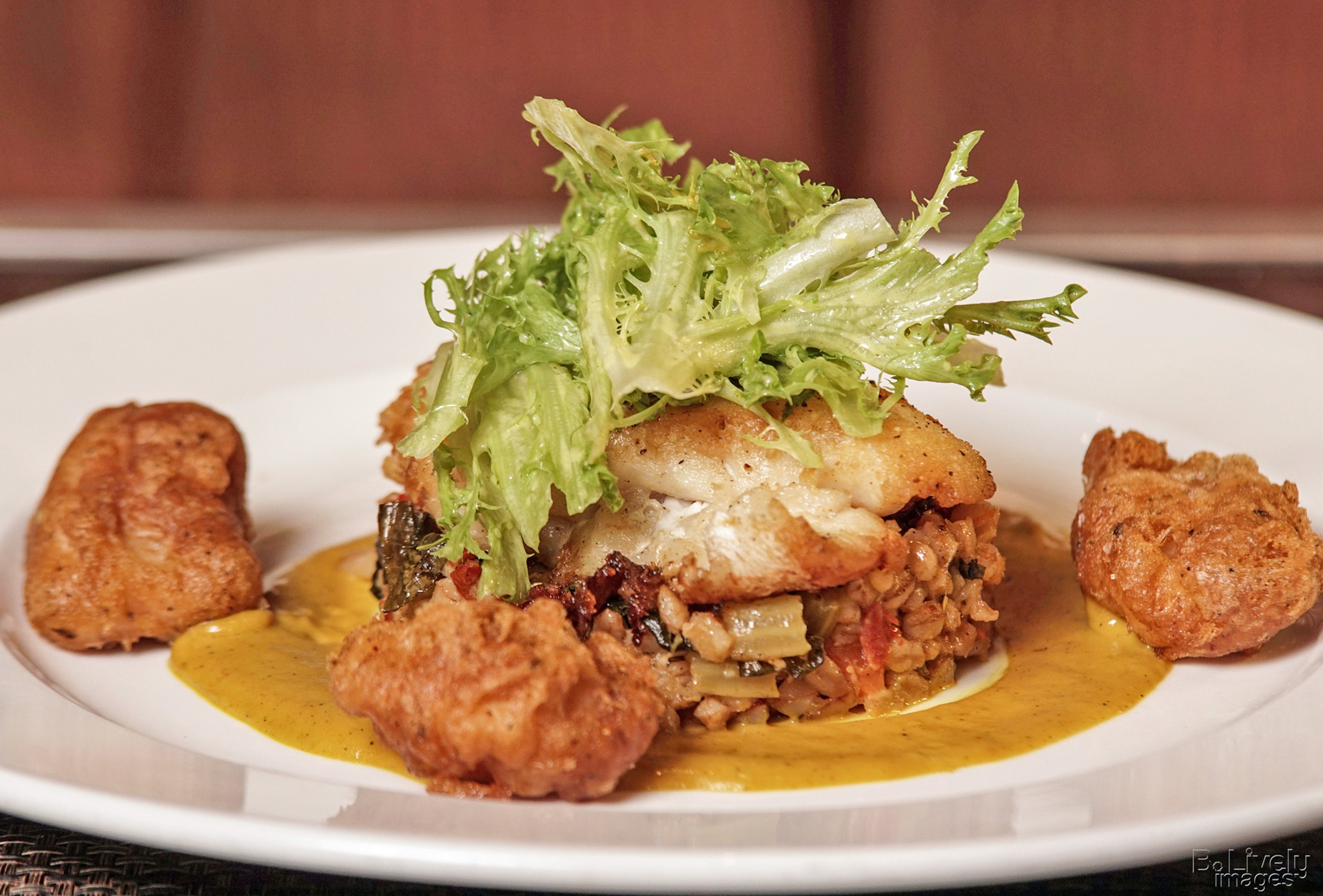 The grouper entrée is also just pure deliciousness. Stella Beer battered grouper cheeks as accompaniments really make this one sinful.
Chicken and Roasted Pumpkin Mole –
celery root and russet purée, wilted greens, crispy corn tortilla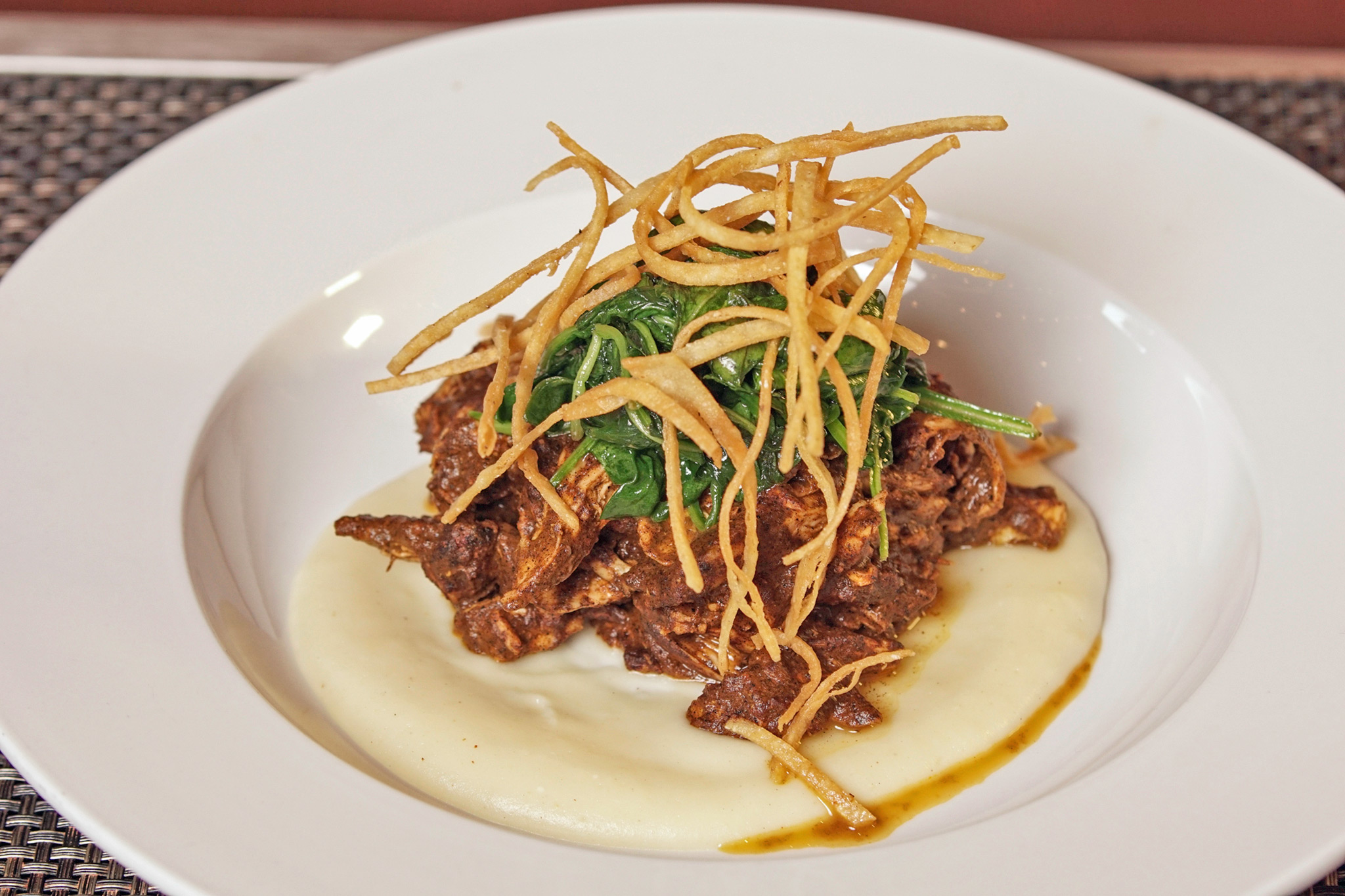 The interesting thing about this mole sauce is that it doesn't have chocolate in it, but it still tastes like traditional mole sauce. It is housemade with roasted pumpkin, poblano peppers, different vegetables and seasonings and is mild/ medium spicy with a tiny bit of sweetness. It sits on a bed of rustic potato and celery root purée. The chicken is herb marinated, grilled and pulled. The wilted greens are seasonal. Pictured is spinach. Then topped with lightly fried tortilla strips.
Lamb Pappardelle –
ragout, preserved lemon, pecorino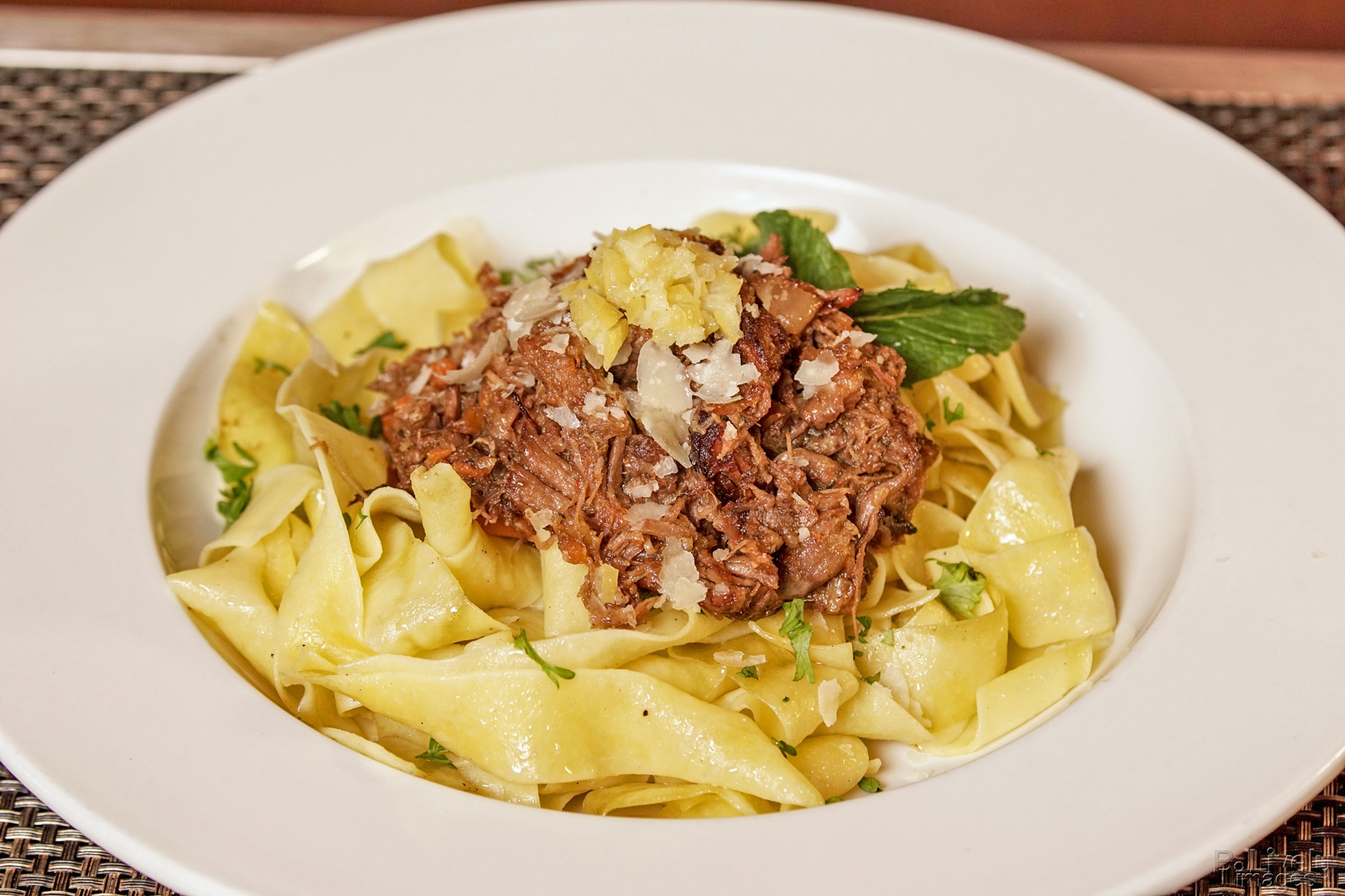 The Lamb Pappardelle is meaty, juicy, tender, buttery and nicely chewy. It is fresh and tasty and definitely comfort food. Pure deliciousness.
This one also has the preserved lemon that is done in-house which is sweet and sour and candied-like, but just slightly hinted at in the dish to contrast the heartiness of the lamb.
New Drinks at Tryst
There are also some new imbibes to try and we're all about that!
Secret Garden –
grey goose vodka, mathilde cassis black currant liqueur, fresh lemon sour & sage leaves garnished with a lemon wheel & sage leaf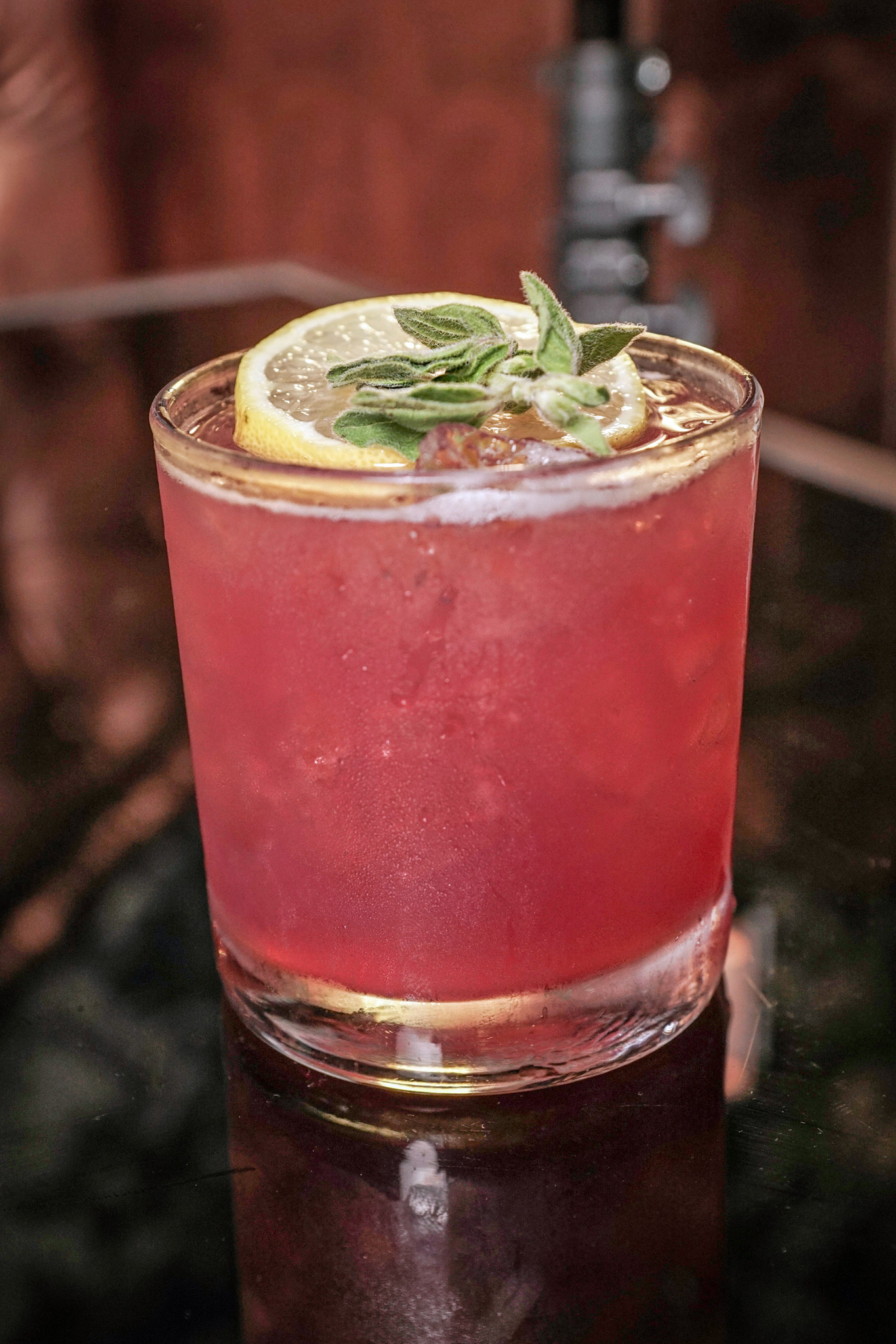 Chocolate Old Fashioned –
buffalo trace bourbon, tempus fugit creme de cacao, angostura bitters, luxardo cherry & orange peel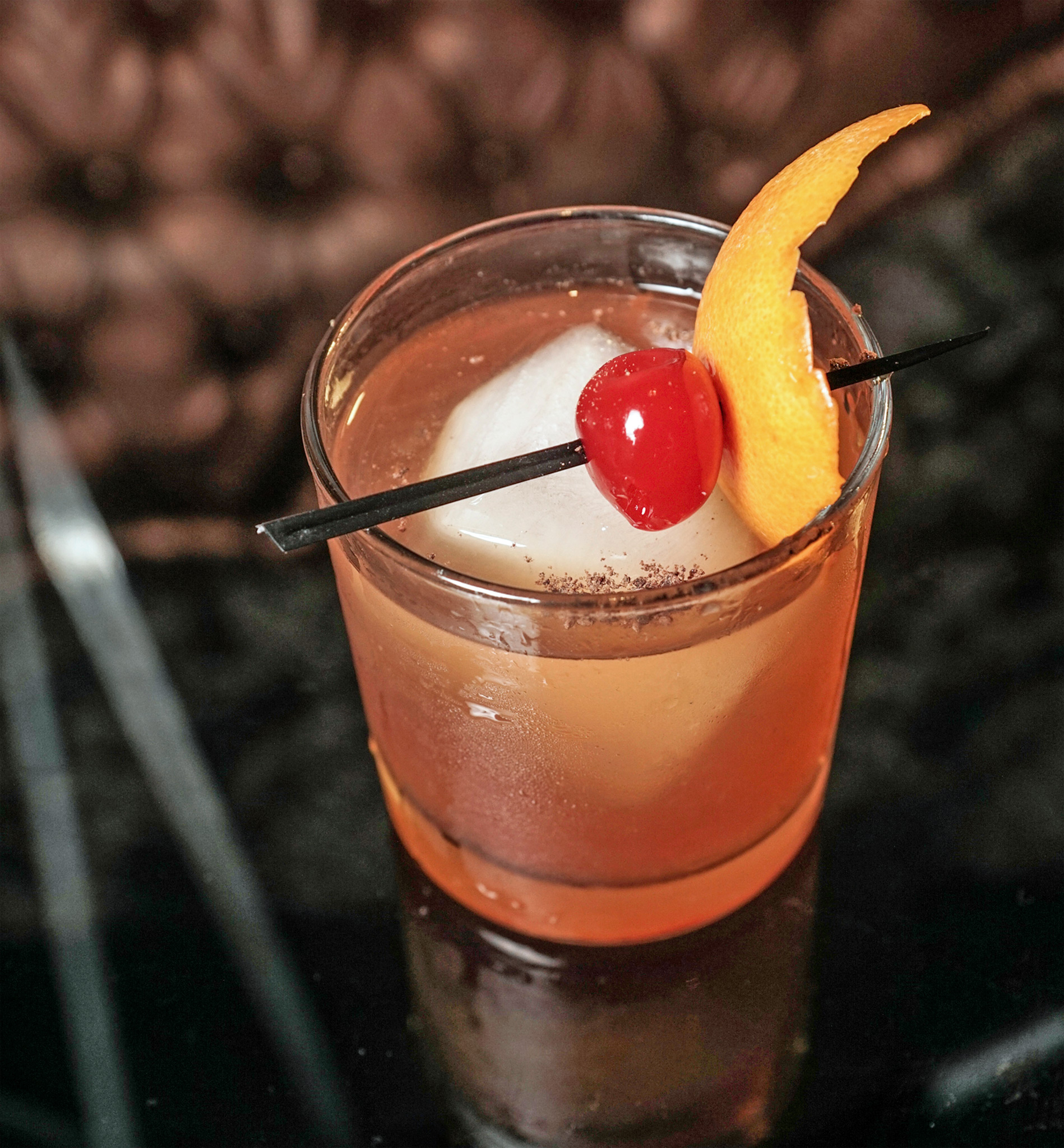 Irish Grasshopper –
jameson black barrel whiskey, marie brizard white creme de cocoa, marie brizard green creme de menthe & heavy cream garnished with a mint sprig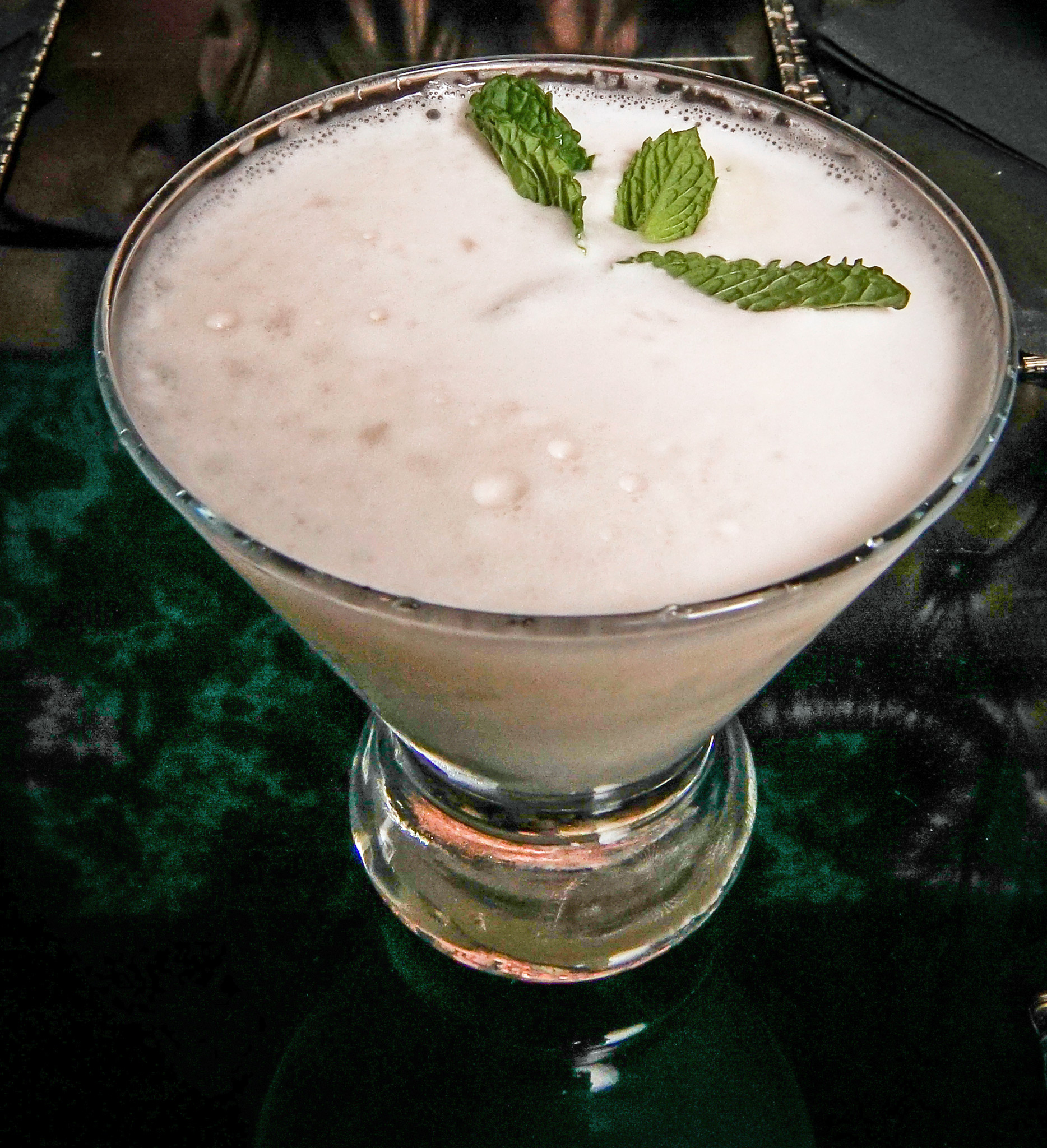 All of the drinks were quite good. The Irish Grasshopper tasted like a Peppermint Patty. It's definitely a good dessert drink. One more new drink not shown – we drank it too fast before Barry could shoot it – is the: Raspberry Peach 75 – Tito's vodka, raspberry peach grand marnier, lemon sour & sparkling wine garnished with a lemon peel.
Do yourself a favor and go try the new food at Tryst!
(All Photos by Barry Lively – Courtesy of Tryst)
OpenTable Reservation
Make a reservation right now, and tell them that St. Petersburg Foodies sent you!
Hot nightspot on Beach Drive that just got a whole lot better for dinner.
DISCLAIMER: Kevin, Lori, Abby, Haley, & Lindsey do not dine anonymously (this would be impossible) and we sometimes get free food (though never expected). However, we dine with the locals and we support our own. You will always get honesty in a respectful manner. We do not include any large national or regional chains in our ratings and reviews. We focus on independent locally owned eateries exclusively.

PLEASE NOTE: Reviews reflect a certain moment in time. Some restaurants stay extremely consistent over many years, and some change for the better or worse. Some things that may change are: chefs, recipes, food suppliers, ingredients, philosophies, ownership, etc. We always hope that you have the same good, or great experience we had.
More Foodies News, Reviews & Recipes