Best Authentic Cuban Sandwiches in St. Pete
The last time I did this list was in 2019, and I could only come up with a top five. It was also actually my first ever best Cuban sandwich list. I ate A LOT of Cuban sandwiches this year, and for 2021, we do have a top 10.
Salami or No Salami?
The Cuban Sandwich was invented in Ybor City in the late 1800s by Cuban immigrants with some influence from Italian immigrants. The original included a Spanish dried sausage that was later replaced with salami.
Later, when Miami picked up on the Cuban Sandwich, they left the salami off. Oddly, ironically, and likely because of the larger population, the Miami version is the more popular one. Because of this, many people think that the Miami version without salami is the true one, but it is not.
I think that if you are in the Tampa Bay area making Cubans, that the salami (or something similar) should be there. There's a great article with more details on Today.com
There were several highly touted Cuban sandwiches that did not have the third meat, and they were excluded because of this. If you don't see your favorite Cuban here, please go check to see if they only have pork and ham for the meats, and then you'll know why. I make no apologies for this.
Most Likely, The Only Real Best Cubans List
Before we get into the list, an important thing you should be aware of is that there are other publishers of "best of lists" that do not actually go to the establishments, or actually eat the food.
We absolutely DO. (How can anyone recommend something they never experienced?)
Unfortunately, we've seen it a lot—from national and local publishers. We are also aware of a local publisher that offers paid placement in best-of-lists. There is no paid placement here.
I PERSONALLY ATE ALL OF THESE SANDWICHES, AND WENT TO ALL OF THESE PLACES, AND THESE ARE ALL OUR PHOTOS.
To bring you this list, I personally consumed:
170,000 calories
1,095 grams of fat
2,782 mg of cholesterol
35,000 mg of sodium
858 grams of protein
That's why all the other publishers just stay home and download photos off the internet, or use computer-generated lists from Yelp or similar.
These are listed in alphabetical order. <—— Look
1. Barracuda Deli Cafe
6640 Gulf Blvd, St Pete Beach, FL 33706
(727) 826-0998
Barracuda Deli Website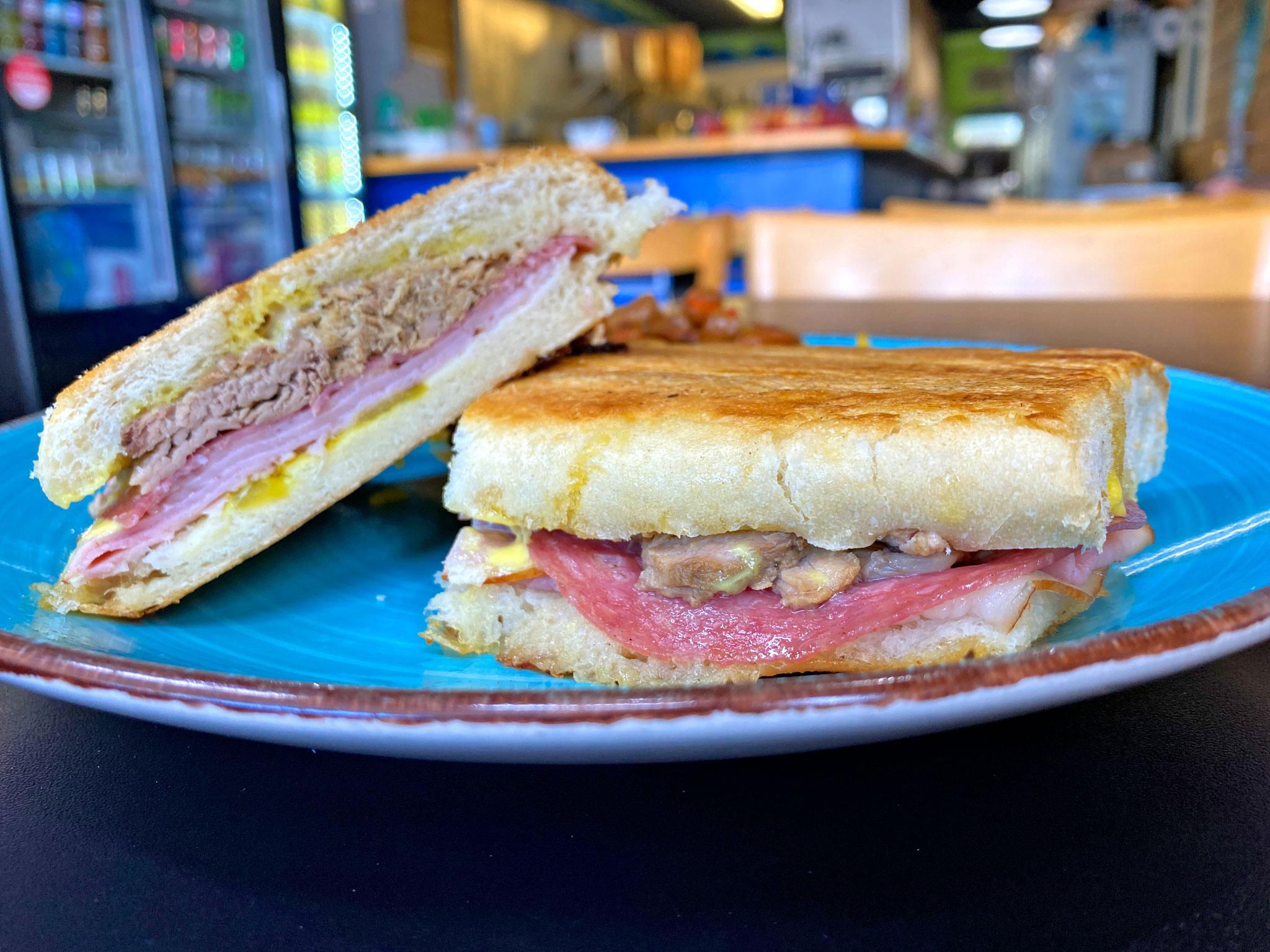 This is a hole in the wall hidden gem.
"The Best Cuban" – roasted pork, ham, salami, Swiss, pickles, mustard & mayo. They also put butter on the inside, and outside of the bread. That was one of the tricks I could figure out.
If you don't go to St. Pete Beach for the Cuban Sandwich at Barracuda Deli Cafe, it may be the biggest mistake of your life. (Go through Pasadena as Gulf Blvd is a disaster of road construction.) It's easy to miss, as it's small, and the sign is faded away. They are on Gulf Boulevard in between 67th & 66th, next to St. Pete Guitars. (Check the days and hours. They are not open for dinner, usually closing between 3:30-5:00.)
2. Brooklyn South
1437 Central Ave
St. Petersburg, FL 33705
(727) 914-4967
Brooklyn South Facebook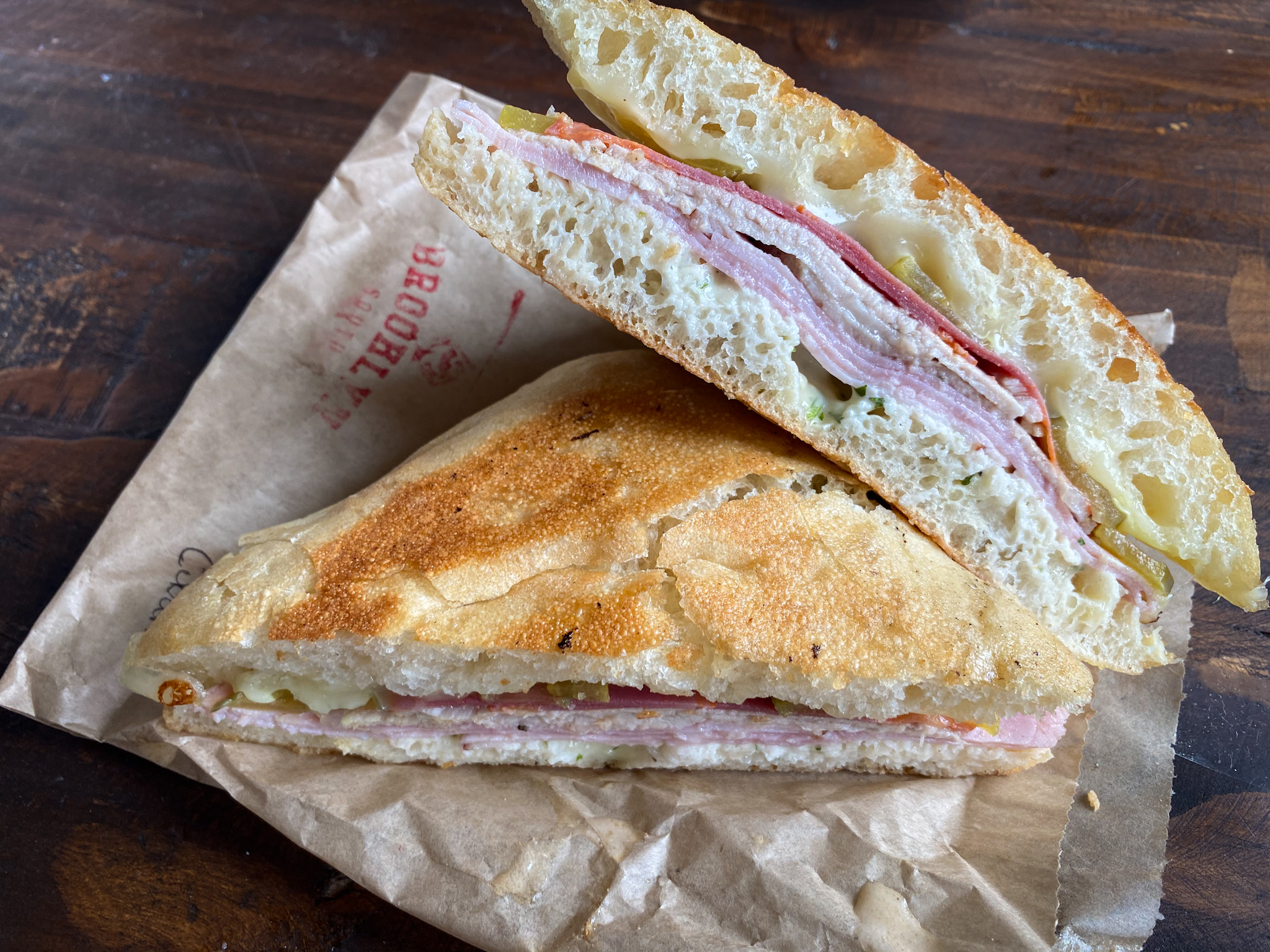 Another hole in the wall, but this one not so well hidden, Brooklyn South is a downtown St. Pete institution best known for their meats and cheeses.
This isn't just your average Cuban. Ham, pork loin, hot capicola, provolone, pickles and garlic-cilantro mayo are the components which make up this incredible creation. The thought of it alone is enough to make my mouth water.
3. The Burg Bar & Grill
1752 Central Ave
St. Petersburg, FL 33712
(727) 894-2874
The Burg Website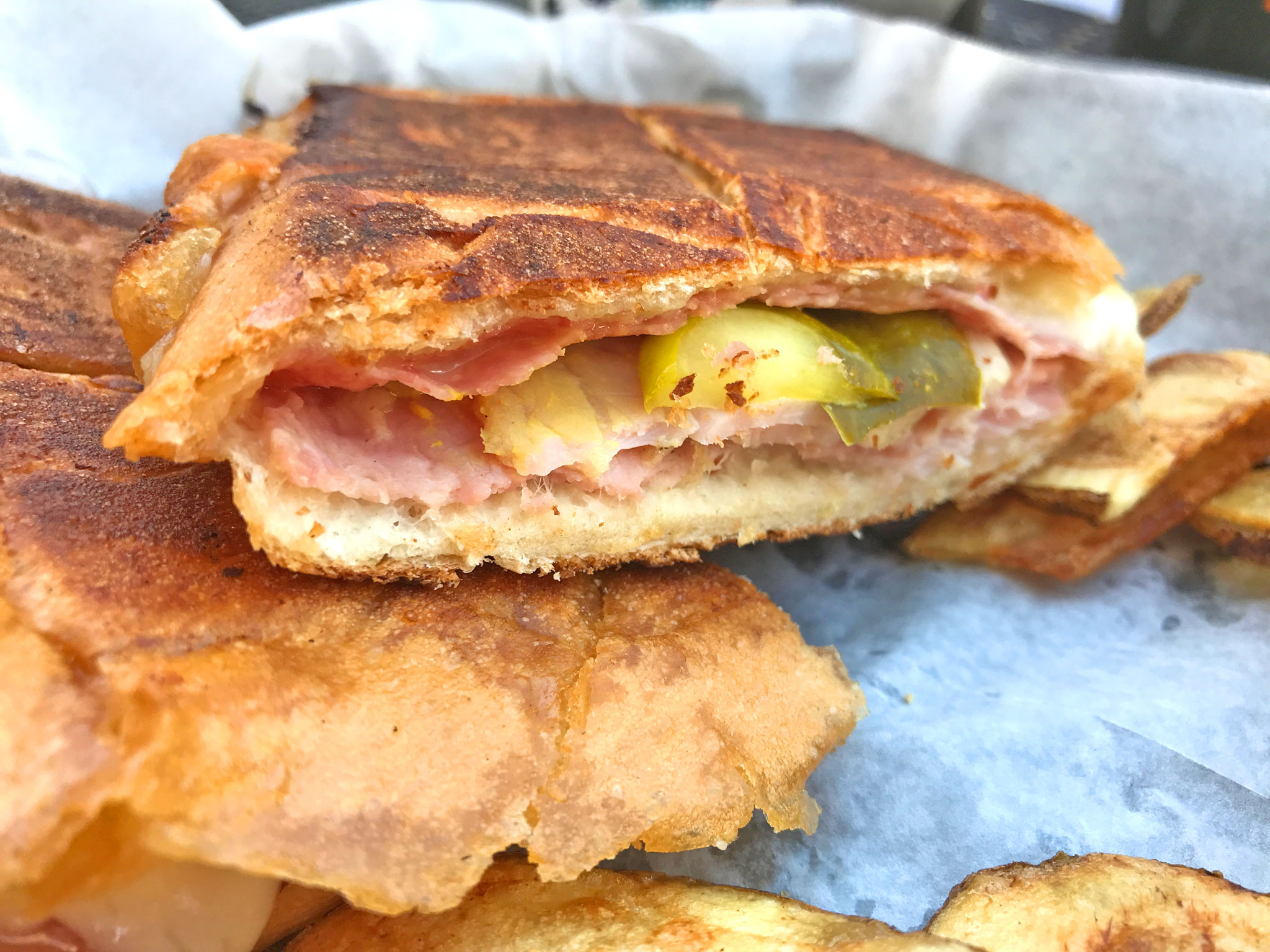 Another small place that's big on flavor with lots of good stuff on a diverse menu. A couple of my other favorites are their Gyro Burger and Chicago Dog.
The Burg Cuban Sandwich – ham, pork, salami, Swiss, pickles, mustard, mayo. It's super delicious! (This is one of two that remain from the original list of five from 2019.)
4. Caribbean Cafe
4801 Central Ave
St. Petersburg, FL 33713
(727) 327-7202
Caribbean Cafe Facebook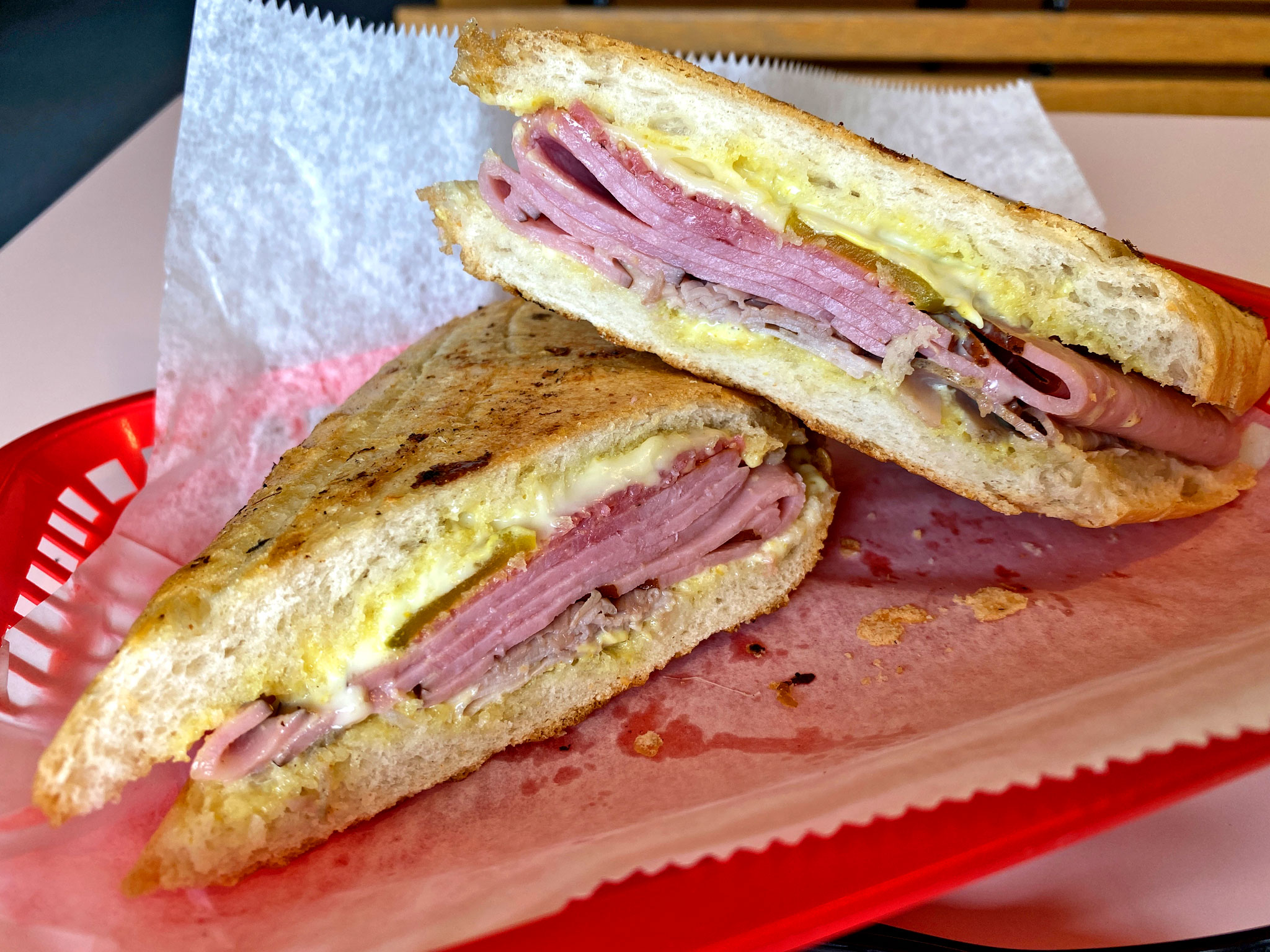 I'm starting to see a trend that many, but not all, of the best Cuban sandwiches are found in unlikely places, hidden gems, and hole-in-the-walls. Caribbean Cafe just feels like it's in the middle of nowhere, like it's stranded on a deserted island waving and screaming "hey!" to the passing ship for attention. It's actually not. It's only five miles out of downtown on Central Avenue near the intersection of 49th St.
Coincidentally, their Cuban sandwich is so scrumptious that the first bite will have you closing your eyes in pleasure and dreaming of being on an island where you can hear the waves and seagulls. It has ham, salami, "Cuban" pork, Swiss cheese, dill pickle, mustard and mayo on fresh Cuban bread. (Check the hours. They currently close at 6pm. Sat 3pm.)
5. Datz
180 Central Ave
St. Petersburg, FL 33701
(727) 202-1182
Datz St. Pete Website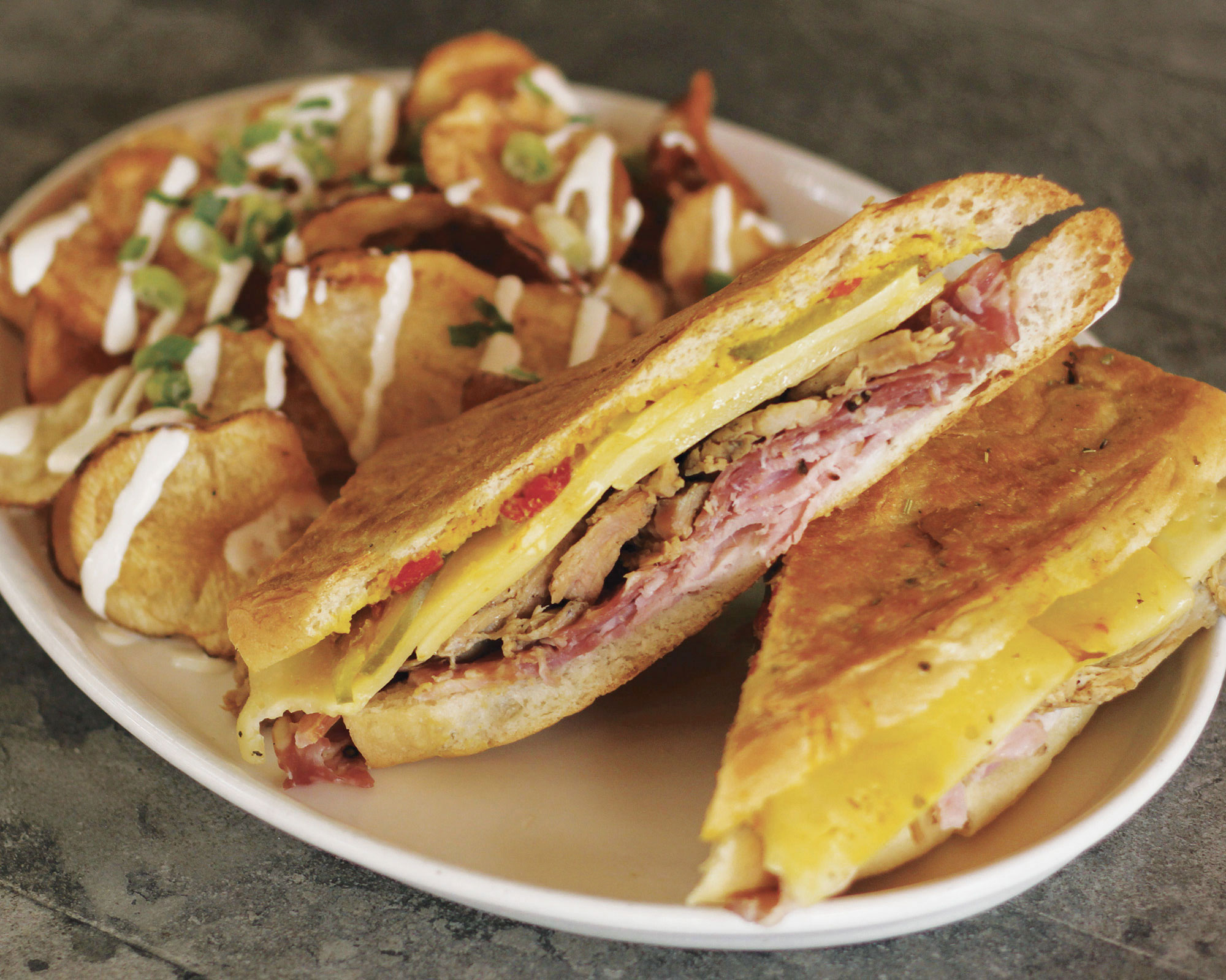 Datz took 1st Place in the 10th Annual Ford Intl. Cuban Sandwich Festival which took place September 5, 2021, appropriately in Ybor City where the sandwich was born. The Datz Cuban comes from one of their Cuban chef's family recipes, which they "Datzified just a little bit". If you've had their Havana Hottie, this is not it. This is a new traditional Cuban sandwich.
This award winning sandwich includes mojo pork, imported Italian salami, premium Duroc pork shaved ham, Swiss cheese, yellow mustard, and pickles. The mustard has piquillo peppers added to it, which adds some sweetness without heat, and the house-made pickles are sweet and spicy. It gets brushed in a honey / garlic butter before being pressed. You can really taste why they took first place this year.
6. The Floridian
230 107th Ave
Treasure Island, FL 33706
(727) 367-6662
The Floridian Website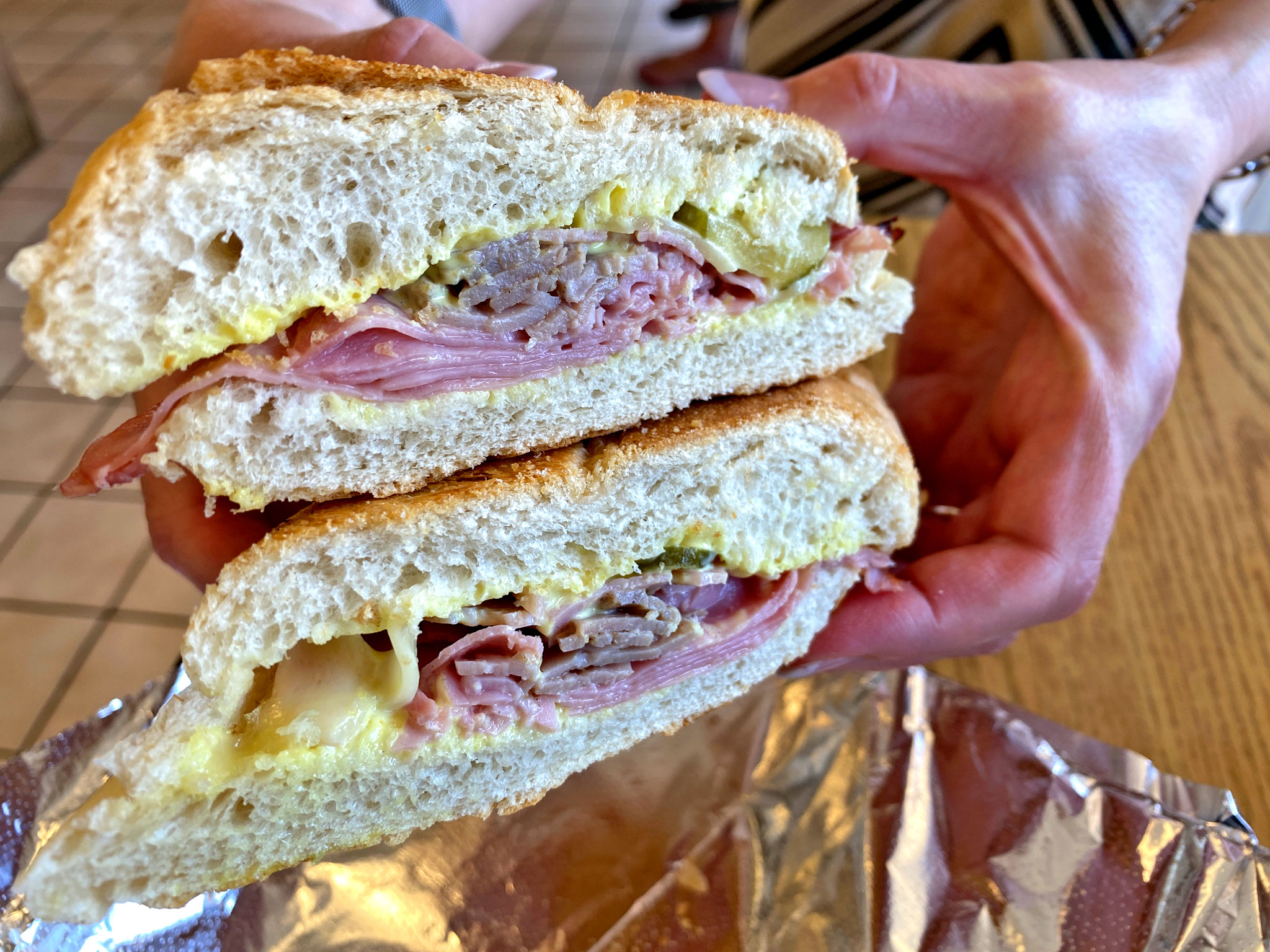 If The Floridian's Cuban Sandwich was a movie, it would be a cult classic. Lori and I went when they opened at 11 am on a Saturday morning to find a line out the door and around the building. We spent about an hour total from waiting to place the order, waiting for the sandwich to come out, and then each eating half of it. In those 60-minutes, we roughly counted about 90 sandwiches between takeout and dine-in. It's truly an excellent sandwich. They had nine award plaques on their wall where their sandwich won from years past.
The sandwich is loaded with ham, spiced pork, Genoa salami, imported Swiss cheese, dill pickles, mustard & mayo on nice crunchy fresh Cuban bread.
7. The Galley
27 4th St North
St. Petersburg, FL 33701
(727) 575-7071
http://thegalleystpete.com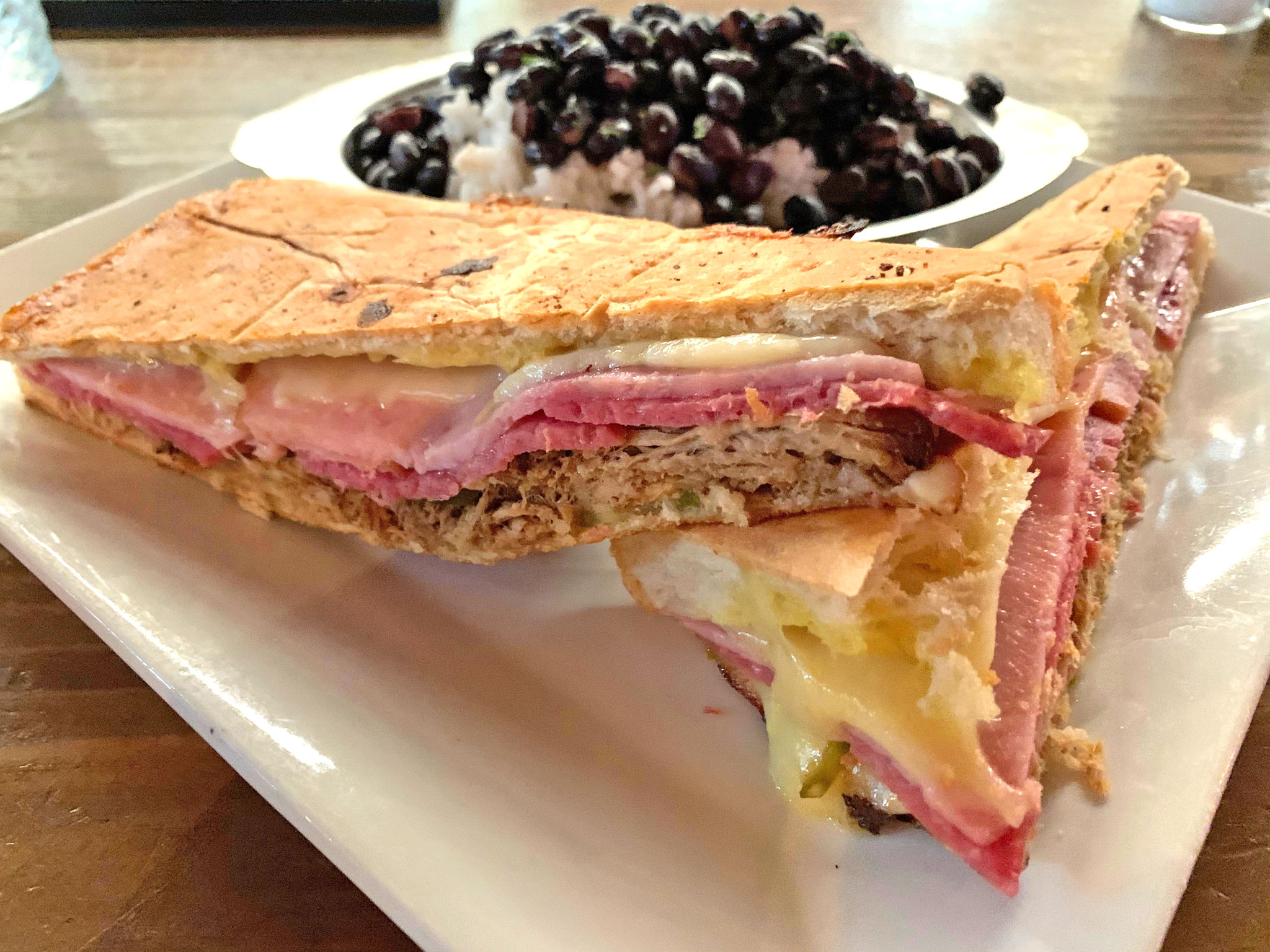 The Galley's Cuban Sandwich is excellent – mustard aioli, tender mojo pork, ham, salami, house pickles and Havarti cheese on "real" Cuban bread. (This is the other one of two that remain from the original list of five from 2019.) The accompanying black beans and rice are also superb.
8. Kuba Cocina En La Playa
7525 Blind Pass Rd
St Pete Beach, FL 33706
(727) 409-3009
Kuba Cocina Website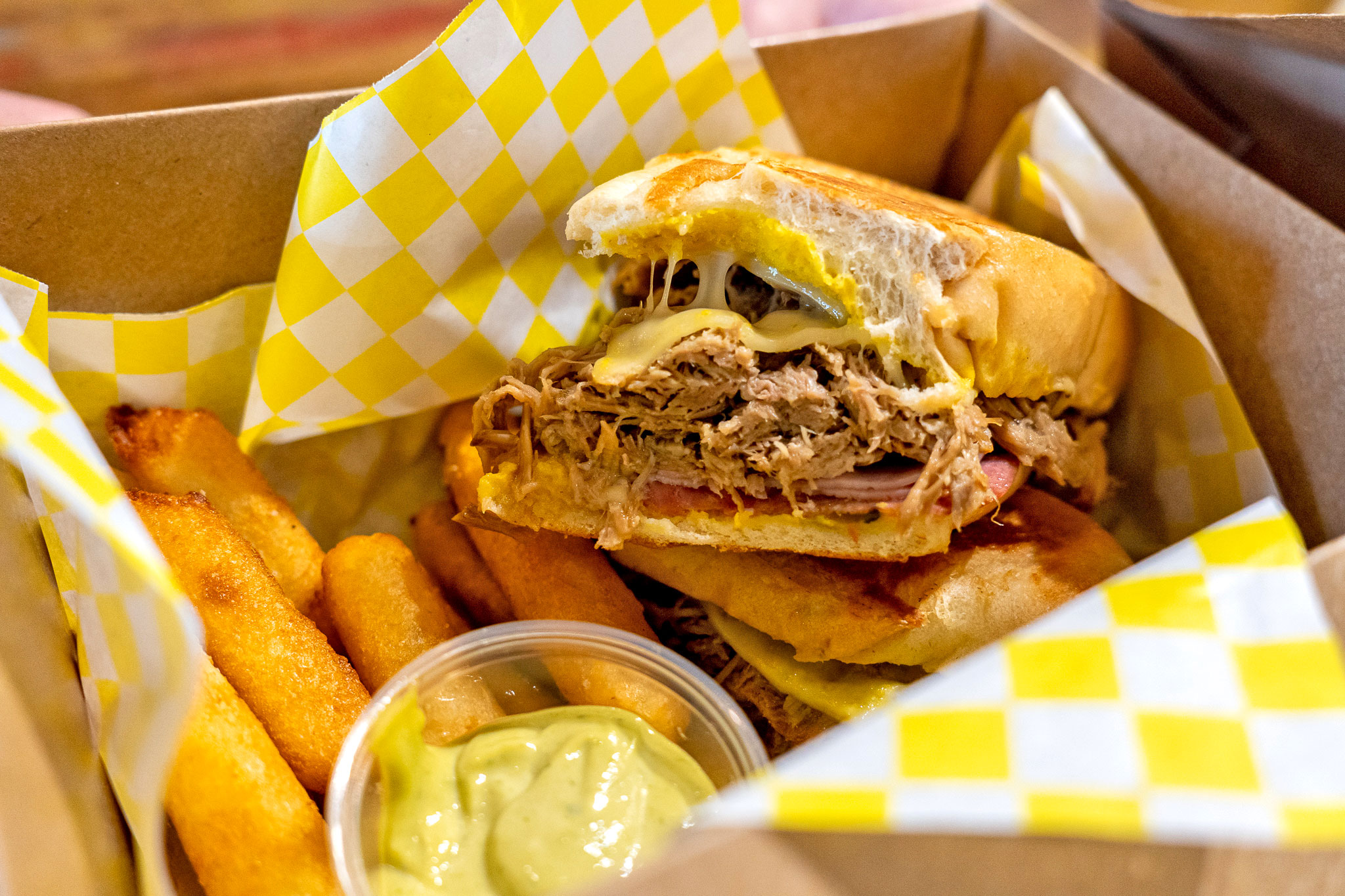 Chef/Owner Felicia Lacalle worked at several notable Tampa eateries before opening Kuba Cocina in Tampa in August 2018. One month later she took 1st Place in the 7th Annual Ford Intl. Cuban Sandwich Festival. As of May 2021 they have a St. Pete Beach location. It's a small spot where you order at the window for takeout, or you can grab one of a few seats in the shared space with The Centre SPB, a Wellness, CBD & Delta-8 venue.
The El Rey Kubano from Kuba Cocina is a showstopper with mustard sauce, pickles, salami, ham, shredded pork, swiss cheese, all pressed on Cuban bread. The hearty and flavorful sandwich is packed with fresh ingredients and held together by crunchy, yet soft Cuban bread.
9. Orange Belt Cafe
1631 4th St N, St. Petersburg, FL 33704
(Located at Bob Lee's Tire Co.)
(727) 768-3544
Orange Belt Website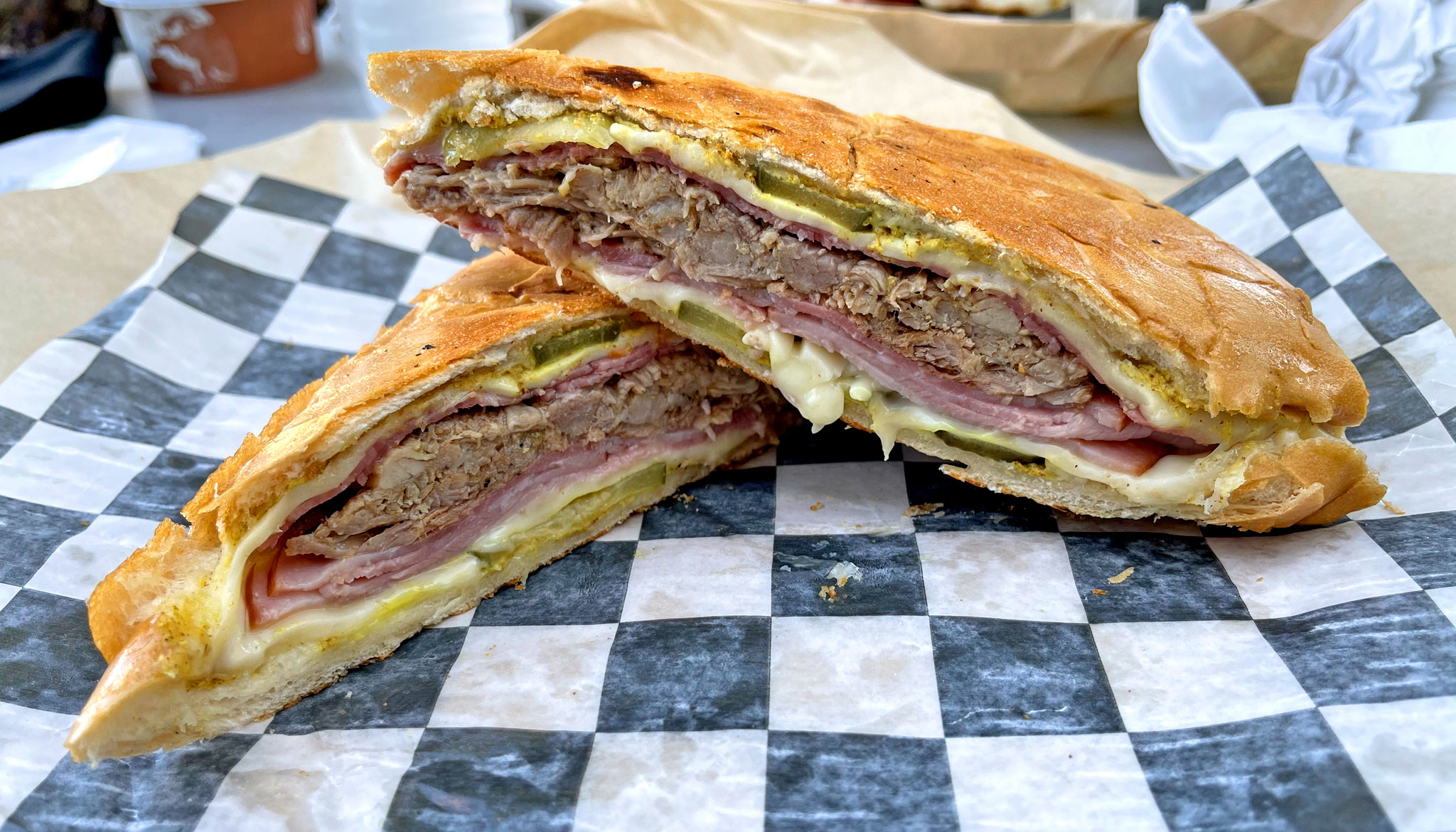 The real Cuban sandwich has salami, and Tommy's is even more authentic because it includes Salchicon salami from Italy. The story goes that the Cuban sandwich, which was invented in Tampa by cigar factory workers in the late 1800's, should perhaps be called the Cuban-Italian sandwich as there were also Italian immigrants working in the cigar factories, and the salami was their contribution to the sandwich.
The Orange Belt Cafe Cuban has slow roasted (in-house) mojo pork, Cuban ham, Salchicon salami, house pickle, Swiss cheese, and spicy mustard, and it is pressed. It was excellent.
10. The Pesky Pelican Brew Pub
923 72nd St N
St. Petersburg, FL 33710
(727) 302-9600
Pesky Pelican Website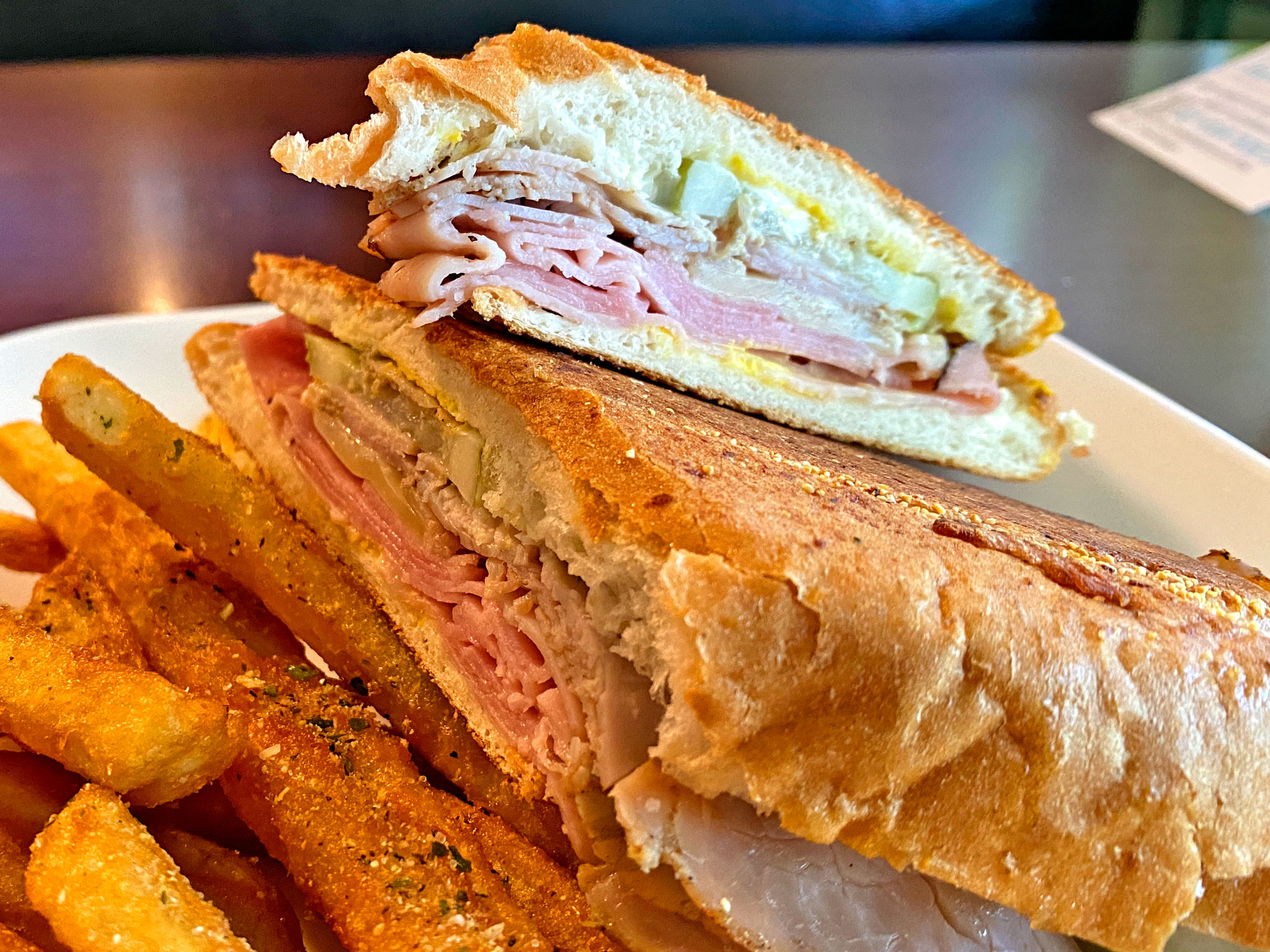 The Pesky Pelican is a little bit off the beaten path, but definitely a destination spot with lots of loyal local fans. It's a casual unassuming space with great food, including a St. Louis regional menu with St. Louis-style pizza, ravioli, and more.
Their Cuban sandwich is worth seeking out on the west side of St. Pete. It's moist, juicy, delicious and bursting with flavor. It's got pork, ham, hard salami, Swiss cheese, pickles, mayo and mustard.
Please tell us your favorite Cuban Sandwiches in the comments below.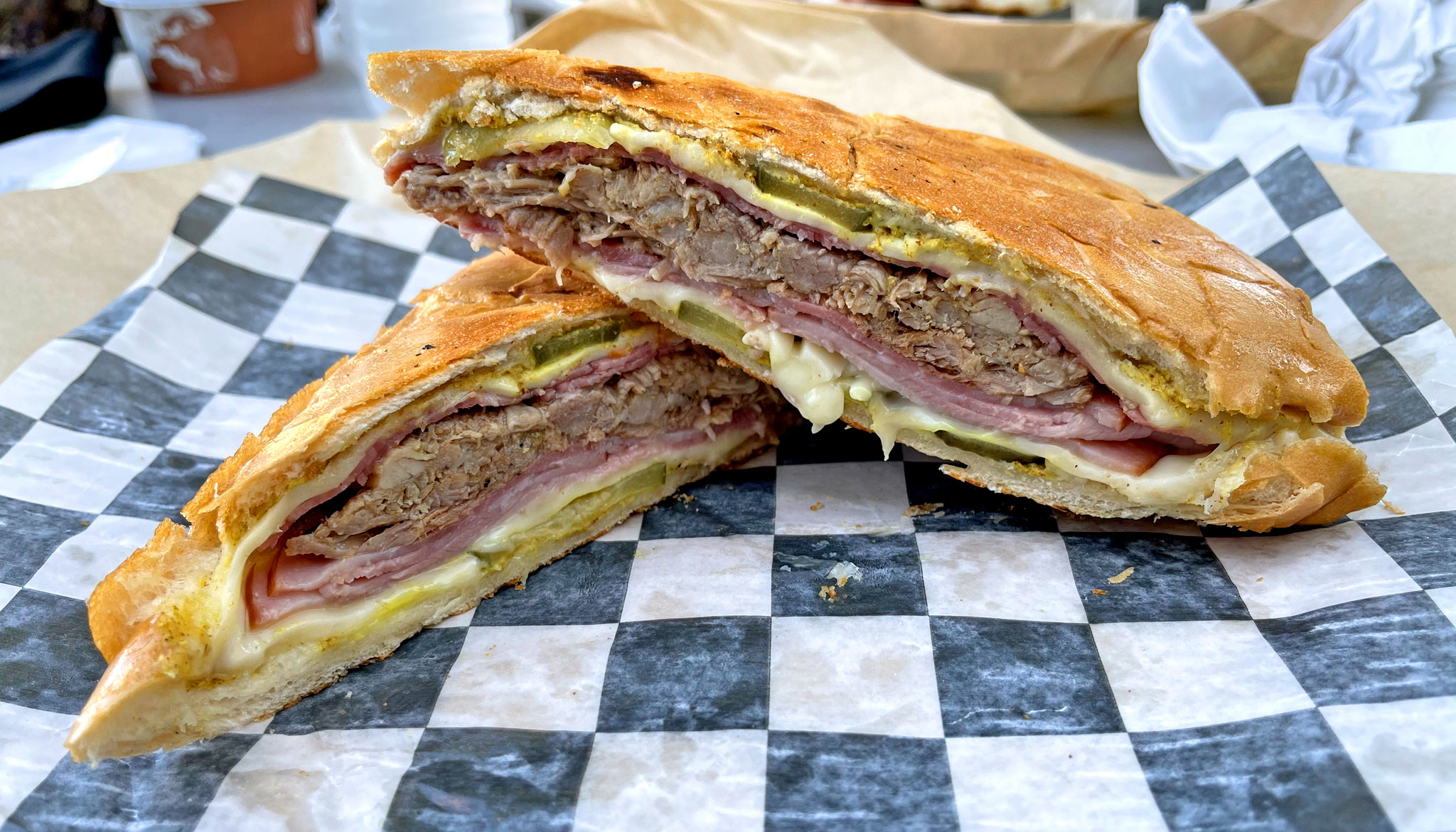 Readers Rating

Rated 4.9 stars




4.9

/ 5 (

Reviewers

)

Spectacular
---
The best authentic Cuban Sandwiches all personally picked by our local team - all of them tasted and photographed by us.