Oysters, my favorite of the bivalve family, are not exactly few and far between in St. Petersburg, especially those from the Gulf. Quality oysters, however, take some research to uncover. Lucky for you, we've done the leg work, and consumed dozens upon dozens of oysters in order to assemble a list with the best places for oysters in St. Pete.
These paramount dining establishments have oyster offerings all over the board – east coast, west coast, and even oysters served omakase style. Additionally, the list contatins a variety of restaurant settings, including casual, beach, and fine dining, which will certainly appease all preferences. Without further ado, below are the top places for oysters in St. Petersburg, Florida.
(Unless otherwise indicated, all photos by Abby Allen, St. Pete Foodies)
(Editor's note: Someone from St. Pete Foodies actually visited all of these restaurants, took our own photos, and ate this food – unlike many other best-of lists, that are auto-generated, or pulled from Yelp reviews or Instagram.)
10 Best Places for Oysters in St. Pete for 2019

1. Alto Mare Fish Bar
300 Beach Dr. NE #124
St Petersburg, Florida 33701
(727) 873-3427
Alto Mare Fish Bar Website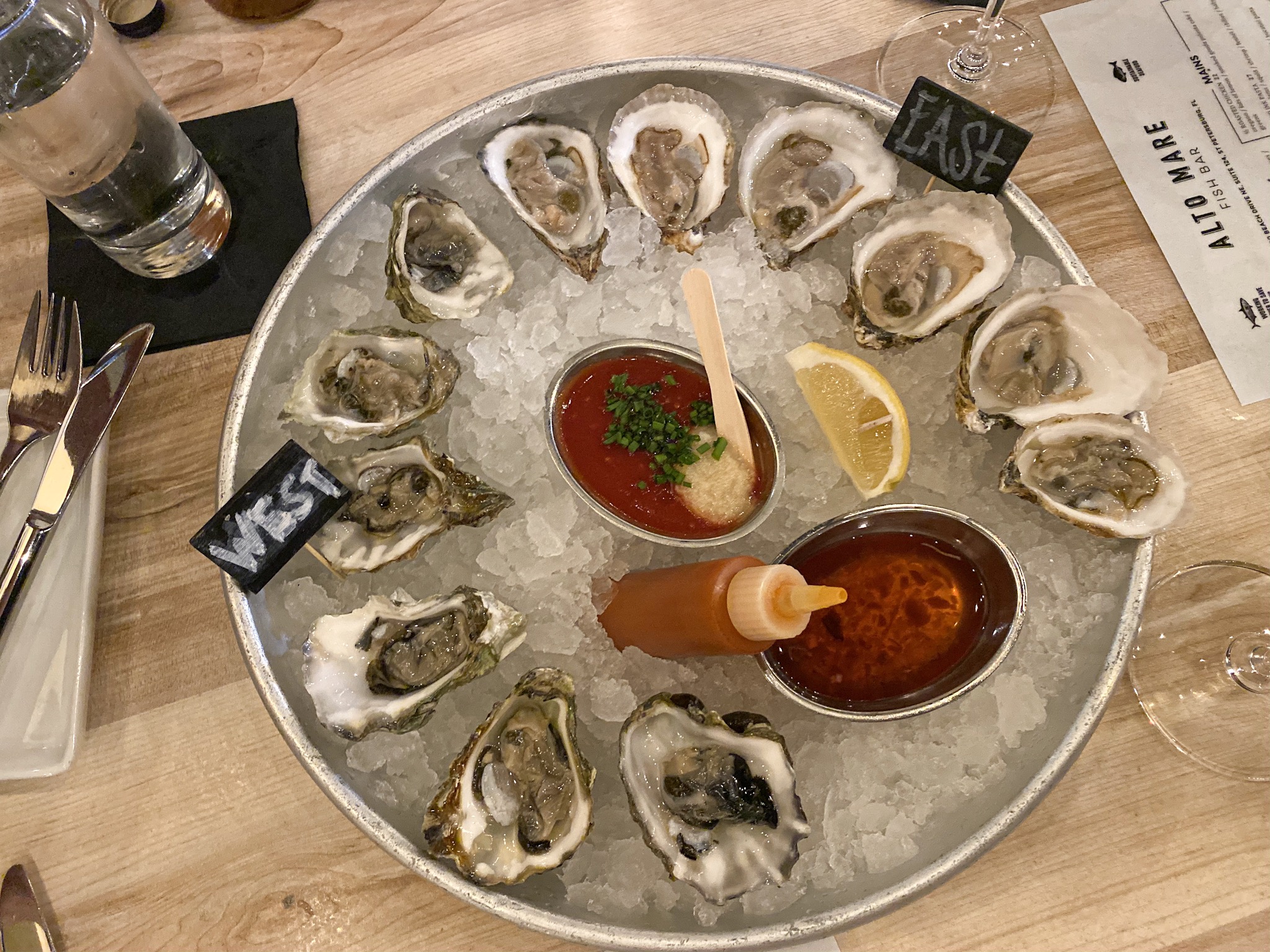 Alto Mare made its debut on the St. Pete restaurant scene almost one year ago on Beach Drive. The menu at this bright and modern fish bar boasts everything that a seafood lover could ever possibly desire – from bivalves and crudo, to custom raw and cooked seafood towers and caviar. As far as oysters are concerned, Alto Mare has daily features of both east and west coast oysters, which are served with the usual accessories: mignonette, hot sauce, cocktail sauce, and lemon.

2. The Oyster Bar
249 Central Ave
St Petersburg, Florida 33701
(727) 897-9728
The Oyster Bar Website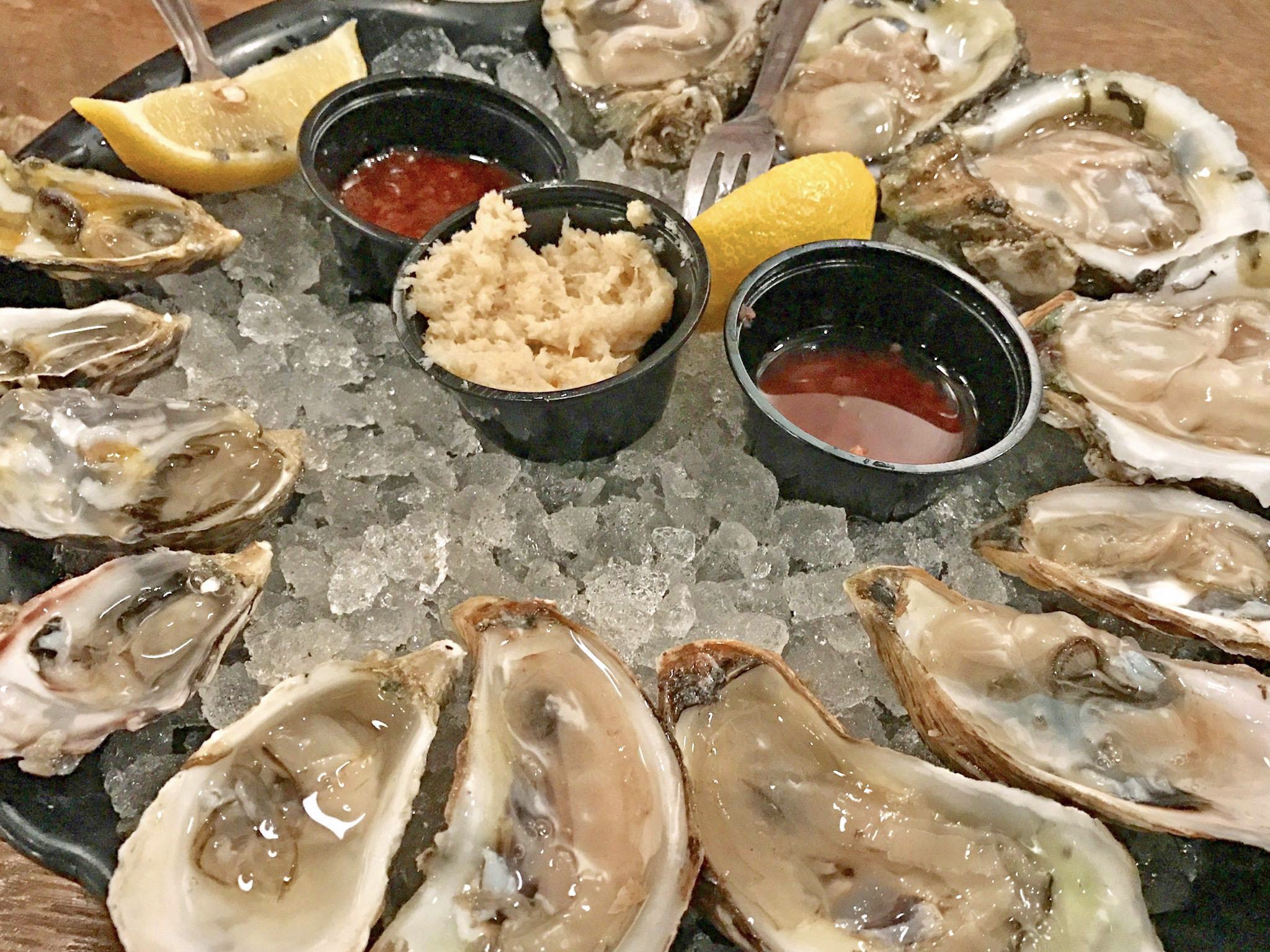 (photo by Lori Brown, St. Pete Foodies)
With a name like "The Oyster Bar", it's no surprise that this Central Ave staple earned a spot on this list. At The Oyster Bar, you can devour your oysters most every (common) way imaginable, and they offer oysters from a variety of locations too. On Wednesdays, oysters are $1.00 ALL day long! You can also snag them for $1.00 between 4:00PM – 5:00PM every day for Aphrodisiac Hour.

3. Parkshore Grill
300 Beach Drive NE #104
St Petersburg, Florida 33701
(727) 896-9463
Parkshore Grill Website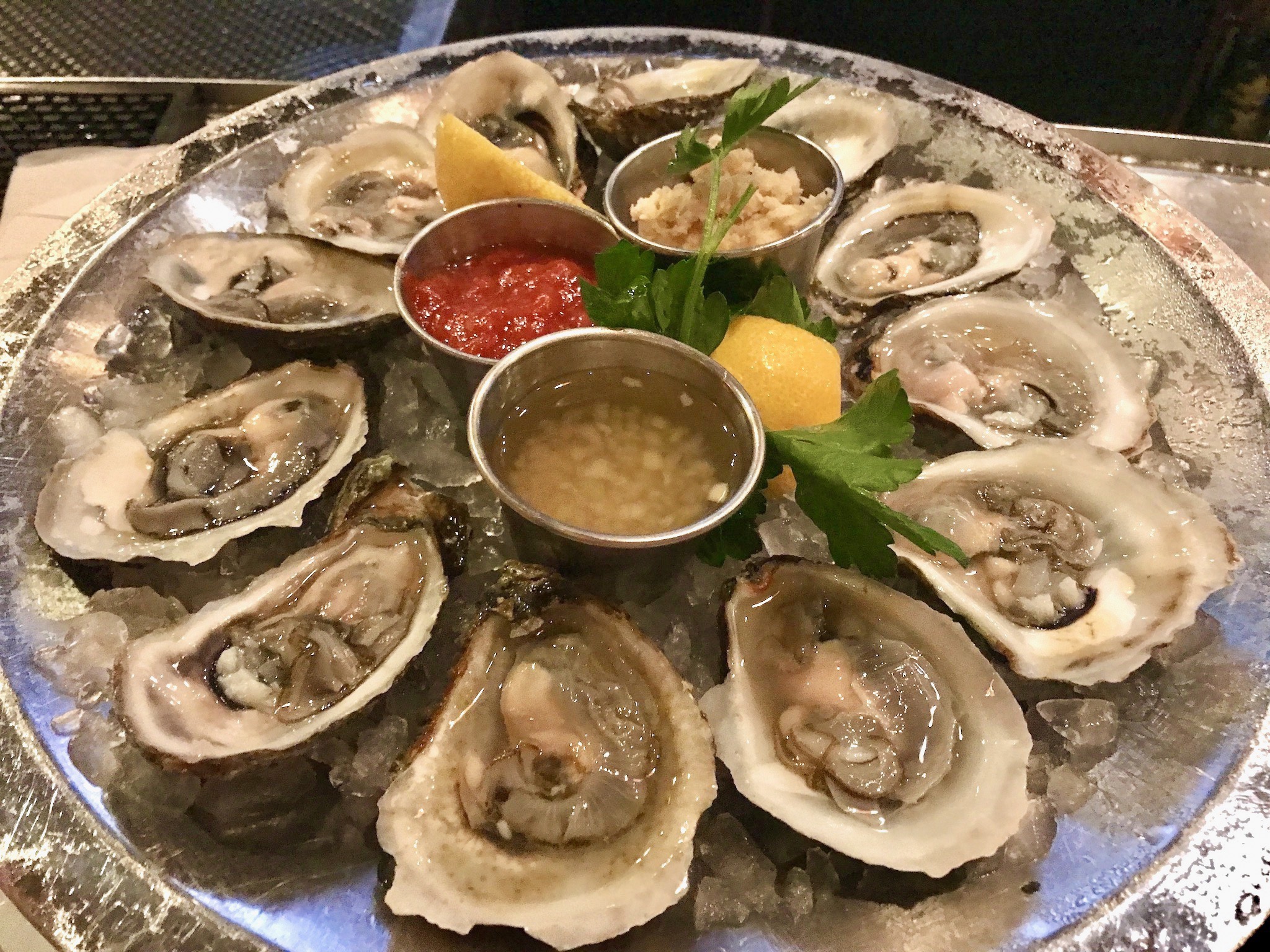 (photo by Lori Brown, St. Pete Foodies)
Parkshore Grill, one of Beach Drive's most awarded restaurants, is your fine-dining go-to when it comes to oysters. Take a seat at the bar, order up a luscious glass of wine, bask in the atmosphere, and of course, start your meal with a selection of their oysters. Feeling adventerous? Opt for the Chef's Selection of Oysters on the Half Shell, served with champagne mignonette and horseradish. Or, if baked oysters are more your speed, The Parkshore Oysters will leave you satisfied, as they're served with applewood smoked bacon, thyme and parmesan butter. Drool worthy!

4. Sea Salt
183 2nd Ave N
St Petersburg, Florida 33701
(727) 873-7964
Sea Salt Website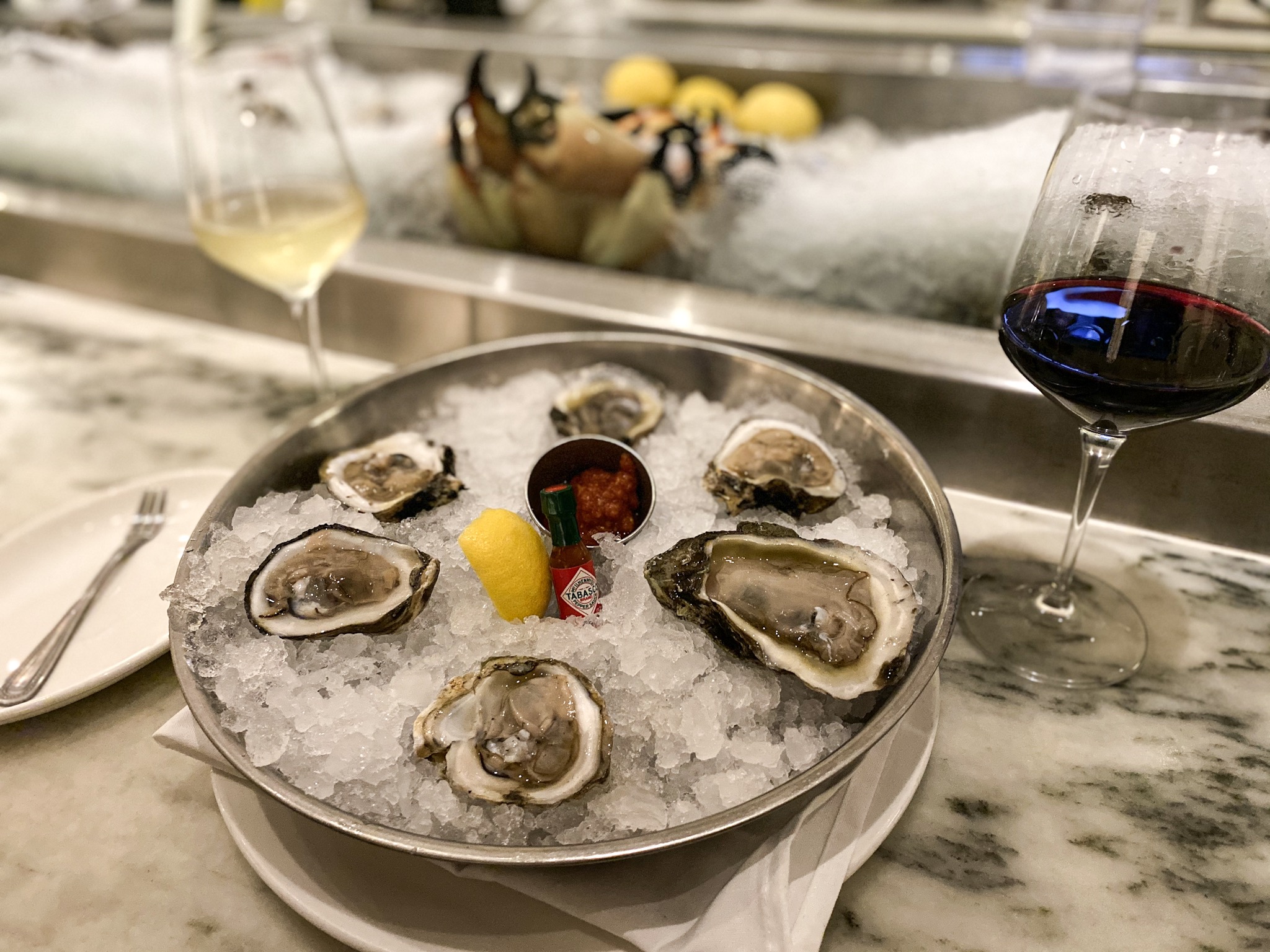 If Sea Salt is known for anything, it's unquestionably for their rave-worthy happy hour and oysters. Head to Sea Salt between 3:00PM – 6:00PM, and you'll find a jam-packed bar and lounge area. Also, you'll note order after order of oysters being served to the hungry masses. Every Monday – Thursday, folks relish in the $1.00 Gulf Oyster special. Pro tip: if you sit accordingly at the bar, you can witness the shucking and preparation of your oysters, too!

5. Modern Brine
1113 Central Ave
St Petersburg, Florida 33705
(located inside Baum Ave Market)
Modern Brine Website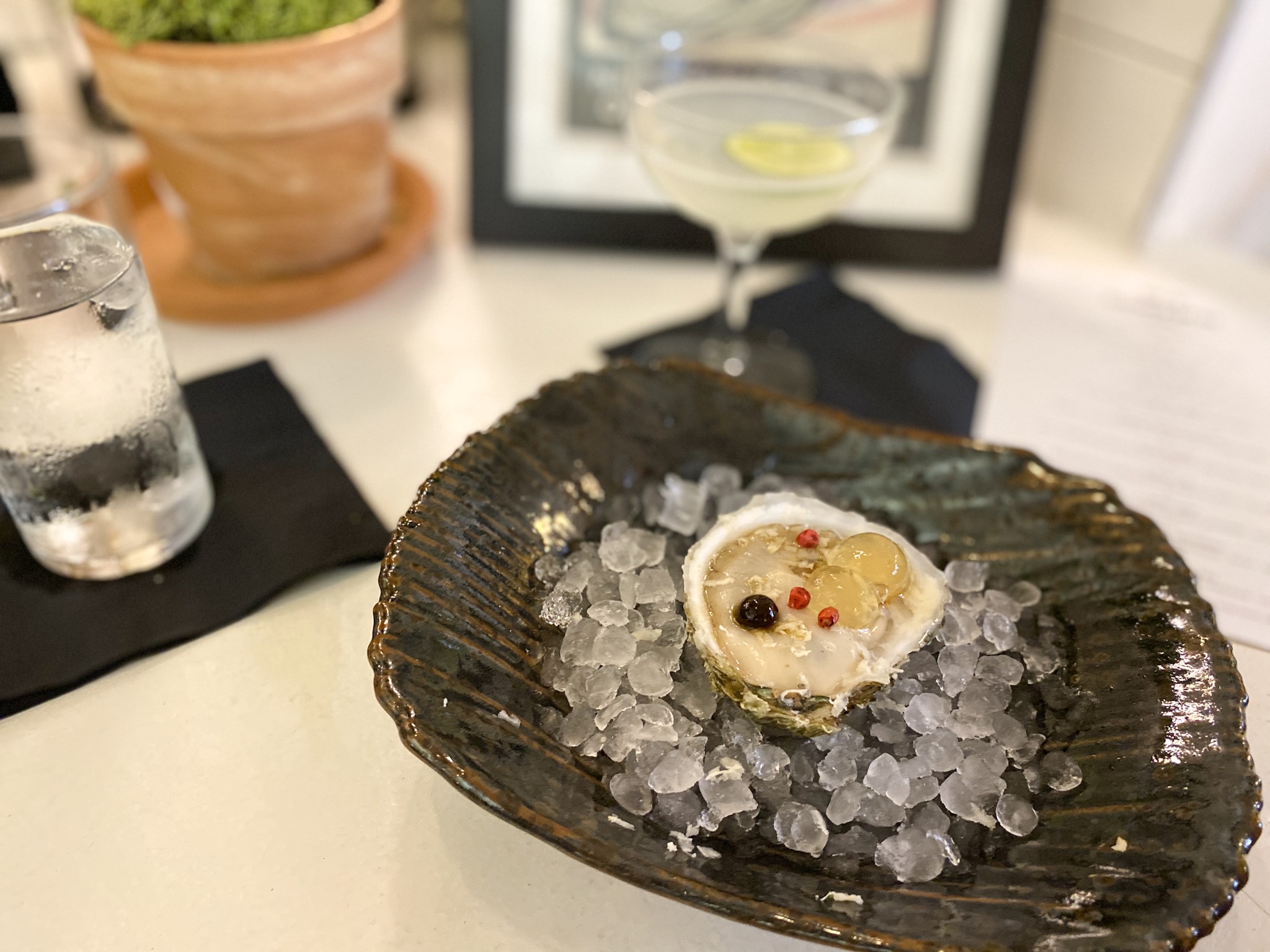 Perhaps the most unique oyster experience in St. Pete can be found at Modern Brine, located within the Baum Avenue Market in the Edge District. What makes it so unique? Owner, David Morris, takes all of his customers on a thrilling culinary expedition with omakase style oysters (omakase is a term in Japanese dining where dishes are 100% selected by the chef, typically with quality, seasonal ingredients). Everything is priced by the oyster, so eat as few, or as many, as you'd like. David does a phenomenal job of educating and opening his customer's eyes to the vast world of oysters. He pairs each one with ingredients that brilliantly highlight the bivalve. An example of his creations include the Deconstructed Cocktail Oyster: clarified tomatoes and Worcestershire (both made into jelly spheres with molecular gastronomy) and pink peppercorns.

6. The Dewey Beach Restaurant
107 8th Ave
St Pete Beach, FL 33706
(727) 228-1000
The Dewey Beach Restaurant Website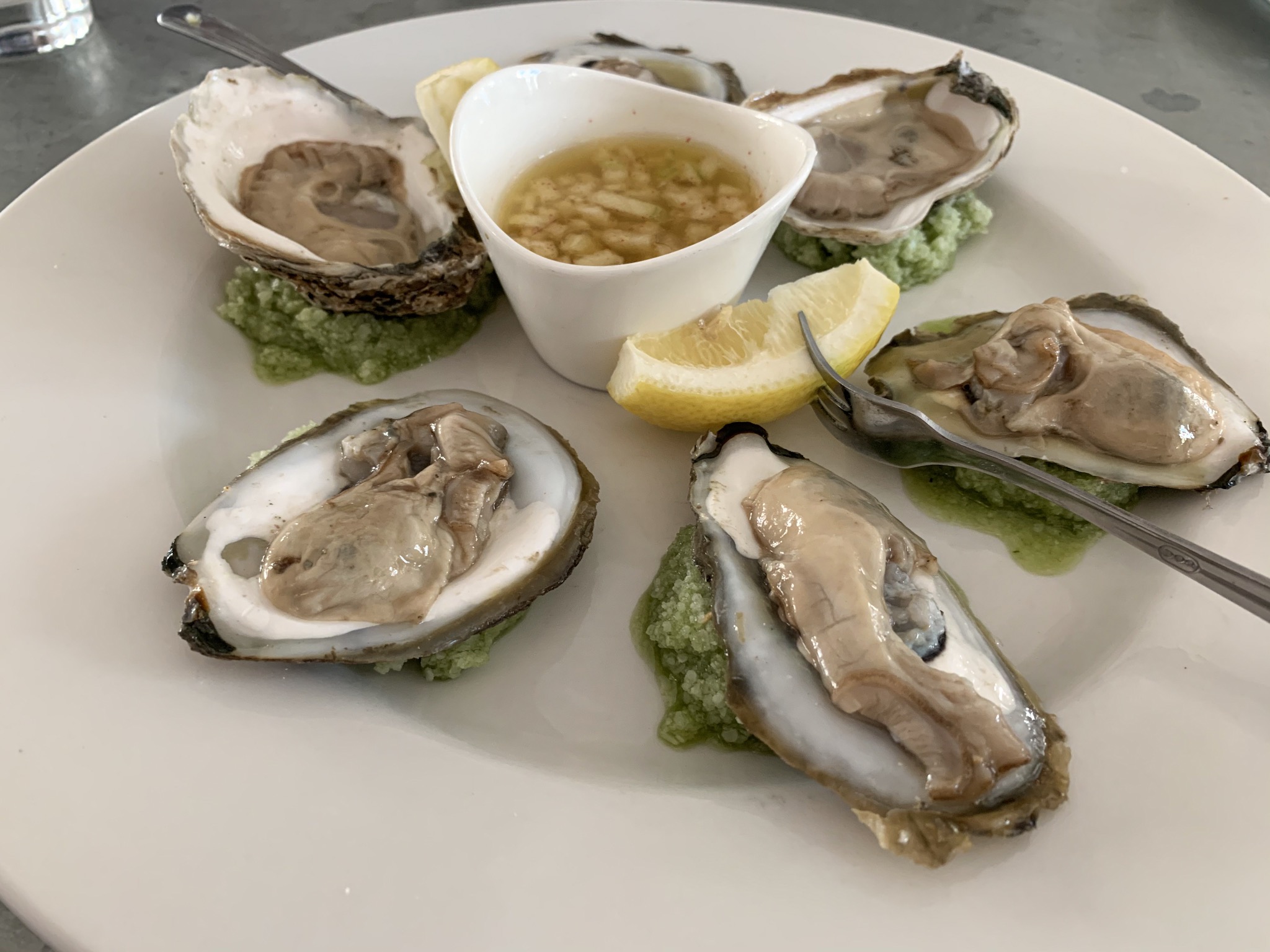 (photo by Lori Brown, St. Pete Foodies)
The Dewey Beach Bar and Grill, whose mission is to "create a new vernacular for beach dining," gracefully made their way on to the food scene recently. And no, this place isn't serving up your typical, fried beach bar fare. Their oysters are served two ways: raw and briny with horseradish apple and pink peppercorn mignonette, or, roasted with harissa butter. Order up the oysters of your choice whilst on their rooftop, which boasts incredible views of Pass-a-grille, and watch the sky put on a show while the sun slowly sets on the beach.

7. Oyster Shucker Craft & Draft
650 Corey Ave
St Pete Beach, FL 33706
(727) 256-1882
Oyster Shucker Craft & Draft Website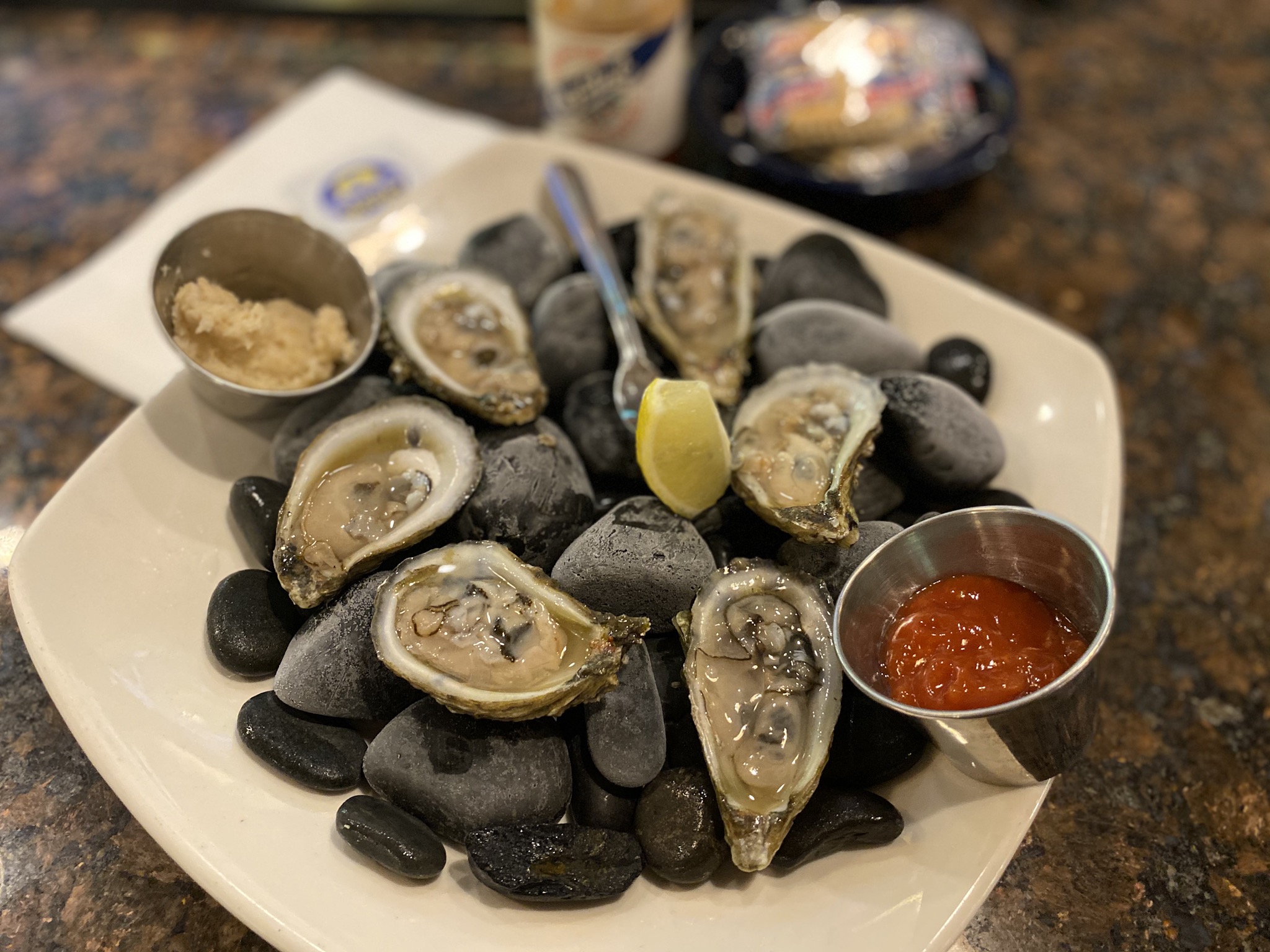 Speaking of sunsets, Oyster Shucker, located on St. Pete Beach, offers their customers oysters with a premium view of the gulf. The oysters at Oyster Shucker are fresh daily and are comprised of a combination of gulf coast, east coast and west coast, and can be consumed raw (full or half dozen), or broiled (full or half dozen). The raw oysters are served with the usual suspects, while the broiled are prepared with chorizo and green apple. For me, the way the oysters are presented sets Oyster Shucker apart. The raw are placed on cold black stones, instead of the typical shaved ice, whereas the broiled are plated on hot black stones.

8. PJ's Oyster Bar
7490 Gulf Blvd
St Pete Beach, FL 33706
(727) 367-3309
PJ's Oyster Bar Website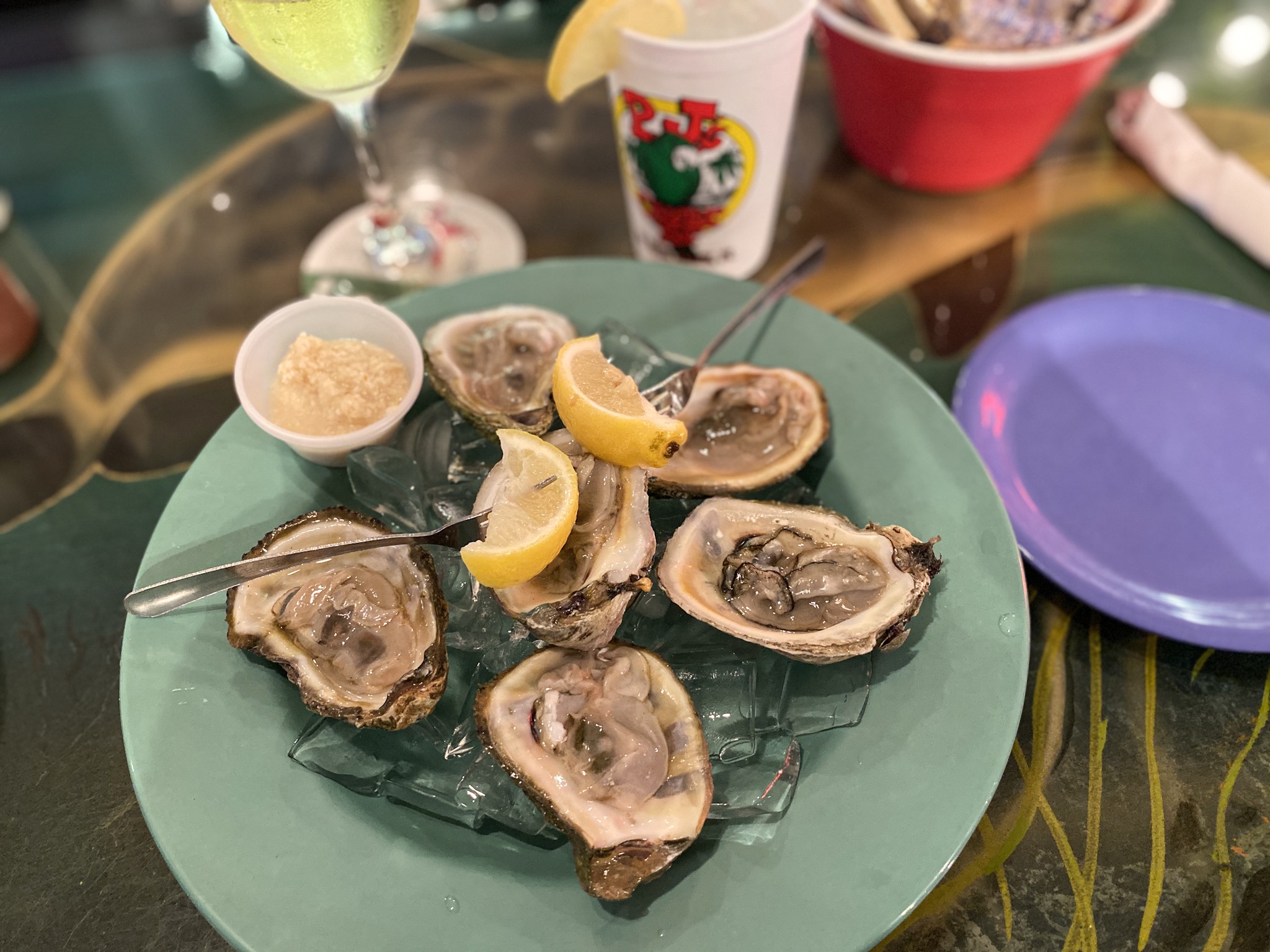 PJ's Oyster Bar is the type of place where you walk in and immediately feel welcome. Their quaint restaurant, located just off of Gulf Blvd, is an establishment where you would feel comfortable bringing the whole family. The utmost friendly service (sit at the bar and hangout with Ryan, who has been with PJ's off and on for 20 years and is as pleasant as they come), a large variety of menu options, crafts and drafts to satisfy all, and of course, those mouth-watering oysters! Choose from raw, steamed, Rockefeller, or Chicago style, which are baked to perfection with parmesan cheese and garlic butter – need I say more?

9. RumFish Grill
6000 Gulf Blvd
St Pete Beach, FL 33706
(727) 329-1428
RumFish Grill Website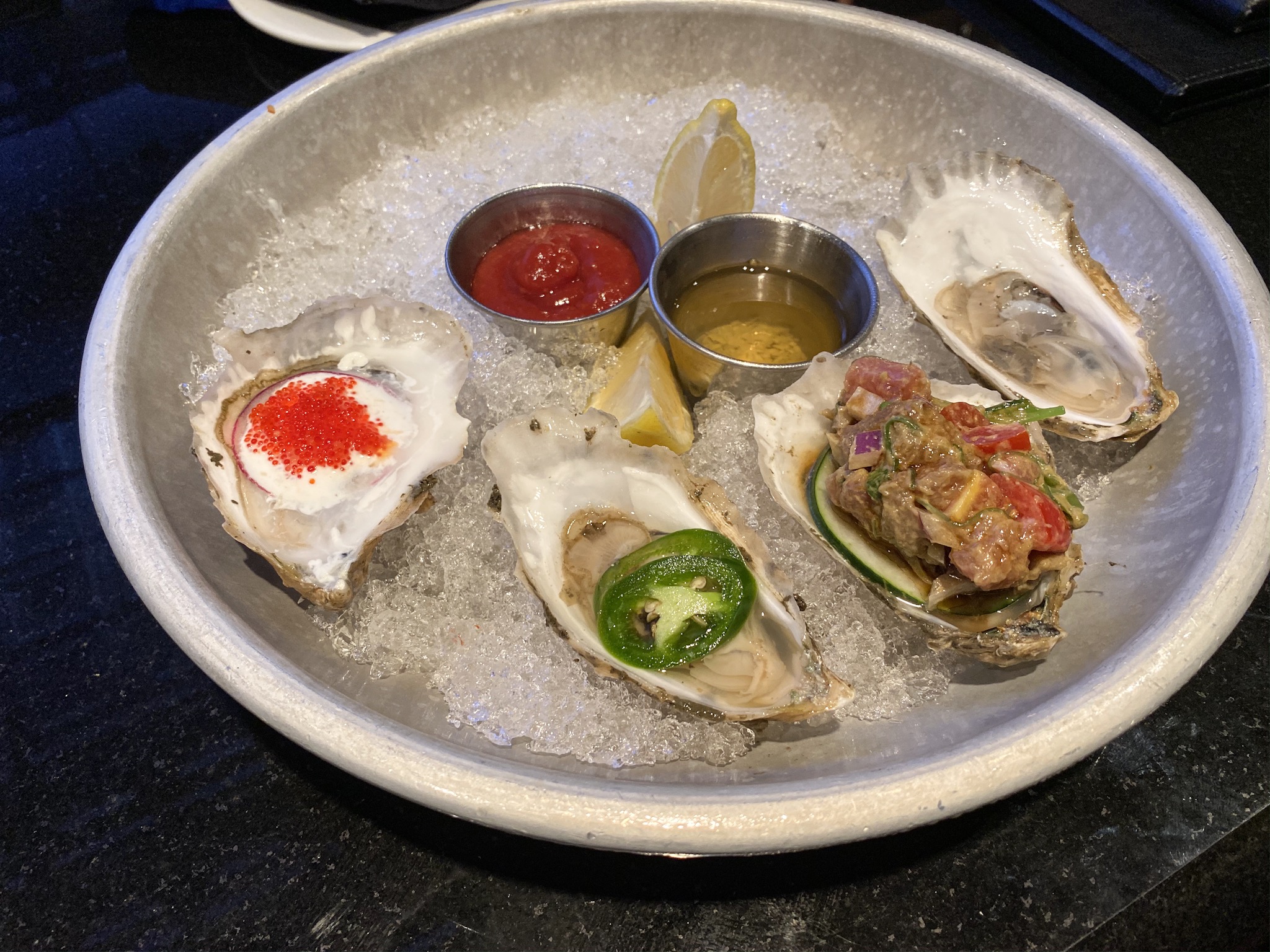 If the 33,500 gallon aquarium, which encompasses an entire wall of the dining room, isn't enough to entice you at RumFish Grill, the oysters certainly will. During my visit to RumFish, I embarked on a flavor journey whilst sampling each of their four unique oyster offerings. The selections include: Cold Water Oyster with Ginger Mignonette, Cold Water Oyster with Horseradish Cream and Tobiko, Oyster Cocktail with Tuna Poke, and the Blue Agave Oyster with Tequila, Lime, Jalapeño and Sea Salt. While each creation was unique and delicious in its own right, the Blue Agave was my favorite! Light spice, tequila notes, a touch of salt, and a hint of acidity, all of which, complemented the briny oyster well.

10. The Island Grille & Raw Bar
210 Madonna Blvd
Tierra Verde, FL 33715
(727) 767-0020
The Island Grille & Raw Bar Website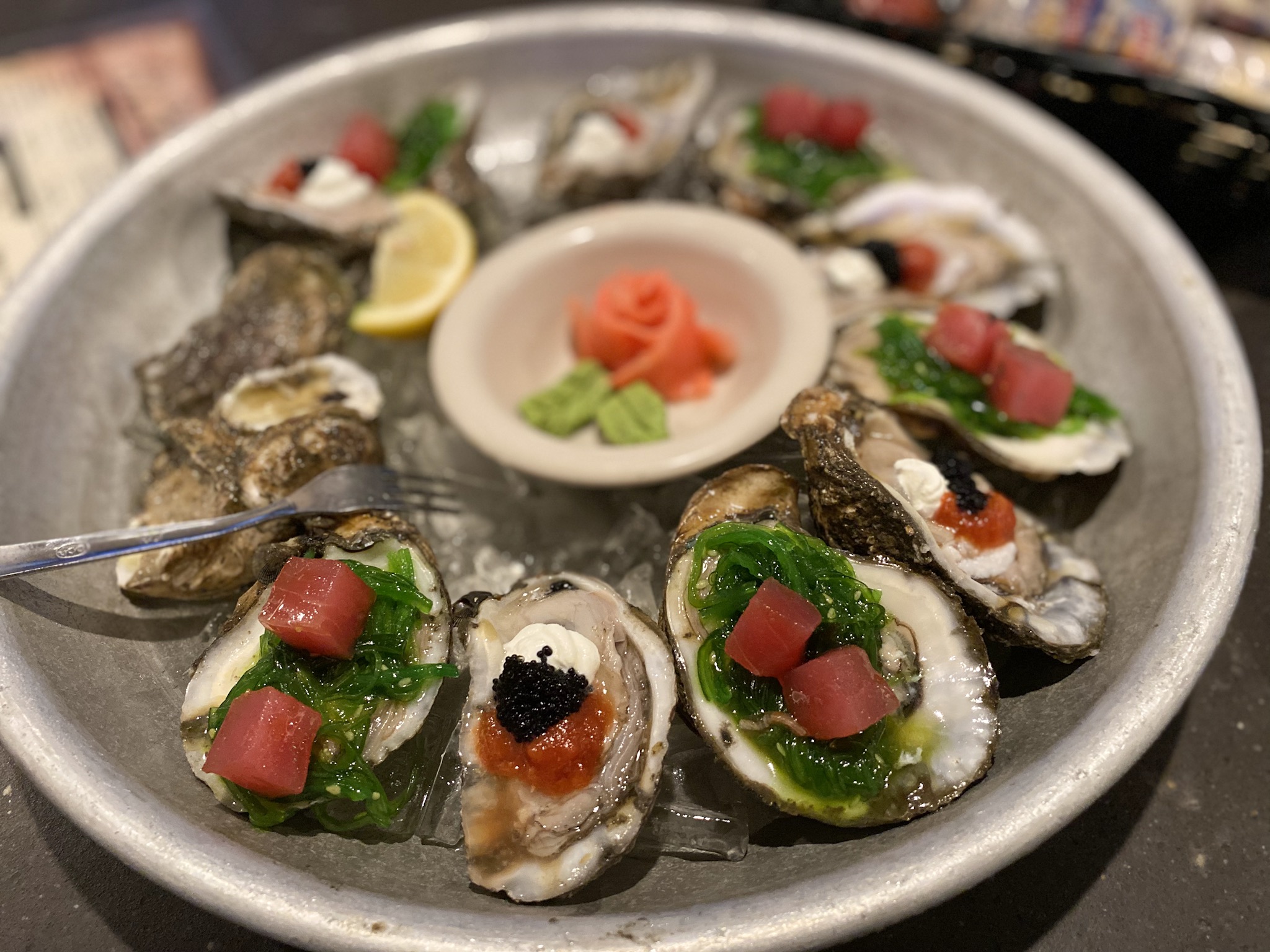 The Island Grille & Raw Bar, located in Tierra Verde, is a staple establishment on the island. Not only does this restaurant have a fabulous raw bar, ample seating, and a menu with everything from Crab Cakes and Grouper Nuggets, to Seafood Fra Diavolo and Braised Pork Shanks, but they also have an idyllic outdoor space with a pool, to boot. Now, back to their impressive raw bar, which includes an array of oyster options. While I was informed that their chargrilled oysters are a favorite of many, their raw options (all four varietals) were the standouts, in my eyes. Enjoy a Coldwater Flight (a dozen boutique oysters), The Moscow Oysters (topped with sour cream, cocktail sauce, caviar and vodka), Sushi Oysters (topped with seaweed salad, sushi grade tuna and wasabi), or the Inferno Oysters (topped with horseradish, sriracha, cocktail sauce and jalapeños).
Please tell us your favorite places to get oysters in the comments below.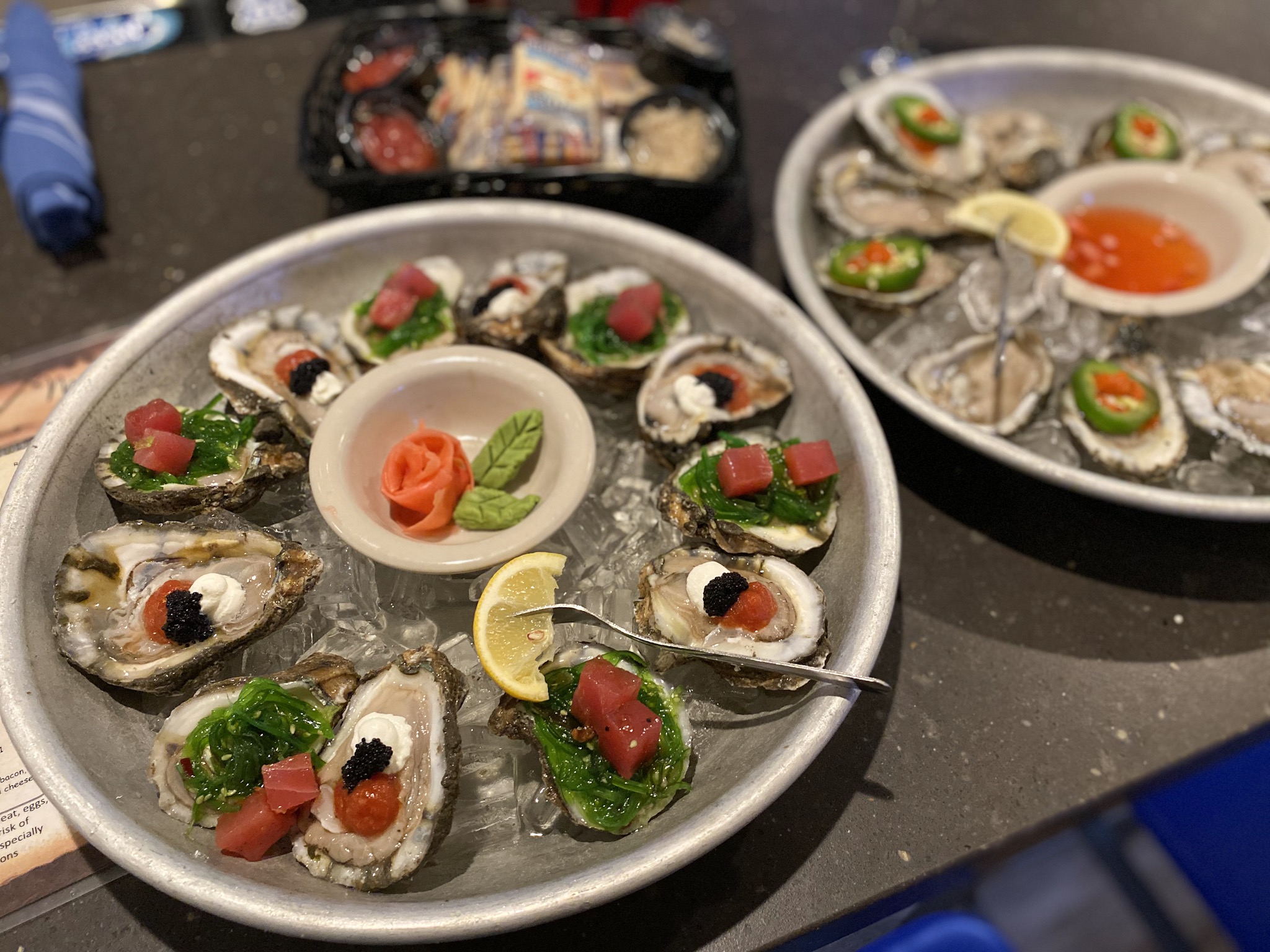 Readers Rating

Rated 4.8 stars




4.8

/ 5 (

Reviewers

)

Spectacular
---
St. Petersburg Florida residents chose the best restaurants where the locals go to eat.