Best Fish & Chips in St. Pete
Fish and Chips is thought to have come about in the early-to-mid 1800s in the U.K. It is theorized that Jewish immigrants may have originally brought the idea of frying fish in batter to the U.K. (There go those immigrants in another food origin story, again.)
In 2003, new regulations in the U.K. required that "fish" must be sold with the particular commercial name or species named; so, for example, "cod and chips" now appears on menus rather than the more vague "fish and chips". (Wikipedia)
At first, fish and chips were a strictly "to-go" item from specialty over-the-counter fish and chip takeout counters. Specialty sit down restaurants came later.
Cod and Haddock are the two most traditional white fish fillets that are used. As you'll find out in our review here, some places use other local fresh caught fish with amazing results.
Before we get into the list, an important thing you should be aware of is that there are other publishers of "best of lists" that do not actually go to the establishments, or actually eat the food.
We absolutely DO. (How can anyone recommend something they never experienced?)
Unfortunately, we've seen it a lot—from national and local publishers. We are also aware of a local publisher that offers paid placement in best-of-lists. There is no paid placement here.
I PERSONALLY ATE ALL OF THESE FISH AND CHIPS, AND WENT TO ALL OF THESE PLACES, AND THESE ARE ALL OF OUR PHOTOS.
All of these fish & chips were so good that it is impossible to rank them. They should all be #1. Here they are in Alphabetical Order.
Again, the list is in ALPHABETICAL ORDER.
1. The Bier Boutique
465 7th Ave N
St. Petersburg, FL 33701
(727) 827-2691
The Bier Boutique Website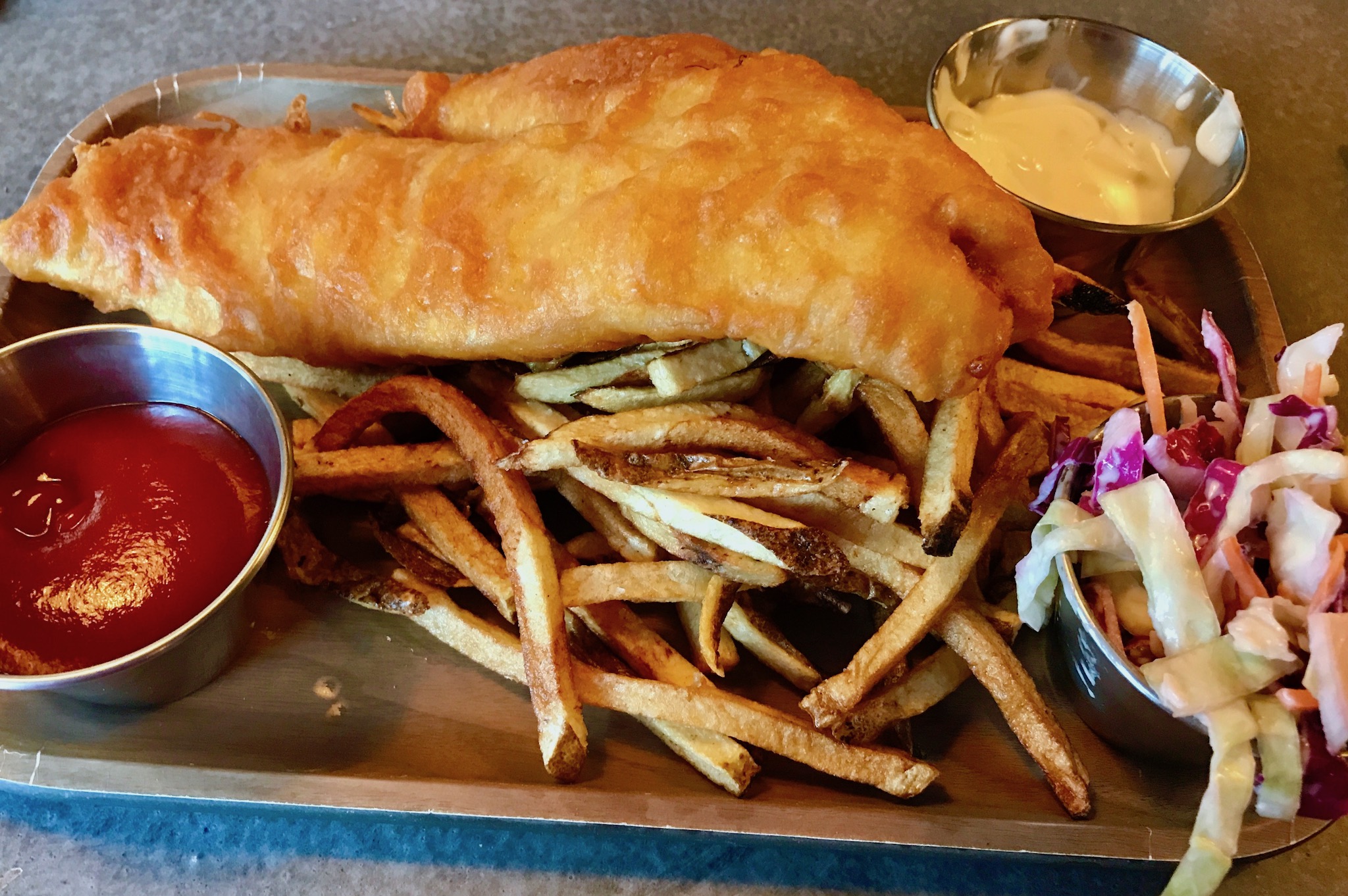 Friday night Fish Fry – I remember growing up with this as a kid, and don't know any place that does it around here, except for The Bier Boutique. Keep in mind that it is only on Friday, and they sell out every time. They start serving it when they open for lunch and they keep on frying until the last piece is served. They buy whatever is local and fresh that week and it is usually a different fish every week. Lori says, "I declare this the best batter I have ever had on a fried fish. It is golden, crunchy and not too thick so that it doesn't get that gummy texture between the batter and the fish."
2. Courigan's Irish Pub
1 Beach Dr SE ste 41
St. Petersburg, FL 33701
(727) 551-9019
https://www.facebook.com/Courigans/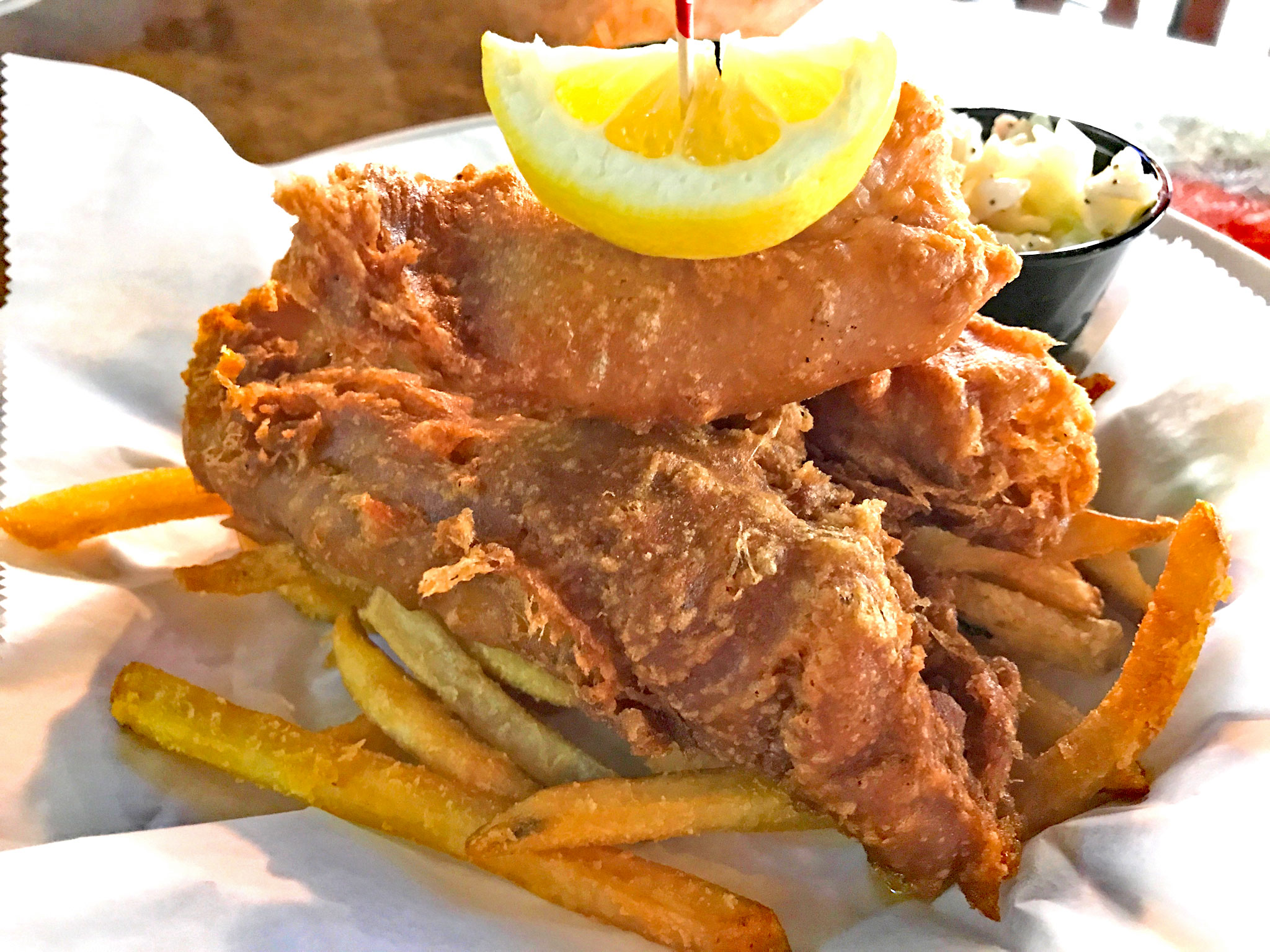 Fish-N-Chips – Three Flaky, beer battered, locally caught fillets along side crispy chips (french fries) with house tartar sauce, and a side of coleslaw.
I went to Courigan's last week for this write-up, but had to come back a couple of days ago because they didn't have any fresh catch that day. The chef came out of the kitchen to tell me personally that the Cod Fish & Chips are frozen. They keep these available for customers that prefer cod, or just want fish & chips when there's no fresh local catch. I thought they were pretty cool for being up-front about this.
When I came back, they had fresh caught local Black Grouper. It was so, so good! The fry on the batter was perfectly crispy, crunchy, but still light, and it didn't fall off the fish like at some other places. The fish inside was juicy, flaky, and buttery.
The fries were quite good, and had some visible potato skin. I asked if they were fresh, and again, they were cool enough to tell me, "they come out of a bag." This is fine. I just know not to use them for a best french fries write up.
3. Ford's Garage
200 1st Ave S.
St. Petersburg, FL 33701
(727) 295-3673
https://www.fordsgarageusa.com/locations/st-pete/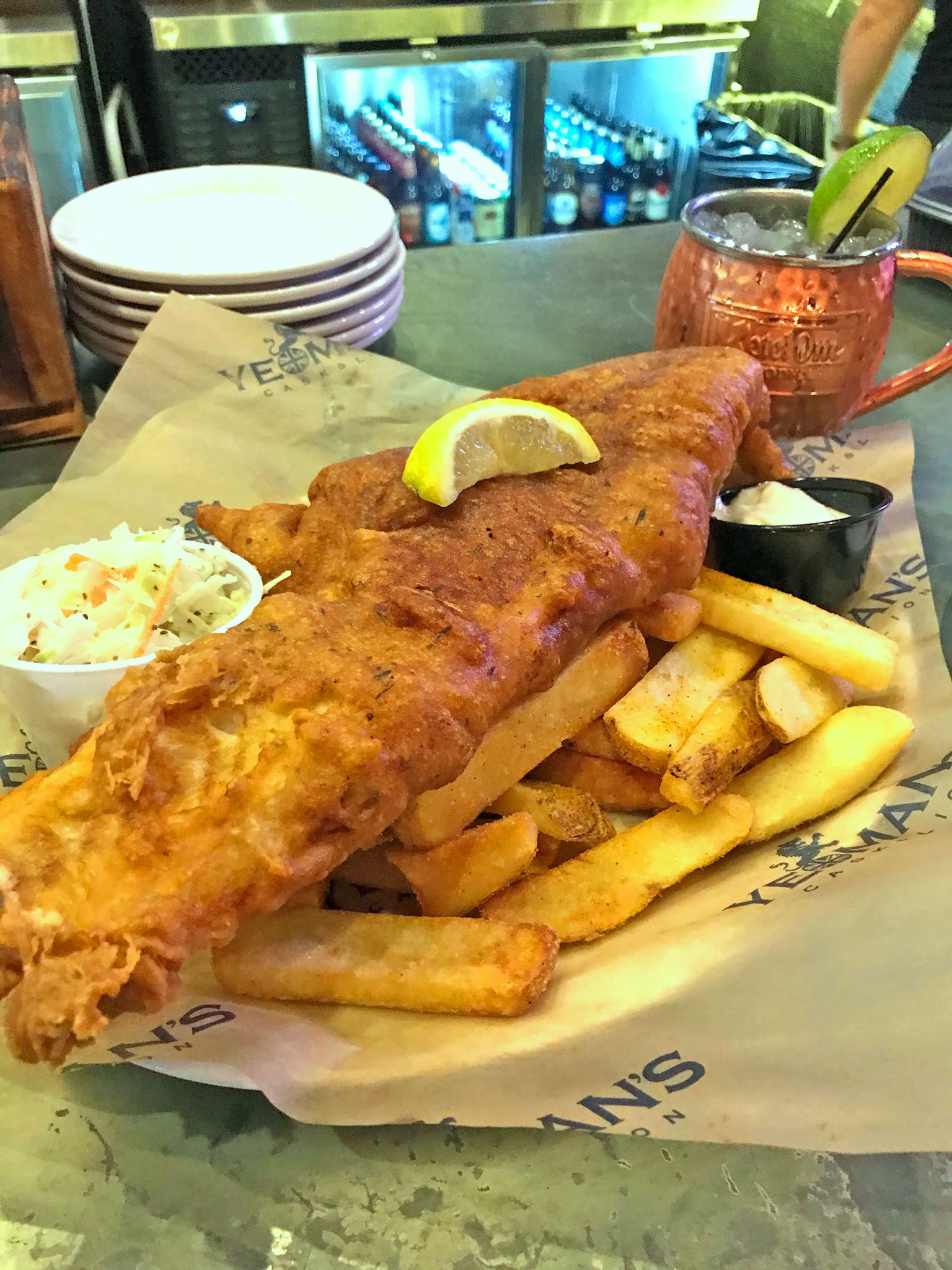 Beer Battered Deep Fried North Atlantic Cod Served with Tartar Sauce on a Bed of Ford's Signature Wedge Fries.
It's sitting on Yeoman's Cask & Lion paper, but this is in fact Ford's Garage's Fish & Chips.
This one is beer battered. In Britain and Ireland, fish and chip shops traditionally use a simple water and flour batter. The carbonation in the beer adds body and lightness to the batter, and helps it crisp up better.
4. Horse & Jockey
1155 Pasadena Ave S.
St. Petersburg, FL 33707
(727) 345-4995
http://www.horseandjockeypub.us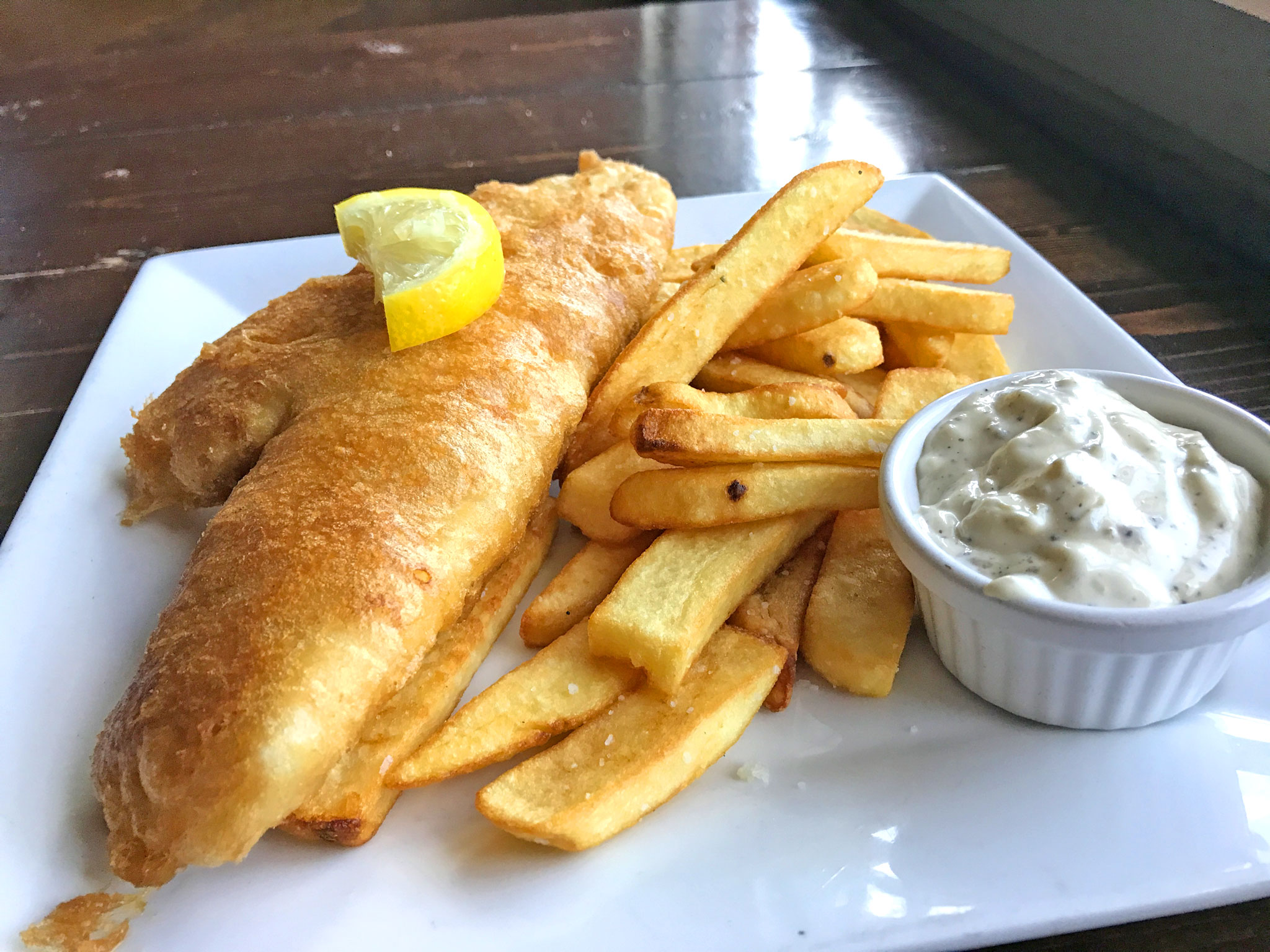 Fish & Chips – 8oz. Haddock battered & fried with chips.
The Horse and Jockey's Fish and Chips are excellent. The batter is crispy and slightly sweet. It's almost like a candy coating. It has such a nice crunch. The way the crispy batter feels on your teeth and in your mouth, and the sound of the crunch is all a treat in itself. Then, there's the moist steamy fish inside that's airy and lush.
5. Jack's London Grill
1050 62nd Ave N.
St. Petersburg, FL 33702
(727) 289-7170
https://jackslondongrill.com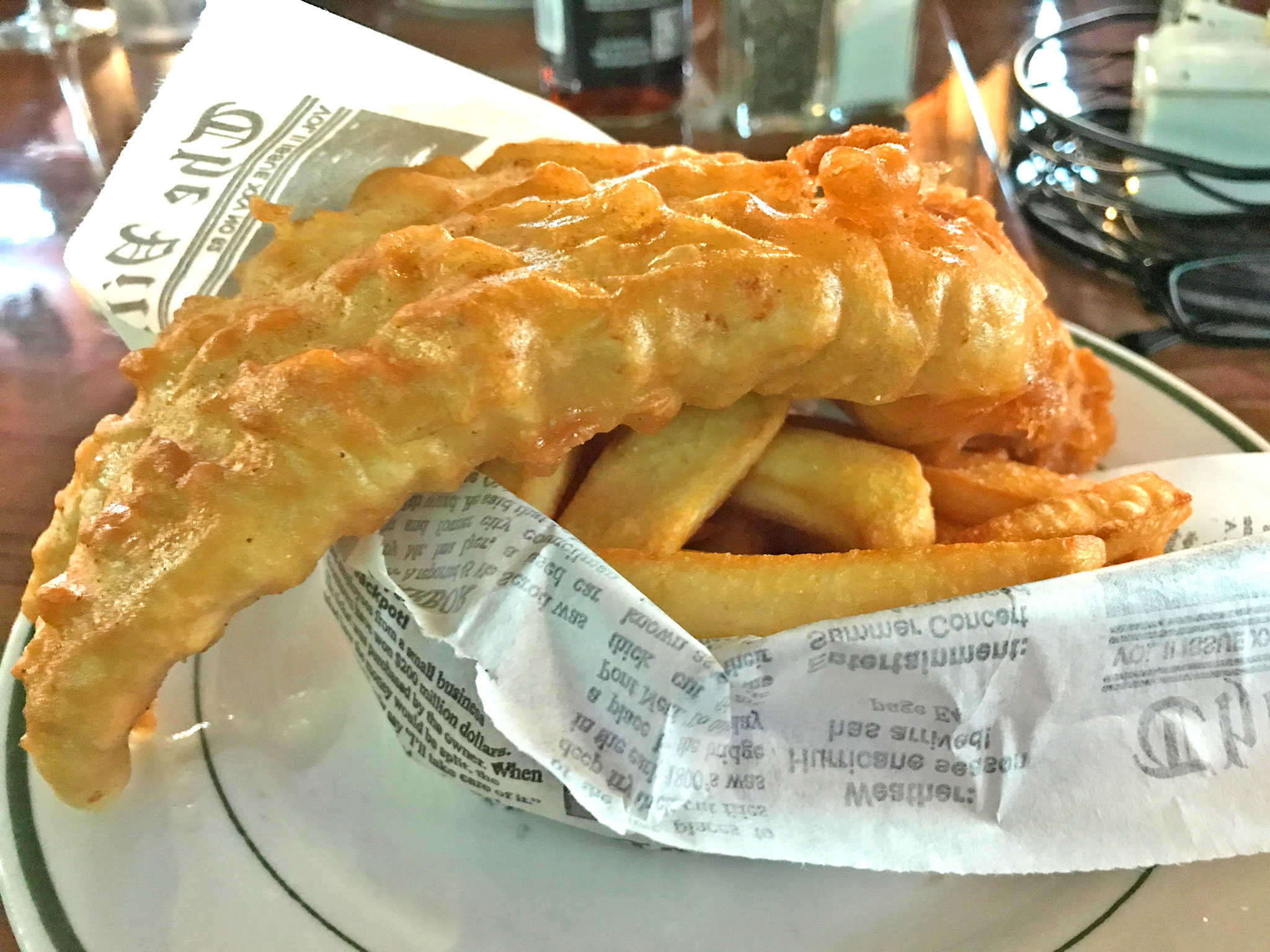 Classic Fish N Chips – White Flaky Fish Dipped in Pale Ale Batter, Crispy Fries and Homemade Tartar Sauce. That is the menu description. I confirmed that the fish is Haddock.
Anecdotally speaking, Jack's seems to be the crowd favorite. I thought there were others that were better, but it was a pretty close call, and Jack's IS one of the best.
6. Mary Margaret's Olde Irish Tavern
29 3rd St North
St. Petersburg, FL 33701
(727) 873-6764
Mary Margaret's Website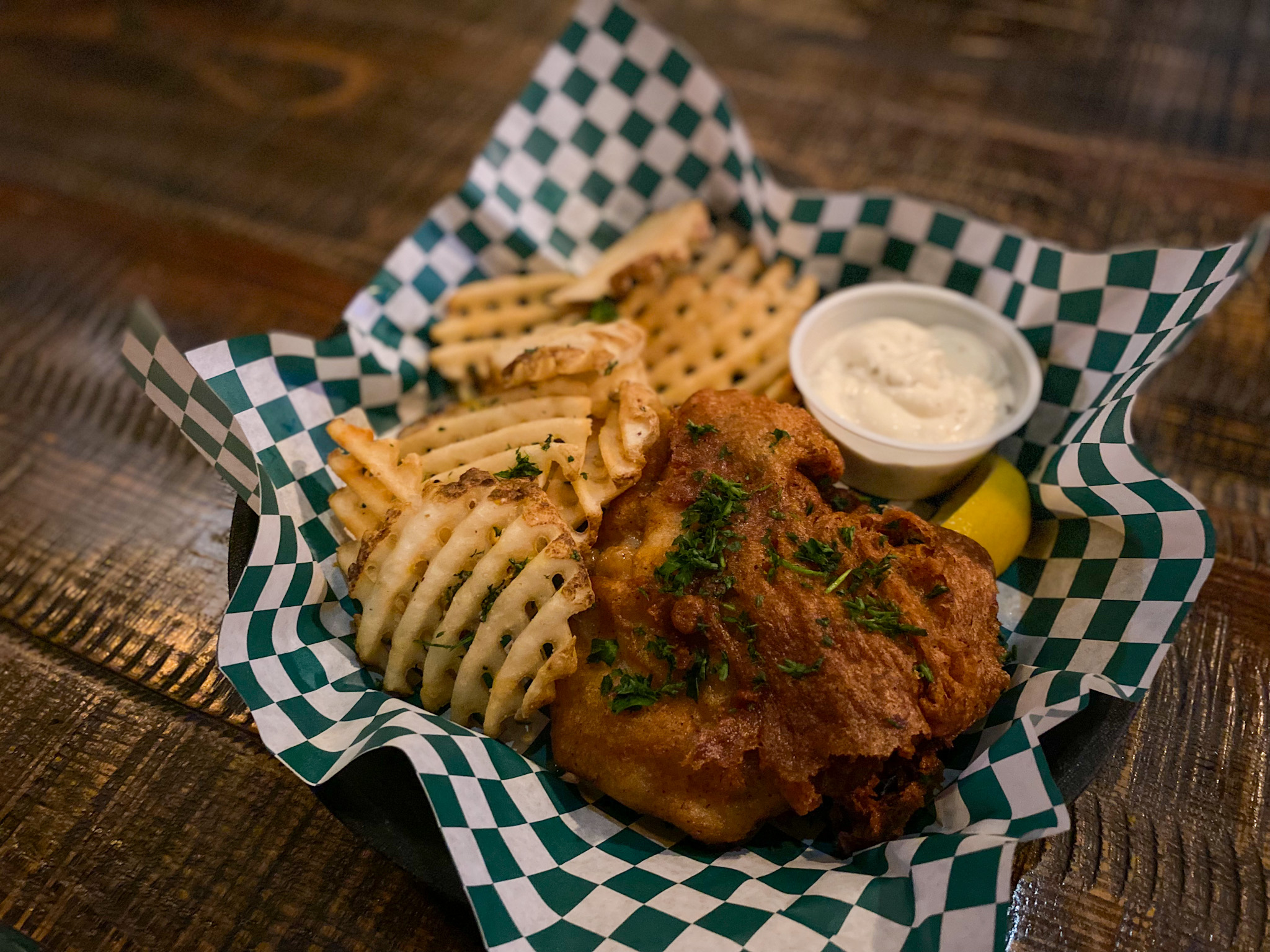 Local Fish n Chips– gulf grouper in Smithwick's Batter with waffle fries.
This one is the traditional Irish version of fish & chips, as it should be. Smithwick's is Ireland's oldest and one of the most popular beers there. Using fresh local grouper really makes these stand out. Lori is not a fan of waffle fries, but I love them.
7. Sea Dog Brew Pub
9610 Gulf Blvd
Treasure Island, FL 33706
(727) 954-7805
Sea Dog Website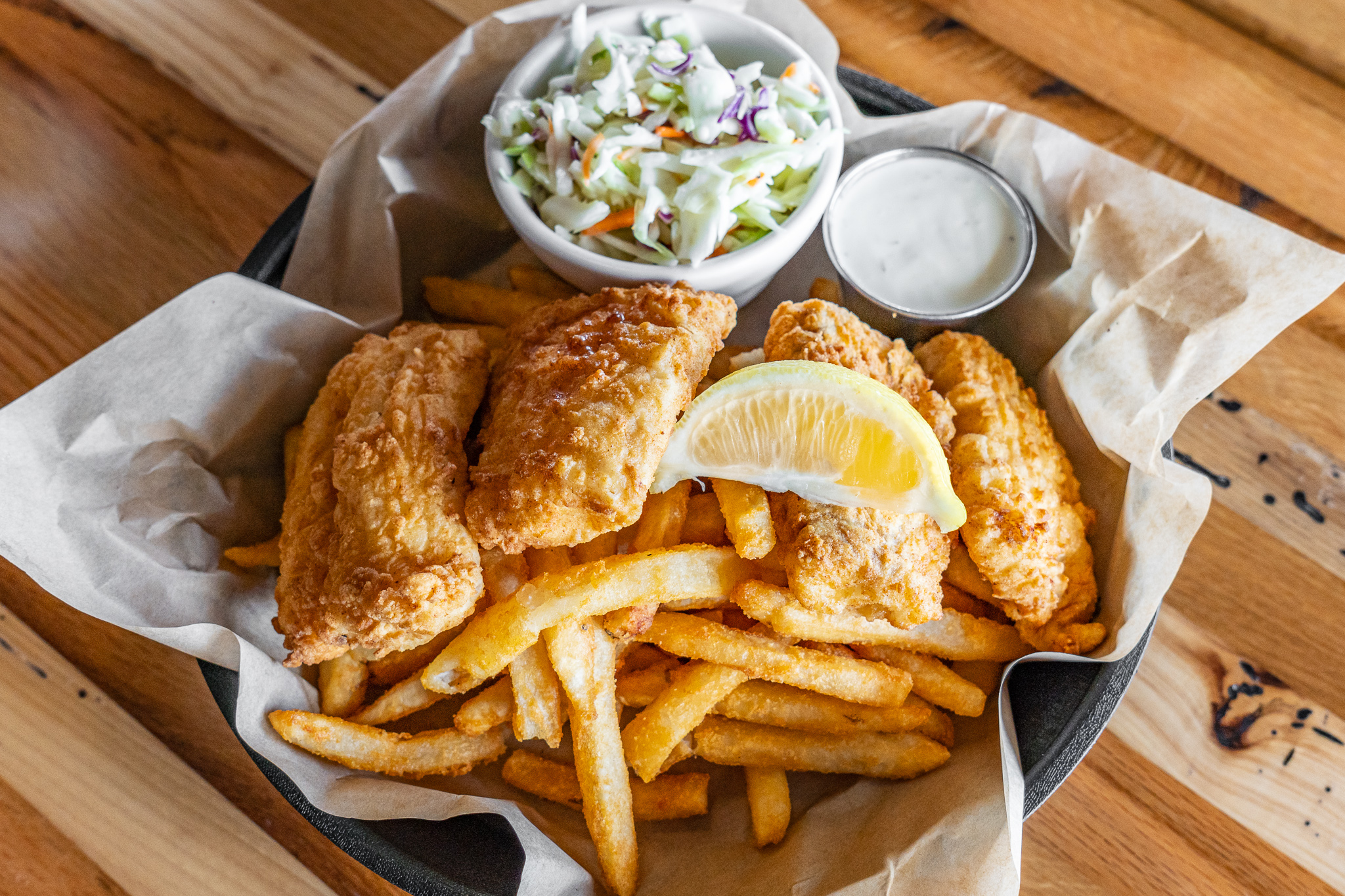 Lightly breaded fried Northern Cod served with French fries, coleslaw and house tartar sauce.
In these difficult times of trying to find good help, Sea Dog somehow manages to curate the best culinary team imaginable. I've tried more than half of the menu, and every single thing I've ever eaten there is fantastic, and the fish & chips are not an exception. The batter is light and airy, while still being crispy, and the fish is moist, and succulent.
8. Sea Salt
183 2nd Ave N
St. Petersburg, FL 33701
(727) 873-7964
Sea Salt Website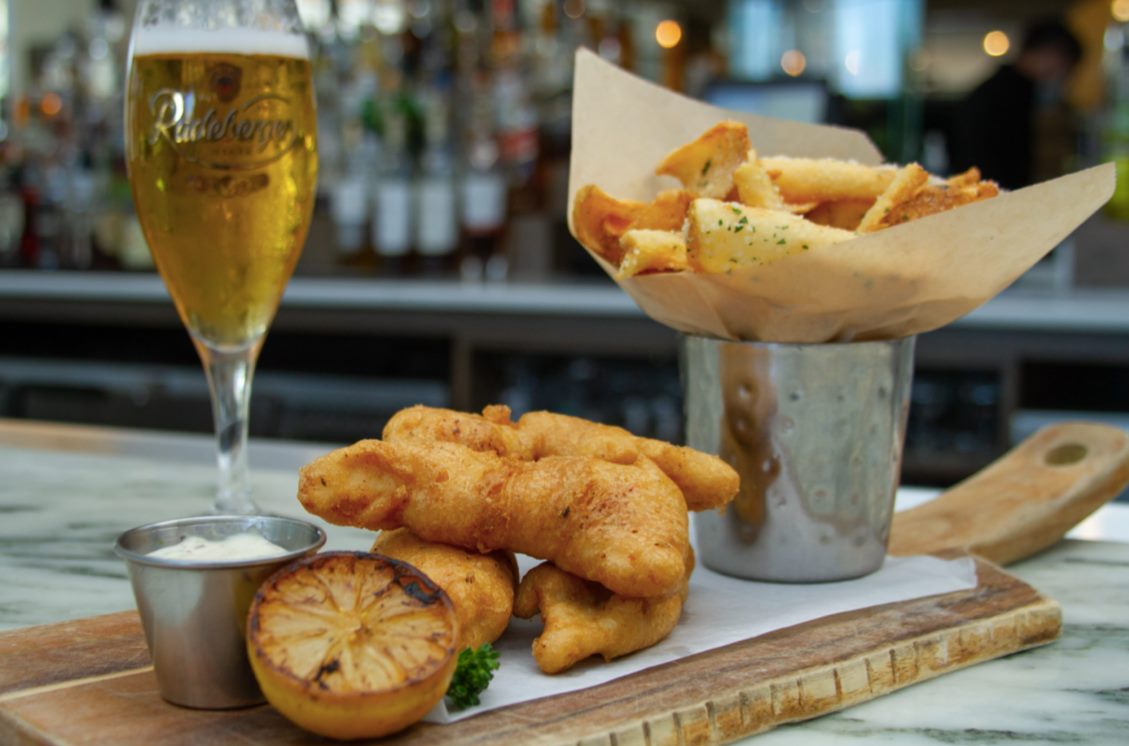 On the lunch menu – fresh Florida mahi-mahi deep fried in a golden batter with house made tartar sauce and hand cut fries is perfectly crunchy on the outside, and moist and delicious on the inside.
9. Stillwaters Tavern
224 Beach Dr NE
St. Petersburg, FL 33701
(727) 350-1019
https://stillwaterstavern.com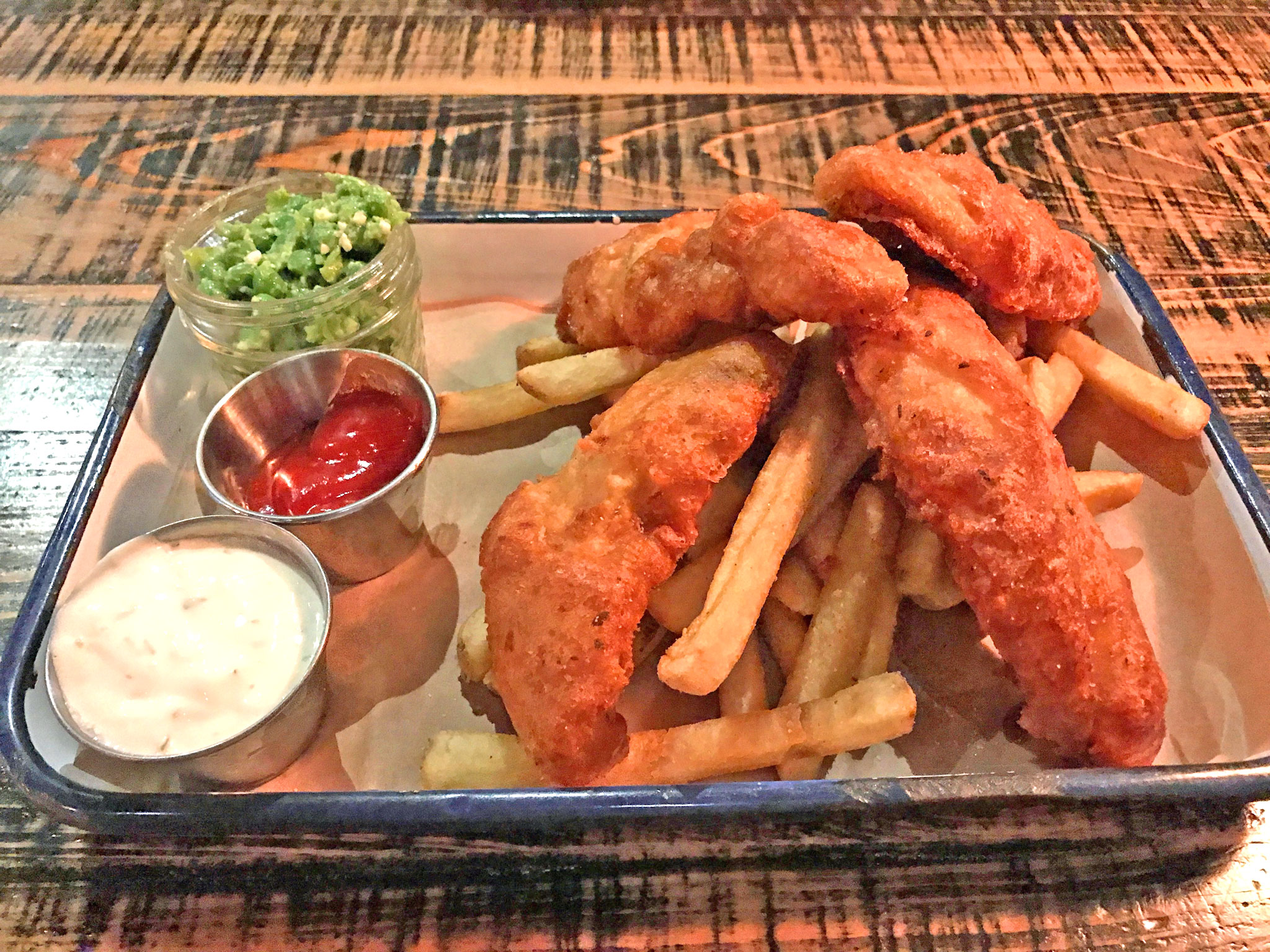 Fish N' Chips – Local Snapper, Crushed Pea Salad, Malt Vinegar Sauce.
Stillwaters is another one that uses fresh local catch. I could eat this every day. It was so good that I was thinking about it all day the next day after I had it for dinner. I love that they are pieces that you can pick up with your hand, and immerse in the tartar sauce. I like to push them into the cup until they hit bottom, and then just stick that in my mouth for a flavor explosion. (Courigan's are like this too, by the way.)
10. Teak
800 2nd Ave NE
(St. Pete Pier – 4th Floor)
St. Petersburg, FL 33701
(727) 513-8325
Teak Website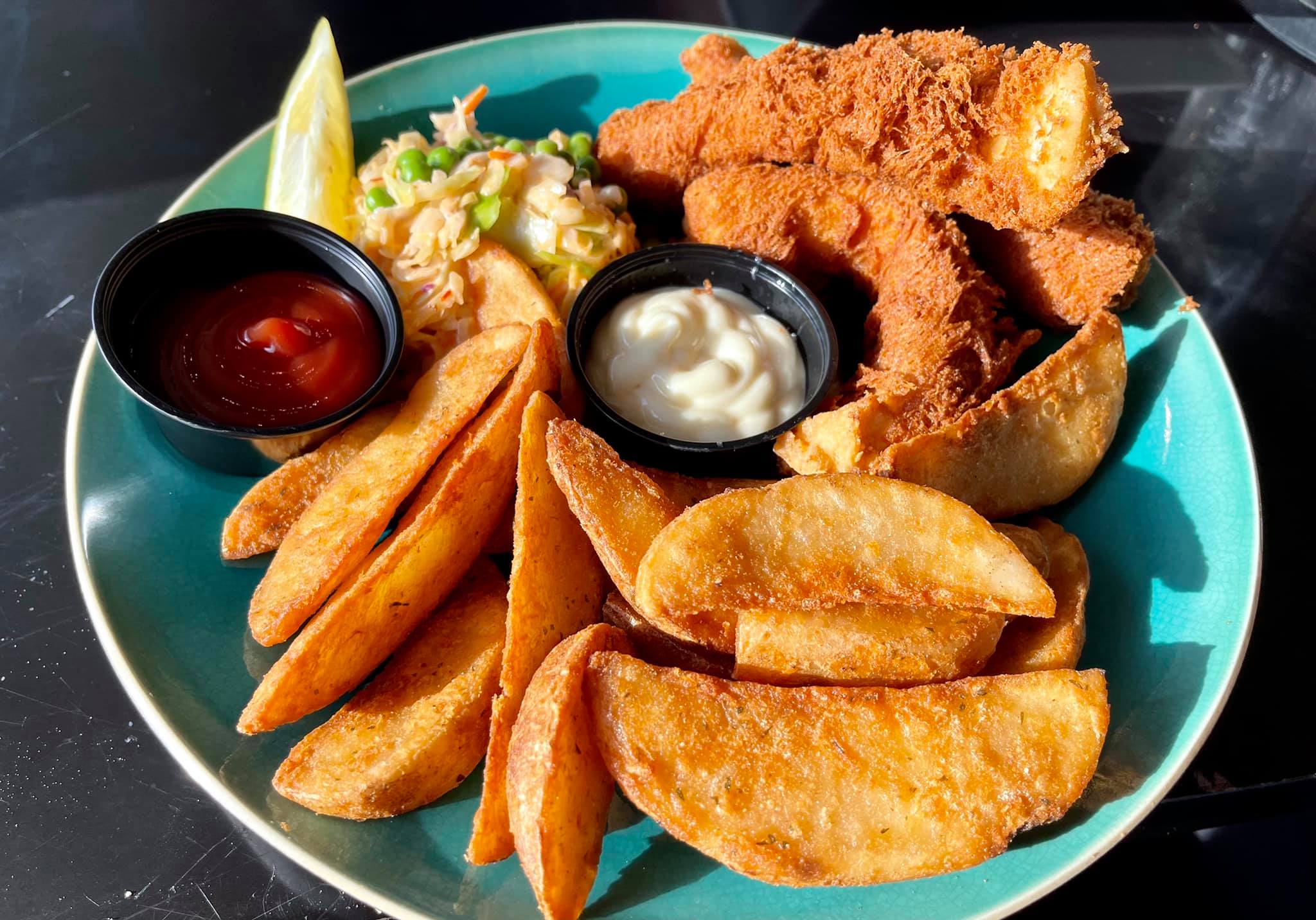 Lager battered Mahi, green peas, Tampa bay spiced fries, slaw, malt vinegar aioli.
Teak has the most interesting batter on their fish & chips. It's fine, crispy, and somehow dry with no grease from the deep fry, but still oddly pleasant with a powdery crunch to it. The fish is moist and delicious.
Please tell us your favorite Fish and Chips in the comments below.
Featured Photo at top and below by Haley Haman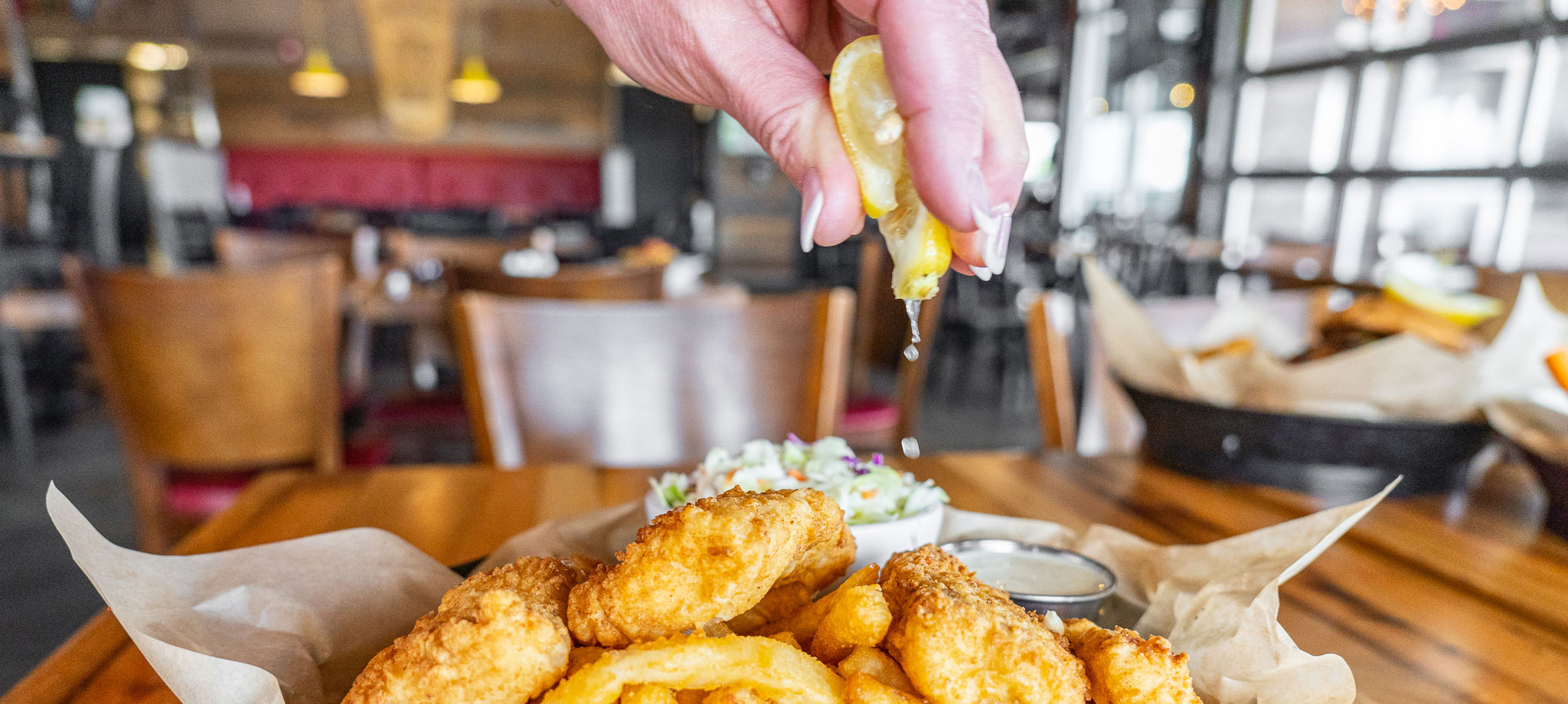 Readers Rating

Rated 4.6 stars




4.6

/ 5 (

Reviewers

)

Outstanding
---
The best fish & chips in St. Pete actually eaten and picked by locals.