I love ALL kinds of soup in general, and I really LOVE all kinds of Asian Noodle Soups, especially Pho and Ramen. We may have a best pho, best ramen, and so on for future lists, but I wanted to give my favorite Asian soups in general that I eat all of the time over and over, with one exception here that was a new one that was recommended to me.
Two notes: 1. Pho is pronounced "Fu" as in, this soup is so fu*king delicious!", and 2. Read the fine print right before the list starts. I used to put it in really big bold text, and no one saw it, so I'm trying teeny tiny text to see what happens.
Pardon my repetitiveness if you've been following along with all of the lists this year, but we must say the following.
Before we get into the list, an important thing you should be aware of is that there are other publishers of "best of lists" that do not actually go to the establishments, or actually eat the food. (Sounds ridiculous, right?) They just download photos from the internet, or embed Instagram posts from someone else. Instant top 10 list produced without having to leave the house, or even get dressed.
That's NOT how we do it.
We absolutely DO eat all of the food on all of our lists. (How can anyone recommend something they never experienced?)
Unfortunately, we've seen these junk lists a lot—from national and local publishers. We are also aware of a local publisher that offers paid placement in best-of-lists. There is no paid placement here.
I PERSONALLY ATE ALL OF THESE NOODLE SOUPS, AND WENT TO ALL OF THESE PLACES, AND THESE ARE ALL MY PHOTOS.
The order is random. I love them all. This is not actually a ranking.
1. Buya Ramen
911 Central Ave
St. Petersburg, FL 33705
(727) 202-7010
Buya Ramen Website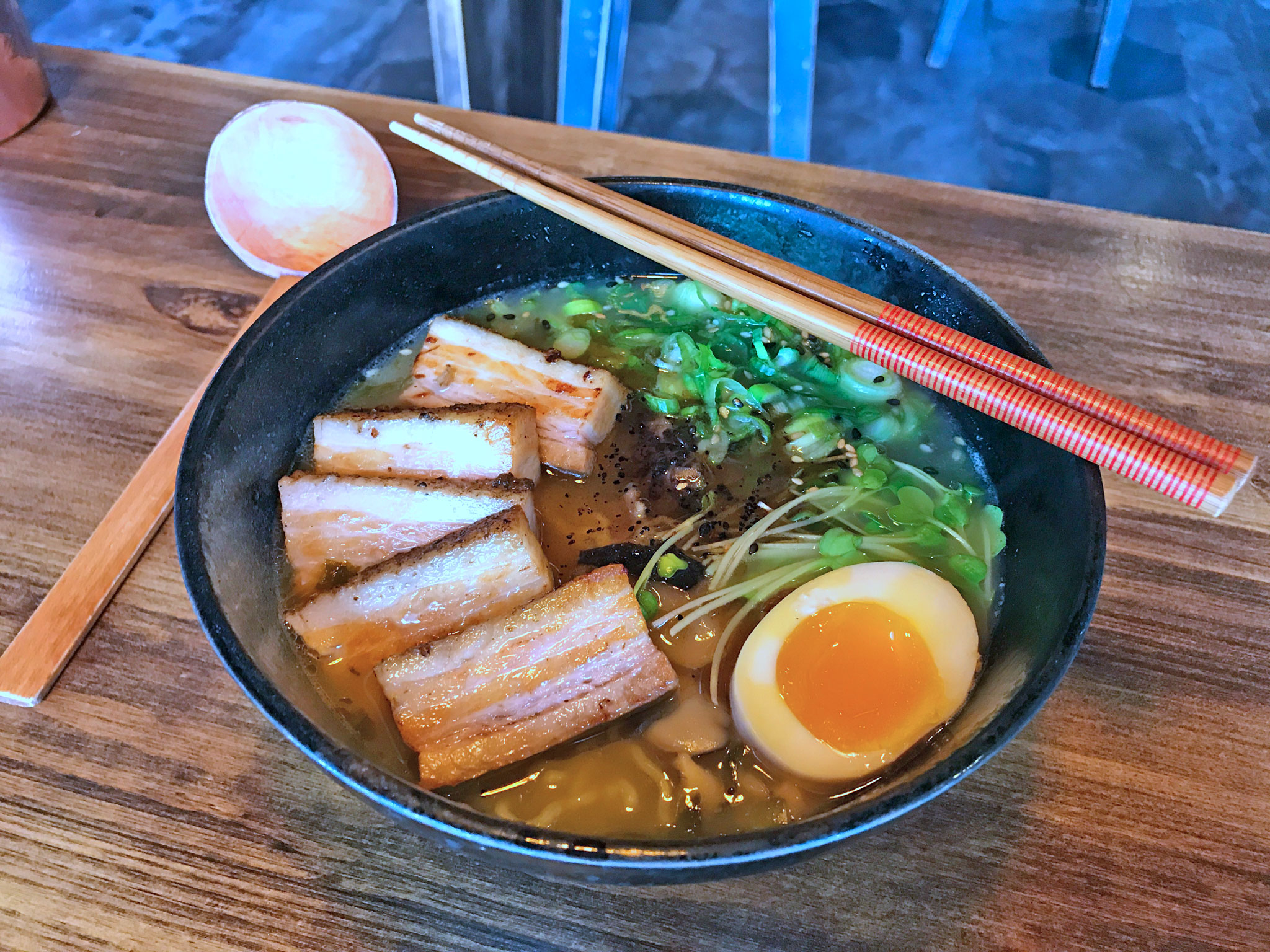 Pork Belly Ramen in tonkotsu with takana, nameko, mushrooms.
I've eaten the pork belly ramen at Buya at least 15 times.
All of the ramens are super delicious at Buya. The pork belly is my favorite, followed by the crispy duck, braised short rib, seafood, chicken, and mushroom.
They have some great Izakaya dishes, drinks, and a huge selection of whiskies and scotch in the hip, happening Edge District.

2. Ichicoro Ane
260 1st Ave South
St. Petersburg, FL 33701
(727) 300-0281
Ichicoro Ane Website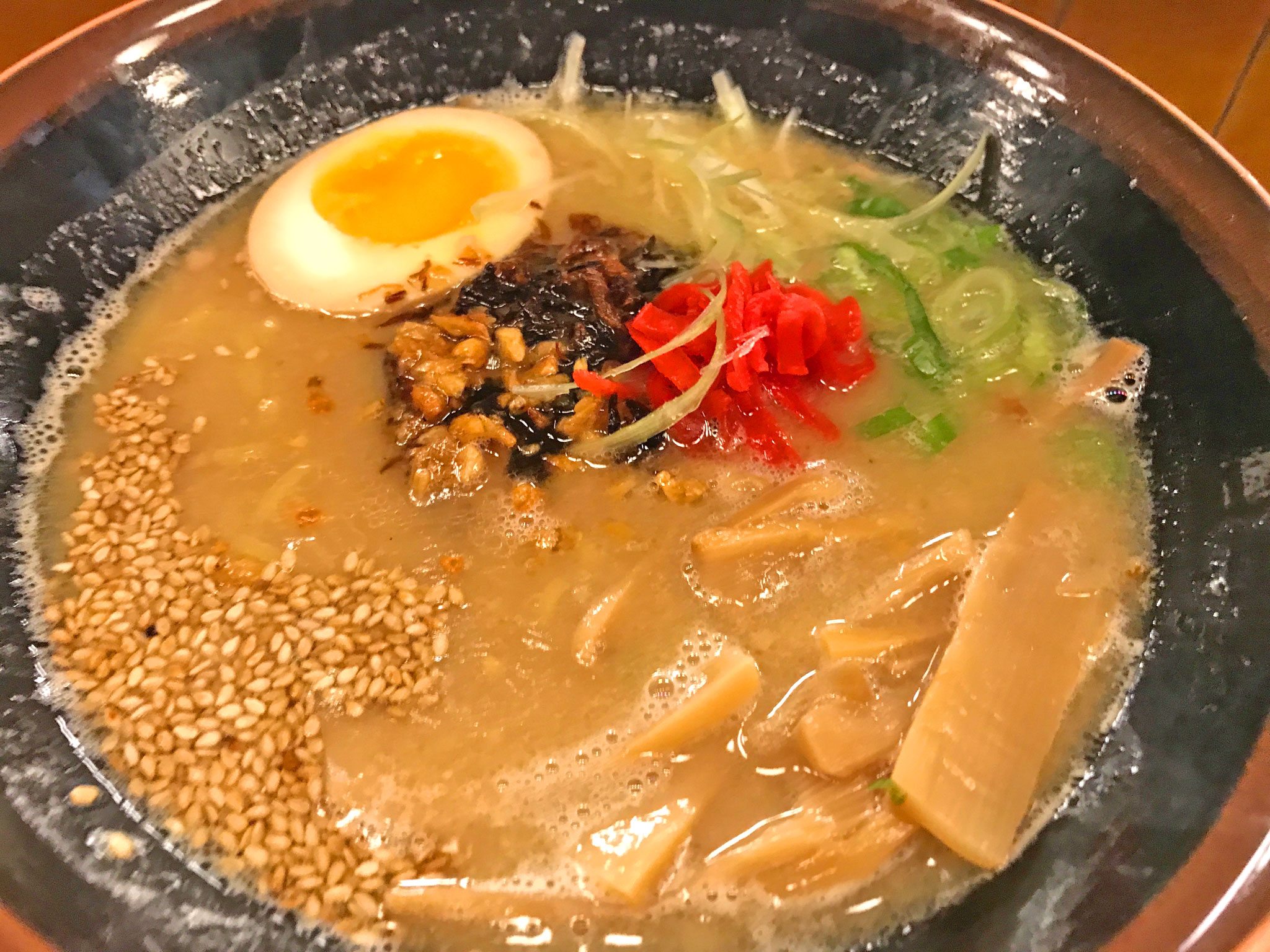 Tonkotsu Ramen – Pork broth, chasyu asado, menma, scallion, ajitama, mayu, beni shoga.
I've had this one a few times, and always enjoy it.
Ichicoro Ane has lot of great ramen bowls as well. Their style is a little bit different than Buya's, but still quite good. They are located in a cool space in the basement of Station House in downtown St. Pete.

3. La V – Vietnamese Fusion
441 Central Ave
St. Petersburg, FL 33701
(727) 820-3500
La V Website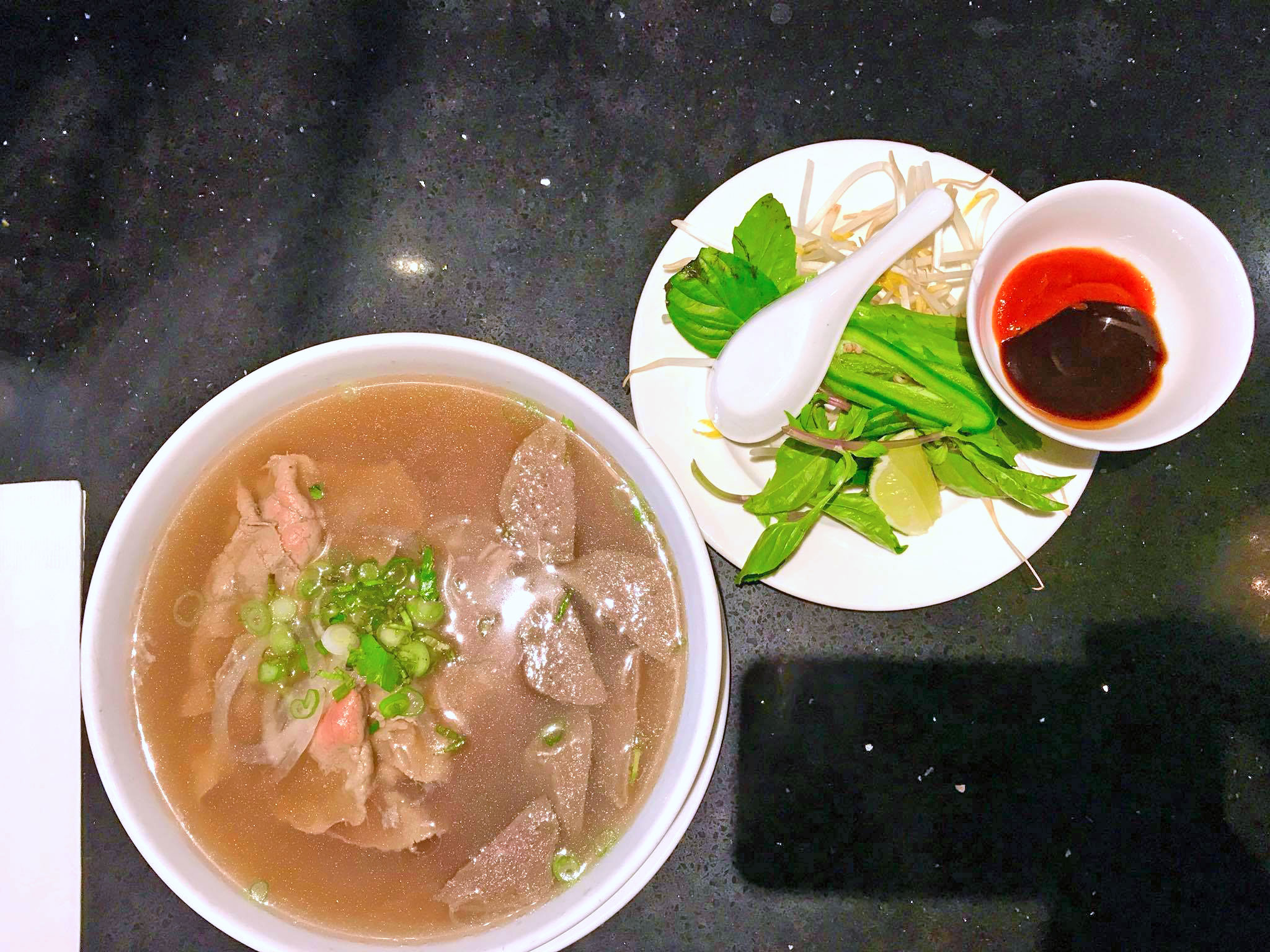 Sliced Beef & Meatball Pho (Phở Tái Bò Viên) – thin slices of steak, meatballs, rice noodles, white onion, green onion, culantro leaves. On the side – fresh basil, bean sprouts, jalapeño, lime.
The pho at La V wins for the Asian soup I've eaten the most. I've been eating this one for 7 years, and think I've had it about 30 times.

4. Hawkers Asian Street Fare (St. Pete)
1235 Central Ave
St. Petersburg, FL 33705
(727) 521-7253
Hawker's Website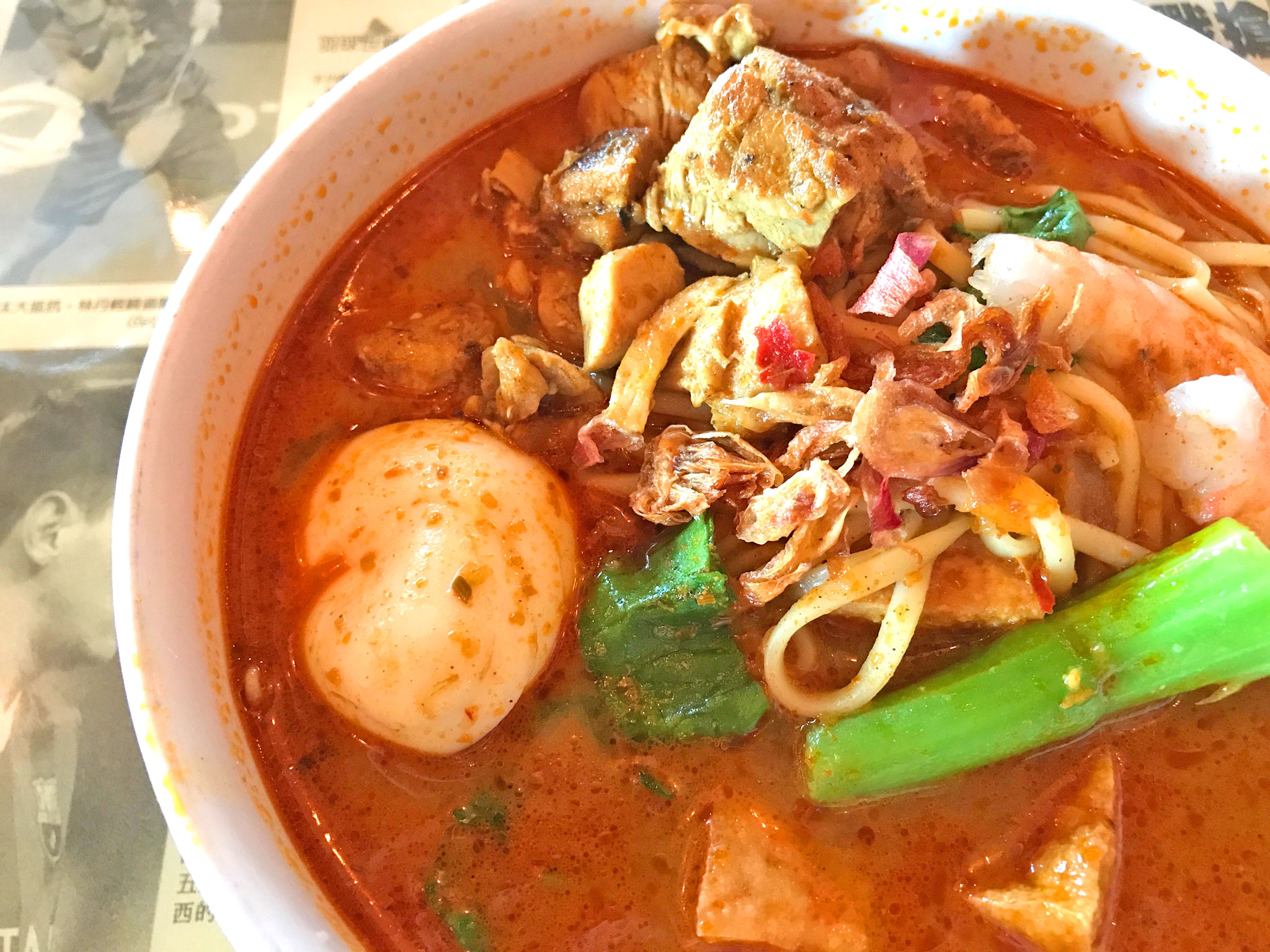 Curry Laksa – coconut curry stew, shrimp, chicken, fried tofu, wheat noodles, bean sprouts, yow choy, fried shallots, hard-boiled egg.
I've had this one about 15 times.
It's spicy, slightly creamy, and has so many great textures with the different ingredients.
This is my favorite at Hawkers, although I also like Kin's Prawn Mee.

5. Café Bich Nga
5572 Park Blvd North
Pinellas Park, FL 33781
(727) 541-0222
I went here with my friend Phuc Dat Bich.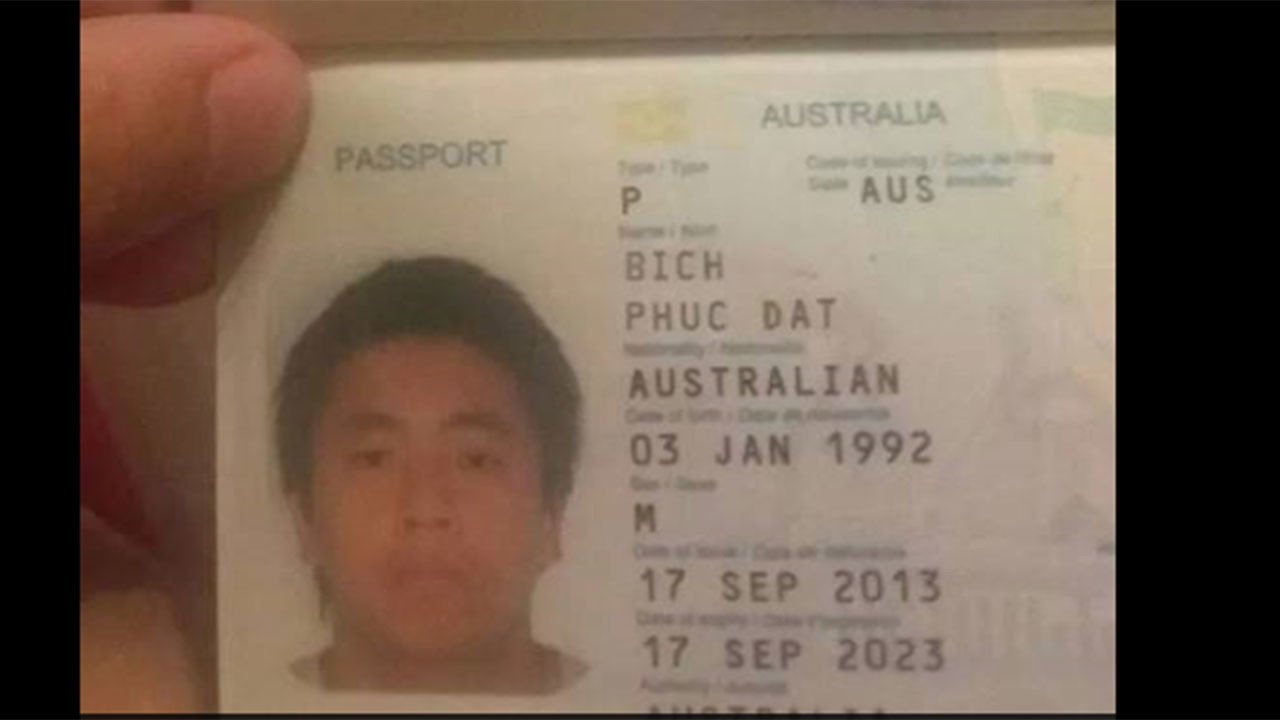 Actually, I think the pronunciation of the restaurant is "Bick Na" or "Bitt nGAH".
I'm not sure, but Google the pronunciation if you want a laugh. There are several hilarious forum and Reddit threads. I was LMAO reading them.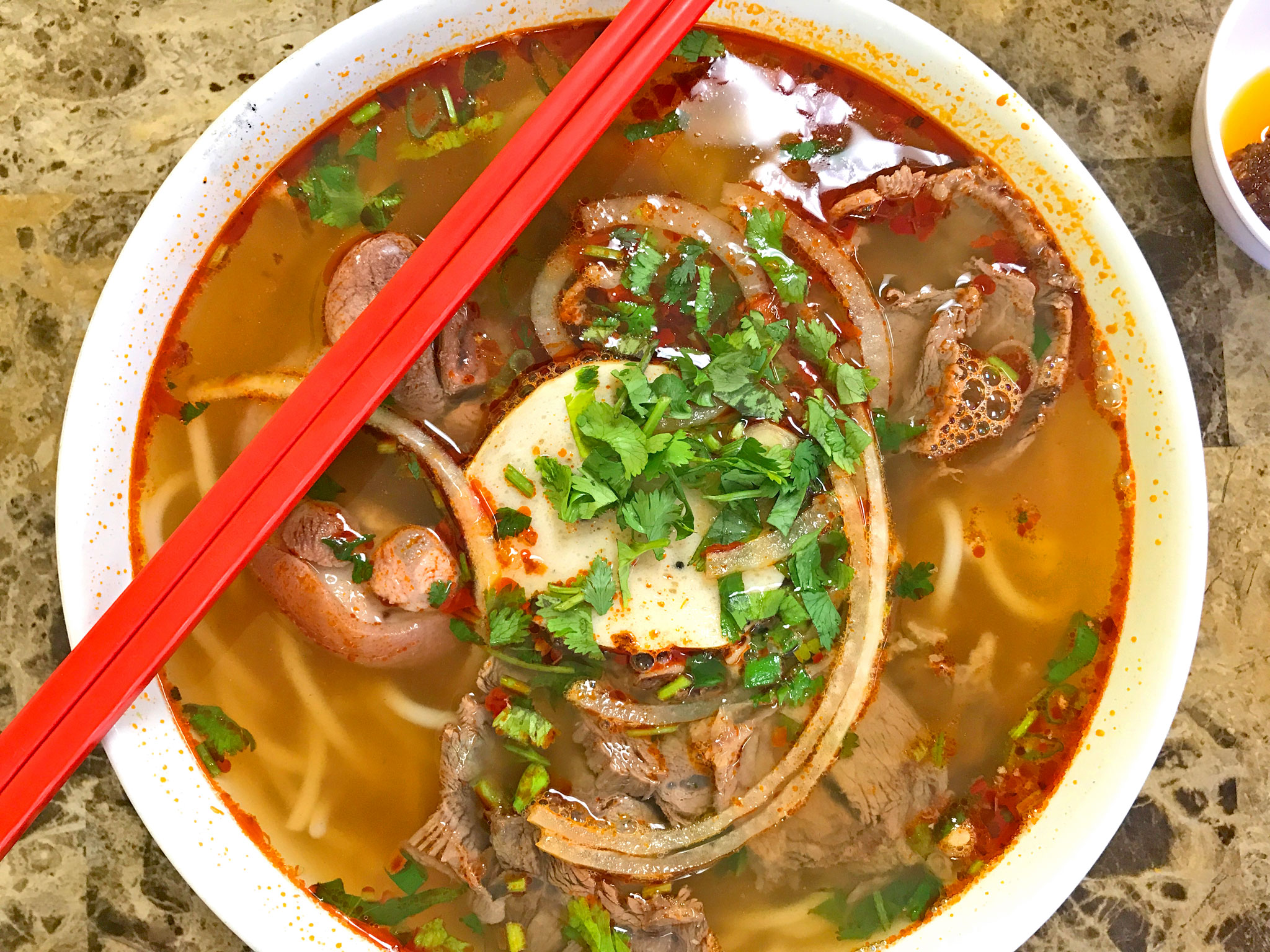 Vietnamese Spicy Beef Noodle Soup (Bún bò Huế) – Beef, lemongrass, vermicelli rice noodles, and pork knuckles with a spicy flavor. This was quite good, and I enjoyed it a lot.
Huế is a city in central Vietnam associated with the cooking style of the former royal court. The dish is greatly admired for its balance of spicy, salty, and umami flavors. – Wikipedia
We don't often cover places in Pinellas Park, but here's what happened.
Typically, when a downtown Vietnamese place gets recommended in our FB group, there are always a handful of people that say something like, "It's no good. It's too Americanized. If you want real Vietnamese food, you have to go to Pinellas Park!"
So I did.
It was quite an interesting experience at Bich Nga for a few reasons.
First – where the phuc is the place!?!?!
Google has the correct address, which you can see above. However there are a couple of different Facebook pages with two different addresses than this. They aren't real pages that the restaurant created. They are the auto-generated ones made when someone creates a check in for a place that doesn't have one. I don't know if they moved a couple of times, had other locations, or other people owned them as this seems to actually be a common name for a Vietnamese restaurant.
Bich Nga has no FB or website. Maybe that helps make them more authentic too?
On these other FB pages, there are several bad reviews, mostly about rude and slow service, and saying they treat non-Asians poorly.
This couldn't be further from the truth from my experience.
I was the only non-Asian in the place, and I was treated the opposite of what the reviews said. It was like I was a novelty, and they wanted to make the best impression on the round-eyed, white boy that they could. They were super nice, and I had my soup in five minutes. He checked on me five minutes later to make sure everything was ok.
He was actually impressed with what I ordered, as I'm sure most of the average caucasians have no clue what Bún bò Huế is – that's all it says on the menu – it doesn't explain that it's Spicy Beef Noodle Soup. Most of the non-Asians likely order pho, as they've heard of it before.
So, the place is filled with Vietnamese customers, everyone is speaking Vietnamese, the soup has pork knuckles in it (definitely not Americanized with that) – so it must be authentic. Seems to me that it is.
I really enjoyed the food, the service, and the overall experience, but here's the kicker.
I like La V's Spicy Hue better for two reasons – 1. It's spicier. 2. It has more flavor.
Explain that one to me.
I can't wait to go back to Bich Nga to try the pho though, and compare that one.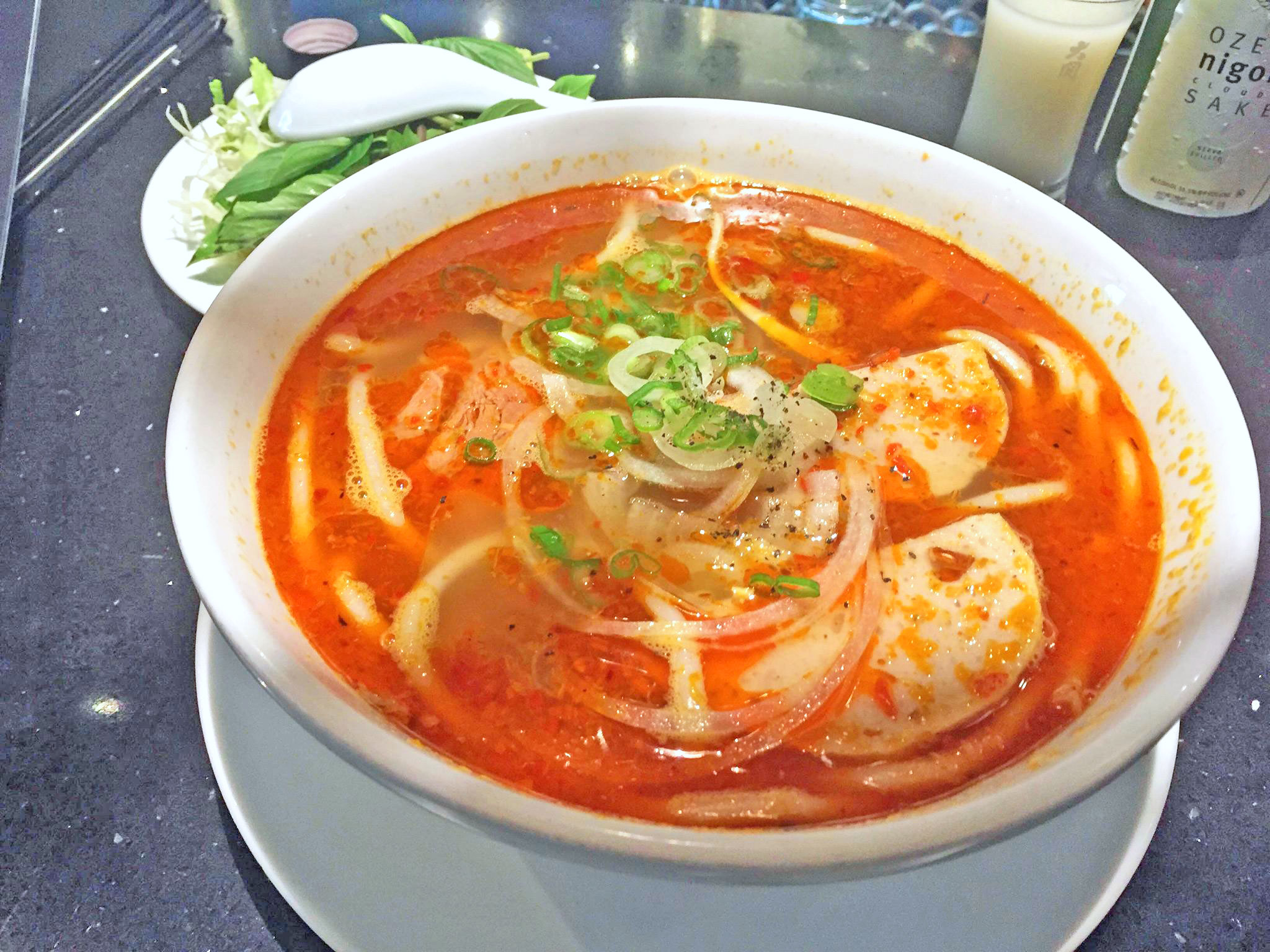 LaV's Spicy "Hue" Style Noodle Soup with cylindrical rice noodles (they are hollow and fill up with the tasty broth), beef flank, pork surimi, and pork knuckles. They are served in a red pepper and lemongrass beef broth topped with white & green onions, and accompanied with a fresh veggie plate.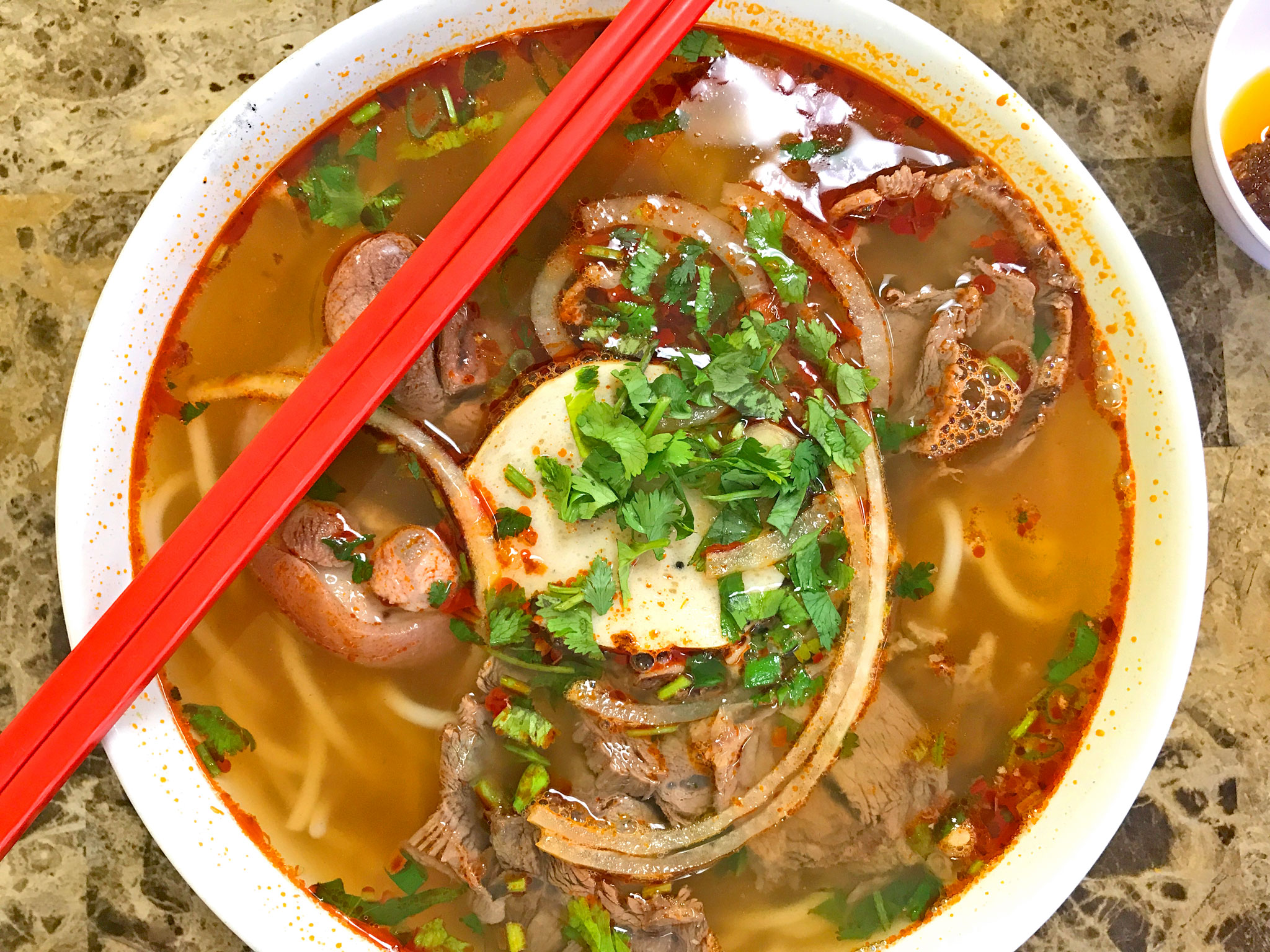 Readers Rating

Rated 5 stars




5

/ 5 (

Reviewers

)

Spectacular
---
Asian noodle soups are some of the best. They are so flavorful, and hearty, and many are nice and spicy just how we like them. Here are the 5 best from different genres in St. Petersburg, Florida.