First, A Little "Wingstory"
I've been bingeing on food history, and gorging myself on culinary education for the past couple of years, and the more I learn and experience, the more I find out about disagreements and controversy everywhere. Should you use the water pan or not in your Weber Smoking Mountain Cooker? Chili with or without beans? What's the best pizza dough recipe?
In this case, it's about who invented Buffalo wings. If you couldn't care less, then just skip down to the list like half of the readers already did. (By the way, it's not a ranking. They are listed in random order.) If you like a good food story, then keep reading.
Buffalo wings were invented in 1964 in Buffalo, New York. The Anchor Bar claims to have invented them. Some feel this is dubious because the bar specialized in Italian food. Also, three different people, two of them owners and one an employee, all have a different story of how they originated. Even the husband and wife original owners can't agree. The most popular story is that their son's friends stopped in late one night with the drunk-munchies, and didn't want the regular Italian fare, and asked for something off the menu.
Mom, Teressa Bellissimo, thought about the "useless" chicken wings order that they received by accident that day, and decided to discard the tip, and separate the drumettes, and flats, fry them up, and then toss in Frank's Red Hot Sauce and butter. Ta-Da! Buffalo Wings are spontaneously invented!  To this day they have a sign saying "Home of the Original Buffalo Chicken Wings".
Another story goes that John Young, an African-American, actually invented Buffalo wings before the Anchor Bar.
Back then the chicken wing was considered a throwaway part of the chicken, and they also were only sold as a full wing that included the drumette, the flat and the tip.
John Young's Wings and Things started selling chicken wings in 1963, a year before the Bellissimos claim to have invented them.
SIDE NOTE ON PRICES

: Hand-written notes of Young's from 1963 show that chicken wings cost the restaurant 25¢ a pound back then. A local restaurteur tells me about prices today. "It fluctuates a lot, but it's typically no lower than $2/lb, and lives in that range until Super Bowl, where it peaks around $3.25 lb. During the height/peak price of the pandemic they were at $4.50/lb. We took them off the menu when they hit $3.50/lb. The fluctuation is typically completely related to demand from sports bars and pizza places during football and basketball season. Come April, it starts to go down after March Madness."
So, do we have black people's food being appropriated by white people, albeit Italian-Americans? An argument could be made either way.
John Young was selling chicken wings in Buffalo before the Bellissimos. Back then, more well-off people did not eat chicken wings. They were considered throw-away parts of the chicken, but poorer people would eat them because they were more affordable. However, Young's were different than the Bellissimo's in a couple of ways. The Bellissimos made them in the way we still think of Buffalo Wings today—separated flats and drumettes, and hot sauce with butter, amongst other ingredients.
John Young left the wings intact, including the tip. He had his own sauce called Mambo Sauce which is completely different than Buffalo wing sauce. There's a myriad of more details to the full story, but that's a sum up of this story, and a warm up for our list of the best wings in St. Pete.
10 Best Buffalo Wings & Chicken Wings in St. Pete
Wings remain one of the hottest food items, literally and figuratively—proper use of the word, 'literally' (you're welcome)—and St. Pete's eateries are happy to oblige.
The list order is random. (I actually put the names into an automated randomizer.)
There are other publishers of "best of lists" that do not actually go to the establishment and actually eat the food. They just surf the web collecting information, and downloading photos, or emailing the restaurant for them. We think those types of lists are crap.
Unfortunately, we've seen it a lot—from national and local publishers. We are also aware of a local publisher that offers paid placement in best-of-lists. There is no paid placement here.
It's ridiculous that I need to say this, but yes … WE ATE ALL OF THESE WINGS, AND WENT TO ALL OF THESE PLACES, AND THESE ARE ALL ST. PETE FOODIES PHOTOS.
Most of the places listed offer different versions of their wings. We are featuring one or two of each.
Here are the 10 Best Wings in St. Pete for 2022
Engine No. 9
56 Dr M.L.K. Jr St N
St. Petersburg, FL 33705
(727) 623-0938
Engine No.9 Website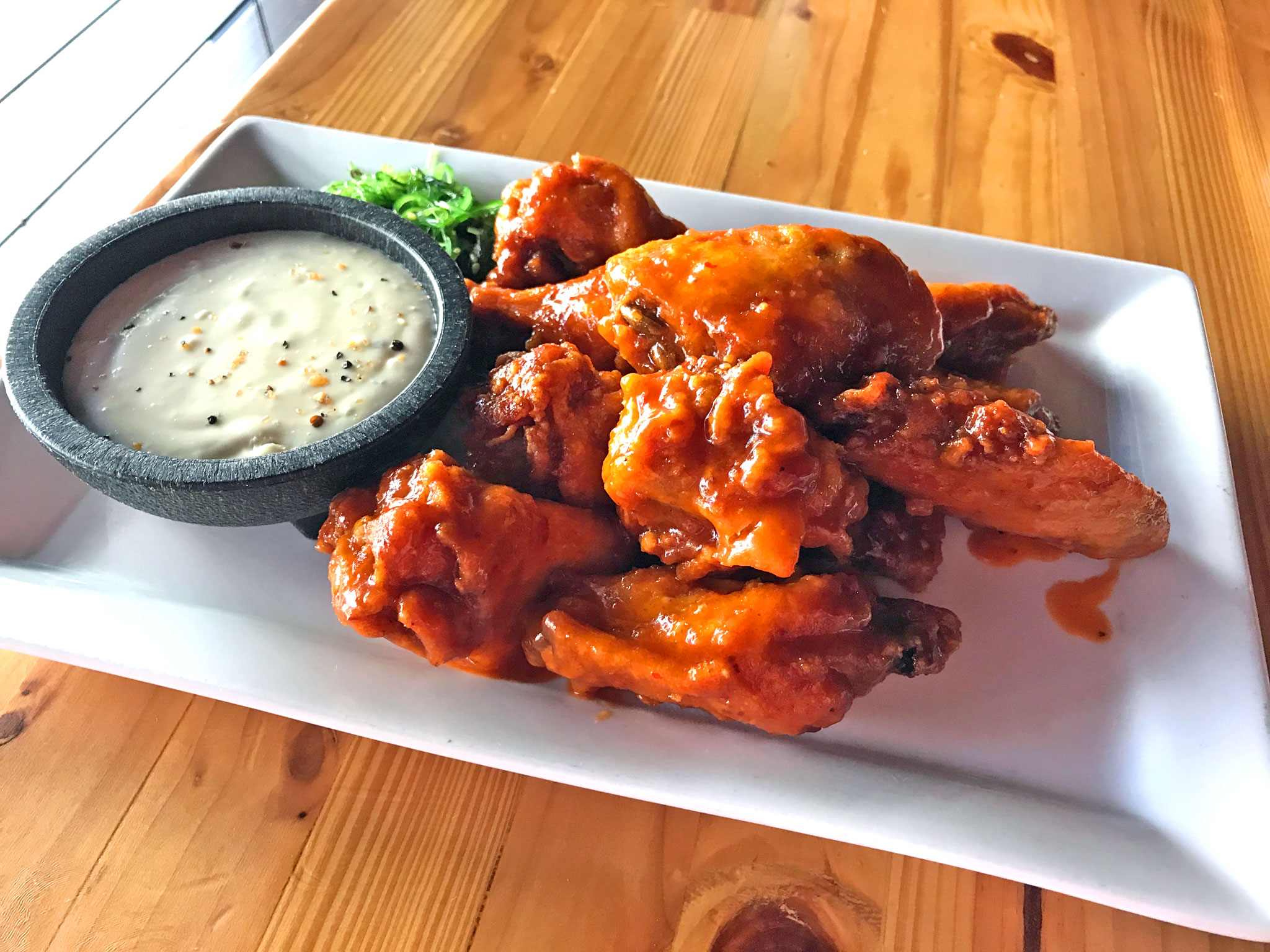 We always see people raving all over social media about the Sriracha Wings at Engine No.9, and it's for good reason.
Roam Restaurant
3405 34th St N
St. Petersburg, FL 33713
(727) 346-5242
Roam Facebook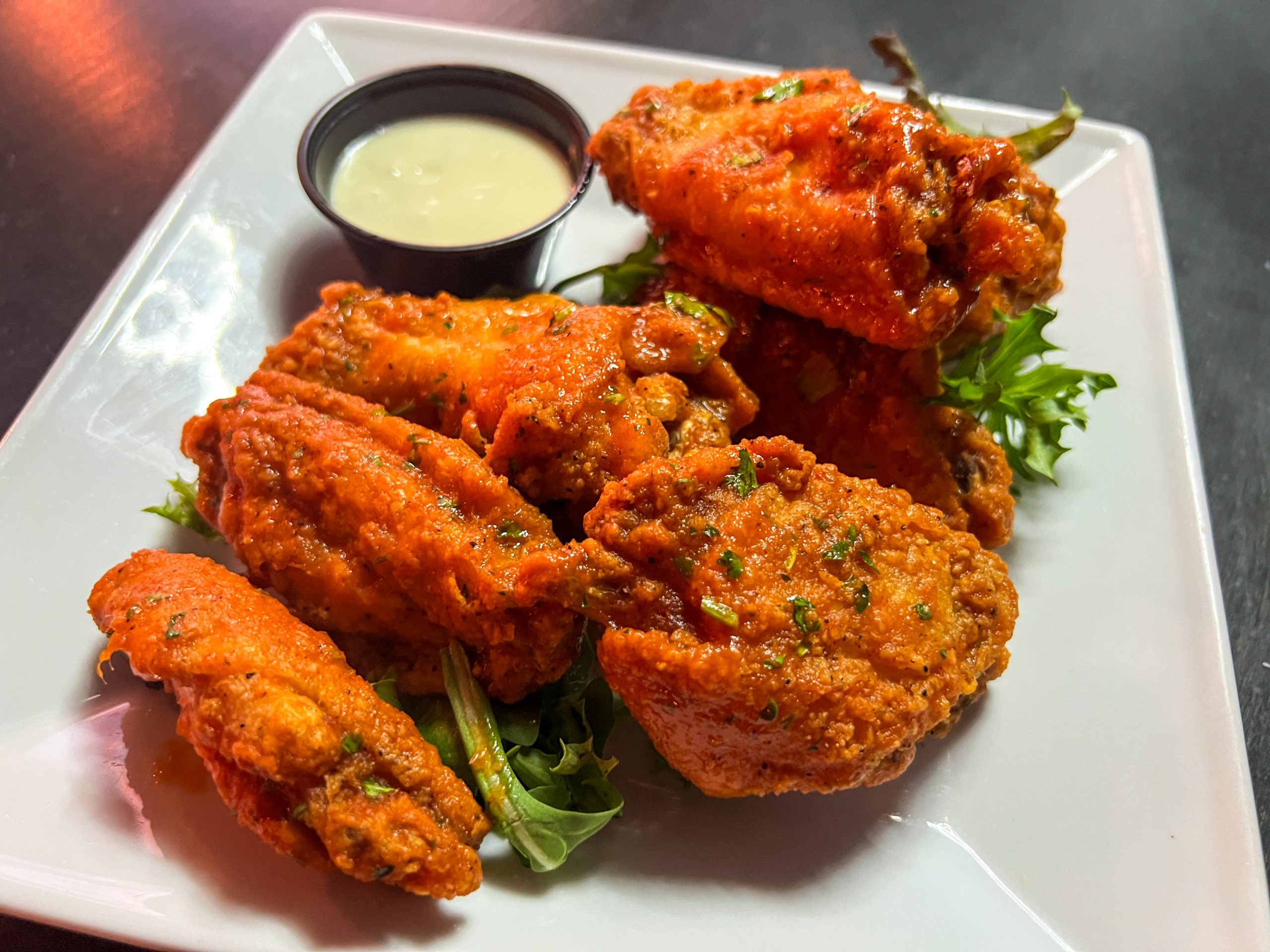 Roam's wings come with either candy sauce or herb buffalo. We opted for the more traditional route of herb buffalo. These wings are perfectly crispy and fried to perfection and are undoubtedly some of the best in town. The spice from the buffalo sauce was idyllic for heat babies like Abby, but still bursting with herby buffalo flavor.
Harry's Beach Bar at The Sirata Beach Resort
5300 Gulf Blvd
St Pete Beach, FL 33706
(727) 363-5125
Harry's Website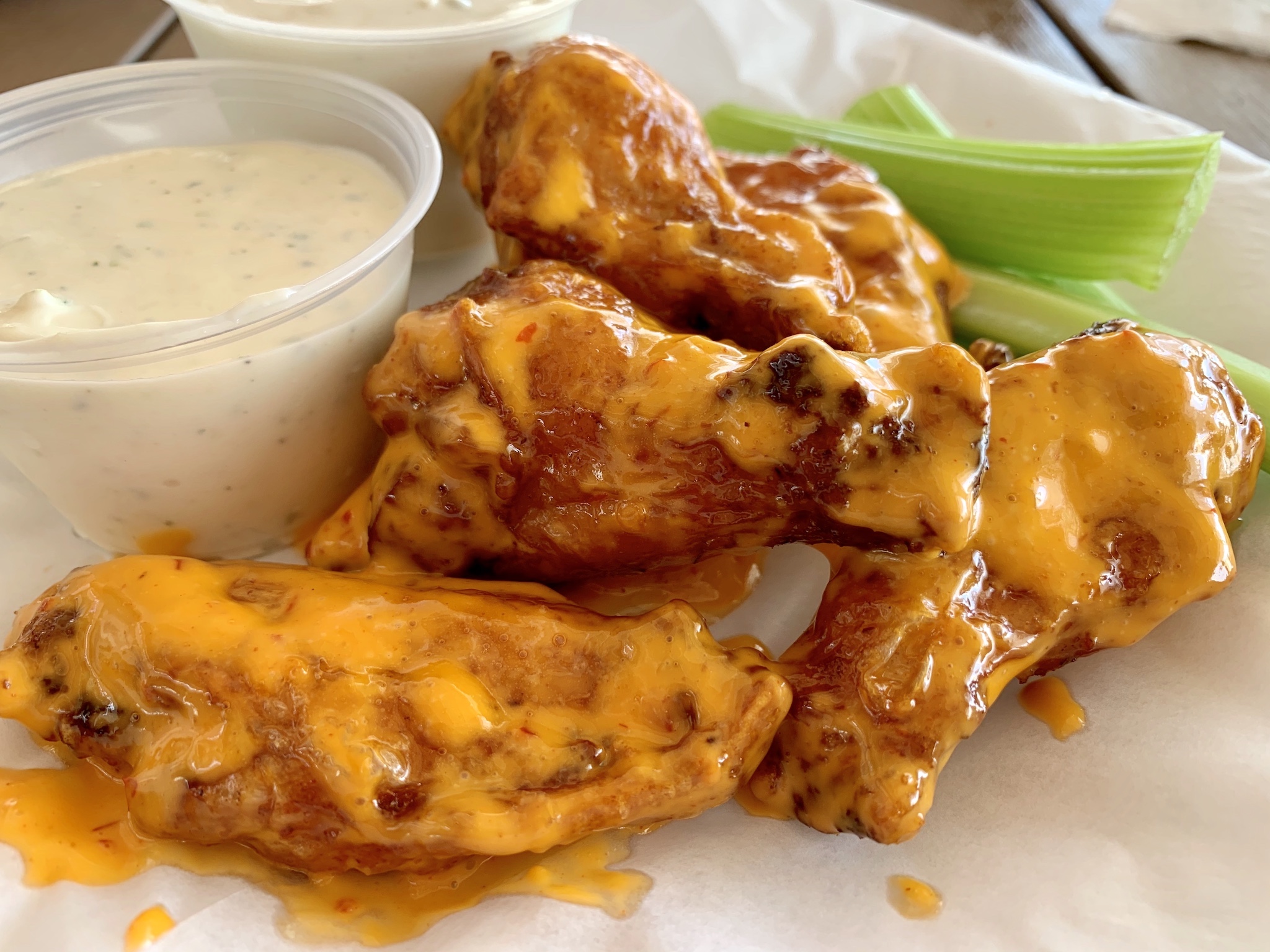 From Lori's write-up: "Harry's has been voted as having the best wings on St Pete Beach, so no question, we had to try them. We were going to just get them with buffalo sauce, but then our server said we had to try the Signature Sirata Sauce which is a mixture of Boom Boom and sriracha. As soon as I heard that…I was totally in. They are super saucy and absolutely delicious. I highly recommend these wings and that sauce is a must. Completely craveable."
The Galley
27 4th St N
St. Petersburg, FL 33701
(727) 575-7071
The Galley Website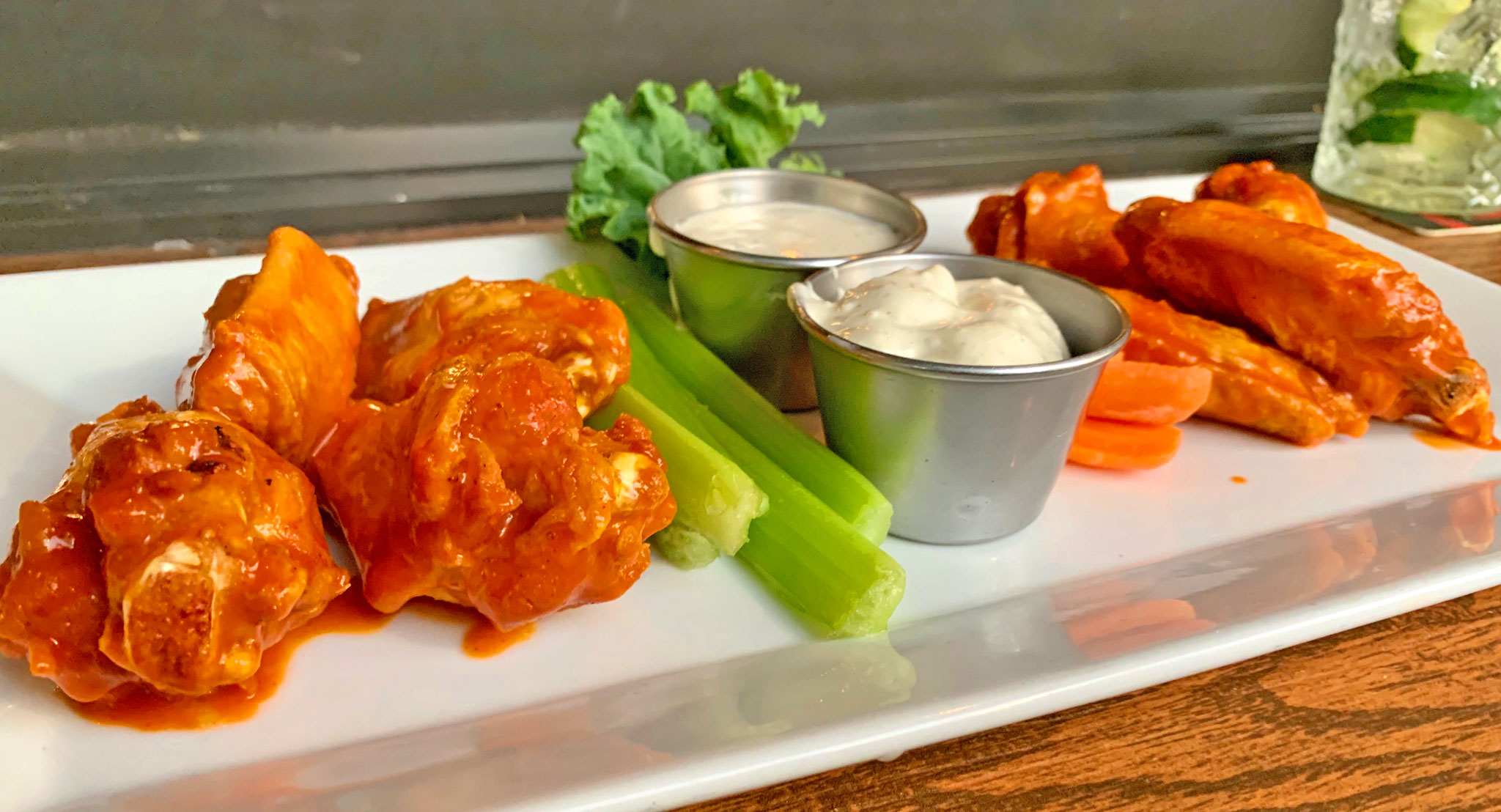 The Galley's Buffalo Wings are meaty, and hot with just the right amount of bite. They are nice and saucy with heat and vinegar, but still crispy at the same time.
The Wheelhouse
7220 Central Ave
St. Petersburg, FL 33707
(727) 623-0589
The Wheelhouse Website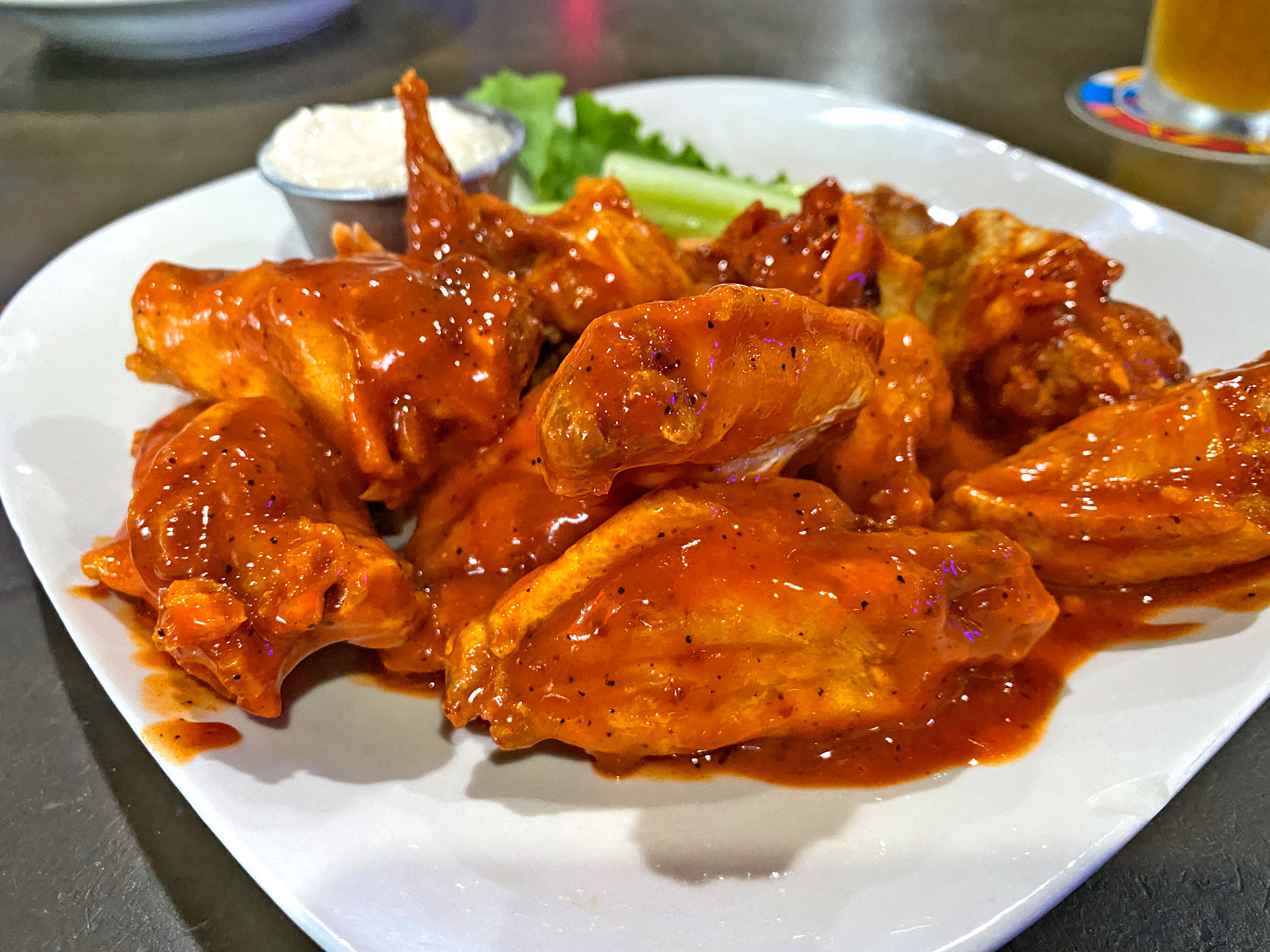 Ma Brown's Extra Hot were perfect for me. I like extra spicy foods, and this one was spicy, but not extra-spicy to me. That's not a complaint. I loved them. They would likely be extra spicy to the average palate. The wings were perfectly crispy on the outside, and plump and juicy on the inside. Lori ordered hot and they were spicy enough for her.
The Avenue
330 1st Ave S
St. Petersburg, FL 33701
(727) 851-9531
The Avenue Website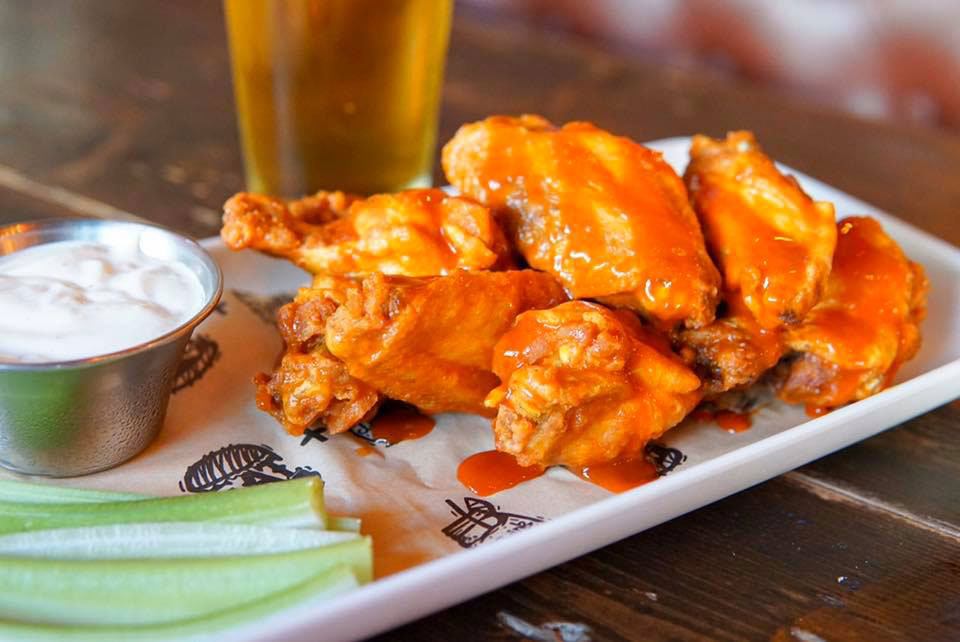 The Buffalo Wings at The Avenue provide that nice sting and vinegar kick that we all crave. They are spicy and mouthwatering, and always consistent.
The Burg Bar & Grill
1752 Central Ave
St. Petersburg, FL 33712
(727) 894-2874
The Burg Website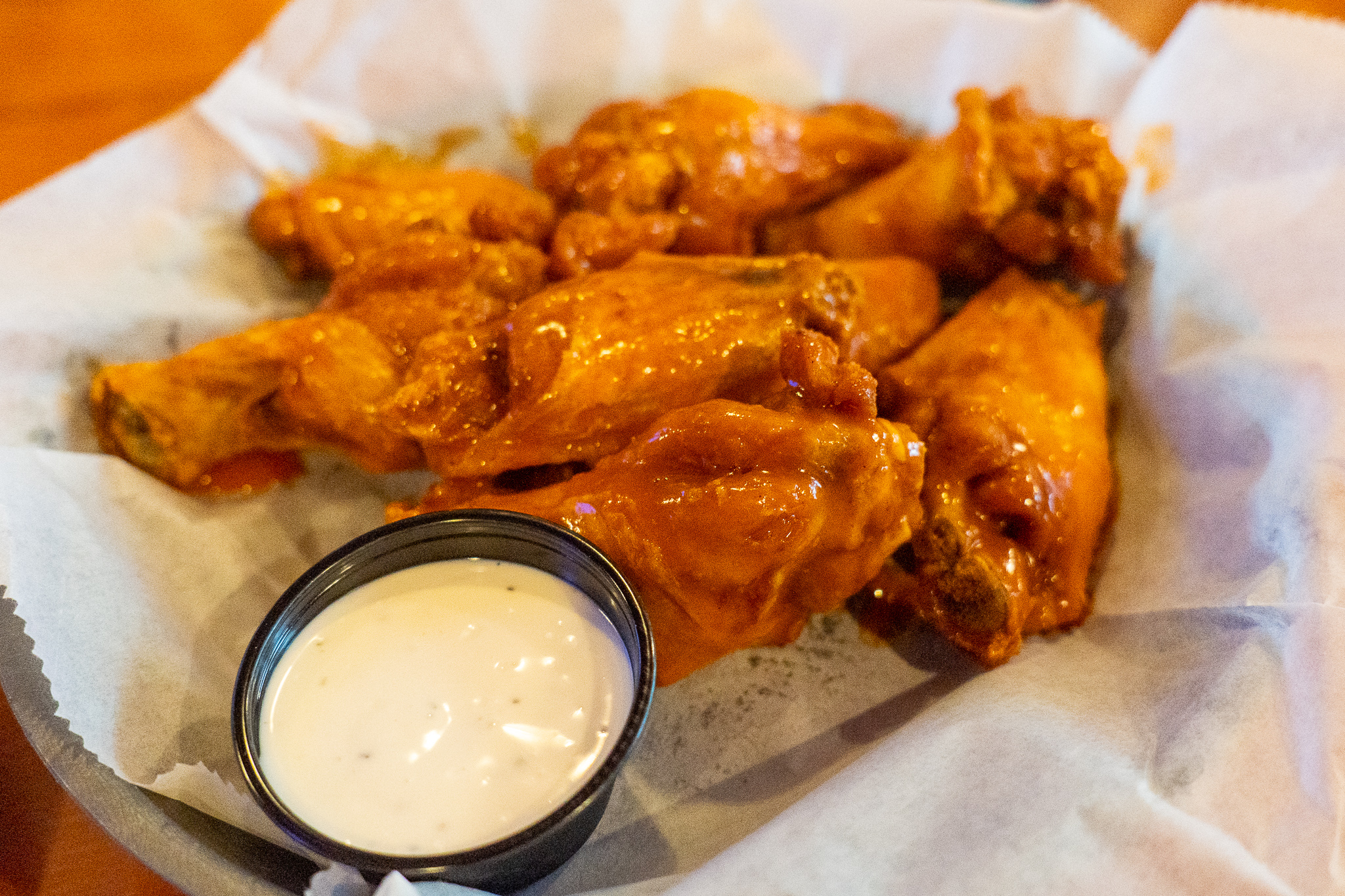 From Haley: The wings at The Burg Bar & Grill are outstanding. Choose how you want them to be smothered from their list: mild, medium, hot, nuclear, bbq, sweet Thai chili, garlic parmesan, blackened or jerk. I went with medium for a little spice and it was perfect. If you're like me, you're okay with getting a little messy as long as it's worth it. I'm here to tell you that these wings are finger licking good.
Pin On Cafe
1100 Central Ave N
St. Petersburg, FL 33705
(727) 329-8510
Pin On Cafe Website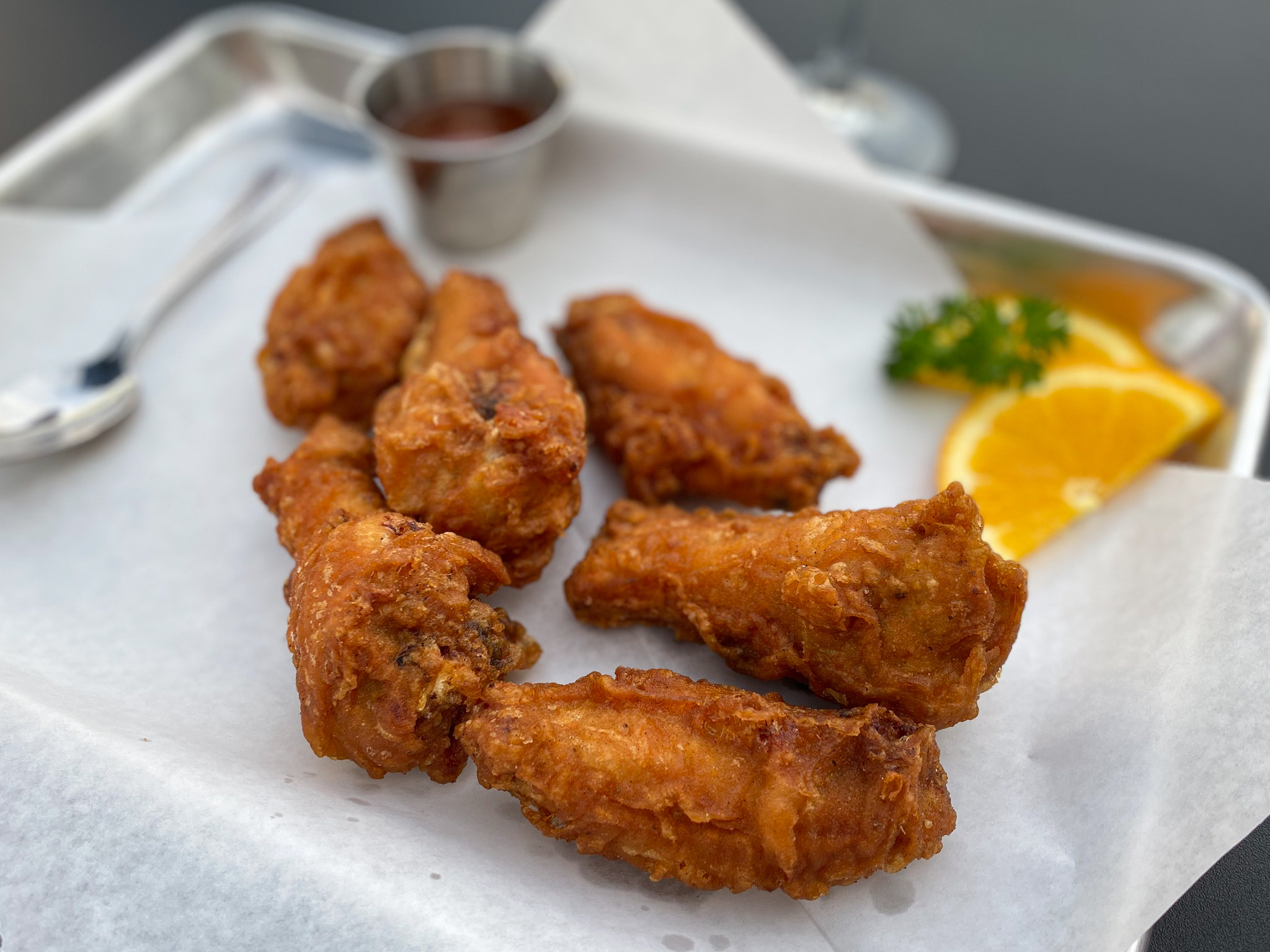 From Abby: From the Appetizer section, we elected to order the Thai Original Wings. We order wings a lot when we eat out, but are often ever so slightly disappointed. You see, I'm one of those who just *needs* needs the wings to be crispy. Extra crispy. A lot of times, no matter how much I reiterate the "extra crispy, please," I'm left with a sad plate of chewy wings that, sadly, are just mediocre. However, the Thai Original Wings at Pin On Cafe are anything but mediocre. In fact, I didn't even request them to be crispy, by mistake, and after one bite, I deemed them the crispiest wings that I have had in St. Pete, period.
The wings are not spicy, in the slightest, and are coated in a pleasant batter. They are presented with a sweet and tangy sauce for dipping or drizzling. With each crunch, I enjoyed the wings more and more.
The Bier Boutique
465 7th Ave North
St. Petersburg, FL 33701
(727) 827-2691
The Bier Boutique Website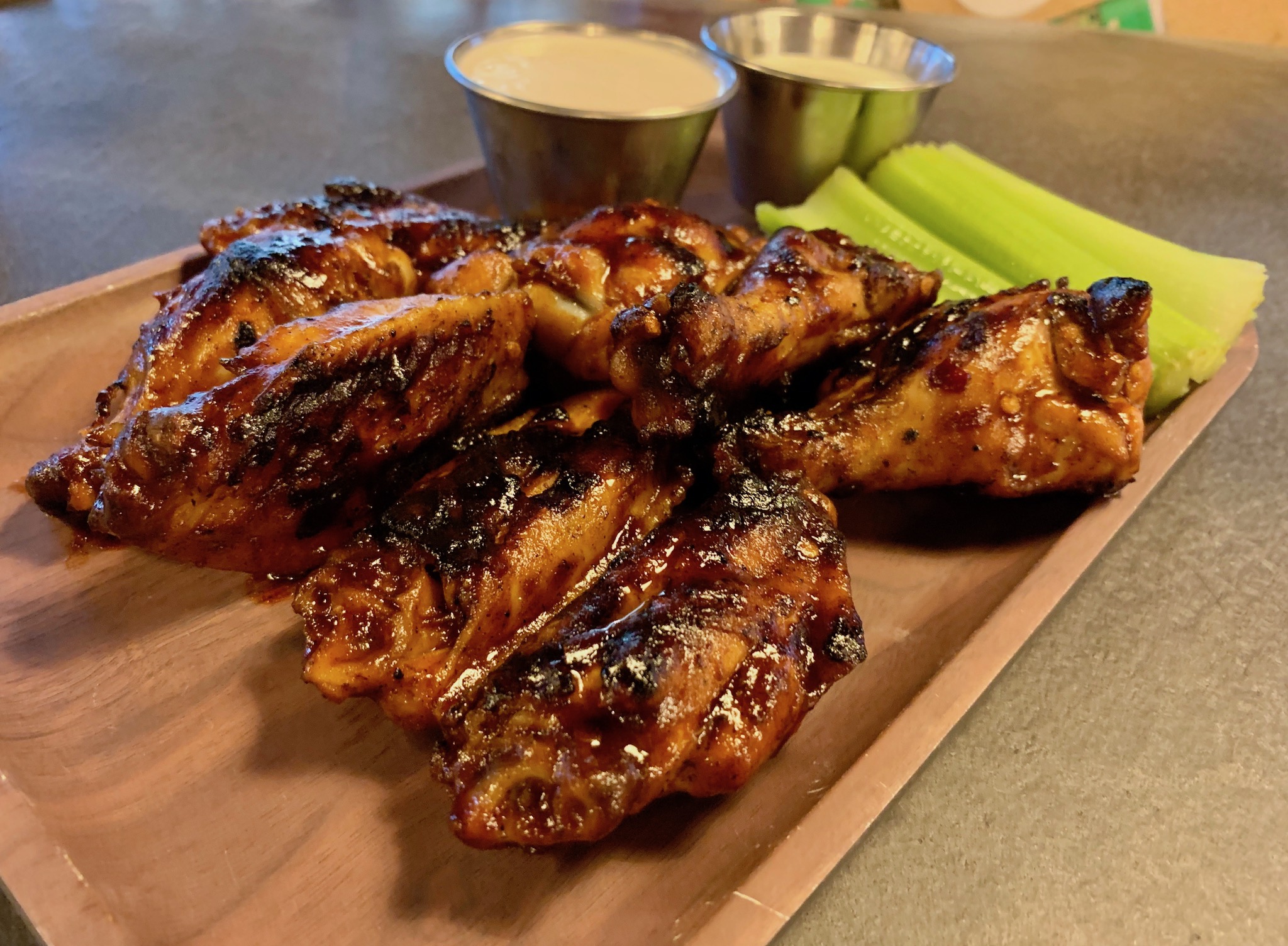 From Lori's Bier Boutique review: "These wings are large in size, juicy, spicy and absolutely some of the best I have ever had. On the menu they are described as a Pound of Grilled Wings – choose original, chipotle bbq, supercharged or jerk. I know Kevin will definitely go for the supercharged next time."
Datz
180 Central Ave
St. Petersburg, FL 33701
(727) 202-1182
Datz Website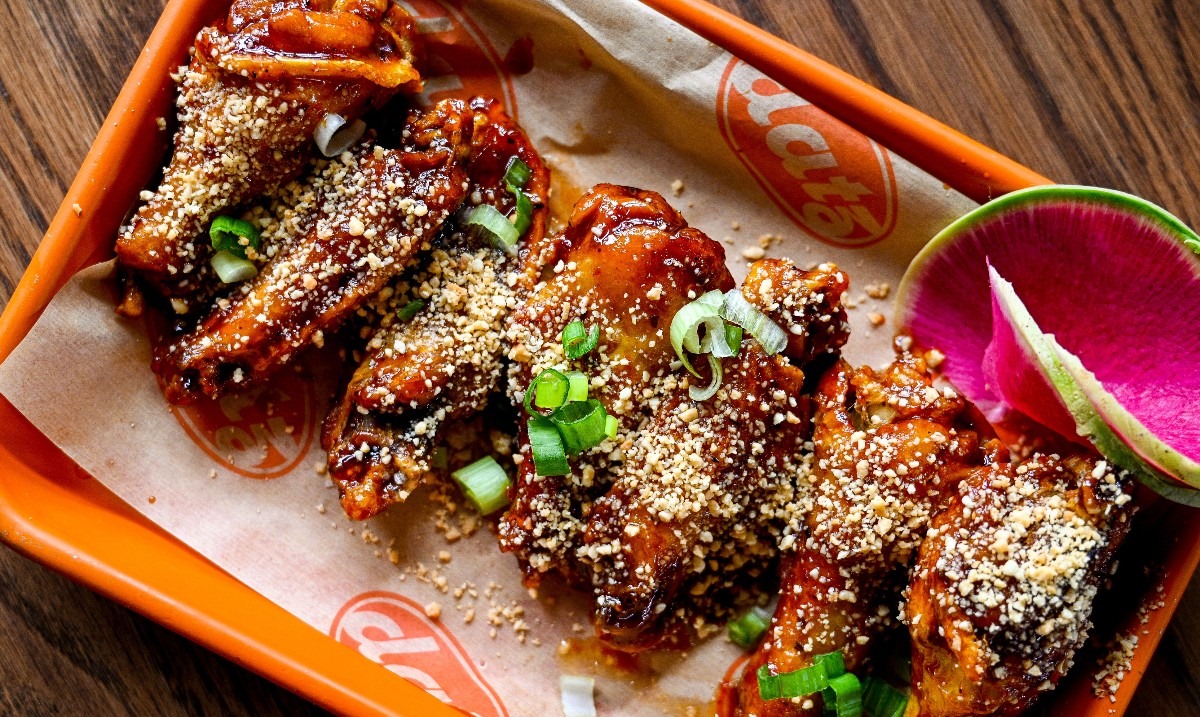 Datz' Yum Yum Wings are a nice change-up with an Asian twist that I love. You get a pound of crispy jumbo chicken wings, tossed in Korean BBQ sauce and topped with green onions and chopped peanuts. Who could say no to that?
Lori Brown, Abby Allen-Leach, and Haley Haman contributed to this article.
Tell us your favorites in the comments below!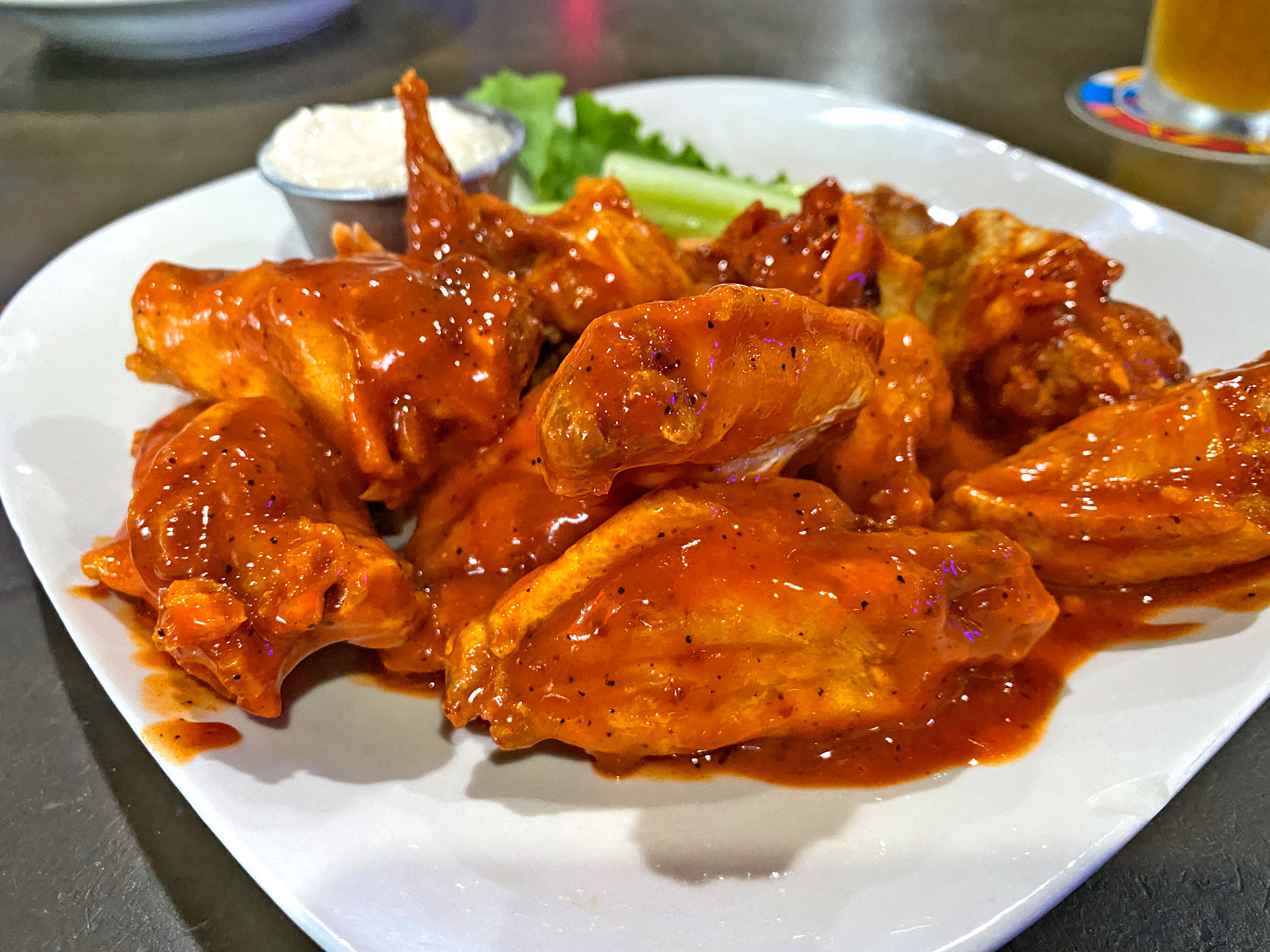 Readers Rating

Rated 4.6 stars




4.6

/ 5 (

Reviewers

)

Outstanding
---
Here are the ten best wings - Buffalo, Hot, Sriracha, and several other styles - In St. Pete for 2022.