And the bier boutique Bursts Onto the Historic Uptown St Pete Food Scene
And the bier boutique Bursts Onto the Historic Uptown St Pete Food Scene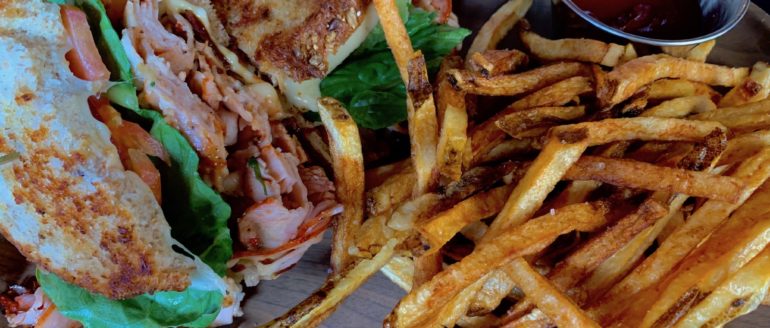 On an unassuming street in the historic uptown neighborhood of St Pete, across from Round Lake, a new restaurant burst onto the restaurant scene this past May. The bier boutique hit the ground running and has been an overnight success with many great reviews in our Facebook group and online. I live just four blocks from them and we finally made it there a couple of weeks ago on a Friday night.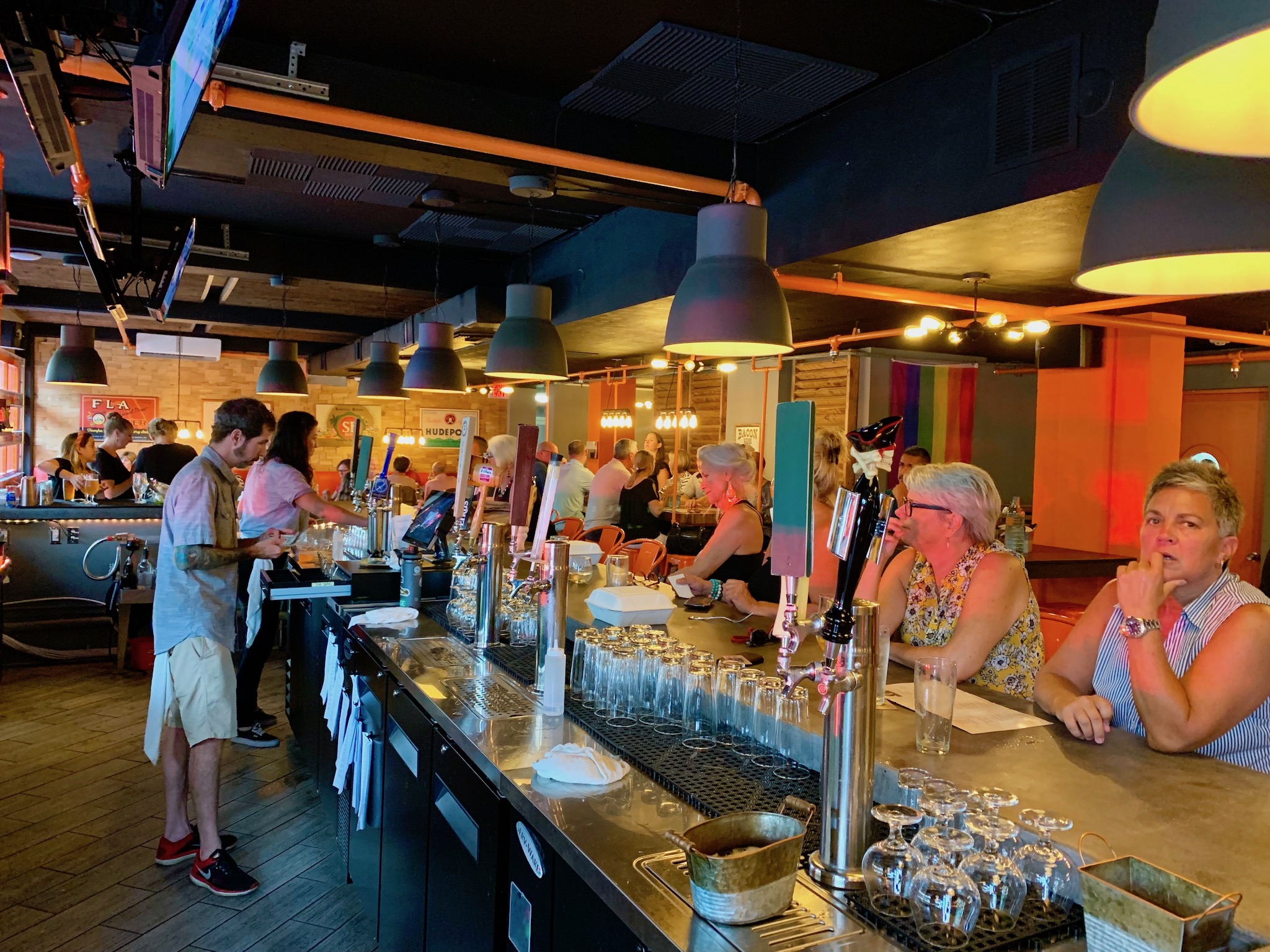 Moving here from Key West at the end of last year, Scott and Heather Brookey, brought their famous Key West, 250 square foot take out counter, the bier boutique concept with them. When they found this space in St Pete, they knew it was perfect. Heather said, "It just kind of fell in our lap. It was even already painted in the orange bier boutique colors."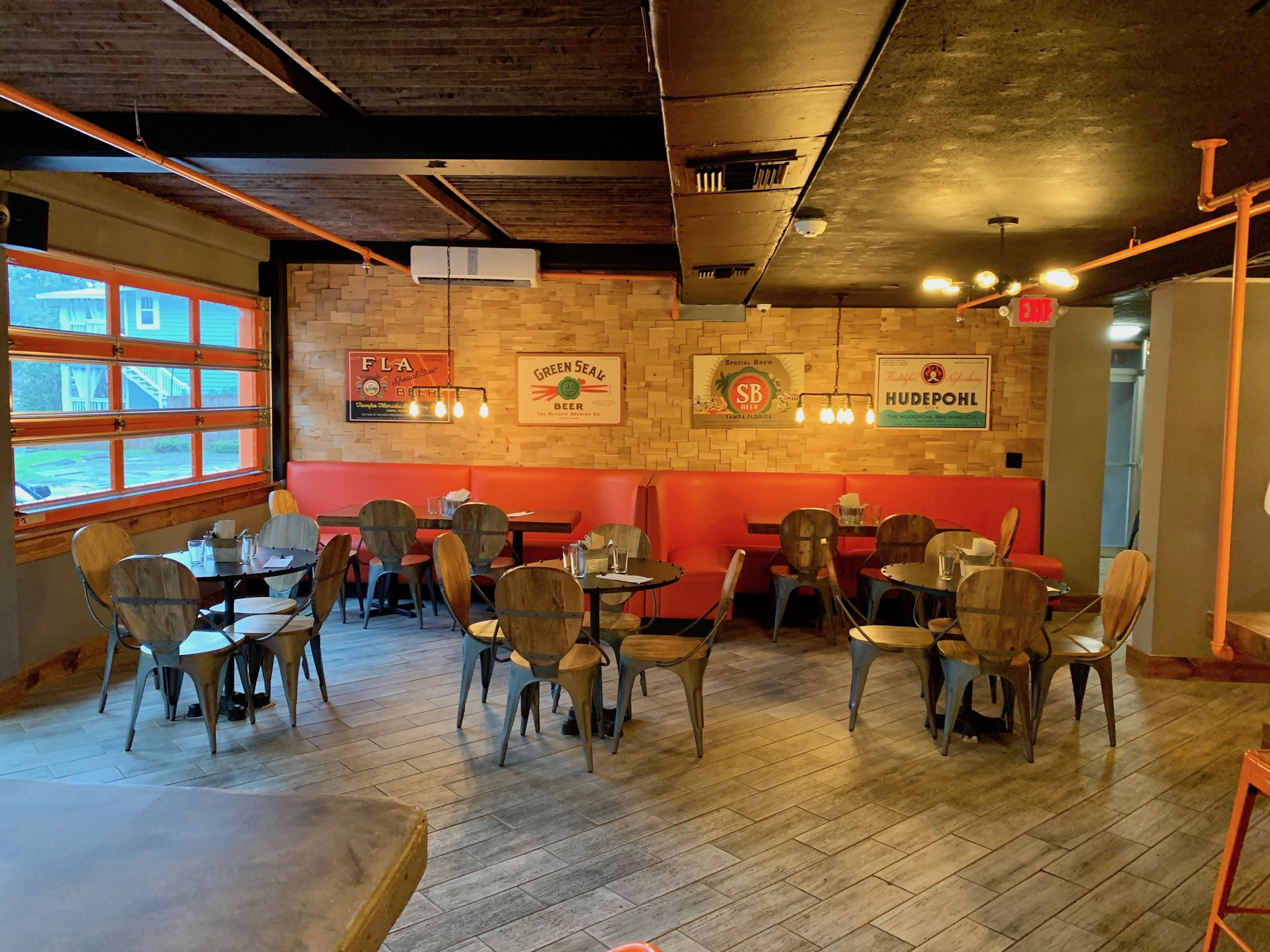 With very, very little room to work in their Key West location, Scott found a new resilience in creating the menu for the St Pete location and its much larger kitchen. The menu is pure decadence and gluttony, along with a few creative salad and soup options. All of the burgers are made with bison and bacon cooked in the meat. Scott said, "we had a group come in one day asking if they could just get a plain beef burger. When they were told that we only make our burgers with bison, they just turned around and left. We don't apologize for our menu, it is who we are."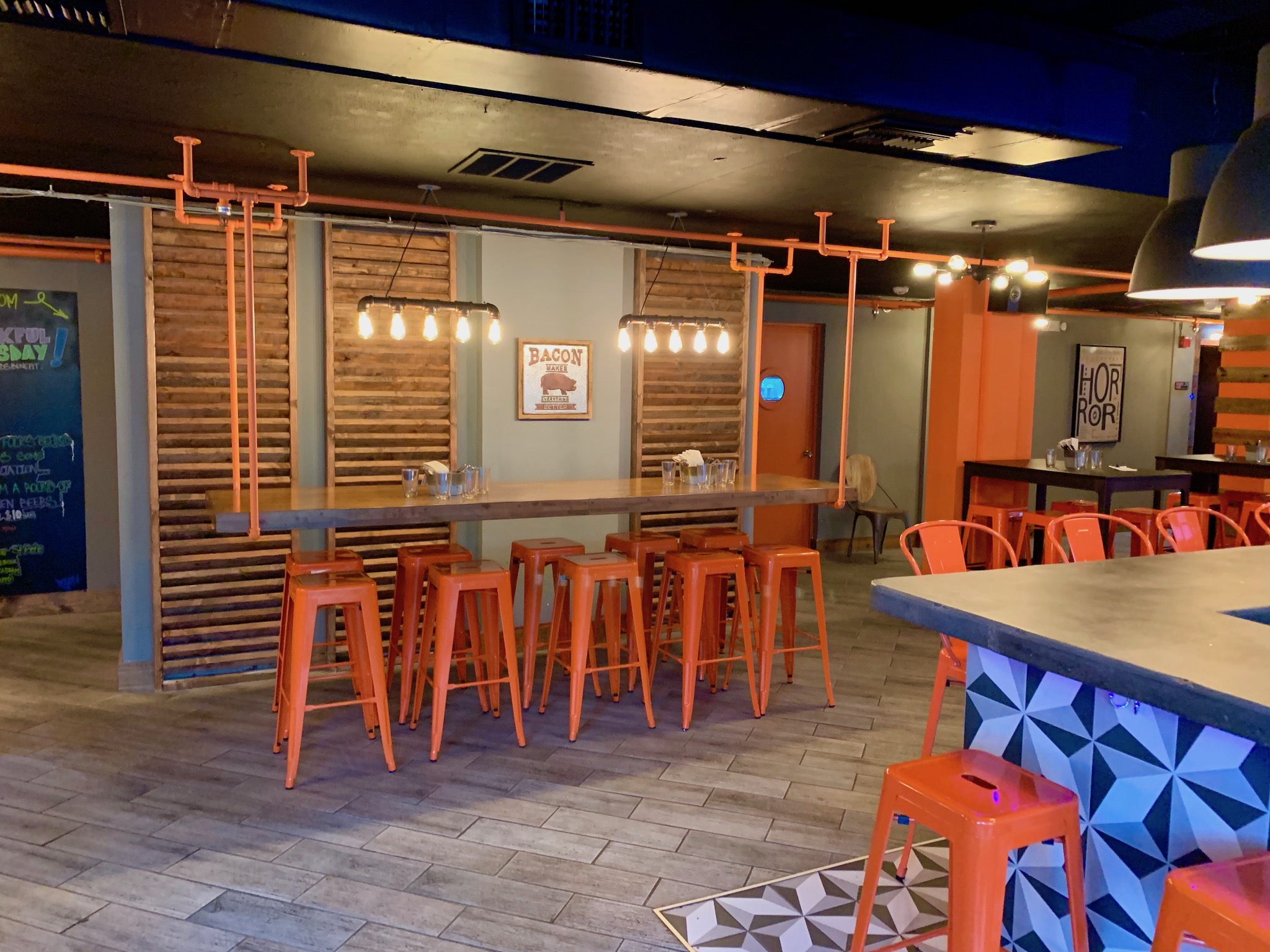 The downstairs space, occupied by the bier boutique, used to be the cafeteria of a former assisted living facility. Now converted into apartments upstairs and the bier boutique downstairs.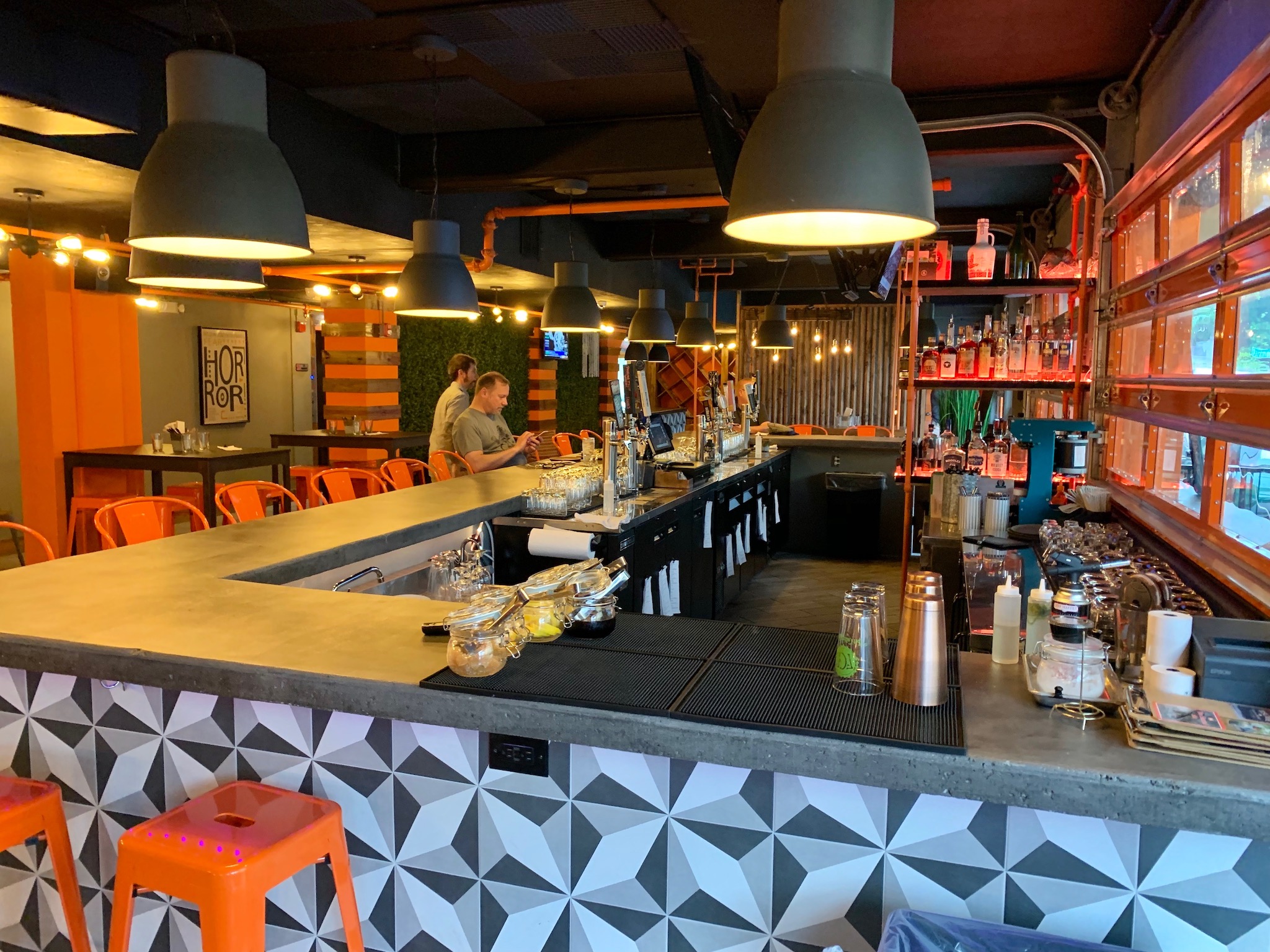 Now onto the food. Kevin loves all things chili…chili in a bowl, chili on a dog, chili on a burger. I think you get the point. So of course when he saw Brookey's Spicy Chili on the menu (Meat, beans, veggies & hot peppers come together in this sweet n/ spicy concoction – served with sweet cornbread), it was a given we were trying the chili. Did Kevin really believe that it would be spicy? NO! Most places that say spicy are catering to those who believe mild/medium is spicy. Typically he is disappointed. He was so pleased to be proven wrong. I tasted it and it was a bit spicy for me and I can definitely handle spice better than the average person. But he loved it. The flavor is great and get this…it's made with chunks of potato.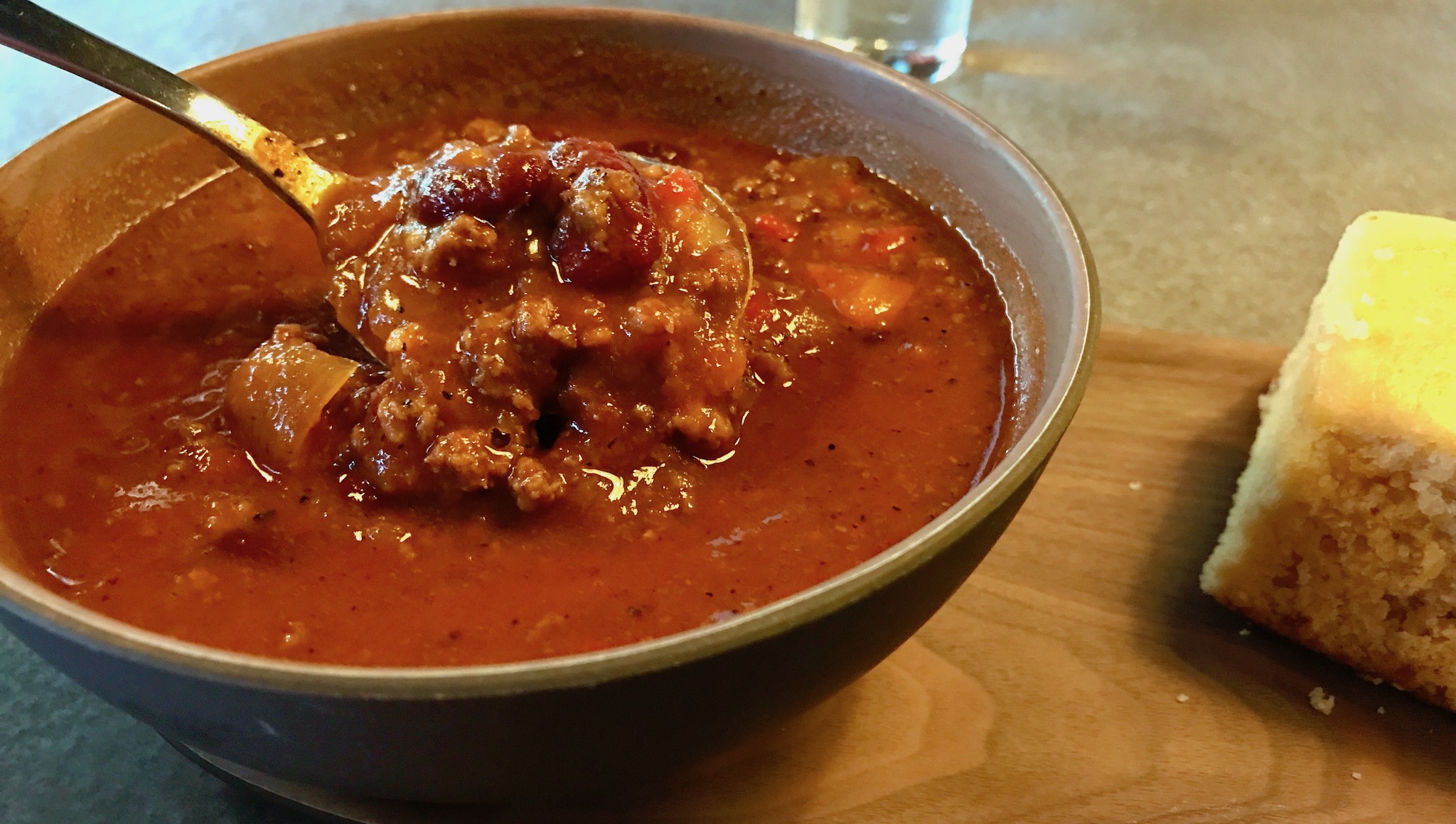 We forgot it was Friday night Fish Fry Day and we were very lucky to get two of the last orders of the snapper they were frying up that night. To this date, they have sold out of the fish and chips every Friday since they've been open. They start serving it when they open for lunch and they keep on frying until the last piece is served. According to owners Heather and Scott Brookey, they keep upping the order and they keep selling out. They buy whatever is local and fresh that week and it is usually a different fish every week. I declare this the best batter I have ever had on a fried fish. It is golden, crunchy and not too thick so that it doesn't get that gummy texture between the batter and the fish. So much flavor and texture. The fries are house-cut, fresh and delicious and I am a big fan of their smaller width.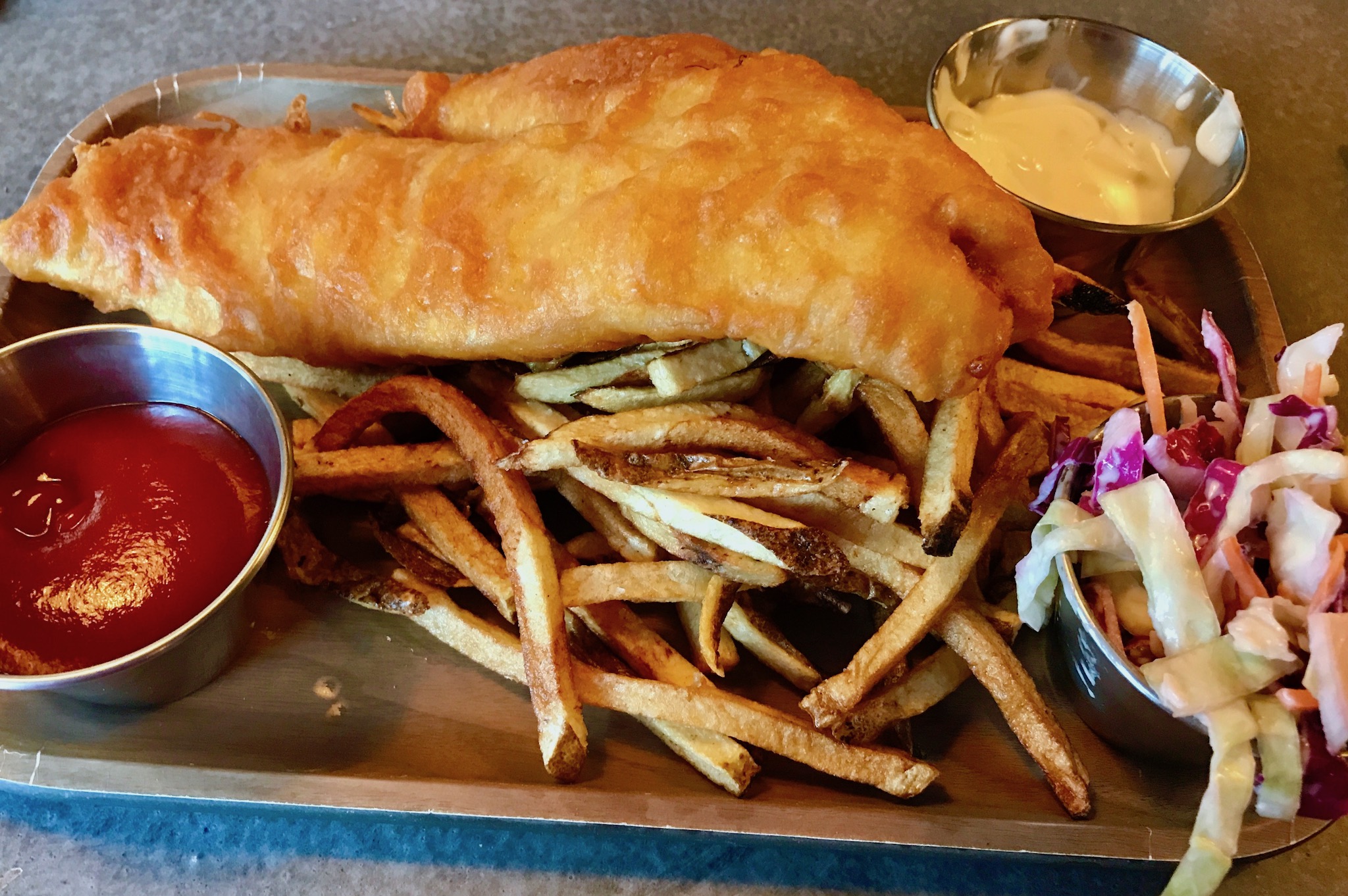 They have a full liquor bar, wine and an ever changing craft beer menu.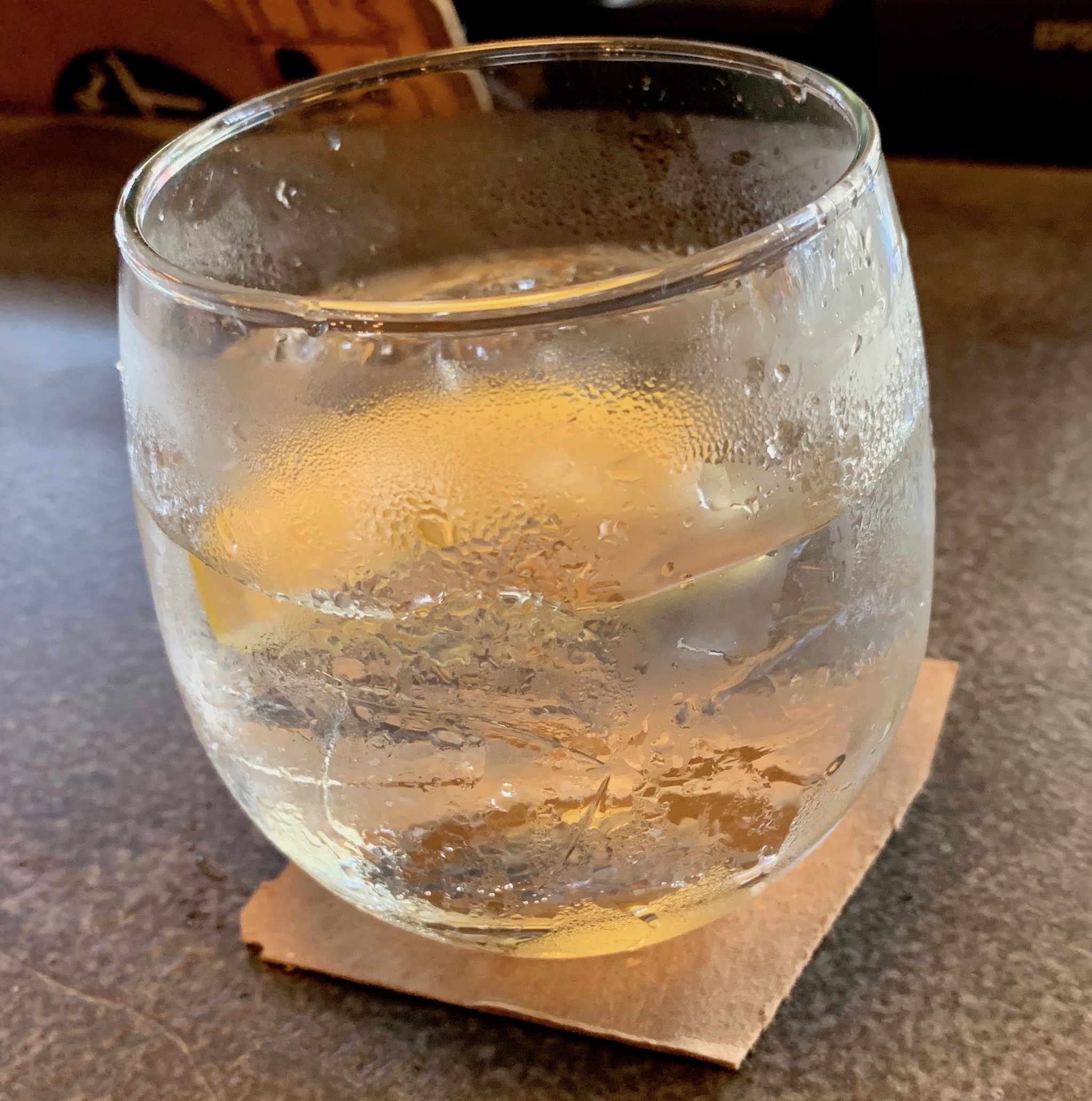 We were so impressed on Friday night and, besides the chili, we ate the off of the menu special so we decided to go back the very next day for lunch to try some more menu items to possibly do a write-up. We had met Heather the night before but it was so busy, I wasn't sure if she recognized us. When we were leaving she said, you guys were here last night, right? I said, yes, we got the last two orders of the fish fry. They were so busy, I was surprised that she remembered. Very friendly and attentive to her customers.
For lunch that day, I chose the Souper Salad which is your choice of chili or soup of the day with a house salad. The soup of the day was a creamy, cheesy potato soup which I chose. The house salad, which we found out later is Heather's favorite salad, consists of mixed greens, onion, tomato, bacon, feta cheese, sunflower seeds & chow mein noodles and is served with your choice of ranch, blue cheese or honey peppercorn vinaigrette. The soup was delicious and I finished it all without taking a bite of salad, which I took home. Kevin ended up confiscating it, eating it all and declaring it very fresh, full of texture and he said the honey peppercorn vinaigrette was smooth, creamy, bright and light.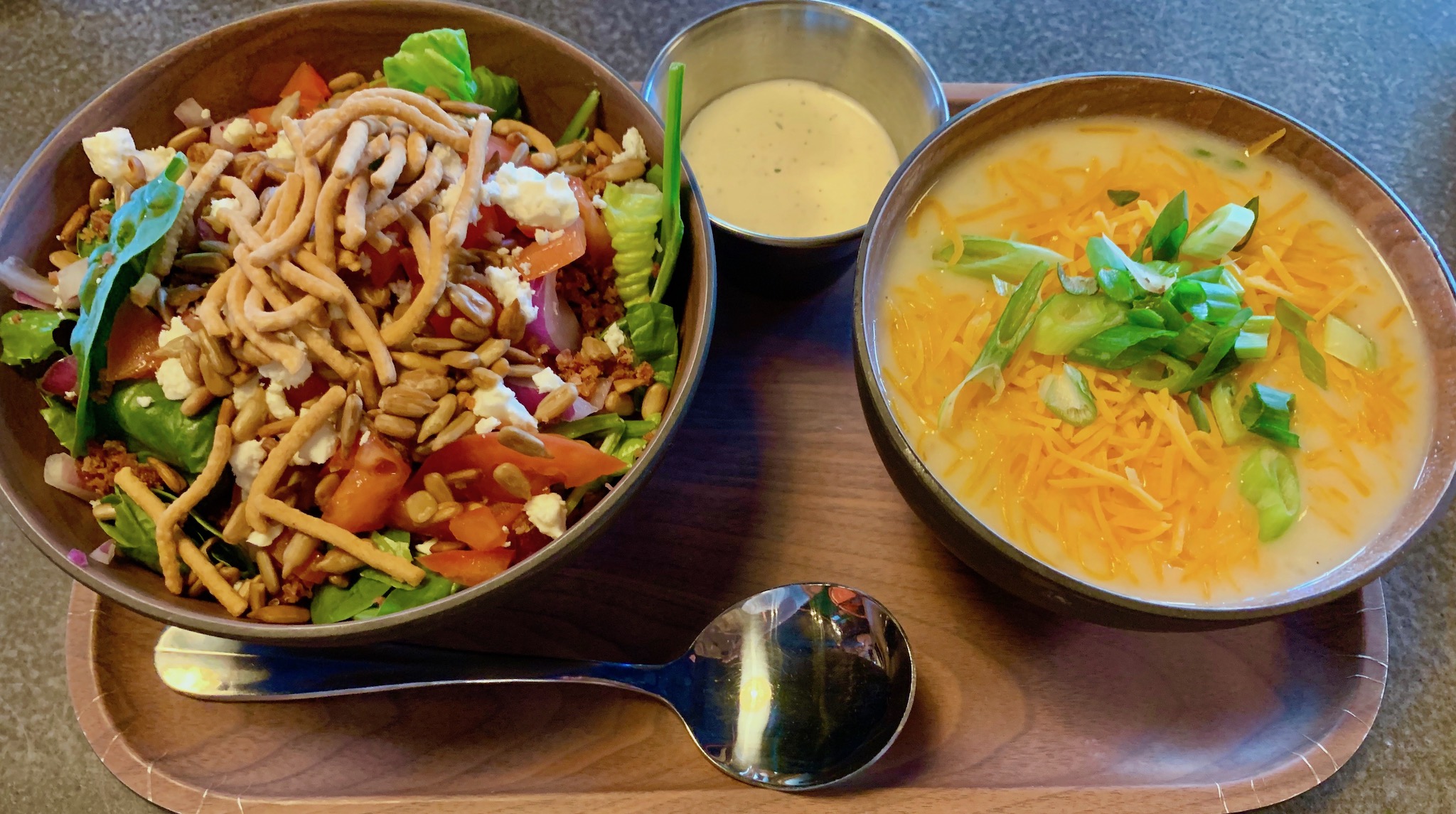 Kevin ordered The Heather Bison Bacon Burger – baby swiss, sautéed mushrooms & sour cream with mixed greens, tomato & onion.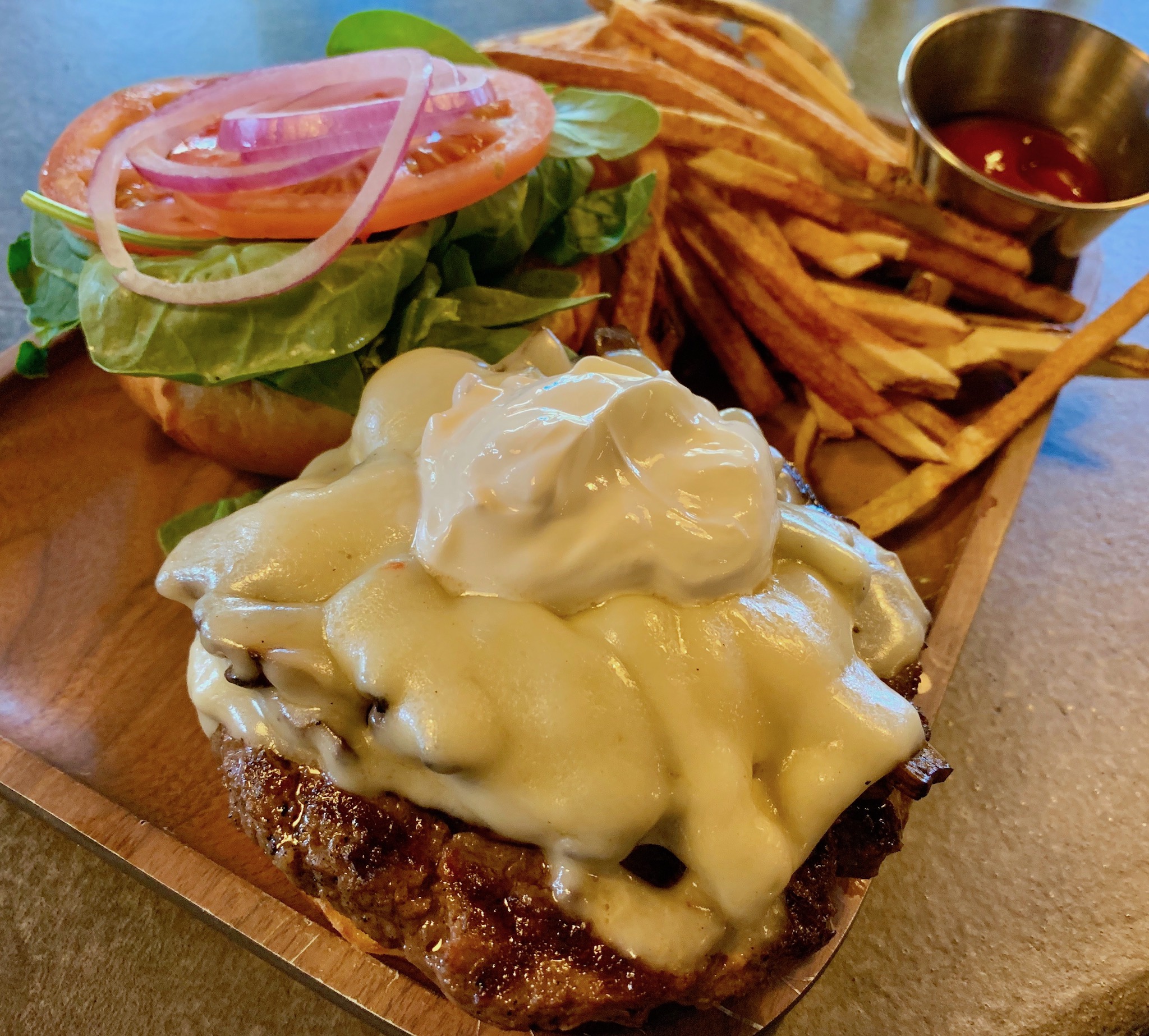 We both prefer our burgers medium rare and his did not come out that way – closer to medium or medium well, but he did not send it back because it was very flavorful and he had no complaints. He was a bit unsure of the sour cream dollop but found it to add a bit of tang and thought it a very nice change up.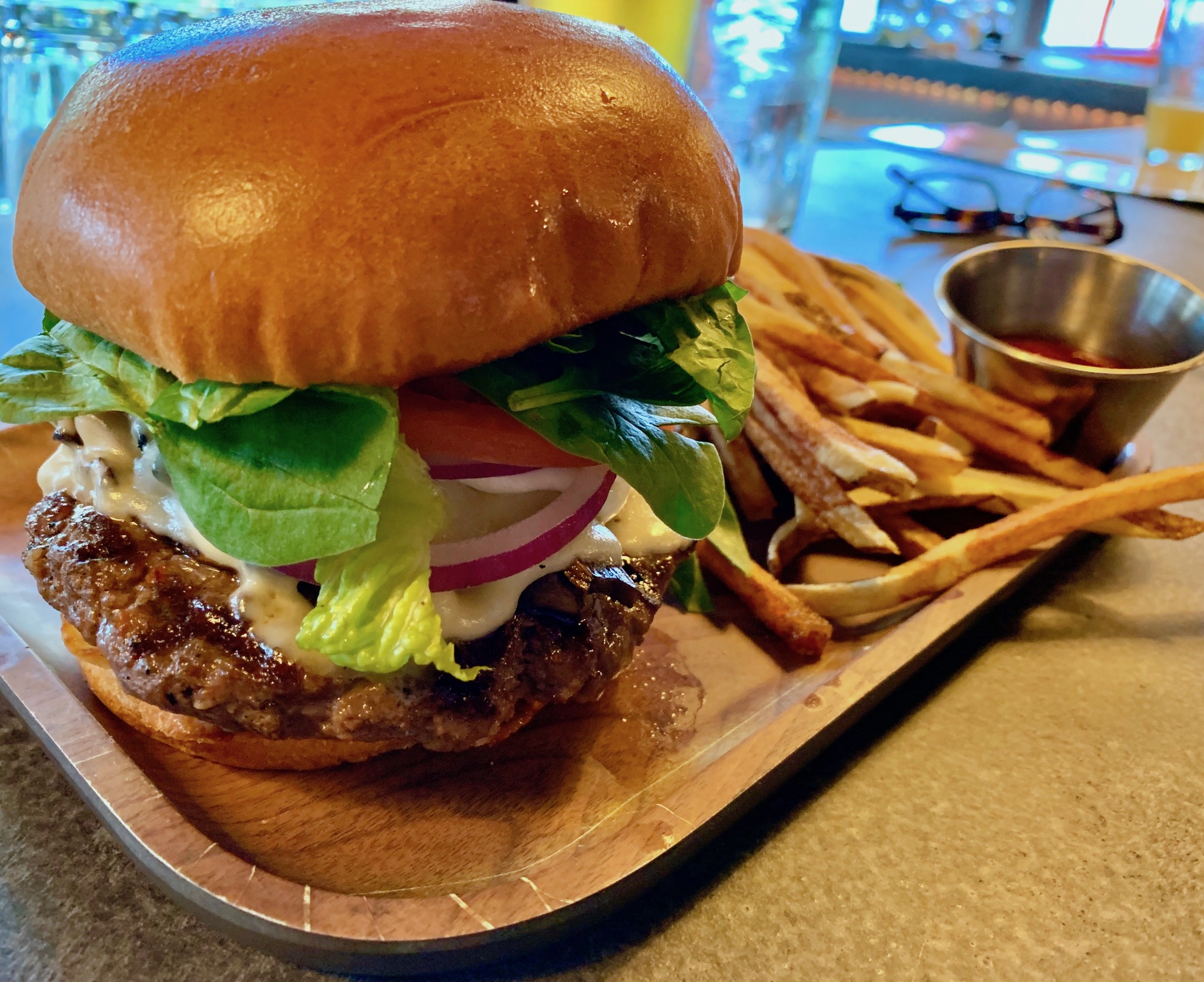 As if two trips were not enough to complete a write-up, we went back again the next week for lunch to taste some more items that tempted us on the menu. This time opting for a few of the appetizers.
I love me some fried chicken skin so the minute I saw the Chicken Cracklins, I had to have them. For some reason, I did not notice them before. They are baked crispy chicken skins topped with aged gouda & scallions. We both thought these were very good, but I thought that they were lacking a bit in that salty, greasy, umaminess that you get when you first peel that hot fried chicken skin off and pop it into your mouth. I am not sure exactly what it was. They were very good, don't get me wrong, but not exactly what I was expecting.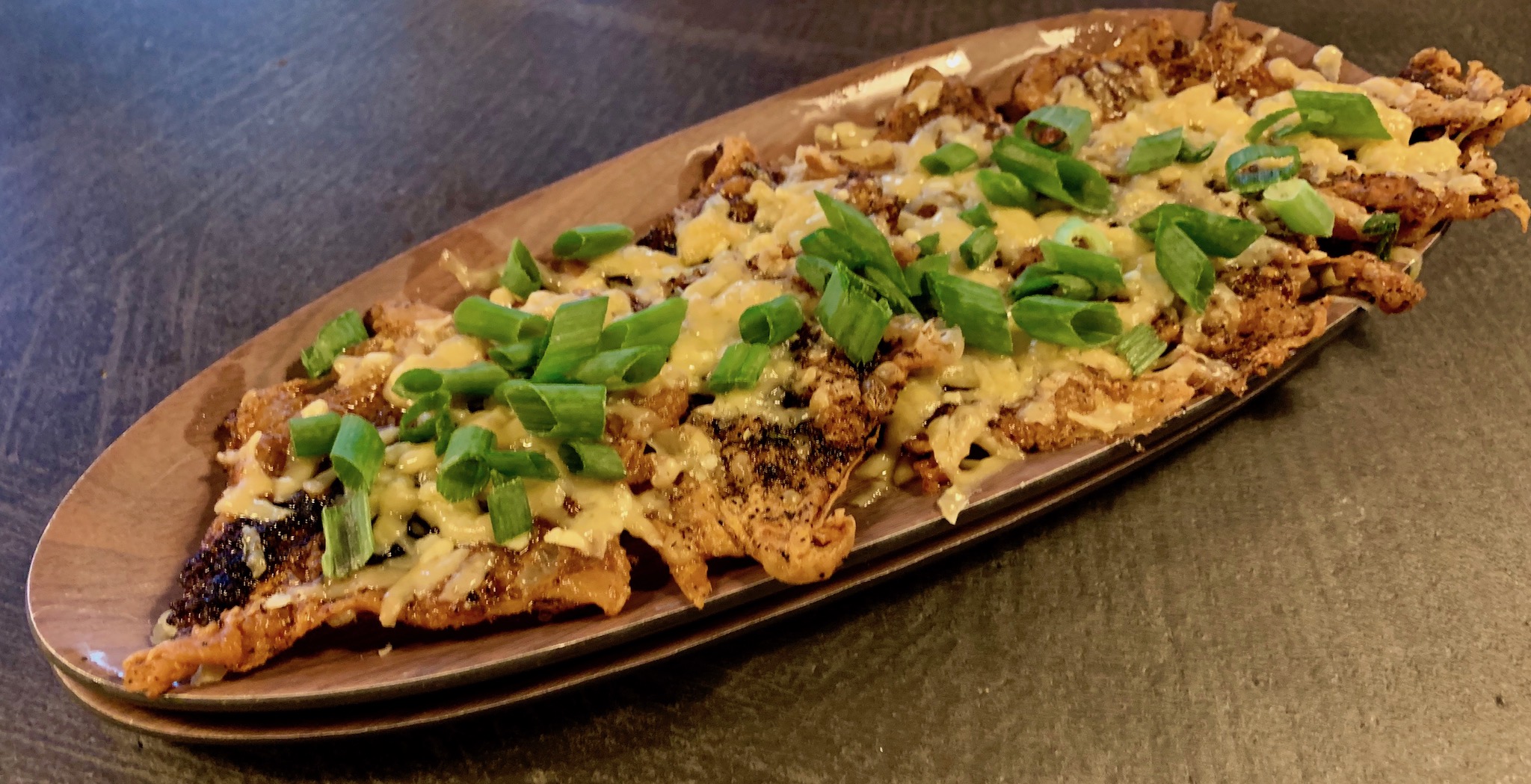 My friend, Jennifer, kept commenting on other posts on Facebook about the bier boutique that "you have to order the loaded tots". With that resonating in my head, I told Kevin that we must order them. They are a pile of house made tater tots loaded with cheddar cheese, bacon, sriracha cream & chives. What the menu left off of this description was that they are loaded with pure yumminess!! Oh lordy!! The texture is fantastic with this mix of ingredients, along with the explosion of flavor. Jennifer was so right!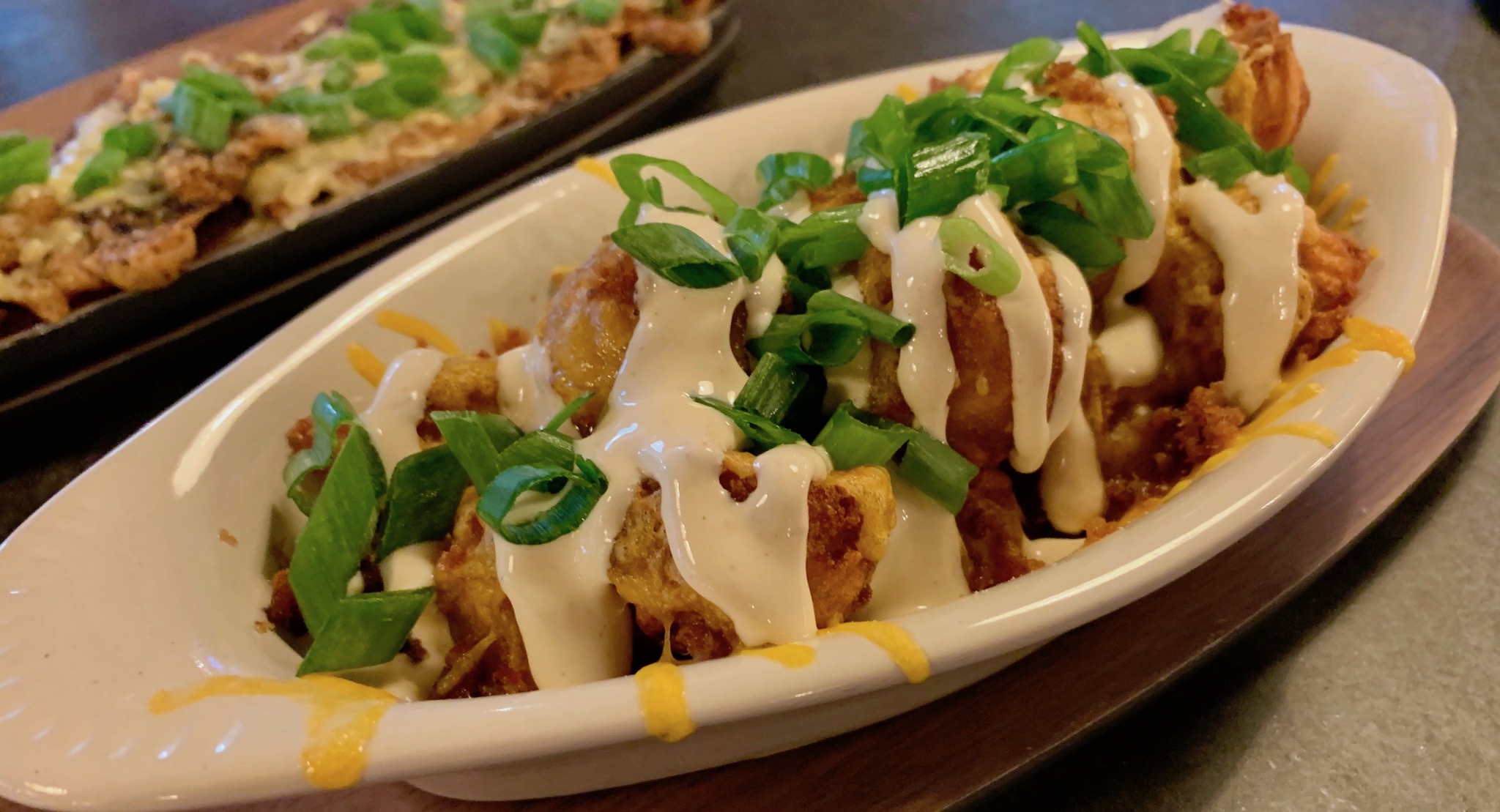 It started to pour buckets of rain after we arrived on this day, so we got to spend a lot of time talking with our bartender, Nick. He actually moved up from Key West when Scott and Heather moved. He was with them for the last few years at the Key West location and helped them open this location. He was full of fun stories and one of them was about the chicken wings and a customer (who he could still recite their address) who would always order them 10 minutes prior to closing without fail. He advised us to order the original to start and assured us that they were spicy but not too spicy for me.
These wings are large in size, juicy, spicy and absolutely some of the best I have ever had. On the menu they are described as a Pound of Grilled Wings – choose original, chipotle bbq, supercharged or jerk. I know Kevin will definitely go for the supercharged next time.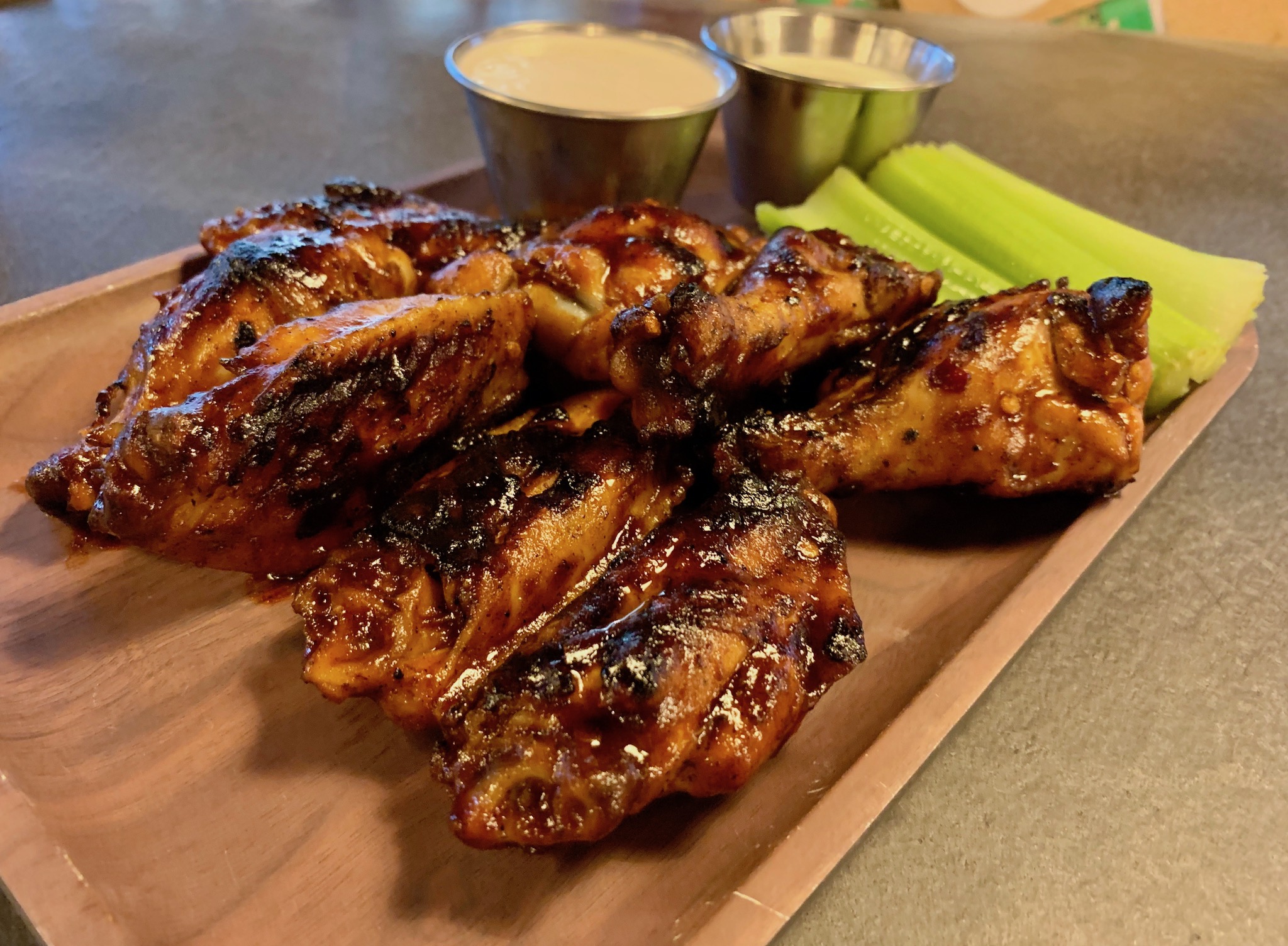 On that last visit, we finally got to meet Scott, who is just as friendly and passionate as Heather is about their venture. We also invited them to be on our podcast which will air in just a few days.
And then three visits wasn't enough. We still had more to explore and we went back on Tuesday this week. I am a lover of French Onion Soup and they have this Caramelized Onion Soup on the menu – savory beef broth with sweet onions & melted swiss cheese. This is their version of onion soup. The caramelization of the onions adds this heartier, rustic dimension to this soup when comparing to French Onion. I made a huge mess when I dunked in the bread from the top, but it was absolutely scrumptious!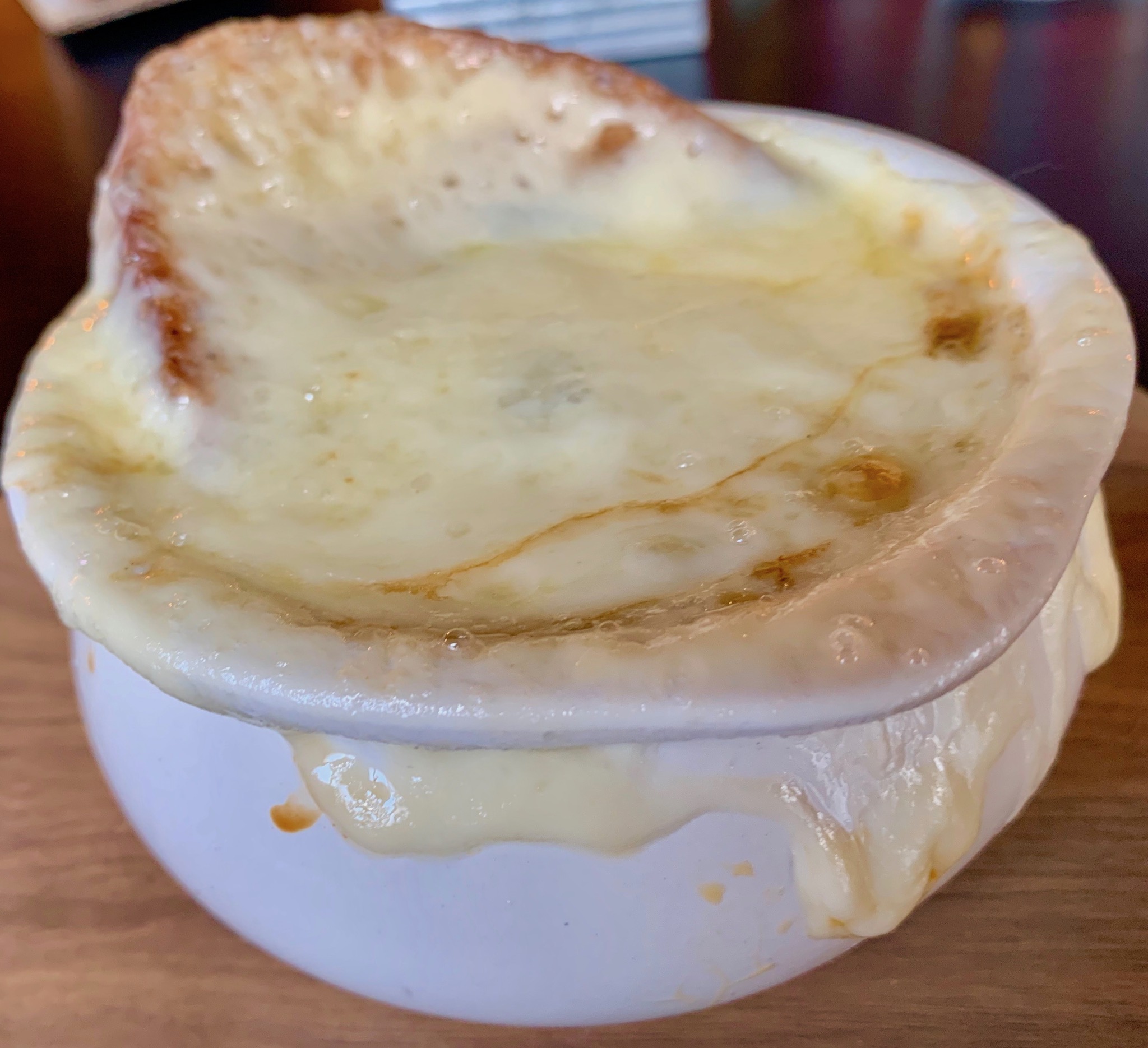 When they were here for the podcast, I mentioned to Scott that I wanted to try the peppered turkey sandwich and he said, next time you come in, ask for the TBLT "special" sandwich instead. It's not on the menu…yet. Scott has promised it will be on the next one.
So I ordered the TBLT (Turkey BLT) sandwich and got a confused look from our server, but Scott had already been out to say hi and knew I was ordering it. He wrote down the ingredients for me: cracked black pepper turkey, candied bacon, baby swiss, lettuce, tomato, onion and honey peppercorn vinaigrette on toasted oat nut bread. Wow! This was full of flavor – sweet and savory at its best – and when it hits the menu, make sure to order it! There's nothing like it in town. (Actually, I bet if you ordered it now, he would make it for you. In fact, I know he would. Tell them I said so.)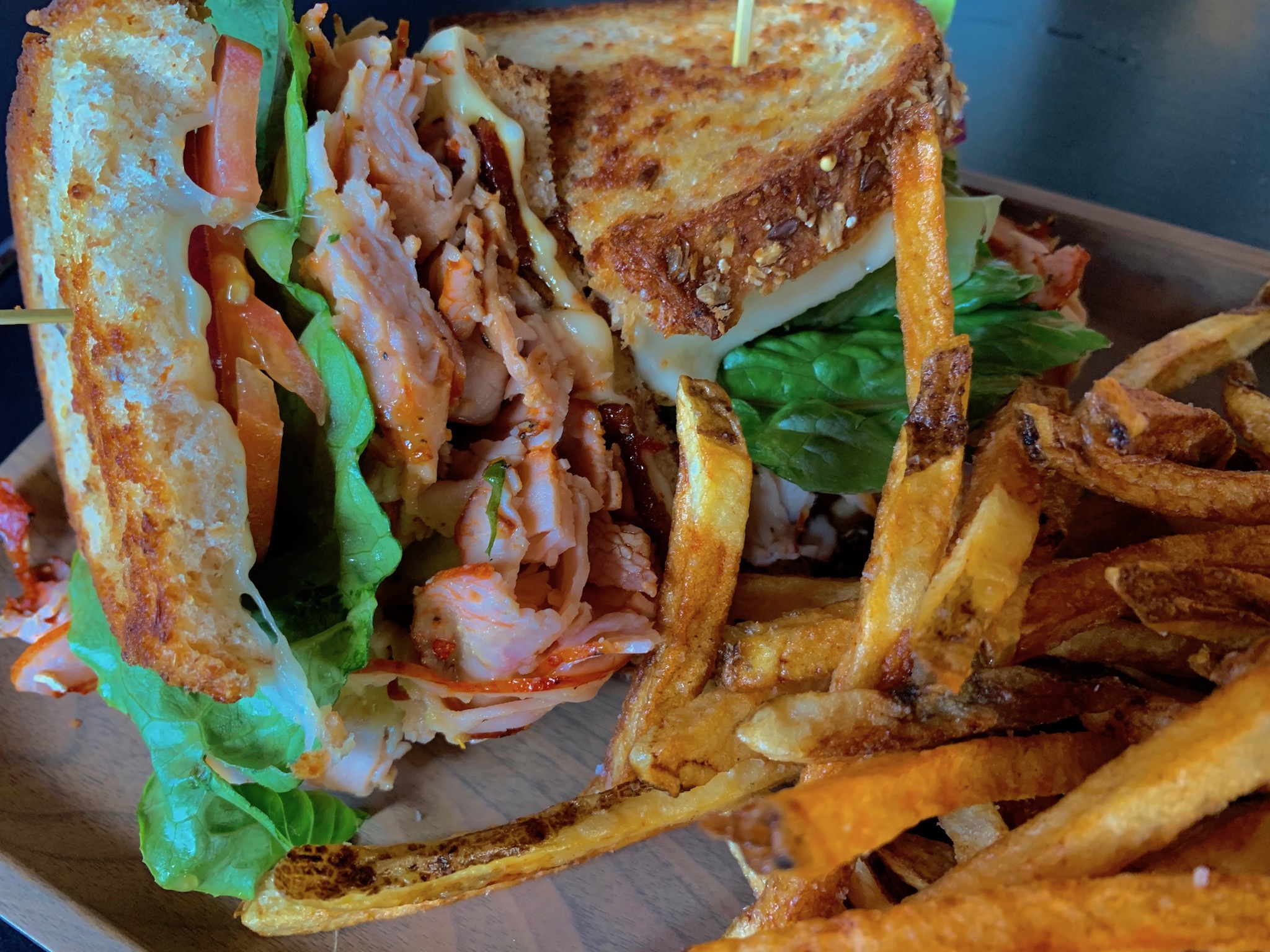 Jennifer joined us for this visit and both she and Kevin ordered the Candied Pecan Chicken Salad Wrap with housemade chicken salad, candied bacon, baby swiss cheese, lettuce & tomato loaded up in a whole wheat wrap and Kevin ordered the vegetable of the day which was fried corn on the cob. Boy oh boy! I love corn and this was quite a treat. Of course I ate a bit. Kevin said the chicken salad wrap was nice and savory with a tiny bit of sweetness from the candied bacon that worked very well with the swiss cheese and he liked the bits of fresh cubed, moist chicken rather than the style you typically find that may or may not be from a can.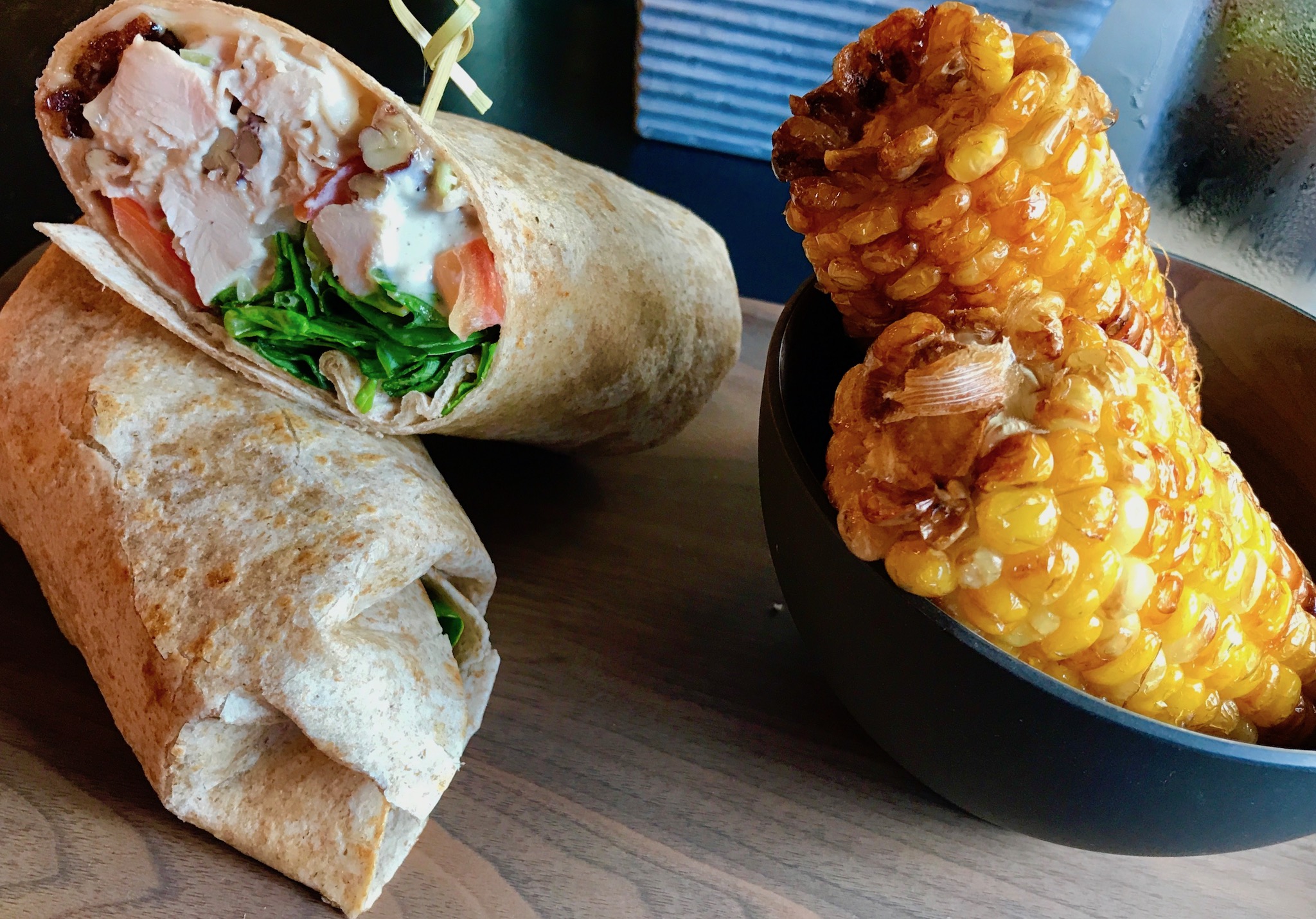 All in all, the bier boutique lives up to its hype and after four visits in three weeks, we are excited to go back for more. There are still more items we have yet to try. What a great addition to the Historic Uptown Neighborhood.
Bringing the best of the midwest with fresh, local scratch made cuisine, a celebration of craft beer and a passion for great service.
DISCLAIMER: Kevin, Lori, Abby, Haley, & Lindsey do not dine anonymously (this would be impossible) and we sometimes get free food (though never expected). However, we dine with the locals and we support our own. You will always get honesty in a respectful manner. We do not include any large national or regional chains in our ratings and reviews. We focus on independent locally owned eateries exclusively.

PLEASE NOTE: Reviews reflect a certain moment in time. Some restaurants stay extremely consistent over many years, and some change for the better or worse. Some things that may change are: chefs, recipes, food suppliers, ingredients, philosophies, ownership, etc. We always hope that you have the same good, or great experience we had.
More Foodies News, Reviews & Recipes