Poké (pronounced as poh-kay), which is said to have been originated in Hawaii, has gained a copious amount of popularity all across the world in recent years. Poké is a traditional dish that is typically comprised of, in its most basic state, raw tuna and shoyu, where the tuna is cut crosswise, and then cubed. However, there are many, many additional variations of poké, including poké with salmon, shrimp, and even tofu.
While poké is the original classic, poké bowls have stolen the spotlight. There are many innovative renditions of the poké bowl out there, and most commonly, they're prepared with white rice and often accessorized with avocado, scallions, furikake, sesame seeds, ponzu and seaweed, to name a few.
Poké bowls are undeniably fresh, health-conscious, aesthetically pleasing, and loaded with umami, which will leave you craving more. Who isn't enticed by all of that? We have rounded up the five very best places for poké bowls in St. Petersburg that you absolutely must seek out! The restaurants are listed in order below by zip code, and then alphabetically.
(Unless otherwise indicated, all photos by Abby Allen, St. Pete Foodies)
(Editor's note: Someone from St. Pete Foodies actually visited all of these restaurants, took our own photos, and ate this food – unlike many other best-of lists, that are auto-generated, or pulled from Yelp reviews or Instagram.)
5 Best Places for Poké Bowls in St. Pete for 2019
1. The Lure
661 Central Ave N
St Petersburg, Florida 33701
(727) 914-8000
The Lure Website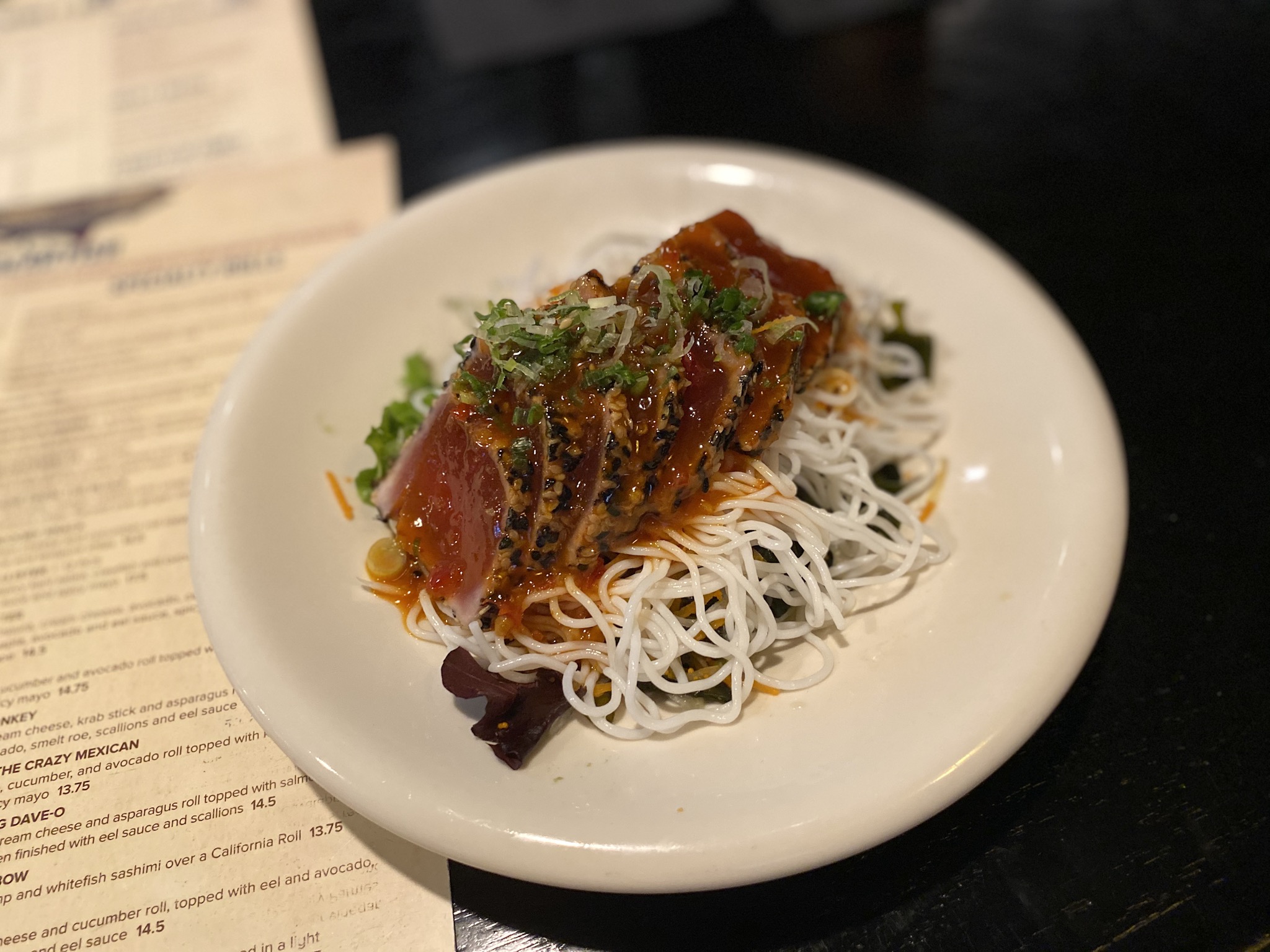 The Lure is perhaps most well known for their sushi offerings, but the poké bowls should not be overlooked. They have a whole section dedicated to bowls on their menu, which includes salmon, variations of tuna, and even a tofu bowl for vegans! Of all of the bowls on the menu, the Tataki Temptation Bowl is the shining star for me. It's comprised of tataki style tuna, carrots, daikon and red peppers dressed in sweet chili sriracha ponzu, served over vermicelli noodles. The bowl boasts a medley of flavors, and includes idyllic amounts of spicy, salty, sweet and sour notes.
2. Old Southeast Market
1700 3rd St. S
St Petersburg, Florida 33701
(727) 823-1992
Old Southeast Market Website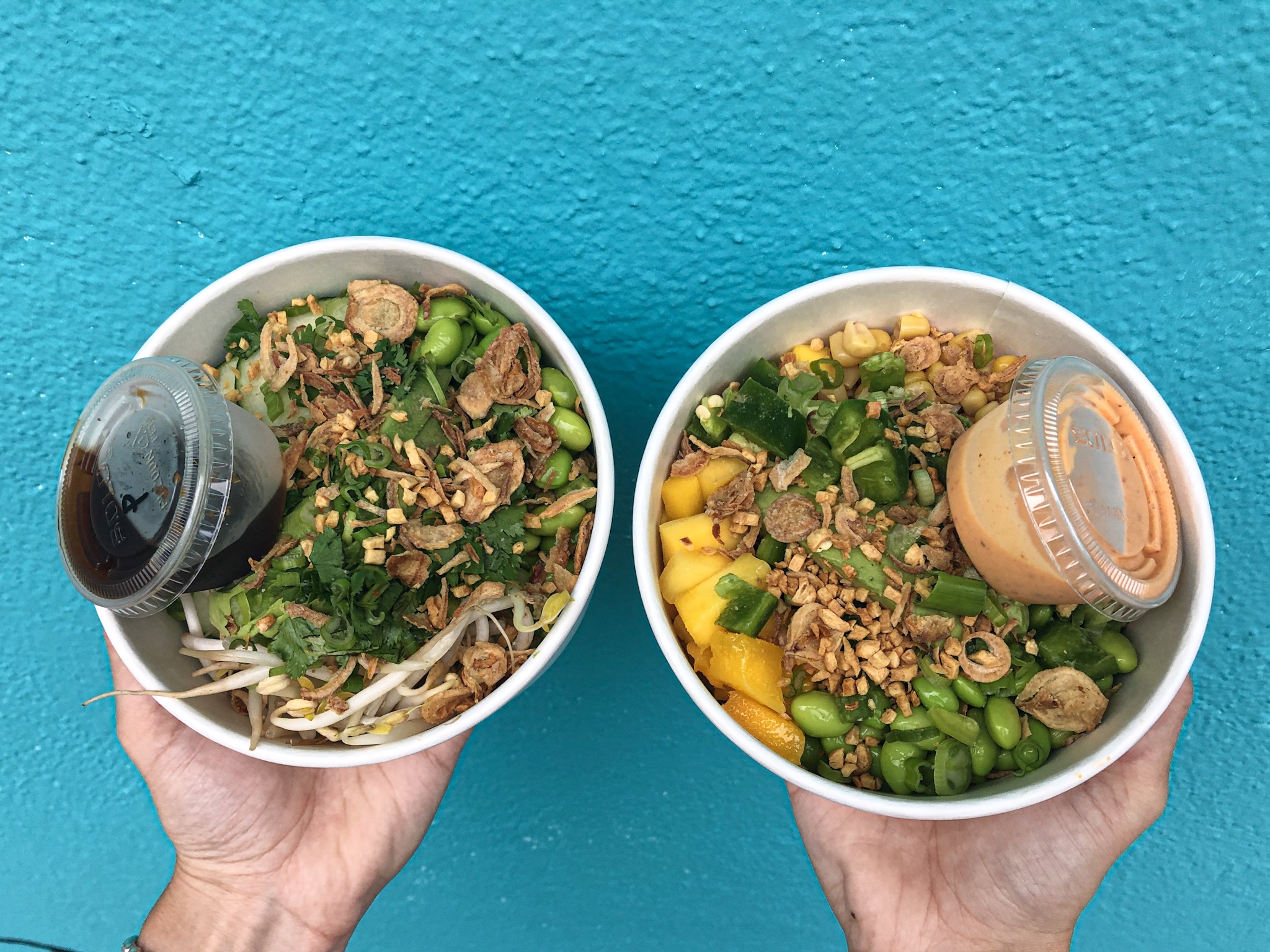 Odds are, you probably haven't just stumbled upon the the Old Southeast Market by chance, and that's because it's the definition of a hidden gem. It's tucked away in a quiet area of the Old Southeast neighborhood. The exterior of the building is intriguing, and leaves you wanting more. Upon entering the market, a sense of surprise may wash over you when you notice the array of craft beer and wine, the deli, local grocery treasures, and the best part, a made to order poké bar! Their proteins range from tuna, salmon, shrimp, shredded crab, chicken and tofu. Select your very own fresh, quality ingredients to assemble the poké bowl of your dreams with your very own twist.
3. Pacific Counter
660 Central Ave
St Petersburg, Florida 33701
(727) 440-7008
Pacific Counter Website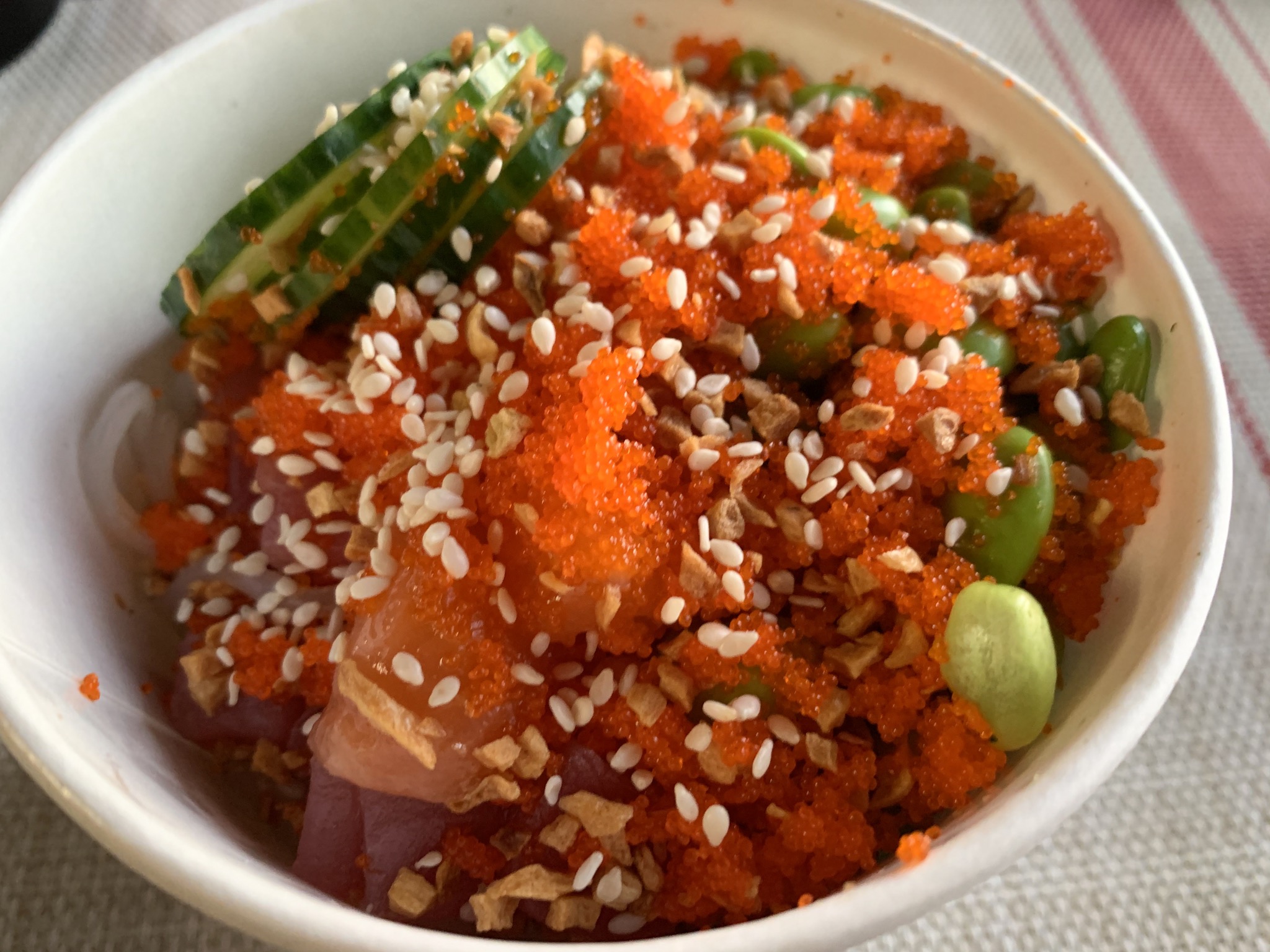 (photo by Lori Brown, St. Petersburg Foodies)
When it comes to poké bowls in an elevated fast casual environment, look no further than Pacific Counter. The food at Pacific Counter is a "mainland mix of coastal classics in the form of sushi bowls and burritos." With all of the beautiful ingredients that Pacific Counter has to offer, there are approximately 6,432,189 possible creations to devour (gasp!) – custom & counter (counter creations are the standard bowls offered on their menu). After all, their menu was designed with customer empowerment in mind. Grab a bowl on the go for a quick, vibrant lunch to enjoy back at the office or dine in and enjoy your bowl with one of their local craft beers in their bright and airy space.
4. Pin Wok & Bowl
445 Central Ave
St Petersburg, Florida 33701
(727) 575-7167
Pin Wok & Bowl Website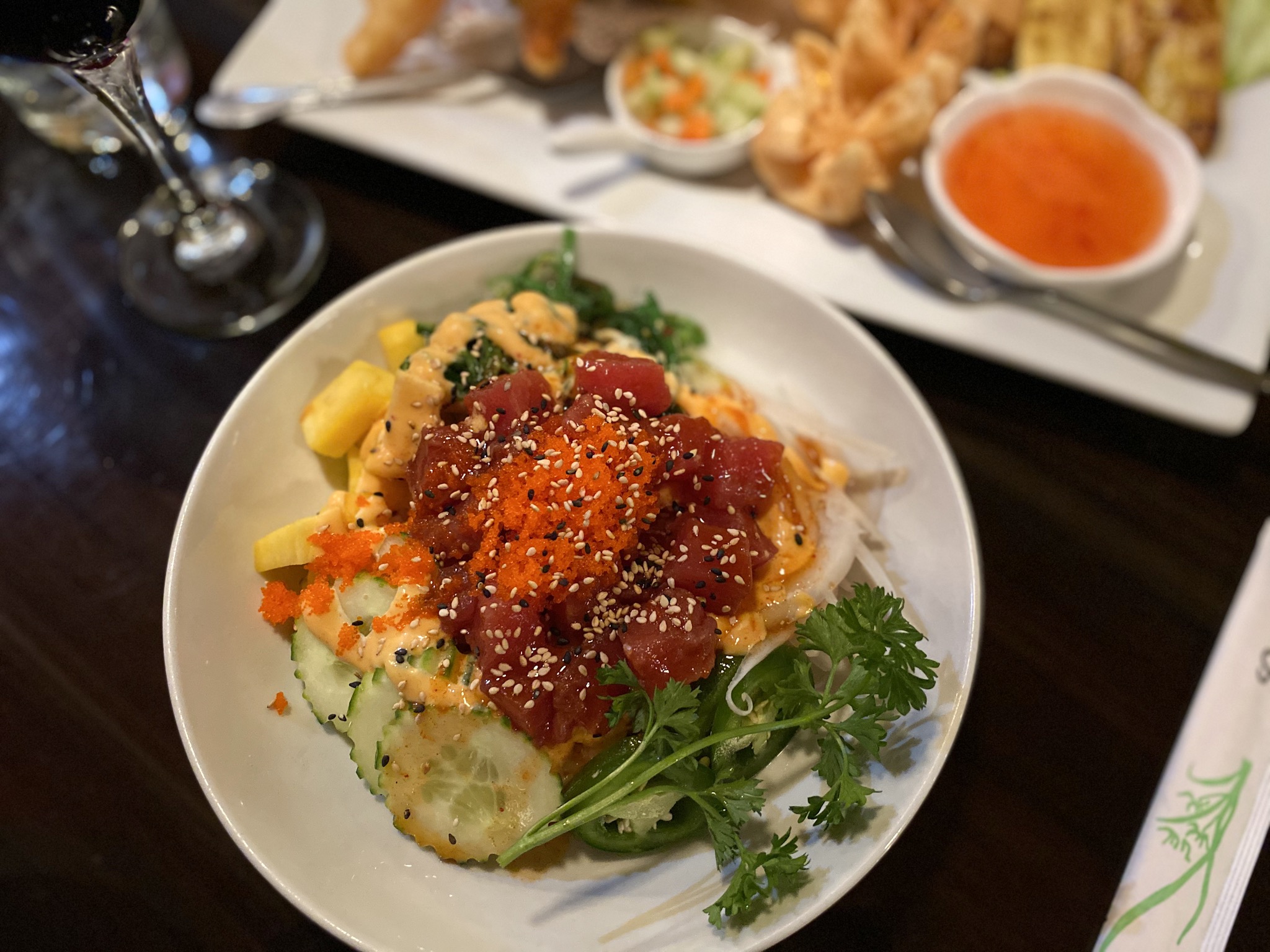 Pin Wok & Bowl serves up some of the best Thai and Japanese Fusion cuisine in the city with only the freshest ingredients. While their menu is loaded with sushi options galore, perhaps pass on the roll during your next visit, and jump to the poké section of the menu. There, you'll find a handful of attractive bowl options which are suitable for most all diets and lifestyles – yes, vegans, too! I tend to favor the Spicy Lava Flow Poké Bowl, which is loaded with a few of my favorites – cubed ahi tuna, cucumber, mango, seaweed salad, jalapeño, sweet onion, masago, and roasted seaweed with spicy house sauce. Huge flavors, beautiful presentation, and a portion size that is hefty enough to share…what more does one need?
5. Ciccio Cali
190 37th Ave N
St Petersburg, Florida 33704
(727) 898-8226
Ciccio Cali Website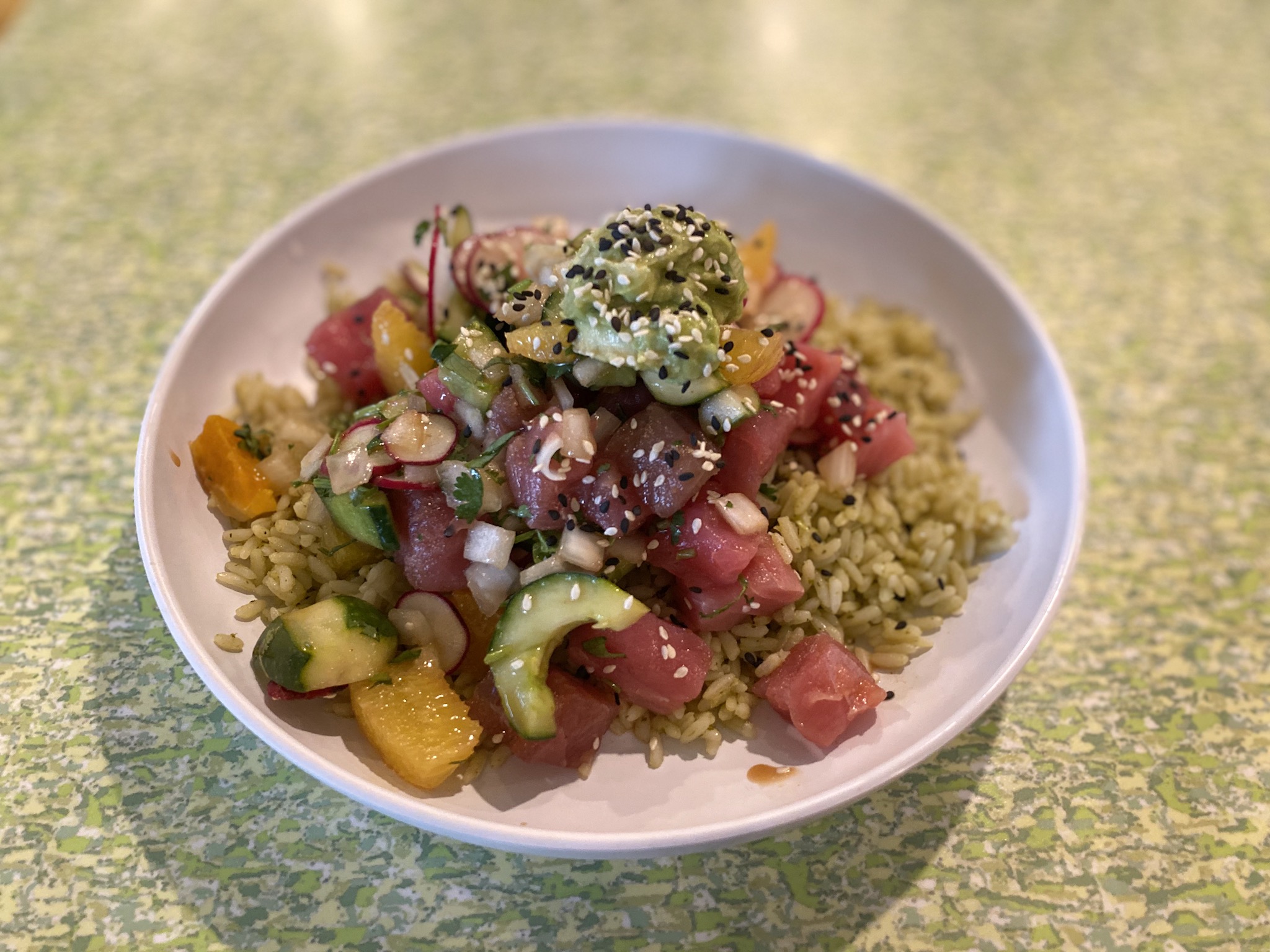 At Ciccio Cali, it's all about creating your own balance. Ingesting one of Ciccio's bowls, juices or wraps will leave you feeling light and health-minded; however, if you're in search of indulgence, opt for pizza, tacos and luscious cupcakes. The vivid and appetizing bowls from Ciccio are inspired by various food tours throughout California. Each bowl on the menu is unique in its own right, with everything from the Baja with chargrilled chicken, to the Hot & Crunchy with seared rare ahi tuna. My personal preference is the dazzling Zesty Orange Poké Bowl with Coconut Avocado Rice as the base. Imagine raw ahi, cucumber, white onion, sliced radish, orange, cilantro, citrus soy, sesame seeds and smashed avocado. Talk about a refreshing reward for your taste buds!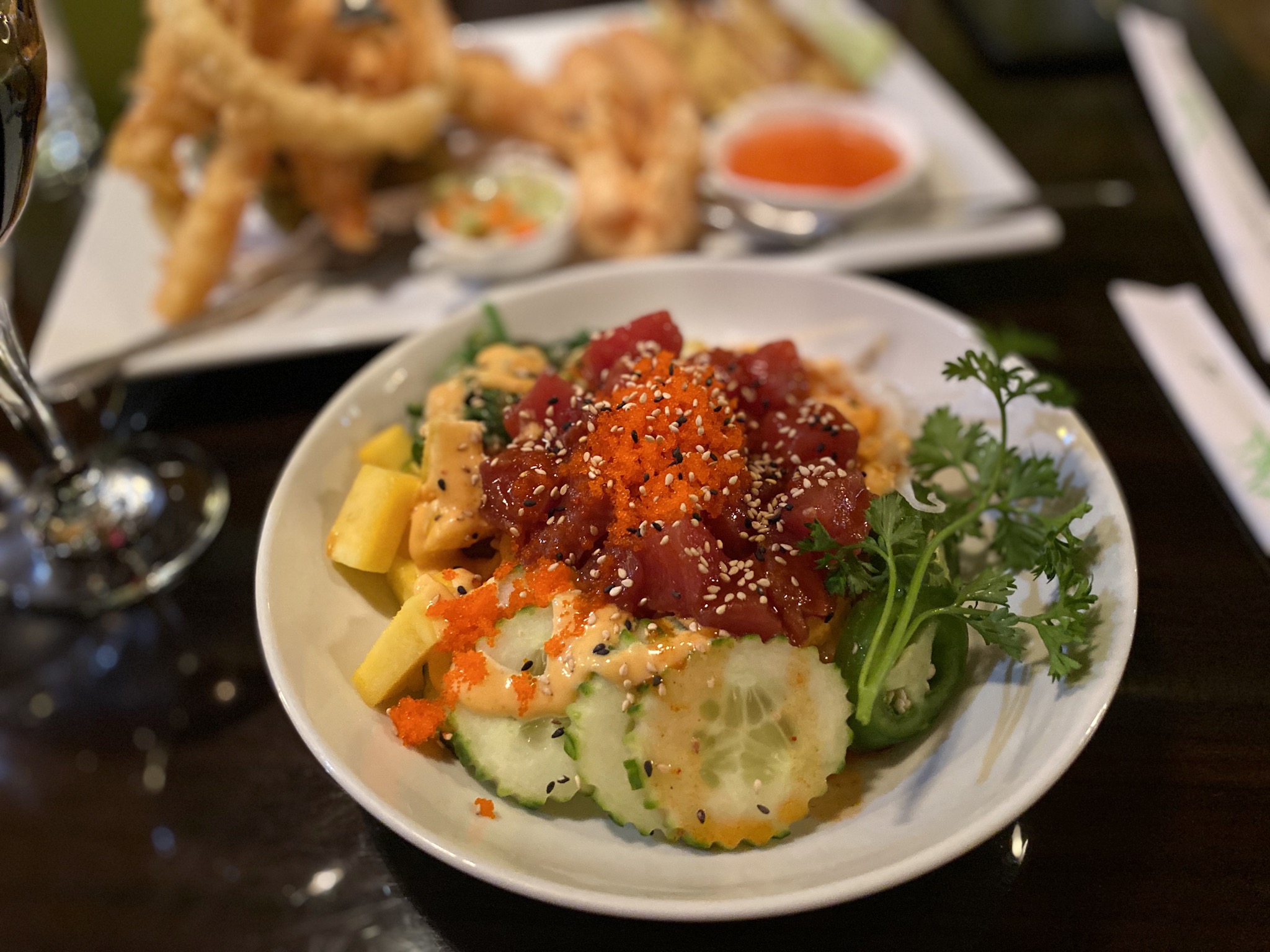 Readers Rating

Rated 4.8 stars




4.8

/ 5 (

Reviewers

)

Spectacular
---
Best poké bowls in St Petersburg, FL by locals