Best Hamburgers / Cheeseburgers in St. Petersburg FL 2023
Hamburgers! Who doesn't get excited by hamburgers? I used to wonder why they were named this when there was no ham involved. It's because they get they their name from Hamburg, Germany, home of a dish called the Hamburg steak that eventually evolved into what we now consider hamburgers.
"The Hamburg steak was served raw or lightly cooked and was accompanied by a raw egg… A variant of Hamburg steak is Salisbury steak, which is usually served with a gravy similar in texture to brown sauce …" – Wikipedia
I also recently learned that there is a Japanese Hamburger Steak. (I'll be making one soon.)
It is actually disputed whether the hamburger was invented in Germany or the U.S.A. One thing that is not disputed is that they are definitely thought of as the quintessential "American food".
They almost always have cheese on them, so it's safe to say that a hamburger / cheeseburger is the epitome of almost everyone's favorite American food.
Smashburgers
There are some smashburgers on the list, and obviously if they're on the list that means that they are really good.
When I posted one of these smashburgers in our Facebook group, a discussion ensued with some saying that it was not a true smashburger.
So I did some research on smashburgers. The original smashburger is 2.5 – 3 oz of meat. It is rolled into a meatball and then smashed flat with a metal press. It is smashed so flat that it is thin enough to get very crispy edges and is about a quarter of an inch thick or less.
Then, there is the restaurant chain with the name Smashburger.
They DO smash their burgers, and they do get caramelized, but their "Classic Smashburger" is 5 ounces of meat and looks like they are about a half inch thick instead of a quarter inch or less.
It's a different style that provides the customer with more meat. That is the style of the smashburgers from the local, independently owned restaurants that we review and include on this list.
As with all of our lists, and unlike most other publishers, we personally went to all of these places, and ate all of these burgers, and took all of these photos.
For ALL of these – the burgers were moist, juicy, fresh and flavorful… so I don't have to repeat it a dozen times.
"It's really a lot like writing porn. After you've used the same adjectives over and over again, it's like the Penthouse Letters…"
– Anthony Bourdain, Parts Unknown, Budapest – Aired June 14, 2015
Here's our "Baker's Dozen" (in no particular order) of the Best Burgers in St. Petersburg Florida for 2023.
Noble Crust
8300 4th St N
St. Petersburg, FL 33702
(727) 329-6041
Noble Crust Website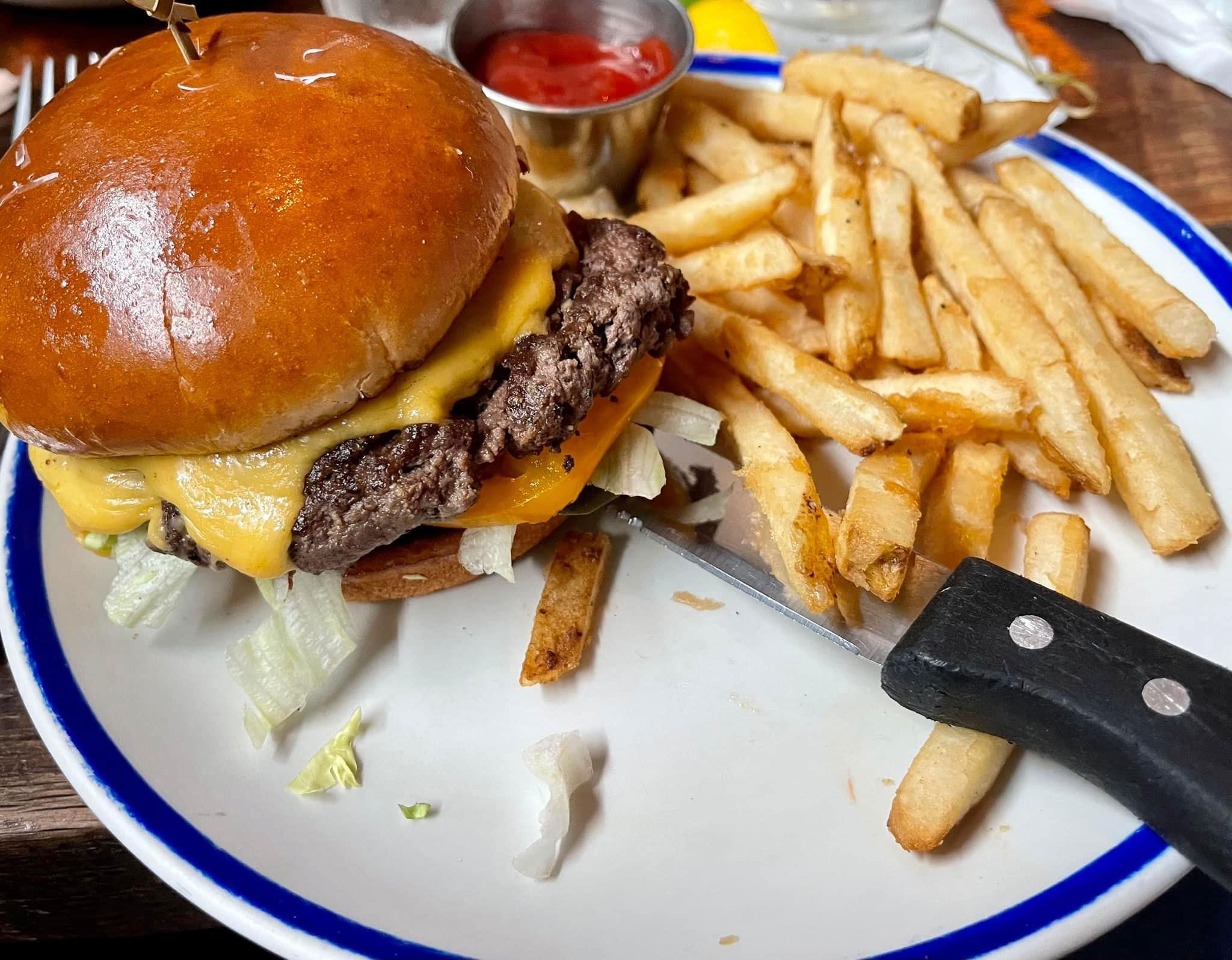 One of the things I love about Noble Crust is that they have such a great variety, and wide range of items. You could go there with a party of 25, and include all of the special diets, such as vegetarian, gluten-free, low-fat, or my special diet since I'm into fitness … uh, I mean "fitness this whole pizza in my mouth". They have great soups and salads, and lighter fare, but I love them for their excellent execution of comfort food, like the Smashburger. Lori said the Smashburger was the star of the show when we last went to family dinner at Noble Crust.
Noble Crust Smash Burger – Buttered brioche bun, American cheese, shaved iceberg, dill pickle, caramelized onion, tomato and noble sauce. There is an option for a single or double patty. The single is pictured.
Cap's Steamer Bar & Grille
226 1st Ave N
St. Petersburg, FL 33701
(727) 396-9196
Cap's Website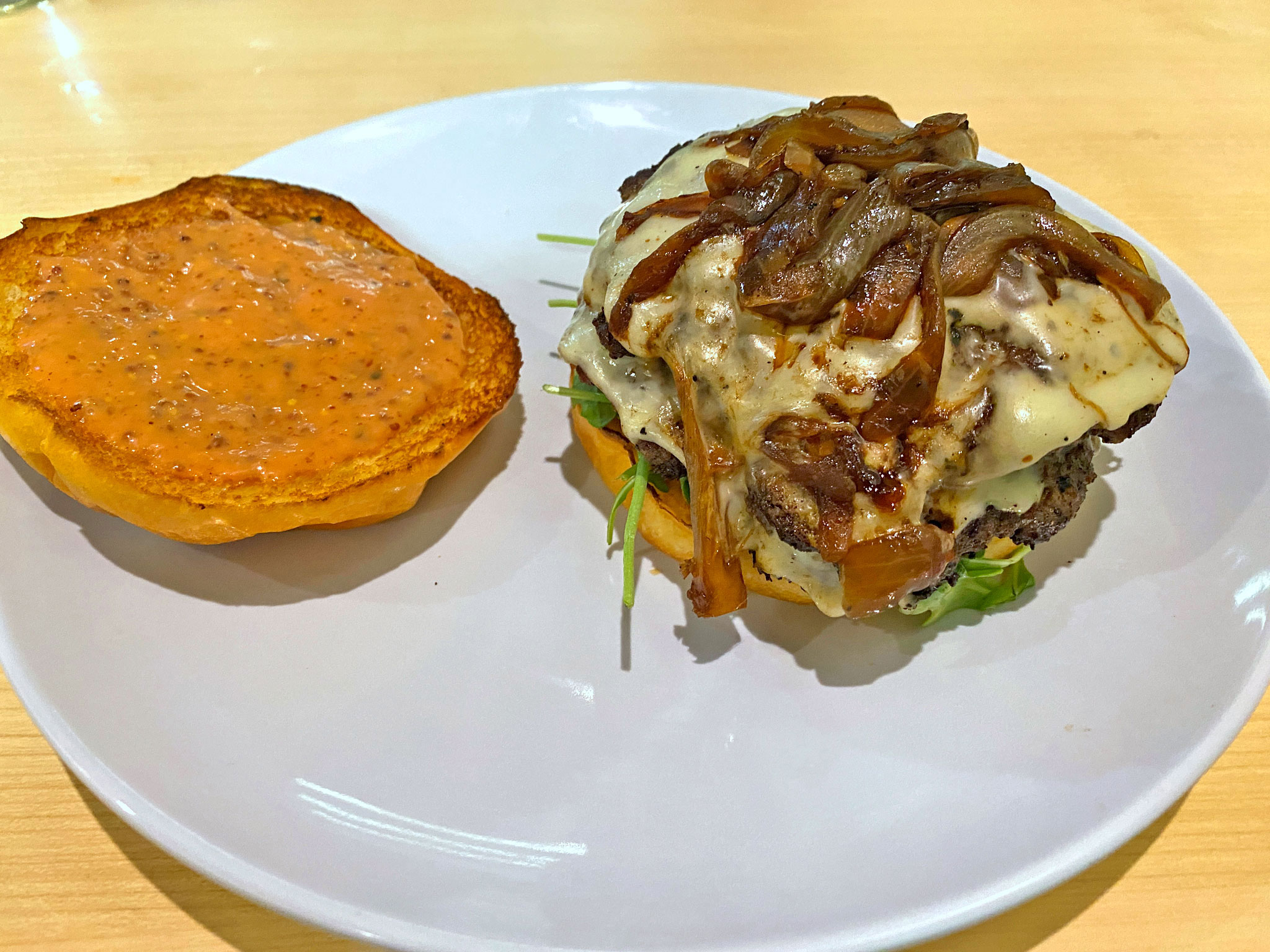 Cap's Steamer Bar & Grill took over the outdoor bar and sidewalk space of the former MacDinton's last year. It's a cocktail bar with a focus on fresh seafood and shellfish, but their smashburger is out of this world. It's a casual atmosphere with most of the seating outside, and limited seating inside. Even though the atmosphere is casual, the food is elevated.
Americana Burger – a smashburger – double patty smashed brisket and short rib, white cheddar, caramelized onion, arugula, beefsteak tomato, and house burger sauce.
V9 Eats
5800 9th Ave N
St. Petersburg, FL 33710
(727) 256-9723
V9 Eats Website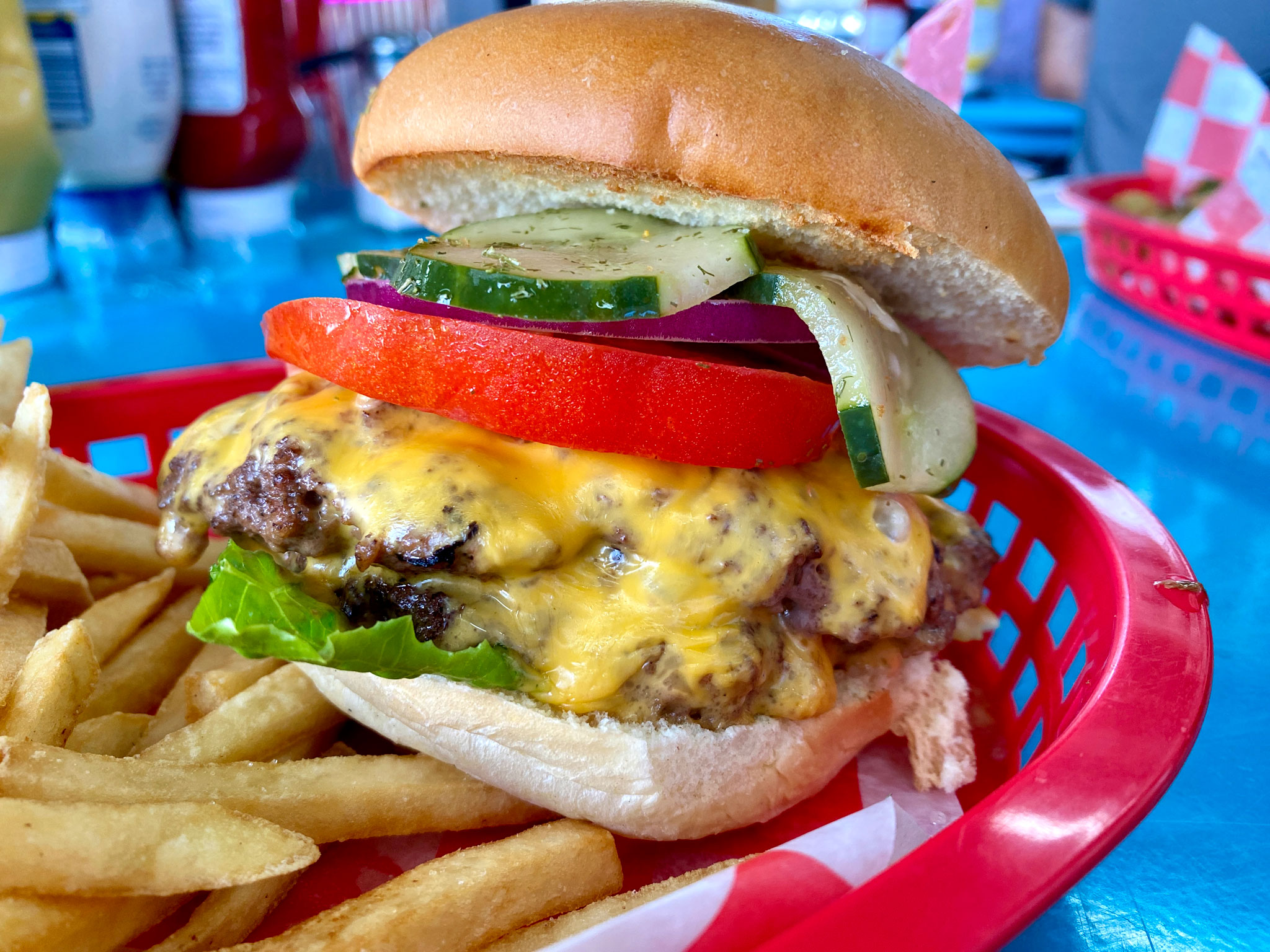 A perfect classic double smashburger with housemade pickles. The buns are from Bruno's Bakery, another local family run business. The fries are like McDonald's in a good way. The fried okra is the best I ever had, and Lori said it reminded her of her grandmother's fried okra.
You can choose your toppings and I went with the smashburger classics – lettuce, tomato, onion and pickles. This burger is so flavor-packed that it is craveable. All of the flavors and textures form a perfect creation of a burger.
The Avenue
330 1st Ave S
St. Petersburg, FL 33701
(727) 851-9531
The Avenue Website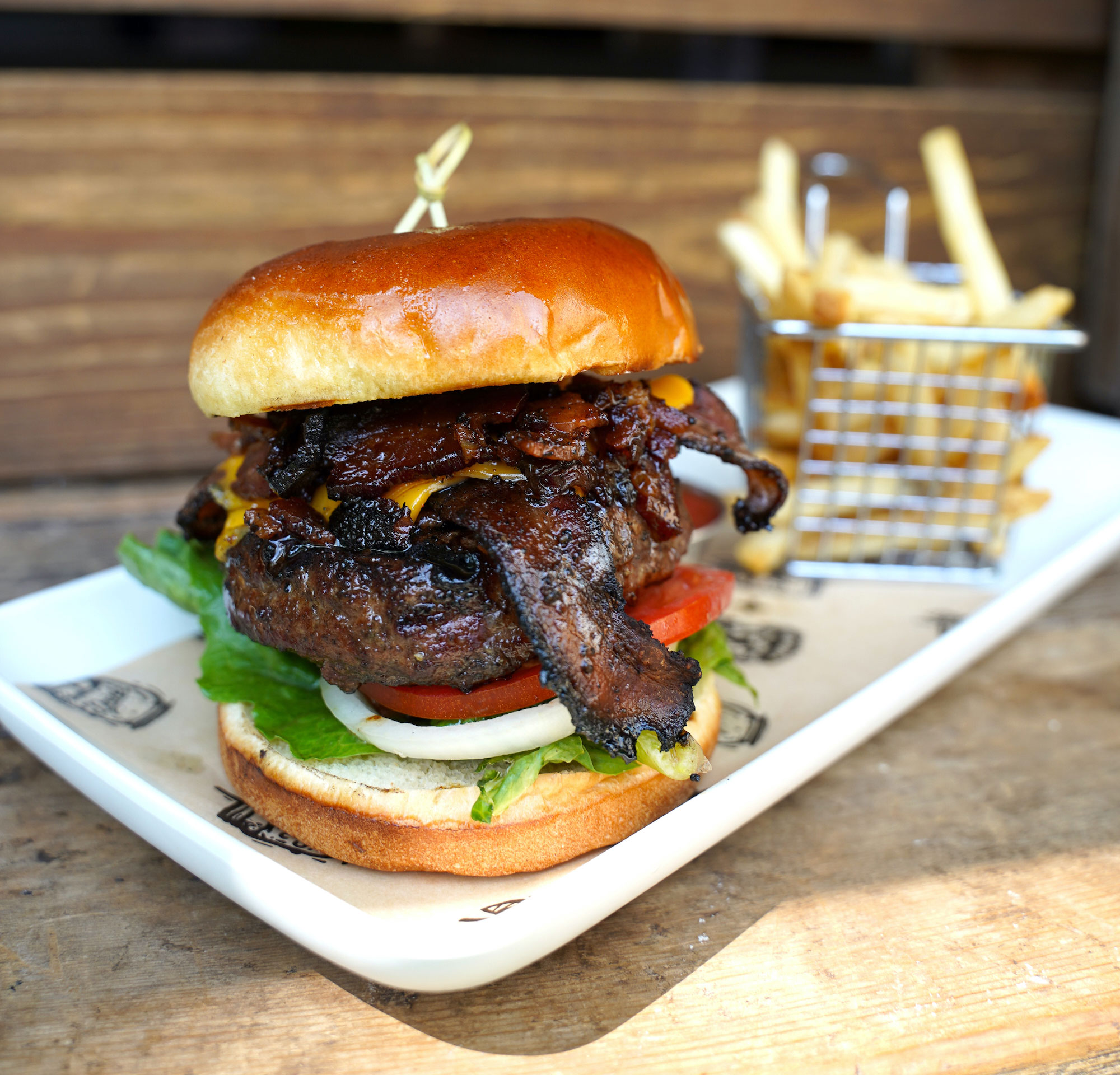 The DTSP Burger at The Avenue – yellow American, bourbon bacon onion jam, peppered bacon, lettuce, tomato, onion, pickles. Huge, delicious, and perfectly cooked.
Brick & Mortar Kitchen & Wine Bar
539 Central Ave
St. Petersburg, FL 33701
(727) 822-6540
Brick & Mortar Facebook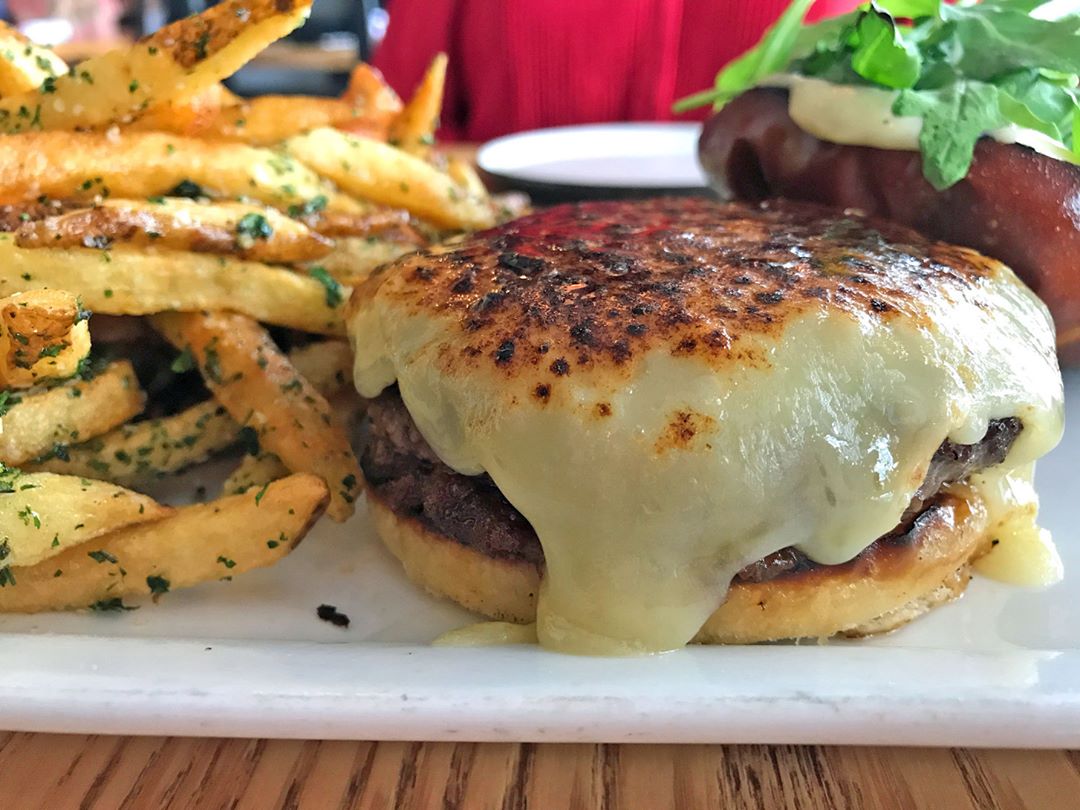 Brick & Mortar Burger – house ground tenderloin filet & short rib, bacon onion jam, aged white cheddar, arugula, roasted garlic aioli.
There is nothing like this burger anywhere. It's magical. They grind their meat fresh in house everyday. Everyone raves about this one.
The Burg Bar & Grill
1752 Central Ave
St. Petersburg, FL 33712
(727) 894-2874
The Burg Bar & Grill Website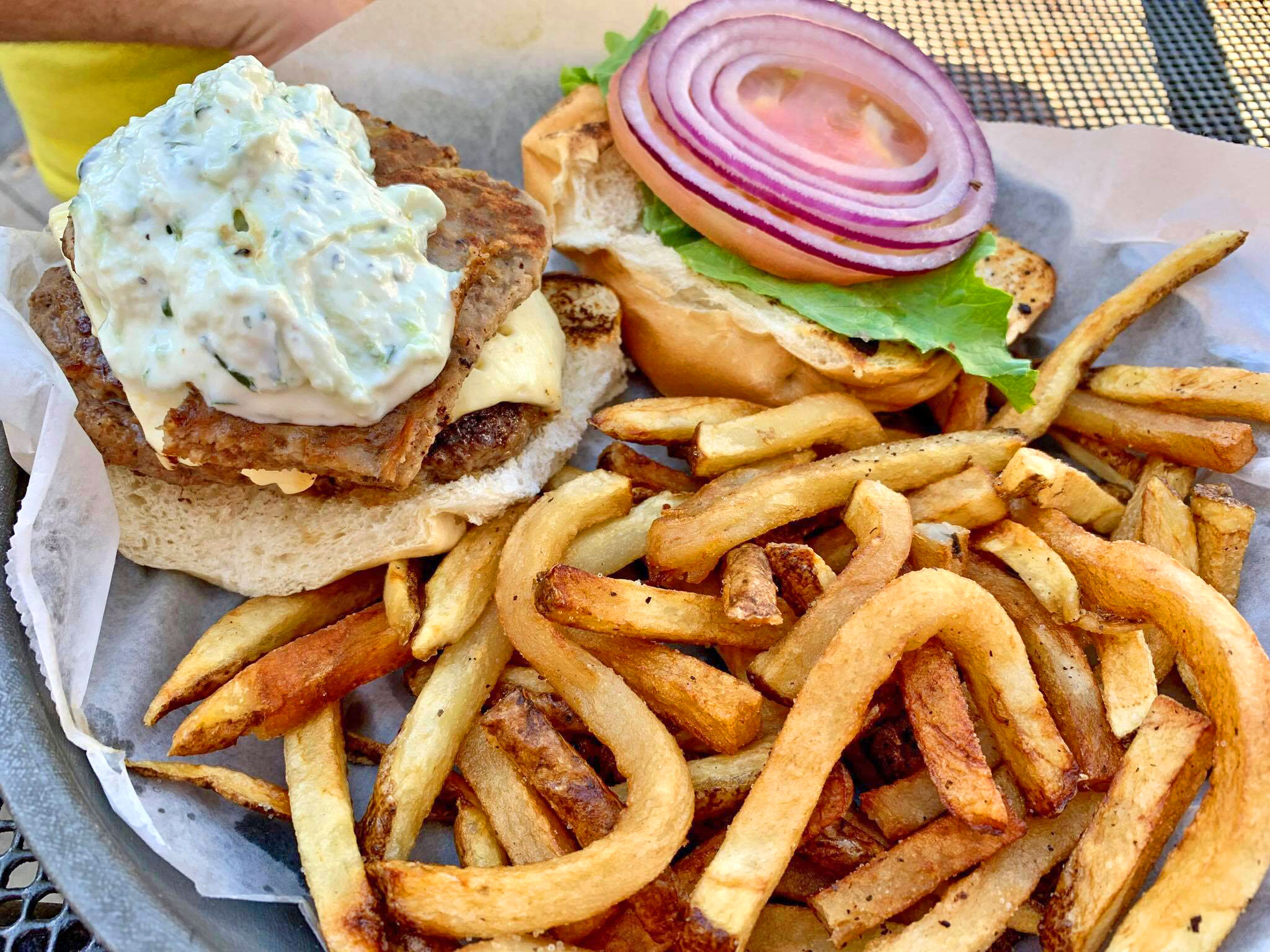 The Burg Gyro Feta Burger – topped with gyro meat, house-made tzatziki & grilled feta, along with lettuce, tomato, onion, and pickles. Who doesn't love gyro meat?!? Right? That along with the other ingredients on a burger are genius. This is a real palate pleaser.
Datz
180 Central Ave
St. Petersburg, FL 33701
(727) 202-1182
Datz Website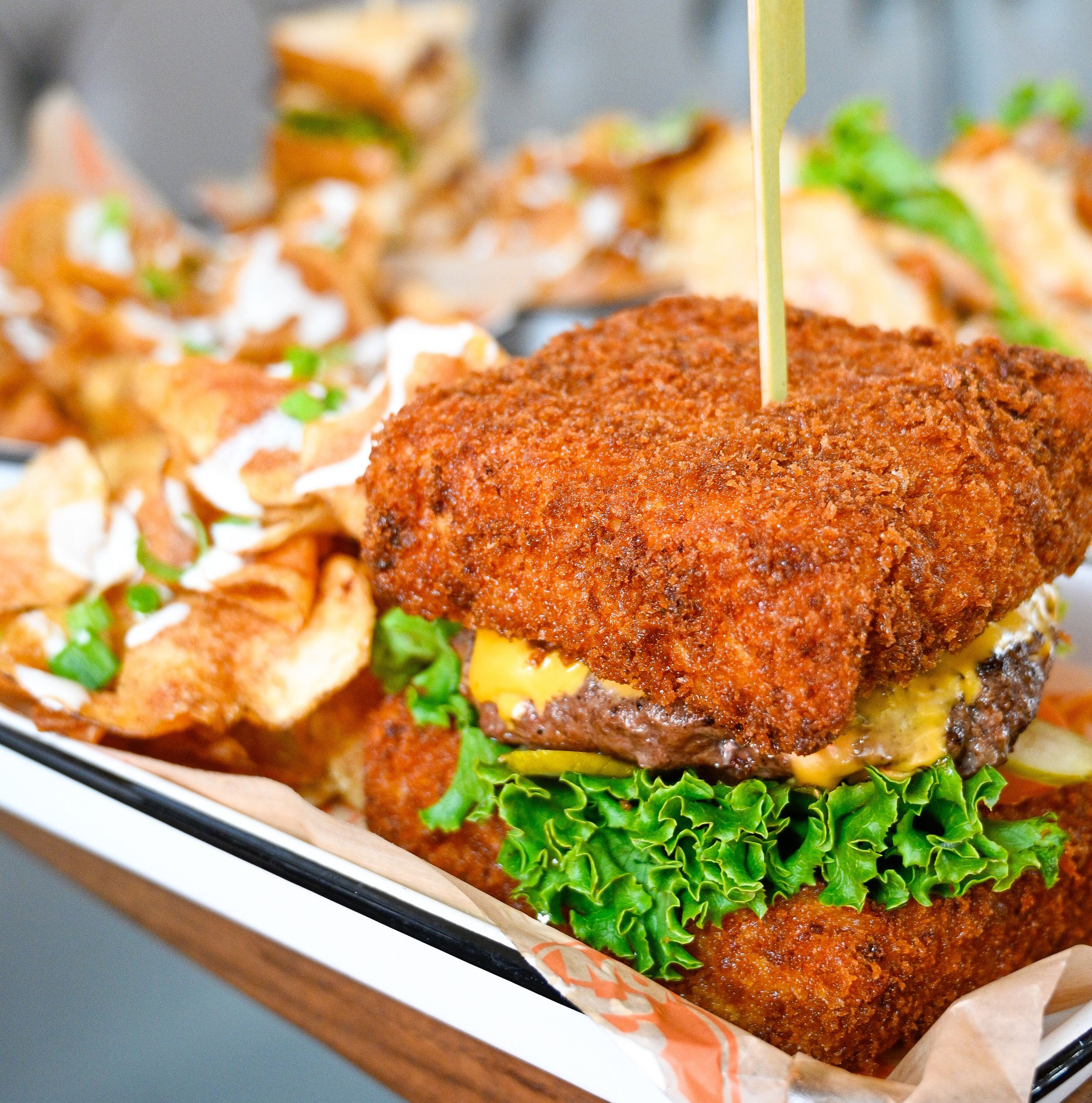 Datz has been an icon in South Tampa since they opened in 2009. Whenever we would have an occasion to be in the area in the morning, we would always go for breakfast or brunch. We were thrilled when they opened in downtown St. Pete in 2019. Datz has long been known not only for great food, and hearty concoctions, but also for some outlandish, attention getting items like the Cheesy Todd. It is comprised of ground brisket and short rib with American cheese, lettuce, tomato, red onion and pickle. Served on two bacon-jalapeño mac n' cheese "buns". Perfect for a hangover or an extreme case of the munchies while being fun, tasty, and needless to say, quite filling.
El Cap Restaurant
3500 4th St. N
St Petersburg, Florida 33704
(727) 521-1314
El Cap Restaurant Facebook Page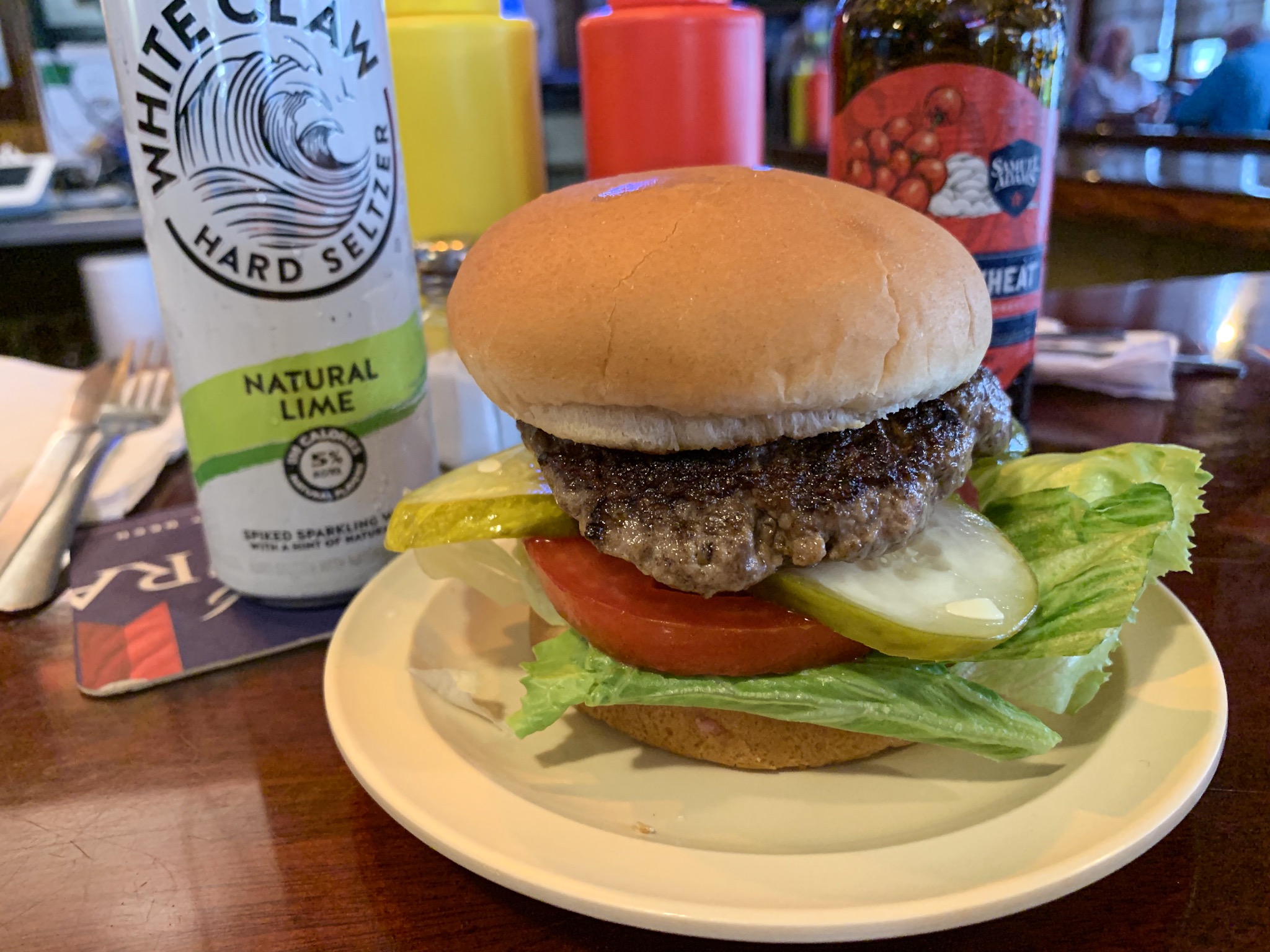 Speaking of icons, El Cap has been serving down-to-earth, delicious, no-fuss cuisine to hungry St. Pete patrons since 1964.
From Abby's review: "If you mention El Cap to most anyone who is familiar with it, odds are, you'll receive a rave review about everything, from the service and overall vibe of the restaurant, to the food- specifically, their burger. El Cap's burgers are a favorite among both frequent flyers and newbies, alike. Their World Champ Burger, which has been named by some as the best burger in town, is comprised of just the simple things- Lettuce, Tomato, Pickle and Onion (add cheese and bacon for an extra delicious rendition), which proves that in some cases, less is more."
The historic El Cap was in danger of being bought by a real estate development company with the bulldozers not far behind, when St. Pete natives Ryan Griffin, Bill Griffin, and Blake Thompson of Feed & Seed Hospitality stepped in and took over 50% ownership to help keep this St. Pete icon running. Feed & Seed also owns Trophy Fish, The Mandarin Hide, Mandarin Heights, and the newly announced restaurant Perry's Porch at the St. Petersburg Museum of History. You can find more details at The Tampa Bay Times.
Engine No. 9
56 Dr M.L.K. Jr St N
St. Petersburg, FL 33705
(727) 623-0938
Engine No.9 Website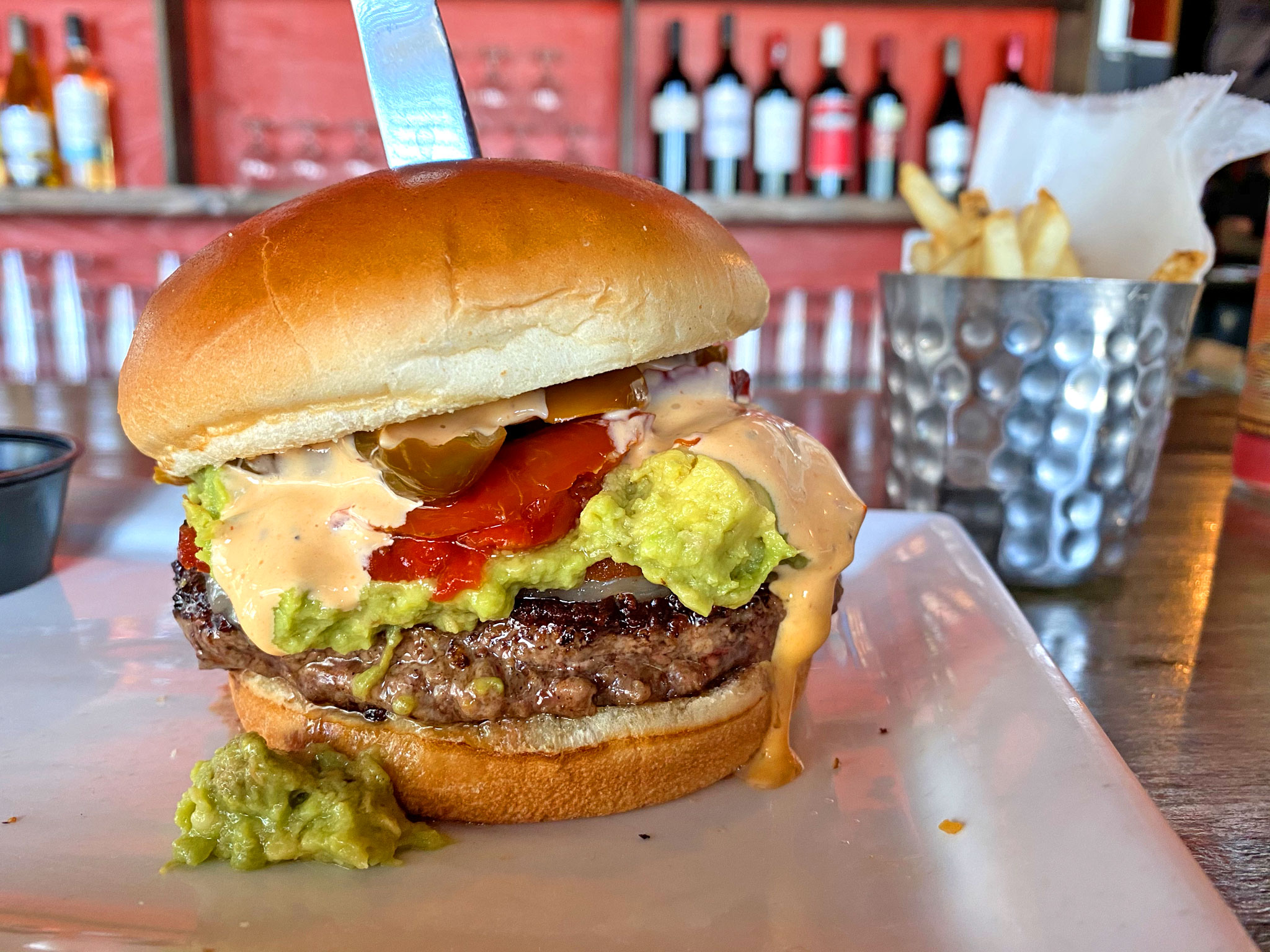 American Standard Burger at Ford's Garage – black angus with American cheese, lettuce, tomato, red onion, and dill pickle planks on a brioche bun. So delicious and satisfying. My other favorite burger here is the Mushroom Swiss Burger.
The Library
600 5th St S
St. Petersburg, FL 33701
(727) 369-9969
The Library Website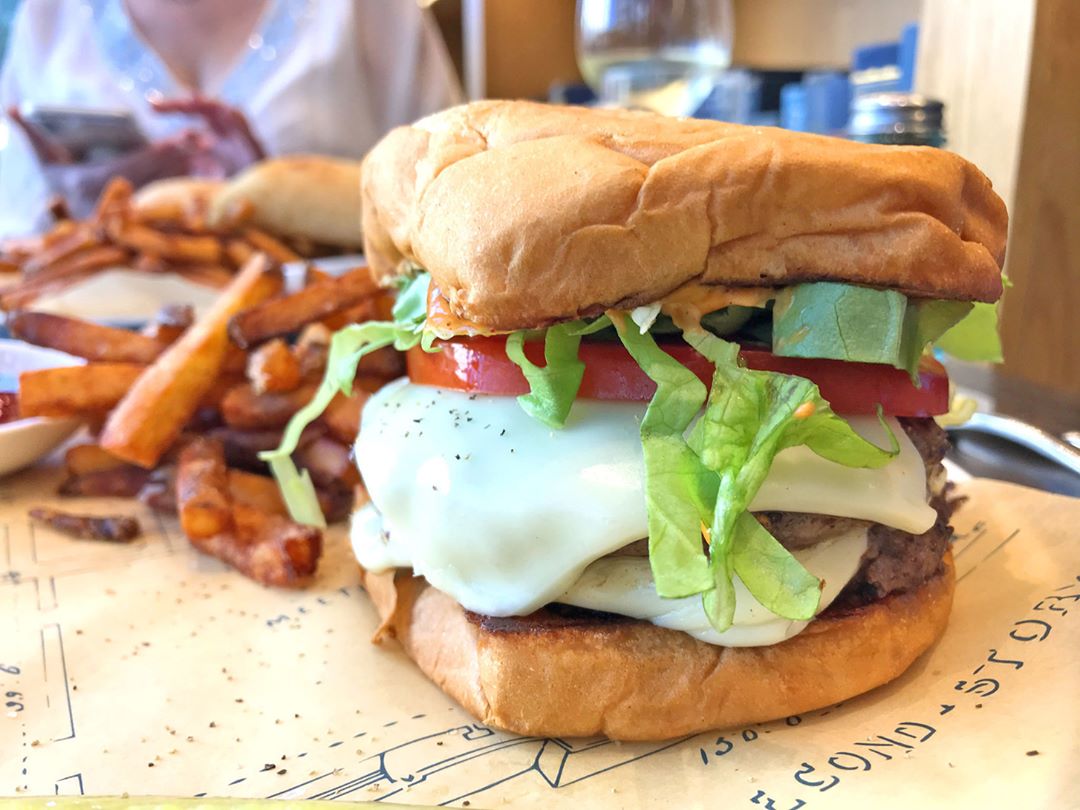 Burger – double patty, sliced white American cheese, lettuce, tomato, library sauce.
It's not the style that most places are putting out these days, but it is just damn good, old school comfort food. It actually reminded me of a Burger King Double Cheeseburger—in a very good way.
Mary Margaret's Olde Irish Tavern
29 3rd St North
St. Petersburg, FL 33701
(727) 873-6764
Mary Margaret's Website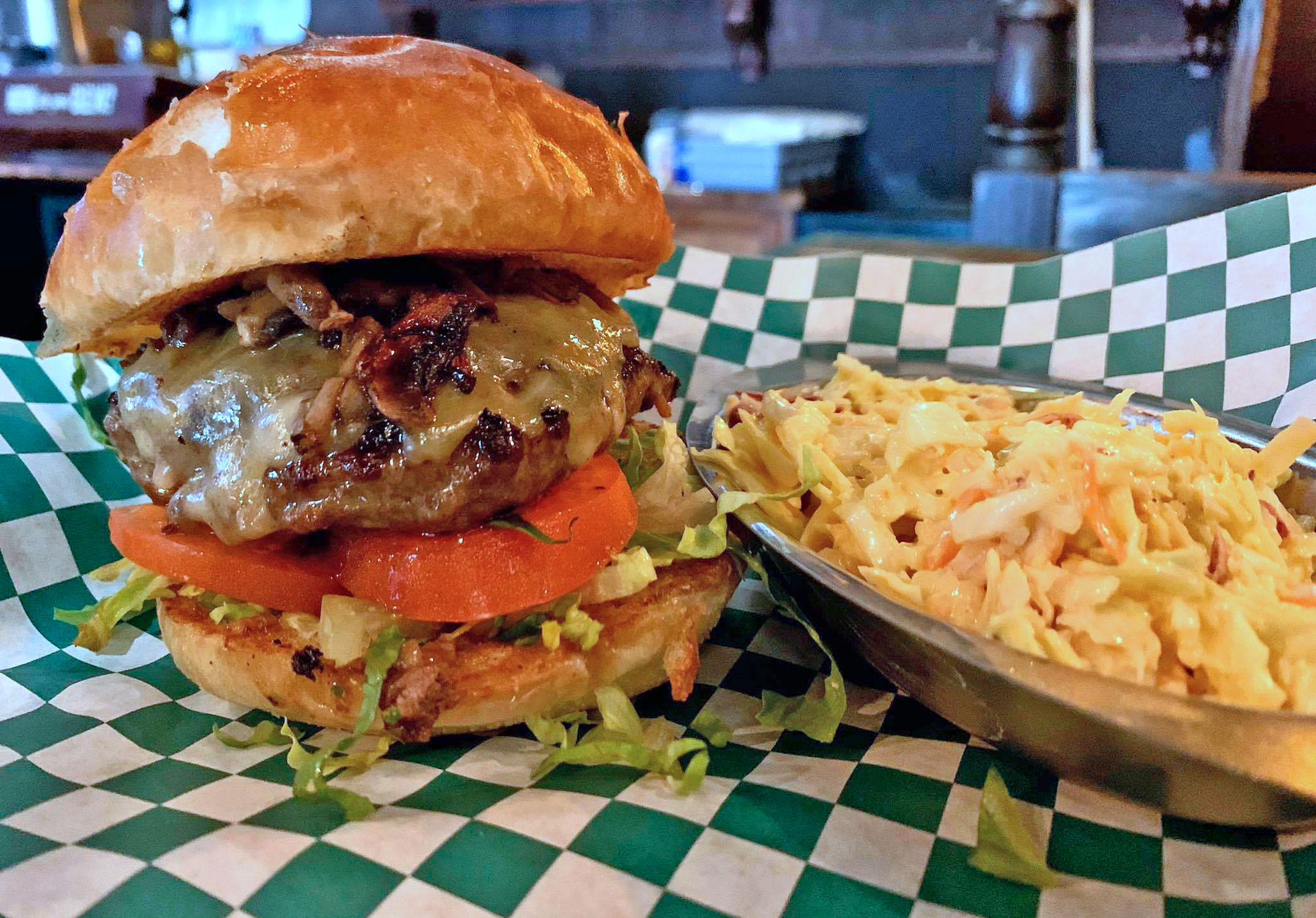 The Guinness Burger – Guinness infused black angus beef, with grilled shrooms, Irish cheddar, romaine lettuce & tomato on a flaky roll.
Mary Margaret's Guinness Burger has a unique richness and depth of flavor that interestingly reminds me of French Onion Soup, even though there are no onions here. I'll give this one the Umami Bomb Award.
Dead Bob's Bar
6717 Central Ave N
St Petersburg, Florida 33707
(727) 317-2627
Dead Bob's Bar Website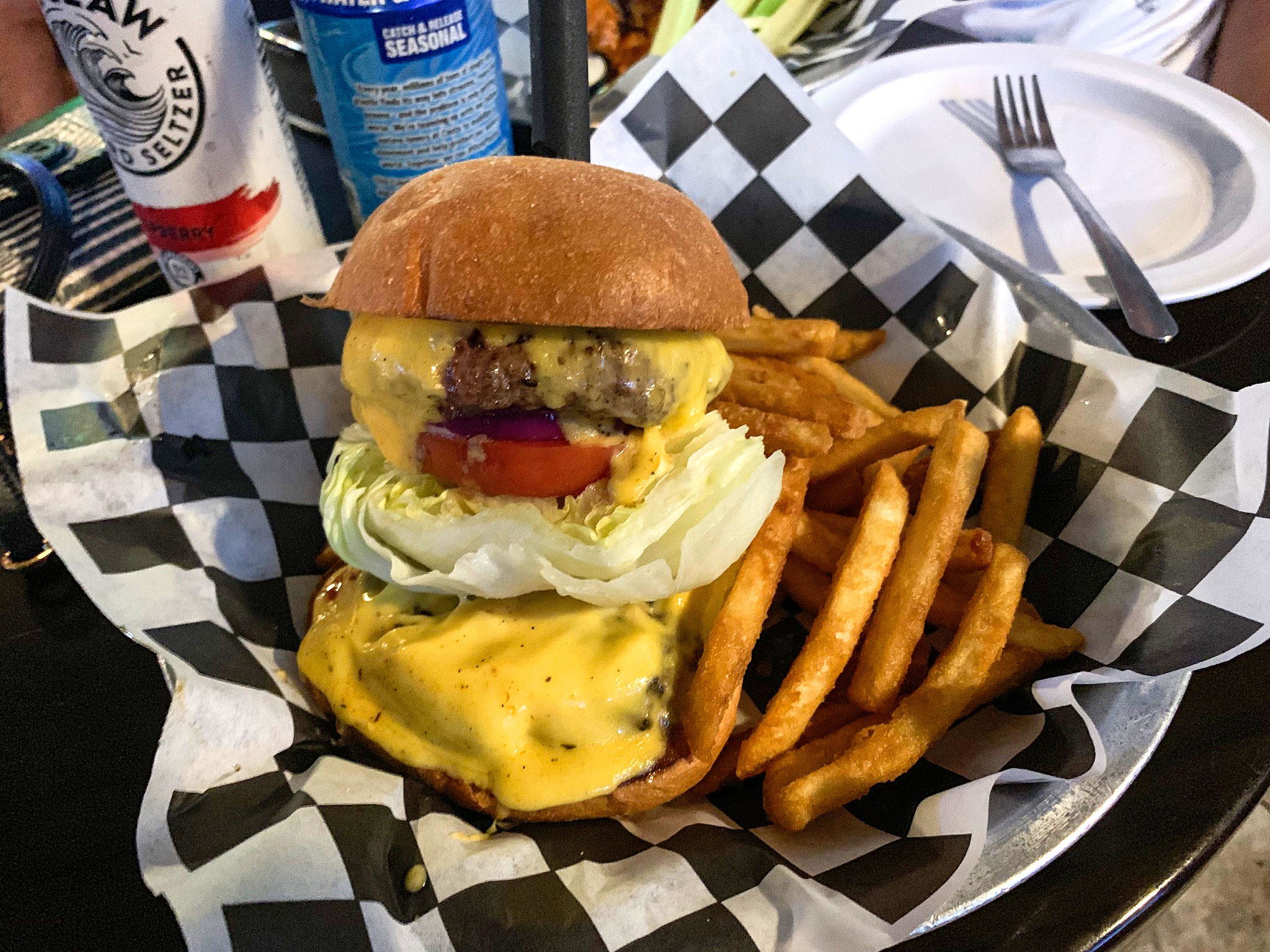 From Abby's review: Don't let the name fool you, Dead Bob's is alive, well and absolutely thriving. Where does the name come from, you ask? Have a look at the ode to Bob and the birth of the name "Dead Bob's" here.
If you step into Dead Bob's on a Friday night, there is not doubt that the place will be packed full of folks welcoming the weekend with a beverage (or a few). The atmosphere is bold and lively, with music playing in the background of all of the friendly chatter from patrons there to have a good time. The food at Dead Bob's is absolutely no joke with burgers that are larger than life, finger-licking good wings and a multitude of other items, including daily specials. This spot is a true St. Pete gem.
I'm sure there are some readers' favorite burgers that are not on the list. Please comment with them below so other readers can see them and check them out too.
Just for fun, check out my article on Burger Stacking too!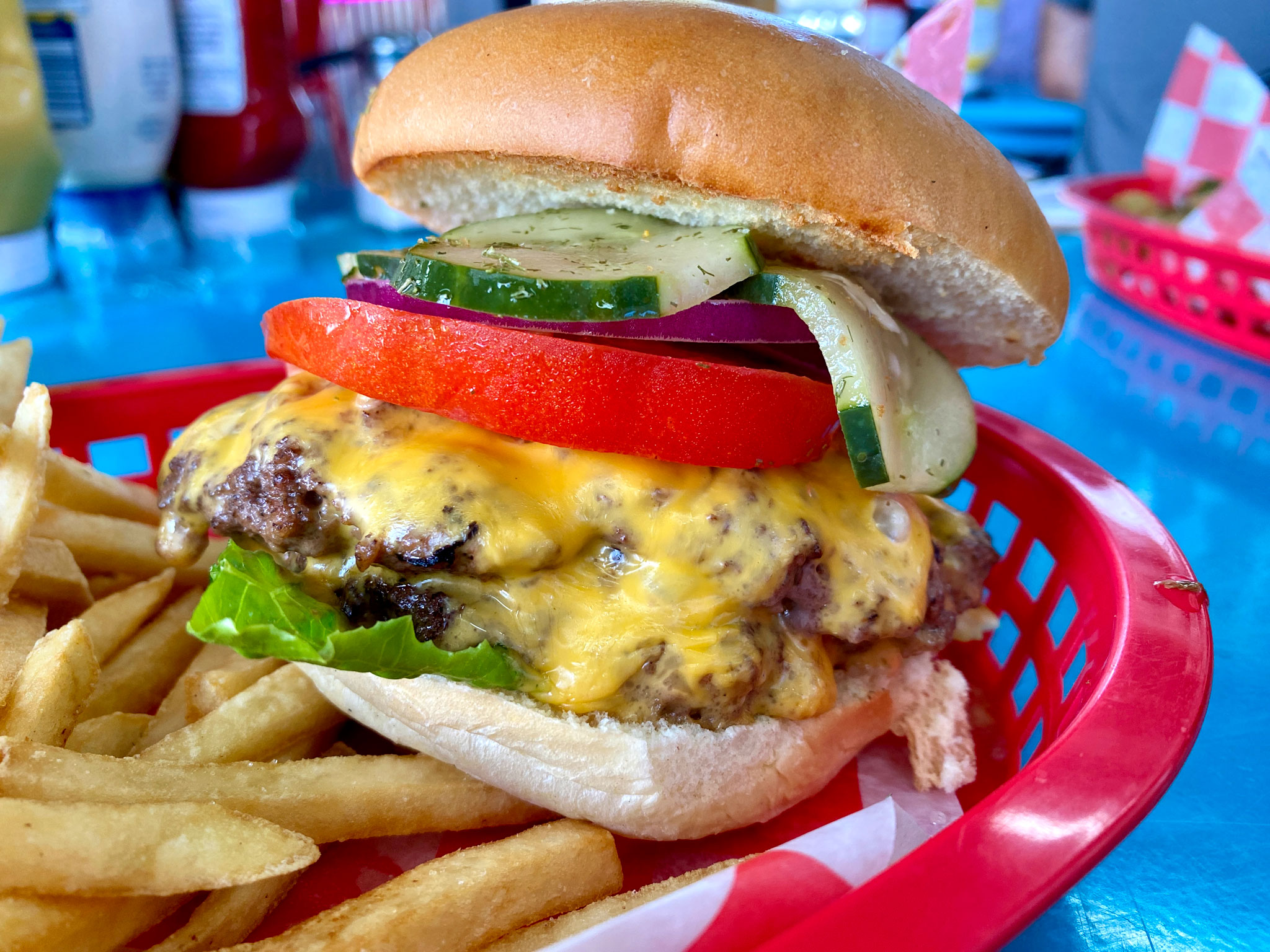 Readers Rating

Rated 4.5 stars




4.5

/ 5 (

Reviewers

)

Outstanding
---
Everyone loves hamburgers! A cheese burger is the epitome of American food, and here are some of the best local eateries with great burgers.