How Do YOU Stack Your Burger?
Did you know that the order in which the items are stacked on your hamburger is a thing?
I never really thought about how I built my burger until recently. I remember as a teenager, if I felt like a burger at home, I just pried one apart from the frozen stack in the freezer, (I still have a visible scar on my palm decades later from the knife slipping), went out to the backyard, fired up the gas grill, put a slice of yellow American cheese on it towards the end, put it on a bun with some ketchup or mustard, and done. Simple.
As I matured, my favorite way to have a burger maintained some type of melted cheese, and added, lettuce, tomato, and raw red onion. Later, a pickle slice got added. Since my past simple cheeseburger had the burger on the bottom, I always maintained that, adding new items on top as shown below. (Frozen burgers have long been banned.)
Both burgers are at Grace Restaurant, Pass-a-Grille Beach. The first one is the simple version I liked as a kid, and the second one was stacked by the kitchen, the same way I usually do it.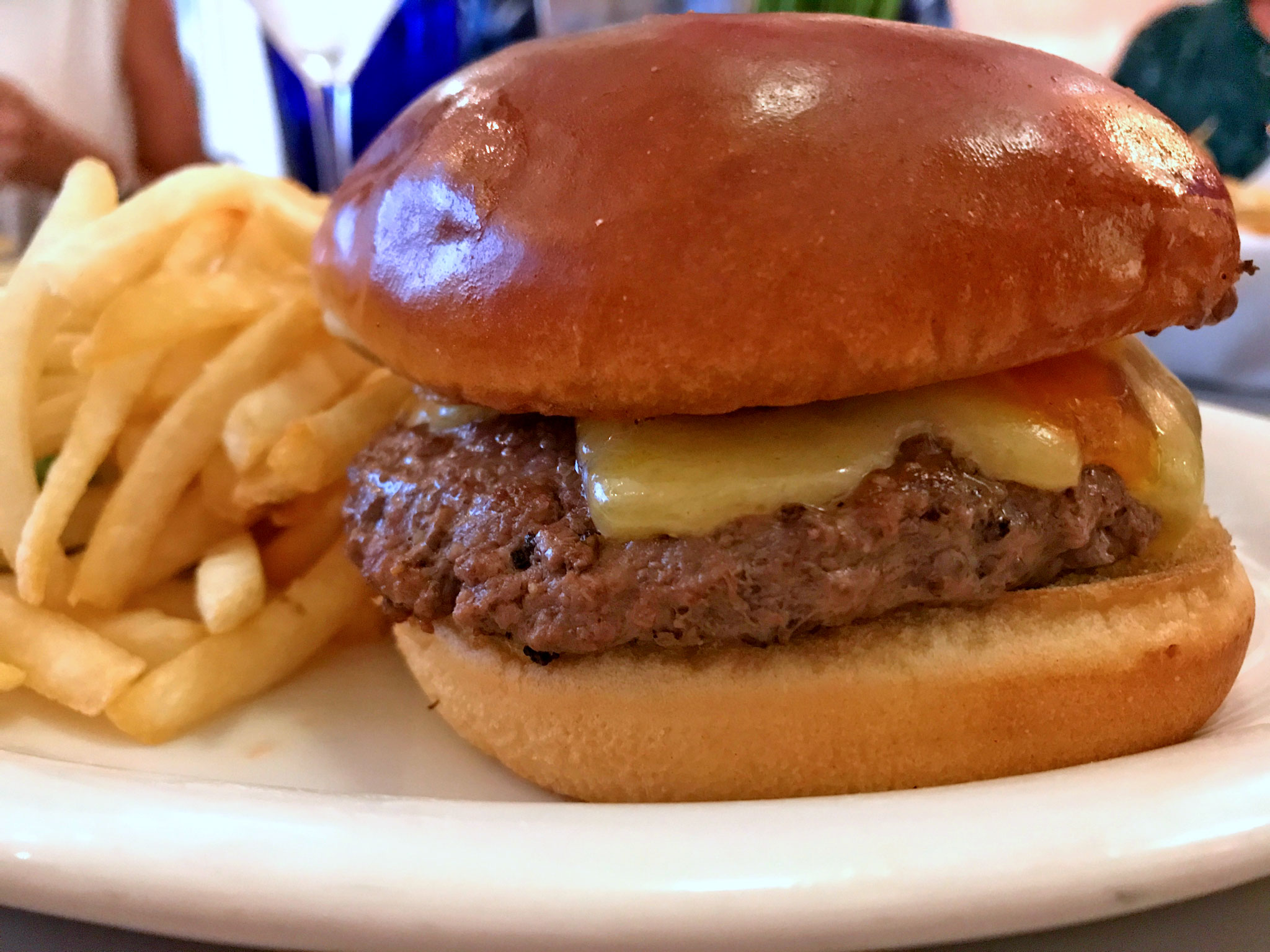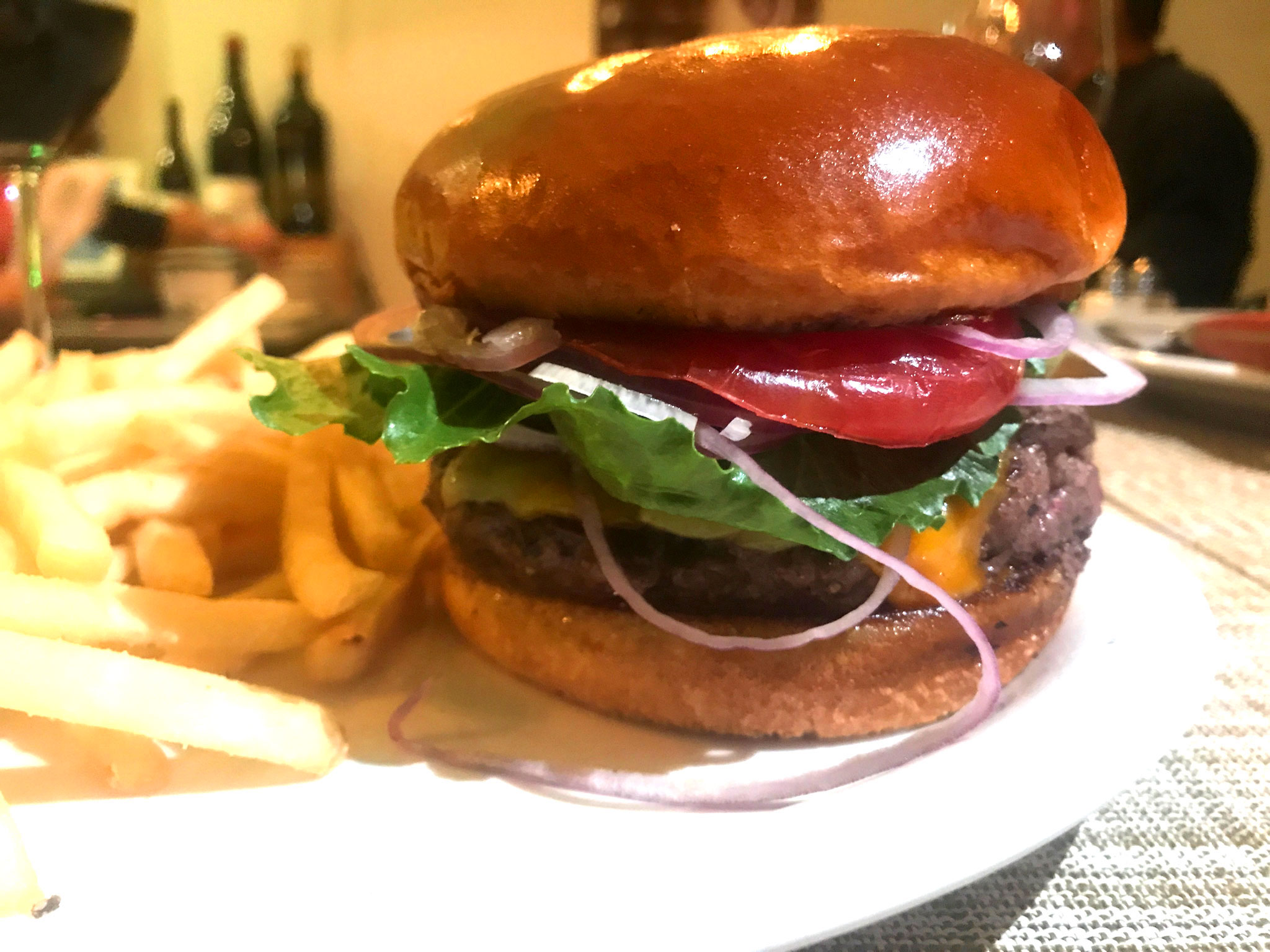 Just for fun, here's the Grace Burger again on a different visit where the other ingredients were served on the side, and I stacked the burger myself. Obviously, the kitchen did a better job of making it easier to eat.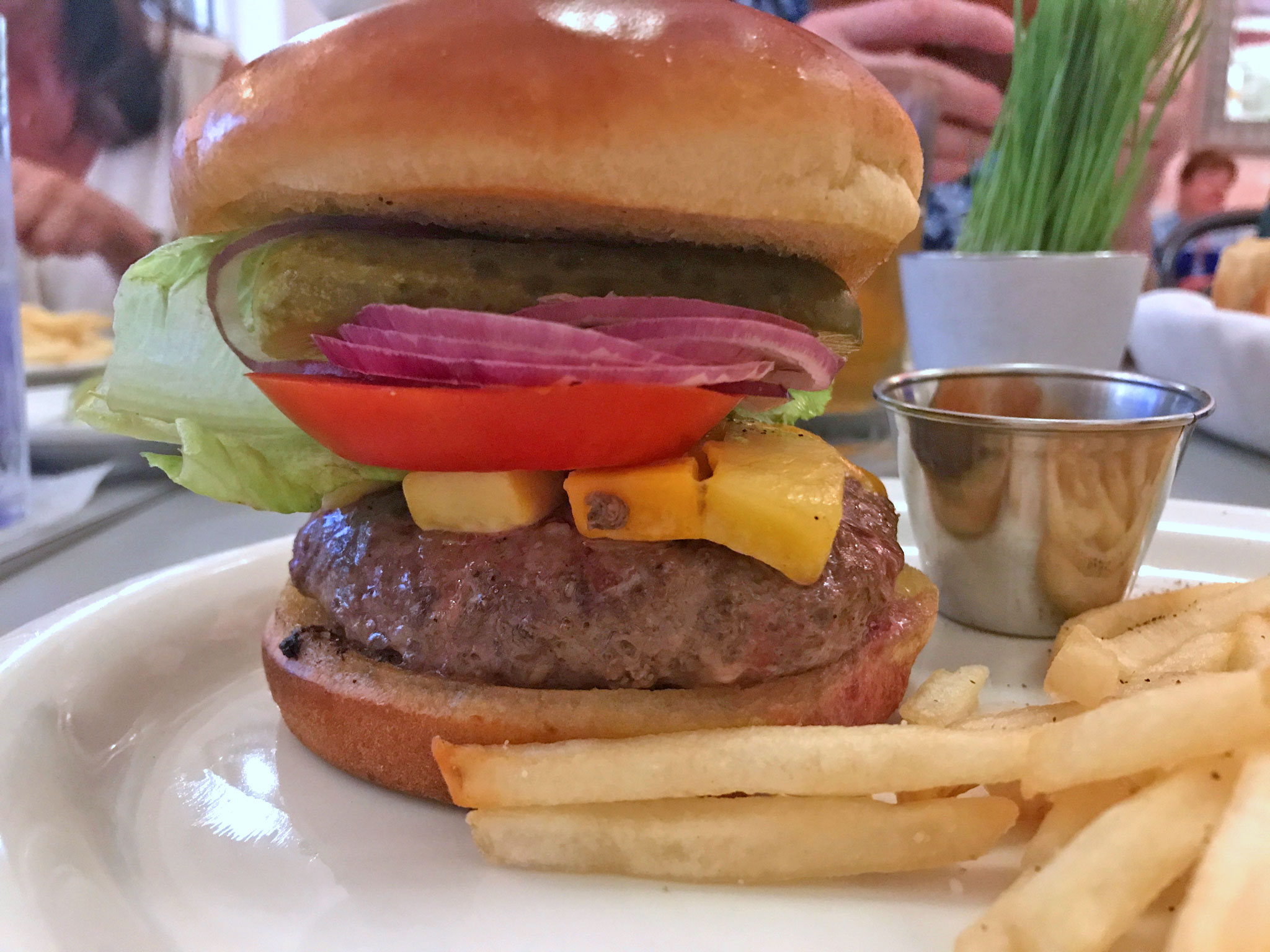 I still haven't told you what the thing is about burger stacking.
One day, I was mindlessly scrolling though Instagram (St. Pete Foodies Instagram is here), liking and commenting on things, (they call this "engagement"), and I saw two cheeseburger posts in a row, and noticed that one had the burger stacked as above, and the other had the lettuce and tomato on the bottom, underneath the burger.
Hmmm… I thought, "what's the deal with that?"
Short answer: It's a way to keep the bottom part of the bun from getting soggy and falling apart.
Stillwaters Tavern's cheeseburger is a good example of how many places do it.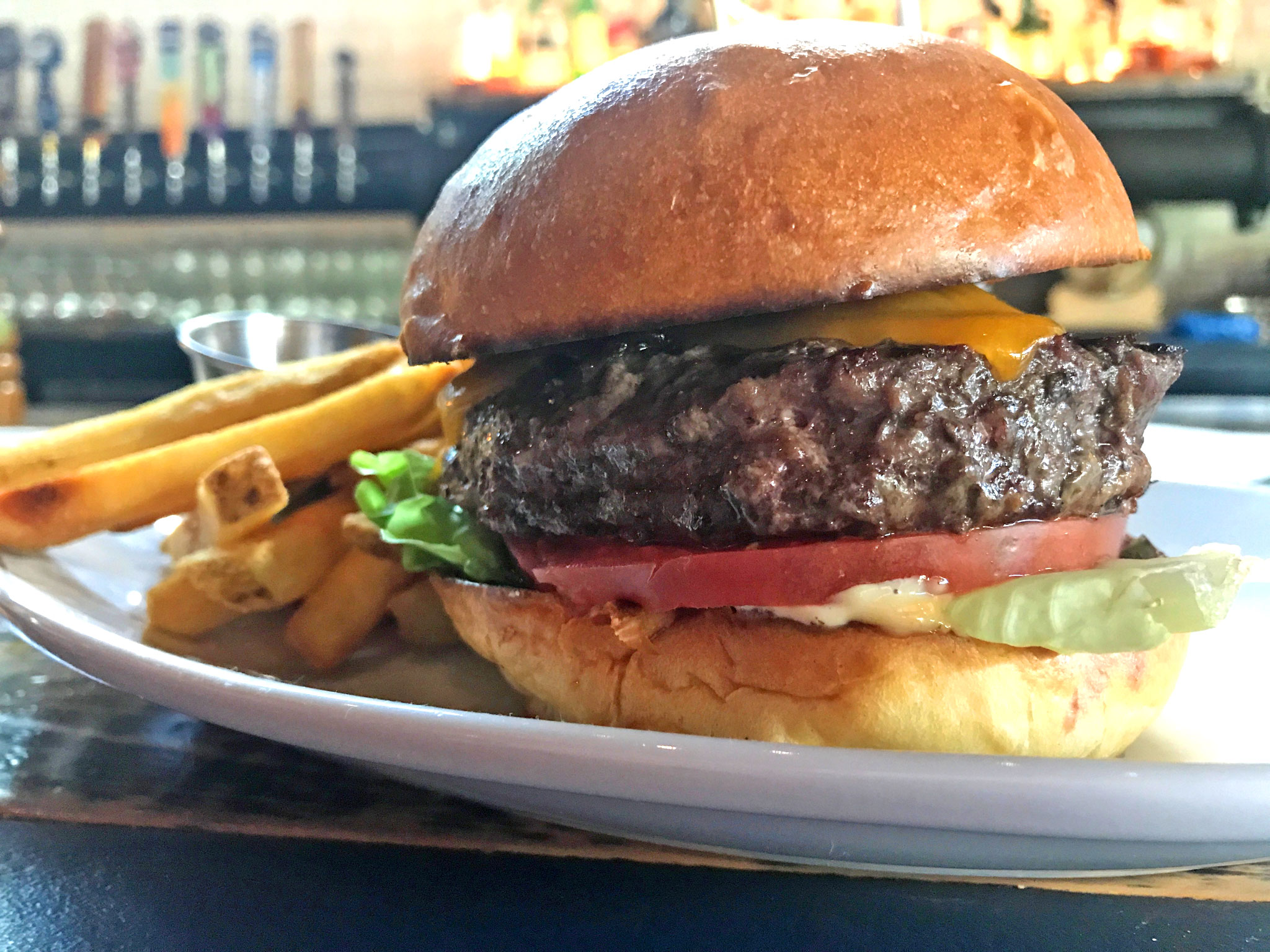 From the bottom bun, up – Lettuce, Tomato, Burger, Cheese. A lot of places start with the lettuce on the bottom, followed by the tomato. However, there are many variations.
Looking at the above picture, it appears that Stillwaters Tavern might have the Mayonnaise on the bottom bun, followed by the lettuce. Is this right or wrong?
It depends who you ask. Mayo and lettuce can get slippery. Gordon Ramsay says it's ok, though.
Where the condiments go is another whole thing that I'll get into shortly, as well as how Ramsay does it.
I've done extensive research reading other burger aficionado's articles and blog posts, watching videos, and observing tons of restaurant's and individual's social media burger posts. I've never thought about, or observed so many burgers before, but as a foodie, it can be quite intriguing.
Another way to make your burger better, and avoid a soggy, falling apart bun is to toast the bun. Better yet, butter it, then toast it. Buttered, toasted bread has a much better texture and flavor than plain white bread.
Also, when putting the lettuce on the bottom bun, make sure it isn't wet. Shredded lettuce is another option that some prefer. Gordon Ramsey, on the other hand, takes a big piece of lettuce, and folds it in half.
Another common variation is lettuce on the bottom, but then putting the tomato and onion on top, like on the below Ford's Garage Mushroom Swiss Burger.
The melted cheese helps hold the mushrooms, tomato, and onion in place.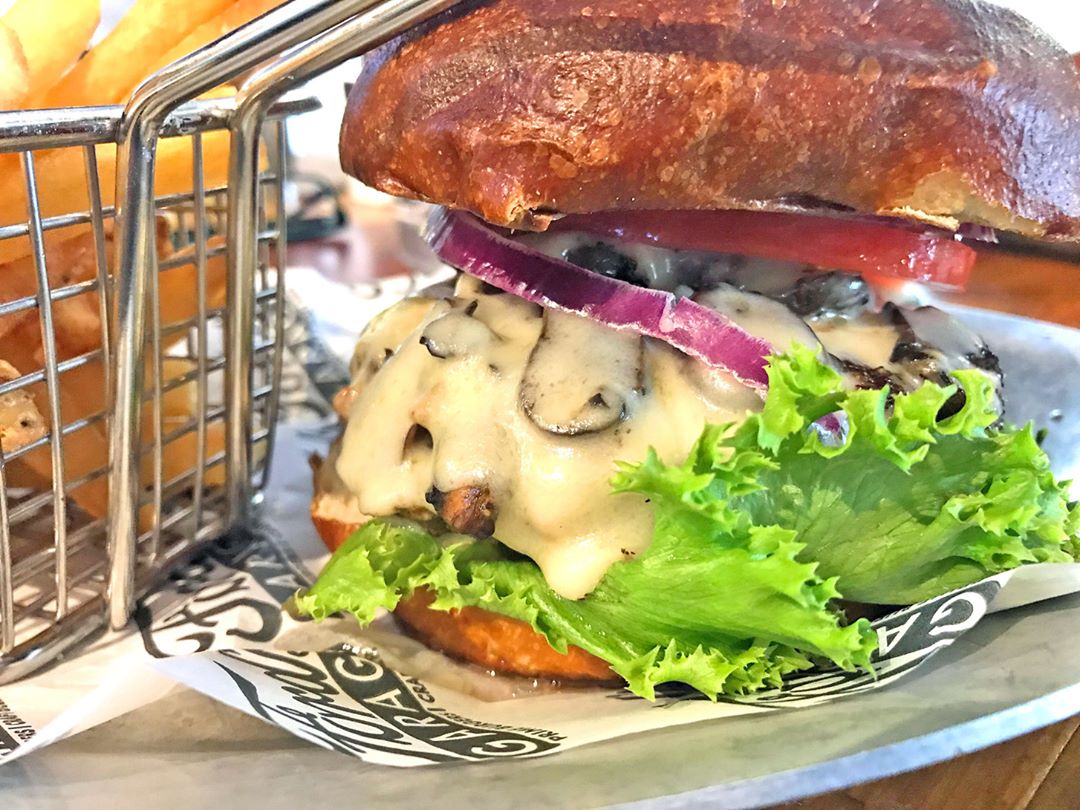 (Some places stack their burgers in different order depending on which burger on the menu it is.)
Where Does the Cheese Go?
Most of the time, you will see the cheese melted on top of the burger.
Chris Thompson, former writer for Deadspin, agrees that the cheese should be on top of the burger, but has a different take on it.
He says that putting the cheese onto the burger while it is cooking is wrong, because it makes it melt too much into a gooey mess. He explains that you should turn the top part of the bun upside down, lay the cheese on it, and then place the burger fresh off the grill on top of that before turning it right side up while assembling the rest of the burger. Here it is in his words on Deadspin.
(He also quit because Deadspin told all their writers they could only write about sports going forward. This was in October 2019. Seems like a really dumb move now.)
The only problem with Thompson's method is that nothing else can go on top of the cheese, like many burgers are built. As I said before, putting other toppings, like tomato and onion on top of the cheese helps hold them in place, preventing slippage.
Occasionally, you will see the cheese on the bottom bun with the burger placed next. The burger on top of the cheese still melts it, but having the cheese on the bottom is another way to avoid the bun getting mushy.
My online foodie friend, Steve Capen, does it this way with his burgers at home, and so does McDonald's Quarter Pounder with Cheese. The Quarter Pounder actually has the burger surrounded by cheese on top and bottom.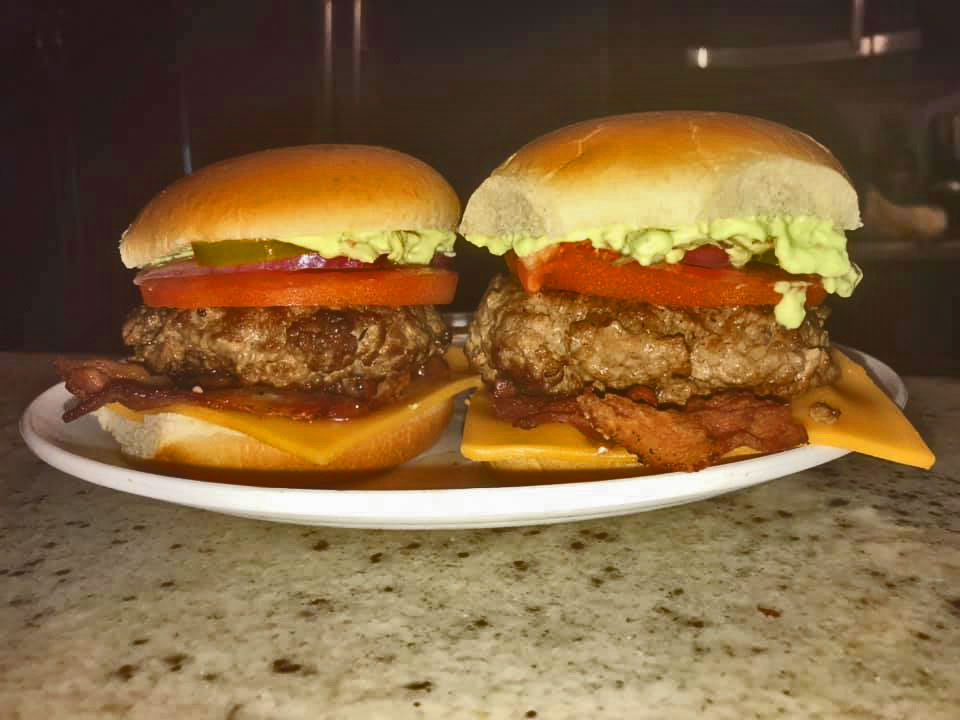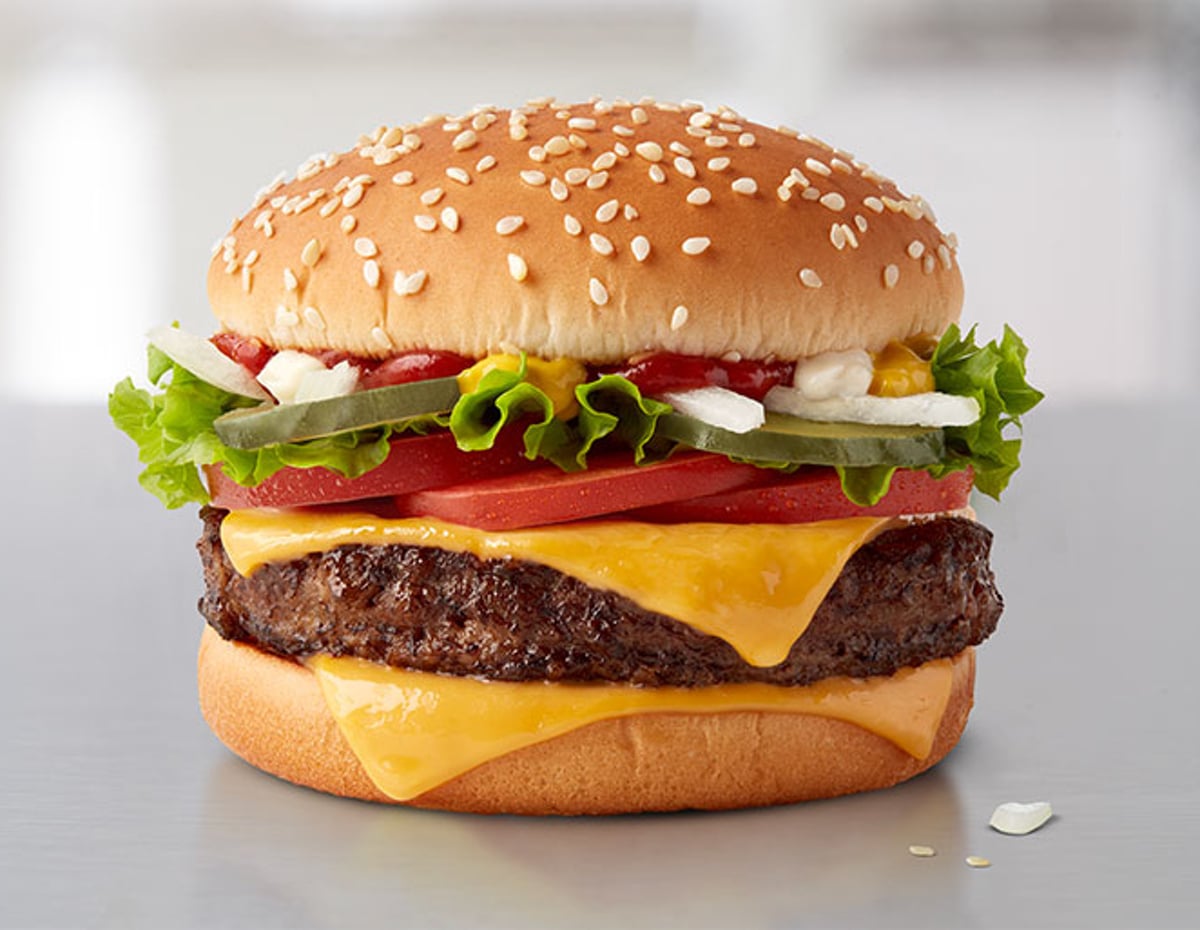 According to The Kitchn: If you're adding bacon, place it between the patty and the cheese. Not only does it keep those strips in place, it also gives you that delicious meat-on-meat flavor. (See Steve's photo above.)
Now, let's get back to the condiments. According to Mashed.com, "If you're going all out with the holy trinity of ketchup, mayo, and mustard, slather the top bun with the mayo, and the bottom bun with the ketchup and mustard. Distributing the condiments over both buns means that there's less accumulation to drip out, and it also ensures that the more delicate mayonnaise flavor hits before the rest of the bite, leaving the stronger, more overpowering flavors of the ketchup and mustard for last."
I've always just squirted either ketchup or mustard, and never both, and never mayo until Lori started dressing my burgers that we made at home. After checking with Lori, she said she only occasionally adds mayo, but always has ketchup and mustard – all condiments on the top bun.
Here's how she stacks it – bottom bun, tomato, lettuce, burger, cheese, pickle, ketchup, mustard, &mayo, top bun.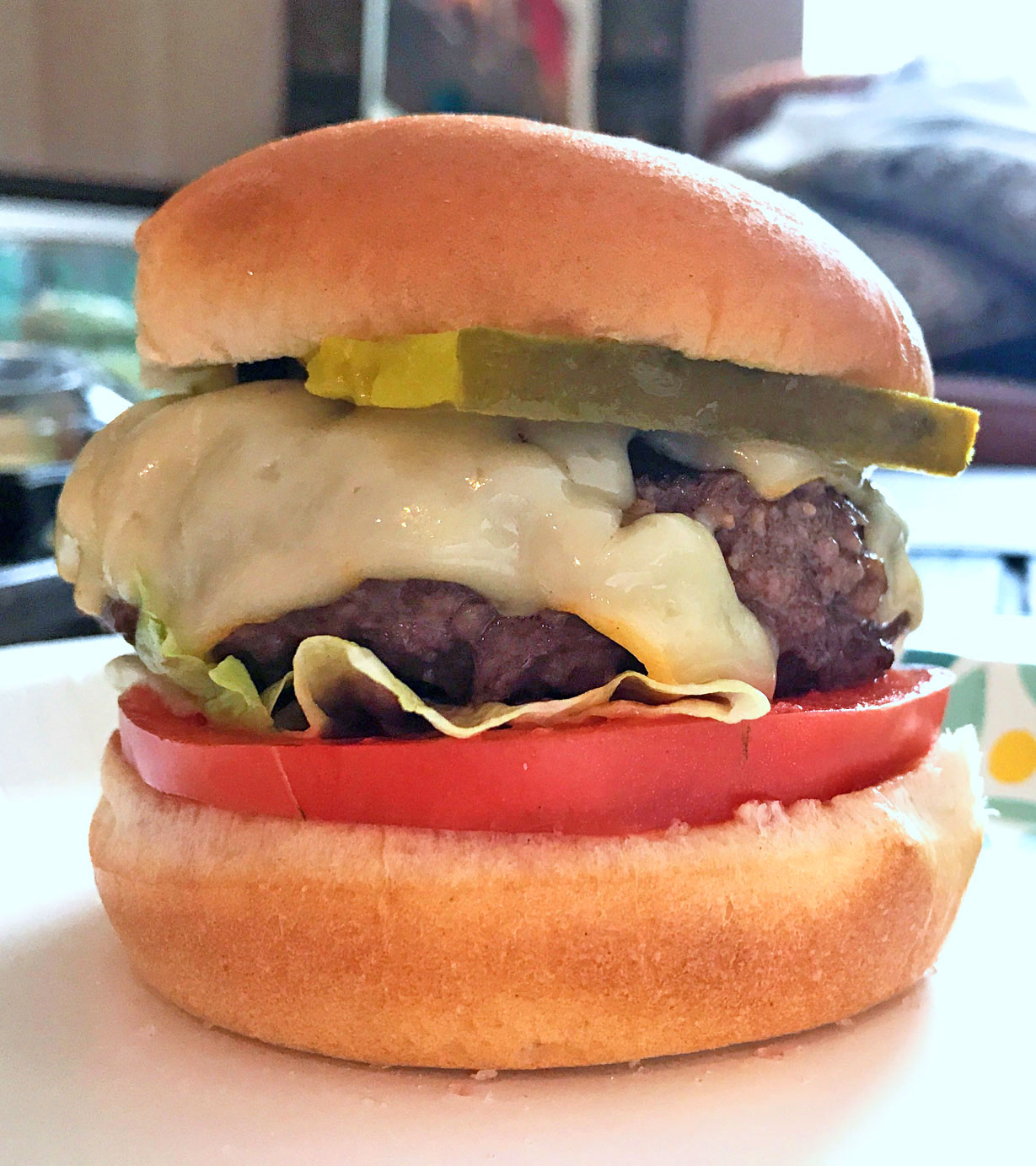 Just for fun, here's a couple from out of town that I had on my camera roll.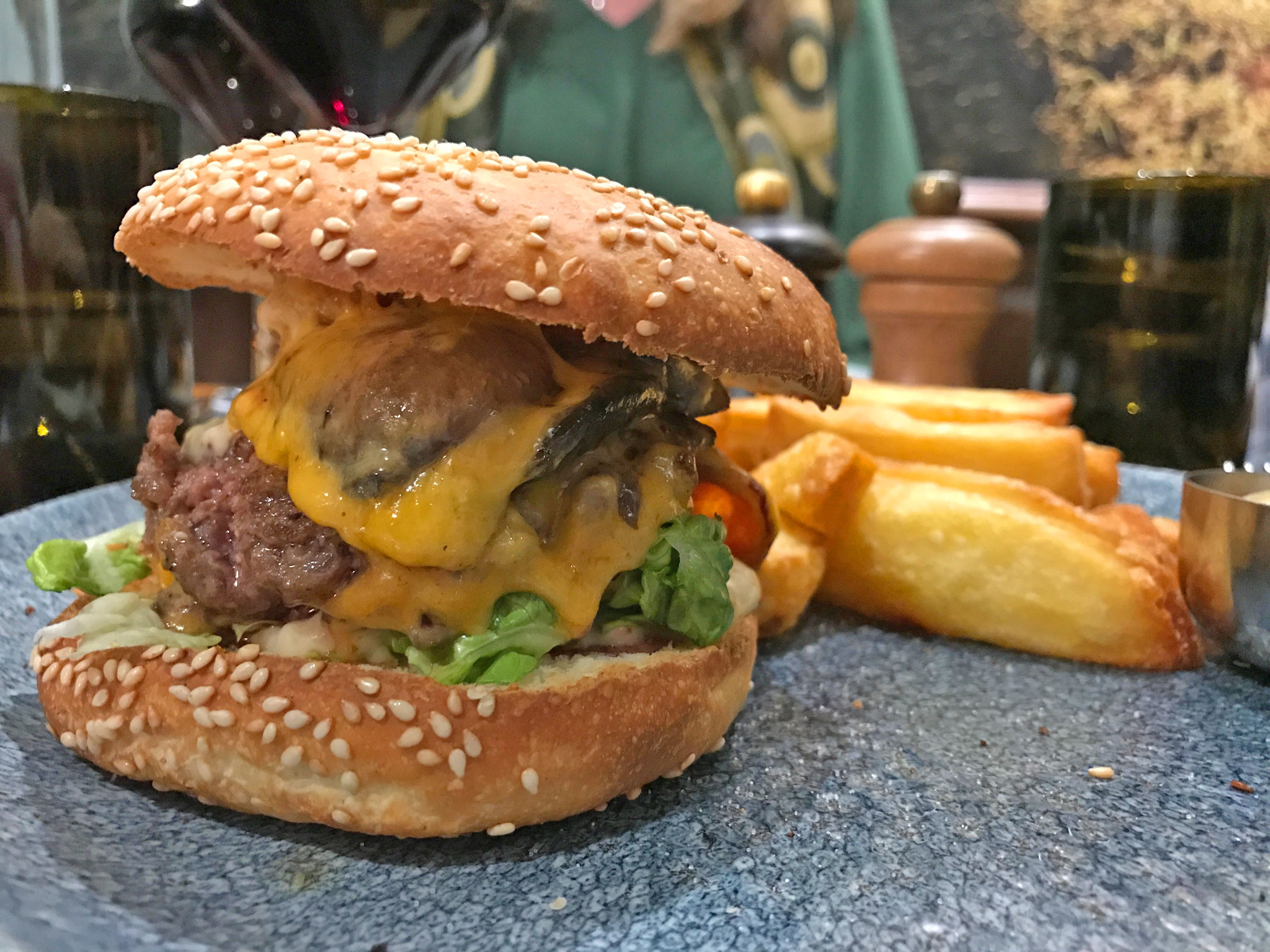 The Cheeseburger at Le Colvert Bistrot in Paris was one of the best burgers I've had in my life. (April 2019 – Paris. April 2020 – Stay-at -Home.)
You can see that Le Colvert Bistrot puts the lettuce on the bottom. They could be criticized for having the bun be too big for the burger, but that bun tasted so good.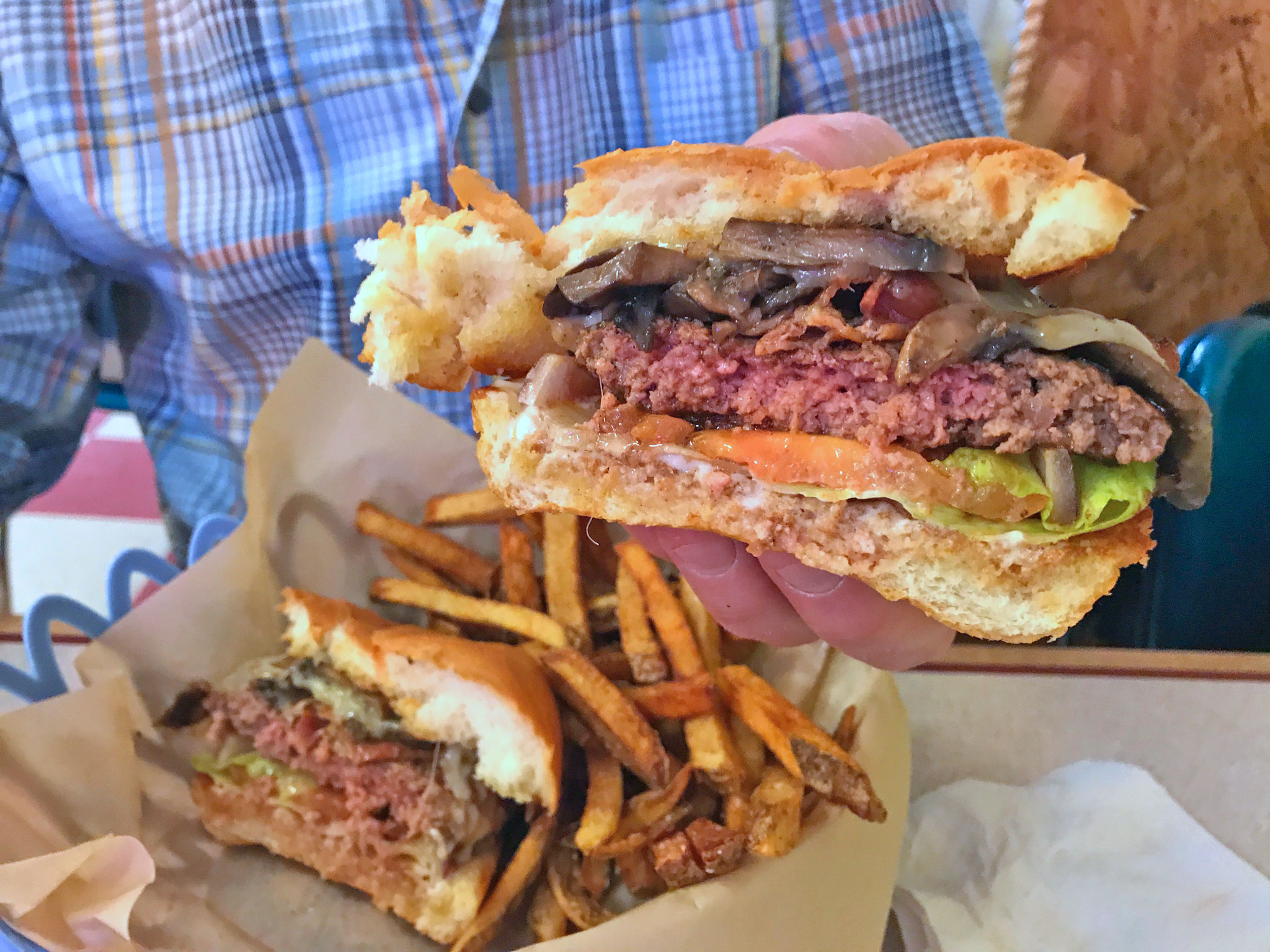 Not to hate on Billings, as they don't have a lot of great restaurants, but there are a few, and The Burger Dive is one of the best and most famous. The place is covered with autographed photos of celebrities and rock stars eating burgers there, and for good reason.
They've been featured on "Man v. Food" on the Travel Channel, and crowned "Burger Champion," at the World Food Championships. You can see that they do lettuce and tomato on the bottom.
Gordon Ramsey
Gordon Ramsay does mustard-mayo, lettuce, tomato, salt & pepper, mustard-mayo again, burger, cheese, grilled white onion (he says raw onion is too harsh and takes away from other flavors), mustard-mayo for a THIRD time on top bun before final assembly.
No ketchup! What!?!?! It does look really tasty, and you'll see in this video that he seasons like Samin Nosrat.
My friend and business partner Brian Levine says that anytime he is in Las Vegas he makes a mandatory visit to Gordon Ramsay Burger at Planet Hollywood for this burger. His other favorite is an In-N-Out Burger, as he's originally from California.
(Featured Photo below and at top of article: The World Champ Burger from El Cap. Photo by Abby Allen)
How do you stack your burgers? Tell us in the comments below.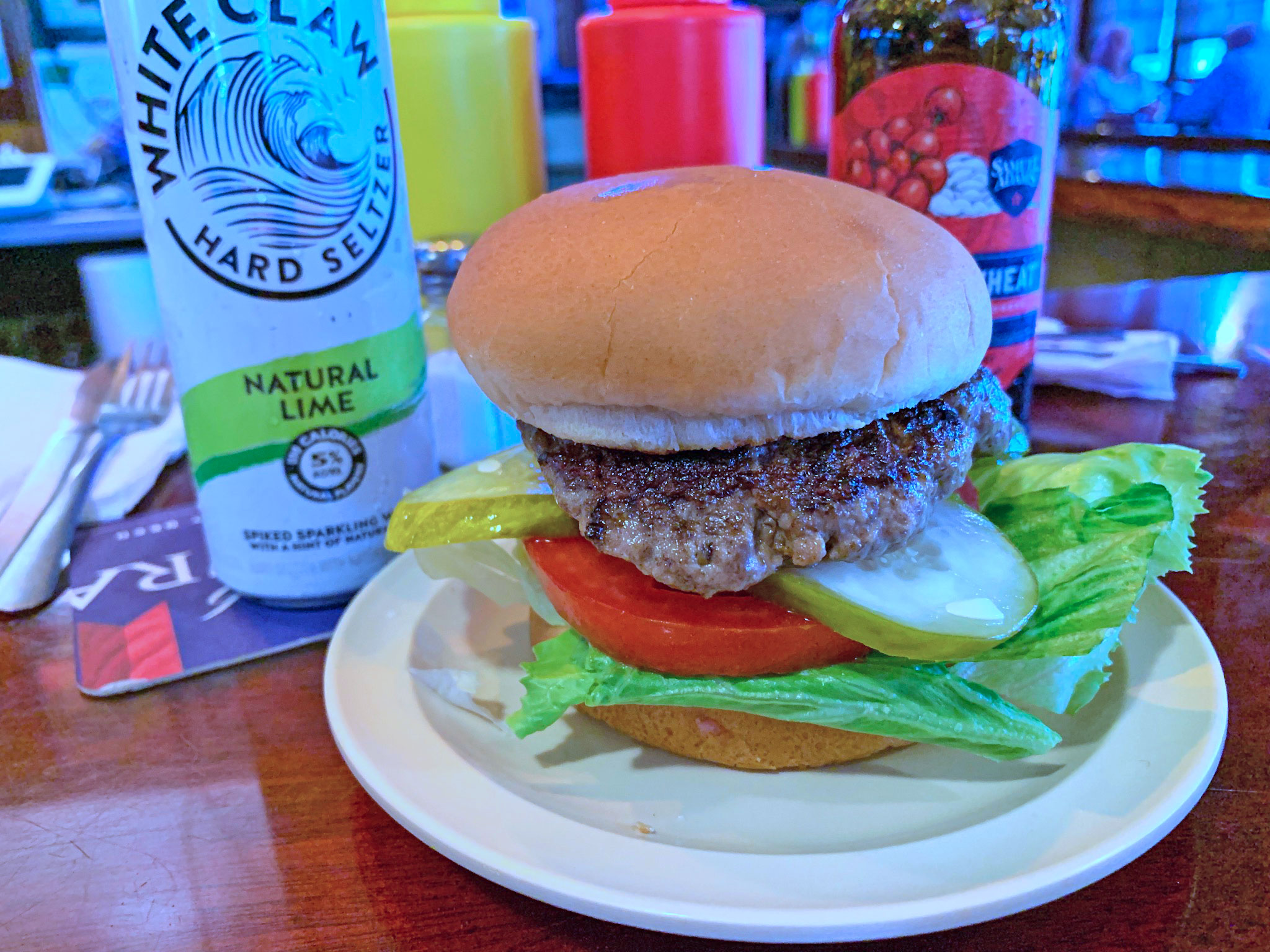 Readers Rating

Rated 4.4 stars




4.4

/ 5 (

Reviewers

)

Outstanding
---
Did you know that the order in which the items are stacked on your hamburger is a thing?